Axios Sports
February 09, 2022
👋 Good morning! Wanna hang out? Join Axios virtually at our inaugural What's Next Summit on April 5. Register here to attend.
Today's word count: 1,643 words (6 minutes).
Let's sports...
1 big thing: 🇺🇸 Shiffrin's heartbreaking start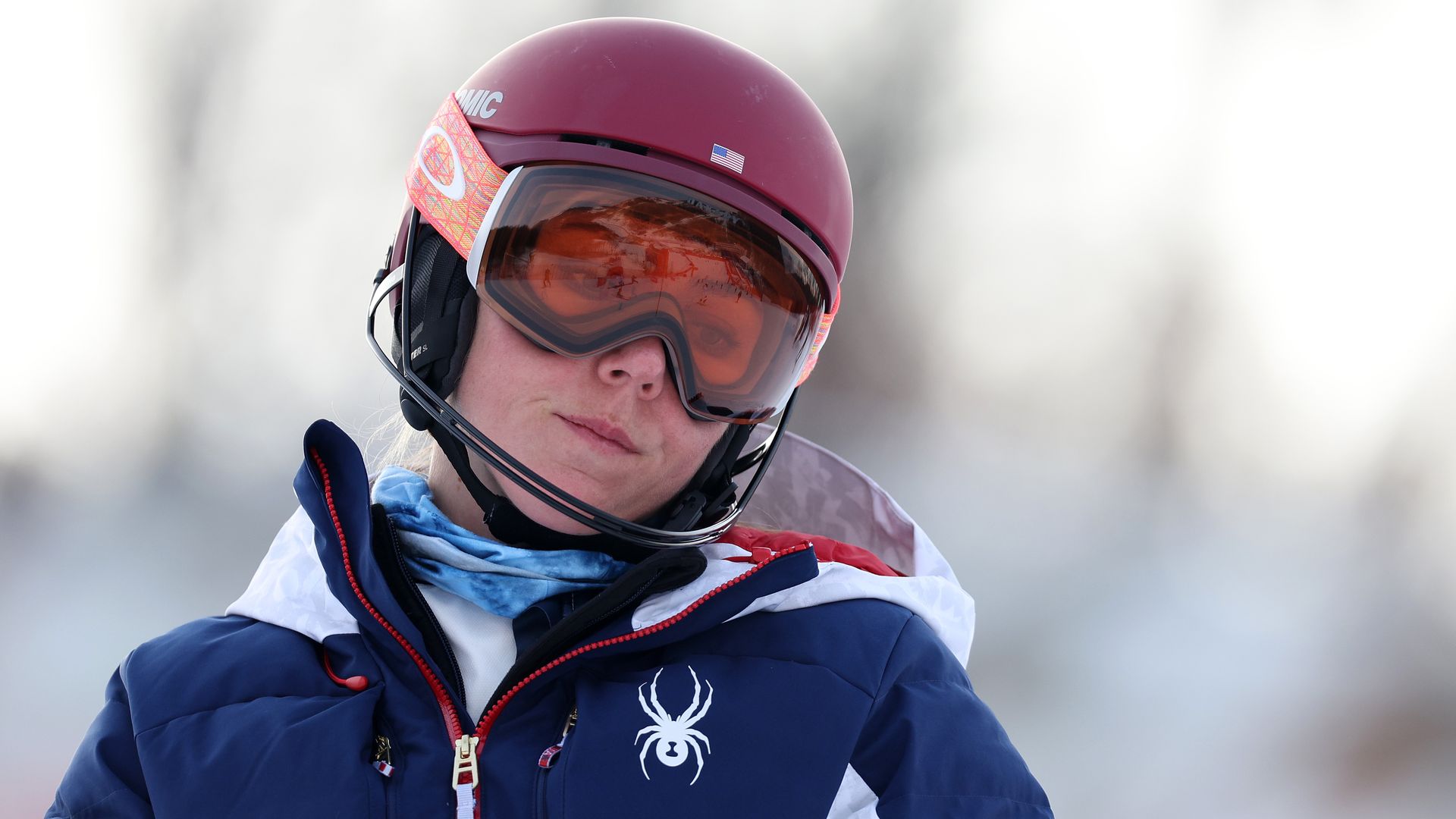 Mikaela Shiffrin crashed out in the slalom on Wednesday morning in Beijing, failing to complete her second straight race at the Olympics.
Why it matters: For the most decorated slalom skier in history to crash out in back-to-back Olympic races — first in the giant slalom, then in the slalom — is beyond shocking.
"That is heartbreaking," said NBC's Ted Ligety, a two-time gold medalist. "That will play in slow motion, for ages to come, in her mind."
Cameras lingered on the 26-year-old as she sat in the snow for 20 of the most brutal minutes in Olympics television history, drawing anger.
What she's saying: "This makes me second guess, like, the last 15 years, everything I thought I knew about my own skiing ... and my own racing mentality," Shiffrin told NBC in a gut-wrenching interview.
"Right now, I would really like to call [my dad]," said an emotional Shiffrin, who lost her father two years ago.
Then, with a laugh: "And he would probably tell me to just get over it. But he's not here to say that. So on top of everything else, I'm pretty angry at him, too."
The big picture: That's now back-to-back Olympics in which one of Team USA's biggest stars — Simone Biles and now Shiffrin — has fallen drastically short of their, and our, expectations.
What's next: Shiffrin, who is seeking her fourth Olympic medal, still has three more individual events: the downhill, super-G and combined. She's set herself up for one hell of a redemption arc.
More Olympics:
Go deeper: Medal tracker (Axios)
2. 🏈 The NFL's fight against concussions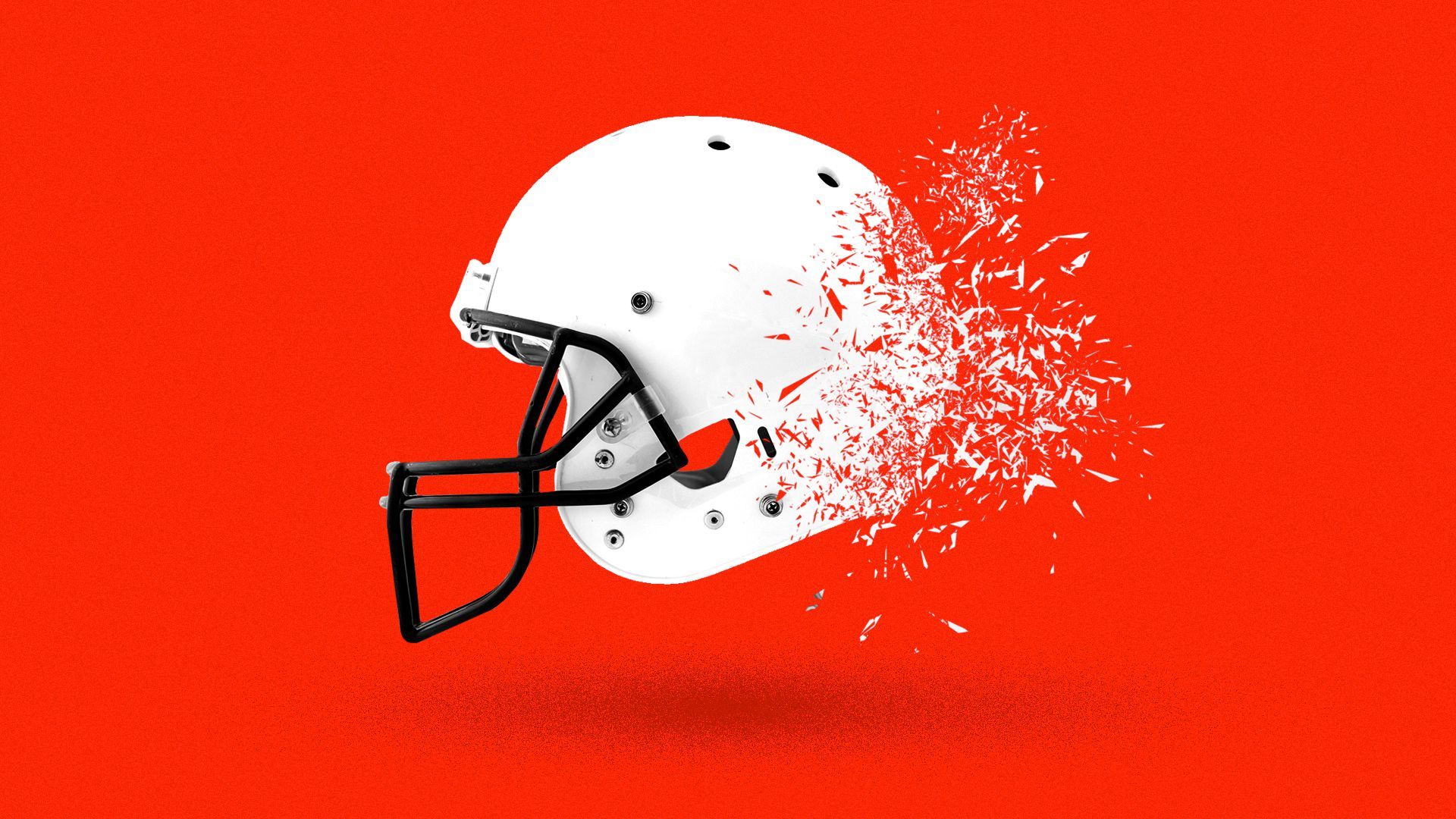 Playing football will always come with inherent risk, but the NFL's efforts to make the sport safer are bearing fruit — and further advancements could be on the way, Axios' Jeff Tracy writes.
Driving the news: There were 187 total concussions this season, continuing a promising downward trend. For reference, the average 2015–2017 was 266 per year.
Yes, but: Despite changes designed to make special teams safer, the injury rate on punts and kickoffs remains high.
One in six concussions and 30% of ACL tears occurred on special teams this season.
The big picture: Rule changes have been effective in improving player safety, but they can only do so much. That's where science and technology come in.
Video analysis was used last season to track every instance of head impact, and the resulting data will be the crux of "our next big frontier when it comes to the neurological health of our players," said NFL chief medical officer Allen Sills.
Meanwhile in Canada, scientists have developed a blood test that can diagnose a concussion in 20 minutes. It could be available as early as 2023, and other similar tests aren't far behind.
"What we're really trying to do is make sure concussions aren't missed," said one of the scientists. "Because when you have cumulative concussions, that's when the symptoms become more debilitating ... and in some rare cases, they can be life-ending."
What to watch: Reliable concussion tests would be a game-changer, as would the ability to diagnose CTE in living people. We're not there yet, but recent biomarker research has scientists closer than ever.
3. ⚾️ Why MLB could add an international draft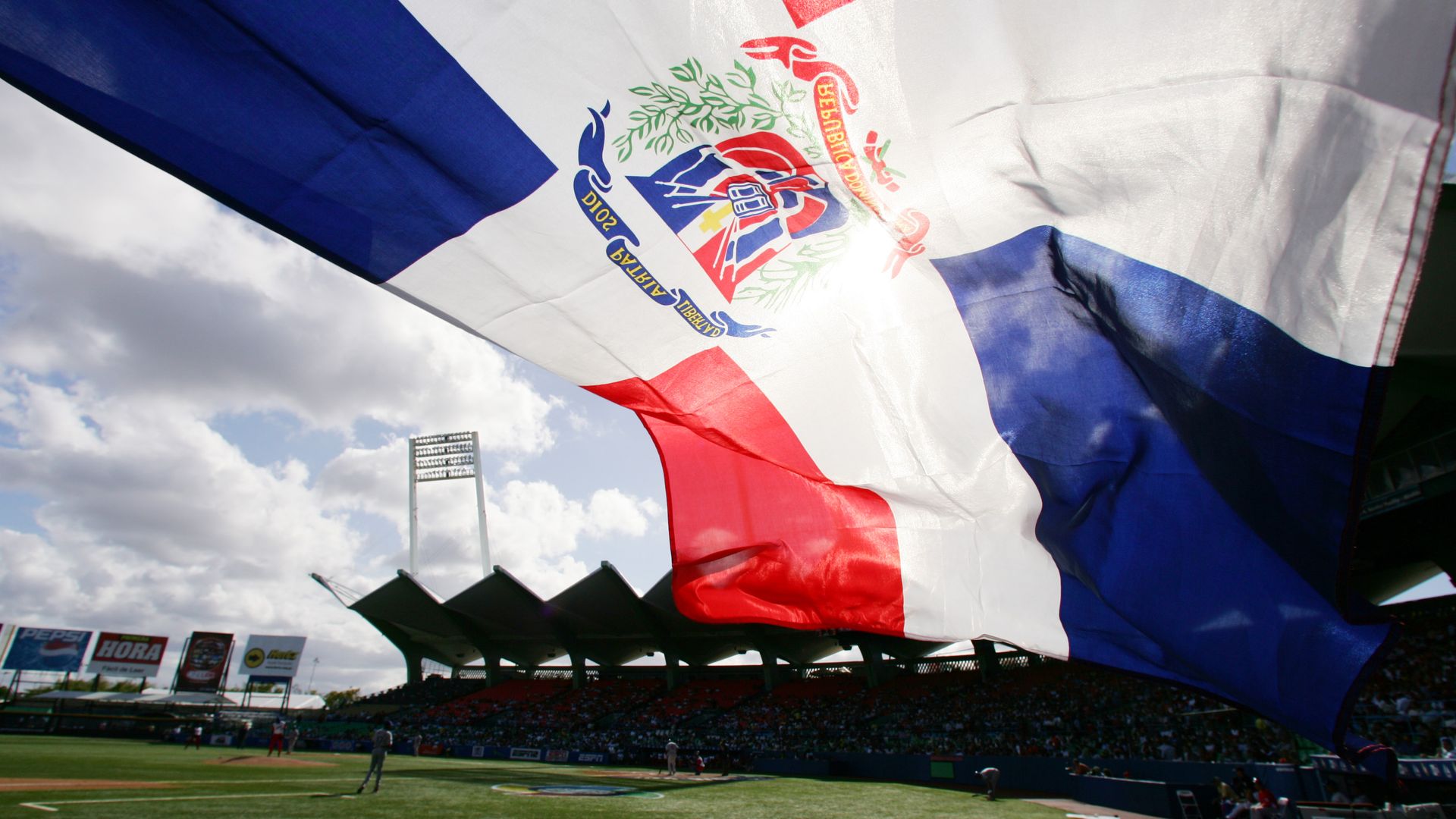 MLB is considering adding an international draft to the next CBA in hopes of fixing a system that has spiraled out of control.
Why it matters: Big league rosters are littered with Latin American players, but the path to the pros for prospects from the region is fraught with corruption.
State of play: International amateurs would benefit from the sort of draft through which Americans and Canadians already enter the league, as it would introduce much-needed transparency.
Besides Americans, Dominicans are the most represented nationality in MLB, comprising 10% of 2021 Opening Day roster spots. Venezuelans were second at 7%, while Cubans comprised 2%.
Countless kids with big league dreams watched Colombia beat the Dominican Republic in last week's Caribbean Series. This offseason's negotiations could determine the path they may one day take.
How it works: Under the current system, prospects begin working with trainers — who earn a portion of their future bonuses — as young as age 10, hoping to catch the eye of a big league scout.
Verbal commitments then effectively take that player off the market until he reaches eligibility at age 16, at which point the expectation is he'll sign for what he was promised (say, $1 million).
The issue is that scouts often promise more money than they can spend, so when it comes time to sign, many players are told their bonuses have been slashed, if not gone entirely.
Under-the-table payments are another problem, as trainers from different regions essentially sell players to each other with scouts as middlemen. "It's a mafia," one trainer told The Athletic (subscription).
This cottage industry has been a long-simmering problem, but it worsened in 2017 when a cap was placed on how much each team could spend annually on international signings.
The bottom line: Bad blood between MLB and the MLBPA is the lockout's biggest headline, but the implications of the new CBA are more far-reaching than that.
4. ⚡️ Lightning round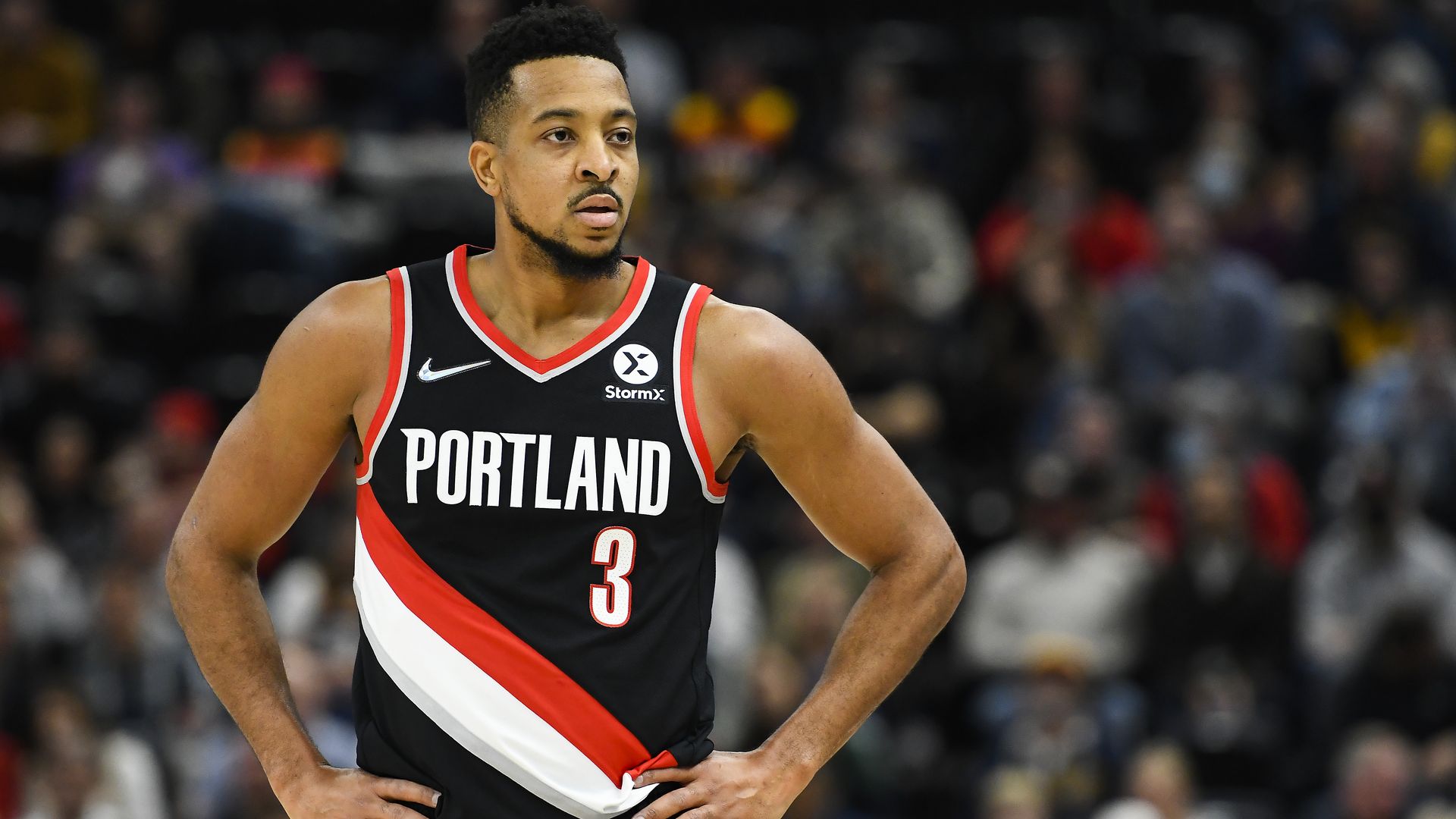 🏀 Woj bombs: The Pacers sent two-time All-Star Domantas Sabonis to the Kings for rising star Tyrese Haliburton (full trade); The Blazers sent CJ McCollum to the Pelicans (full trade). Trade deadline is tomorrow.
⚽️ Spirit sale: The Washington Spirit has sold for an NWSL record $35 million to Cognosante founder Michele Kang. The reigning champs recently signed Trinity Rodman to the biggest deal in league history.
⚾️ MLB + Mojo: MLB has partnered with MOJO, the app designed to take the stress out of youth coaching. MLB joins the NBA, NFL Flag, US Youth Soccer and FC Barcelona as MOJO partners.
📺 Good read: How Mina Kimes became ESPN's most unlikely star (Andrew Marchand, NY Post)
"Mina is the first successful major NFL TV studio analyst who never played, coached or was in a front office."
5. 💵 Byron Allen is bidding for the Broncos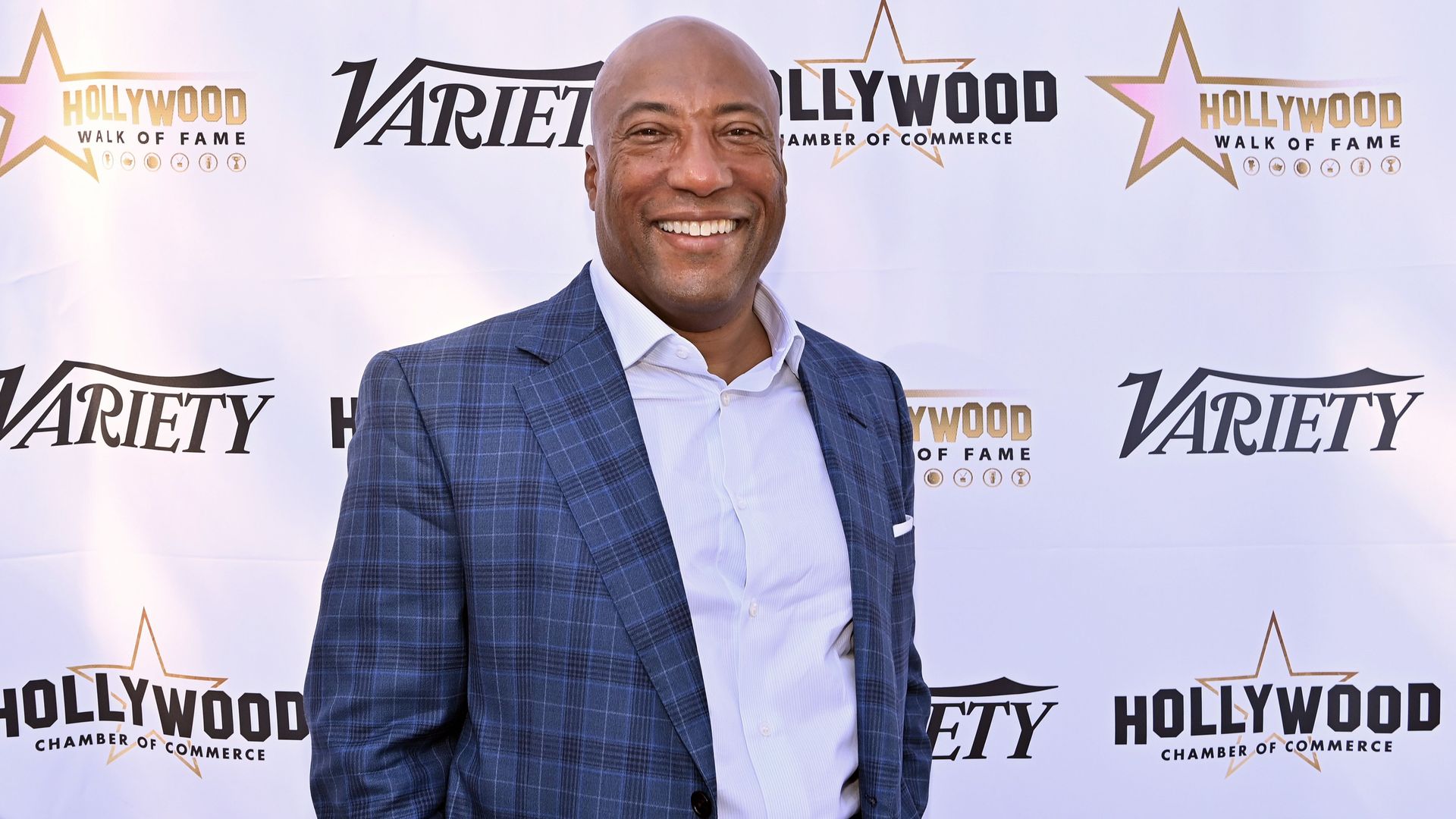 Byron Allen, the comedian-turned-media-mogul, is preparing a bid for the Broncos that could make him the NFL's first Black majority owner, Bloomberg reports.
By the numbers: The Broncos' sale price could exceed $4 billion, and NFL ownership rules require a principle owner to have a stake of at least 30%.
Dueling Allens: Both Allen and the Broncos are working with bankers, and the football team has chosen ... Allen & Co.
The backdrop: Allen, 60, is a Detroit native who rose to fame as a comedian. He now runs Allen Media Group, which owns the Weather Channel, operates several local news stations and c0-owns Bally Sports.
6. 🏒 The Canadiens are terrible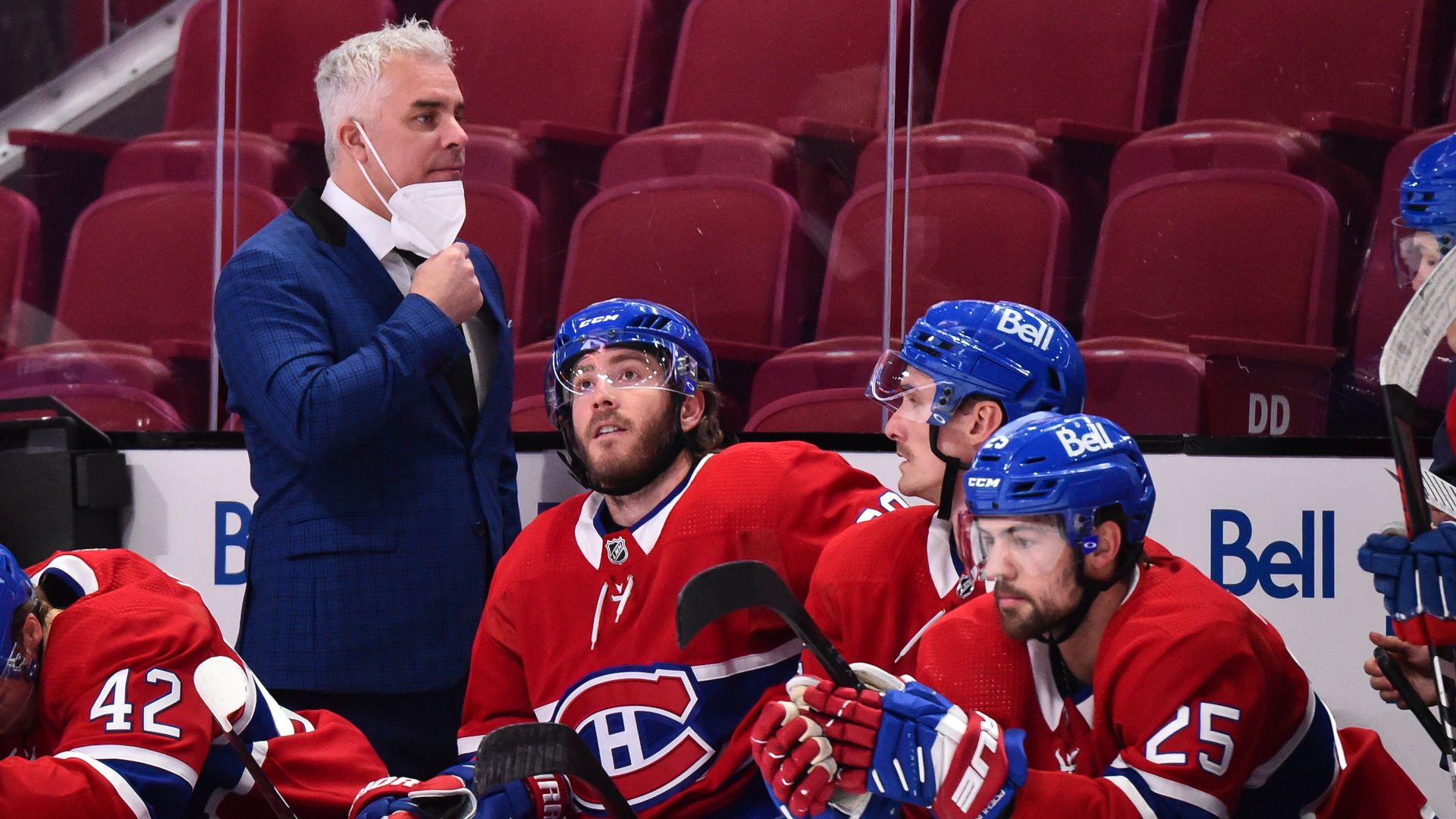 The Canadiens are having one of the worst seasons ever for a reigning runner-up — in any sport.
Last season, Montreal came three wins short of lifting the Stanley Cup.
This season, they're 8-30-4, with just two wins since November. On Tuesday night, they lost 7-1 to the lowly Devils.
By the numbers: The Habs are on pace for 42 points. The next worst reigning runner-up in the modern era was the 2003 Hurricanes, who finished with 61 points.
The backdrop: Fans are not currently permitted in the stands at Bell Centre due to Quebec's COVID-19 restrictions. Maybe that's a good thing — they shouldn't be subjected to this.
7. 🌎 The world in photos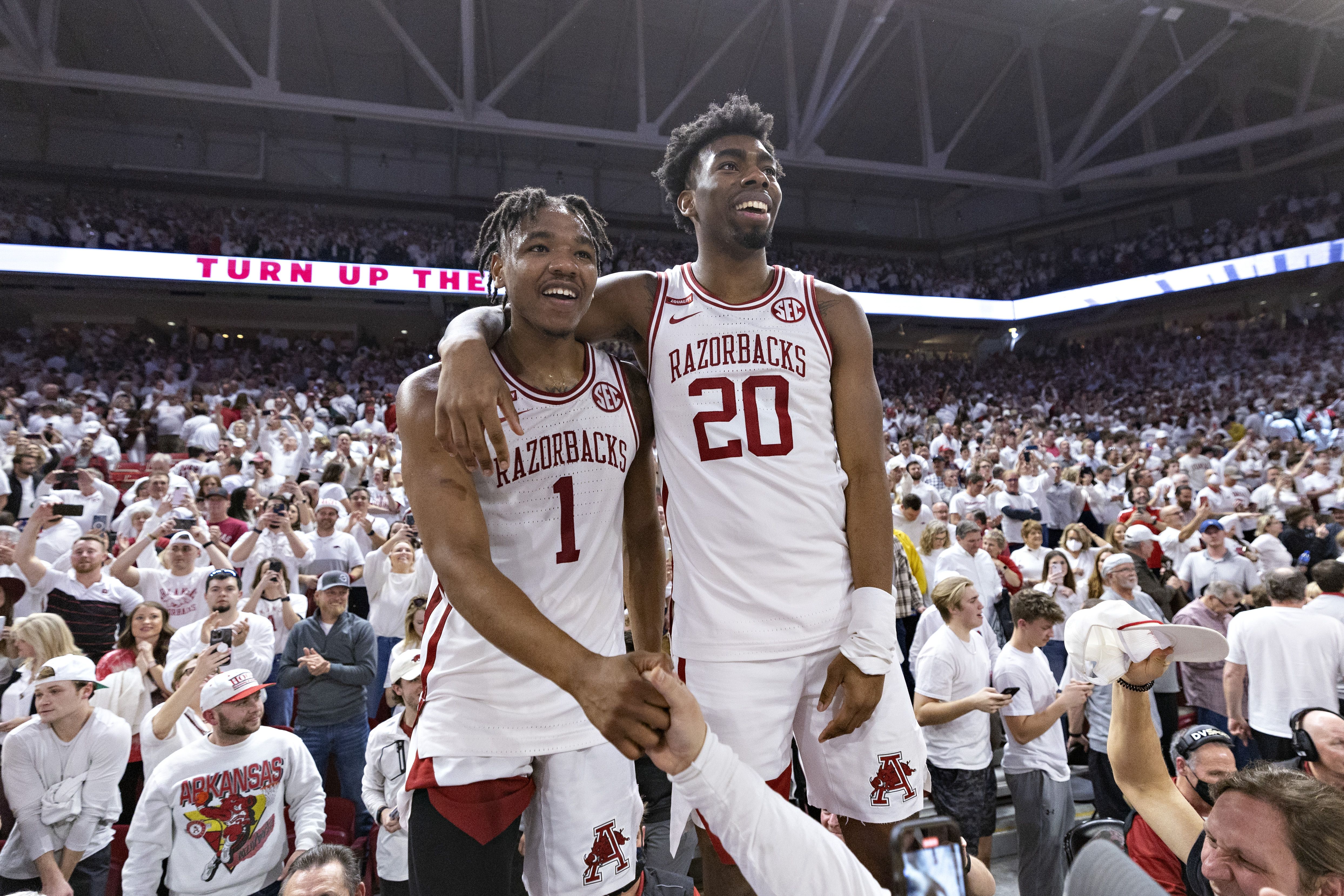 FAYETTEVILLE, Ark. — JD Notae scored 28 points and unranked Arkansas hit clutch free throws down the stretch to beat No. 1 Auburn, 80-76 (OT).
The big picture: Every team now has at least two losses, meaning 1975-76 Indiana (32-0) will remain the last team to win the national title with one or fewer losses.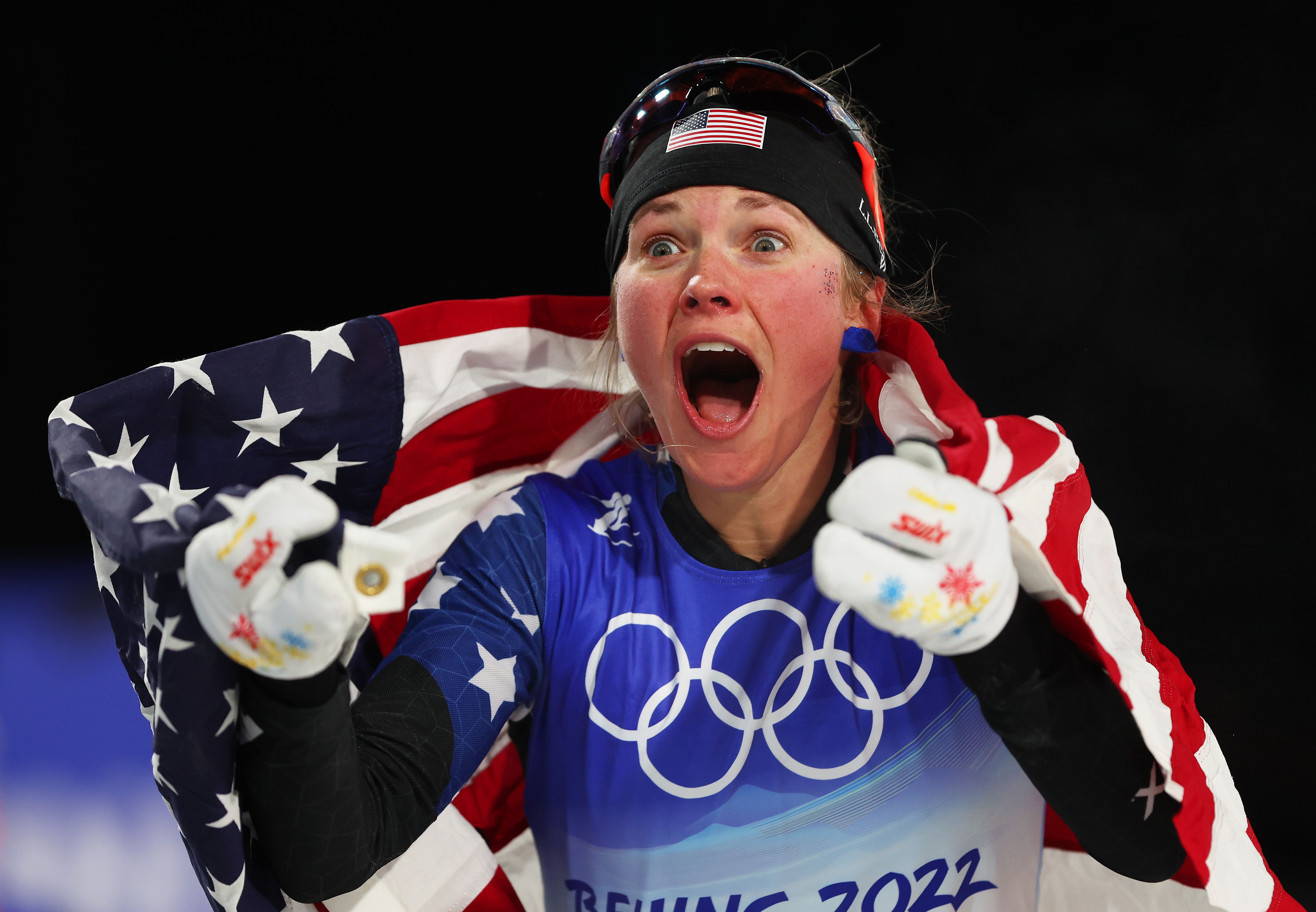 BEIJING — Jessie Diggins won bronze in freestyle sprint, becoming the first American woman to win an individual Olympic medal in cross country. That face!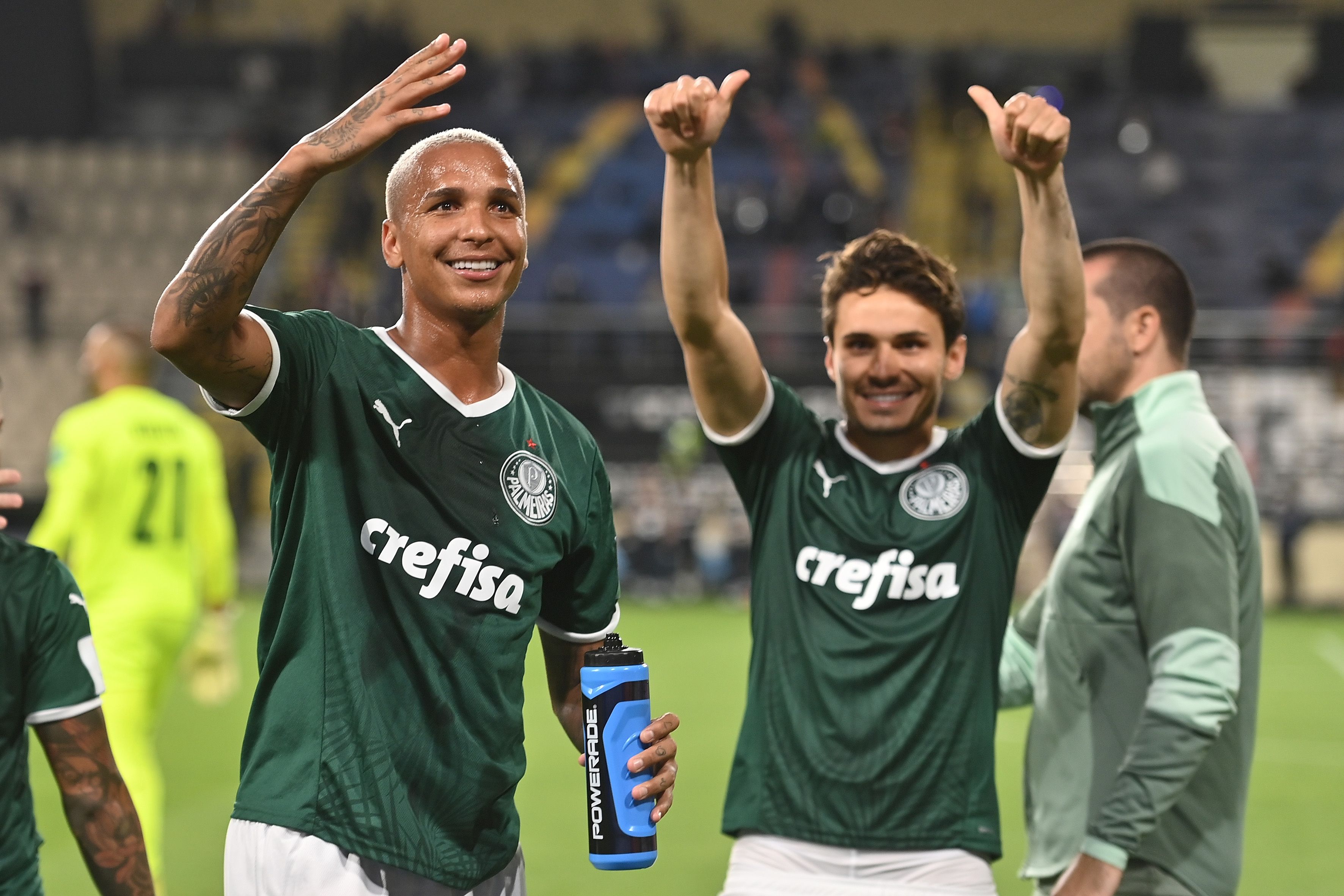 ABU DHABI, U.A.E. — Palmeiras (Brazil) beat Al Ahly (Egypt), 2-0, to book a spot in the FIFA Club World Cup final against the winner of Chelsea (England) vs. Al Hilil (Saudi Arabia).
8. 📺 Watchlist: Chen, Kim go for gold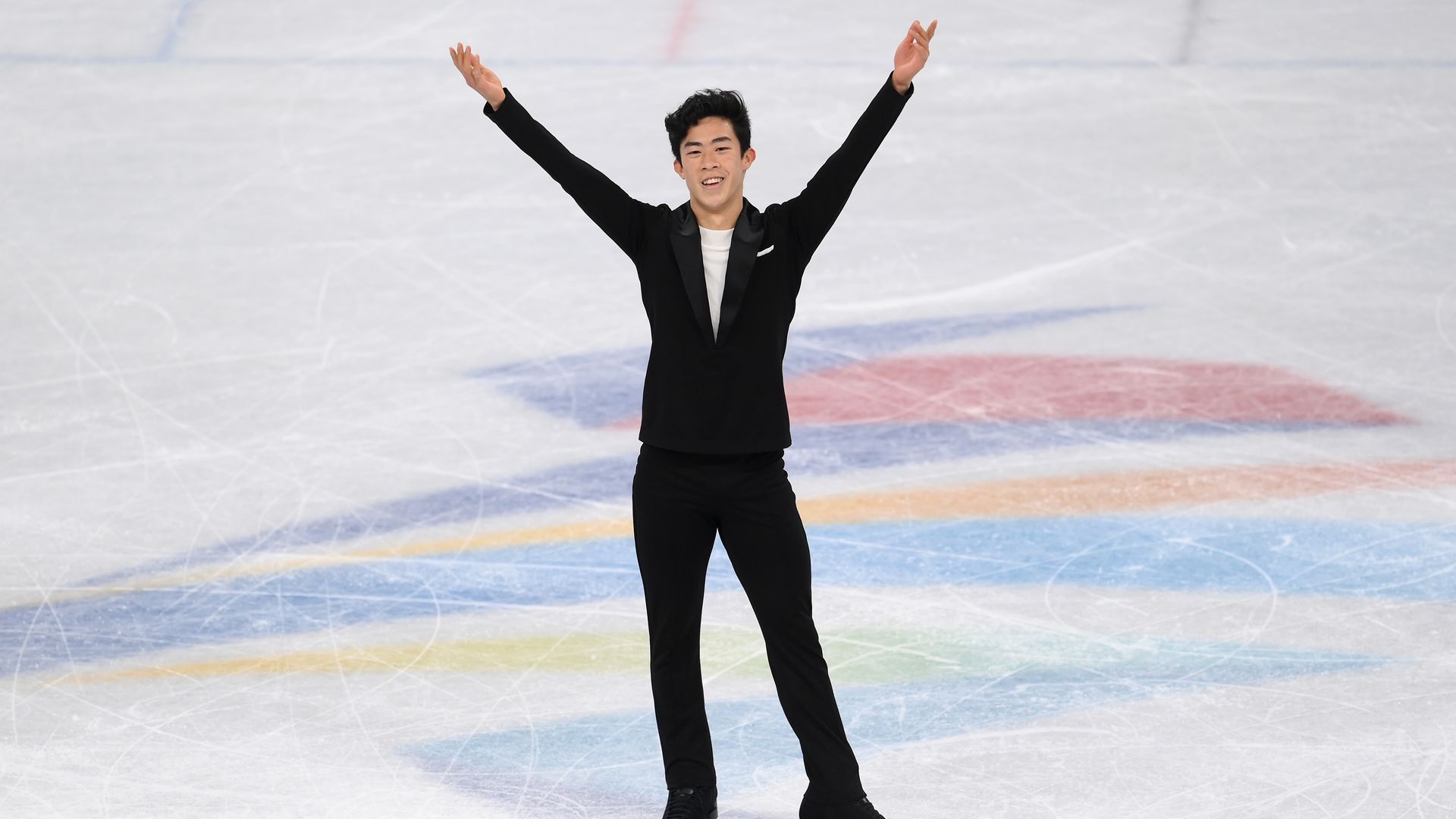 Tonight's Olympics coverage features two young Americans with a chance to solidify their standing as all-time greats.
⛸ Nathan Chen, fresh off a world record performance in the short program, can put 2018's heartbreak behind him if he holds serve and wins gold in the free skate (8:30pm ET, USA).
🏂 Chloe Kim is already the youngest woman to win Olympic gold in snowboarding. Tonight, she goes for two in a row (8:30pm, NBC).
More to watch:
9. 🎾 Tennis trivia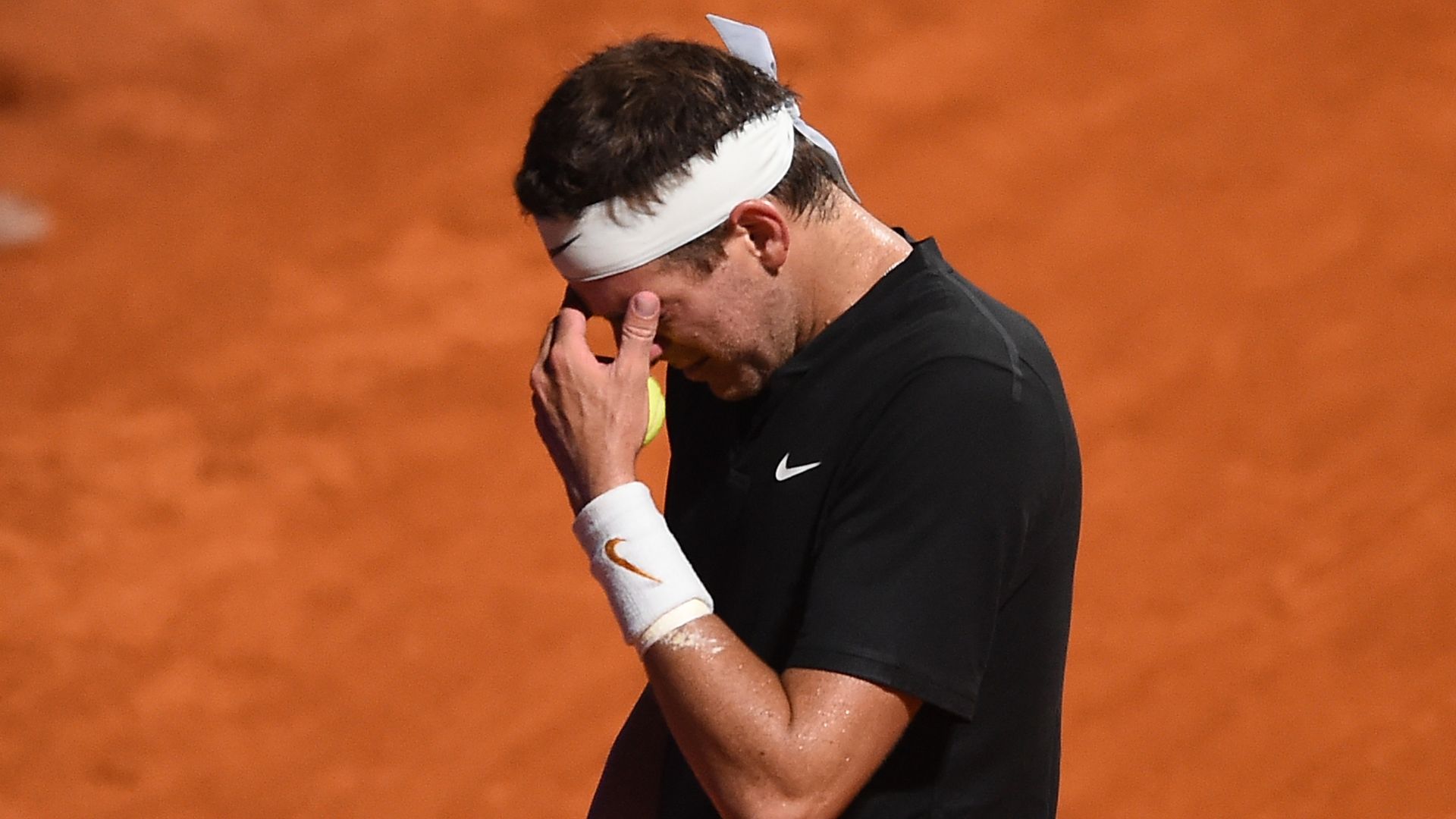 Juan Martín del Potro was in tears Tuesday after a farewell match in front of his home fans in Argentina. He'll retire next week.
Question: Del Potro is one of just six men not named Federer, Nadal or Djokovic to win a major since 2009. Name the other five.
Hint: Two won multiple times.
Answer at the bottom.
10. 🏀 Poll: Who's the best NBA coach ever?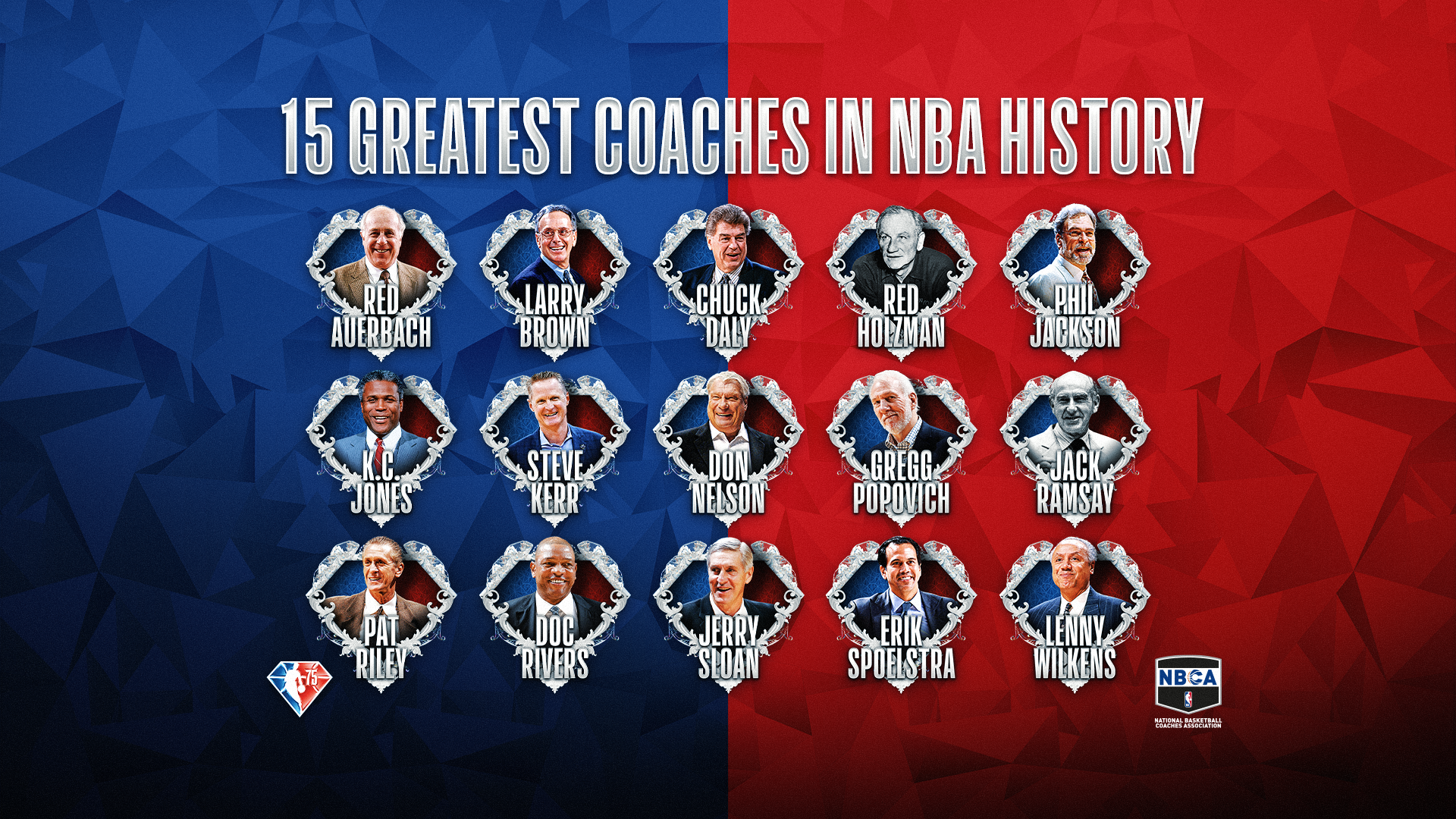 The NBA unveiled the 15 Greatest Coaches in NBA History on Tuesday as part of the celebration of the league's 75th anniversary season.
Click to vote: Who's the GOAT?
Thanks for voting. We'll share the results tomorrow.
Talk tomorrow,
Kendall "Call the Hogs" Baker
Trivia answer: Andy Murray (3), Stan Wawrinka (3), Marin Čilić, Dominic Thiem, Daniil Medvedev
🙏 Thanks for reading. Follow us on Twitter: @kendallbaker and @jeffreytracy. Tell your friends to sign up.