🚀 Good morning! James Harden scored 61 points at the Garden last night. He is now averaging 52.2 points over his last 5 games and 36.3 for the season. We've never seen anything quite like this.
1 big thing: The "Edward Snowden of soccer"
Over the past 4 years, a series of leaks published on a website called Football Leaks have exposed professional soccer's darkest and most incriminating secrets.
Why it matters: Those secrets have resulted in criminal investigations and, in some cases, even prosecutions.
Cristiano Ronaldo was fined $21.6 million on Tuesday after he pleaded guilty to tax fraud in Spain. Those charges were a direct result of financial details revealed by Football Leaks.
Speaking of Ronaldo, Football Leaks is also responsible for the reopening of the sexual assault case against him earlier this month.
Driving the news: Last week, the man behind the leaks, a 30-year-old Portuguese citizen named Rui Pinto, was arrested in Budapest, Hungary.
Pinto faces extradition to Portugal on charges of extortion and violation of secrecy. According to Doyen Sports, one of the biggest investment funds in European soccer, he threatened to publish internal documents unless the fund paid him hush money.
One of Pinto's lawyers acknowledged that his client attempted to make contact with Doyen, but says the extortion claims are invalid because he "didn't follow through" and described the charges as "a tool to target him as an offender and not a whistle-blower."
The big picture: Pinto's case "represents a high-profile test of a Hungarian law passed in 2014 that affords special protection to whistleblowers," writes the NYT's Tariq Panja.
"His lawyers plan to argue that the leads his leaked documents provided to a variety of European law enforcement organizations outweigh Pinto's actions."
Working in his favor: Unlike most whistleblower cases, Pinto has no official connection with the industry he targeted beyond being a fan. Compare that to Edward Snowden, who was an employee of the government he targeted.
The bottom line: When is a hacker a whistleblower? That's the question at the center of this case, and Pinto's fate will hinge on how one Hungarian judge answers it.
👀 Look: Little is known about Pinto, but we do have footage of him outside the Budapest courtroom.
2. Alibaba moves into sports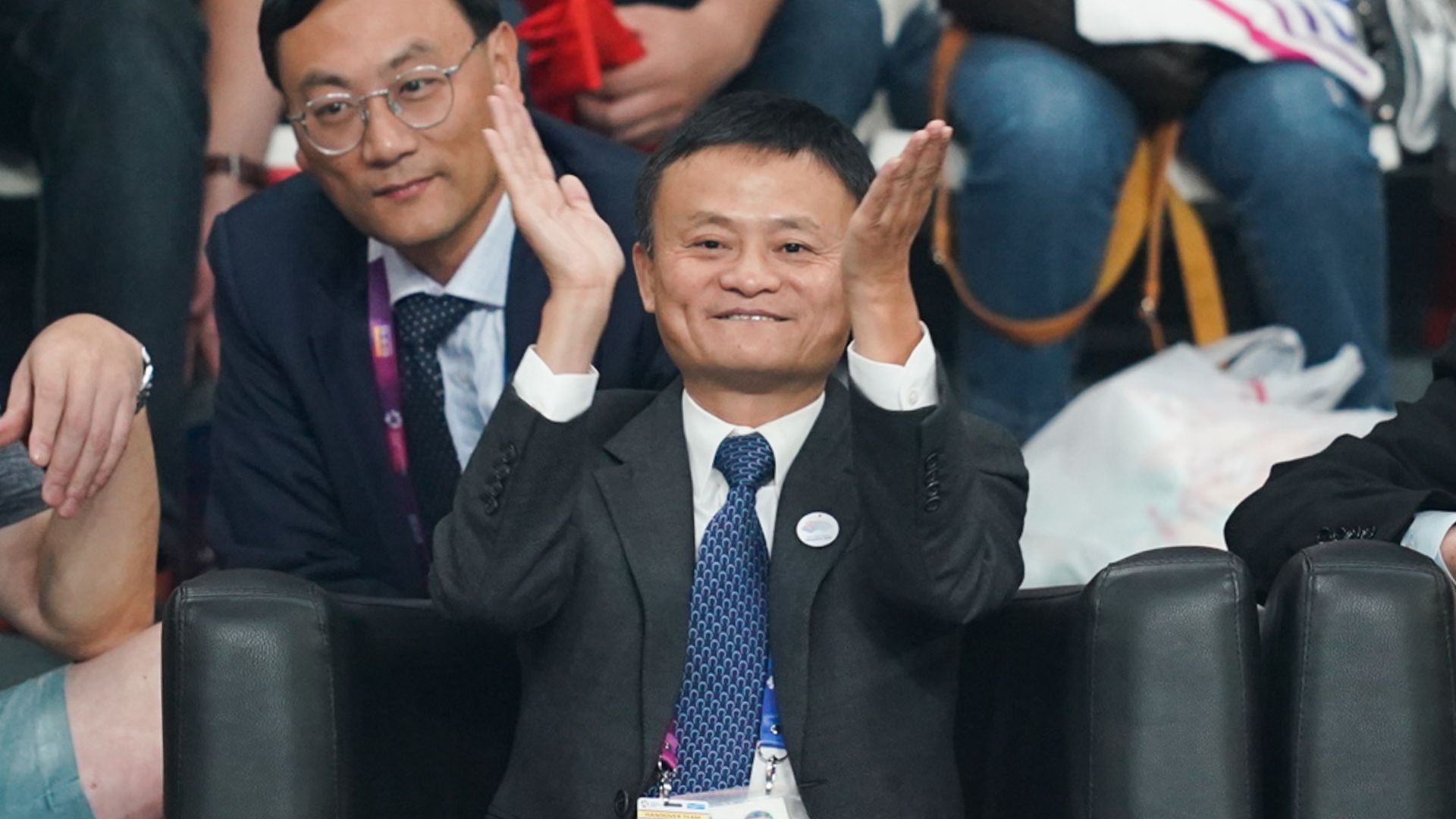 Chinese tech giant Alibaba is using its unparalleled reach across e-commerce, logistics, entertainment and travel to change the way its users consume, interact with and participate in sports, Mike Sykes writes.
Driving the news: The company's sports arm, Alisports, is leveraging Alibaba's expansive ecosystem and gigantic user base (over 600 million active users) to move into the world of organized sports, Bloomberg recently reported.
"Using marathons as a guinea pig, it's scooping up broadcast rights and collecting information on participants and viewers to sell them everything from running shoes to health insurance."
"Fans watching the event on the company's Youku streaming service can even send virtual gifts and tips to their favorite runners."
The big picture: Once this strategy is replicated across other sports, Alibaba will slowly begin to involve itself in nearly every aspect of the Chinese sports market: media, advertising, retail, events, fitness and health.
The bigger picture: This will provide a blueprint for how other platforms like Amazon and Twitter should — and shouldn't — go about using big data to penetrate the sports market.
P.S. Speaking of Alibaba, the company's co-founder and executive vice chairman Joseph Tsai — who already owns 49% of the Brooklyn Nets — officially purchased the WNBA's New York Liberty yesterday.
3. "Bye, transfer. Hope you find playing time!"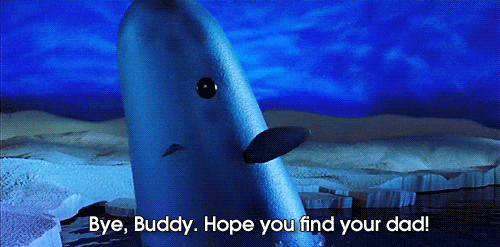 In search of playing time and chasing NFL dreams, college football quarterbacks are transferring at a dizzying rate. New rules make that process even easier, so the trend is sure to continue.
By the numbers: To determine just how common transferring has become, I took a look at how many of the top QB recruits over the last 5 years have actually stayed put. The results are insane.
Class of 2014: 13 of the 23 4- and 5-star QB recruits transferred during their career. // Notable: Kyle Allen (Texas A&M to Houston), Will Grier (Florida to WVU), Keller Chryst (Stanford to Tennessee).
Class of 2015: 13 of 23 have transferred. // Notable: Kyler Murray (Texas A&M to Oklahoma), Brandon Wimbush (Notre Dame to UCF), Joe Burrow (Ohio State to LSU).
Class of 2016: 13 of 21 have transferred. // Notable: Jalen Hurts (Alabama to Oklahoma), Austin Kendall (Oklahoma to WVU), Shea Patterson (Ole Miss to Michigan), Jacob Eason (Georgia to Washington).
Class of 2017: 8 of 24 have transferred (after just 2 seasons). // Notable: Tate Martell (Ohio State to Miami), Hunter Johnson (Clemson to Northwestern).
Class of 2018: 3 of 34 have transferred (after just 1 season). // All: Justin Fields (Georgia to Ohio State), Jack Tuttle (Utah to Indiana), Cameron Rising (Texas to Utah).
The big picture: To find 2 consecutive recruiting classes where more than half of the 4- and 5-star QBs stayed put, you have to go all the way back to 2008 (10% transferred) and 2009 (37%).
4. Australian Open: The finals are nearly set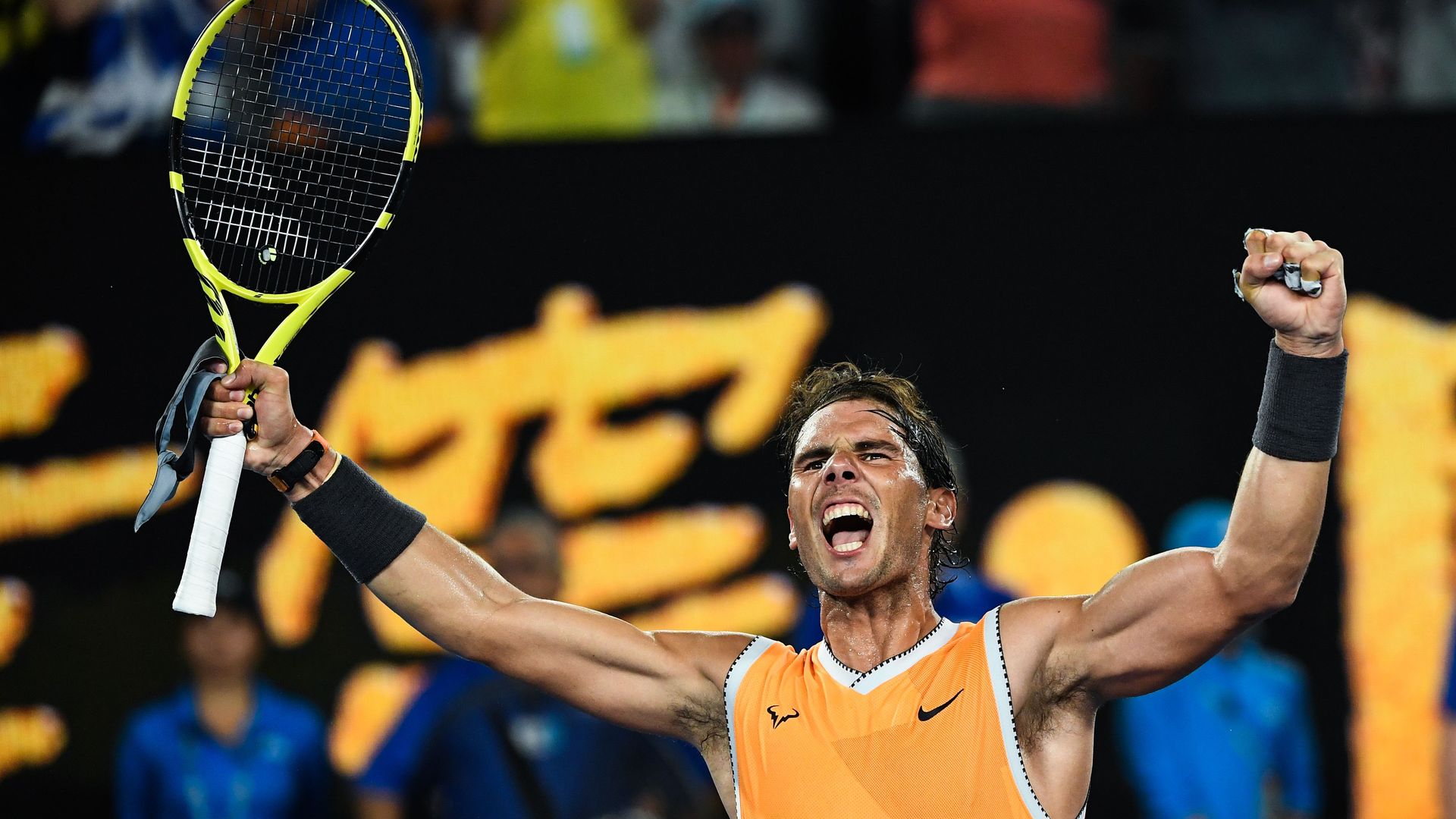 Above: No. 2 seed Rafael Nadal of Spain celebrates his 6-2, 6-4, 6-0 semi-final victory over No. 14 seed Stefano Tsitsipas of Greece. Nadal will play the winner of Novak Djokovic-Lucas Pouille in the final.
Below: No. 4 seed Naomi Osaka of Japan and No. 8 seed Petra Kvitová of the Czech Republic will face off in Saturday's final. Go deeper.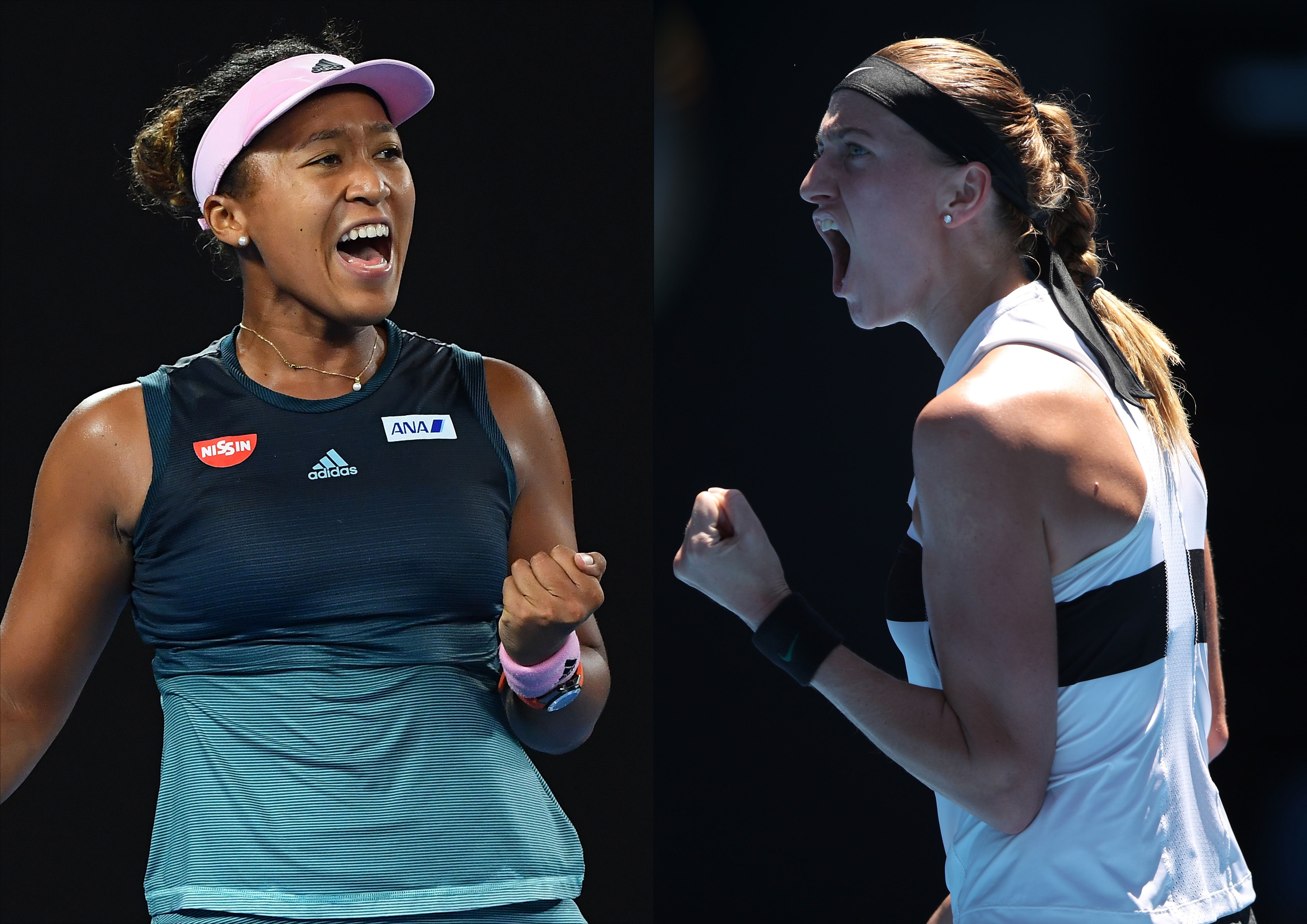 Photos: Quinn Rooney/Getty Images; Mark Kolbe/Getty Images
5. Who's the most iconic L.A. Ram?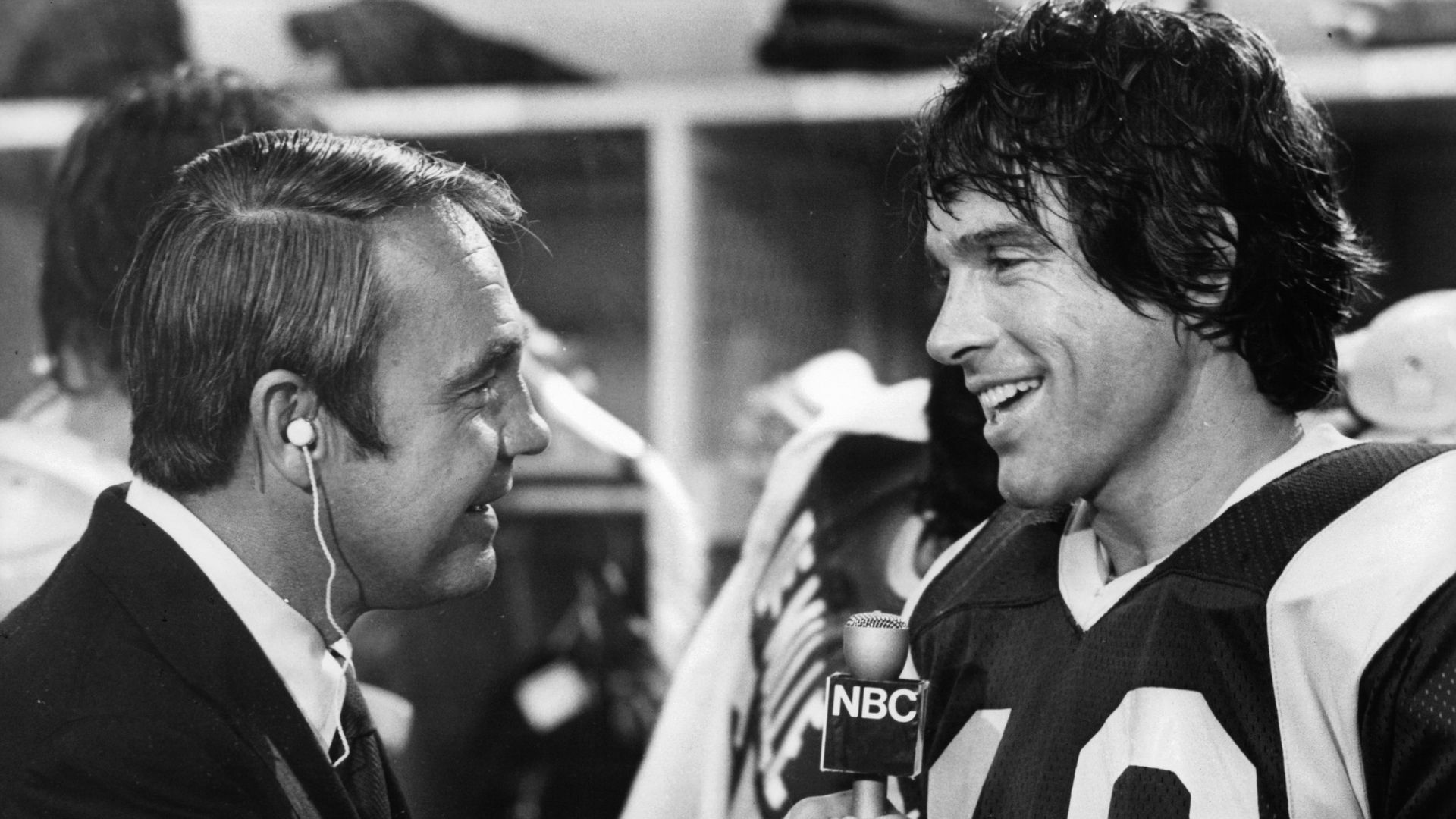 "I don't want any trouble from admirers of Jack Youngblood, Merlin Olsen, Deacon Jones, Roman Gabriel or Norm Van Brocklin, but for a vagabond football franchise with a scattered history, it's possible the most iconic Los Angeles Ram (who actually played in Los Angeles) remains a movie character," writes the WSJ's Jason Gay.
"Joe Pendleton, the shaggy-haired, corpse-hopping, soprano sax-playing, quarterback protagonist of the 1978 film 'Heaven Can Wait.' Played, of course, by the one and only Warren Beatty, whom I called on the telephone this week."
Continue reading (subscription) and then stream "Heaven Can Wait" on HBO
6. 🎮 Sign of the apocalypse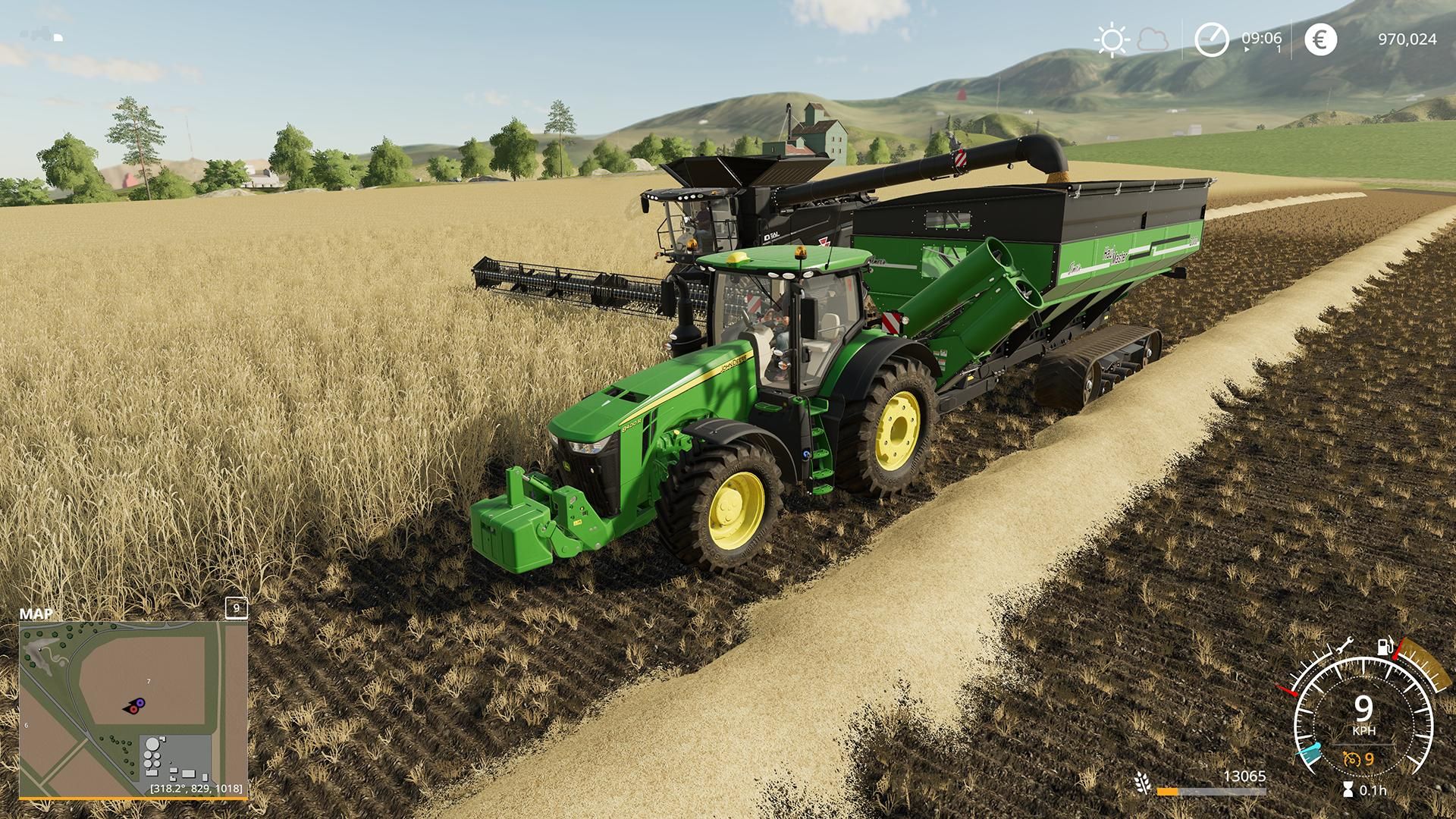 Swiss game studio GIANTS Software announced yesterday that it is launching a new esports league for its long-running and shockingly popular series "Farming Simulator."
The bottom line: Competitive virtual farming is now a thing that exists thanks to the Farming Simulator League, which will see players compete in tournaments across Europe for nearly $300k in prize money.
"Agriculture, like esports, is about passion, precision and attention to detail. Optimal conditions for an exciting competition."
— GIANTS Software CEO Christian Ammann in a
press release
7. Draft trivia
In 2005, an American university produced the No. 1 overall draft pick in 2 major sports leagues (MLB, NBA, NFL, NHL).
Question: Can you name the school?
Bonus: Another university accomplished this feat in 2017, though one of the leagues is not considered "major." Can you name the school?
Answer at the bottom.
8. The Ocho: Recapping the squash semis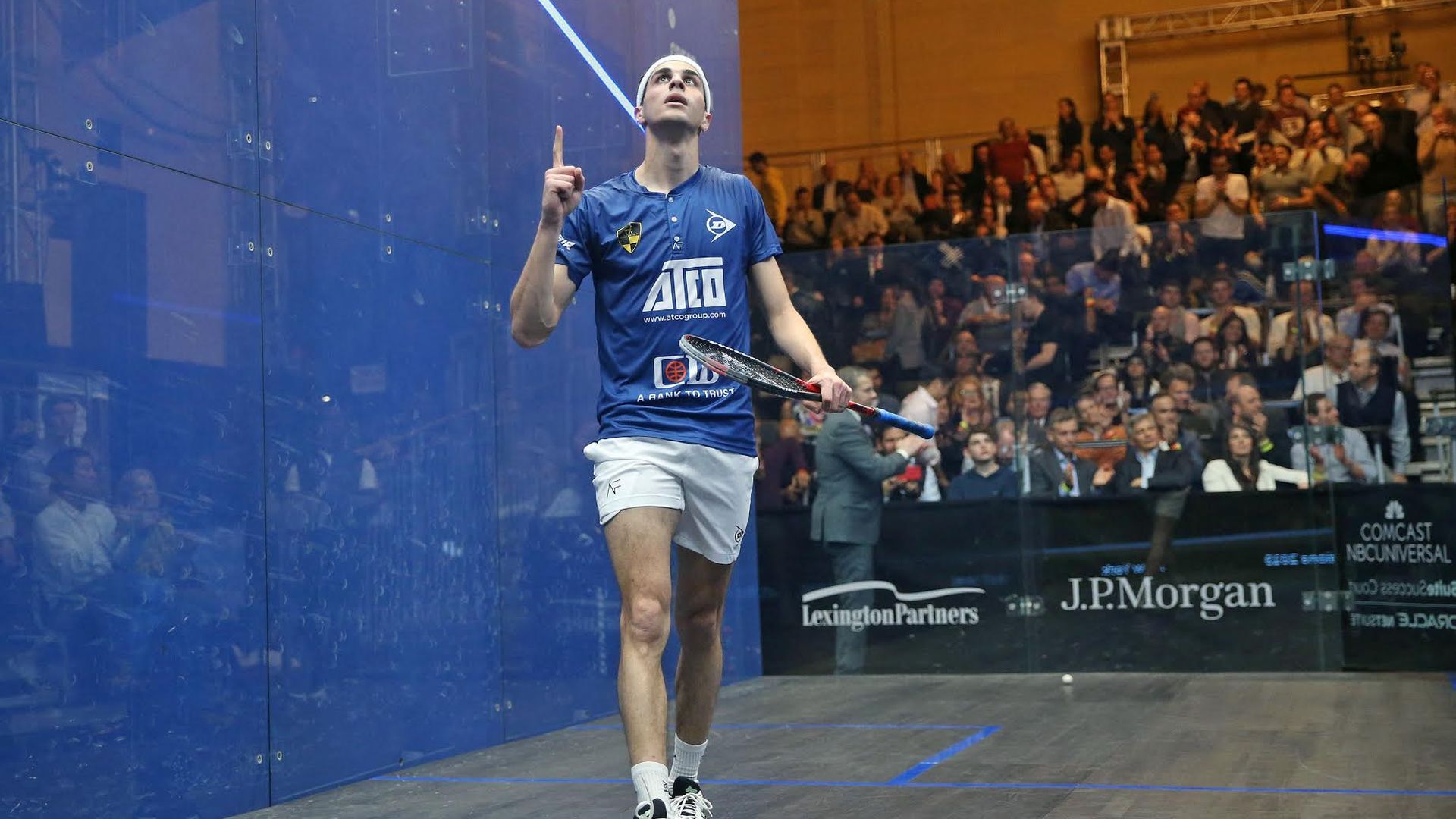 Welcome to Day 3 of Squash Week. Here's Day 1 and Day 2 if you missed them.
NEW YORK — Hey Axios Sports readers, it's your resident squash expert B.G. Lemmon reporting live from the J.P. Morgan Tournament of Champions.
What's happening: The men's and women's semi-finals took place yesterday, with the No. 1 and No. 2 seeds in both brackets emerging victorious (remember, it's best 3 out of 5 games, games are to 11 and you must win each game by 2 points).
Men: (1) Mohamed El Shorbagy def. (8) Karim Abdel Gawad, 7-11, 11-7, 11-8, 11-6 // (2) Ali Farag def. (4) Tarek Momen, 11-9, 11-8, 11-3.
Women: (1) Raneem El Welily def. Joelle King, 9-11, 11-4, 12-10, 11-9 // (2) Nour El Sherbini def. (3) Nour El Tayeb, 13-11, 9-11, 11-9, 11-4.
Meet the 4 finalists (all of whom are from Egypt):
El Shorbagy won this event in 2015 and 2016 and knocked out the 2017 winner, Karim Abdel Gawad, in impressive fashion yesterday. Here's his Instagram.
Farag graduated from Harvard in 2014 with 2 NCAA individual titles to his name. He's married to women's semi-finalist Nour El Tayeb, and fun fact — they're the only married couple to ever win a major singles title on the same day (2017 U.S. Open).
El Welily has made the finals in all 11 events she's played in since being upset in the quarters of this tournament last year. To keep the couples theme going, she's married to men's semi-finalist Tarek Momen.
El Sherbini is the defending women's champion. She's been dominant all tournament, having lost just 2 games.
9. On this date: 1/24/1962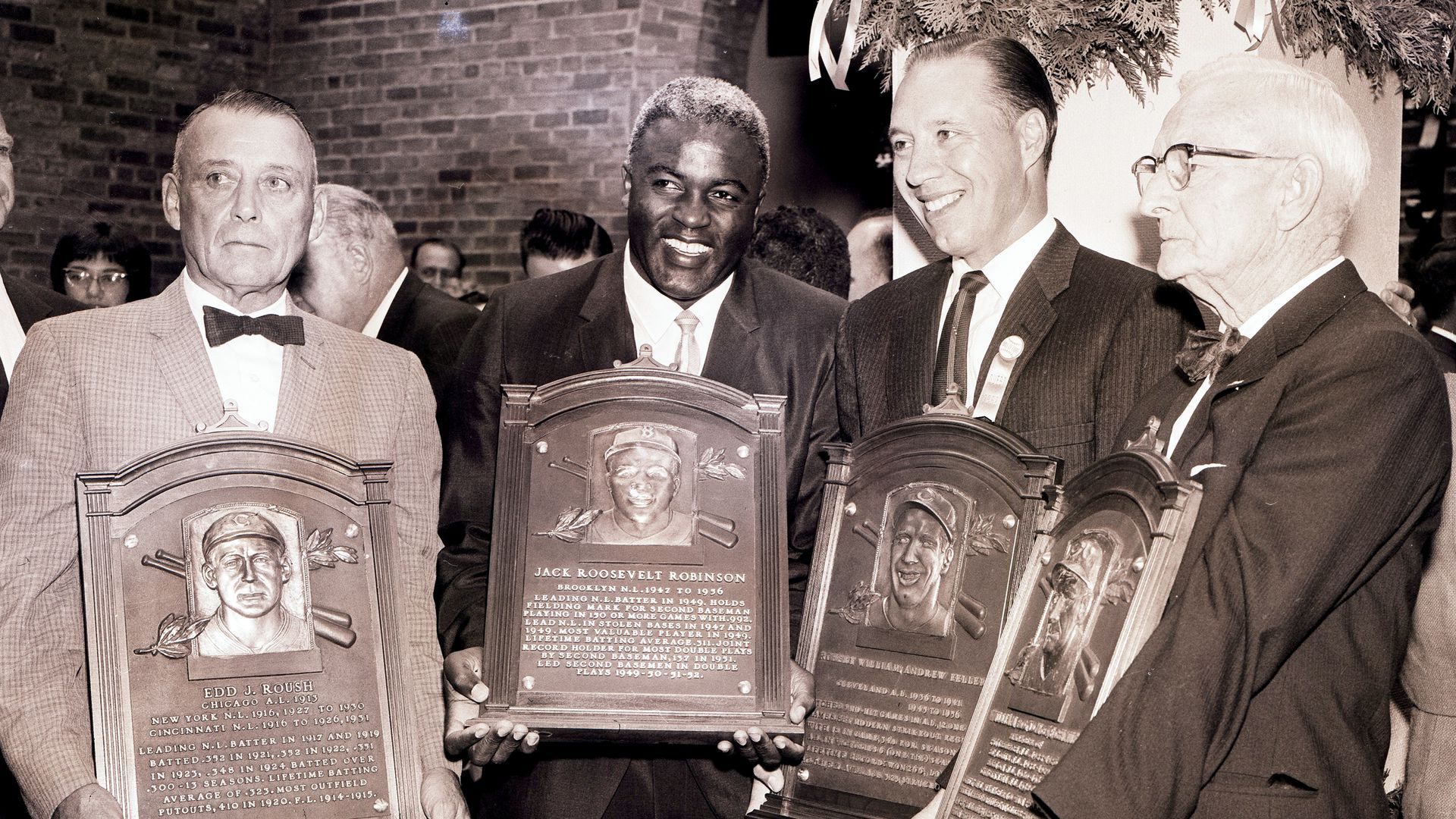 57 years ago today, Jackie Robinson became the first African-American baseball player elected to the Baseball Hall of Fame, receiving 77.5% of the vote. Enjoy.
Fun fact: When Major League Baseball retired Robinson's No. 42 jersey in 1997, they allowed all active players already wearing No. 42 to continue doing so for the remainder of their careers. One of those players? Mariano Rivera, who was just elected to the Hall himself.
Thanks,
Kendall "Virtual weed whacking enthusiast" Baker
Trivia Answer: Utah: Alex Smith (NFL), Andrew Bogut (NBA) // Bonus: Washington: Markelle Fultz (NBA), Kelsey Plum (WNBA)