🎉 Happy Mardi Gras! Let's sports.
1 big thing: 🏈 The NFL's franchise tag, explained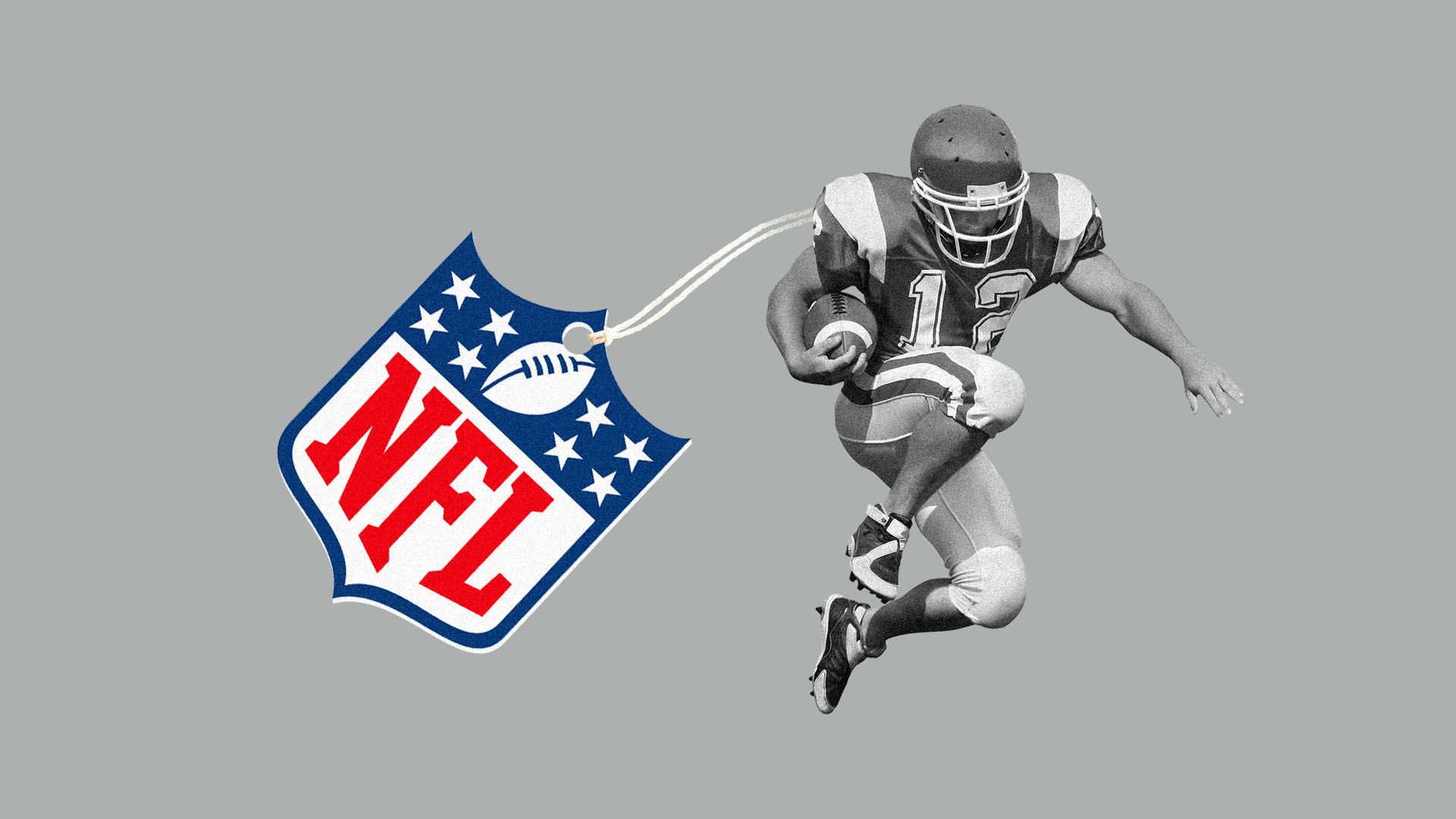 NFL teams have until 4 pm ET today to place the franchise tag on players they don't want to lose to free agency but who haven't signed long-term deals.
The franchise tag, explained:
What it is: The franchise tag is a one-year contract that prevents a player from becoming a free agent. Each team gets one tag per year, but most of them don't use it (six used it last year and six have used it so far this year).
How it works: Once a team tags a player, they have until July 15 to work out a long-term deal. If the two sides can't come to an agreement, the player plays the following season under the tag, where he is paid an average of the top-five salaries at his position.
How things typically play out: It's a toss up. Of the 39 franchise tags that were extended over the last six years, 19 players signed long-term extensions, 19 played under the tag and one sat out (Le'Veon Bell).
What's happening: So far this offseason, six players have been slapped with the franchise tag.
Jadeveon Clowney, DE, Texans
Frank Clark, DE, Seahawks
Dee Ford, DE, Chiefs
DeMarcus Lawrence, DE, Cowboys
Grady Jarrett, DT, Falcons
Robbie Gould, K, 49ers
What's next: The loss of four dominant edge rushers significantly weakens what could have been a game-changing free agent class of defensive linemen.
But that doesn't mean that teams with pass-rushing needs (and cap space) will shy away from spending money, which is fantastic news for remaining free agents like Trey Flowers.
Also: Expect the Lawrence-Cowboys saga to get pretty bumpy this summer, per MMQB's Albert Breer. He might not miss games like Le'Veon did, but "it wouldn't cost him a cent to continue playing stay-away right up to Week 1."
Go deeper: How the Colts can weaken the Texans by using Jadeveon Clowney as a pawn
2. ⚽️ Champions League returns today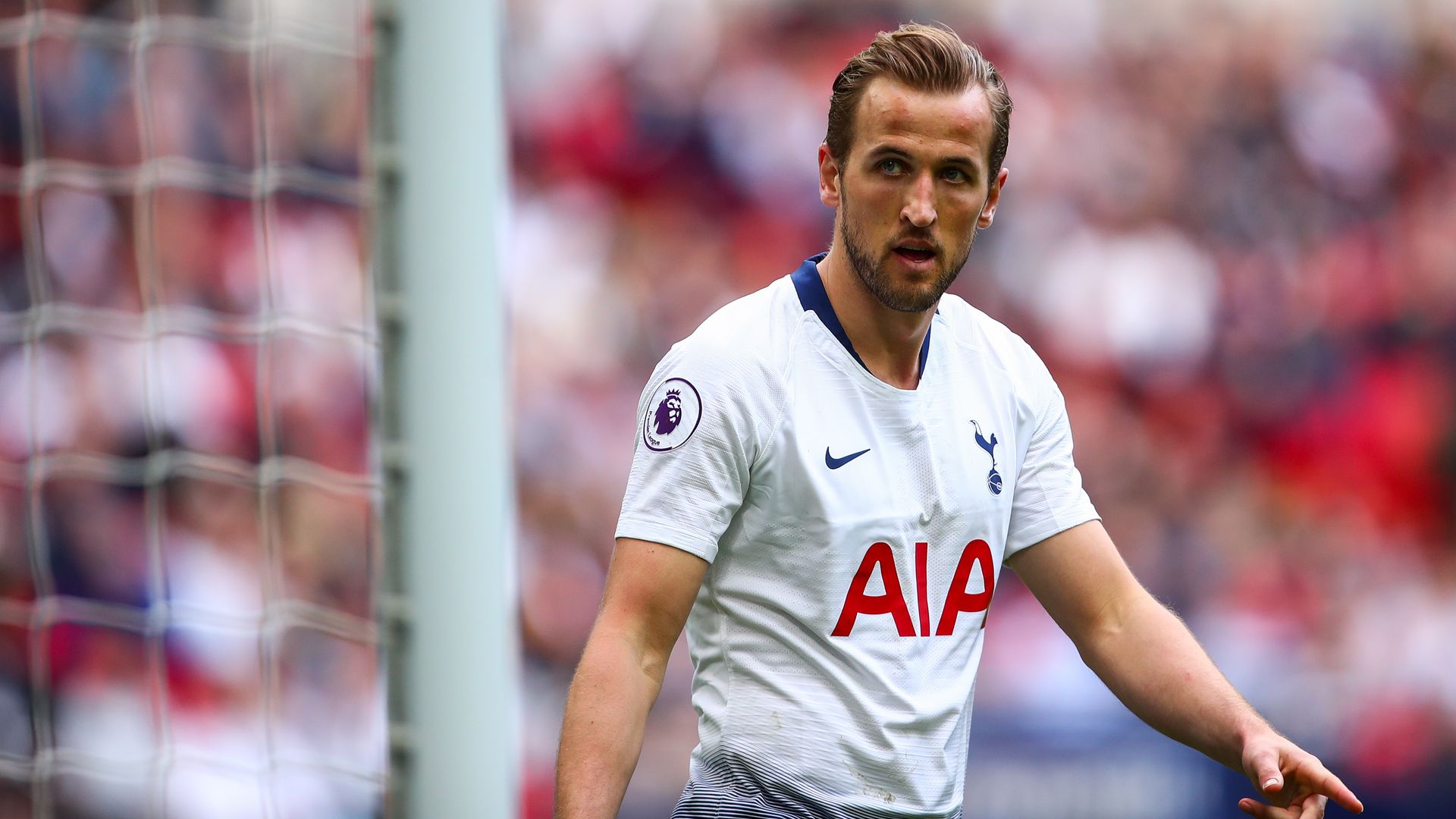 The Champions League is back in action this afternoon, with Tottenham Hotspur and Real Madrid in good shape to progress to the quarterfinals after winning the first legs of their matches.
Borussia Dortmund vs. Tottenham (3-0 lead): Tottenham dominated the first leg back in February, but they've gone winless in Premier League play since then. They could use another strong outing against Dortmund, who will need a minor miracle to advance.
Pregame reading: "At 29, [Dortmund's Marco] Reus knows that some look at his career for what it might have been, were it not for bad luck, bad injuries and bad timing. He is not among them." (New York Times)
Real Madrid (2-1 lead) vs. Ajax: Real are trying to win the Champions League for the fifth time in six seasons, while Ajax are aiming to reach the quarterfinals for the first time since 2003.
Pregame reading: Real Madrid, Barcelona and Bayern Munich aren't as dominant as they've been in years past, leaving the door wide open for a new champion to walk through. (FiveThirtyEight)
📺 How to watch: Both matches kickoff at 3 pm ET and are available to watch on TNT and B/R Live.
3. 🏀 Chris Clemons gets buckets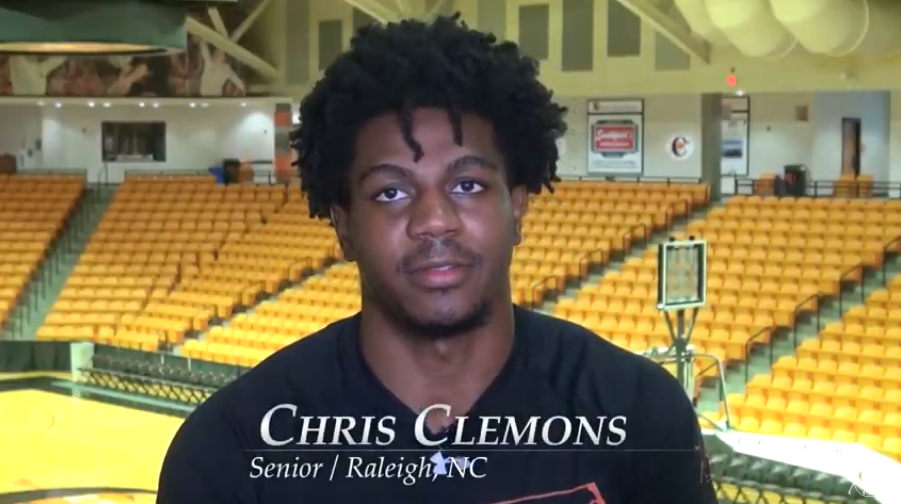 Source: Campbell Athletics/YouTube
From Mike: Some of basketball's all-time greats played their college ball in North Carolina, but none of them scored more points than Campbell University's Chris Clemons. In fact, only five players in any state have ever scored more.
All-time scoring leaders:
Pete Maravich (3,667)
Freeman Williams (3,249)
Lionel Simmons (3,217)
Alphonso Ford (3,165)
Doug McDermott (3,150)
Chris Clemons (3,106)
By the numbers: With a scoring average of 30.1 points per game this season, the 5-foot-9 Clemons is on track to become the first player to average 30 or more points in a season since 1994 (Purdue's Glenn Robinson).
His career usage rate (36%) is the highest of any player this decade, just barely topping former BYU star Jimmer Fredette (35.6%).
What's next: Campbell (19-11, 12-4) must win the Big South tournament in order to earn an NCAA tournament bid and extend Clemons' extraordinary career.
4. 🏒 Oh no, Jason...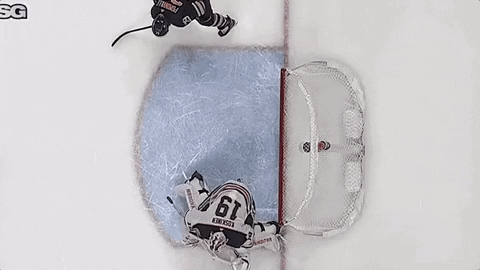 In the third period of last night's Oilers-Sabres game, with less than four minutes left and Edmonton up 4-3, the puck made its way to Sabres winger Jason Pominville.
He was alone at the crease and looked poised to score the tying goal, except ... wait ... what just happened? Did he just block his own shot? Yes, somehow, that's exactly what he did. Sabres lose 4-3.
P.S. Longtime Red Wings forward and Hockey Hall of Famer Ted Lindsay died yesterday at the age of 93.
"If they play pick-up hockey in heaven, I'd like to think everyone is nervously doing up their chinstraps today. You were a giant Ted."
— Fellow Hall of Famer Brendan Shanahan (
via Twitter
)
5. 🏀 NBA reads
Inside the Phoenix Suns' dysfunctional front office (ESPN)
Sources describe "an interventionist owner with more authority than expertise, a front office marred by instability, an undermanned scouting department, and a dated facility that isolates the decision-makers from the players and coaches."
The NBA's electric slide (The Ringer)
"James Harden has become a master in isolation by adding new twists to some of basketball's best moves. Here's how he turned one of Stephen Curry's tricks on its side to create one of his signature moves."
Examining what a change to the NBA's one-and-done rule would mean (SI)
The NBA has proposed that the eligibility rule be changed by the 2022 NBA Draft. What could that mean for the players, the league and the NCAA? Solid deep dive.
📺 Tonight: Rockets-Raptors, 8 ET // Celtics-Warriors, 10:30 ET
6. 🏒 March 5, 2004: Mayhem in Philly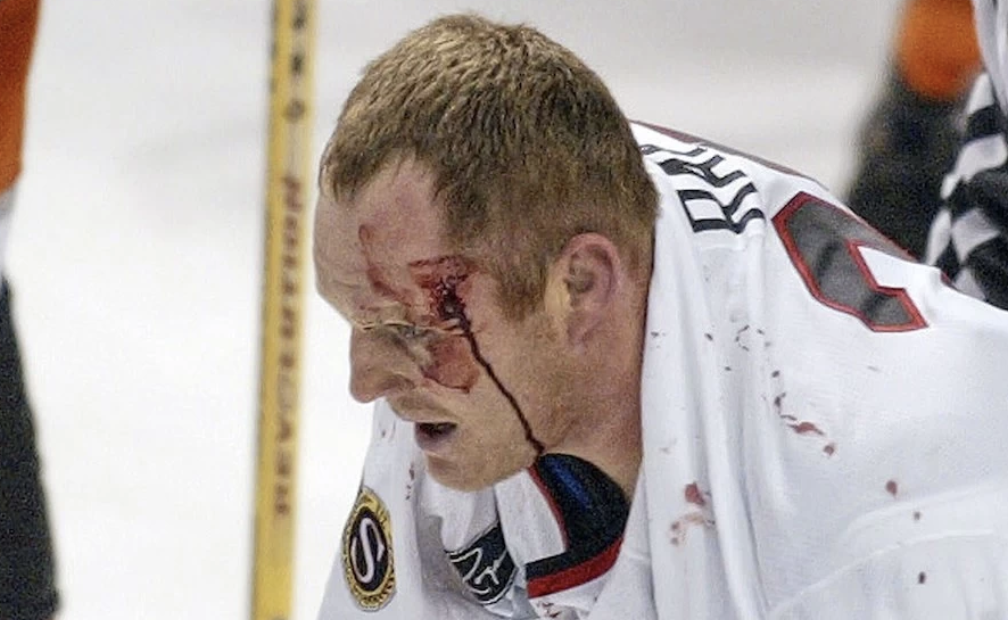 A bloodied Rob Ray skates off the ice. Photo: H. Rumph, Jr./Getty Images
15 years ago today, a hockey game between the Ottawa Senators and Philadelphia Flyers turned into an all-out brawl, resulting in an NHL record 419 penalty minutes.
7. 🏀 NBA trivia
Milwaukee Bucks guard Malcolm Brogdon is shooting 51.1% from the field, 43.8% from three and 93.2% from the line this season, putting him on pace to join the exclusive 50-40-90 club.
Question: Can you name all seven members of the 50-40-90 club?
Hint: Their initials: SN, SC, MP, LB, KD, RM, DN
Answer at the bottom.
8. The Ocho: Sign me up for skijoring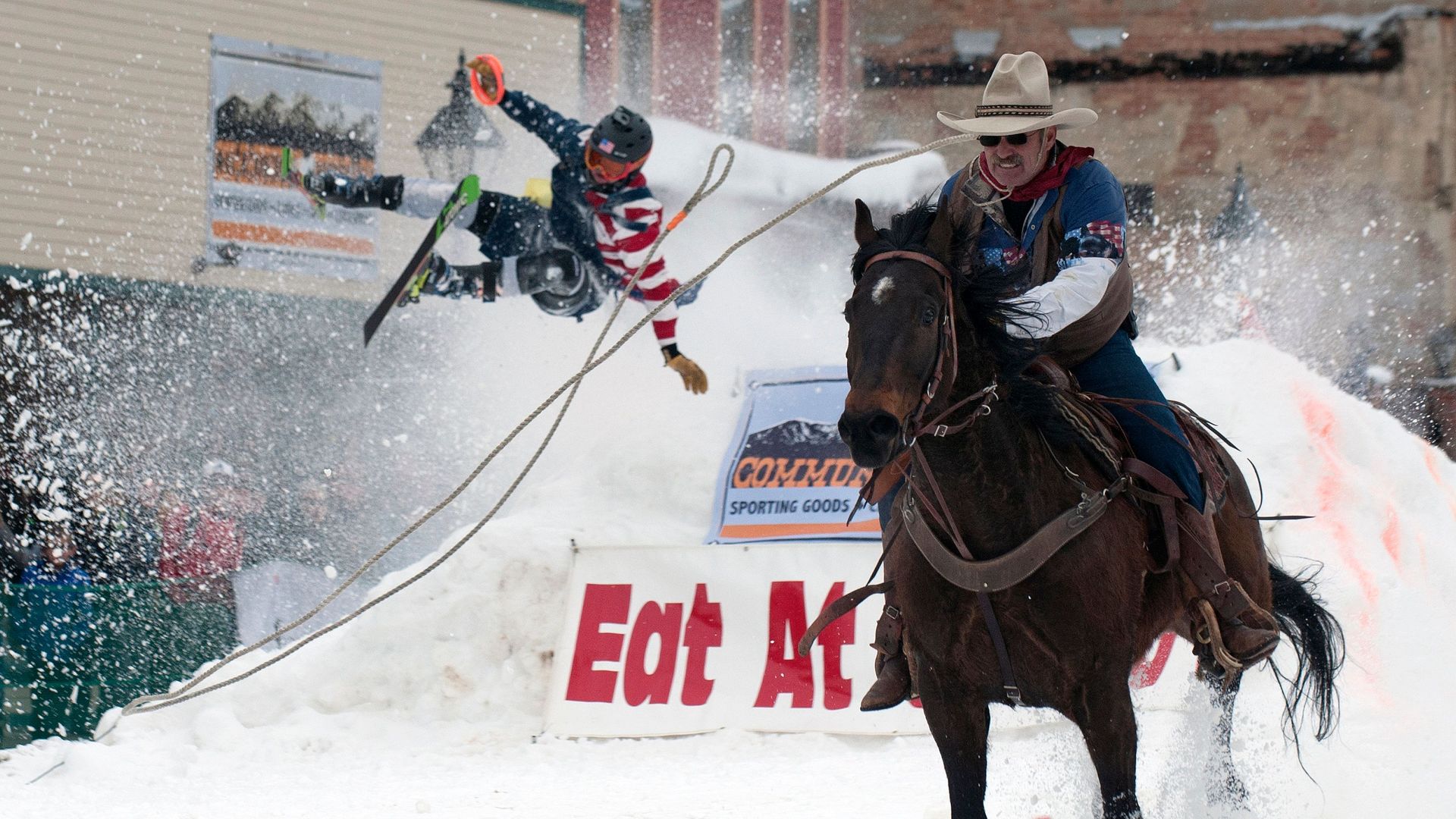 Imagine combining water skiing with the Kentucky Derby and mixing in an Olympic slalom course. Now stop imagining because that sport already exists. It's called skijoring.
How it works: Skiers get behind a horse while clinging to a 30-foot rope as they're slung around an obstacle course consisting of jumps, slalom gates and spearing rings (bonus points).
The rider in the saddle guides the horse and the skier through the obstacle course.
The goal is to clear the obstacle course as quickly as possible on your horse while the trailing skier maintains balance through the obstacles. It's wild.
The intrigue: It's almost a crime that skijoring isn't more popular, but the hope is that someday it could return to the Olympics where it was once a demonstration sport in 1928.
Go deeper:
Thanks,
Kendall "Slowwww news day" Baker
Trivia answer: Steve Nash, Steph Curry, Mark Price, Larry Bird, Kevin Durant, Reggie Miller, Dirk Nowitzki