March 20, 2020
🎉 Happy Friday! The fictional Final Four is set, and the first week in the No Sports Era is officially in the books. Hope you're hanging in there.
📺 "Axios on HBO": This Sunday, we dive into how the coronavirus pandemic is upending politics, business and global affairs. Don't miss: A rare in-depth interview with China's ambassador to the U.S. (clip).
Today's word count: 1,857 words (7 minutes).
1 big thing: 🌎 The global nature of U.S. sports
American sports leagues have become increasingly global over the last couple decades, which is inarguably a boon to business and fans alike, writes Axios' Jeff Tracy.
We get to watch the best players in the world, rather than just the country, while leagues and teams can take advantage of new business opportunities afforded by their worldwide reach.
Why it matters: The global nature of American professional sports represents our shrinking world, increased diversity and the melting pot of cultures that this country was built on — all great things.
But right now, as with everything else, it's hard not to look at this through the lens of the coronavirus.
How many players in the three major leagues most impacted by this — the NBA, NHL and MLB — are stuck, thousands of miles from their families, wondering when they'll see them next?
Driving the news: The NBA and NBPA have issued a memo telling players that they are barred from traveling outside North America.
The NHL and MLB have not, to this point, enacted similar bans, as both leagues trailed the NBA in discovering players who'd tested positive.
A breakdown...
The NBA (491 players) has the highest percentage of Americans, but also the greatest global reach, despite being the smallest of the three leagues:
U.S.: 363 players (73.9%)
Canada: 21 (4.3%)
France: 13 (2.6%)
Australia: 7 (1.4%)
Serbia, Germany, Croatia: 6 (1.2% each)
Turkey, Spain, Latvia: 4 (0.8% each)
Slovenia, Nigeria, Italy, Greece, Brazil: 3 (0.6% each)
11 countries: 2 (0.4% each)
20 countries: 1 (0.2% each)
MLB (1,192 players) just barely trails the NBA in terms of American representation:
U.S.: 822 players (69%)
Dominican Republic: 150 (12.6%)
Venezuela: 91 (7.6%)
Cuba: 28 (2.3%)
Puerto Rico: 23 (1.9%)
Mexico: 16 (1.3%)
Canada: 11 (0.9%)
Colombia: 9 (0.8%)
Japan, Panama: 8 (0.7% each)
Curaçao: 6 (0.5%)
South Korea: 4 (0.3%)
Four countries: 2 (0.2% each)
Eight countries: 1 (0.1% each)
The NHL (731 players), as you could have guessed, has by far the largest non-American contingent:
Canada: 305 players (42%)
U.S.: 201 (27.5%)
Sweden: 83 (11.4%)
Russia, Finland: 35 (4.8% each)
Czech Republic: 32 (4.4%)
Switzerland: 10 (1.4%)
Denmark: 8 (1.1%)
Germany: 6 (0.8%)
Latvia: 4 (0.5%)
France, Austria: 3 (0.4% each)
Six countries: 1 (0.1% each)
The bottom line: Maybe a couple hundred homesick athletes doesn't move the needle for you in the same way that a shortage of ventilators, tests and answers does, but while fans clamor for their favorite leagues to start back up again, it's important to remember what the athletes are going through, too.
2. 🍻 Sports bars are struggling
Days like these can demand the comfort of a sports bar, but even those are shut down in many cities. We spoke with two sports bar owners on opposite coasts about how they're navigating these uncertain times.
Kendall in San Francisco: I spoke with Neil Holbrook, part-owner of San Francisco Athletic Club, which opened in 2014 and features 28 TVs, a pool table and delicious bar food.
On the poor timing: "Being a sports bar is very seasonal. During the lean winter months, we just have to make it through. But come March, that's where we start to actually make some profit. With St. Patrick's Day leading into March Madness, this week was supposed to be one of the busiest of the year."
On closing the kitchen: "We were hoping to still do to-go food, but as a sports bar, we're not top of mind when people are ordering takeout. Unfortunately, we've had to close the kitchen and throw out lots of perishables."
Neil's big picture: "We have to keep our electrical on because we have freezers full of food and kegs full of beer. We pay $1,500 a month for every sports package known to man and we have lots of other bills. I don't think many businesses, especially in the service industry, can last a whole month like this."
Jeff in New York: I spoke with Patrick Daley, owner of Kettle of Fish — a longstanding institution in the heart of Greenwich Village. Patrick opened the bar in 1998 with his wife, Adrienne, and the Wisconsin couple has fostered an environment of Midwest charm (and plenty of Packers and Badgers regalia).
On the poor timing: "March is one of our two busiest months of the year. This past weekend when we were still open, we probably lost 80% of our business that would be there on a normal weekend in March. So that seemed like a lot at the time, but of course now we're shut down entirely, so it's even crazier."
On the other "storms" he's weathered: "During 9/11, we stayed open to give people a place to congregate. But this is weird, because you can't congregate with anybody!"
On being more than just a bar: "The Kettle is a lot of people's living room. Being in New York where apartments are smaller, Kettle acts as an extension of their living room. And now they don't have that."
3. 📉 Poll: 96% of small business owners feel impact
It's (obviously) not just sports bars that are being impacted by the coronavirus pandemic and the strain it's putting on the economy.
By the numbers: 51% of U.S. small business owners say their business won't be able to continue operating for more than three months, according to a Goldman Sachs survey of more than 1,500 small business owners conducted March 16–17.
Why it matters: Much of the conversation around the economic effects of the pandemic has centered on Wall Street and bailouts for large corporations, but its most acute impacts are being felt on Main Streets around the country, writes Axios' Dion Rabouin.
4. 🏆 Simulation Madness: Final Four
We're simulating the 2020 NCAA men's basketball tournament using ESPN's Joe Lunardi's final projected bracket and a simulation engine.
Top of the bracket...
Bottom of the bracket...
🚨 = lower seed won
🚨 Duke 75, Kansas 70: Wendell Moore, DUKE (16 pts, 7 reb); Devon Dotson, KU (20 pts, 6 ast)
🚨 Seton Hall 86, Gonzaga 83: Myles Powell, SHU (26 pts, 6-9 3PT); Killian Tillie, GONZ (22 pts, 10 reb)
🚨 Maryland 82, Florida State 74: Anthony Cowen, MD (22 pts, 10 ast); Trent Forrest, FSU (18 pts, 6 reb)
Baylor 69, Illinois 62: Jared Butler (17 pts, 4-5 3PT); Kofi Cockburn, ILL (13 pts, 11 reb)
Final Four (Mercedes-Benz Stadium, Atlanta):
(3) Duke vs. (4) Maryland
(1) Baylor vs. (3) Seton Hall
Bonus: 📸 History at the (fictional) Final Four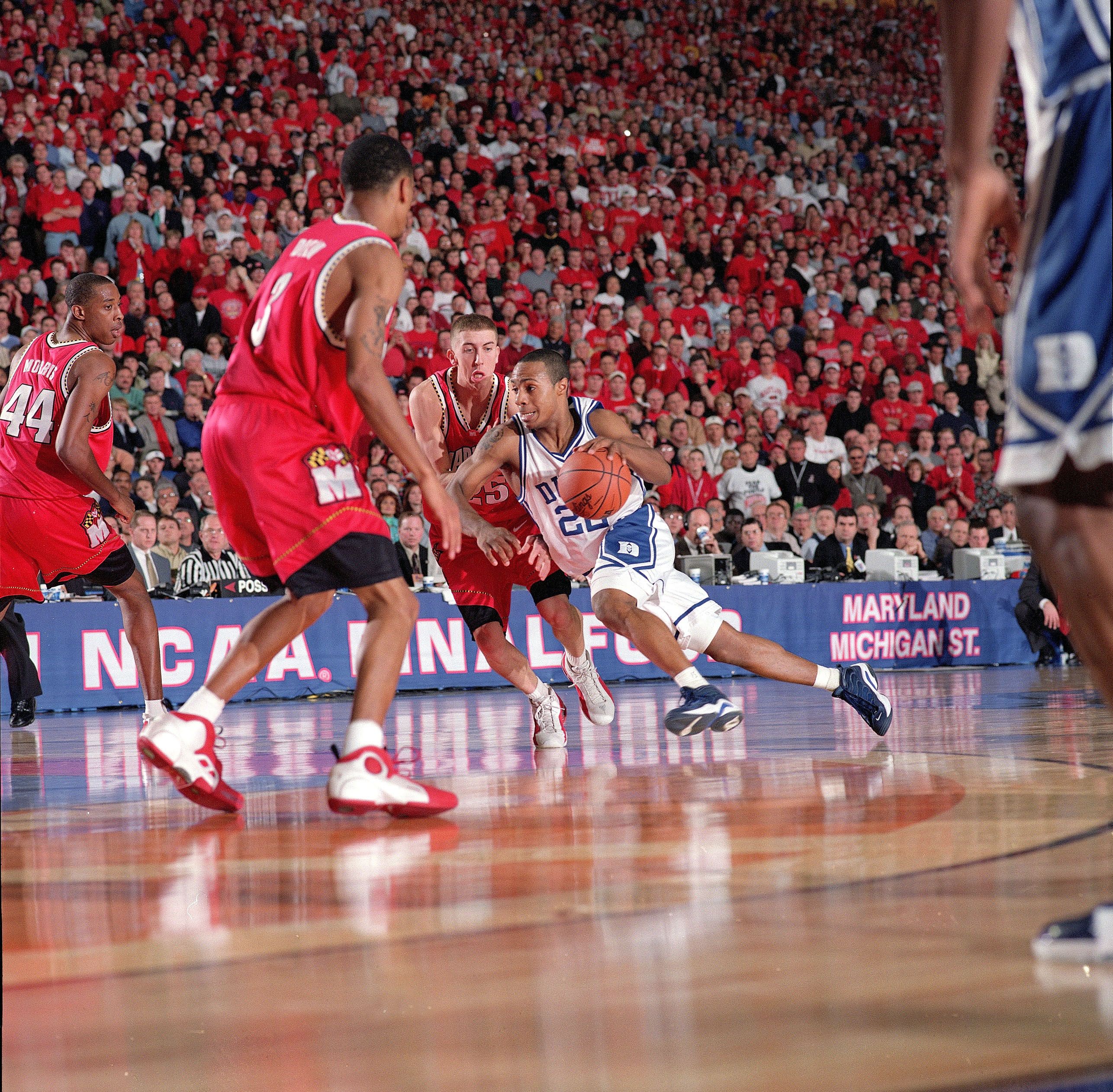 The dormant Duke-Maryland basketball rivalry picks back up in Atlanta, where the Blue Devils and Terrapins will meet in the Final Four for the first time since 2001.
Shane Battier (25 pts) and Jay Williams (23) led eventual national champ Duke to a 95-84 win at the Metrodome in Minneapolis that evening, while Juan Dixon-led Maryland won the title the following year.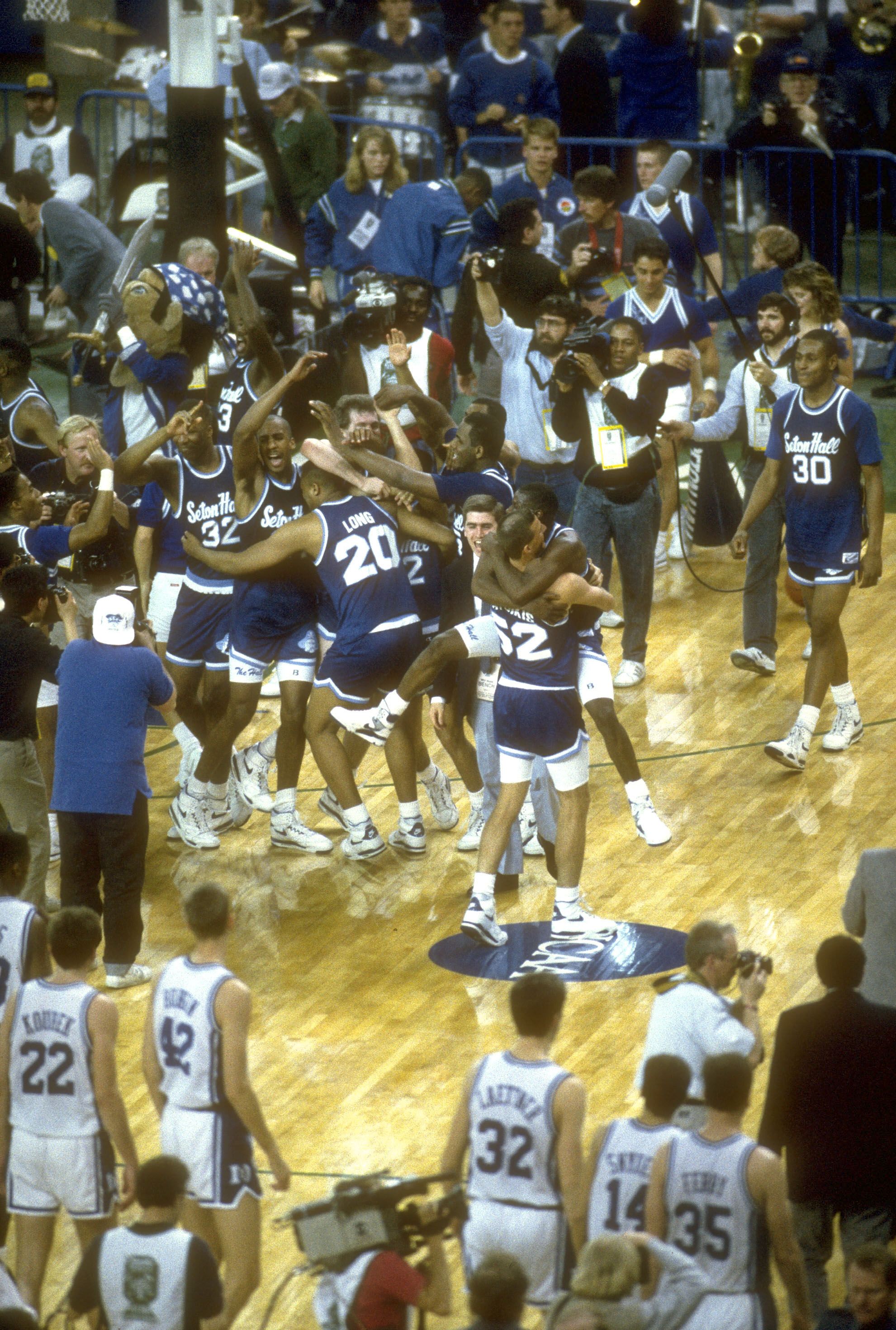 Seton Hall is back in the Final Four for the first time since 1989, when the Pirates beat Duke in the Final Four before ultimately losing to Michigan in the championship, 80-79 (OT).
Baylor, meanwhile, is back in the Final Four for the first time since 1948, when the Bears lost to Kentucky in the national title game. The tournament only had eight teams that year: Baylor, Kentucky, Michigan, Columbia, Holy Cross, Kansas State, Washington and ... Wyoming.
5. 😷 Coronavirus: Italy tops China's death toll
The latest: Italy's coronavirus death toll topped 3,400 yesterday — now the highest in the world. Wuhan, China, where the virus was first discovered, reported no new cases in the last 24 hours.
What they're saying: Max Marchi, an analyst for the Cleveland Indians who works remotely from Italy, on what the past month has been like, per CBS Sports:
"First of all, all these events seem to have stretched and bent time in a strange way. You ask me about a month time frame, and as I think about how my life has evolved recently, I'm not sure if I'm thinking about a week ago or a month ago. Sometimes it feels a year.
"I remember one Saturday night I was with friends at someone's place (we stopped going to public places a while ago) talking about the first cases in the country, then the next week we were together but not shaking hands and sitting a few feet from each other, and then the next week we were having our Saturday night together over Google Hangouts.
"Right now we are allowed to get out only for buying groceries or medicines and we have to carry a signed paper where we declare the reason for being out. Small stores you get in one person at a time, with the line forming outside (and 3-6 feet between people). Only one person per family can go. You're not allowed to cross municipal borders."
Go deeper: Coronavirus dashboard (Axios)
6. 📊 By the numbers
⚾️ Up to 18 months: Red Sox ace Chris Sale, who signed a $145 million contract extension a year ago, will undergo Tommy John surgery that could sideline him for as long as 18 months. Tough week for Boston sports fans.
📺 7-hour special: ESPN will air a seven-hour special on Sunday highlighting Tom Brady's 20-season career with the Patriots. The marathon will consist of all six Super Bowl wins and more memorable games, all condensed for time.
💸 $100-400 per week: MLB announced yesterday that minor league players shut out of spring training will receive a lump sum payment equal to the allowances that would have been paid through April 8 (~$100–400 per week).
7. March 20, 1989: ⚾️ MLB to investigate Rose
30 years ago today, MLB opened an investigation into Pete Rose for "serious allegations." The very next day, SI broke the news that Rose had ties to baseball betting.
The investigation eventually determined that Rose, then the Cincinnati Reds' manager, had bet on NFL games, college basketball games and MLB games, including ones involving the Reds, dating back to 1984.
In August of that year, MLB commissioner Bart Giamatti (yup, Paul Giamatti's dad) banned Rose for life.
Because of his ban, the 77-year-old is not allowed into the Baseball Hall of Fame — a place he was once destined for (.303 lifetime hitter; all-time leader in games, at-bat, singles; won three World Series and three batting crowns).
Where things stand: Rose has had multiple reinstatement attempts denied, but he's not giving up. Just last month, he used the lack of punishment handed down in the Astros' cheating scandal to argue that his ban should be lifted.
The vault: "The Case Against Pete Rose" (SI)
8. The Ocho: 🎓 Drone Racing League Academy
Amidst our global lockdown, the Drone Racing League (DRL) has launched a digital, STEM education program called DRL Academy to teach kids physics and engineering in an innovative way and help educators reach students remotely, Jeff writes.
Interview: I spoke with DRL CEO and founder Nicholas Horbaczewski to learn about the academy — and become properly indoctrinated into the world of professional drone racing.
What is the DRL? "A global, professional circuit for drone racing. We take custom-built, high-performance drones, bring in the best pilots in the world and go around the globe setting up complex, three-dimensional courses and doing amazing high-speed racing sporting events in front of both live audiences and broadcast audiences."
Why launch the DRL Academy? "You have students all over the world out of school, out of the classroom — you need to keep them inspired and engaged. STEM education has a lot of positive benefits, and if we can bring that together with the exciting sport of drone racing, it's a win-win."
How does the Academy resonate with you personally? "This could be the beginning of a lifelong passion for these kids. When I was in grade school, we did a whole program around building and racing these little solar-powered, mini cars, and I remember that project to this day. It was really the first time I'd tangibly built an engineering project, and I know the impact it can have."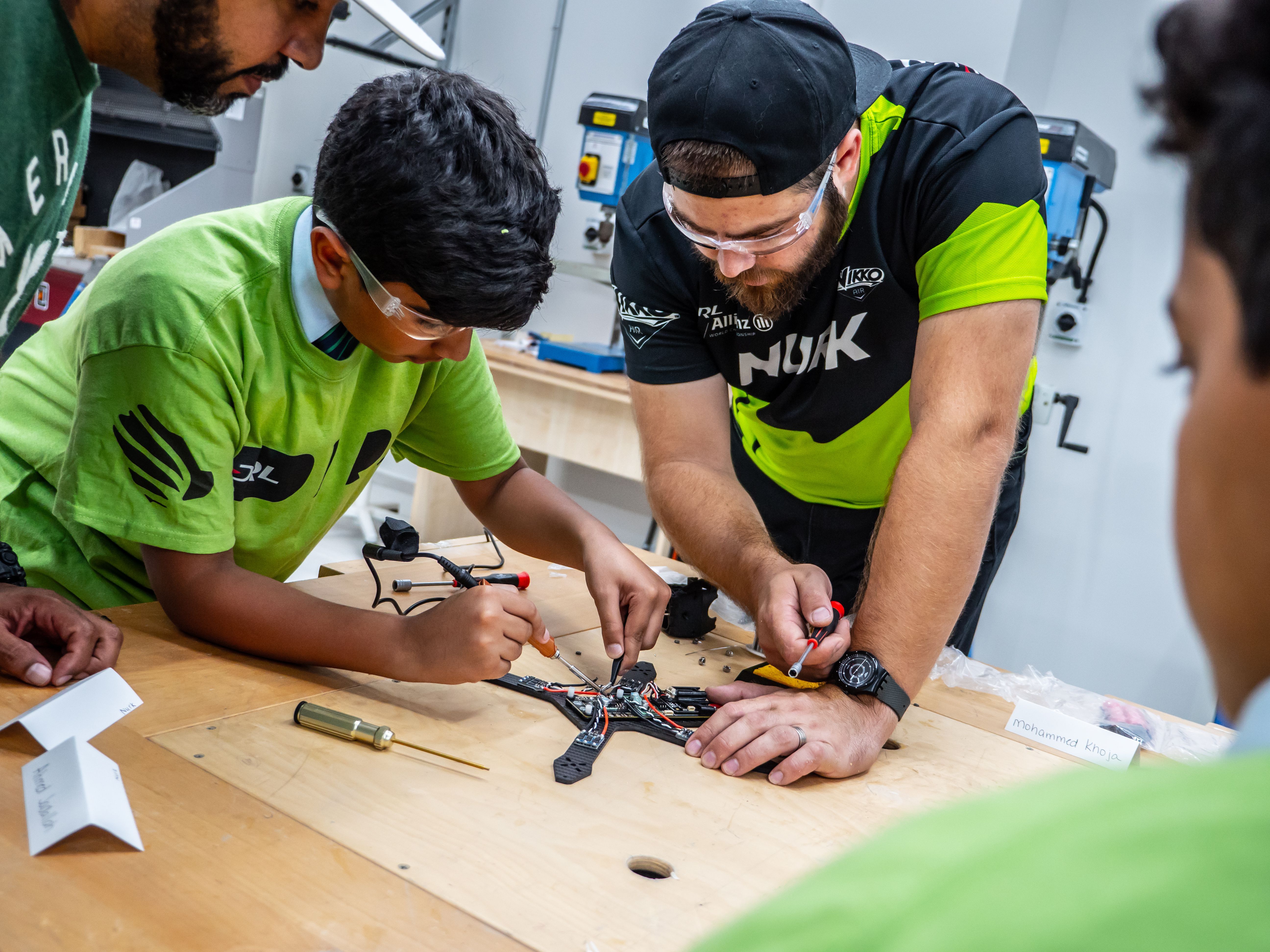 Are you an educator interested in working with the DRL Academy to reach students remotely? Email [email protected] to learn more.
9. 🏈 NFL trivia
Todd Gurley, who signed with the Falcons this morning after being released by the cash-strapped Rams yesterday, has scored 7o TD in his NFL career — the second-most ever by a player age 25 or younger.
Question: Who is the only player to score more?
Hint: Won Super Bowl MVP in the mid-'90s.
Answer at the bottom.
10. ✍️ Coming up...
Next week on Axios Sports:
Top 50 sports movies
Sports crossword puzzle
What else should we add? Email [email protected] with ideas.
Enjoy the weekend,
Kendall "Wash your hands" Baker
Trivia answer: Emmitt Smith