Axios Sports
January 25, 2022
👋 Good morning! It's another great day to be alive on planet Earth.
Today's word count: 1,568 words (6 minutes).
Let's sports...
1 big thing: 🥇 Avoiding COVID at all costs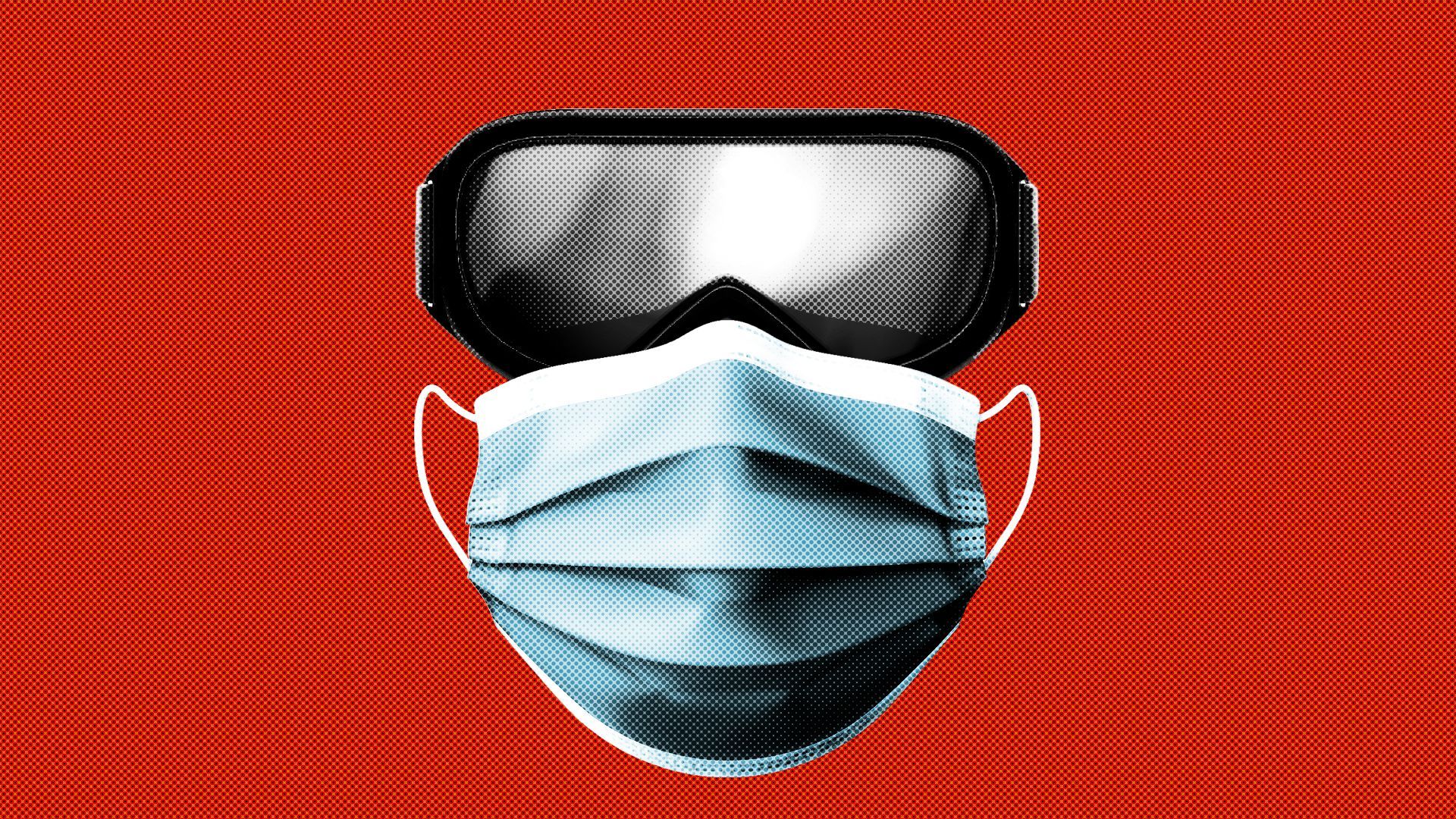 10 days out from the Olympics, athletes around the world are battening down the hatches in hopes of making it to Beijing COVID-free, Axios' Jeff Tracy writes.
Why it matters: The Beijing bubble — a closed-loop system meant to shut off the outside world entirely — is the strictest ever created for a global sporting event.
Athletes must test negative twice within 96 hours of their flight, and again upon their arrival in Beijing.
A positive test will force them to either stay home or endure a lengthy isolation in China, so many of them are taking extreme measures to avoid that nightmare scenario.
State of play: Years of intense athletic training now boils down to one final test: dodging a virus.
Canada's men's curling team is spending three weeks sequestered in a Vancouver rental home, training only when the nearby rink is empty. "It's like a frat house without the booze," the team told NYT.
American snowboarders Shaun White and Chloe Kim skipped the X Games last weekend out of an abundance of caution.
Swiss snowboarder Patricia Kummer is currently quarantining for 21 days in a Beijing Holiday Inn, a consequence of her unvaccinated status (most Olympians are vaccinated, including 100% of Team USA).
The big picture: The modern Olympics have been around for 126 years. Never before have athletes spent the lead-up to the biggest event of their lives expending so much mental energy on a non-athletic endeavor.
Tokyo had similar stakes, but the highly-transmissible Omicron variant didn't exist last summer and Japan wasn't a "zero-COVID" country like China is.
Plus, six months after watching Coco Gauff, Bradley Beal and others have their Olympic dreams stripped away due to a positive test, the fear of enduring that same fate is more palpable.
The last word: "Everyone is testing positive right now, and that freaks me out," American luger Emily Sweeney told NYT.
2. 🏈 Stat du jour: 90% of KC watched the game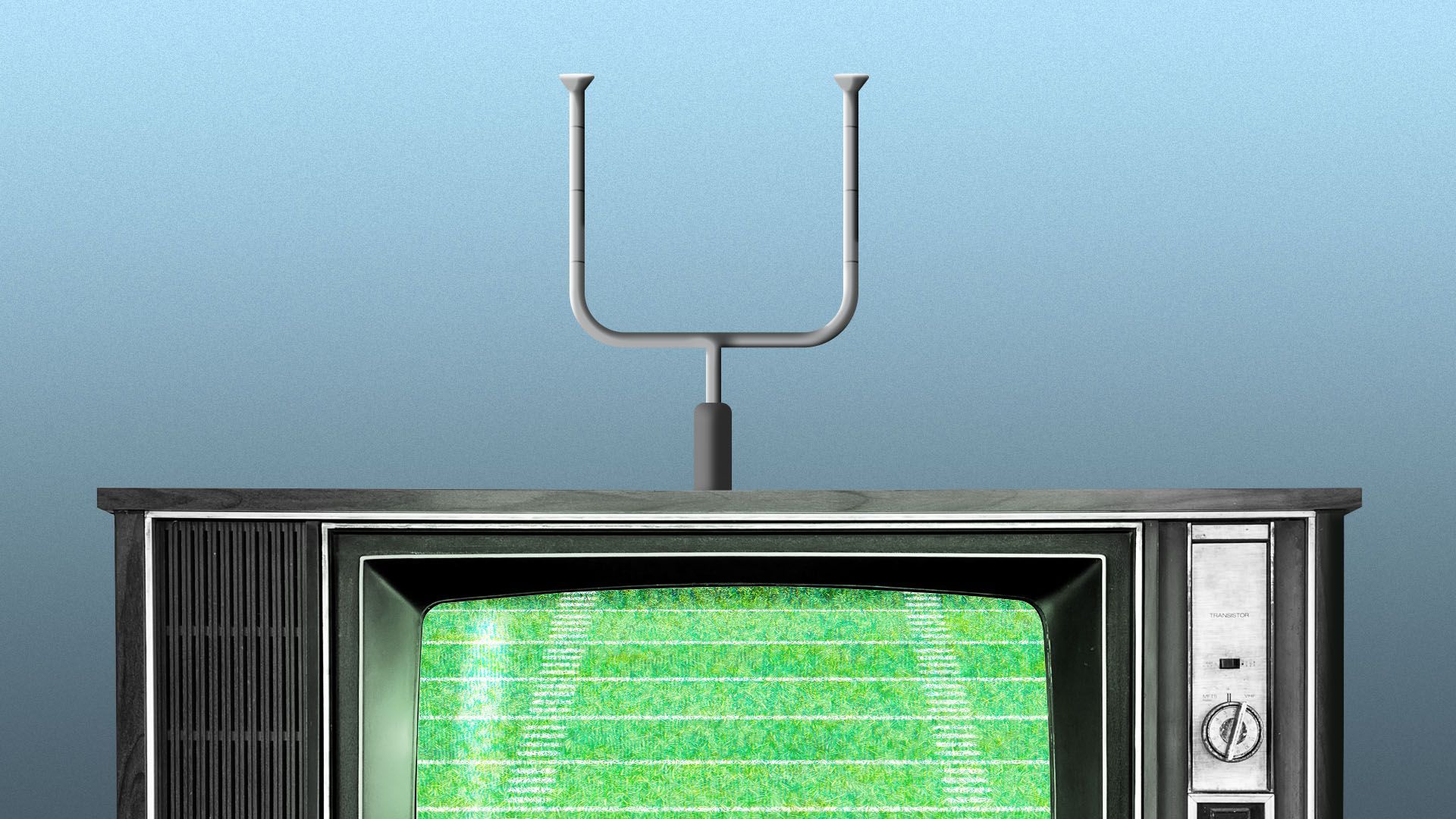 Sunday's Chiefs-Bills thriller peaked with a 90% share in the Kansas City market from 8:45-9pm local time, per SBJ's John Ourand.
Why it matters: That means 90% of all TVs in the Kansas City market that were on during that time were watching the game.
It would appear plenty were also tweeting: Tweets about the Divisional Round were up 58% this year, and this game was responsible for the three most tweeted-about moments.
Stay tuned: Buffalo numbers come out today, and they could be even higher. The Bills had the highest local TV ratings this season, while the Chiefs were second.
Go deeper: Local TV ratings rise for 21 of NFL's 32 teams (SBJ)
3. 🇺🇸 Team USA spotlight: John Shuster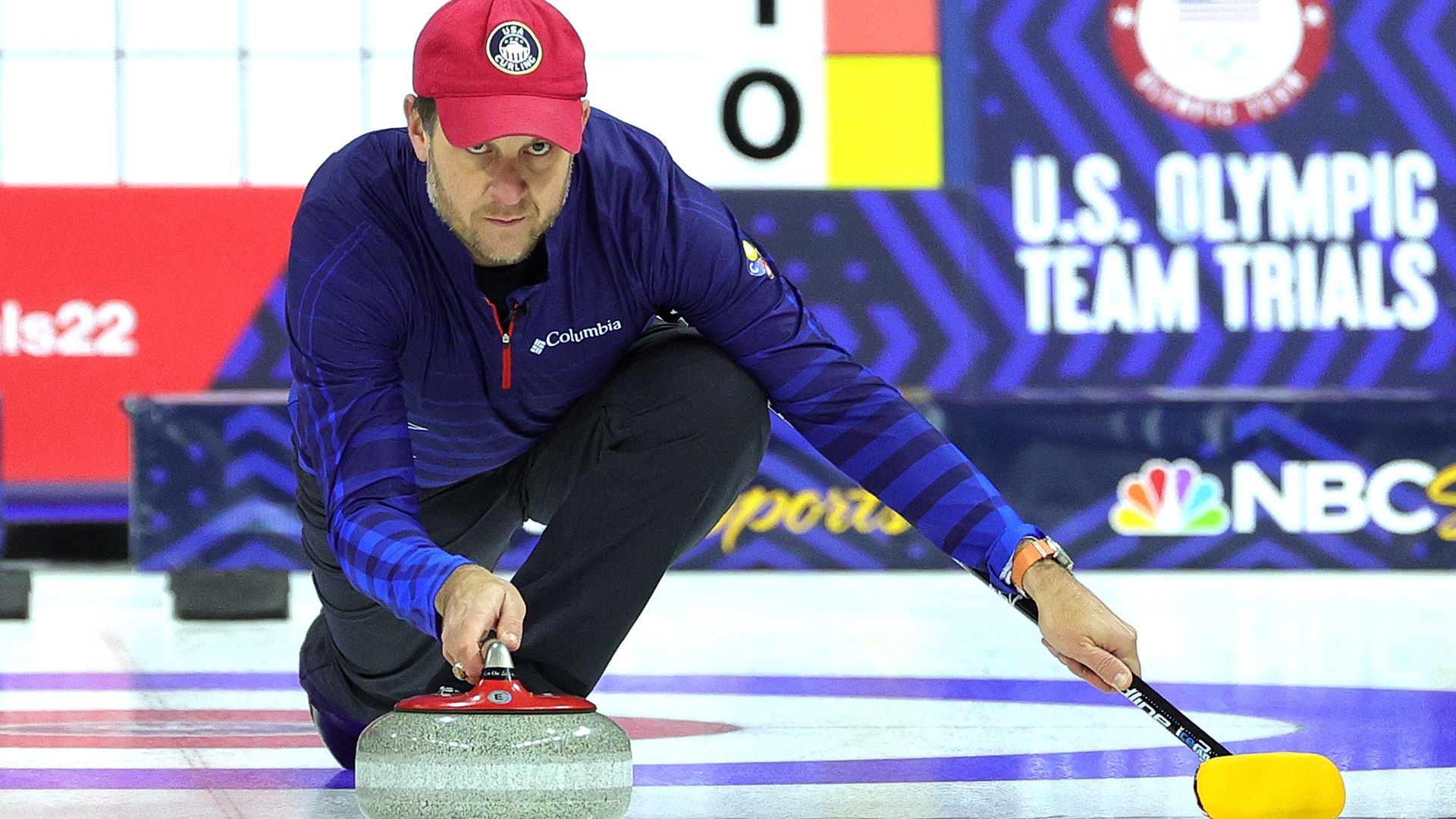 In the lead-up to the Beijing Winter Olympics (Feb. 4–20), we're profiling 10 members of Team USA.
The Olympian: Shuster helped Team USA win its first curling medal (bronze) in 2006. 12 years later, he led the Americans to gold in Pyeongchang, kicking off a bit of a curling craze back home.
Shuster grew up watching his dad at the local curling club, though he was initially more drawn to the treats than the sport. "We were bribed with Dr. Pepper," he jokingly told People. "And they had the best popcorn at the concession stand."
Team USA is sending 222 athletes to Beijing, and Shuster is one of just four making their fifth trip, joining White (snowboarding), Lindsey Jacobellis (snowboarding) and Katie Uhlaender (skeleton).
The event: In curling, two teams take turns sliding heavy granite stones on a sheet of ice towards a target area, which has four concentric circles. The team with the most stones closest to the bullseye is awarded points. Each team has eight stones to score the most points.
Curling was featured at the inaugural 1924 Winter Olympics but the results weren't considered official until 2006. It was a demonstration sport in 1932, 1988 and 1992 before finally debuting at the 1998 Games.
Canada has won the most medals (11), followed by Sweden (8), Switzerland (7), Great Britain (4), Norway (4) and the U.S. (2).
🎥 Watch: Curling, explained (YouTube)
ICYMI: Emily Sweeney (luge) kicked off our coverage on Monday.
4. ⚡️ Lightning round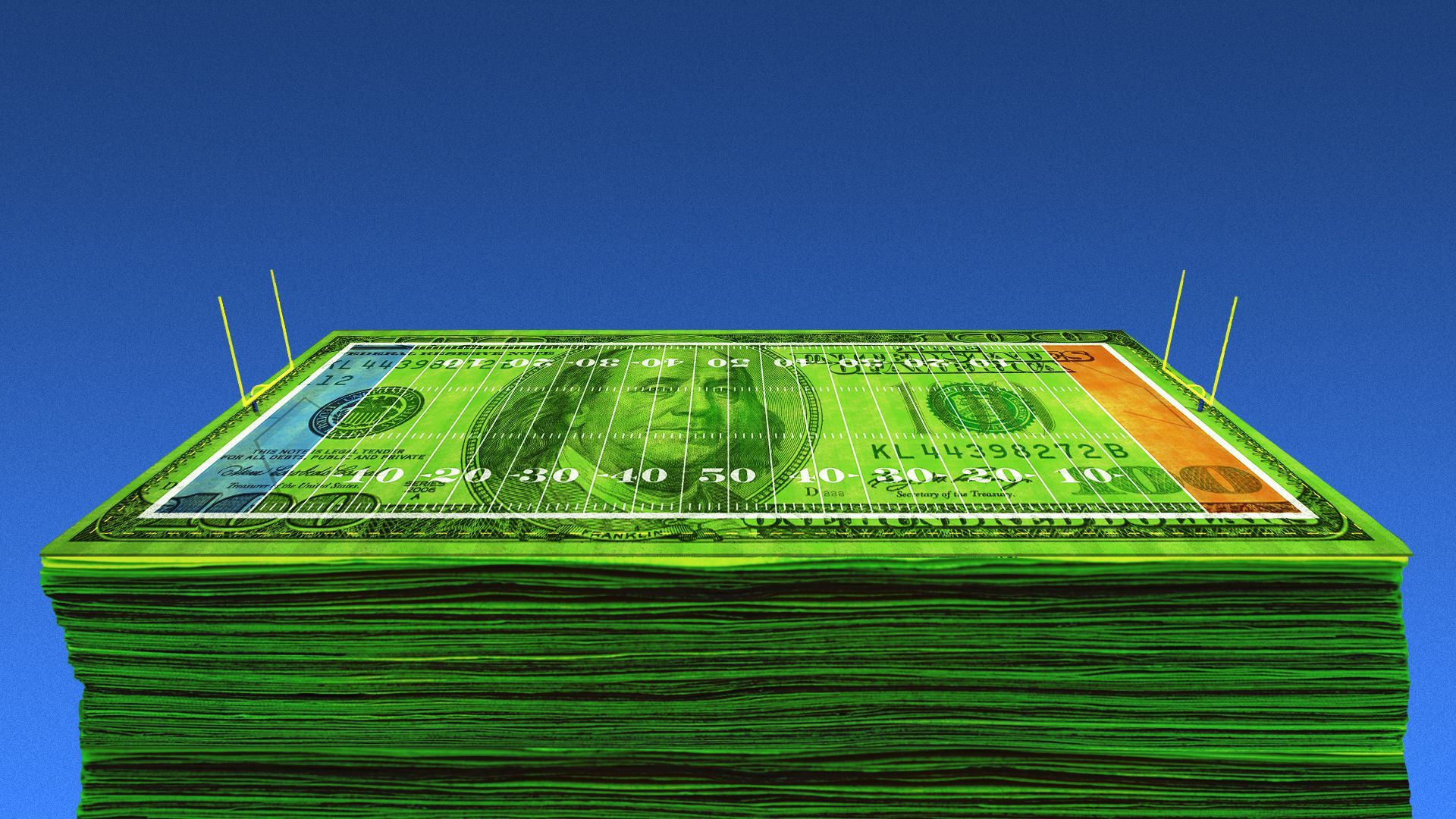 💵 Bets for kids: Ohio and New York will allocate a cut of sports betting proceeds to fund youth sports and community-based recreation. More states could pass similar legislation in the coming years.
💔 Tragedy in Cameroon: At least six people were killed and 40 others injured in a stampede during an Africa Cup of Nations knockout stage match between Comoros and host nation Cameroon.
🧸 You love to see it: The Hershey Bears set a new world record on Saturday when fans tossed 52,341 stuffed animals onto the ice. They'll all be donated to local charities.
⚽️ Good read: Behind the curtain with soccer's prophet of the deal (Rory Smith, NYT)
"Fabrizio Romano has turned rumors and a catchphrase into an industry. But is he an observer of soccer's multibillion-dollar transfer market, or a participant in it?"
5. 🏀 Men's poll: Tigers make history
Auburn, picked to finish just fifth in the SEC this season, is now ranked No. 1 in the nation for the first time ever, Jeff writes.
State of play: 11 ranked teams lost 14 combined games last week, resulting in six teams dropping at least three spots and two falling out of the top 25.
In: No. 25 Davidson (first time since 2015) and No. 22 Marquette (2020) are back after lengthy absences.
Out: Texas and Loyola Chicago both dropped out.
Who to watch: The top-ranked Tigers are led by potential No. 1 pick Jabari Smith, who lands on our midseason All-America team.
Johnny Davis, G (Wisconsin, So.): 22.3 pts, 7.4 reb and 2.6 ast in 16 games
Smith, F (Auburn, Fr.): 15.7 pts, 6.3 reb and 2.1 ast in 19 games
Paolo Banchero, F (Duke, Fr.): 17.9 pts, 7.9 reb and 2.7 ast in 18 games
Kofi Cockburn, C (Illinois, Jr.): 21.1 pts, 11.8 reb and 1.0 ast in 14 games
Oscar Tshiebwe, C (Kentucky, Jr.): 16.1 pts, 14.8 reb and 1.6 blk in 19 games
Apologies to: Ochai Agbaji, G (Kansas, Sr.); Drew Timme, F (Gonzaga, Jr.); Keegan Murray, F (Iowa, So.)
Go deeper: Is Jabari Smith the next Kevin Garnett? (The Athletic)
6. 🏀 Women's poll: Ole Miss returns
No. 24 Ole Miss has ridden a 17-2 record to its first top 25 ranking since 2007, Jeff writes.
State of play: South Carolina remains No. 1, but an upset-heavy week shook up the bottom of the poll.
In: Oregon shot up to No. 19 with two top-10 wins. No. 22 Ohio State and No. 25 Kansas State also join Ole Miss in the rankings.
Out: Colorado and Kentucky are both unranked after four-game losing streaks. UNC and FGCU also dropped out.
Who to watch: Kansas State's return to the poll was precipitated by Ayoka Lee's historic 61-point night, putting her firmly on our midseason All-America team.
Caitlin Clark, G (Iowa, So.): 25.7 pts, 8.5 reb and 7.6 ast in 16 games
Kierstan Bell, G (FGCU, Jr.): 23.4 pts, 7.6 reb and 2.6 ast in 17 games
Aliyah Boston, F (South Carolina, Jr.): 17.3 pts, 11.4 reb and 1.7 ast in 18 games
NaLyssa Smith, F (Baylor, Sr.): 20.2 pts, 11.8 reb and 1.4 ast in 17 games
Lee, C (Kansas State, Jr.): 25.5 pts, 10.9 reb and 3.5 blk in 19 games
Apologies to: Rhyne Howard, G (Kentucky, Sr.); Elissa Cunane, C (NC State, Sr.); Haley Jones, G (Stanford, Jr.)
7. 🌎 The world in photos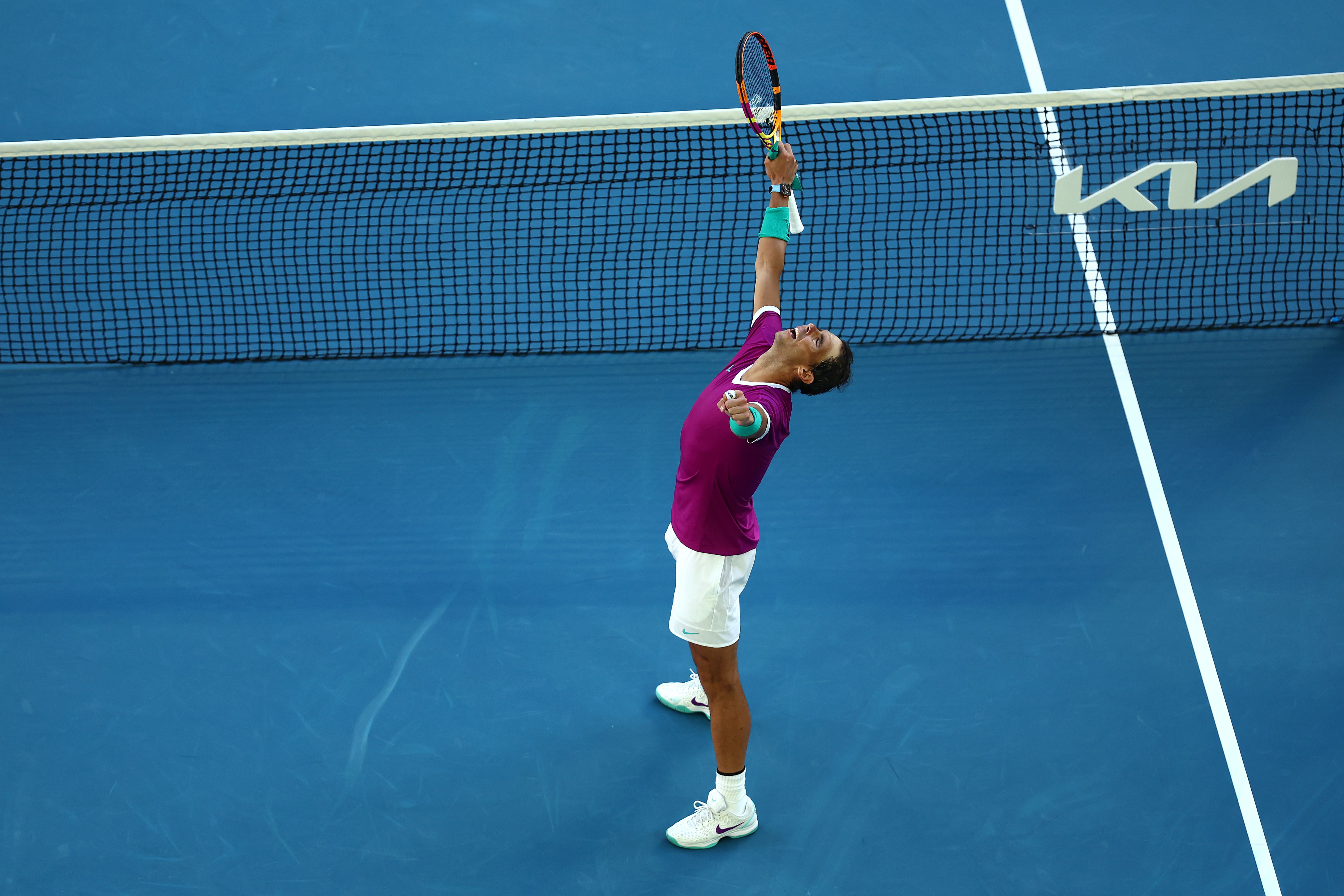 MELBOURNE — Rafael Nadal fended off Denis Shapovalov in a four-hour marathon, 6-3, 6-4, 4-6, 3-6, 6-3, to reach the Australian Open semifinals. Shapovalov did not take the loss well.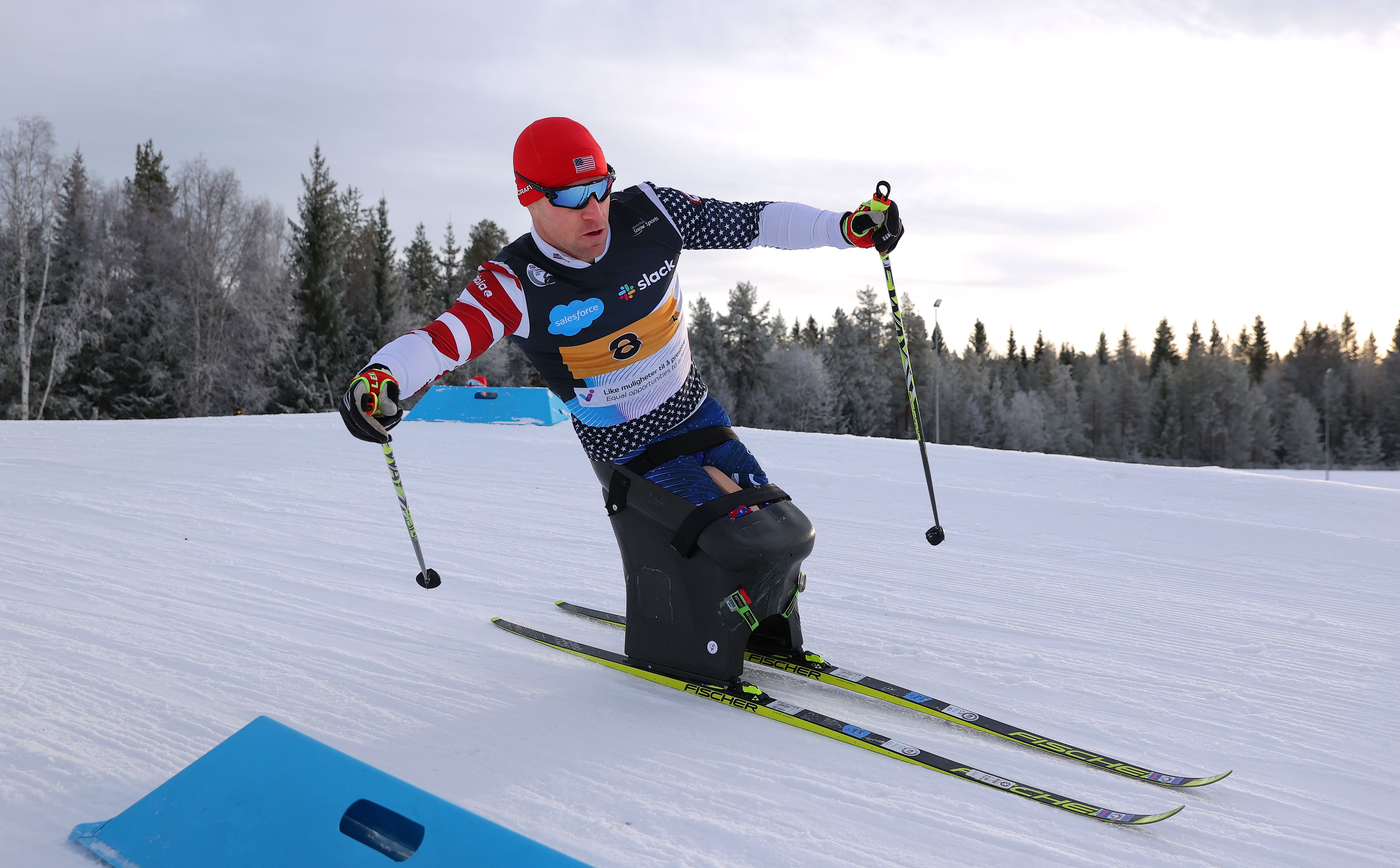 LILLEHAMMER, Norway — Daniel Cnossen lost his legs in 2009 while serving as a Navy SEAL in Afghanistan. Now he's a two-time Paralympic medalist — with more possibly to come in Beijing.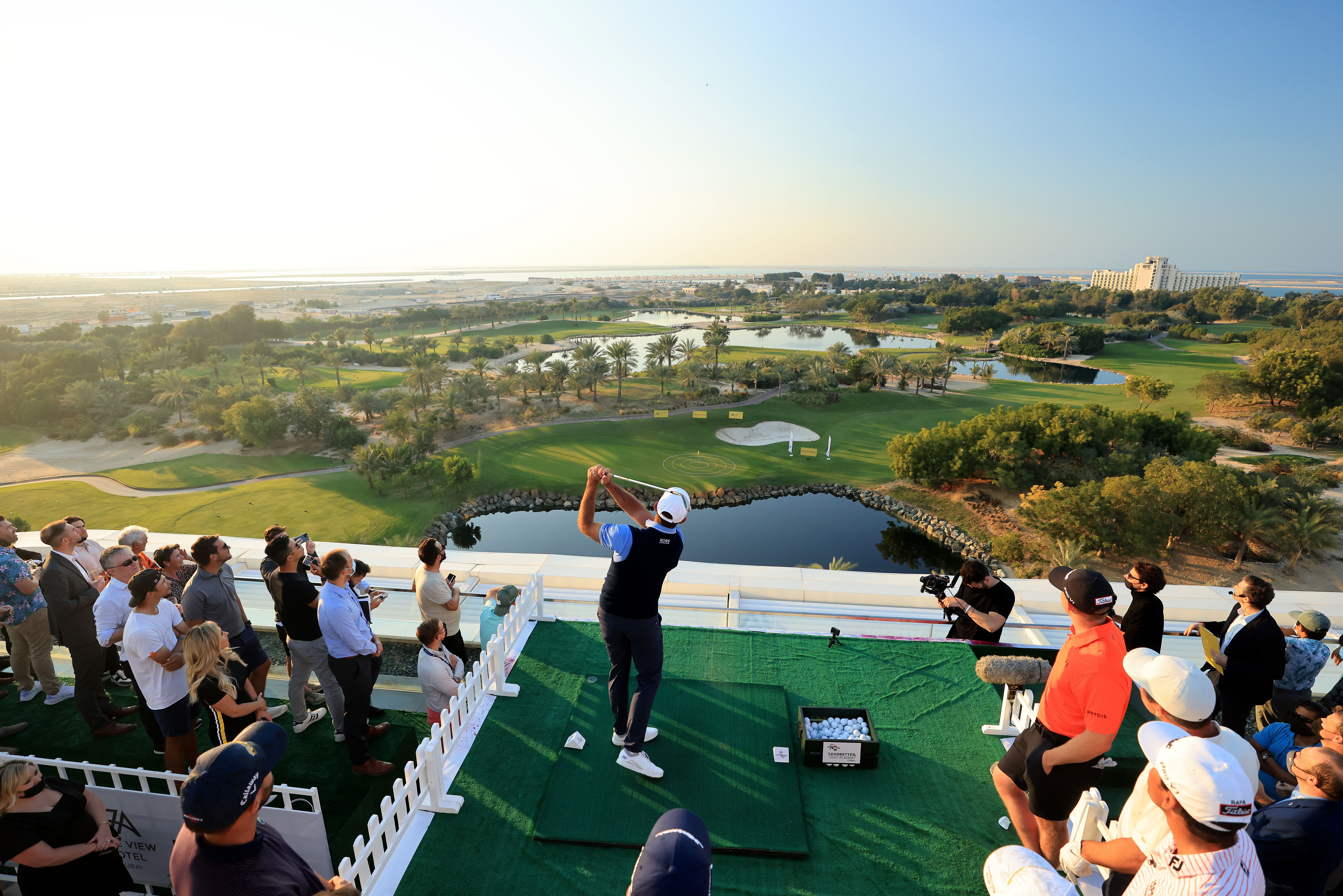 DUBAI, U.A.E. — Charl Schwartzel plays a shot off the rooftop during a charity event leading up to this week's Dubai Desert Classic, an annual stop on the European Tour.
8. 📺 Watchlist: "Real Sports" returns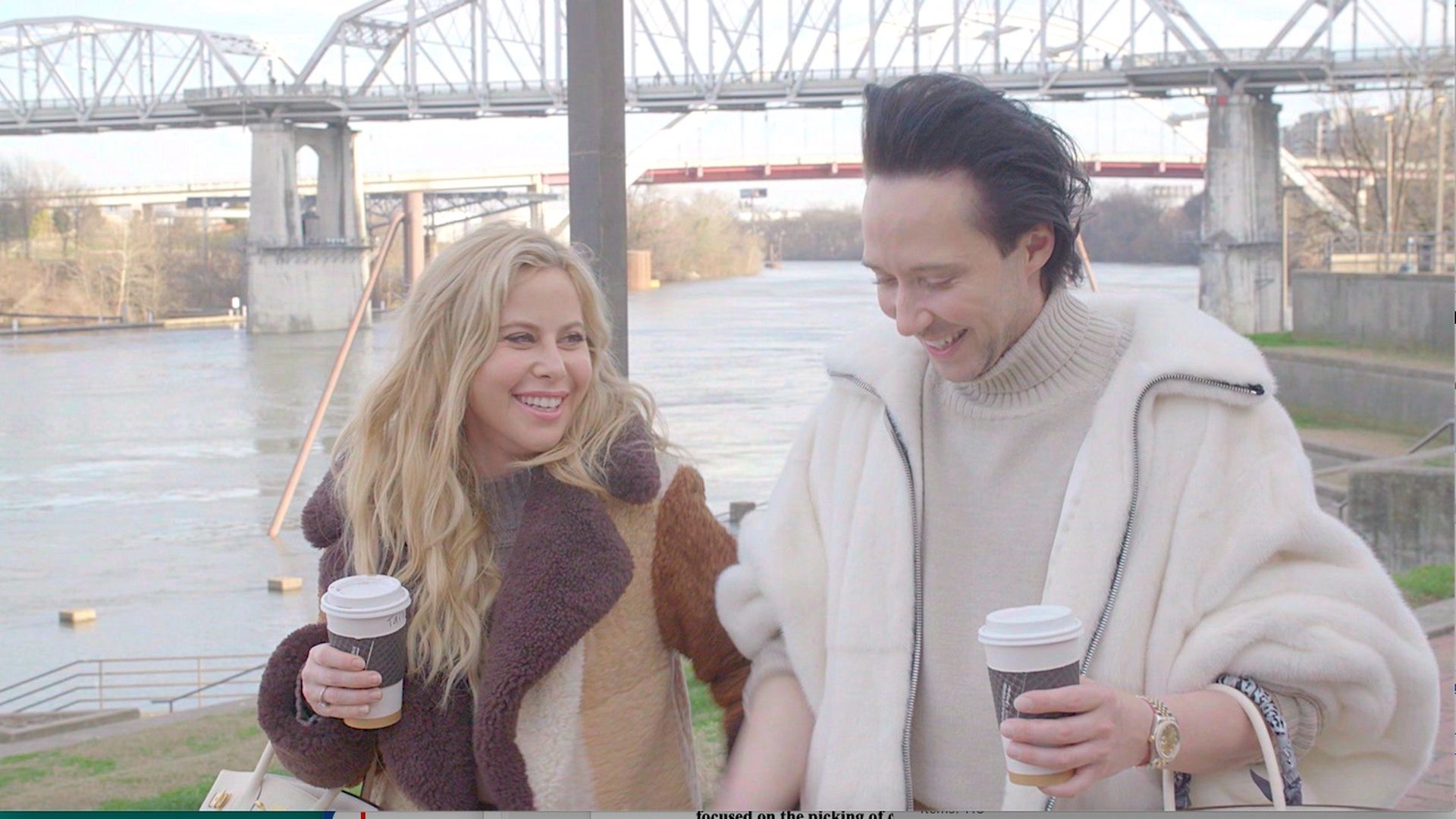 "Real Sports with Bryant Gumbel" returns tonight (10pm ET, HBO), kicking off its 28th season with three feature stories.
Beijing 2022: A deep dive into the troubled relationship between China and the IOC on the eve of the Winter Games (sneak peek).
Johnny and Tara: Catch up with former figure skating duo-turned-powerhouse analyst team Johnny Weir and Tara Lipinski.
Sports betting: It's been nearly three years since the federal ban on sports betting was overturned. What does the industry look like today?
More to watch:
9. 🏈 NFL trivia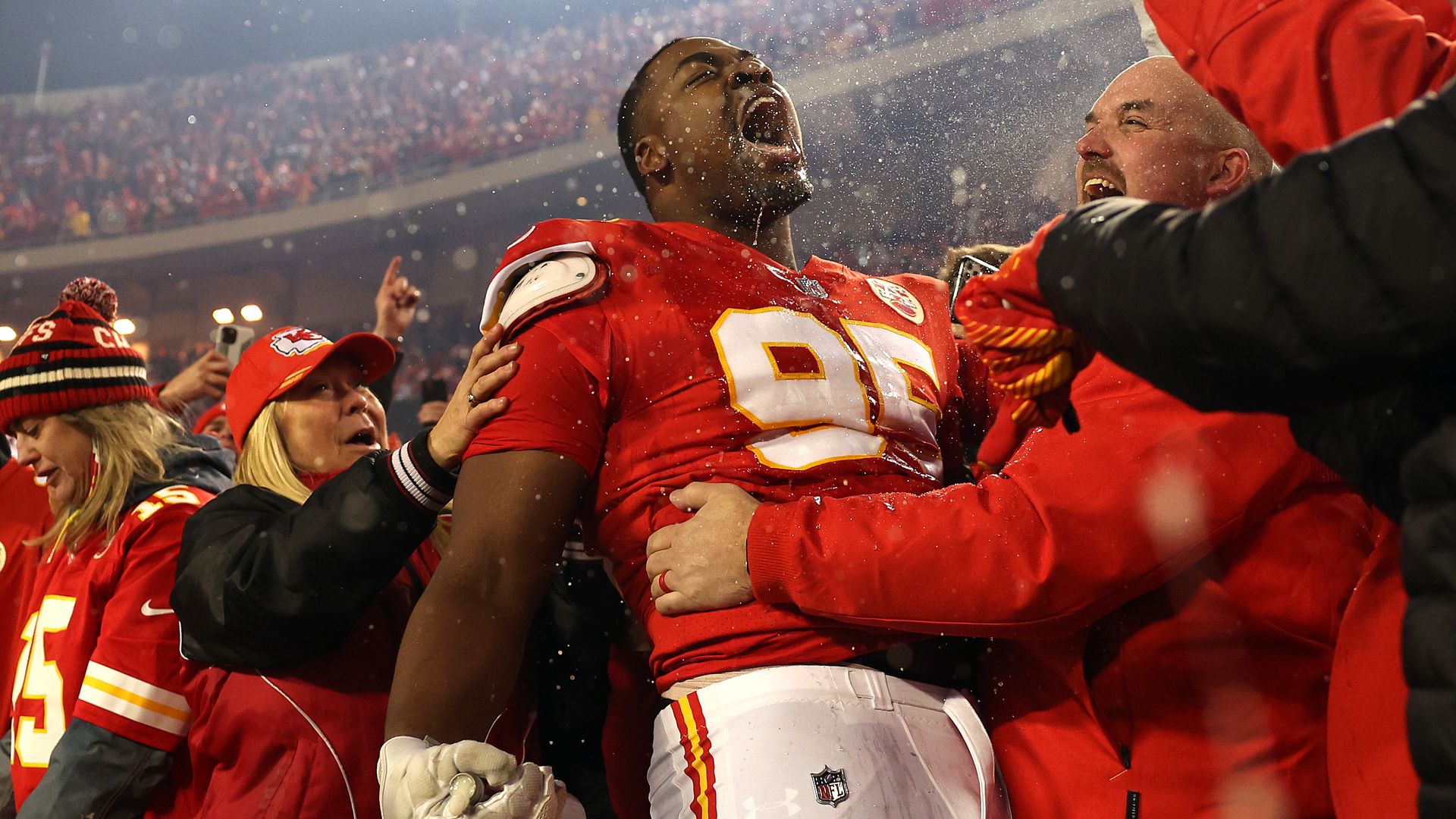 The Chiefs are one win away from their third straight Super Bowl appearance.
Question: Who are the only three franchises to play in at least three consecutive Super Bowls?
Hint: Same conference.
Answer at the bottom.
10. ⚾️ 1 Cooperstown thing: Cast your ballot
Baseball Hall of Fame results will be announced at 6pm ET tonight on MLB Network.
👉 Make your picks: Cast your ballot and we'll share the results tomorrow alongside the official ones. 75% of the vote is needed for enshrinement. Vote for up to 10 players by 5:59pm ET.
Talk tomorrow,
Kendall "Induct Jon Dowd" Baker
Trivia answer: Bills (1990–93), Dolphins (1971–73) Patriots (2016–18)
🙏 Thanks for reading. Follow us on Twitter: @kendallbaker and @jeffreytracy. Tell friends to sign up for Axios Sports.
Editor's note: The third item has been corrected to show curling is scored when the team with the most stones closest to the bullseye is awarded points, the circles themselves do not a have point value.