March 23, 2022
👋 Good morning! Happy Sweet 16 Eve.
Today's word count: 1,466 words (5 minutes).
Let's sports...
1 big thing: 🎾 Ash Barty goes out on top
Ash Barty shocked the sports world late Tuesday night (Wednesday in Australia), announcing her retirement from tennis at age 25.
State of play: Barty has held the No. 1 ranking for 114 consecutive weeks, the fourth-longest streak in WTA history. She's the reigning champion of both Wimbledon and the Australian Open, which she won less than two months ago.
What she's saying: "I'm so happy, and I'm so ready. I just know at the moment, in my heart, for me as a person, this is right," said Barty in a six-minute video posted on Instagram.
"I don't have the physical drive, the emotional want and everything it takes to challenge yourself at the very top of the level any more. I am spent."
"I'm so grateful to everything that tennis has given me. ... But now I think it's important I get to enjoy the next phase of my life as Ash Barty the person, not Ash Barty the athlete."
The backdrop: This isn't the first time Barty has walked away from tennis. After a promising junior career, she left the tour for nearly two years in 2014 because of burnout and played professional cricket in her native Australia.
She also took an extended hiatus in 2020, remaining in Australia during the pandemic instead of playing the U.S. Open and French Open.
She used that time to enjoy other sports, even winning a local golf tournament with a swing that impressed the pros. That's led to speculation that she could pursue a golf career in the future.
Of note: Justine Henin is the only other woman to retire from tennis while atop the rankings. She did so in 2008, also at age 25, before coming back two years later and then stepping away for good in 2011.
The big picture: "The lucrative prize money (including equal pay at Grand Slam events) that Billie Jean King, Venus Williams and others fought for gave women like Barty the agency to retire on their terms," notes WSJ's Rachel Bachman. Barty's career earnings: $23,829,071.
2. 🎓 Chart du jour: Sweet 16 grad rates
Women's NCAA tournament teams graduated at a higher rate than men's teams, according to an annual study by The Institute for Diversity and Ethics in Sport, Axios' Jeff Tracy writes.
How it works: Graduation Success Rate (GSR) measures how many scholarship athletes graduate within six years of enrollment. If players leave via transfer or the draft, they aren't counted towards the rate as long as they were academically eligible when they departed.
By the numbers: The women's average GSR for all tournament teams was 93.9%, compared to 87.2% for the men.
Among Sweet 16 finalists, 10 women's teams had 100% GSR rates, compared to eight men's teams.
White athletes graduated at higher rates than Black athletes for men and women, though the gap is smaller for women (98.8% vs. 92.5%) than men (95.1% vs. 83.7%).
Fun fact: Six schools achieved 100% GSR rates for both men's and women's teams (Gonzaga, Kentucky, Miami, Michigan, UNC, Villanova). The Wolverines and Tar Heels still have both teams alive.
3. 🏳️‍⚧️ GOP governors veto trans sports bills
Two Republican governors — Utah's Spencer Cox and Indiana's Eric Holcomb — vetoed legislation this week that would have banned transgender youth from playing school sports.
Why it matters: This makes them outliers on what has been described as a classic "wedge issue" to motivate the conservative base. Republican governors have signed similar bills into law in 11 states:
Alabama
Arkansas
Florida
Idaho
Iowa
Mississippi
Montana
South Dakota
Tennessee
Texas
West Virginia
What they're saying: "I struggle to understand so much of it and the science is conflicting. When in doubt however, I always try to err on the side of kindness, mercy and compassion," Cox wrote in a letter to the leaders of the state House and Senate.
4. ⚡️ Lightning round
🗽 King of NYC: Trae Young continued his Madison Square Garden dominance on Tuesday, scoring 45 points in a Hawks win. He's now scored 30+ points in his last four games there.
🏀 NIT thrillers: Both quarterfinals went down to the wire, with Xavier beating Vanderbilt, 75-73, and St. Bonaventure beating Virginia, 52-51.
🧠 Concussion scandal: A renowned concussion doctor has been accused of plagiarism, and scientists are now questioning his relationships to the sports leagues he advised.
⚾️ Good read: How Ken Griffey Jr. saved a man's life (Ryan Hockensmith, ESPN)
"A super fan named Jason Vass owns 100,000-plus Ken Griffey Jr. baseball cards. The reason for his love of Griffey goes deep — really deep."
5. ⚾️ MLB creates "Ohtani Rule"
MLB and the MLBPA have tentatively agreed to some rule tweaks ahead of the 2022 season, including a so-called "Ohtani Rule."
How it works: If a starting pitcher is also hitting in the lineup, that player can remain as the DH even if he is pulled from the start.
In other words: No matter how many innings Ohtani pitches, he can hit through the entire game.
Under previous rules, the Angels would move Ohtani to the outfield if they wanted to keep him in the lineup after his start. But that resulted in the team losing its DH and the pitcher having to bat.
Why it matters: This change will result in more at-bats for the reigning AL MVP and could encourage more players to attempt two-way play.
Other updates ... Extra innings will begin with a runner on second base for at least one more season, rosters will expand from 26 to 28 players through May 1, and doubleheaders will go back to being nine innings, rather than seven.
6. 🥇 Snowboard coach accused of sexual assault
Peter Foley, the U.S. Snowboard coach since its inception in 1994, is no longer employed by the team following allegations of sexual misconduct, Jeff writes.
Driving the news: Three of Foley's former athletes and one former employee detailed their allegations — which first surfaced during the Olympics — in interviews with ESPN.
The women describe a pattern of sexual misconduct, including sexual abuse and Foley coercing them into taking nude photos.
One athlete recalled an experience at training camp when she was 19, saying Foley snuck into her bed and "put his fingers inside me ... I remember just laying there in shock."
Foley has denied all accusations through his lawyer but is no longer with U.S. Ski & Snowboard.
The big picture: The accusations were filed with the U.S. Center for SafeSport, a watchdog organization that has largely failed to gain the trust of amateur athletes, according to an ABC News investigation.
SafeSport was formed in 2017 in the wake of the Larry Nassar scandal, but its poor track record has led some lawyers to advise their clients to seek justice elsewhere.
One major issue is funding, which comes jointly from the USOPC and national governing bodies, who are disincentivized from reporting abuse.
"The more you report, the more you pay," one compliance officer told ESPN. "This is broken. This defeats the objective."
The bottom line: The U.S. amateur sports system is under fire once again for failing to protect its athletes. SafeSport's investigation will be watched closely.
7. 🏀 Dunk du jour: Air Zion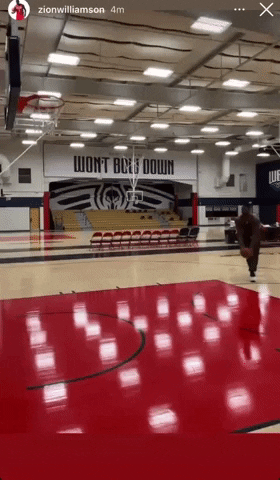 Zion Williamson posted a jaw-dropping dunk on Instagram on Tuesday, reminding NBA fans what they've been missing.
State of play: Williamson has kept a low profile while rehabbing the fractured right foot that has kept him out all season. He returned to New Orleans on March 5 after spending two months rehabbing in Portland.
What to watch: He's not expected to return this season, per reports, but the 10th-place Pelicans — a virtual lock to make the play-in round — haven't made anything official.
8. 📺 Watchlist: Star-studded doubleheader
Tonight's NBA doubleheader features the league's top two scorers, a red hot Kevin Durant, and a must-see Memphis squad (though no Ja Morant).
Nets at Grizzlies (7:30pm ET, ESPN): Morant (knee) is out, while Kyrie Irving is in for what could be his third-to-last regular-season game.
76ers at Lakers (10pm, ESPN): LeBron James (30 ppg) has a slight lead over Joel Embiid (29.8 ppg) in the scoring title race.
More to watch:
9. 🏀 March Madness trivia
Four double-digit seeds — No. 15 Saint Peter's, No. 11 Michigan, No. 11 Iowa State and No. 10 Miami — are one win away from advancing to the men's Elite Eight.
Question: Which two double-digit seeds made the Elite Eight last year?
Hint: Both Power 5 schools.
Answer at the bottom.
10. 🎙 1 inspiring thing: Blind broadcaster
Talk tomorrow,
Kendall "Need more Zion" Baker
Trivia answer: No. 12 Oregon State and No. 11 UCLA
🙏 Thanks for reading. Follow us at @kendallbaker and @jeffreytracy, and tell friends to sign up for Axios Sports.