Axios Sports
October 27, 2021
👋 Good morning! With all due respect to those who made the 2020 MLB season possible, there's simply nothing like a World Series with 42,000 screaming fans.
Today's word count: 1,620 words (6 minutes).
Let's sports...
1 big thing: ⚾️ Braves bash their way to World Series lead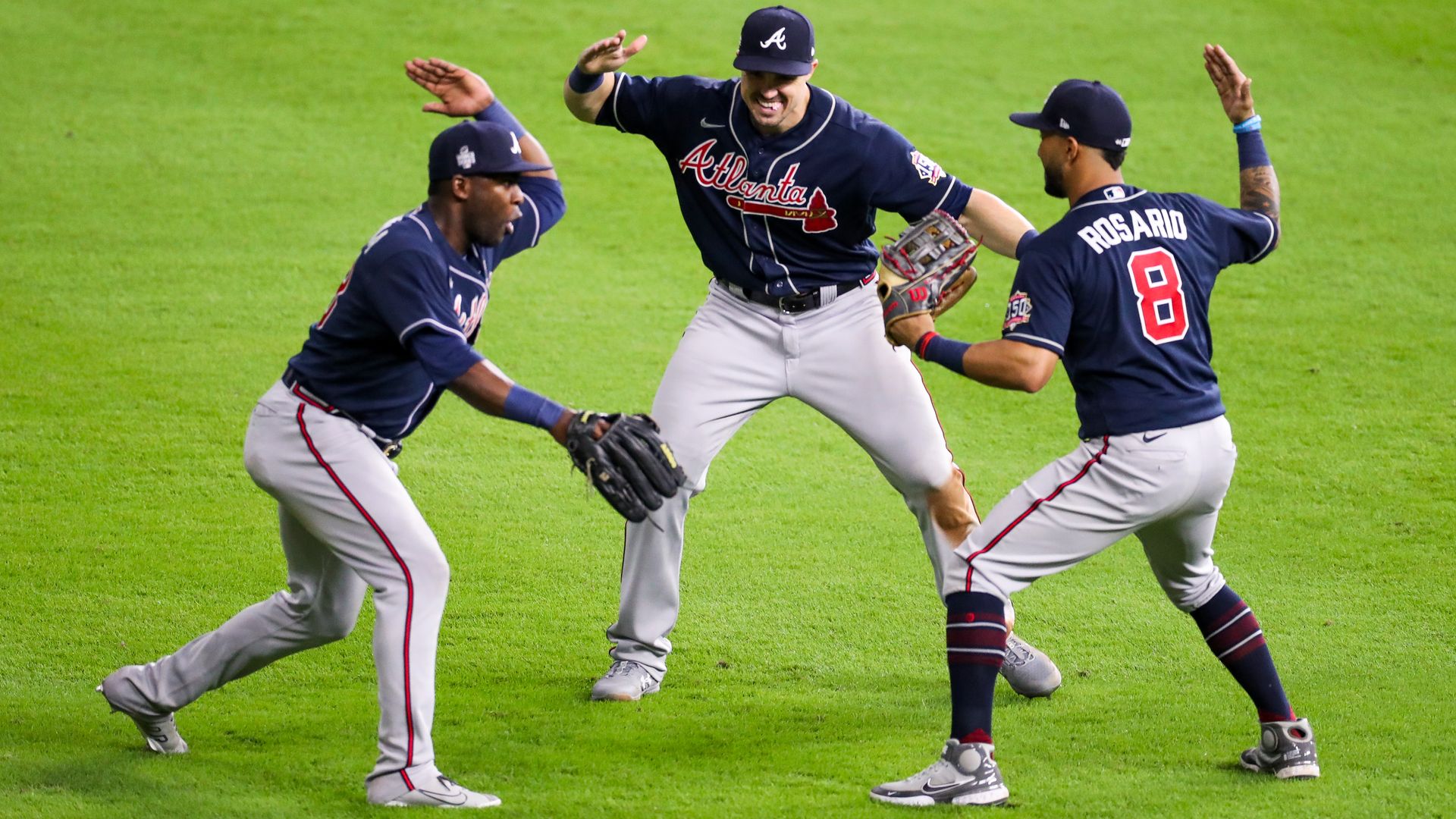 The Braves took Game 1 of the World Series in emphatic fashion, beating the Astros in Houston, 6-2, and stealing home field advantage in the process.
One streak snapped: Atlanta had lost its previous eight World Series games (1996, 1999), tied for the longest such streak in MLB history.
One streak continues: The last true home win in a World Series came on Max Muncy's 18th-inning walk-off homer in 2018's Game 3. Since then, Boston won two games in L.A., the Astros and Nats traded seven road wins and 2020 was played at a neutral site.
Recap: The Braves pounced on Astros starter Framber Valdez for five runs in the first three innings, including two rocket homers from DH Jorge Soler and CF Adam Duvall.
Wild stat: Soler's blast led off the game, making this the first World Series ever, out of 117, to have its first overall batter hit a home run.
Atlanta's pitching was excellent, limiting Houston's offense to just eight hits and three walks, but the rest of the series got a lot harder when ace Charlie Morton left in the third inning with a broken fibula.
Incredibly, Morton recorded three outs on 16 pitches after breaking his leg. A second-inning comebacker was the culprit, but he finished that inning and struck out José Altuve in the third before the pain became too much to bear.
📆 Tonight ... Back in Houston for Game 2 at 8pm ET (Fox). Starters: LHP Max Fried (ATL) vs. RHP José Urquidy (HOU).
2. ⚽️ Farewell, Carli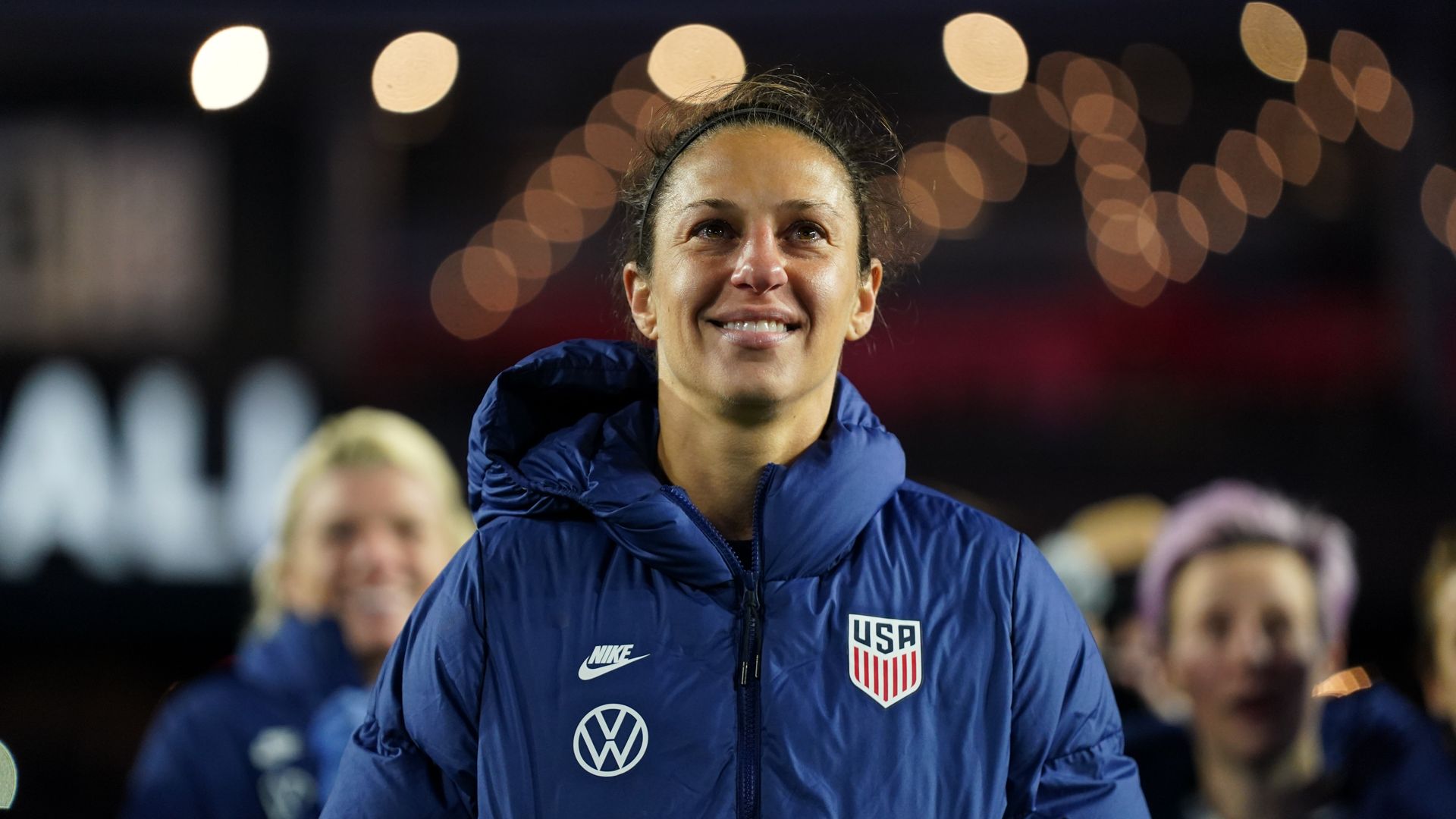 Carli Lloyd, one of the greatest American soccer players ever, played her final international match last night in the USWNT's 6-0 friendly win over South Korea.
She was subbed out in the 66th minute to a heartwarming ovation from the 18,115 fans on hand at Allianz Field in St. Paul, Minnesota, bidding a tearful goodbye as she left the pitch one last time.
When the USWNT next takes the field in 2022, Lloyd's No. 10 jersey will go to 27-year-old Lindsey Horan, who will become just the fourth player to wear it since the team debuted in 1985.
The big picture: Lloyd, 39, debuted with the USWNT in 2005. Since then she's compiled one of the most impressive résumés in the history of the sport.
Her 316 international caps (appearances) are second only to fellow American Kristine Lilly (354 from 1987-2010), while her 134 goals rank third among Americans and fourth all time.
She's won two Women's World Cup titles, two Olympic gold medals and two FIFA World Player of the Year awards.
"She's a soccer icon everywhere in the world. I've said this before: If she was a male soccer player in Europe, [they] would have statues of Carli Lloyd all over ... I mean, streets would be named after her."
— USWNT coach Vlatko Andonovski
Looking ahead: Though her international career is over, she'll still finish out the NWSL season with NJ/NY Gotham FC, in the thick of the playoff race with two games left.
They can clinch a spot tomorrow night with a win against Racing Louisville, bringing Lloyd one step closer to capturing one of the only prizes missing from her trophy case — an NWSL championship.
Go deeper:
3. 🏀 NBA overreactions, one week in
Eight days into the season, let's extrapolate some tiny sample size numbers into bold predictions.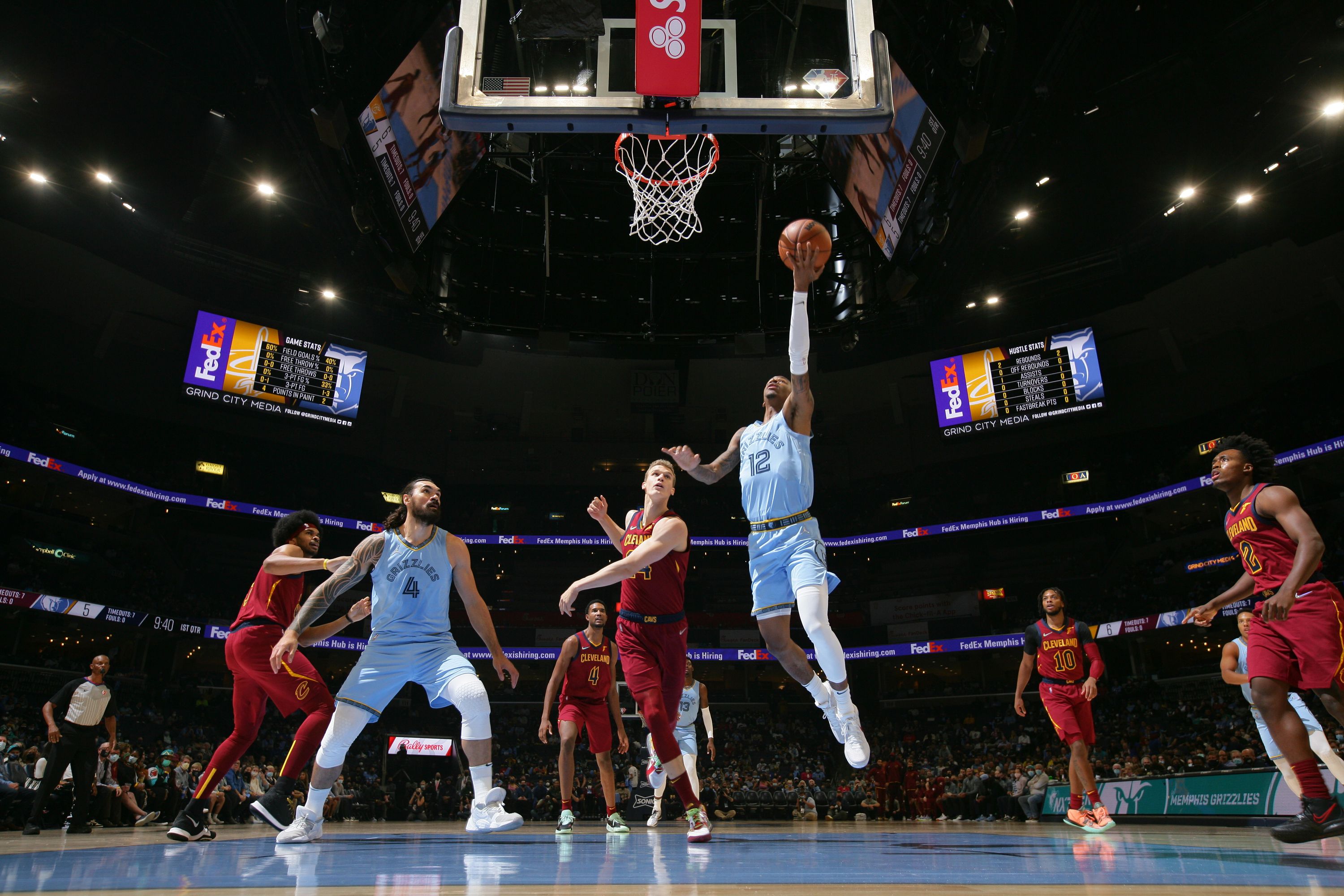 Ja Morant will win the scoring title: Through three games, he leads the league with 35 points a night, shooting 58% from the field and 44.4% from deep.
Why it will happen: His freak athleticism helps him get to the rim with ease, and he's also knocking down nearly three triples a game. How do you guard that?
Why it won't: He averaged just 19 points a game last year, so he'll need a historic year-over-year increase to reach a potentially league-leading total.
Chicago will earn a top-four seed: The Bulls are off to their first 4-0 start since 1996, when some guy named Mike led them to 69 wins and the title.
Why it will happen: They're young without being green. DeMar DeRozan, 32, and Nikola Vucevic, 31, are the only players over 30, and the long-awaited Lonzo Ball breakout may finally have arrived.
Why it won't: They have the NBA's worst record over the past four seasons (102-199). Expecting the new talent to deliver an immediate turnaround may be too much to ask.
LaMelo Ball will win the MVP: The reigning rookie of the year is averaging 23 points, four threes, six boards and seven assists in under 30 minutes a night for the Hornets.
Why it will happen: Voters love a narrative. If Charlotte (3-1) has its first winning season since 2016 and Ball drops something like a 24-7-8 stat line, he'll be hard to ignore.
Why it won't: Derrick Rose in 2011 was the youngest MVP in league history, at 22; Ball won't even turn 21 until next August. You're not supposed to figure out the league this fast.
Go deeper: The NBA's most surprising developments so far (SB Nation)
4. ⚡️ Lightning round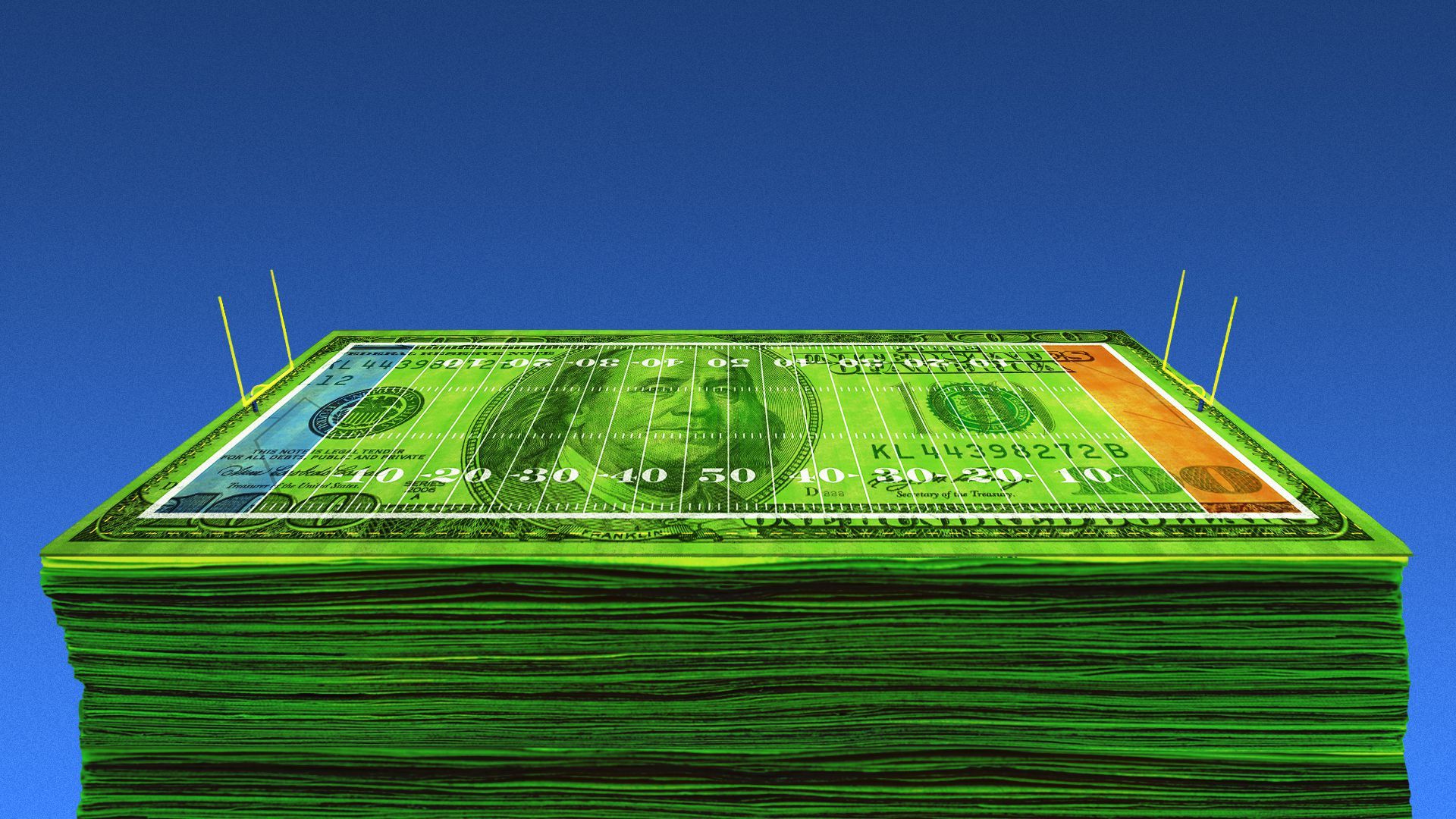 🏈 Bettors' hot streak: Nevada sportsbooks are on pace to suffer a net loss on football in October — the first such month during the NFL regular season since 2011.
🕺🏿 Perfect score: NBA free agent Iman Shumpert and his partner on Monday earned a perfect score on "Dancing with the Stars" for their mesmerizing routine, inspired by Jordan Peele's "Us." Truly a must-watch.
⚾️ Jewish history: The 2021 World Series is the second with three Jewish players on active rosters (1959), but the first in which all three should actually appear (Braves OF Joc Pederson and LHP Fried; Astros 3B Alex Bregman).
🏀 Good read: How Immanuel Quickley became the exciting new name at Madison Square Garden (Mirin Fader, The Ringer)
"Instead of taking it personally, Quickley simply nodded and took the jersey. He draped it onto his body and soon, that's what everyone else became: just bodies to score on, to plow through."
5. 🏒 NHL stats du jour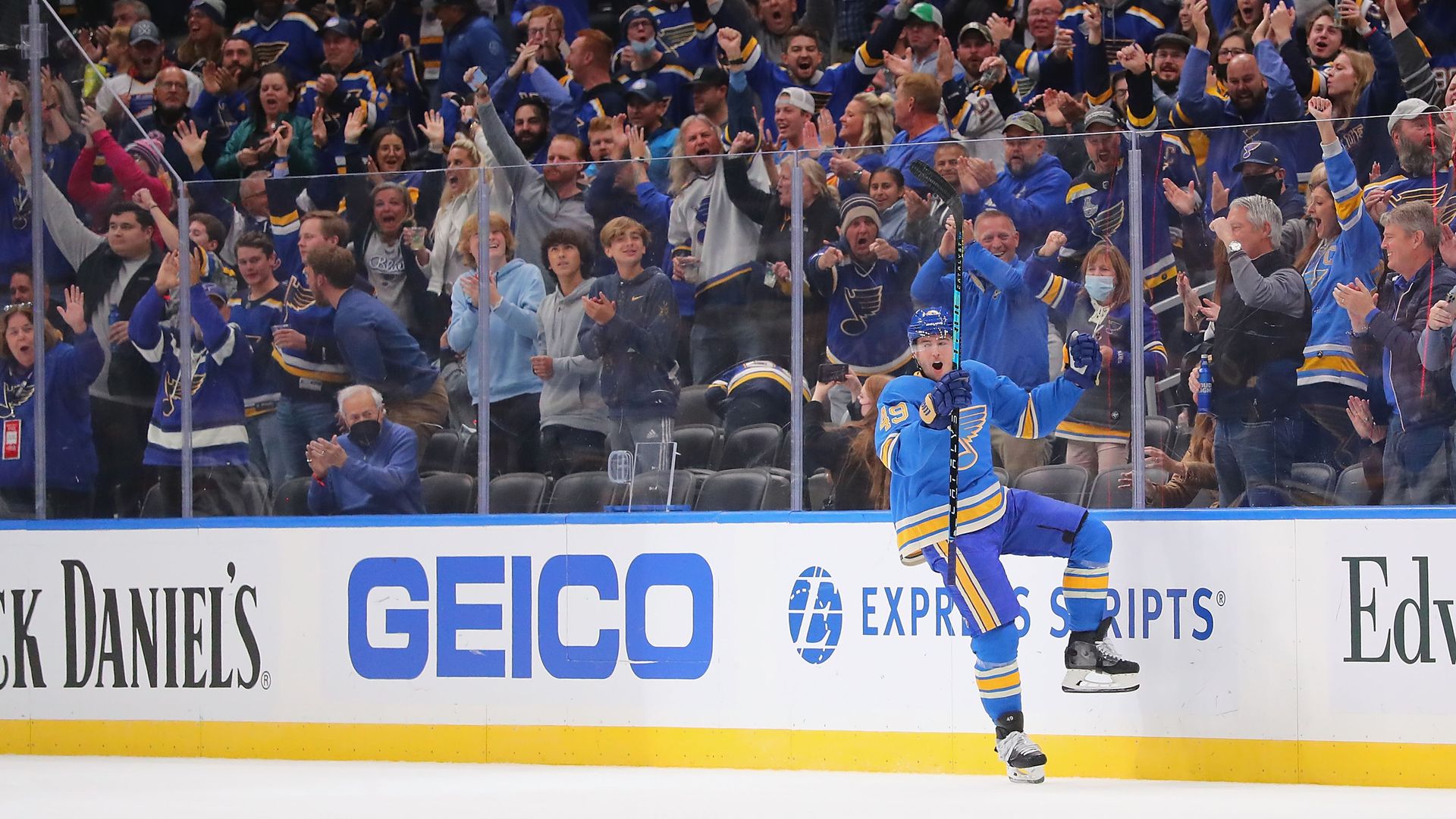 For the first time in NHL history, four teams have started the season 5-0: the Panthers (6-0), Blues, Hurricanes and Oilers.
On the other end of the spectrum, the Blackhawks (0-5-1) have yet to hold a lead through 360 minutes, 57 seconds of play — the longest such streak ever to start a season. Can they break it tonight against the Maple Leafs? (7:30pm ET, ESPN+)
More NHL:
Ovi's on fire: Alex Ovechkin, 36, has a league-leading seven goals through six games, putting him just four shy of tying Brett Hull for No. 4 all time.
Expansion team check-in: The Kraken (2-4-1) got their first home win in franchise history on Tuesday to climb out of last place in the Pacific.
Bowman resigns: Blackhawks president Stan Bowman resigned on Tuesday after investigators released their findings regarding the team's mishandling of sexual assault allegations against a former video coach during the 2010 season, when Bowman was GM.
6. 🏀 Bueckers headlines All-America team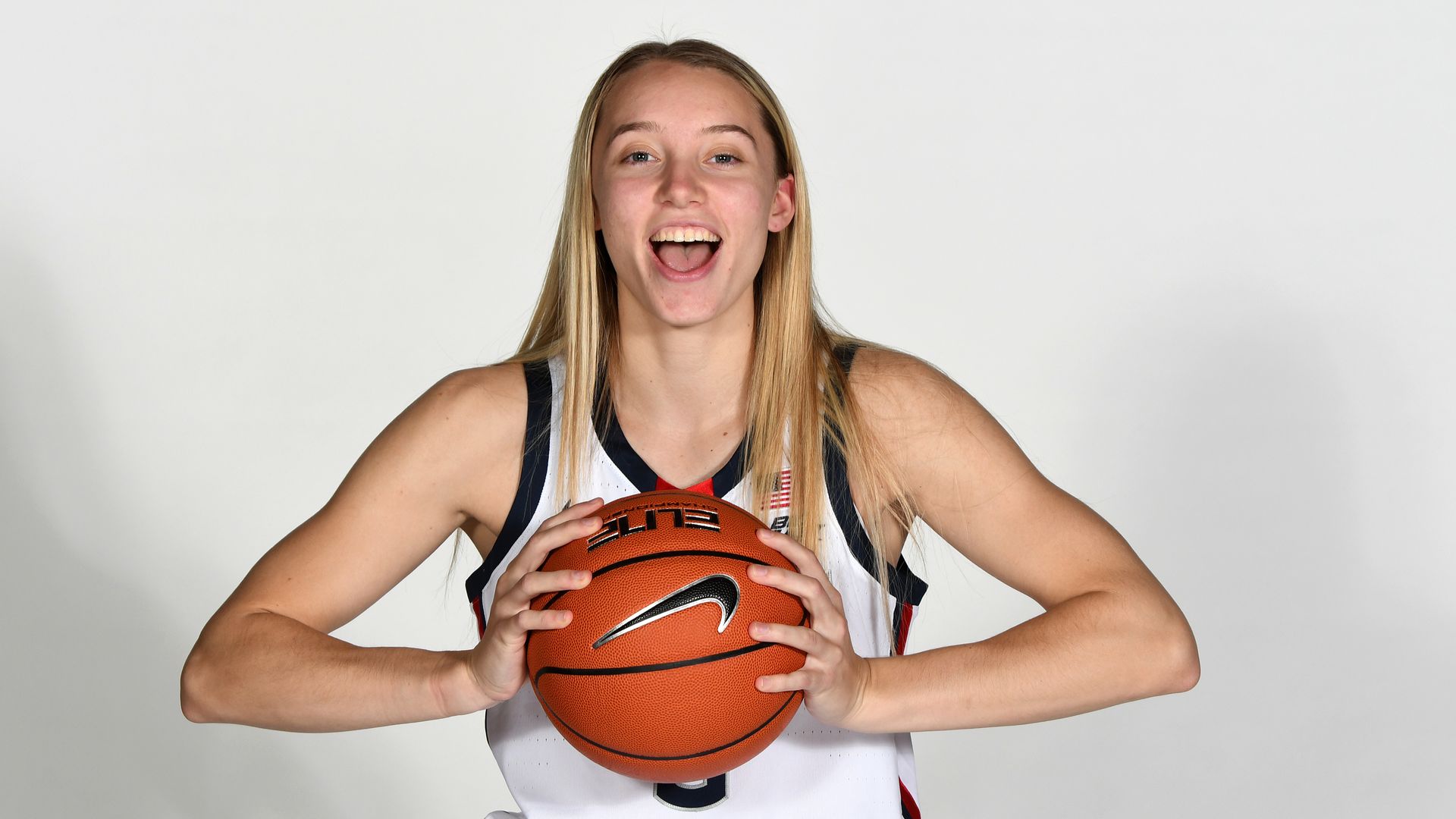 UConn's Paige Bueckers, who last year became the first freshman ever to win AP player of the year, was the lone unanimous selection on the AP preseason All-America team released Tuesday.
Bueckers, UConn (So.)
Caitlin Clark, Iowa (So.)
Aliyah Boston, South Carolina (Jr.)
NaLyssa Smith, Baylor (Sr.)
Rhyne Howard, Kentucky (Sr.)
The backdrop: Last season, Bueckers, Boston, Smith and Howard were all first team AP All-Americans, while Clark made the second team.
Clark, the nation's reigning leading scorer, is the first Hawkeye ever to earn this preseason honor.
The season tips off in 13 days...
7. 🌍 The world in photos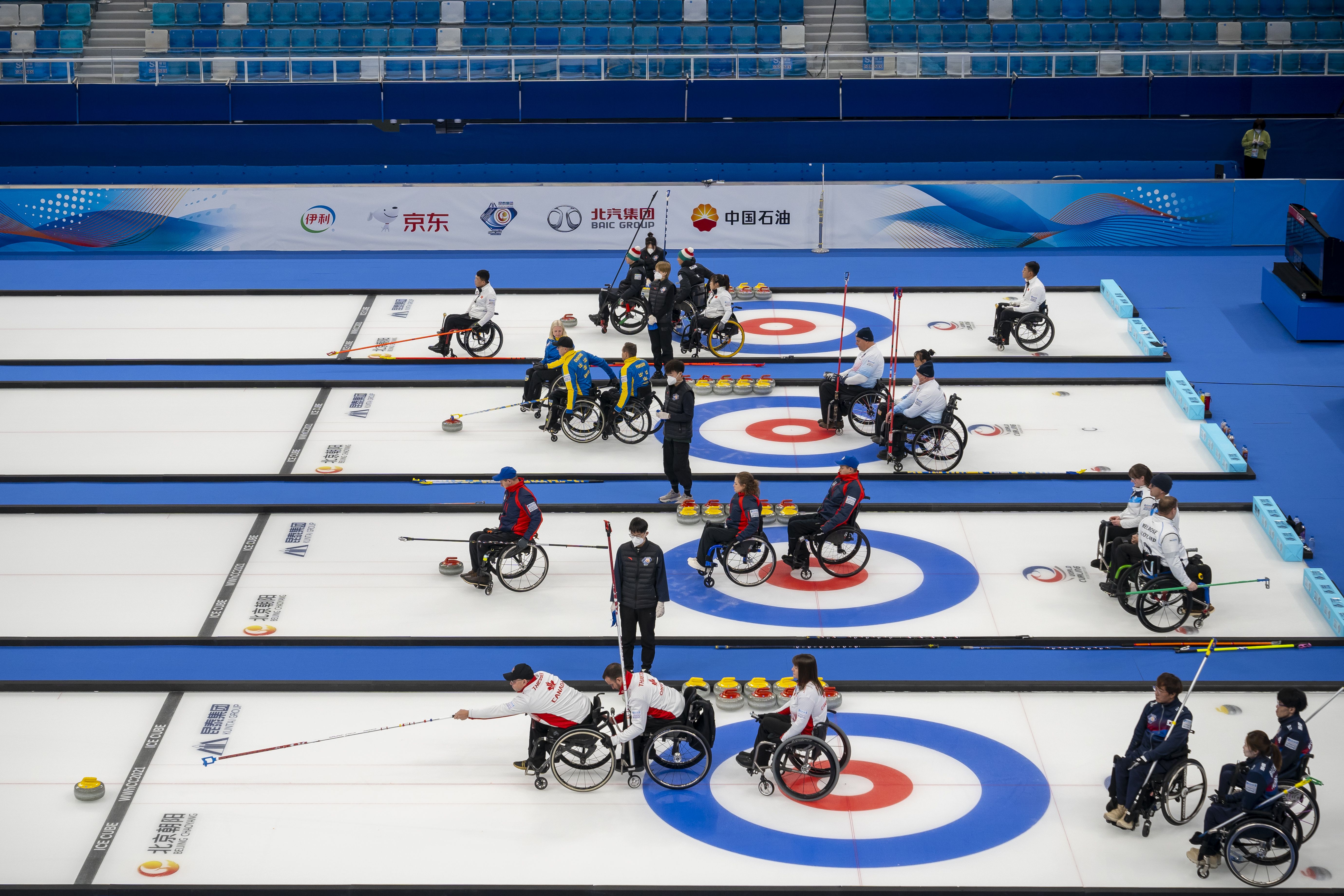 BEIJING — The World Wheelchair Curling Championships, part of a series of test events ahead of the Beijing Olympics, are being held at the National Aquatics Center. The Winter Games start in 100 days.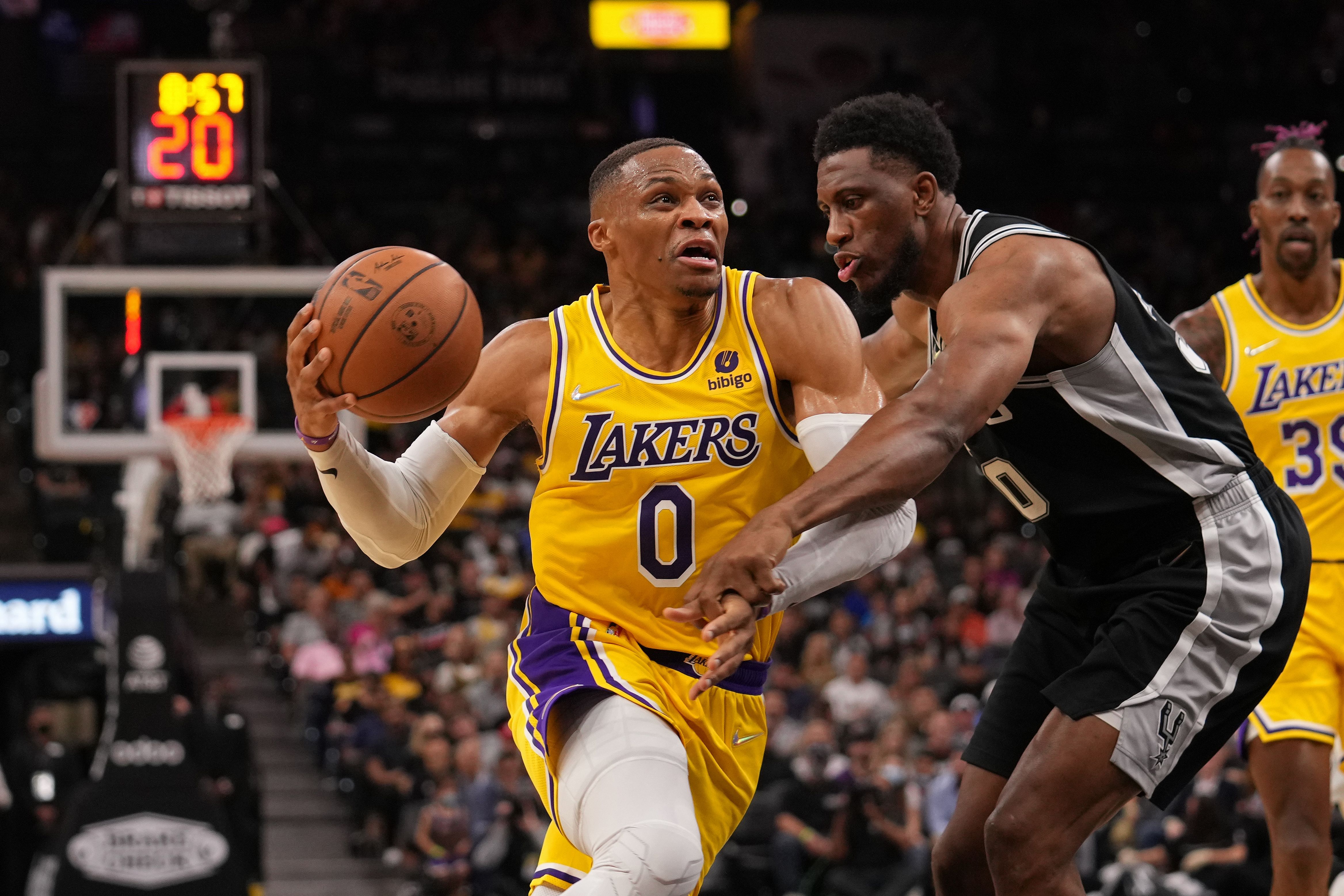 SAN ANTONIO — Russell Westbrook (33-10-8) and Anthony Davis (35-17-4) dominated in the Lakers' 125-121 overtime win against the Spurs, avoiding a 1-3 start as LeBron James sat with an injured ankle.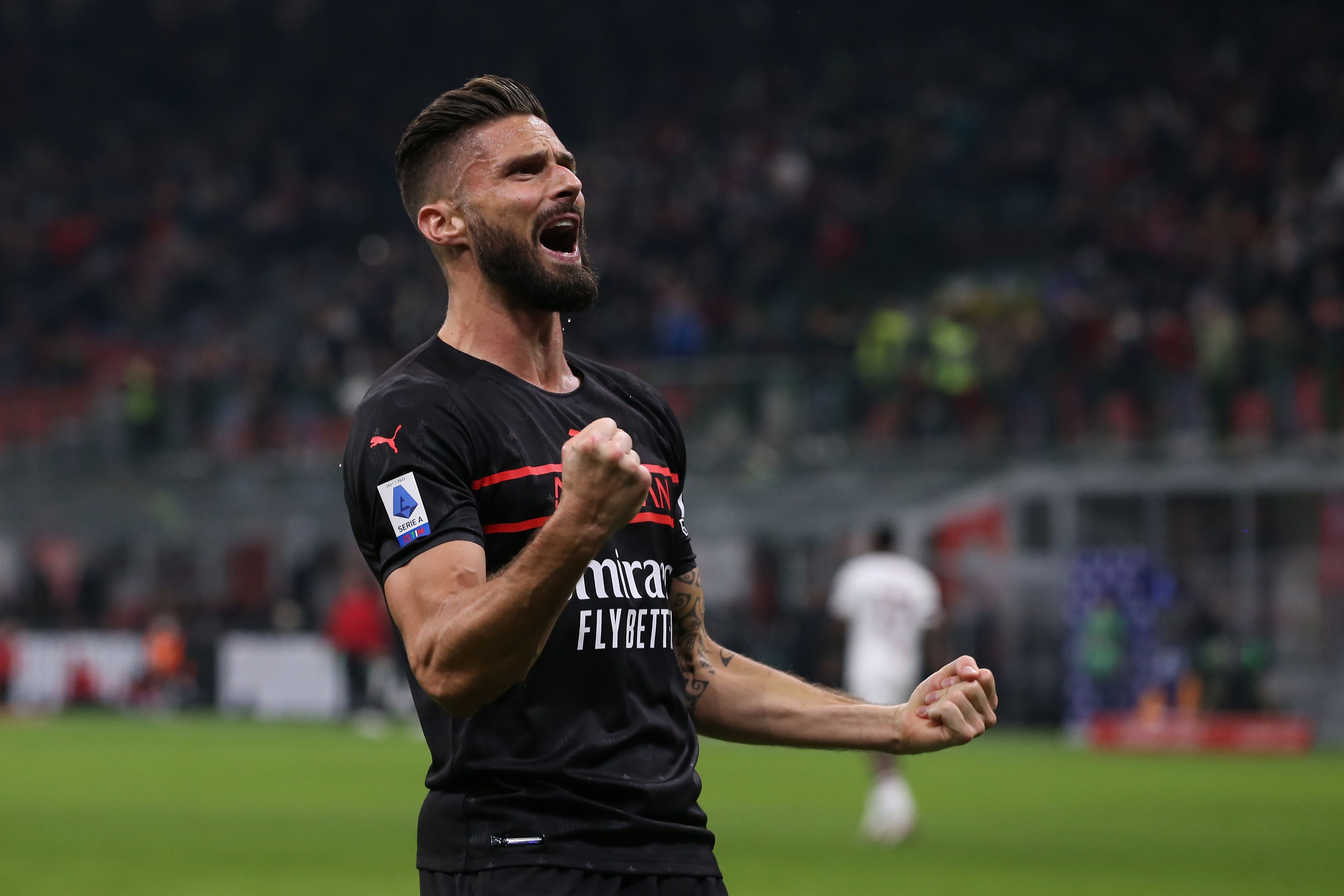 MILAN — Olivier Giroud's 14th-minute goal was all AC Milan needed to get past Torino, 1-0, sending the Milanese side to the top of the Serie A table a quarter of the way through the season.
8. 📆 Oct. 26, 2011: The David Freese game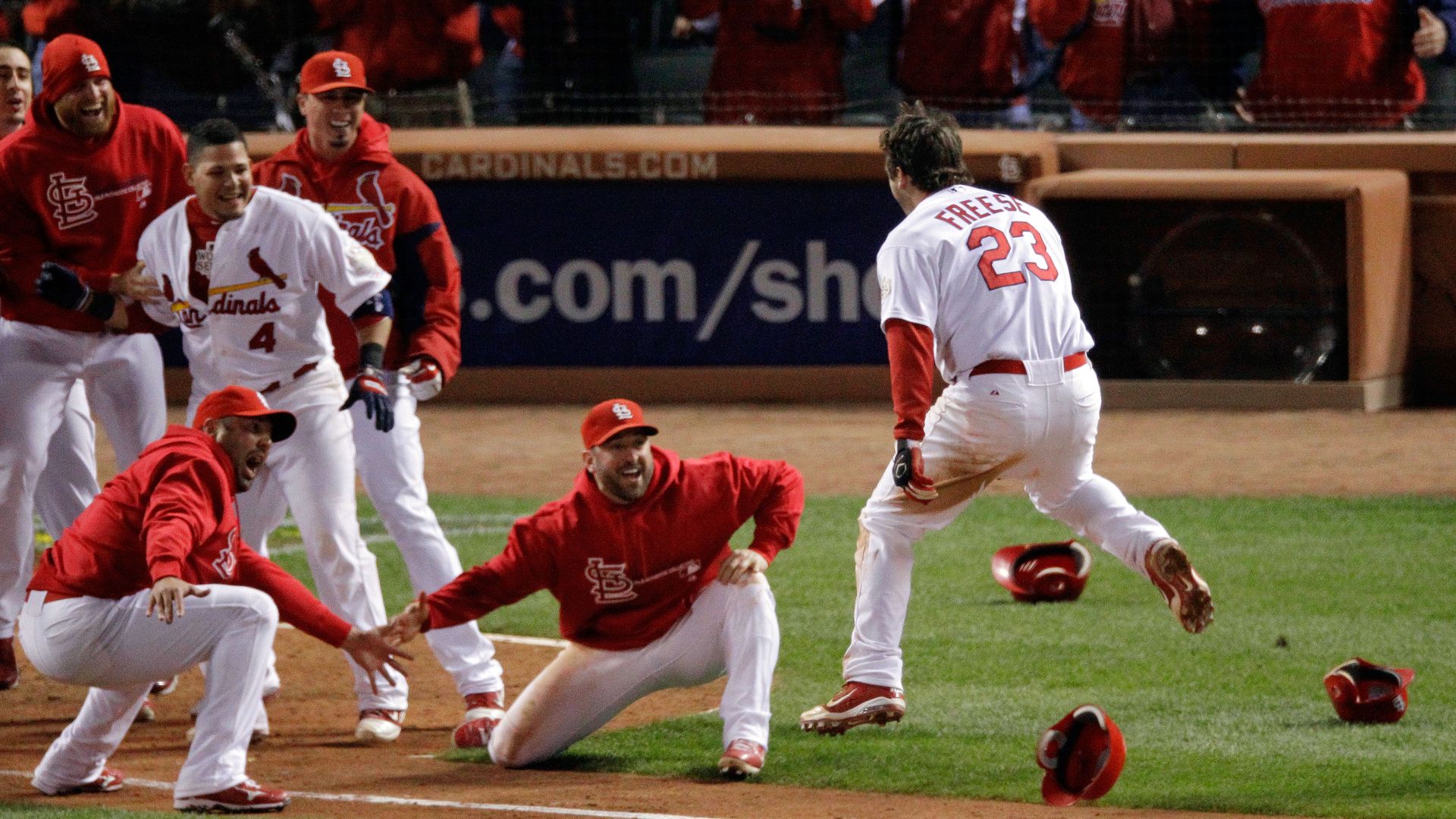 10 years ago today, David Freese had two of the most clutch hits in World Series history.
What happened: The Rangers led the Cardinals, 7-5, in the bottom of the ninth in Game 6 of the 2011 World Series — one strike away from winning their first championship.
Hit No. 1: With two on, two out and a 1-2 count, Freese laced a game-tying triple over Nelson Cruz's head, sending the game to extra innings.
Hit No. 2: With the game tied in the bottom of the 11th, Freese crushed a walk-off homer to dead center, sending the series to Game 7.
The big picture: The Cardinals won their 11th championship a day later, and Freese's performance in those playoffs remains one of the best ever.
Go deeper: The David Freese game (MLB)
9. 🏈 NFL trivia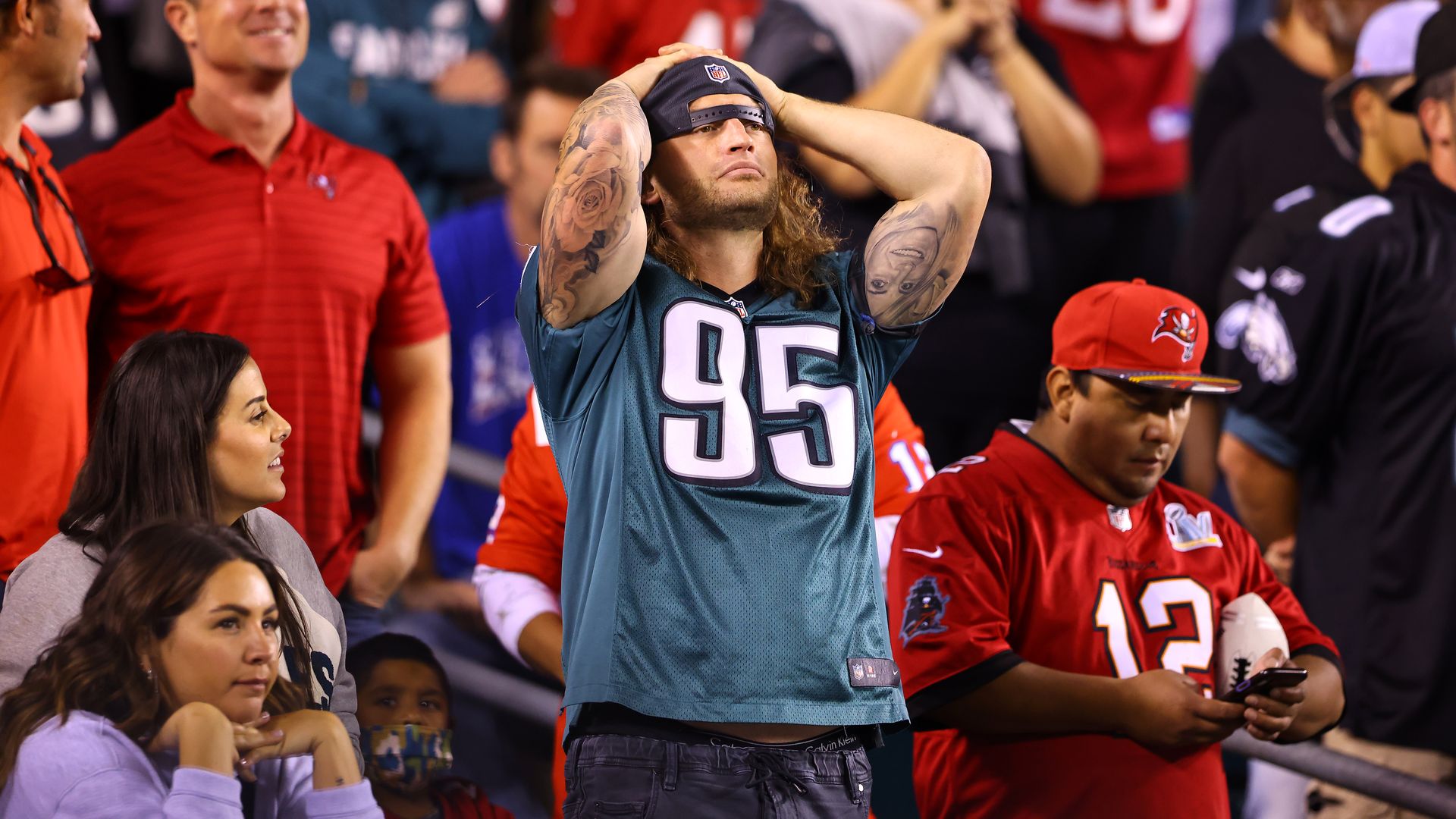 The Eagles are allowing an NFL-worst 74.4% completion percentage this season, equaling the record for the best single-season completion percentage by a QB in league history.
Question: Which QB holds that record?
Hint: He's retired.
Answer at the bottom.
10. 🏀 1 court thing: Mavs pay homage
The Dallas Mavericks this season unveiled a new court design, honoring the 337 players who've played at least one game with the franchise.
Four more players have already debuted this year — should they get out the stencil and add a few names?
Talk tomorrow,
Jeff "Curling is my passion" Tracy
Trivia answer: Drew Brees (2018)
🙏 Thanks for reading. For more sports coverage, follow us on Twitter: @kendallbaker and @jeffreytracy.