👋 Good morning! Let's sports.
Today's slate:
⚾️ CWS Final: Freshman pitcher Kumar Rocker won his 10th game in his last 11 starts to help Vanderbilt beat Michigan 4-1 in Game 2 of the College World Series Final and force a winner-take-all Game 3 tonight (7pm ET, ESPN).
⚽️ Gold Cup: The U.S. men's national team will take on Panama tonight (6:30pm ET, FS1) in a battle for Group D supremacy. Both teams have six points after picking up wins against Guyana and Trinidad & Tobago.
Today's word count: 1,354 words (~5 mins).
1 big thing: 🧀 Wisconsin is an MVP factory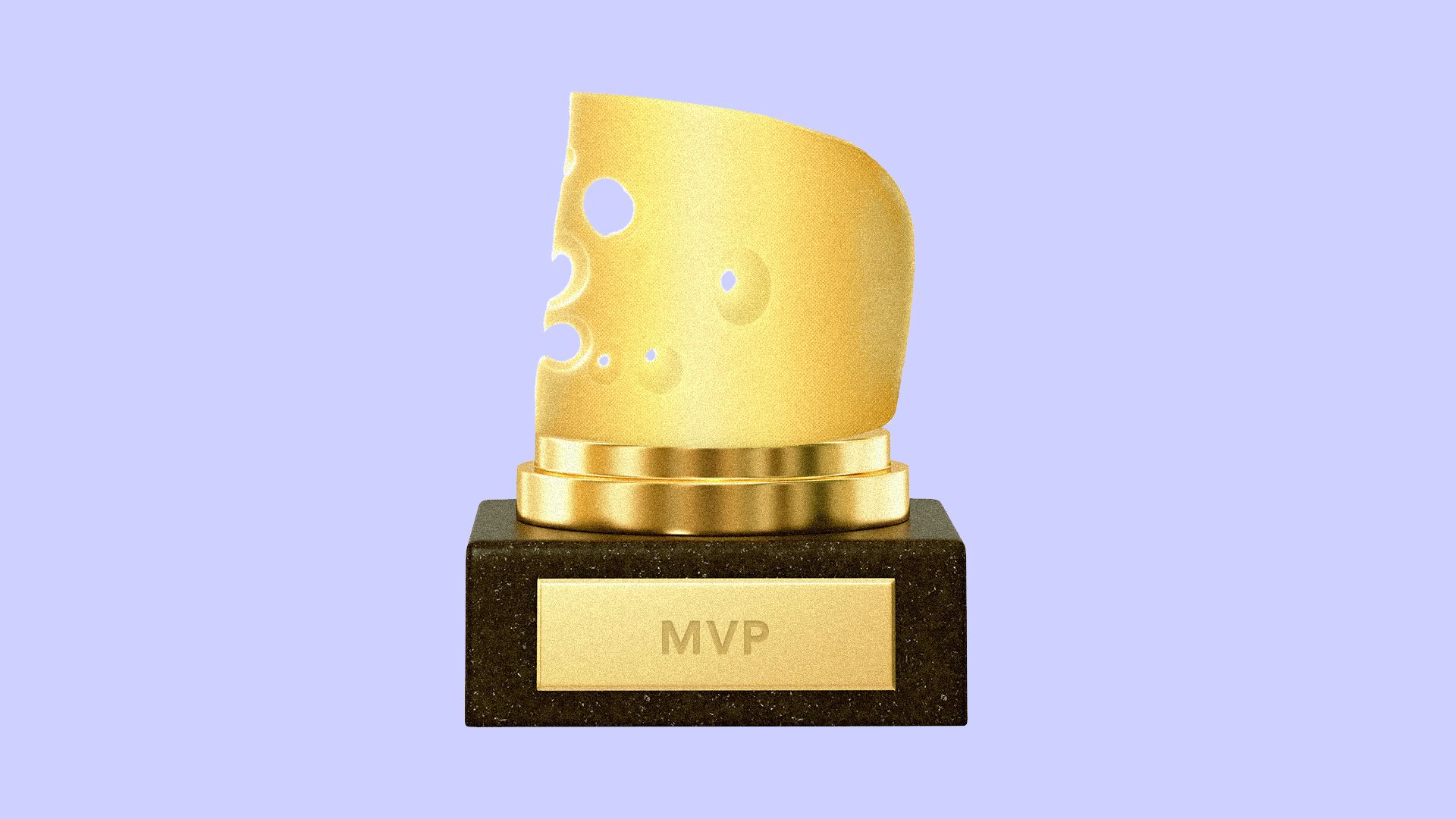 Now that Giannis Antetokounmpo has won the NBA's MVP award, Milwaukee boasts reigning MVPs in both baseball (Christian Yelich) and basketball.
Why it matters: If you add in two-time NFL MVP Aaron Rodgers, who plays 120 miles north in Green Bay, there is a legitimate case to be made that Wisconsin has been the MVP capital of the world over the past quarter century.
By the numbers: In the past 25 years, the three major sports teams in Milwaukee and Green Bay (Bucks, Brewers, Packers) have produced eight MVPs: Brett Favre (3x), Rodgers (2x), Ryan Braun, Yelich and Antetokounmpo.
Only the Bay Area has produced more (12), and they needed six teams to do it (Warriors, 49ers, Raiders, Giants, Athletics, Sharks), giving Wisconsin far more MVPs per team, per the Milwaukee Journal Sentinel.
Total MVPs (past 25 years):
Bay Area (12)
Milwaukee/Green Bay (8)
L.A./Anaheim (7)
St. Louis (7)
Boston/New England (6)
Chicago (6)
MVPs per team (past 25 years):
Milwaukee/Green Bay (2.7)
Bay Area (2.0)
Pittsburgh (2.0)
St. Louis (1.75)
Boston (1.5)
Dallas (1.5)
P.S. … Perhaps most impressive of all, Milwaukee/Green Bay is the only market to produce MVPs in the NBA, MLB and NFL in a six-year window (2014–19), beating out New York (seven years; 1970–76) and Los Angeles (eight years; 1969–76).
2. ⚾️ The year of bad bullpens
As we pointed out last week, the current MLB season has been dominated by home runs and strikeouts. Now, another major trend is beginning to emerge: bad bullpens.
By the numbers: For the first time since 1973, relievers have a higher ERA (4.50) than starters (4.44). And this comes at a time when bullpens are being used more than ever (a record 3.62 innings per game).
Why it matters: Modern baseball is "based on the premise that a phalanx of power-armed relievers is a better option than a starter facing a lineup for a third time," writes SI's Tom Verducci.
Yes, but: What if that premise is wrong? What if, after years of starters being yanked earlier and earlier, baseball's elite relievers are beginning to wear out?
What they're saying:
"Look at it this way. If you bring four or five relievers into a game every night, what are the chances that one of them is going to have a bad night? Pretty good, right? And if you do use four or five relievers every night, there's going to be an attrition factor. As hitters, we've gone back to the idea of 'Let's get into their bullpen.'"
— Freddie Freeman, Braves 1B, per SI
3. ⚾️ The story of A-Rod in two covers, six years apart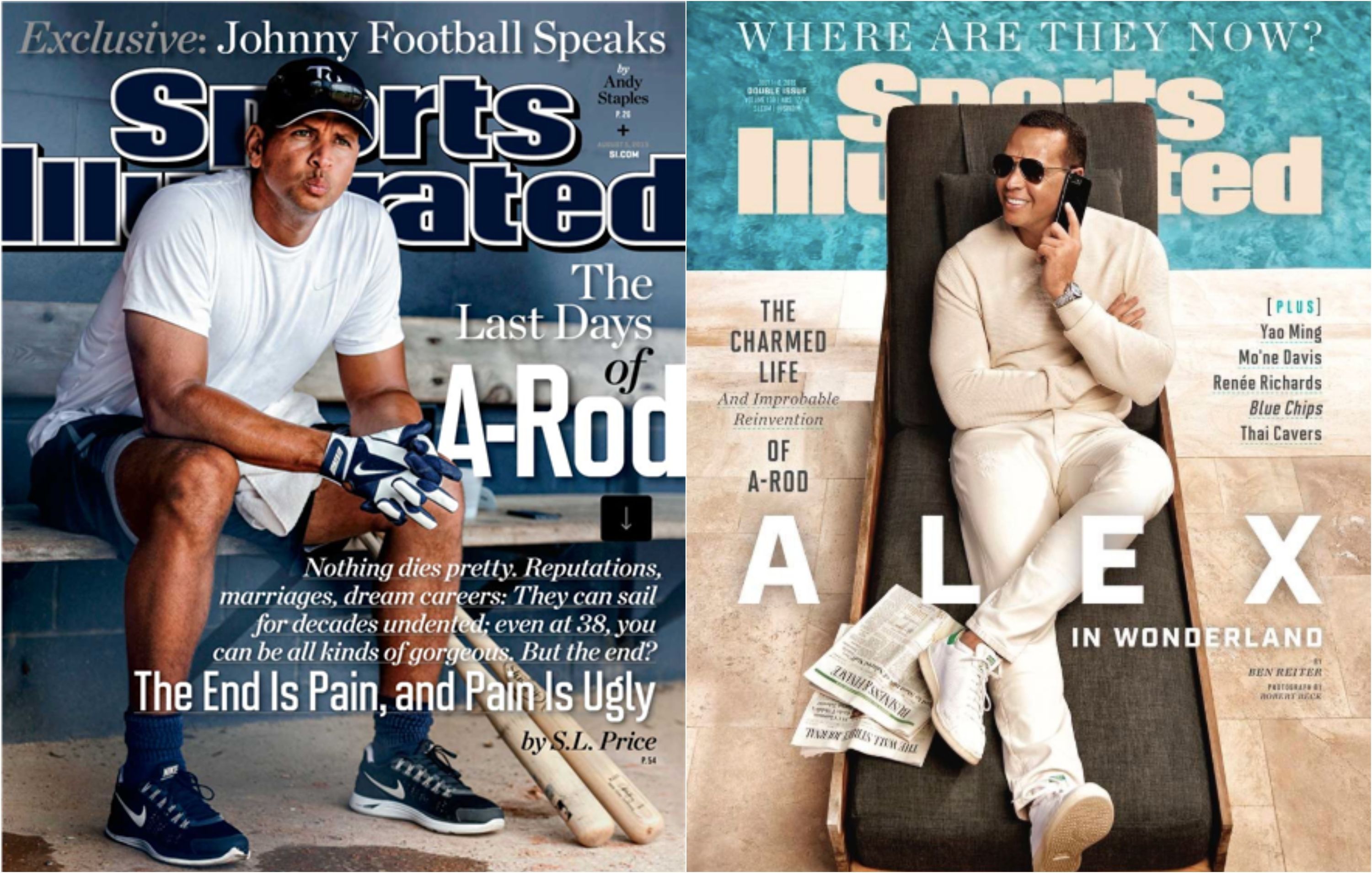 Photo: Courtesy Sports Illustrated
A half decade ago, Alex Rodriguez was banned from baseball for an entire season and seemed destined to live out his days in PED jail with the words "liar" and "cheater" plastered on his forehead like scarlet letters.
Fast forward: Since then, A-Rod has made one of the most miraculous comebacks in the history of humankind. It's truly remarkable.
In just five years, A-Rod has gone from being one of the most vilified athletes in the world to being this goofy and lovable guy that most people seem to be rooting for, all while casually being engaged to Jennifer Lopez, crushing it as a TV analyst, and cutting deals and making bad jokes on "Shark Tank."
As the great Jason Gay explains in WSJ, "the A-Rod revival [is] more proof that the only thing this nation enjoys more than a comedown is a comeback. The public's moral compass is constantly pivoting; if the present is appealing enough, the past doesn't always matter."
The big picture: Six years after gracing the cover of Sports Illustrated alongside the title "The Last Days of A-Rod," the former slugger finds himself back on the cover sporting an entirely reinvented image and reputation.
4. ⚽️ And then there were eight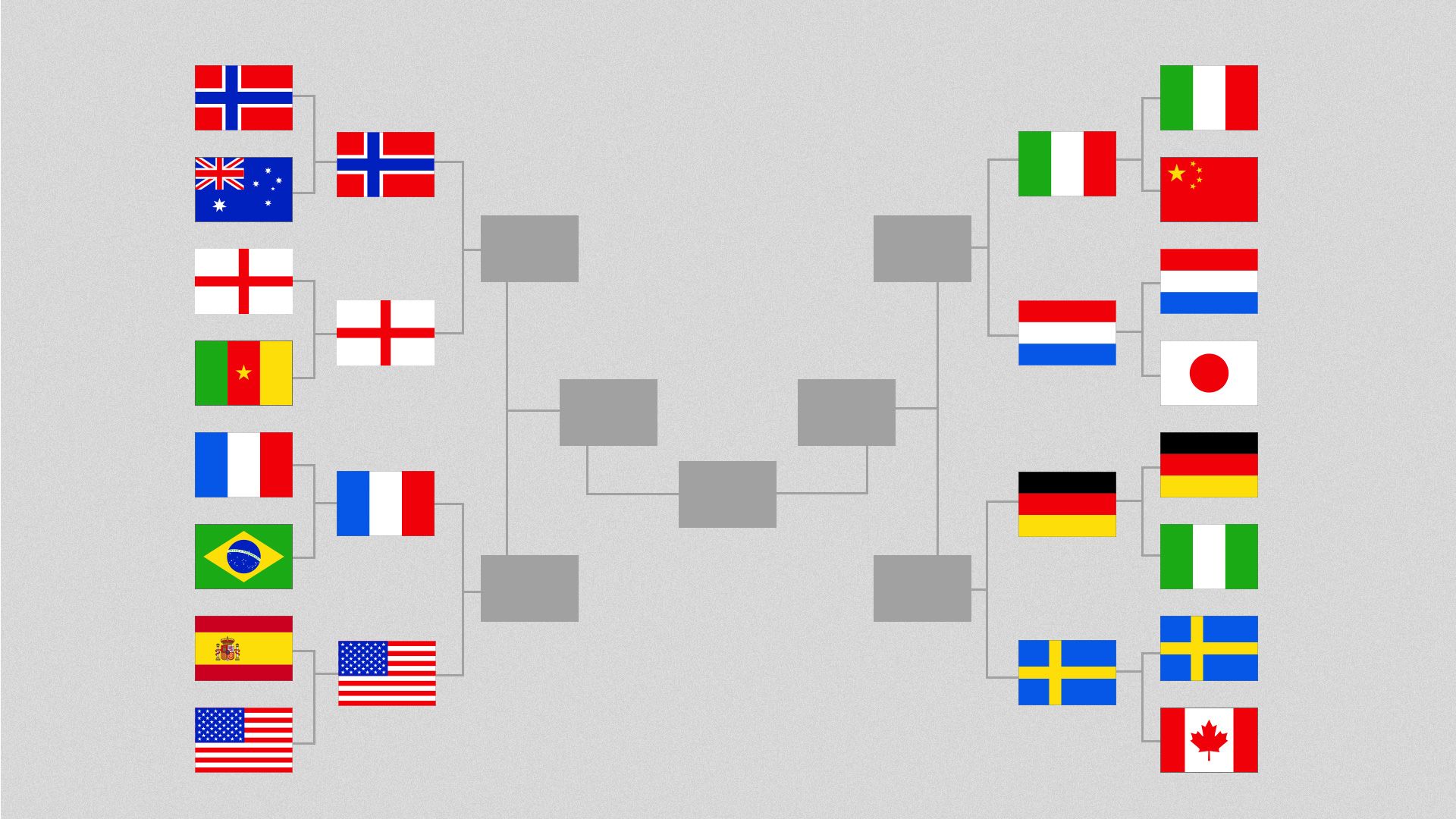 Yesterday:
Netherlands 2, Japan 1: Japan's Saki Kumagai was whistled for an unlucky handball in the 90th minute that led to the Netherlands' penalty kick game-winner.
Italy 2, China 0: Italy broke down China's vaunted defense (only allowed one goal in the group stage) to advance to its first quarterfinal since 1991.
What's next: With the last two Asian teams eliminated, the Women's World Cup quarterfinals will feature a record seven European teams alongside the favored United States.
Thursday: Norway vs. England
Friday: United States vs. France
Saturday: Italy vs. Netherlands
Sunday: Germany vs. Sweden
BONUS: 📸 Photo of the day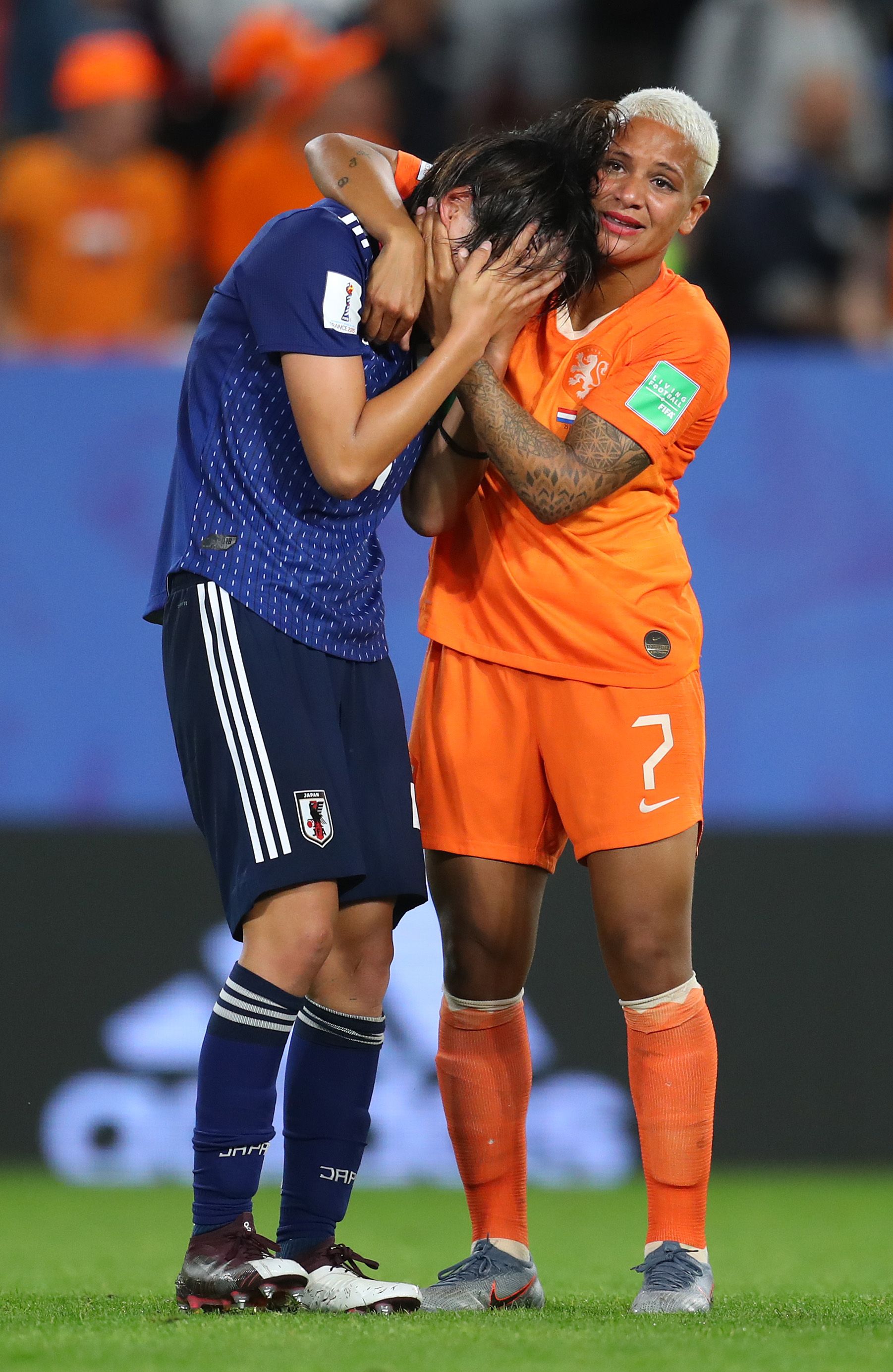 Photo: Catherine Ivill/FIFA via Getty Images
RENNES, France — Saki Kumagai was visibly distraught after her unlucky handball cost Japan a spot in the quarterfinals. Once the final whistle blew, her club teammate Shanice Van De Sanden immediately tried to comfort her.
5. 🏀 The "Serbian Michael Jordan" nearly joined the BIG3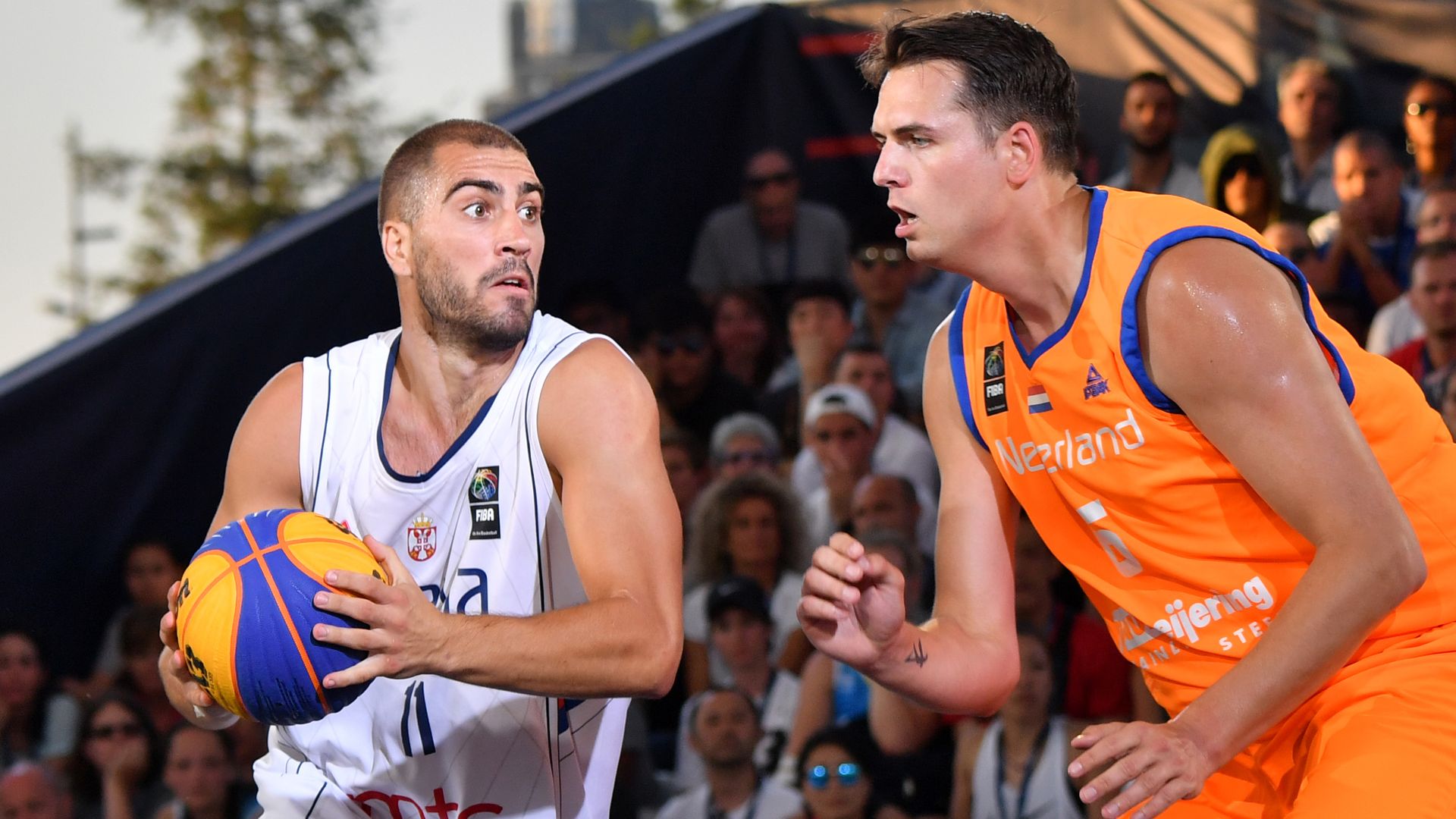 The BIG3 tipped off its third season last weekend in Detroit with an impressive collection of talent taking the floor to compete in 3-on-3 hoops.
Notable names: Gilbert Arenas, Amar'e Stoudemire, Joe Johnson, Lamar Odom, Baron Davis, Jermaine O'Neal, Nate Robinson, Jason Richardson, Jason Terry, Mike Bibby, Josh Smith, Al Jefferson, Shannon Brown, Rashard Lewis, Stephen Jackson, Corey Maggette, Quentin Richardson, Glen Davis, Eddy Curry.
Driving the news: Missing from that list is Dusan Domovic Bulut, aka the Serbian Michael Jordan. The 33-year-old was drafted in May by the BIG3's Ball Hogs (captained by Brian Scalabrine, himself), but an international feud has prevented him from joining them.
According to Bulut, basketball's international governing body, FIBA, "effectively threatened to ban him from the 2020 Olympics," where 3-on-3 basketball is making its debut, WSJ reports (subscription).
"At issue was FIBA's contention that he would be in violation of his contract with his Emirati club team, which plays in FIBA competitions, by leaving to play in the BIG3."
In other words, FIFA took aggressive measures to ensure that it didn't lose its biggest star (Bulut's club team is a perennial contender, and his Serbian team has won gold at three straight World Cups).
🎥 Watch: Bulut's signature move
6. June 26, 1996: 🏀 Charlotte drafts Kobe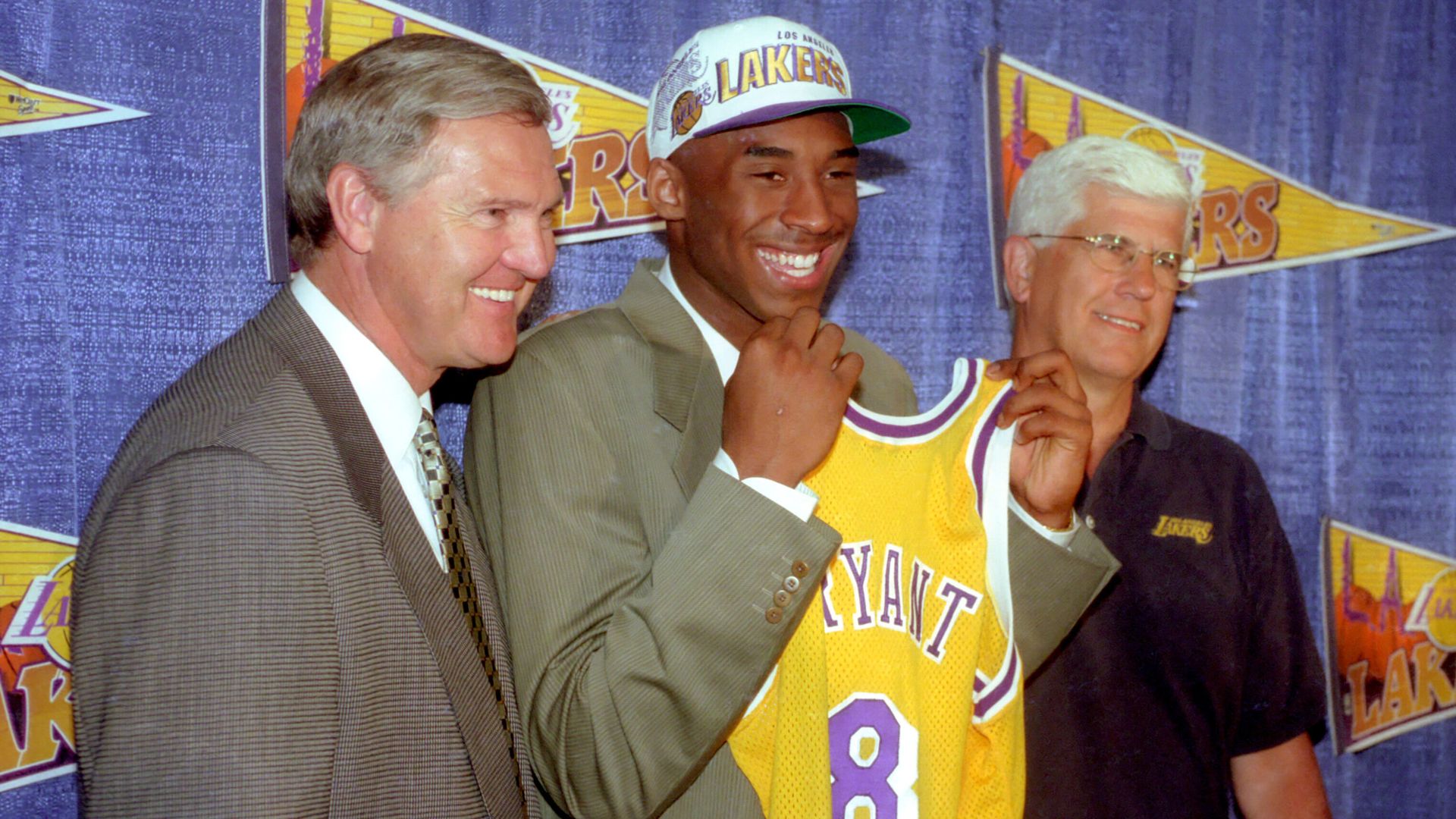 23 years ago today, the Charlotte Hornets drafted Kobe Bryant with the 13th pick in the 1996 NBA draft only to trade him to the Los Angeles Lakers for Vlade Divac a few days later.
Details: Though Bryant swears he wasn't involved in the trade, some believe he angled his way to LA through workout refusals and threats to play professionally in Italy.
By the numbers: Kobe holds numerous Lakers records, including most career points (33,643) and most titles won (tied for first with five).
Go deeper: The draft day trade that changed NBA history
7. 🏈 NFL Trivia
Only 10 NFL MVP winners have also won the Super Bowl in that same season.
Question: Can you name the last player to do it?
Hint: It happened in the late 1990s and the city he played in was mentioned in today's top story.
Answer at the bottom
8. The Ocho: ⛵️ Sailing on steroids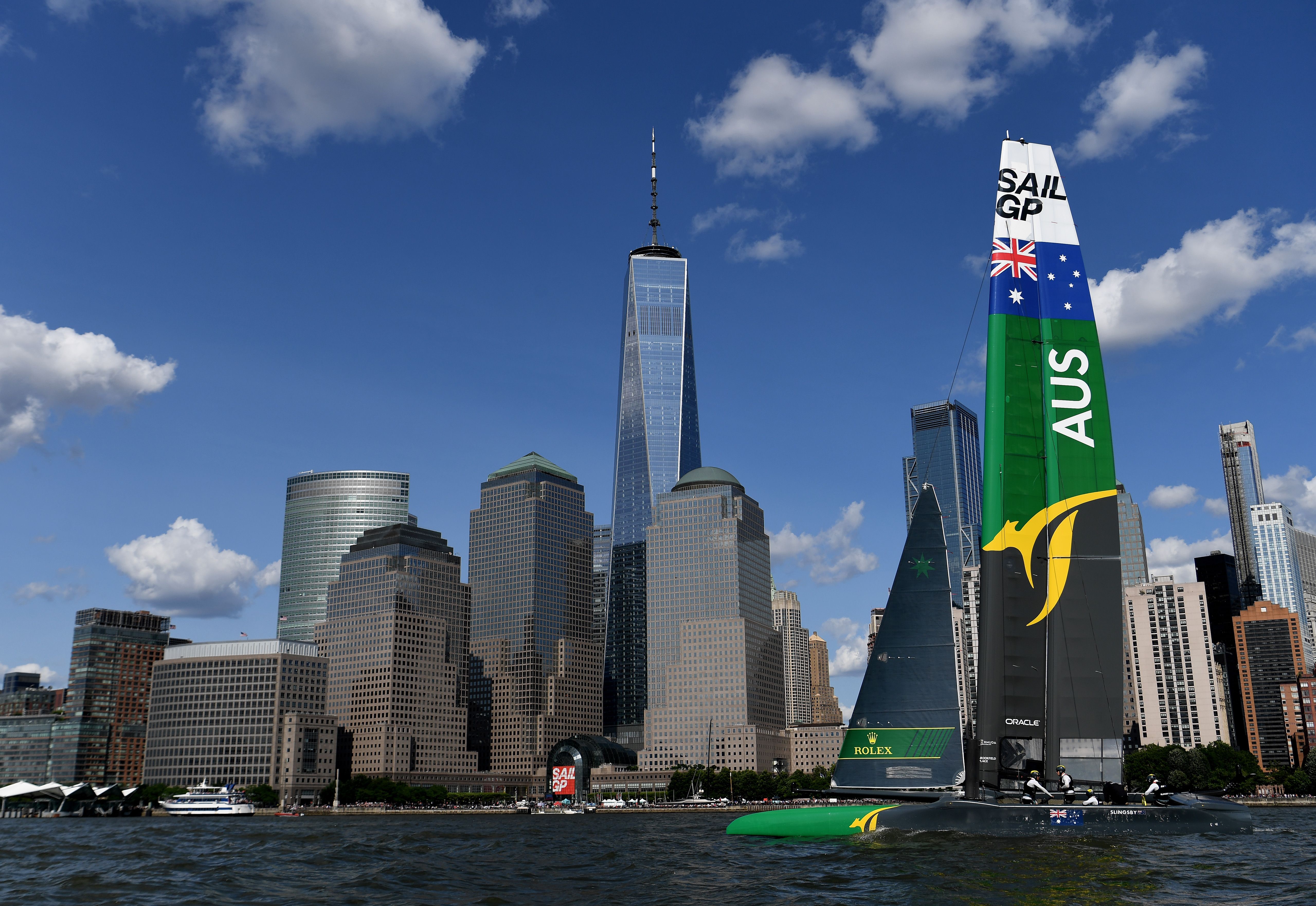 The Australian crew crosses in front of One World Trade Center, June 22, New York City. Photo: Sarah Stier/Getty Images
High-tech sailboats navigated unpredictable winds as they raced across the Hudson Bay this past weekend during the inaugural New York SailGP.
Results: Japan won four of six races to emerge victorious and leapfrog Australia atop the season leaderboard.
Leaderboard: 1. Japan (140 pts), 2. Australia (139), 3. Great Britain (106), 4. USA (105), 5. China/France (tied at 93)
How it works: This is the first year of the SailGP championship series, which takes a unique approach to racing.
For starters, every SailGP team's supercharged catamaran is identical, which means teams win based on talent and strategy rather than technological or engineering advantages.
On top of that, live data is shared throughout the race, allowing teams to see precisely what they and their competitors are doing and learn from winning strategies.
"We have algorithms that send live alerts when we're out of our typical range or when other teams are sailing differently than us," said Phil Crain, a data analyst for the American team. Yes, you read that correctly: teams employ data analysts (NYT).
What's next: Three races have been completed (Sydney, San Francisco, New York) with two more to go (Cowes, England, in August and Marseille, France, in September).
9. 📚 Good reads
🏀 Kevin Durant's Absence Might Make Us Finally Appreciate Him (The Ringer)
"One of the most purely enjoyable basketball players ever to exist made NBA fans dislike him by successfully doing the thing they loved to watch him do. Now he has a chance to make them like him again, by not doing it."
⚽️ Far From World Cup, Hints of Rebellion Inside U.S. Soccer (NYT)
"Current and former employees have been excoriating the federation's top executives online in an effort to alert leaders to what they called a 'toxic' culture."
🚑 Survey: NCAA Coaches' Clout Concerns Trainers (ESPN)
"About 19% of college athletic trainers reported in a recent survey that a coach played an athlete who had been deemed 'medically out of participation,' ... [revealing] concerns about college coaches having too much influence in medical decision-making."
See you tomorrow,
Kendall "Wisconsin: Cheese, beer, serial killers and MVPs" Baker
Trivia answer: Kurt Warner (1999)