🎉 Happy Friday! You made it.
Today's word count: 1,630 words (6 minutes)
1 big thing: ⚾️ There's no crying (or dynasties) in baseball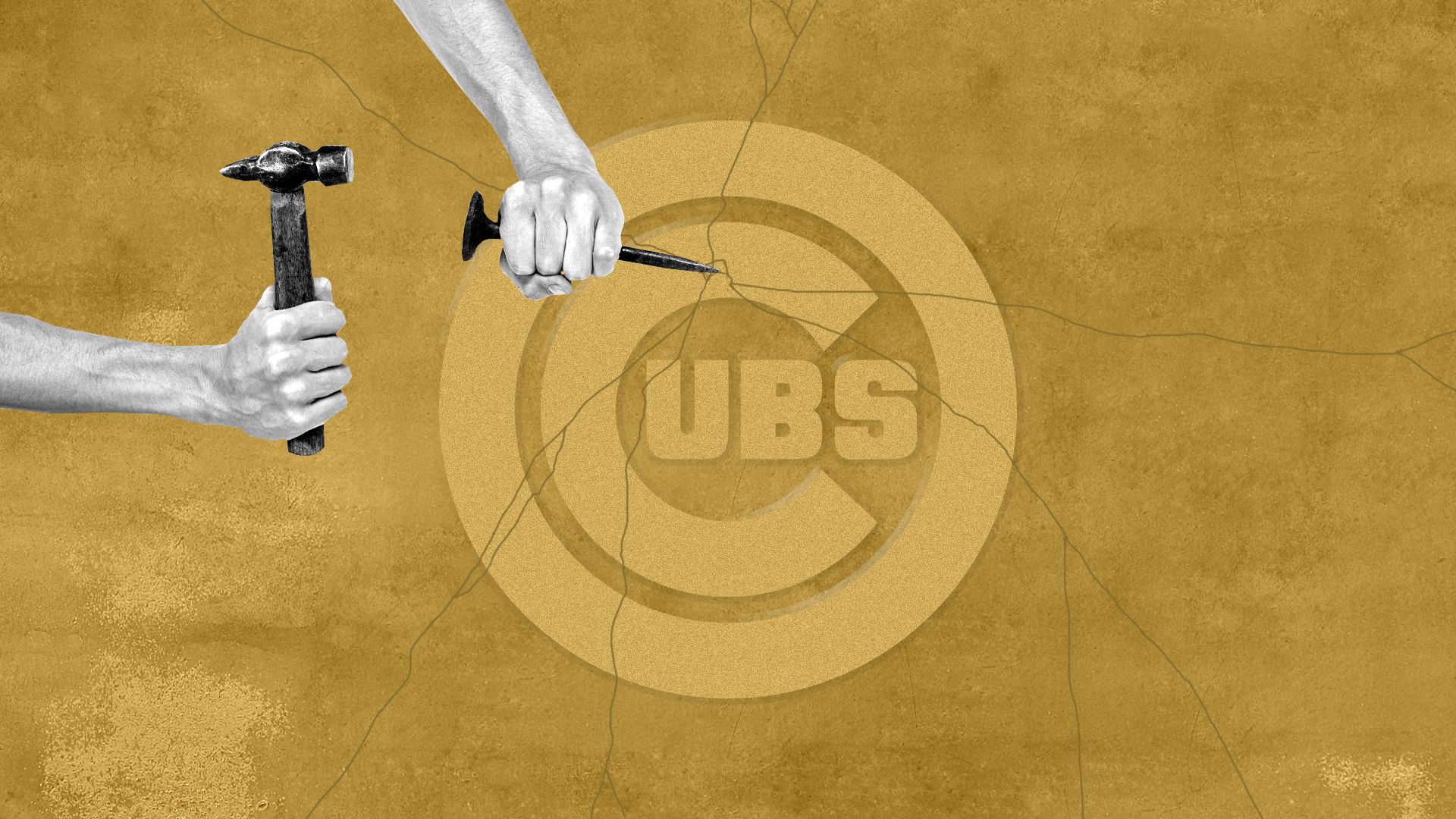 In 2016, the Cubs snapped a 108-year World Series drought and seemed destined to build a modern dynasty.
3 years later, they've been eliminated from the playoffs following a late-season collapse — and could be set for sweeping changes this offseason.
Why it matters: The death of the Cubs' dynasty (that never really existed) proves just how difficult it is to sustain greatness in baseball.
Unlike basketball, where a trio of superstars can win you a title, 3 baseball players aren't able to carry a team. And you can't remake your roster in one offseason, either. You need organizational depth — and a long-term plan.
Unlike football, where a new offensive/defensive scheme can make all the difference, baseball has no "schemes." For the most part, every team is playing the same game. There's no outsmarting your opponent.
Unlike hockey, where someone like Cale Makar can make an impact literally 2 days after his college career ends, baseball requires years of player development. The Cubs failed in that department, especially with pitchers.
Unlike soccer, where a few game-winning goals can alter the course of a season, baseball is such a slog that a team's record after 162 games is more about how well the roster was built, rather than whether or not you made a few game-winning plays.
The bottom line: "Ultimately, maybe none of the Cubs' struggles should come as too much of a surprise," writes WSJ's Jared Diamond (subscription).
"Dynasties rarely happen in today's baseball — no team has won consecutive championships since the New York Yankees completed their three-peat in 2000."
Yes, but: The Astros have dynasty written all over them after taking a similar path as the Cubs (tank, rebuild, emerge as contender), all while relying more heavily on analytics and doing a much better job developing talent.
2. 🏈 Eagles 34, Packers 27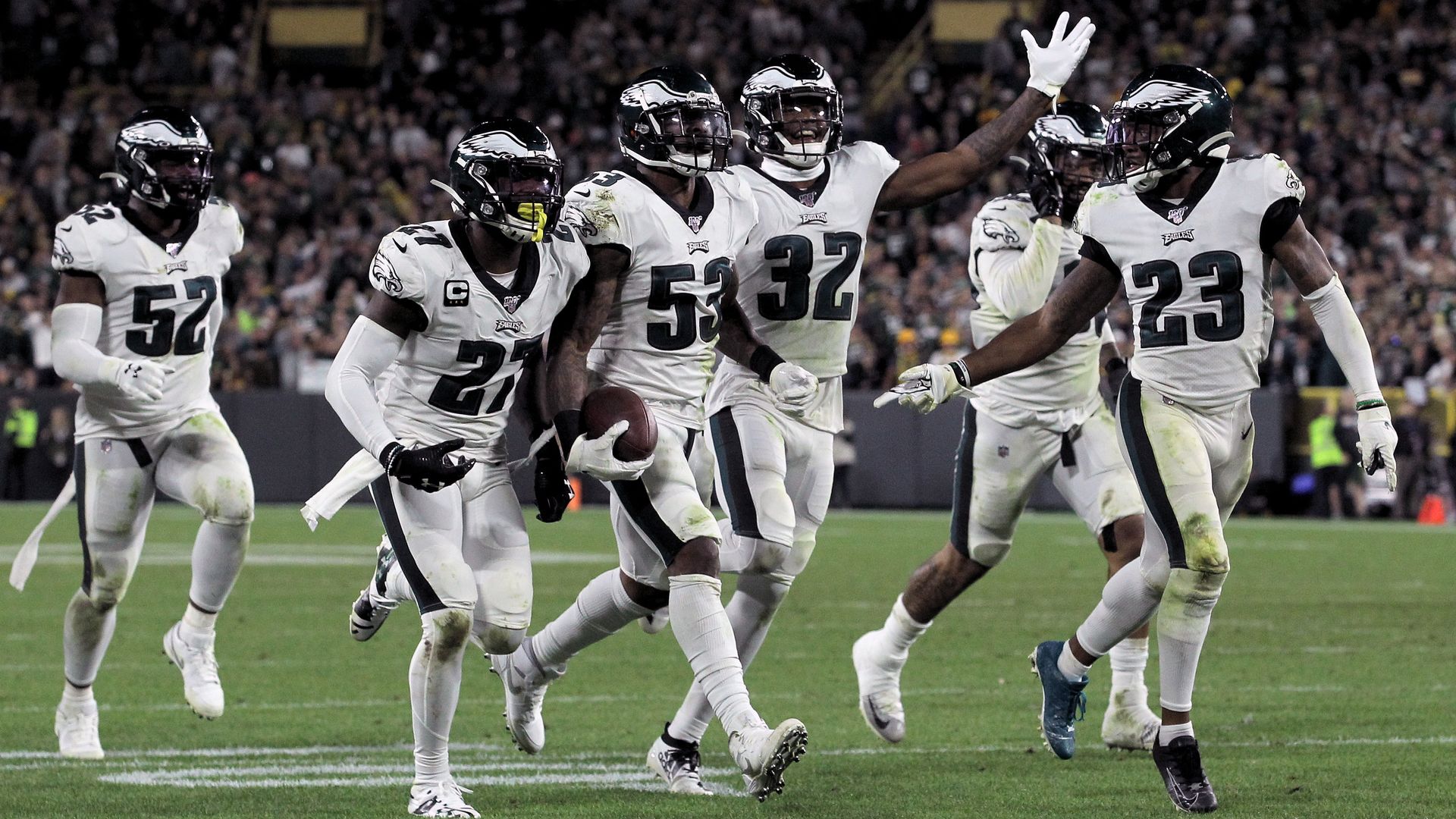 In the closest thing you can get to a "must-win" game in Week 4, the Eagles carved up the Packers' defense and were able to stop a red-hot Aaron Rodgers down the stretch en route to a 34-27 win.
How it ended: With 25 seconds left, the Packers had the ball inside the Eagles' 5-yard line with a chance to score the game-winning TD. But on 2nd-and-goal, Eagles LB Nigel Bradham picked off Rodgers' pass to seal the victory.
Fun fact: This loss snaps Rodgers' 59-game unbeaten streak when leading by 10+ points at home. The only QB with a longer streak was Tom Brady, whose 80-game run from 2001-2015 was also snapped by the Eagles.
Fantasy stars:
Jordan Howard (PHI): 15 carries, 87 yards, 2 TD; 3 receptions, 28 yards, 1 TD
Davante Adams (GB): 10 receptions, 180 yards (both career highs) before leaving in 4th quarter with an injury (turf toe)
Aaron Rodgers (GB): 34/53, 422 yards, 2 TD, 1 INT; 5 carries, 46 yards
Yes, but: 2 players — Packers RB Jamaal Williams and Eagles DB Avonte Maddox — left the game on stretchers after head-to-head collisions. Thankfully, both have feeling and movement in their extremities.
These are the type of terrifying, pit-in-your-stomach injuries that the NFL will never be able to fully eliminate from football — a stark reminder of what we sign up for as players and fans of this sport.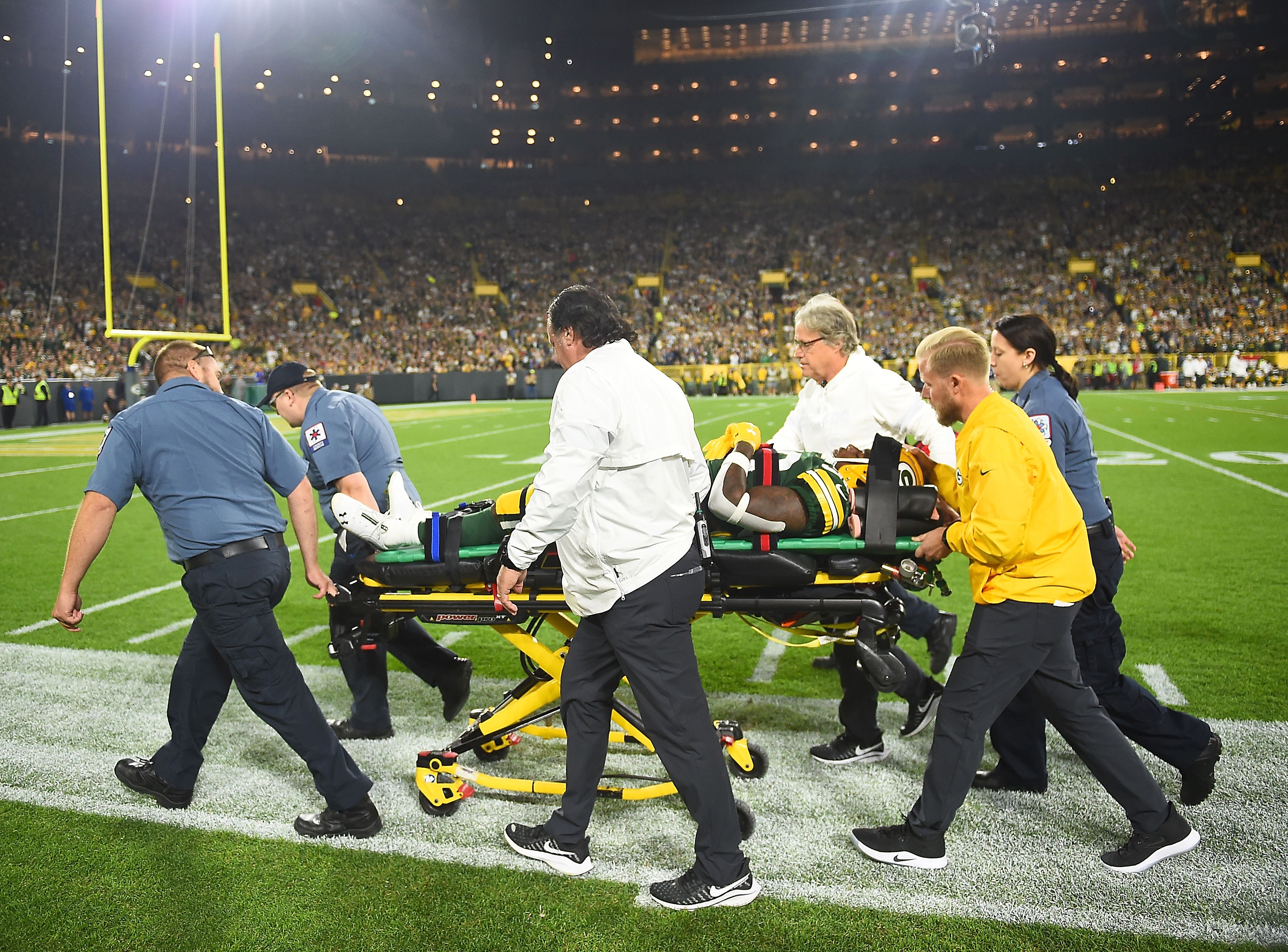 Jamaal Williams being carted off in the 1st quarter. Photo: Stacy Revere/Getty Images
3. 🏀 NBA roundup: Free throws, heights, GOATs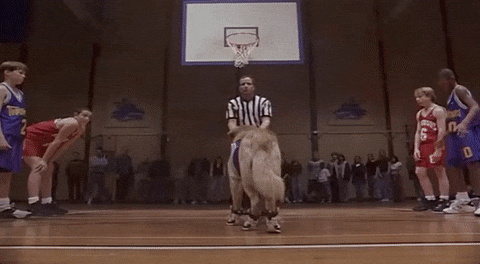 1. Free throw experiment: This season, the NBA G League will experiment with a new rule under which trips to the free throw line "will include only a single foul shot that will be worth one, two or three points depending on the nature of the foul leading to the attempt," per ESPN.
Jay Bilas' take: "Good idea, and not just to speed up play. When fouled, why should the player have to make multiple shots? The player was fouled on a single shot attempt, and should get a single free throw for the shot value that was denied the player due to the illegal act...the foul." (Twitter)
2. Verifying player heights: "The listed heights of NBA players have long been widely considered more art than science, but the league notified teams this week that they are required to certify and submit each player's height and age within the first week of training camp," per NYT's Marc Stein.
The bottom line: Expect Kevin Durant (listed at 6-foot-9-inches) to grow a few inches, while Kemba Walker and J.J. Barea (both 6-foot-1-inch) shrink.
3. Top 15 players in NBA history: 1. Michael Jordan, 2. LeBron James, 3. Kareem Abdul-Jabbar, 4. Magic Johnson, 5. Larry Bird, 6. Shaquille O'Neal, 7. Tim Duncan, 8. Bill Russell, 9. Wilt Chamberlain, 10. Steph Curry, 11. Oscar Robertson, 12. David Robinson, 13. Hakeem Olajuwon, 14. Kobe Bryant, 15. Kevin Durant
4. 📸 Yesterday in photos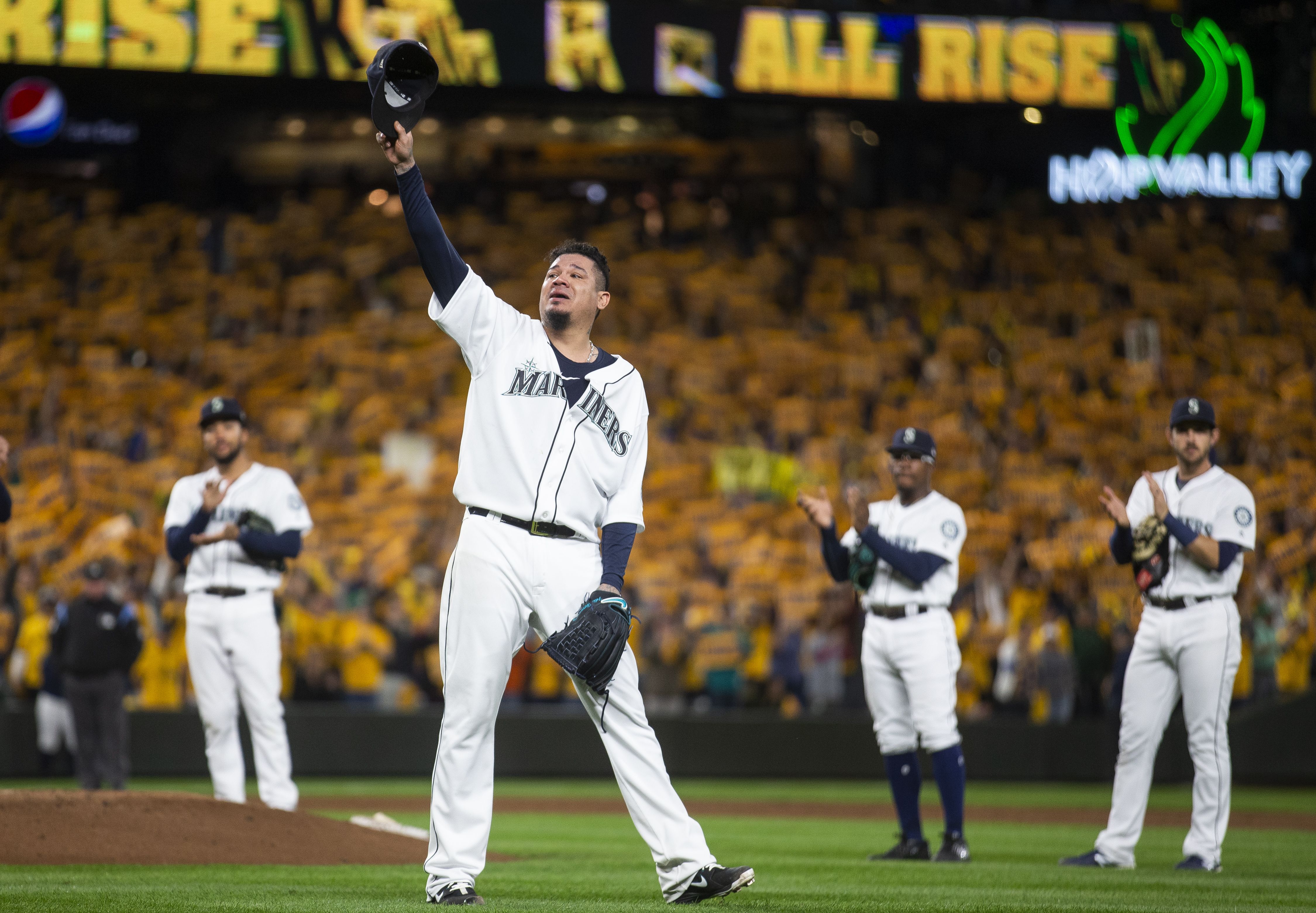 Photo: Lindsey Wasson/Getty Images
SEATTLE — With tears in his eyes, an emotional Felix Hernandez walked off the mound as a Mariner for what was likely the final time in his career last night in a losing effort against the A's.
By the numbers: He's Seattle's leader in wins (169), strikeouts (2,524), innings (2,729.2), quality starts (258) and games started (418). He's also one of just 2 players to have played at least 15 seasons with the Mariners (Edgar Martinez).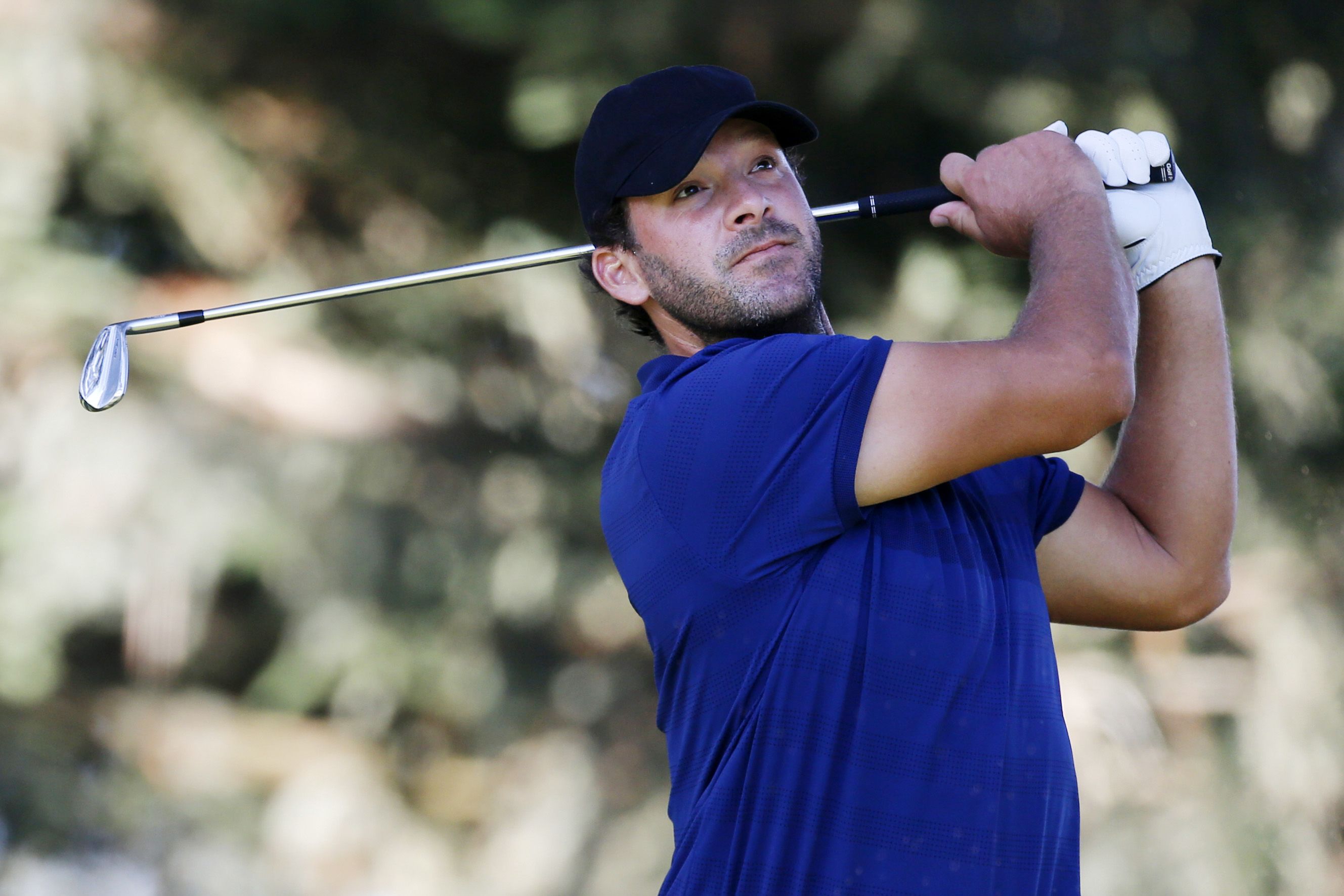 Photo: Jonathan Ferrey/Getty Images
NAPA, CALIF. — Tony Romo shot a 2-under 70 at the PGA Tour's Safeway Open, putting him in a tie for 28th after the 1st round — 5 shots back of leaders Adam Scott and Andrew Landry.
Looking ahead: If Romo makes the cut, he'll continue to play and miss Sunday's game between the Vikings and Bears in Chicago, where he was supposed to be in the booth for CBS.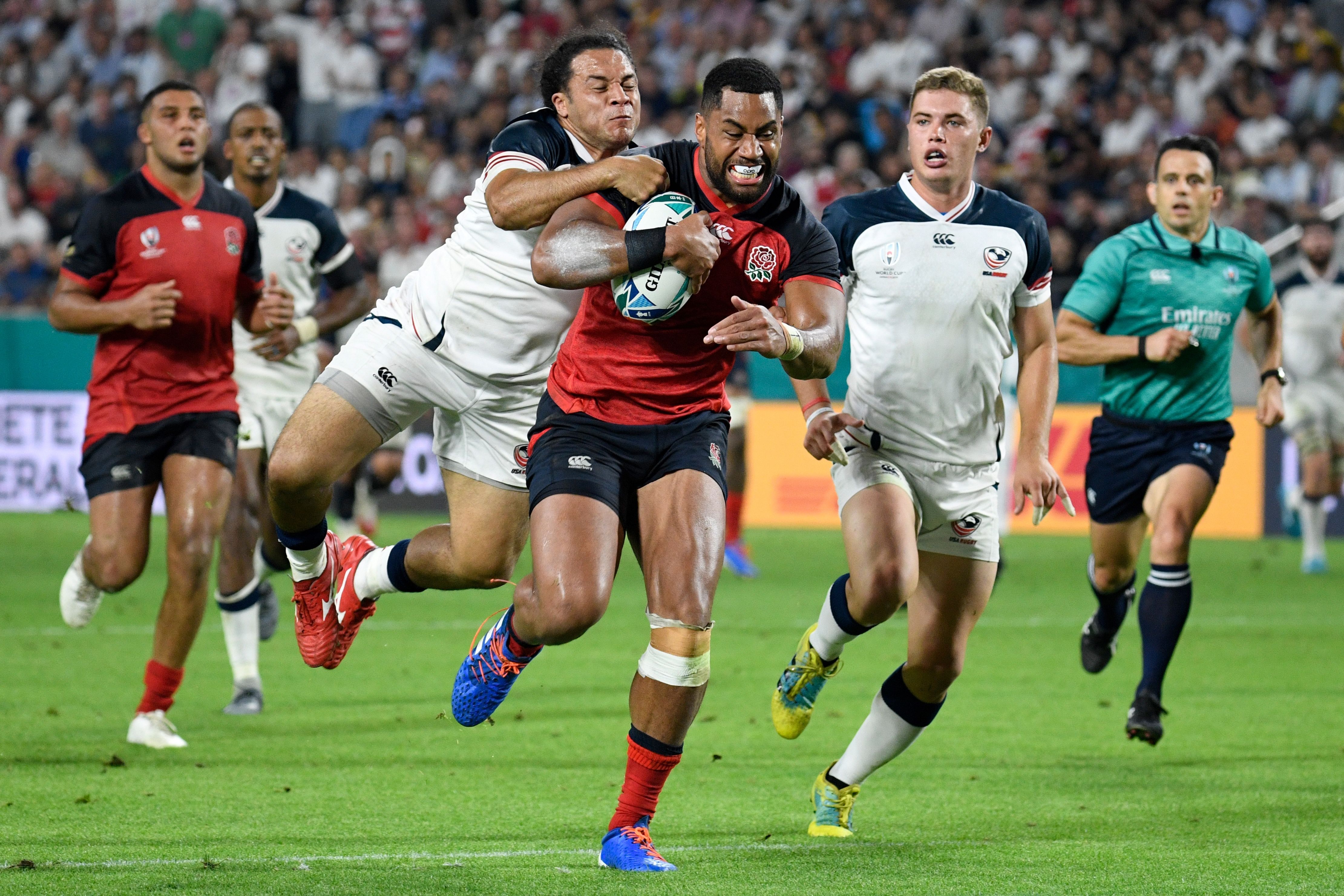 Photo: Filippo Monteforte/AFP/Getty Images
KOBE, JAPAN — Joe Cokanasiga (above in red) and England routed the USA, 45-7, to maintain their perfect start to the 2019 Rugby World Cup.
Pool C standings: England sits atop the group with 10 points, followed by France (4), Argentina (1), Tonga (0) and USA (0).
5. 🏈 Saturday's slate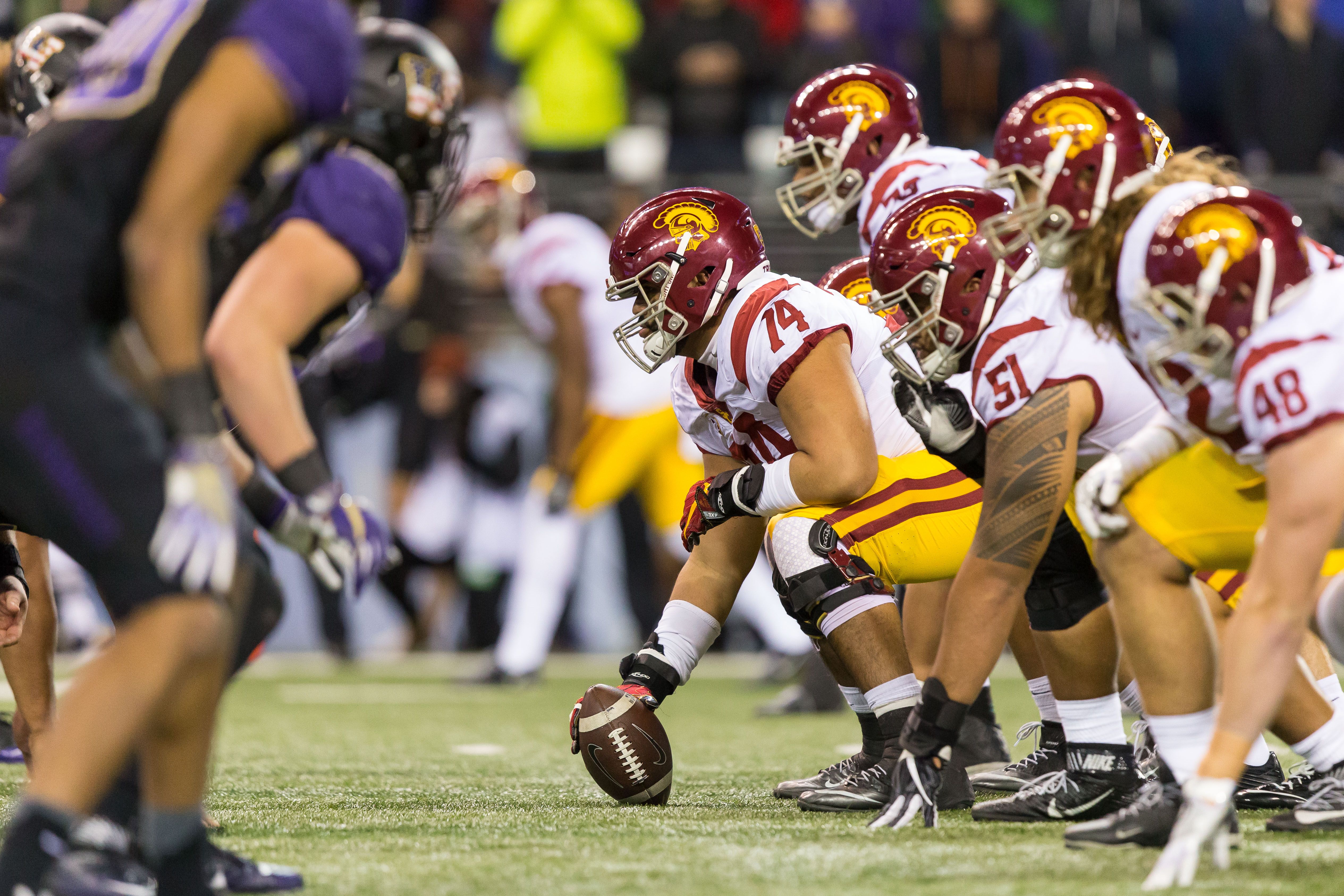 Photo: Christopher Mast/Icon Sportswire via Getty Images
No. 18 Virginia at No. 10 Notre Dame (-12.5)
Time: 3:30 ET, NBC
Preview: Notre Dame suffered a tough loss to Georgia last week, but they impressed many and still have an outside shot at the Playoff if they win out. The ACC can show it's more than just Clemson if Virginia wins on the road in South Bend.
Numbers to know: Virginia is 13-3 against the spread (ATS) in its last 16 games against teams with winning records. Notre Dame has won its past 13 home games by an average of 20.7 points.
No. 21 USC at No. 17 Washington (-10.5)
Time: 3:30pm ET, Fox
Preview: The Pac-12 will continue to beat up on itself this weekend, as these 2 heavyweights battle it out in Seattle. The winner will put itself in prime position to win its respective division (Pac-12 North for Washington, Pac-12 South for USC).
Numbers to know: Washington is 7-3 ATS in their last 10 games against USC, but USC has won 10 of the last 13 meetings, including 5 of the last 6 games at Washington.
No. 5 Ohio State (-17) at Nebraska
Time: 7:30pm ET, ABC
Preview: Nebraska almost won this game last year, and has enough firepower to give Ohio State's new defense a scare. But if they can't fix their turnover problem (second-most in the country with 11), they'll have no chance against the loaded Buckeyes.
Numbers to know: Nebraska is just 4-12 ATS in its last 16 home games. Ohio State is 17-3 overall in its last 20 Big Ten road games.
Go deeper: Predicting which of college football's 23 undefeated teams will lose in Week 5 (USA Today)
6. Sept. 27, 2008: ⚾️ Maddux wins final start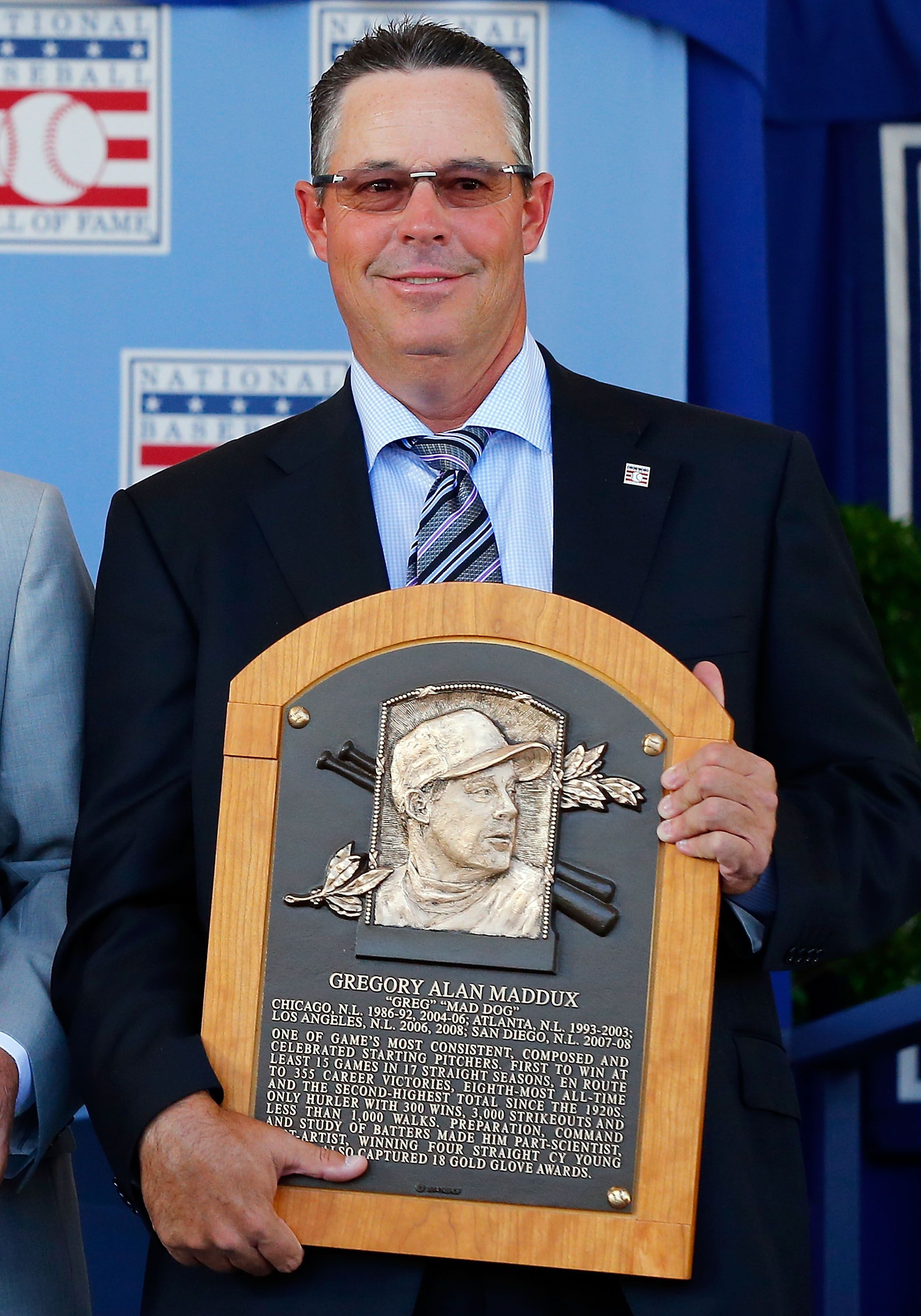 Photo: Jim McIsaac/Getty Images
11 years ago today, Greg Maddux won the final start of his career, a 2-1 Dodgers victory over the Giants (box score).
By the numbers: Over the course of his 23-year Hall of Fame career, Maddux won 355 games with the Cubs, Braves, Dodgers and Padres — the 8th-most in MLB history.
All-time wins leaders (see full list):
Cy Young (511)
Walter Johnson (417)
Pete Alexander (373)
Christy Mathewson (373)
Pud Galvin (365)
Warren Spahn (363)
Kid Nichols (362)
Greg Maddux (355)
Roger Clemens (354)
Tim Keefe (342)
From the vault: "Greg Maddux is the best righthander in the past 75 years — but he would rather you didn't know it" (SI, 1995)
7. 🏀 NBA trivia
Question: Who led the NBA in free throw shooting percentage last season?
Hint: He was a guard for an Eastern Conference playoff team and was signed by a different team this offseason.
Answer at the bottom.
8. The Ocho: 🥋 Grappling world championships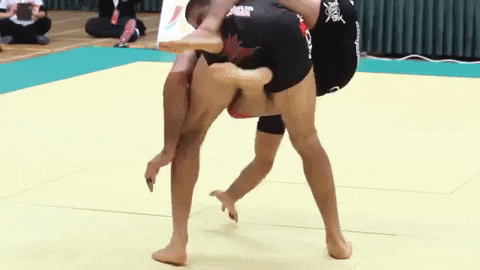 This weekend, the best Brazilian jiu-jitsu fighters in the world will descend upon Anaheim, Calif. for the biennial Abu Dhabi Combat Club (ADCC) Submission Wrestling World Championships.
How it works: Brazilian jiu-jitsu is a martial art based on grappling and ground fighting. It's all about controlling your opponent and using leverage and submissions (chokes, locks) to force him or her to submit.
Go deeper (via FloGrappling):
9. 📚 Good reads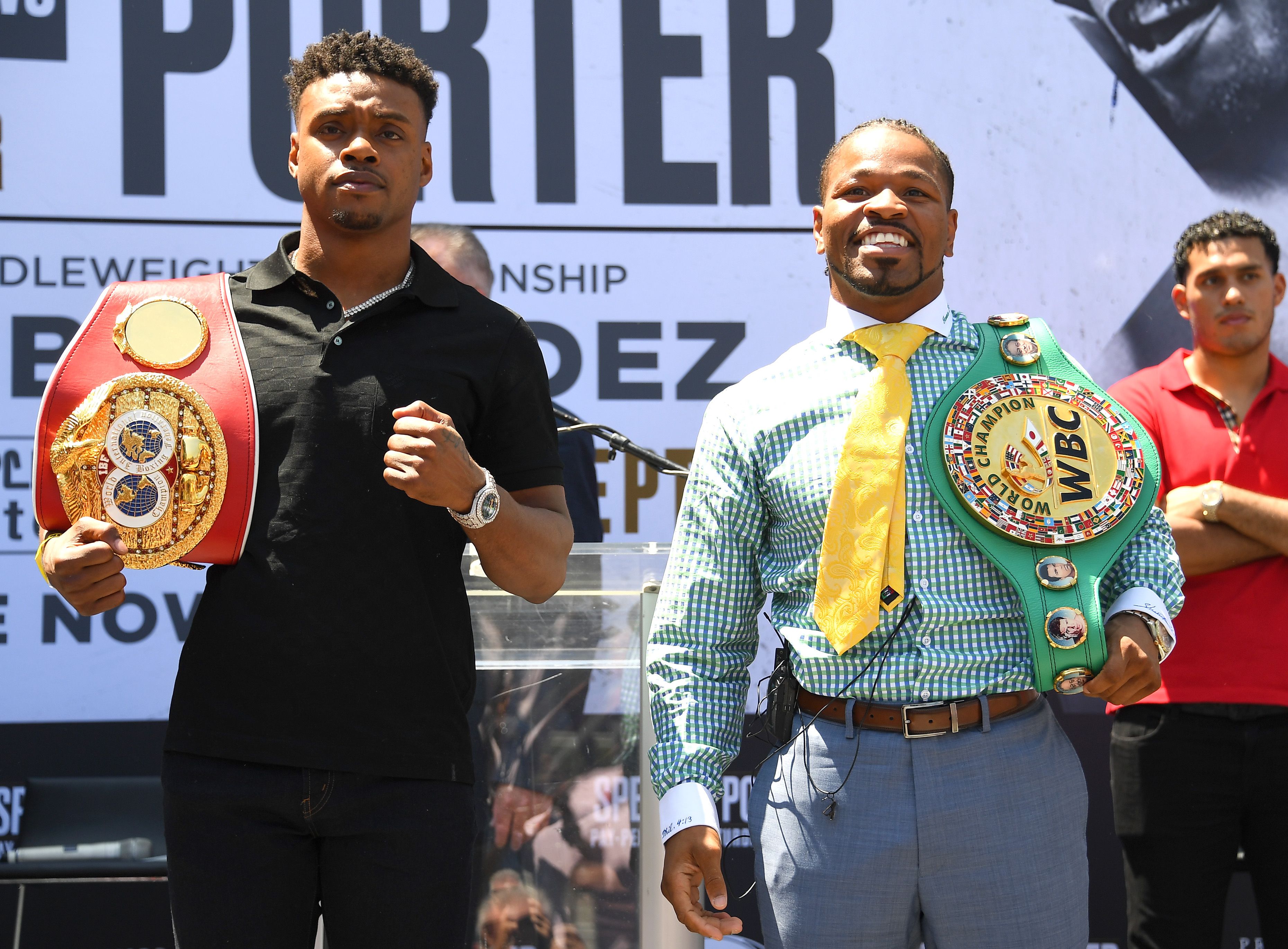 Errol Spence Jr. (left) and Shawn Porter (right) will fight for the Welterweight World Championship tomorrow night. Photo: Jayne Kamin-Oncea/Getty Images
🥊 The future is now for Errol Spence Jr. (Greg Bishop, SI)
"The question, moving forward, is whether Saturday's [Spence-Porter] bout will mark the dawn of the next great welterweight era, the start of something like what happened in the 1980s with Sugar Ray Leonard, Thomas Hearns and Roberto Duran."
🏟 What the future of the American ballpark should look like (Scott Hines, SB Nation)
"Rethinking a stadium isn't just a matter of changing the field dimensions or facade materials. It's a matter of breaking the stadium out of the box it's been confined to for so long."
🏀 The greatest minor league basketball player of all time spent a career forgetting his dream (Matt Giles, Deadspin)
"Much of [Renaldo] Major's basketball career has been spent ... adjusting to the situation he faced, not the one he dreamed. A juco coaching change that led to Major first understanding his potential. A lack of draft interest allowed him to learn how to enjoy a limelight-less basketball career. A routine physical saved his life."
10. 🏒 Nicklas Lidstrom (5) days until hockey!!!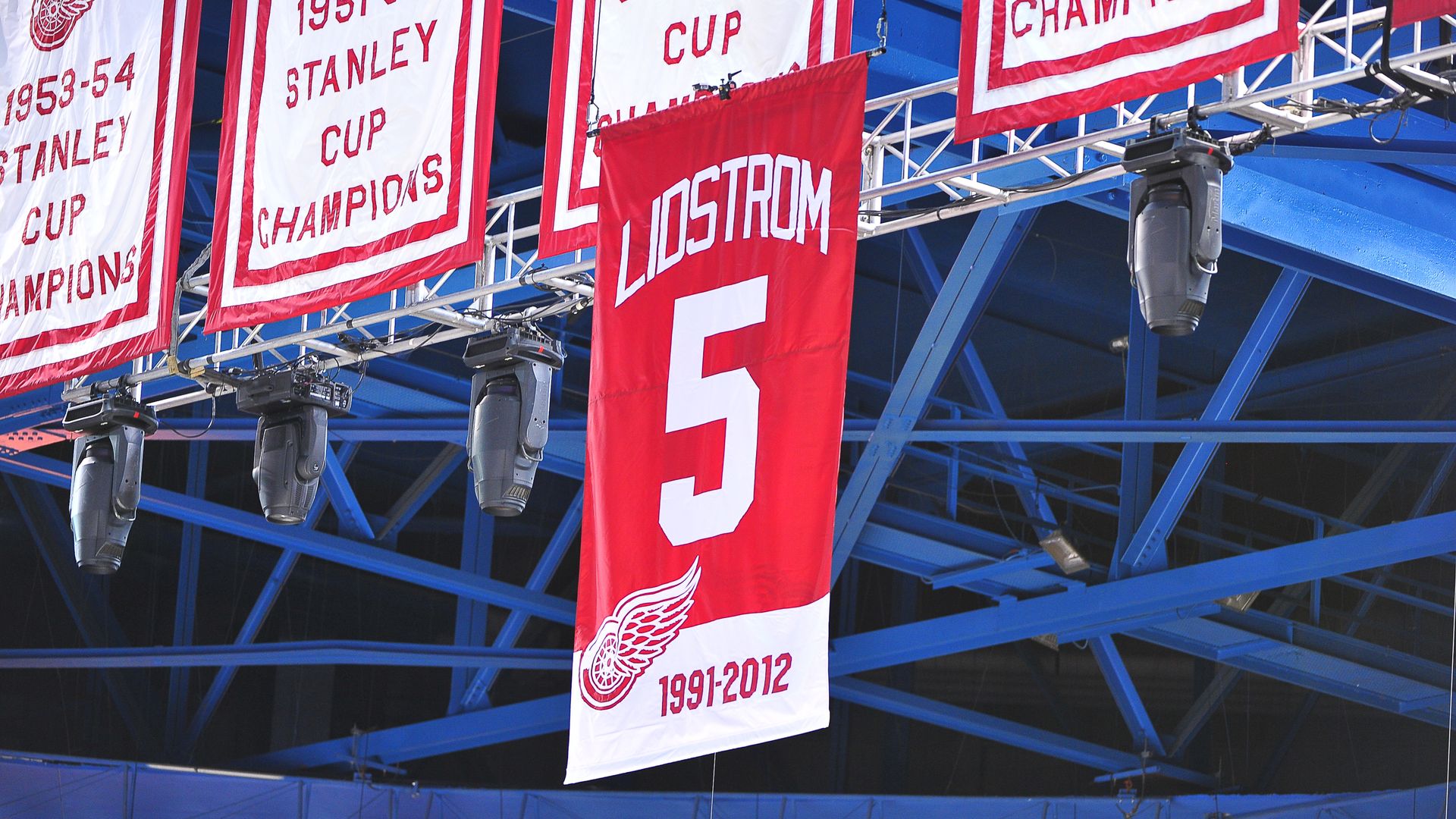 Enjoy the weekend,
Kendall "One free throw, everybody knows the rules" Baker
Trivia answer: Malcom Brogdon (92.8%)