Axios Sports
March 01, 2021
👋 Happy Monday! Let's sports.
Today's word count: 1,723 words (7 minutes).
1 big thing: 🏈 The future of the 40-yard dash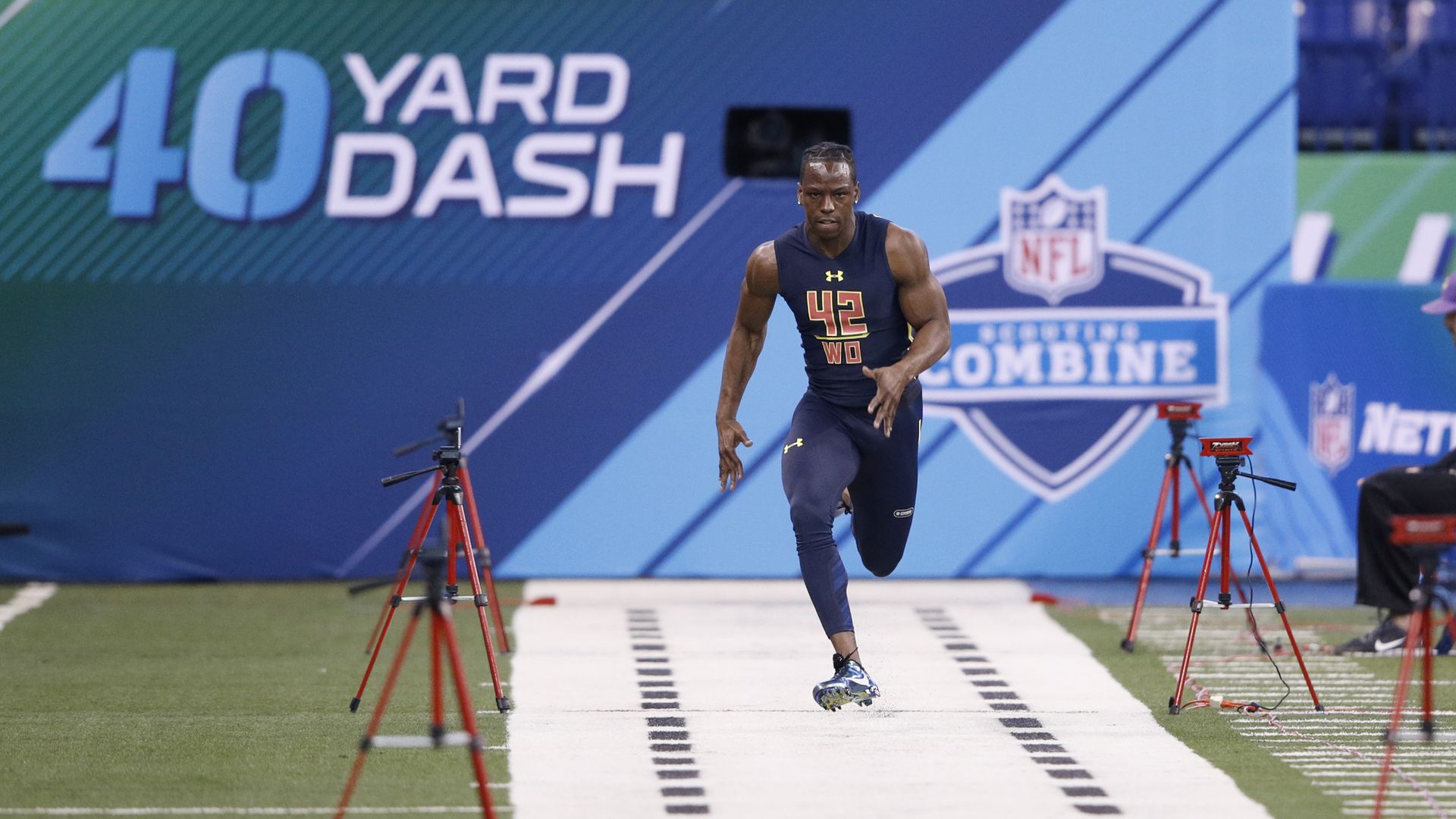 Top NFL prospects would normally be gathering in Indianapolis this week for the annual Scouting Combine. But due to the pandemic, this year's event has been canceled.
What they're saying: No combine means no 40-yard dash times making headlines. Could that be a glimpse of the future? Former scout and current NFL Network analyst Daniel Jeremiah thinks so:
"We're about 2–3 years away from personnel departments not caring about 40 times. The game GPS data is going to replace it. Who cares what he ran in the 40, I know exactly how fast he ran in game conditions & I have 5 years of data for context."
The big picture: Longtime Cowboys executive Gil Brandt popularized the 40-yard-dash in the 1960s, sending staffers to schools with a stopwatch.
Now, it's a made-for-TV event, with players timed using laser technology. And a combine-specific training industry has emerged to help athletes prepare for the event.
But now that so much player-tracking data is being collected at the college and NFL level, the 40 will almost certainly lose relevancy with scouts, as Jeremiah suggests.
Yes, but: Will it ever lose relevancy with fans? Probably not.
Getting rid of the 40 would be like getting rid of the Slam Dunk Contest at the NBA All-Star Game. It might be pointless, but it's why most viewers tune in.
Two decades ago, there was almost no media presence at the combine. Now, thousands of credentialed media members attend, and it's apparently one of the wildest weekends of the year.
The bottom line: The 40-yard dash is an arbitrary distance; most NFL action comes within 20 yards of the line of scrimmage and players aren't sprinting in straight lines.
But an especially fast time still drives the offseason news cycle and can also be a fun variable come draft day.
So, even if scouts and general managers don't care about the 40, the NFL and its fans do — and thus, it's likely here to stay.
🎥 Watch:
2. 🏀 Luka vs. LeBron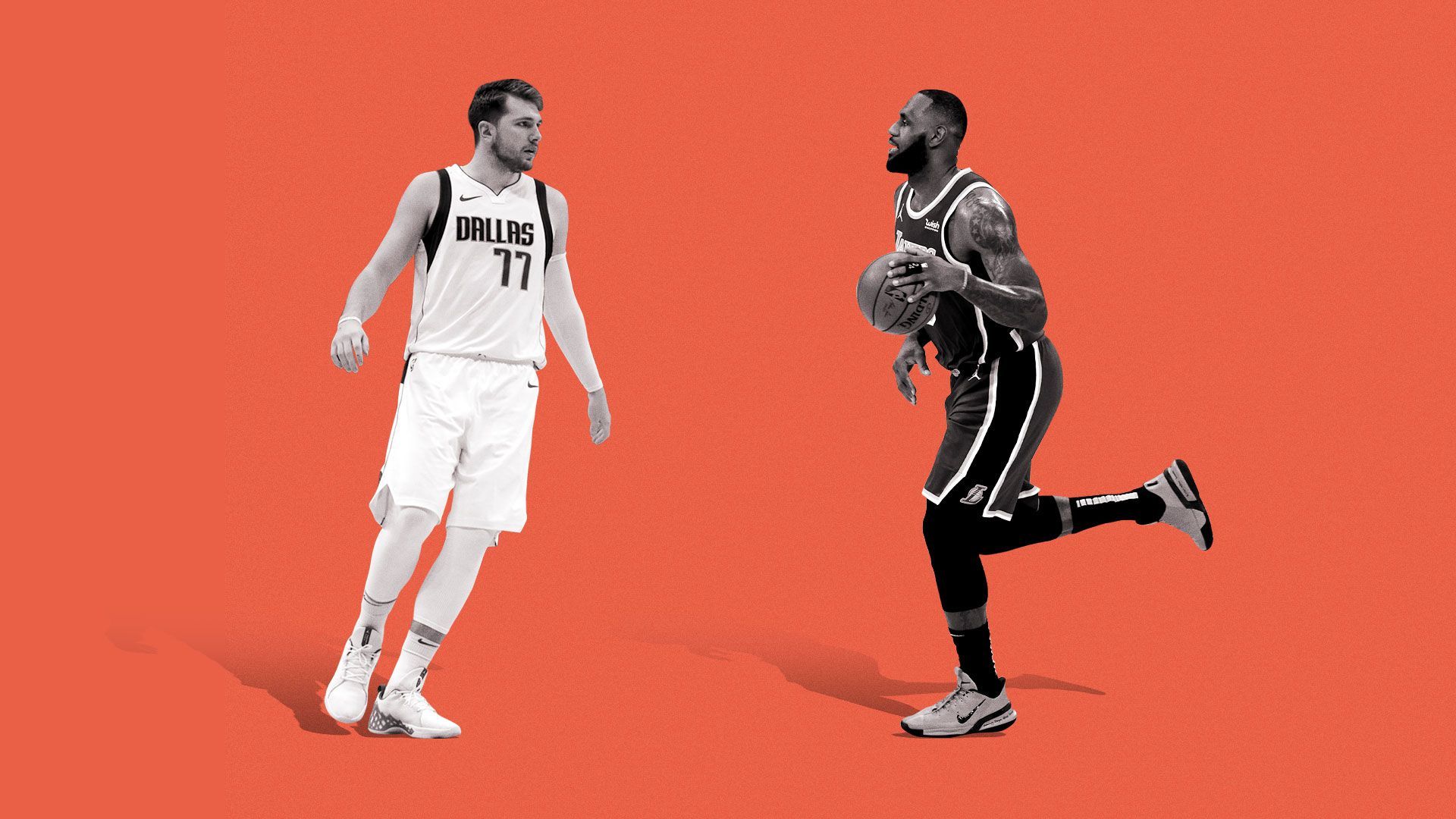 Luka Dončić turned 22 on Sunday, joining LeBron James as the only players in NBA history with 4,000 points and 1,000 assists before their 22nd birthday.
Head-to-head...
Luka played 164 regular-season games before turning 22 (one full season, one pandemic-shortened season, plus 31 games this season).
Points per game: 25.4
Assists per game: 7.6
Rebounds per game: 8.5
Triple-doubles: 32
Durability: Played in 164 of 189 possible games (87%)
LeBron played 266 regular-season games before turning 22 on Dec. 30, 2006 (three full seasons plus the first 28 games of his fourth season).
Points per game: 26.6
Assists per game: 6.5
Rebounds per game: 6.6
Triple-doubles: 9
Durability: Played in 266 of 274 possible games (97%)
Wild stats:
Dončić's 32 triple-doubles before age 22 are more than twice as many as any other player. Magic Johnson is second with 13.
James has scored 10+ points in 1,030 straight regular-season games. The last time he failed to score in double-digits was on Jan. 5, 2007 — a week after his 22nd birthday.
3. 🏀 The WNBA's new ownership group
The Atlanta Dream were sold over the weekend to a three-person ownership group that includes former WNBA star Renee Montgomery, Axios' Jeff Tracy writes.
Leading the purchase were Larry Gottesdiener and Suzanne Abair, the chairman and COO, respectively, of Northland, a Boston-based real estate equity firm.
Why it matters: After Dream co-owner and former Sen. Kelly Loeffler denounced the Black Lives Matter movement last summer, WNBA players pushed for her to sell the team, while also helping lead a grassroots movement to elect Raphael Warnock to her Senate seat.
With this sale, both campaigns have now proven successful.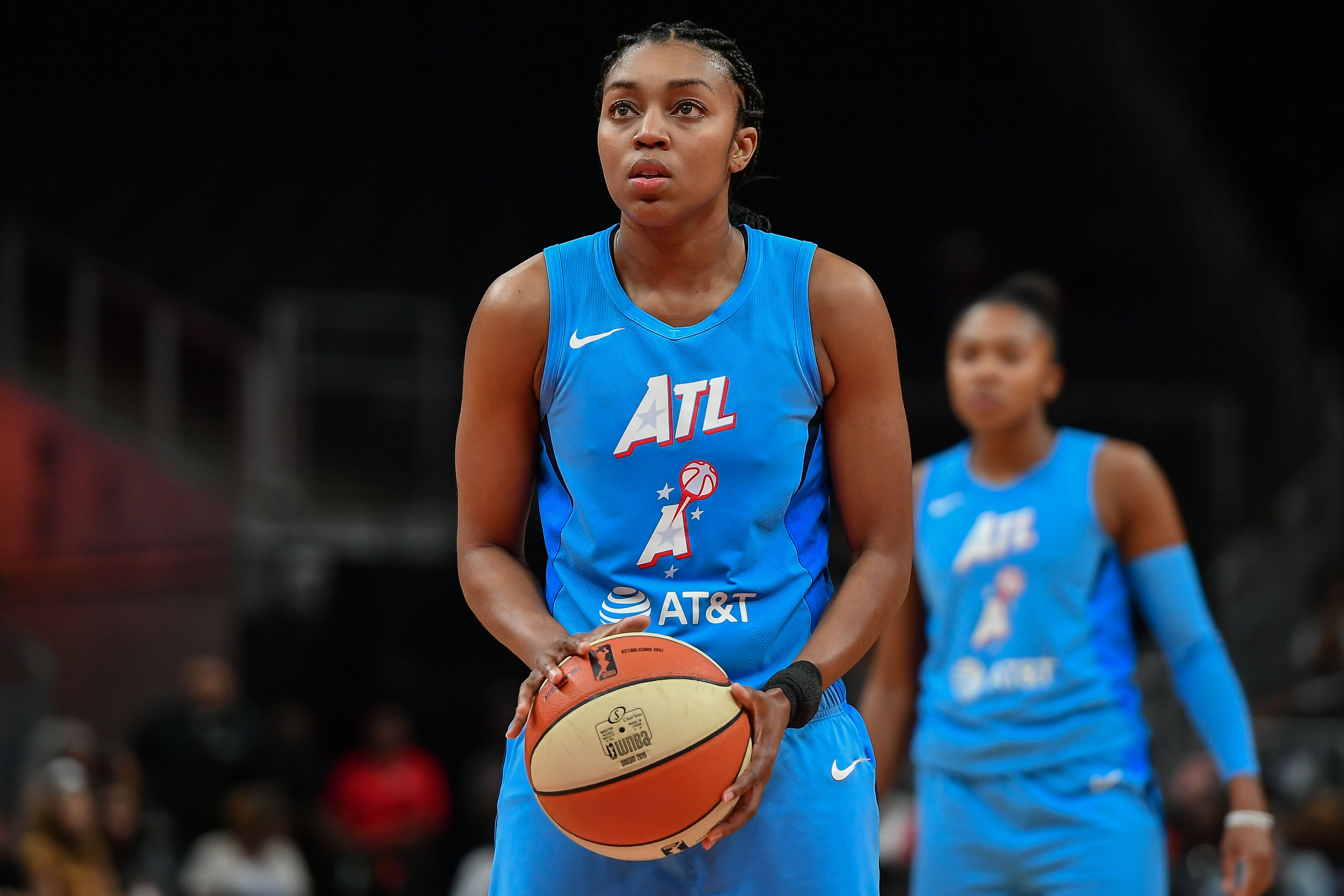 Of note: Montgomery, 34, who retired this month after sitting out the 2020 season to focus on social justice initiatives, is the first former player to be part of a WNBA ownership group.
"My Dream has come true. Breaking barriers for minorities and women by being the first former WNBA player to have both a stake in ownership and a leadership role with the team is an opportunity that I take very seriously."
— Montgomery
The backdrop: When the WNBA was founded in 1996, all eight teams were located in cities with existing NBA teams and, by rule, shared ownership.
By 2002, the NBA began allowing outside ownership groups to buy into the expanding league.
Now, less than half of the league's 12 teams share NBA ownership.
The landscape...
Five teams share ownership with their NBA brother team: The Fever (Pacers), Liberty (Nets), Mystics (Wizards), Mercury (Suns) and Lynx (Timberwolves).
Three teams share ownership with another pro sports team: The Aces (Raiders), Sparks (Dodgers) and Wings (Bill Cameron is a part-owner of the Thunder).
The Sun are owned by the Native American-operated Mohegan Sun casino, the Storm are owned by an all-female group, and the Sky are owned by real estate developer Michael Alter.
4. 🏈 Spring FCS football: Upsets galore
No. 1 North Dakota State lost to unranked Southern Illinois, 38-14, on Saturday, snapping a 39-game winning streak.
Why it matters: The Bison's streak is the longest in FCS history and the second-longest in Division I history, trailing only Oklahoma.
North Dakota State also owns the ninth-longest streak, winning 33 straight games between 2012 and 2014.
Elsewhere: The Bison weren't the weekend's only upset victim. Eight other ranked FCS teams lost, with seven falling to unranked opponents.
No. 3 South Dakota State lost to No. 14 North Dakota, 28-17
No. 7 Illinois State lost to South Dakota, 27-20
No. 10 Furman lost to VMI, 14-13
No. 11 Wofford lost to Chattanooga, 24-13
No. 12 Eastern Washington lost to Idaho, 28-21
No. 19 McNeese State lost to Incarnate Word, 48-20
No. 22 Tarleton State lost to Dixie State, 26-14
No. 24 Elon lost to Gardner-Webb, 42-20
ICYMI ... Eastern Washington's kicker made a 22-yard field goal ... but the refs called it no good.
5. 🏐 Athletes Unlimited jumps into volleyball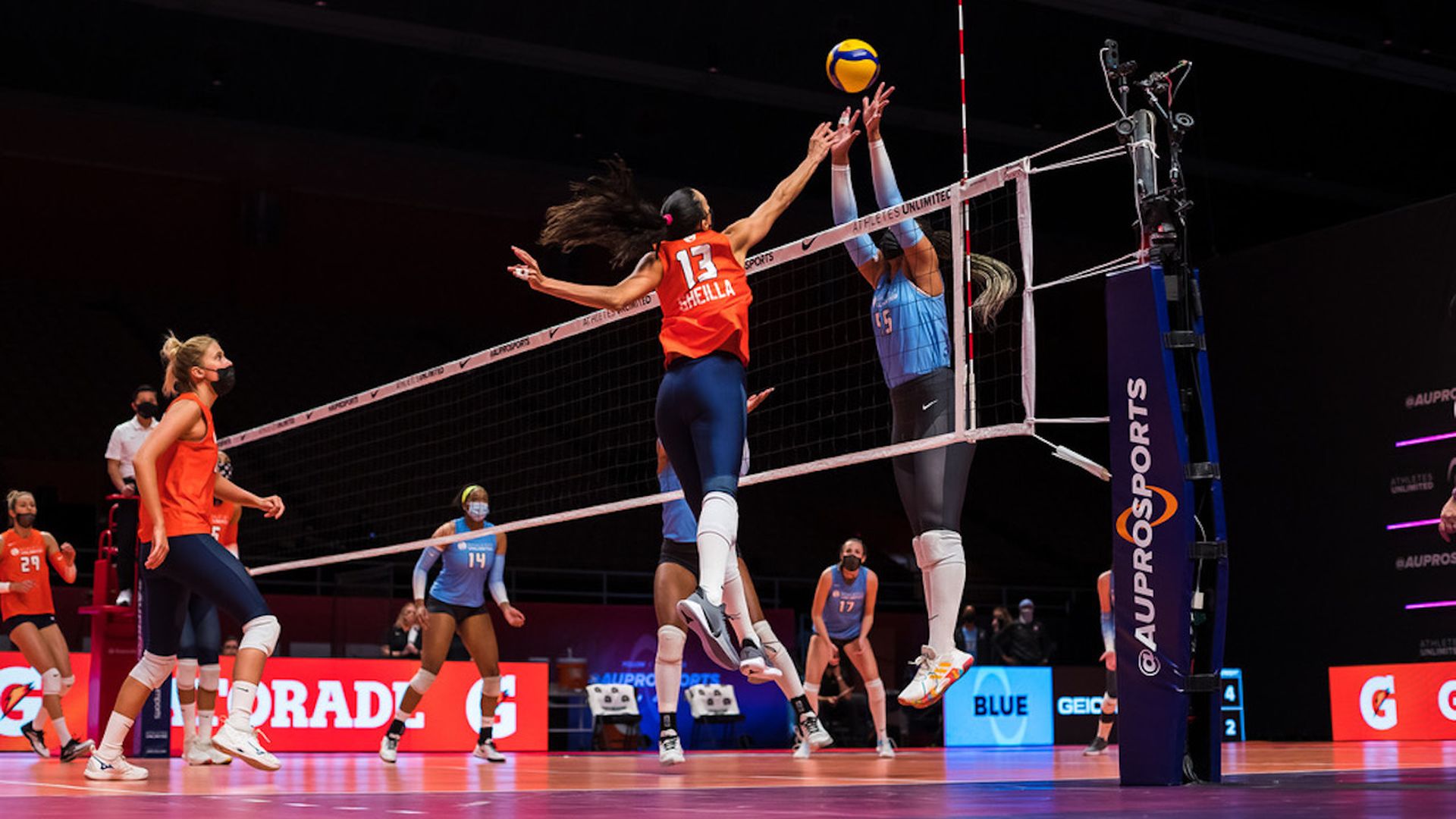 Athletes Unlimited, the startup network of women's sports leagues that uses fantasy-style scoring, began its inaugural volleyball season on Saturday, Jeff writes.
How it works: The season — held entirely at the Fair Park Coliseum in Dallas — lasts five weeks, with the league's four teams playing three, three-set matches per week.
Scoring: Players can earn points in three ways — team wins, match MVP and individual stats. For example, match wins earn each player 60 points, match MVPs earn 60, each dig is worth five, a service error is -12, etc. Points leaderboard.
Drafting: After each week, the top-four point scorers become team captains and select their teams for the following week from the remaining pool of 40 players.
Payment: Players earn a base salary plus performance bonuses throughout the season. The softball champion, for example, made ~$35,000 total (base was $10,000).
The big picture: AU debuted with softball last summer, and will launch lacrosse this July.
The softball season didn't turn a profit, and like most startups, it's unlikely this first volleyball season will, either.
But between sponsors (Nike for softball; Gatorade for volleyball) and TV deals (ESPN and CBS for softball; CBS and Fox Sports for volleyball), the groundwork is being laid.
Notable name: One of the 44 players is 22-year-old Willow Johnson, whose powerful left arm might remind you of her father — MLB Hall of Famer Randy Johnson.
🎥 Watch ... Check out highlights from the weekend on AU's Twitter feed.
6. 🇺🇸 Photos across America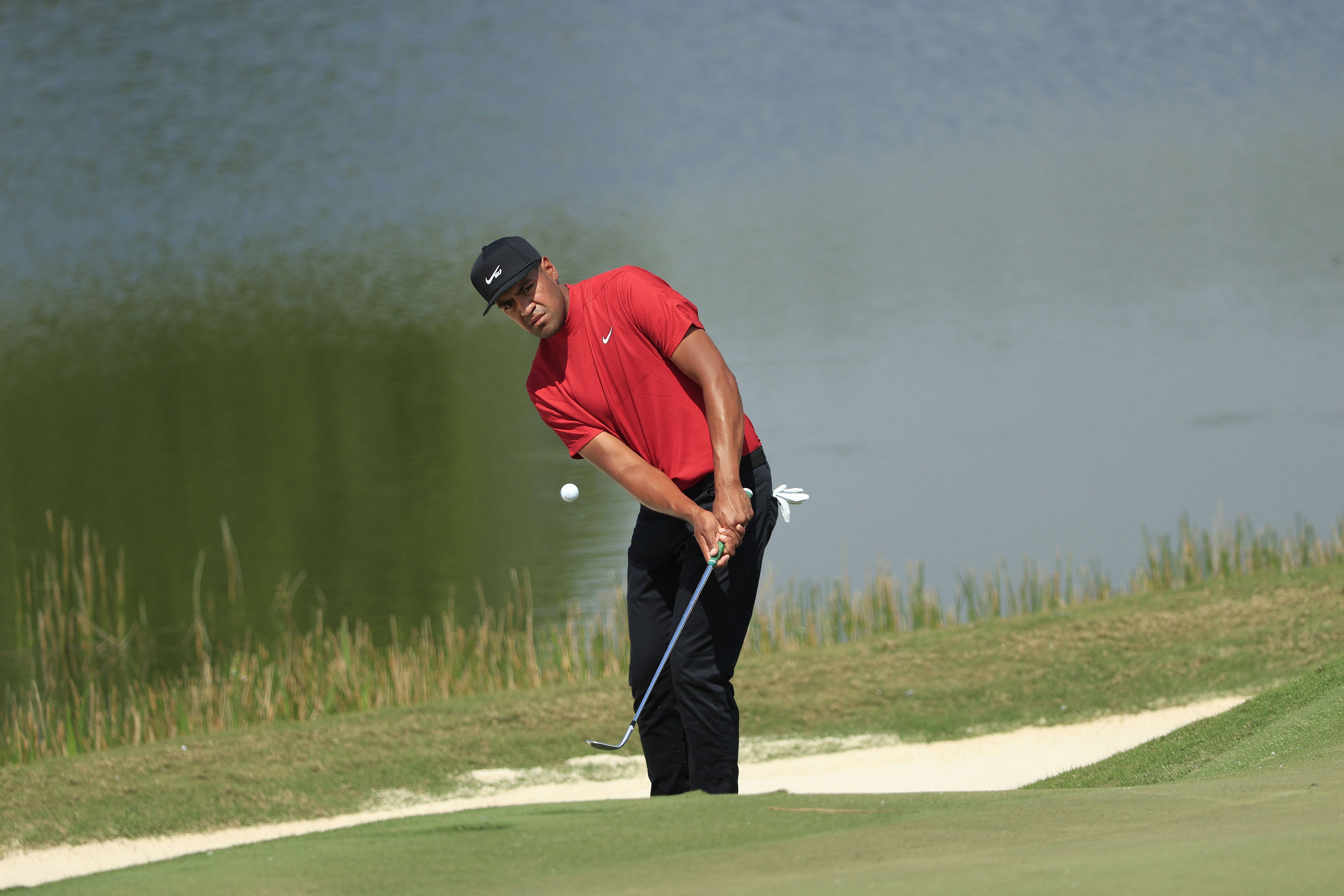 BRADENTON, Fla. — Golfers around the world wore red shirts and black pants on Sunday in honor of Tiger Woods, who's still recovering in a Los Angeles hospital after his car crash on Tuesday.
Woods: "It is hard to explain how touching today was when I turned on the TV and saw all the red shirts. To every golfer and every fan, you are truly helping me get through this tough time."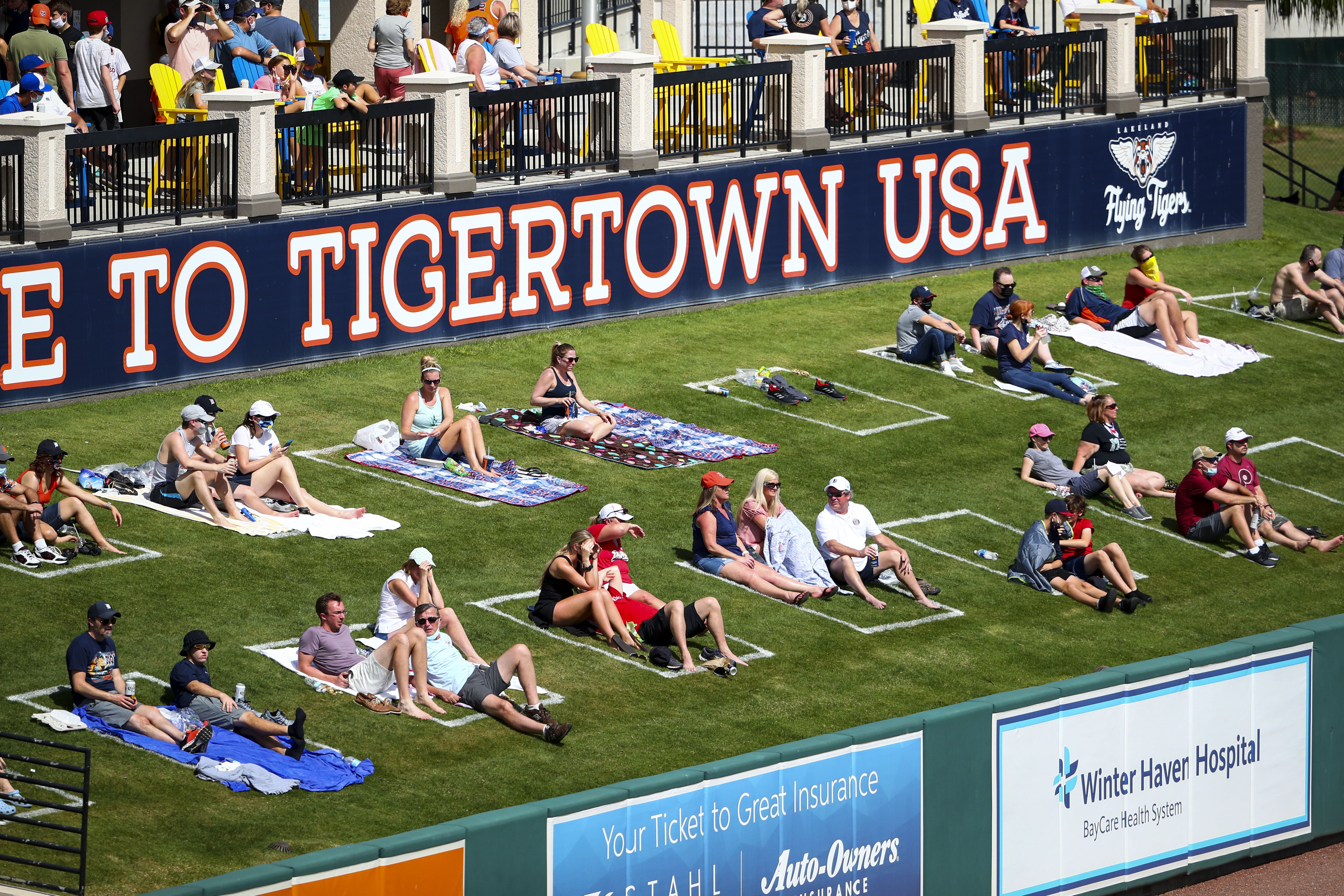 LAKELAND, Florida — Spring training games began Sunday for 28 teams in Florida's Grapefruit League and Arizona's Cactus League.
Fans were present at every game (at about 25% capacity), marking the first time most MLB teams played in front of a crowd in nearly a year.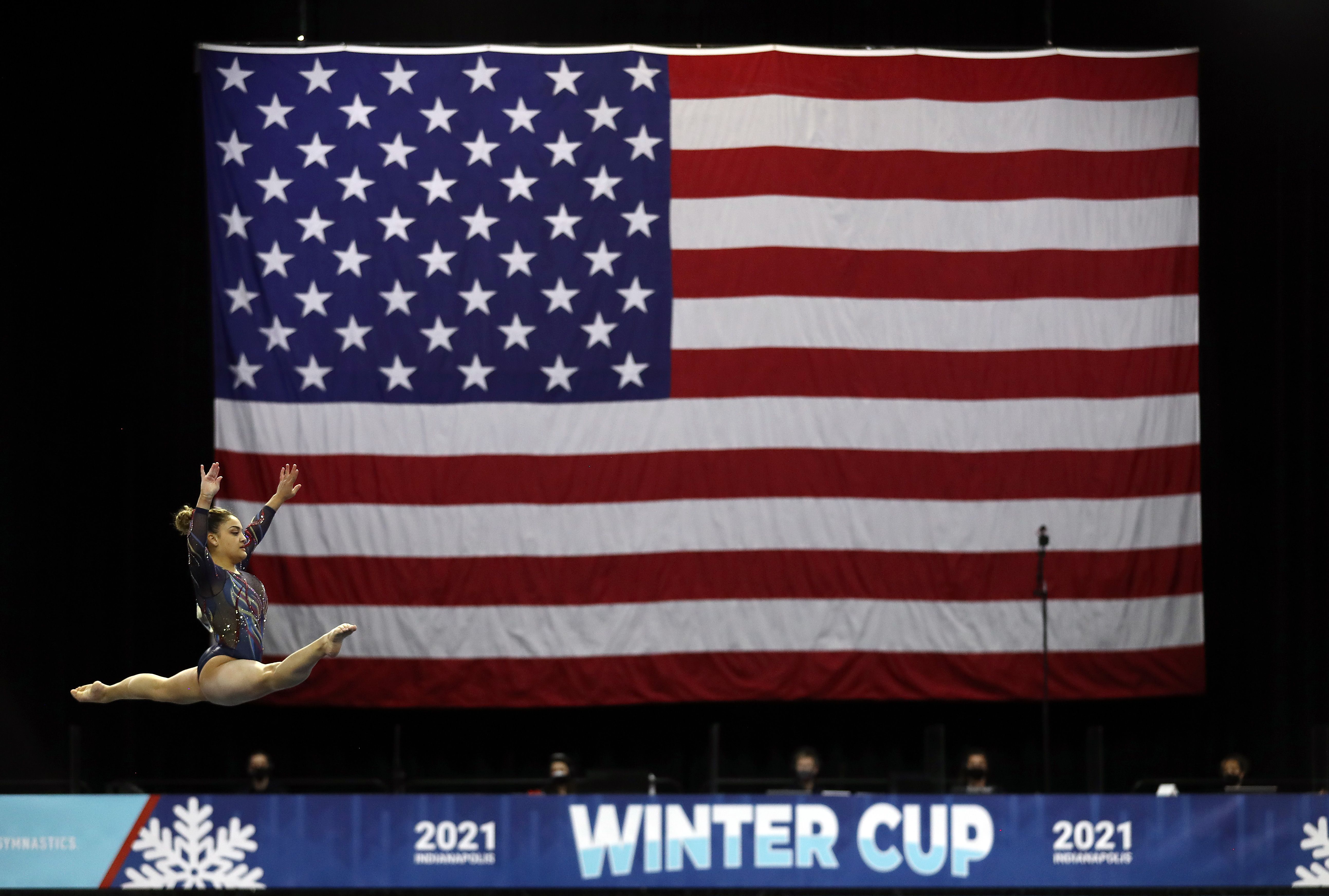 INDIANAPOLIS — This year's Winter Cup was expanded to include women's gymnasts, giving Laurie Hernandez a chance to return to competition for the first time since winning two medals at Rio in 2016.
She didn't win, but her Hamilton-inspired floor routine wowed nonetheless, and could help build confidence as as she hopes to earn a spot this summer in Tokyo.
7. ⚡️ Lightning round
🏆 Jason Sudeikis won "Best Actor in a Comedy Series" for his role in "Ted Lasso" at Sunday's 78th annual Golden Globe Awards. If you haven't watched Season 1 yet, please do so immediately.
🥊 Canelo Álvarez defeated Avni Yıldırım with ease in Saturday's mandatory title defense, forcing the latter's team to throw in the towel after three rounds for the TKO.
💔 RIP, Irv: Irv Cross, the former Pro Bowl defensive back who became the first Black man to work full-time as a sports analyst on national TV, died Sunday at age 81.
🏈 Erskine College played football for the first time in 70 years on Saturday and won, beating fellow D-II school Barton College, 30-28.
📚 Best thing I read: The sports reporter who blew the lid off a national health scandal (Bryan Curtis, The Ringer)
8. 📆 March 1, 1941: The NFL's first commissioner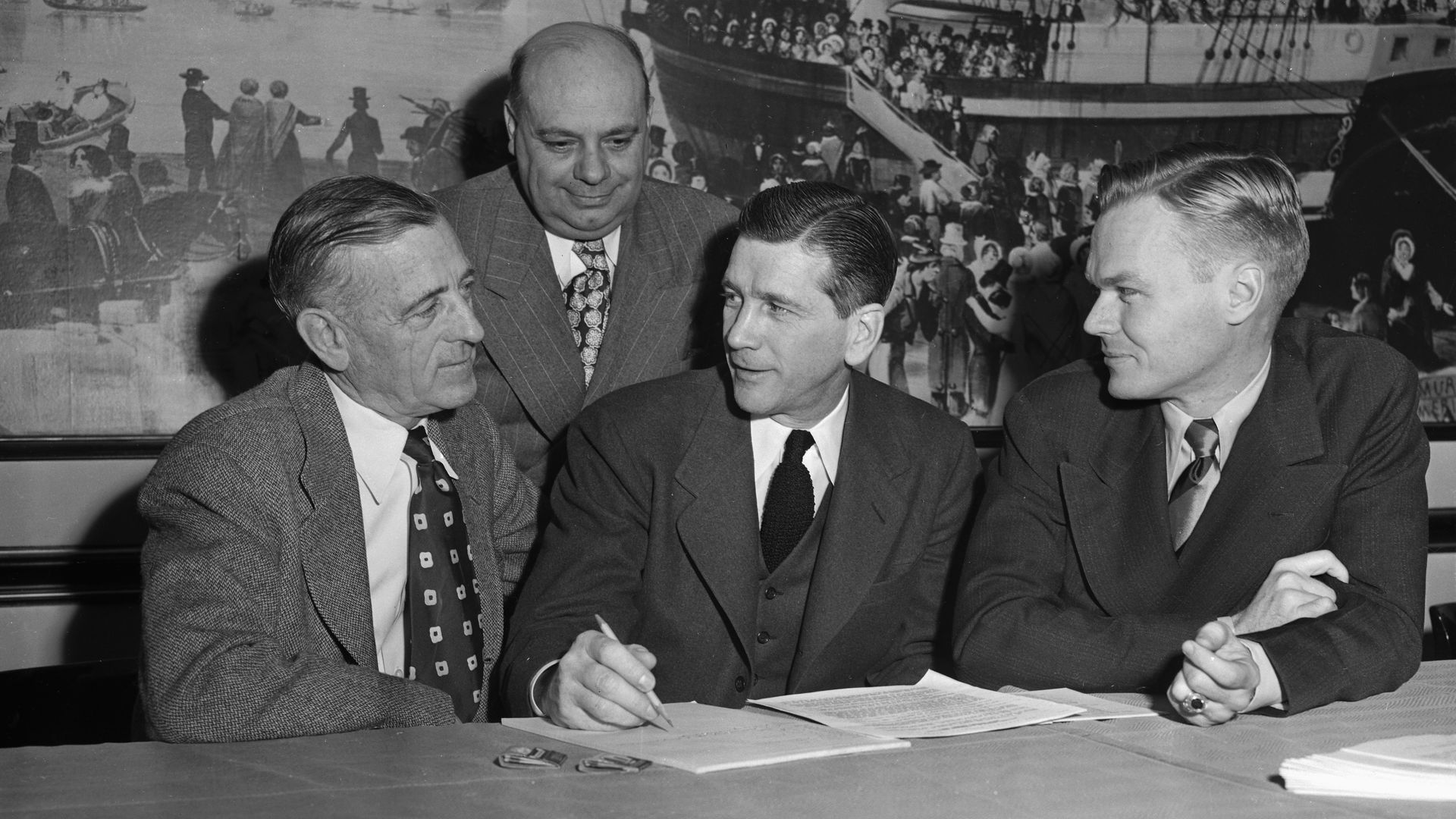 80 years ago today, Elmer Layden, Notre Dame's former coach (1934–40) and one of its famed "Four Horsemen," was named the first commissioner of the NFL.
The big picture: There have been just five NFL commissioners in the past 80 years.
Layden (1941–46): Overseeing the league through WWII was no easy feat, and Layden resigned amid frustration that he wasn't forceful enough with the upstart All-American Football Conference (AAFC), which briefly challenged the NFL's supremacy.
Bert Bell (1946–59): Bell merged the NFL and AAFC in 1949, adding the Browns, 49ers and Colts. He also coined the famous saying, "On any given Sunday, any team can beat any other team."
Pete Rozelle (1960–89): Rozelle instituted revenue-sharing and helped turn the NFL into an American institution. By the time he resigned, the league had grown to 28 teams.
Paul Tagliabue (1989–2006): Saints GM Jim Finks was the original choice, but after some selection controversy surfaced, Tagliabue, the league's attorney, got the nod instead.
Roger Goodell (2006–present): Goodell rose rapidly from intern (1982) to AFC president Lamar Hunt's assistant (1987). By 2001 he was the NFL's COO before being named commissioner five years later.
Fun fact: Layden's contract was for five years and $100,000. Goodell's current contract is for five years and ... $200 million.
Go deeper: Why isn't Layden in the Hall of Fame? (SI)
9. 🏀 College hoops trivia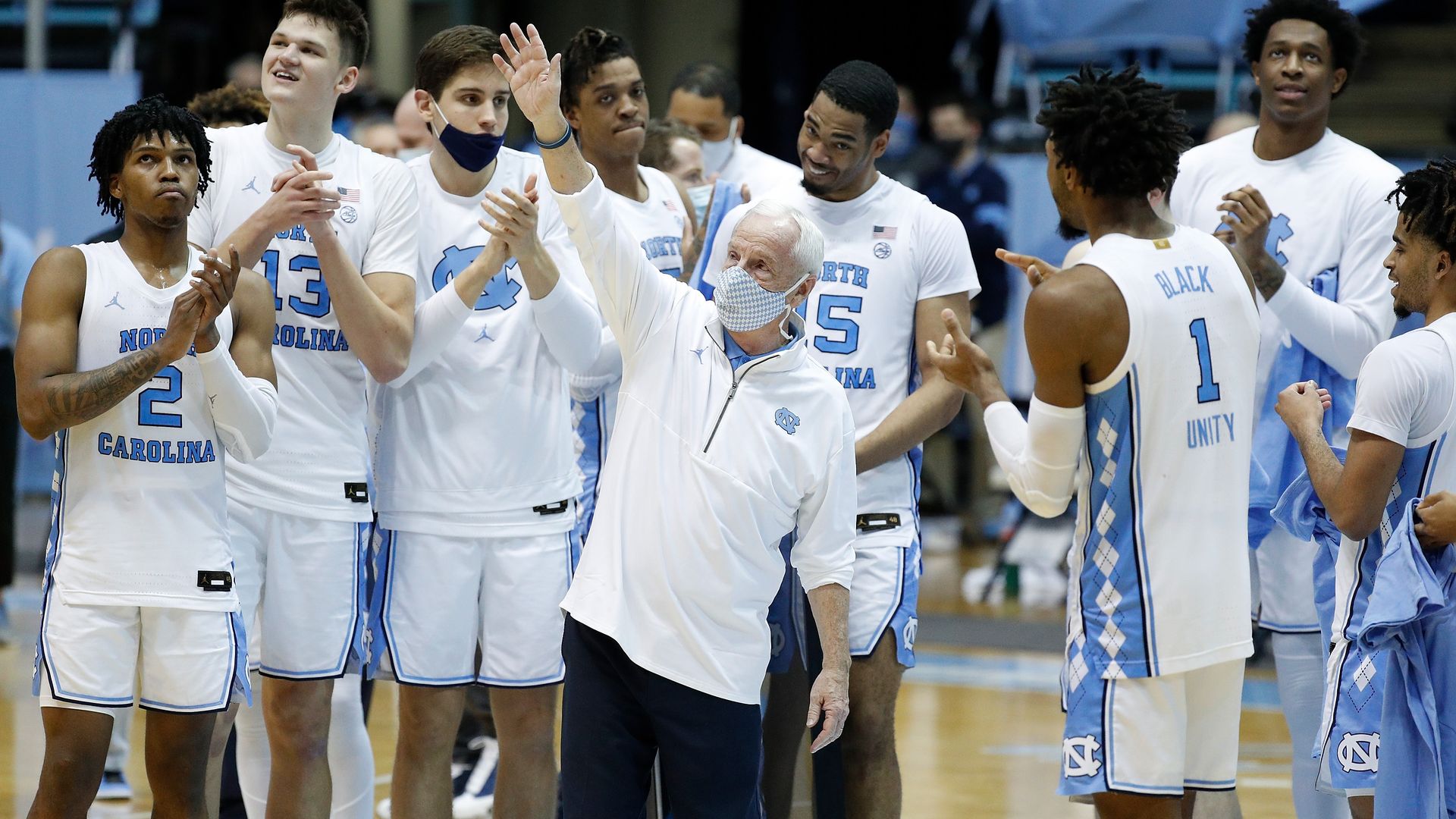 Roy Williams on Saturday became the fifth D-I men's basketball coach to reach 900 wins, doing so in just 1,161 games.
Question: Who are the other four coaches with 900 wins?
Hint: Two are still active.
Answer at the bottom.
10. 🎥 February's top plays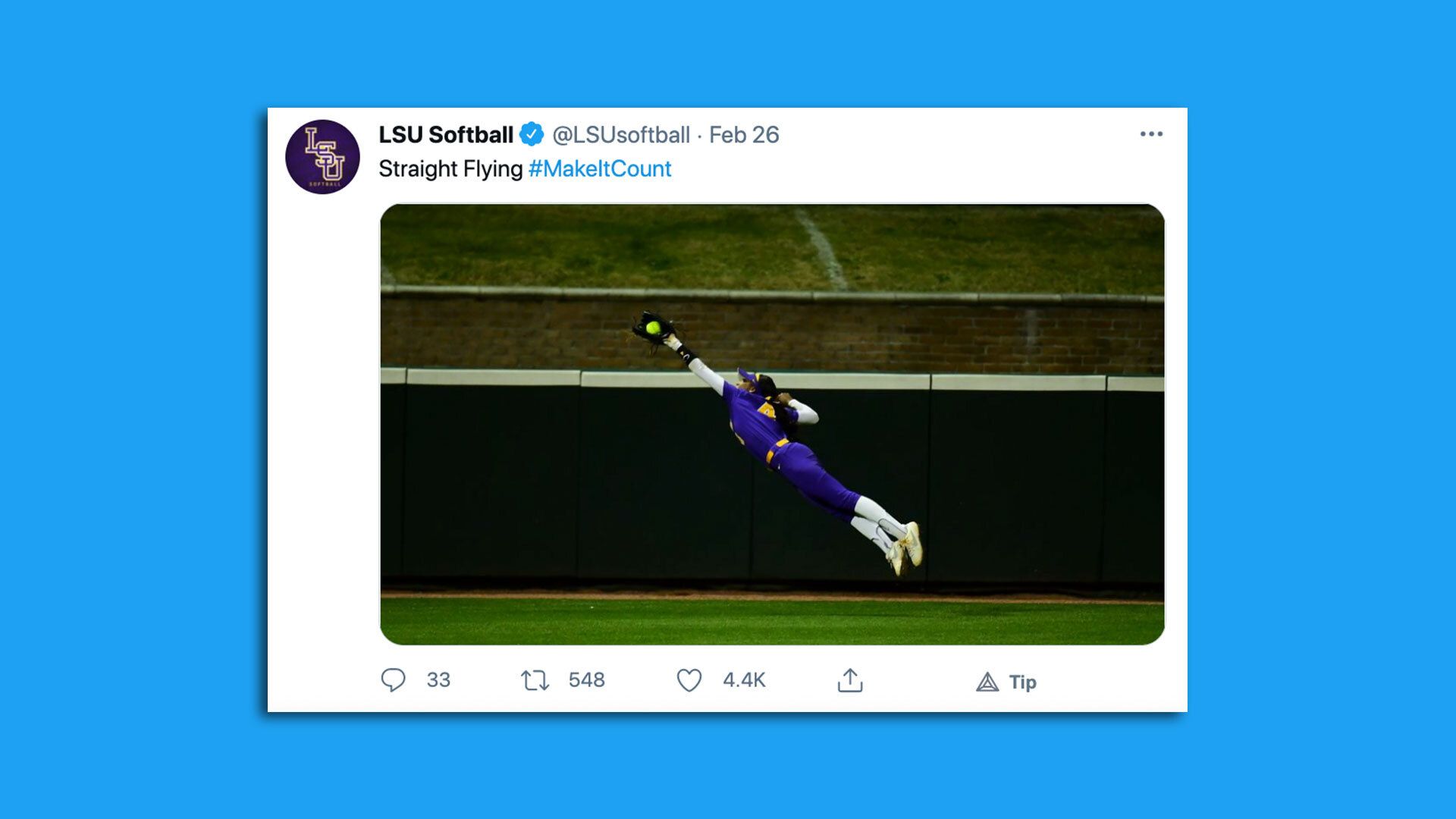 Talk tomorrow,
Kendall "Welcome back, Trey" Baker
Trivia answer: Mike Krzyzewski, Jim Boeheim, Jim Calhoun, Bob Knight