June 26, 2020
👋 Happy Friday! Let's sports.
Today's word count: 2,006 words (8 minutes).
1 big thing: 🎓 College sports in crisis
As universities scramble to survive the financial fallout of the coronavirus, sports teams are being cut, abruptly ending thousands of student-athletes' careers and exposing a collegiate sports model that many believe is broken.
Why it matters: With concern about the fall football season growing by the day, the fear is that the cuts have only just begun.
Football is the only sport that generates a profit at most schools. If the season is cut short or canceled, every sport will feel it.
By the numbers: 43 Division I teams have been eliminated in the last 12 weeks, and more than 130 programs have been cut across all NCAA levels. By comparison, just 57 programs were cut in the previous three years, combined.
Men's and women's tennis have been hit the hardest, as have Olympic sports like volleyball. That could affect future podiums: 88% of American athletes in the Rio Games had played their sport in college.
The big picture: While schools claim these are money-saving decisions, many point to the reluctance to touch where the real fat sits — in the football budget — as proof that the NCAA model has been corrupted and lost its original purpose of providing broad-based opportunities.
Exhibit A: Cincinnati cut men's soccer in March, which will save the school roughly $725,000. That's less than it paid its football support staff (i.e. non-coaches) last year, and head football coach Luke Fickell earned $2.3 million.
The state of play: No Power 5 schools (ACC, Big 12, Big Ten, Pac-12, SEC, Notre Dame) have eliminated a sports team yet. But that will change if the football season is affected and they lose out on lucrative TV deals, which comprise roughly a third of their revenue.
At the Group of 5 level (AAC, C-USA, MAC, MWC, Sun Belt, independents) where TV deals are smaller and even football programs often lose money, some schools (like UConn) have already cut multiple sports.
As you move down the divisions, the reliance on government and institutional funding only increases, so the situation is bound to get worse as the economy suffers, campuses remain closed and enrollment plummets.
Between the lines: A fact rarely acknowledged by athletic departments looking to make cuts is that when you factor in tuition payments, many "non-revenue" sports actually generate millions for universities.
While sports like football and basketball guarantee every athlete a full scholarship, the vast majority of sports limit them, meaning many athletes are paying full tuition.
So a swimming team, for example, could be generating over $1 million to the school, "but the accounting system in athletics doesn't include that $1 million," economist Andy Schwarz told SI. "That's on somebody else's books."
The last word:
"Broad-based programming is easy to talk about and expensive to do. But all of our programs will be poorer for not having those student-athletes around."
— Big 12 commissioner Bob Bowlsby,
per AP
2. 🏟 Utah emerges as summer sports home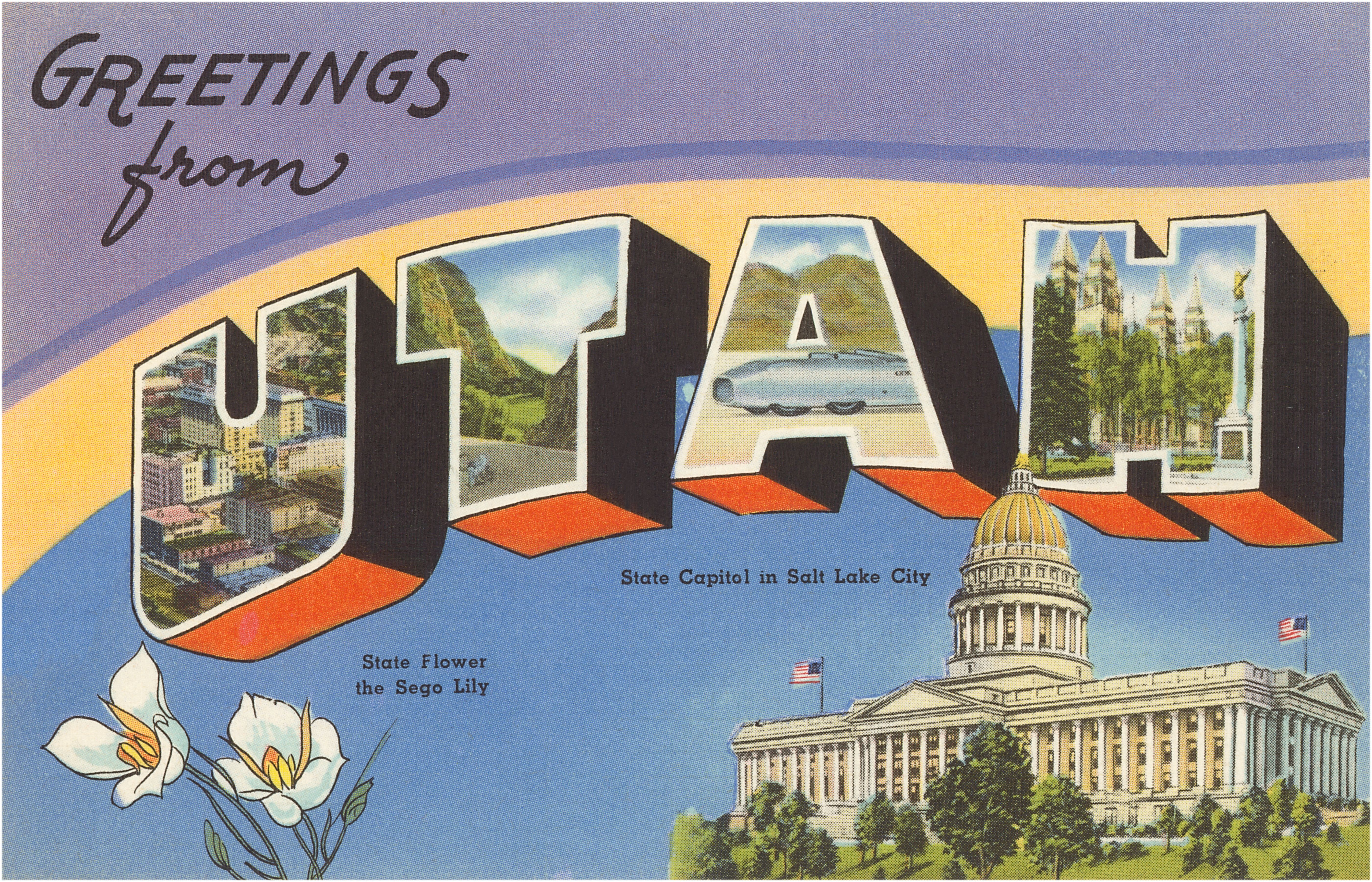 The National Women's Soccer League will become the first U.S. team sport back in action when it kicks off its 25-game "Challenge Cup" tomorrow.
The intrigue: While leagues like the NBA, MLS and WNBA chose coronavirus-riddled Florida to host their "bubble" operations, the NWSL and two other leagues chose Utah, which has one of the lowest COVID-19 death rates in the U.S.
Utah's summer residents: The NWSL and the Premier Lacrosse League will follow similar health-and-safety protocols in Utah this summer. Supercross, a motorcycle racing series, just wrapped up its season using similar guidelines.
🏁 Supercross: Arrived in Utah on May 31 and held seven events in the state before concluding its season on Sunday.
⚽️ NWSL: Kicks off this weekend and will use Zions Bank Stadium (20 miles outside Salt Lake City) and the surrounding area as its bubble headquarters.
🥍 PLL: Will host its shortened season at Zions Bank Stadium starting July 25.
The backdrop: "Since the 2002 Winter Olympics were held in Utah, the state has used sports as a branding and marketing tool to enhance its economy and image [and] the strategy has gone into overdrive during the pandemic," writes Forbes' Kurt Badenhausen.
Supercross was given a direct line to the governor, the PLL was offered marketing and financial support and the NWSL was pitched using the protocols that had been successfully used for Supercross.
The big picture: The Utah Sports Commission estimates the economic impact of hosting the three leagues — plus the PGA's developmental Korn Ferry Tour, which is in action this week near Salt Lake City — is roughly $40 million. And the media exposure of nearly 100 hours of live sports is worth another $40 million.
Go deeper: NWSL Challenge Cup preview (FiveThirtyEight)
3. ⚽️ Soccer: Liverpool, Pulisic, World Cup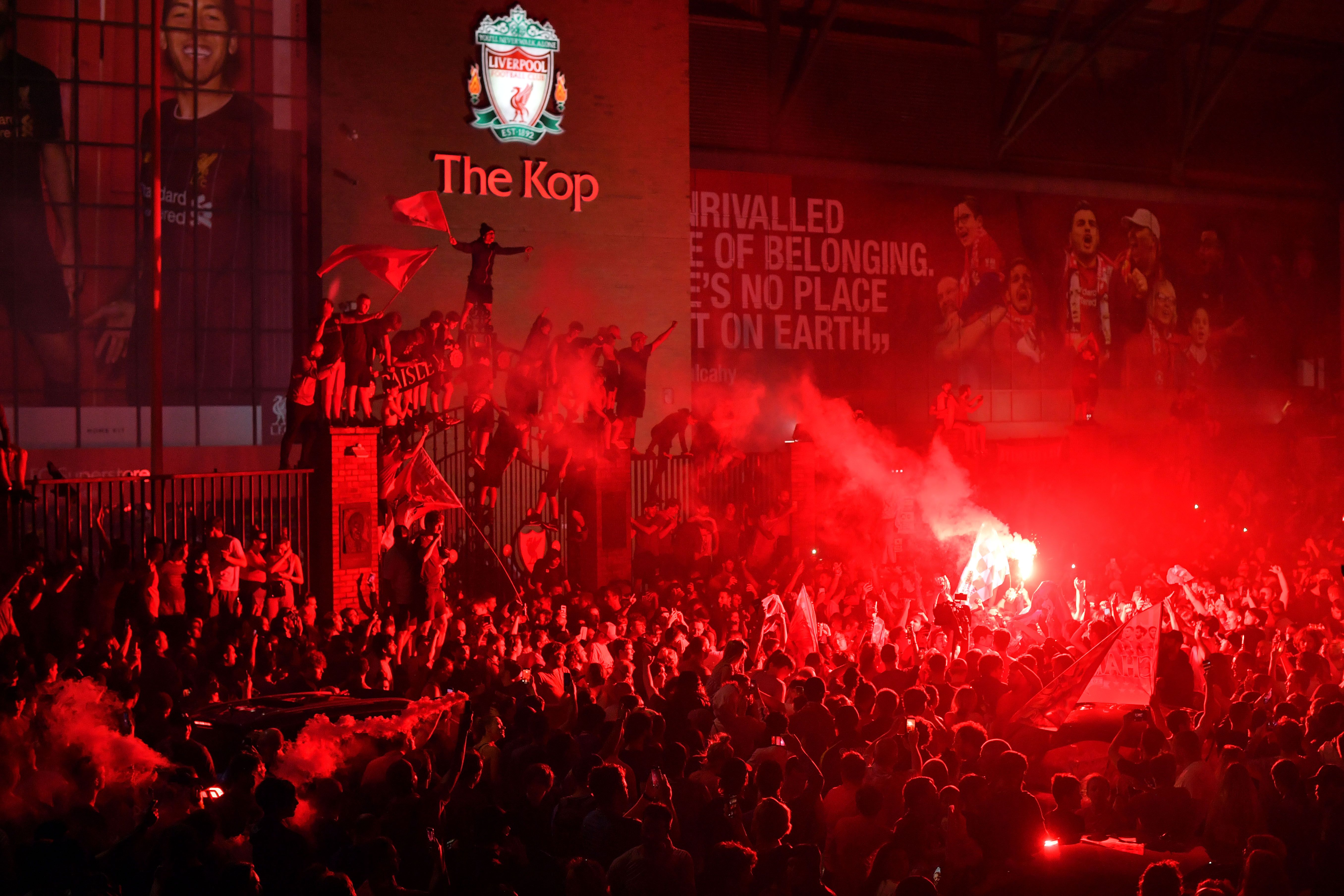 LIVERPOOL, England — Liverpool were crowned Premier League champions following Manchester City's 2-1 loss at Chelsea, ending a 30-year wait for a topflight title. They now have 19 titles to their name, one behind Manchester United.
"A long, sultry day, the hottest of the year, had given way to a warm, quiet evening. The fireworks broke the peace ... Then came the car horns, blaring and echoing around empty streets, a joyous Morse code in their short, sharp blasts, summoning people from their homes, confirming that the moment had arrived."
— Rory Smith,
NYT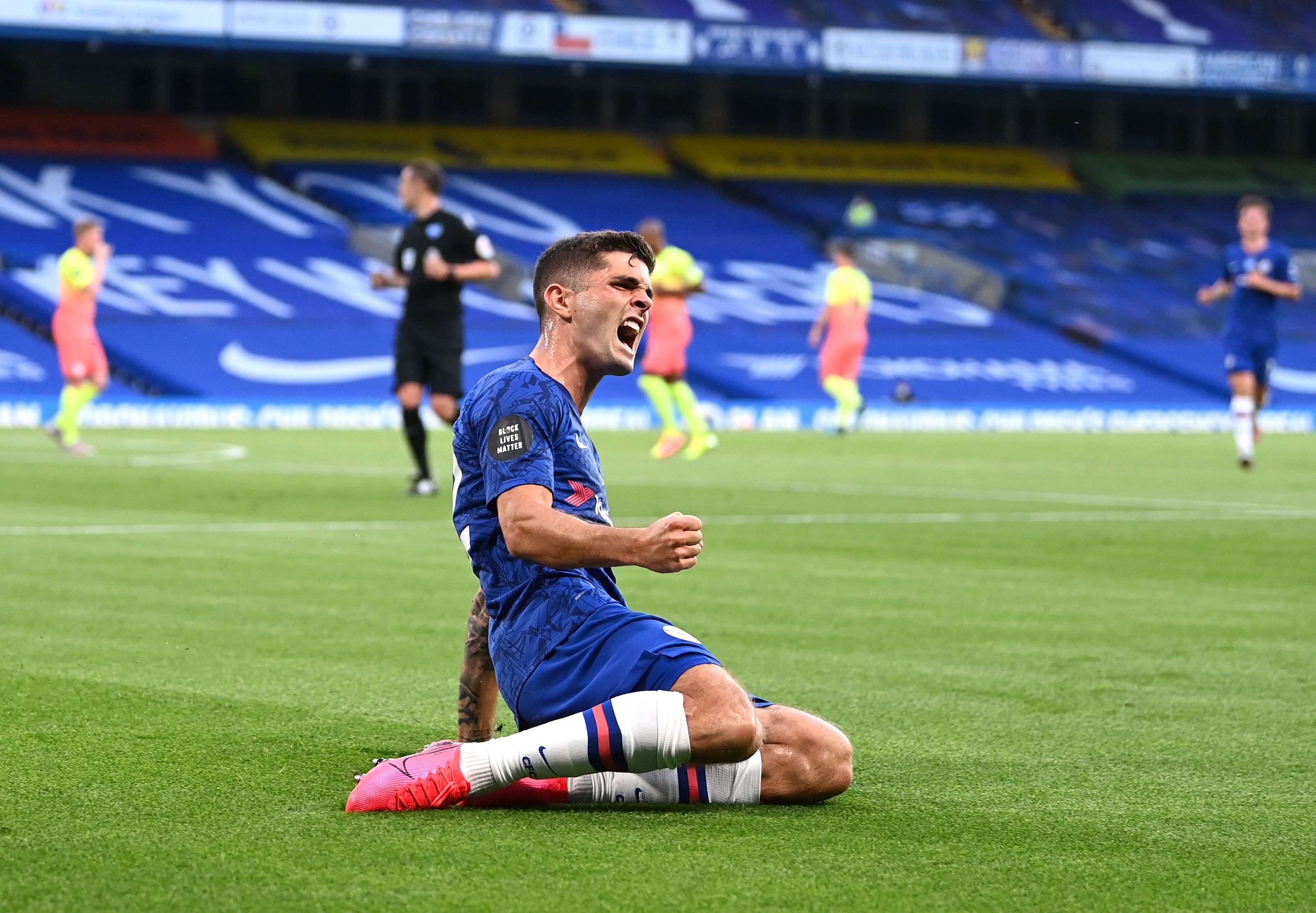 LONDON — Christian Pulisic's second goal in two games lifted Chelsea past Manchester City, 2-1. Such a beautiful finish by the young American, who is somehow still only 21 years old.
Fun fact: Pulisic is Chelsea's second-leading goalscorer (seven) in the Premier League this season despite starting less than half the games. The future.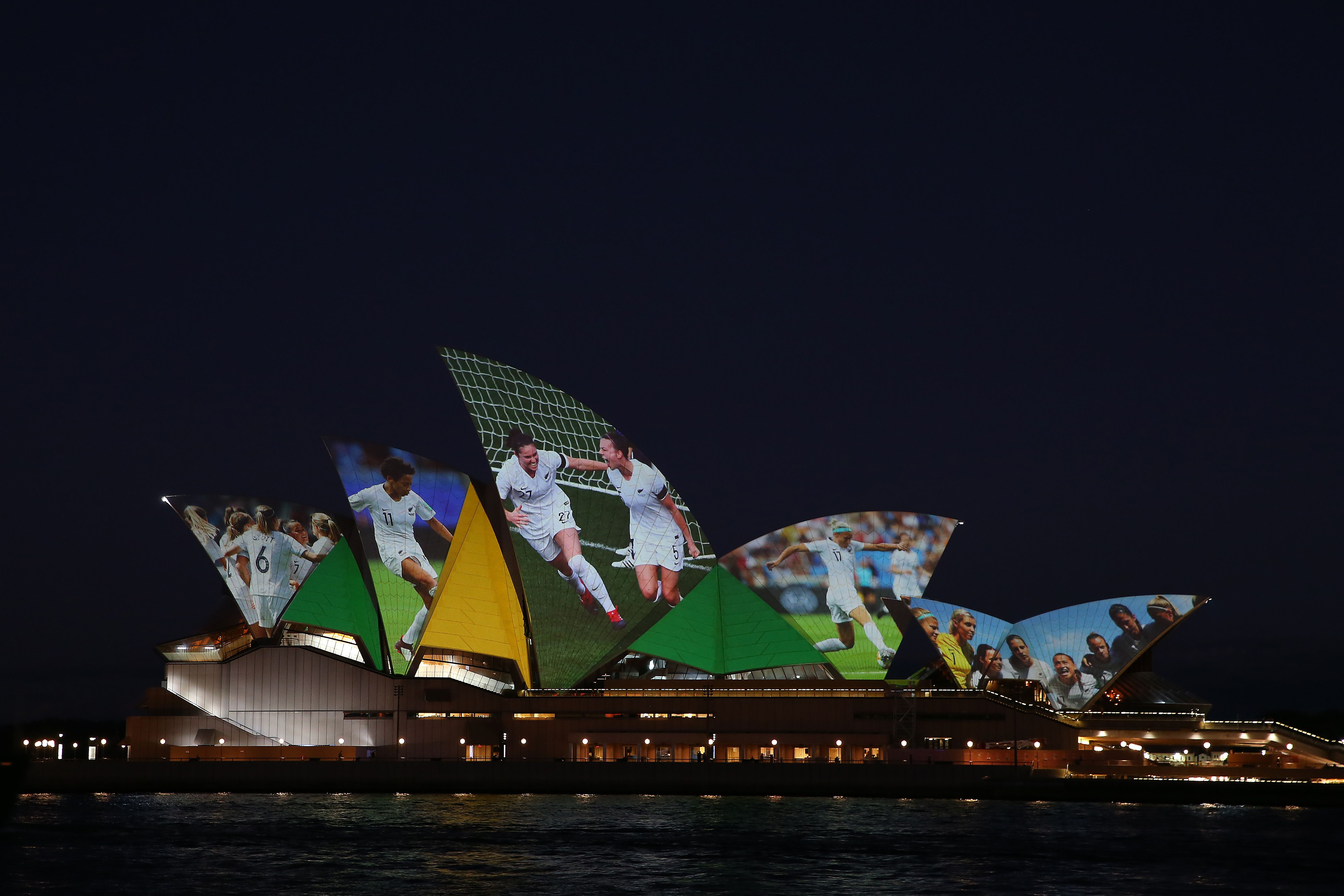 SYDNEY — Soccer highlights were projected on the Sydney Opera House in celebration of Australia and New Zealand beating out Colombia to win the bid to host the 2023 Women's World Cup, which is being expanded to 32 teams.
4. ⚡️ Catch up quick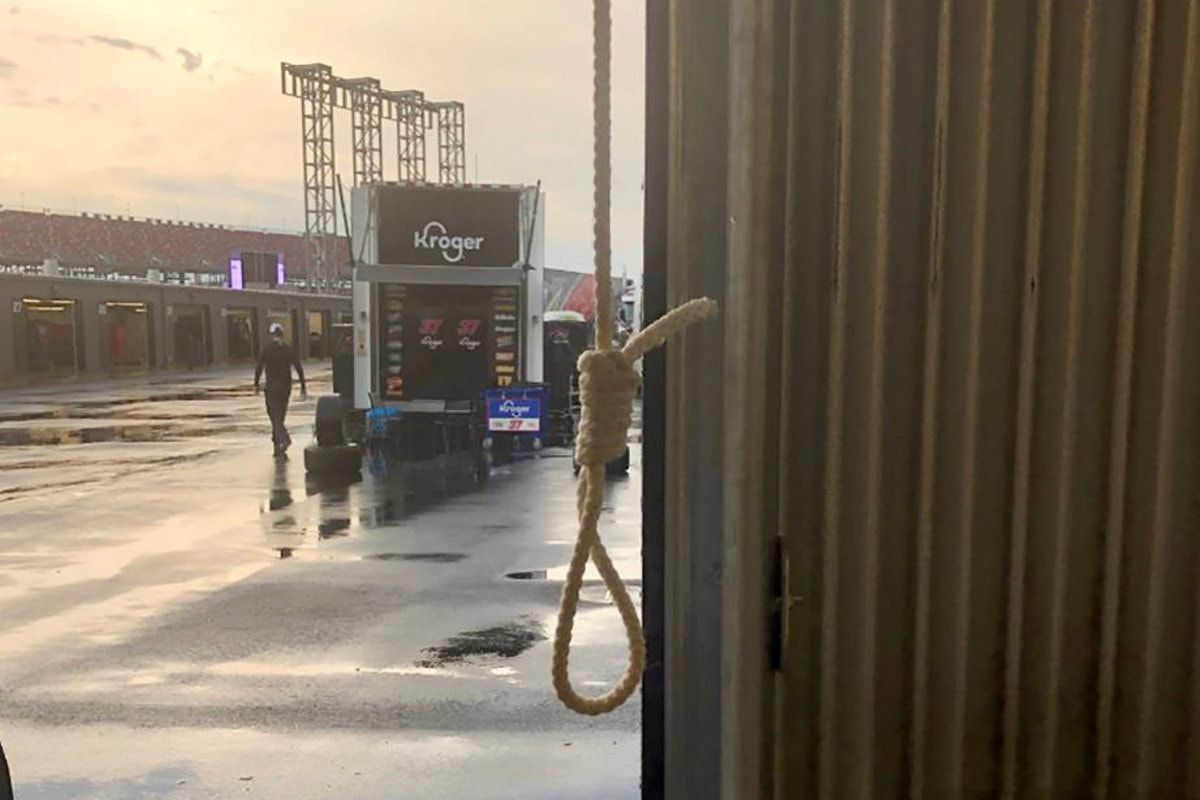 5. 🏀 Ranking the NBA's all-time rosters (No. 26)
We're ranking the all-time rosters for all 30 NBA teams. Note: Rosters and stats based only on time spent with this specific team. Thoughts? Email me at [email protected].
26. New Orleans Pelicans
Reminder of what I explained in the Hornets write-up on Wednesday: Though the Pelicans are a direct descendant of the original Charlotte Hornets, their history in the eyes of the NBA begins only in 2002, when the Hornets relocated to New Orleans. Also, given who the guards are, I feel pretty comfortable trotting out a three-guard starting lineup.
Year established: 2002
All-time record: 671-771 (.465)
NBA Championships: 0
Hall of Famers (indicated by *): 0
Starters:
Chris Paul, G (18.7 pts, 4.6 reb, 9.9 ast, 25.2 PER/76.4 WS)
Baron Davis, G (20.2 pts, 4.0 reb, 7.0 ast, 19.4 PER/13.6 WS)
Jrue Holiday, G (17.7 pts, 4.2 reb, 6.9 ast, 18.2 PER/28.6 WS)
Anthony Davis, F (23.7 pts, 10.5 reb, 2.1 ast, 27.4 PER/72 WS)
Tyson Chandler, C (10.2 pts, 11.3 reb, 1.4 blk, 16.4 PER/21.3 WS)
Sixth man: David West, F (16.4 pts, 7.3 reb, 2.0 ast, 19.0 PER/47.0 WS)
Bench:
Jamal Mashburn, F (21.5 pts, 6.1 reb, 5.0 ast, 17.4 PER/9.7 WS)
P.J. Brown, C (10.3 pts, 8.5 reb, 1.8 ast, 15.4 PER/29.6 WS)
Ryan Anderson, F (16.1 pts, 5.9 reb, 1.1 ast, 17.3 PER/16.2 WS)
Jamaal Magloire, C (11.9 pts, 9.5 reb, 1.3 blk, 15.6 PER/14.6 WS)
Peja Stojaković, F (14.3 pts, 4.0 reb, 1.3 ast, 13.9 PER/15.8 WS)
David Wesley, G (15.2 pts, 2.5 reb, 3.3 ast, 13.8 PER/10.6 WS)
Notes:
Paul and Davis never overlapped, which just doesn't seem fair, as the former led the league in steals three times and assists twice, while the latter led the league in blocks three times.
Oh yeah, Paul led the league in steals three times and assists twice with the Clippers, too. CP3 is really good.
ICYMI ... 30. Grizzlies, 29. Timberwolves, 28. Hornets, 27. Raptors
Stats, explained: Player Efficiency Rating (PER) is a measure of a player's per-minute productivity (20+ is elite); Win Shares (WS) attempts to divvy up individual credit for team success (6 per season is elite).
6. June 26, 2002: 🏀 Yao goes No. 1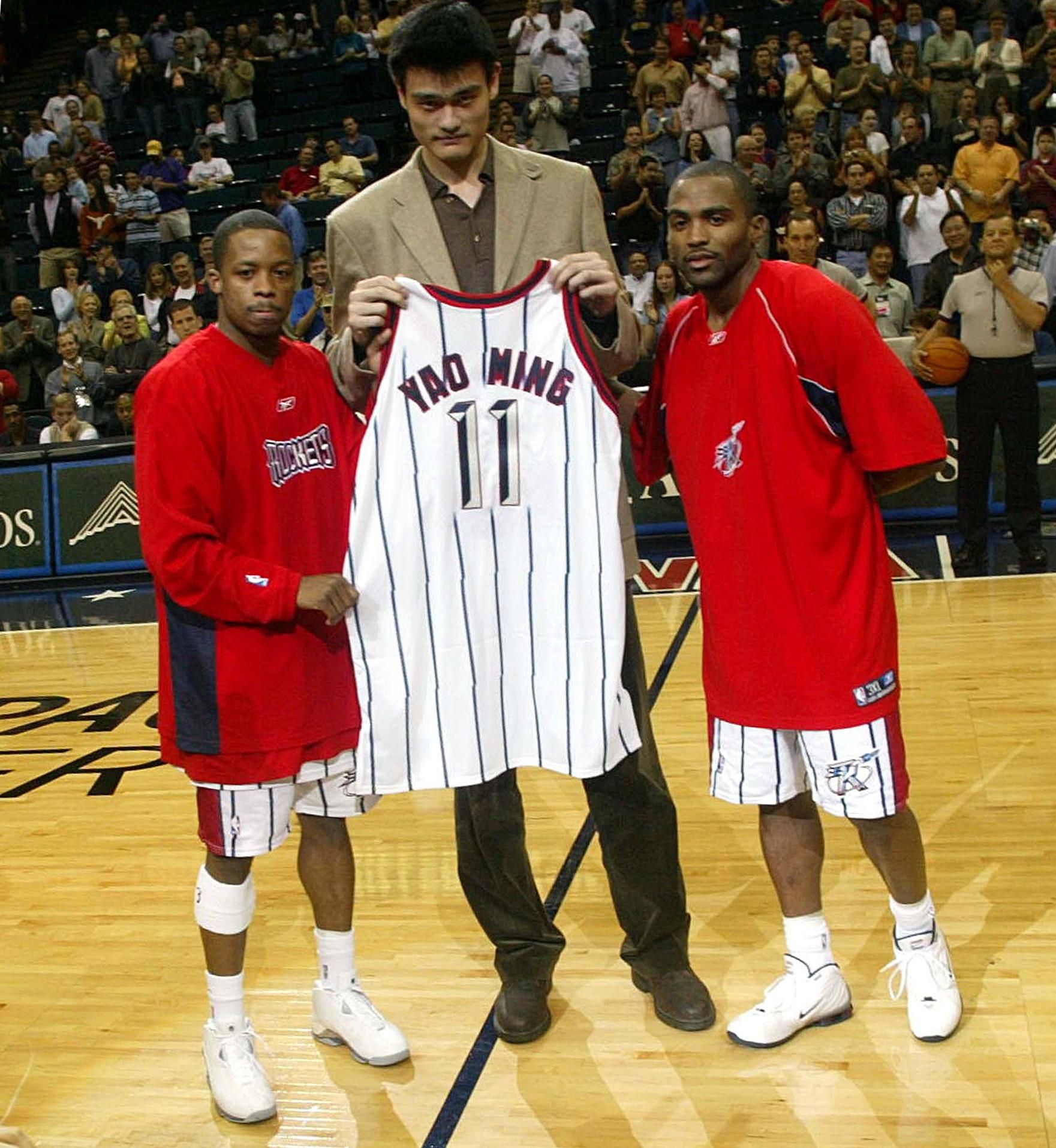 18 years ago today, the Rockets selected Yao Ming first overall in the NBA Draft, bringing the 22-year-old, 7-foot-6-inch center over from China.
The backdrop: Yao, whose parents had both played professionally, weighed 11 pounds at birth — more than twice as much as the average Chinese newborn.
He began his career at 13, playing for the junior team of the Chinese Basketball Association's Shanghai Sharks before joining the pro club at 17.
In five seasons with the Sharks, he averaged 23.2 points and 15.6 rebounds, leading them to their only championship in his final season. During those playoffs, he averaged an absurd 38.9 points and 20.2 boards while shooting 76.6% from the field.
NBA career: Lest we forget, though his career was sadly injury-riddled, Yao was so much more than just a really tall dude — a fact his Hall of Fame entry will attest to.
He started the All-Star game in each of his eight seasons, earned All-NBA honors five times, posted the 24th highest career PER ever (23.02) and finished his career with averages of 19 points, 9.2 rebounds and 1.9 blocks per game.
Post-playing career: In 2009, Yao purchased the Sharks and has spent much of the past decade deeply involved in wildlife conservation efforts. In 2017, he was elected chairman of the CBA, hoping to make the league more globally relevant.
🎥 Watch: Top 10 plays (YouTube)
7. 📚 Good read: "The King and the CEO"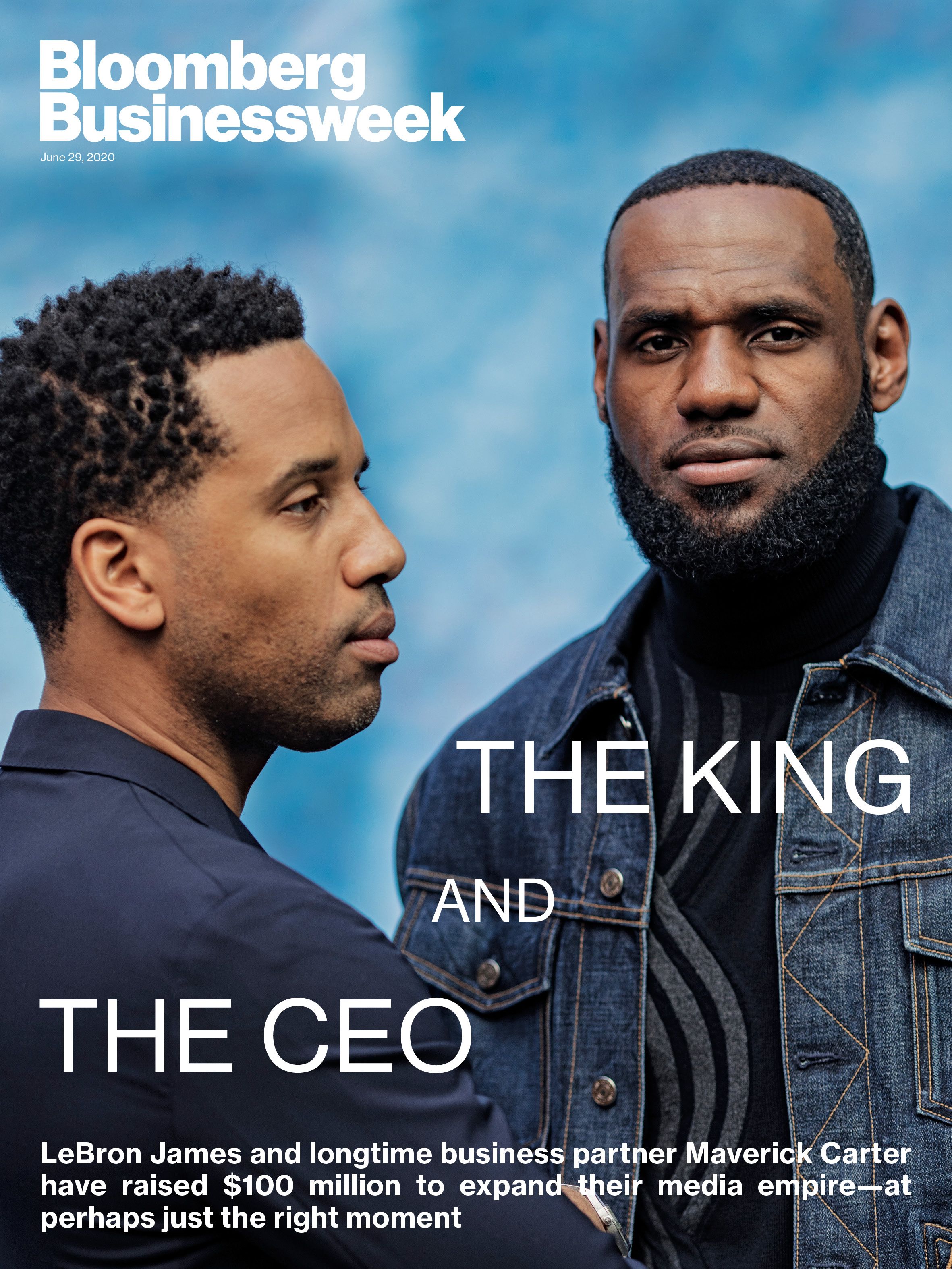 LeBron James and his business partner Maverick Carter have raised $100 million to form their new media venture, SpringHill Co., which is billed as a platform to give people of color the creative control that's long eluded them.
Between the lines: SpringHill Co., named for the Akron apartment complex where James and his mom moved when he was in sixth grade, consolidates three businesses into one:
SpringHill Entertainment: Production company behind "The Wall" (NBC game show) and "Space Jam: A New Legacy," which stars James and is set to be released next year.
Uninterrupted LLC: Athlete empowerment brand that produces podcasts and shows like "The Shop" (HBO talk show).
The Robot Co.: Sports-focused marketing agency with clients that include JP Morgan Chase, Beats by Dre and Sprite.
What he's saying: James tells Bloomberg Businessweek:
"I'm OK having that pressure of my community and other Black communities across America that look up to me and look to me for inspiration or for guidance.
"It's just my responsibility, and I completely understand that. And so every day I leave my home, or I wake up out of my bed, I understand that it's not just about me. I'm representing so many people."
8. The Ocho: 🐪 Camel jumping
Happy belated Hump Day! Please enjoy.
9. 🏒 NHL trivia
Alex Ovechkin has led the NHL in goals in nine of the past 13 seasons, including this year when he and David Pastrnak tied with 48 goals each.
Question: Can you name the three players who led the league in those other four seasons?
Hint: Two Eastern Conference, one Western Conference
Answer at the bottom.
10. ❤️ Why we love sports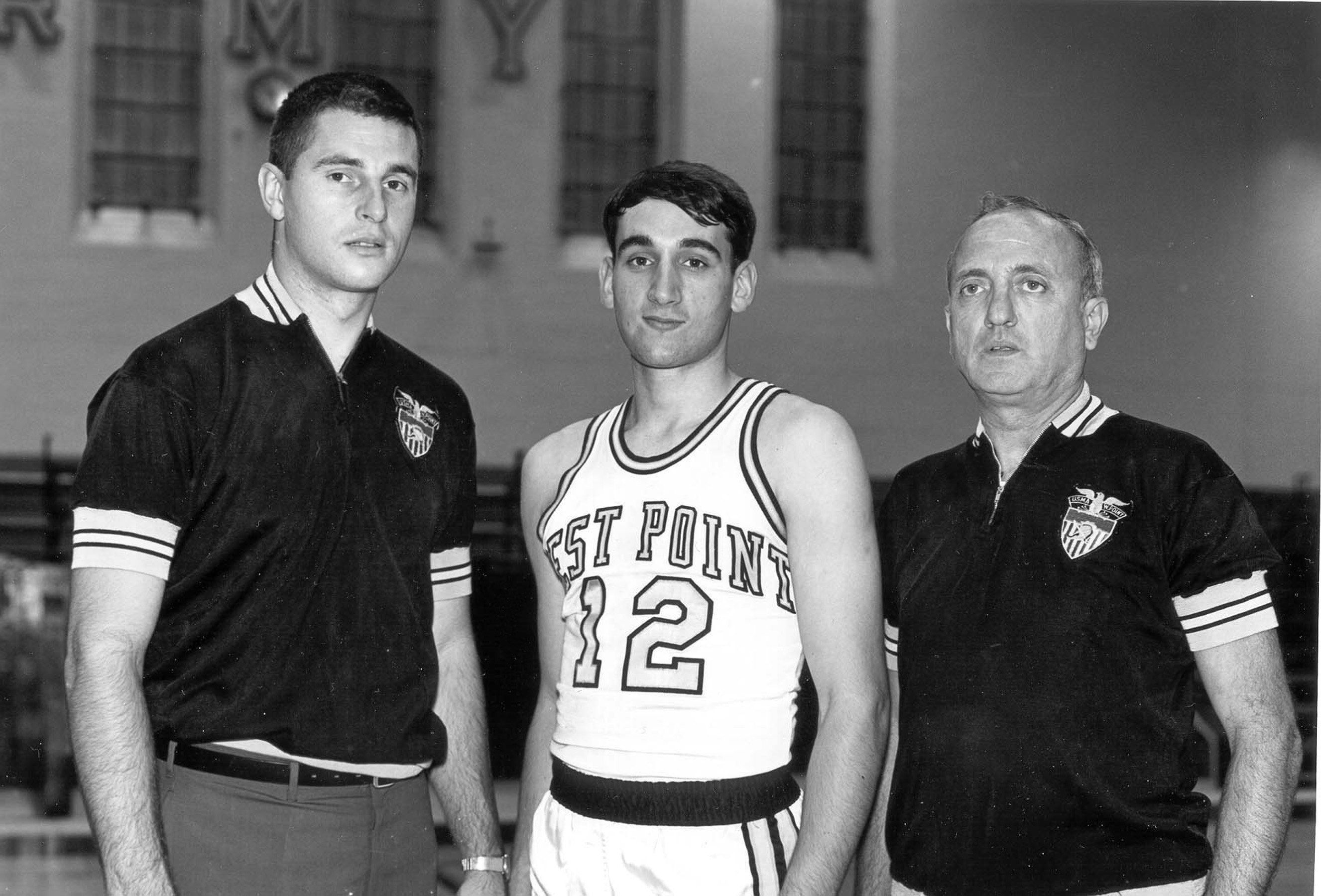 Tom D. (High Point, N.C.) writes:
"One of the many things you were required to memorize as a Plebe at West Point were the names of every captain of every sport. Well, guess who was captain of the basketball team? Mike Krzyzewski.
"It didn't take long for the upperclassmen to learn that this small-town, North Carolina boy didn't have a prayer of saying his name correctly. So, it seemed like every time I encountered one, they would invariably say 'Dayvault, who's captain of the basketball team?'
"After they rolled around laughing at my many and varied attempts to pronounce his name, it always ended with 'stop and give me 20.' At least at a spelling bee, you don't have to do pushups if you get it wrong.
"My daughter is a North Carolina grad, and several years ago, Coach K was the keynote speaker at her company's annual gala. In typical Duke-UNC fashion, she shared with me that she would be escorting Satan that evening.
"When she arrived back home after the gala, she told me that she'd shared my Plebe story with Coach K and that he was one of the nicest and most honorable people she'd ever met.
"Some things transcend bitter rivalries, and some names — like Krzyzewski — transcend generations."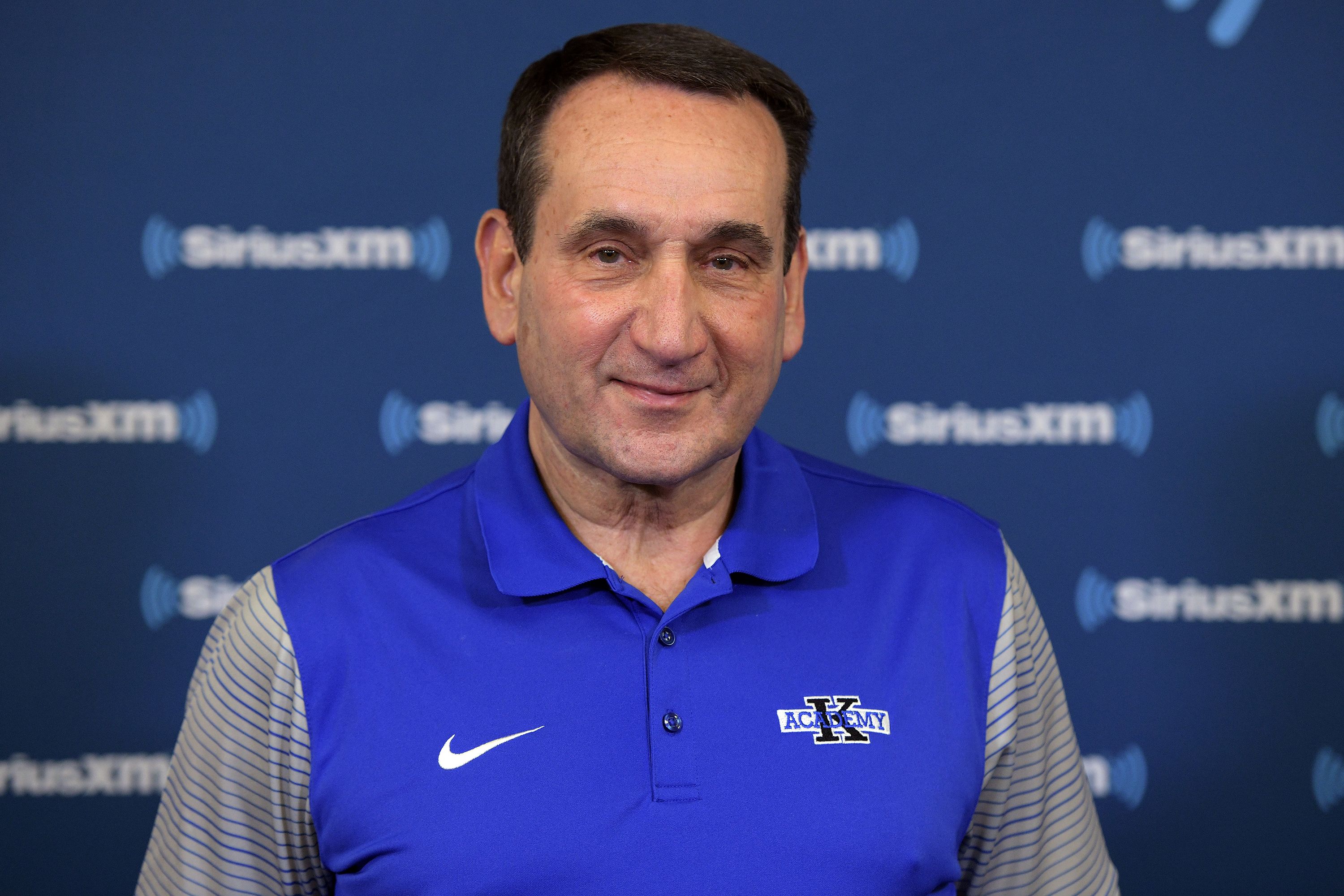 ✍️ Submit your story: Do you have a fondest sports memory? Or an example of sports having a positive impact on your life? If you'd like to share, simply reply to this email. We'll be telling your stories until they run out.
Enjoy the weekend,
Kendall "How can you not love LeBron, I don't get it" Baker
Trivia answer: Sidney Crosby (Penguins), Steven Stamkos (Lightning) and Corey Perry (Ducks)