Axios Sports
April 19, 2021
👋 Good morning! Today's edition is absolutely jam-packed. Let's sports.
⚽️ Breaking news: A weekend full of major soccer news was capped by another bombshell: Tottenham has fired manager José Mourinho.
Today's word count: 2,272 words (9 minutes).
1 big thing: ⚽️ European soccer is at war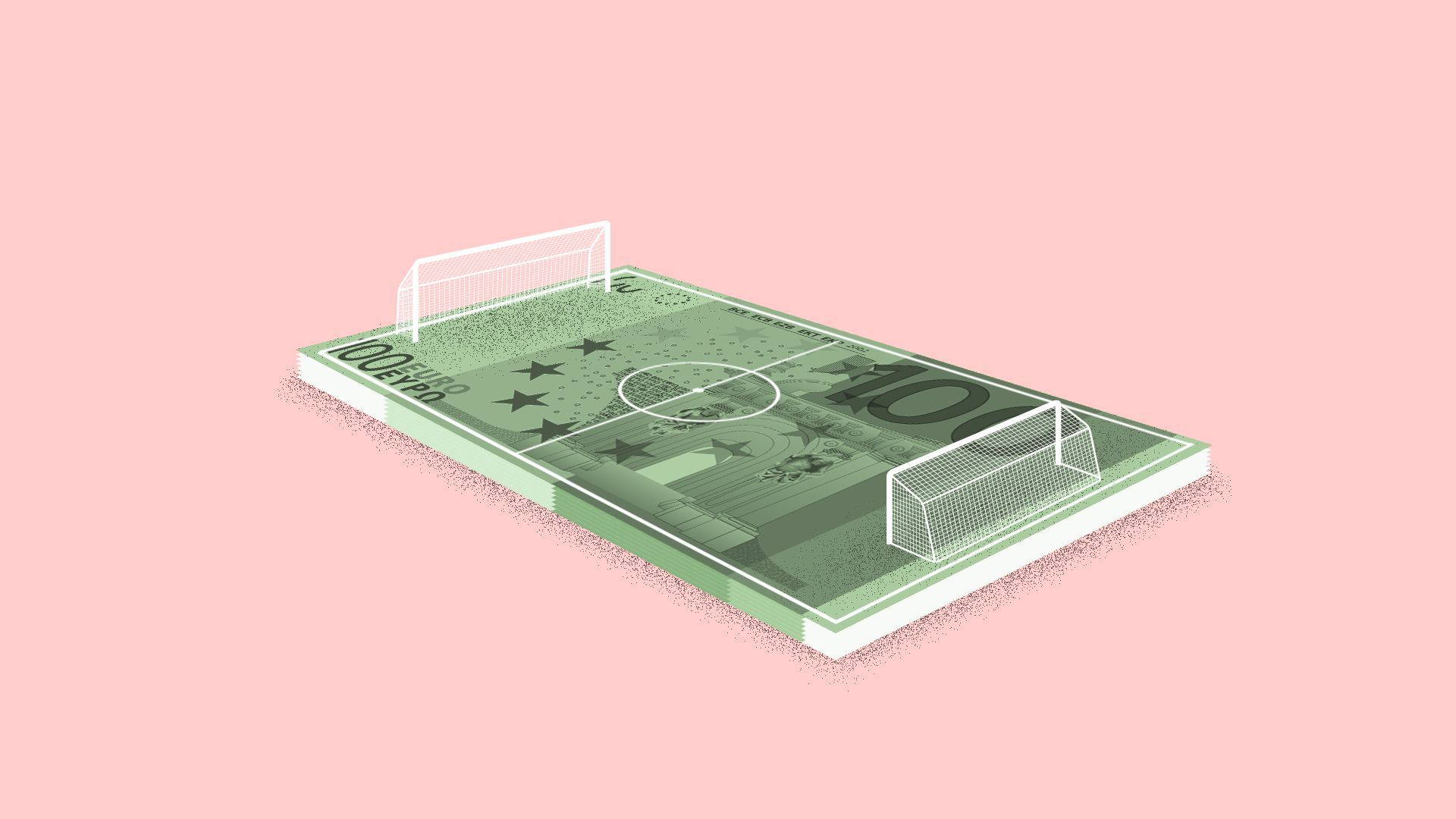 Europe's biggest soccer clubs have established The Super League, a new midweek tournament that would compete with — and threaten the very existence of — the Champions League.
Why it matters: This new league, set to start in 2023, "would bring about the most significant restructuring of elite European soccer since the 1950s, and could herald the largest transfer of wealth to a small set of teams in modern sports history," writes NYT's Tariq Panja.
The founding clubs: AC Milan, Arsenal, Atlético Madrid, Chelsea, Barcelona, Inter Milan, Juventus, Liverpool, Manchester City, Manchester United, Real Madrid, Tottenham (with three more to come).
The financing: JPMorgan confirmed that they will underwrite the project. Each founding member would be provided at the start with ~$400 million, which is more than four times what the winner of the Champions League took home in 2020.
How it works: Instead of having to qualify for the Champions League each year, the 15 founding members would compete annually in the Super League, irrespective of their domestic league performance.
The final five spots in the 20-team league would then be filled through some form of qualifying (this remains unclear).
The tournament would feature two groups of 10, playing home and away matches, with eight clubs advancing to the quarterfinals.
The response: UEFA responded to the threat by unanimously voting to revamp the Champions League with an expanded field (from 32 to 36) and more group stage games (from six to 10 per team).
England's Premier League, Spain's La Liga and Italy's Serie A all denounced the breakaway league proposal, as did European politicians like British Prime Minister Boris Johnson.
Open competition and promotion/relegation are core pillars of European soccer, so this Super League — which is closer in concept to closed leagues like the NFL or NBA — would alter the fabric of the sport.
The big picture: Europe's wealthiest clubs have long sought a better way to monetize their global popularity.
By forming their own competition, they believe they can better leverage their brands without smaller, less attractive clubs diluting their value.
It's a similar dynamic to the one that exists in college football, where most Power 5 leaders are interested in breaking away from the NCAA.
2. 🥍 Four sisters, one game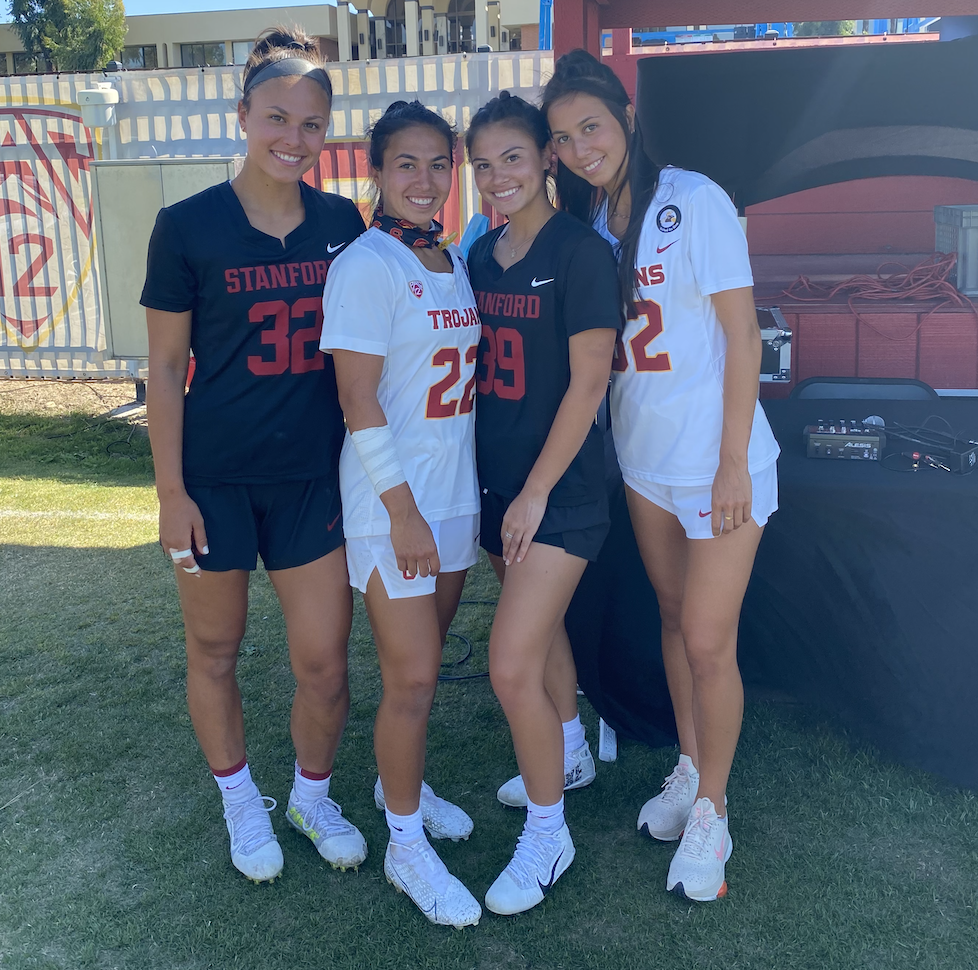 Four sisters were involved in a women's college lacrosse game on Sunday. Safe to say that's never happened before — in any sport.
The sisters:
Game recap: Izzy scored a career-high six goals for the Trojans (8-6), but Daniella (one assist), Sophia and the Cardinal (8-0) came out on top, 16-15. Michaela was injured and didn't play.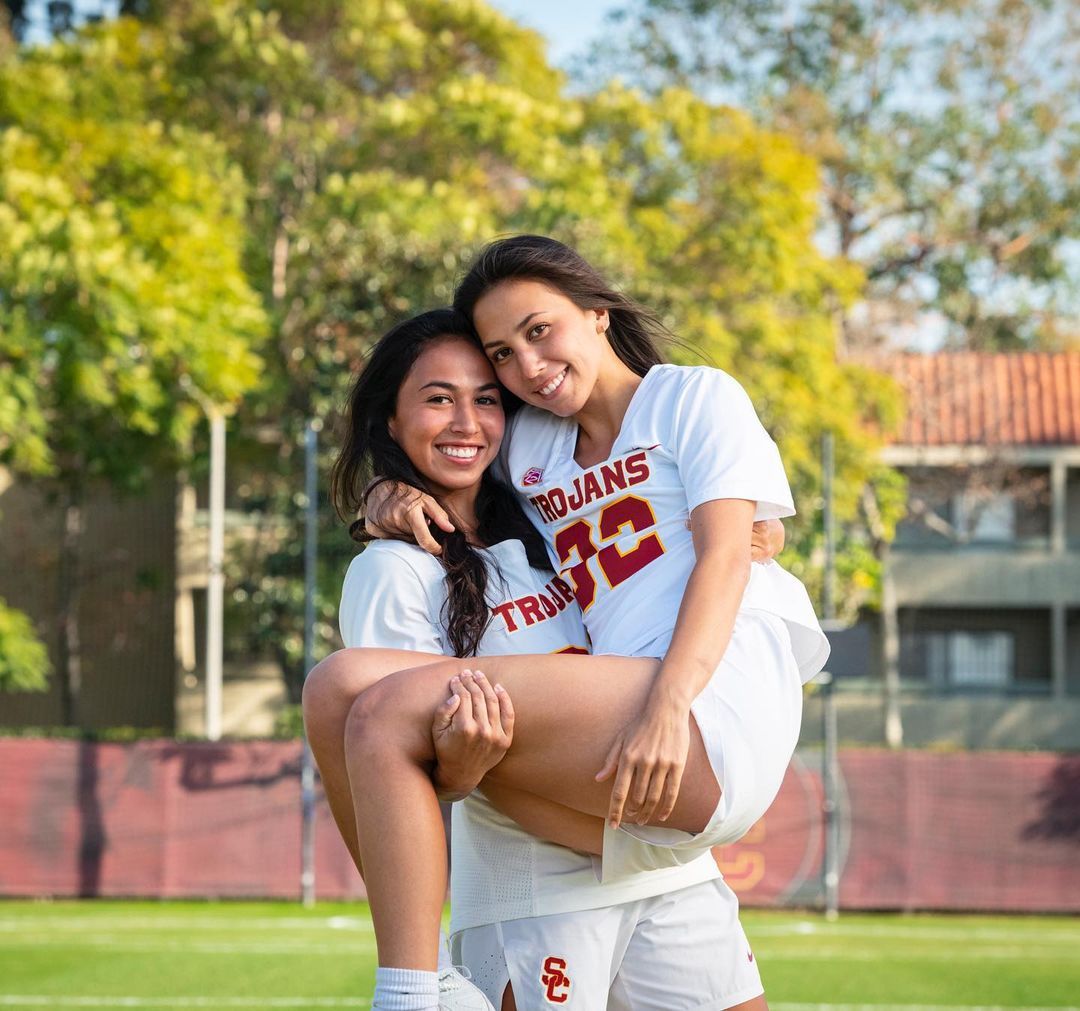 How they got here: The McMahons are from Bardonia, New York, and were standout athletes at Saddle River Day School in New Jersey. Their parents, Paul and Karen, played college lacrosse and still coach.
Daniella wasn't sure if she'd return to Stanford for a fifth year. But in the end, she couldn't pass up the chance to play one final season alongside Sophia, while also getting her master's.
Izzy played basketball at West Point for two years before transferring to USC, where she's been a lacrosse star ever since.
Michaela transferred to USC after two years at Penn, where she was an All-Ivy midfielder and a U.S. U-19 national team standout.
Sophia, the youngest, arrived at Stanford after experiencing what so many high school seniors did in 2020: a canceled spring season.
What they're saying: "Sophia coming to Palo Alto, Isabel and I getting an extra year of eligibility, Michaela transferring ... it all happened so fast we barely had time to process it," says Daniella.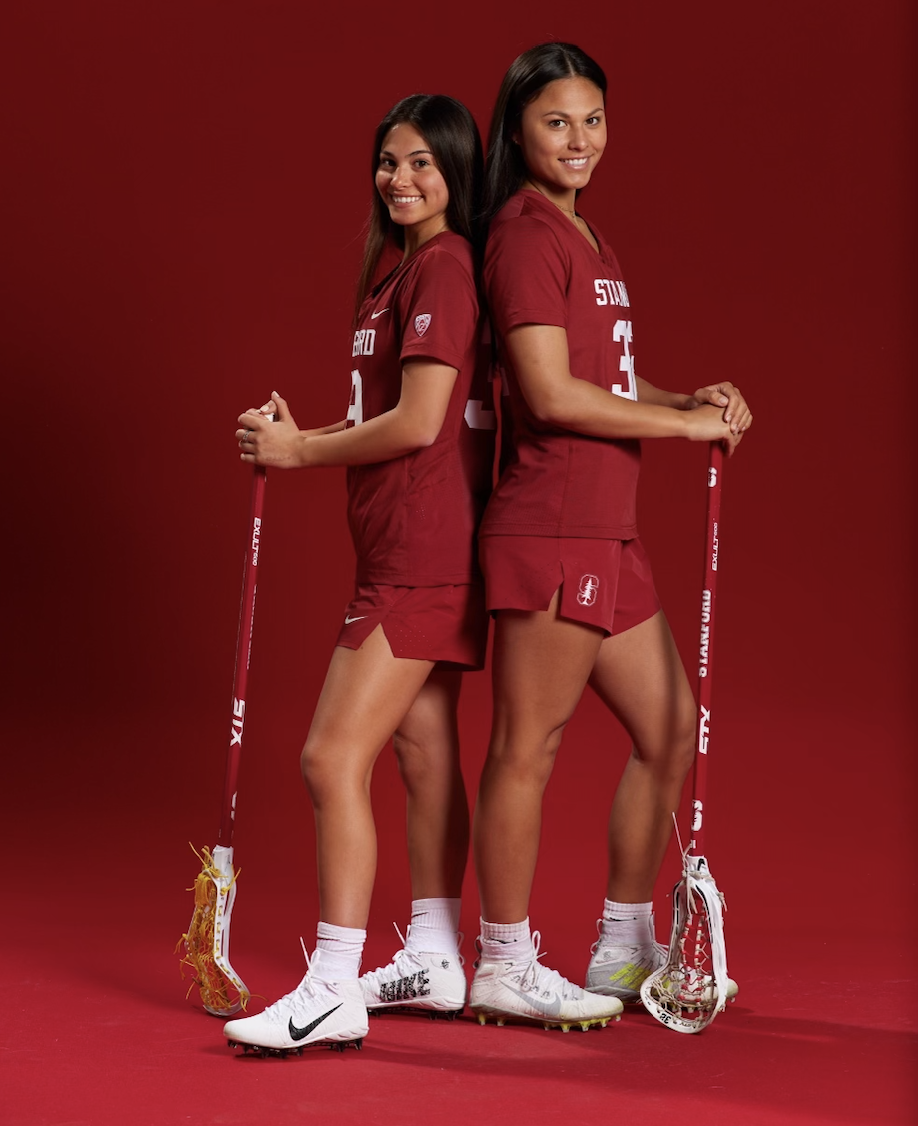 The backdrop: The pandemic (and the extra year of eligibility) made Sunday possible. It's also why this story wasn't written last month, when USC and Stanford were supposed to play in Palo Alto.
It was a classic COVID tale: Paul and Karen had flown out for the occasion. No fans were allowed, so they planned to watch the game on TV in their hotel room near Stanford's campus.
We spoke the night before the game. By the morning, it had been canceled due to a positive test. "COVID strikes again! We'll just keep rolling with the punches and hope for the best," Paul texted me.
The last word: Fortunately, today's game went ahead as scheduled. Fans were allowed to sit in "pods," giving Paul and Karen the opportunity to witness their daughters' rare feat in person.
"The biggest thing that's come out of this ... it changed our perspective. We're a competitive family, but this season has been more about having fun. I'm just happy they're out on the field, laughing with teammates, playing the game they love."
— Paul McMahon
P.S. ... A fifth McMahon sister, Gabby, played lacrosse at USC and graduated in 2017. And their cousin, Matt McMahon, plays in the Premier Lacrosse League.
P.P.S. ... Another amazing women's lacrosse story: The Schneidereiths — Georgia, Jamie, Lucy and Maggie — are believed to be the first quadruplets to play D-I sports.
3. ⚾️ Kazmar's long road back to the bigs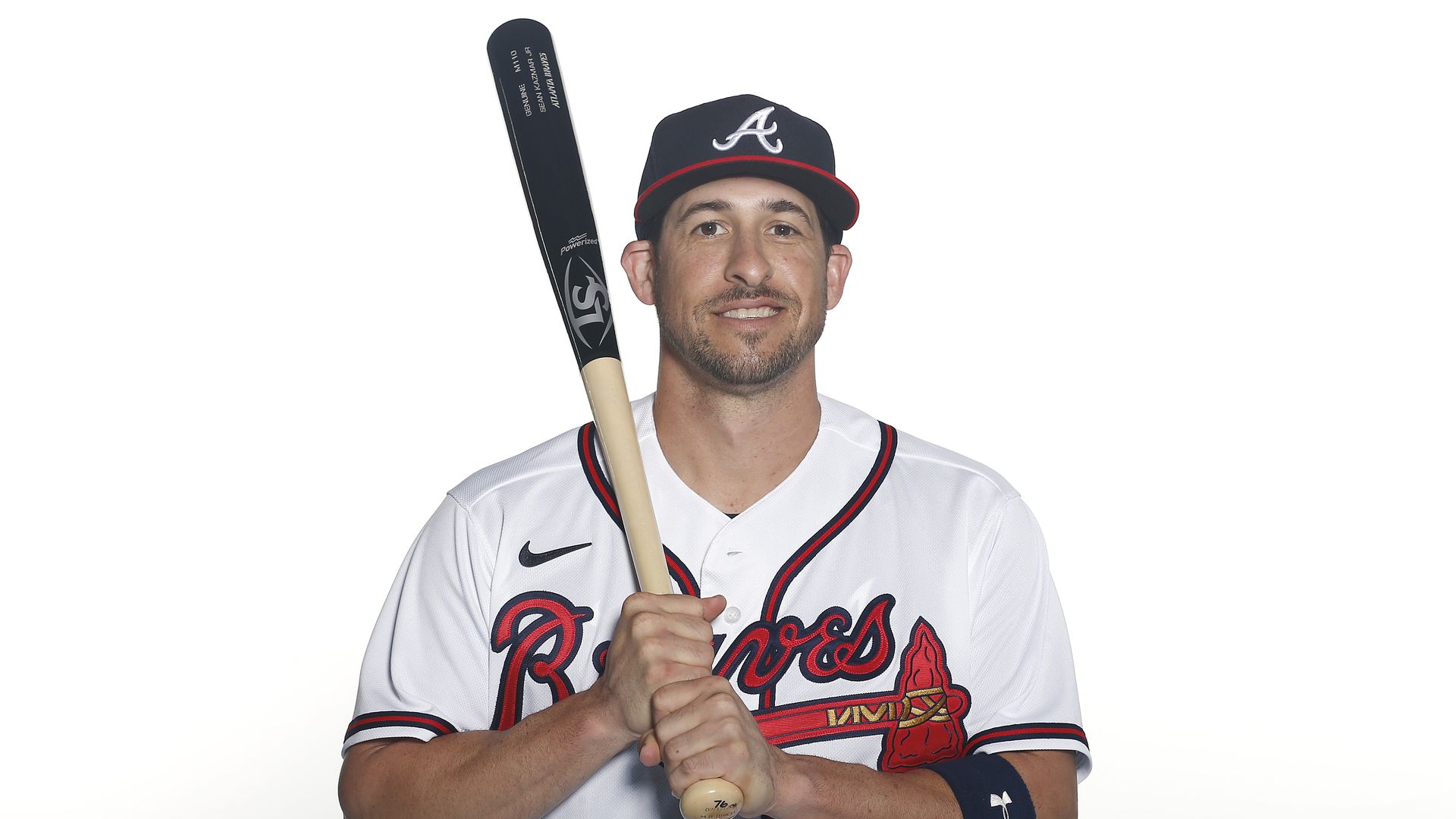 Sean Kazmar Jr.'s career came full circle on Saturday, ending a lengthy sojourn in the minors with his first major league at-bat since 2008, Axios' Jeff Tracy writes.
Why it matters: The 12-year, 206-day gap between appearances is the longest since Minnie Miñoso in 1976. But unlike Miñoso, who'd already enjoyed a superb 15-year career, Kazmar spent the last decade-plus toiling in the minors.
The shortstop's journey began when the Padres drafted him in 2004, and he debuted four years later against the Brewers, singling off C.C. Sabathia on the first pitch he saw as a big leaguer.
Kazmar played in just 19 games that year and spent the next two seasons in the Mariners and Mets farm systems before signing with the Braves, where he's remained since 2013.
What they're saying: "It's a book or a movie waiting to happen," said Braves manager Brian Snitker, who managed Kazmar in the minors from 2014-16.
"Obviously when I first started ... I didn't want to try and play in Triple A my whole career ... But at the same time, I'd do it all over again just for a day like [Saturday]."
— Kazmar, via The Athletic (
subscription
)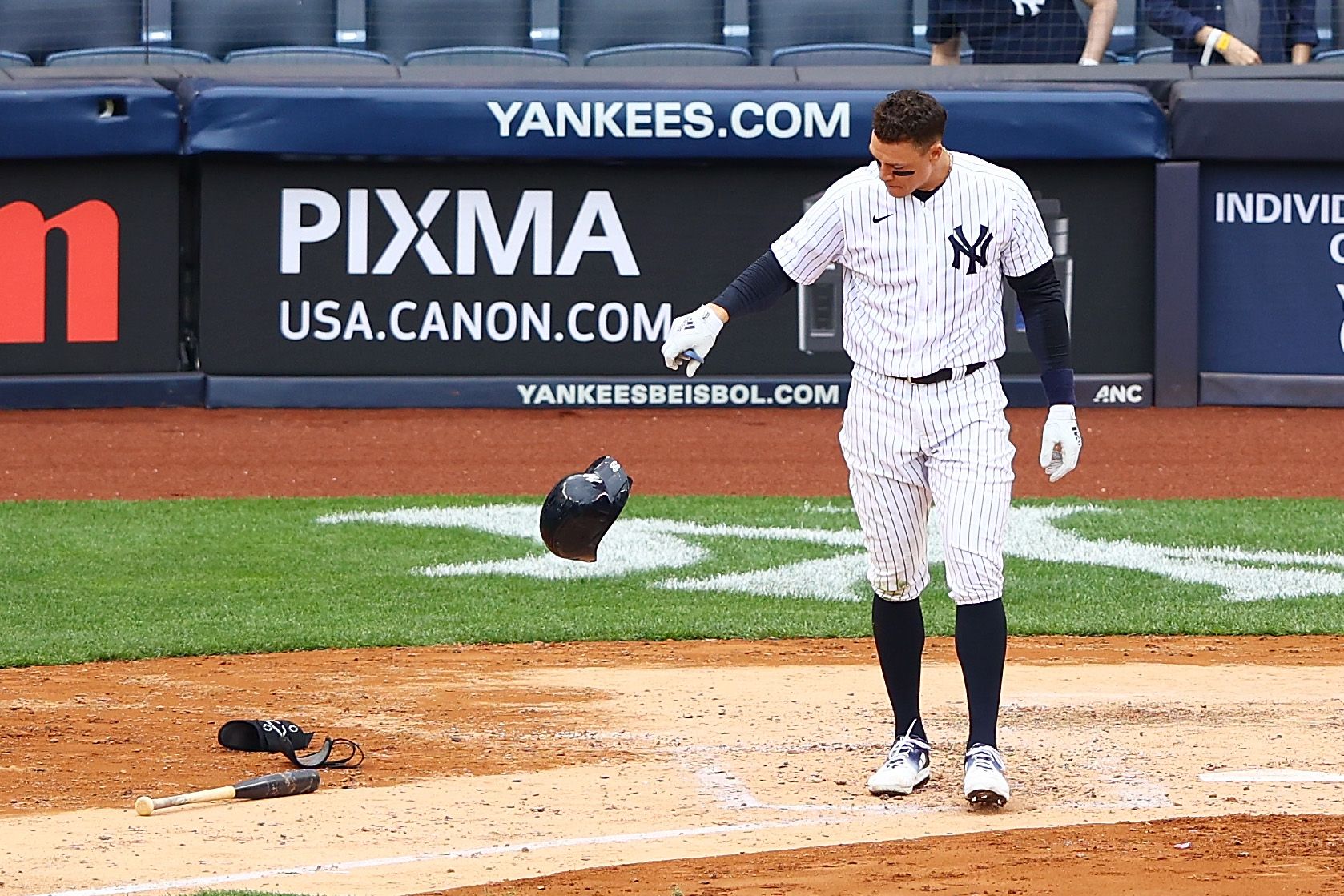 Around the league:
4. 🏁 F1: Max wins in Italy, Miami race announced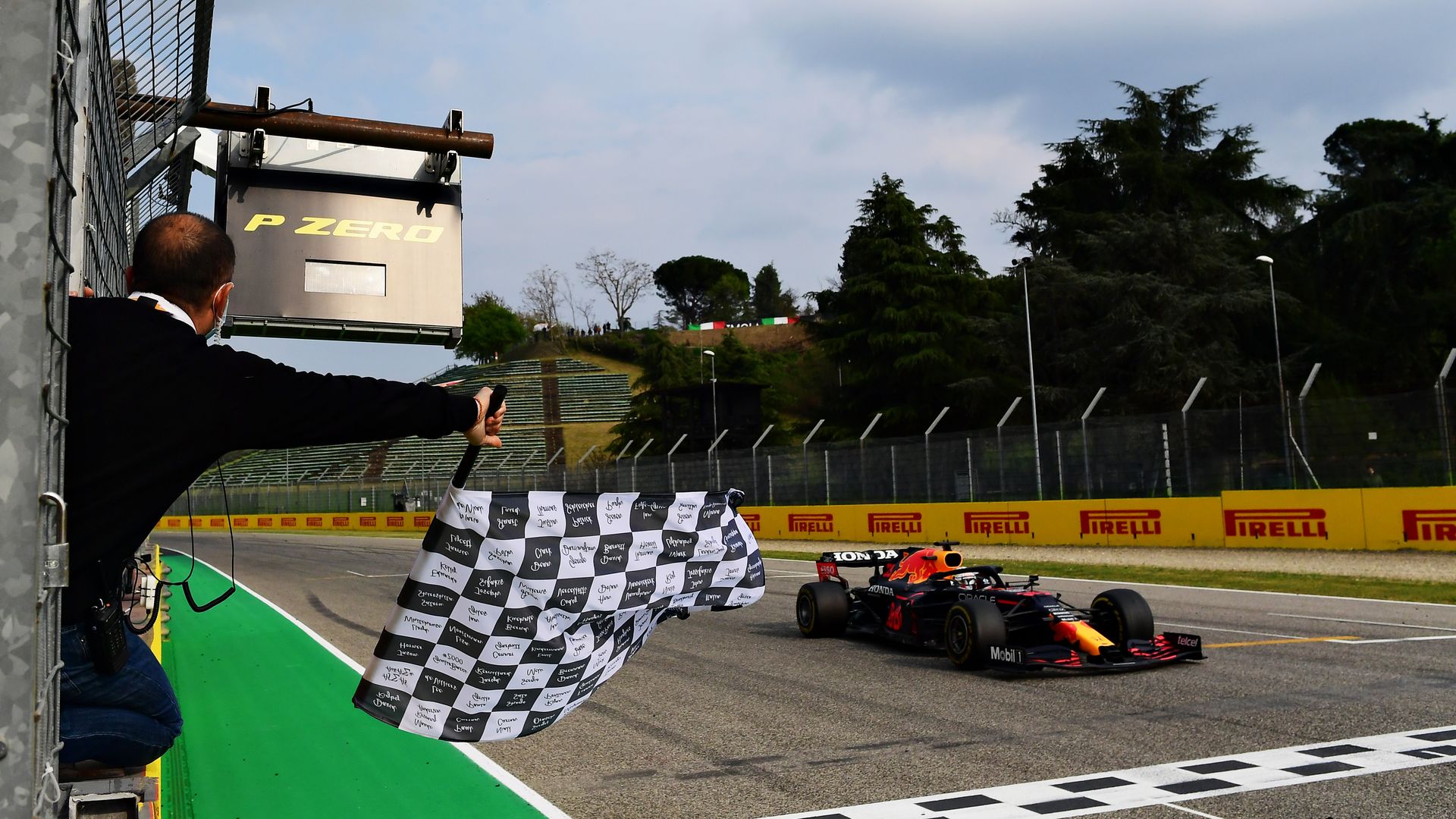 Max Verstappen won a chaotic Emilia Romagna Grand Prix on Sunday, beating second-place Lewis Hamilton by a commanding 22 seconds.
Why it matters: Verstappen (Red Bull) and Hamilton (Mercedes) have finished 1-2 in the first two races of the season, a glimpse of what could be the closest title battle in years.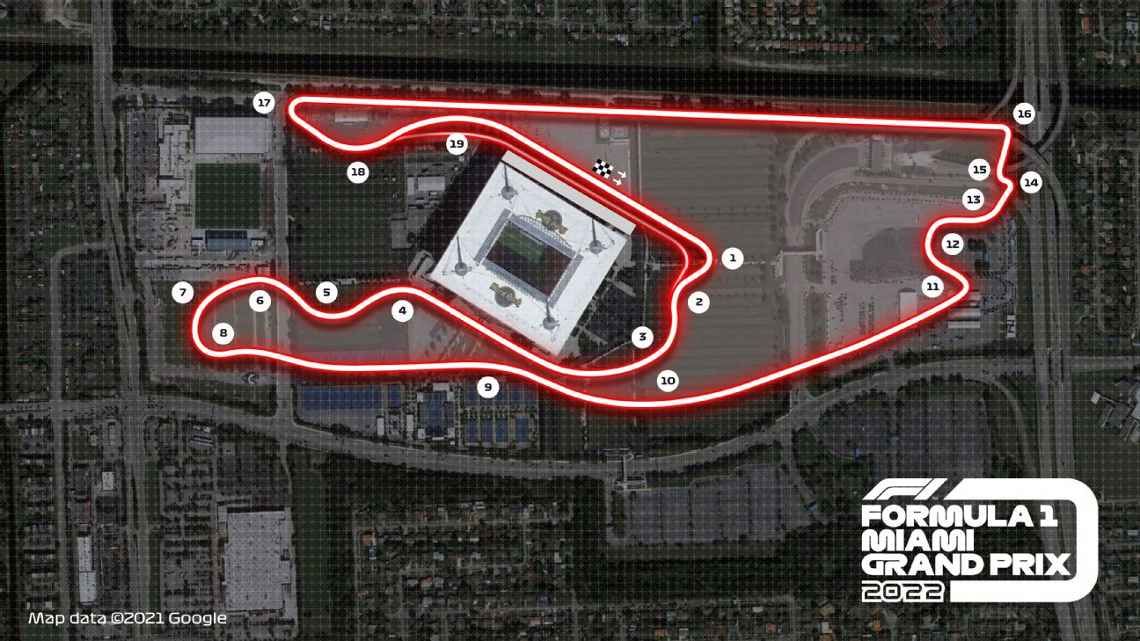 Meanwhile, off the track ... Formula 1 announced a 10-year deal to host a Miami Grand Prix, starting in 2022.
The track: The long-awaited race will take place on a new 3.36-mile track that loops around Hard Rock Stadium, has 19 turns and features a long straightaway where cars will reach up to 198 mph.
The big picture: Assuming the Circuit of the Americas remains in Austin, F1 will have two races per year in the U.S., a key growth market for the sport.
More racing:
NASCAR: Alex Bowman dedicated his win at Richmond Raceway to team member William "Rowdy" Harrell and his wife, Blakley, who were killed in a car crash in November.
IndyCar: Seven-time NASCAR champion Jimmie Johnson finished 19th in his IndyCar debut.
5. 🏈 QB spotlight: Trevor Lawrence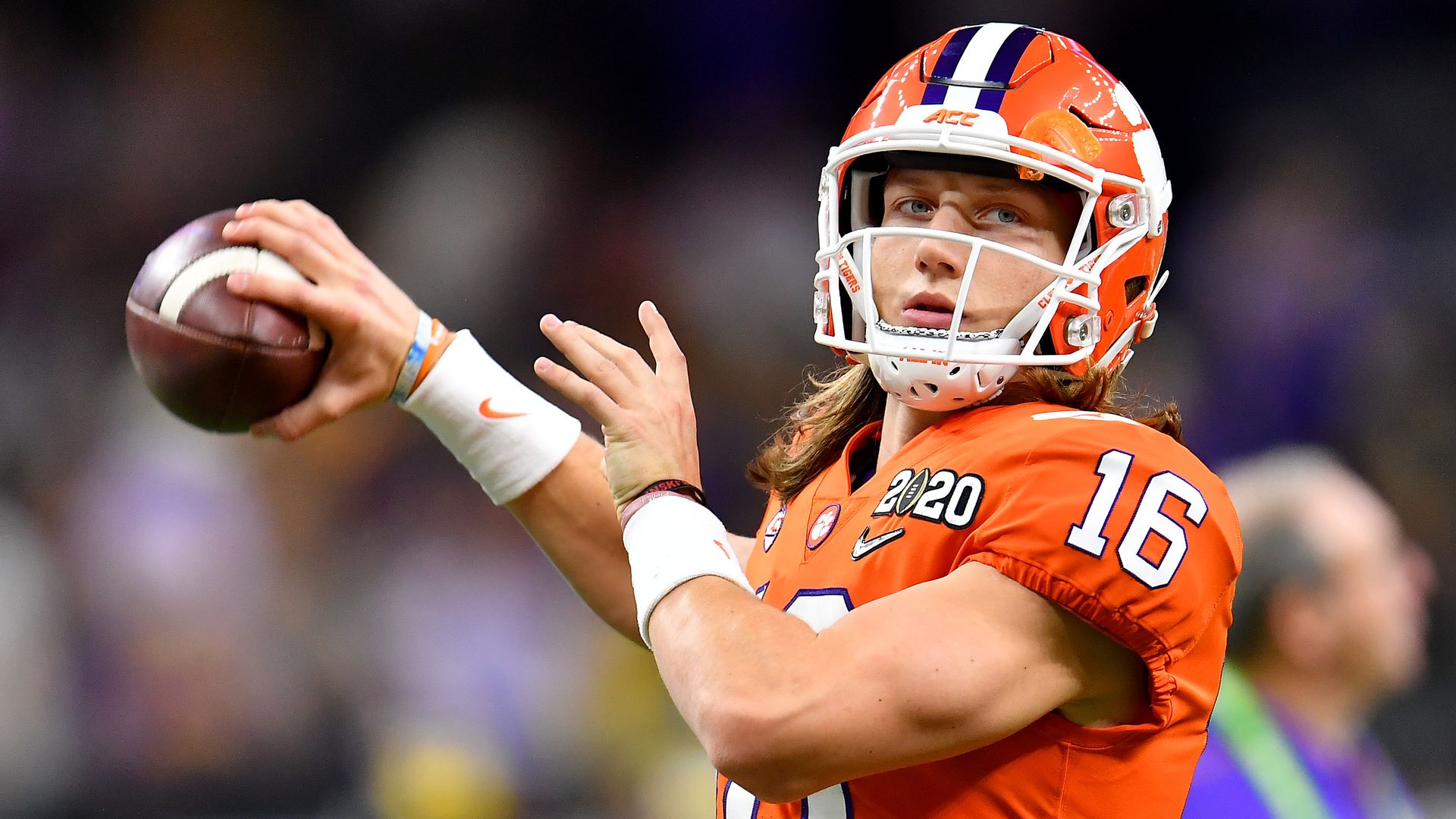 Five of the top 10 picks in next Thursday's NFL draft could realistically be quarterbacks. This week, we'll meet those signal-callers.
Trevor Lawrence is the consensus No. 1 pick. He's known for months he'll soon be wearing Jaguar teal; all that's left is hearing his name called on draft night, Jeff writes.
Bio: The six-foot-six-inch, 220-pound Lawrence attended Cartersville High School in Georgia, where he won two state titles and broke Deshaun Watson's state records for passing yards and touchdowns.
He kept rolling at Clemson, where he won 34 of his 36 starts, made the College Football Playoff all three years and led the Tigers to a national championship as a true freshman.
By the numbers: Lawrence ended his career with 108 touchdowns (18 rushing) against just 17 interceptions, and his 164.3 passer rating is the 19th-best mark in history.
The big picture: Lawrence was one of the most highly-touted recruits in history and enters the NFL draft with similar hype, but he wants you to know that football is very much what he does, not who he is.
"I'm passionate about what I do and it's really important to me, but ... I don't have this huge chip on my shoulder, that everyone's out to get me and I'm trying to prove everybody wrong," he told SI (subscription). "I just don't have that. I can't manufacture that. I don't want to."
He later added on Twitter: "I am secure in who I am, and what I believe. I don't need football to make me feel worthy as a person. I purely love the game and everything that comes with it."
Driving the news: Lawrence is reportedly signing with Adidas, where he'll join Patrick Mahomes as part of the three stripe family.
Go deeper:
6. 🇺🇸 Photos across America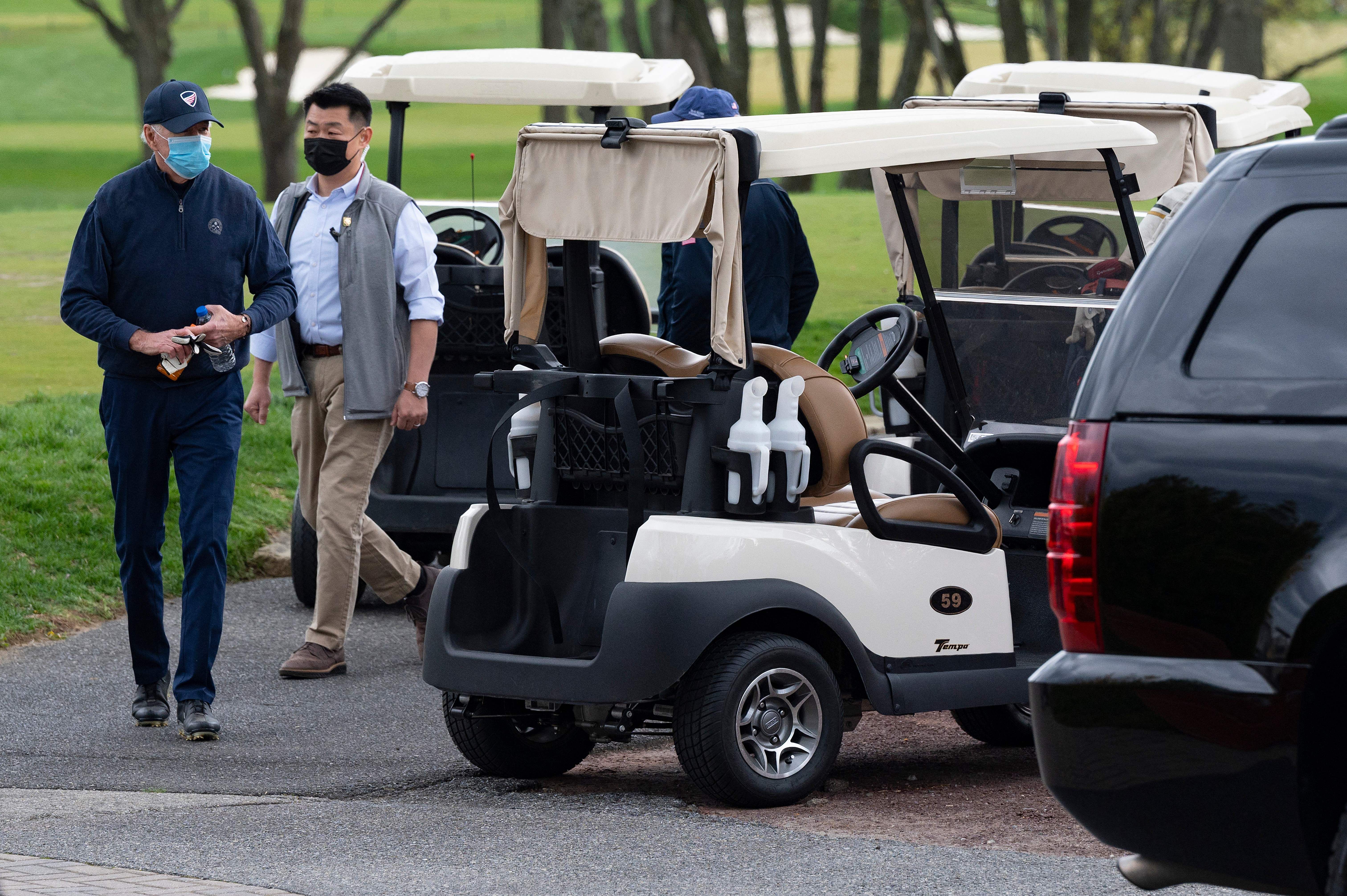 WILMINGTON, Del. — President Biden played golf for the first time since taking office on Saturday, teeing it up at Wilmington Country Club, where he is a member, AP reports.
Fun fact: Biden's handicap index is just over six, per the USGA. But he hasn't logged a round since 2018.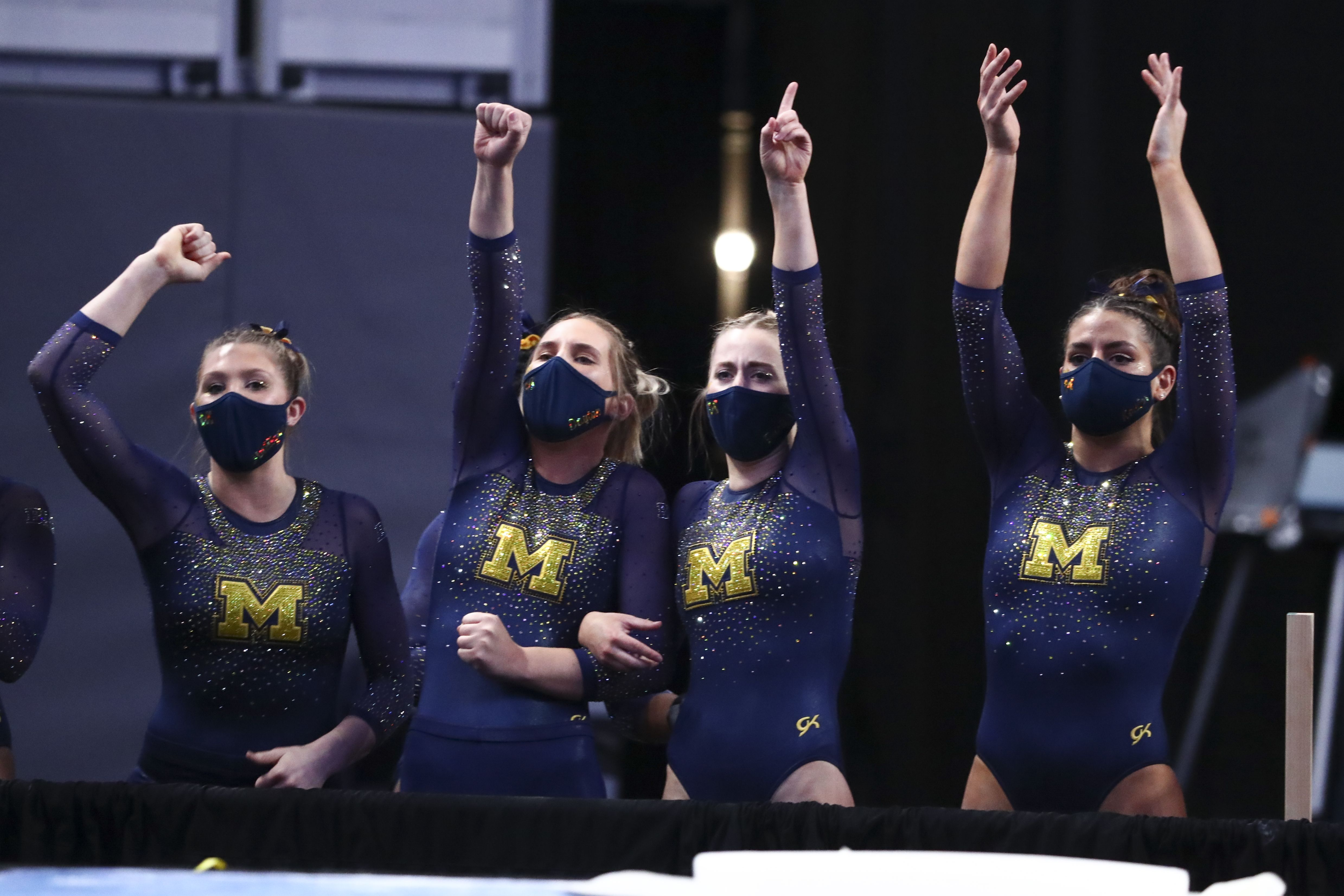 FORTH WORTH, Texas — Michigan beat reigning champion Oklahoma to win its first ever NCAA women's gymnastics title. It all came down to Abby Heiskell's final balance beam routine — and she nailed it.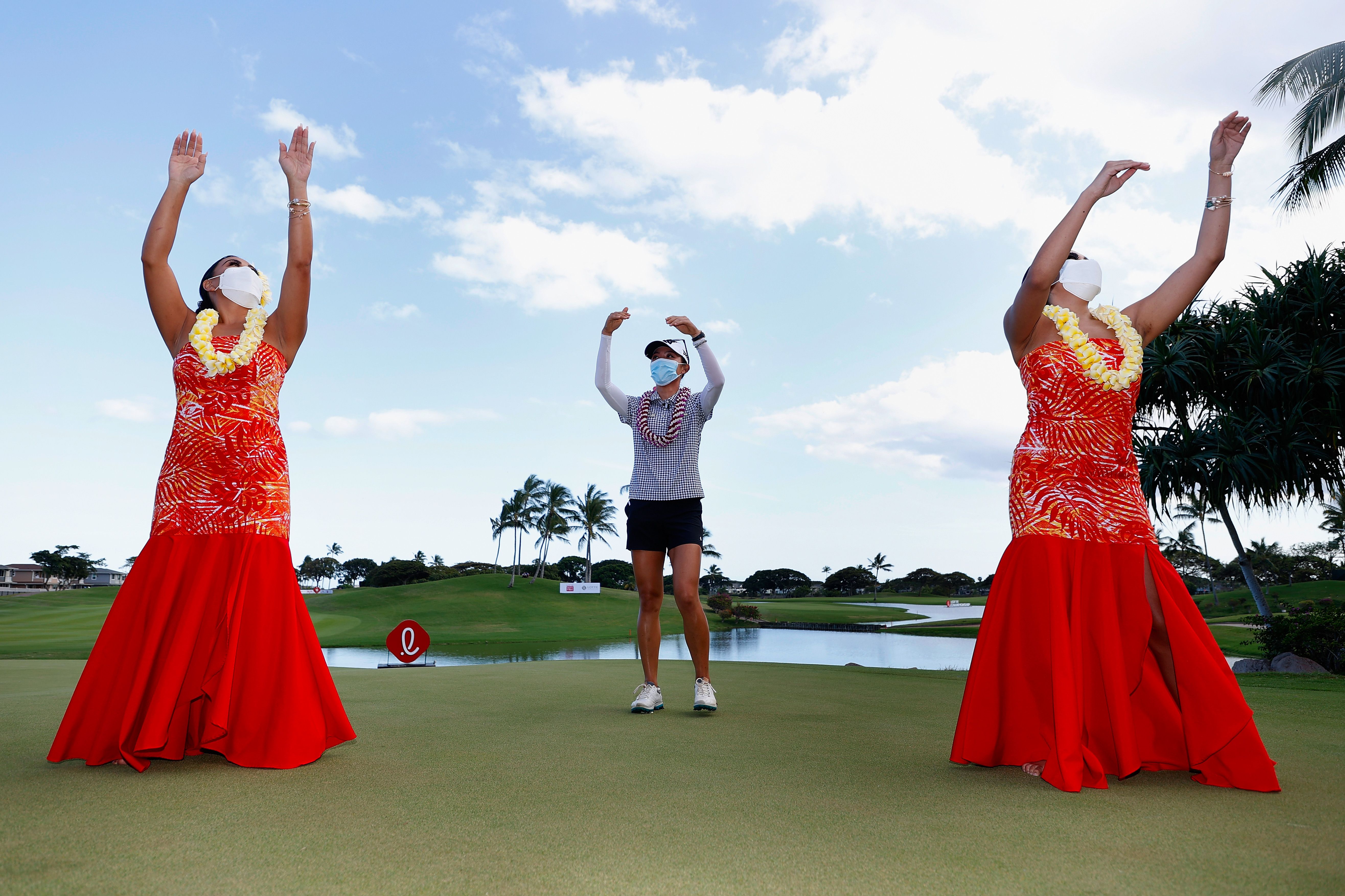 KAPOLEI, Hawaii — Lydia Ko danced the hula after torching the Kapolei Golf Club to win the Lotte Championship with a 28-under 260, seven shots ahead of everyone else.
The big picture: This was Ko's first win in three years, bringing back memories of the teenager from New Zealand who in 2015 became the youngest golfer — female or male — to rise to No. 1 in the world.
7. ⚡️ Lightning round
🏈 NFL win totals: Ahead of the NFL's first 17-game season, the Chiefs and Buccaneers have opened with the highest win totals at Caesars Sportsbook by William Hill. The Texans and Lions have the lowest.
🏟 47,218 fans: Alabama hosted 47,218 fans for its spring football game on Saturday — the biggest crowd for an American sporting event since the pandemic began.
🏀 Curry cookin': Steph Curry is averaging 39.1 points over his last 10 games, the most by any player over a 10-game span at age 33 or older. How will he fare against the red-hot 76ers tonight (7:30pm ET, ESPN)?
🎾 Cruising on clay: Stefanos Tsitsipas won the Monte Carlo Masters without dropping a set, beating Andrey Rublev 6-3, 6-3 on Sunday for his first title this year and sixth overall.
🏈 FCS playoffs: The 16-team field was unveiled Sunday. South Dakota State earned the top seed, followed by Sam Houston State, James Madison and Jacksonville State. See matchups.
🏀 Boeheim bonanza: Jimmy Boeheim is transferring from Cornell to Syracuse, where he'll play for his dad, Jim, and alongside his younger brother, Buddy.
8. 📆 April 19, 1897: First Boston Marathon
124 years ago today, John McDermott won the inaugural Boston Marathon with a time of 2:55:10 on the fourth annual Patriots' Day.
Why it matters: The Boston Marathon is the world's oldest annual marathon, held every year since 1897 (except 2020). After just 15 people ran the inaugural race, it now attracts over 30,000 participants each year.
In 1894, Massachusetts made April 19 a public holiday, commemorating the Battles of Lexington and Concord and the Battle of Menotomy, which launched the American Revolution.
In 1897, building off the success of the event the previous year at the first modern Olympics, the Boston Athletic Association hosted a marathon to celebrate the holiday.
The big picture: Since 1969, Patriots' Day has been the third Monday in April, and it's become synonymous in Boston with two events: the marathon and an early-morning Red Sox game.
As the long holiday weekend comes to a close, fans can flock to Fenway for the only 11am ET start on MLB's calendar, then walk the mile to Copley Square and catch the end of the marathon.
The marathon is postponed until October this year, but the Sox will still take the field against the White Sox this morning wearing special edition uniforms to honor the marathon.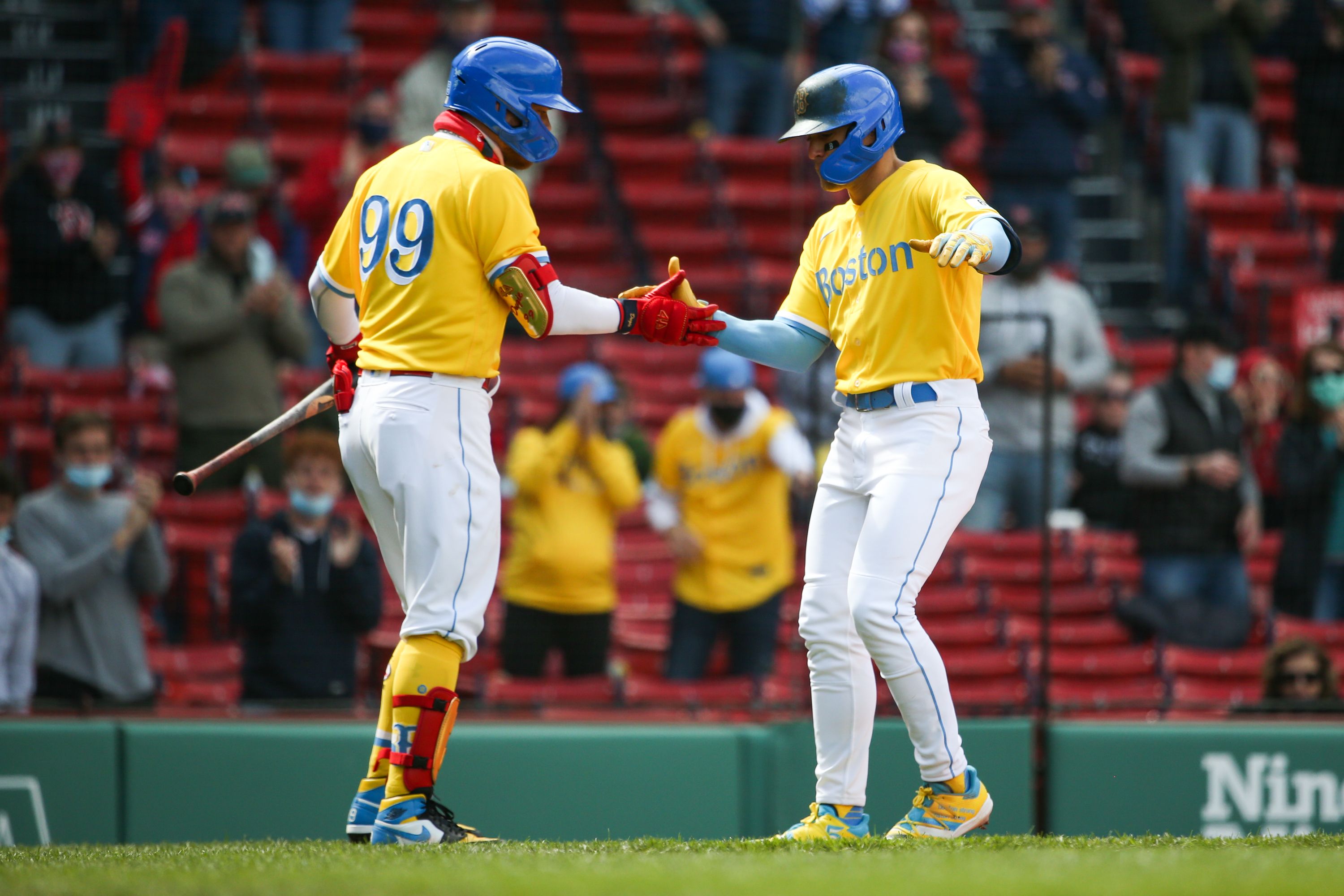 9. 🏈 NFL trivia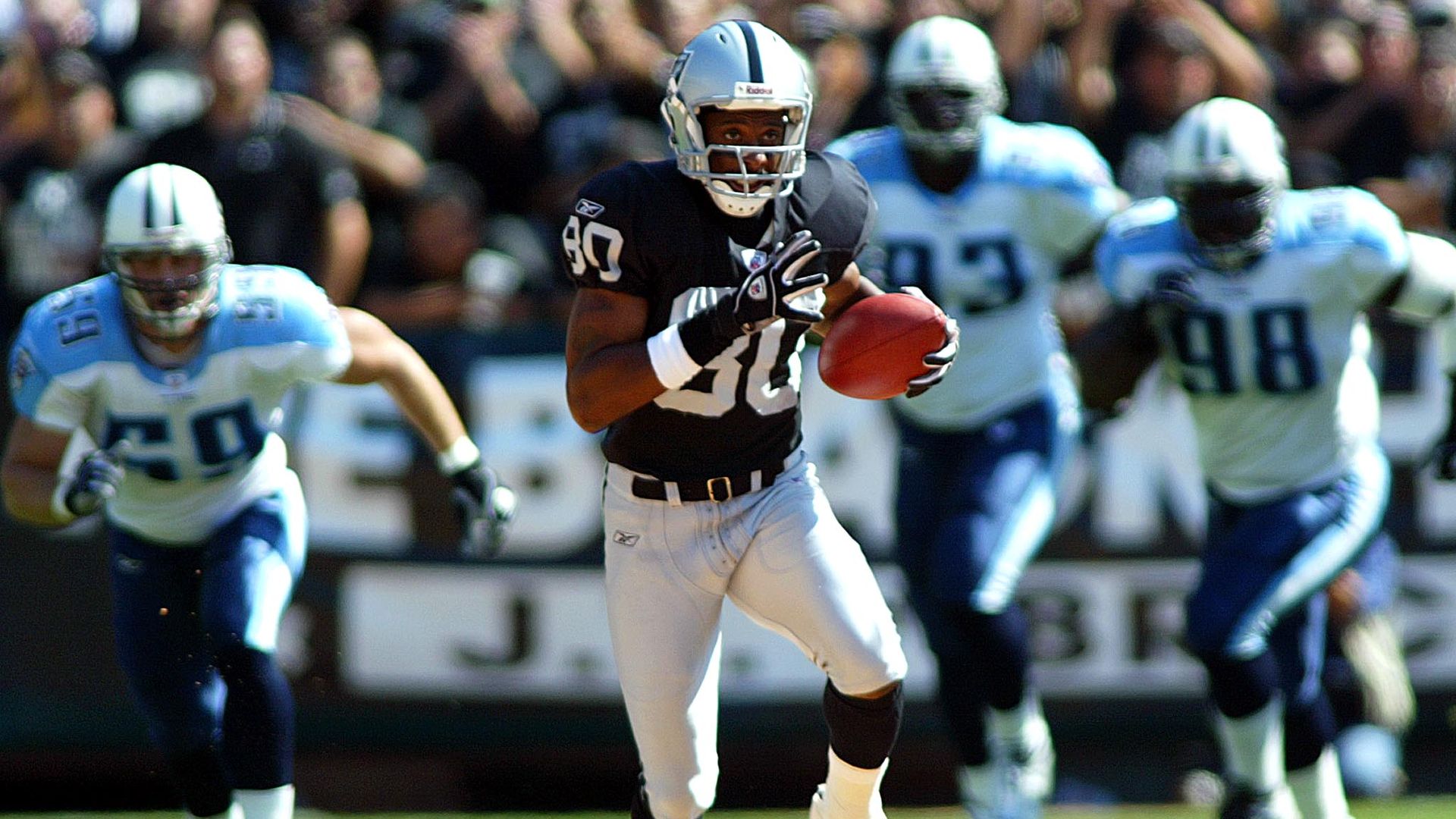 In NFL history, 187 passes have been caught by a receiver age 40 or older, and Jerry Rice was responsible for 185 of them.
Question: Which two players caught the other two?
Hint: They have a combined five career receptions.
Answer at the bottom.
10. 🎥 Weekend's top plays
There were so many incredible plays this weekend, I couldn't pick just 10. So here's the top 20.
Talk tomorrow,
Kendall "Now that's a full newsletter" Baker
Trivia answer: Tom Brady and Brett Favre