April 21, 2020
👋 Good morning! Let's sports.
Today's word count: 1,883 (7 minutes).
1 big thing: 📺 How networks are filling the void
Virtual competitions, re-runs of classic games and, most recently, sports documentaries are being used to fill a much-needed void for both TV networks and fans during the coronavirus pandemic, Axios' Sara Fischer and I write.
Yes, but: All the substitute programming in the world isn't going to make up for a loss of live sports. In the past 90 days, each of nine top cable sports networks has lost more than 25% of its audience as compared to January, per data from Samba TV.
Driving the news: ESPN's "The Last Dance," which chronicles Michael Jordan and the Chicago Bulls' 1998 championship run, averaged a record-breaking 6.1 million viewers on Sunday night, the network said Monday.
The previous high for a documentary premiere in the 30 for 30 era was "You Don't Know Bo," which drew 3.6 million viewers on Dec. 8, 2012.
Why it matters: The MJ doc brought families — and the sports world — together around a single event for the first time in months and the 10-part series gives ESPN a tentpole to build its programming around for the next five weeks (though Thursday's NFL draft will spawn plenty of coverage, too).
The big picture: Without live sports, networks have had to get creative to fill their airwaves. Some experiments have worked (CBS' Masters rewind drew 2.2 million viewers), some started off strong, but have since lost steam (virtual racing) and others have failed (ESPN's H.O.R.S.E. challenge drew just 686,000).
It's against this backdrop that documentaries have proven to be one of the most effective ways to engage fans, which explains the uptick in widespread digital releases and bumped-up release dates. And it's not just new docs.
"What we're seeing is that even our previously released documentaries are having a really strong second life upon re-release during this crisis," Ray Machuca, chief content officer of FloSports, tells Axios.
What to watch:
"Jump Shot: The Kenny Sailors Story," which spotlights the inventor of the jump shot and was executive produced by Stephen Curry, was released digitally on Friday.
"Bad Cut," FloSports' documentary about the dangers of extreme weight-cutting in combat sports, premieres on Friday.
"A Kid From Coney Island," which tells the story of Stephon Marbury and was executive produced by Rich Kleiman and Kevin Durant, was released digitally earlier this month.
2. 😷 Sports lost, by month
Only 53% of the major sports events originally scheduled for 2020 are likely to take place this year, according to new projections from sports marketing agency Two Circles.
By month: Here's the percentage of originally scheduled events that took place (January–March) or are projected to take place (April–December).
January: 4,006 of 4,006 (100%)
February: 3,626 of 3,739 (97%)
March: 1,870 of 5,584 (33.5%)
April: 49 of 4,726 (1%)
May: 55 of 3,420 (1.6%)
June: 55 of 2,959 (1.9%)
July: 120 of 3,545 (3.4%)
August: 276 of 3,555 (7.8%)
September: 5,467 of 4,255 (128.5%)
October: 5,090 of 5,957 (85.4%)
November: 2,735 of 4,188 (65.3%)
December: 3,077 of 3,870 (79.5%)
3. 🛒 Sporting goods stores during a pandemic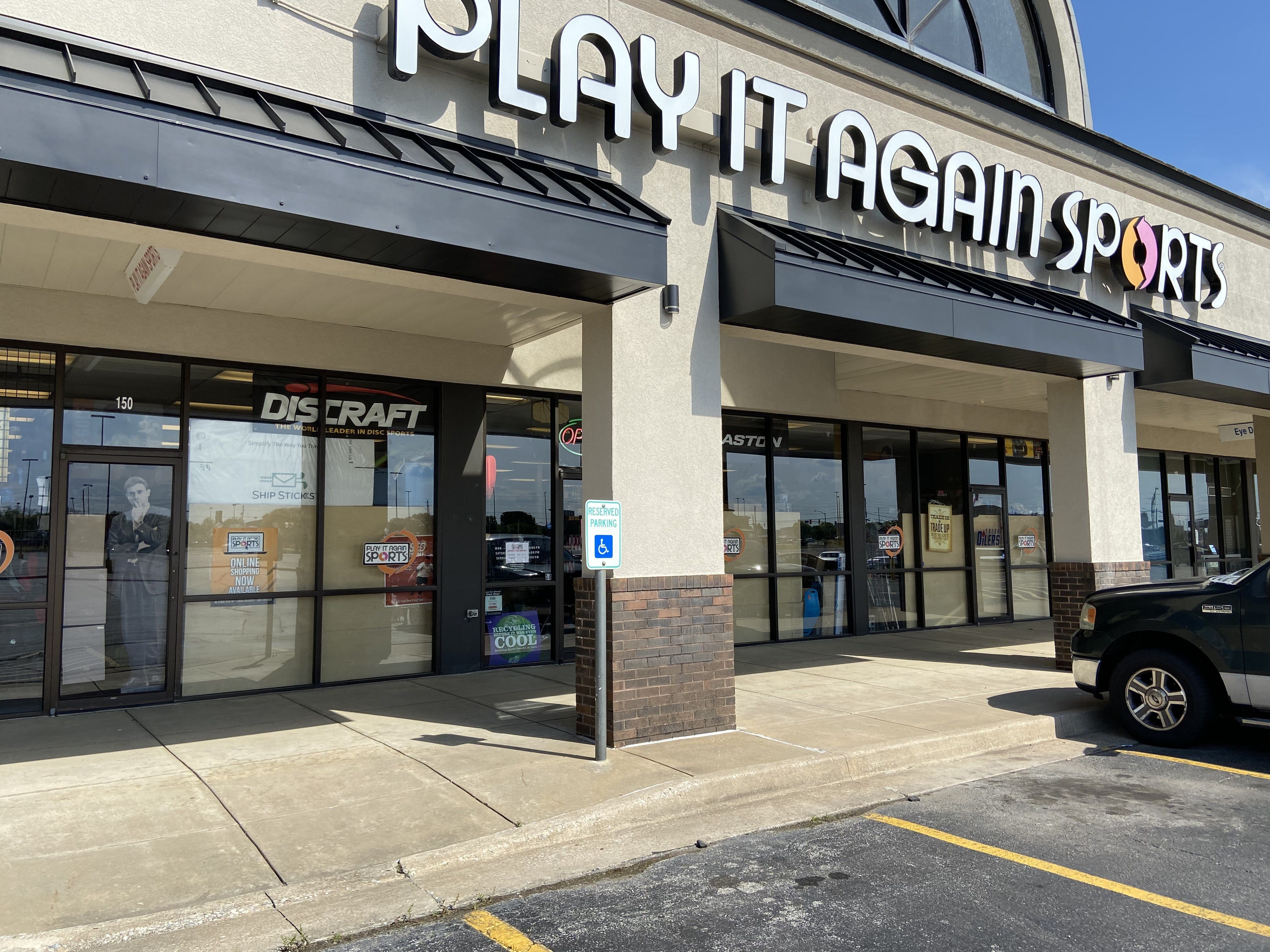 Even with organized sports on hiatus, plenty of sports-related businesses have soldiered on, hoping to weather the storm and come out the other side of this pandemic relatively unscathed, writes Axios' Jeff Tracy.
The state of play: "We have hundreds of mom and pop stores [selling on our platform], so we've been trying to support them and put their stories front and center," Brendan Candon, CEO of online marketplace SidelineSwap, tells Axios.
"They're appreciating that, but at the same time, people just aren't shopping much right now, online or in-store. Basically, exactly what you imagine is happening in this industry right now is what we're seeing."
What they're saying: I spoke with Wendi Bowman, general manager of the Tulsa branch of Play It Again Sports — a retailer with over 300 franchises nationwide. She spoke with me from her store, which is still open thanks to Oklahoma's laws regarding essential businesses.
Jeff: Have you noticed any changes in what's selling right now?
"Well, our disc golf courses are still open ... so we've been selling a couple hundred dollars a day in discs. If I could get more weights in, I'd make a fortune. I got a bench delivered last night, and it was sold before I got in this morning."
Jeff: How do you feel about the business going forward?
"I'm hopeful. We got approved for our SBA loan this week, our vendors have been receptive to payment plans, our landlord forgave April rent ... I think we're gonna be okay. "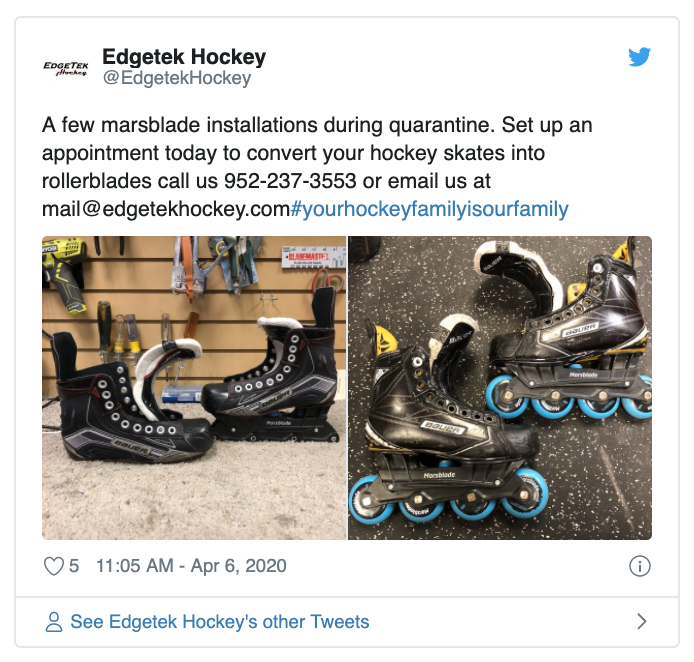 Next up was Eli Golder, owner of EdgeTek Hockey — a small hockey shop outside Minneapolis, with a second location ready to go as soon as this crisis abates.
Jeff: What's business been like since everything shut down?
"Normally, we do $20,000-$30,000 a month, mostly in store. But right now, SidelineSwap is our main source of income, and that's been slow because people don't want to spend money."
Jeff: How have you had to adjust to this new normal?
"The only sports stores here in Minnesota that are considered essential are the ones that sell bikes. So if you sell bikes, you kinda lucked out. ...We've found some ways to work around it by opening by appointment only. We'll repair your skates ... convert them into rollerblades ... things like that."
4. 🏀 Draymond: KD was "elephant in the room"
"It definitely hits close to home," said Draymond Green while discussing the first two episodes of "The Last Dance" on Uninterrupted's "WRTS: After Party" show last night.
"I'm watching this, and it looked like you switched the head on some of the bodies, and you just switch the jersey. It's the same s--t over again," he said.
Driving the news: Green did make one glaring distinction between the two teams: Kevin Durant and his expiring contract. While the 1997-98 Bulls were at least on the same page — this was going to be their final year together, "The Last Dance" — KD never made a public decision, leaving the 2018-19 Warriors in limbo.
"You can't just leave the elephant in the room, because what happened was the question came to us every day, like every time we spoke to the media. ... And then you kind of had Kevin, [saying] like, 'I don't know what I'm going to do next year, and it don't matter.' But it does matter, because you're not the only person that has to answer that question.
"And due to that, there was always an elephant in the room amongst us, as opposed to with [the Bulls], they didn't have that elephant. [GM Jerry Krause] had said it was Phil's last year. Phil had told them this was the last dance. Mike already said, 'Well, if Phil ain't coming back next year, I'm not either.' So everybody knew it was Mike's last year.
"They didn't have that elephant. Whereas I think we had a huge elephant sitting in the room, and Steve [Kerr] was trying to address it as best as he could, but it was kind of out of his hands."
📚 Go deeper: "The Victory Machine: The Making and Unmaking of the Warriors Dynasty"
5. ⚾️ A quick tutorial on the CPBL
Jeff writes: Taiwan's Chinese Professional Baseball League is one of the only leagues in the world currently operating, so it's probably time we learn a little bit about the CPBL.
Background: Baseball gained popularity in Taiwan in the 1970s and 1980s, when their little league teams won 13 LLWS titles between 1969-1988 and their national team medaled in the now-defunct Intercontinental Cup.
In 1984, hotel magnate Hung Teng-Sheng formed an amateur team in the hopes of turning pro by the end of the decade.
By 1989, he'd lobbied enough businesses to join him in forming their own teams that the league was able to launch its inaugural season in 1990.
Between the lines: Today, the league consists of five teams, all owned by large corporations, including three of the original clubs from 1990.
The season is split in two, 60-game halves, and concludes with a best-of-seven championship called the "Taiwan Series."
The Uni-President 7-Eleven Lions have the most championships (9), with the CTBC Brothers right behind them (7).
The state of play: The 2020 season is six games old, with the Rakuten Monkeys pacing the field so far with a 5-0 record. Maybe it's the robot fans.
The big picture: The CPBL's status as an active league underscores the much larger political tension that has long simmered between Taiwan and China.
"For Beijing, Taiwan's successful pandemic response poses dual challenges, undercutting the Communist Party's claims to superiority over liberal democracies, and bolstering a sense of local identity among the many Taiwanese who object to China's efforts to isolate and assimilate the island."
— Chun Han Wong,
WSJ
What's next: The Korean Baseball Organization, which is regarded as having a higher level of play than the CPBL, is targeting May 1 for Opening Day.
Go deeper:
6. April 21, 2012: ⚾️ Philip's perfecto
Eight years ago today, White Sox pitcher Philip Humber threw a perfect game in a 4-0 win over the Mariners.
Why it matters: It's one of just 23 perfect games in MLB history, making it one of the rarest feats in all of sports.
By the numbers: 22 of those 23 perfectos have been thrown by a variety of Hall of Famers, über-successful journeymen, or one-hit wonders having a career year (coughDallasBradencough).
But Humber started just 51 career games, compiling an underwhelming 16-23 record with a 5.31 ERA.
His only above-average season came in 2011 (9-9, 3.75 ERA, 163 IP), and in 2012, aside from the perfect game, he completed seven innings just once.
Craziest stat of all? 142 pitchers threw at least 100 innings in 2012, and among them, Humber's 6.44 ERA came in dead last.
The big picture: There have been 303 no-hitters in MLB history, but just 23 of them were perfect games. Somehow, the three most recent ones all happened between April and August of 2012 (Humber, Matt Cain, Felix Hernandez), and this one was thrown by the unlikeliest of pitchers imaginable.
The bottom line: In a game where even the best players fail ~60% of the time, it only makes sense that a below-average starter, just 17 months shy of throwing his final big league pitch, can for one glorious day be nothing short of perfect.
🎥 Watch: All 27 outs of Humber's perfecto
7. 📊 By the numbers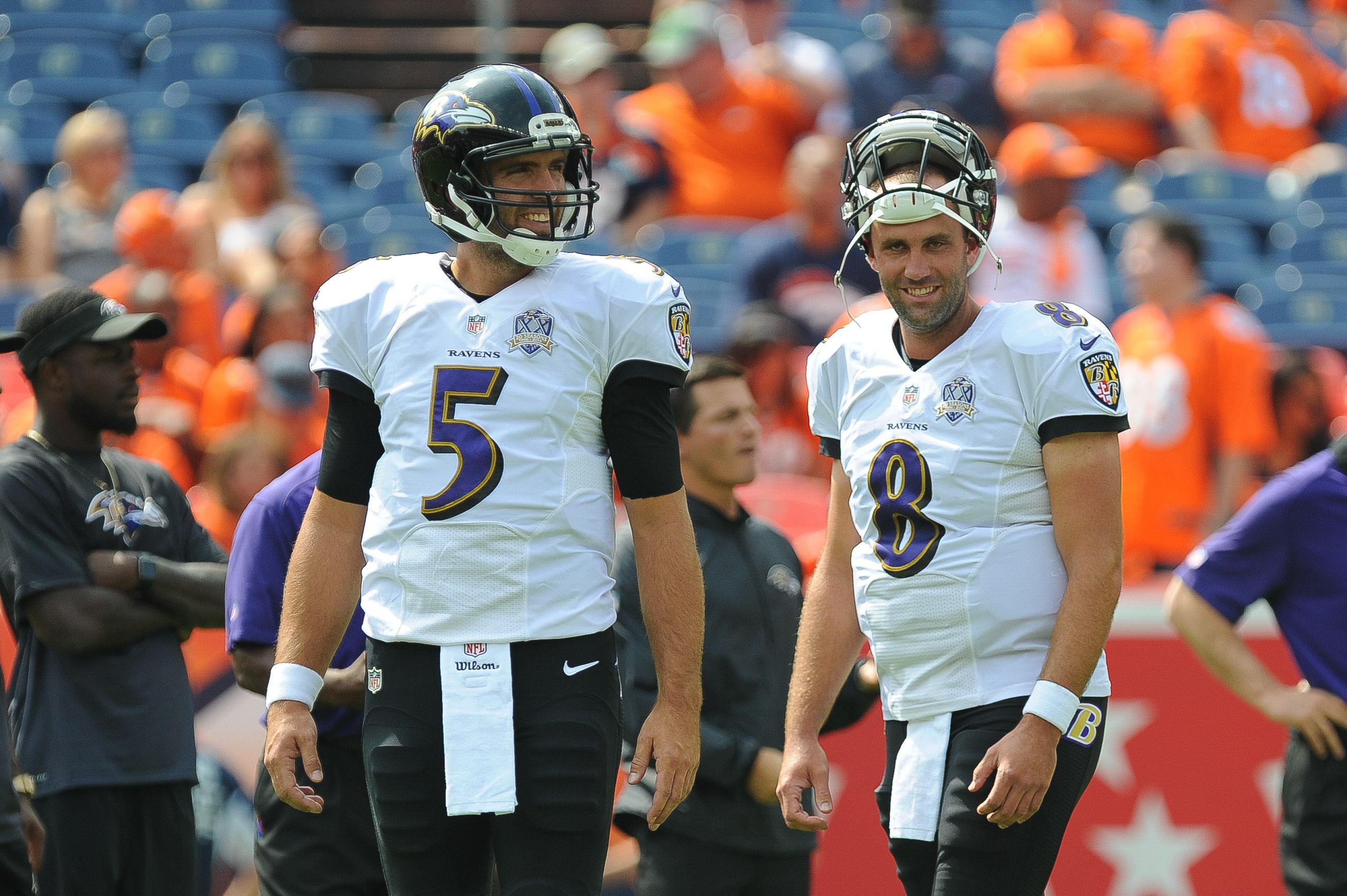 🏈 6-foot-5: Since 2000, 23 quarterbacks have measured taller than 6-foot-5 at the combine, but just three — Joe Flacco, Matt Schaub and Josh Freeman — went on to start more than 50 games. Can NFL QBs really be too tall?
⚾️ 0.87 games per day: That's how many MLB teams averaged last year. Based on that rate and the previously scheduled regular-season end date of Sept. 27, an opening day of June 1 would mean teams play 103 games and a July 1 start date would mean just 77 games played.
🏀 Zero one-and-dones: Villanova is the only program to have eight or more players currently in the NBA without a single one-and-done, and with freshman forward Jeremiah Robinson-Earl pulling out of the draft last week, the nearly 25-year streak continues.
8. The Ocho: 🏋️‍♂️ Gym made of wood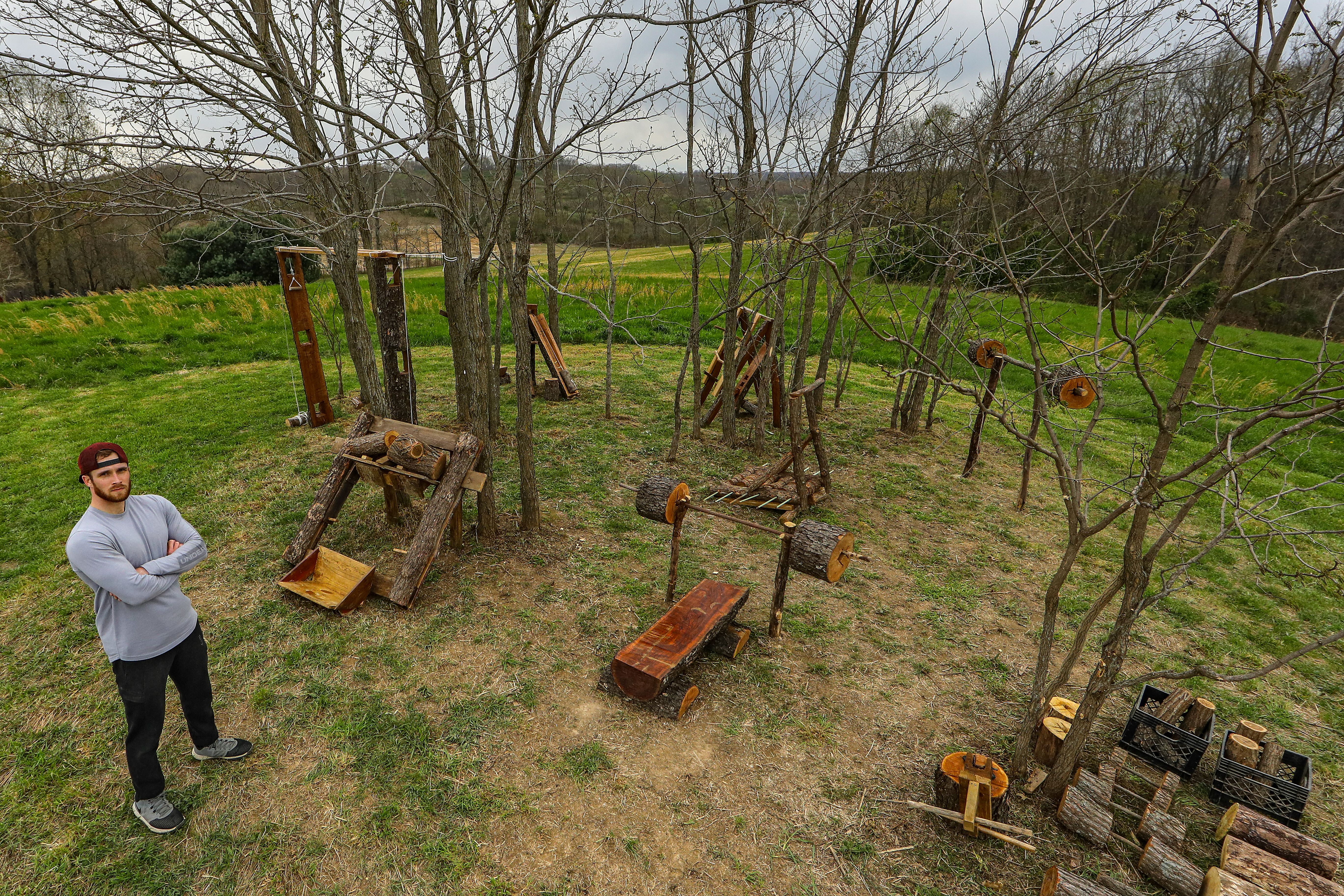 Zach Skidmore, a part-time personal trainer in Jackson, Ohio, constructed the "Lumber-Jacked Gym" in his backyard entirely out of timber.
The seven-station setup includes a cable fly machine, bench press, treadmill and leg press.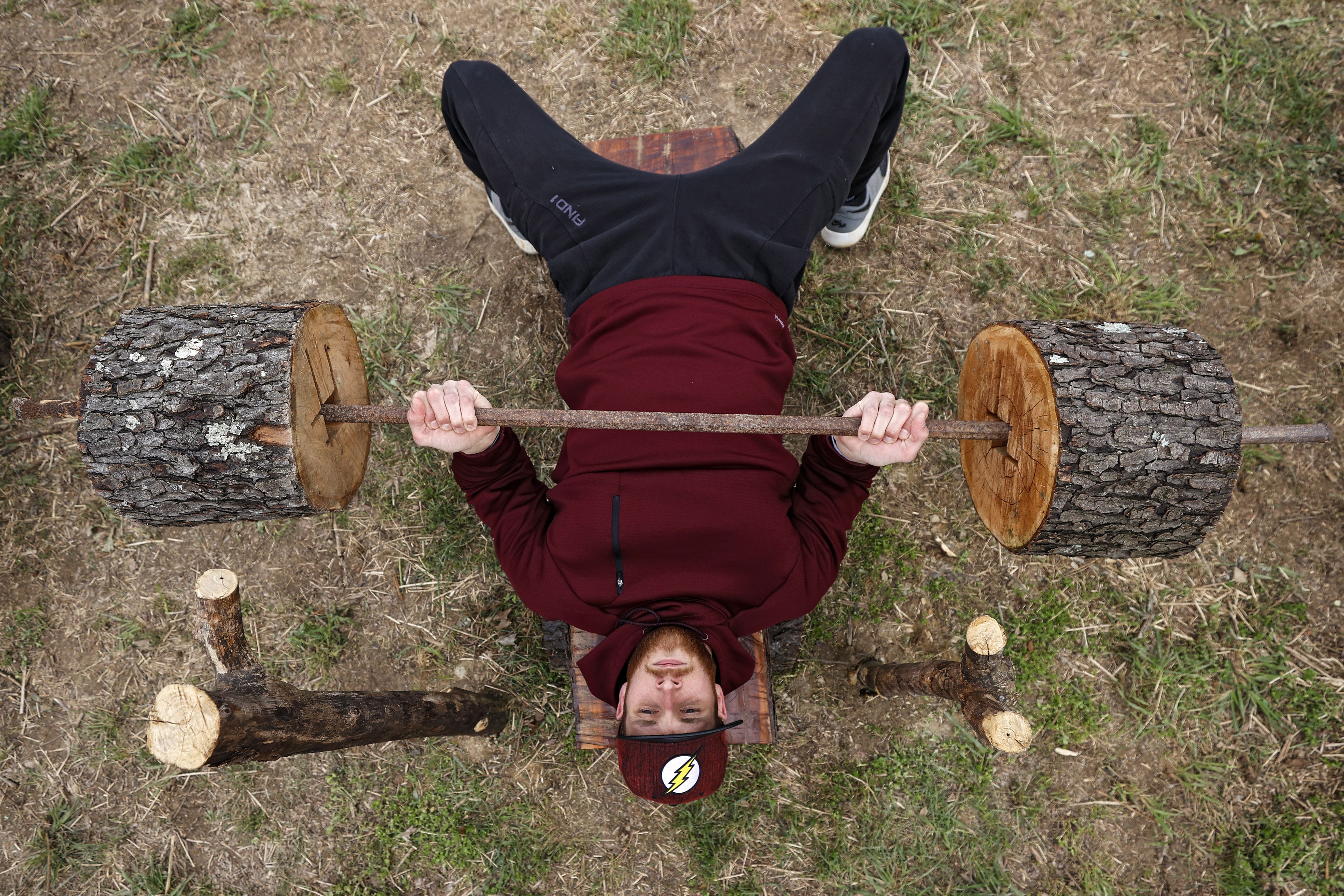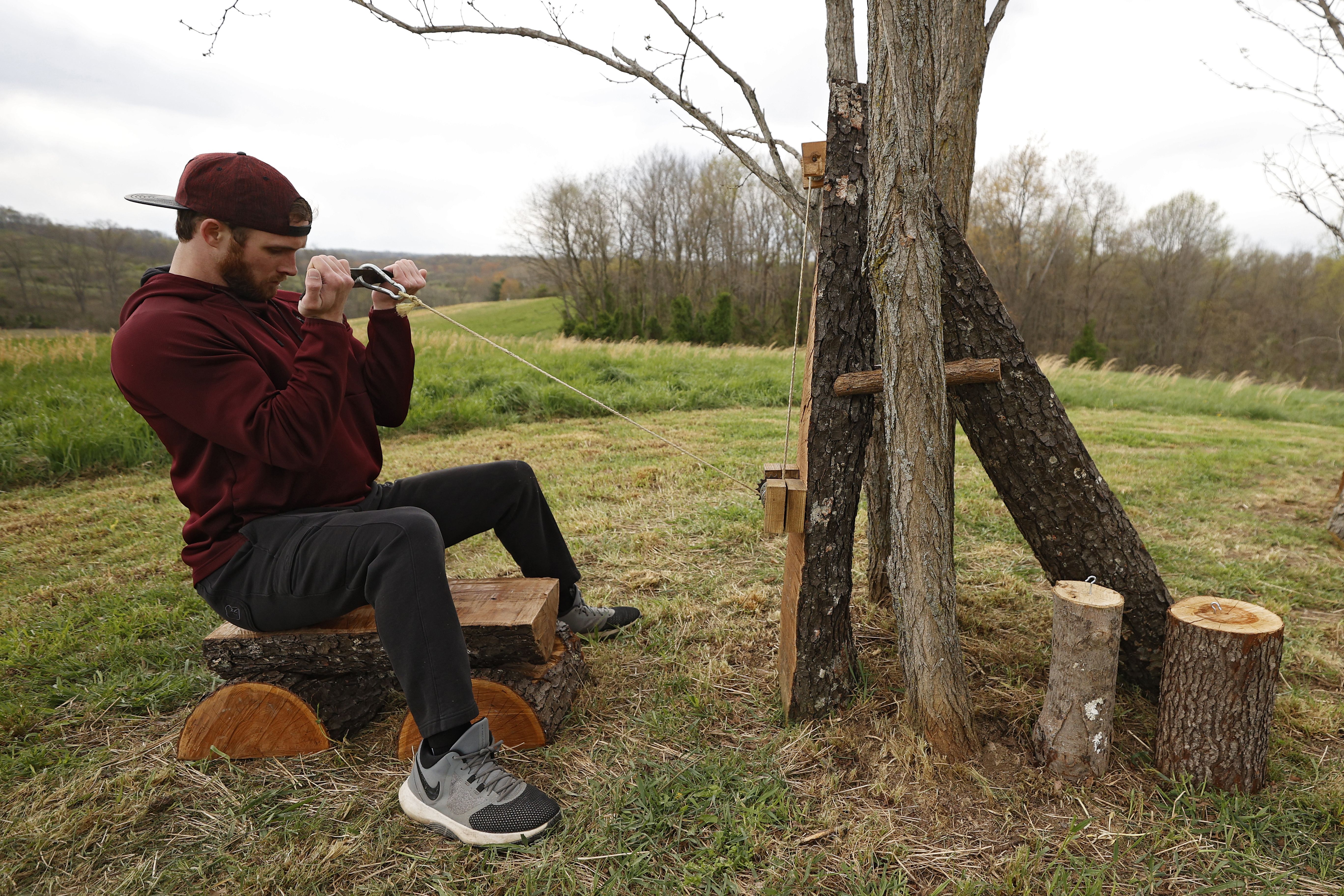 9. 🏈 NFL draft trivia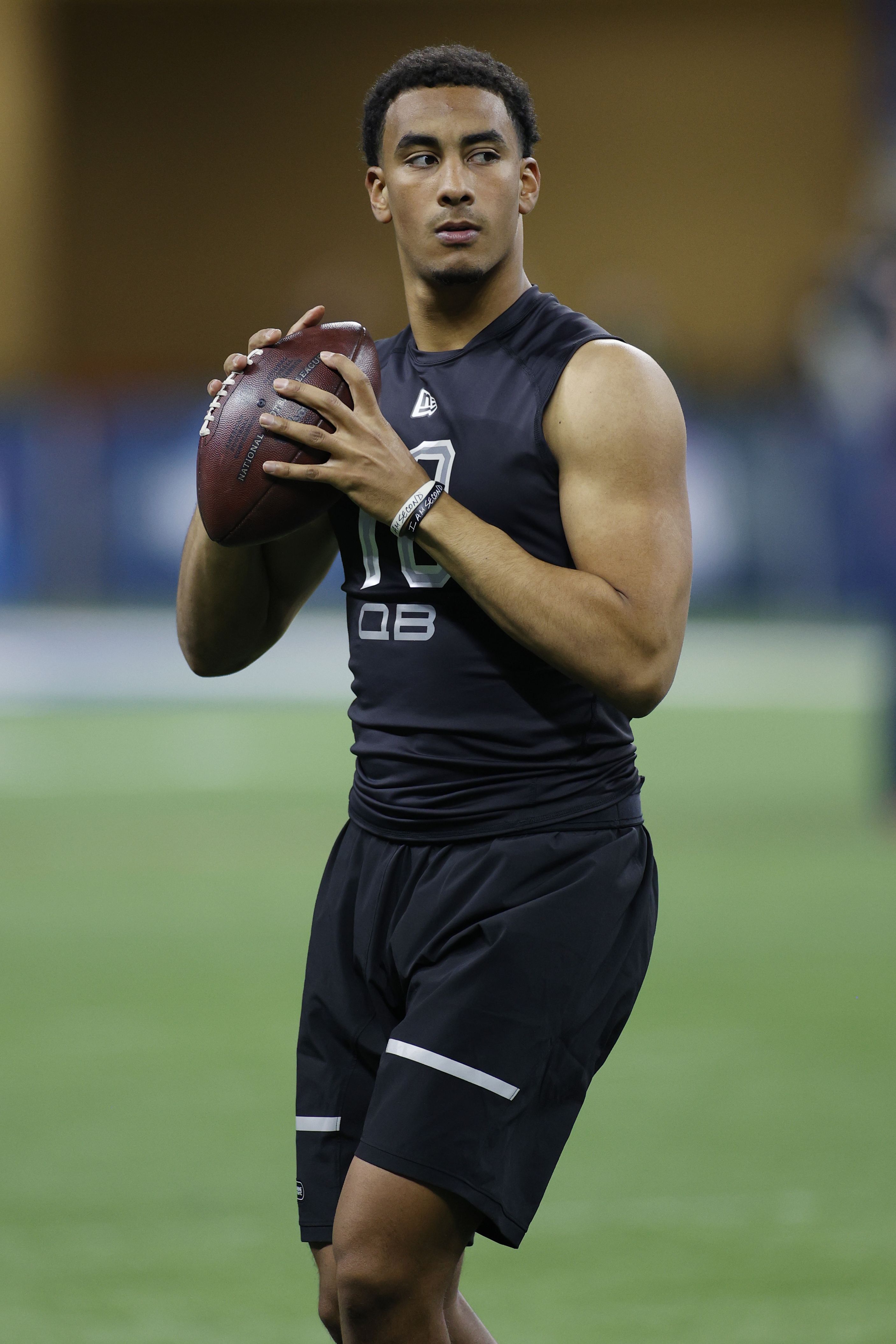 Utah State QB Jordan Love (who is 6-foot-4) could go in the first round of the NFL draft after leading FBS with 17 passes intercepted in 2019.
Question: Who is the only player in the common draft era (since 1967) to lead FBS in passes intercepted in his final season and get drafted in the first round?
Hint: NFL MVP in 1984.
Answer at the bottom.
10. ❤️ Why we love sports
Kevin Mills (born in Bogotá, Colombia) writes:
"My fondest sports memory is probably one of my first ever memories in general. It was June 1990 and I was only seven years old. Colombia had qualified for their first World Cup in 28 years, which felt like forever in a country obsessed with soccer.
"On that June afternoon, Colombia faced off against Germany (the eventual world champions) in the last game of the group stage in Milan, Italy. We needed only a tie against a mighty German team to qualify to the knockout stage.
"As the 85th minute came and went with the score tied at zero, all of Colombia could feel the feat materialize. Germany had already qualified, and with just five minutes to go, they would surely let their foot off the gas.
"But in the 88th minute, Germany scored. I remember running to my room and breaking down in tears as I punched my pillow. There's something about the pain of sports defeat that's different at that age. It felt like the end of the world.
"A couple minutes later, I returned to watch the last minutes of the game. I had no hope. Two minutes of stoppage time were given, and as the clock struck the 92nd minute, it was time for my beloved Colombian national team to say goodbye.
"But then ... in the game's final seconds, with their last gasp of breath, Colombia gained possession some 90 yards away from Germany's goal. What happened next was pure magic. You don't need to understand Spanish to enjoy the narration. Pure elation is a universal language.
"I ran to the kitchen straight to my mother's arms. I cried just as much as I had five minutes ago, but this time they were tears of joy. Man, what a great memory."
✍️ Submit your story: Do you have a fondest sports memory? Or an example of sports having a positive impact on your life? If you'd like to share, simply reply to this email. We'll be telling your stories all month.