Axios Sports
January 22, 2020
👋 Good morning! Zion Williamson makes his NBA debut for the Pelicans tonight against the Spurs (9:30pm ET, ESPN), so we're giving away his jersey! Enter at the bottom.
🎾 Meanwhile, in Australia: Coco Gauff rallied from a set down to win her match and set up a must-see meeting with Naomi Osaka, while Serena Williams, Madison Keys and Roger Federer all took care of business overnight.
Today's word count: 1,442 words (5 minutes)
1 big thing: 📺 Engagement isn't viewership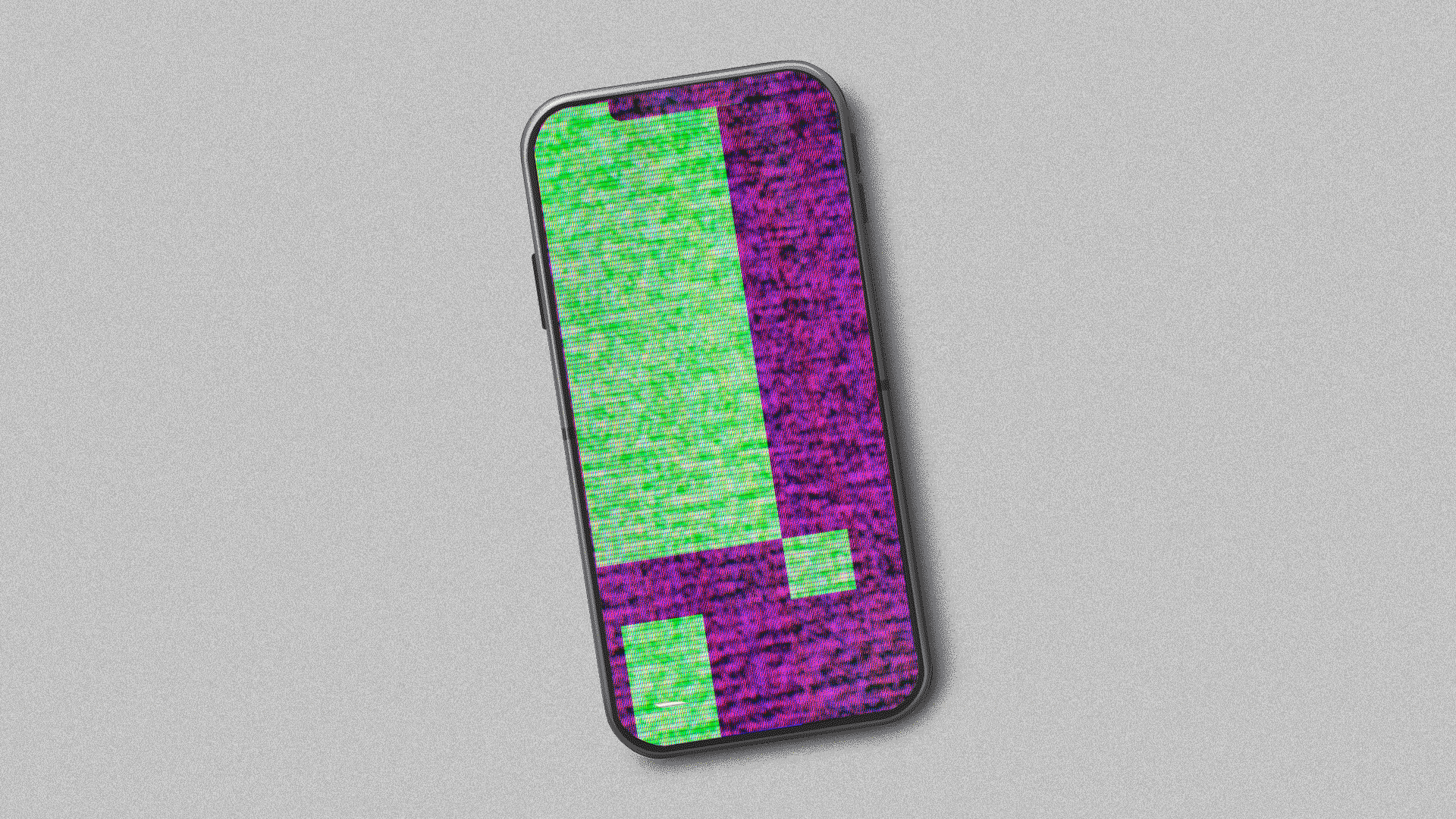 The NBA has embraced social media as a way to drive fan engagement, and it's working. Problem is, "engagement" isn't "viewership," and what plays well on social media doesn't necessarily make fans want to tune in to the games.
Driving the news: In the two months since we were first made aware of the NBA's declining TV ratings, all kinds of theories have been posed to explain the dip.
The most logical explanation is that traditional viewership is no longer a good proxy for measuring a league's popularity because TV ratings don't account for cord-cutters or the large swath of younger fans who follow the NBA mostly through YouTube, Twitter, etc.
In other words, interest in the NBA may be high even with sagging TV ratings if engagement on other platforms makes up for it.
Yes, but: With Reddit activity also on the decline, it seems something much larger could be at play here.
Between the lines: What happens on social media — which tends to be more off-court drama than, say, on-court analysis — is now setting the conversation for everything else, seeping into TV broadcasts and driving day-to-day coverage.
"The resulting supply chain is one that promotes the NBA as a place of peripheral drama, but not a place where winning ultimately matters much," writes The Athletic's Ethan Strauss (subscription).
"It used to be said that Twitter made the NBA a year-round sport. It now seems like Twitter has made it a year-round celebrity watch."
By the numbers: Earlier this month, one Twitter user analyzed posts from ESPN and Bleacher Report accounts to determine what they were promoting.
Khris Middleton and Rudy Gobert (both potential All-Stars) had been the subject of zero posts regarding their play, while one of the most frequently promoted players was Carmelo Anthony, whose journey back to the NBA was basically a months-long reality show.
The big picture: An entire generation has grown up watching highlights instead of the actual games, with many of them following players' exploits on Instagram more closely than their accomplishments on the court.
Convincing those fans to watch more games has become the NBA's central challenge, as it tries to balance online engagement, which can't be directly monetized, with actual viewership, which is the league's financial lifeblood.
Note: ESPN and Turner are paying $24 billion over nine years for broadcast rights.
The bottom line: This isn't just an NBA problem. As fandom continues to shift from "full games and box scores" toward "highlights and IG Stories," the relationship between leagues, media partners and social platforms is bound to evolve.
In the meantime, look for leagues to continue experimenting with digital partners on new ways to reach and monetize fans, while investing in new sectors like sports betting as they prepare for the future of sports consumption.
2. 🏈 Pre-Senior Bowl NFL mock draft
At this point in the pre-draft process, the evaluation of college players is roughly 75% complete based on in-season scouting and film study. Here's a mock draft to give you a sense of where things stand as we inch closer to April 25.
The backdrop: The Senior Bowl takes place this Saturday, which means scouts will be busy all week evaluating guys like Oregon QB Justin Herbert, who is hoping a strong performance will help him in the same way it helped Carson Wentz.
P.S. ... Speaking of the draft, things are going to get weird in Vegas this year, where the red carpet will be .... in the Bellagio Hotel fountain.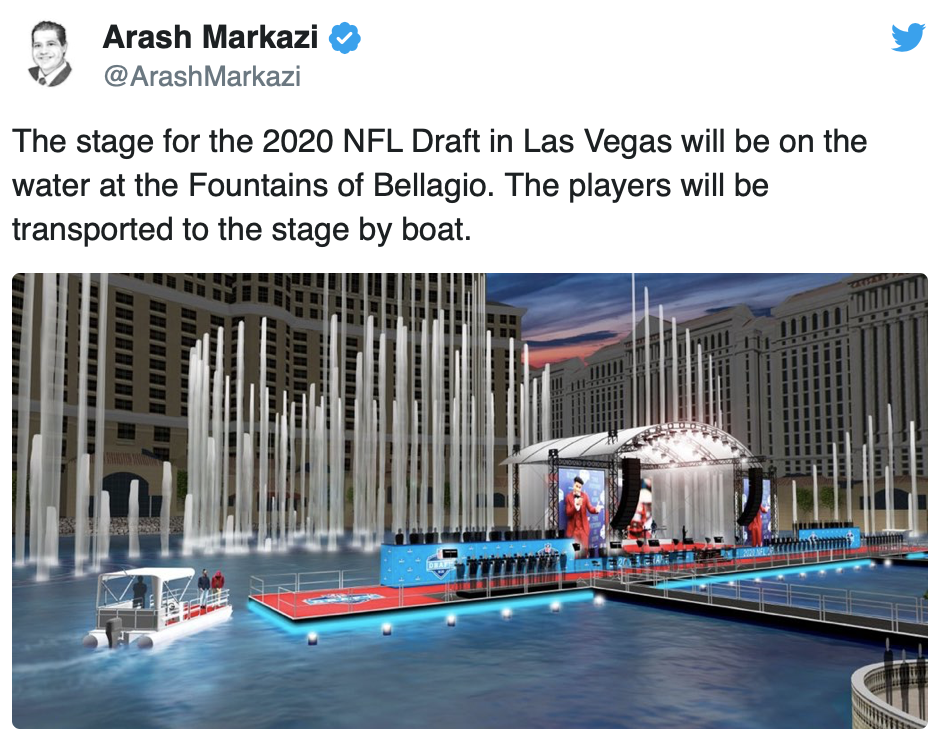 3. ⚾️ Jeter, Walker elected to Baseball Hall of Fame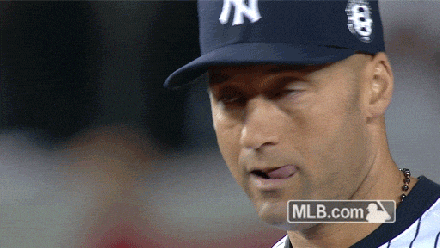 Derek Jeter came one vote short of being the second-ever unanimous pick for the Baseball Hall of Fame last night, while Rockies legend Larry Walker also earned baseball's highest honor (and celebrated in a SpongeBob SquarePants shirt).
Jeter appeared on 396 of 397 ballots cast by the Baseball Writers' Association of America, falling just shy of the standard set last year by his longtime teammate Mariano Rivera. With 99.7% of the vote, Jeter moved past Ken Griffey Jr. (99.3%) for the second highest vote count.
Walker got 304 votes, six above the 75% needed and up from 54.6% last year. His 22% jump is the highest among the seven players to get into the Hall in their final year of eligibility, per ESPN.
More results:
Curt Schilling was third with 278 votes (70%) in his eighth year on the ballot, an increase from 60.9% but still 20 votes shy.
Roger Clemens (59.5% to 61%) and Barry Bonds (59.1% to 60.7%) barely saw an uptick. With two more years each on the ballot, this will likely come down to 2022, when they'll be joined by Alex Rodriguez and David Ortiz.
Omar Vizquel (42.8% to 52.6%) and Scott Rolen (17.2% to 35.3%) made big jumps.
Go deeper:
4. 📸 Last night in photos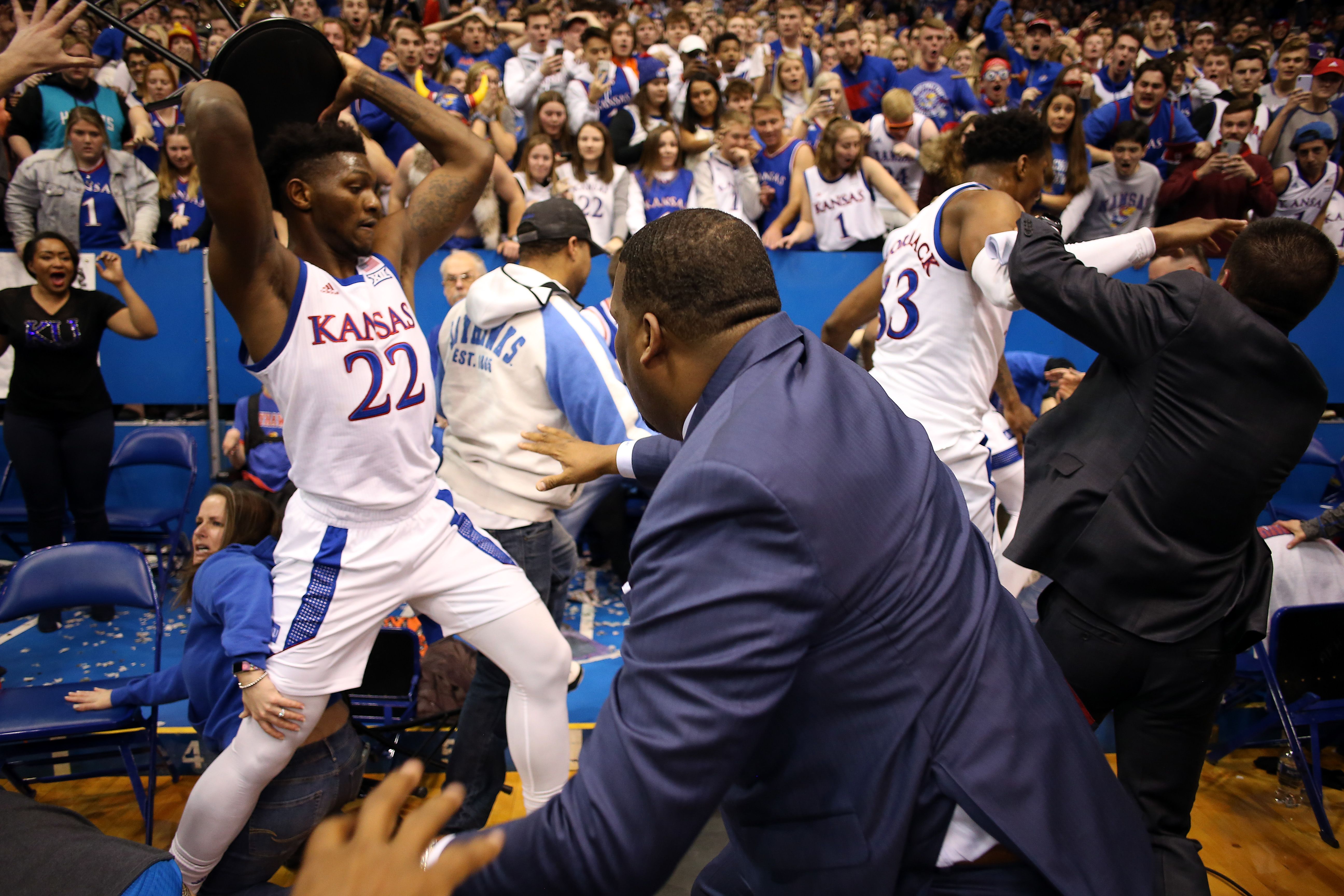 LAWRENCE, Kan. — A massive bench-clearing brawl erupted at the end of the rivalry game between Kansas and Kansas State (video). There were punches thrown, and at one point, Jayhawks big man Silvio De Sousa picked up a stool. Expect big punishments and suspensions to follow.
What they're saying: "The 40 years I'm on TV, I haven't seen anything like that," said ESPN's Dick Vitale. "There's no doubt in my mind that De Sousa never, ever should put a uniform on in college basketball again. He's holding a chair. I mean, that's criminal! He's going to hurt somebody!"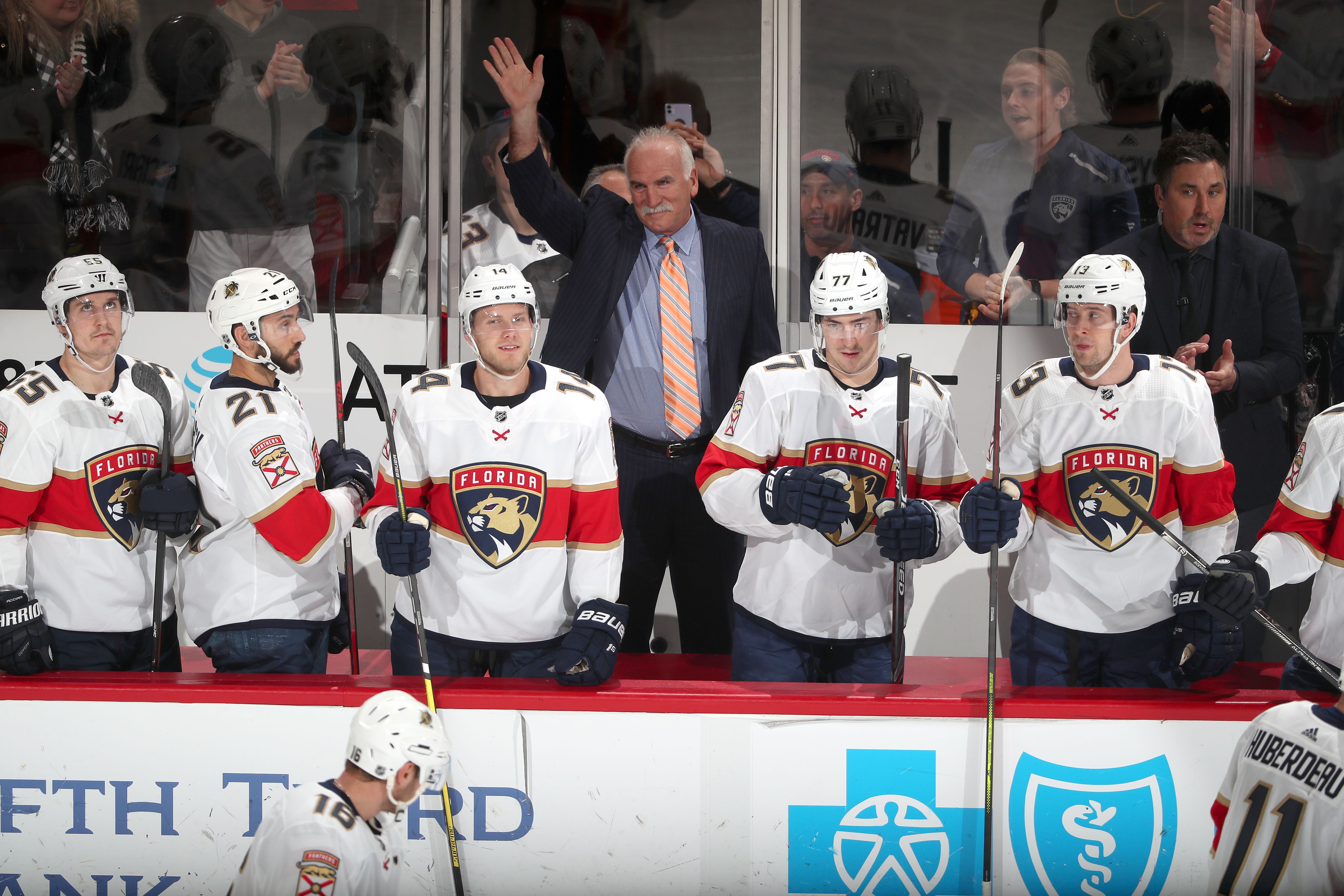 CHICAGO — The Panthers got coach Joel Quenneville a win in his return to Chicago, using a hat trick by Frank Vatrano to beat the Blackhawks 4-3 for their NHL-best sixth straight victory.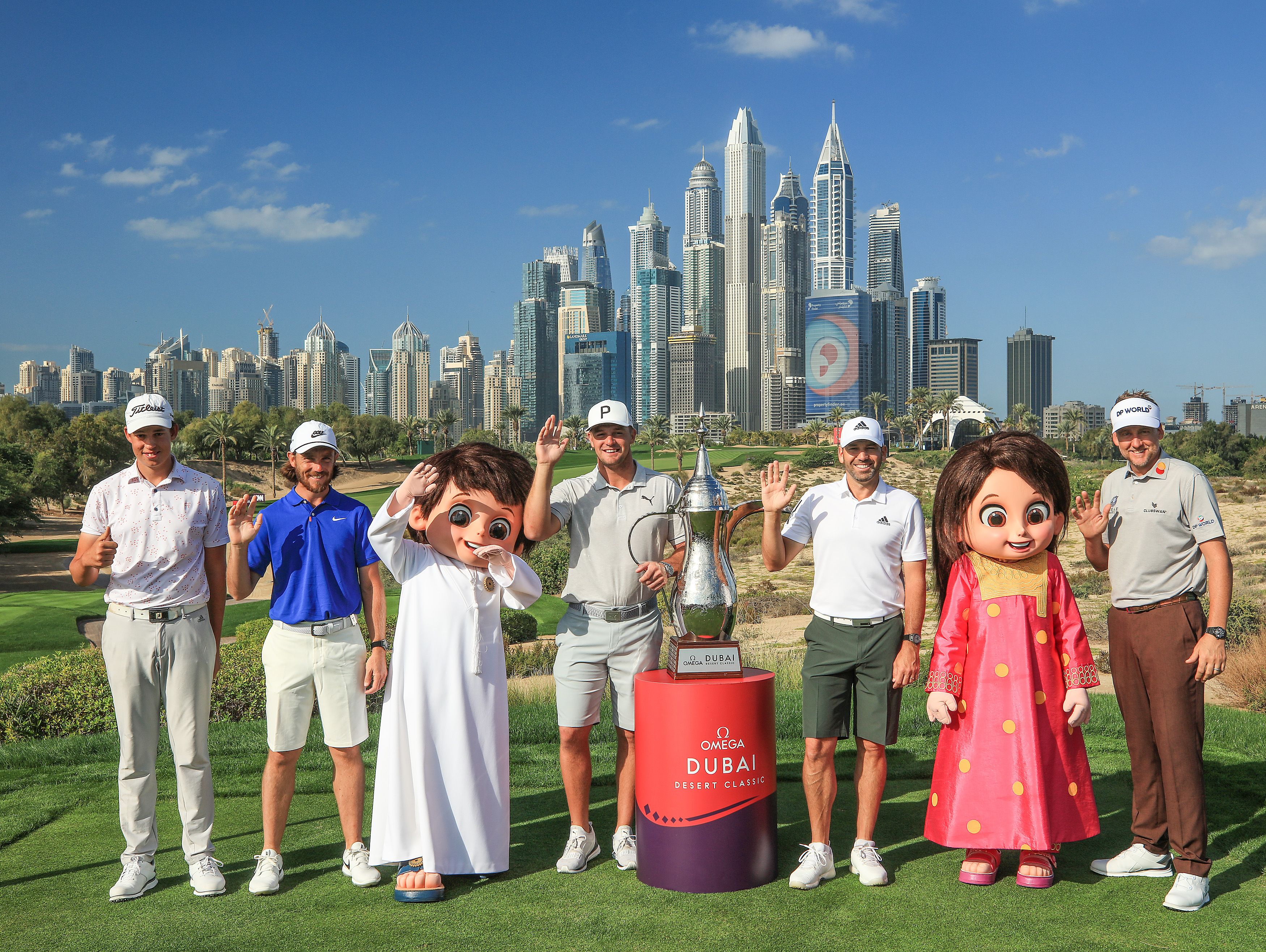 DUBAI, United Arab Emirates — With the Dubai Desert Classic set to begin tomorrow, Bryson DeChambeau, Sergio Garcia and others posed with "Latifa" and "Rashid," two of the main mascots for the upcoming World Expo 2020 in Dubai. (Note: If you have mascot nightmares the rest of the week, I'm truly sorry.)
5. 🏀 Profile: Mark Cuban, 20 years in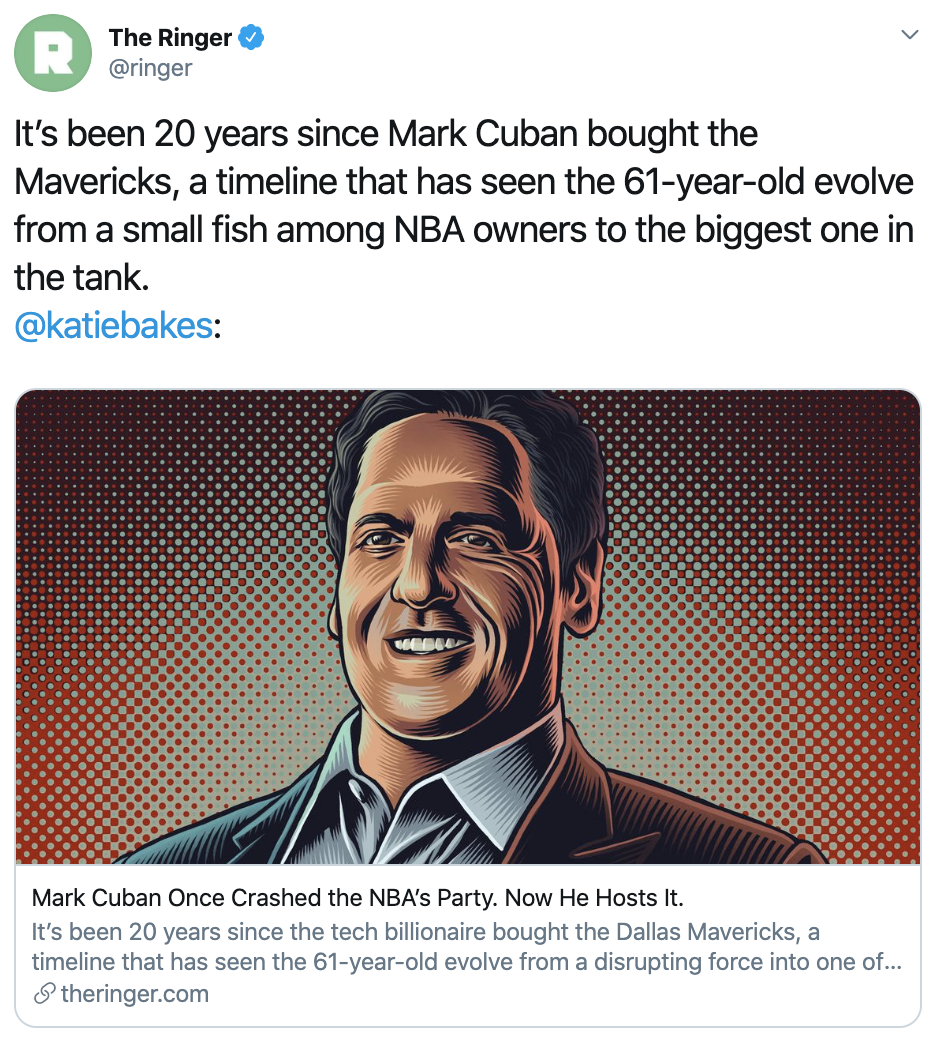 "It's been 20 years since Mark Cuban bought the Mavericks, a timeline that has seen the 61-year-old evolve from a small fish among NBA owners to the biggest one in the tank," The Ringer's Katie Baker writes:
"Luka Doncic hadn't been born yet when Mark Cuban's online streaming company, Broadcast.com, made its initial public offering in July 1998. ... And Doncic was only an infant in April 1999, when Cuban sold that same business to Yahoo for $5.7 billion in stock and pretty much top-ticked the dot-com market."
"So when I ask the 20-year-old Doncic whether he remembers how he first heard about Cuban ... it makes sense that the young Slovenian point guard's answer is at best tangential to Cuban's '90s tech trajectory and even to the NBA. 'Probably because of Shark Tank,' Doncic says. To the future of the franchise, the origins of ownership may as well be ancient history."
6. 📊 By the numbers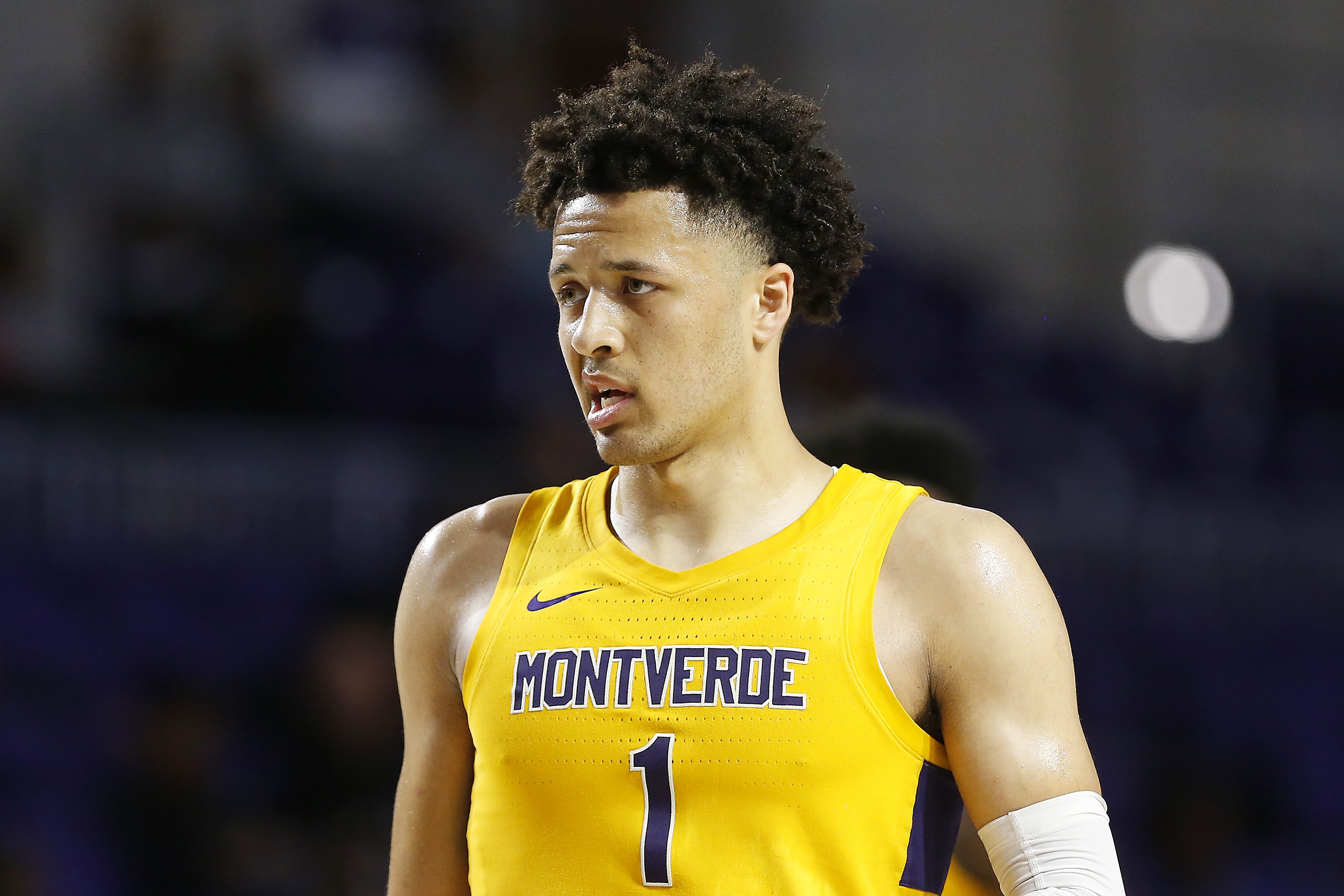 🏀 5 five-stars
Montverde Academy, the Florida prep powerhouse with an alumni list that includes Joel Embiid, Ben Simmons and D'Angelo Russell, might have the best high school roster of all time this season. Led by Cade Cunningham, the projected No. 1 pick in the 2021 NBA draft, the team has 5 five-star prospects and eight players ranked in the top 65 of their class.
🎟 $6,568
The average resale price for Super Bowl tickets on SeatGeek is currently $6,568, per the company, putting it well ahead of past Super Bowls. ... In related news, StubHub has partnered with Affirm to let customers buy Super Bowl tickets (and make other expensive purchases) on a payment plan.
⛳️ 45 years old
In an effort to "bring greater attention to the most deserving players at a time in their careers when they are still competing at the highest level," the World Golf Hall of Fame has lowered its age limit from 50 to 45. Now eligible in 2021: Tiger Woods.
7. Jan. 22, 1989: 🏈 Niners win the Super Bowl
31 years ago today, Joe Montana, Jerry Rice and the 49ers beat Boomer Esiason, Cris Collinsworth and the Bengals, 20-16, in Super Bowl XXIII.
Travel back in time...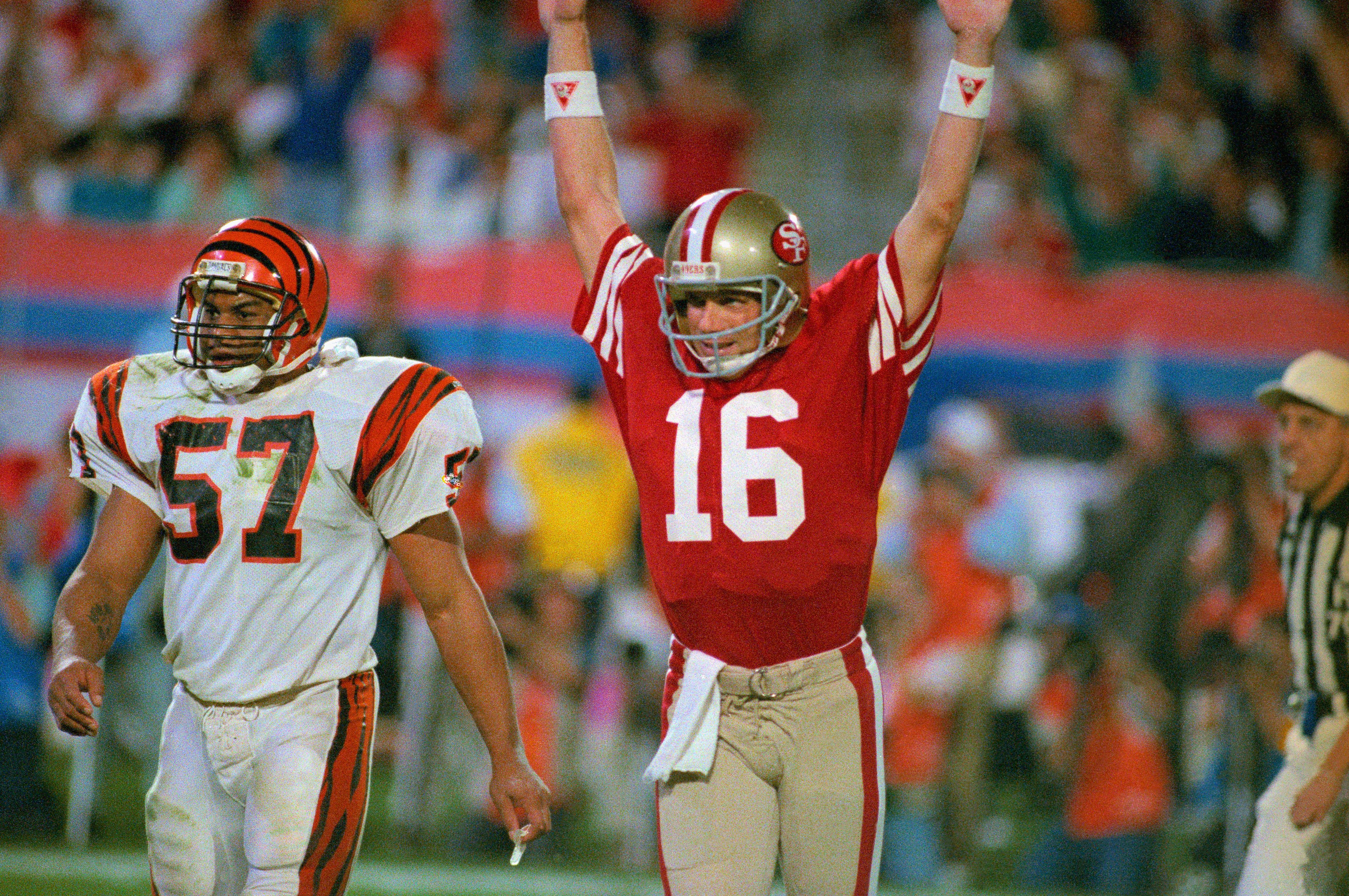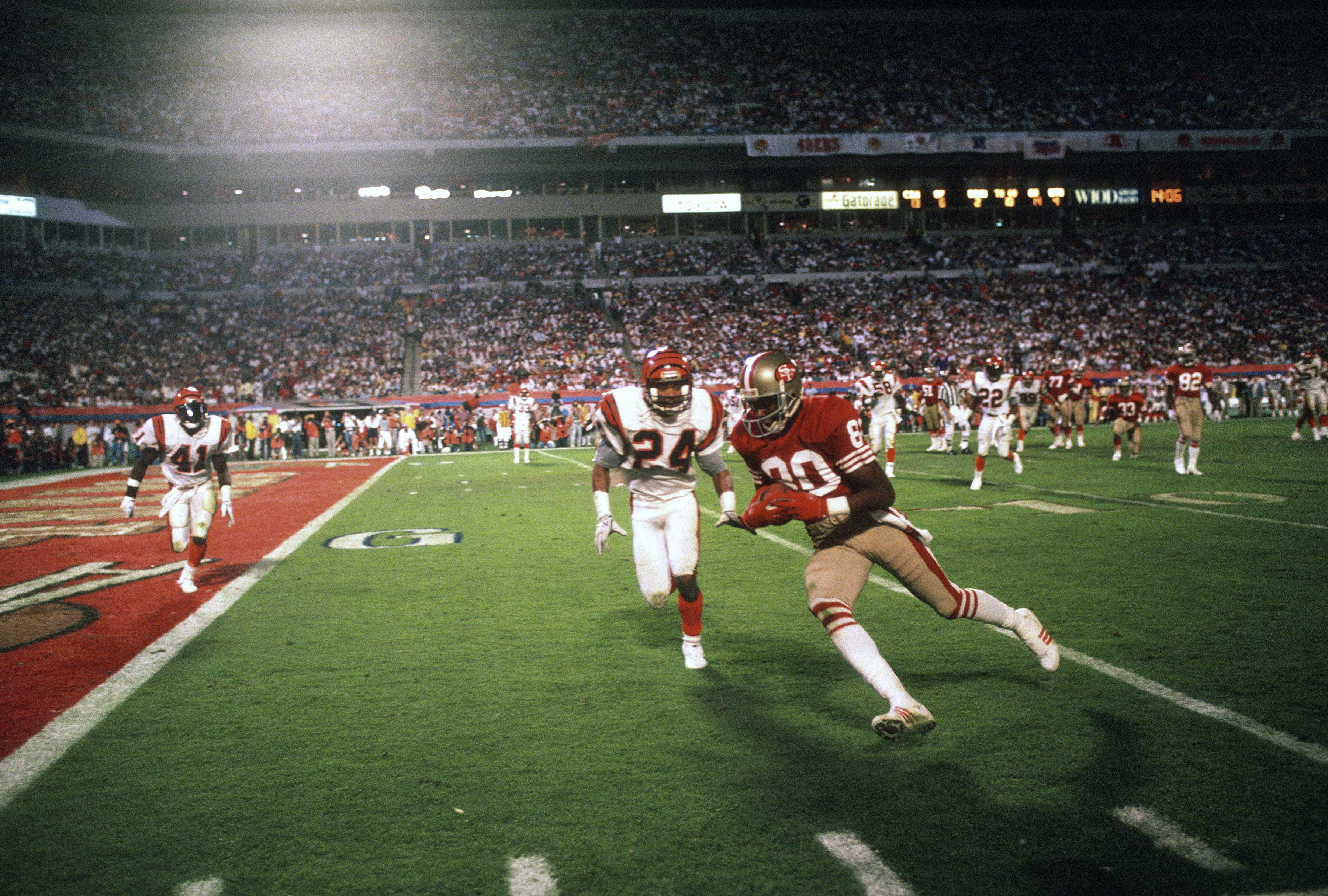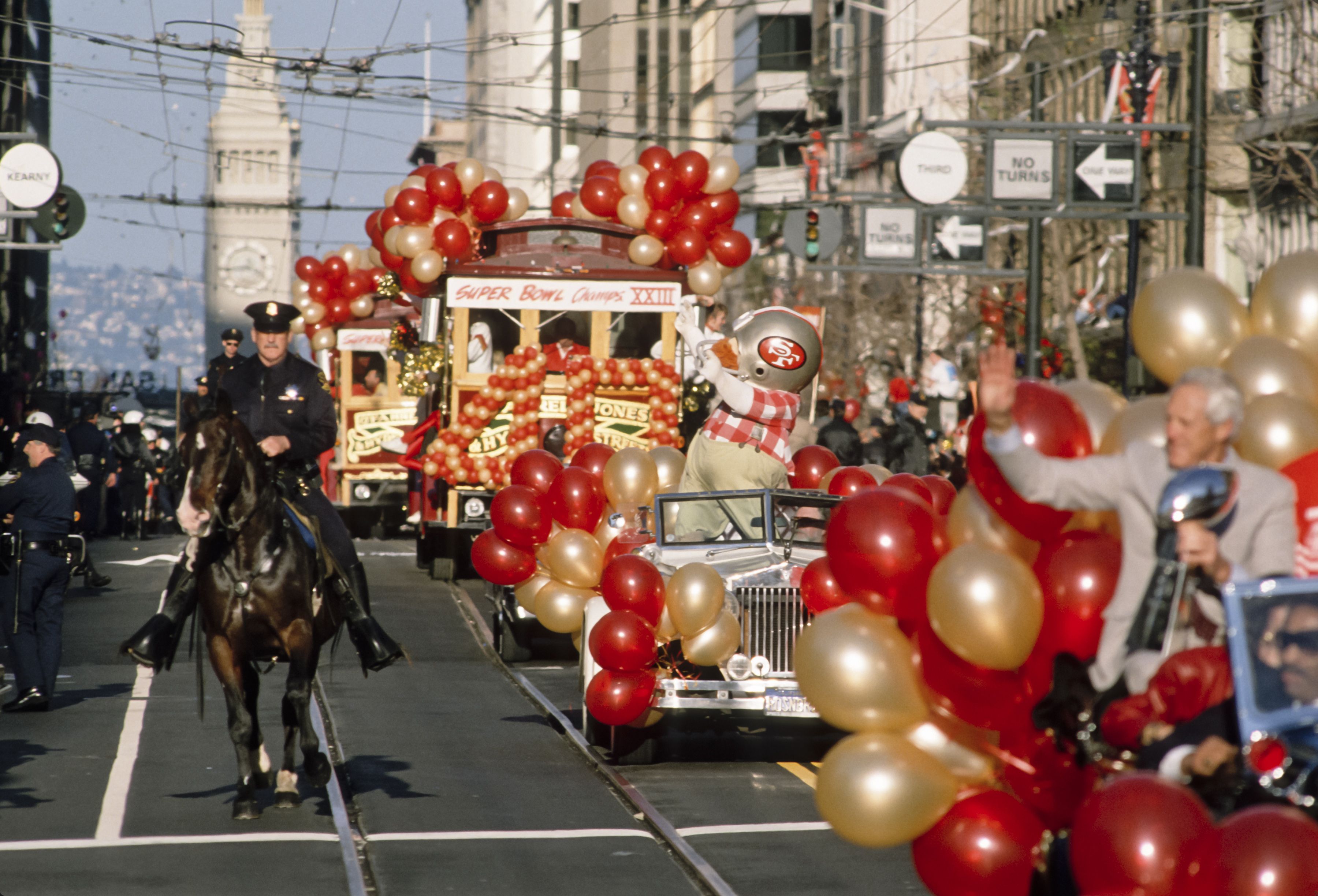 8. The Ocho: 🖐 Handball Euro Championship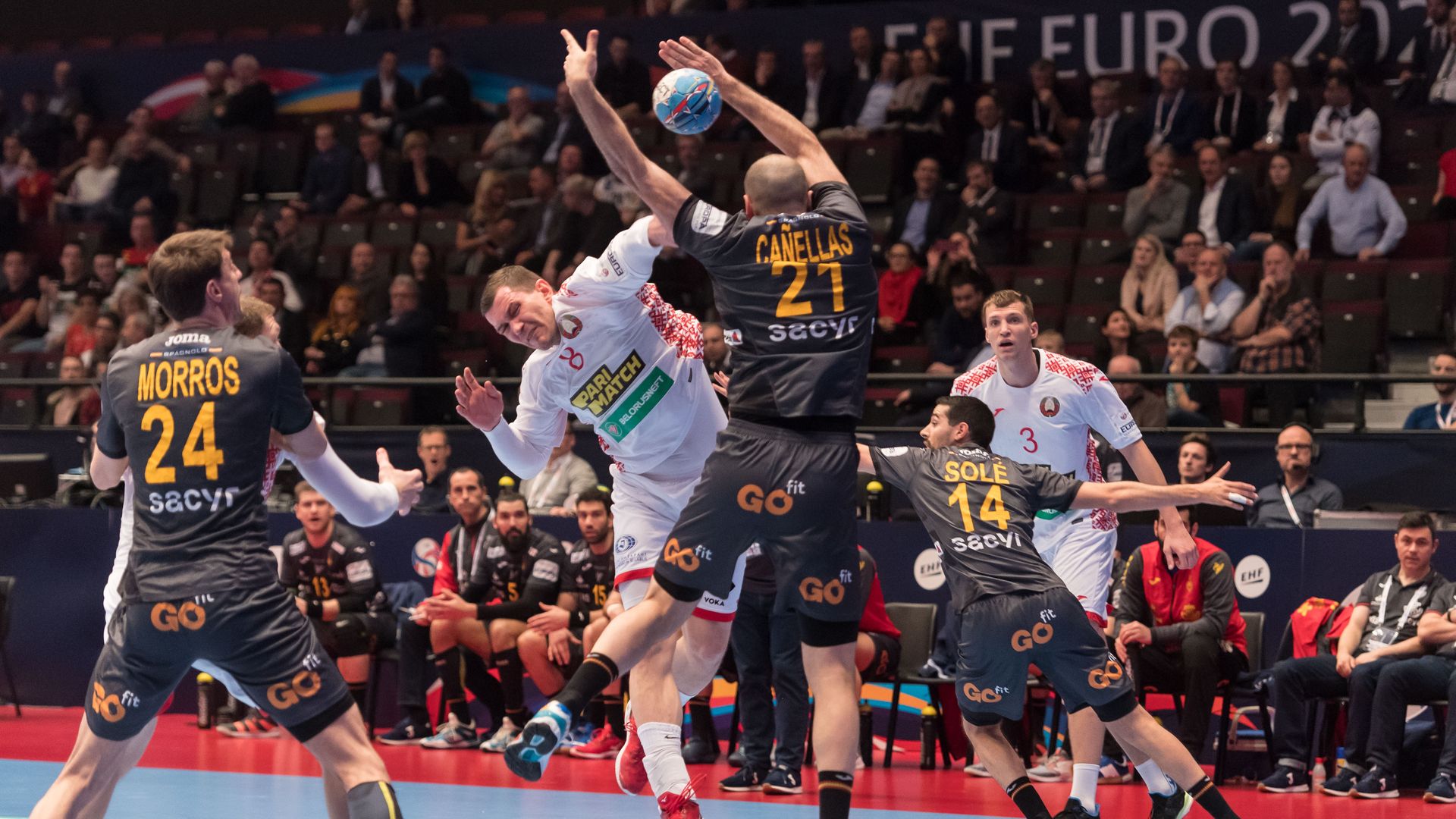 9. 🏈 Super Bowl trivia
The Lions have the longest active Super Bowl drought among NFL teams at 54 years.
Question: Which two teams are tied for the second-longest drought at 51 years?
Hint: Both in the AFC.
Answer at the bottom.
10. 🚪 Pick a door, any door
Bonus: 🚨 Zion jersey giveaway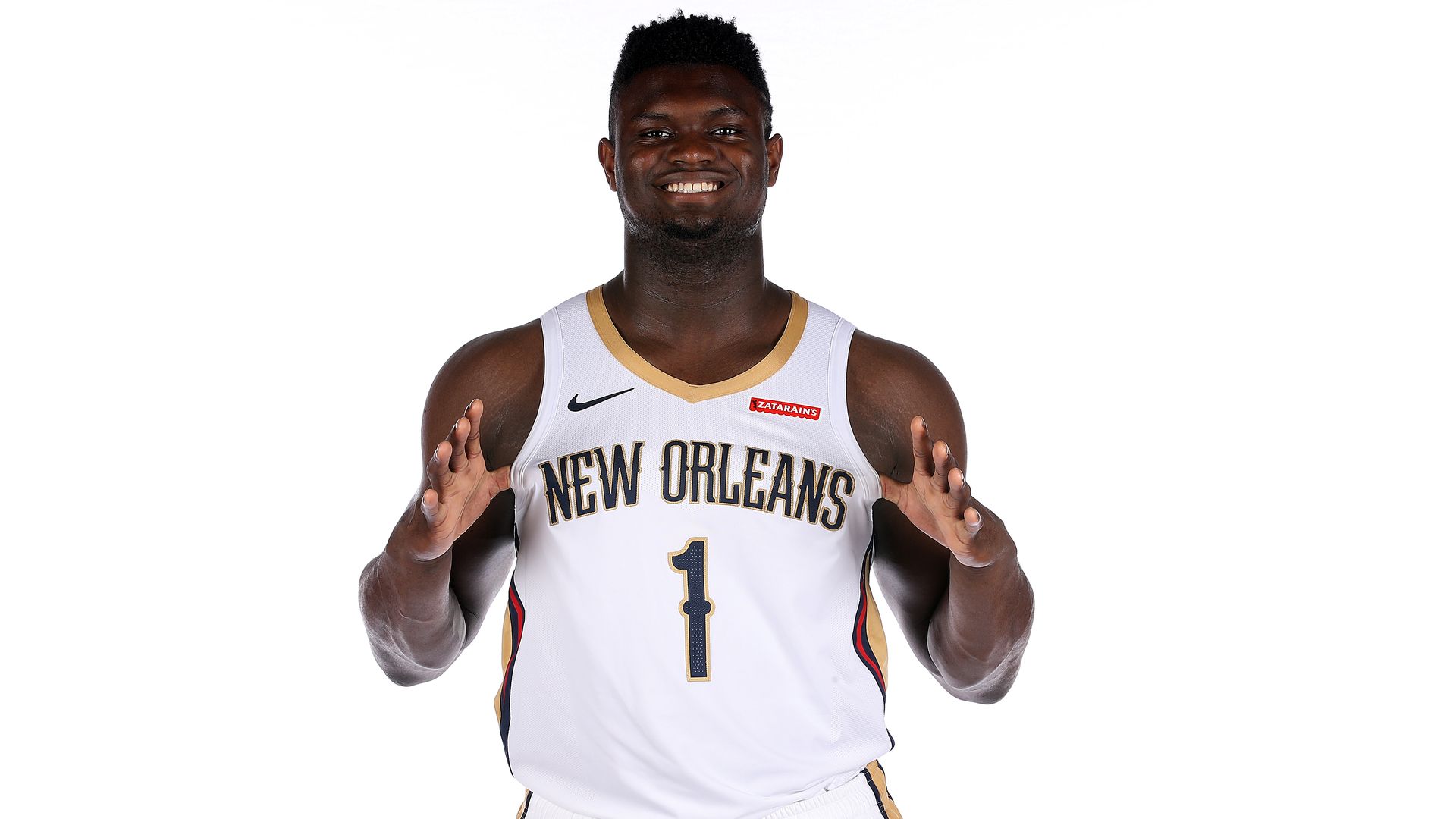 To celebrate his return to the hardwood, we're giving away a Zion Williamson jersey.
How to enter: Refer at least one friend to Axios Sports using your unique referral link (see bottom of the newsletter).
How to win: 1 referral = 1 raffle ticket, 2 referrals = 2 raffle tickets, etc. So whatever your "referral count" reads at the bottom of the newsletter is your current number of raffle tickets.
Talk tomorrow,
Kendall "Mel Kiper" Baker
Trivia answer: Browns and Jets