🎉 Happy Friday! I hope you enjoyed Cliff Diving Week, which concludes at the bottom of today's newsletter. Coming up next week: College Football Week (duh).
Today's word count: 1,494 (6 minutes)
1 big thing: 🏈 It's time to shorten the preseason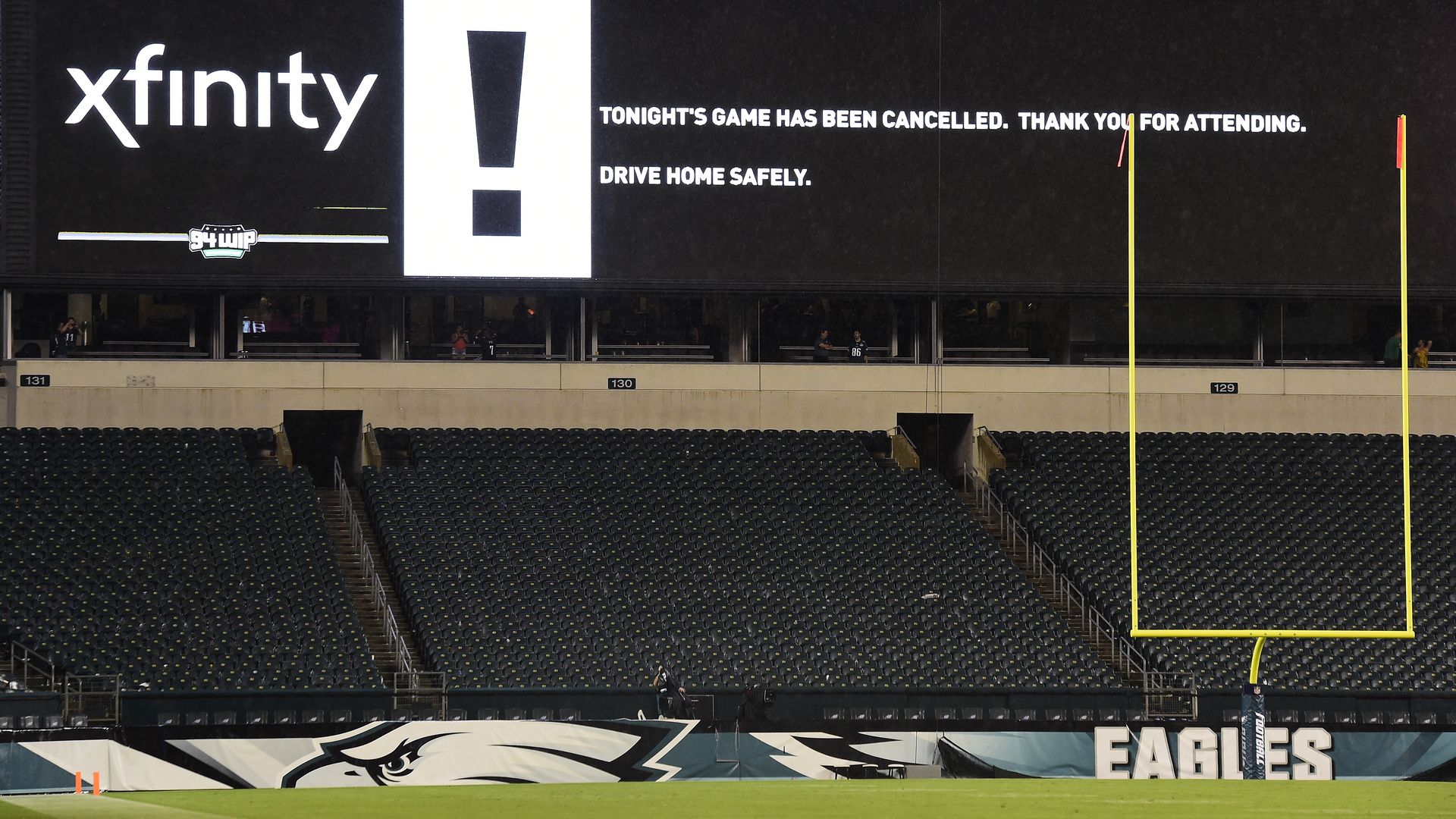 The third week of NFL preseason used to be the week when starters played deeper into games and gave us clues about the regular season. As last night proved, that is no longer the case.
Andy Dalton, Eli Manning and Nick Foles barely played; Lamar Jackson and Carson Wentz never saw the field; and neither did Aaron Rodgers or Derek Carr — though that was due to the field being 80 yards long (no, really).
The Panthers, Jaguars and Redskins (and others) played their starters for longer, but they might regret that now: Panthers QB Cam Newton sprained his foot, while Jaguars WR D.J. Chark and Redskins TE Jordan Reed and suffered concussions.
The backdrop: Last year, Rams head coach Sean McVay determined that preseason football wasn't worth the injury risk — or really all that necessary when evaluating players — and sat his entire starting offense for all four games.
The move was met with skepticism (how would players knock the rust off?!), but the Rams silenced the haters by winning their first eight games, making the Super Bowl and, perhaps most importantly, being one of the league's healthiest teams.
On top of that, a growing number of coaches have come out and said they prefer joint practices to preseason games.
"The only real change from a game to a practice is in a game you don't get to do it over. At least in a practice setting, if we make a mistake, we can line up and do it again, and so we can correct that mistake right away. ... We get a little bit better evaluation in practice."
— Eagles coach Doug Pederson,
per NJ.com
The bottom line: The NFL has considered shortening the preseason for years, and it feels like we've reached a breaking point. It's time. Nobody wants this anymore.
A simple solution: Eliminate two of the four preseason games, move the season start date back one week and then play 16 regular-season games over 18 weeks, with every team getting two bye weeks.
This would add another week of regular-season football to make up for lost preseason TV revenue, while also potentially providing enough scheduling flexibility to give teams a bye before playing on "Thursday Night Football."
Go deeper:
Bonus: 🏈 Speaking of 80-yard fields...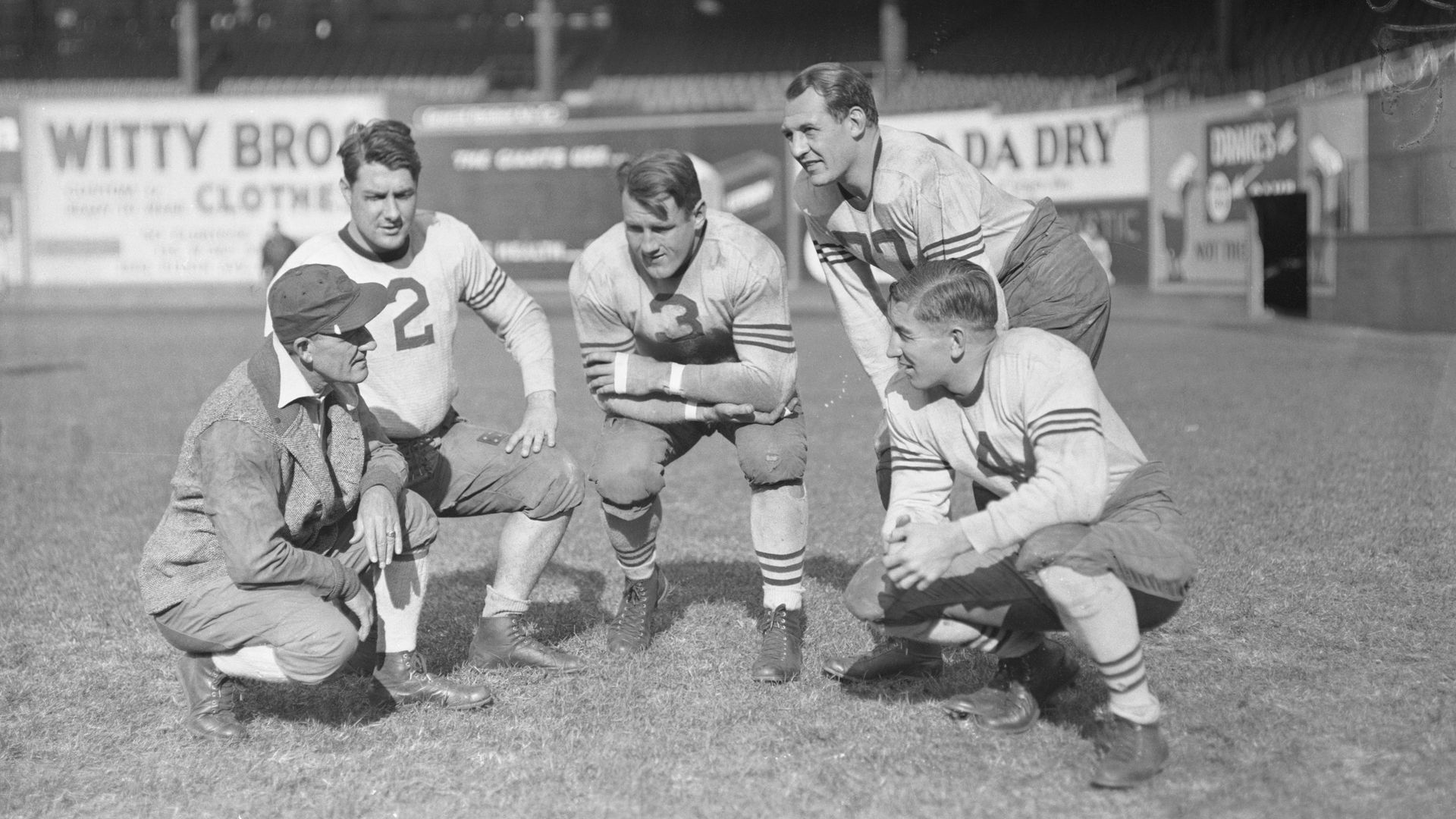 Believe it or not, last night's Packers-Raiders disaster in Winnipeg wasn't the first time an NFL game has been played on an 80-yard field.
Flashback: In 1932, the Chicago Bears and Portsmouth Spartans finished the regular season tied atop the standings. They had played each other twice and tied both times, rendering the league's only tiebreaker useless.
In those days, the league title was awarded to the team with the best regular season record, so the Spartans and Bears played one final game to break the tie.
The game was set to be played at Wrigley Field, the Bears' home stadium, but severe weather caused it to be moved indoors to Chicago Stadium, home to the NHL's Blackhawks. One problem: It could only fit an 80-yard field.
The big picture:
The field wasn't wide enough, either, so whenever a play ended near the sideline, the ball was moved 10 yards in for the start of the next play. This opened up the field for the offense and fans loved it, leading to the creation of hash marks the following season.
Because of the success of the Bears-Spartans playoff game, the NFL expanded to 10 teams and divided into two divisions in 1933, with the Bears beating the New York Giants in the first championship game. As for the Spartans, they were sold for $8,000 in 1934 and became the Detroit Lions.
2. 📸 Yesterday in photos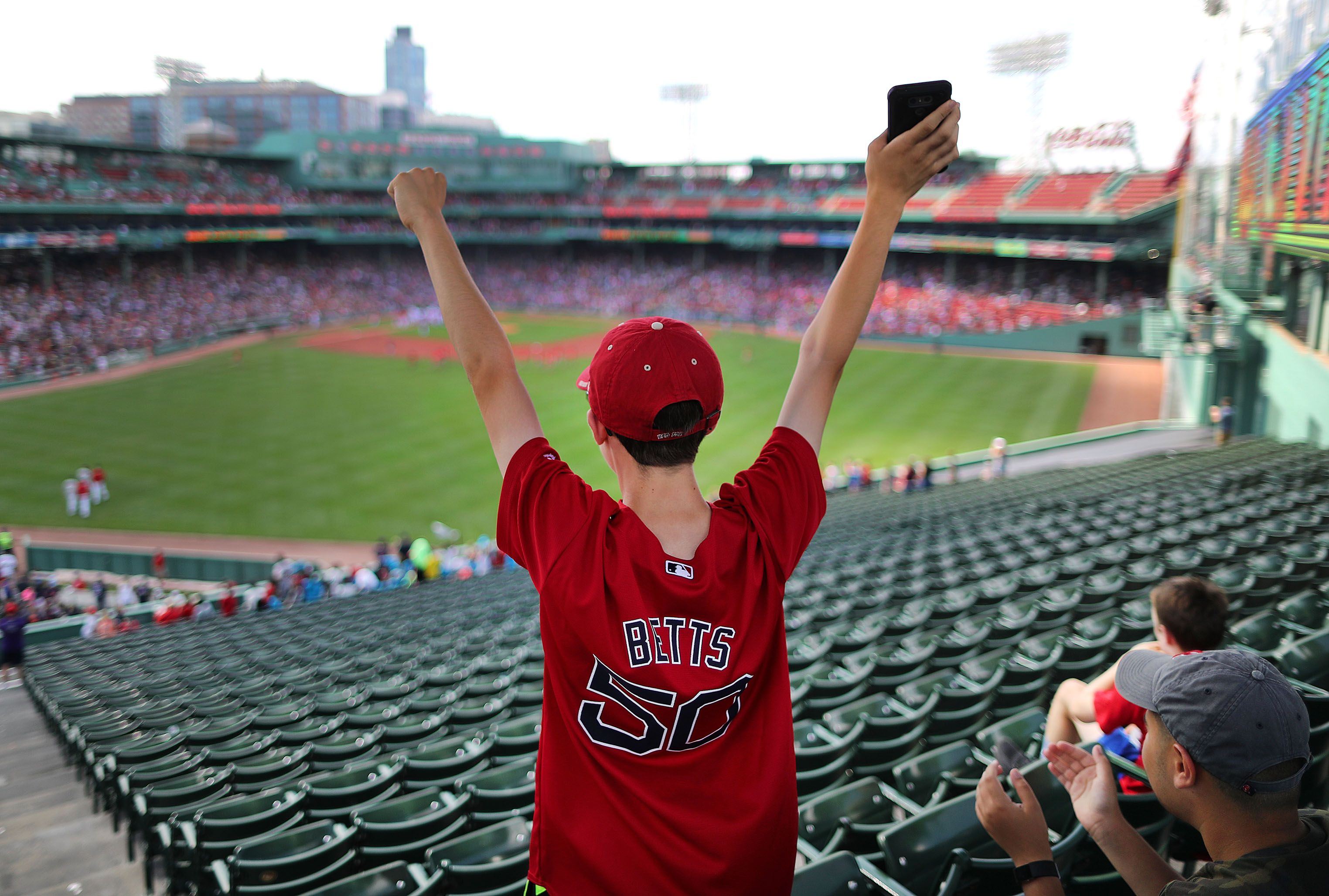 Photo: John Tlumacki/The Boston Globe via Getty Images
BOSTON — The Aug. 7 series finale between the Red Sox and Royals was suspended due to rain in the 10th inning, and the two teams had to wait until yesterday to resume the game.
Great idea: Rather than play in an empty Fenway Park, the Red Sox charged $5 for adults (funds donated to charity), $0 for kids and let fans sit wherever they wanted. The stadium was about 50% full, but the game lasted just 12 minutes thanks to Brock Holt's walk-off single.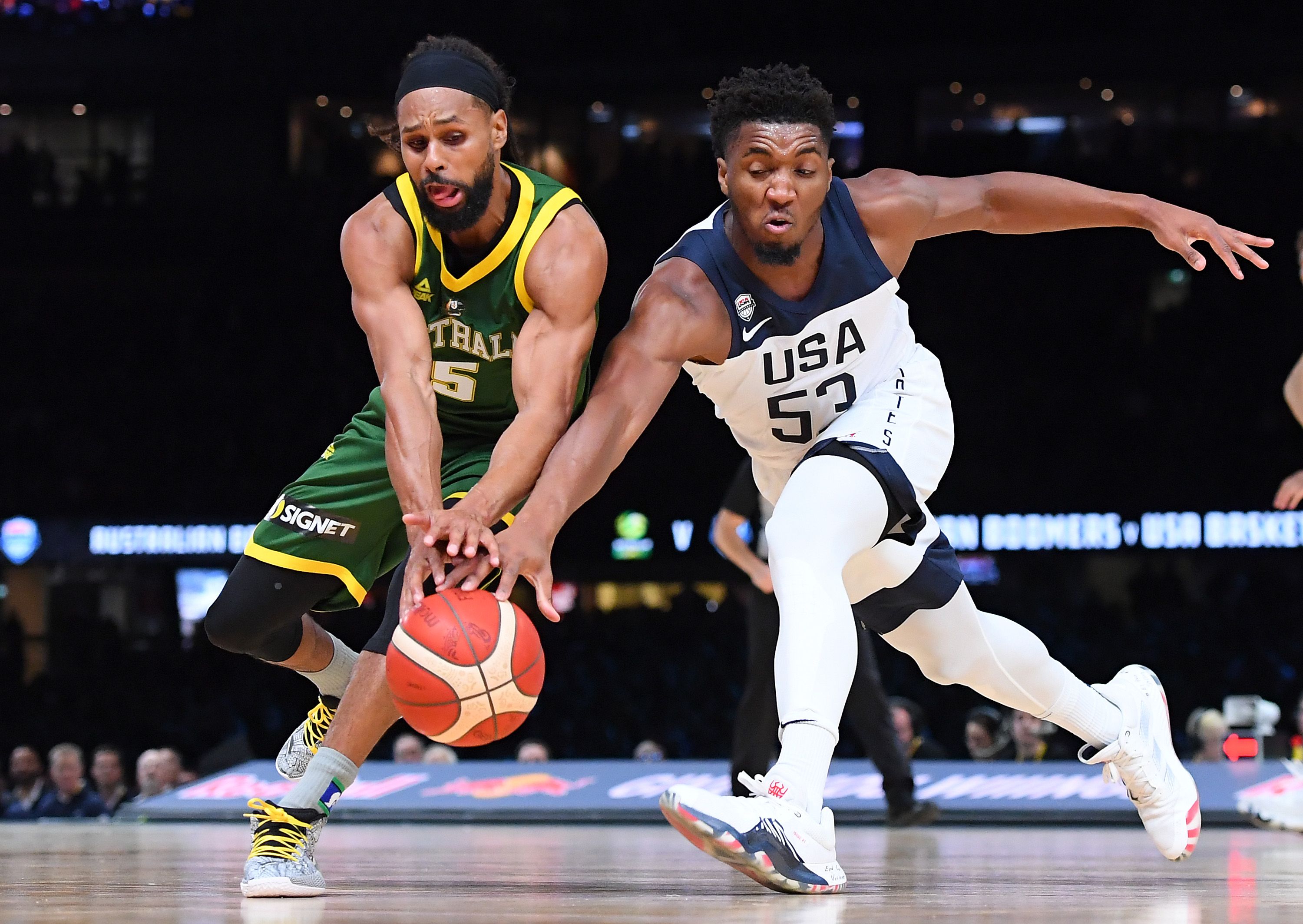 Photo: Quinn Rooney/Getty Images
MELBOURNE, AUSTRALIA — Kemba Walker scored 23 points, Donovan Mitchell (above) added 13 and the U.S. topped Australia 102-86 in a FIBA World Cup tune-up yesterday before a crowd of 51,128 — the largest to ever watch a basketball game in Australia.
Team Australia: Ben Simmons isn't playing in the World Cup, but they still have plenty of NBA players: Patty Mills (above), Joe Ingles, Matthew Dellavedova, Aron Baynes and Andrew Bogut all received ample playing time.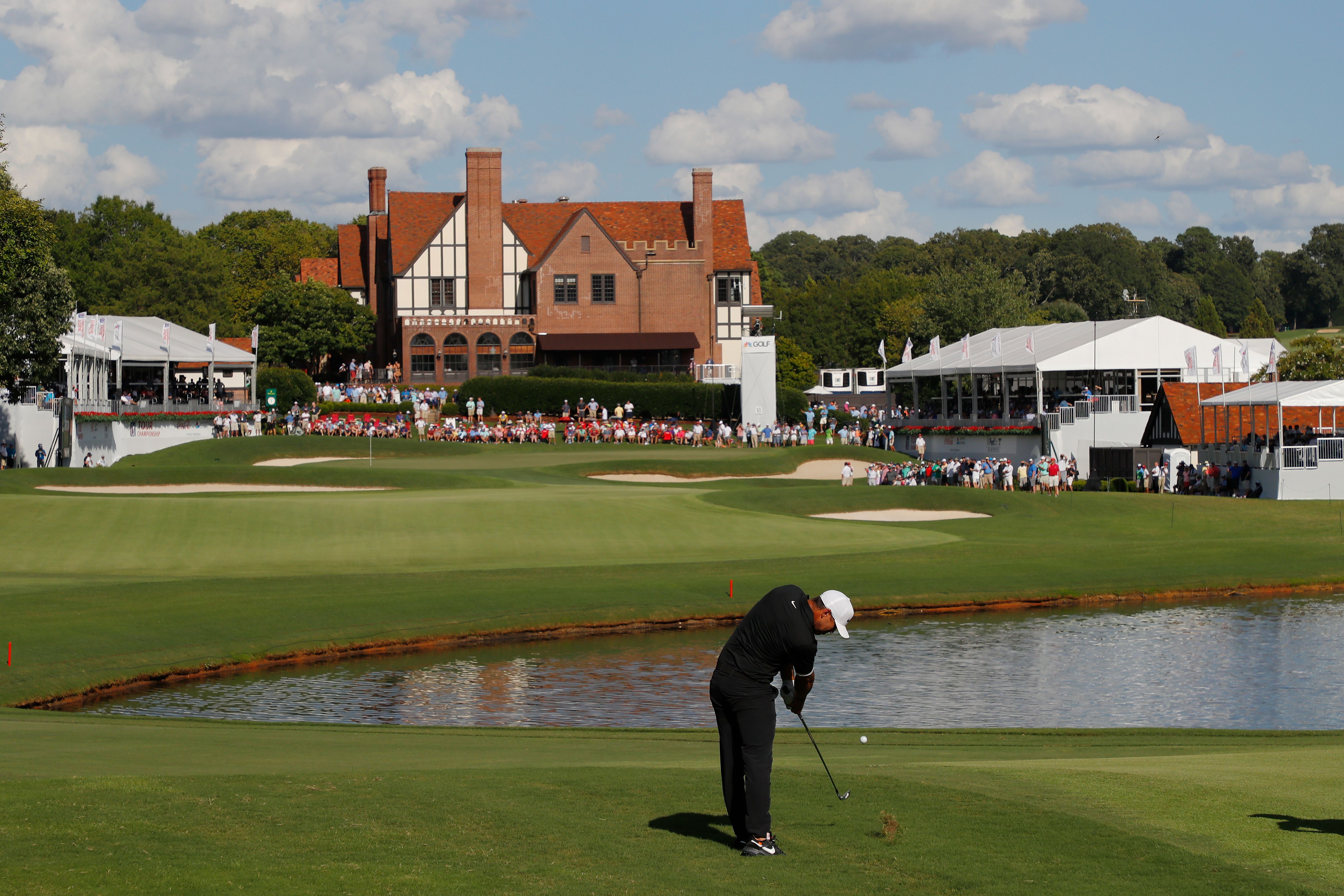 Photo: Kevin C. Cox/Getty Images
ATLANTA — Brooks Koepka shot 3 under and Xander Schauffele shot 6 under to tie Justin Thomas (even par) atop the Tour Championship leaderboard after 18 holes.
In other Koepka news, he stripped down for ESPN The Magazine's Body Issue. Apparently, he dropped 22 pounds in four months ahead of the March photo shoot.
3. 🏈 College football is back (kind of)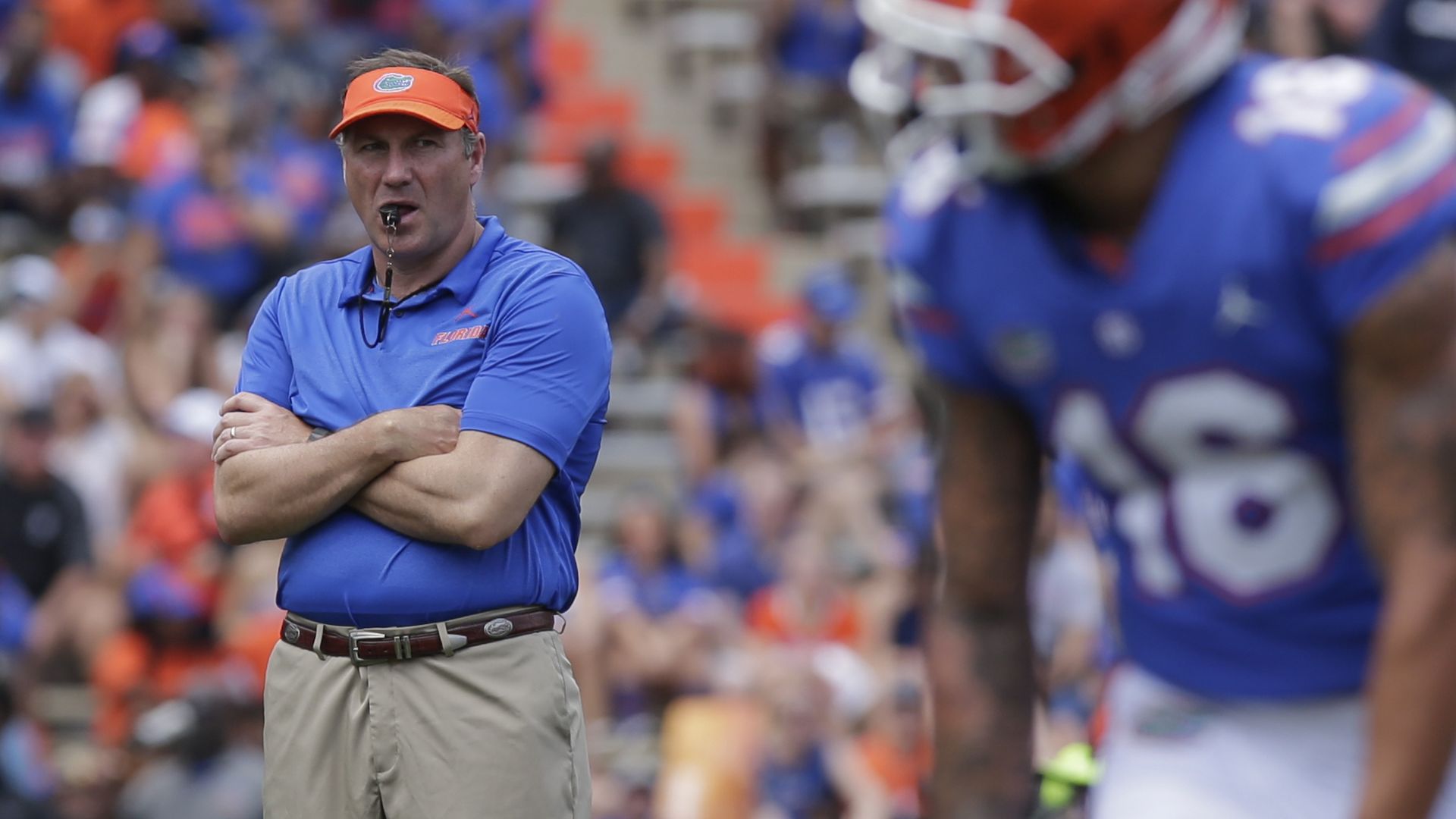 College football won't roll out a full slate of games until next week, but we'll get our first taste on Saturday with two fun matchups.
Florida vs. Miami (7pm ET, ESPN)
Betting lines: Florida -7 (-250 money line) | O/U: 47
By the numbers: Florida returns 12 starters from last season's 10-3 team, but they're replacing four offensive linemen — and Miami had the nation's highest adjusted sack rate last year.
The intrigue: Miami head coach Manny Diaz will be making his debut, and Florida head coach Dan Mullen will be looking to maintain the momentum established in his first year last fall.
Arizona vs. Hawaii (10:30pm ET, CBSSN)
Betting lines: Arizona -11.5 (-420 money line) | O/U: 73.5
By the numbers: Arizona is 6-0 all-time against Hawaii and won the last meeting in 2016 by a score of 47-28. But don't sleep on the Rainbow Warriors, who return 18 starters (most in the Mountain West) from last year's 8-6 team.
The intrigue: The QB battle between Arizona's Khalil Tate (dark horse Heisman candidate) and Hawaii's Cole McDonald (his 36 passing TDs ranked sixth in the nation last year) should be electric.
P.S. … There are also two FCS games on Saturday.
Villanova vs. Colgate (Noon ET, CBSSN)
Youngstown State vs. Samford (3pm ET, ESPN)
4. 🎖 Cousy awarded Presidential Medal of Freedom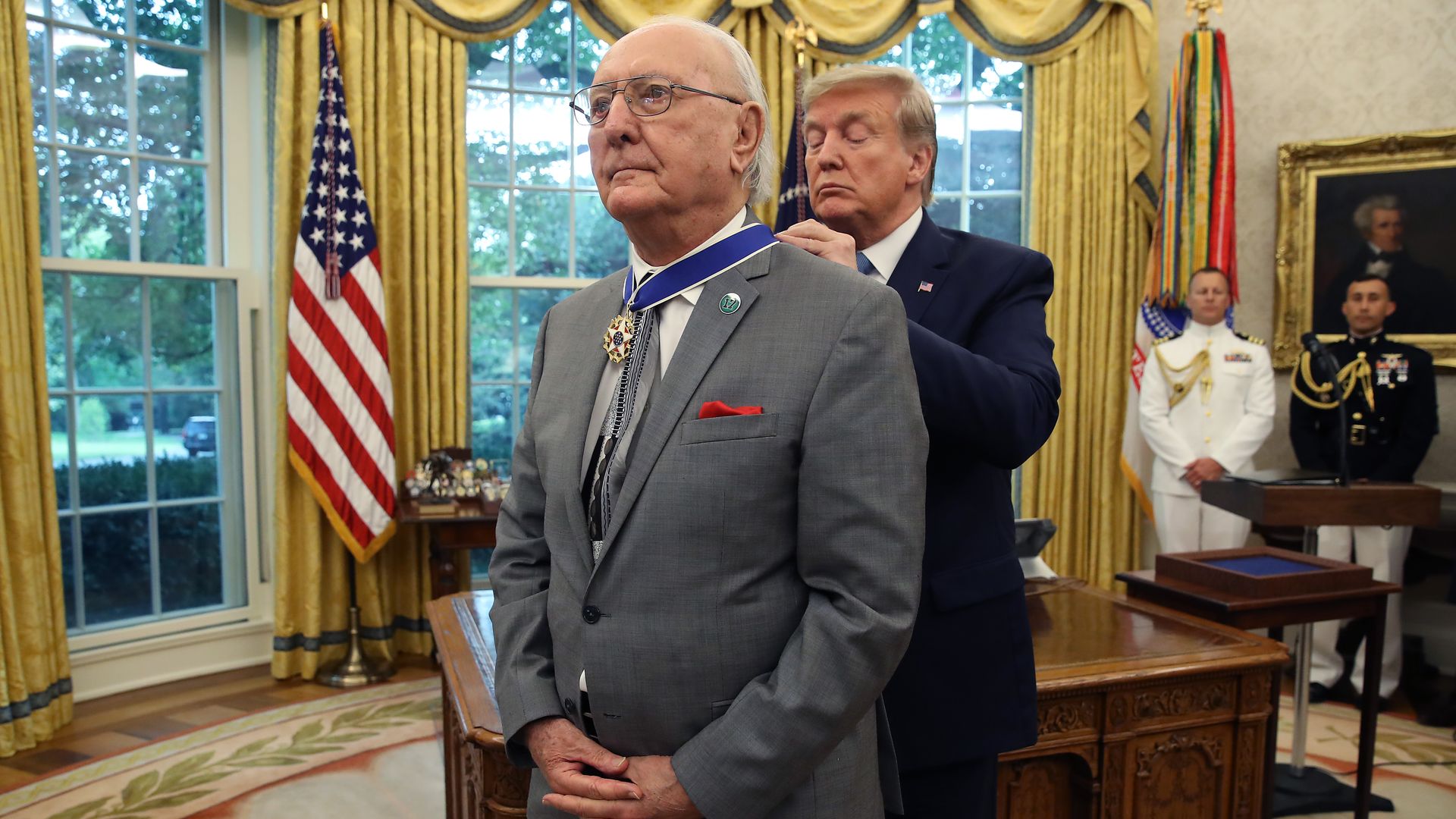 91-year-old Celtics legend Bob Cousy received the Presidential Medal of Freedom, the nation's highest civilian honor, in an Oval Office ceremony yesterday.
"Mr. President, I know in your world, you're well on your way to making America great again. In my world, it's been great for 91 years. Only in America could my story have been told."
— Cousy during his acceptance speech
Bio:
Early years: Cousy was the only son of poor French immigrants living in New York City and grew up in the midst of the Great Depression.
College: A three-time All-American, Cousy helped Holy Cross become the first New England college to win the NCAA tournament in 1947.
NBA: Cousy played for the Celtics from 1950 to 1963, winning six championships and one MVP award (1957).
Coaching: After retiring as a player, Cousy became the head coach at Boston College, where he turned the program into a winner. He then returned to the NBA, where he coached the Oscar Robertson-led Cincinnati (and later Kansas City/Omaha) Royals.
Legacy: The Bob Cousy Award is given annually to the country's best point guard in men's college basketball. Cousy is a member of the Basketball Hall of Fame and helped found the NBA Player's Association.
Go deeper: Athletes who have been awarded the Presidential Medal of Freedom (Photo gallery)
5. 🎾 There is no Serena without Venus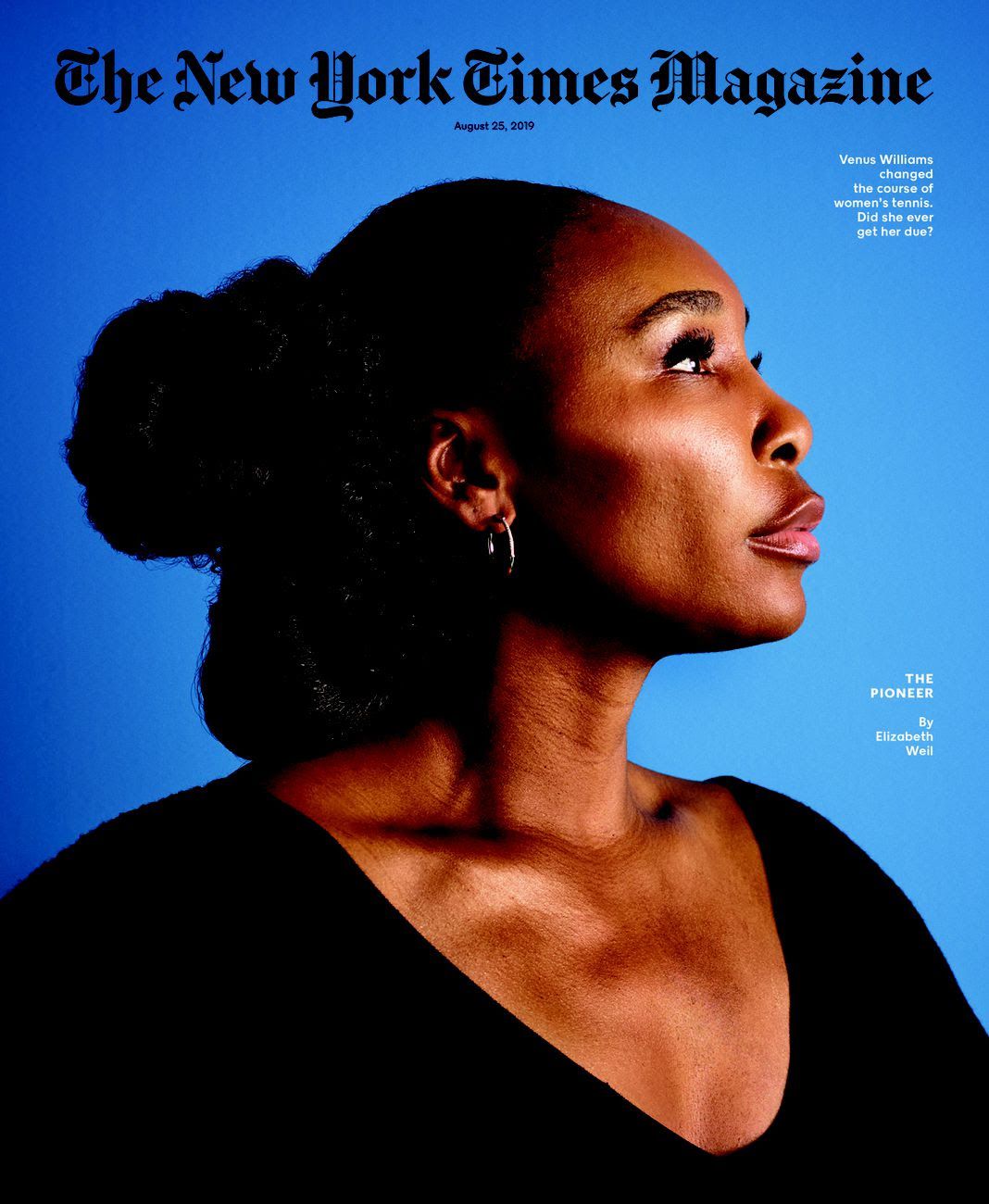 Photo: Mickalene Thomas for NYT Magazine
Ahead of next week's U.S. Open, NYT Mag's Elizabeth Weil profiled Venus Williams, 39, older sister of Serena, 37:
"There was never any Serena without Venus. There was never any second stage without the first. Venus was the mightiest female player anyone had ever seen. Serena rode her power through the atmosphere. Then she exploded."
P.S. ... Serena will play Maria Sharapova in the first round. The two have met in the finals of the other three Grand Slams but have never played at the U.S. Open.
6. Aug. 23, 2008: ⚽️ Argentina wins gold again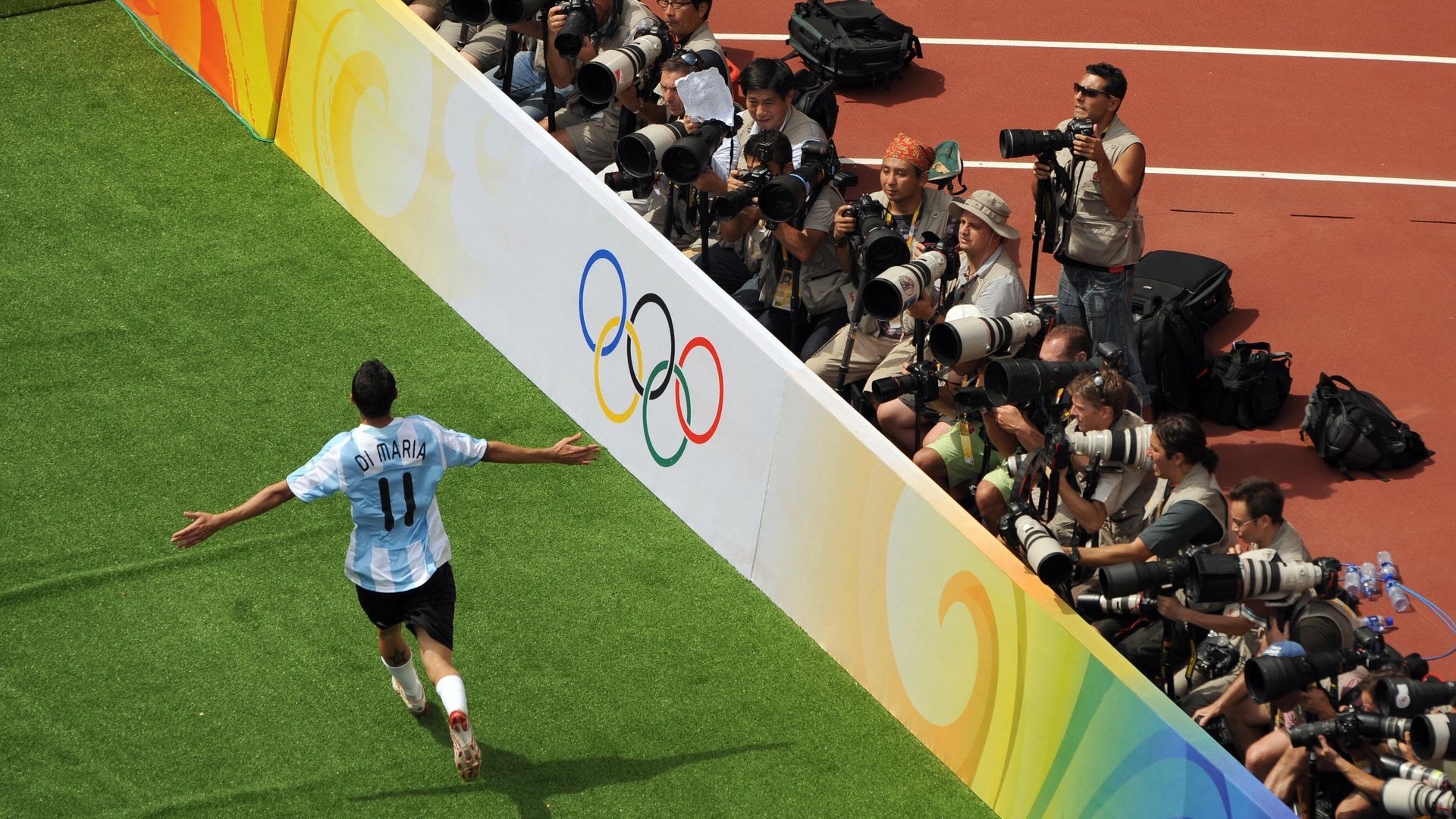 11 years ago today, Argentina beat Nigeria 1-0 at the Beijing Olympics to win its second straight men's soccer gold medal.
Highlight: The game's only goal came from Ángel Di Maria in the 58th minute off an assist from a then 21-year old Lionel Messi.
The big picture: Argentina became just the fourth team in men's Olympic soccer history to successfully defend their gold medal and won a record 12 consecutive games while doing so.
7. 🏈 CFB trivia
Texas junior Sam Ehlinger is one of six Power Five QBs in the past 20 years to record 25 passing TDs and 15 rushing TDs in the same season.
Question: Can you name the other five QBs?
Hint: They all won the Heisman Trophy and three are currently on an NFL roster.
Answer at the bottom.
8. The Ocho: 💦 Stari Most ("Old Bridge")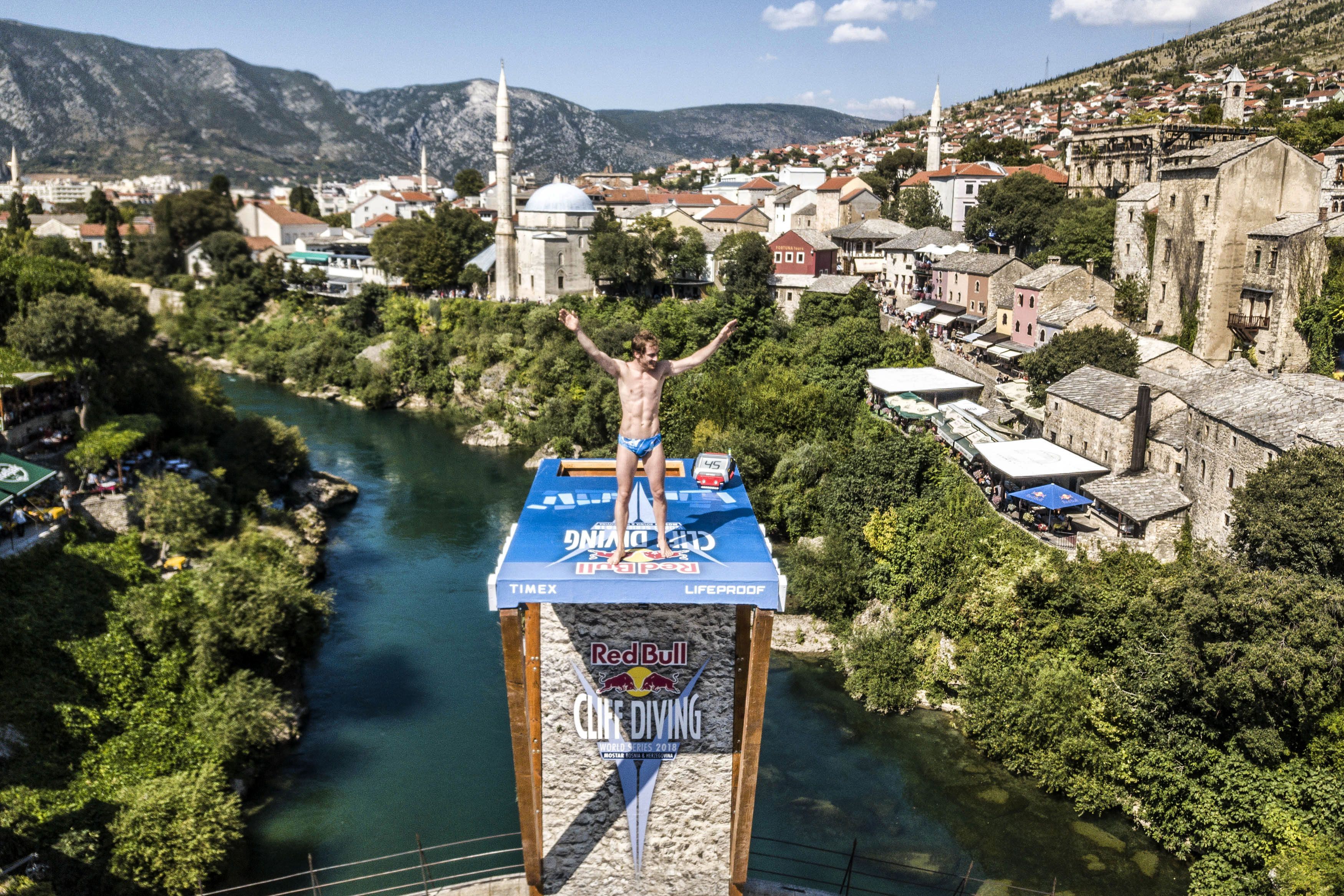 Gary Hunt in Mostar last year. Photo: Predrag Vuckovic/Red Bull via Getty Images
I hope you enjoyed Cliff Diving Week, where we took you inside the Red Bull Cliff Diving World Series — a multi-stop tour that takes divers all across the world.
This weekend, the Red Bull Cliff Diving World Series travels to Mostar, Bosnia and Herzegovina, where divers will leap from the world-famous Stari Most ("Old Bridge"), which is on UNESCO's list of World Heritage Sites.
"Diving off Mostar's old bridge dates back to the 17th century, when young men started to dive from the country's most recognizable landmark in a sort of maturity test," per Red Bull.
Until next time, cliff diving. Most photogenic sport in the world...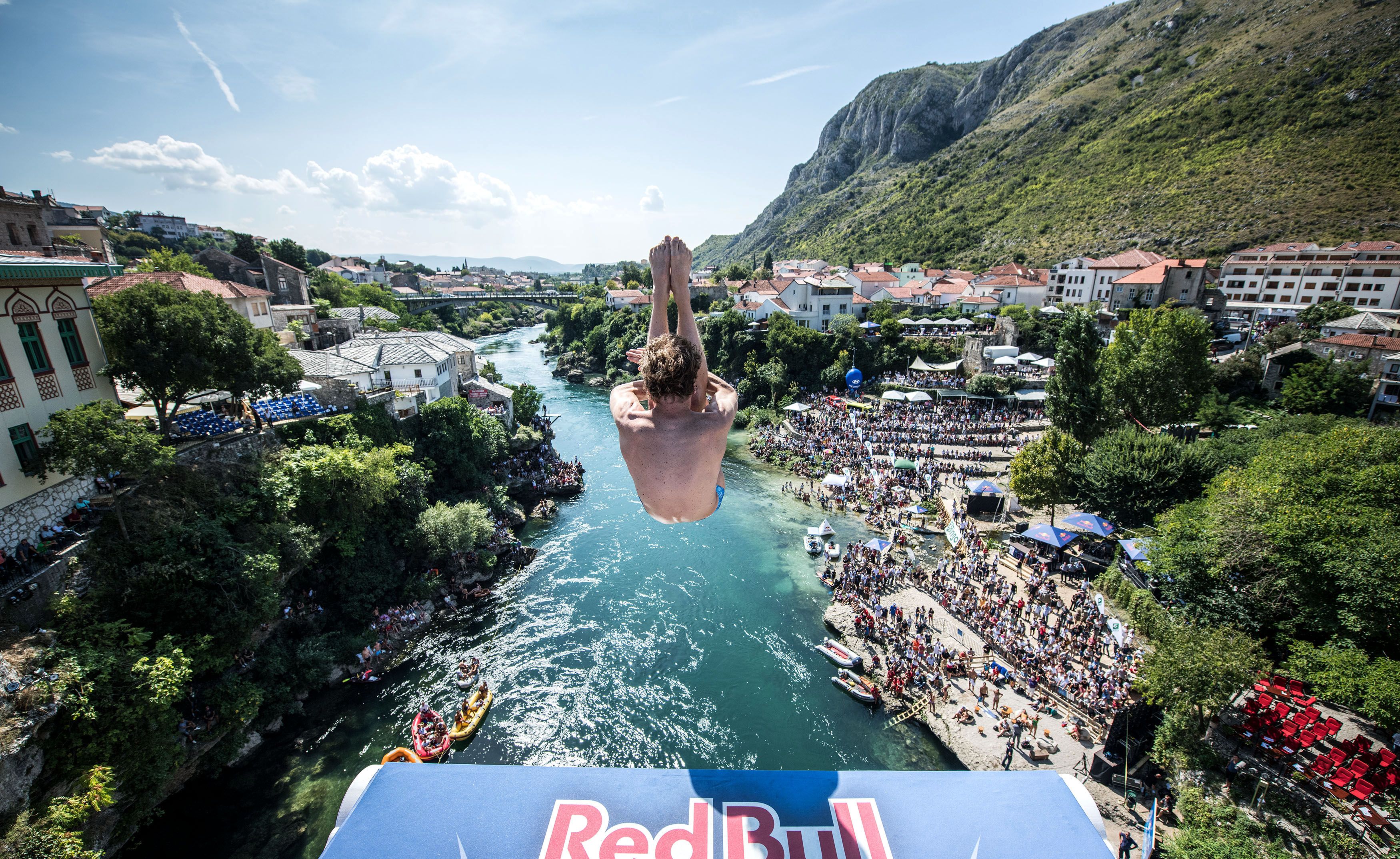 Photo: Romina Amato/Red Bull via Getty Images
Enjoy the weekend,
Kendall "Go Colgate" Baker
Trivia answer: Tim Tebow, Cam Newton, Johnny Manziel, Marcus Mariota, Lamar Jackson