August 17, 2021
👋 Good morning! I'm happy to announce that today's newsletter includes my first-ever "Pinky and the Brain" reference.
Today's word count: 1,592 words (6 minutes).
Let's sports...
1 big thing: 💵 The sports world's "decacorn"
Fanatics has nearly tripled in value over the last year. Now, the e-commerce giant wants to expand into new businesses like sports betting, ticketing and media.
Driving the news: Fanatics closed a $325 million funding round last week that values the company at $18 billion, making it the world's 12th-most valuable private company, per CB Insights:
Bytedance ($140B)
Stripe ($95B)
SpaceX ($74B)
Klarna ($45.6B)
Instacart ($39B)
Revolut ($33B)
Nubank ($30B)
Epic Games ($28.7B)
Databricks ($28B)
Rivian ($27.6B)
FTX ($18B)
Fanatics ($18B)
How it works: Founded in 1995, Fanatics achieved "decacorn" status ($10+ billion valuation) by controlling the sports apparel supply chain. Jersey sales go through them, period. And they don't just sell clothes — they make them, too.
As the official retailer of licensed merchandise for many U.S. sports leagues and universities, Fanatics generates ~80% of its revenue from sales on Fanatics.com and the 300+ team and league sites it operates, per WSJ (subscription).
Now, it will expand far beyond that, creating new products to further monetize its database of 83 million sports fans. After all, the people buying jerseys are the same people buying tickets and placing bets.
In June, Fanatics formed an NFT company called Candy Digital and hired former FanDuel CEO Matt King to run its betting operations. Now, it's launching Fanatics Sportsbook.
The bottom line: Fanatics will eventually go public. Until then, there appears to be one goal as a private company: Try to take over the world.
2. 🏈 AP poll: Alabama on top, per usual
Alabama will begin its title defense as the top-ranked team in the nation, Axios' Jeff Tracy writes. What else is new?
Wild stat: This is the 100th week that Alabama has been ranked No. 1 in the AP poll under Nick Saban. That's 43.5% of all polls in that span (since 2007), and blows away second-place LSU (24 weeks).
Conference call: The SEC, Big Ten and Pac-12 lead the way with five teams each, followed by the ACC (three), Big 12 (three), Sun Belt (two) and American (one). Notre Dame is the lone independent.
Notes:
Bearcats rising: No. 8 Cincinnati is the first non-Power Five team ranked in the preseason top 10 since 2012 (Louisville, then in the American).
Michigan is MIA: From 1970 to 2007, the Wolverines were ranked in all but one preseason poll. In the 14 seasons since then, they've missed as many as they've made.
Sunbelt breaks through: The preseason top 25 had never before featured a single team from the Sunbelt. Now, there are two: No. 22 Coastal Carolina and No. 23 Louisiana.
Emerging power: Prior to 2019, No. 7 Iowa State made the preseason poll just once (1978). Now, the Cyclones have made it three years in a row.
Party like it's 1968: No. 17 Indiana, coming off an excellent 2020 campaign, is in the preseason Top 25 for the first time since 1968.
Looking ahead: The season begins in 11 days, with a five-game slate on Aug. 28 before the majority of teams kick off the following week.
Go deeper: The top Heisman candidate for each ranked team (ESPN)
3. 📺 Chart du jour: America loves football
22 of the 25 most-watched TV broadcasts this year have been sporting events — and 18 were football games.
The big picture: Last year was the first time no scripted TV shows made the top 100 most-watched list, and awards shows could be next to fall off.
Only the Academy Awards currently cracks the top 50 for 2021, hanging on at No. 49 (10.4 million viewers), SBJ's Austin Karp reports.
Considering the NFL regular season took 60 slots in 2020, the Oscars will likely get bounced from the top 100 once fall arrives.
The bottom line: Live sports are the only thing keeping the lights on for TV networks.
4. ⚡️ Lightning round
⚽️ Lloyd to retire: American soccer legend Carli Lloyd, 39, announced her retirement on Monday. She'll finish the NWSL season and play in four USWNT friendlies this fall before hanging up her cleats.
🏈 100% vaccinated: The Falcons are fully vaccinated, the first NFL team to reach that milestone. As of last week, 91.7% of players league-wide had at least one dose of the vaccine.
⚾️ Must-see clip: Savannah Bananas infielder Bill LeRoy was mic'd up during a game and predicted his defensive play right before it happened. Incredible.
Plus…
🏀 New moms: WNBA star Breanna Stewart and her wife Marta Xargay announced the birth of their first child, Ruby. She was born via surrogate on Aug. 9, the day after Stewart won gold in Tokyo.
👟 New kicks: Patrick Mahomes' first Adidas signature shoe — the Mahomes 1 Impact FLX — will be released next Monday.
⚽️ Whoopsies: Wolfsburg has been thrown out of the German Cup for using six substitutes in its first-round win. You're only permitted five.
5. ⚾️ By the numbers: MLB edition
Mr. 2000: Joey Votto recorded his 2,000th hit on Monday, joining Larry Walker as the only Canadians in the club. It's the third major milestone for Votto this season (also reached 300 HR and 1,000 RBI).
33 HR, 23 SB: Fernando Tatís Jr. currently leads the NL in HR and SB despite missing 32 games (!!!). If he stays on top, he'll become the first player since 1932 to lead a league in both categories.
20 years: In MLB's Beat the Streak game, fans build virtual lineups in hopes of topping Joe DiMaggio's 56-game hitting streak. After 20 years, no one has won. Go deeper.
12 straight losses: The Cubs and Orioles have both lost 12 straight games, marking just the third time since 1935 — but second time this year — that two teams finished a day on 12-game skids.
68 games: The Mets finally hit a triple on Monday after going an MLB-record 68 consecutive games without one.
In other baseball news … The Cubs and Reds will play in next year's Field of Dreams game, and a Field of Dreams series from Michael Schur ("The Office," "Parks and Recreation") is coming to Peacock.
6. 🏈 NFL player rankings: Trent Williams (No. 19)
The NFL season is fast approaching. While we eagerly await its arrival, we'll be counting down the league's top 20 players.
Player: Trent Williams, OT (49ers)
Age: 33
College: Oklahoma
Contract: 6 years, $138M (FA in 2027)
2020 stats: 14 games; 93.6% pass block win rate (best among tackles)
Week 1: 49ers at Lions
The big picture: Williams' decade-long tenure in Washington came to an ugly end last year after team medical staff misdiagnosed a cancerous growth and he forced a trade.
After sitting out 2019, he didn't miss a beat, slotting in seamlessly with San Francisco and earning his historic deal — the largest ever for an offensive lineman.
By the numbers: Williams earned a career-best 91.8 run-blocking grade from Pro Football Focus in 2020 and recorded the most positively-graded blocks of any tackle during the PFF era (since 2006).
What they're saying: "He's that player O-linemen are sharing videos about," one NFL offensive line coach told ESPN (subscription). "You could easily pull out 20 plays from every game where he's dominant."
ICYMI: 20. Dalvin Cook
7. ✍️ Children's Bill of Rights lands endorsements
The Aspen Institute's "Children's Bill of Rights in Sports," which we laid out in Monday's newsletter, has been endorsed by hundreds of athletes and many of America's most influential sports organizations.
Written with the aid of human rights experts, the bill of rights aims to help leaders grow access to sports while establishing minimum conditions under which youth are served.
Endorsers include the U.S. Olympic & Paralympic Committee, YMCA of USA, Little League International, ESPN, Under Armour, Dick's Sporting Goods and Athletes for Hope.
The big question: What if as a society we agreed that all children had the right to a quality sports experience? We'll explore that question and more during our free virtual event this Friday (12–1pm ET). You should come.
8. 📆 Aug. 17, 2008: Phelps makes history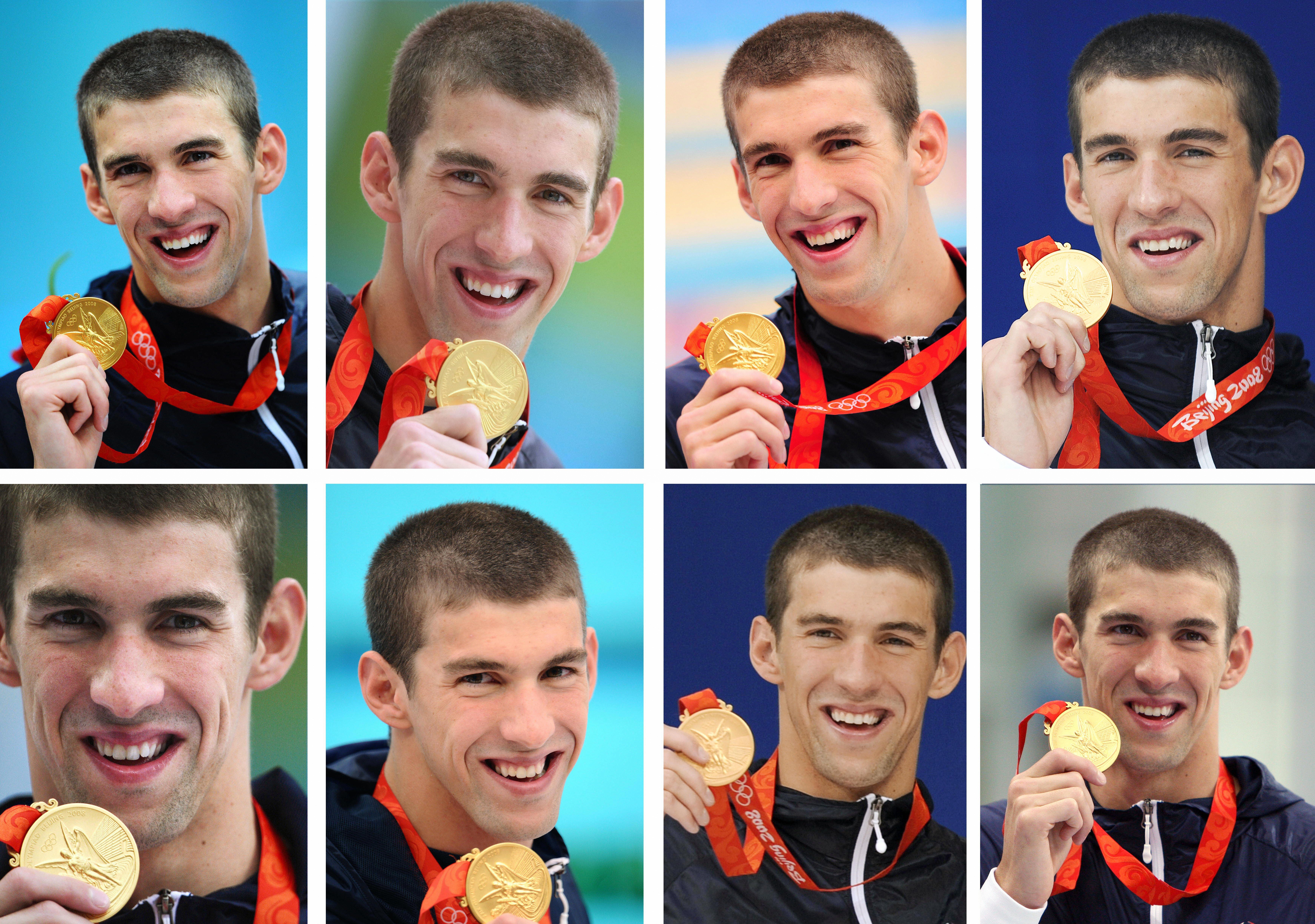 13 years ago today, Michael Phelps won his eighth and final gold medal of the 2008 Beijing Olympics, swimming a blistering third leg of the 4x100 medley relay.
Why it matters: Eight golds broke Mark Spitz's single-Games record of seven set in 1972, and Phelps set seven world records — and one Olympic record — in the process.
Race 1: 400 individual medley (world record; still stands)
Race 2: 4x100 free relay (world record; still stands)
Race 3: 200 free (world record; since broken)
Race 4: 200 butterfly (world record; since broken)
Race 5: 4x200 free relay (world record; since broken ... by him)
Race 6: 200 individual medley (world record; since broken)
Race 7: 100 butterfly (Olympic record; since broken)
Race 8: 4x100 medley relay (world record; since broken)
The key race: Though this relay finished the job for Phelps, it was the 4x100 free relay — chronicled recently in a Peacock documentary — that still stands out as perhaps the greatest race in Olympic history.
The aftermath: Phelps competed in two more Olympics, adding another 12 medals (nine gold) to his tally. He has 23 gold medals; no one else has more than nine.
🎥 Watch: All eight races (YouTube)
9. 🏈🏀 College sports trivia
Notre Dame is one of three schools that rank in the top 20 all-time in wins for D-I football and men's basketball.
Question: Who are the other two?
Hint: Same conference.
Answer at the bottom.
10. 🍿 1 movie pick: "Rising Phoenix"
The Summer Paralympics begin in Tokyo a week from today. In preparation, I highly recommend watching "Rising Phoenix" on Netflix.
The documentary explores the history of the Paralympics, which was born from the rubble of World War II and has since become the third-largest sporting event on the planet.
The film also highlights athletes' journeys from tragedy to triumph. I dare you not to be inspired.
🎥 Watch: Trailer (YouTube)
Talk tomorrow,
Kendall "Roll Tide" Baker
Trivia answer: Texas and West Virginia
🙏 Thanks for reading. Don't forget to follow us on Twitter: @thekendallbaker and @jeffreytracy.