👋 Happy Tuesday! I was at the 49ers-Browns game last night and left fully convinced that the Niners are Super Bowl contenders. That defensive front is scary.
Congrats to Pat Byrne, who won our "Monday Night Football" prediction contest and will be getting a custom NFL sweatshirt.
Want to play next week? Refer 3 friends to Axios Sports using your referral link at the bottom of the newsletter and you'll be eligible to play.
📺 Tonight's slate:
7pm ET: Astros (up 2-1) at Rays, ALDS Game 4 (FS1)
8pm ET: Mystics (up 2-1) at Sun, WNBA Finals Game 4 (ESPN)
Today's word count: 1,455 words (5 minutes)
1 big thing: 🏀 Silver responds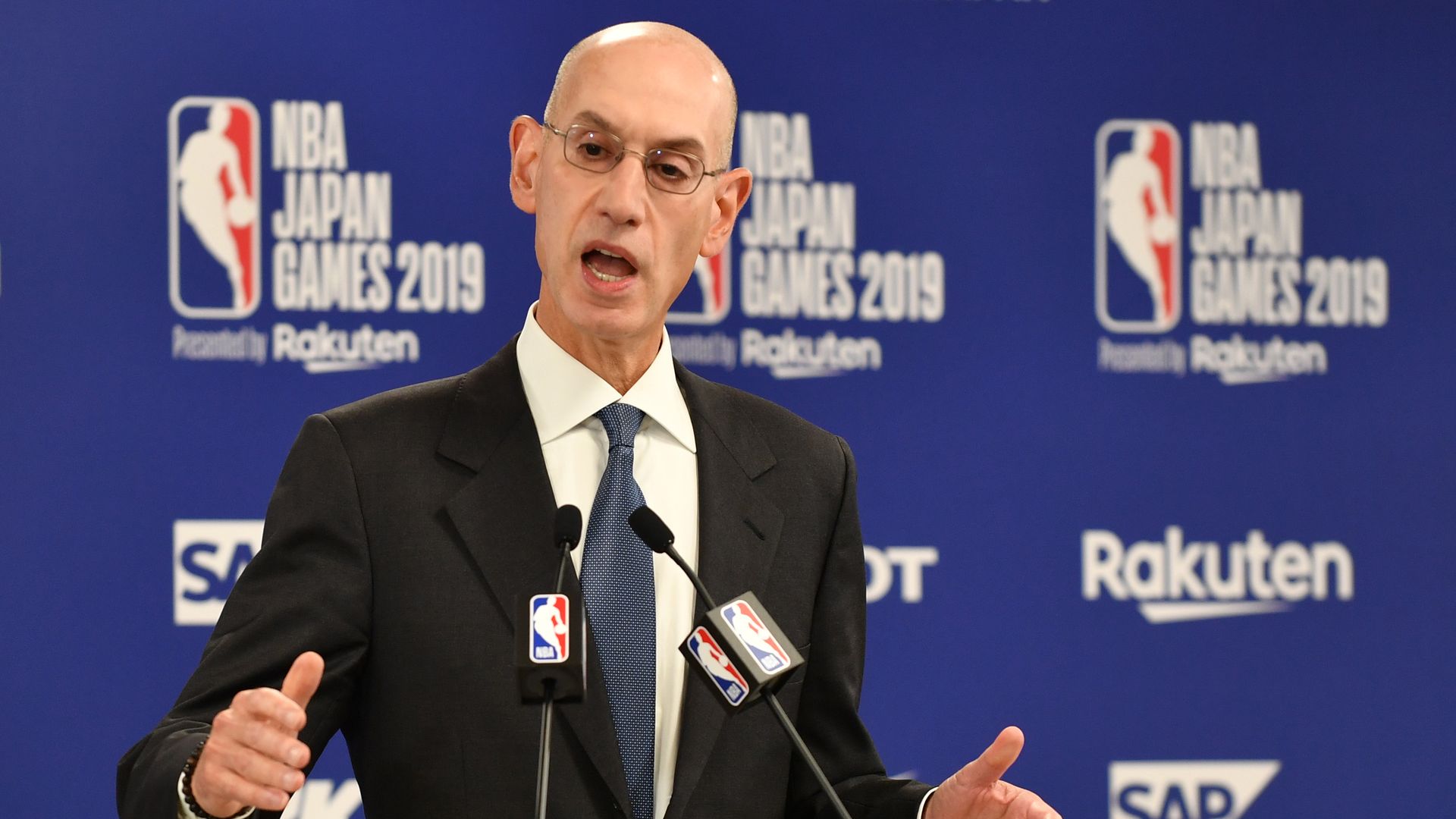 NBA commissioner Adam Silver released a statement this morning on the NBA-China situation, reading in part:
"I recognize our initial statement left people angered, confused or unclear on who we are or what the NBA stands for. Let me be more clear.
"Over the last three decades, the NBA has developed a great affinity for the people of China. ... At the same time, we recognize that our two countries have different political systems and beliefs.
"But for those who question our motivation, this is about far more than growing our business. Values of equality, respect and freedom of expression have long defined the NBA — and will continue to do so.
"It is inevitable that people around the world — including from America and China — will have different viewpoints over different issues. It is not the role of the NBA to adjudicate those differences.
"However, the NBA will not put itself in a position of regulating what players, employees and team owners say or will not say on these issues. We simply could not operate that way.
"Basketball runs deep in the hearts and minds of our two peoples. At a time when divides between nations grow deeper and wider, we believe sports can be a unifying force."
🚨 Breaking news: Silver just wrapped up a live press conference in Japan, where he took a much stronger stance. I watched and took some notes for you. Here he is when first asked about the backlash to Morey's tweet.
"The long-held values of the NBA are to support freedom of expression. ... And in this case, Daryl Morey, as general manager of the Houston Rockets, enjoys that right as one of our employees.
"I understand that there are consequences from that exercise of, in essence, [Daryl's] freedom of speech and we will have to live with those consequences.
"But as a league, we are not willing to compromise those values. And, again, I'm sympathetic to our interests here and to our partners who are upset. I don't think it's inconsistent, on one hand, to be sympathetic to them, and at the same time, stand by our principles."
More quotes:
On American values: "I don't come here, either as the commissioner of the NBA or as an American, to tell others how they should run their governments. At the end of the day, though, I am an American and these values that are deeply rooted in the DNA of the NBA."
On Yao Ming: "Our office has communicated directly with Yao Ming and he is extremely upset. I'm not sure he quite accepts how we are operating our business right now. And again, I accept that we have a difference of opinion. … He is extremely hot at the moment and I understand it."
What's next: Silver plans to travel to Shanghai tomorrow to attend the Lakers-Nets preseason game, which won't be shown in China after state broadcaster CCTV announced that it was suspending the broadcast.
2. ⚾️ ALDS: Yankees advance, Rays survive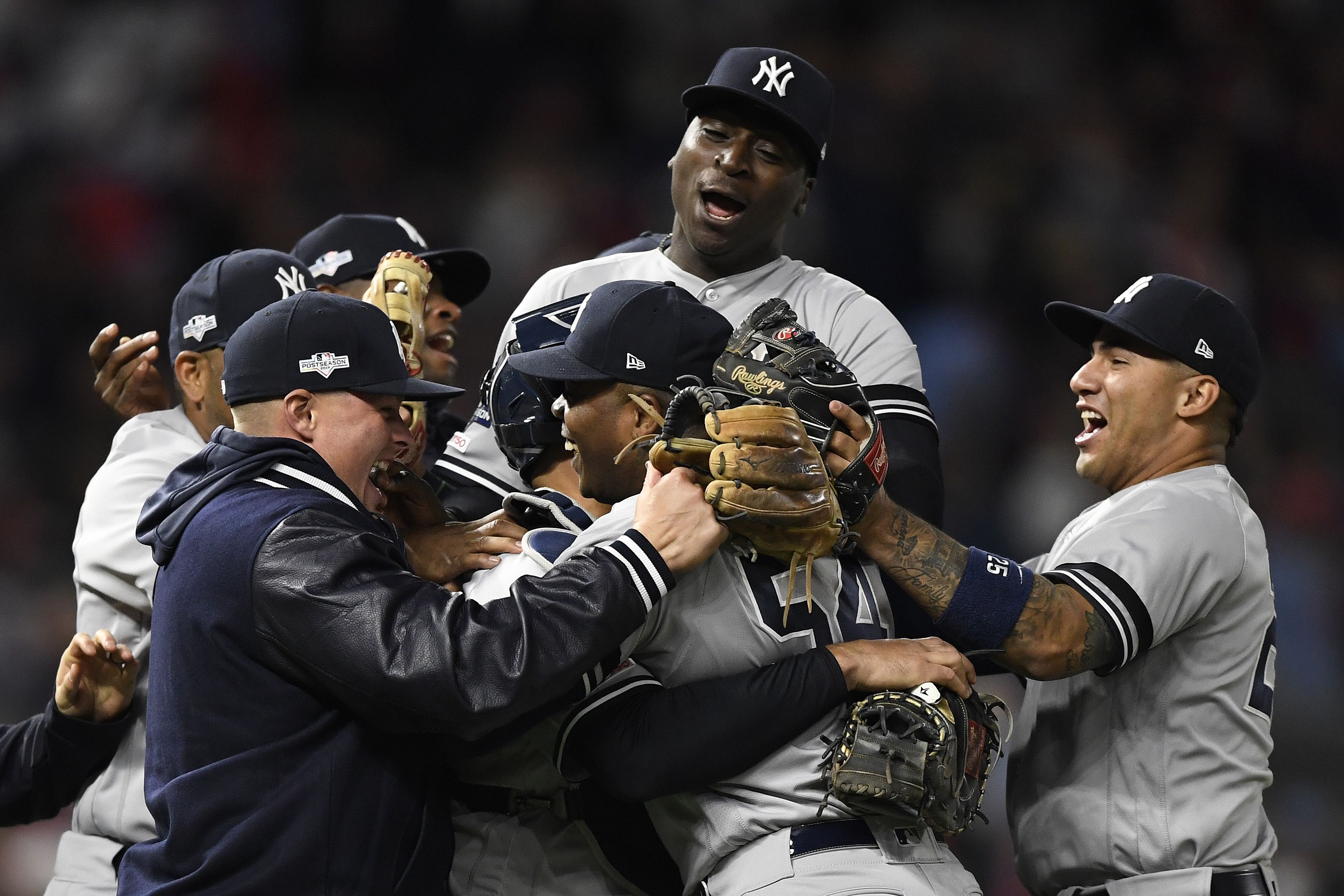 Photo: Hannah Foslien/Getty Images
MINNEAPOLIS — Gleyber Torres hit a 2nd-inning HR, scored on each of his 2 doubles and made a pair of impressive defensive plays to lead the Yankees past the Twins, 5-1, and complete the series sweep.
The poor Twins: Minnesota becomes the first 100-win team to get swept in the Division Series and has now lost 13 straight postseason games to the Yankees since winning Game 1 of the 2004 ALDS.
What's next: The Yankees advance to the ALCS, where they'll play either the Astros or the Rays.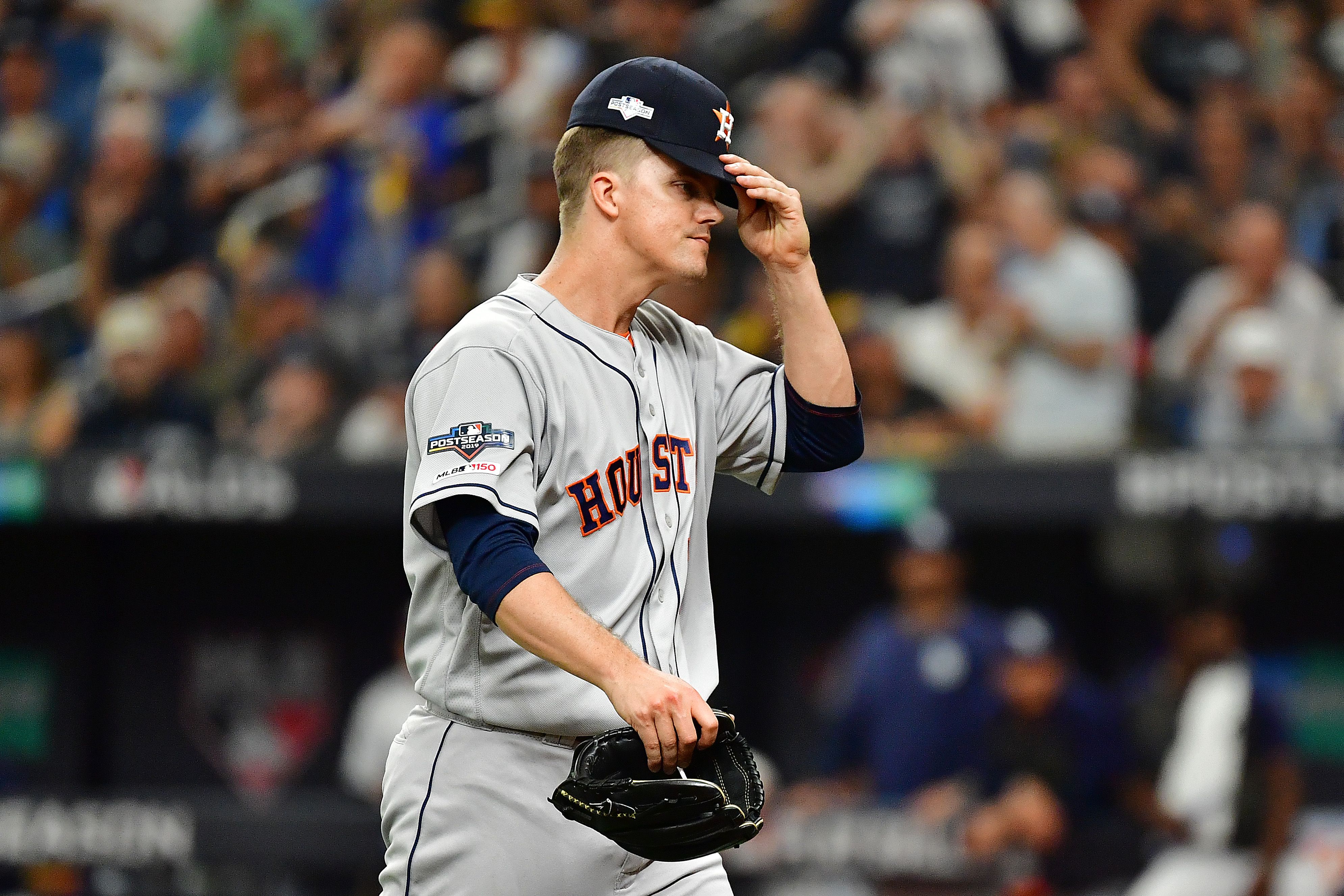 Photo: Julio Aguilar/Getty Images
ST. PETERSBURG, FLA. — After being shut down by Justin Verlander and Gerrit Cole, the Rays teed off on Houston's 3rd ace, Zack Greinke, and staved off elimination with an emphatic 10-3 win at home.
The ballpark was packed (for once): "The fans even sat in the upper deck, where the seats are usually covered by tarps ... and packed the lower levels to give Tropicana Field a genuine playoff feel," writes NYT's David Waldstein.
What's next: Houston will hand the ball to Verlander tonight, while the Rays will deploy a series of relievers starting with Diego Castillo.
3. ⚾️ NLDS: Cards, Nats both force Game 5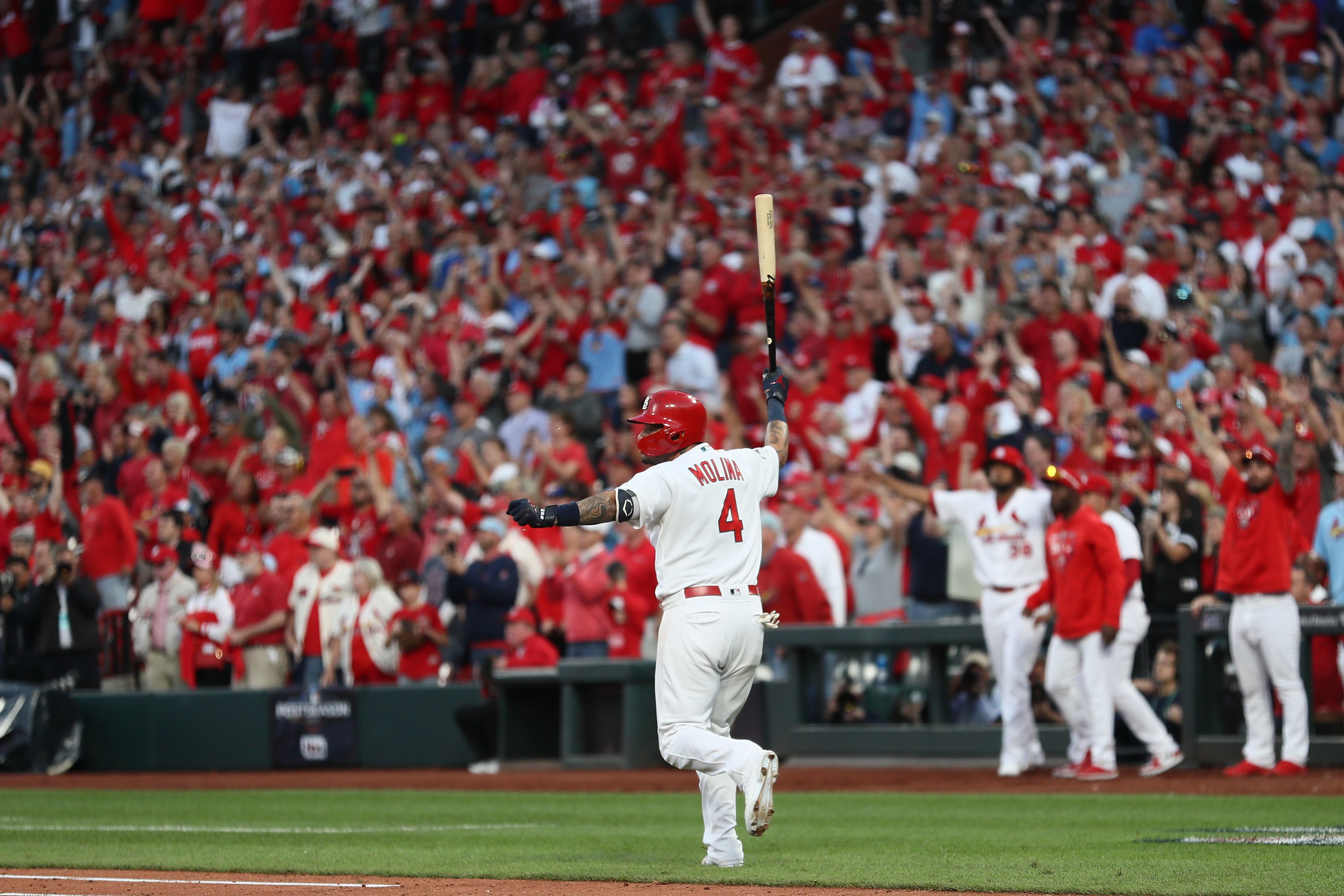 Photo: Jamie Squire/Getty Images
ST. LOUIS — Yadier Molina hit a game-tying single in the 8th inning and a game-winning sacrifice fly in the 10th to help the Cardinals beat the Braves, 5-4, and keep their season alive.
By the numbers: "[Molina] has the most hits (12) in the past decade on the first pitch, in the eighth inning or later, when his team trails by one run. Yes, that's a mouthful, but it's yet another illustration of how clutch Molina really is." (ESPN)
What's next: Game 5 will be back in Atlanta on Wednesday. The Cardinals will start Jack Flaherty (3 earned runs in Game 2 loss), while the Braves will counter with Mike Foltynewicz (0 earned runs in Game 2 win).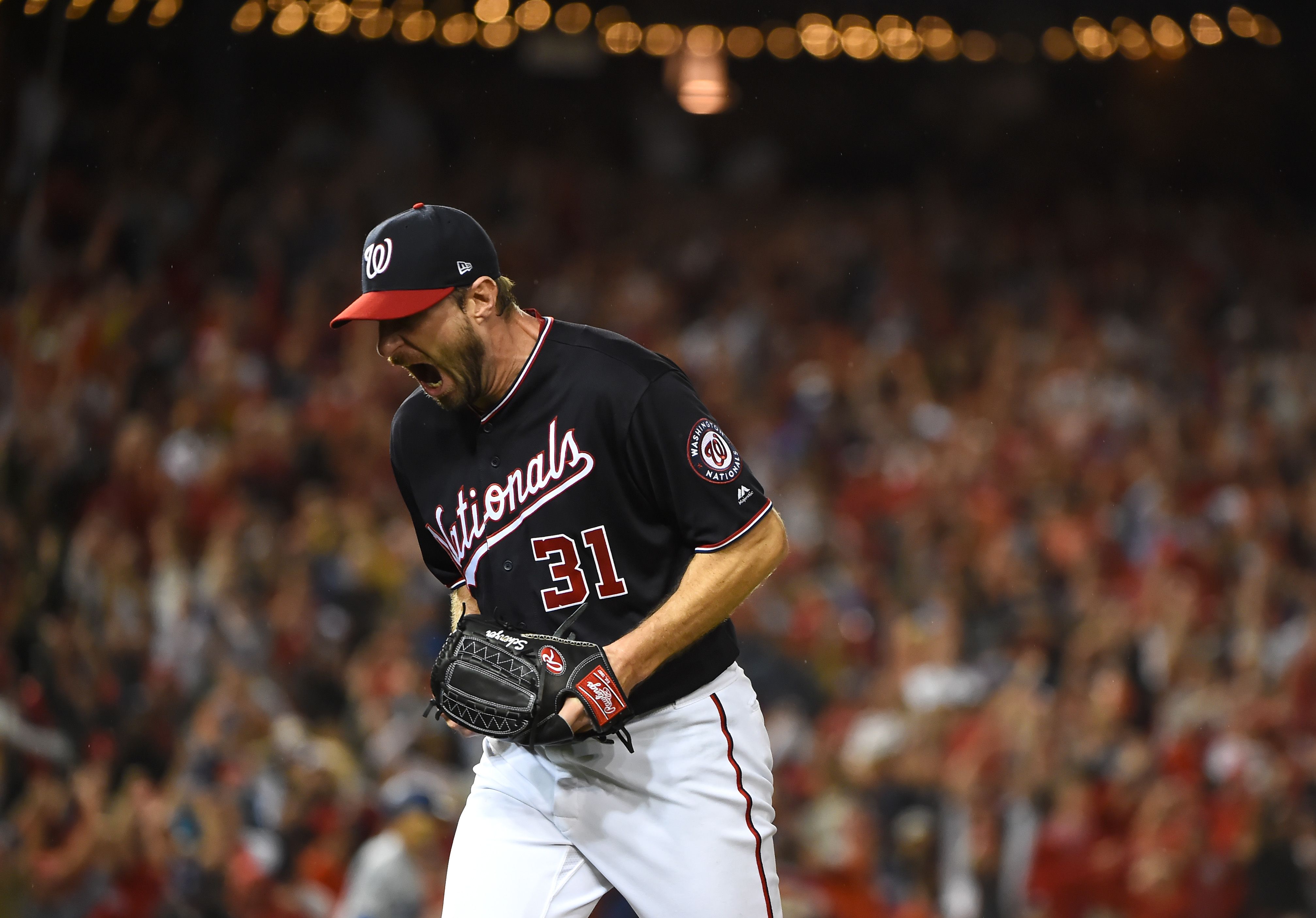 Photo: Will Newton/Getty Images
WASHINGTON, D.C. — 35-year-old Max Scherzer tossed a 7-inning masterpiece and 35-year-old Ryan Zimmerman hit a 3-run dinger to lift the Nationals to a 6-1 win over the Dodgers and force a decisive Game 5.
Scherzer: "We're a bunch of viejos. We're old guys. Old guys can still do it. ... I was just gassed. I was out. I was empty in the tank."
What's next: Game 1 standout Walker Buehler will start at home on Wednesday, with Clayton Kershaw available. The Nationals will counter with Stephen Strasburg, whose career postseason ERA (0.64) is the best in history for pitchers with at least 4 starts.
4. 🤝 The complicated world of media valuations
A slew of digital media acquisitions over the past few weeks shows how precarious private valuations can be, writes Axios' Sara Fischer.
Why it matters: The only way to really know how much a company is worth is if it sells in an all-cash deal.
When privately-held companies sell via all-stock transactions or via a mix of cash and stock, dealmakers can essentially make up the value of the assets they're buying or selling.
Go deeper: Sign up for Sara's weekly newsletter, Axios Media Trends.
5. 📊 By the numbers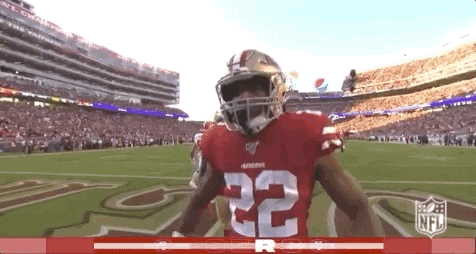 🏈 22.3 MPH
49ers RB Matt Breida hit a max speed of 22.3 MPH on his 83-yard rush TD in last night's 31-3 win over the Browns. That's the fastest of any ball carrier over the last 3 seasons, per Next Gen Stats.
Game recap: "The Cleveland Browns were humiliated, humbled and, ultimately, hammered." (ESPN)
🏒 18 years, 21 teams
Journeyman goalie Michael Leighton announced his retirement from professional hockey yesterday, concluding an 18-year career that saw him play for 21 different pro teams.
Leighton: "You want to be that guy who ... plays a thousand games with the same organization and has a house, family all established in one city. People don't realize it's only a handful of people on every team that get that opportunity to do that." (The Athletic)
🏀 $31 million
Kyle Lowry and the Raptors have agreed on a 1-year, $31 million extension that takes him out of July's free-agent market. The 5-time All-Star is due $33.3 million this season, so this guarantees him a cool $64.3 million over the next 2 years.
This season's highest-paid point guards: 1. Steph Curry ($40.2M), 2. Chris Paul ($38.5M), and Russell Westbrook ($38.5M), 4. John Wall ($38.2M), 5. Lowry ($33.3M). Full list.
6. Oct. 8, 1956: ⚾️ Don Larsen's perfect game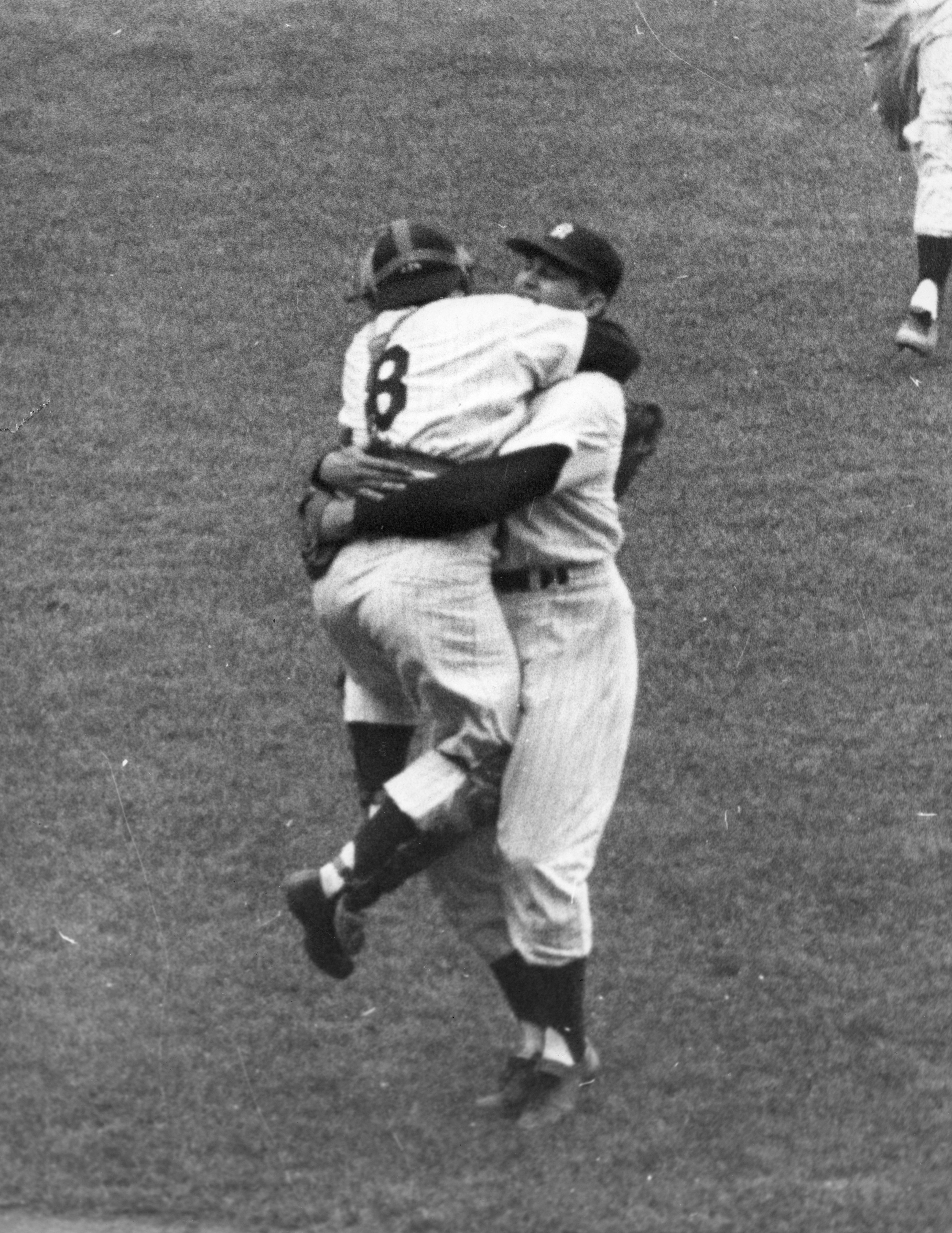 Yogi Berra leaps into Don Larsen's arms. Photo: Bettmann/Getty Images
63 years ago today, Yankees pitcher Don Larsen threw a perfect game against the Brooklyn Dodgers in Game 5 of the 1956 World Series.
Why it matters: It remains the only perfect game in World Series history and was the only no-hitter of any type in postseason play until Roy Halladay tossed a no-hitter during the 2010 NLDS.
The big picture: The Yankees won the World Series in 7 games. It was the last all-New York City series until 2000, with the Dodgers and Giants both moving to California after the 1957 season.
Time flies: With Yogi Berra's death in 2015, Larsen is the last living player for either team who played in this game.
Go deeper: Vin Scully calls Larsen's perfect game (YouTube)
7. ⚾️ MLB trivia
Astros 2B José Altuve hit his 10th career postseason HR yesterday, becoming just the 2nd Venezuelan-born player with at least 10 playoff dingers.
Question: Who is the only other Venezuelan-born player with at least 10 career playoff dingers?
Hint: Currently active, has been playing for the same AL Central team since 2008.
Answer at the bottom.
8. The Ocho: 🏁 World Rally Championship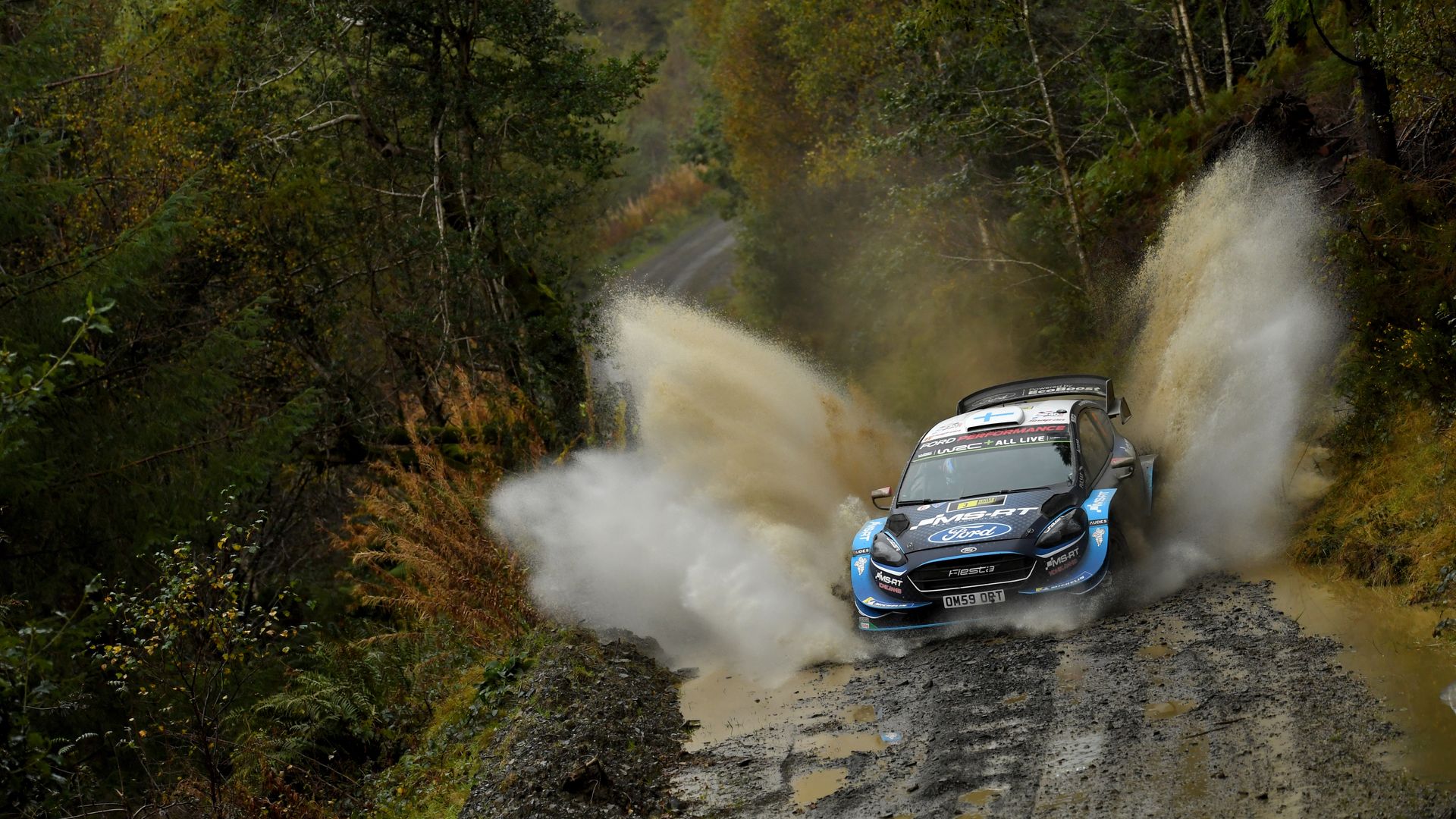 Drivers competed on muddy forest roads in North Wales this weekend during the Wales Rally GB — the most high-profile motor rally in the U.K., which has been running annually since 1932.
Details: The Wales Rally GB is one of 14 three-day events that make up the World Rally Championship, which sees drivers compete all over the world on surfaces ranging from gravel and tarmac to snow and ice.
Be smart: "Rally" is a form of motorsport that takes places on public or private roads with specifically built road-legal cars, with drivers and their co-drivers racing from Point A to Point B rather than on a "track" or "circuit."
Go deeper: Wales Rally highlights (YouTube)
Talk tomorrow,
Kendall "Adam Silver fan" Baker
Trivia answer: Miguel Cabrera