October 05, 2021
👋 Good morning! Fenway should be rocking tonight for Yankees-Red Sox. First pitch: 8:08pm ET (Cole vs. Eovaldi).
Today's word count: 1,377 words (5 minutes).
Let's sports...
1 big thing: ⚾️ MLB season in review
The MLB postseason begins tonight, with one of the greatest rivalries in sports taking center stage, Axios' Jeff Tracy writes.
Looking back: Before the playoffs get underway, let's take a look back on the 2021 campaign — a season headlined by Ohtani fever and sticky stuff.
The unicorn: Shohei Ohtani as a batter: 46 HR, 8 3B, 100 RBI, 103 R, .965 OPS, 26 SB. ... As a pitcher: 9-2, 3.18 ERA, 130.1 IP, 156 K. We'll remember this magical season forever.
Rate of play: Nine-inning games lasted longer than ever (3 hours, 10 minutes), despite rules designed to speed things up. Doesn't help that teams used a record 3.4 relievers per game. Pitch clock coming?
Feeling 22: Juan Soto, Vladimir Guerrero Jr. and Fernando Tatis Jr. — all just 22 years old — had three of the best seasons we've ever seen from players their age.
Historically unlucky: Toronto's +183 run differential is the third-best of the divisional era (1969) for a team that missed the playoffs.
The crackdown: On June 3, when word first emerged of MLB's impending sticky stuff crackdown, league-wide batting average was a record-low .236. From that point on, average rose to .248.
DeGromination: Despite injuries limiting him to just 92 innings, Jacob deGrom (1.08 ERA, 0.55 WHIP) amassed the eighth-most WAR among all pitchers. Ah, what could have been...
Miggy's milestones: Miguel Cabrera, 38, hit the season's first HR (through the snow!) and later became the 28th player to hit 500. Next up: He's 13 hits shy of 3,000.
Injuries took a toll: Teams averaged 32 injured list stints — a 39% increase over 2019. Nearly twice as many players landed on the IL multiple times this season (216) compared to 2019 (131).
Go deeper:
2. ⚾️ Stat du jour: Four juggernauts
The four teams competing in Wild Card games today and tomorrow are the four winningest franchises in MLB since 2000.
Yankees: 2,011-1,447 (.582)
Cardinals: 1,932-1,527 (.559)
Dodgers: 1,930-1,532 (.557)
Red Sox: 1,908-1,553 (.551)
Go deeper: The best Red Sox-Yankees memories (ESPN)
3. 🏳️‍🌈 Study: LGBTQ athletes feel accepted
Athletes who have come out as LGBTQ in high school and college report widespread acceptance from teammates, according to a new study.
By the numbers: More than 95% of the athletes surveyed said their teammates' responses to them coming out were "neutral" to "perfect."
4.6% of respondents said their experience was "bad" or worse. 24.8% said the response was "perfect or near perfect."
The study, conducted by Outsports, the University of Winchester and the Sports Equality Foundation, surveyed over 800 LGBTQ athletes in the U.S. and Canada about their experiences.
What they're saying: "This reflects years of research ... all showing athletes are more comfortable with gay teammates than most anyone thought possible," said Eric Anderson of the University of Winchester.
"The first time I ever admitted to someone I was gay was in front of all 130 of my fellow teammates," said one college football player. "[I]t was a spur of the moment decision. So glad I did it."
"My experience has overwhelmingly been that teammates are more open and supportive of their peers when coming out because of the shared bonds ... that sports offer them," said UCLA softball coach Kirk Walker, who is gay.
The big picture: This locker room acceptance reflects the publicly shared experiences of pro athletes like NFL player Carl Nassib, who came out and June and has barely been a story — another sign of progress.
72% of Americans say homosexuality should be accepted in society, up from 49% in 2007, per the Pew Research Center.
4. ⚡️ Lightning round
🏁 Bubba makes history: Bubba Wallace won at Talladega, becoming the first Black driver in 58 years to win a NASCAR Cup Series event.
💔 MMA fighter dies: Justin Thornton, 38, has died just weeks after he was violently knocked out in an August fight.
🏀 NBA pay reductions: Unvaccinated NBA players face a 1/91.6 salary reduction for each game missed because of local vaccine mandates.
🏆 Champa Bay: Tampa's sports teams are experiencing a surge of wins unlike any other city in recent history.
🎾 Zverev investigation: The ATP Tour is investigating Alexander Zverev after accusations of domestic abuse made by a former girlfriend.
5. 🏈 MNF: Chargers 28, Raiders 14
The Chargers signaled their arrival as AFC West title contenders with a 28-14 win over the Raiders on Monday night.
Justin Herbert (25/38, 222 yds, 3 TD) joined Patrick Mahomes and Dan Marino as the only QBs since the 1970 merger with 10 TD in their first three primetime starts.
AFC West teams are a combined 11-5 through four weeks: Chargers (3-1), Broncos (3-1), Raiders (3-1), Chiefs (2-2).
Looking ahead: For the first time since 1974, the Cardinals (4-0) will enter a week as the only undefeated NFL team.
6. 🏒 How to watch the NHL this season
The NHL season begins one week from today, and for the first time since 2004, you won't be tuning into NBC, Jeff writes.
Catch up quick: NBC's deal with the league expired last season, opening the door for ESPN and Turner Sports to ink their own seven-year contracts.
ESPN will air 18 exclusive games, and ABC will air 10 more.
ESPN+ has replaced NHL.TV as the out-of-market streaming option, so any non-national game that isn't on your local RSN will be there. ESPN+ will also air 75 exclusive games, simulcast to Hulu.
TNT will air at least 50 exclusive games, with 40 on Wednesday nights and the other 10 on the weekend.
Between the lines: Both broadcasters have hired NHL legends to lead their coverage.
ESPN analysts include Hall of Famers Mark Messier and Chris Chelios, and the network has unveiled a new weekly roundup show called "The Point," hosted by John Buccigross.
TNT's studio team is headlined by Wayne Gretzky, with Kenny Albert leads play-by-play. The first preseason broadcast had some glitches, but showed plenty of promise.
7. 📸 In photos: Muddy Sunday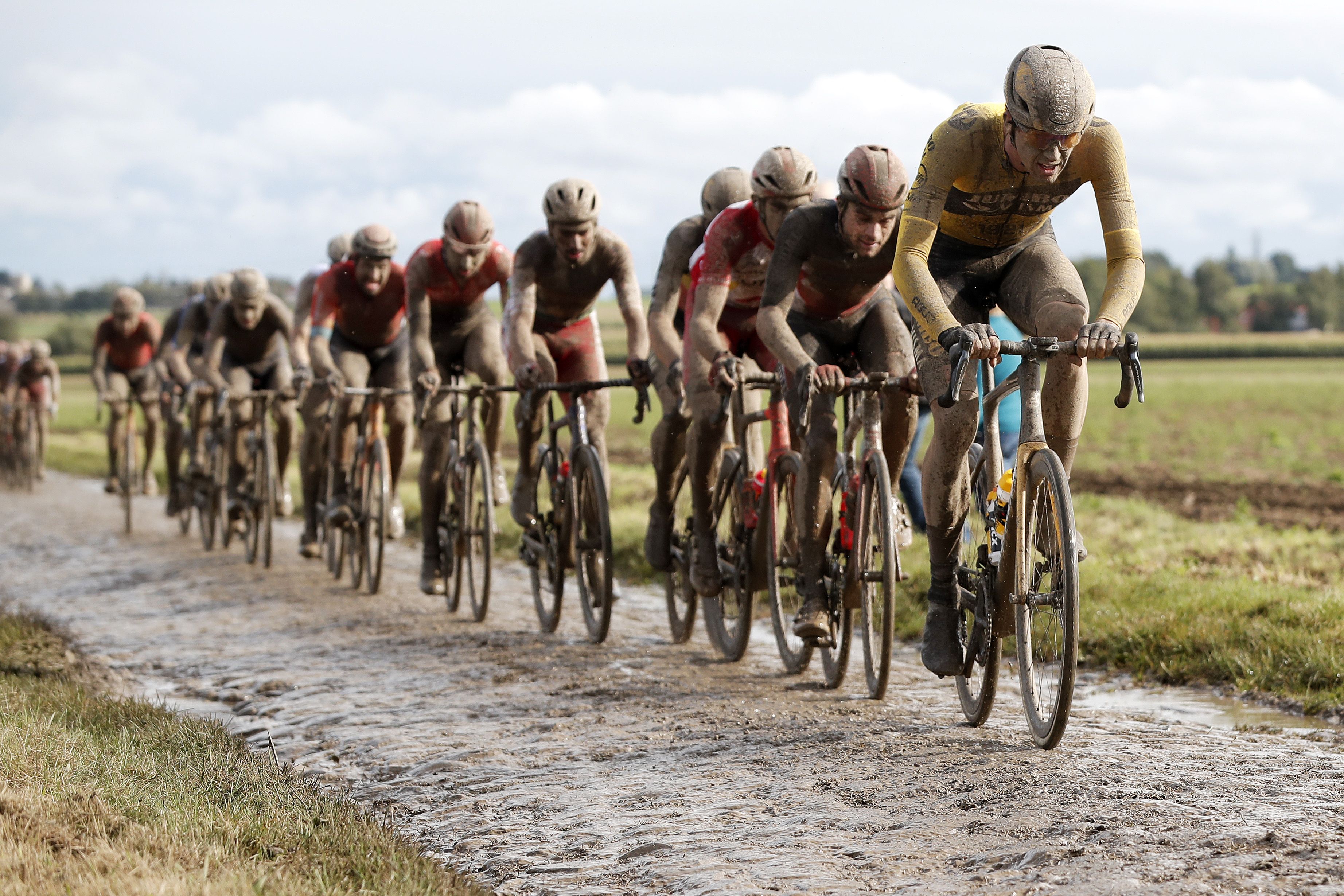 Paris-Roubaix, a 160-mile, one-day cycling race famous for its rough terrain and cobblestones, was even more treacherous than usual this year thanks to the rain — and thus, the mud.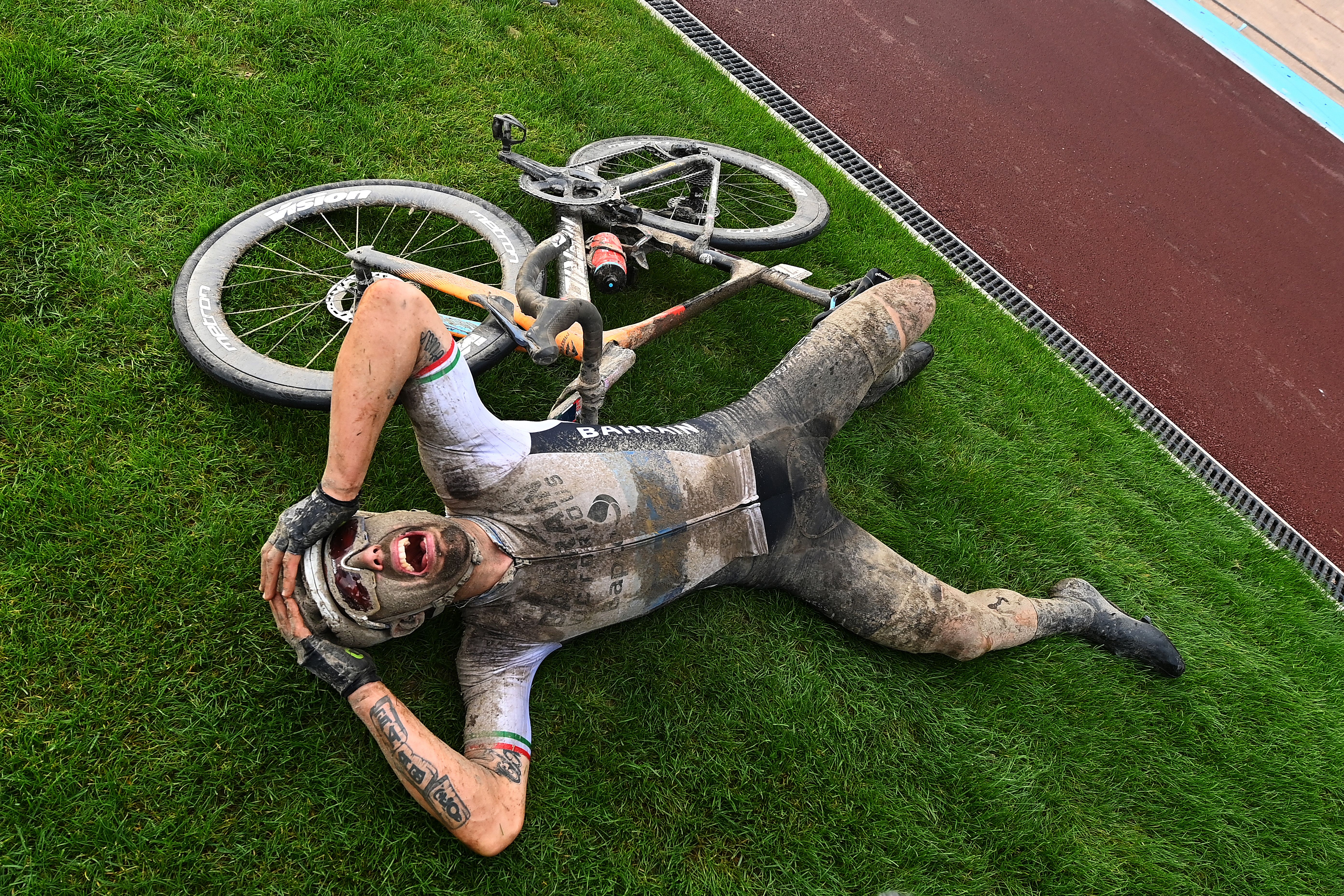 The winner: Sonny Colbrelli emerged victorious on Sunday, winning the 118th edition of the century-plus-old race known as "Hell of the North." The Italian was barely recognizable under a layer of dirt.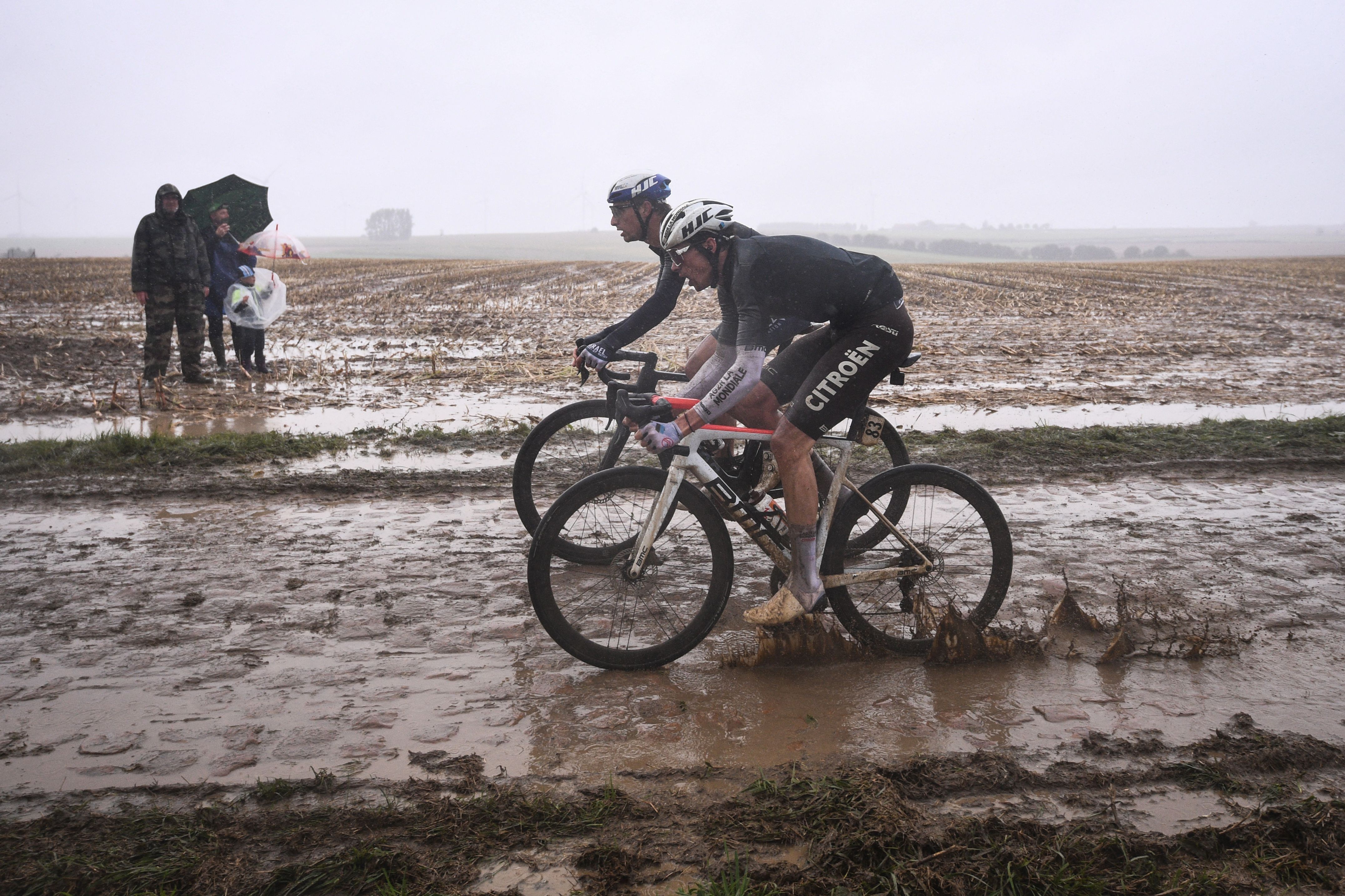 The course: The peloton navigated the narrow streets and rutted tracks of northern France's former coal-mining region — roads that will be used mostly by tractors the rest of the year.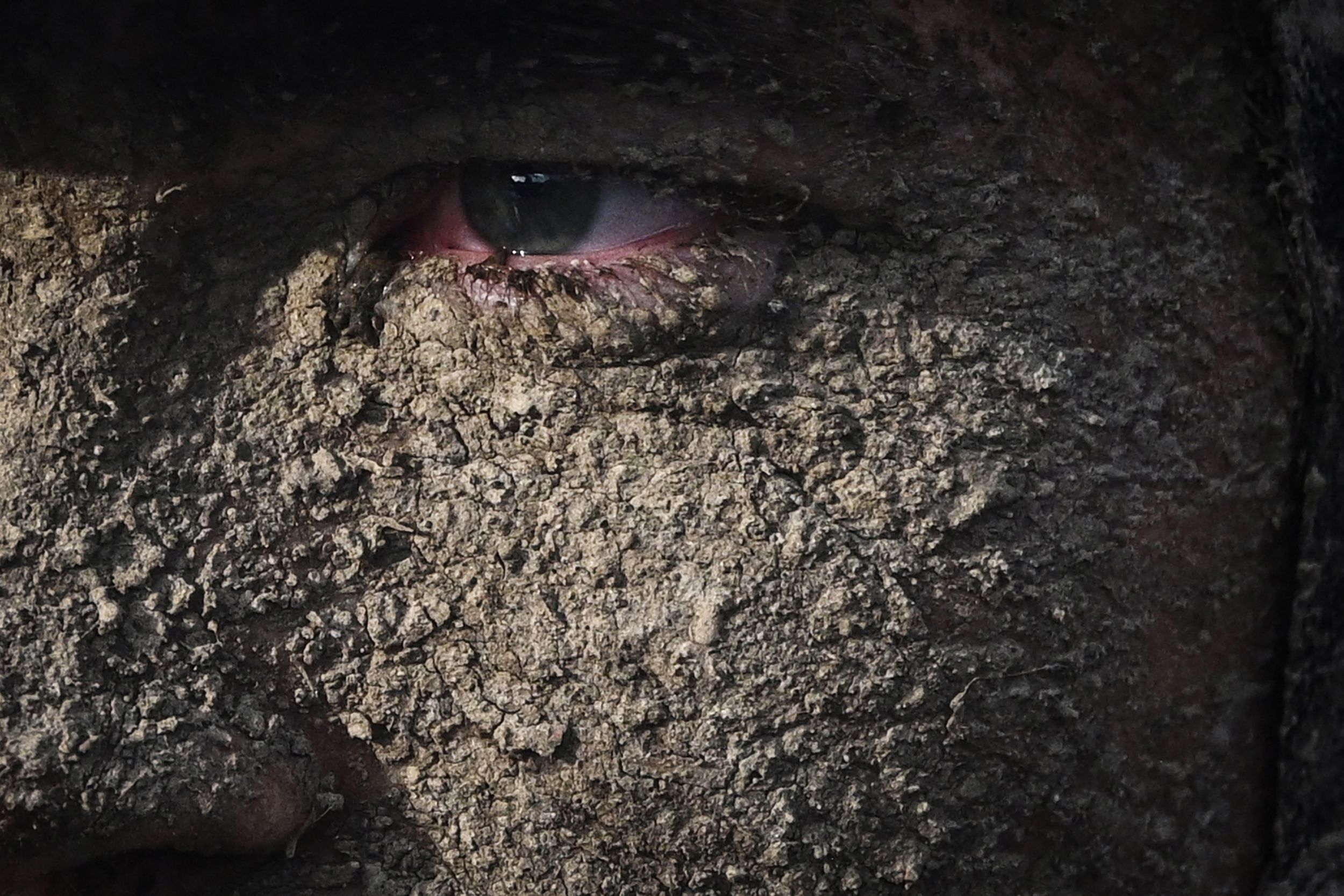 What they're saying: "You have a 50% chance of falling," said Team Deceuninck-Quickstep coach Tom Steels. "A wet Roubaix [is] one of my biggest nightmares," added Dutch rider Dylan van Baarle.
🎥 Watch: Highlights (YouTube)
8. 📆 Oct. 5, 1983: Gretzky's historic streak
38 years ago today, Wayne Gretzky notched a goal and an assist in the Oilers' season-opening win — and thus began his record 51-game points streak.
Longest points streaks:
Gretzky, EDM: 51 games (1983–84)
Mario Lemieux, PIT: 46 (1989–90)
Gretzky, EDM: 39 (1985–86)
By the numbers: Gretzky didn't merely scrape by during the streak — he averaged three points a night (61 goals, 92 assists).
Wild stat No. 1: He could have sat out the rest of the season once his streak ended and still won the scoring title by 27 points.
Wild stat No. 2: He scored at least five points 12 times during the streak, and his two eight-point efforts represent 12.5% of all such games in NHL history.
The aftermath: The Oilers won their first Stanley Cup that year, and Gretzky led them to three more over the next four years before he was shockingly traded to the Kings in 1988.
🎥 Watch: "The Streak" (NHL)
9. ⚾️ MLB trivia
As noted above, the Yankees, Cardinals, Dodgers and Red Sox are the four winningest MLB franchises this century.
Question: Which franchise is fifth?
Hint: Had a winning record this year.
Answer at the bottom.
10. ⚾️ 1 fun thing: MLB awards picks
American League:
MVP: Shohei Ohtani (LAA) over Vladimir Guerrero Jr. (TOR)
Cy Young: Robbie Ray (TOR) over Gerrit Cole (NYY)
ROY: Randy Arozarena (TB) over Wander Franco (TB)
Manager: Kevin Cash (TB) over Charlie Montoyo (TOR)
National League:
MVP: Bryce Harper (PHI) over Juan Soto (WSH)
Cy Young: Zack Wheeler (PHI) over Max Scherzer (LAD)
ROY: Jonathan India (CIN) over Trevor Rogers (MIA)
Manager: Gabe Kapler (SF) over Craig Counsell (MIL)
Go deeper: What we learned from the 2021 season (The Athletic)
Talk tomorrow,
Kendall "Loves October baseball" Baker
Trivia answer: Braves: 1,858-1,600 (.537)
🙏 Thanks for reading. Don't forget to follow us on Twitter: @kendallbaker and @jeffreytracy.