👋 Good morning! Let's sports.
Today's word count: 1,542 (5 minutes)
1 big thing: 🏀 Team USA loses; basketball wins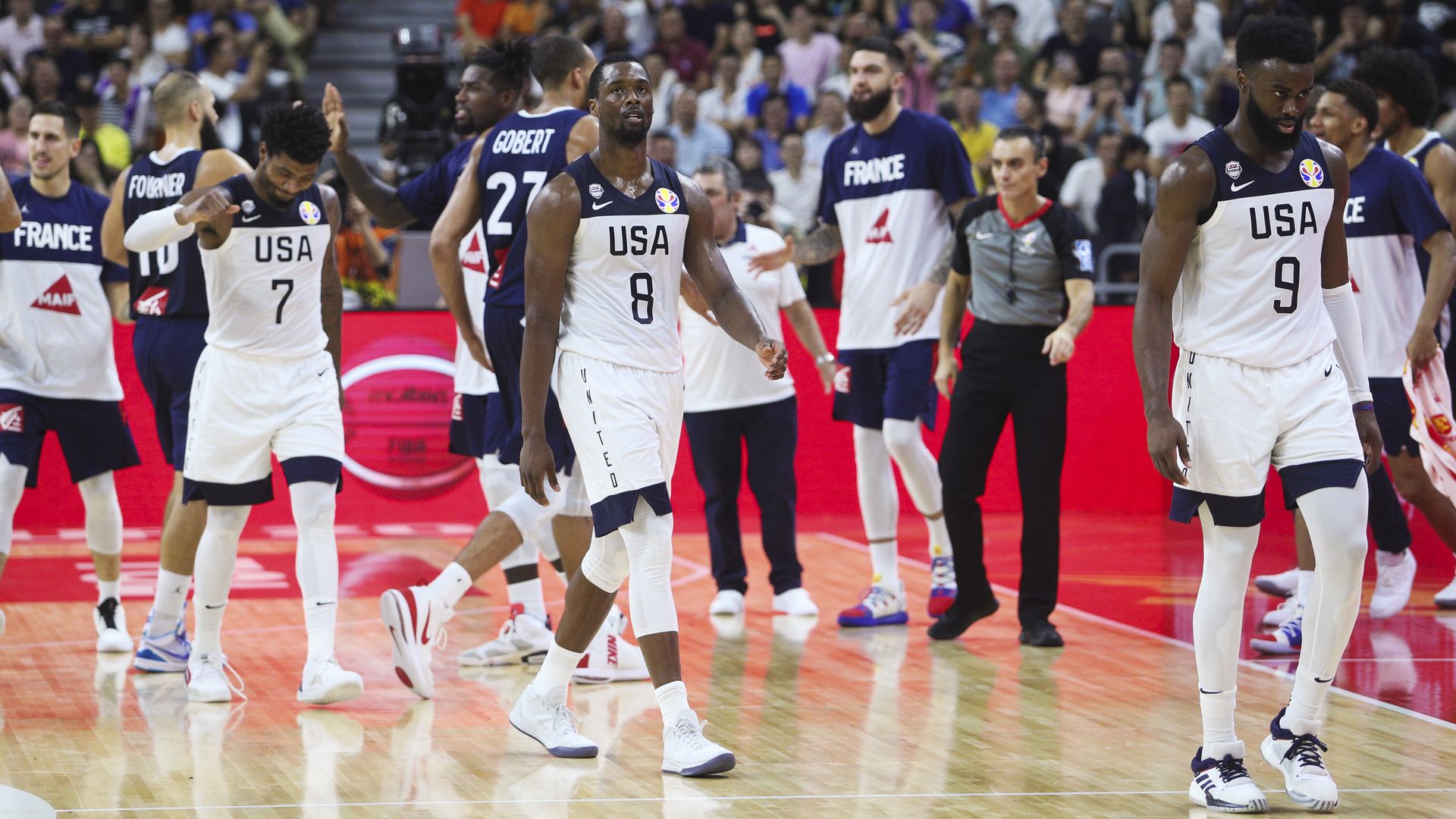 Team USA lost to France, 89-79, in the quarterfinals of the FIBA World Cup — a loss that fans knew could happen but never actually believed would.
Not that shocking: The warning signs were there for months, France is really good and this seems to happen every 16 years.
Game recap: France's inside-outside combination of NBA stars Rudy Gobert (21 pts, 16 reb) and Evan Fournier (22 pts, 4 ast) dominated, while Gobert's Jazz teammate, Donovan Mitchell, led all scorers with 29 points. (Highlights)
The backdrop: The U.S. had won 58 straight games in FIBA and Olympic competition, dating back to its loss to Greece in the 2006 world championship, which led to a bronze medal.
The silver lining: It's "hard to view this development as anything other than a positive, for several reasons," writes The Ringer's Zach Kram, citing growth of the sport, among other things.
"[A] clean U.S. sweep through the 2019 World Cup field, lackadaisical roster and all, might have appeared to be more of a calamity for the international game than the U.S. loss appears to be for the Team USA program," which might actually be able to recruit a better Olympic roster as a result.
"In the past, the sport expanded in part because of Team USA's dominance. But now, international basketball has never looked stronger; ironically, it's up to the Americans to keep up with the rest of the world."
What's next: Team USA plays Serbia today in the 5th-place game, while France plays Argentina in tomorrow's semifinal (the other semifinal is Spain-Australia).
2. 🏈 The NFL's new breed
From the "Air Raid" to run-pass options (RPOs), modern NFL offenses are more dangerous than ever because of one word: space. They use the whole field.
The impact: This evolution has resulted in a revolution at multiple positions, both on offense and defense.
The ground-and-pound running back has morphed into a versatile, all-around threat who can line up anywhere on the field and create a mismatch.
The run-stopping inside linebacker has morphed into a speed demon, capable of rushing the QB and defending slot receivers/pass-catching TEs.
The slot, or "nickel," cornerback, formerly a third-down reserve, has morphed into a de facto starter and one of the most important positions on the team.
See it in action: When the Panthers host the Buccaneers on Thursday Night Football (8:20pm ET, NFLN), we'll get to see 2 of these modern "archetypes" go head-to-head. They'll be matched up all over the field.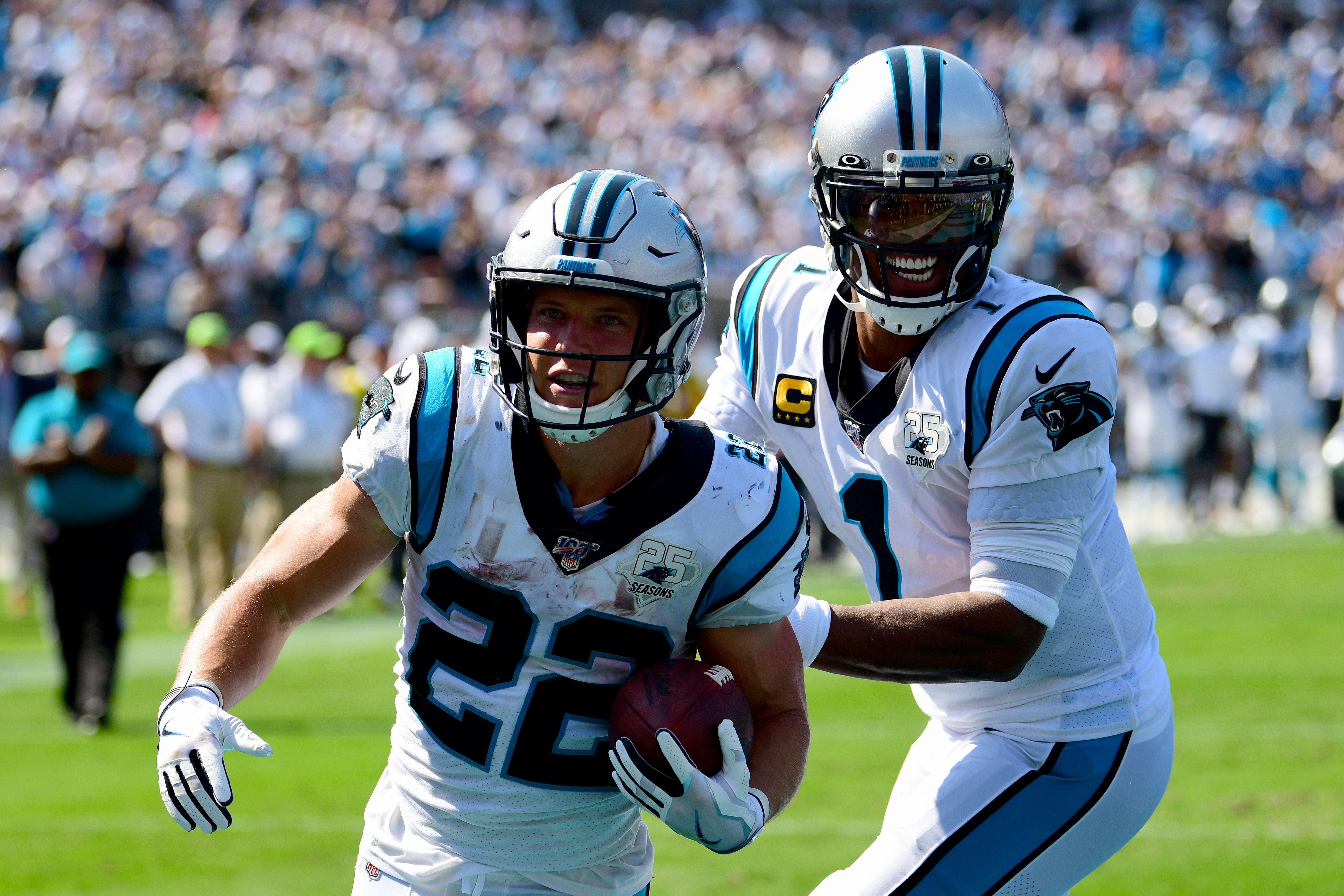 Christian McCaffrey. Photo: Jacob Kupferman/Getty Images
Name: Christian McCaffrey
Archetype: Versatile RB threat; Playmaker
Go deeper: "McCaffrey played football, basketball, baseball, and track throughout his youth. … Panthers coach Ron Rivera said that these all-around athletes [are] the key to the future of the NFL." (The Ringer)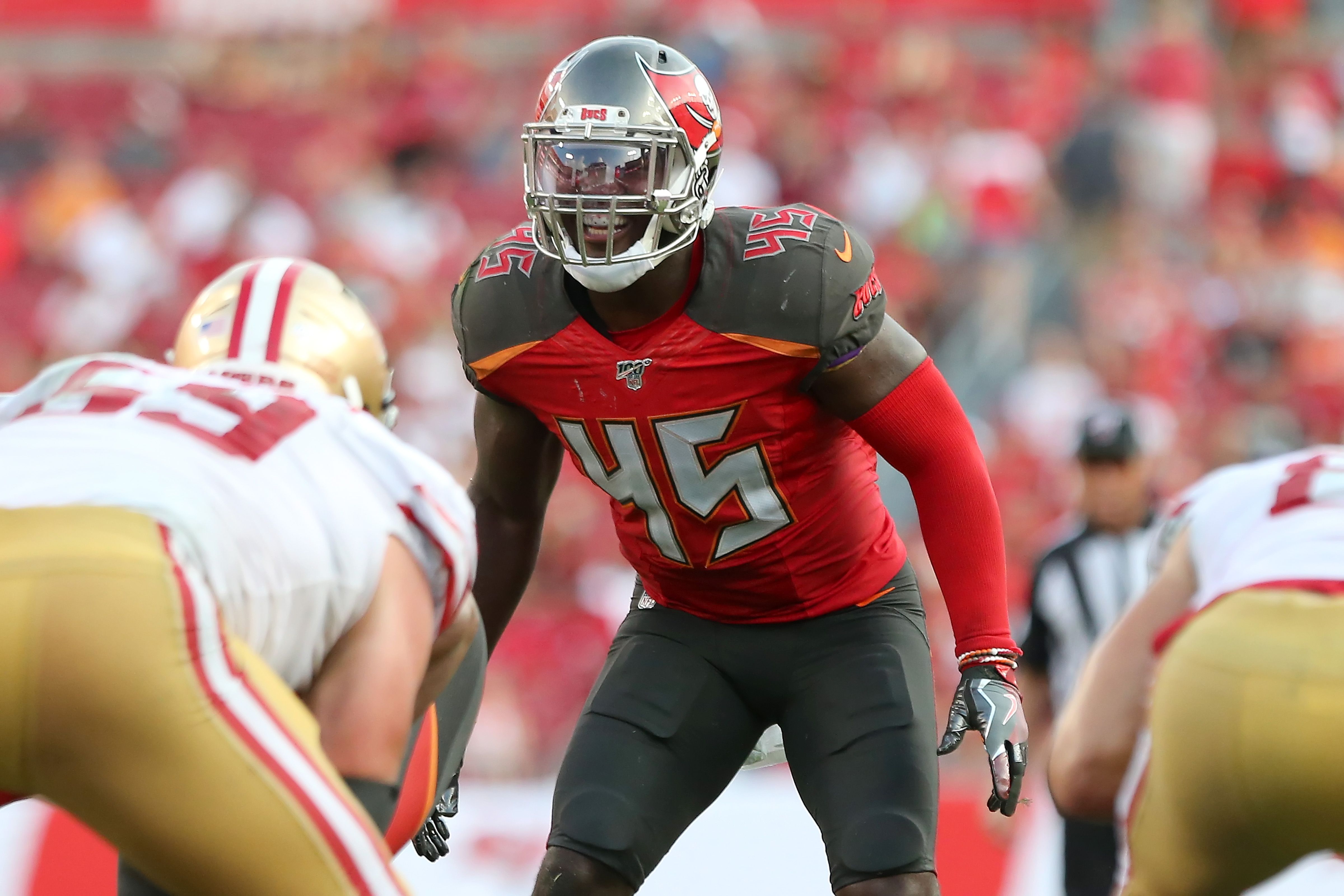 Devin White. Photo: Cliff Welch/Icon Sportswire via Getty Images
Name: Devin White
Archetype: Coverage LB; Sideline-to-sideline
By the numbers: 3 teams have used top-10 picks on coverage linebackers in the last 2 years: Roquan Smith (Bears, 2018), White (Buccaneers, 2019) and Devin Bush (Steelers, 2019). 10–20 years ago, these guys would have been safeties.
3. 🏇 NYT: Justify failed drug test before Triple Crown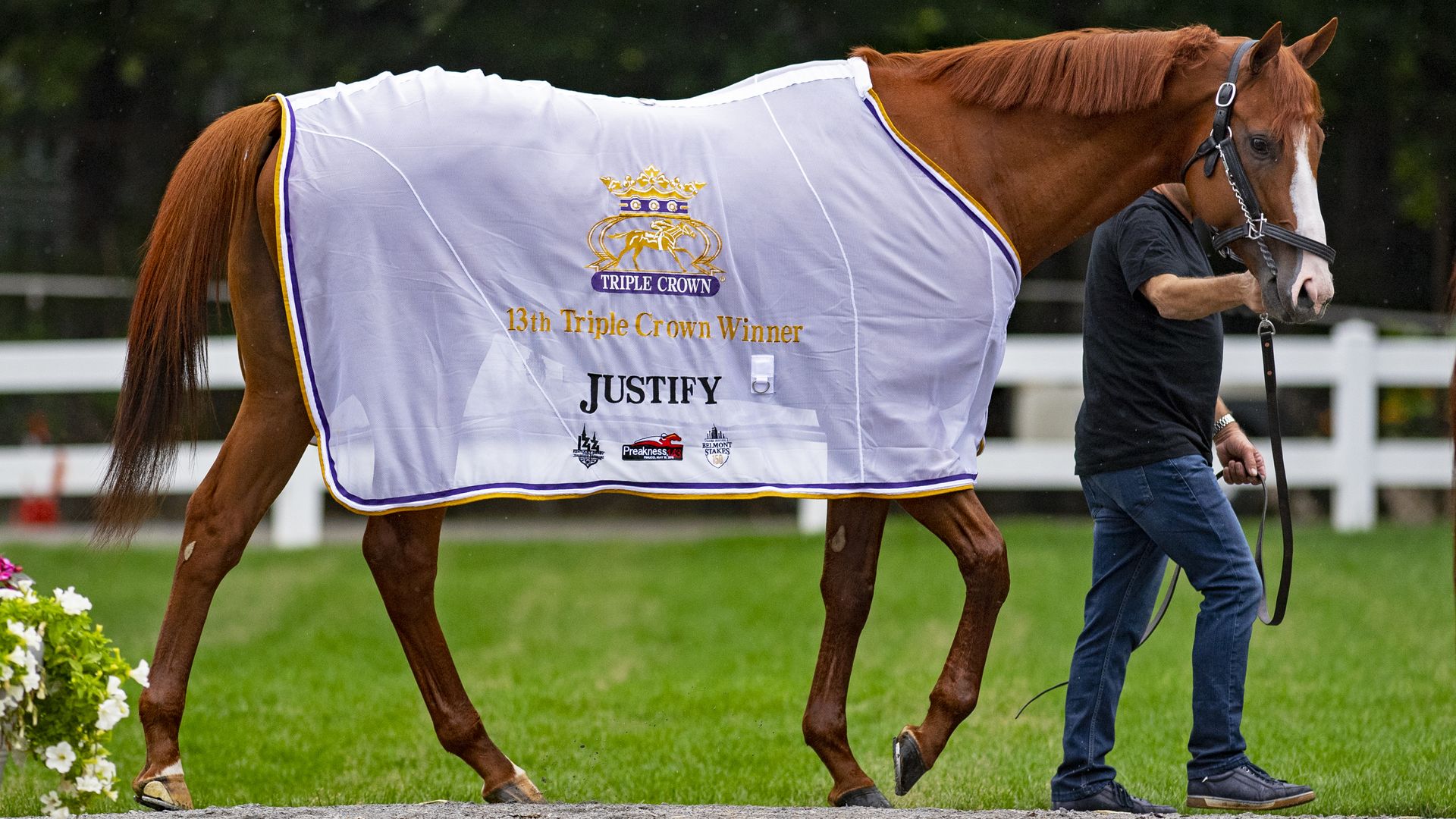 Explosive news out of the world of horse racing: 2018 Triple Crown winner Justify failed a drug test in the weeks leading up to that year's Kentucky Derby, NYT reports.
Why it matters: Under the rules in place at the time, Justify should have been disqualified from the Derby. Instead, the failed test was swept under the rug and Justify became the 13th Triple Crown winner in history.
By the numbers: Following this historic feat, the horse's owners sold Justify's breeding rights for a record $75 million. The Kentucky Derby victory, alone, was worth an estimated $15 million.
Details: Justify tested positive for scopolamine, a substance normally used to treat "stomach or intestinal problems, such as nausea and muscle spasms, in humans."
Scopolamine can reportedly optimize a horse's heart rate and make it more efficient, and the amount in Justify's system suggests "intentional intervention," according to one expert.
"Instead of the failed drug test causing a speedy disqualification, the California Horse Racing Board took more than a month to confirm the results," per NYT.
"Then, instead of filing a public complaint as it usually does, the board made a series of decisions behind closed doors as it moved to drop the case and lighten the penalty for any horse found to have [scopolamine] in its system."
The backdrop: Justify failed the test after a race at Santa Anita Park, the storied Los Angeles-area racetrack that has been under intense scrutiny because of the deaths of 30 horses there since Dec. 26.
In response, a federal bill was introduced in June that would create a private, independent authority to develop a nationwide anti-doping and medication control program for horse racing.
The bottom line: Between the rising death toll at Santa Anita, the controversial 2019 Kentucky Derby finish and now this nightmare — has any sport had a worse year than horse racing?
4. ⚾️ It's official: 2019 is the Year of the Home Run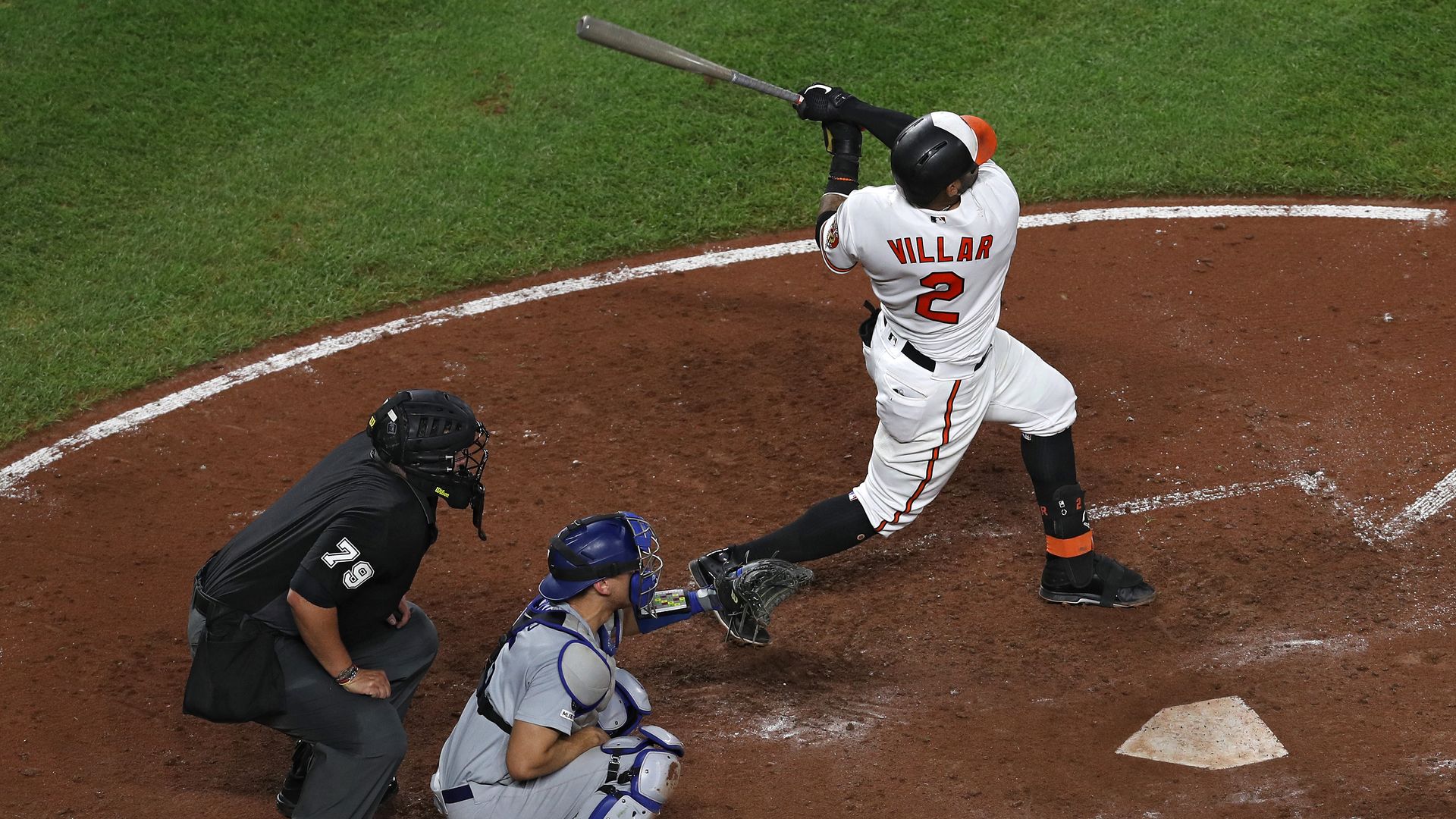 Orioles infielder Jonathan Villar hit the 6,106th home run of 2019 last night, officially breaking the MLB single-season record … with 3 weeks left to spare.
The irony: The fact that the record-setting dinger was hit by a member of the 2019 Orioles — the team that has surrendered more of them than any team in history (by a lot) — is hilarious.
The race for 50: Last season, just 3 players hit 40+ HR. This season, 6 players have already accomplished that feat and plenty more are closing in.
Pete Alonso, NYM (47)
Mike Trout, LAA (45)
Christian Yelich, MIL (44)
Eugenio Suarez, CIN (44)
Cody Bellinger, LAD (44)
Jorge Soler, KC (43)
Team leaders: Both the Twins (277) and Yankees (276) have blown past the previous single-season mark (267), and an incredible 16 teams are on pace to set a franchise record.
Minnesota Twins (277)
New York Yankees (276)
Los Angeles Dodgers (259)
Houston Astros (254)
Oakland A's (232)
5. 🏀 WNBA Playoffs: Seattle, Chicago advance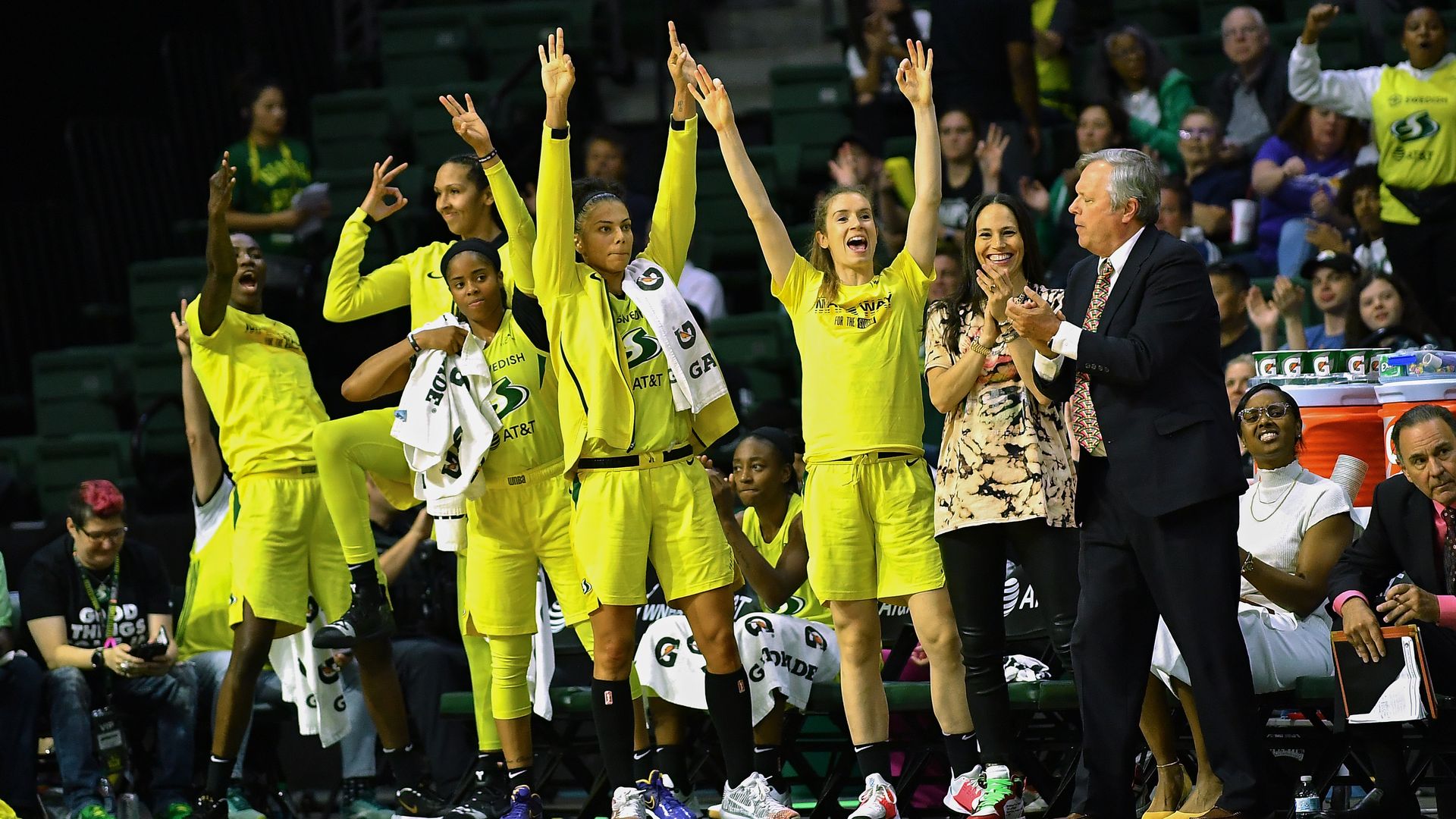 "On a night when Seattle Storm MVP candidate Natasha Howard was held to two points and WNBA 3-point percentage leader Alysha Clark made only one triple, Seattle turned to the backcourt for scoring punch ... against the Minnesota Lynx."
"Jordin Canada and Jewell Loyd delivered, combining for 48 points as the Storm won a matchup of the past two WNBA champions 84-74 to advance to the second round." (ESPN)
Elsewhere: The Chicago Sky beat the Phoenix Mercury 105-76 behind 25 points from Diamond DeShields — the most points scored by a player in their playoff debut since Candice Dupree scored 32 in 2010.
P.S. ... Speaking of women in sports, super proud of my friends over at The GIST for their recent U.S. launch. They're on a mission to make sports media more inclusive for women. Check them out.
6. ⛳️ McIlroy unexpectedly wins POY over Koepka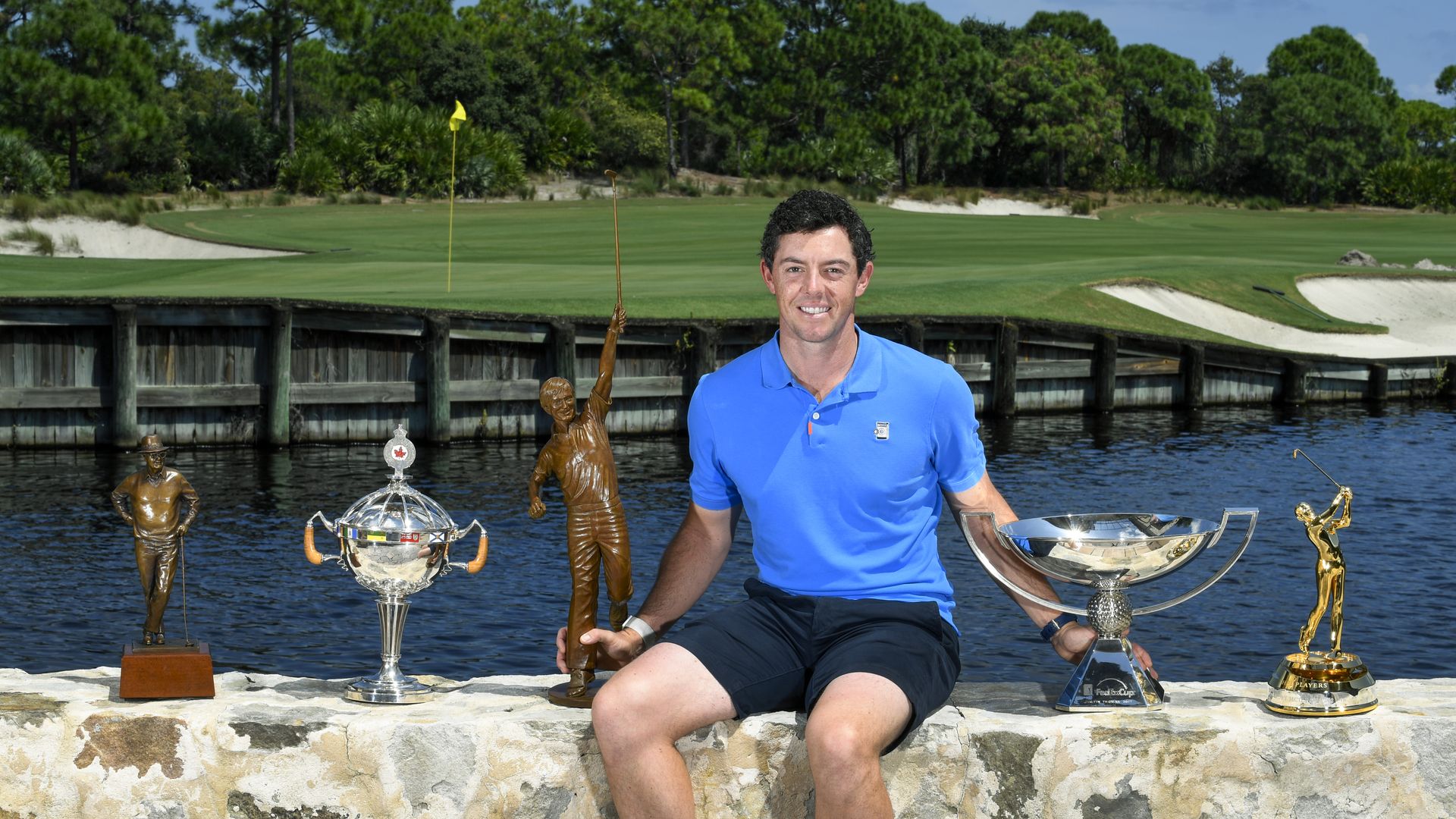 To the shock of many, Rory McIlory was name the PGA Tour's Player of the Year yesterday — an award that seemed destined to go to Brooks Koepka.
Koepka had, after all, already won the PGA of America's Player of the Year award, and before last night, it had been 28 years since the winner of one wasn't the winner of both.
How it works: While the PGA of America's award is determined based on a points system, the PGA Tour award relies on player voting, with members who played in at least 15 FedEx Cup events during the season casting ballots.
The big picture: This result suggests that players believe McIlroy's body of work over a whole season surpasses that of Koepka, who played his best golf in the majors.
"I think this speaks volumes of what PGA Tour players feel is important. I think players don't just feel that four weeks a year is important, it's more than that. We play a lot more. Why do we play 25 times a year if only four weeks are important?"
— McIlory, who had a hard time grasping that he'd won
Go deeper: Rory's win is going to make Brooks Koepka mad — and it should (ESPN)
7. Sept. 12, 1979: 🏀 Road ends for NBA's first woman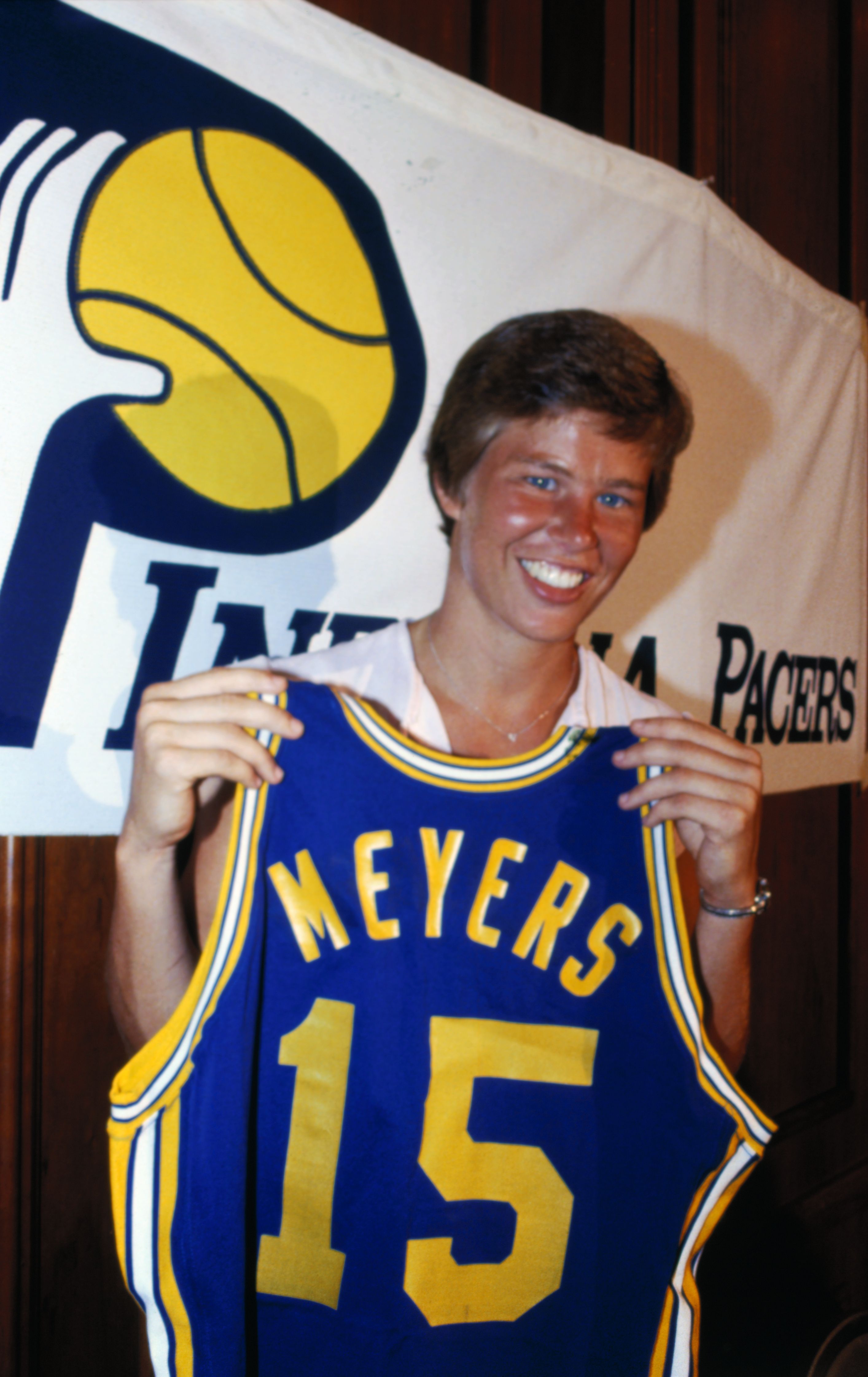 Ann Meyers with her Pacers jersey. Photo: Bettmann/Getty Images
40 years ago today, the Indiana Pacers cut Ann Meyers one week after signing her to a $50,000 contract that saw her join the team's 1979 rookie camp.
The backdrop: After starring at UCLA, Meyers was the No. 1 pick in the inaugural Women's Professional Basketball League draft before deciding to sign with the Pacers.
Fun facts: Meyer was the first player in D-I history — male or female — to register a quadruple-double, and her brother, David, was the No. 1 pick in the 1975 NBA draft and a centerpiece of the Lakers' trade for Kareem Abdul-Jabbar.
What they were saying: WashPost columnist David Kindred wrote the following in 1979: "Well, in case Ann doesn't make it, the Pacers say she'll stay with the team 'in some capacity,' which could mean, I guess, she'll cook pregame meals for the real players."
Where is she now? Meyers moved to the broadcast booth that season and later played in the WPBL. Today, she's the vice president of the WNBA's Phoenix Mercury and a color analyst for the Suns.
Go deeper: 40 years later, Meyers is still blazing trails (Yahoo Sports)
Bonus: 🏈 NFL trivia
Since the NFL expanded to 32 teams in 2002, only 2 teams have gone from last place in their division to first place and won the Super Bowl in that same season.
Question: Can you name those 2 teams?
Hint: Both are NFC teams. One did it last decade, one did it this decade.
Answer at the bottom.
8. The Ocho: 💰 "The Perils of Semi-Legal Poker"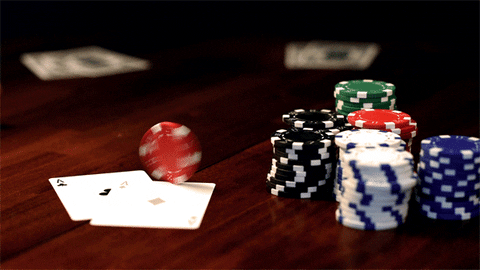 The New Yorker's Kashmir Hill went on a poker-playing tour of Texas, where poker clubs have been flourishing despite gambling being illegal. Then she wrote a story about it.
Why it matters: Hill examines one of the business lessons of our time: If your idea isn't exactly legal, do it anyway and hope customers love it enough that the law changes.
"Companies such as Uber, Airbnb, Tesla, and DraftKings see opportunity within the risks of semi-legality. They dive into legal gray areas where less-daring competitors fear to tread; by the time lawmakers take notice, such companies are often 'too big to ban.'
"At that point ... regulatory entrepreneurs might employ 'traditional political techniques,' such as lobbying, to change the law in their favor. In theory, this opens the market to law-abiding rivals. In practice, it's often too late for them to catch up."
Talk tomorrow,
Kendall "Justify, how could you?!" Baker
Trivia answer: Saints (2009) and Eagles (2017)