👋 Good morning! I'll be on CBS Sports Network in a few minutes talking about Nike's controversial running shoes. Tune in and tell me how I do.
Today's word count: 1,478 words (5 minutes)
1 big thing: ⚾️ The Nationals strike first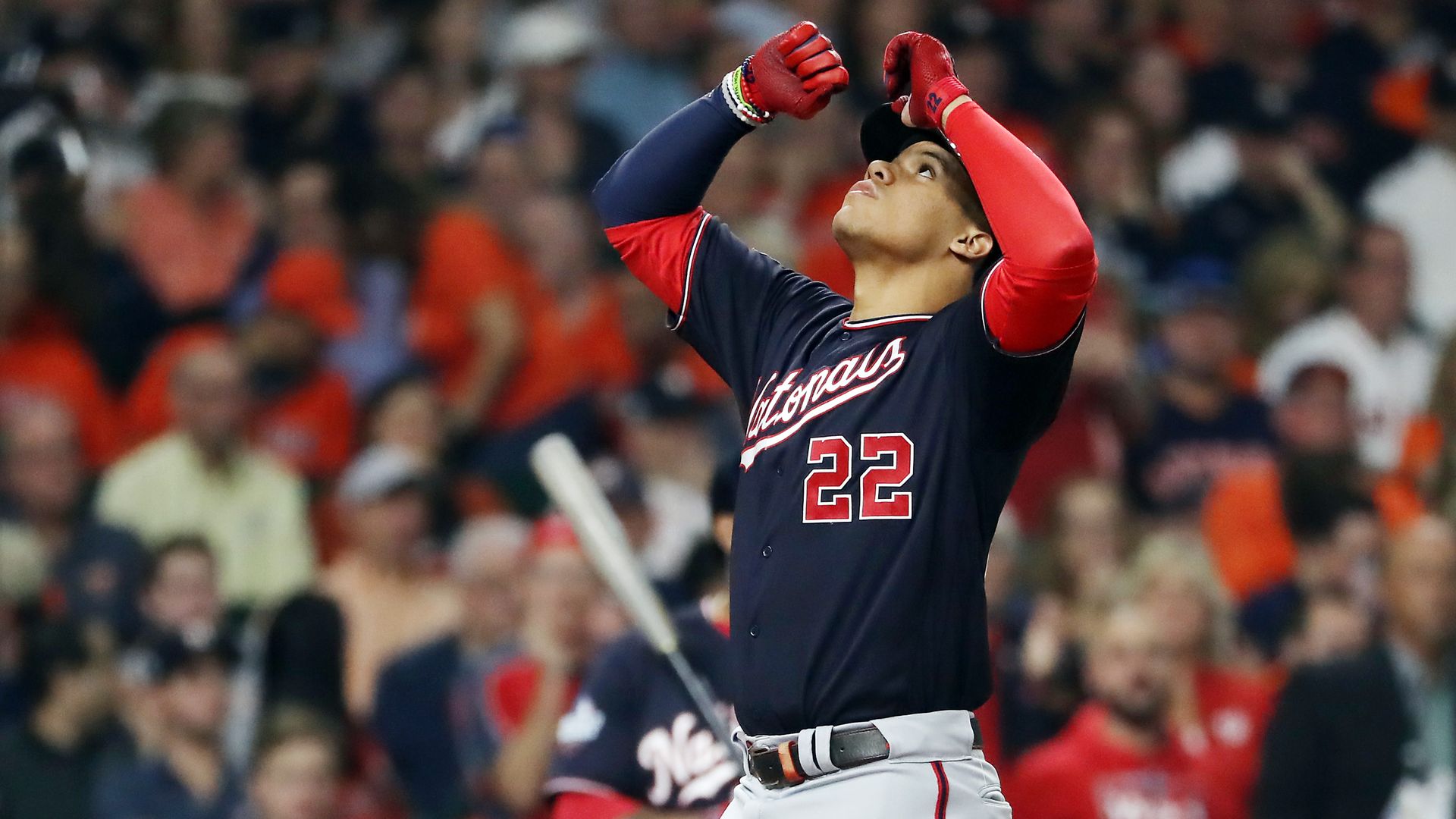 The Nationals entered last night's game as the biggest World Series underdog in over a decade. They'll wake up this morning in full control after handing Astros ace Gerrit Cole his first loss since May.
Game notes:
MVP: Juan Soto, who will be able to legally buy a drink for the first time on Friday, went 3-for-4 with a homer and 3 RBI. At 20 years and 362 days old, he's the 4th-youngest player to hit a World Series dinger, trailing Andruw Jones, Miguel Cabrera and Mickey Mantle.
Fun fact: The Nationals are the first team in National League history to win 5 consecutive road games in a single postseason.
Good news for Nats fans: The team that wins Game 1 of the World Series has gone on to win it all 64% of the time, per ESPN.
Good news for Astros fans: Max Scherzer threw 112 pitches in 5 innings and the Nats' bullpen wasn't great, which isn't sustainable. Also, you had your chances (11 runners left on base) and missed a tying HR by about a foot.
What's next: The Nationals will send Stephen Strasburg to the mound in Game 2 tonight, while the Astros will counter with Justin Verlander.
Go deeper: Soto "committed to Washington in a rancid batting cage in Florida when he was 16. Four years later, the slugging outfielder was batting cleanup in Game 1 of the World Series — and dominating." (New York Times)
2. 🏀 Last night in the NBA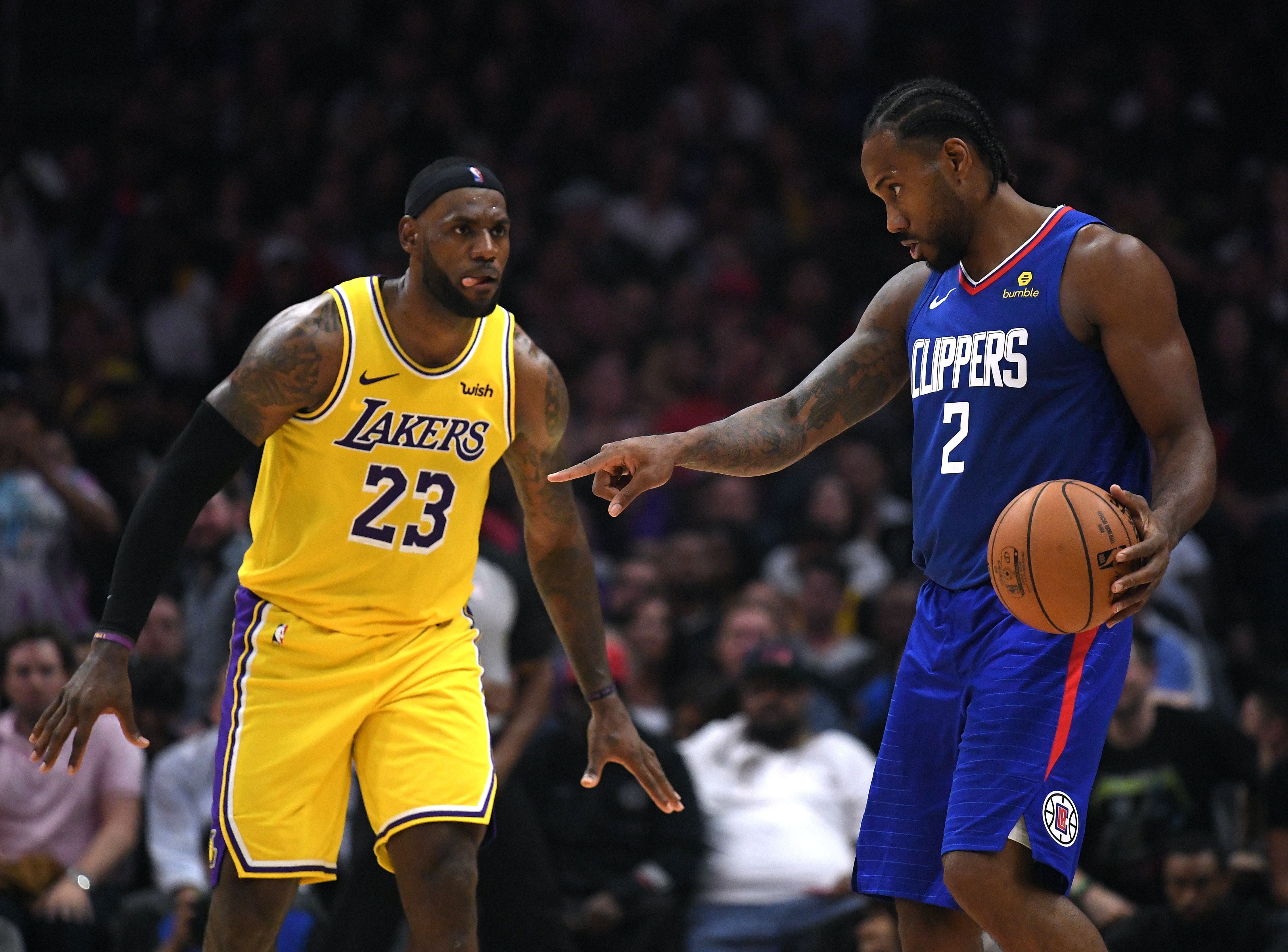 Photo: Harry How/Getty Images
LOS ANGELES — Kawhi Leonard (30 pts) and the Clippers beat LeBron James (18-9-8) and the Lakers, 112-102, in a star-studded season opener at Staples Center.
Clippers: All 4 bench players scored in double-digits, while Leonard was the only starter with more than 8 points.
Lakers: Danny Green scored 28 points, more than any Laker has ever scored in their debut (LeBron scored 26 last year). Anthony Davis added 25 points and 10 boards.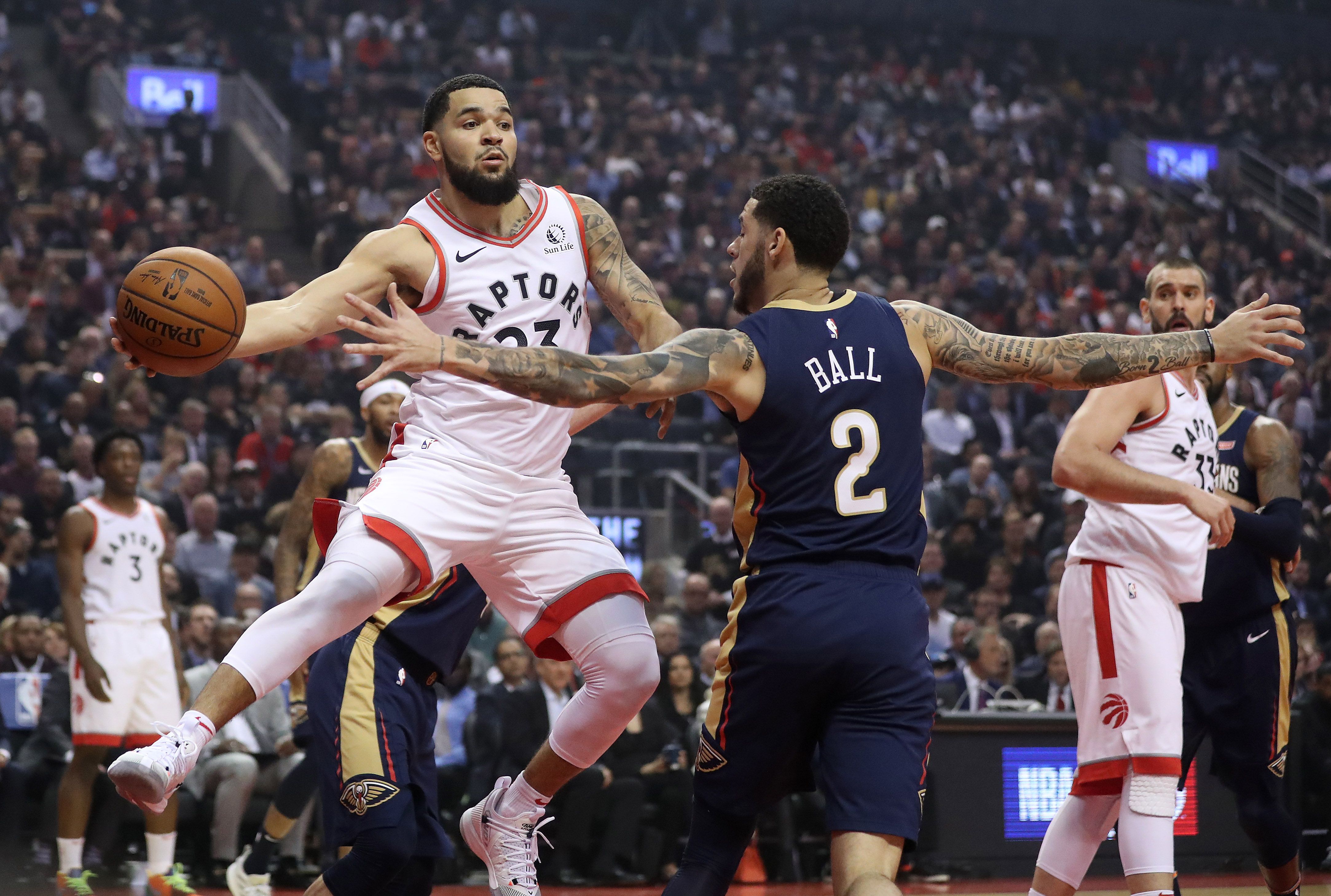 Photo: Steve Russell/Toronto Star via Getty Images
TORONTO — After slipping on shiny new rings and raising a championship banner, Fred VanVleet (career-high 34 points) and Pascal Siakam (34-18-5) led the defending champion Raptors past the Pelicans, 130-122 (OT).
3. Nike and Under Armour CEOs both stepping down
Under Armour CEO Kevin Plank and Nike CEO Mark Parker are both stepping down from their roles, the 2 companies announced in separate statements yesterday, Axios' Dion Rabouin writes.
The big picture: Plank and Parker have been on the job for a similar period of time, but have delivered radically different returns to shareholders.
Plank, a former University of Maryland football player, founded Under Armour in his grandmother's basement in 1996, selling sweat-wicking compression apparel that grew into a global brand with about $5 billion in annual sales.
Since going public in 2005, its stock has risen to more than $50 a share in late 2015, but it has struggled in recent years with falling sales.
On the other side: Parker's tenure as Nike's CEO has been marred by major scandals in the past 2 years.
In 2018, multiple lawsuits over alleged gender discrimination and a "boys' club" culture at Nike led to the ouster of top executives.
More recently, Nike shut down its running club, Nike Oregon Project, after longtime coach Alberto Salazar was banned from coaching for 4 years in light of anti-doping violations.
What's next: Patrik Frisk, Under Armour's COO, will take over the top post, and John Donahoe, a current Nike board member and CEO of cloud computing company ServiceNow, will take the reins at Nike.
Go deeper: Subscribe to Dion's daily newsletter, Axios Markets.
4. 🏀 College hoops is almost here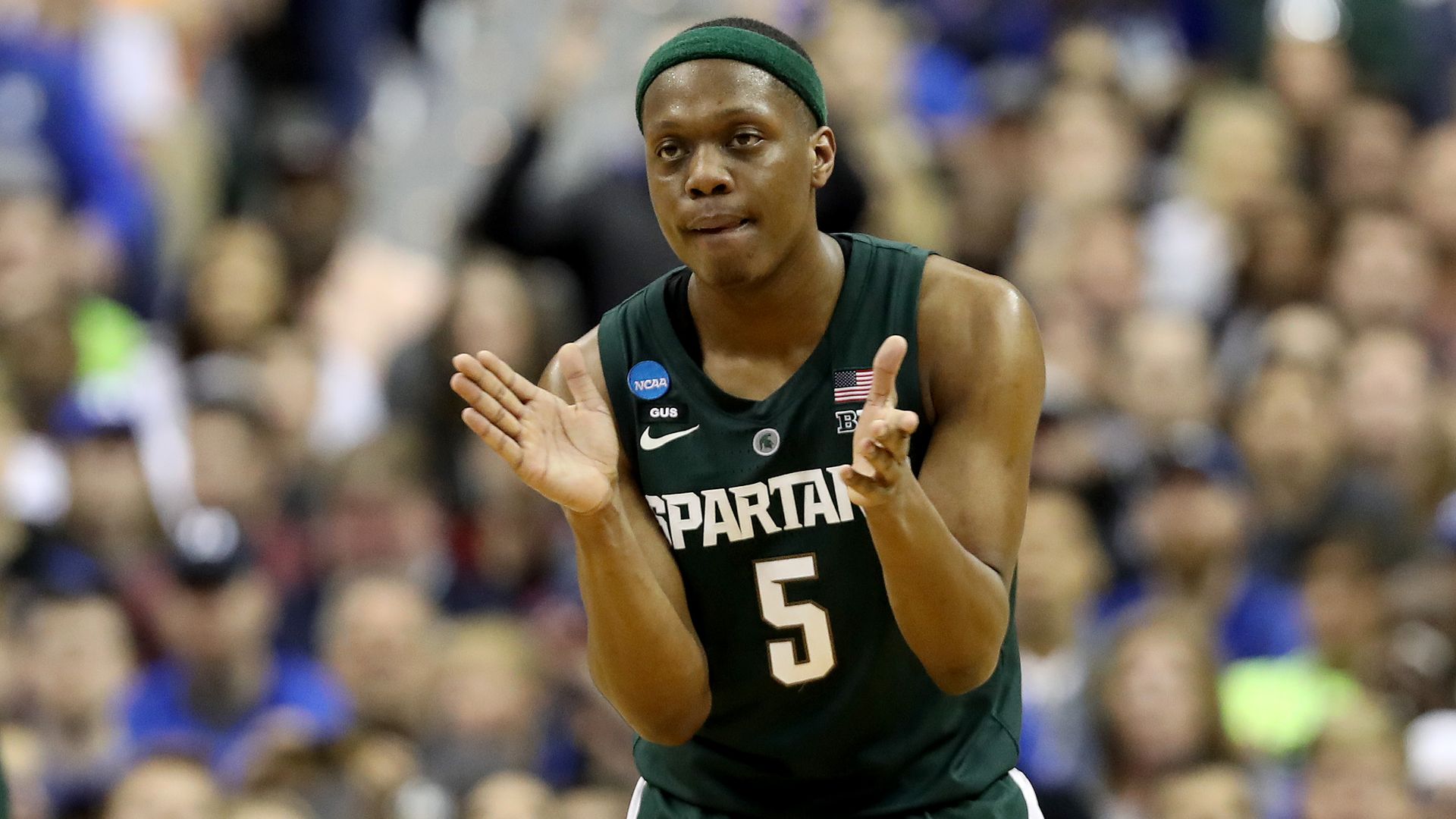 The 2019-20 college basketball season begins on Nov. 5 with an epic double-header at Madison Square Garden, as No. 4 Duke battles No. 3 Kansas and No. 2 Kentucky takes on No. 1 Michigan State.
The preseason landscape...
All-America team: Cassius Winston, who led Michigan State to the Final Four last season and is the country's preeminent floor general, was this year's only consensus selection.
G: Cassius Winston, Michigan State (Senior)
G: Markus Howard, Marquette (Senior)
G: Myles Powell, Seton Hall (Senior)
F: Jordan Nwora, Louisville (Junior)
C: James Wiseman, Memphis (Freshman)
Top 25: Winston's Spartans are No. 1 in the preseason poll for the first time in program history, while defending champion Virginia is slotted at No. 11.
1-5: Michigan State, Kentucky, Kansas, Duke, Louisville
6-10: Florida, Maryland, Gonzaga, UNC, Villanova
11-15: Virginia, Seton Hall, Texas Tech, Memphis, Oregon
16-20: Baylor, Utah State, Ohio State, Xavier, Saint Mary's
21-25: Arizona, LSU, Purdue, Auburn, VCU
5. 📊 By the numbers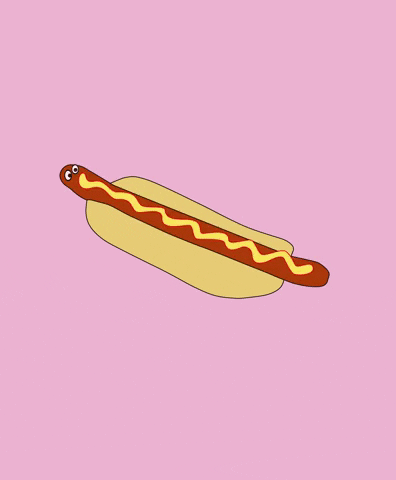 🏟 Infinite hot dogs
Starting in 2020, all 49ers season ticket holders will have access to unlimited food and beverages (excluding alcohol) at every game, making Levi's Stadium the first to offer such a service.
Details: This will raise the cost of their tickets by an extra ~$20 per game, so it's not exactly free, but they will be able to eat as many hot dogs as they want. Fair trade?
🏈 $9.3 million
Clemson coach Dabo Swinney ($9.3 million annual salary) took over the top spot in the annual USA Today coaches salary database.
Rounding out the top 5: Nick Saban ($8.9 million), Jim Harbaugh ($7.5 million), Jimbo Fisher ($7.5 million) and Kirby Smart ($6.9 million). See the full list.
⚽️ 3.5 times more likely
A study of former professional soccer players in Scotland found that they were 3.5 times more likely to die of neurodegenerative diseases such as Alzheimer's, ALS and Parkinson's than the general population.
The fallout: "[T]he higher rates ... probably will increase calls for rule changes in European soccer similar to those implemented in the United States in 2015, with heading banned for children 10 and under," per the Washington Post.
6. Oct. 23, 1993: ⚾️ Carter's World Series walk-off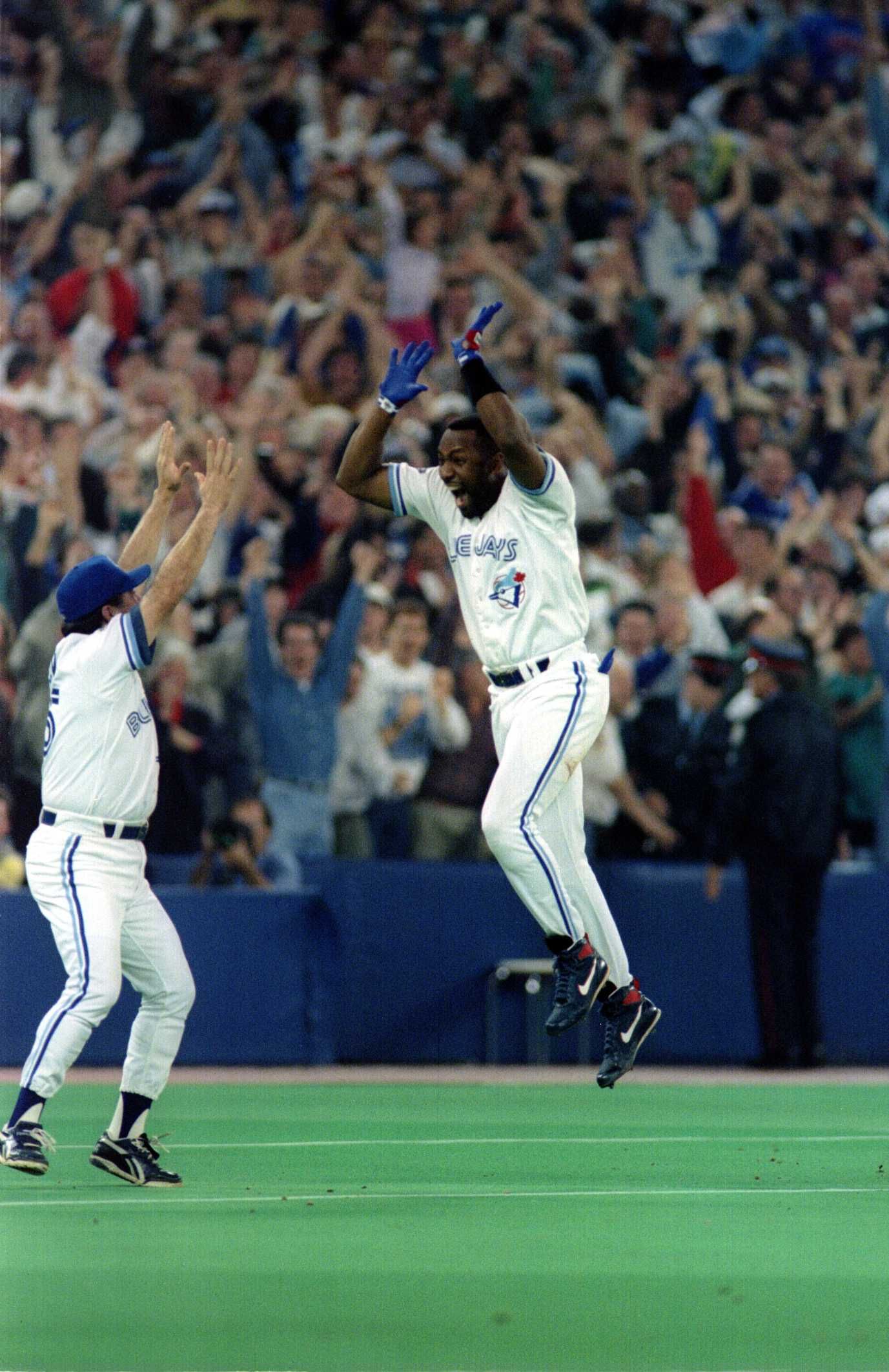 Photo: Rick Stewart/Allsport via Getty Images
26 years ago today, Blue Jays outfielder Joe Carter hit a walk-off home run in Game 6 of the 1993 World Series to clinch Toronto's second straight title.
Why it matters: It remains one of only 2 homers to end a World Series (Pittsburgh's Bill Mazeroski in 1960).
What they said: As Carter hopped around the bases like a little kid, Blue Jays announcer Tom Cheek uttered the famous words, "Touch 'em all Joe! You'll never hit a bigger home run in your life!"
Carter: "When I made contact, I looked up and I couldn't see the ball … I knew I hit it good, but I didn't know if I hit it high enough … To see it go out was like an out-of-body experience."
Pitcher Mitch Williams: "I knew it was gone. I gave it the courtesy double-look back and I just kept walking. Remember it like it was yesterday," he said 25 years later.
Go deeper: Carter's World Series walk-off, 25 years later (Sportsnet)
7. ⚾️ World Series trivia
A reader told me that he and his son love doing the trivia each morning, so I asked if his son would help me out. 13-year-old Billy Cannon from Chevy Chase, Md. is providing the questions this week. Thanks, Billy!
There have only been two instances in World Series history in which multiple MVPs were selected (1981 and 2001).
Question: Can you name the two players that shared the award in 2001?
Hint: Starting pitchers.
Answer at the bottom.
8. The Ocho: 🛶 The 55th Head of the Charles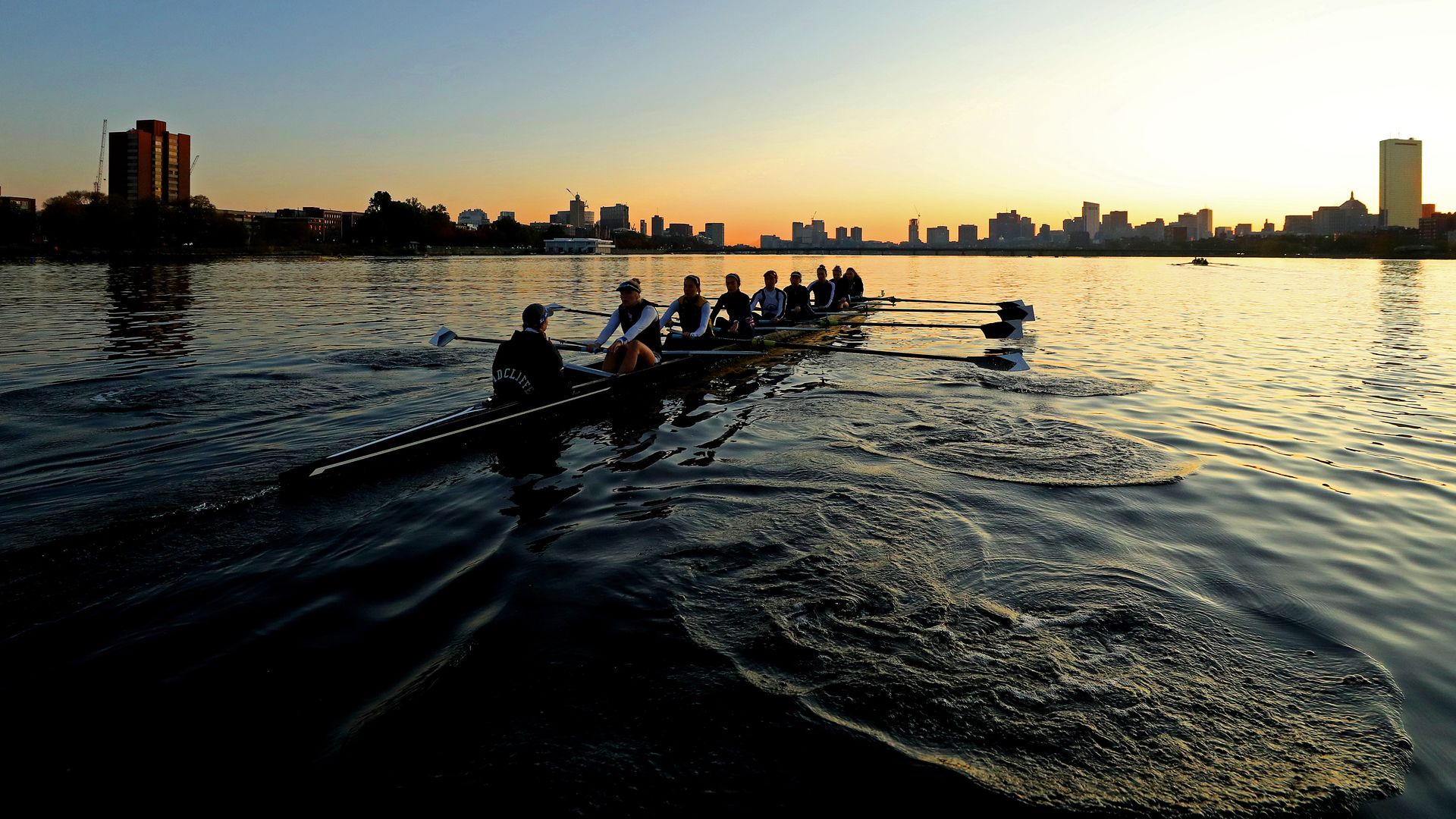 Tens of thousands of spectators descended upon Harvard's campus this past weekend to watch amateur and professional rowers from all over the world compete at the 55th Head of the Charles Regatta — the world's largest two-day rowing competition.
"Regattas such as the Head of the Charles in Boston and the Head of the Schuylkill in Philadelphia are to the rowing world what the New York Marathon and the Boston Marathon are to running."
— Rowing legend/historian
Susan Saint Sing
9. 📚 Good reads
🏀 What in God's name happened to Jordan Tebbutt? (Matt Giles, Deadspin)
"This is typically the point in the story in which the player either shines in college, fulfilling a destiny that has been 18-plus years in the making; or when the plan falls apart in a way that no one could have predicted. But what happened with Tebbutt was more complicated, harder to explain: he just disappeared."
🎮 The history of hidden talents in 'Madden' ratings (Alex Kirshner, Banner Society)
"During meetings with the Madden crew at offseason events, players (especially rookies) make personal appeals to the ratings staff. But often these conversations ... aren't about how good their virtual avatars will be. Instead, players want EA to know about obscure skills that have nothing to do with their NFL positions."
🏈 A second chance at life and football: Inside Richard Yeargin's comeback (David M. Hale, ESPN)
"He still thinks about that day .... What if it hadn't rained or if he had left a little later or if — well, he tries to push those thoughts aside. There are a thousand twists and turns in a lifetime, but today, he is right where he is supposed to be."
10. 🇫🇷 Paris 2024 logo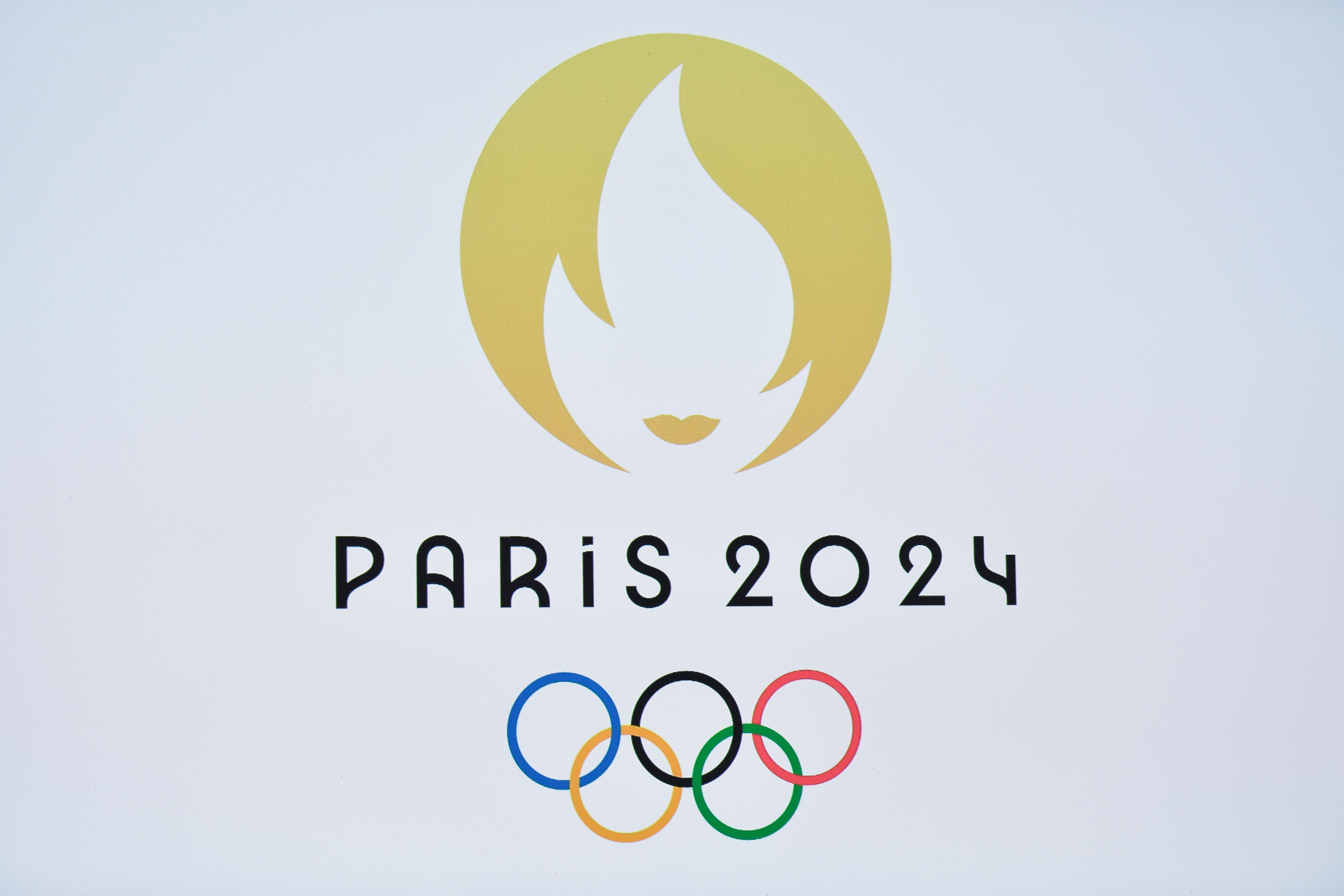 Photo: Stephanie de Sakutin/AFP via Getty Images
The logo for the Paris 2024 Olympic Games has been unveiled, and it looks like... a dating app? Or, as freelance journalist Megan Clement put it, a sultry woman:
"The French Olympic logo tumbles out of bed on a Parisian morning. She tousles her messy bob, dons breton stripes and ballet flats and whisks down the stairs from her fifth-floor apartment to grab a baguette before enigmatically texting two men who are pursuing her romantically."
"The French Olympic logo has an expresso and a cigarette for lunch. She hops on a vintage bicycle and pedals past the Eiffel Tower on her way to a café where she will sit and read Baudelaire with her fluffy white dog at her feet."
"The French Olympic logo's child does not have tantrums. He eats dinner with her in restaurants at 10pm, and the French Olympic logo lets him have some of her wine, of course."
Talk tomorrow,
Kendall "Soto might be a top 5 player in baseball" Baker
Trivia answer: Diamondbacks starters Curt Schilling and Randy Johnson
Editor's note: The chart in story no. 3 was corrected.