👋 Good morning! Axios Sports brings you what matters, in Smart Brevity. Today's word count: 1,442 (~7 minutes).
Fun fact: The "Game of Thrones" finale was one of the most watched TV show finales ever (19 million viewers). The most-watched regular season NFL game last season? 30.5 million viewers. Again, that's regular season.
1 big thing: 🏒 49 years later, the Blues and Bruins meet again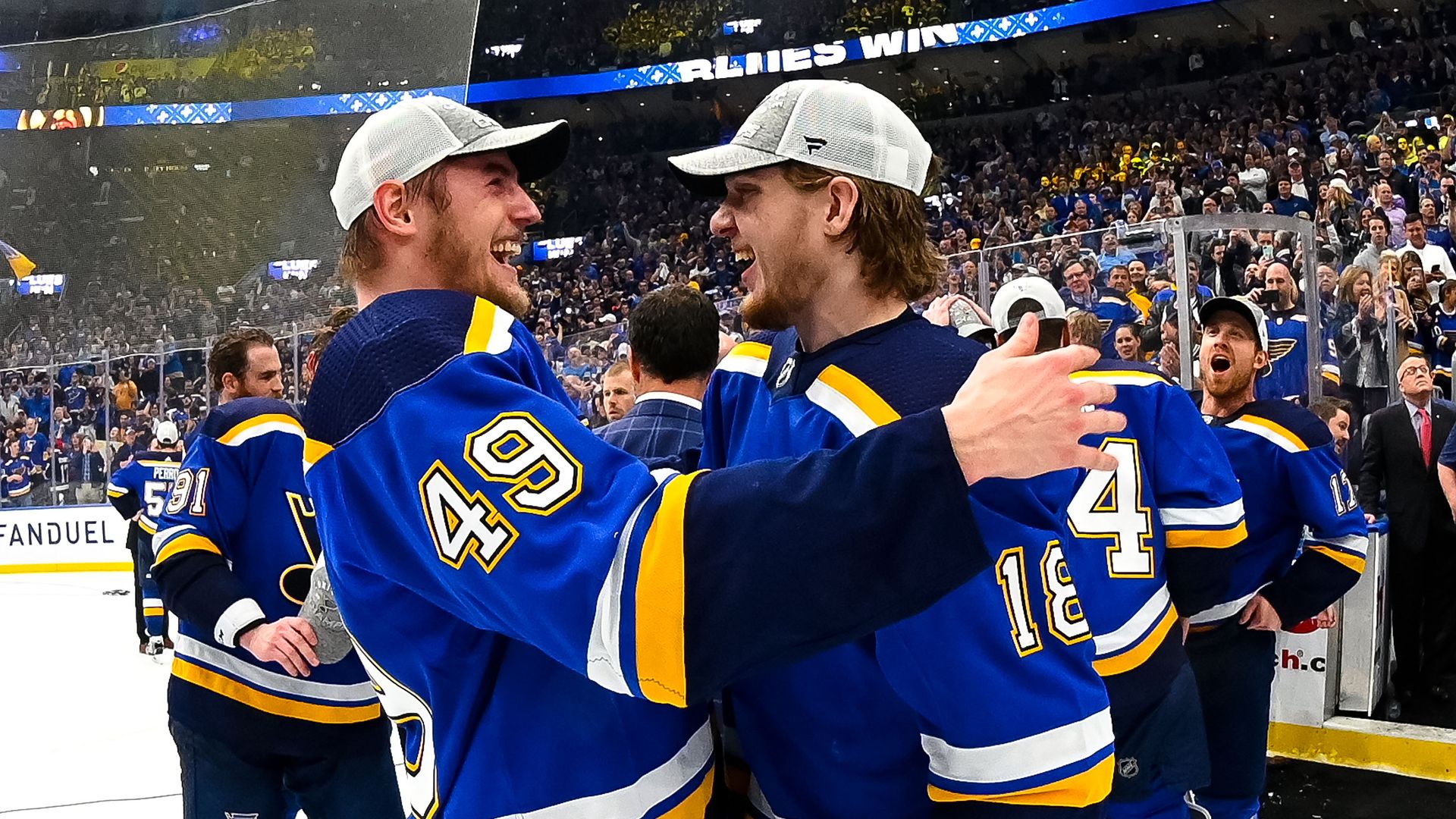 The St. Louis Blues beat the banged-up San Jose Sharks 5-1 last night, setting up a long-awaited rematch with the Boston Bruins, who swept them in their last Stanley Cup Final appearance all the way back in 1970.
Why it matters: Because of people like Laila Anderson. Sports, man.
The backdrop: If Blues fans have taught us anything this year, it's that title runs are about cities as much as they're about teams, and St. Louis and Boston share plenty of championship history.
NHL: 49 years ago this month, Bruins defenseman Bobby Orr scored the series-clinching goal against the Blues and celebrated by flying through the air. It remains one Boston's most iconic sports moments.
MLB: The St. Louis Cardinals and Boston Red Sox have met in the World Series four times, with St. Louis winning the first two (1946, 1967) and Boston winning the last two (2004, 2013).
NBA: The St. Louis Hawks and Boston Celtics met in the NBA Finals four times in five years, with Boston winning thrice (1957, 1960, 1961) and St. Louis winning once (1958).
NFL: The New England Patriots beat the St. Louis Rams 20-17 in the 2002 Super Bowl on Adam Vinatieri's last-second field goal, officially launching their dynasty into orbit.
P.S. ... Speaking of rivalries, how about Pam Beasley vs. Jim Halpert?
Jenna Fischer, who played Pam on "The Office," is a St. Louis native and a huge Blues fan. John Krasinski, who played Jim, is a Bruins fan. Not the first time they've been involved in some hockey-related drama.
2. ⚾️ Pitcher spurns MLB draft for Japan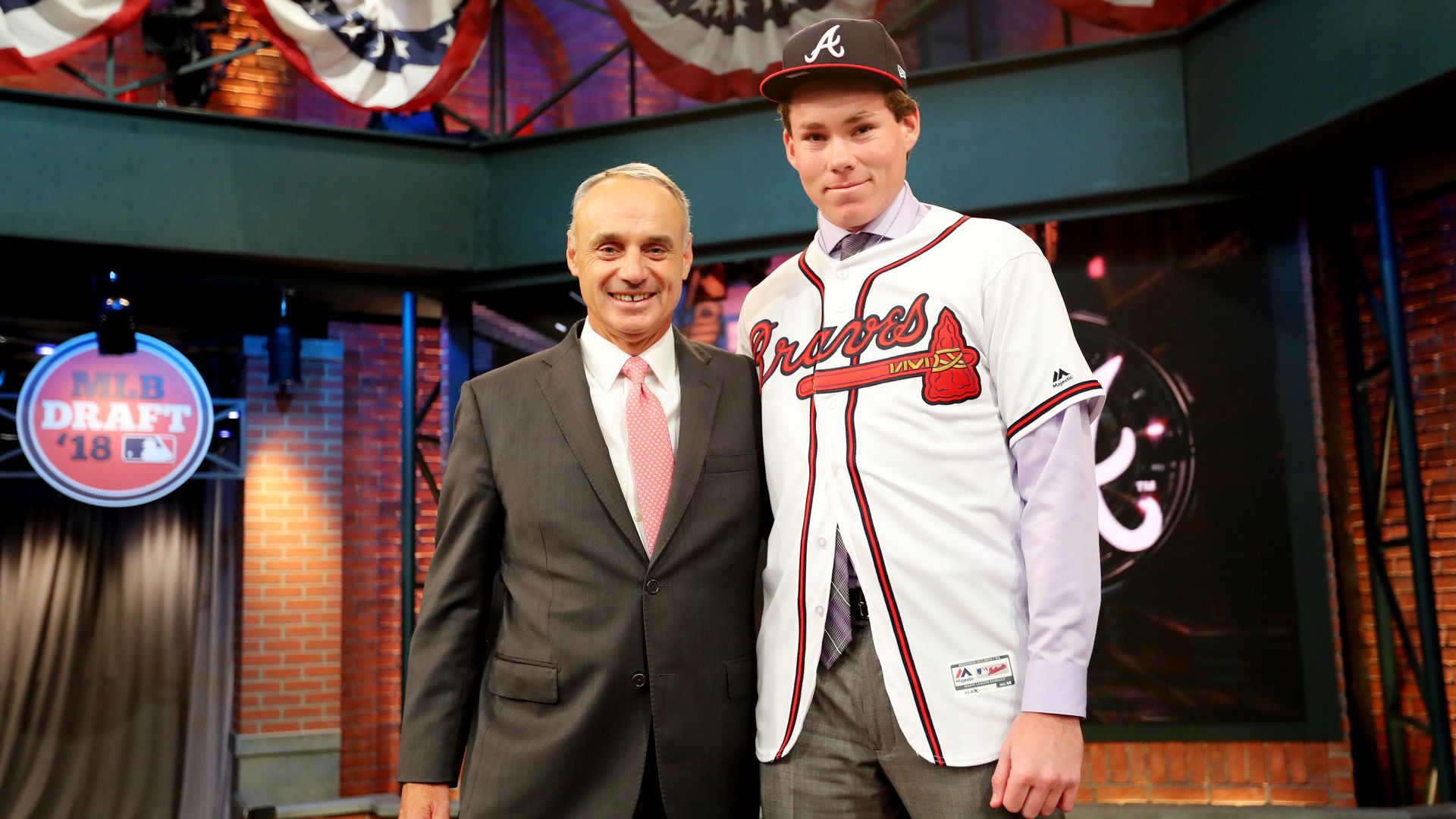 19-year-old pitcher Carter Stewart has agreed to a six-year, $7+ million contract with the Fukuoka SoftBank Hawks of the Japanese Pacific League, a groundbreaking deal that could change baseball.
The backdrop: Stewart was drafted No. 8 overall in the 2018 draft by the Atlanta Braves. Unable to reach a deal, he went to junior college and was expected to be a second-rounder in next month's draft.
Why it matters: MLB's financial model (1) limits the bargaining power of amateurs, (2) pays minor leaguers sub-poverty-level wages and (3) keeps players locked into below-market contracts through their peak years.
The only reason players put up with this is because there's no alternative. Stewart may have just created one.
By the numbers: Which route would you take?
MLB draft: He'd sign for ~$2 million then be paid next to nothing in the minors. Ideally, he'd make the majors by 2022, where he'd earn the minimum for three years (currently ~$600,000). That's less than $4 million over six years and he wouldn't hit free agency until 2027.
Japan: Guarantees himself $7 million, while also becoming an international free agent three years earlier in 2024 when he's just 25 years old.
The big picture: Even if this doesn't start a trend of players going overseas (not everyone is willing to spend their early 20s in Japan), it's a bad enough look for MLB that it could force the league to reassess its current system.
Think about it: The most prestigious baseball league in the world just lost one of America's best young prospects to Japan because he can make more money there. Those optics aren't great.
The bottom line: "Stewart, in the end, is a proxy for something bigger — a haymaker at a system capable of careening out of control until brought back into balance," ESPN's Jeff Passan writes:
"Perhaps [he] is that counterweight. Maybe it's someone after him. Could be that nothing changes and this is but a blip. Whatever the case, it's a noble effort, an admirable risk and a fascinating story."
Go deeper: 2019 MLB mock draft
3. 🎰 Media companies wade deeper into sports betting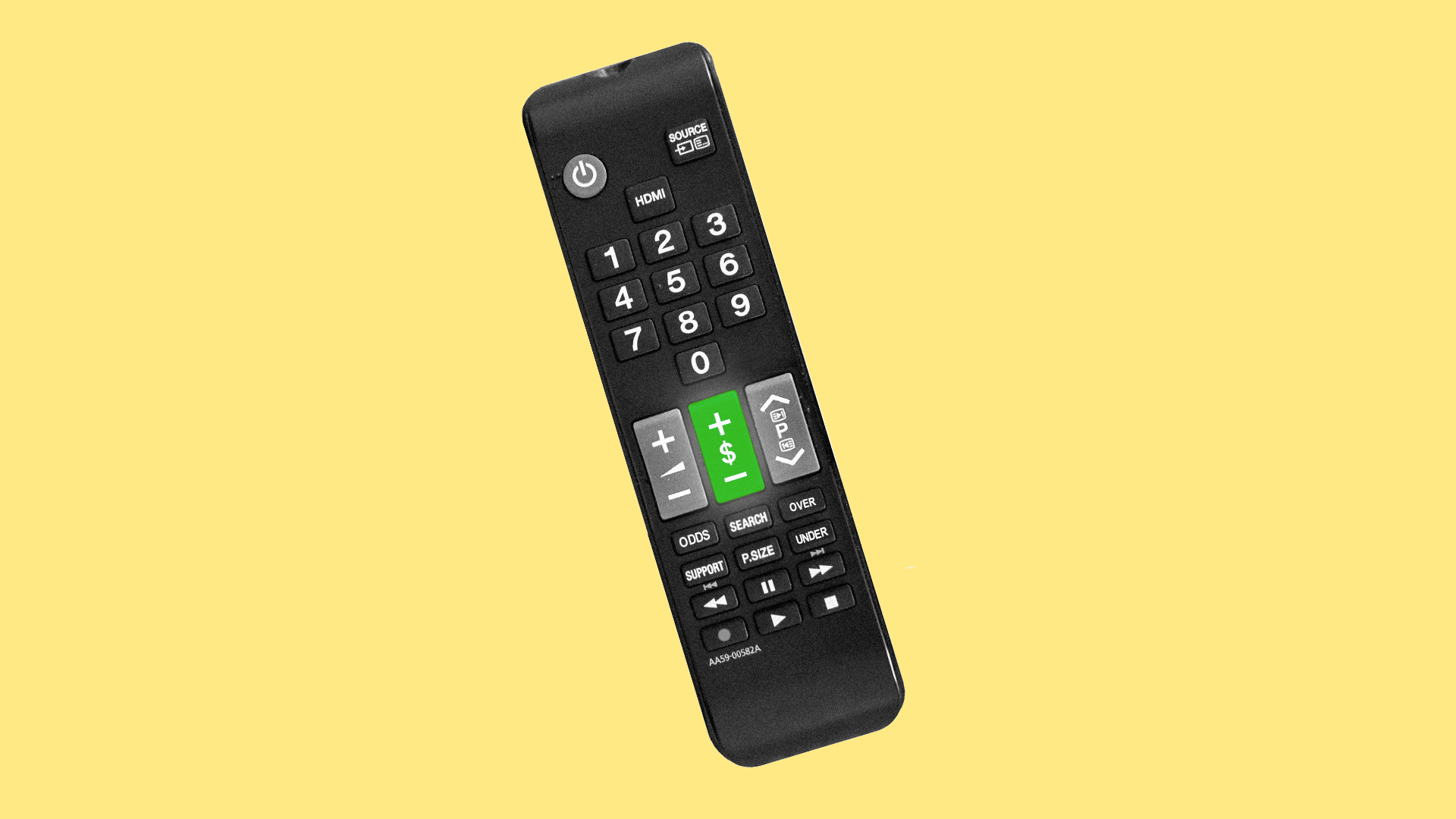 "The legalization of sports betting has opened up new business opportunities for America's biggest media companies, forcing them to decide just how far they want to wade into the world of sportsbooks," Axios' Sara Fischer writes.
Driving the news:
Fox Corp. is buying 5% of Canadian gaming and online gambling company Stars Group for $236 million and starting its own sports wagering platform.
ESPN just announced a partnership with Caesars Entertainment to develop sports betting-centric TV programming.
Turner Sports and Bleacher Report are building a branded studio inside the Caesars Palace Sports Book in Las Vegas.
Why it matters: As the sports betting industry matures, it's paramount that media companies strike the right balance between leaning into betting and not alienating casual fans.
Sign up for Sara's weekly newsletter, Axios Media Trends. It's wonderful.
4. 🏀 Meanwhile, up north...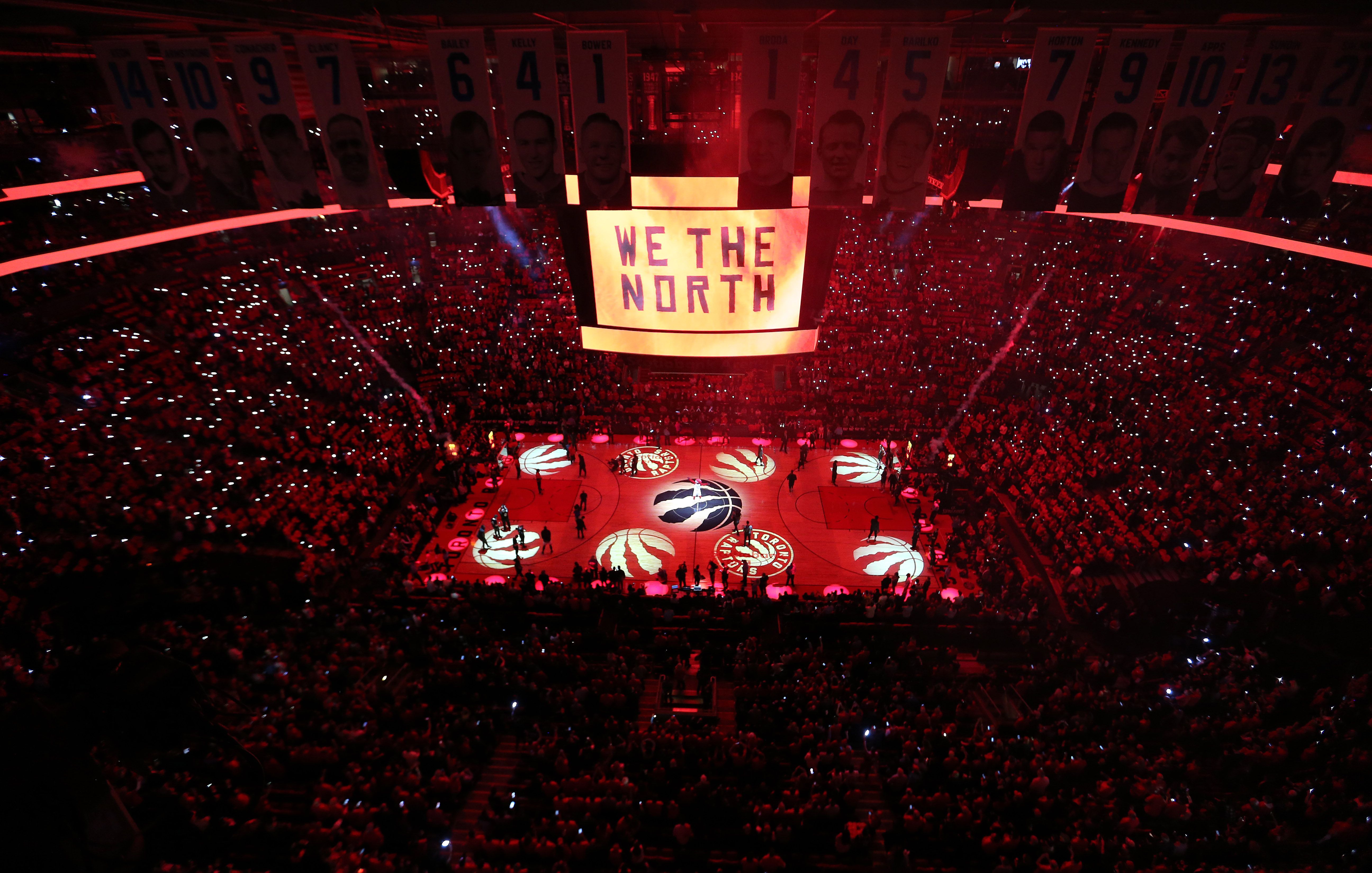 Photo: Steve Russell/Toronto Star via Getty Images
Driving the news: In one of the few games that Kawhi Leonard hasn't absolutely dominated this month, his teammates stepped up to lead the Toronto Raptors to a 120-102 win over the Milwaukee Bucks and even the series at 2-2.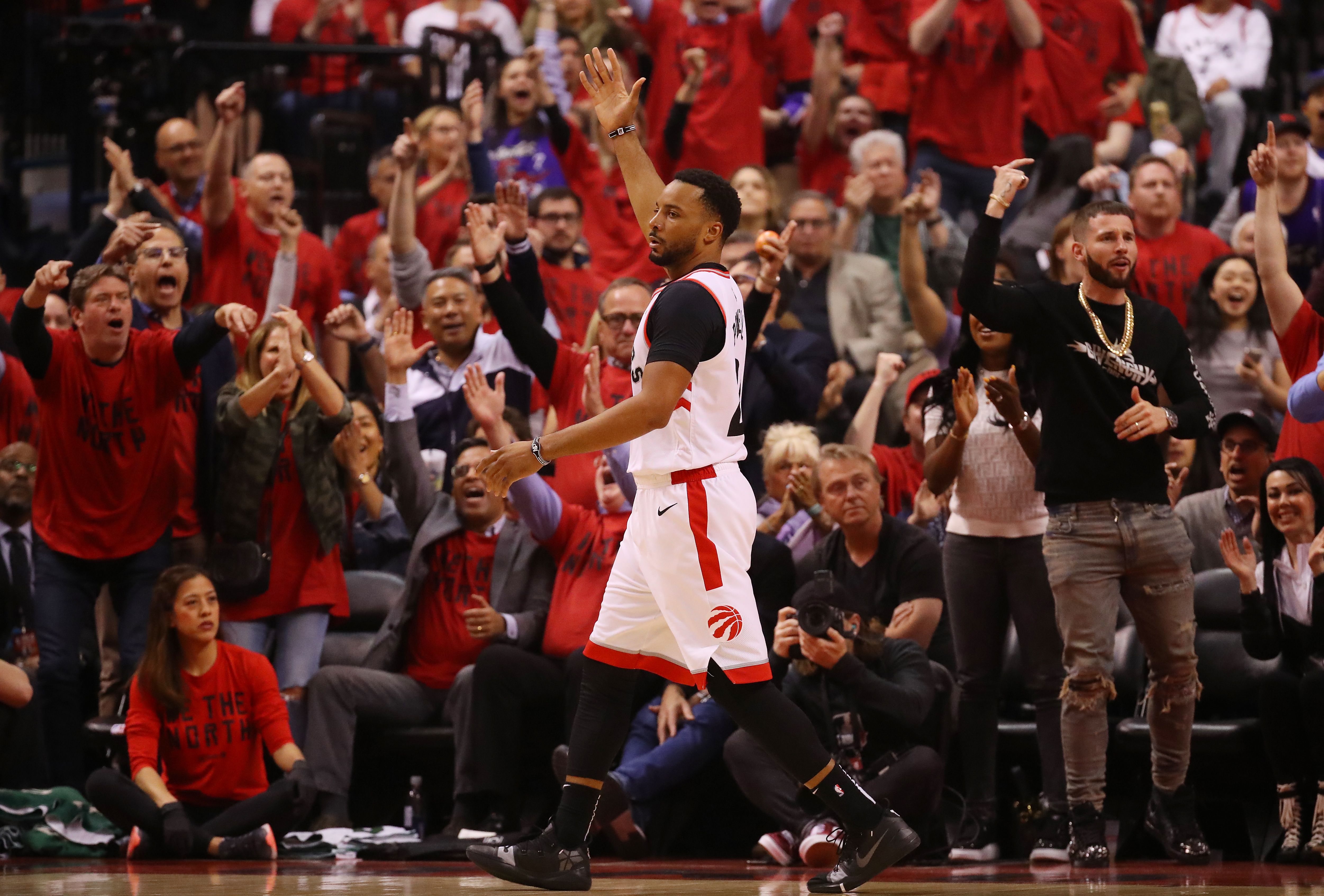 Photo: Gregory Shamus/Getty Images
Between the lines: For the first time all series, Toronto had the better bench, outscoring Milwaukee's 48-23. Norman Powell (above) poured in 18 points, Serge Ibaka added 17 and Fred VanVleet snapped out of a postseason funk with 13 points and six assists.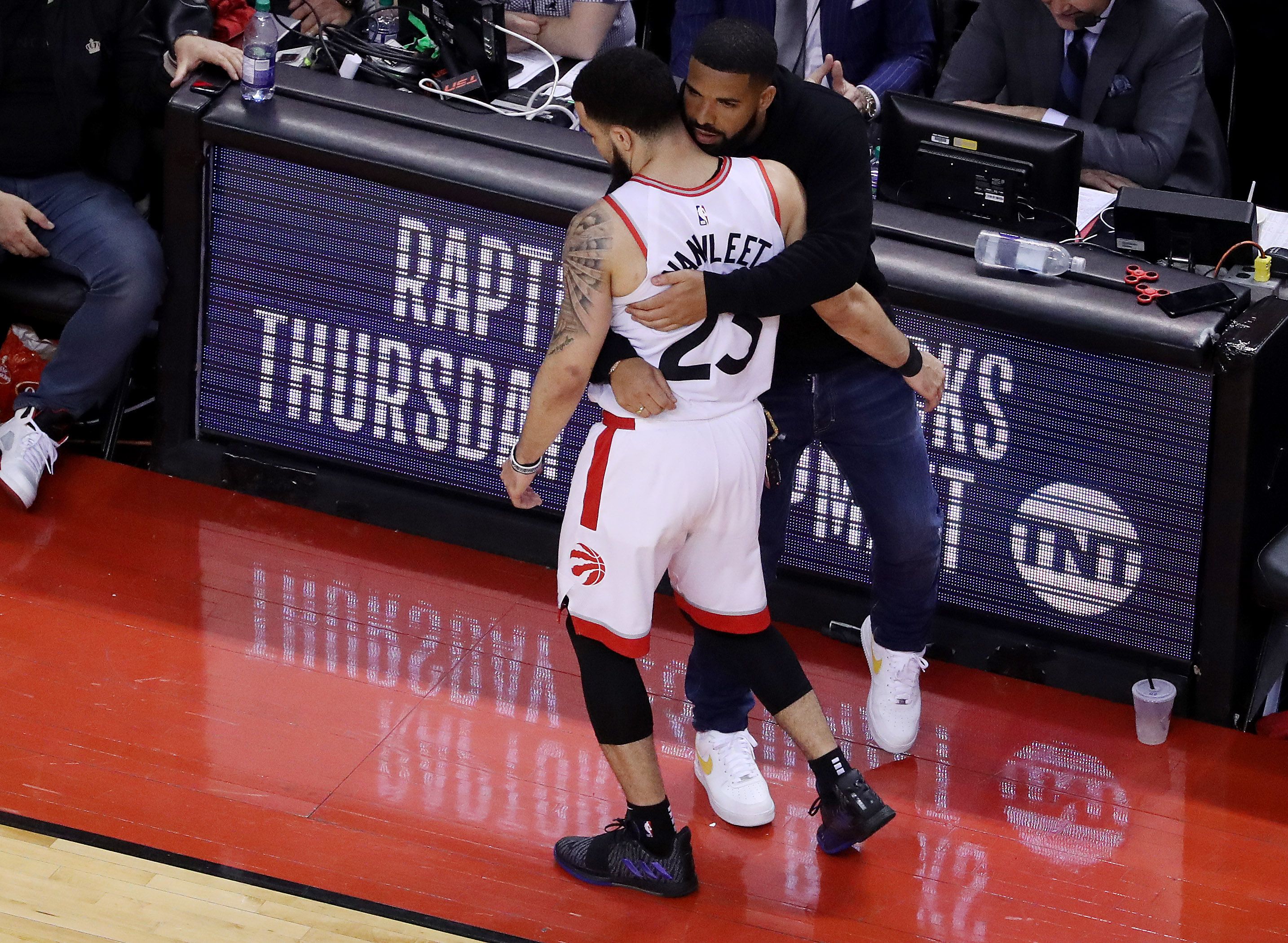 Photo: Steve Russell/Toronto Star via Getty Images
MVP: VanVleet credited his newborn son for his breakout performance. "Had to sit at the hospital all day [on Monday], had a lot of time to think," he told ESPN. "It just changes the way you're looking at things. You're not so down on yourself." You the real MVP, little guy.
5. 🏆 Sports Business Awards nominees
Sports business spotlight: On Monday, we covered Fanatics. Yesterday, we covered Nasdaq. Today, we're taking a break from deep dives and sharing some nominees for tonight's 12th annual Sports Business Awards presented by Sports Business Journal.
Team of the year: Atlanta United FC, Golden State Warriors, Milwaukee Brewers, Milwaukee Bucks, Portland Thorns FC (women's soccer), Washington Capitals
Sponsor of the year: Anheuser-Busch InBev, Capital One, GEICO, Pizza Hut, State Farm
Facility of the year: Banc of California Stadium (L.A.), Fiserv Forum (Milwaukee), Mercedes-Benz Stadium (Atlanta), State Farm Arena (Atlanta), USTA Billie Jean King National Tennis Center (N.Y.)
Athletic director of the year: Ray Anderson (Arizona State), Mitch Barnhart (Kentucky), Jennifer Cohen (Washington), Blake James (Miami), Jamie Pollard (Iowa State)
Best in talent representation: Boras Corp., CAA Sports, Endeavor, Excel Sports Management, Octagon, Wasserman
BONUS: 📸 Photo du jour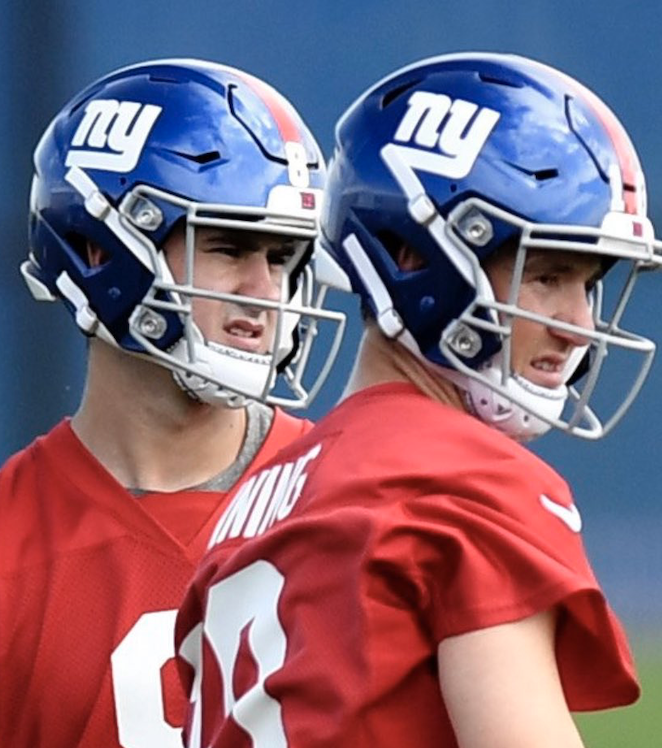 Courtesy: Photographer Danielle Parhizkaran
Hey look, it's Daniel Manning and Eli Jones.
6. 🏈 May 22, 1991: The NFL expands to 30 teams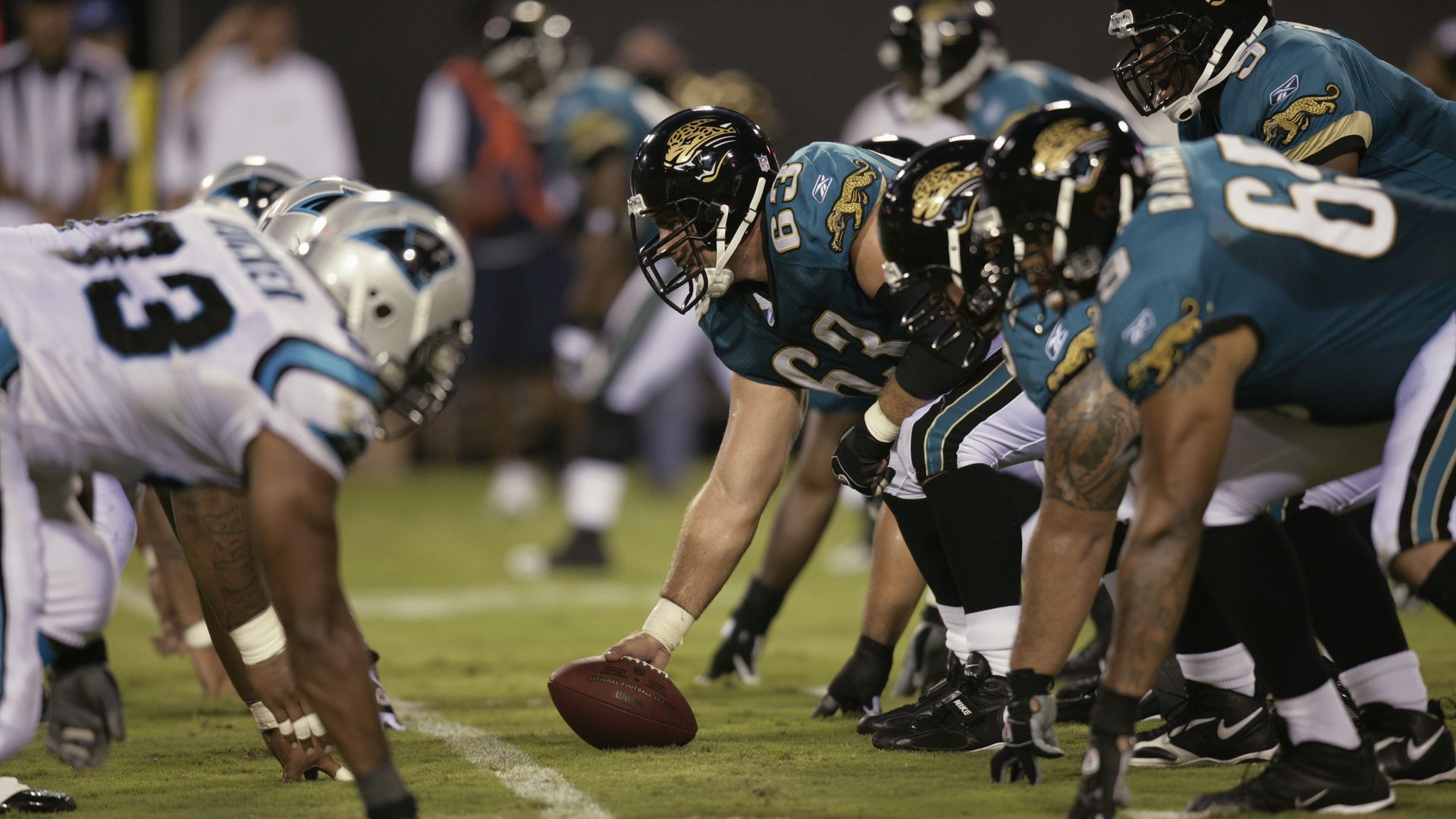 28 years ago today, the NFL's 28 owners agreed to expand the league to 30 franchises and realign the AFC and NFC into six divisions with five teams each.
Details: Charlotte and Jacksonville got the nod over 10 other cities, including Baltimore, St. Louis and Memphis. The Panthers and Jaguars were officially introduced in 1993.
The big picture: In 2002, the NFL expanded to 32 teams with the addition of the Houston Texans. Could international expansion to London be next?
7. 🏀 NBA trivia
The NBA's All-Rookie team is made up of the top five picks from the 2018 draft: Deandre Ayton, Marvin Bagley III, Luka Doncic, Jaren Jackson Jr. and Trae Young.
Question: The last time the top five picks made up the All-Rookie team was in 1984. Can you name those five players?
Hint: Jordan draft.
Answer at the bottom.
8. The Ocho: 📺 TNT gets back into wrestling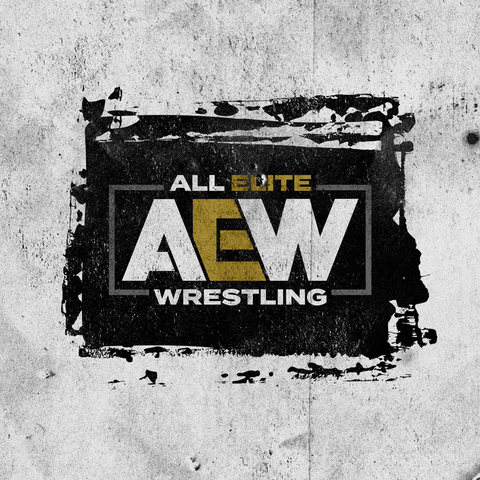 From Mike Sykes: All Elite Wrestling (AEW) and WarnerMedia recently confirmed the longstanding rumor that the startup wrestling promotion will air weekly on TNT beginning this fall.
Why it matters: For the first time since World Championship Wrestling folded in 2001, TNT is back in the wrestling business — and the timing might be perfect.
As of April, ratings for the WWE's flagship show, "Monday Night RAW," were down 14% year-over-year and live attendance and merchandise sales were down 11%.
Critics have also complained that the company's storylines are boring and repetitive.
The bottom line: If AEW succeeds, it could pose a legitimate threat to the WWE's dominance. But if the WWE's struggles prove to be less about the company and more about the health of the industry as a whole, WarnerMedia could be boarding a sinking ship.
9. 🏀 "Best $199 I ever spent"
Recent college grad, Maitreyi Anantharaman, on why she gave up politics podcasts (they were making her miserable) and started following basketball, instead — ultimately shelling out $199 for NBA League Pass:
During those last semesters, "the prospect of unemployment was daunting," she writes. "But more frightening to me was the thought of being so engulfed by the daily grind of making a living that I no longer had the means to simply tend to my own curiosity."
"Basketball, then, became my last hurrah. Sometimes I watched passively. But most nights I was a student of the game, taking stock of the assorted arcs and angles that might conspire to send a ball through a hoop."
"[T]his obsession felt like the most comforting thing in the world. It was relieving to know that I could assign each contest whatever stakes I felt like, and simply turn it off at the end, unbruised and untethered."
10. 🎰 Make your picks!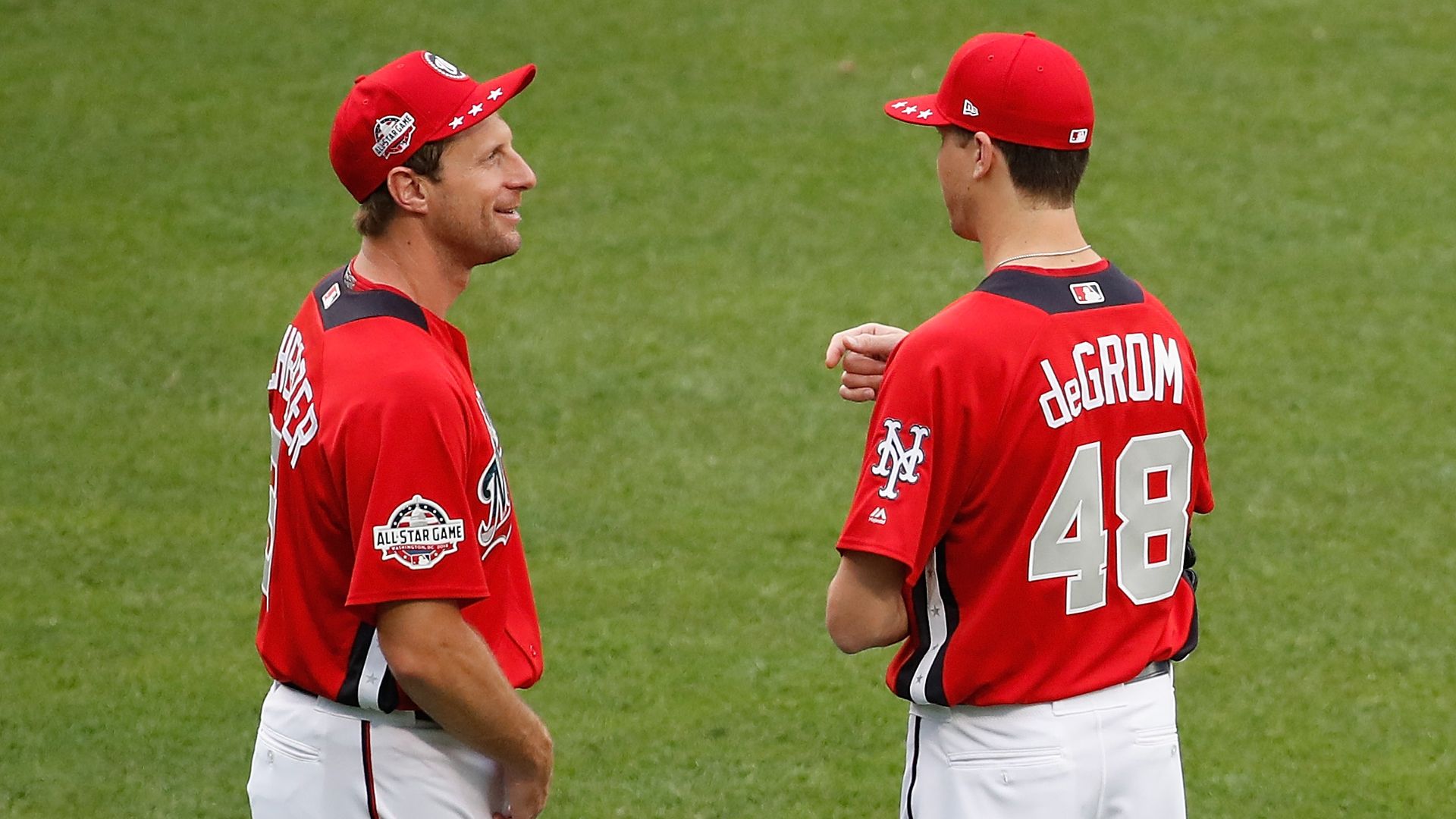 Axios Pick 3 is powered by The Action Network, your one-stop shop for all things sports betting. Download the app today.
Question 1: ⚾️ Who will win Mets (deGrom) vs. Nationals (Scherzer)?
Question 2: ⚾️ Will Astros starter Gerrit Cole record over or under 9.5 strikeouts against the White Sox?
Question 3: ⚾️ How many combined runs will the Yankees (at Orioles) and Red Sox (at Blue Jays) score?
🎰 Play now: Make your picks (cutoff time: 7pm ET)
Yesterday's results: 24.8% said the Bucks (-2.5) would not cover the spread … 41.7% said the Sharks would score under 2.5 goals ... 18% said Giannis would have between 33 and 37 combined points and rebounds.
Six players nailed all three: Bill Goodfriend (St. Louis); Chris Nadeau (New Brunswick, Canada); Cliff Madden (Malvern, Pa.); Martin Rosenbaum (Lone Tree, Colo.); Tom W. (New York); Timothy Skinner (Arcadia, Calif.)
See you tomorrow,
Kendall "Thrice is an underrated word" Baker
Trivia answer: Hakeem Olajuwon, Sam Bowie, Michael Jordan, Sam Perkins and Charles Barkley