Axios Sports
May 07, 2020
👋 Good morning! Let's sports.
Today's word count: 1,869 (7 minutes).
1 big thing: 📆 The month that sports come back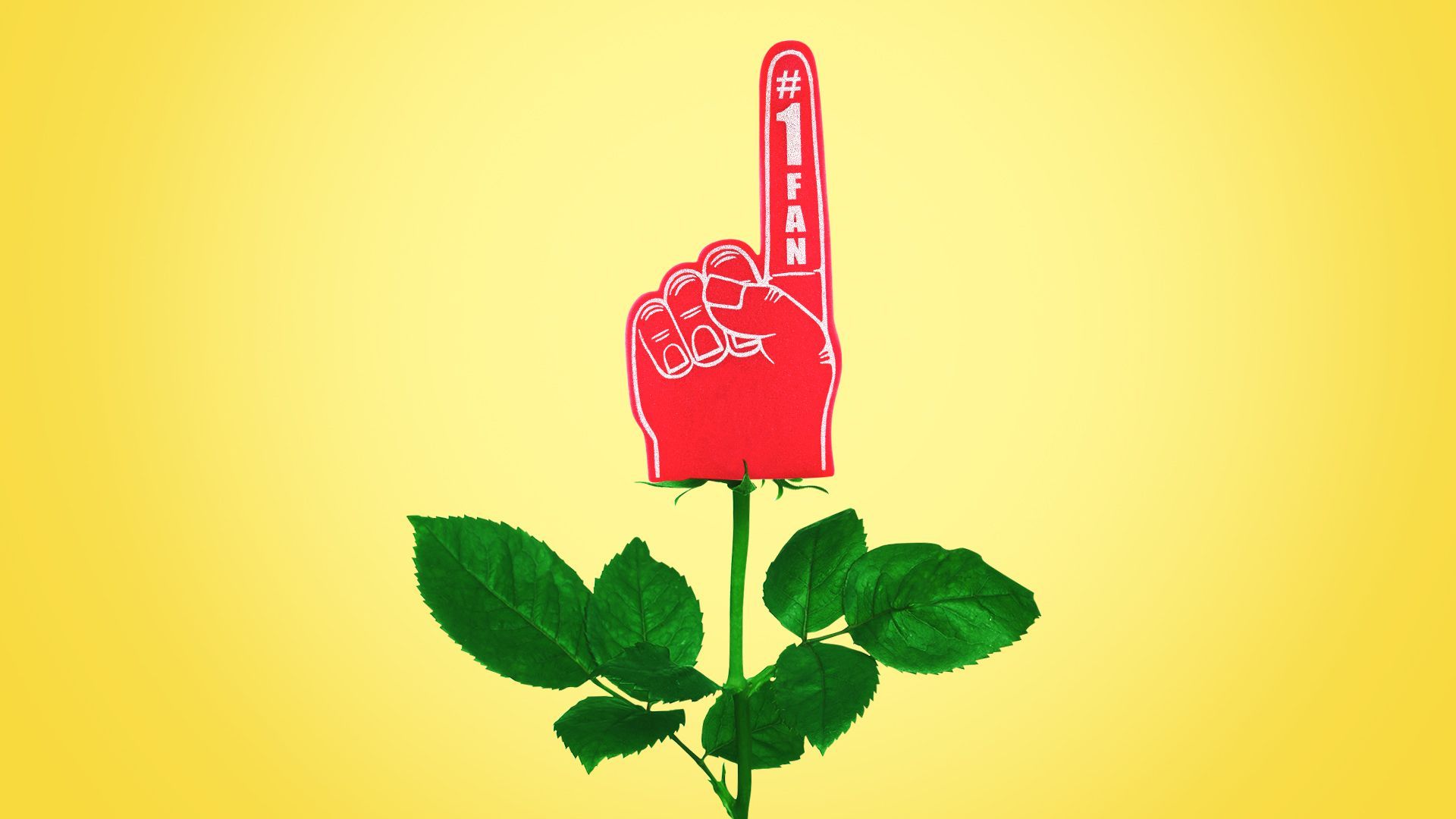 While sports are still a long way from resuming normal schedules and staging events in front of thousands of fans, May looks to be the month when we will finally get the chance to watch real live sports on TV again.
Why it matters: For better or worse, sports serve as a barometer of how countries are handling the coronavirus.
Bringing them back gives people a sense of comfort, provides hope for brighter days ahead and unleashes some much-needed entertainment out into the world.
But doing so too early comes with real risks — and not just for the players, coaches, trainers, referees, stadium employees, media members and other people directly involved. It comes with real risks for everyone.
Competitions:
Exhibitions:
⛳️ Golf: Rory McIlroy and Dustin Johnson will compete against Rickie Fowler and Matthew Wolff in a charity match on May 17 at Seminole Golf Club in Juno Beach, Florida. Coverage: NBC, NBCSN, Golf Channel, SkySports.
🎾 Tennis: Four top 100 players — Tennys Sandgren, Matteo Berrettini, Reilly Opelka and Tommy Paul — will face off in a mini-tournament in West Palm Beach, Florida this weekend, with live coverage on the Tennis Channel.
Back at practice:
⚽️ MLS: Several teams returned to training fields yesterday after MLS cleared the start of voluntary individual workouts in line with local public health policies. Players wore masks in the parking lot and temperature checks awaited them before they could step foot on the field.
🏀 NBA: Players can return to practice facilities starting tomorrow, but only a handful of teams (Nuggets, Trail Blazers, Cavaliers, maybe a few others) plan to make their facilities available. Several others are still weeks away.
🏈 NFL: In a memo sent to all 32 teams yesterday, commissioner Roger Goodell laid out protocols for the gradual reopening of team facilities. "Phase 1" will begin at some point after May 15.
The bottom line: Nothing is certain in this ever-shifting world, but the No Sports Era appears to be nearing its fateful and surreal conclusion.
2. 🎟 Ticket limbo: Leagues update refund policies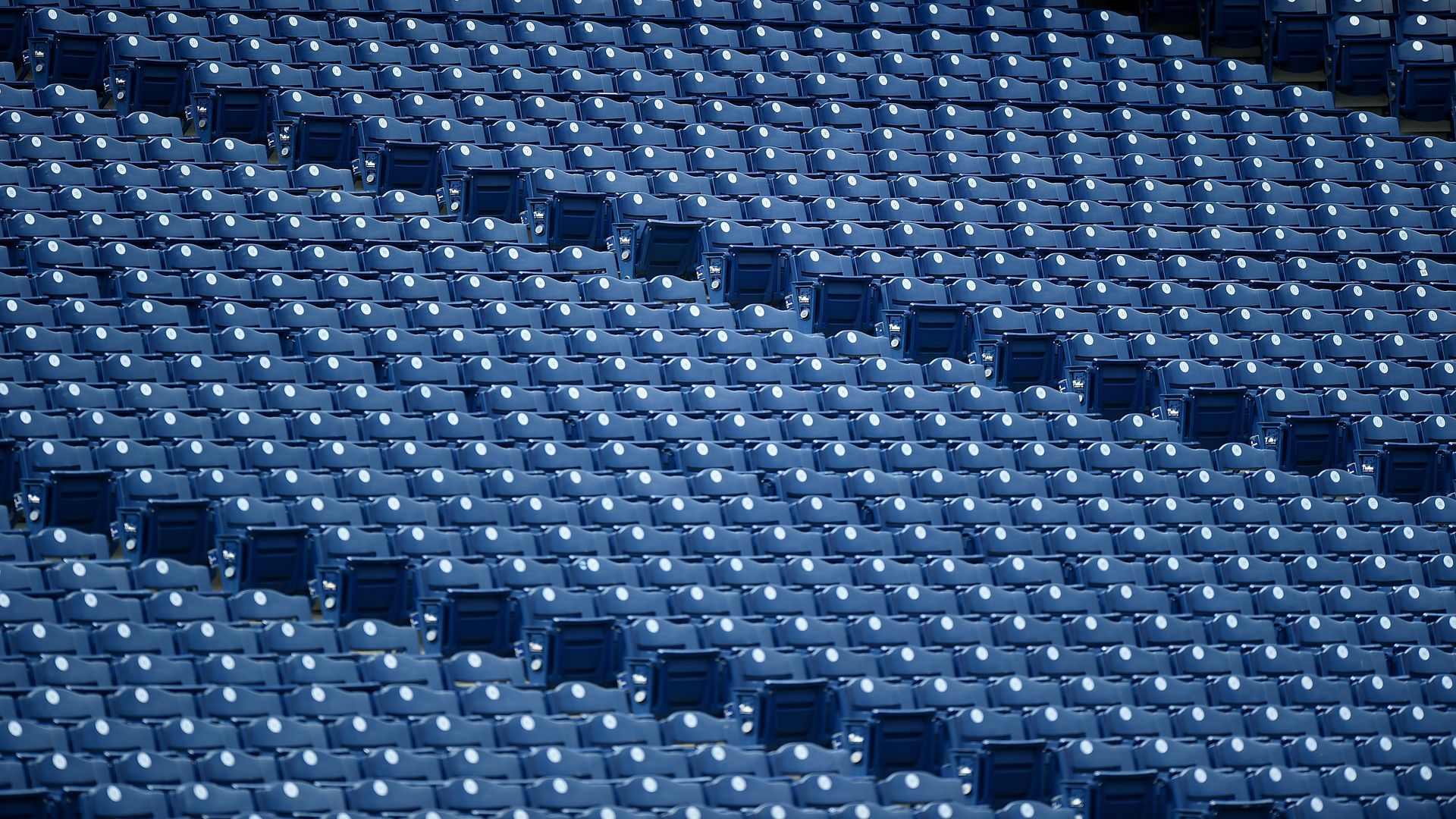 With U.S. sports nearly two months into their indefinite hiatus, leagues have finally begun updating their ticket refund policies, directing teams to decide for themselves how they'd like to proceed, writes Axios' Jeff Tracy.
Why it matters: This should give fans struggling financially amidst the pandemic a clearer path towards recouping cash in the short term.
By the numbers: With over $1 billion tied up in "postponed" NBA and NHL games alone, there's a lot more money in ticket limbo than you might realize.
"Getting a refund for an event that is postponed until who-knows-when may seem like small potatoes, but for a lot of people without their paycheck, that might be a cart of groceries or a bottle of prescription medicine."
— Rep. Bill Pascrell (D-N.J.),
via WSJ
The backdrop: Over the first month or so of lockdown, leagues instructed teams to treat missed games as standard postponements (i.e. exchange for credit on a future ticket, or keep the ticket and use it at the rescheduled event).
But when two fans from New York sued MLB on April 20 for un-refunded tickets, seeking class-action certification, the situation changed.
The state of play: About a week after that suit was filed, both MLB and MLS changed their policy to the aforementioned team-centered approach.
The LA Galaxy are fielding refund requests on a case-by-case basis "for games that have been affected but not canceled" or "from season-ticket holders whose financial situation has been adversely affected by the coronavirus."
The NFL — whose season isn't scheduled to begin until the fall, and thus has time on its side in a way MLB and MLS don't — released a memo yesterday outlining a universal refund policy that will be available for fans "if a game is cancelled or has to be played in an empty stadium."
The bottom line: As with everything else at the moment, the only thing certain about this updated refund policy is that, at some point, it's likely to change. But if it eases the pain of this crisis for even a few extra people, it's a good place to start.
In related news ... Despite the 2020 NFL schedule being released tonight, the Jets said they won't be selling tickets to games for now. Don't be surprised if more teams do the same.
3. ⚾ MLB finalizing return proposal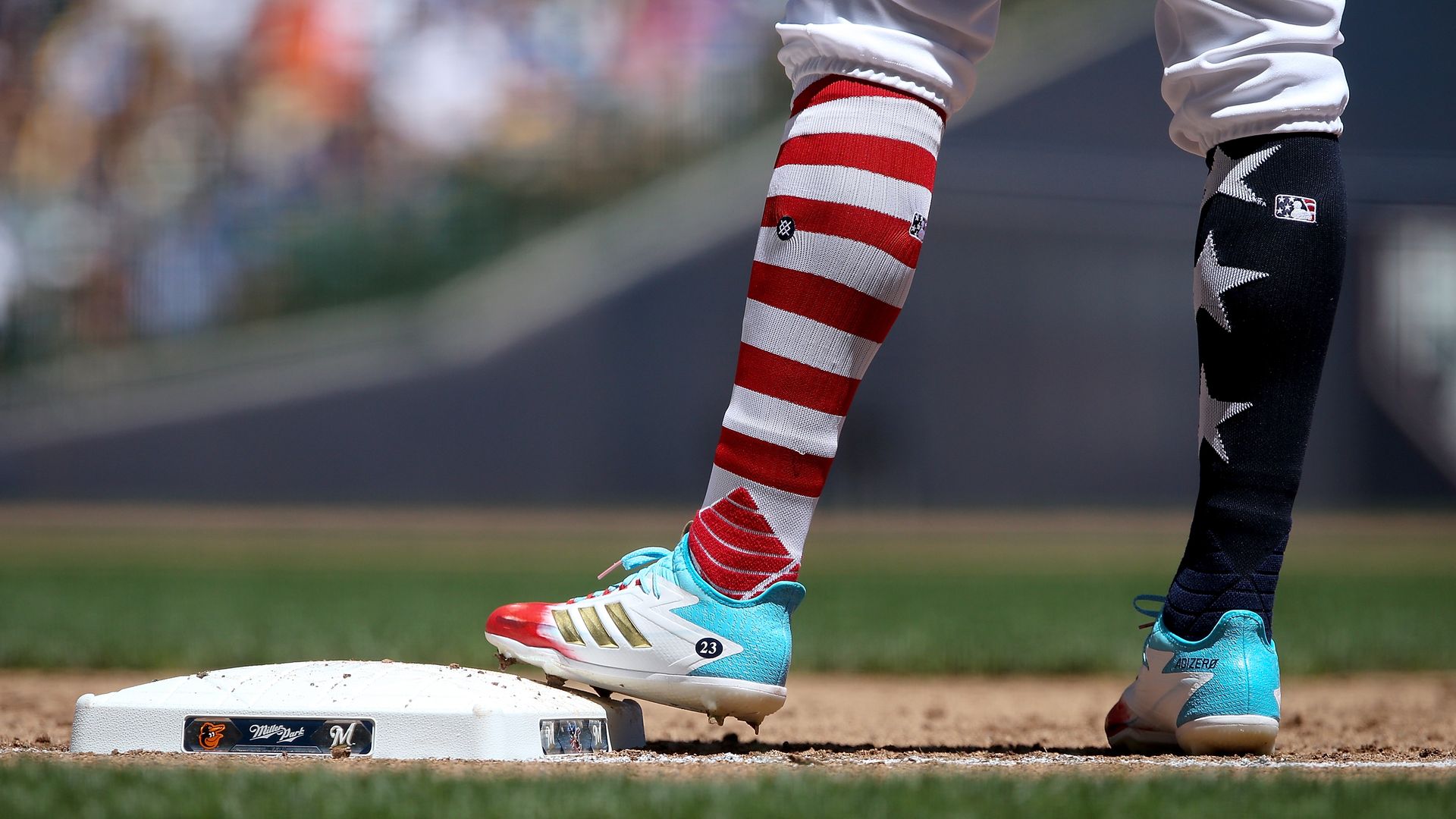 MLB expects to offer a return-to-play proposal to the players' union within a week, and teams are encouraging players to prepare for a "spring" training that could begin in mid-June and a season that could start in early July, ESPN's Jeff Passan reports.
More MLB:
4. ⚡️ Catch up quick
😷 COVID-19 watch: The number of new daily cases is holding steady in the U.S., but it's not going down — a key benchmark many other countries achieved before loosening lockdowns and social distancing measures, write Axios' Dave Lawler and Caitlin Owens.
🏒 The NHL says it "strongly condemns" comments made by Capitals forward Brendan Leipsic and Panthers forward Jack Rodewald in a leaked Instagram group chat, calling the remarks "misogynistic and reprehensible."
⚾️ "Long Gone Summer," an ESPN documentary chronicling the 1998 home run race between Sammy Sosa and Mark McGwire, has been moved up to a June 14 release. Here's a preview.
⛳️ 2K Sports released a short trailer for PGA Tour 2K21, which will try to fill the void left behind by EA Sports' Tiger Woods PGA Tour (went dark in 2013).
5. 📸 Pic du jour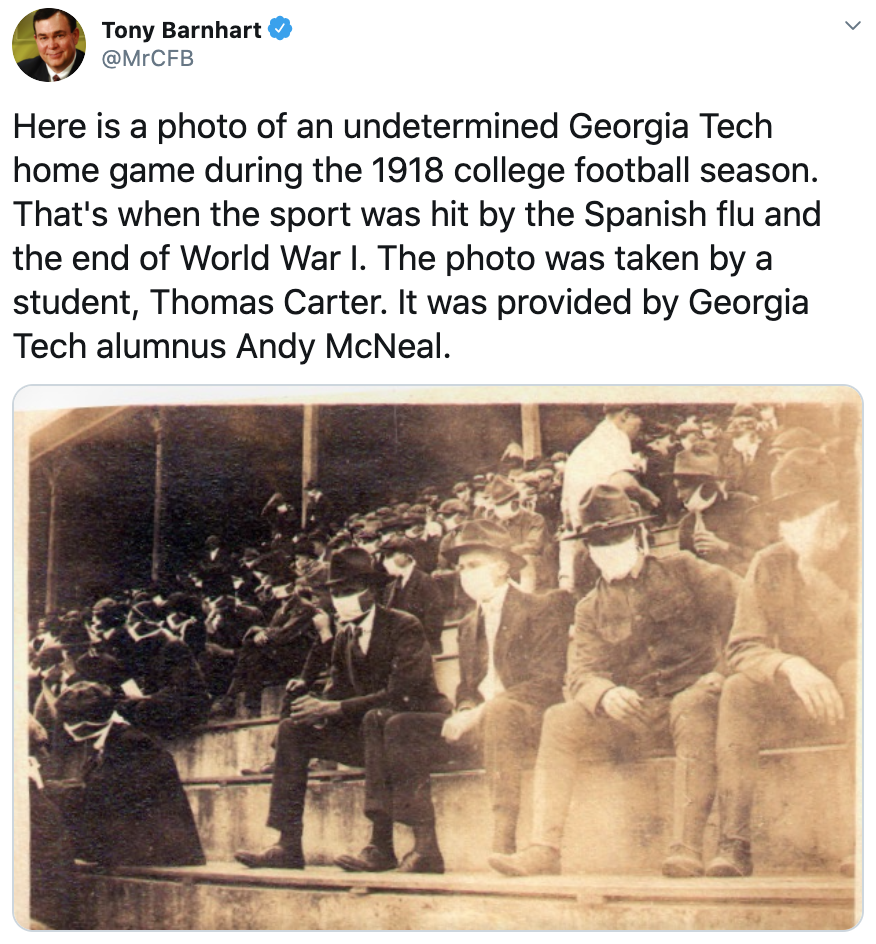 Go deeper: War, fever and sports in 1918 (Axios Sports Special)
Bonus: ⚾️ Ranking MLB's all-time rosters (No. 27)
We're ranking the all-time rosters for all 30 MLB teams — from the weakest starting lineup to the strongest. Note: Rosters based only on time spent with this specific team. Thoughts? Email me at [email protected].
27. Toronto Blue Jays
Another day, another team that won a World Series on a walk-off! I feel particularly compelled to mention it for Toronto because the hero, Joe Carter, was my final cut for this roster. His overall numbers weren't quite strong enough, but he and the Blue Jays will always have this.
Year established: 1977
All-time record: 3,383-3,458 (.495)
World Series Championships: 2
Hall of Famers (on this roster): 2
Starting lineup:
2B Roberto Alomar (22.3 bWAR with team)
1B Carlos Delgado (36.8)
3B Josh Donaldson (19.5)
OF José Bautista (38.2)
DH Edwin Encarnación (25.3)
OF Vernon Wells (28.7)
OF Jesse Barfield (29.5)
SS Tony Fernández (37.5)
C Ernie Whitt (19.3)
On the mound: SP Roy Halladay (48)
Bench:
Infield: 1B John Olerud (22.6), 2B Aaron Hill (17.1), 3B Kelly Gruber (16.1), SS Álex González (9.7), C Pat Borders (4.3)
Outfield: Devon White (22.3), George Bell (21.3), Lloyd Moseby (26)
Utility: Fred McGriff (19.4)
Rotation: Dave Stieb (56.8), Jimmy Key (29.6), Pat Hentgen (26.6), Roger Clemens (20.3)
Bullpen: Tom Henke (16.8), Duane Ward (10.4), Mark Eichhorn (11.5)
Additional notes:
Roger Clemens as a Blue Jay: Two seasons, 20.3 WAR and two Cy Young awards. Absurd.
Poor Fred McGriff. DH for my last-ranked Rays lineup, where he played his twilight years; resigned to the Blue Jays; and, spoiler alert, the Braves roster was too strong to include him. A true victim of circumstance. *Pours one out*
Huge thanks to Tom Stone, whose book 'Now Taking the Field: Baseball's All-Time Dream Teams for All 30 Franchises,' provided the inspiration for these rosters.
6. May 7, 2003: ⚽️ Gunners go streaking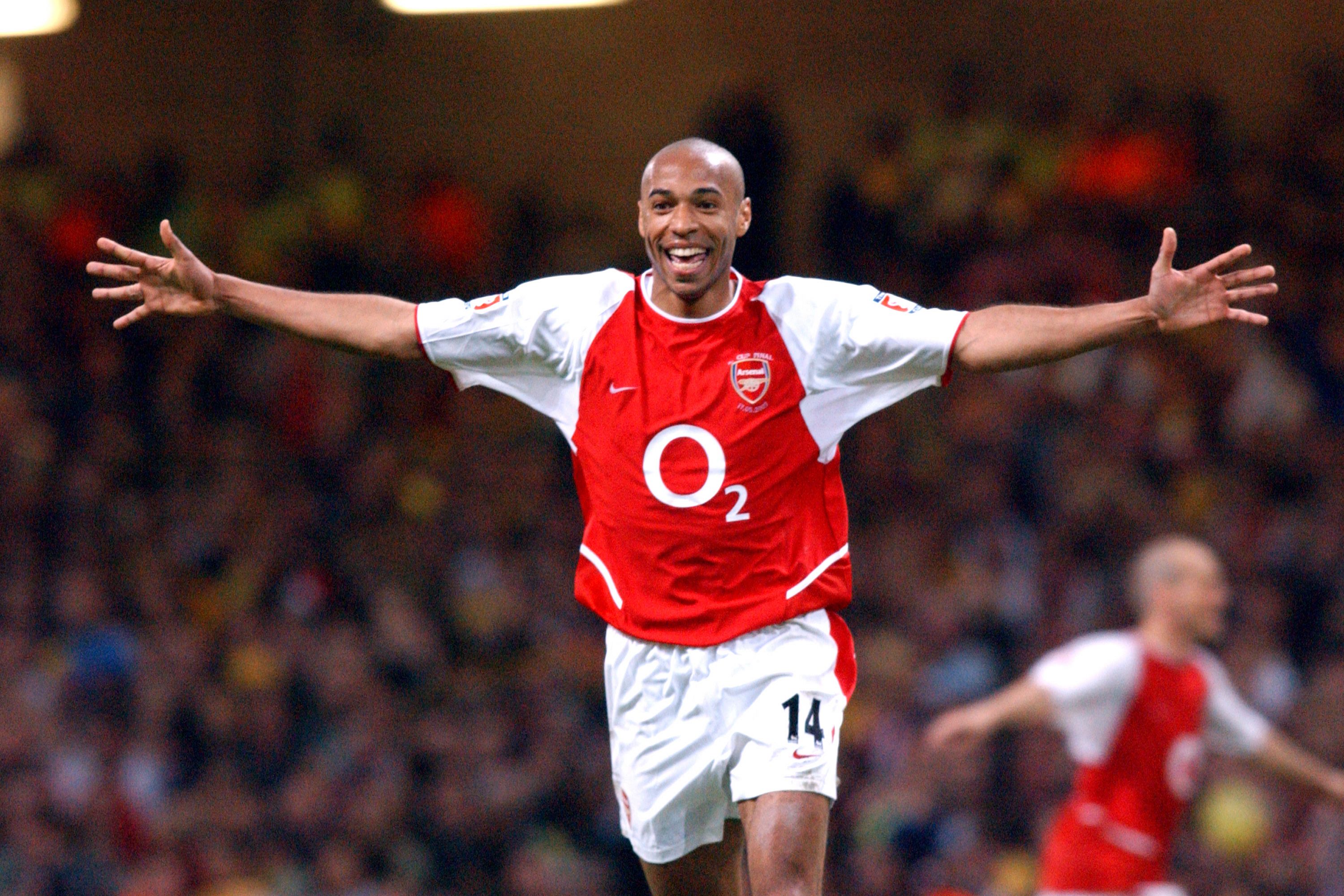 17 years ago today, Arsenal crushed Southampton, 6-1, in the penultimate game of the 2002-03 Premier League season.
Why it matters: That victory began a historic run for the Gunners, who went unbeaten in a record 49 straight league games (36-0-13) before finally losing to Manchester United, 2-0, in October 2004.
In the midst of that run, they also completed just the second-ever unbeaten season in British football history (26-0-12 in 2003-04), matching Preston North End FC from 1888-89 (18-0-4). Both squads remain known as "The Invincibles."
The key players: Arsenal were led by an in-his-prime Thierry Henry and managed by Arsène Wenger, then just seven years into his tenure.
Henry won four Golden Boots (league's top scorer) in five years from 2002-06, while finishing second to Juventus midfielder Pavel Nedvěd for the 2003 Ballon d'Or.
Wenger in 2002: "Nobody will finish above us in the League. It wouldn't surprise me if we were to go unbeaten for the whole of the season. The challenge now is to dominate English football for a long time." Seems he was only one year off in his extremely bold prediction.
The bottom line: It's been four years since Arsenal have finished in the top four, and when play stopped in March, they were planted firmly in the middle of the table, headed for yet another disappointing finish.
Yes, but: They'll always have their record streak, their one magical unbeaten season and the champagne bottle they probably popped back in February, when Liverpool's own streak ended at 44 games.
🎥 Watch: How Wenger made Arsenal invincible (YouTube)
7. 📚 Good reads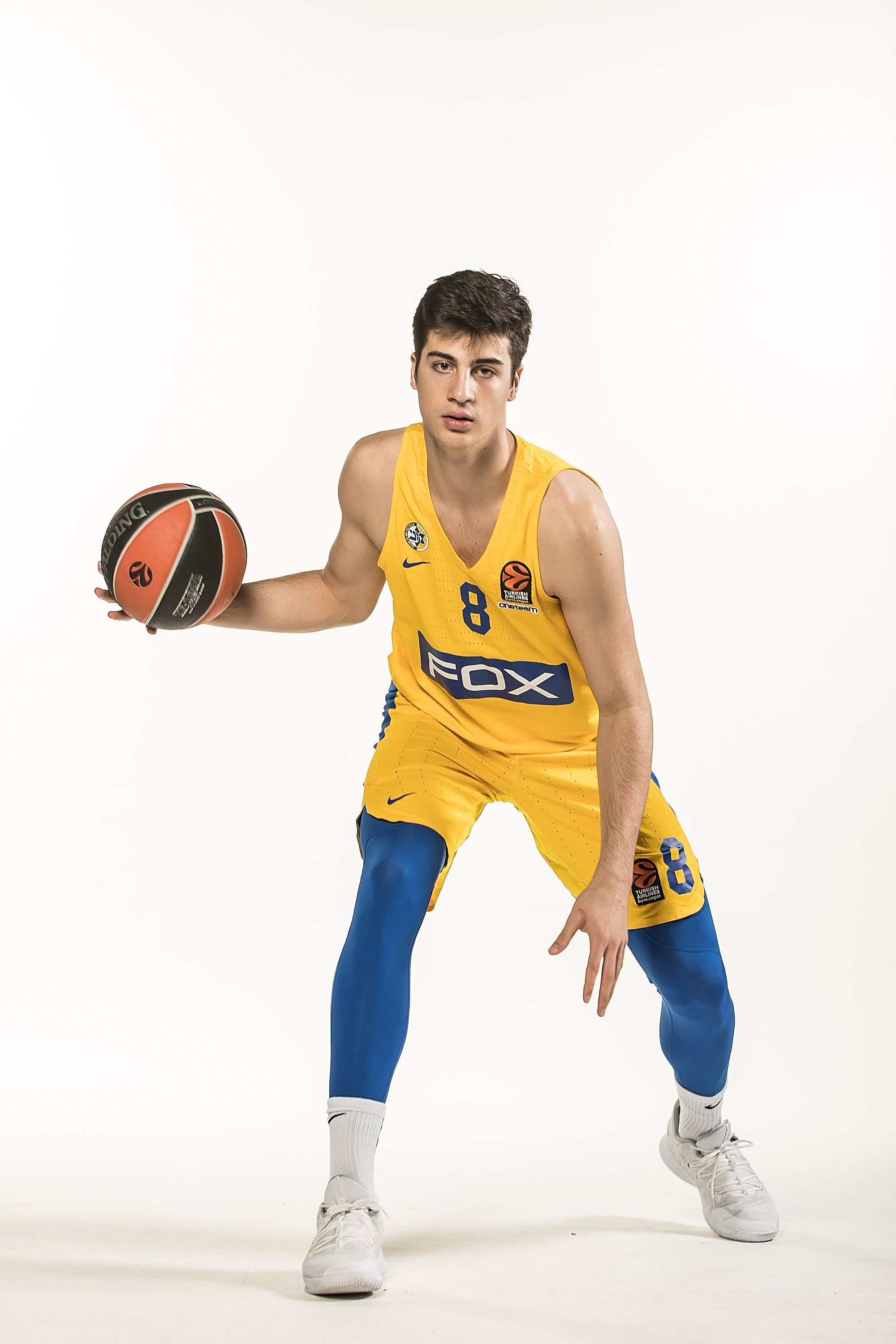 🏀 Deni Avdija hopes to be Israel's first NBA star (Ben Pickman, SI)
"Basketball has given Israelis several memorable moments of national import. But it's never given them an NBA star they can call their own. Deni Avdija ... would like to change that."
🏈 The XFL is dead, long live the XFL (Adam Kramer, B/R)
"The season is canceled and the league is bankrupt, but for the players, coaches and innovators at the heart of the XFL, the dream it represented lives on."
👟 Ranking the top 74 sneakers in NBA history (Nick DePaula, ESPN)
"From overly built high-tops to space-age heat-molded constructions to the phone-syncing sneakers of today, NBA players have laced up more collective design, technology and innovation than any other association."
8. The Ocho: ⚽️ Flick soccer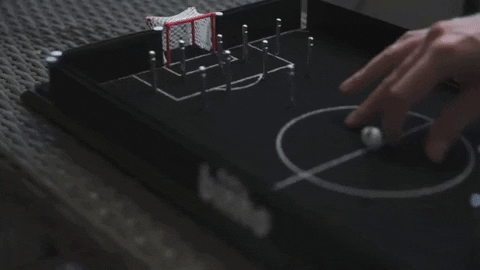 Meet the Biñho board. A combination of foosball and goalie wars that I'd never heard of before yesterday and may very well have purchased by the time you're reading this.
The rules are incredibly simple. Two players take turns flicking a marble towards the opposite goal, which is defended by 10 static pegs. First to seven goals wins.
🎥 Watch: A very silly, but no less informative tutorial; or, a slightly more detailed and earnest review of the game.
9. 🏀 NBA trivia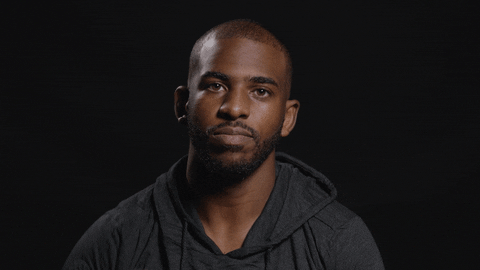 Chris Paul, who turned 35 yesterday, is one of four players in the top 10 in NBA history in both assists and steals.
Question: Who are the other three players?
Hint: First-round draft picks in 1984, 1990 and 1994, respectively.
Answer at the bottom.
10. ❤️ Why we love sports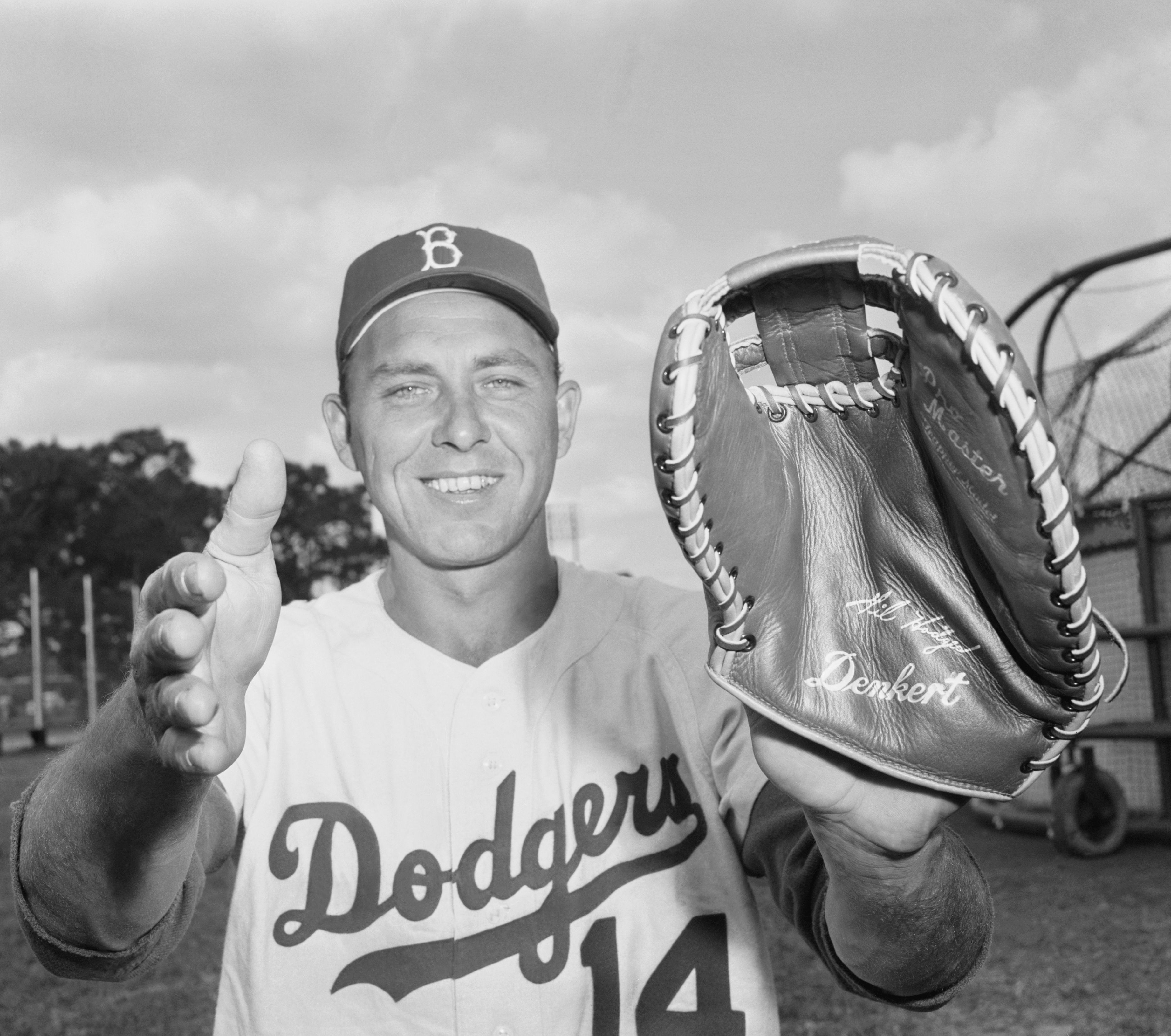 Dave L. (Wilmington, Vt.) writes:
"As a young boy in the mid-1950s, I experienced moderate success in the autograph department by writing to ball players in Florida during spring training. However, my fondest memory of getting an autograph was on Oct. 13, 1959. I had just turned 11 years old.
"A group of self-appointed American and National League 'All-Stars' — captained by Willie Mays and Rocky Colavito — had played their first two exhibition games in Philadelphia and Syracuse, and they were playing their final game at Red Wing Stadium in my hometown of Rochester, New York.
"In the lineup that night was my hero, Gil Hodges, of my beloved Dodgers. After the game, even though it was a school night, my parents consented to letting me wait outside the National League clubhouse with the hope of seeing him.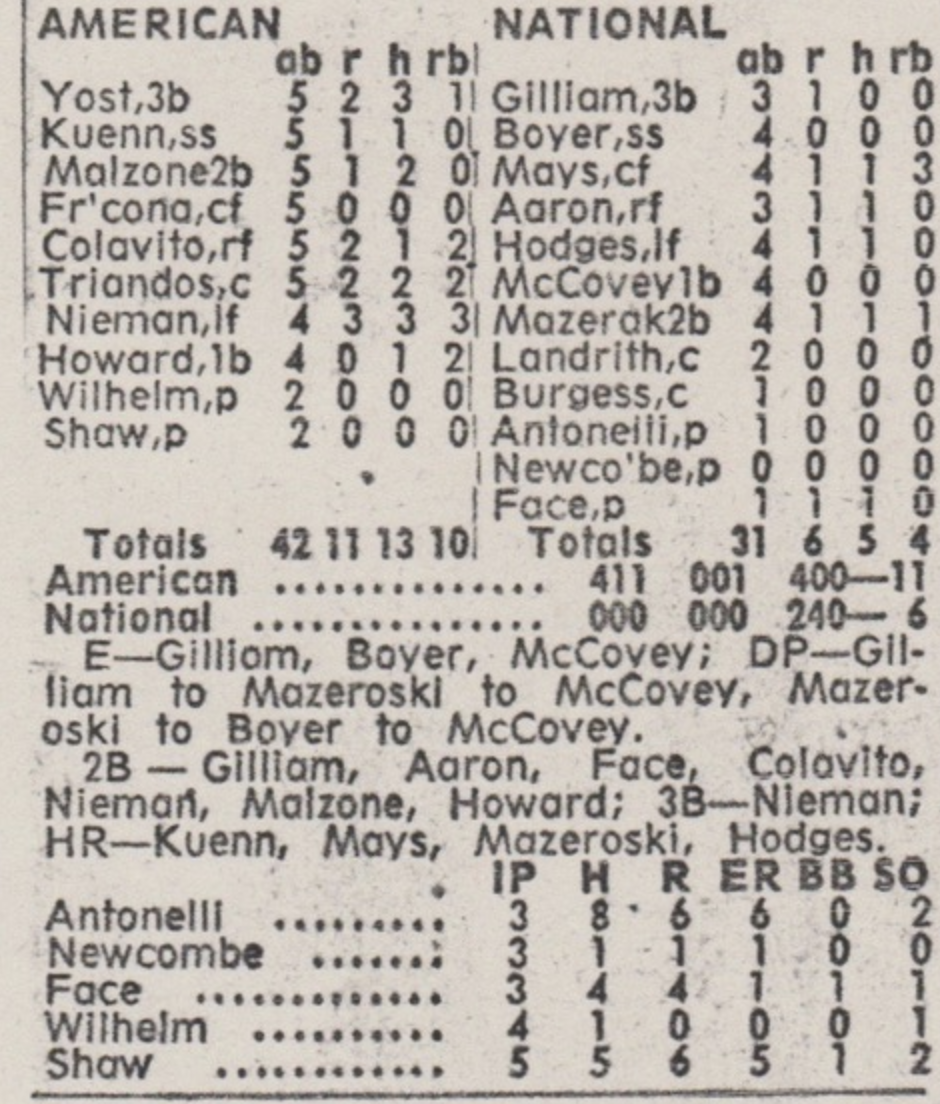 "After what seemed to be far too long, a tall, muscular man with a kind, round face and pale blue eyes suddenly appeared. It was Gil Hodges. He began walking toward the team bus, carrying the largest equipment bag I'd ever seen.
"A small flock of boys followed him in hopes of getting his autograph, and I did the same, handing him my little sister's notepad and my No. 2 pencil. He signed it and returned the pad to my waiting hands, dwarfed by his. And then, just like that, he was gone.
"60 years later, that pencil, used in school and sharpened down to an inch in length, has long since disappeared. That two-by-four inch piece of notepad paper, however, still rests securely in a plastic cover in my baseball card binder.
"It serves as a reminder of a time when young boys could have a hero and, if they were lucky enough, could share a moment with that hero. For the hero, it would quickly evaporate into a mist of thousands of similar moments. But for the young boy, that moment would last a lifetime."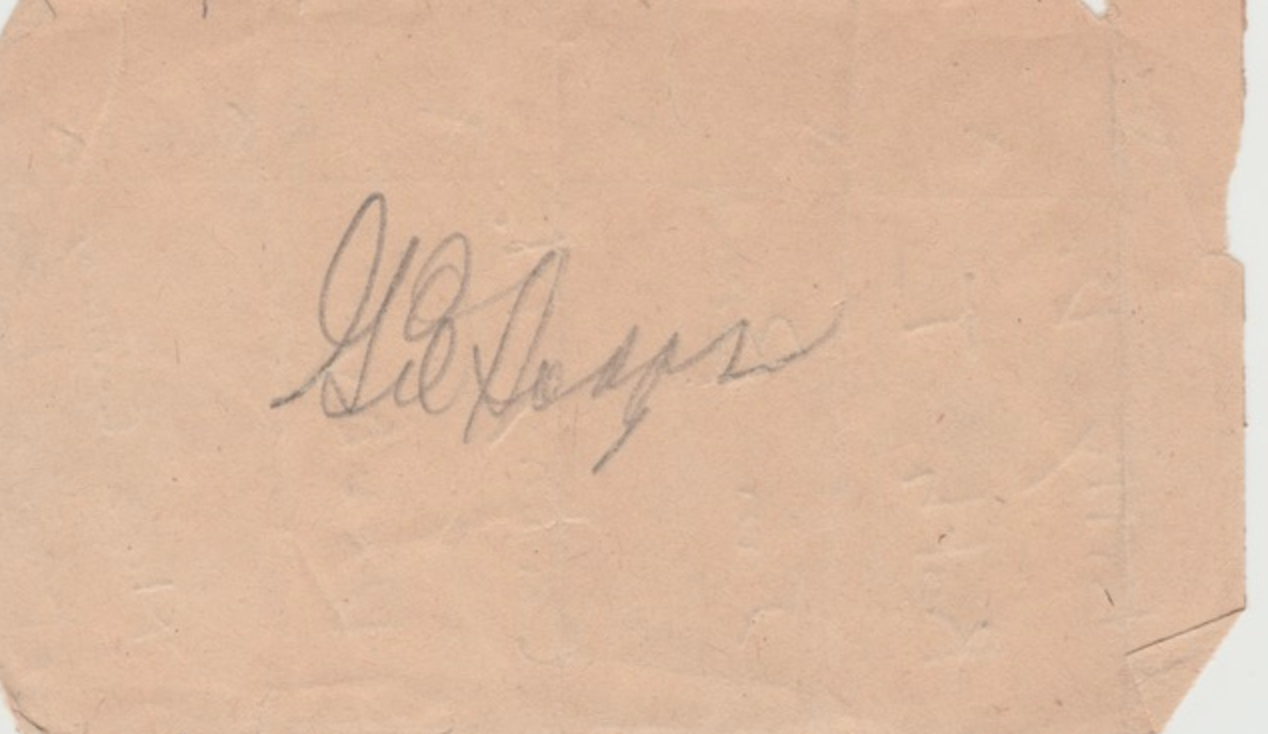 ✍️ Submit your story: Do you have a fondest sports memory? Or an example of sports having a positive impact on your life? If you'd like to share, simply reply to this email. We'll be telling your stories until they run out.
Talk tomorrow,
Kendall "The days are blurring together" Baker
Trivia answer: John Stockton, Gary Payton, Jason Kidd