Axios Sports
April 20, 2023
👋 Good morning! Find the nearest Oakland sports fan and give them a hug.
Today's word count: 1,976 words (7 minutes)
Let's sports...
1 big thing: ⚾️ A's sign deal in Vegas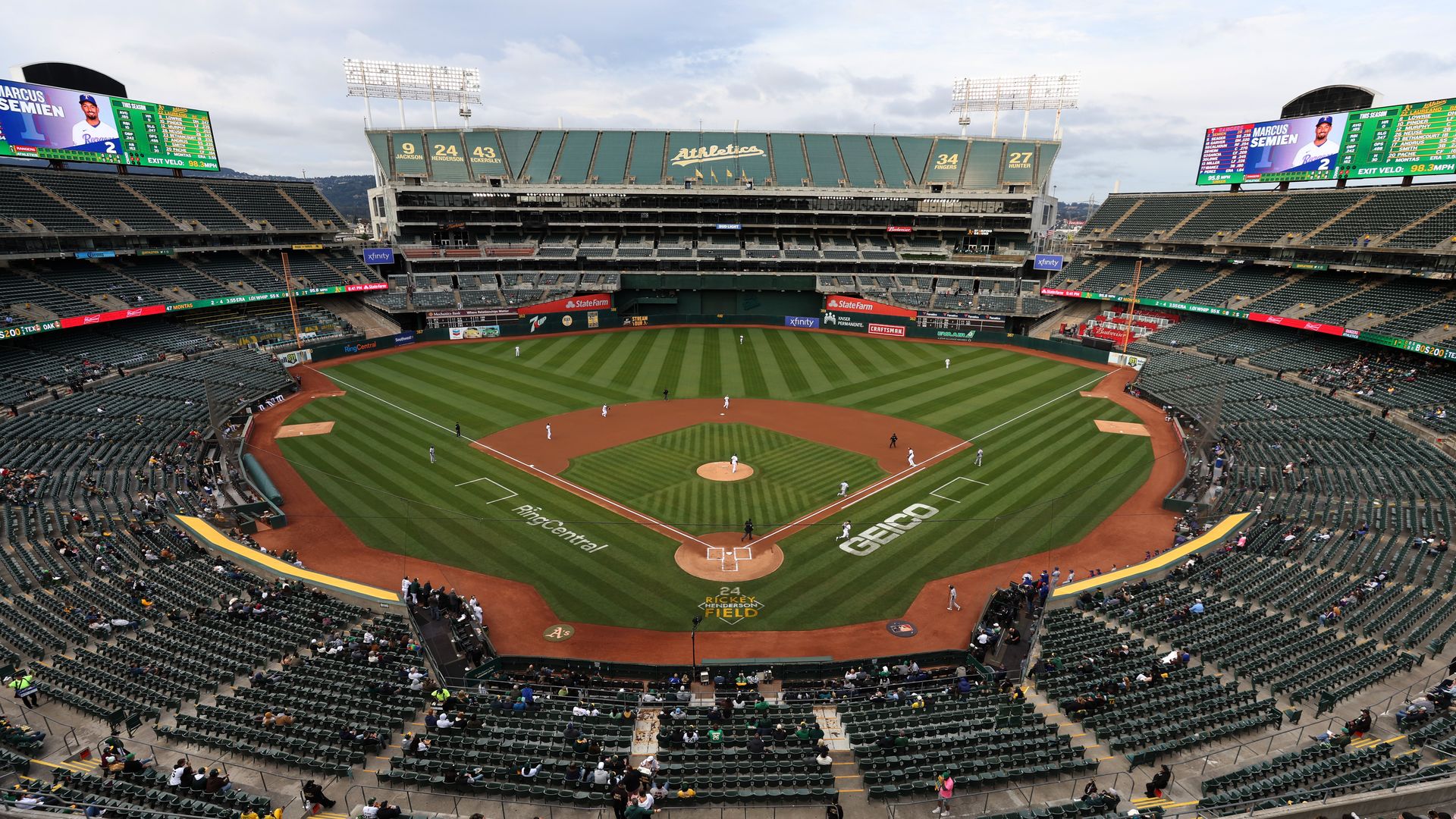 In 2020, the Raiders left Oakland for Las Vegas. Three years later, the Athletics appear set to follow them.
Driving the news: The A's have signed a binding agreement to purchase land near the Las Vegas Strip, where they intend to build a $1.5 billion ballpark, team president Dave Kaval told the Las Vegas Review-Journal Wednesday night.
The agreement is for a 49-acre site owned by Red Rock Resorts that's about a mile north of Allegiant Stadium (Raiders) and a mile west of T-Mobile Arena (Golden Knights).
Kaval says the team hopes to break ground by next year and move into their new home by 2027.
What they're saying: "For a while we were on parallel paths [with Oakland], but we have turned our attention to Las Vegas to get a deal here for the A's and find a long-term home," said Kaval.
"Oakland has been a great home for us for over 50 years, but we really need this 20-year saga completed and we feel there's a path here in Southern Nevada to do that."
"We support the A's turning their focus on Las Vegas and look forward to them bringing finality to this process by the end of the year," added MLB commissioner Rob Manfred.
The other side: Oakland Mayor Sheng Thao criticized the announcement, saying "it is clear to me that the A's … have simply been using this process to try to extract a better deal out of Las Vegas." Thao said the city is ceasing all negotiations with the team.
The backdrop: The A's have been looking for a new home to replace the Oakland Coliseum, where they've played since arriving from Kansas City in 1968. The ballpark has numerous issues, including a colony of feral cats and a possum living in the visitors' TV booth.
The team's lease expires after the 2024 season, and there had been ongoing negotiations about a new ballpark in Oakland — most recently a $12 billion waterfront project.
Attendance has plummeted amid the relocation rumors. Earlier this season, the Athletics were outdrawn by their own Triple-A team — which happens to play in Las Vegas.
State of play: The A's have had a brutal start to the year, sporting MLB's worst record (3-16), run differential (-86) and average attendance (11,025). With the news of their impending departure now hanging over the team, it could be a long season in Oakland.
The bottom line: As recently as 2016, three major sports teams played in Oakland (Athletics, Raiders, Warriors*) and none played in Las Vegas. Roughly a decade later, those numbers are poised to flip, with three teams in Las Vegas and none in Oakland.
*The Warriors moved across the bay to San Francisco in 2019.
2. 🇫🇮 NBA All-Star, reporting for duty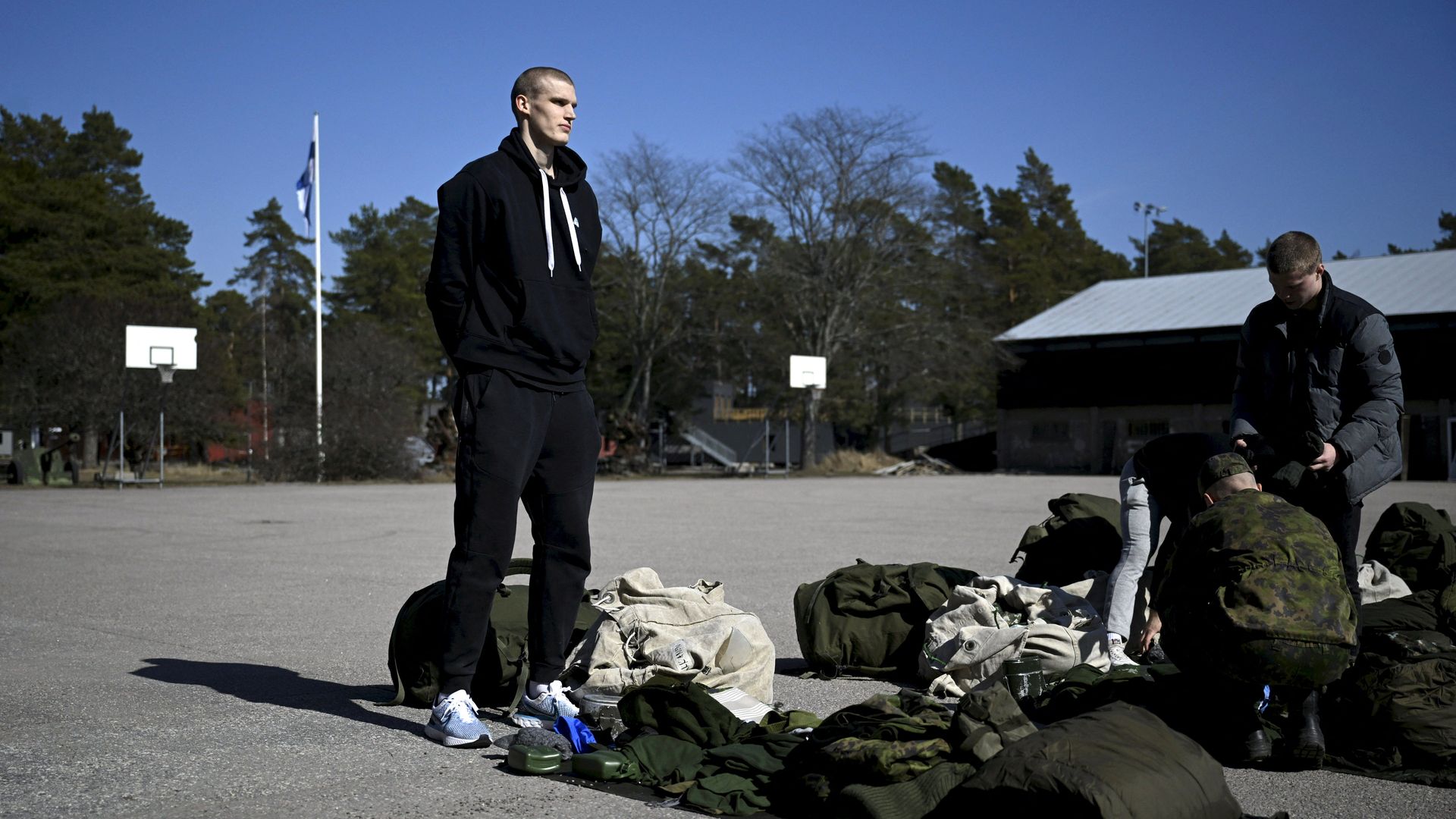 Lauri Markkanen just completed the best season of his career, but the Jazz forward is spending his offseason very differently from his NBA peers: training in the Finnish military, Axios' Jeff Tracy writes.
State of play: Markkanen, 25, reported on Monday for the mandatory military service that all Finnish men must complete before turning 30.
The seven-footer is at the Finnish Defense Forces' Sports School, which is specifically for conscripted athletes and enables sports training in addition to military training.
He's expected to spend roughly 165 days in training, likely split between two offseasons to avoid conflicting with the NBA.
What he's saying: "It's mandatory … but at the same time we take pride in it, too," Markkanen told ESPN. "I think it sets an example to serve. And I'm confident I can do it in a way that it's not going to affect my preparation for next season."
The big picture: Finland is one of 49 countries with some form of mandatory military service, though it's among the few countries whose athletes have made headlines for such service.
3. ⚾️ MLB power rankings: Week 3
The Braves, fresh off an eight-game winning streak that just ended Wednesday, have overtaken the Rays for the top spot in our power rankings, Jeff writes.
Player spotlights: It's nearly impossible to pick just one exceptional player from each team, but that won't stop me from trying.
No. 1 Braves: RF Ronald Acuña Jr. … .995 OPS and 8 SB.
No. 2 Rays: LHP Shane McClanahan … 4-0, 1.57 ERA, 1.13 WHIP
No. 3 Brewers: RHP Devin Williams … 2-0, 2 SV, 0.00 ERA, 1.00 WHIP, 16.5 K/9
No. 4 Yankees: RHP Gerrit Cole … 4-0, 0.95 ERA, 0.74 WHIP, 1.6 WAR (leads pitchers)
No. 5 Dodgers: OF James Outman (rookie) … .958 OPS, 3 3B (tied for league lead)
No. 6 Twins: RHP Pablo López … 1-1, 1.73 ERA, 0.81 WHIP, 33:6 K:BB
No. 7 Astros: RF Kyle Tucker … .985 OPS, 4 HR, 15 RBI, 4 SB
No. 8 Angels: RHP/DH Shohei Ohtani … 2-0, 0.86 ERA, 0.90 WHIP; .870 OPS, 4 HR, 1.7 WAR (leads league)
No. 9 Guardians: RHP Trevor Stephan … 1.93 ERA, 1 SV, 1 HLD, 0.7 WAR (leads relievers)
No. 10 Orioles: SS Jorge Mateo … .362 AVG, 1.056 OPS, 8 SB
No. 11 Rangers: 2B Marcus Semien … .848 OPS, 4 HR, 4 2B, 18 RBI
No. 12 Mets: 1B Pete Alonso … .977 OPS, 8 HR, 15 RBI
No. 13 Padres: SS Xander Bogaerts … .414 OBP, .953 OPS, 4 HR
No. 14 Blue Jays: 3B Matt Chapman … .397 AVG, 1.211 OPS, 1.4 WAR (leads hitters)
No. 15 Cubs: 3B Patrick Wisdom … 1.097 OPS, 8 HR, 15 RBI
No. 16 Diamondbacks: LF Corbin Carroll (rookie) … .887 OPS, 4 HR, 5 2B, 7 SB
No. 17 Phillies: CF Brandon Marsh … .368 AVG, 1.156 OPS, 6 2B, 3 3B (ties league lead)
No. 18 Red Sox: 3B Rafael Devers … .938 OPS, 7 HR, 5 2B, 17 RBI
No. 19 Cardinals: 2B/DH Nolan Gorman … .403 OBP, 1.052 OPS, 5 HR, 18 RBI
No. 20 Mariners: RHP Luis Castillo … 2-0, 0.73 ERA, 0.61 WHIP, 26:4 K:BB
No. 21 Pirates: Andrew McCutchen … .417 OBP, 1.003 OPS, 4 HR, 3 SB
No. 22 Marlins: 2B Luis Arráez … .438 AVG (leads league), 1.071 OPS, 1.3 WAR
No. 23 Giants: 2B Thairo Estrada … .323 AVG, .895 OPS, 3 SB
No. 24 White Sox: RHP Dylan Cease … 2-0, 2.01 ERA, 1.07 WHIP
No. 25 Tigers: LHP Eduardo Rodríguez … 1-2, 3.00 ERA, 1.04 WHIP
No. 26 Reds: RHP Graham Ashcraft … 2-0, 1.42 ERA, 1.16 WHIP, 1.3 WAR
No. 27 Rockies: C Elías Díaz … .345 AVG, .945 OPS, 2 HR, 5 2B
No. 28 Nationals: RHP Mason Thompson … 1-1, 1 HLD, 1.35 ERA, 0.60 WHIP
No. 29 Royals: 1B Vinnie Pasquantino … .886 OPS, 3 HR, 6 2B
No. 30 Athletics: CF Esteury Ruiz … .302 AVG, 4 2B, 5 SB
Go deeper: One worrisome trend for each team (The Athletic)
4. ⚡️ Lightning round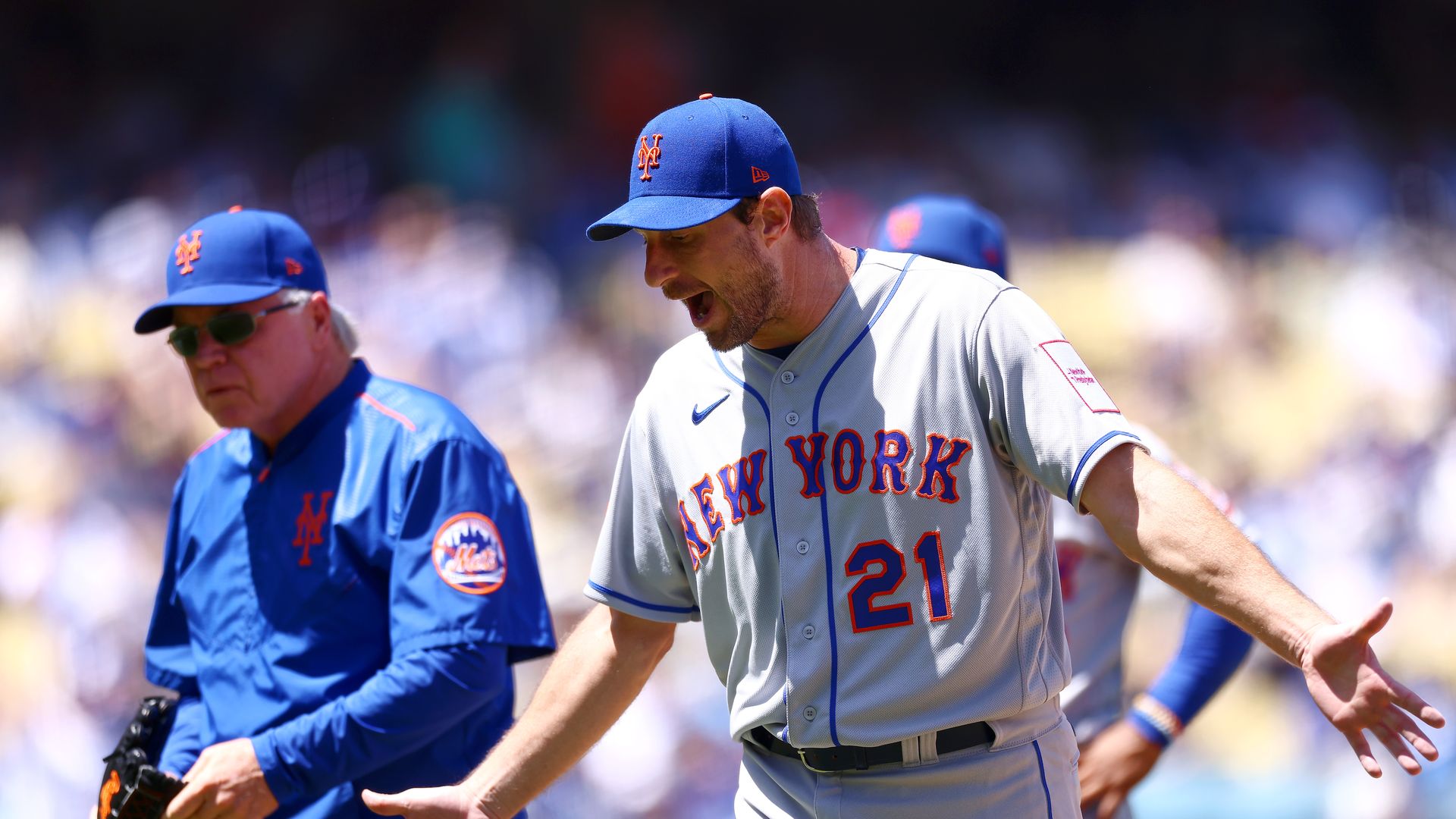 ⚾️ Sticky situation: Max Scherzer was ejected Wednesday for "sticky stuff" on his hand and glove, which he insists was just rosin. All three pitchers who have been ejected for a foreign substance were tossed by the same umpire, Phil Cuzzi.
⚽️ Semis are set: Manchester City beat Bayern Munich, 4-1, and Inter Milan beat Benfica, 5-3, to advance to the Champions League semifinals. City will face Real Madrid in a rematch of last year's semis; Inter will face crosstown rival AC Milan.
⛳️ Tiger gets surgery: Tiger Woods had ankle surgery to address arthritis caused by injuries sustained in his 2021 car crash, putting the 2023 majors in doubt. Here's a great thread on his long-term prognosis.
🏈 Tua weighed retirement: Tua Tagovailoa says he considered retiring after last season's concussion-marred campaign. Instead, he's taken up jiu-jitsu to learn how to fall more safely.
5. 🏀 No Giannis? No problem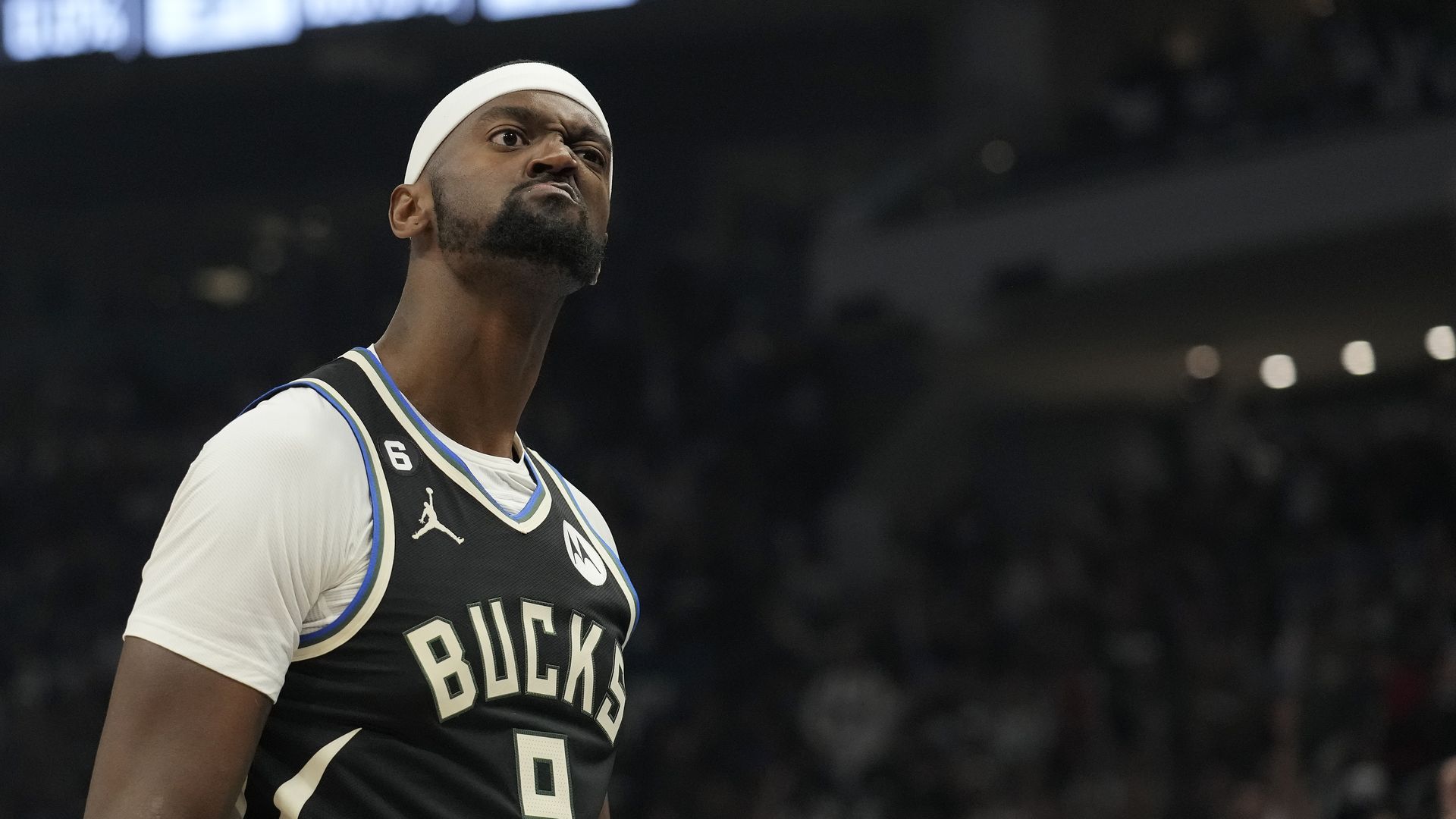 The Bucks more than held down the fort without Giannis Antetokounmpo on Wednesday, turning in a historic performance to even their series.
Driving the news: The Bucks beat the Heat, 138-122 — the most points ever scored in a playoff game by a team without their leading scorer from the regular season.
Milwaukee made 25 three-pointers on the night, tying a playoff record.
Seven players finished in double figures, including six who scored at least 15 points, matching another NBA record.
Fun fact: Every time the Bucks and Heat have met in the playoffs, the winner of their series has made the NBA Finals (2013, 2020, 2021).
Elsewhere … The Grizzlies beat the Lakers, 103-93, to even their series 1-1, and the Nuggets beat the Timberwolves, 122-113, to take a 2-0 lead.
6. 🇺🇸 Photos across America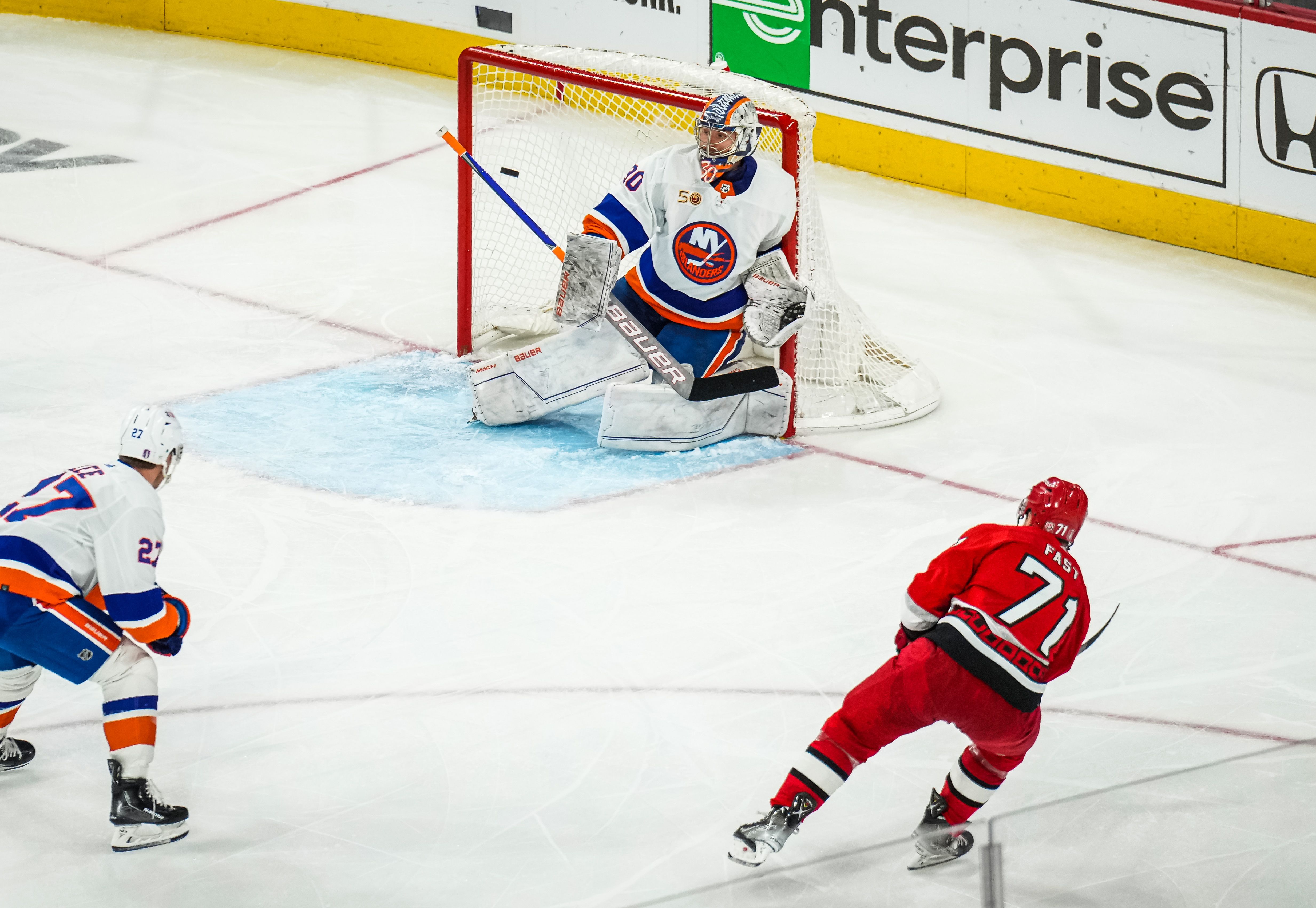 RALEIGH, N.C. — Jesper Fast scored five minutes into overtime to lift the Hurricanes to a 4-3 win over the Islanders and a 2-0 series lead.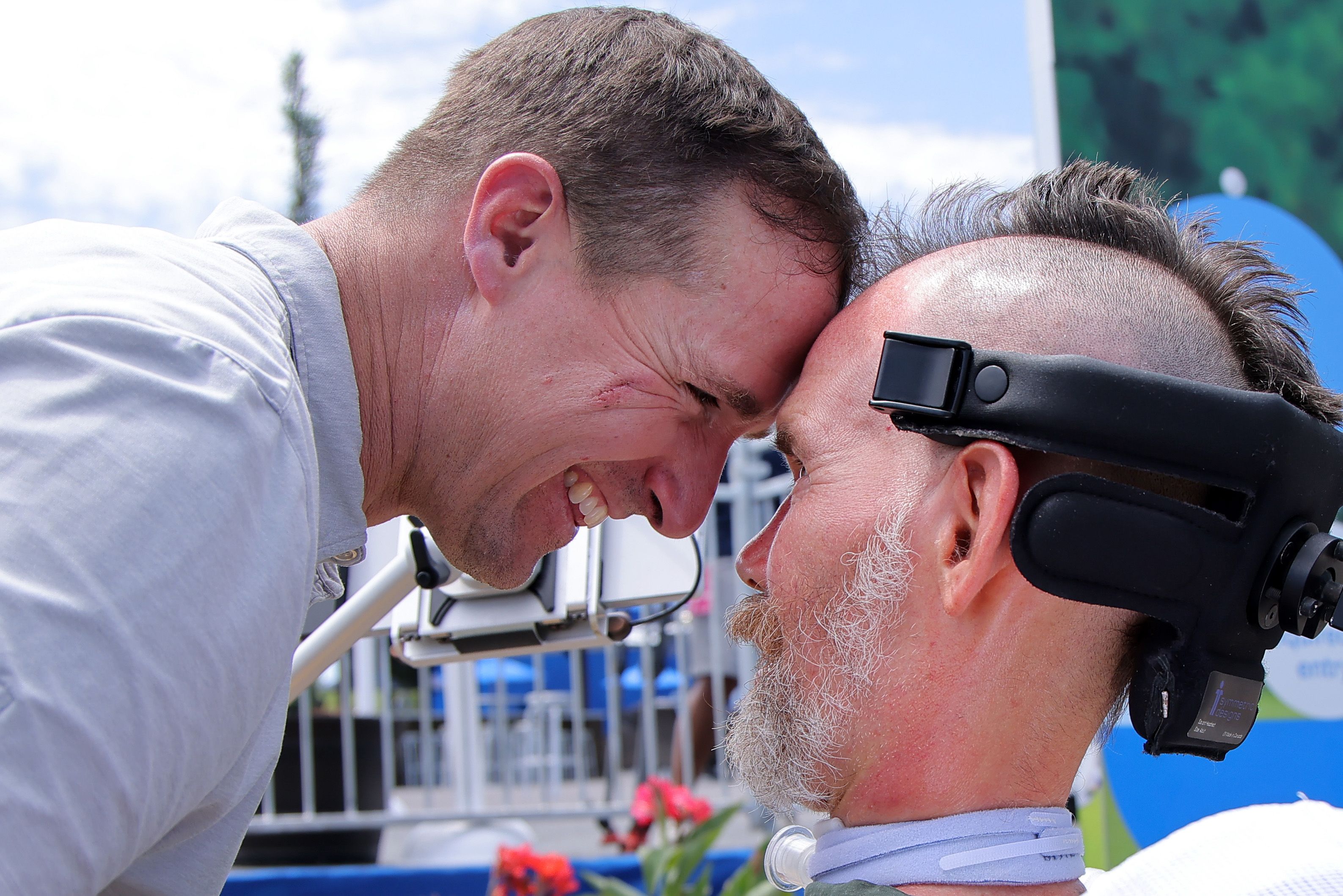 AVONDALE, La. — Drew Brees hugs his former Saints teammate Steve Gleason during the Zurich Classic pro-am. Gleason was diagnosed with ALS in 2011.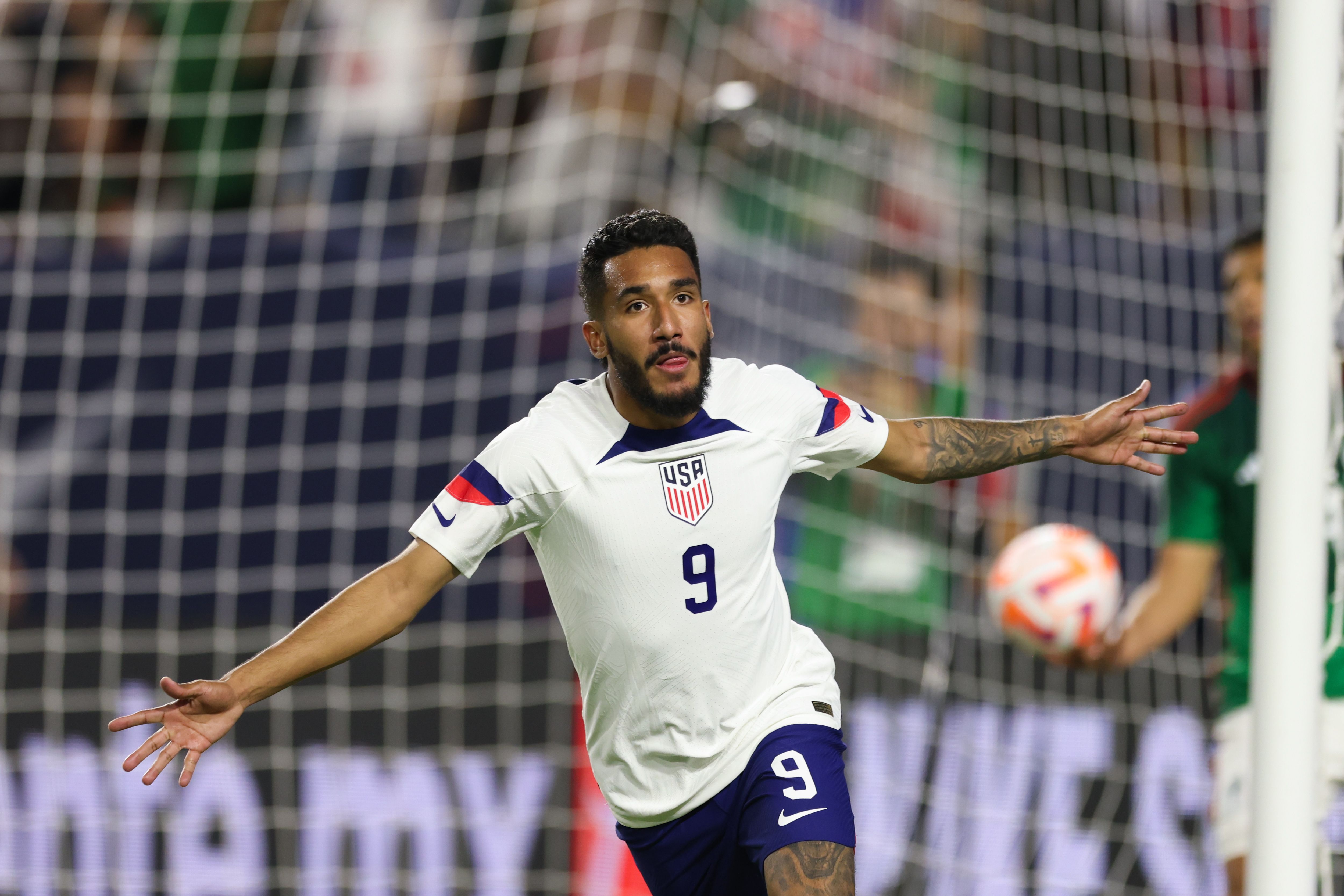 GLENDALE, Ariz. — Jesus Ferreira's second-half equalizer pushed the USMNT to a 1-1 friendly draw with Mexico.
7. 📺 Watchlist: LPGA major season begins
The Chevron Championship tees off today (11am ET, Golf/Peacock) at The Club at Carlton Woods outside Houston, marking a new location — and date — for the season's first major.
State of play: After 51 years in California, Chevron — which took over as sponsor last year — moved the tournament closer to their Houston HQ. It's also three weeks later than usual.
The field: 132 golfers, including the entire world top 10, will compete for the $5.1 million purse.
More to watch:
8. 💪🏼 The Ocho: World's Strongest Man
The 46th edition of the World's Strongest Man kicked off Wednesday in Myrtle Beach, South Carolina.
Events:
Wednesday: The Loading Race, Deadlift Machine and Log Ladder
Thursday: Conan's Wheel, Kettleball Toss and Stone Off
Saturday: Fingal's Fingers, Deadlift and Shield Carry
Sunday: Max Dumbell, Vehicle Pull and Atlas Stones
What to watch: Scotsman Tom Stoltman, nicknamed "The Albatross," has won two years straight and is going for a three-peat.
Go deeper: The real-life diet of Tom Stoltman (GQ)
9. 🏀 NBA trivia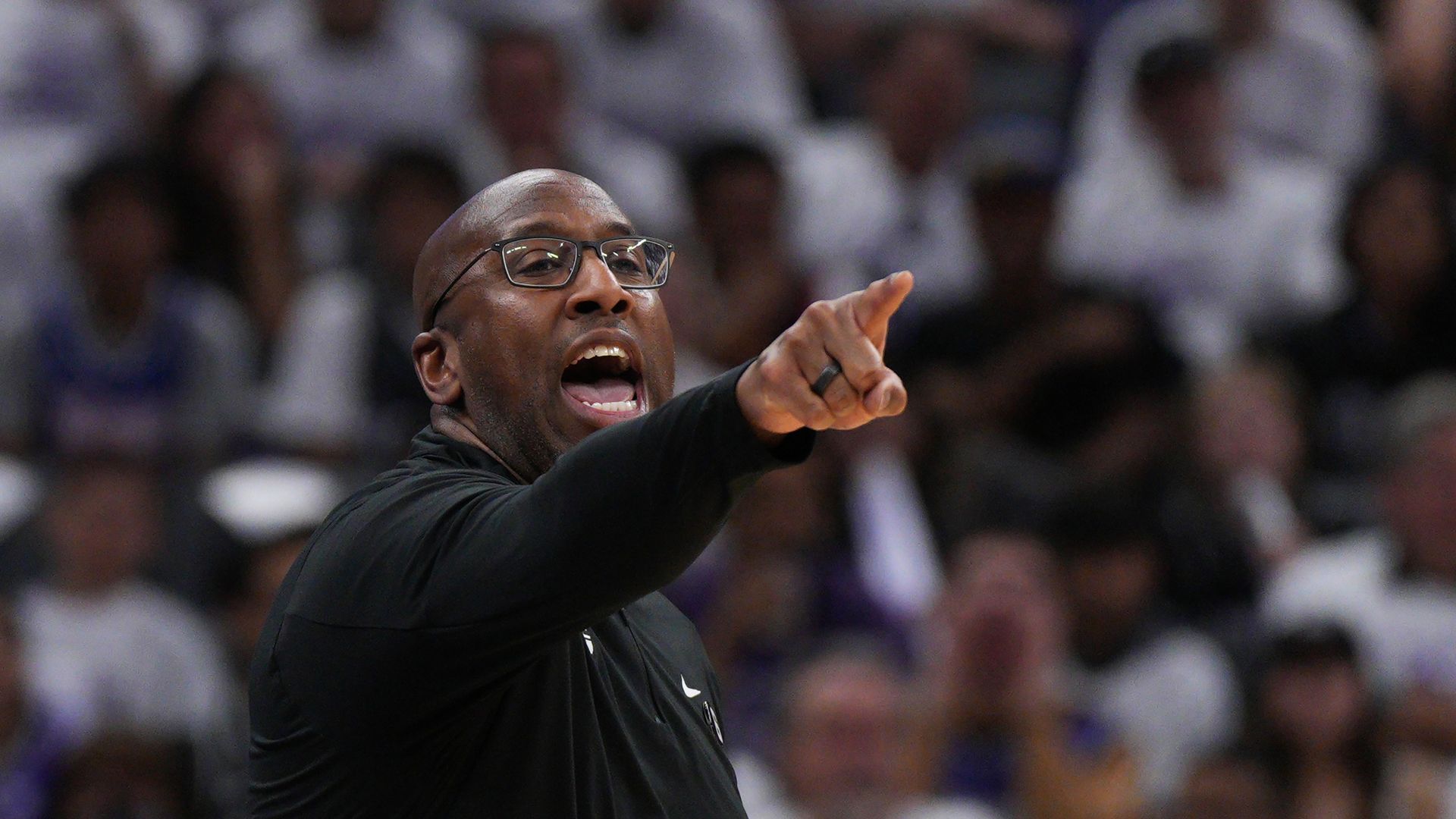 Kings head coach Mike Brown was named NBA Coach of the Year on Wednesday, the second time he's won the award.
Question: Which team did he win the award with the first time?
Hint: 2009.
Answer at the bottom.
10. 🏀 1 big thing: NBA's tallest players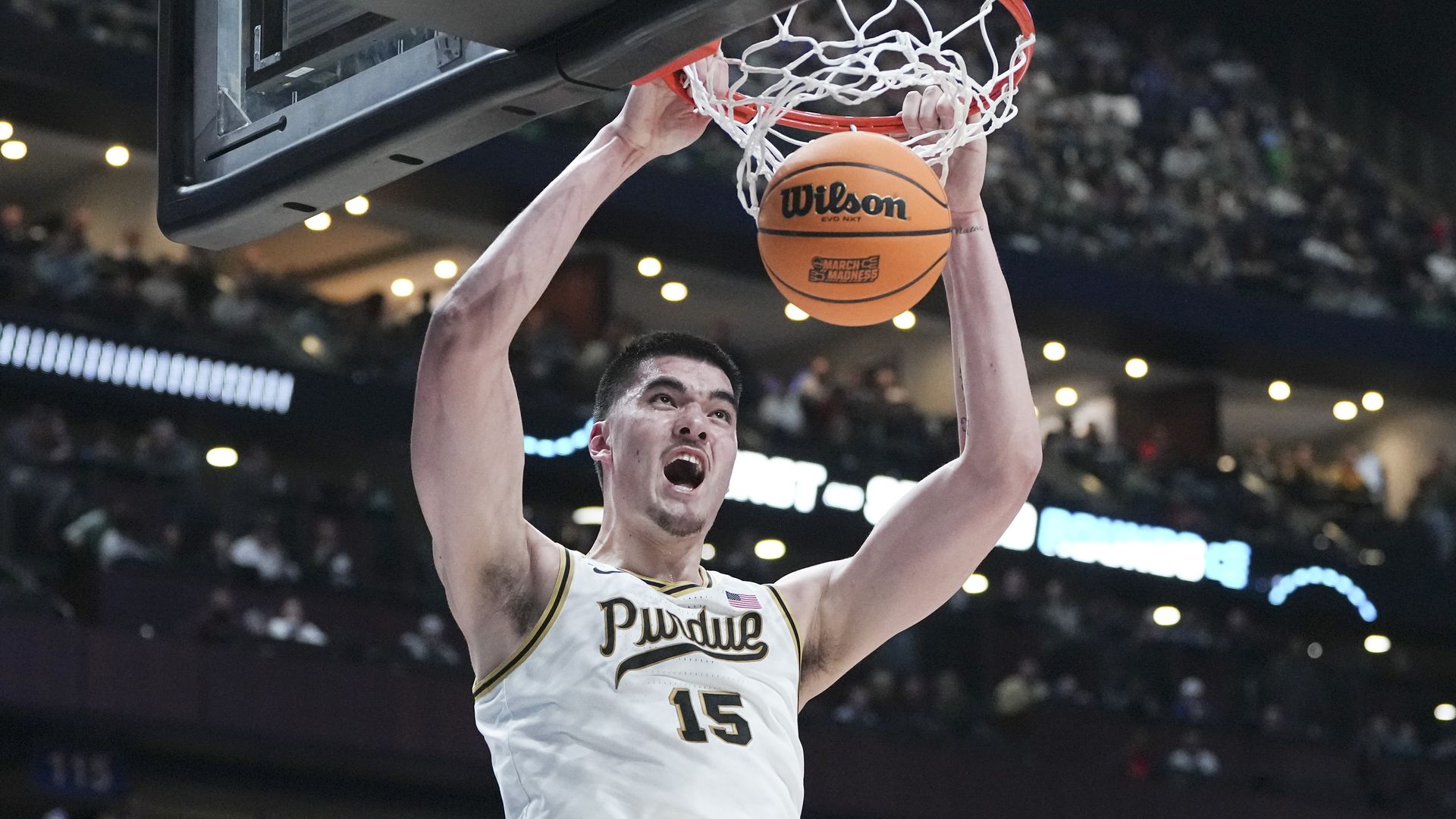 Zach Edey, Purdue's 7-foot-4 center who was the consensus national player of the year this season, has declared for the NBA draft while maintaining his college eligibility.
Why it matters: If and when Edey makes his NBA debut, he'll become just the 15th player in league history to stand 7-foot-4 or taller.
7-foot-7: Manute Bol (drafted in 1985), Gheorghe Mureșan (drafted 1993)
7-foot-6: Yao Ming (drafted in 2002), Shawn Bradley (drafted in 1993), Tacko Fall (undrafted in 2019), Slavko Vraneš (drafted in 2003)
7-foot-5: Chuck Nevitt (drafted in 1982), Pavel Podkolzin (drafted in 2004), Sim Bhullar (undrafted in 2014)
7-foot-4: Mark Eaton (drafted in 1982), Rik Smits (drafted in 1988), Ralph Sampson (drafted in 1983), Boban Marjanović (undrafted in 2010), Priest Lauderdale (drafted in 1996)
Talk tomorrow,
Kendall "6-foot-nothing" Baker
Trivia answer: Cavaliers
🙏 Thanks for reading! Follow us for more (@kendallbaker and @jeffreytracy). Friends can sign up here. Thanks to Matt Piper for copy edits.