June 07, 2022
👋 Good morning! Are your coworkers reading Axios Sports yet? Sign them up so you can discuss our top stories each morning.
Today's word count: 1,935 words (7 minutes).
Let's sports...
1 big thing: ⚾️ The Yankees won't stop winning
The Yankees are off to one of MLB's best starts in decades, sitting at 39-15 exactly one-third of the way through the season, Axios' Jeff Tracy writes.
Why it matters: They're just the fifth team since 1985 to win 39 of their first 54 games and are just three games off the pace of the 2001 Mariners, who won an MLB record-tying 116 games.
Two of the previous four teams won the World Series (1998 Yankees, 2016 Cubs). The 2001 Mariners lost in the ALCS, while the 1998 Braves lost in the NLCS.
The red-hot Yanks are 6-0 in their last six games, 10-2 in their last 12 games and 32-9 in their last 41 games.
By the numbers: The Yankees' success has been driven by their MLB-best rotation, which has gone atomic during their current six-game win streak (four total earned runs). On the season, all five rank in the top 14 among the AL's ERA leaders.
Nestor Cortes (5-1): 1.50 ERA (1st), 0.87 WHIP, 68 K/15BB, 2.6 WAR
Jameson Taillon (6-1): 2.30 ERA (8th), 0.90 WHIP, 44K/5BB, 2.0 WAR
Gerrit Cole (5-1): 2.78 ERA (11th), 0.96 WHIP, 81K/15BB, 1.6 WAR
Luis Severino (4-1): 2.95 ERA (13th), 1.00 WHIP, 61K/14BB, 1.2 WAR
Jordan Montgomery (1-1): 3.02 ERA (14th), 1.01 WHIP, 46K/10BB, 1.1 WAR
Plus: The rest of the team has been lights out, too.
Bullpen: Righties Michael King and Clay Holmes rank first and second, respectively, in WAR among relievers.
Offense: They've hit an MLB-best 80 home runs led by Aaron Judge's 21, which is five more than any other big leaguer.
Fielding: New York's .990 fielding percentage is second only to San Diego (.992).
Between the lines: The only team the Yankees don't have a winning record against so far is the Rays (2-2).
Yes, but: They've had a fairly easy schedule, going 17-5 against the cellar-dwelling Orioles, Tigers and Royals and 14-5 against the middle-of-the-pack Angels, White Sox, Rangers, Guardians and Red Sox.
Going forward, they have the eighth-toughest schedule, with 36 games against the Rays, Jays, Astros and Mets, plus 16 against the suddenly surging Red Sox, who always play tough against their rivals.
The big picture: This historic start has generated an undeniable buzz among one of the proudest fan bases in sports, which finds itself in a rare position: starving for a title.
Given their record 27 rings, it's easy to forget the Yankees haven't even been to a World Series in 13 years. In fact, the 2010s were just the second decade since the 1910s they failed to win one (1980s).
But this year, their combination of homegrown talent (Judge, Severino), shrewd trades (Holmes, Taillon) and free-agency hauls (Cole, DJ LeMahieu) has them dreaming big.
The bottom line: The Yankees are no strangers to historic seasons, and their 2022 campaign has the feel of another classic.
2. 🥎 Sooner Boomers: America's best team
Defending champion Oklahoma (57-3) is two wins away from completing the greatest season in NCAA softball history, Jeff and I write.
ICYMI: The top-ranked Sooners entered Monday needing one win over No. 5 UCLA in the Women's College World Series semifinals, while the Bruins needed to win twice due to the double-elimination format.
Shockingly, UCLA won the early game, 7-3, handing Oklahoma just its third loss of the season to force a winner-take-all afternoon game.
The Sooners responded, pummeling the Bruins, 15-0, for the largest victory in WCWS history. It was their 40th win of the season via the mercy rule (leading by 8+ runs after five innings).
The superstar: Redshirt senior Jocelyn Alo, arguably the best hitter in softball history, went 4-4 with a WCWS-record 7 RBI thanks to this titanic three-run blast and a grand slam. Because of course she did.
Alo's performance was par for the course, as her 120 career home runs are not only an NCAA record, but 25 more than second place. She's hit 32 this year to go along with 82 RBI and a .509 average. Yes, .509.
She's the straw that stirs the drink for this absolute juggernaut that leads the nation in virtually every major hitting category, while also having the best team ERA (1.24).
What's next: Oklahoma will face Texas in the best-of-three WCWS final beginning tomorrow. The Longhorns, the first unseeded team to ever make it here, handed the Sooners their first loss in April but dropped the rematch last Saturday, 7-2.
Go deeper: The secrets behind the most dominant team in sports (ESPN)
3. 🏒 Avs advance to first Cup Final since 2001
The Avalanche beat the Oilers, 6-5 (OT), on Monday night in Edmonton to complete the sweep and advance to their third Stanley Cup Final (1996, 2001).
Highlight: Artturi Lehkonen netted the OT game-winner, the second straight season he's scored the goal that sent his team to the Final (Canadiens last year).
Star of the night: 23-year-old Cale Makar (one goal, four assists) became the seventh defenseman in NHL history, and first since Al MacInnis in 1994, with five points in a playoff game.
State of play: The Avalanche are the first team since the 2003 Ducks to complete two sweeps in a single postseason, and the first team since the 2012 Kings to win every road game (7-0) en route to the Final.
Between the lines: The Connor McDavid-Nathan MacKinnon superstar matchup made this a must-watch series on paper, but it failed to live up to the hype. Colorado was simply too good.
McDavid: Three goals, four assists
MacKinnon: Three goals, two assists
Fun fact ... For the first time since 1979, a teammate of Jaromir Jagr's will not be participating in the Stanley Cup Final. Only four playoff teams didn't have one: Avalanche, Rangers, Lightning and Kings.
Go deeper:
4. ⚡️ Lightning round
⚾️ Super Regionals: 16 teams remain in the NCAA baseball tournament, which continues Friday: No. 1 Tennessee, No. 2 Stanford, No. 3 Oregon State, No. 4 Virginia Tech, No. 5 Texas A&M, No. 8 ECU, No. 9 Texas, No. 10 UNC, No. 11 Southern Miss, No. 12 Louisville, No. 14 Auburn, Arkansas, Notre Dame, Ole Miss, Oklahoma, UConn.
🏈 24 lawsuits: Another civil lawsuit alleging sexual misconduct has been filed against Deshaun Watson, the second lawsuit this week and 24th active case against the Browns' $230 million QB.
⚾️ Worst inning ever: The Biloxi Shuckers (Brewers Double-A) suffered one of the worst ninth innings ever in a loss to the Pensacola Blue Wahoos (Marlins Double-A). The final six batters: error, walk, four straight batters hit by pitch.
🏈 HOF candidates: Tim Tebow, Alex Smith, Ryan Leaf, Luke Kuechly and Justin Blackmon highlight the first-time candidates on the ballot for the College Football Hall of Fame.
🏀 Quote du jour: Mike Kryzewski is pro NIL but believes the NCAA model is outdated and simply "doesn't work anymore," per the Raleigh News & Observer.
"Nothing against Kodak, but do you have any Kodak cameras? It's Kodak. It's Edsels. It's 8-track tapes or whatever. Come on. It doesn't work anymore."
5. 💵 Snapshot: Jersey auction boom
Wayne Gretzky's final Oilers jersey, last worn during the 1988 Stanley Cup Finals, sold for a record $1.45 million with Grey Flannel Auctions on Sunday night.
By the numbers: Three sports have set game-worn jersey auction records so far this year. Here are the most expensive ever sold across soccer, baseball, basketball, hockey and football, per Altan Insights:
The big picture: Sports collectibles boomed last year, and there's still considerable momentum. There were 363 six-figure auction sales in Q1 2022, up from 245 in Q1 2021, per Altan.
What to watch: A LeBron James "Triple Logoman" card is expected to fetch more than $6 million when it goes up for sale this week. Industry pioneer Ken Goldin called it the "Holy Grail" of sports collectibles.
6. 🌎 The world in photos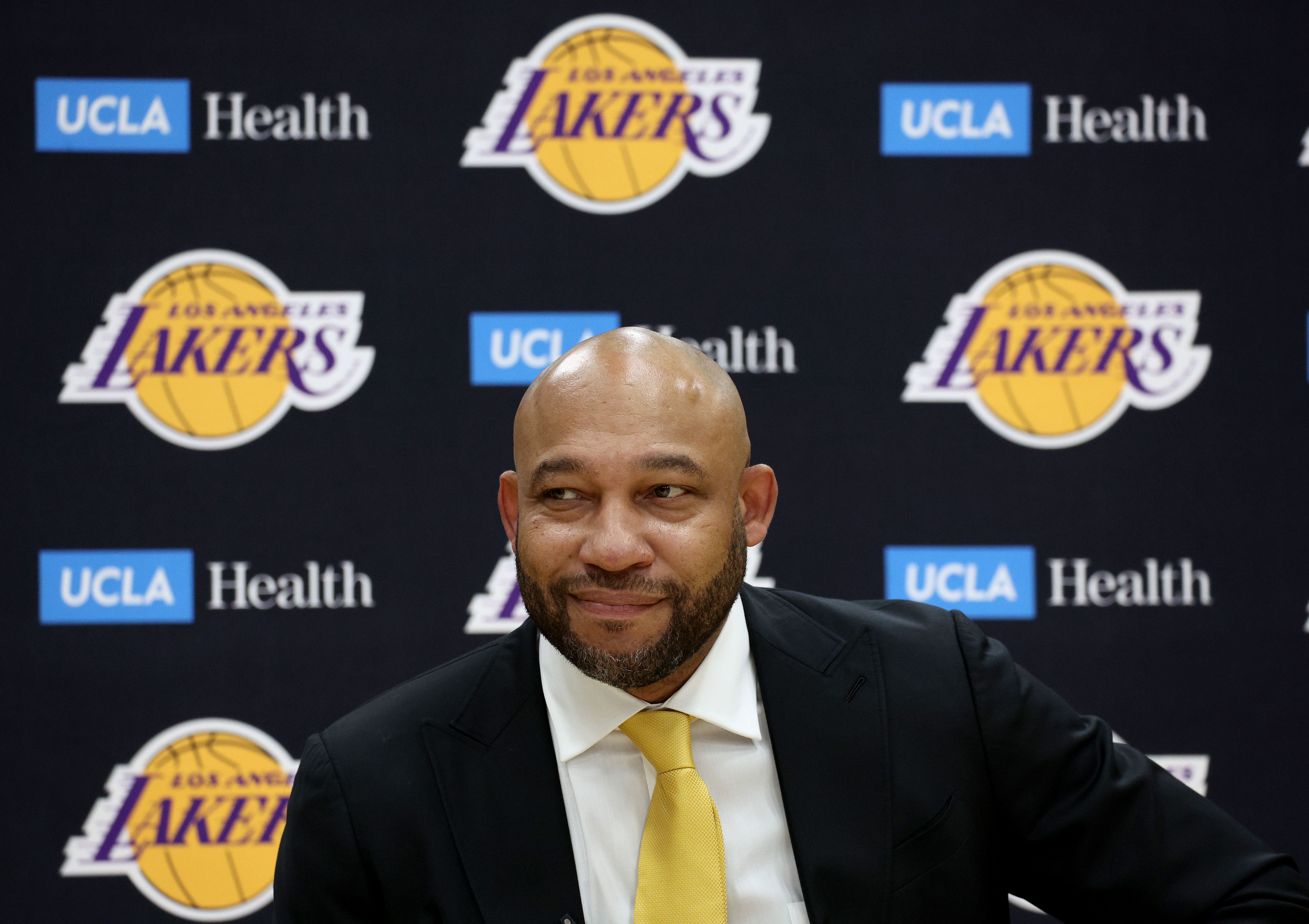 EL SEGUNDO, Calif. — Darvin Ham was introduced as the Lakers new coach on Monday, with Russell Westbrook standing off to the side in a public show of support for the hiring.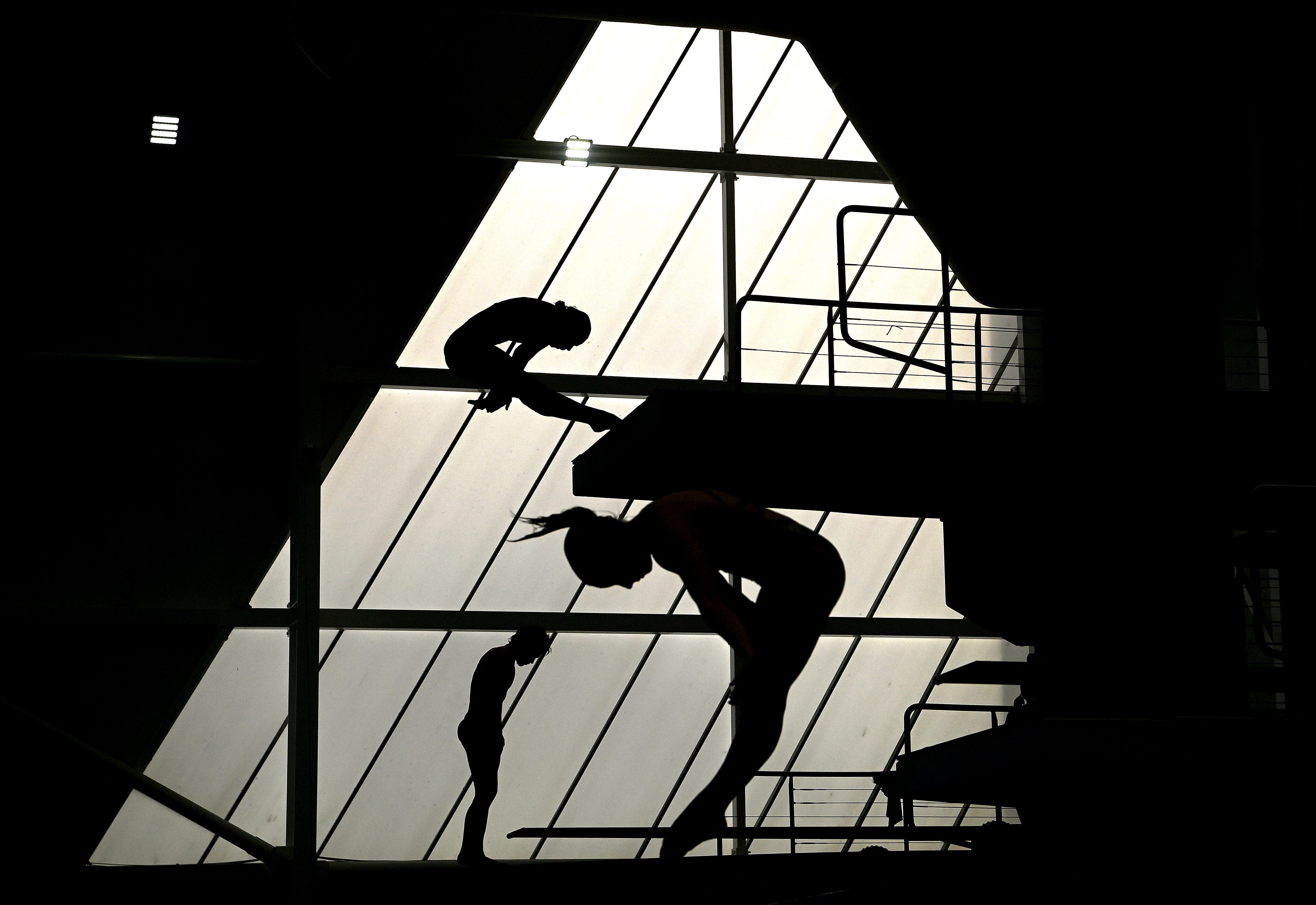 MELBOURNE — What an amazing shot.
PARIS — Christmas card candidate.
7. 📺 Watchlist: Game 4 in Champa Bay
The Lightning host the Rangers tonight in a critical Game 4 (8pm ET, ESPN), as the two-time defending champs look to even the series at 2-2.
State of play: The Rangers (8-1) and Lightning (5-1) have both been dominant at home this postseason. That bodes well for Tampa Bay, especially given New York's road struggles (2-6).
By the numbers: Lightning winger Nikita Kucherov's three-point effort on Sunday gave him 20+ points for the third straight postseason. The last player to do that? Sergei Fedorov (1995–98).
More to watch:
8. 🎯 The Ocho: Darts comes to NYC
The World Series of Darts (WSOD) made its long-awaited New York City debut this weekend at Madison Square Garden's Hulu Theater, Jeff writes.
Eight of the world's best took the stage Saturday night in front of thousands of rowdy fans, many of whom bought their tickets pre-pandemic and patiently waited as COVID postponed the event twice.
Michael Smith, 31, of England defeated Michael van Gerwen, 33, of the Netherlands in the final — an epic battle between the third- and fourth-ranked players.
The backdrop: Darts has become one of the most popular televised sports in the U.K. this century by following the WWE playbook: pure entertainment and a raucous atmosphere.
Players have catchy nicknames and their own entrance music, and fans create a festive atmosphere, with Halloween-like costumes, homemade signs and plenty of beer to go around.
The WSOD aims to grow the sport in less developed markets, and the U.S. presents a huge opportunity: 17 million Americans play darts, per the National Sporting Goods Association.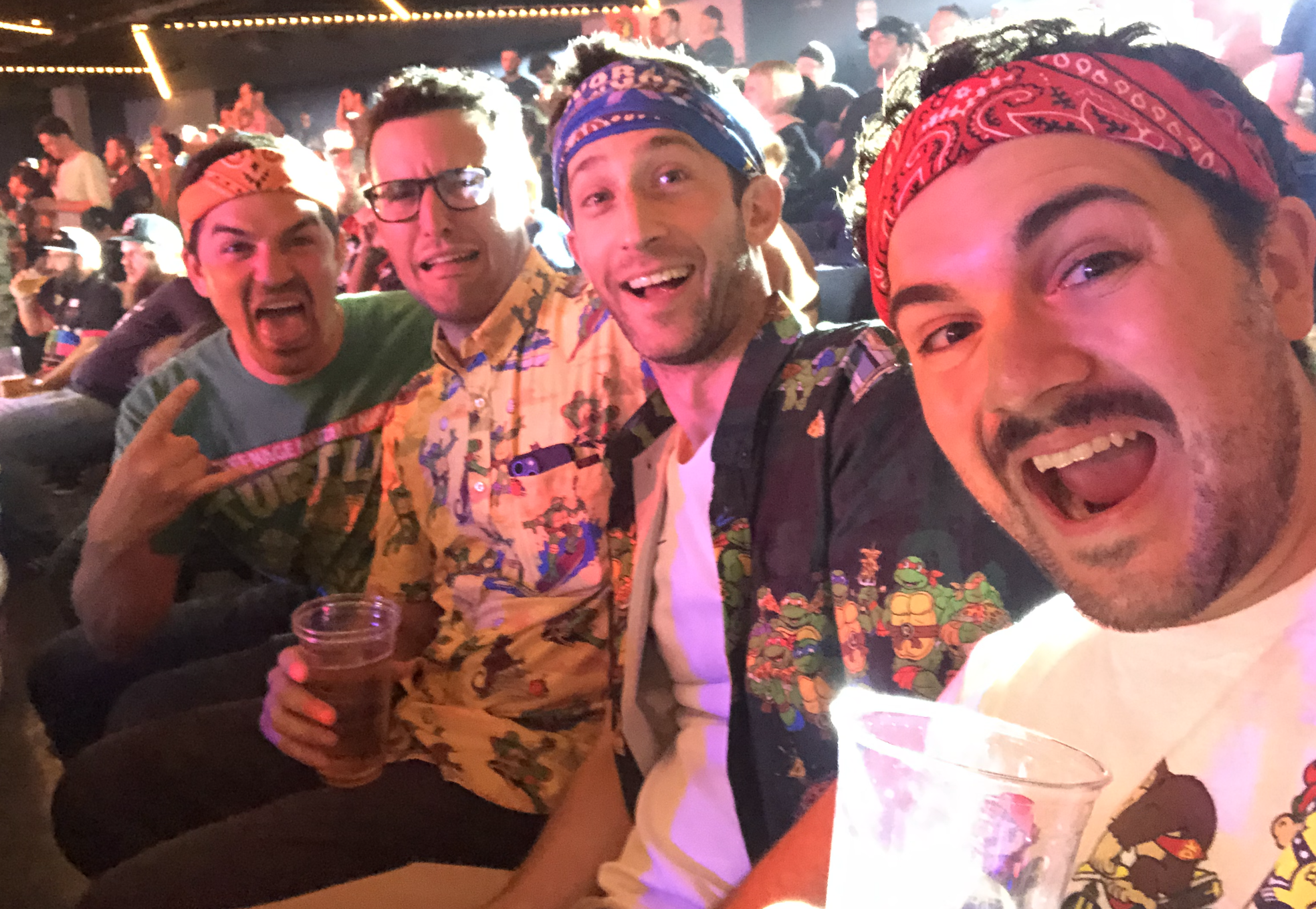 Jeff's review: I've played on an NYC darts team since 2014. After more than two years of waiting, our team — dressed in Teenage Mutant Ninja Turtles gear — attended Saturday's event. It was exactly as advertised.
To my left was a group of fans dressed as pirates. To my right, Oompa Loompas. In front of me, a very loud Brit wearing a flamingo hat argued throughout the night with an equally loud, but far less knowledgeable American. I swear none of this is made up.
Every "Ton-80" (three triple 20s; a perfect round) was electric, and the crowd roared all night. It's already been announced that this event will return to MSG next year. So will I.
🎥 Watch: Event highlights (YouTube)
9. 🏈 NFL trivia
Aaron Donald, who just became the highest-paid non-QB in the NFL, is one of three defensive players since the 1970 merger to earn a Pro Bowl selection in each of their first eight seasons.
Question: Who are the two others?
Hint: They share an initial.
Answer at the bottom.
10. ⚾️ 1 filthy pitch: 22 inches of run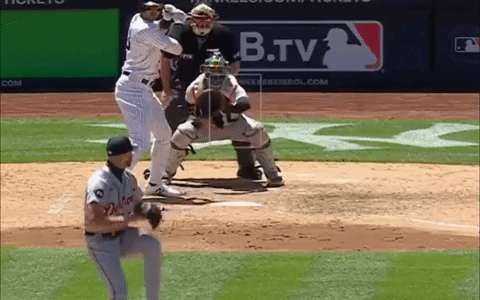 Detroit's Alex Lange may have thrown the most unhittable two-seamer in baseball history on Sunday. 22 inches of run. Looks like a whiffle ball.
"If you told me you thought this was the filthiest front door two seamer of all time, I wouldn't argue with you."
— Rob Friedman (
@PitchingNinja
)
Talk tomorrow,
Kendall "There's always a Jagr stat" Baker
Trivia answer: Lawrence Taylor and Derrick Thomas
🙏 Thanks for reading. Follow us on Twitter: @kendallbaker and @jeffreytracy. Tell your friends to sign up.