Axios Sports
June 10, 2020
👋 Good morning. Let's sports.
Today's word count: 2,147 words (8 minutes).
1 big thing: 🎓 The rise of student-athlete activism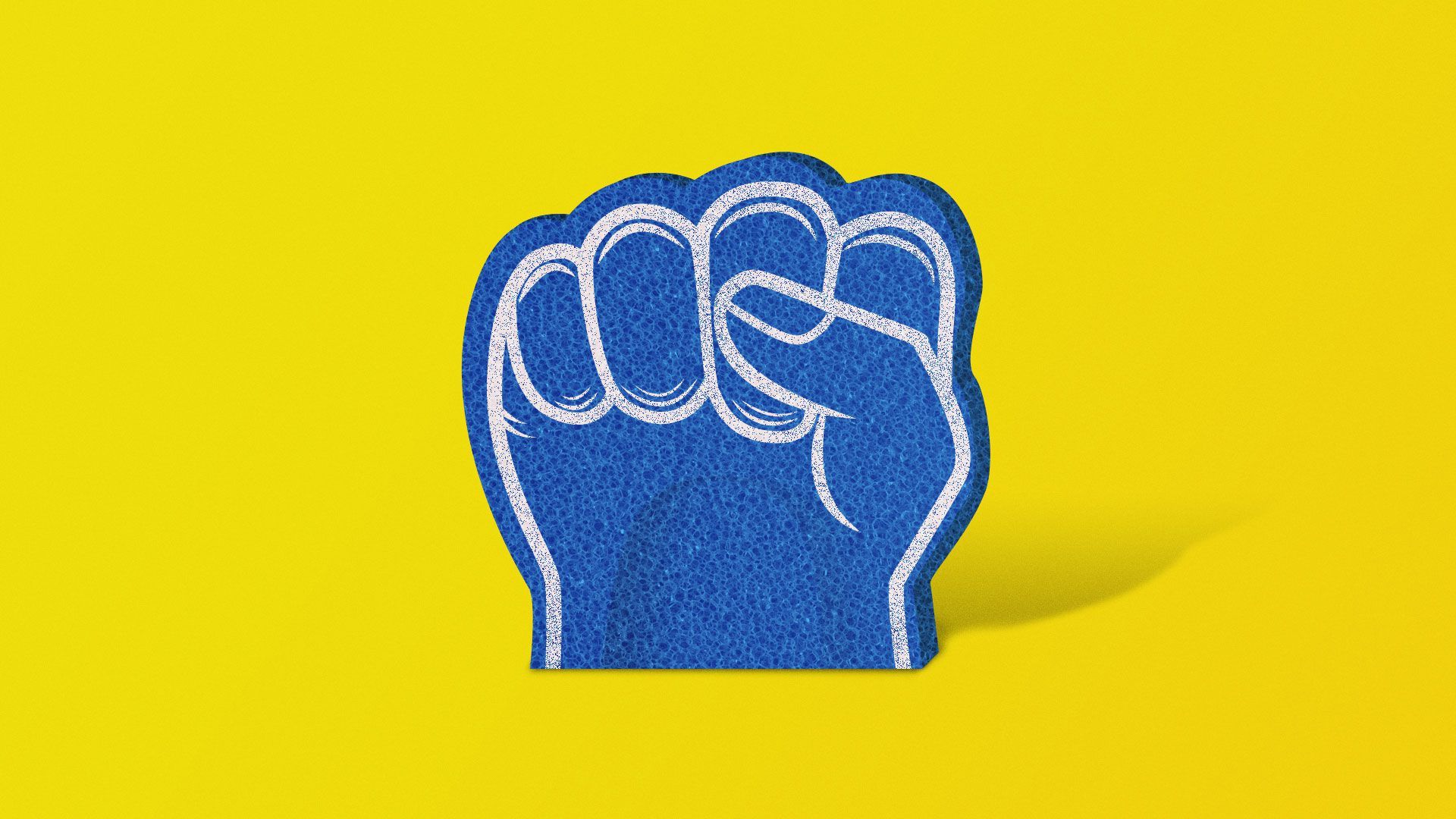 Empowered by social media, college athletes are speaking out on social issues and driving the national conversation in ways their predecessors could only dream about, Axios' Jeff Tracy writes.
Driving the news: It's not only superstars whose messages have been amplified. Just last week, a little-known Georgia Tech basketball player started a movement to make Election Day a universal off day for all 460,000 NCAA student athletes, and it's gaining momentum.
More examples: Whether online or in person, college athletes are making their voices heard, and demanding change at their own institutions.
The backdrop: Colleges have long been a hub for social change, thanks to the thousands of young men and women experiencing independence for the first time and seeing the world through a new lens.
In the 1960s, some of the world's biggest athletes, from Muhammad Ali and Bill Russell, to John Carlos and Tommie Smith, led by example as they spoke out against the issues of the day.
Students took note, and whether it was Oregon State football player Fred Milton and his peers in 1969, or 300 students at Kent State in the spring of 1970, they learned their voices and actions mattered, too.
The big picture: Fast forward 50 years, and though the landscape appears painfully similar, the role of the college athlete has drastically changed.
50 years ago: Against the backdrop of the Vietnam War and the Civil Rights Movement, athlete activism wasn't unheard of, but with limited media exposure, it was tough to break through the noise, especially for non-stars.
Today: Against the backdrop of a global pandemic and worldwide protests over systemic racism, star athletes who were once merely celebrities on campus are now viewed as leaders in the community and almost expected to speak out, while even non-stars can make national news with a single tweet.
The last word:
"The power dynamics have shifted, the status quo has been unbalanced, and it's been tipped into the favor of student-athletes. ... If you have the ability to do what's right, you have the responsibility to do what's right. I just can't be silent anymore."
— UNC linebacker Jake Lawler, who also wrote a
powerful essay
2. 😷 Coronavirus: 14 states hit record numbers
As rates of coronavirus infections ease in onetime hotspots like New York and Chicago, parts of the country that previously avoided surges are now seeing record-high numbers.
By the numbers: 14 states just had their highest-ever seven-day average of coronavirus cases, per WashPost:
Alaska
Arizona
Arkansas
California
Florida
Kentucky
New Mexico
North Carolina
Mississippi
Oregon
South Carolina
Tennessee
Texas
Utah
What to watch: Keep an eye on Florida (Saturday's 1,426 positive tests were the most since early April). NBA commissioner Adam Silver said the number of new cases would be a factor in restarting the season at Walt Disney World.
Looking ahead: Lots of big college football states on that list. According to the NCAA's proposed preseason plan, teams must practice four weeks before kicking off, meaning early-season games could be impacted if a program's camp is interrupted or delayed.
"In all likelihood we'll have some problems in preseason camps [and] interrupted seasons are fairly likely. The idea of flexible scheduling is needed. With the number of universities we have, on Sunday you might find out your opponent isn't going to play this week. Got to pick up another game."
— Todd Berry, executive director of the American Football Coaches Association,
via SI
Go deeper: Axios-Ipsos Coronavirus Index, Week 12 (Axios)
3. ⚾️ Previewing tonight's 2020 MLB draft
The 2020 MLB draft begins tonight (7pm ET, MLB Network/ESPN) and has been shortened from the usual 40 rounds down to just five as a cost-cutting move amid the pandemic, Jeff writes.
Why it matters: The mood around baseball has only worsened in recent weeks as the players and owners continue their contentious negotiations, so the league will be hoping the selection of its future stars can provide a momentary reprieve.
The state of play: The MLB draft is unique in that even diehard fans don't really know about top players, due to college baseball's lack of popularity and the reality that even a Zion Williamson-esque prospect won't make the majors for a few years.
This year's draft was originally moved from New Jersey to Omaha, Nebraska, to give prospects a better experience and make it a more exciting event, with the College World Series starting in Omaha three days later.
Sadly, it will now be held remotely, and the CWS has obviously been canceled. But with sports on pause, perhaps more fans than usual will tune in tonight (the NFL's virtual draft in April smashed ratings records).
Top prospects:
Spencer Torkelson, 1B, Arizona State (age: 20): The bat-first power hitter is athletic enough that he could land in left field, but he's a classic 1B slugger. As a freshman in 2018, he led all of D-I with 25 HR.
Austin Martin, 2B, Vanderbilt (age: 20): Touted for his elite athleticism, he's been compared to a young Javy Báez. But unlike Báez, he rarely strikes out, with an 85:82 BB:K ratio across two and a half seasons.
Asa Lacy, LHP, Texas A&M (age: 21): The highest upside pitcher in the class, Lacy was nearly untouchable in his shortened spring season. Four starts with a 0.75 ERA, 0.708 WHIP and an absurd 17.3 K/9.
Go deeper:
4. 🏀 No. 1 recruits for 2021 and 2022 (boys)
ESPN unveiled its updated player rankings for the 2021, 2022 and 2023 recruiting classes.
2021: Chet Holmgren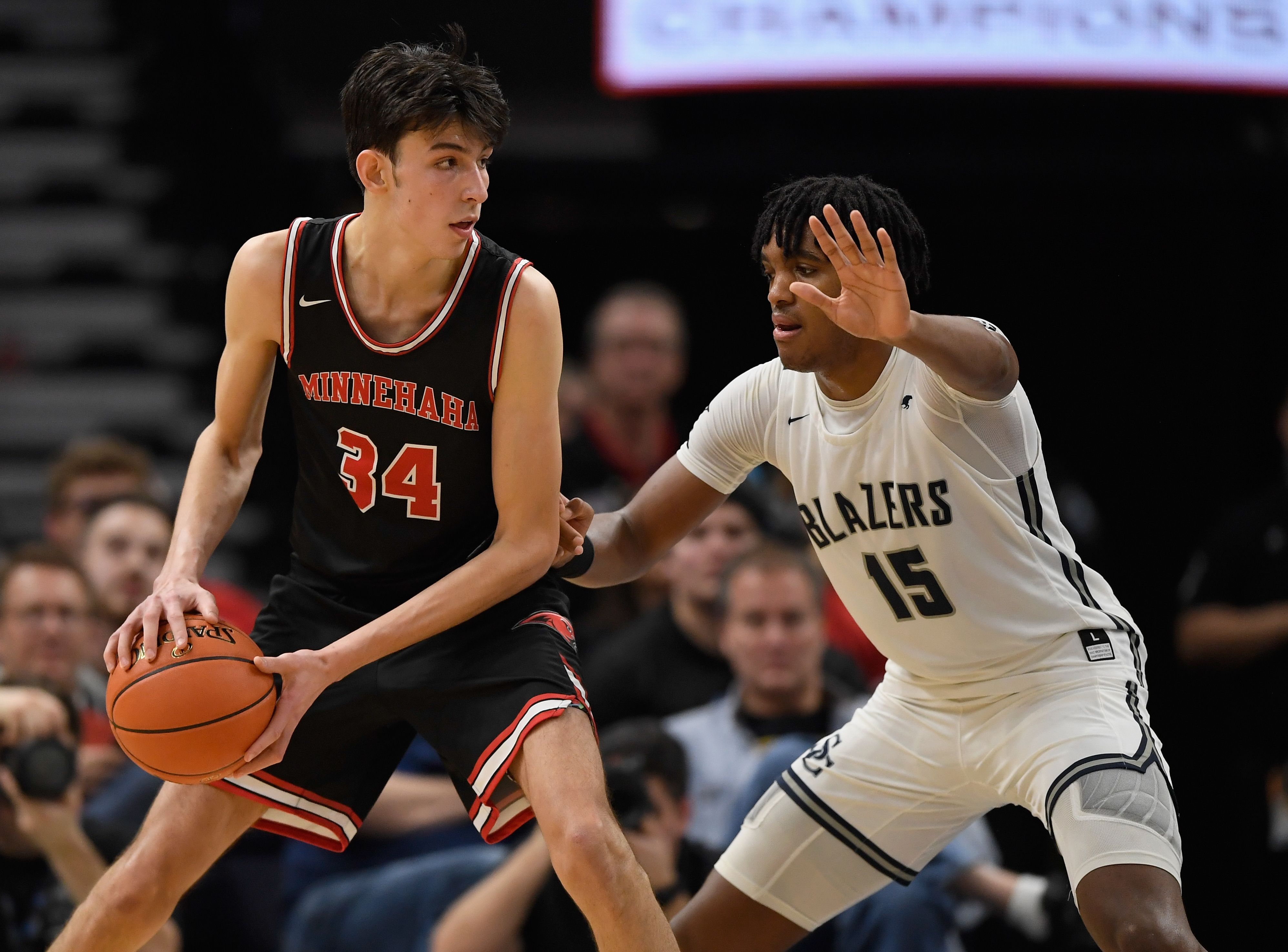 Position: C
Height: 7'0"
High school: Minnehaha Academy (Minneapolis)
College: Undecided
Fun fact: Remember when that kid crossed up Steph Curry with his own move? That was Chet.
Scout's take: Listed at center because he has a 7-foot-4-inch wingspan and dominates at the rim on defense, but his perimeter skills and ball-handling ability make him a position-less player on offense.
Player comparison: Kristaps Porziņģis
🎥 Watch: "Basketball's next unicorn"
2022: Emoni Bates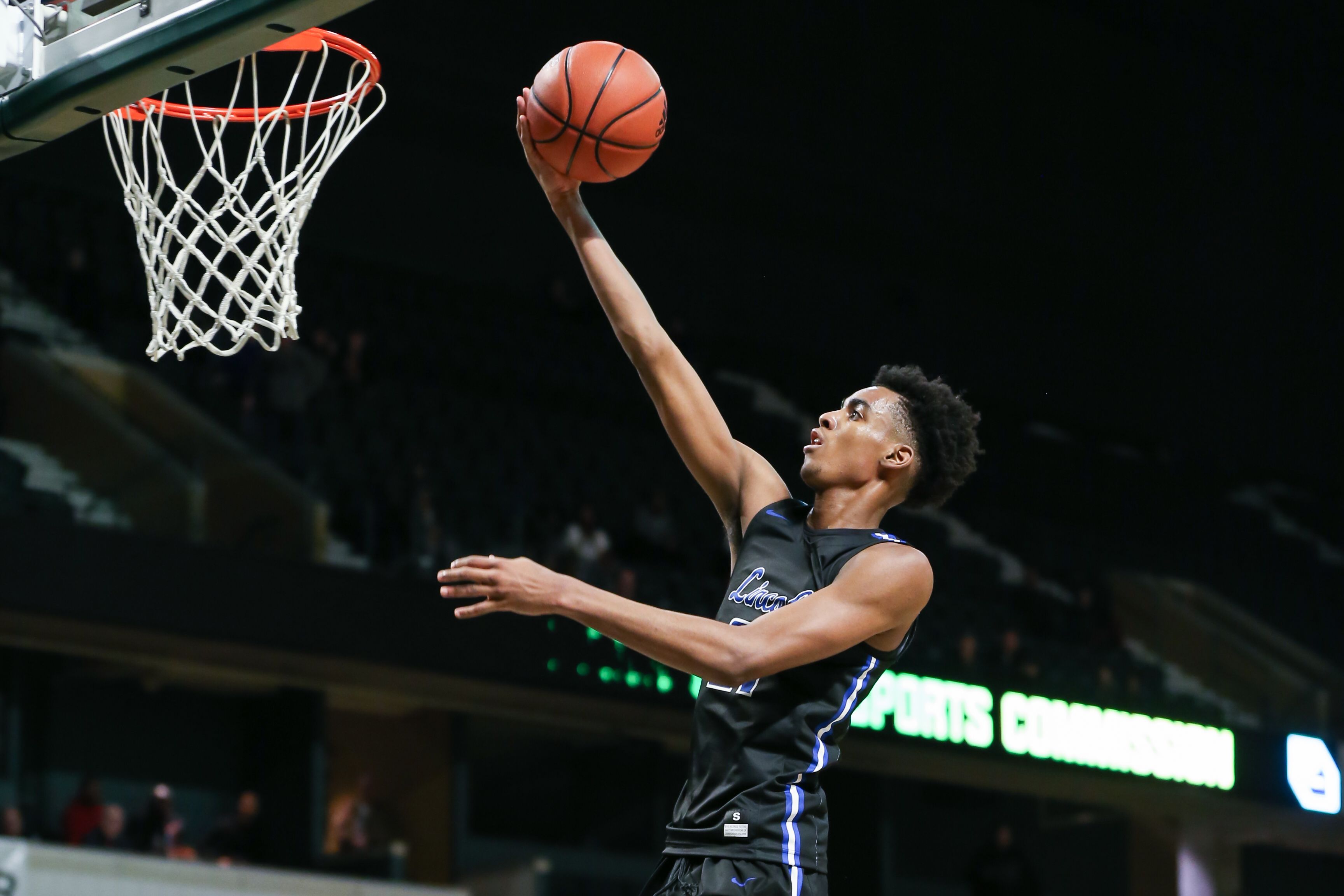 Position: F
Height: 6'9"
High school: Lincoln (Ypsilanti, Michigan)
College: Undecided
Fun fact: In April, Bates became the first sophomore to ever be named the Gatorade National Boys Basketball Player of the Year.
Scout's take: The best underclassman prospect since LeBron James.
Player comparison: Kevin Durant
🎥 Watch: Sophomore year highlights
Looking even further ahead ... The No. 1 prospect in the 2023 class is D.J. Wagner (Camden, New Jersey), son of ex-Memphis star Dajaun Wagner. Coming in at No. 24 in the class? LeBron James' son, Bronny (Chatsworth, California).
5. 🏀 No. 1 recruits for 2021 and 2022 (girls)
And now for the top recruits from the 2021 and 2022 girls' classes.
2021: Azzi Fudd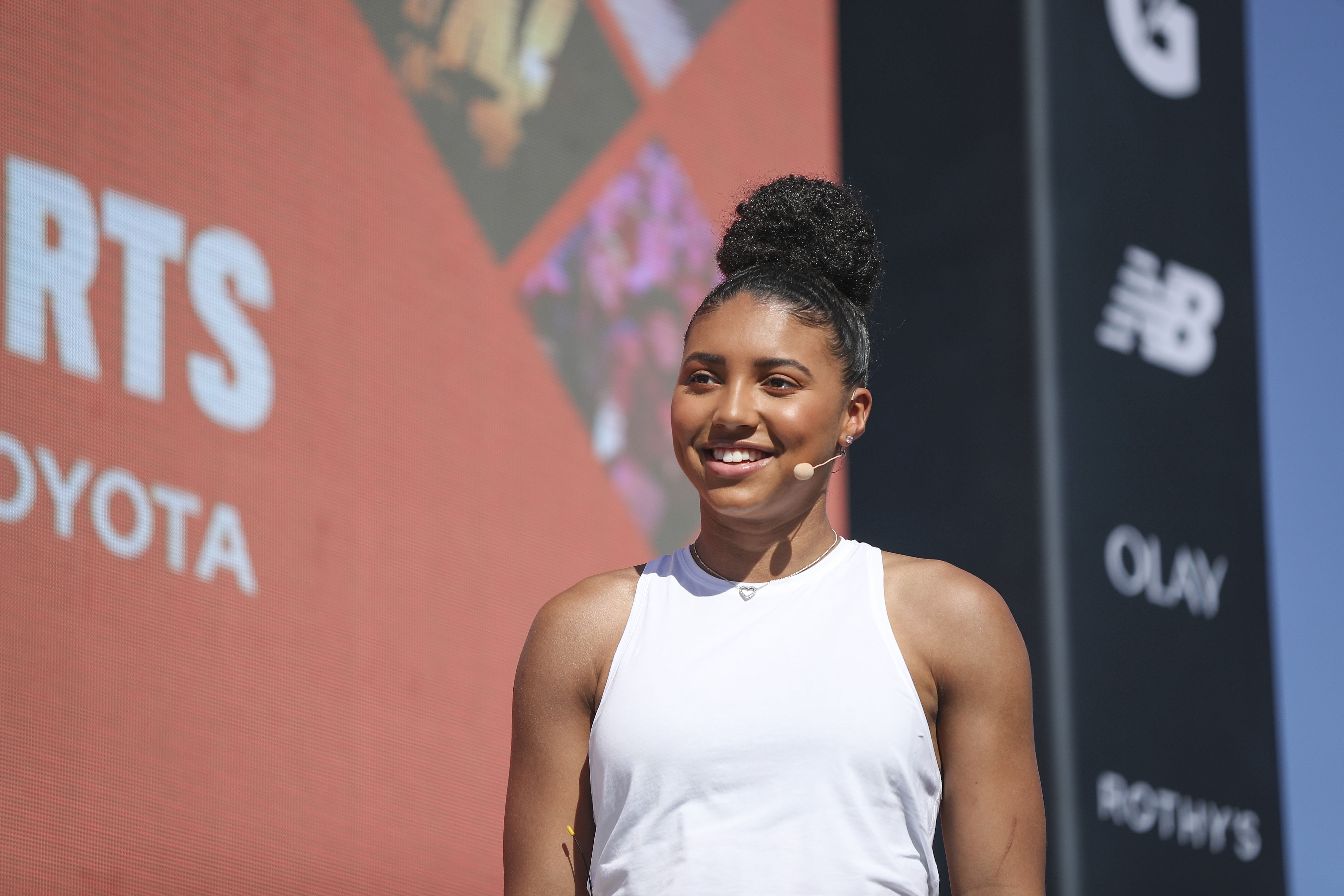 Position: G
Height: 5'11"
High school: St. John's College H.S. (Washington, D.C.)
College: Undecided
Fun fact: Last year, Fudd became the first sophomore to ever be named the Gatorade National Girls Basketball Player of the Year.
Scout's take: A scoring savant with virtually unlimited shooting range, she has the chance to become the next face of the sport.
Player comparison: Maya Moore
🎥 Watch: Day in the life
2022: Lauren Betts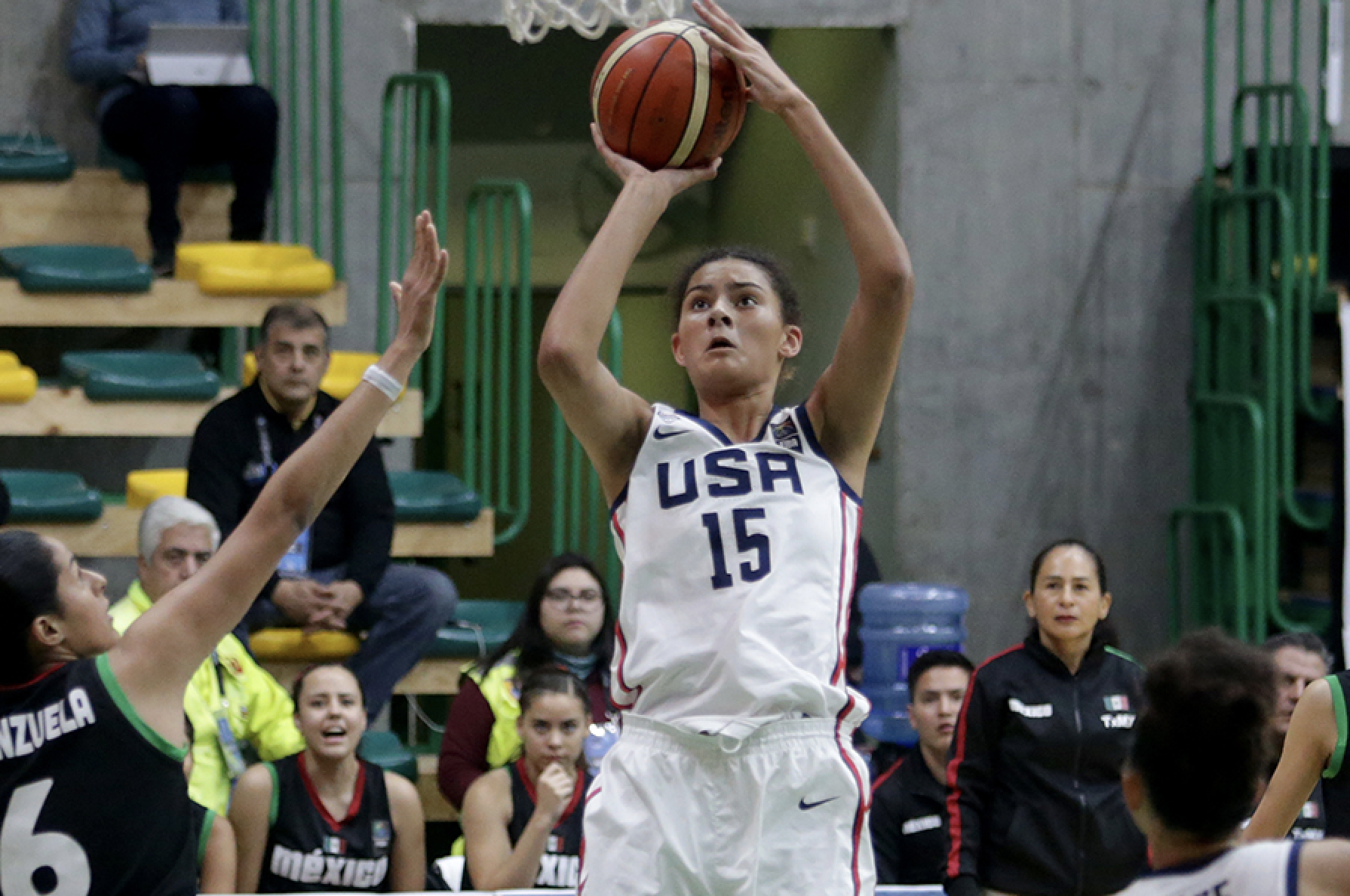 Position: F
Height: 6'7"
High school: Grandview (Aurora, Colorado)
College: Undecided
Fun fact: Betts' dad, Andrew, was a second-round NBA draft pick in 1998 and played professionally in Europe for 14 years.
Scout's take: A skilled low-post player who can really run the floor. Set rebounding records at the 2019 FIBA Americas U16 Championships.
Player comparison: Jonquel Jones
🎥 Watch: TV interview
Bonus: ⚾️ Ranking MLB's all-time rosters (No. 6)
We're ranking the all-time rosters for all 30 MLB teams. Note: Rosters based only on time spent with this specific team. Thoughts? Email me at [email protected].
6. Chicago Cubs
My sincerest apologies to everyone waiting for the Cubs only to see that two-thirds of their famous double play trio are missing. And yes, I know Chance was primarily a first baseman, but he began his career at catcher and wasn't going to unseat Cap Anson anyway.
Year established: 1876 (as the Chicago White Stockings)
All-time record: 10,982-10,404 (.514)
World Series Championships: 3
Hall of Famers (indicated by *): 14
Starting lineup:
1B Cap Anson* (84.8 bWAR with team)
2B Ryne Sandberg* (68.1)
OF Hack Wilson* (31)
OF Sammy Sosa (58.8)
SS Ernie Banks* (67.8)
OF Billy Williams* (61.8)
3B Ron Santo* (72.1)
DH Anthony Rizzo (33.9)
C Gabby Hartnett* (56)
On the mound: SP Fergie Jenkins* (54.2)
Bench:
Infield: 2B Billy Herman* (40.9), 3B Stan Hack (54.8), SS Bill Dahlen (34), C Frank Chance* (45.7)
Outfield: Jimmy Ryan (35.7), Bill Nicholson (38.1), George Gore (28.6)
Utility: Carlos Zambrano (43.4), Mark Grace (44.2)
Rotation: Mordecai Brown* (48.2), Pete Alexander* (42.7), Hippo Vaughn (40.2), Rick Reuschel (47.2)
Bullpen: Bruce Sutter* (18.4), Lee Smith* (18.7), Carlos Marmol (10.2)
Additional notes:
Anson is tied with Nolan Ryan for the most seasons ever played (27).
Wilson holds the record for most RBI in a single season (191 in 1930).
Sosa has to be the unluckiest power hitter ever. He has three of the eight 60-HR seasons in history, yet didn't lead the majors in any of those seasons.
ICYMI ... 30. Rays, 29. Royals, 28. Diamondbacks, 27. Blue Jays, 26. Angels, 25. Padres, 24. Rockies, 23. Brewers; 22. Nationals, 21. Mets, 20. Orioles, 19. Twins, 18. Astros, 17. Marlins, 16. White Sox, 15. Athletics, 14. Phillies, 13. Braves, 12. Pirates, 11. Mariners, 10. Rangers, 9. Cardinals, 8. Dodgers, 7. Indians
Huge thanks to Tom Stone, whose book "Now Taking the Field: Baseball's All-Time Dream Teams for All 30 Franchises," provided the inspiration for these rosters.
6. June 10, 1934: ⚽️ Italy wins World Cup in Rome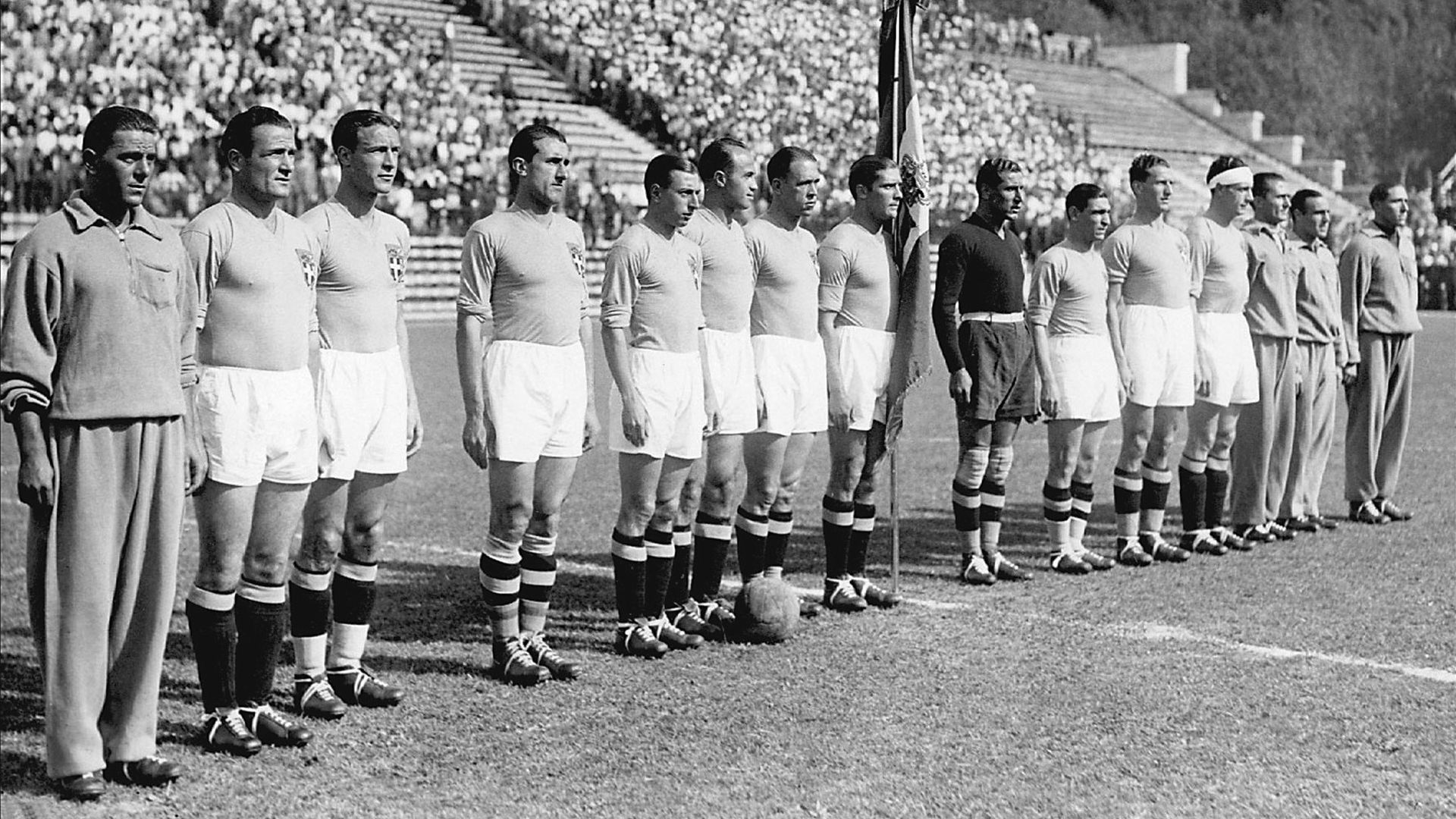 86 years ago today, Italy beat Czechoslovakia 2-1 in extra time to win the second-ever World Cup in front of their home fans in Rome.
The backdrop: Benito Mussolini had ruled Italy under an authoritarian, fascist regime since 1922, and he believed hosting the World Cup would help him politically.
Italy's bid was chosen over Sweden's, thanks to a mix of bribery and intimidation tactics used to force FIFA's hand.
Uruguay, who'd hosted and won the inaugural World Cup four years prior, refused to play, still bitter that only four European nations had accepted their invitation.
Tournament recap: Mussolini used his propaganda machine to control the narrative of the event, instructing broadcasters to comment on each stadium being filled to capacity, regardless of actual attendance.
16 qualifying teams: Argentina, Austria, Belgium, Brazil, Czechoslovakia, Egypt, France, Germany, Hungary, Italy, Netherlands, Romania, Spain, Sweden, Switzerland, U.S. (eliminated by Italy, 7-1).
The game of the tournament was the violent quarterfinals between Spain and Italy, which ended in a 1-1 tie and saw numerous players stretchered off. The draw triggered a replay the following day, which Italy won 1-0 thanks to multiple questionable calls, including two Spanish goals called back.
In the Final, Italy erased a late 1-0 deficit before winning in extra time. You better believe there's (very grainy) video.
Go deeper: When the World Cup rolled into fascist Italy in 1934 (These Football Times)
7. 📚 Good reads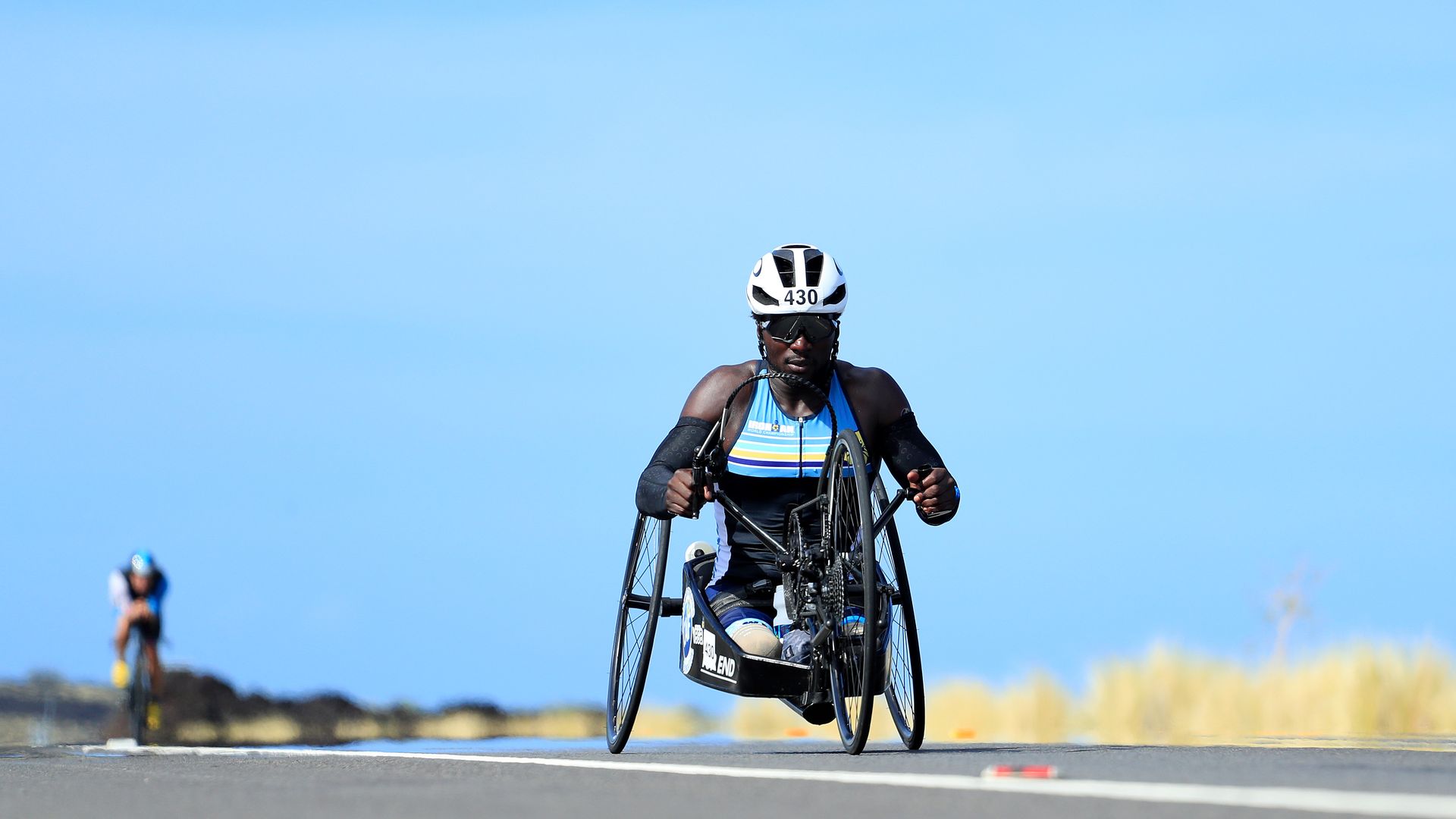 🥇 A para-swimmer is using the gap year to dominate cycling (Matthew Futterman, NYT)
"Roderick Sewell knows about making adjustments. Born without tibias, Sewell's life changed when he got his first pair of prosthetic legs at 8 years old. ... Now he's hoping to become one of the few two-sport athletes in the Tokyo Games."
💬 The nerve center of the American news cycle (Sara Fischer and Bryan Walsh, Axios)
"Twitter sets the news cycle's pulse because so many journalists are addicted to it. Its power is in agenda-setting. But that's all happening instantaneously and out in the open, not behind the closed doors of an editors' meeting."
🏈 The six most underrated position groups in the NFL (Danny Kelly, The Ringer)
"It's an easy bet that the Colts' offensive line, the Saints' and Patriots' secondaries, and Buccaneers' and Cowboys' pass-catching corps will be among the NFL's best position groups in 2020. But a handful of less-heralded units have the untapped potential to rise up the ranks this season."
8. The Ocho: 🏁 Sidecar racing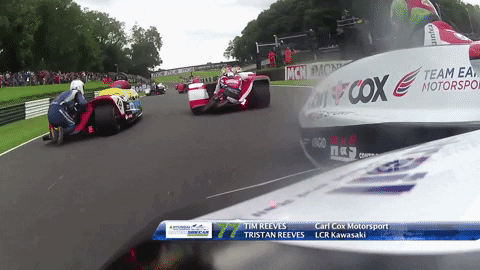 Sidecar racing is not for the faint of heart, despite what Natalie Portman's Sam so rudely said in 2004's breakout film "Garden State."
How it works: While the "pilot" steers, the "co-pilot" is hardly just a passenger. Instead, he or she must constantly climb around the vehicle's exterior as the pilot turns, ensuring both wheels remain on, or at least near, the ground.
The backdrop: In 1949, the first sidecar world championships involved the oldest of tech, with a sidecar attached to a solo motorcycle. But it didn't take long for racers to begin innovating, and vehicles eventually evolved into specially-designed chassis meant to reduce drag and increase balance.
🎥 Go deeper: Watch the 2019 British Sidecar Championship to understand why the co-pilot is sometimes called an acrobat or monkey.
9. ⚾️ MLB draft trivia
Question: Who was the last left-handed pitcher taken No. 1 overall in the MLB draft?
Hint: Happened in 2007. He won the Cy Young five years later.
Answer at the bottom.
10. ❤️ Why we love sports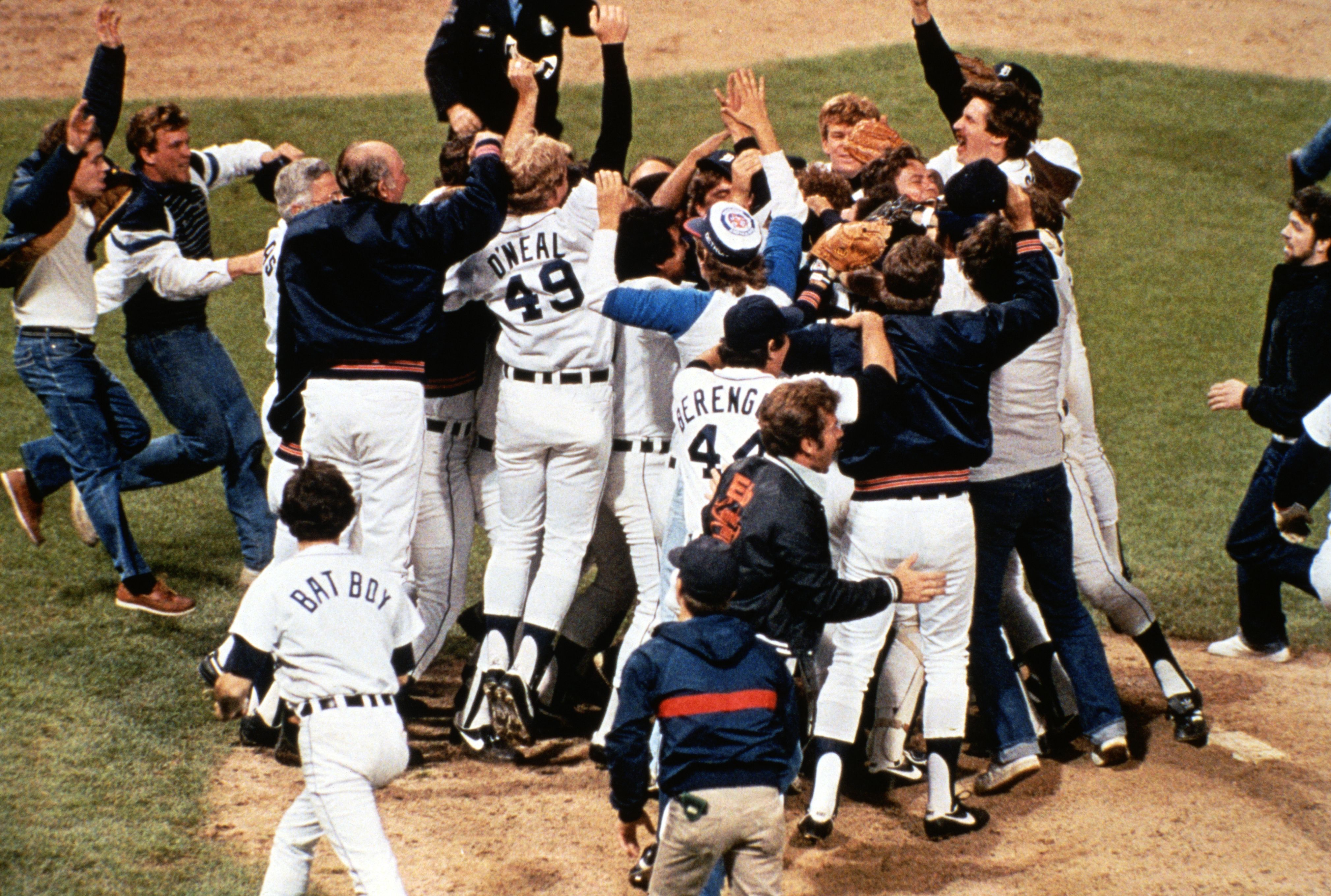 Tom M. (Detroit) writes:
"I've been a baseball fan all my life, and the pinnacle of my love for the game was the Detroit Tigers' magical 1984 season. That 35-5 start, Jack Morris' n0-hitter, and the inevitability — ultimately fulfilled — that the Tigers would win the World Series was unbelievable.
"Then, life happened. I threw my arm out, and realized my dreams of making the big leagues were over. I watched jobs leave the auto industry, people flee Detroit, and our beloved Tigers go from champions to laughingstock in a few short years.
"All this suffering made the greatest sporting event in my lifetime all the sweeter.
"In 2006, after luring Pudge Rodriguez to Detroit and making some good trades (Jeremy Bonderman) and excellent draft picks (Justin Verlander), the Tigers made the playoffs, where they dispatched the mighty Yankees to set up a meeting with the A's in the ALCS.
"The clinching moment that sent the Tigers to the World Series was Magglio Ordóñez's three-run, walk-off homer in the bottom of the ninth of Game 4. This is easily the greatest live sports moment I have ever seen."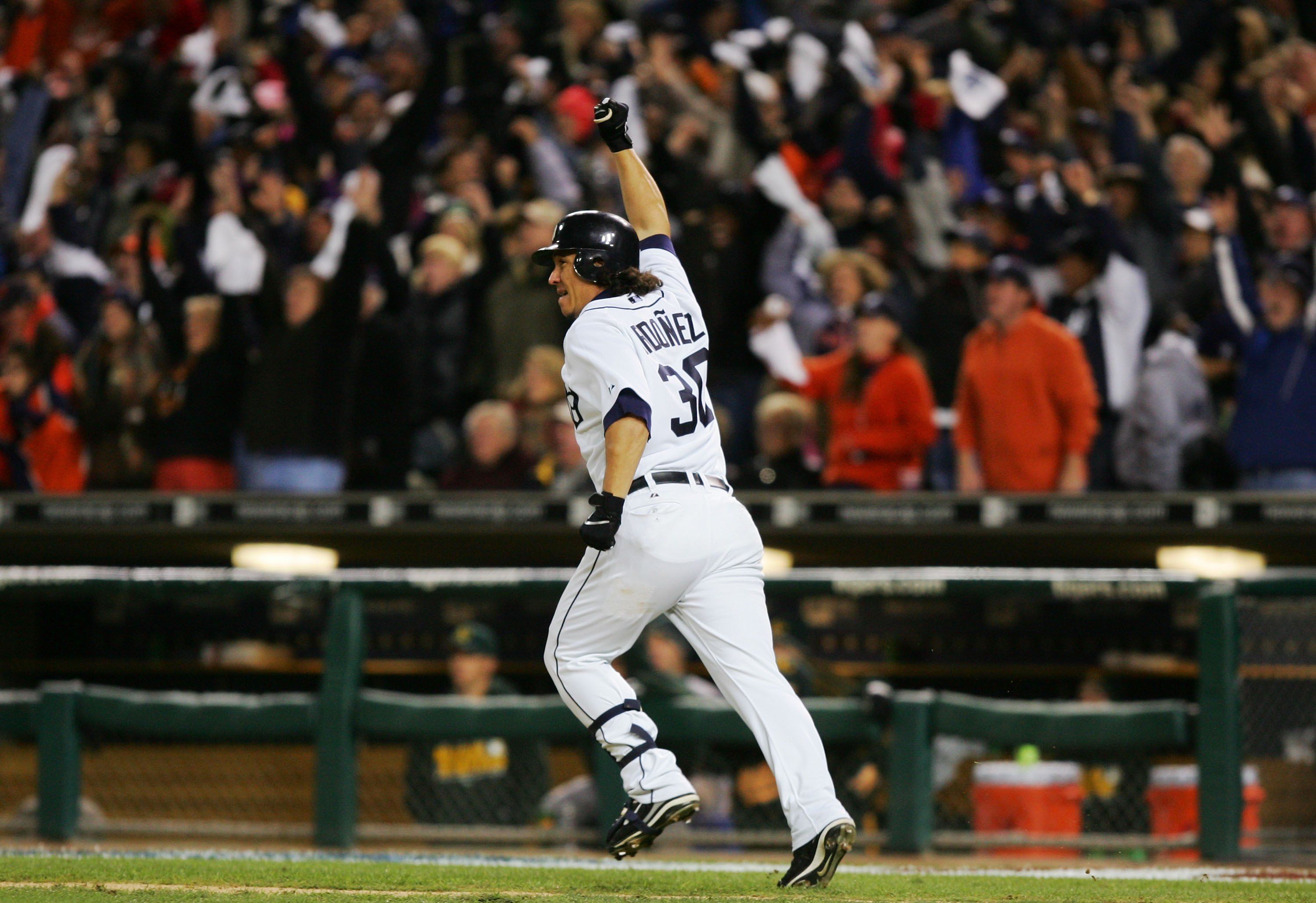 "The second it left his bat, you knew it was gone. I immediately hugged my buddies Matt and Greg, guys I have been watching baseball with for 20+ years. But it didn't stop there.
"I hugged the row behind me and the row in front of me. As we walked down the ramps to leave, it continued — complete strangers hugging, high-fiving, backslapping, screaming and crying tears of joy.
"We eventually stumbled to a bar across the street to order celebratory drinks. Moments later, we looked to our left and there was Kid Rock, standing on a makeshift stage, singing Bob Seger's 'Night Moves,' as people continued to hug, high-five and sing along.
"22 years of frustration for a struggling but still proud city — all released in a single night, thanks to a single swing of a baseball bat. It was a quintessential Detroit moment that I will never forget. Man, I miss sports."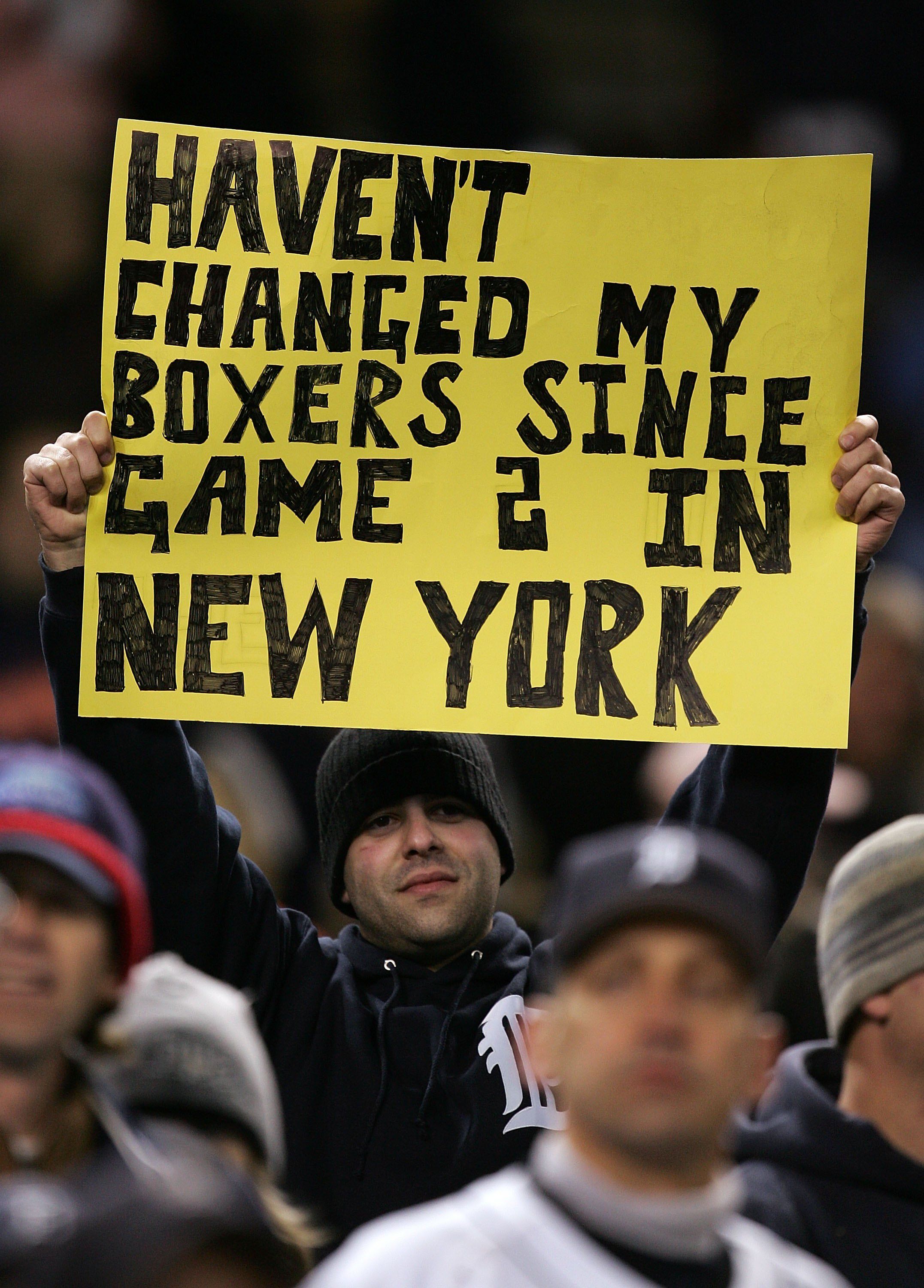 ✍️ Submit your story: Do you have a fondest sports memory? Or an example of sports having a positive impact on your life? If you'd like to share, simply reply to this email. We'll be telling your stories until they run out.