Axios Sports
November 17, 2021
👋 Good morning! The first in-season edition of "Hard Knocks," starring the Colts, premieres tonight on HBO (10pm ET).
Today's word count: 1,606 words (6 minutes).
Let's sports...
1 big thing: 🤑 Retail is out, crypto is in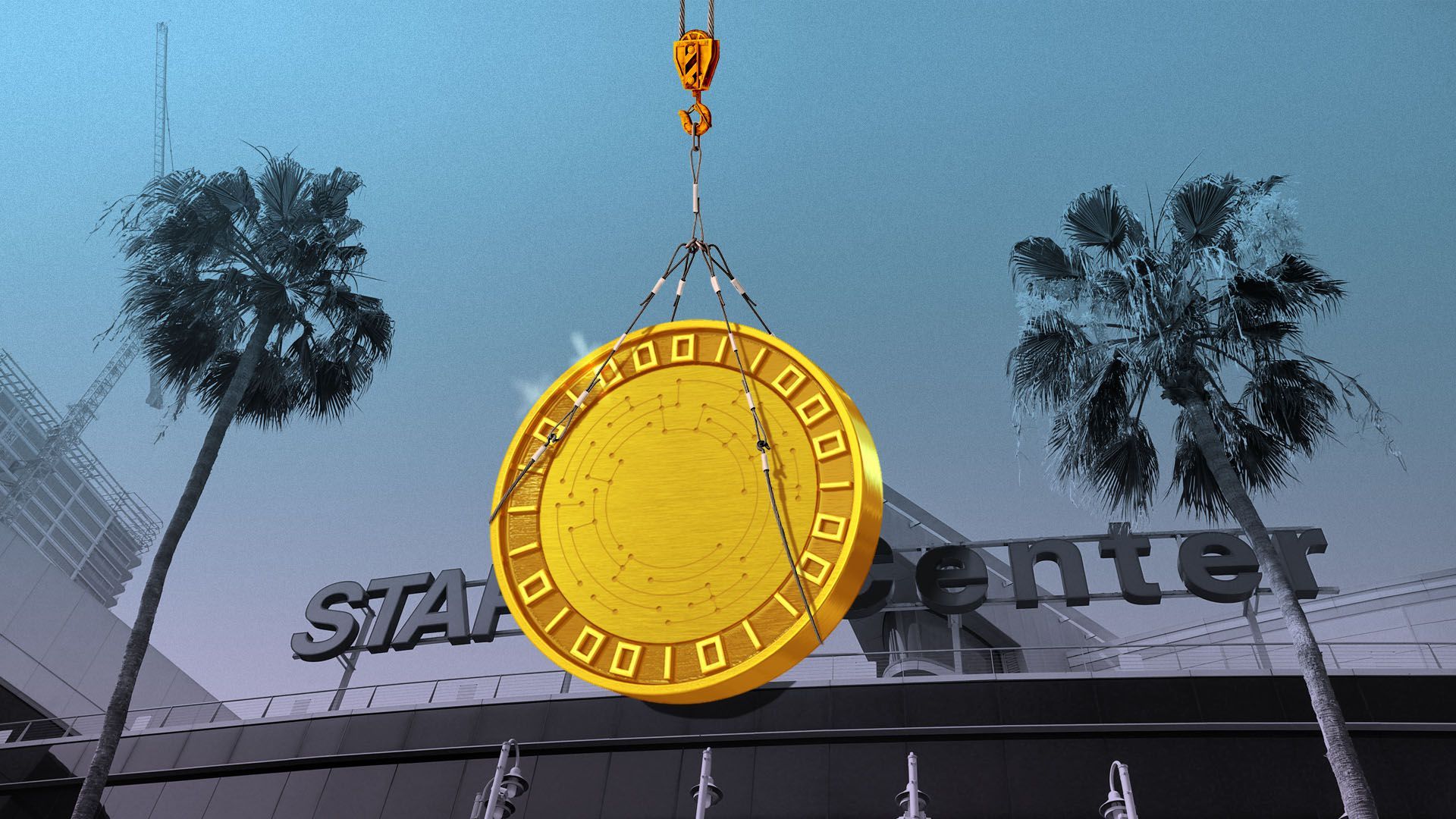 The Staples Center in Los Angeles will be renamed Crypto.com Arena, in what is believed to be the richest naming rights deal in sports history.
Why it matters: Cryptocurrencies are pushing deeper into the American mainstream, Axios' Dan Primack writes.
Details: It's a 20-year naming rights agreement between Crypto.com, a Singapore-based crypto exchange and mobile wallet provider, and building owner Anschutz Entertainment Group.
No financial terms were disclosed, but Axios hears the total value exceeds $700 million. A formal announcement is expected today.
For context, SoFi paid over $600 million for 20-year naming rights to the new Chargers/Rams stadium, while Intuit paid over $500 million for 23-year naming rights to a new arena that will house the Clippers.
The official transfer will occur on Christmas Day, inclusive of the Staples logo being replaced on the building's iconic roof, just before the Lakers host the Brooklyn Nets.
Behind the scenes: Staples originally paid around $120 million for a 20-year naming rights deal in 1999, when it was riding high as one of America's preeminent retailers. Ten years later it renegotiated for permanent naming rights for an undisclosed amount.
What no one knew, however, was that AEG was eager to bring in a fresher name. In early 2019 it quietly bought back the naming rights from Staples.
Crypto.com heard this past summer that AEG was seeking out a new sponsor, and the two sides began hammering out a deal that involves several experiential and philanthropic components.
Rationale: AEG gets to rebrand its building with something that feels more like the future than the past. For Crypto.com, it's about elevating its brand in the capital of America's entertainment and creator economy.
Rival crypto exchange FTX earlier this year paid $135 million for 19-year naming rights to the NBA arena in Miami.
If Coinbase and Robinhood weren't looking for arena deals yesterday, they probably are today.
The big picture: Yes, there are some echoes of the dotcom boom, when internet upstarts entered the naming rights game. One of them, CMGI, faltered before its field hosted a single game (instead, the Patriots play at Gillette Stadium).
2. 🏀 Curry gets "MVP!" chants in Brooklyn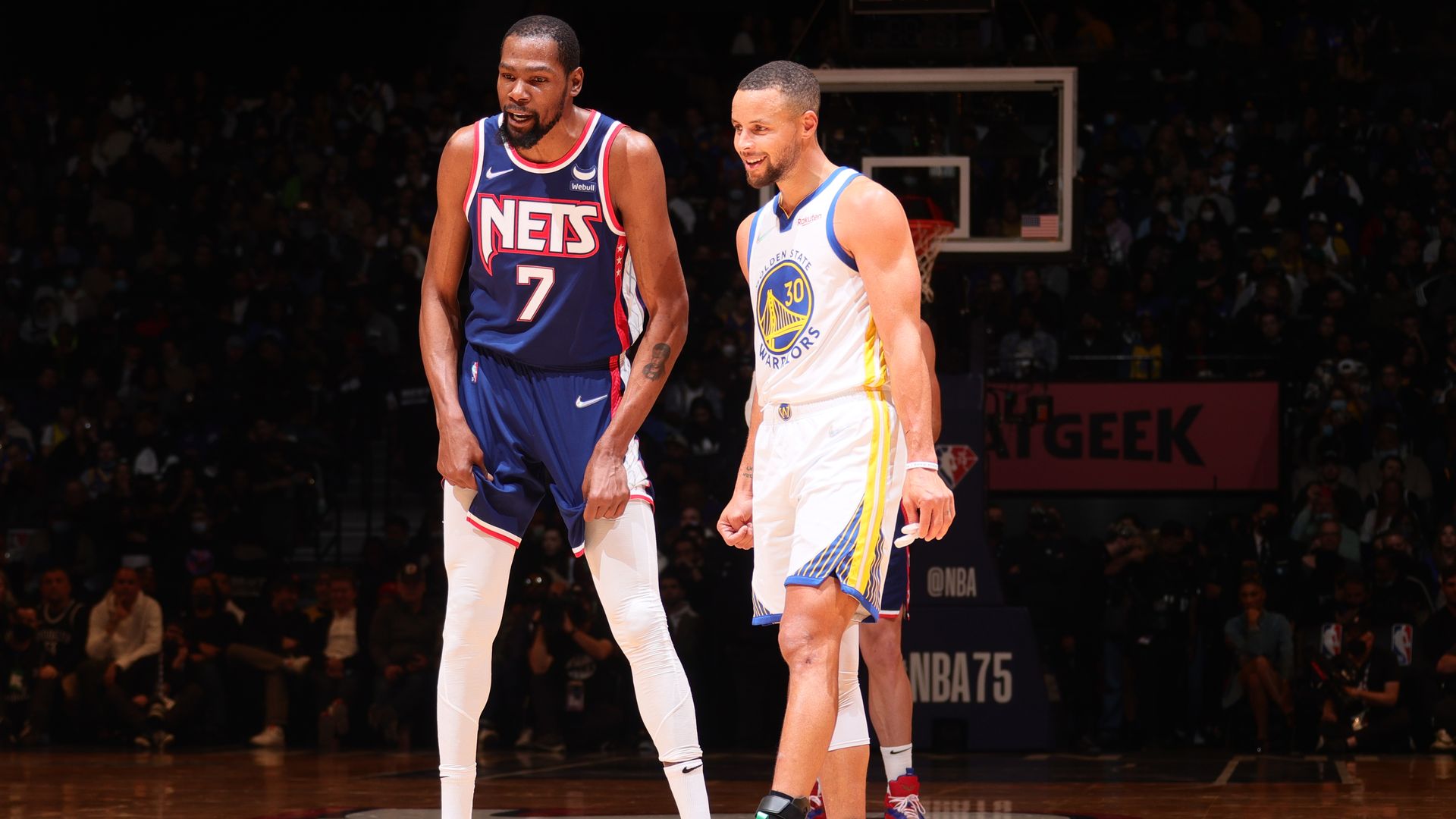 Stephen Curry went off for 37 points (9-14 3PT) on Tuesday and got MVP chants — at the Barclays Center! — as the Warriors dismantled Kevin Durant (season-low 19 points) and the Nets, 117-99.
Wild stat: This was Curry's 37th game with at least nine made threes. The next five players on the list have 34 such games combined (!!!).
Curry: 37
James Harden: 9
Damian Lillard: 9
Klay Thompson: 7
J.R. Smith: 5
Kobe Bryant: 4
Go deeper: Curry's scientific quest for the perfect shot (WSJ)
3. 🇨🇳 Olympics sponsors caught between U.S. and China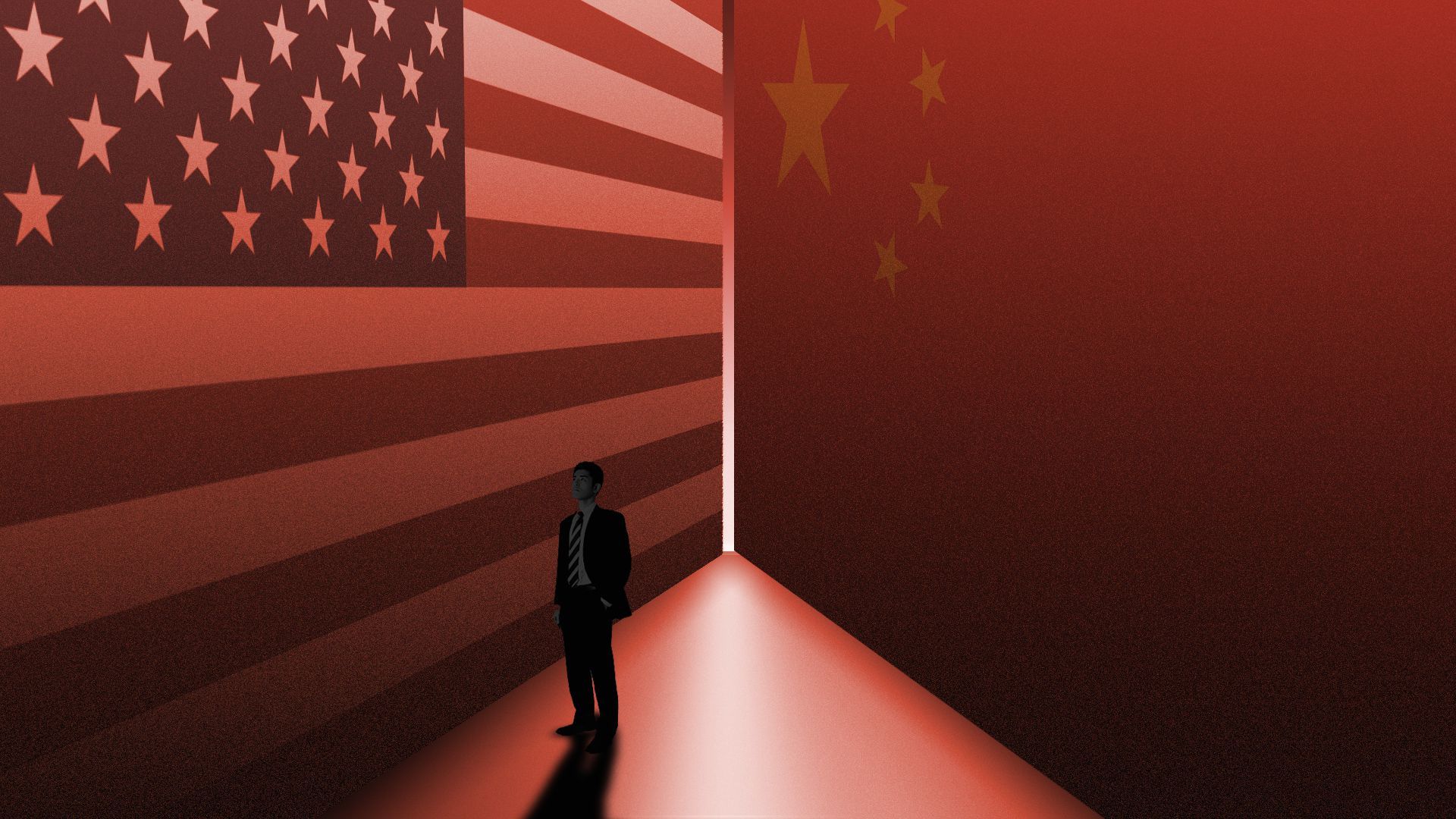 Companies that do business in China — especially Olympics sponsors — are concerned Beijing will use the 2022 Winter Games as a loyalty test, Axios' Bethany Allen-Ebrahimian writes.
Why it matters: China's leaders have become adept at silencing criticism from U.S. companies that might otherwise condemn its human rights record — and the Chinese government has been able to host prestigious global events while committing rights violations with impunity.
"There is a desire on China's part to showcase its strength more than anything else, as opposed to just showcasing winter sport," said Steven Fox, executive chairman and founder of Veracity Worldwide.
"This is about China being on the world stage, even more than was the case in 2008."
What's happening: There are 13 top-level Olympics corporate sponsors, including Coca-Cola, Visa, Airbnb and Intel, which are projected to have paid hundreds of millions of dollars to sponsor the 2022 Beijing Olympics.
Journalists, rights groups and politicians have pressed the companies to speak out against China's human rights violations.
None of the companies have done so.
State of play: With customer bases in both the U.S. and China, U.S. companies are facing radically divergent demands in the months leading up to the Olympics.
"The customer base outside China may expect companies to make a statement or take action — whereas any such action could in turn lead to boycotts by Chinese customers in China," Fox told Axios.
Corporate executives understand Beijing is unlikely to tolerate anything but full-throated enthusiasm for the Games.
In other Olympics news ... The IOC has announced a new framework for transgender athletes that leaves decisions largely up to each sport's governing body.
4. ⚡️ Lightning round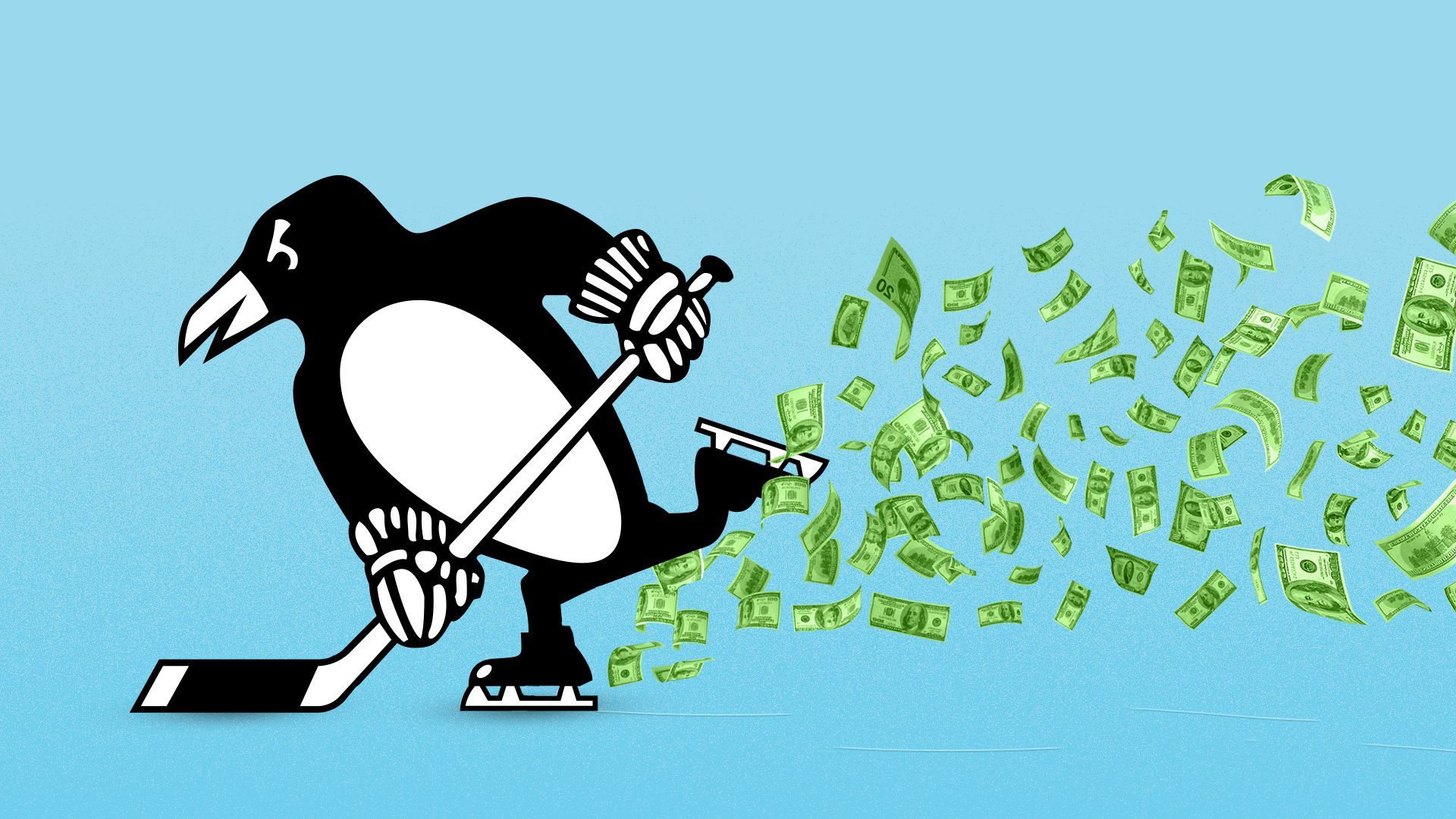 🏒 Penguins sale: Fenway Sports Group, the holding company that owns the Red Sox and Liverpool, is in talks to buy the Penguins. We're hearing the price tag is close to $1 billion.
⚾️ MLB roundup: The original Phillie Phanatic is back ... RHP José Berrios re-upped with the Blue Jays for seven years, $131 million ... Longtime Mets RHP Noah Syndergaard signed a one-year, $21 million deal with the Angels.
🏈 Stat du jour: 250,000 tweets are sent in the U.S. per NFL game this season. That's an 11% year-over-year increase, per Twitter.
🏀 NBA in Abu Dhabi: The NBA will host two preseason games in Abu Dhabi next year, the first time the league will play in the Arabian Gulf.
🍿 Coming soon: "National Champions" imagines a world where the biggest star in college football calls for a boycott of the national title game until the NCAA recognizes players as employees. Watch the trailer.
5. 🏈 CFP rankings: Top seven stays the same
The top seven teams remained unchanged in the College Football Playoff's third ranking of the season, unveiled Tuesday night.
Why it matters: While chaos could still ensue, history tells us what we see today could be very close to what we see on Selection Day, Dec. 5.
Of the past 28 semifinalists, 21 have been ranked in the top four at this point in the season, and 26 have been ranked in the top six.
No team to make the playoff has ever been ranked lower than ninth at this point in the season.
Of note: 13 of the 14 teams ranked in the top two at this point in the season went on to make the playoff — great news for Georgia and Alabama fans. The lone exception was Mississippi State (No. 1) in 2014.
Go deeper: Scenarios that can reshape the landscape (ESPN)
6. ⚽️ The last soccer-less nation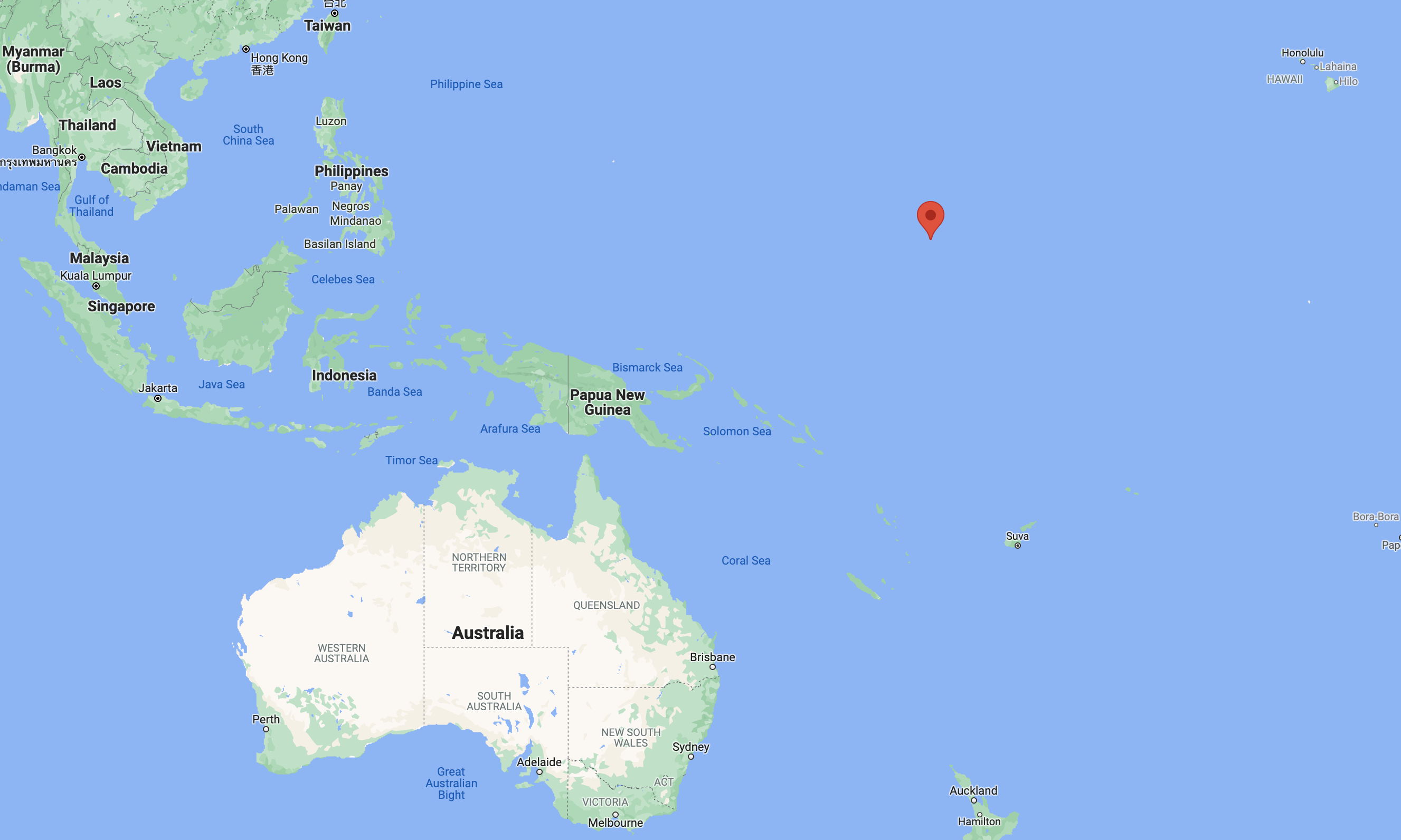 As World Cup qualifiers take place ahead of Qatar 2022, one nation never even had a chance to make the field, Axios' Jeff Tracy writes.
The big picture: The Marshall Islands — perhaps best known as a post-war nuclear testing site — is the lone country among the 195 recognized by the UN that has never played an international soccer match.
The sovereign nation of 60,000 in Micronesia comprises 29 atolls and five isolated islands.
Athletics are part of Marshallese culture, but American influence stemming from WWII occupation means basketball and baseball are among the nation's most popular sports.
Looking ahead: The newly-formed Marshall Islands Soccer Federation (MISF) hopes to change the status quo, working to get soccer into schools and building out infrastructure to make future World Cups a reality.
Yes, but: The MISF is in a race against time, as the tiny country in the middle of the Pacific is among the most at-risk nations on Earth regarding climate change.
That's why they're building a stadium with a giant seawall to host the 2022 Micronesian Games, providing the country not only with its first real pitch, but also with protection against rising sea levels "that represent an existential threat," per a 2021 report from the World Bank.
7. 🌎 The world in photos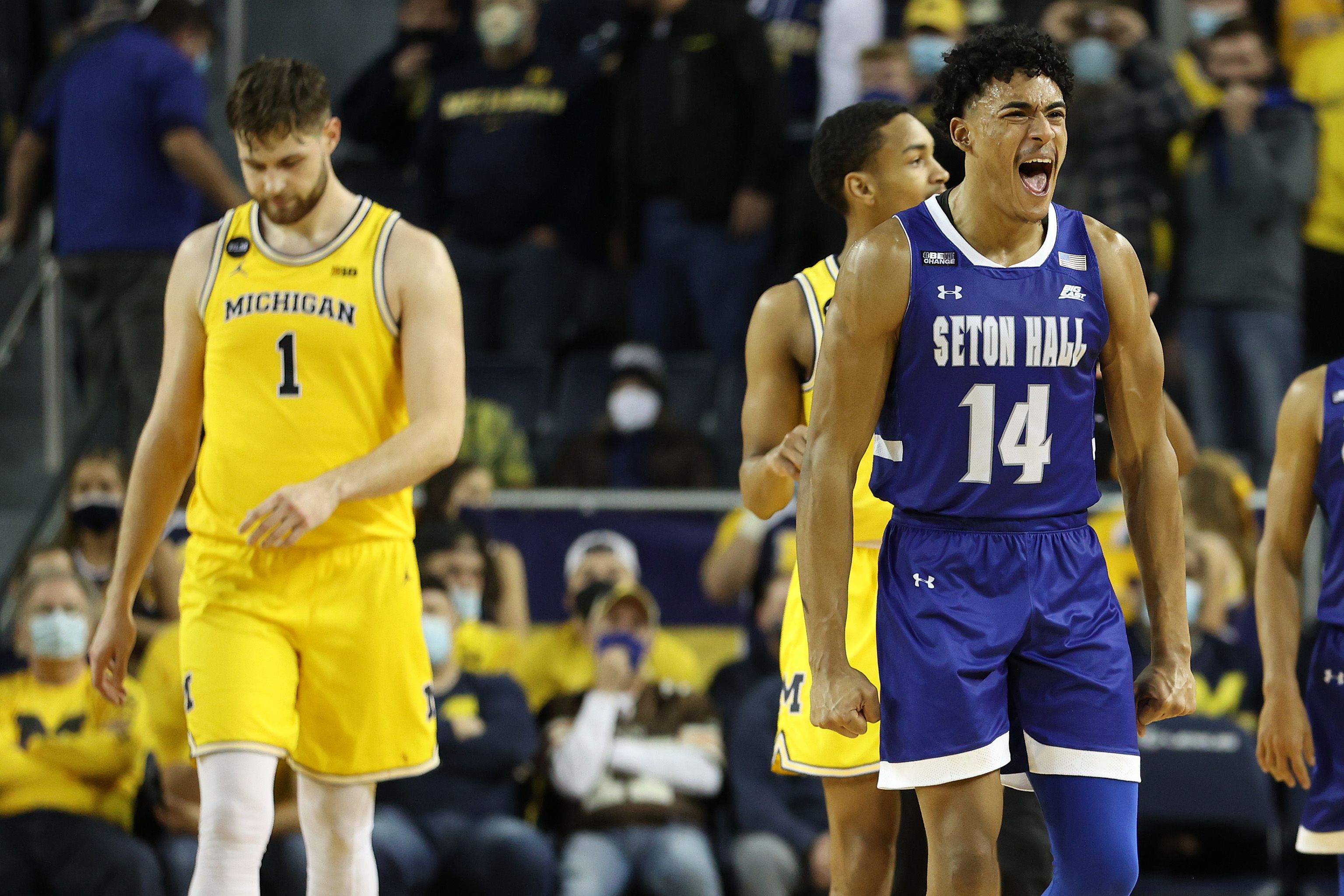 ANN ARBOR, Mich. — Seton Hall overcame an 11-point second-half deficit on Tuesday to upset No. 4 Michigan, 67-65.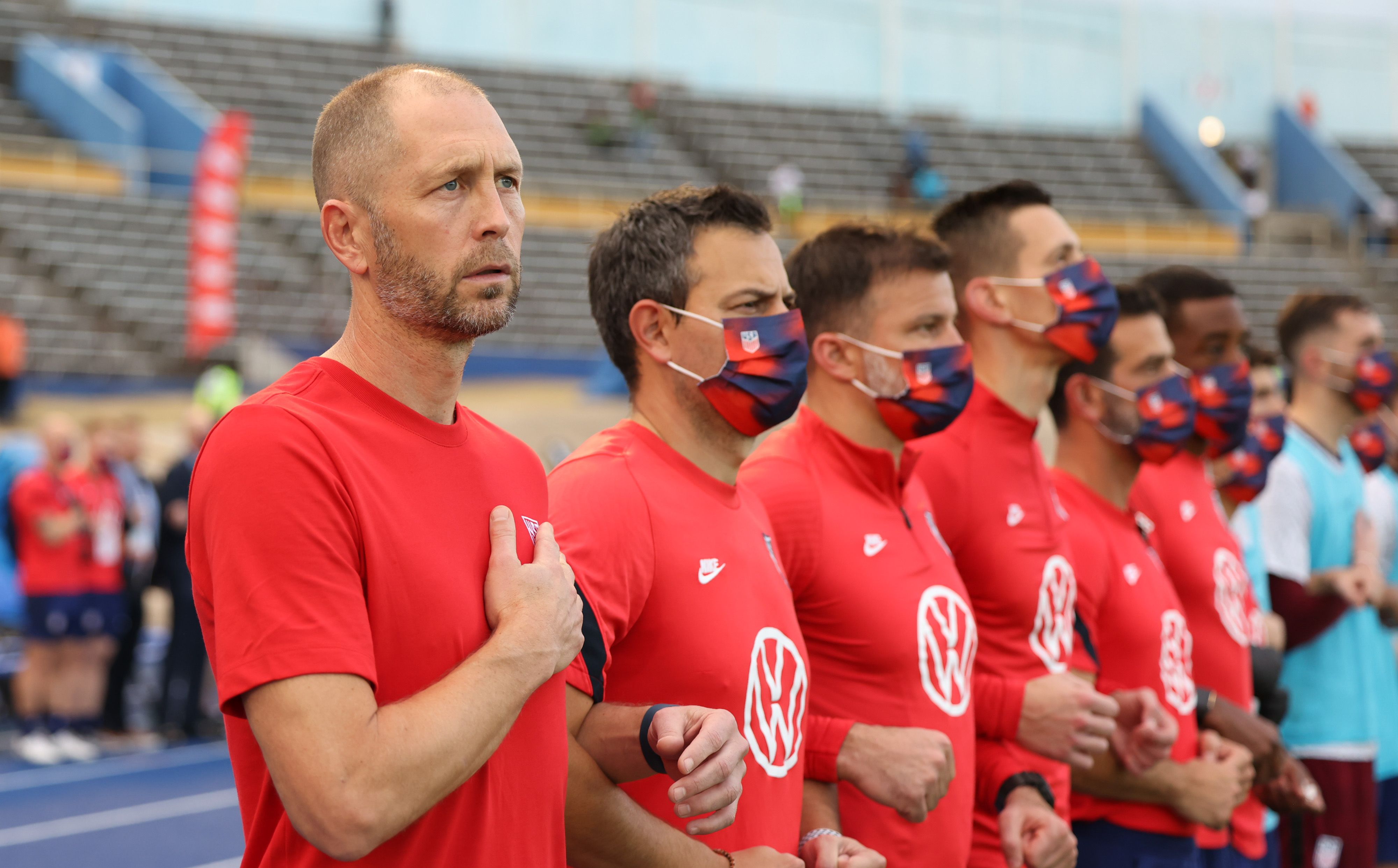 KINGSTON, Jamaica — The USMNT was held to a disappointing 1-1 draw in Jamaica, falling into second place in CONCACAF World Cup qualifying after Canada beat Mexico, 2-1, to grab the top spot.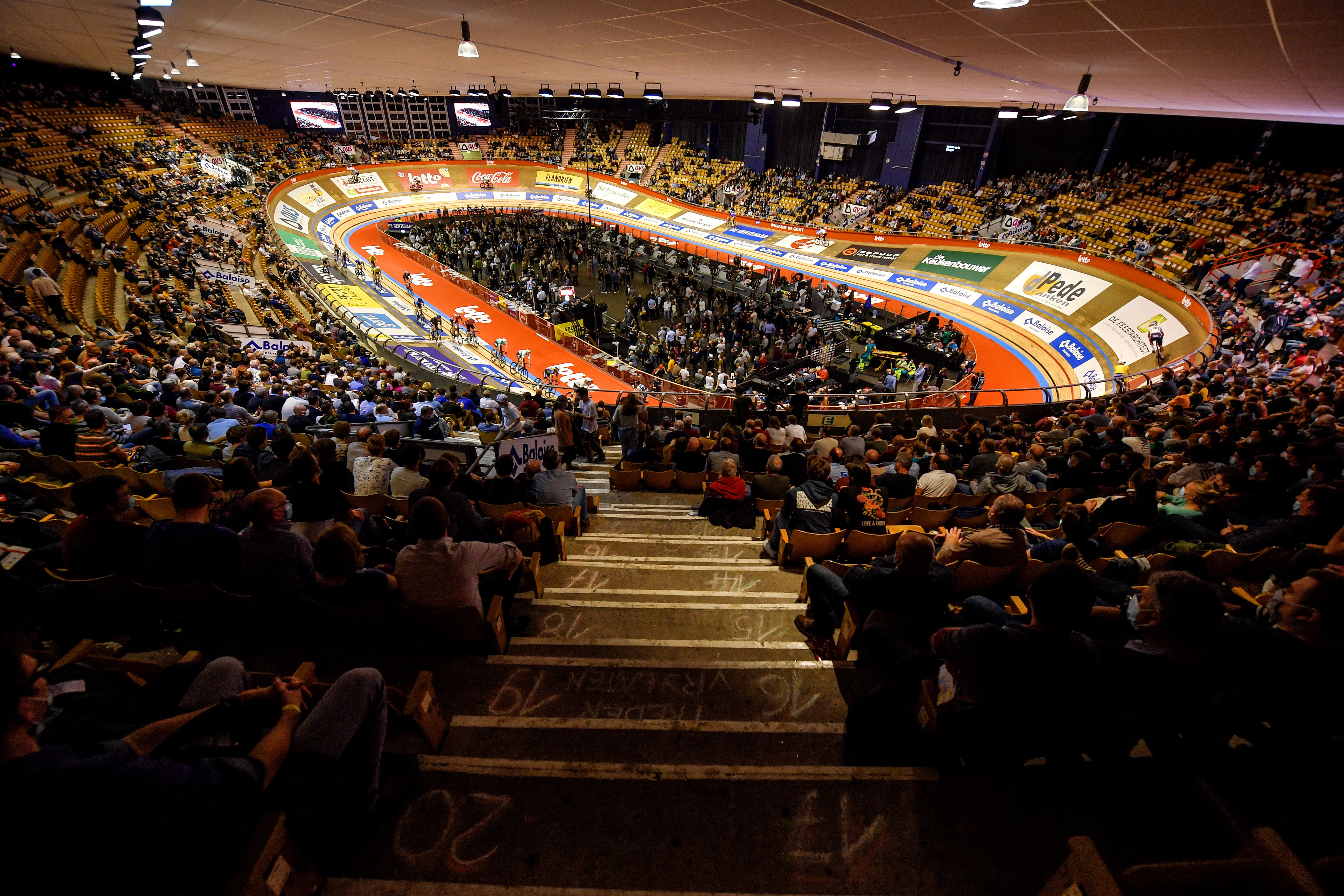 GHENT, Belgium — The 80th edition of the Six Days of Ghent — a six-day track cycling race at the famed Kuipke velodrome — began Tuesday.
8. 📆 Nov. 17, 1979: Fantasy baseball is born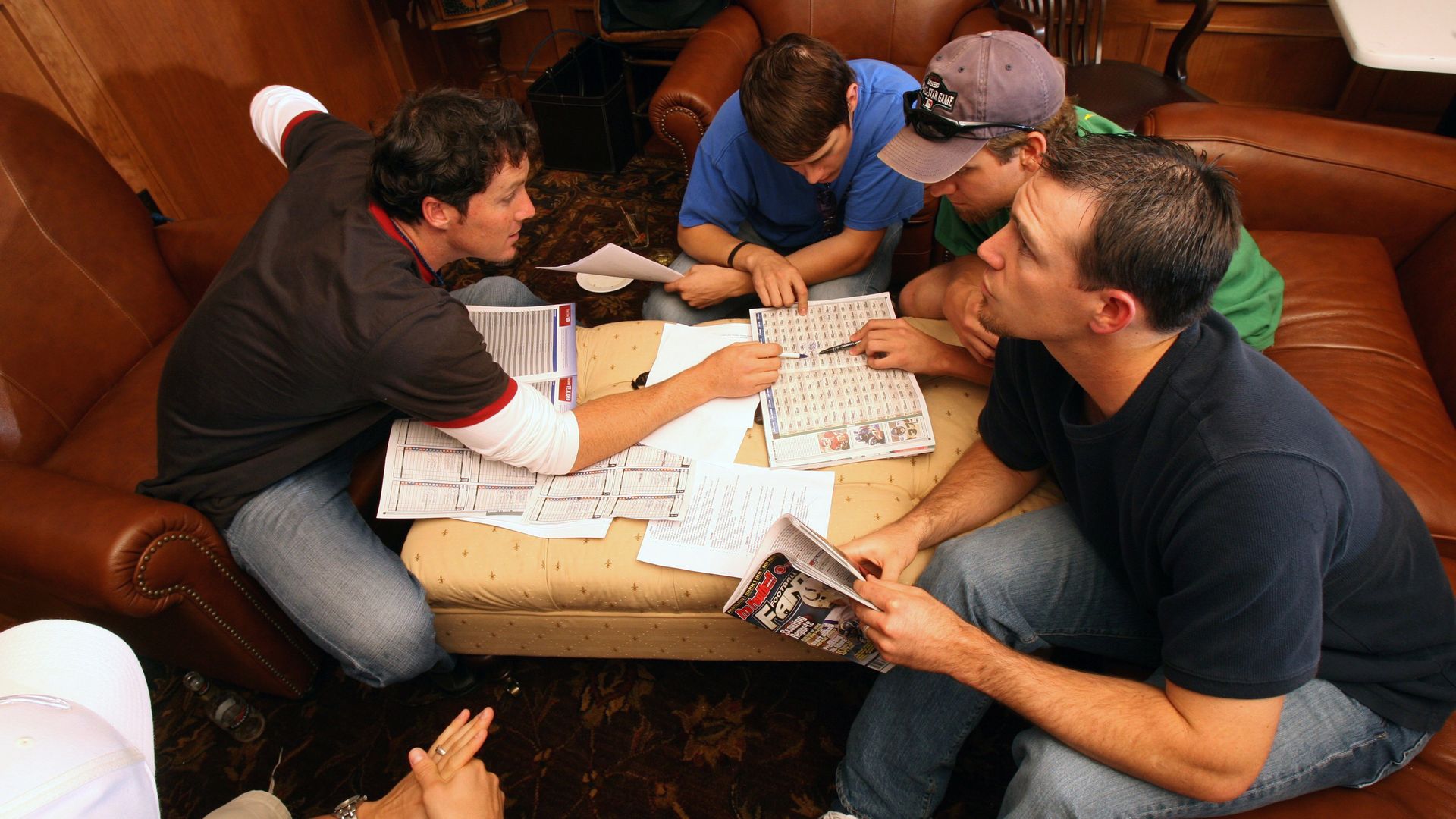 42 years ago today, a writer named Daniel Okrent inadvertently created one of the most popular games on earth: fantasy baseball.
What happened: On a flight to Austin, a bored Okrent came up with a gambling-related baseball game that involved tracking real MLB players' stats on fake teams, jotting down some notes on a napkin.
He pitched the idea to the colleagues he was meeting in Texas. They declined, but a few weeks later, a more receptive group of friends loved what they heard during a lunch in New York.
By the 1980 season, their "Rotisserie League" — named after the restaurant where they ate lunch that day, La Rotisserie Française — held its inaugural draft.
The big picture: Rotisserie leagues soon began spreading among MLB press boxes, and the internet's rise the following decade led to the game's first real boom (before then, all stats and scores were compiled by hand).
Now, fantasy sports is a $22 billion industry globally, bolstered by the recent advent of daily fantasy.
And while football has long since overtaken baseball in terms of popularity, none of it would exist if not for Okrent's bored scribbling.
🎥 Watch: "Silly Little Game" trailer (YouTube)
9. 🏈 NFL trivia
Eli and Peyton Manning are one of eight pairs of brothers to have been named to the Pro Bowl or an All-Pro team in the same NFL season (2012).
Question: Can you name the other seven pairs of brothers?
Hint: Three pairs are still active.
Answer at the bottom.
10. 👑 Stat du jour: King Cristiano
Cristiano Ronaldo (Facebook, IG, Twitter) is one of three people with a top 10 most-followed account on three social media platforms, joining Ariana Grande (IG, Twitter) and Will Smith (Facebook, TikTok).
Go deeper: How to hit the top on each social platform (Axios)
Talk tomorrow,
Kendall "Probably nothing" Baker
Trivia answer: Bruce and Clay Matthews (1989), Shannon and Sterling Sharpe (1993), Ronde and Tiki Barber (2005), Maurkice and Mike Pouncey (2014), Travis and Jason Kelce (2018), J.J. and T.J. Watt (2018), Joey and Nick Bosa (2019)
🙏 Thanks for reading. For more sports coverage, follow us on Twitter: @kendallbaker and @jeffreytracy.