Axios Sports
June 01, 2020
👋 Good morning. "Sticking to sports" is not an option right now.
Today's word count: 1,894 words (7 minutes).
1 big thing: 💔 Now is not the time for sports-as-escape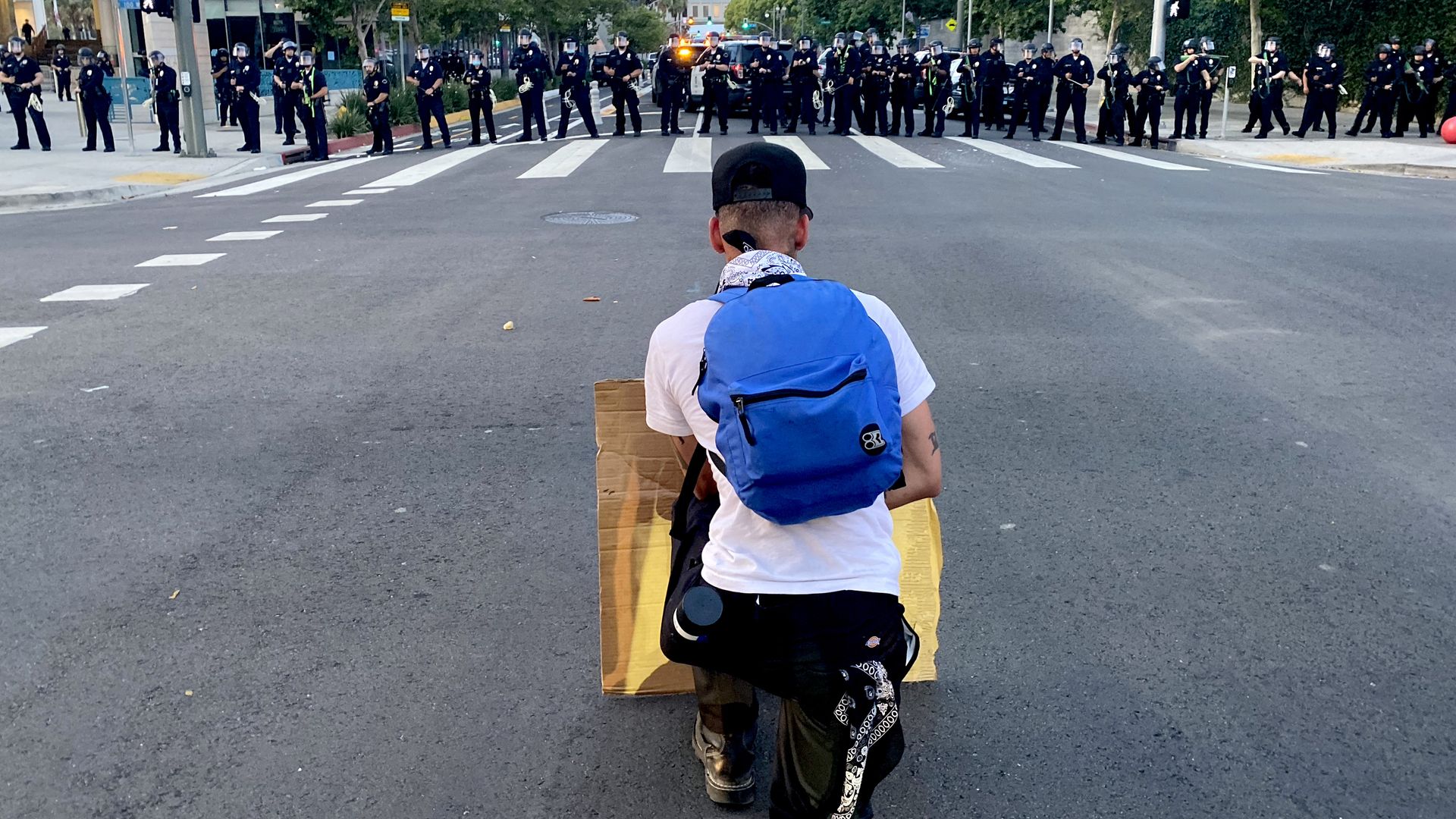 Sports are an escape; and usually, a welcome one. But in the wake of nationwide protests over the murder of George Floyd, perhaps the unprecedented sports hiatus we're currently experiencing is a good thing, Jeff Tracy and I write.
George Floyd, 46, was out running errands last Monday night. Instead, he was murdered.
Ahmaud Arbery, 25, went for a jog through his neighborhood on a February afternoon to get some exercise. Instead, he was murdered.
Breonna Taylor, 26, was in her apartment at midnight back in March, ostensibly taking it easy before going to sleep. Instead, she was murdered.
Escaping, by definition, means putting something out of your mind as a way of avoiding it or leaving it for later. There are times when that is necessary, and certainly everyone deserves a break from time to time.
But when so many people in this country live in constant fear, is it fair that those who don't can simply choose when to care? When to show up? When to escape?
The big picture: On a micro-level (think: rough day at the office), sports offer a temporary reprieve from the daily grind. We need that.
On a macro-level (think: baseball post-9/11 or a city celebrating a title), they offer an escape not so much from reality, but from the feeling of being alone. There is something powerful in knowing that yours is a shared burden or passion. We need that, too.
Yes, but: Three months into a pandemic and three days into protests that have been building for generations, maybe it's not the worst thing that we're unable to flip the channel to the NBA playoffs or bury our heads in MLB box scores.
Eventually, those opportunities to escape will return. In fact, multiple sports are slated to resume play as early as this month.
But right now, with most sports on hold, America has an opportunity to stay in the moment. To fully understand what is happening. To pay attention to who is speaking up, and who is staying quiet. To listen.
2. 💔 The sports world speaks up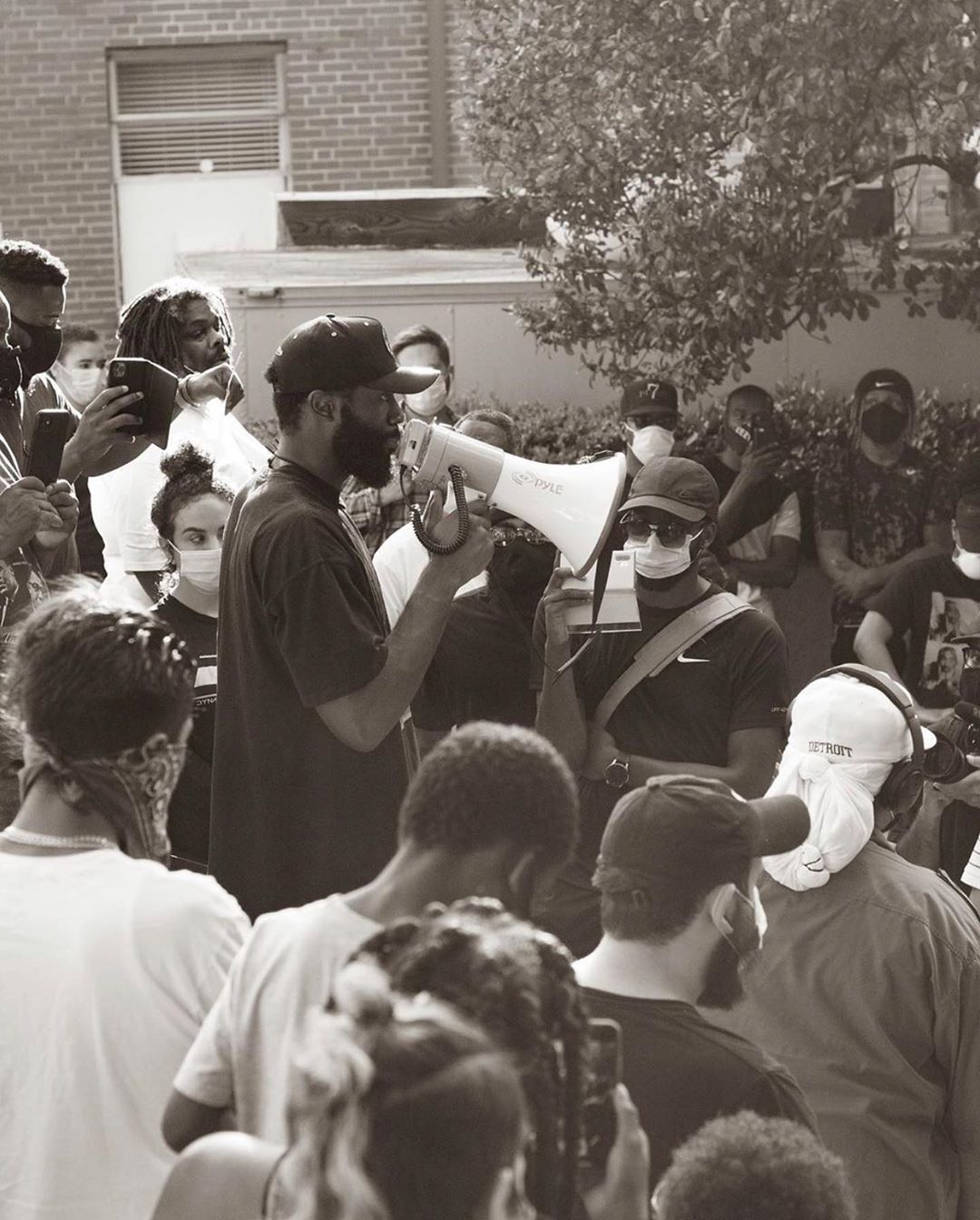 There was a time when a months-long sports absence would have silenced athletes, leaving them without a platform to reach fans or make their voices heard.
But now that athletes boast massive social media followings and no longer need live game broadcasts or media outlets to reach millions, they're speaking out en masse and delivering messages of frustration and unity, despite their respective leagues not currently operating.
Leagues and teams have shared statements of their own, but the raw messages from athletes defined the weekend in sports.
What they're saying: Hundreds of sports figures and organizations spoke out this weekend. Here are a select few:
3. 💔 Photos 'round the world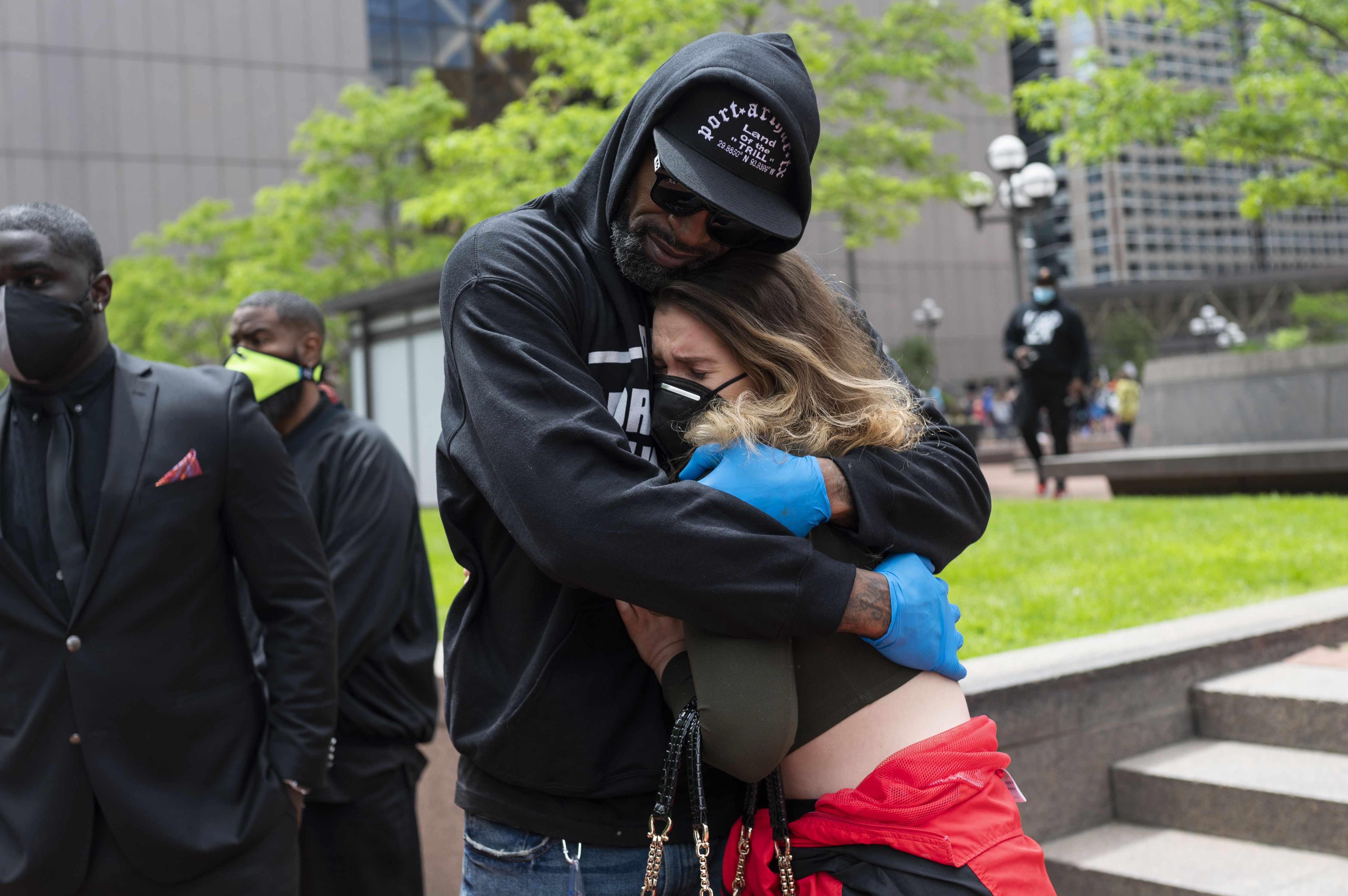 MINNEAPOLIS — Former NBA player Stephen Jackson — who knew Floyd personally and called him his "twin" — hugs a woman after speaking at a protest.
"To my white brothers, I love you. Every race here, I love you. But it comes to a point now, where if you love me and you not standing on the side of me, then your love don't mean s--t."
— Jackson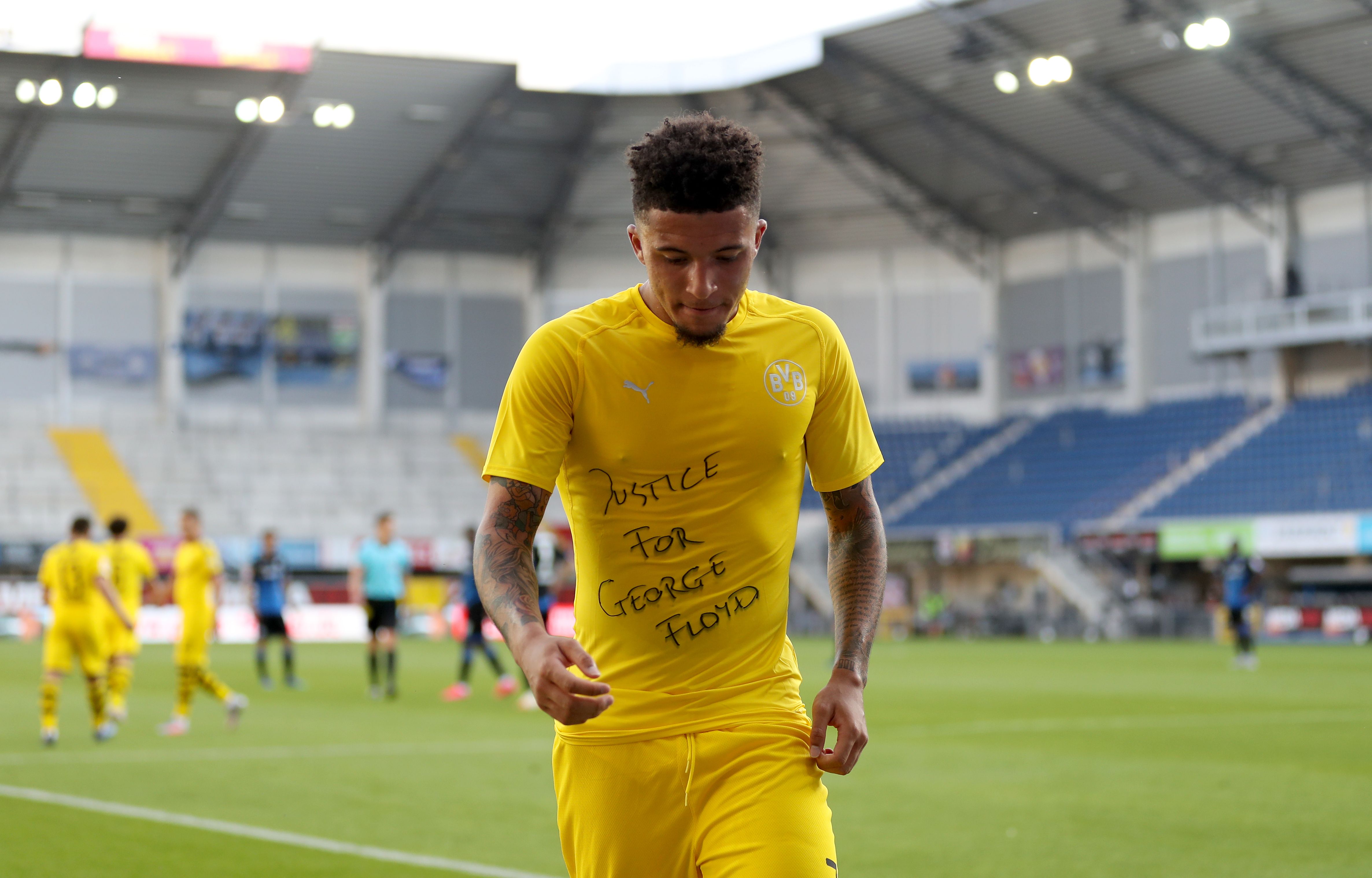 PADERBORN, Germany — Borussia Dortmund winger Jadon Sancho removed his jersey to reveal the message "Justice for George Floyd" after scoring against Paderborn. The 20-year-old English international went on to record a hat trick.
"First professional hat trick. A bittersweet moment personally as there are more important things going on in the world today that we must address."
— Sancho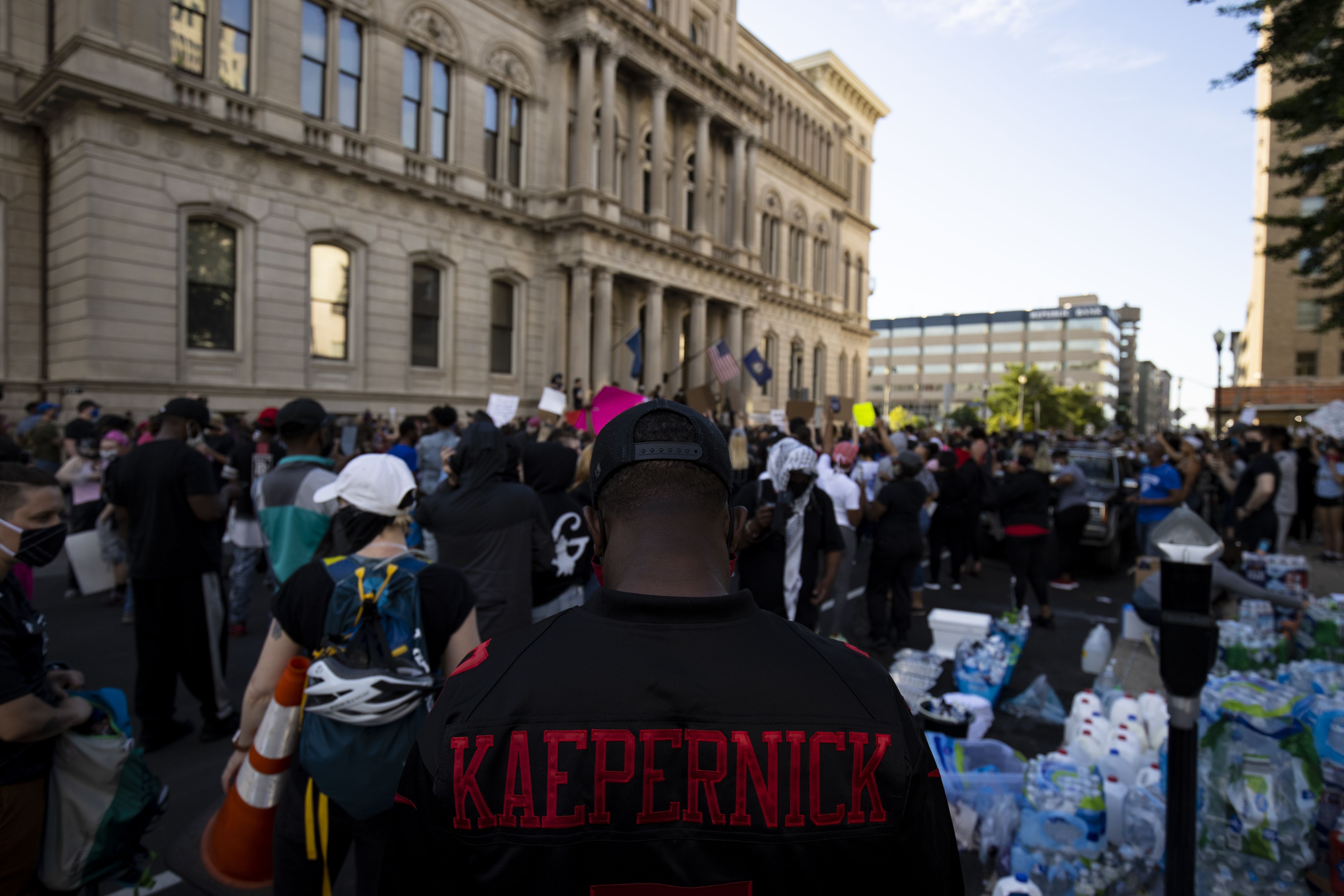 LOUISVILLE, Kentucky — Protesters throughout the country were photographed wearing Colin Kaepernick jerseys.
"To me, this is bigger than football, and it would be selfish on my part to look the other way. There are bodies in the street and people getting paid leave and getting away with murder."
— Kaepernick on Aug. 26, 2016 after sitting during the national anthem for the first time
4. ⚾️ MLBPA proposes 114-game season
The MLB Players' Association delivered its return-to-play proposal to the league on Sunday, the next step in negotiations as baseball tries to become the first major American professional sport to return.
Details, per The Athletic (subscription):
114 games (June 30–Oct. 31)
Two years of expanded playoffs
Opt out for all players if they don't want to play
What they're saying: "While players expect the league to reject [the plan], they hoped that it would serve as a bridge to a potential deal this week," writes ESPN's Jeff Passan.
The state of play: The owners have proposed an 82-game season and suggested the more games they play, the more money they'll lose (due to lack of fans).
MLB's plan included large pay cuts, which were loudly rejected by the players, who remain steadfast that they receive their full prorated salaries.
In other news ... After hearing that Nationals minor league players would be facing additional pay cuts, the current members of the Nationals' MLB club have committed funds to make up for lost wages, pitcher Sean Doolittle announced.
5. ⚾️ Ranking MLB's all-time rosters (No. 13)
We're ranking the all-time rosters for all 30 MLB teams. Note: Rosters based only on time spent with this specific team. Thoughts? Email me at [email protected].
13. Atlanta Braves
If these rankings were based solely on rotations, you'd be hard pressed to top the Braves. When you're deciding between Tom Glavine and John Smoltz as your fifth starter, you're in good shape. Oh yeah, Hank Aaron's pretty good, too.
Year established: 1876
All-time record: 10,697-10,659 (.501)
World Series Championships: 3
Hall of Famers (indicated by *): 12
Starting lineup:
OF Andruw Jones (61 bWAR with team)
DH Chipper Jones* (85.3)
OF Hank Aaron* (142.6)
3B Eddie Mathews* (94.1)
1B Freddie Freeman (35.7)
C Joe Torre (33.3)
OF Dale Murphy (47.3)
2B Rabbit Maranville* (29.8)
SS Johnny Logan (33.5)
On the mound: SP Greg Maddux* (67.3)
Bench:
Infield: 1B Joe Adcock (26.6), 2B Marcus Giles (16.7), SS Herman Long (35.5), C Del Crandall (27)
Outfield: Wally Berger (36.9), Tommy Holmes (35.7), Billy Hamilton* (23.8)
Utility: John Smoltz* (69.5), Hugh Duffy* (28.6)
Rotation: Warren Spahn* (99.3), Phil Niekro* (88.5), Kid Nichols* (107.2), Tom Glavine* (63.6)
Bullpen: Craig Kimbrel (12), Gene Garber (9.6), Steve Bedrosian (10.4)
Additional notes:
Mathews' Braves career spanned their final season in Boston, the entire run in Milwaukee and the first year in Atlanta.
Aaron is the all-time leader in both RBI (2,297) and total bases (6,856).
Jones is the NL's all-time leader in HR by a switch hitter (468), and is the only switch hitter with 400 HR and a .300 career average.
Maddux's 18 Gold Gloves are the most ever, and he's the only pitcher in history to win at least 15 games for 17 straight seasons.
ICYMI ... 30. Rays, 29. Royals, 28. Diamondbacks, 27. Blue Jays, 26. Angels, 25. Padres, 24. Rockies, 23. Brewers; 22. Nationals, 21. Mets, 20. Orioles, 19. Twins, 18. Astros, 17. Marlins, 16. White Sox, 15. Athletics, 14. Phillies
Huge thanks to Tom Stone, whose book "Now Taking the Field: Baseball's All-Time Dream Teams for All 30 Franchises," provided the inspiration for these rosters.
6. June 1, 1979: 🏀 Seattle's lone NBA title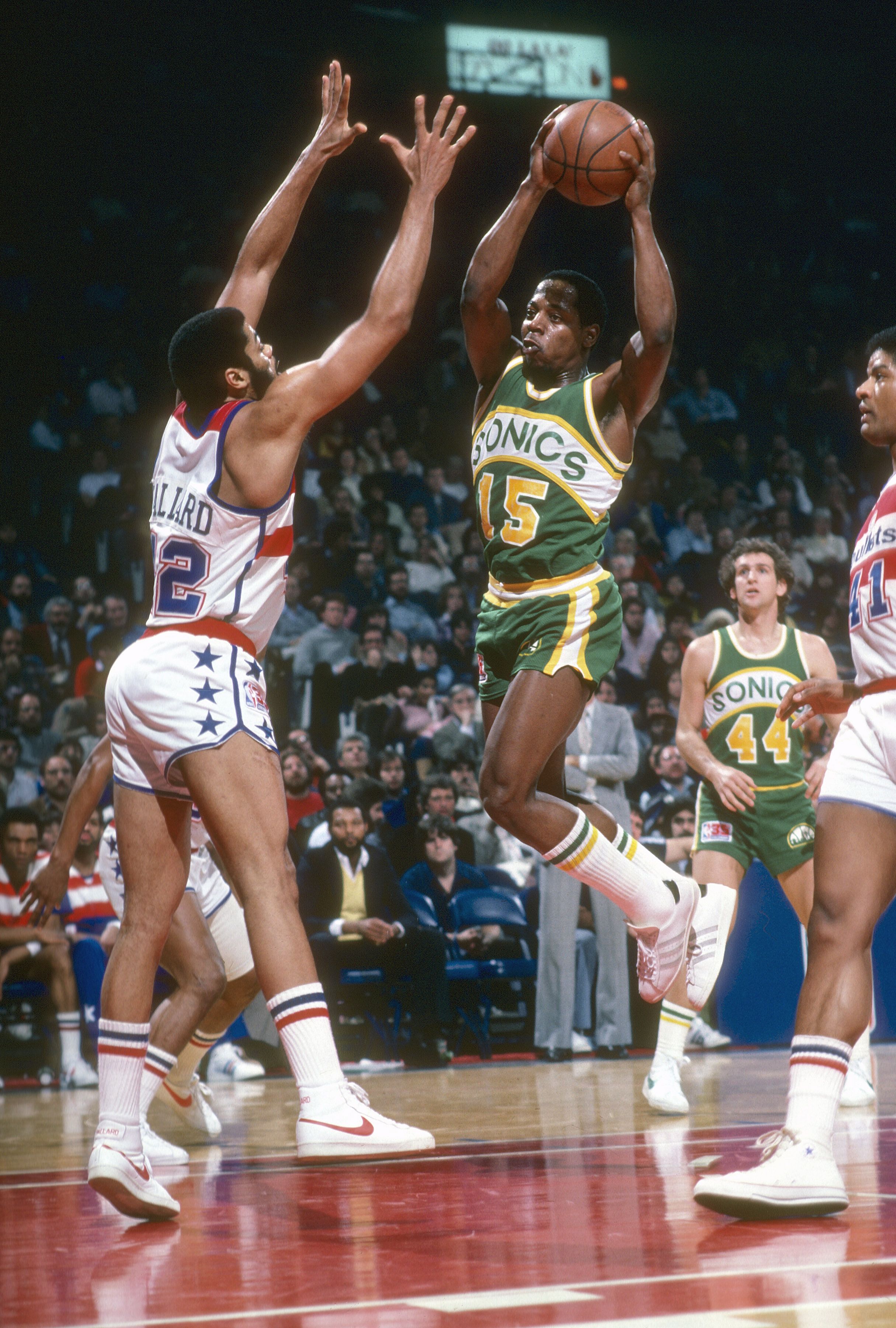 41 years ago today, the Seattle SuperSonics completed their 4-1 series win over the Washington Bullets to capture the 1979 NBA title.
Why it matters: This was Seattle's only NBA championship in three tries, losing in 1978 to the same Bullets squad and in 1996 to Jordan's Bulls before relocating to Oklahoma City in 2008.
The backdrop: The Sonics joined the NBA as an expansion team in 1967, along with the San Diego Rockets, who'd move to Houston in 1971. They were the 11th and 12th teams in the league.
The big picture: Seattle has had plenty of success across the pro sports landscape, but they're still fighting to bring the NBA back.
The Sounders (MLS) and Storm (WNBA) have won a combined five championships since 2004.
The Seahawks were one of the NFL's best teams last decade and have won one Super Bowl (2014) and three NFC titles (2006, 2014, 2015) since debuting in 1978.
The Mariners, established in 1977, made the playoffs four times from 1995 to 2001, but never before or since.
An NHL expansion team (no name yet) is set to begin play in 2021 and will be hoping to deliver the city's first pro hockey title since the Metropolitans won the 1917 Stanley Cup.
Go deeper: The sordid deal that created the OKC Thunder (Forbes)
7. 📚 Good reads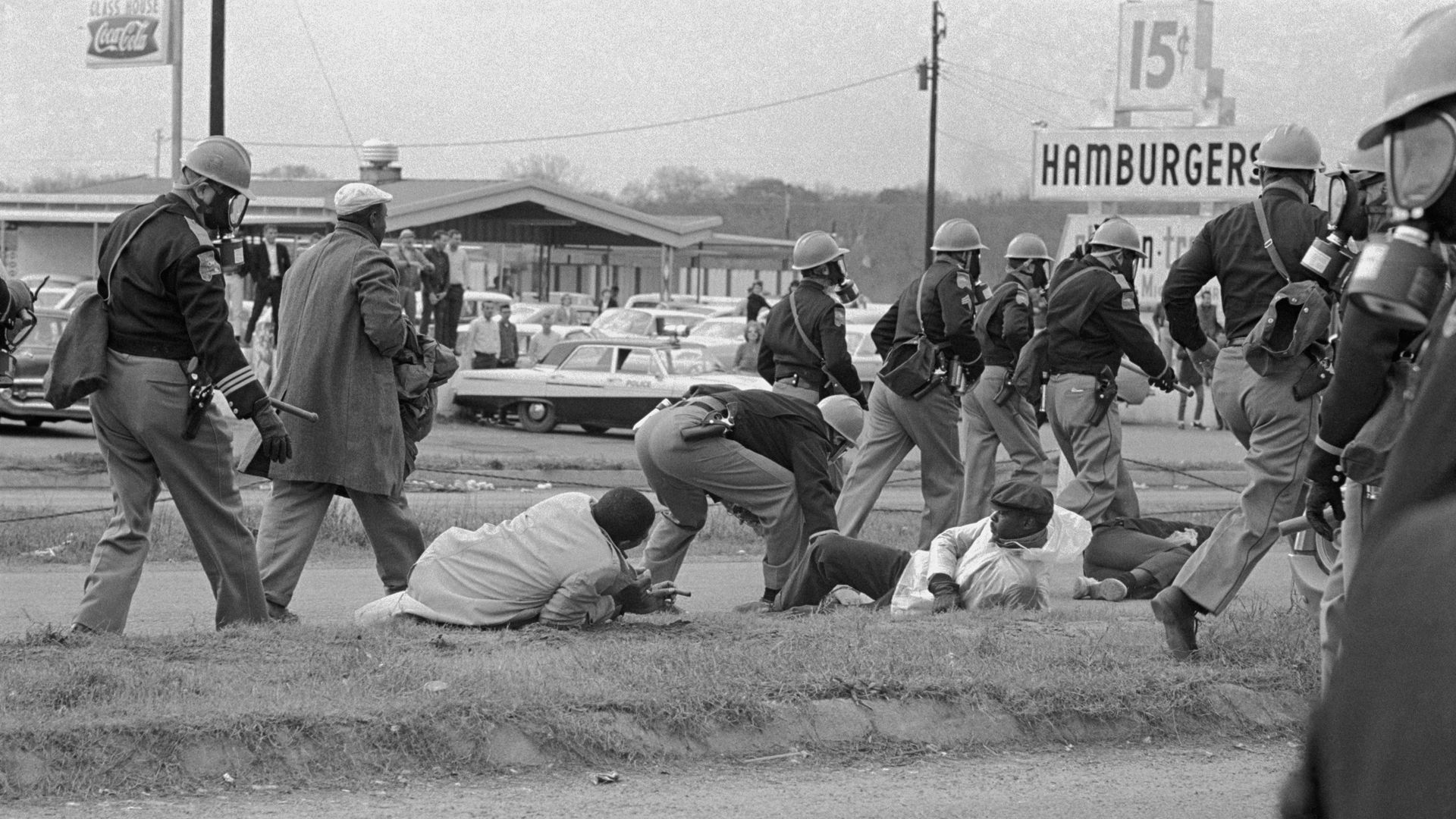 📱 The technology of witnessing brutality (Scott Rosenberg, Axios)
"The ways Americans capture and share records of racist violence and police misconduct keep changing, while the pain of the underlying injustices they chronicle remains constant."
🏈 This is why Colin Kaepernick took a knee (Sally Jenkins, WashPost)
"Kaepernick is still so present in the American consciousness that he might as well be playing in the league. ... The owners misidentified the problem, you see. The problem they can't get rid of isn't Kaepernick or his knee. It's themselves. Their own denial, that's what dogs them."
🏀 A basketball brotherhood calls timeout (Scott Cacciola, NYT)
"A decades-long Manhattan pickup basketball game is on hold because of the pandemic, creating an emotional void for its rotating cast of actors, executives and regular joes."
8. The Ocho: 💪 Arm wrestling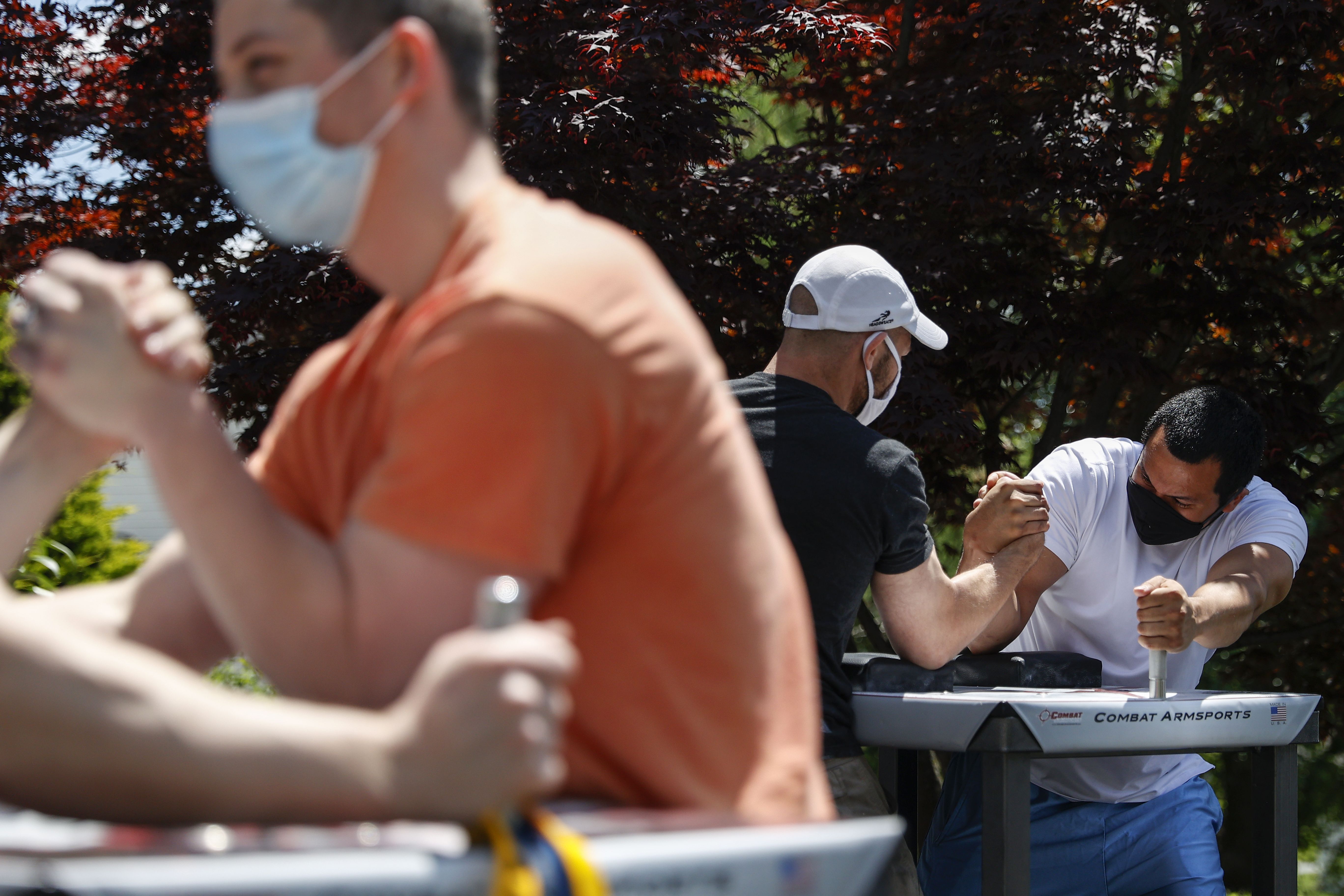 Breaking news: The Frederick County Arm Wrestling Team has returned to practice at teammate Sergey Svetikov's house in Mount Airy, Maryland.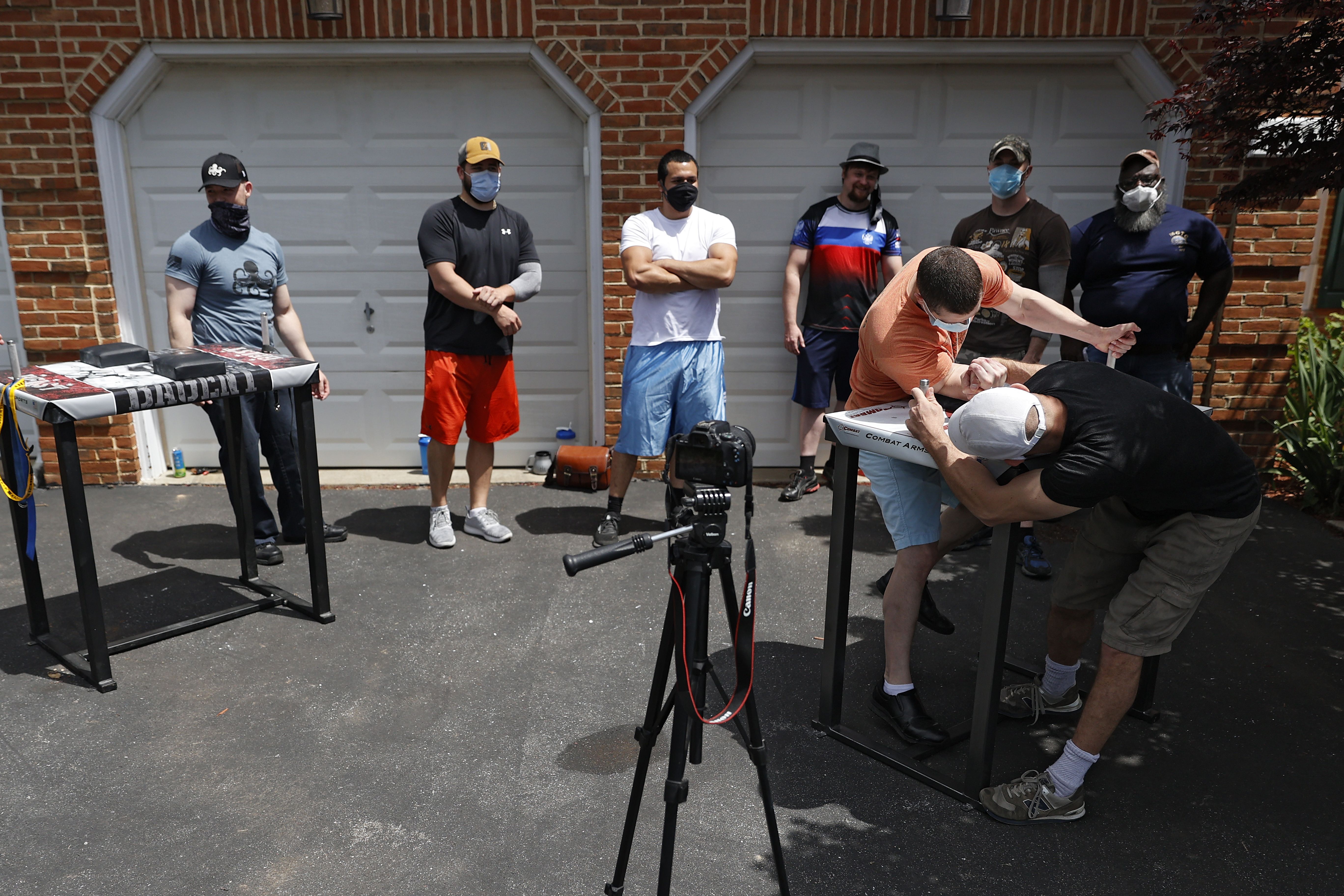 "Arm wrestling is the kind of sport you need to practice. Everyone has different kinds of hands. The way I would arm wrestle [one opponent] is very different than with [a different opponent]."
— Svetlikov
Go deeper: 'Brotherhood' of arm wrestlers forms in an unexpected place: A Russian man's Maryland shed (WashPost)
9. ⚾️ MLB trivia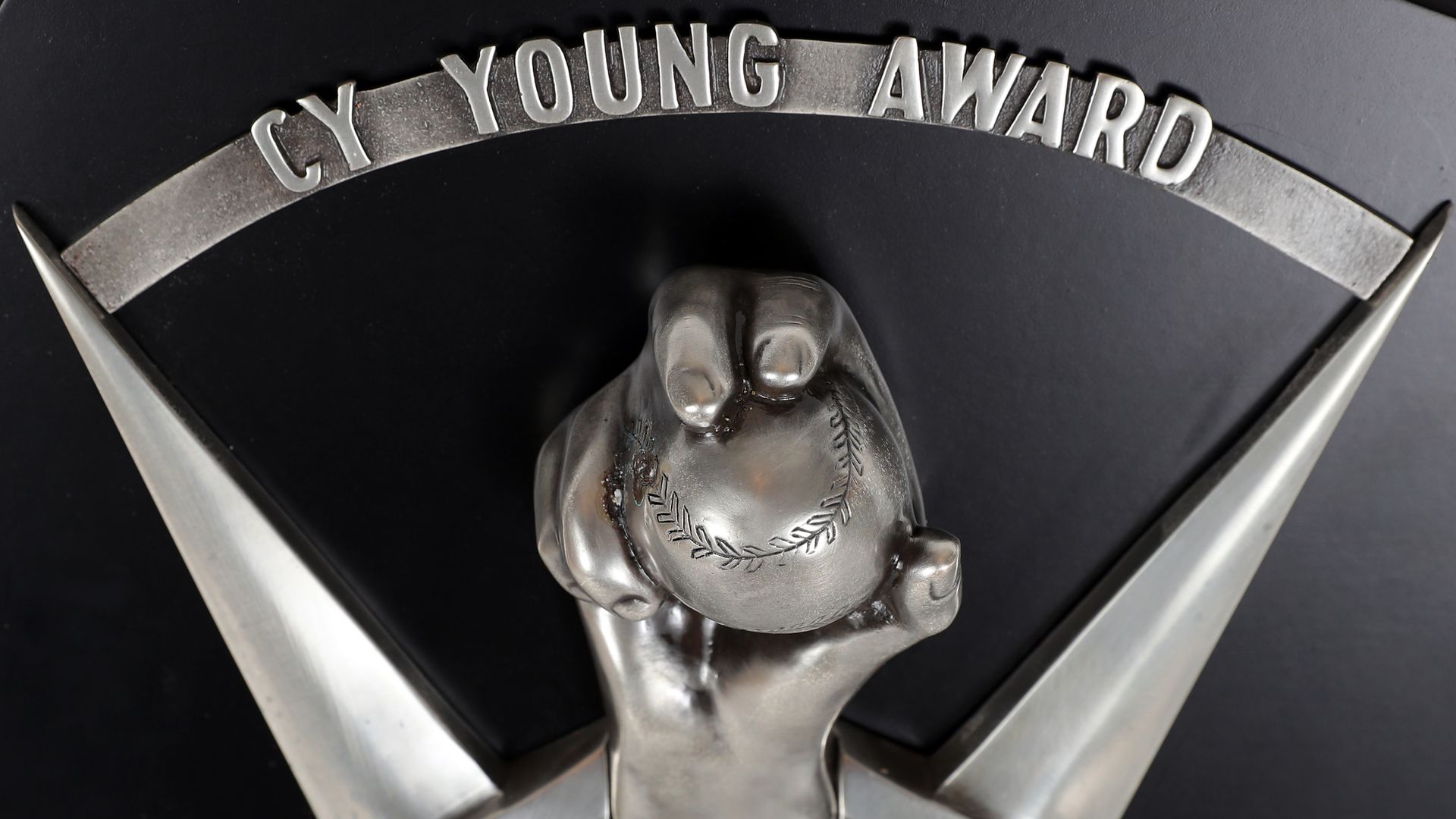 Five pitchers won at least two Cy Young Awards in the 1990s, comprising 13 of the 20 awards doled out in the decade. 
Question: Name those five pitchers.
Hint: Three 2-time winners, one 3-time winner and one 4-time winner.
Answer at the bottom.
10. ❤️ Why we love sports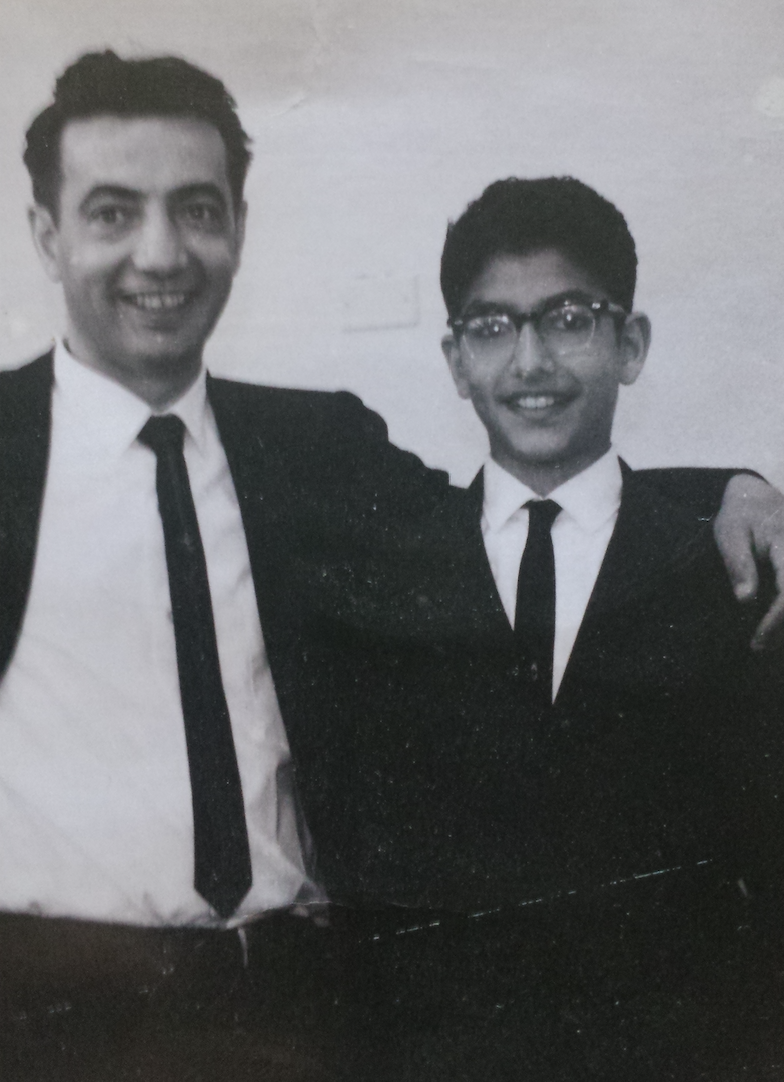 Jerome P. (Harlem, N.Y.) writes:
"Spring of 1957, a middle-class backyard in Waukegan, Illinois. I am a baseball-loving first-grader. I had found, left behind at a nearby grade school playground, a scarred old hard-rubber home plate. It was heavy, around half an inch thick.
"I dragged it home. I am standing next to it at the age of six, swinging a wiffle ball bat right-handed at pitches tossed underhand to me by my dad.
"Maybe it was a display of factual knowledge, or perhaps a case of just looking for something to say, but at one point in the afternoon's activity, the infallible father told the impressionable son, 'Y'know, if you batted lefty, you'd have a 38% greater chance of making the major leagues.'
"This advisement penetrated my six-year-old skull as powerfully and enduringly as anything the Oracle at Delphi ever said to Socrates.
"I looked down at the stolen rubber pentagon and solemnly, hopefully stepped across it, leaving the righties' box behind to take up permanent residence — along with Ruth, Williams, and Musial before me — in the lefties' box.
"I don't have too many memories of childhood, but that occasion stands out. And though I've yet to get a call from a big-league GM, I have never been back to the third-base side since."
✍️ Submit your story: Do you have a fondest sports memory? Or an example of sports having a positive impact on your life? If you'd like to share, simply reply to this email. We'll be telling your stories until they run out.
Talk tomorrow,
Kendall "Sad" Baker
Trivia answer: Greg Maddux (4x), Roger Clemens (3x), Randy Johnson (2x), Pedro Martinez (2x), Tom Glavine (2x)