Good morning! We're hosting a March Madness bracket and you're invited.
How it works: Enter your email here to receive a unique referral link. Once you sign up one friend for Axios Sports, you will both gain access to the contest.
Winner gets: Fanatics apparel item up to $200 in value (jersey, sweatshirt, etc).
P.S. We're also re-launching our daily prediction contest today. Check it out at the bottom of the newsletter.
1 big thing: 🏀 The women's bracket is out and UConn is a No. 2 seed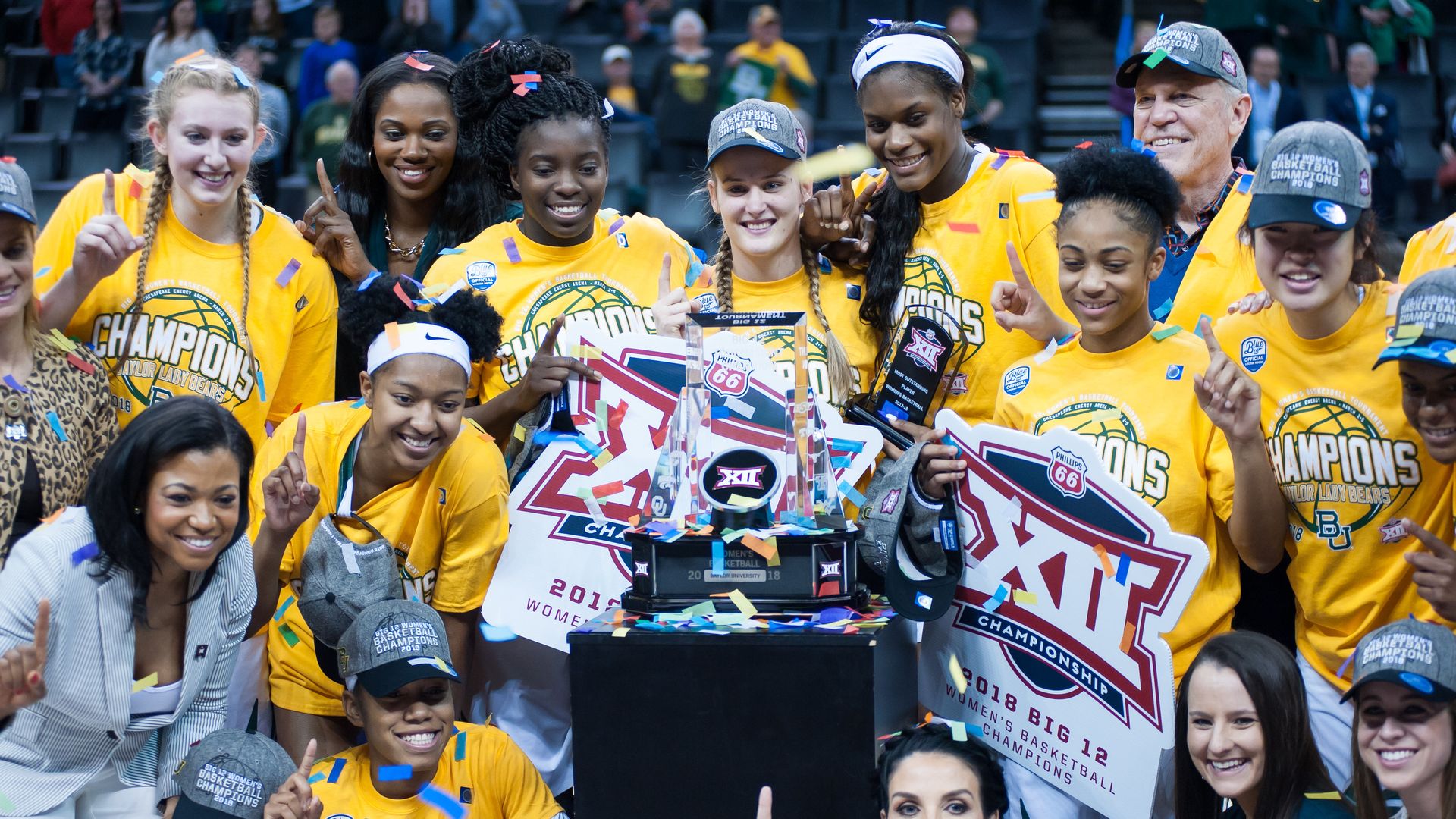 The last time the NCAA women's basketball tournament felt this wide open was in 2006, which is also the last time UConn wasn't a No. 1 seed.
The Huskies missed out on a top seed due to their weak strength of schedule (31st) and losses to Baylor and Louisville, the latter of whom is in their region. Talk about bulletin board material for a program that has rarely needed any. Pray for Towson, their first-round opponent.
Quickly:
No. 1 seeds: Baylor (No. 1 overall), Mississippi State, Notre Dame, Louisville
Last four in: Auburn, Indiana, Tennessee, UCF
First four out: Arkansas, James Madison, Ohio, TCU
First-round: The action tips off on Friday at noon ET, when Louisville takes on Robert Morris.
Best streak: Tennessee (19-12) snuck into the field despite a down season and has now made the tournament 38 years in a row.
Best matchup: No. 5 Rice and No. 12 Marquette will be fun. Marquette has the nation's fourth best offense at 82.9 points per game, but Rice only allows 52.8 points. Something's gotta give.
Who to watch: Hopefully, by now, you've read about Bella Alarie — future WNBA superstar. Her Princeton Tigers play Kentucky on Saturday.
P.S. The schedule was set to be released on ESPN at 7pm ET, but it was leaked nearly four hours early by ... ESPN. They scooped themselves.
2. ⚽️ Revamped Champions League would change soccer as we know it
European soccer clubs will meet with UEFA today to discuss radical changes to the Champions League that would favor the continent's richest teams and make it harder for smaller teams to qualify, the Wall Street Journal reports.
Why it matters: The Champions League is the most prestigious tournament in club soccer, drawing a massive global audience and paying out tens of millions of dollars to participating teams. Any changes to its format would be felt throughout the soccer world.
Proposed changes:
A new system that would see just four teams relegated each year and help ensure that the biggest clubs are always involved. (Under the current format, teams qualify based on where they finish in their domestic league standings, which means even super-clubs can miss the cut if they have a down year.)
Matches being moved from their midweek slots to the weekend.
More guaranteed matches. (Currently, a team that goes out in the group stage plays only six times.)
The big picture: For decades, there have been rumors that Europe's top clubs might break away from the current structure of club soccer and form their own "Super League."
That conversation heated up last fall when leaked emails showed that seven of them — Real Madrid, Barcelona, Bayern Munich, Juventus, AC Milan, Manchester United and Arsenal — had seriously explored the idea as recently as 2016.
The bottom line: While these proposed Champions League changes wouldn't create a separate "Super League," they would essentially turn the Champions League into one.
3. 🇯🇵 Japan's Olympic chief to step down amid investigation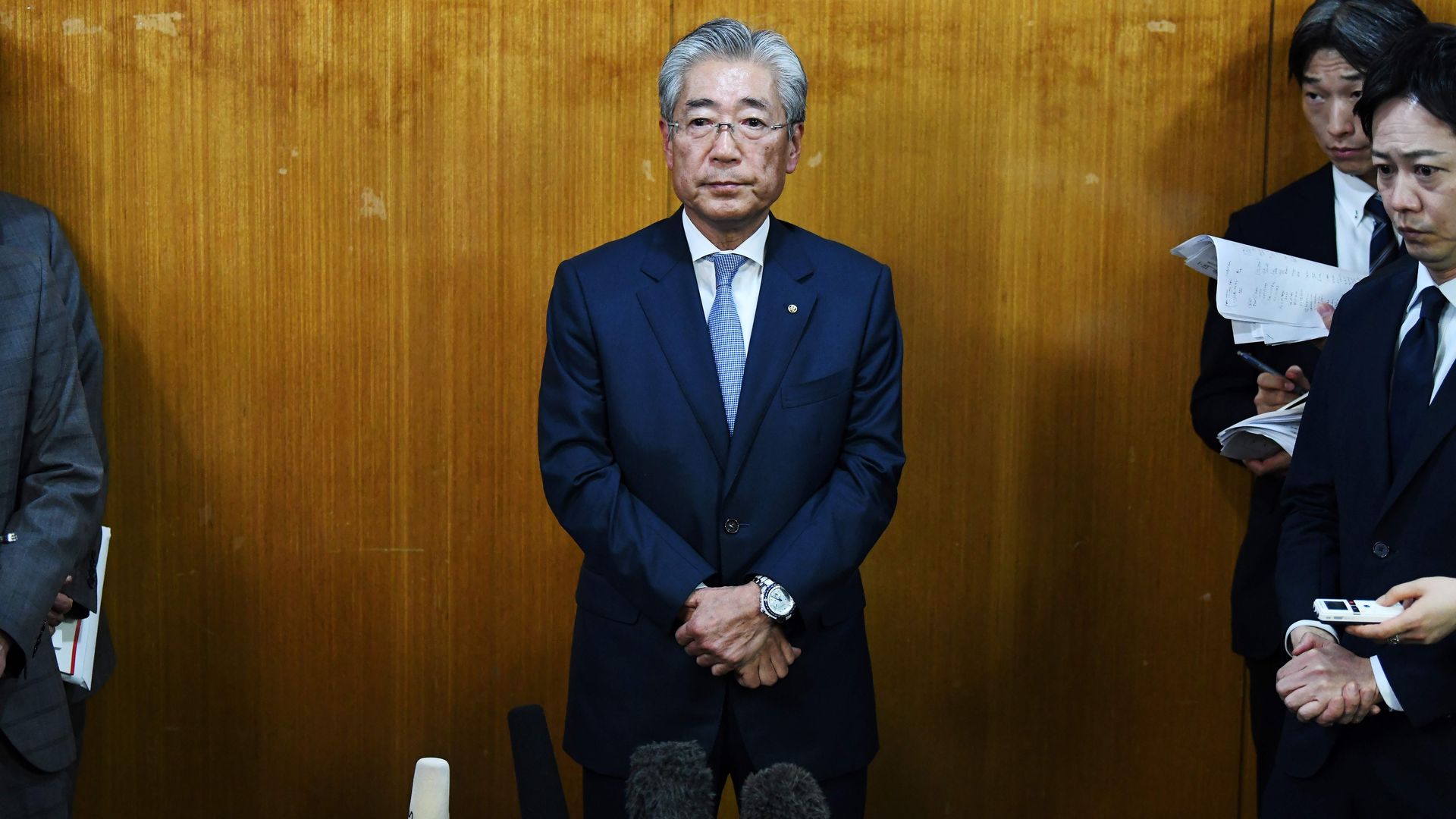 Japanese Olympic Committee chief Tsunekazu Takeda, who is under investigation for suspected corruption, will step down when his term ends this summer and resign from the International Olympic Committee.
Details: Takeda is suspected of paying bribes to secure the winning bid, though he claims he did nothing wrong (because of course he does).
Why it matters: The ongoing corruption probe has further damaged the credibility of the Olympics bidding process, and Takeda's departure leaves a dark cloud hanging over next year's Summer Games in Tokyo.
"Just as the 1964 Tokyo Olympics were intended

to show the world that Japan had arrived

as an economic power after its near destruction in World War II...
"[T]he 2020 Summer Games were supposed to be an opportunity to demonstrate the country's recovery from decades of economic stagnation and 2011's catastrophic earthquake and nuclear disaster," writes the NY Times' Ben Dooley. Now, the whole thing feels dirty.
The bottom line: Whenever there's a massive global sporting event on the horizon, there's a good chance that something sketchy went down behind the scenes. Welcome to planet Earth.
Heck, just last week, leaked documents revealed that Qatar secretly paid FIFA nearly $1 billion in bribe money to land the 2022 World Cup.
4. ⚾️ MLB home run leaders through the years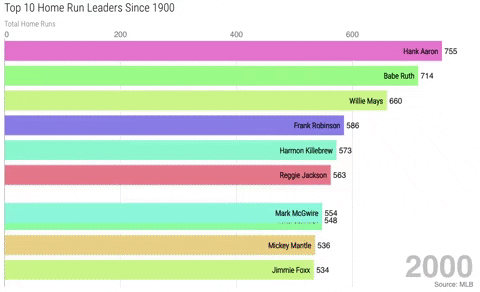 5. 💰 Your office pool is probably illegal
From Mike: Before you and your office buddies print out your brackets and start gathering cash from co-workers, we should warn you: this is technically illegal.
Here's why: It's a restriction on sports betting in the same way PASPA was, so each state has to affirmatively make pool betting legal.
Only 13 states have: Washington, Montana, Wyoming, Colorado, Arizona, Texas, Minnesota, Iowa, Alabama, Kentucky, Ohio, Connecticut and Maine.
The big picture: The American Gaming Assocation projects more than 40 million people will wager $4.6 billion on 149 million total NCAA tournament brackets this year. That's not even counting the billions that will be spent on entry fees.
40% of those entrants think office pools are legal and 38% of them are unsure. Only 22% know they're illegal, per research from the Mellman Group.
The bottom line: Don't worry, you aren't going to jail. Not for this, at least. We can't help you with that other thing.
6. 🏀 March 19, 1995: MJ returns to the hardwood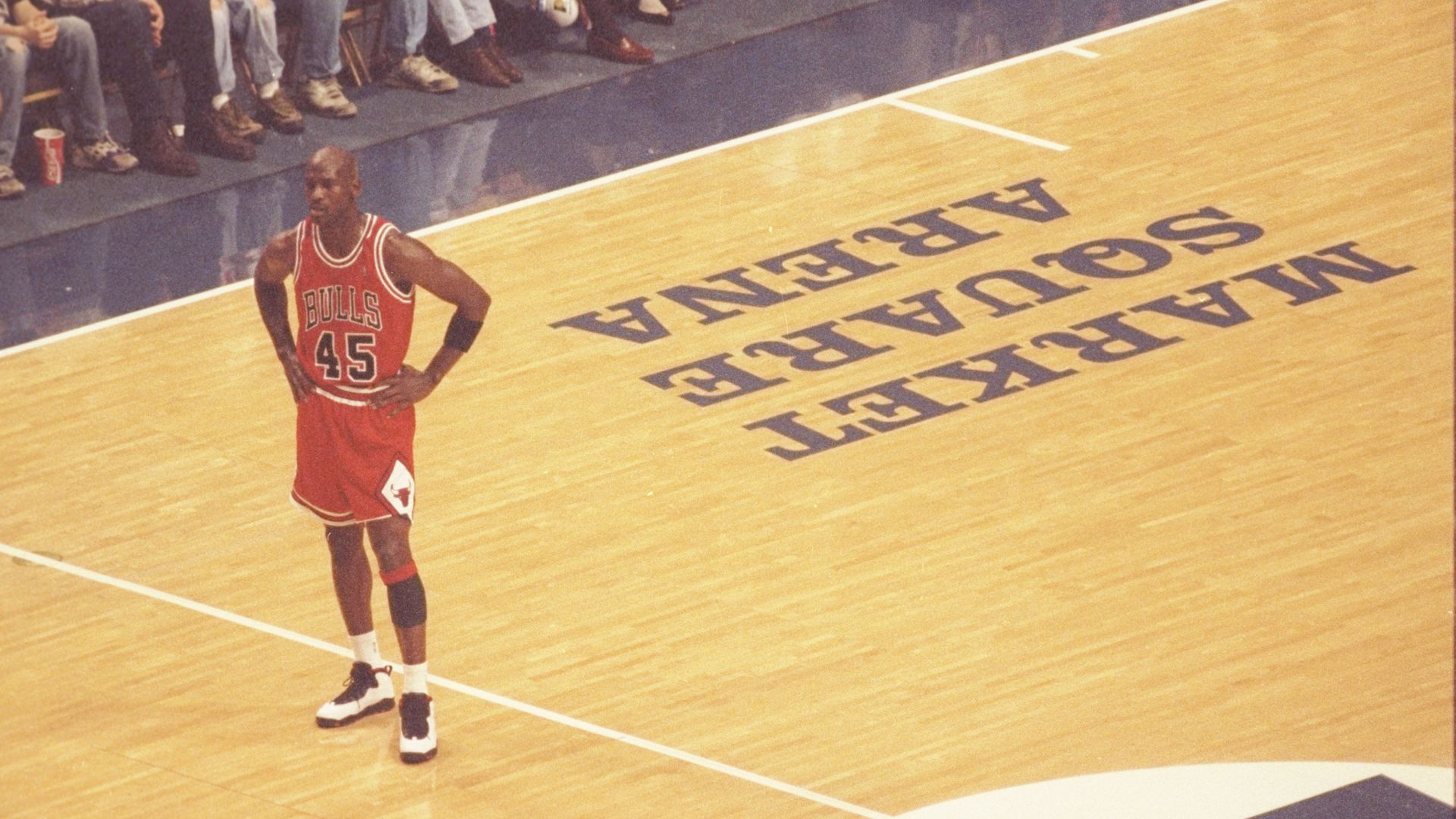 24 years ago today, Michael Jordan rejoined the Chicago Bulls starting lineup after nearly a year and a half away from basketball, putting up 19 points, 6 assists and 6 rebounds in a loss to Reggie Miller and the Indiana Pacers.
"The words did not have to be eloquent or poetic. They did not even have to be spoken, and weren't. They came Saturday in a crisp, two-word fax. 'I'm back.'" (Chicago Tribune) 
Go deeper:
7. 🏒 NHL trivia
The Tampa Bay Lightning clinched the Presidents' Trophy (best regular-season record) with a 4-1 win over the Arizona Coyotes last night.
Question: Who was the last team to win the Presidents' Trophy and the Stanley Cup in the same season?
Hint: It happened during the 2012-13 season.
Answer at the bottom.
8. The Ocho: The master of bass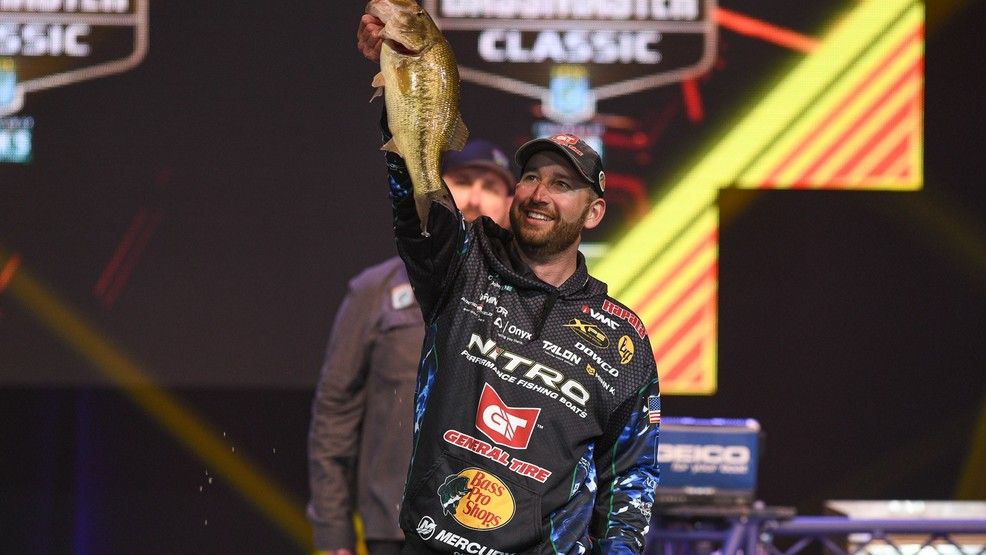 Ott Defoe won the Super Bowl of bass fishing this weekend. Photo via Bassmaster
You know what's better than winning the Bassmaster Classic? Doing it in your own backyard. That's what Knoxville native Ott Defoe did this weekend in the Tennessee River.
Defoe finished the three-day event with 15 fish on the line and a final weigh-in of 49 pounds and 3 ounces, taking home $300,000 in prize money for his efforts.
Fun fact: For the first 36 years of the Bassmaster Classic, no home-state angler claimed the top prize. Now it's happened four times in six years.
Watch: Bassmaster Classic history
9. ♜ "Talent is universal, even if opportunity is not"
"Much of the news of the last week has focused on wealthy families buying access to great universities ... There is no question that America is a tilted playing field that gives wealthy children huge advantages," the NY Times' Nicholas Kristof writes:
"So we should all grin along with Tanitoluwa Adewumi, the newly crowned chess champion for kindergarten through third grade. He went undefeated at the [New York] state tournament last weekend, outwitting children from elite private schools with private chess tutors."
"Tani is a reminder that refugees enrich this nation — and that talent is universal, even if opportunity is not. Back in Nigeria, his parents say, his brilliance at chess would never have had an outlet."
10. 🎰 Axios Pick 3: Make your picks!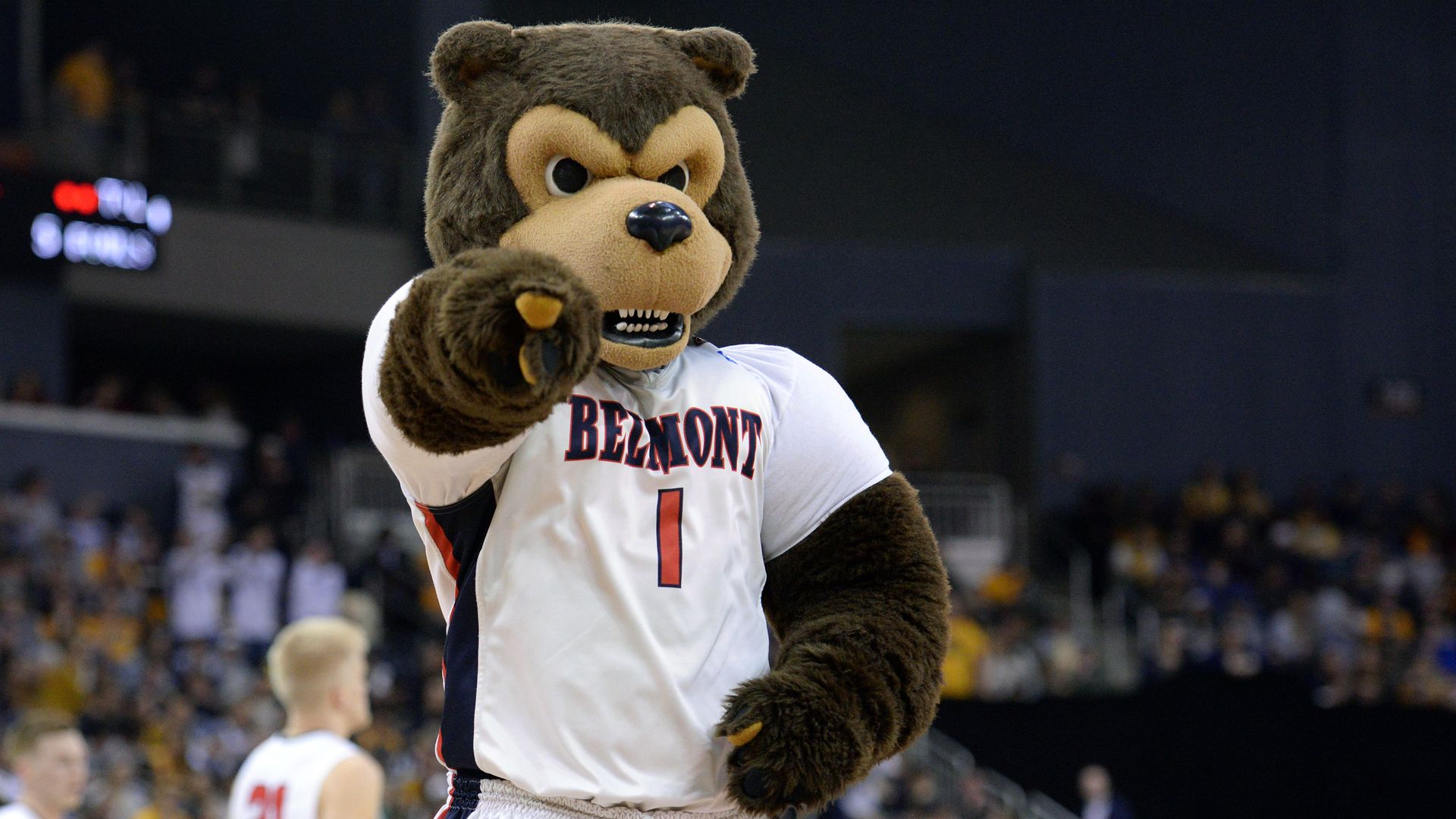 Welcome to Axios Pick 3, our new-and-improved daily prediction contest powered by The Action Network (download the app).
Each morning, you'll have the opportunity to predict what will happen in that evening's games. Winners get prizes (this week: Axios swag).
Ready? Let's do this...
1. Which team will cover the spread in the Prairie View A&M-Farleigh Dickinson (-2) game?
Betting 101: Farleigh Dickinson is a two-point favorite, so they must win by more than two points to cover the spread. Prairie View A&M is a two-point underdog, so they must lose by fewer than two points (or win) to cover.
How to watch: 6:40pm ET (truTV)
2. Will Temple-Belmont go Over or Under 155.5 total points?
Betting 101: By choosing the "Over," you're predicting that these two teams will combine for at least 156 points. By choosing the "Under," you're predicting that they will combine for 155 points or fewer.
How to watch: 9:10pm ET (truTV)
3. Will any player score 30 or more points in the play-in games tonight?
Know this: 30-point games this season: Belmont (9), Temple (3), Prairie View A&M (2), Farleigh Dickinson (2).
Thanks,
Kendall "The master of catching zero fish" Baker
Trivia answer: Chicago Blackhawks