Axios Sports
May 20, 2020
👋 Good morning! Let's sports.
Today's word count: 1,646 (6 minutes).
1 big thing: 💡 Women's sports, reimagined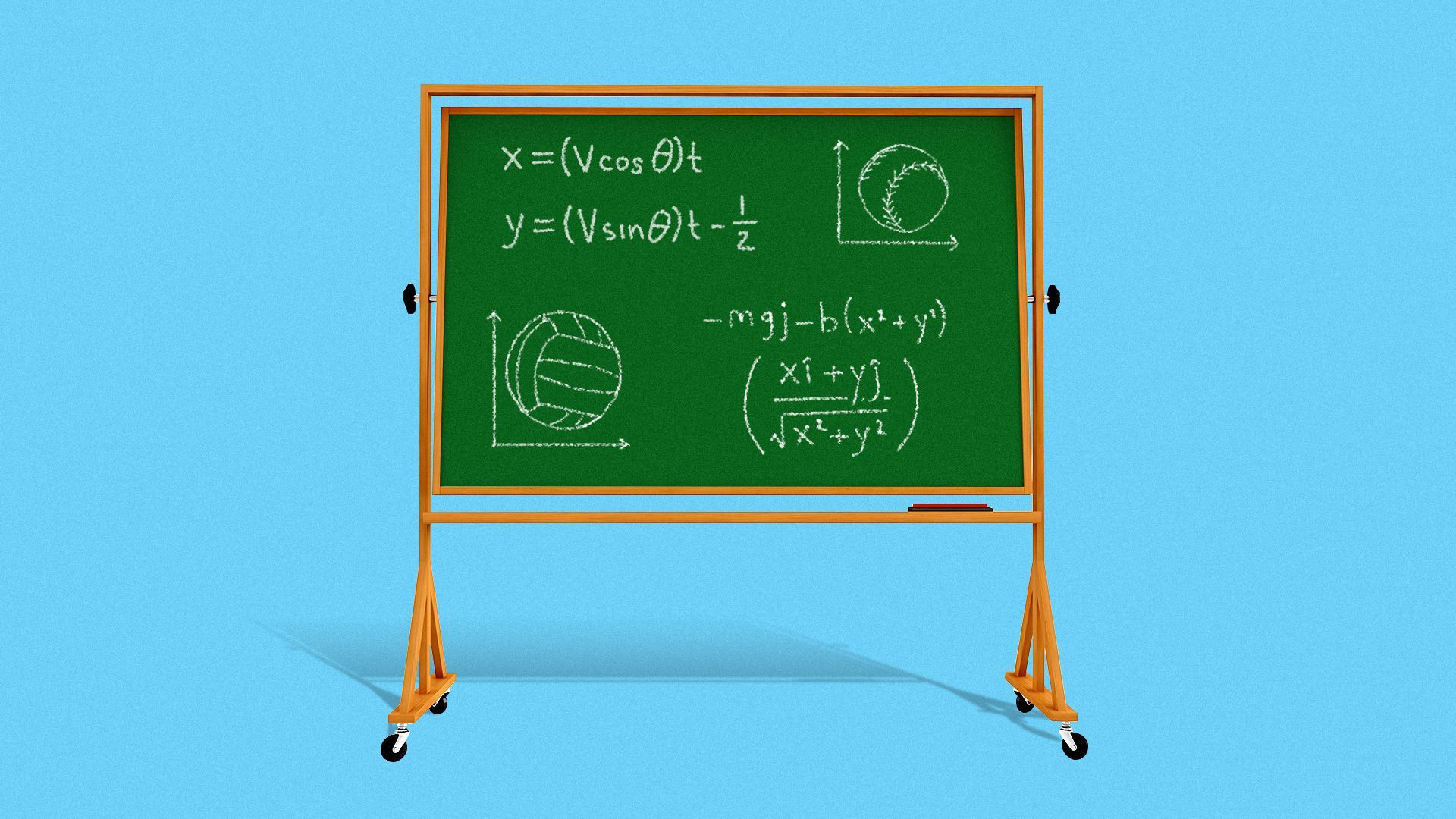 Athletes Unlimited is a new network of leagues that hopes to reinvent women's sports by bucking the traditional city-based model in favor of a more modern approach.
Driving the news: The plan is to launch three women's leagues over the next three years, beginning with softball, which will debut this August in Chicago, and volleyball, which will debut next February (location not announced).
The founders: Jon Patricof, former president of NYCFC and former COO and president of Tribeca Enterprises (operates the Tribeca Film Festival), and investor Jonathan Soros, son of billionaire George Soros.
How it works: Women's sports leagues have typically mirrored their respective men's leagues, but Athletes Unlimited replaces the "pink it and shrink it" strategy with a reimagined model that leans into modern fandom (think: fantasy sports and athletes being more popular than teams).
Single market: Unlike most leagues, where teams are city-based, Athletes Unlimited teams will have no city affiliation and each season will take place in a single location.
Short seasons: Seasons will last just six weeks.
Dynamic rosters: Rosters will be selected weekly by captains, so players will constantly change teams.
Fantasy-style scoring: Athletes will accumulate points for team victories and individual performances and be compensated based on where they sit in the points-based rankings.
Player governance and profit-sharing: Athletes will be heavily involved in decision-making, and investors have agreed to cap their financial returns, meaning the vast majority of profits will go towards players.
🎙 Interview: I spoke with Patricof about how Athletes Unlimited was born and what fans can expect moving forward.
KB: What was the impetus behind starting Athletes Unlimited?
"Two things: We think there are huge opportunities in women's sports, and we also think there's a new way to create sports leagues that addresses the structural and cost inefficiencies that come with trying to be in multiple cities, especially when you have to rent stadiums."
KB: Why softball and volleyball?
"We looked for sports with a proven following and an existing landscape that would allow us to attract the top players in that sport.
"Softball has had huge success at the collegiate level, and the viewership numbers on ESPN have been impressive. As for volleyball, more high school girls play volleyball than basketball and 900 million people play it worldwide. There's a massive opportunity."
KB: What is the single biggest advantage of this model?
"Storytelling. Athletes will be in the same market for six weeks, so we're with them for the course of 42 days and we see every one of those days as an opportunity to capture and create content, both on and off the field.
"I'm a big believer in making sports culturally relevant, so we're thinking about food, we're thinking about music, we're thinking about film, and how we integrate all of that."
KB: How will COVID-19 impact softball's launch in August?
"In Chicago this summer, we're going to heavily limit interaction. No fans will be permitted at practices or games, and we're taking everything we were going to do on-site — youth clinics, things like that — and moving it online."
What to watch: Patricof says the focus for now is on women's sports, but that he and Soros believe this model is the future of team sports more broadly (outside of the big four), and that they could ultimately expand to men's sports, as well.
Go deeper:
2. ❤️ Sports figures we've lost to the coronavirus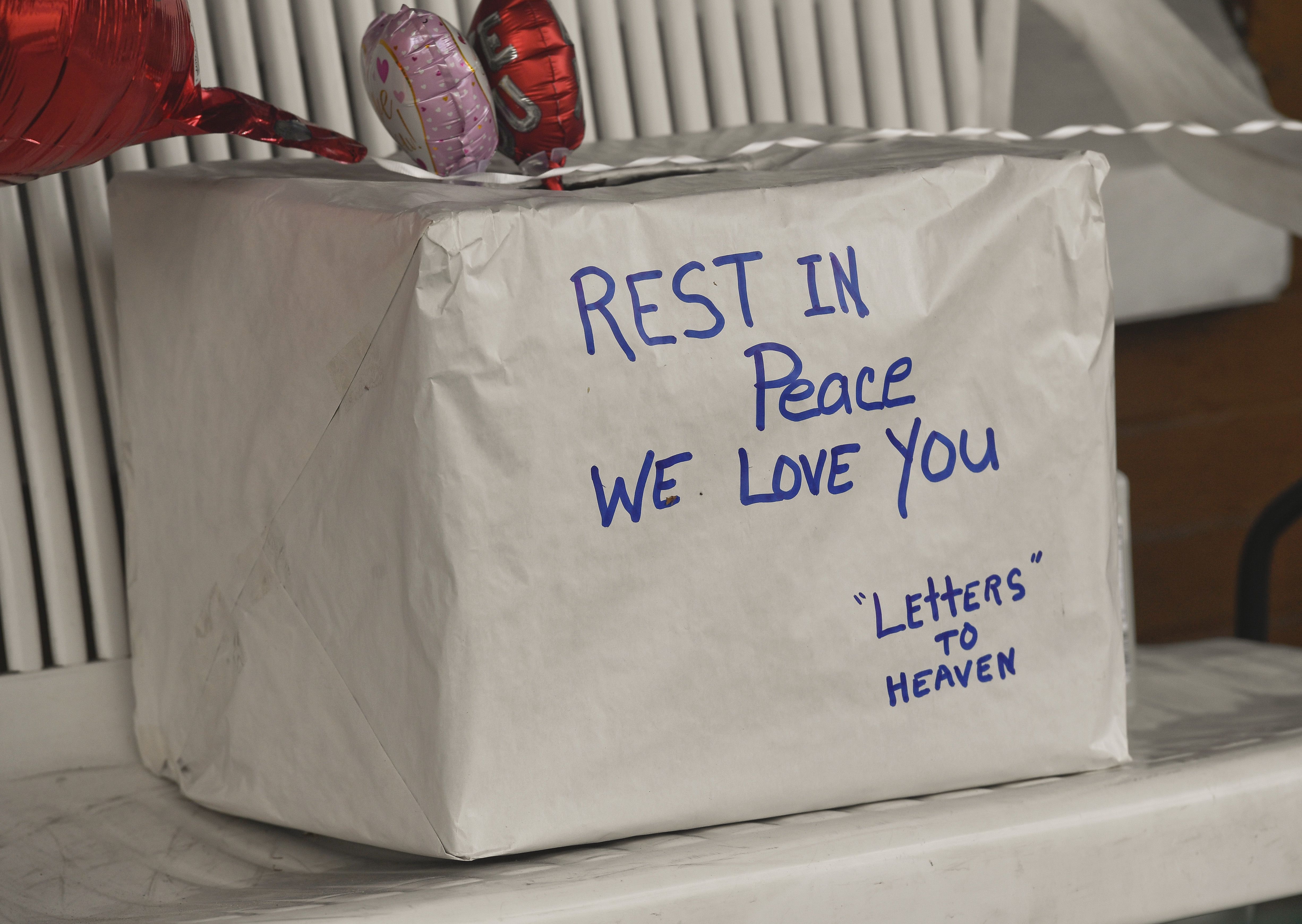 Here are some of the athletes and other sports-related figures we've lost to COVID-19. May they rest in peace.
Jackie Paisano, 16 (Colorado): A Denver-area high school student and Special Olympic athlete, who was profiled in a 2019 ESPN feature about inclusiveness.
David Edwards, 48 (New York): A star point guard for Texas A&M in the early 1990s, who remains one of six players in D-I history to record a triple-double in consecutive games.
3. 🎓 Academic performance by sport
The NCAA released its annual Academic Progress Rate (APR) report on Tuesday, which offers a snapshot of academic performance over a four-year span.
How it works: 1,000 is the top score, and programs are penalized with reduced scholarships and postseason bans if they dip below 930 — a score that predicts a 50% graduation rate.
Men's D-I sports: Golf, ice hockey and lacrosse have the highest four-year APRs, while FBS football, basketball and FCS football have the lowest.
Women's D-I sports: Gymnastics, lacrosse and swimming have the highest four-year APRs, while softball, track and field and basketball have the lowest.
Go deeper: APR results cost 15 D-I programs postseason ban (ESPN)
4. ⚽️ Soccer clubs return to the pitch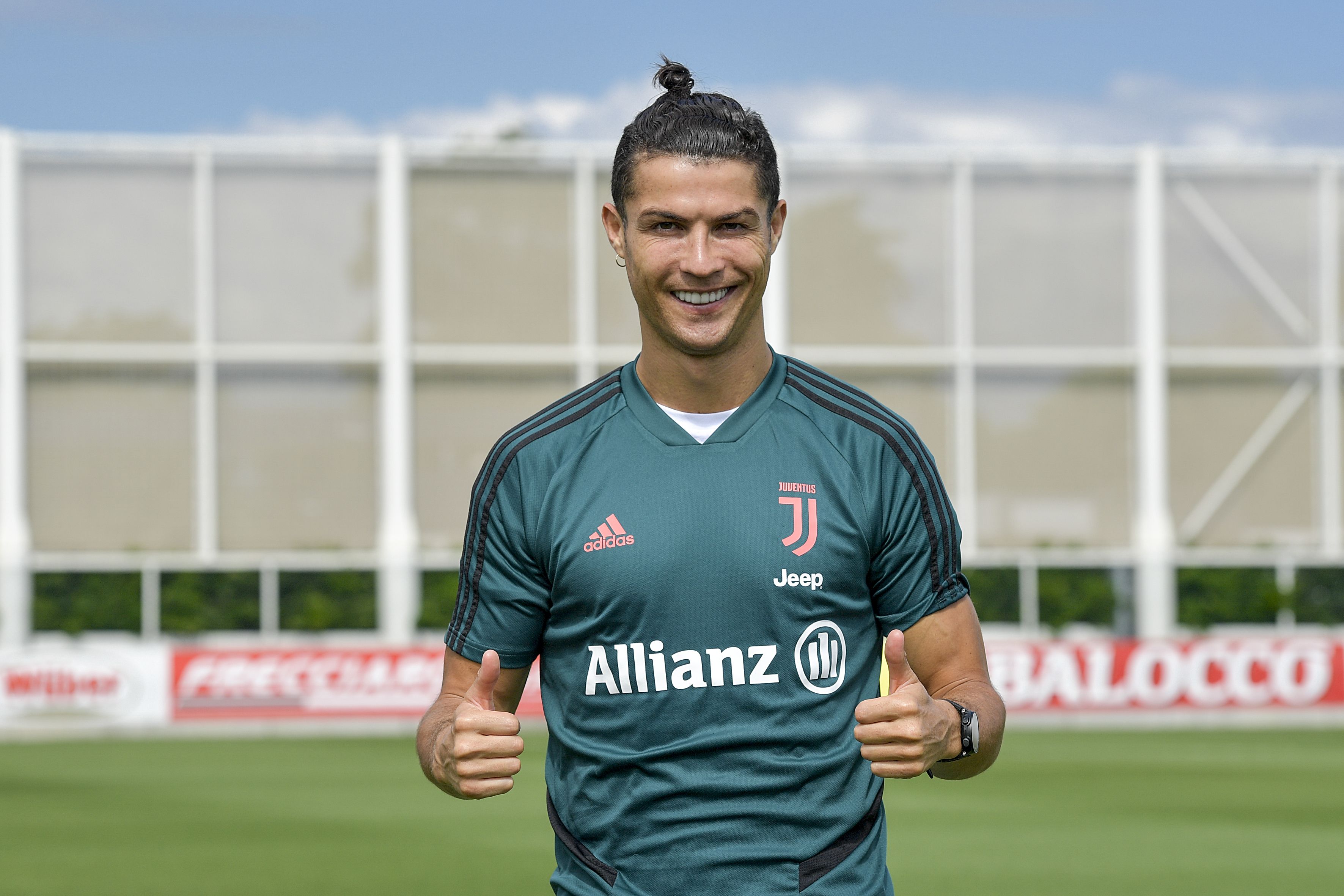 TURIN, Italy — Juventus' Cristiano Ronaldo poses for a photo during a training session.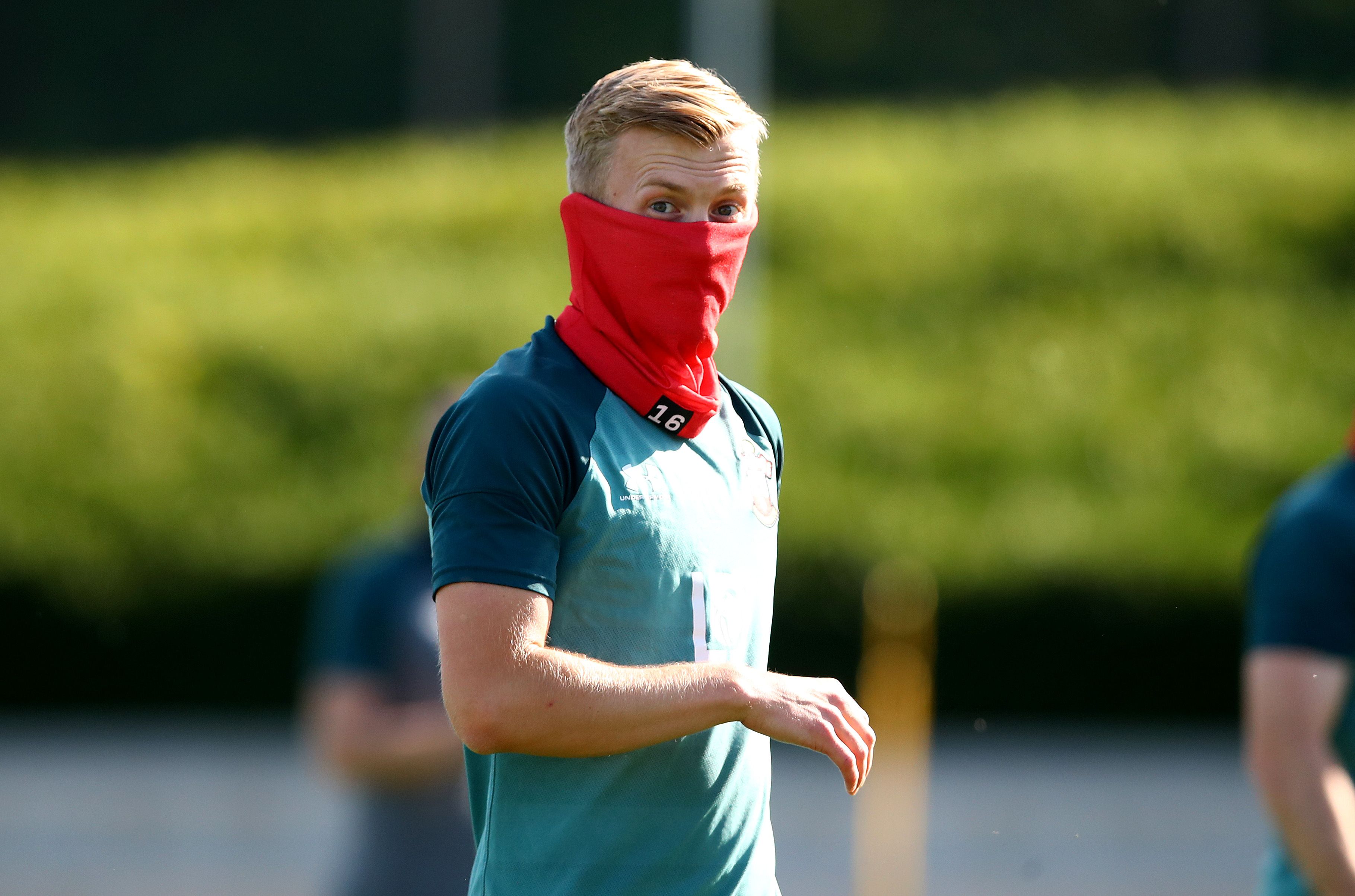 SOUTHAMPTON, England — Southampton's James Ward-Prowse wears a mask during training.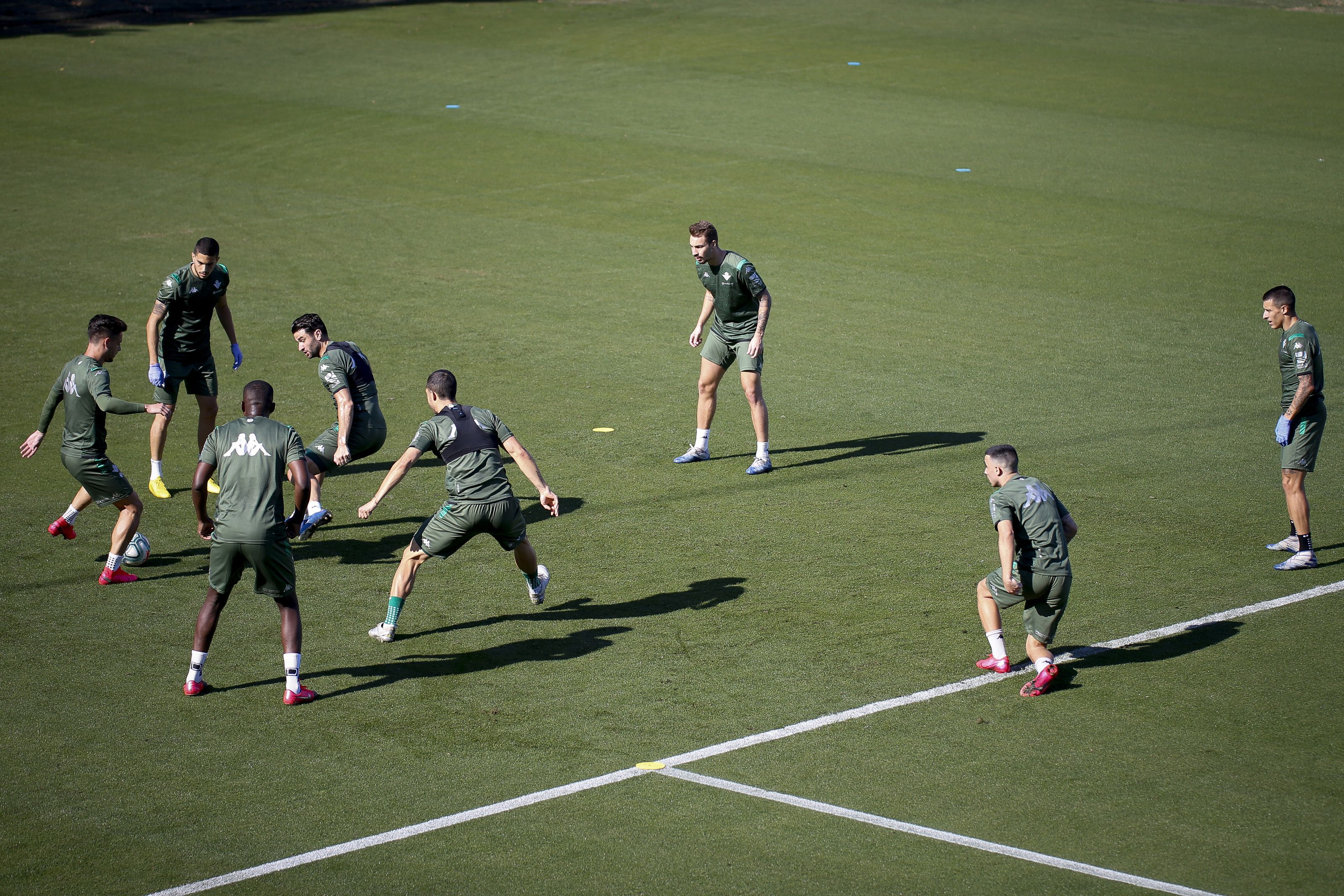 SEVILLE, Spain — Real Betis players compete during a training session, which was limited to groups of 10 players.
The latest: 197 people will be permitted to attend each match when La Liga returns (tentative date: June 12).
5. ⚾️ Ranking MLB's all-time rosters (No. 20)
We're ranking the all-time rosters for all 30 MLB teams. Note: Rosters based only on time spent with this specific team. Thoughts? Email me at [email protected].
20. Baltimore Orioles
We all know Cal Ripken's biggest claim to fame is his consecutive games streak (2,632), but focusing on that sells short just how dominant he was on the field. His nine-year peak (age 22-30) saw him average 7.2 WAR, 34 2B, 26 HR and 94 RBI while winning two MVPs, one of which was an 11.5 WAR season — the 11th best ever for a position player.
Year established: 1901
All-time record: 8,768-9,728 (.474)
World Series Championships: 3
Hall of Famers (indicated by *): 8
Starting lineup:
DH George Sisler* (52 bWAR with team)
OF Ken Williams (40.3)
SS Cal Ripken Jr.* (95.9)
OF Frank Robinson* (32.4)
1B Eddie Murray* (56.5)
2B Bobby Grich (36)
OF Adam Jones (32.2)
3B Brooks Robinson* (78.4)
C Chris Hoiles (23.5)
On the mound: SP Jim Palmer* (68.5)
Bench:
Infield: 2B Brian Roberts (28.8), 3B Harlond Clift (39.6), SS Bobby Wallace* (48.5), C Rick Dempsey (21.2)
Outfield: Brady Anderson (34.9), Paul Blair (39.7), Ken Singleton (30)
Utility: Boog Powell (35.4), Rafael Palmeiro (24.4)
Rotation: Mike Mussina* (47.8), Urban Shocker (41.3), Jack Powell (32.9), Dave McNally (25.3)
Bullpen: Gregg Olson (11.6), Zack Britton (11.3), Stu Miller (11.9)
Additional notes:
Palmer is one of just two pitchers (Sandy Koufax) to win three Cy Young Awards and three World Series.
Britton holds the record for the lowest single-season ERA ever for a pitcher with at least 65 IP (0.54 in 2016).
Jack Powell did his best to prove the uselessness of pitcher wins as a stat, compiling a 117-143 record across 10 seasons despite sporting a 2.63 ERA.
Huge thanks to Tom Stone, whose book 'Now Taking the Field: Baseball's All-Time Dream Teams for All 30 Franchises,' provided the inspiration for these rosters.
6. May 20, 1972: 🏀 Pacers win second ABA title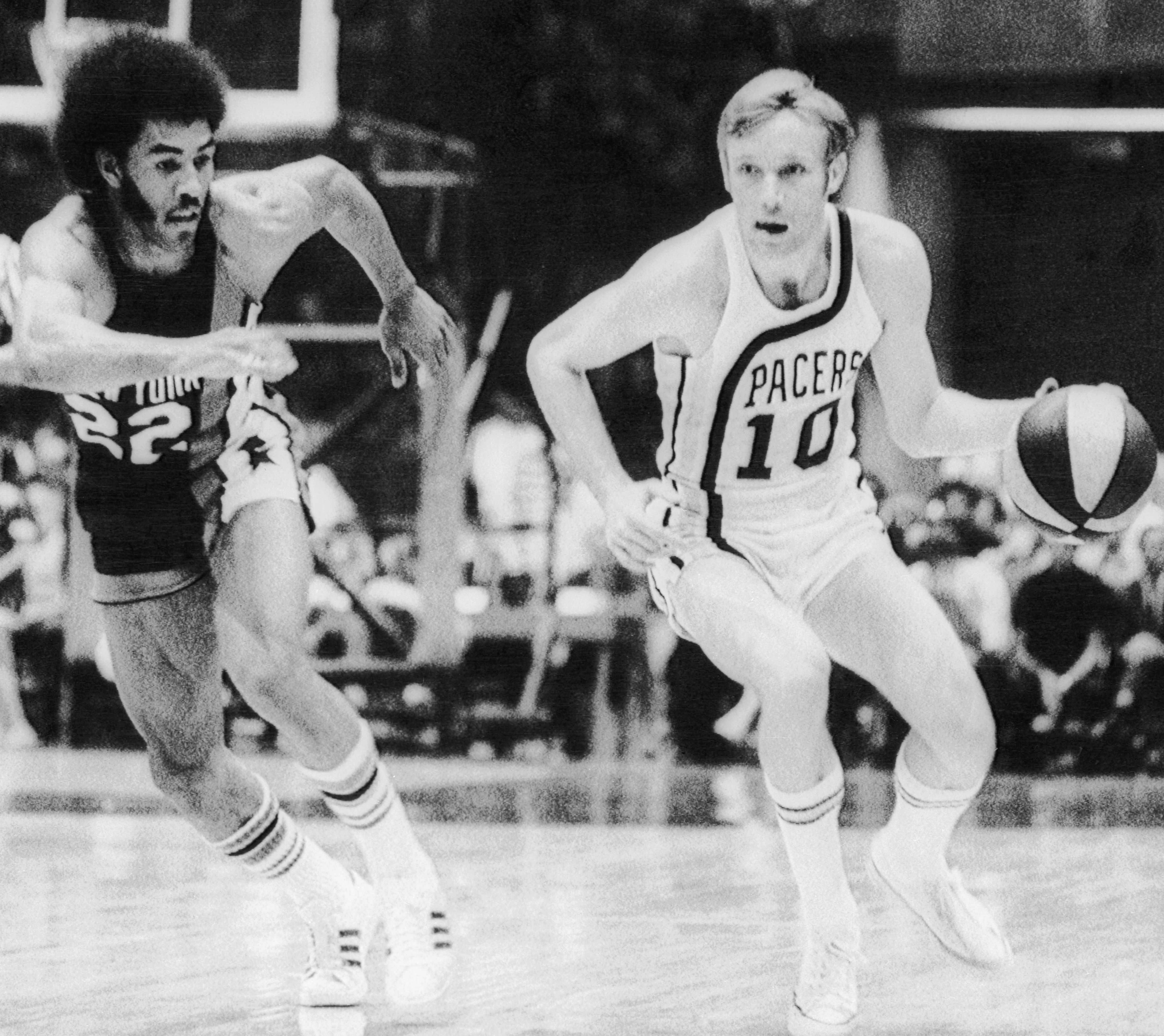 48 years ago today, the Indiana Pacers defeated the New York Nets, four games to two, to win their second American Basketball Association (ABA) title.
The Pacers repeated as champions the following season, staking their claim as the most decorated franchise in ABA history.
ABA Finals by year:
1968: Pittsburgh Pipers def. New Orleans Buccaneers (MVP: Connie Hawkins)
1969: Oakland Oaks def. Indiana Pacers (Warren Jabali)
1970: Indiana Pacers def. Los Angeles Stars (Roger Brown)
1971: Utah Stars def. Kentucky Colonels (Zelmo Beaty)
1972: Indiana Pacers def. New York Nets (Freddie Lewis)
1973: Indiana Pacers def. Kentucky Colonels (George McGinnis)
1974: New York Nets def. Utah Stars (Julius Erving)
1975: Kentucky Colonels def. Indiana Pacers (Artis Gilmore)
1976: New York Nets def. Denver Nuggets (Julius Erving)
The big picture: Following the 1976 season, the NBA and ABA merged, with the NBA agreeing to accept four of the remaining six ABA teams: the Nuggets, Pacers, Nets and San Antonio Spurs.
The remaining two ABA teams, the Colonels and the Spirits of St. Louis, folded, and their players entered a dispersal draft.
🎥 Watch: The life and times of the ABA (YouTube)
7. 💦 Gatorade through the years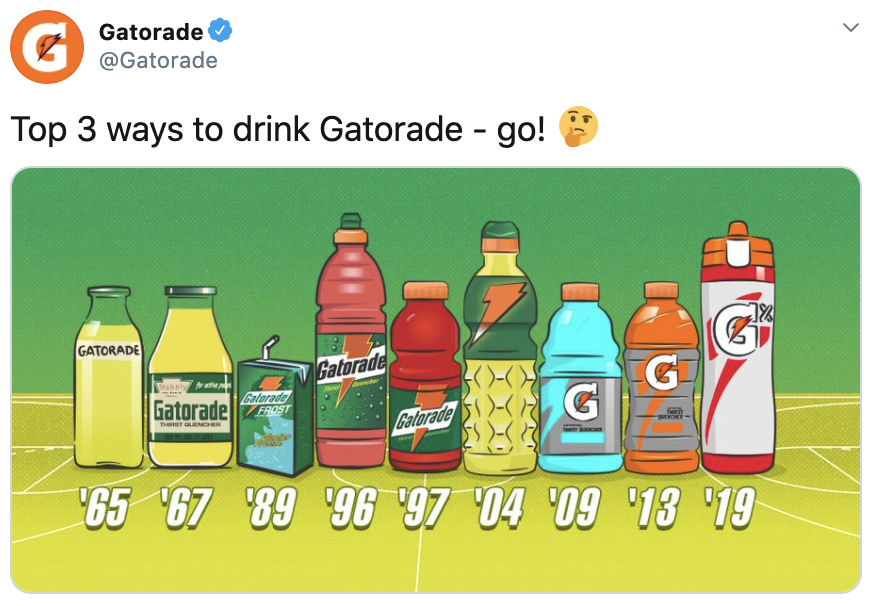 The top 3:
8. The Ocho: ✈️ Racing model aircrafts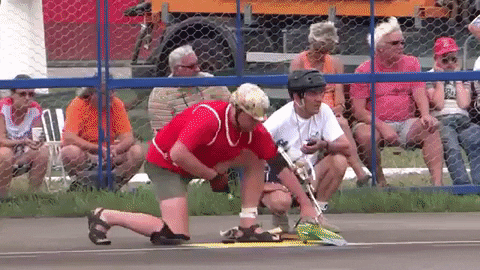 I have reached peak "Ocho." Apparently, this is called "control line flying," in which a model aircraft is connected to an operator by a pair of control lines/cables.
Please enjoy (without getting too dizzy).
9. 🏈 NFL trivia
The last time an AFC player won NFL Offensive Rookie of the Year was all the way back in 2006, which is nuts.
Question: Can you name that player?
Hint: AFC South QB.
Answer at the bottom.
10. ❤️ Why we love sports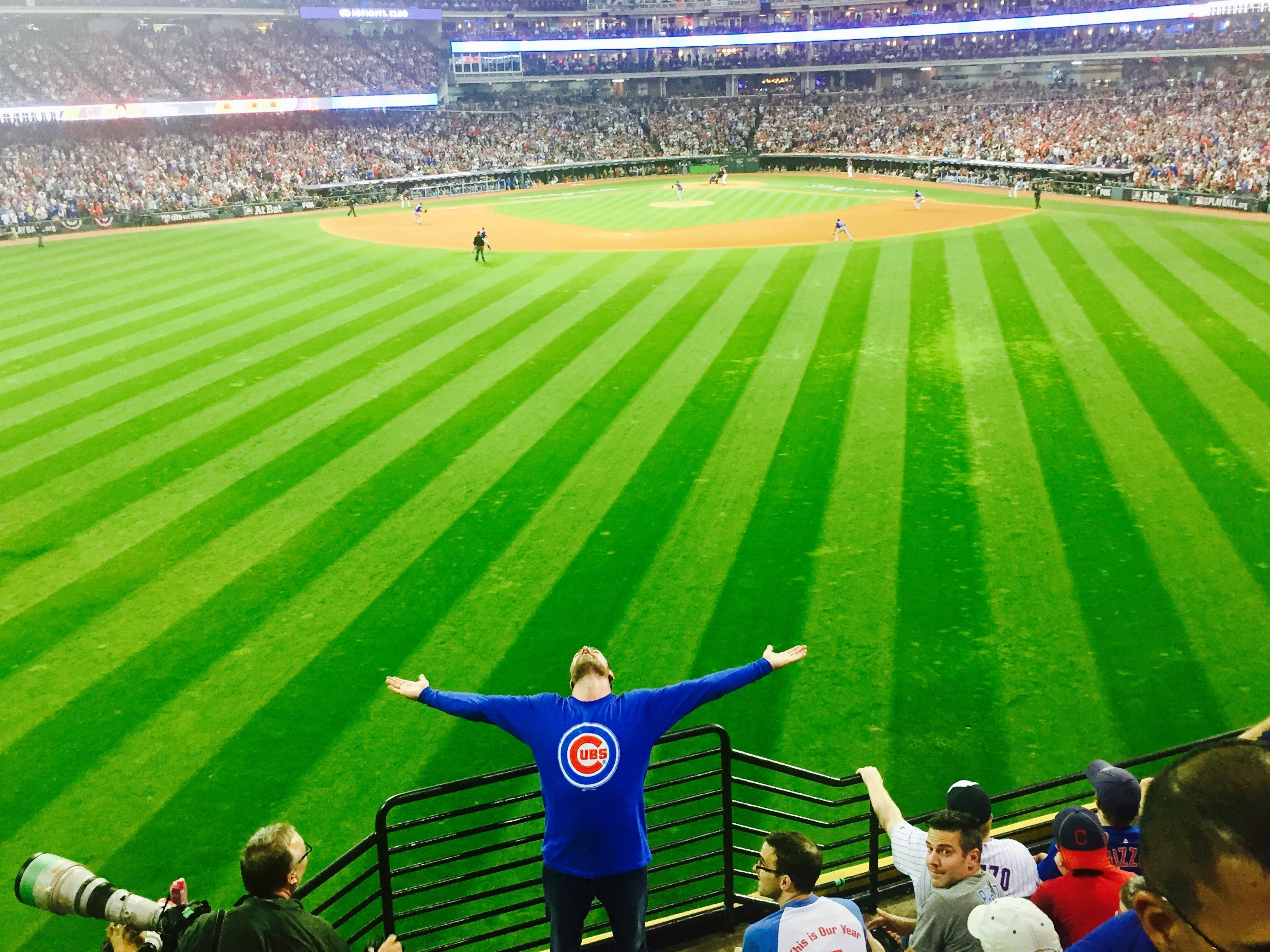 Corey R. (Columbus, Ohio) writes:
"In 2016, the Cubs and Indians met in the World Series, and I made the trips to Chicago and Cleveland just to be outside of the stadiums for each game, taking in the fanfare. What a week!
"On Wednesday night, I'm sitting in a bar across the street from Progressive Field watching the game with a few friends. In the 6th inning, I said 'Let's go. We're getting in.'
"Long story short, the three of us made it in and watched from the outfield fence. I asked my buddy to snap a photo of me doing my pose 'The Corey,' and while he took the picture an AP photographer snapped one of his own.
"Later on, the photographer informed me that his photo was getting picked up all over the country by various media outlets.
"Not only did I get to witness history and see my beloved Cubs finally break the curse (and in extra innings in Game 7!!), but I forever became immortalized in Cubby history."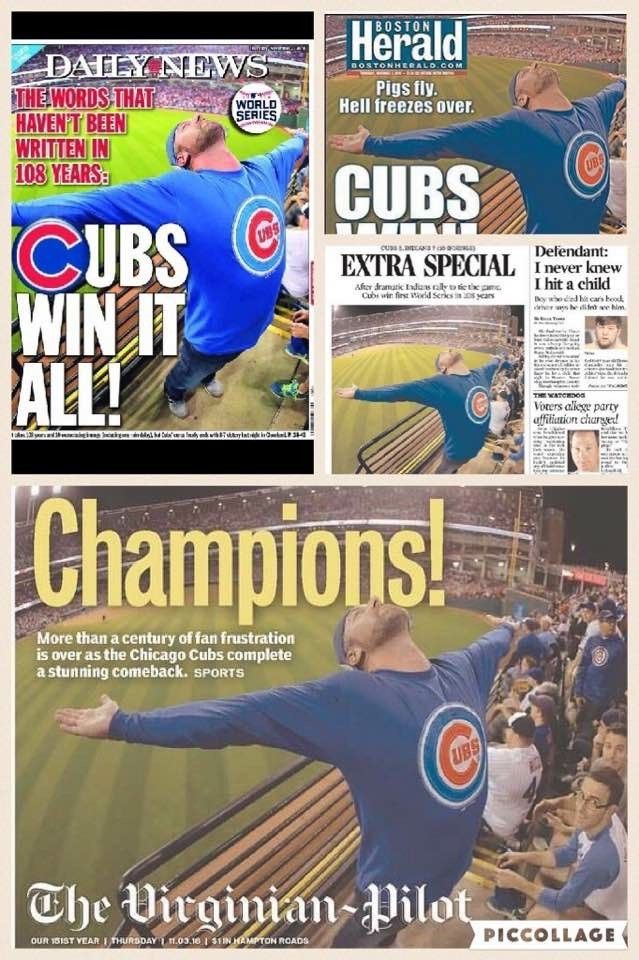 ✍️ Submit your story: Do you have a fondest sports memory? Or an example of sports having a positive impact on your life? If you'd like to share, simply reply to this email. We'll be telling your stories until they run out.
Talk tomorrow,
Kendall "Go O's" Baker
Trivia answer: Vince Young