🏀 Good morning! With the 2019-20 NBA campaign set to tip-off this evening, I've put together a full season preview for ya.
Tonight's double-header: Pelicans vs. Raptors at 8pm ET, followed by Lakers vs. Clippers at 10:30pm ET. Both games on TNT.
Meanwhile, over on Fox: A little something called the World Series begins in Houston at 8pm ET. Gerrit Cole vs. Max Scherzer.
Question: What do people who don't watch sports do with their lives?! I seriously don't understand.
Today's word count: 1,385 words (5 minutes).
1 big thing: 🦄 The year of the unicorn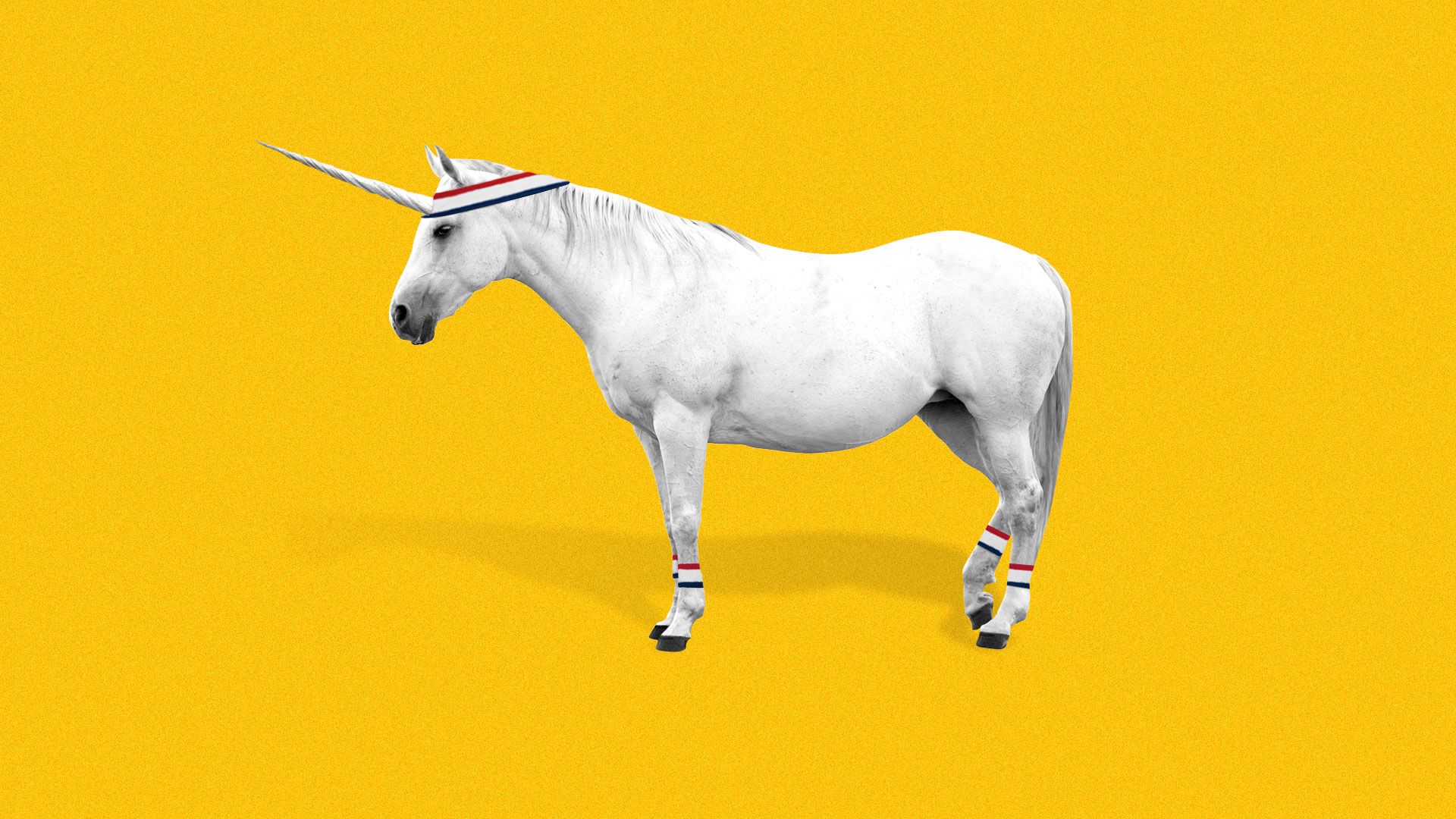 Unicorns have roamed NBA pastures for years, transforming the sport of basketball with their unique blend of size, skill and athleticism.
The intrigue: These generational big men have started to come of age, graduating from "he's going to be an MVP candidate one day" to, well, MVP candidates.
They're no longer the future of the league — they're the present. And now that their respective teams have had ample time to build rosters around them, these unicorns could define the 2019-20 season.
The unicorns:
Giannis Antetokounmpo
Anthony Davis
Nikola Jokic
Joel Embiid
Kristaps Porzingis
Karl Anthony-Towns
Ben Simmons
By the numbers: In 2015-16, there were zero players 6-feet-10-inches or taller who were used as the ball handler in the pick-and-roll at least 200 times. By 2017-18, there were 3 (Antetokounmpo, Simmons, Kevin Durant).
Heck, Blake Griffin was used in 300 such possessions last year — proof that this paradigm shift extends beyond even the unicorns, themselves (or perhaps Griffin should also be considered one now that he's transformed his game).
Jokic has recorded triple-doubles at a faster rate than any center in history, and after averaging 7.3 assists per game last season, he's closing in on Wilt Chamberlain's record for highest per-game average by a center (8.6).
Towns has been used as a primary ball handler and playmaker in summer workouts, per The Athletic, and is poised to become more Jokic-like now that Tom Thibodeau and his archaic philosophies are long gone.
The big picture: The rise of the unicorn is about far more than the talents of those individuals. Their versatility has changed the rules of the game, allowing teams to play "small-ball" with a slew of big men.
Judging by size, we'll see lineups this season that look like they belong in the 1990s, when basketball was dominated by physical, low-post play.
But judging by skill, the comparison falls flat. These 7-footers can shoot. They can dribble. They're gazelles. Heck, they're Monstars.
Prime examples: The Sixers will have 3 players 6-feet-10-inches or taller in their starting lineup (Simmons, Embiid, Al Horford), while the Lakers have discussed a "jumbo lineup" featuring LeBron James at the 2, Davis at the 3, JaVale McGee at the 4 and Dwight Howard at the 5.
The bottom line: The "Unicorn Era" has been defined by the players listed above, but it's ultimately a reimagining of what's possible for all players (and not just in the NBA) — a renewed sense of creativity in a sport that suddenly feels boundless.
2. Preseason power rankings
3. L.A. is now the center of the NBA universe
It's been 8 years since a team other than the Warriors or Spurs won the Western Conference. That's bound to change this season, and 2 of the teams that will be battling for supremacy play in the same city.
The Lakers: It's James, Davis and … an assortment of role players (unless Kyle Kuzma makes a leap).
Yes, it's true, the Lakers lack depth. But the James-Davis partnership is as lethal as it gets, and they're virtually unguardable in the pick-and-roll — especially if guys like Danny Green are hitting corner threes with consistency.
The Clippers: While the Lakers were forced to blow up their roster to acquire Davis, the Clippers were able to acquire Kawhi Leonard and Paul George while keeping much of their roster intact.
As a result, L.A.'s "second team" is the NBA's best, at least on paper. They're talented, deep and could be downright scary defensively.
Plus, they're working on that whole "second team" thing, too — going after an untapped following of "grinders, outsiders, artists and counter-culture types who might be put off by the Lakers' preening Hollywood image."
The big picture: While title contenders are only just now returning to the City of Angels, it's been the center of the NBA universe for a while now.
Players spend the offseason there, most free agent meetings happen there and the number of L.A.-based NBA reporters has exploded.
"Everything's going to run through the city this year. As a national writer, how can you not have a footprint on it?" said Yahoo Sports' Chris Haynes, who lives in Oakland but estimates he now spends 70% of his time in L.A.
Go deeper:
4. Projecting the season's best players
In an attempt to predict the upcoming season's best players, Axios, TrueHoop and machine learning experts, Harrison Chase and Anthony Liu, have partnered to present the "2020 BPM projections."
How it works: Chase and Liu built smart models to predict a player's Box Plus-Minus (BPM) — similar to Real Plus-Minus — for the upcoming season.
In short, BPM is a measure of a player's performance relative to league average on a per 100 possessions scale. +5 is roughly All-NBA level, 0 is league average, -2 is replacement level, -5 is really bad.
The results: Above are the top 20 projected players for the 2019-20 season based on Chase and Liu's model.
For reference, the top 5 players according to BPM last season were Harden (11.7), Antetokounmpo (10.8), Jokic (9.5), Davis (8.5) and James (8.1).
Go deeper: We made a table with BPM projections for every single player in the NBA because we love you. Explore it.
P.S. ... True Hoop's Henry Abbott looked at the data through the lens of "who's going to make the biggest jump this year?" Dive in.
5. Speaking of analytics...
In many ways, defense is the last true eye test in basketball. Sure, there are a handful of metrics that exist, but none of them tell the full story.
Why it matters: I've been thinking about this a lot, and I'm fairly confident that a solid understanding of who can guard and who can't is the biggest edge in all of sports betting.
It's easier said than done, of course, but man … if you can separate the "great" defenders from the "good" ones and have a decent grasp of how team defense works, you might just win some money.
6. The China conflict isn't going away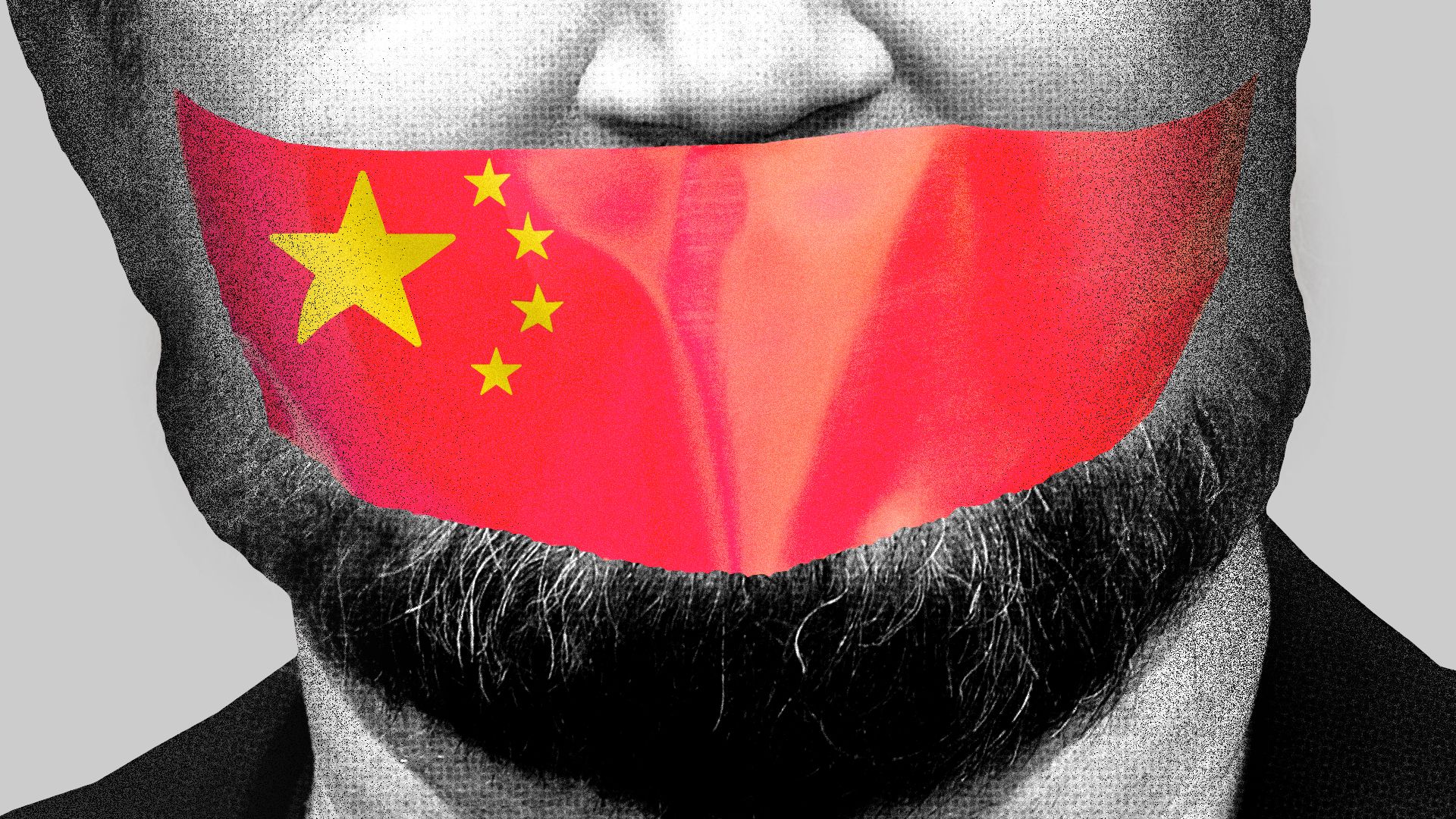 The NBA is bracing for a wave of pro-Hong Kong protests during the opening week of its season thanks to the league's showdown with China over free speech, writes Axios' Marisa Fernandez.
People are utilizing crowdfunding websites to fund grassroots movements that aim to supply T-shirts and support better-organized protests at upcoming games.
On Friday, over 150 protesters wore black "Stand With Hong Kong" T-shirts to the Brooklyn Nets' final preseason game. The team's owner, Joe Tsai, is a co-founder of Chinese tech giant Alibaba.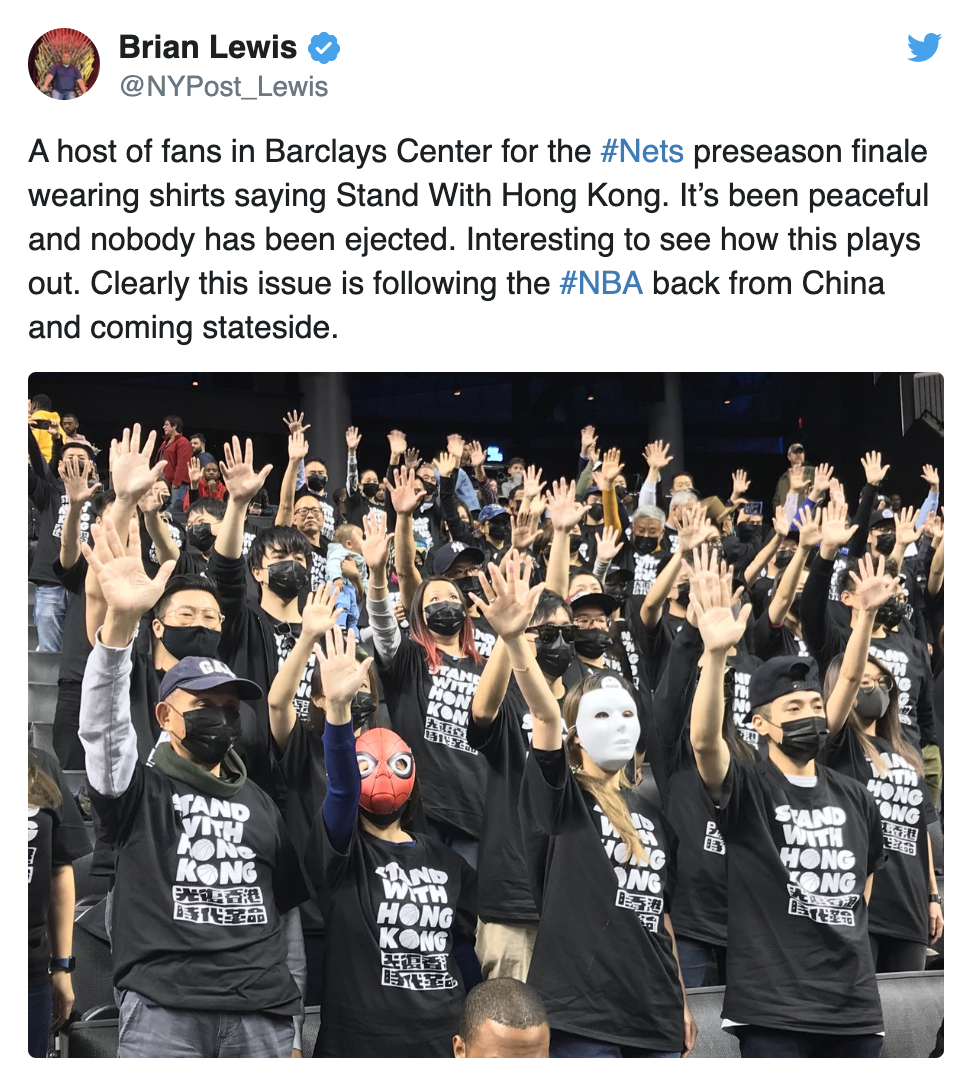 Screenshot: Twitter
The big picture: "[T]here's no one or good solution for the NBA," writes The Ringer's John Gonzalez.
"Some arenas have no-sign policies in place, but how might teams act if (or more likely when) more pro–Hong Kong protesters pop up in their buildings?"
"How loud is too loud to chant a message of protest — and what exactly constitutes behavior that rises to the level of ejection? The slope here is already super slippery, and the rapid downhill descent is well underway."
The bottom line: If the protests are widespread or visible, it could force Chinese censors to black out games.
7. Trivia
Question: Can you name every No. 1 draft pick this decade?
Hint: Six were drafted by Eastern Conference teams, four were drafted by Western Conference teams.
Answer at the bottom.
8. From Big 3's to dynamic duos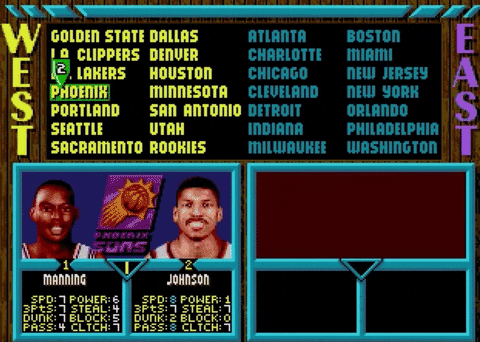 By spurning the Lakers for the Clippers, Kawhi Leonard brought parity to the NBA — and left the league without a bona fide "Big 3" for the first time since Kevin Garnett joined Paul Pierce and Ray Allen in Boston 12 years ago.
Instead, we have dynamic duos: LeBron and AD, Kawhi and George, Harden and Westbrook, Kyrie and KD (though that marriage is delayed) and so on.
The bottom line: "If there was ever a time for 'NBA Jam' to be recreated for all of us to have a reason to rush to the arcade, it would be now," writes SI's Khadrice Rollins.
9. Good reads
The NBA's underlying issue with sleep deprivation (Baxter Holmes, ESPN)
"Some in the league ... have begun to suspect that the toll extracted by the NBA grind — ... the circadian disruptions, the six to eight months of travel across time zones — is not fully appreciated. Some of those specialists have begun compiling data. And that data suggests that sleep deprivation is the NBA's silent scourge."
The death of long-term planning in the NBA (Michael Pina, SB Nation)
"Some teams that used to project six, seven, eight years down the road no longer try. Three, four, five-year forecasts are standard endeavors, but even with guaranteed rookie-scale contracts as long as they are, long-term plans have become a dead sprint into the abyss."
Eat, pray, Kevin Love (Alex Wong, NYT)
"Coming off a losing season with the Cleveland Cavaliers, Love found what he had been missing: time to travel."
10. Season predictions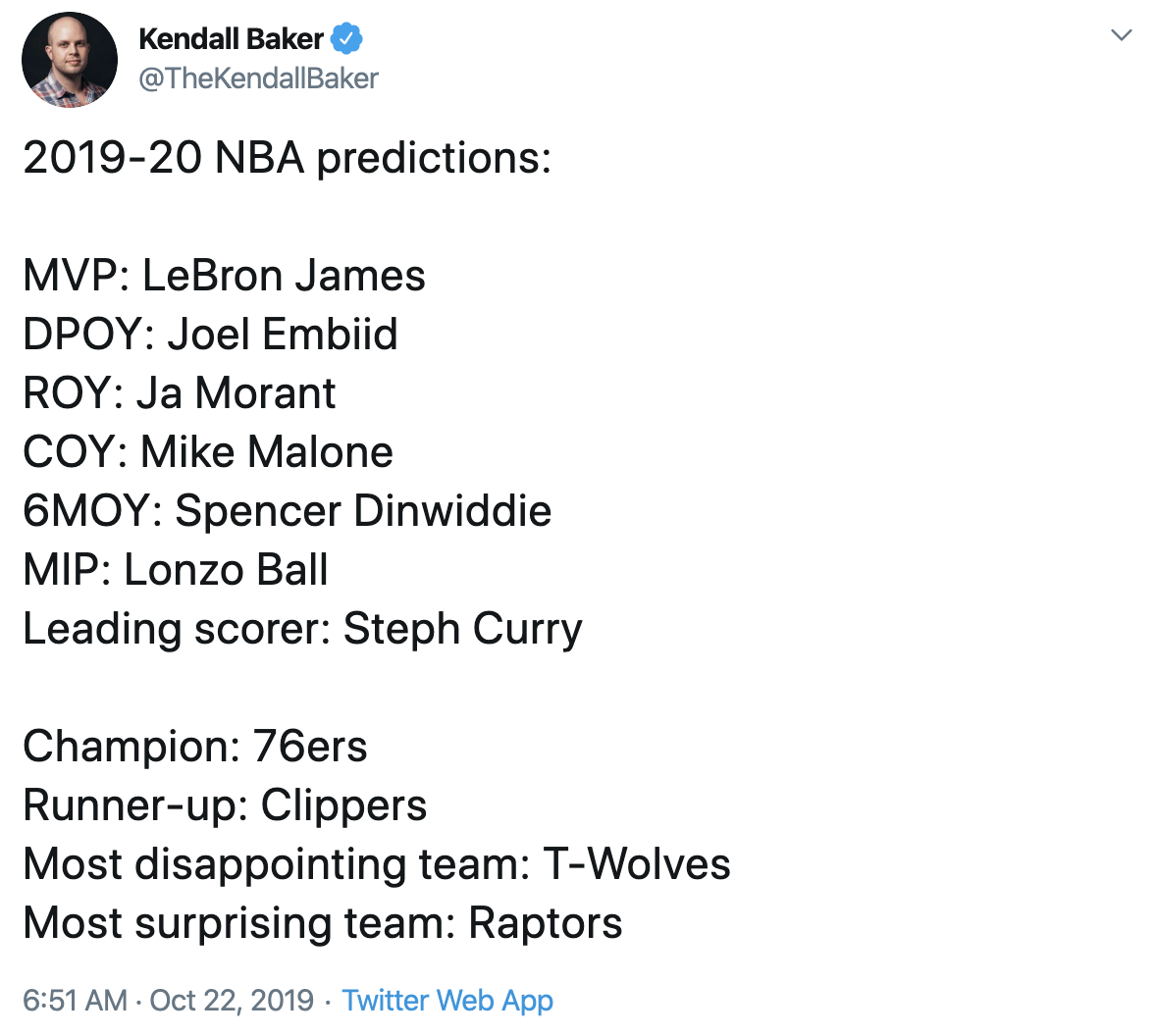 Screenshot: Twitter
Who you got? Reply in the comments with your picks.
Talk tomorrow,
Kendall "Might need to move to L.A." Baker
Trivia answer: John Wall, Kyrie Irving, Anthony Davis, Anthony Bennett, Andrew Wiggins, Karl-Anthony Towns, Ben Simmons, Markelle Fultz, Deandre Ayton, Zion Williamson