June 17, 2022
🎉 Happy Friday! Steph Curry, a skinny guard out of Davidson College, is a top 10 all-time NBA player. The debate is over.
Today's word count: 1,669 words (6 minutes).
Let's sports...
1 big thing: 🏆 Dynasty renewed
The Warriors beat the Celtics, 103-90, on Thursday night in Boston to win their fourth championship in eight years.
Why it matters: Golden State was already one of the great NBA dynasties. To win another title — after having the NBA's worst record just two seasons ago — adds a profound chapter to their thrilling story.
"This one hits different for sure knowing what the last three years meant, what it's been like. ... Injuries, the changing of the guard, rosters, the young guys. ... Now, we got four championships. Me, Dray, Klay and Andre."
— Finals MVP Steph Curry
Game recap: Boston started off hot but the momentum shifted quickly, with Golden State going on a 52-19 run (which included a 21-0 run) to seize control of the game.
Warriors: Curry led the way (34 points, 6/11 3PT), Andrew Wiggins did a bit of everything (18/6/5/4/3) and Draymond Green had a near triple-double (12/12/8) in what was by far his best game of the series.
Celtics: Jaylen Brown (34 points) and Al Horford (19/14) played well, but Jayson Tatum was awful (13 points, 6/18 FG). So was Boston's bench, scoring just five points.
By the numbers: The Warriors' eighth championship breaks a tie with the Bulls for the third-most in NBA history. The Celtics remain tied with the Lakers for the most (17).
Every game this series was won by 10 or more points, a first in Finals history.
Curry has averaged 32.5 points per game in title-clinchers for his career, trailing only Michael Jordan (33.7).
Tatum is the first player in NBA history with 100 turnovers in a postseason.
Steve Kerr has won 12% of all NBA Finals (nine of 76). Five as a player, four as a coach.
The big picture: Two babies born three years apart at Akron General Medical Center — LeBron James and Curry — are now responsible for eight NBA championships, six league MVPs and five Finals MVPs between them.
Looking ahead: The Warriors (5-1) are the early favorites to win the 2023 championship, followed closely by the Nets and Celtics (6-1), per Caesars.
Go deeper:
2. 🇷🇺 Update: The wrongful detainee
Brittney Griner's detention in Russia was extended this week, meaning her pre-trial hearing won't occur until July 2 at the earliest, Axios' Jeff Tracy writes.
Why it matters: This extension, her second in the past month, is viewed by many as political theater — a way for the Russians to keep the story in the news and gain leverage for an eventual prisoner exchange.
"The Russians won't ever say 'we're holding Brittney Griner hostage,' but by repeatedly postponing her trial, they're communicating their intentions," Danielle Gilbert, a professor at the U.S. Air Force Academy, told ESPN.
"This 'hearing' will never happen," Esquire Digital's chief legal analyst, Aron Solomon, told Insider. "She will either be clandestinely found guilty and sent to prison camp or she will be in a prisoner swap."
State of play: The U.S. government considers Griner a "wrongful detainee" and is actively working to secure her release. WNBA and NBA players, once urged to keep silent, are now wearing shirts, sending tweets and signing petitions in an effort to bring her home.
Reality check: Prisoner exchanges are tricky. Former Marine Trevor Reed, arrested in 2019 for public intoxication and further detained for allegedly grabbing an officer's arm, was serving a nine-year sentence when he got swapped in April for a jailed Russian pilot.
Another Marine, Paul Whelan, has been detained since 2018 and is now serving a 16-year sentence for espionage.
Whelan's family had hoped he'd be exchanged for the pilot; now, his and Griner's fates may be intertwined as part of a two-for-one deal.
What to watch: Prisoner exchanges aren't so dissimilar to sports trades. Both sides must feel they're giving and receiving equal value, which is why the name Viktor Bout keeps surfacing.
Bout, a Russian arms dealer known as "The Merchant of Death," was sentenced in 2012 to 25 years in prison and could be the key to bringing Griner and Whelan home, together.
The U.S. government isn't publicly discussing that exchange, but the judge who sentenced Bout in 2012 has already advocated for the two-for-one swap.
The last word: "BG's likely ticket home is on Air Whelan," Jonathan Franks, a consultant who worked on Reed's release, told AP.
3. ⚽️ Revealed: 2026 World Cup host cities
FIFA announced the host cities for the 2026 World Cup on Thursday, with 11 venues chosen in the U.S., three in Mexico and two in Canada.
East: New York/New Jersey (MetLife Stadium); Miami (Hard Rock Stadium); Philadelphia (Lincoln Financial Field); Boston (Gillette Stadium); Toronto (BMO Field)
Central: Atlanta (Mercedes-Benz Stadium); Dallas (AT&T Stadium); Kansas City (Arrowhead Stadium); Houston (NRG Stadium); Monterrey (Estadio BBVA Bancomer); Mexico City (Estadio Azteca)
West: Los Angeles (SoFi Stadium); San Francisco (Levi's Stadium); Seattle (Lumen Field); Vancouver (BC Place); Guadalajara (Estadio Akron)
Of note: Washington, D.C., was among the notable snubs. This will mark just the third time in men's World Cup history that the host nation's capital won't feature games.
4. ⚡️ Lightning round
🏀 The final season: Sue Bird will retire after this WNBA season, her 21st in the pros. "I have loved every single minute, and still do," tweeted Bird, a five-time gold medalist and four-time WNBA champion.
⚾️ Switch pitcher: Jurrangelo Cijntje, a high school senior from Florida, struck out three batters righty and two batters lefty at the MLB Draft Combine.
🥇󠁧󠁢 Gymnastics scandal: British Gymnastics enabled a culture where young gymnasts were physically and mentally abused, a devastating report has found.
⚾️ Nats sale: The Nationals are "almost sure to sell," per NY Post's Jon Heyman. "They're expected to fetch at least $2 billion, but the behind-the-scenes goal is $3 billion."
5. 🍻 Anheuser-Busch loosens Super Bowl grip
An influx of alcohol brands figure to make their Super Bowl debut next February, in light of Anheuser-Busch's decision to give up its category exclusivity, which it's held since 1989, Axios' Tim Baysinger writes.
By the numbers: Anheuser-Busch, which is the only brand to enjoy category exclusivity, has spent an average of $49.6 million over the previous four Super Bowls.
What they're saying: "The Super Bowl is a huge tentpole moment for consumers, but it doesn't necessarily line up with the key moment of consumption for the beer industry," Spencer Gordon, Anheuser-Busch's vice president of consumer connections, told Adweek.
State of play: While the Super Bowl still provides the biggest audience, some longtime marketers are starting to sour on its exorbitant price tag. At the same time, it's allowed for smaller brands to play a sandbox that used to be off-limits.
Unlike in 1989, there are many more ways to get your brand message to the masses.
The Super Bowl has become a younger brands' game: During this year's game, 40% of the in-game advertisers were first-timers.
Of note: Anheuser-Busch is not the only longtime brand that's shrinking its relationship with the biggest sporting event of the year. Pepsi is ending its 10-year sponsorship of the halftime show.
6. 💵 David Blitzer is everywhere
MLB has approved the sale of a minority stake in the Guardians to David Blitzer, who will have the right to increase his stake to a controlling interest within the decade.
Why it matters: When this deal closes, Blitzer will own equity in all five major U.S. sports leagues.
MLB: Guardians
NBA: 76ers
NHL: Devils
NFL: Steelers
MLS: Real Salt Lake
Plus: Blitzer, the global head of Blackstone's tactical opportunities group, also owns a handful of European soccer teams, including Premier League club Crystal Palace. Rough life.
7. 🌎 The world in photos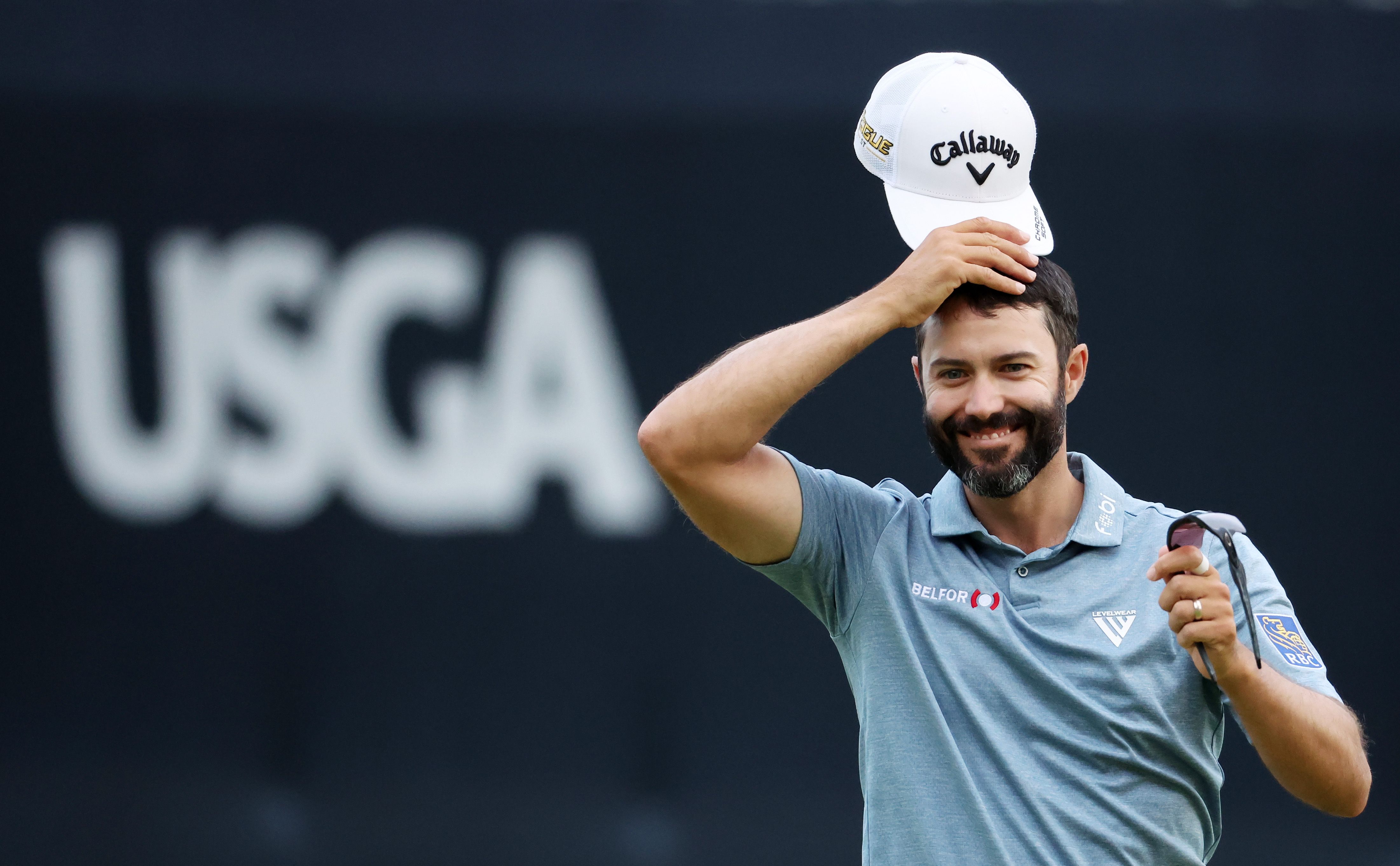 BROOKLINE, Mass. — Adam Hadwin, who only made the U.S. Open field as an alternate when Paul Casey withdrew due to injury, fired a 66 to take the lead after 18 holes. Round 2 is currently underway.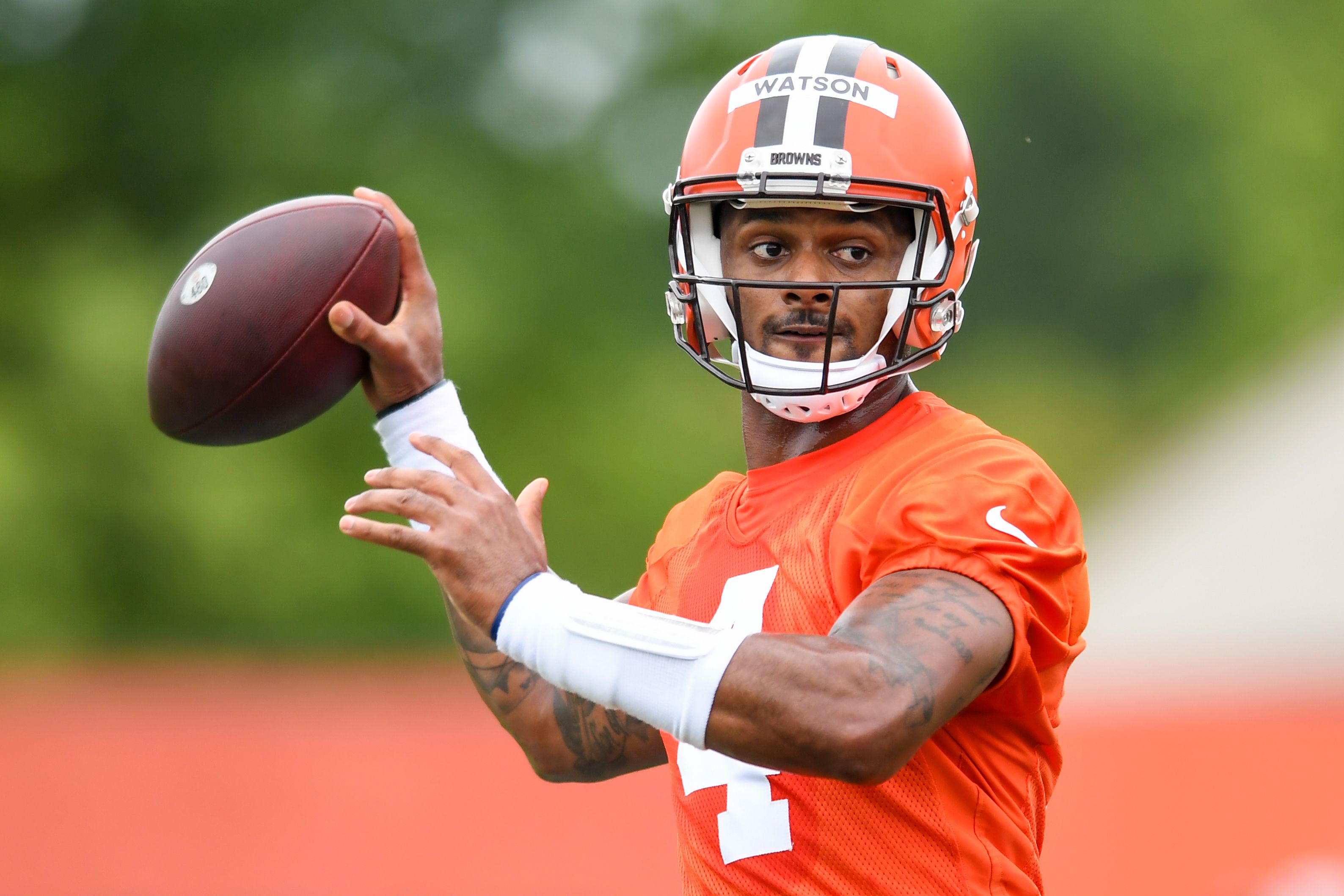 BEREA, Ohio — Deshaun Watson continues to practice with the Browns as the NFL decides what his punishment will be. Reports suggest it could be "unprecedented."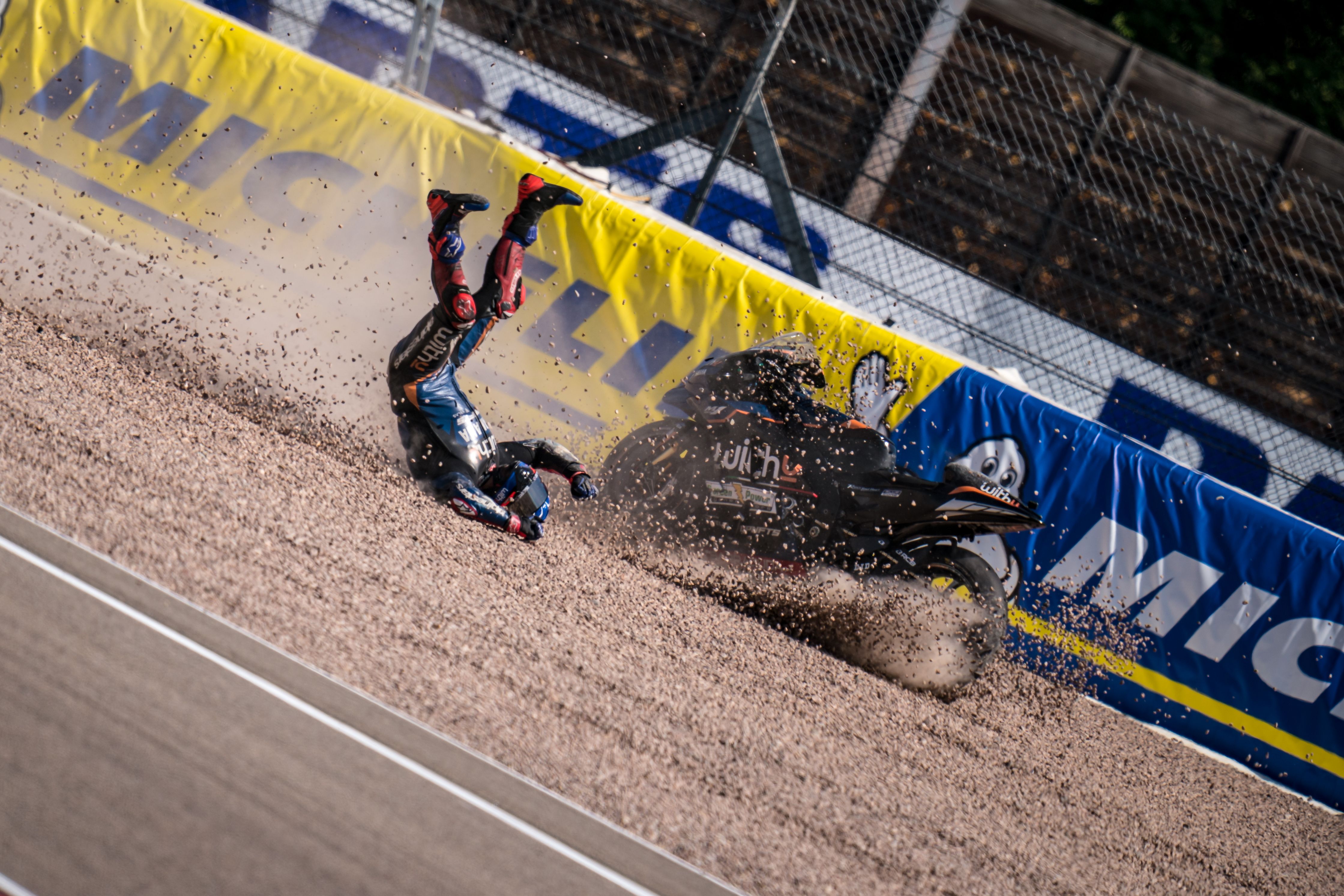 HOHENSTEIN-ERNSTTHAL, Germany — Motorcycle racing: Not for the faint of heart.
8. 📺 Watchlist: The Elite Eight
The College World Series begins tonight in Omaha, Nebraska, as eight teams split in two double-elimination brackets fight for a spot in next week's Finals.
Bracket 1 (games begin Friday): No. 5 Texas A&M vs. Oklahoma (2pm ET, ESPN); No. 9 Texas vs. Notre Dame (7pm, ESPN)
Bracket 2 (Saturday): No. 2 Stanford vs. Arkansas (2pm, ESPN); No. 14 Auburn vs. Ole Miss (7pm, ESPN2)
More to watch:
9. 🏀 NBA trivia
The Warriors are the first team to win four NBA titles in an eight-season span since the Bulls won six from 1991-98.
Question: The Warriors beat the Cavaliers three times and the Celtics once. Who did the Bulls beat?
Hint: They only beat one team twice.
Answer at the bottom.
10. 🎟 1 inflation thing: Cheap tix
Enjoy the weekend,
Kendall "Holy cannoli!" Baker
Trivia answer: Lakers (1991), Trail Blazers (1992), Suns (1993), SuperSonics (1996), Jazz (1997-98)
🙏 Thanks for reading. Follow us on Twitter: @kendallbaker and @jeffreytracy. Tell your friends to sign up.