👋 Good morning!
Stat of the day: In the first five days after he was drafted, Zion Williamson sold more $110 Nike jerseys and $32 T-shirts than all the first-round picks in last year's draft combined, according to Fanatics.
Today's word count: 1,480 (~6 mins)
1 big thing: 🎮 Industry veterans fear an esports bubble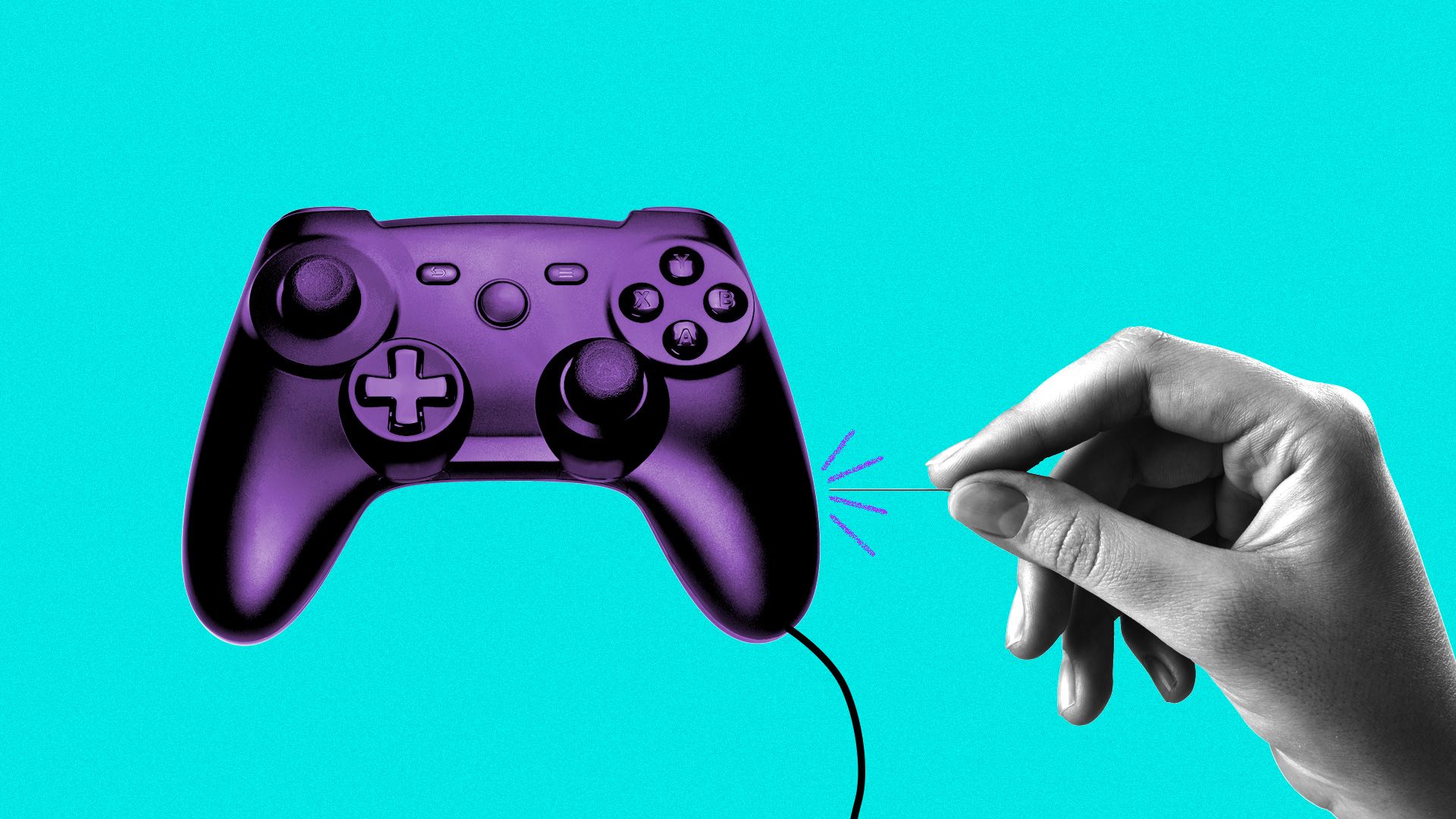 Whether it's the seven-figure salaries or the hundreds of millions of dollars investors are pouring in, the esports industry appears to be doing quite nicely.
Newsflash: Some industry veterans disagree. In fact, 18 of them told Kotaku that they are worried esports is a bubble, with some describing it merely as "inflated" and others as "completely unsustainable."
"I feel like esports is almost running a Ponzi scheme at this point. Everyone I talk to in this industry kind of acknowledges the fact that there is value in esports, but it is not nearly the value that is getting hyped these days."
— Esports veteran Frank Field
1. Sketchy numbers: It was widely reported that last year's League of Legends World Championship drew more viewers than the Super Bowl — the kind of headline that could turn even the biggest esports skeptic into a believer. Turns out, those numbers were unreliable, misleading and potentially even inflated, per Kotaku.
Unreliable: When it comes to, say, an NFL game, viewership numbers are reported by a third party like Nielsen. In esports, viewership numbers are reported by either the game publishers, the esports teams or the streaming platform. Pretty big conflict of interest.
Misleading: A Super Bowl viewer must watch for six minutes to register with Nielsen's tracking. For esports, someone can briefly scroll past a livestream and count as a viewer.
Inflated: Multiple esports tournaments have paid to have their livestream embedded across hundreds of websites affiliated with a company called Curse, Kotaku reports. This results in numbers that don't actually represent engaged humans.
2. Lack of revenue: Multiple leagues have shuttered due to money problems and one industry analyst estimates that as many as 89% of esports teams are operating at a loss. Investment keeps coming in, though.
"When you're seeing teams right now raising over $300 million valuations on revenues under $25 [million], you're kind of like, what? … No one's more bullish about esports than I am [but] I just think good, old-fashioned common sense would go a long way here."
— Jason Lake, founder, Complexity Gaming (
via Sports Business Journal
)
The big picture: Investors have flocked to esports because they don't want to miss out on "the next big thing." They have no problem burning through cash if the opportunity is big enough, but eventually they want to see a return.
That promise of a future payout is strung along by eye-popping viewership numbers and overall hype. If those numbers are inflated — and the hype somewhat unearned — the industry could fall short of expectations.
The bottom line: Any outside observer can see that there is value in esports. But if we are to believe a contingent of those on the inside, it's nowhere near the numbers being thrown around.
2. ⚾️ Vanderbilt wins College World Series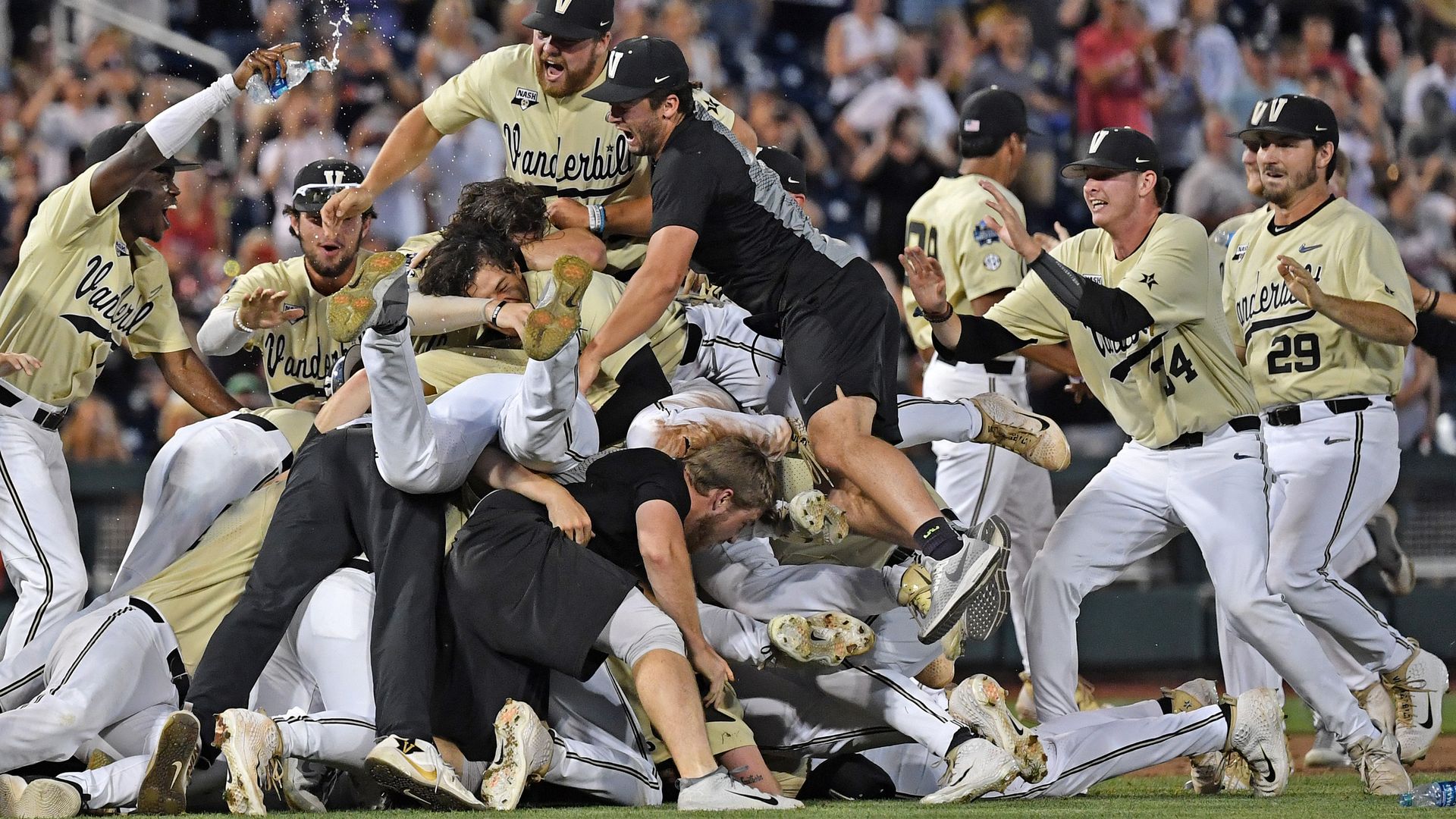 Vanderbilt won the College World Series with an 8-2 victory over Michigan in Game 3 of the finals last night, the program's second national championship in four CWS appearances, all since 2011.
Best player: Freshman Kumar Rocker was named the series' Most Outstanding Player. Past winners include: Jackie Bradley Jr., South Carolina (2010); Pat Burrell, Miami (1996); Todd Walker, LSU (1993); Terry Francona, Arizona (1980); Dave Winfield, Minnesota (1973).
Season rewind:
Vanderbilt: The Commodores (59-12) swept the SEC regular-season and tournament titles, set the league record for wins, tied the record with 13 draft picks, and lost back-to-back games just twice en route to becoming the SEC's sixth national champion since 2009.
Michigan: The loss ended a Cinderella run for the Wolverines (50-22), who went from being one the last four teams included in the 64-team NCAA tournament to becoming the first Big Ten team to play in the finals since Ohio State in 1966.
3. 📺 The conscience of sports journalism is retiring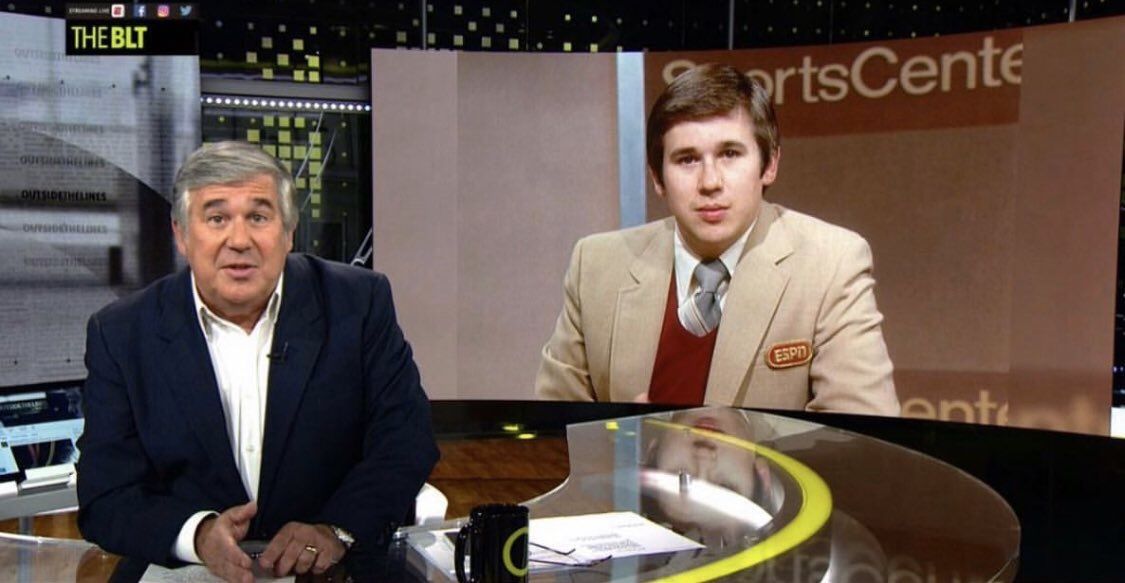 Bob Ley bids farewell. Screenshot: YouTube
The great Bob Ley announced yesterday that he will be retiring at the end of the month, closing the book on a 40-year career at ESPN that saw him win 11 Sports Emmy Awards and immortalize himself as a true sports media legend.
"Across 40 years I have enjoyed a professional journey unimaginable when I joined ESPN on its first weekend of existence in 1979. Each day since has been a unique adventure, one I embraced for the challenges and unequaled fun of a job like no other. Now, it is time for change."
— Bob Ley
What they're saying: "When Ley hosts the network's Boston Marathon bombing coverage or captains its all-night wake for Muhammad Ali, a certain image takes hold in the public mind," The Ringer's Bryan Curtis wrote last year.
"Ley is a capital-J journalist, a man who rises above Bristol's petty intrigues to a higher moral plane. … He has a rare combination of gravitas and self-awareness, like your dream father-in-law."
Writer Dan Fogelman: "When I was 19, I thought I wanted to be a sports journalist. Somehow I got Bob Ley's number and called for advice. He spent 30 minutes on the phone with a total stranger. (In the end it sounded really hard so I moved to LA and became a screenwriter. But still.) One of the greats."
4. ⚾️ Vote: MLB All-Star starters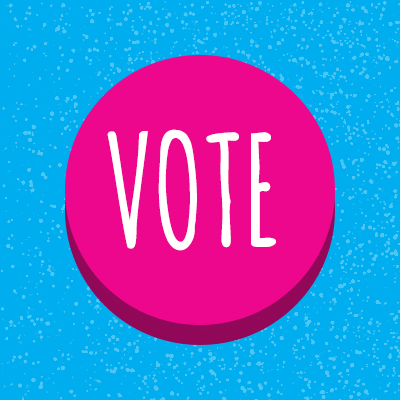 Baseball has a new process for deciding who will start in this year's All-Star Game on July 9 in Cleveland.
How it works: A preliminary round of voting narrowed each position down to three finalists (nine for outfielders). Now it's time to pick the starters. Voting opened yesterday and ends at 4pm ET today.
American League
C: Gary Sánchez (Yankees), James McCann (White Sox), Robinson Chirinos (Astros)
1B: Carlos Santana (Indians), Luke Voit (Yankees), C.J. Cron (Twins)
2B: D.J. LeMahieu (Yankees), Tommy La Stella (Angels), José Altuve (Astros)
3B: Alex Bregman (Astros), Hunter Dozier (Royals), Gio Urshela (Yankees)
SS: Jorge Polanco (Twins), Gleyber Torres (Yankees), Carlos Correa (Astros)
OF: Mike Trout (Angels), George Springer (Astros), Michael Brantley (Astros), Aaron Judge (Yankees), Mookie Betts (Red Sox), Eddie Rosario (Twins), Joey Gallo (Rangers), Austin Meadows (Rays), Josh Reddick (Astros)
DH: Hunter Pence (Rangers), J.D. Martinez (Red Sox), Nelson Cruz (Twins)
National League
C: Willson Contreras (Cubs), Brian McCann (Braves), Yasmani Grandal (Brewers)
1B: Freddie Freeman (Braves), Josh Bell (Pirates), Anthony Rizzo (Cubs)
2B: Ketel Marte (Diamondbacks), Ozzie Albies (Braves), Mike Moustakas (Brewers)
3B: Nolan Arenado (Rockies), Josh Donaldson (Braves), Kris Bryant (Cubs)
SS: Javier Báez (Cubs), Trevor Story (Rockies), Dansby Swanson (Braves)
OF: Christian Yelich (Brewers), Cody Bellinger (Dodgers), Ronald Acuña Jr. (Braves), Charlie Blackmon (Rockies), Nick Markakis (Braves), Jason Heyward (Cubs), Kyle Schwarber (Cubs), Albert Almora Jr. (Cubs), Joc Pederson (Dodgers)
What's next: The winners will be announced at 7pm ET tonight on ESPN and the full rosters, including starting pitchers, will be revealed on Sunday.
Fill out your ballot (cutoff time: 4pm ET)
5. 🏀 WNBA: Season update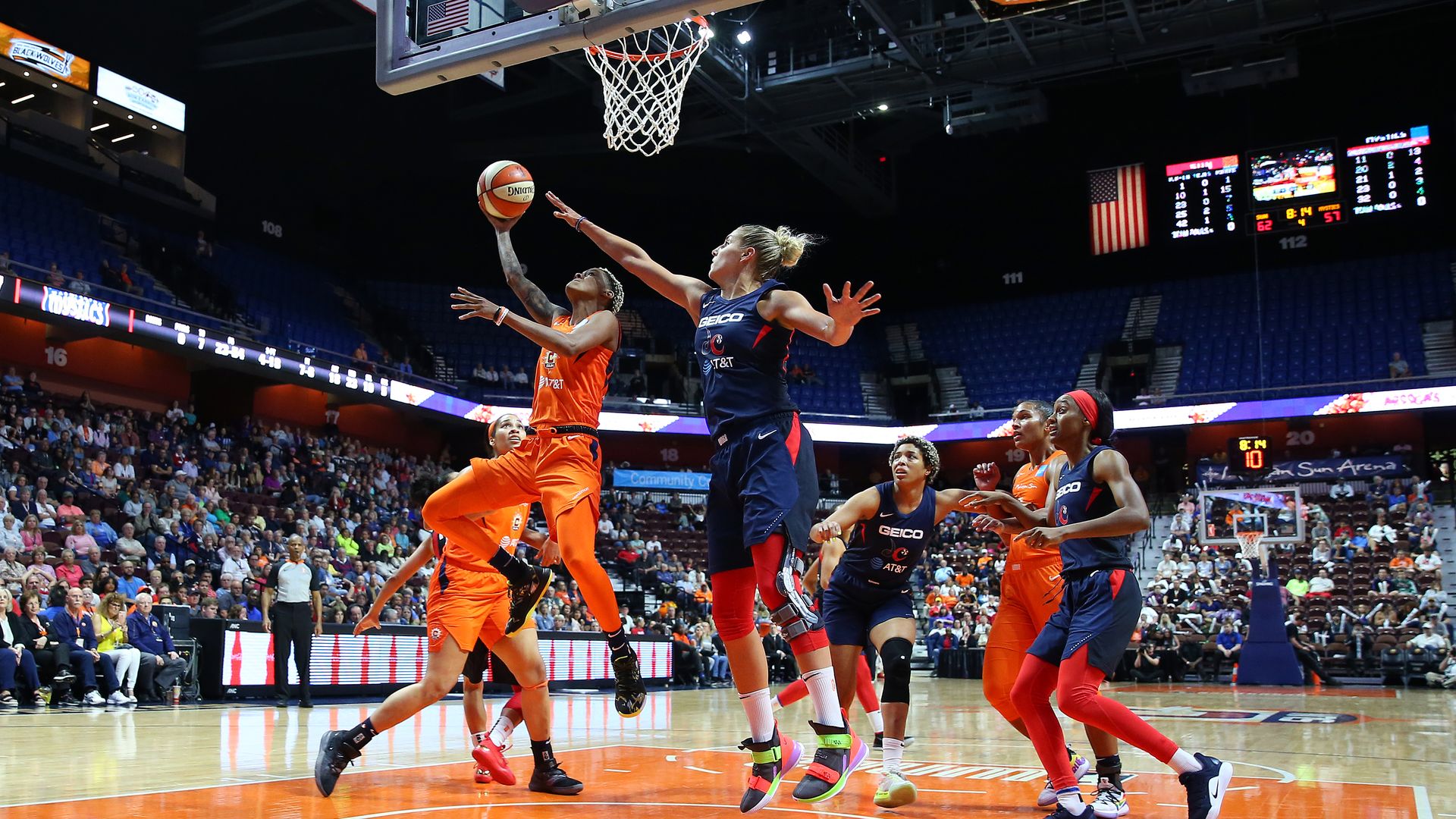 From Axios' Mike Sykes: We're already a third of the way through the WNBA season. Here's a quick update if you've been slacking.
Top 5 teams:
Connecticut Sun (9-3)
Washington Mystics (8-3)
Las Vegas Aces (6-4)
Chicago Sky (6-4)
Seattle Storm (7-5)
Stat leaders:
Points: DeWanna Bonner, PHX (20.9); Natasha Howard, SEA (18.9); Tina Charles, NY (18.1); Elena Delle Donne, WSH (17.0); Jonquel Jones, CONN (16.4)
Assists: Courtney Vandersloot, CHI (7.9); Brittany Boyd, NY (6.0); Natasha Cloud, WSH (5.8); Erica Wheeler, IND (5.8); Jasmine Thomas, CONN (5.6)
Rebounds: Jonquel Jones, CONN (11.0); Sylvia Fowles, MIN (9.9); Nneka Ogwumike, LA (9.5); Natasha Howard, SEA (9.2); Elena Delle Donne, WSH (8.8)
Storylines:
Unlikely MVP: Seattle's Natasha Howard could be the most improbable MVP ever. Just two years ago, she was a rarely used backup. Now, she's the WNBA's second-leading scorer and fourth-leading rebounder while starring for the injury-plagued defending champs.
Canada expansion: Two entrepreneurs are leading the charge to bring the WNBA to Toronto.
Rosters in flux: FIBA Women's EuroBasket 2019 begins today, and eight of the WNBA's 12 teams have at least one player participating.
Bonus: ⚽️ Goal du jour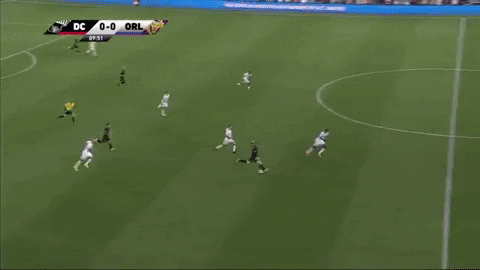 Old man Wayne Rooney scored a goal from his own half (68 yards to be exact) to lead D.C. United past Orlando City, 1-0.
"It's in the net! Oh, it's in the net! Do you believe it?! ... [Long pause] ... It's Wayne Rooney, of course you believe it."
P.S. ... Fun fact: Three of the five top goal-scorers in MLS are former Manchester United players (Rooney, Zlatan Ibrahimovic and Nani).
6. June 27, 2016: ⚾️ Kris Bryant hits into history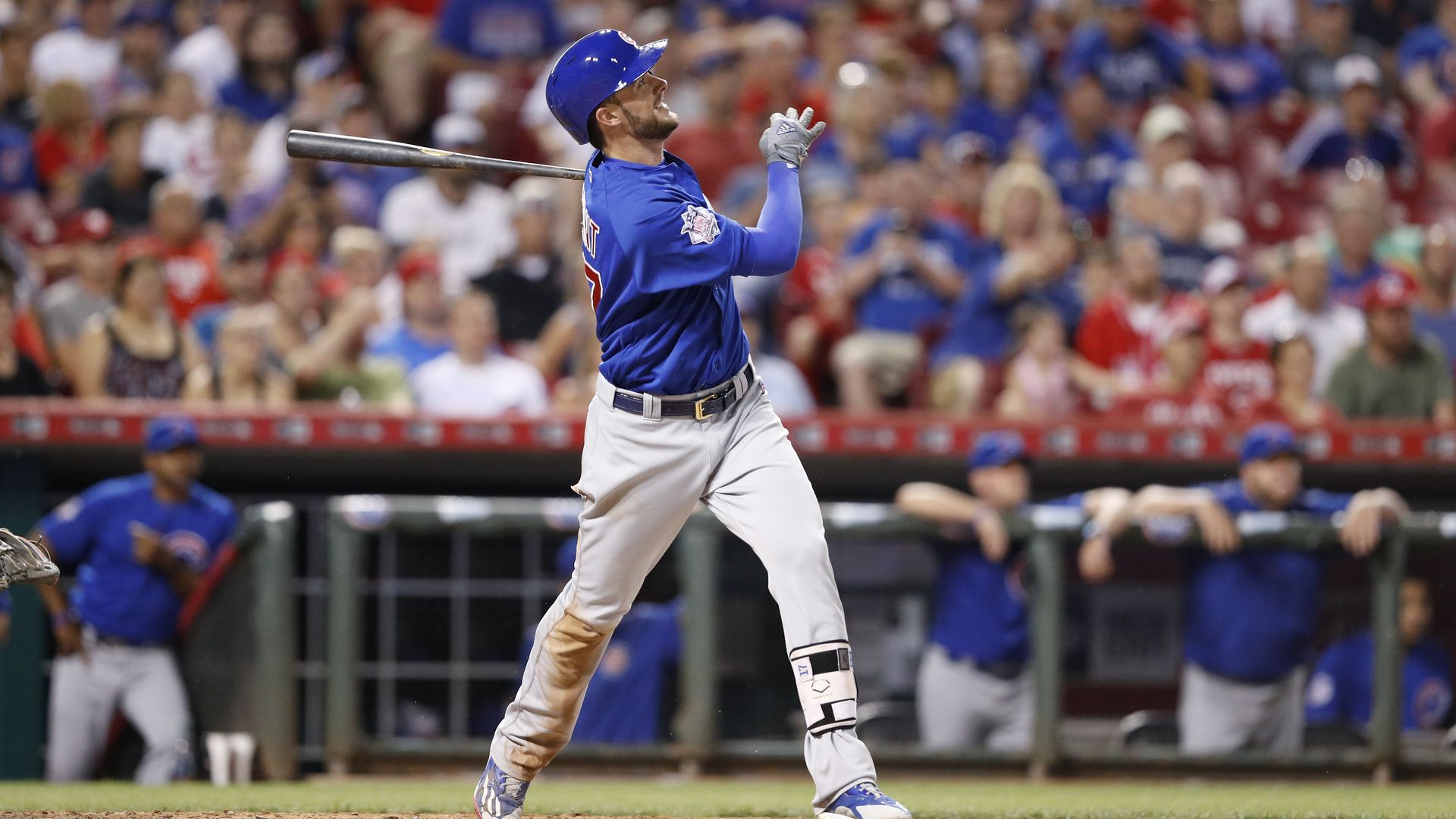 Three years ago today, Kris Bryant became the first player in modern MLB history to hit three home runs and two doubles in one game.
7. 🏒 NHL trivia
Roberto Luongo is retiring from the NHL as the third-winningest goalie in league history (489 wins).
Question: Who are the only two goalies with more career wins?
Hint: They faced each other in the Stanley Cup Final earlier this century.
Answer at the bottom.
8. The Ocho: 🏓 Synchronized ping pong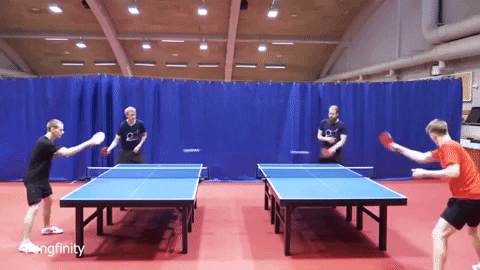 10. 🇯🇵 Tokyo 2020 should adopt this logo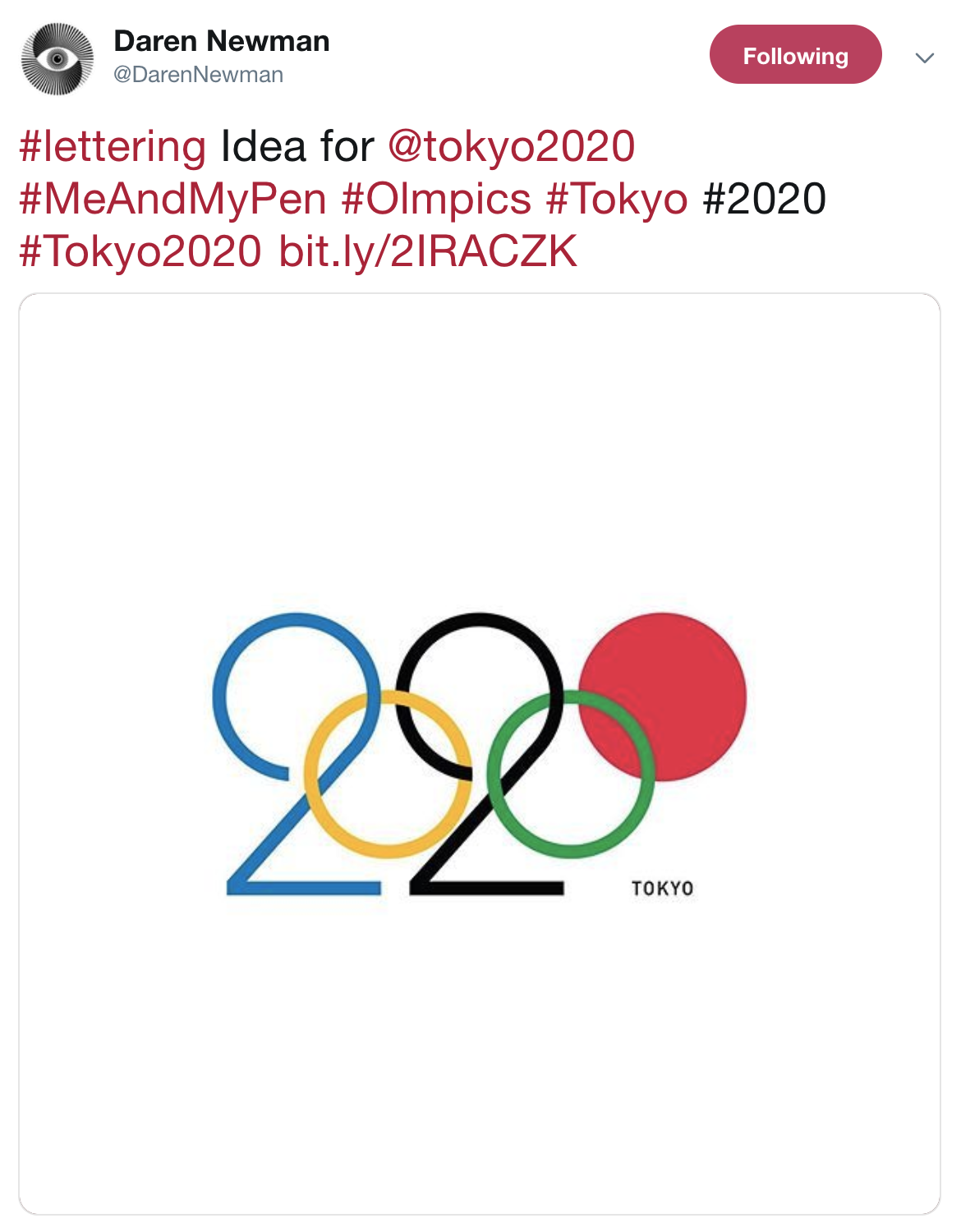 Source: @DarenNewman
I can't get over how good this is.
See you tomorrow,
Kendall "Rooneyyyy" Baker
Trivia answer: Martin Brodeur (691 wins) and Patrick Roy (551)