Axios Sports
January 26, 2022
👋 Good morning! Carl Crawford did not make the Hall of Fame.
Today's word count: 2,036 words (8 minutes).
Let's sports...
1 big thing: ⚾️ Big Papi to Cooperstown
David Ortiz, the three-time champion, seven-time Silver Slugger and 10-time All-Star, can now add another title to his name: Hall of Famer, Axios' Jeff Tracy and I write.
Driving the news: Big Papi was elected to the Baseball Hall of Fame on Tuesday, receiving 77.9% of the vote (307 of 394).
What they're saying: Ortiz is in, but Barry Bonds, Roger Clemens, Curt Schilling and Sammy Sosa — controversial candidates in their final year on the ballot — failed to make the cut.
Between the lines: Bonds' bid being denied for a 10th time caused a particularly loud uproar, as the public has been softening its position on him for years.
Wild stat: Ortiz's career OBP is .380. Bonds' career OBP if you turned all 762 of his home runs into outs? .384.
"Keeping Bonds, McGwire, Sosa, Clemens and those guys out ... tells my generation that our childhood stars and memories don't actually count. Just my opinion, but that does more long-term damage than letting them in would do."
—
Chris Vannini
, The Athletic
The big picture: The Hall of Fame narrative has long centered on Bonds and other steroid-tainted names who didn't get in, but the fact is we're living in a golden age of induction.
What's next: The steroid-era debate isn't going anywhere. Bonds, Clemens and Sosa will be eligible when the Today's Game Era Committee votes this December, and Alex Rodriguez has nine years left on the ballot.
Go deeper: The HOF's awkward stalemate (The Ringer)
Bonus: ⚾️ BBWAA vs. Axios Sports
Thanks to everyone who cast a ballot!
By the numbers: We got 1,041 responses, and just like the BBWAA, you elected only Ortiz with a nearly identical 79.1% of the vote (823 of 1,041). Here are the full results from both cohorts...
Ortiz: 77.9% (Axios reader vote: 79.1%)
Barry Bonds: 66% (61.3%)
Roger Clemens: 65.2% (62.3%)
Scott Rolen: 63.2% (20.9%)
Curt Schilling: 58.6% (45.1%)
Todd Helton: 52% (20.3%)
Billy Wagner: 51% (25.2%)
Andruw Jones: 41.1% (32%)
Gary Sheffield: 40.6% (38.5%)
Alex Rodriguez: 34.3% (56.2%)
Jeff Kent: 32.7% (17.5%)
Manny Ramirez: 28.9% (58.9%)
Omar Vizquel: 23.9% (26%)
Sammy Sosa: 18.5% (33.9%)
Andy Pettitte: 10.7% (35.3%)
Jimmy Rollins: 9.4% (11.3%)
Bobby Abreu: 8.6% (5.9%)
Mark Buehrle: 5.8% (6.3%)
Torii Hunter: 5.3% (11.5%)
Joe Nathan: 4.3% (5.4%)
Tim Hudson: 3% (2.5%)
Tim Lincecum: 2.3% (18.4%)
Ryan Howard: 2% (11.1%)
Mark Teixeira: 1.5% (6.8%)
Justin Morneau: 1.3% (3.7%)
Jonathan Papelbon: 1.3% (7%)
Prince Fielder: 0.5% (6.4%)
A.J. Pierzynski: 0.5% (4.8%)
Jake Peavy: 0% (6.7%)
Carl Crawford: 0% (0.6%)
2. 🏒 The NHL's Iron Man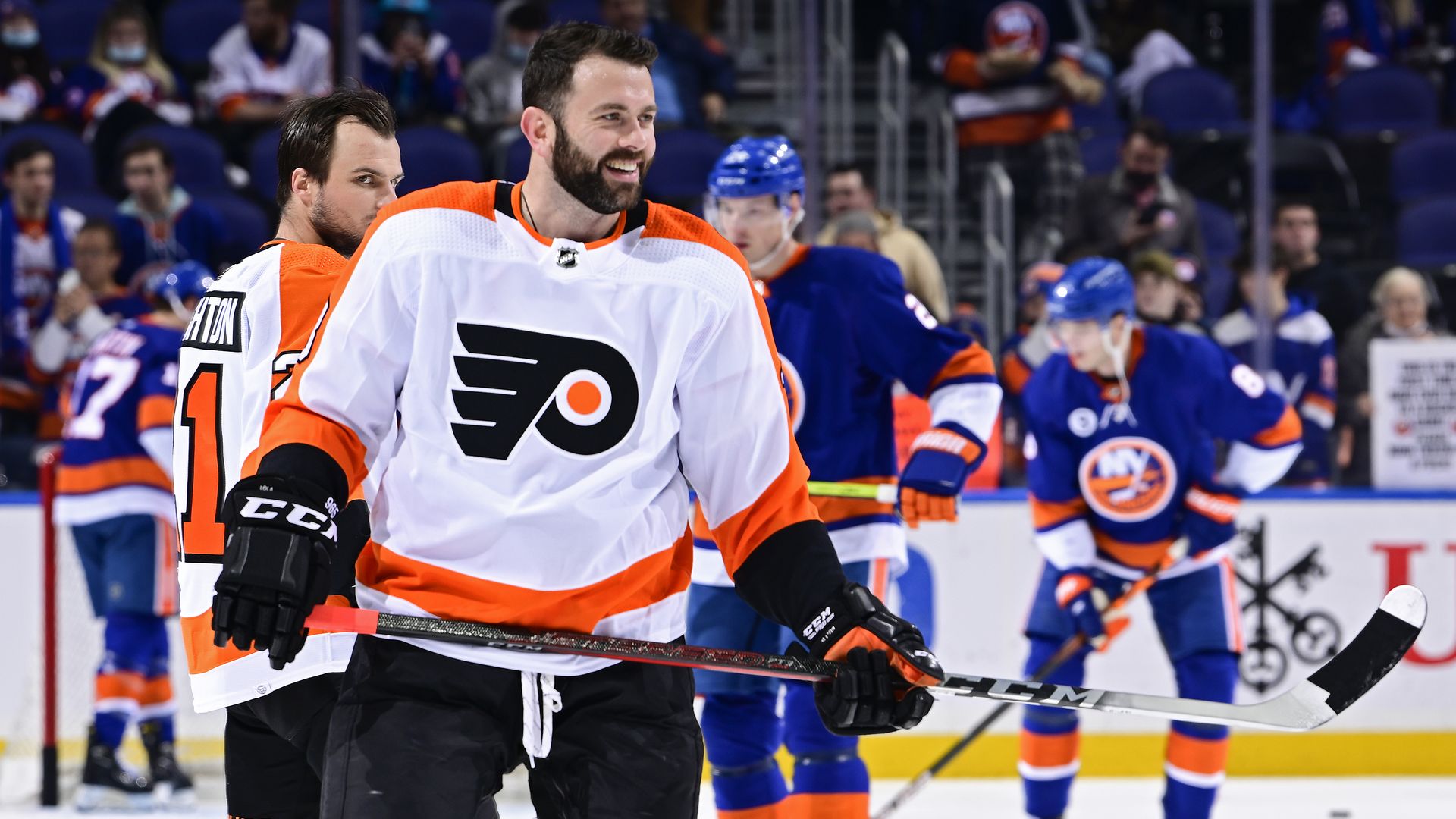 Flyers defenseman Keith Yandle, 35, appeared in his 965th consecutive regular-season game on Tuesday, passing forward Doug Jarvis (1975–87) to become the NHL's new "Iron Man," Jeff writes.
The big picture: Yandle's streak began on March 26, 2009. The longevity is particularly impressive given defensemen tend to play far more — and more dangerous — minutes than any position besides goaltender.
Yandle's 20,877 minutes since the streak began are sixth-most in the league, and his 572 points are third among defensemen, behind Erik Karlsson and Brent Burns.
There have been close calls, most notably in November 2019 when a puck knocked out nine of his teeth. But of course, he returned to the ice in the same game.
The big picture: Yandle is the only active player among the "Big Four" to hold his league's all-time Iron Man streak. (Note: All records include regular-season games only.)
MLB: Cal Ripken Jr. played in 2,632 straight games from 1982–98. (Active leader: Royals 2B Whit Merrifield, 469 games)
NFL: Brett Favre started 297 straight games from 1992–2010. (Active leader: Bucs DT Ndamukong Suh, 164 games)
NBA: A.C. Green played in 1,192 straight games from 1986–2001. (Active leader: Suns F Mikal Bridges, 273 games)
What to watch: Coyotes winger Phil Kessel, 34, has played in 941 straight games. If Yandle does falter, his record may not last long.
P.S. ... The Flyers lost their 13th straight game on Tuesday, the longest winless streak in franchise history.
3. 🏀 Kings of the comeback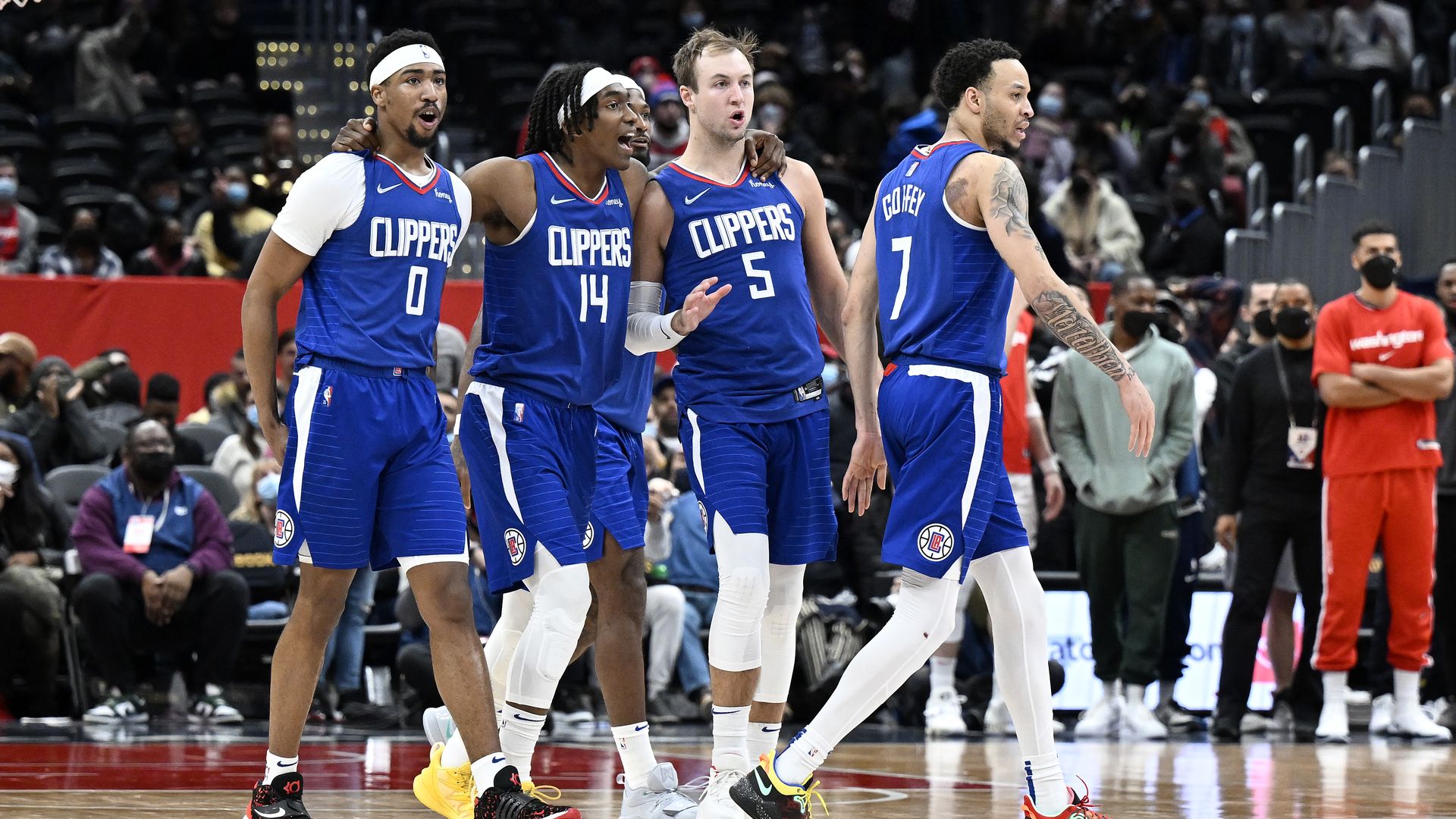 The Clippers beat the Wizards, 116-115, on Tuesday after trailing by seven points with 20 seconds left.
Luke Kennard scored seven points in the final nine seconds, including this four-point play.
"Man, that was crazy," he said postgame. "Why do we keep doing that to ourselves?"
By the numbers: Entering Tuesday, teams were 1-16,239 over the last 20 seasons when trailing by 7+ points with less than 20 seconds left. And the only other team to win (2014 Cavaliers) needed overtime.
The Clippers trailed by 35 points shortly before the half, making this the second-largest comeback in the play-by-play era (since 1996-97). And they did it without the injured Paul George and Kawhi Leonard.
"Probably the craziest game I've ever been a part of," said Amir Coffey, who scored a game-high 29 points. "You never know when the game is over. Play through the buzzer."
Wild stat: The Clippers are the first team over the last 25 seasons to have three comeback wins in a single season when trailing by at least 24 points. They did it in the span of 14 days, with wins over the Nuggets, 76ers and now Wizards.
4. ⚡️ Lightning round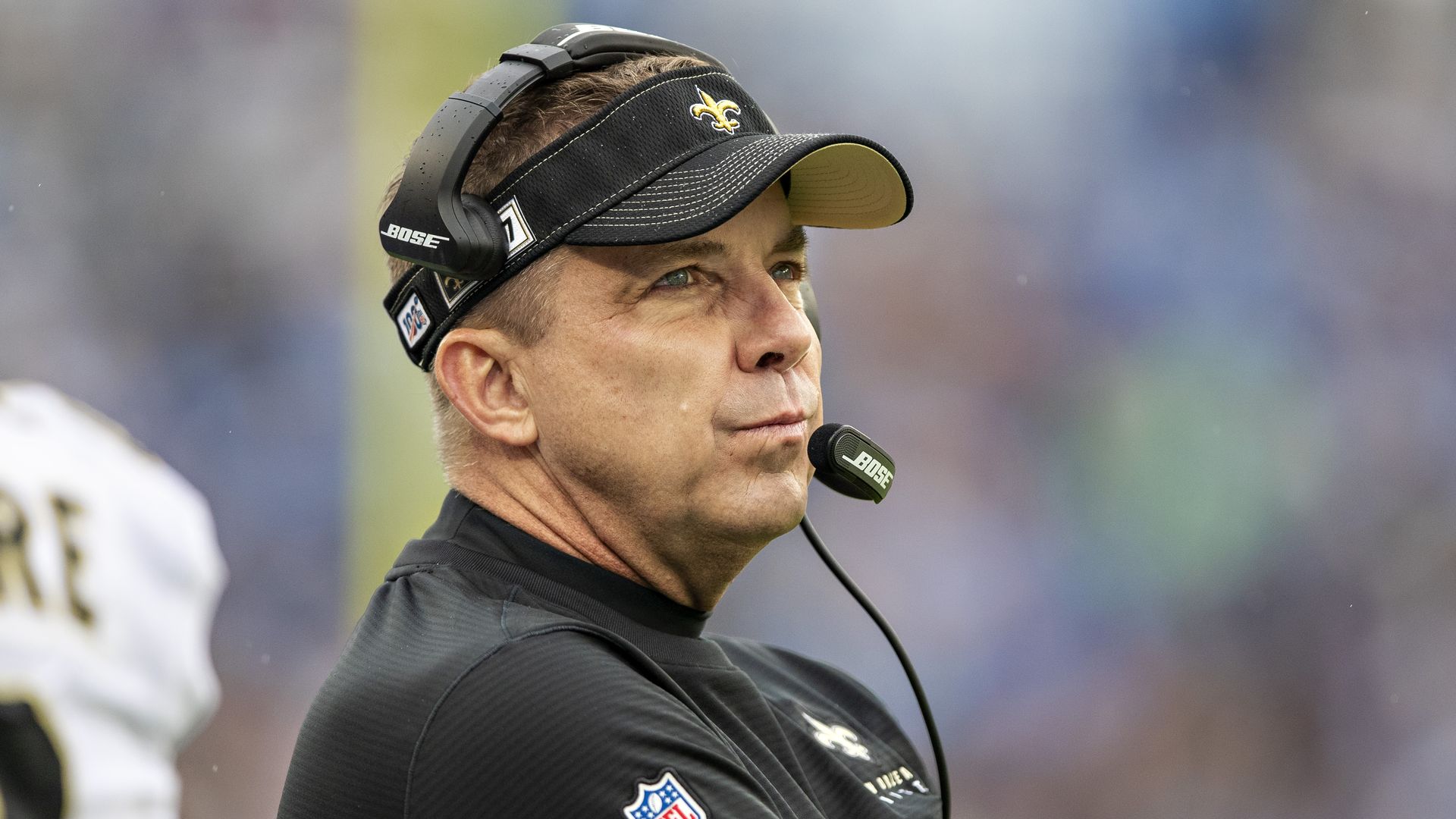 🏈 Payton steps away: After 16 years with the Saints, Sean Payton is stepping away as head coach. "I don't know what's next — and it kind of feels good," he said during an emotional news conference Tuesday.
🎓 Realignment: Hampton, Monmouth and Stony Brook will join the Colonial Athletic Association (Delaware, Hofstra, William & Mary, etc.) later this year, giving the conference 12 full members.
🏈 USFL countdown: The new USFL season begins on Saturday, April 16. In a rare move, Fox and NBC will simulcast the opener: New Jersey Generals vs. Birmingham Stallions.
🏀 Good read: Gary Payton II is here to stay (James Herbert, CBS Sports)
"Little Gary reminds me of the dog that's behind the fence that's just sitting there and not barking ... But then you come through that gate, he's going to tear your head off."
5. 🇺🇸 Team USA spotlight: Jessie Diggins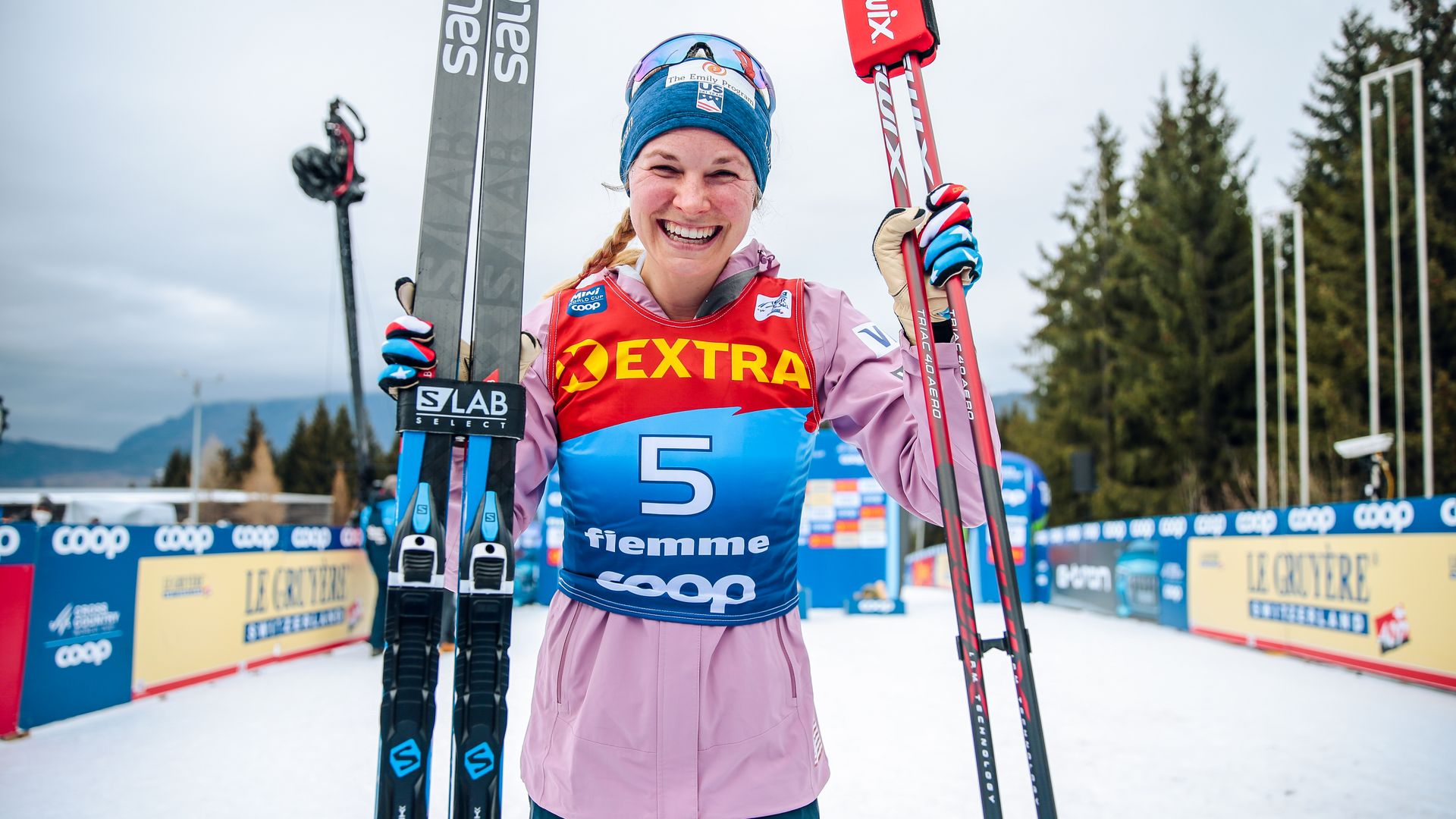 In the lead-up to the Beijing Winter Olympics (Feb. 4–20), we're profiling 10 members of Team USA.
The Olympian: Diggins burst on the scene in Pyeongchang when she and teammate Kikkan Randall became the first Americans to win cross-country gold thanks to an incredible finish.
"Before I could even walk, I was in my dad's backpack as my parents skied different trails around Minnesota," she told NBC. "I owe everything in my career to them."
Diggins has embraced her passion for activism since winning gold, working closely with two organizations: one that combats climate change and one that helps treat people with eating disorders.
The event: Cross-country skiing has been part of the Winter Olympics since the first Games in 1924, though a women's program wasn't added until 1952. The sport includes two styles and six competition formats.
Styles: Classic requires the skis to remain parallel in pre-made tracks, while freestyle looks more like ice skating, and is much faster.
Formats: There are four individual competitions and two in teams, with men and women covering different distances. Two events use freestyle, two use classic and two combine both.
Go deeper: Jessie Diggins is on a quest for more than medals (SI)
6. 🇨🇳 Scoop: Republicans probe NBC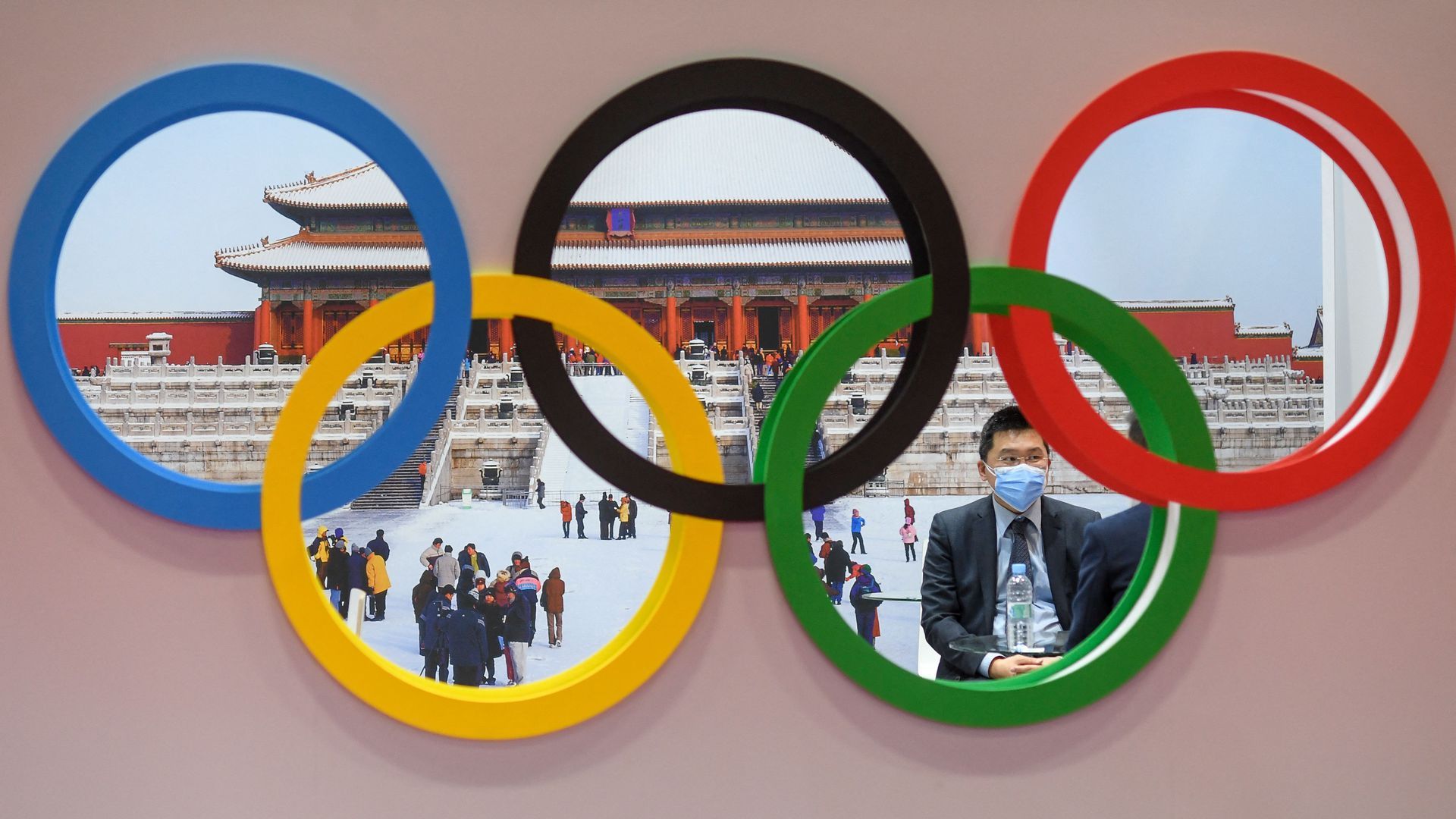 Republican leaders have sent a letter to NBC Universal voicing concerns about "the extent of influence the CCP (Chinese Communist Party) may have over" NBC's Olympics coverage, Axios' Sara Fischer reports.
Why it matters: The human rights abuses committed by the CCP have been the subject of intense scrutiny ahead of this year's Winter Games in Beijing. Activists last year sent a letter to NBC executives urging the network to cancel plans to cover the Olympics.
Details: The letter, addressed to NBCUniversal CEO Jeff Shell and NBC Olympics president Gary Zenkel, asks NBC how it plans to use its "investment in the Games to shed light on China's history of human rights abuses."
The letter asks NBC to provide written responses and documentation to several questions about its coverage to the House Energy and Commerce Committee by Feb. 7.
One question asks whether the IOC or the CCP has taken any steps to influence NBC's coverage of the Games "relating to reported human rights abuses against Uyghur Muslims in the Xinjiang province."
Another asks whether the IOC or CCP asked NBC to make changes "in how they are covered or advertised on NBCUniversal programming."
The big picture: Last week, NBC executives noted that geopolitical tensions with China will create some challenges for the network.
7. 🌎 The world in photos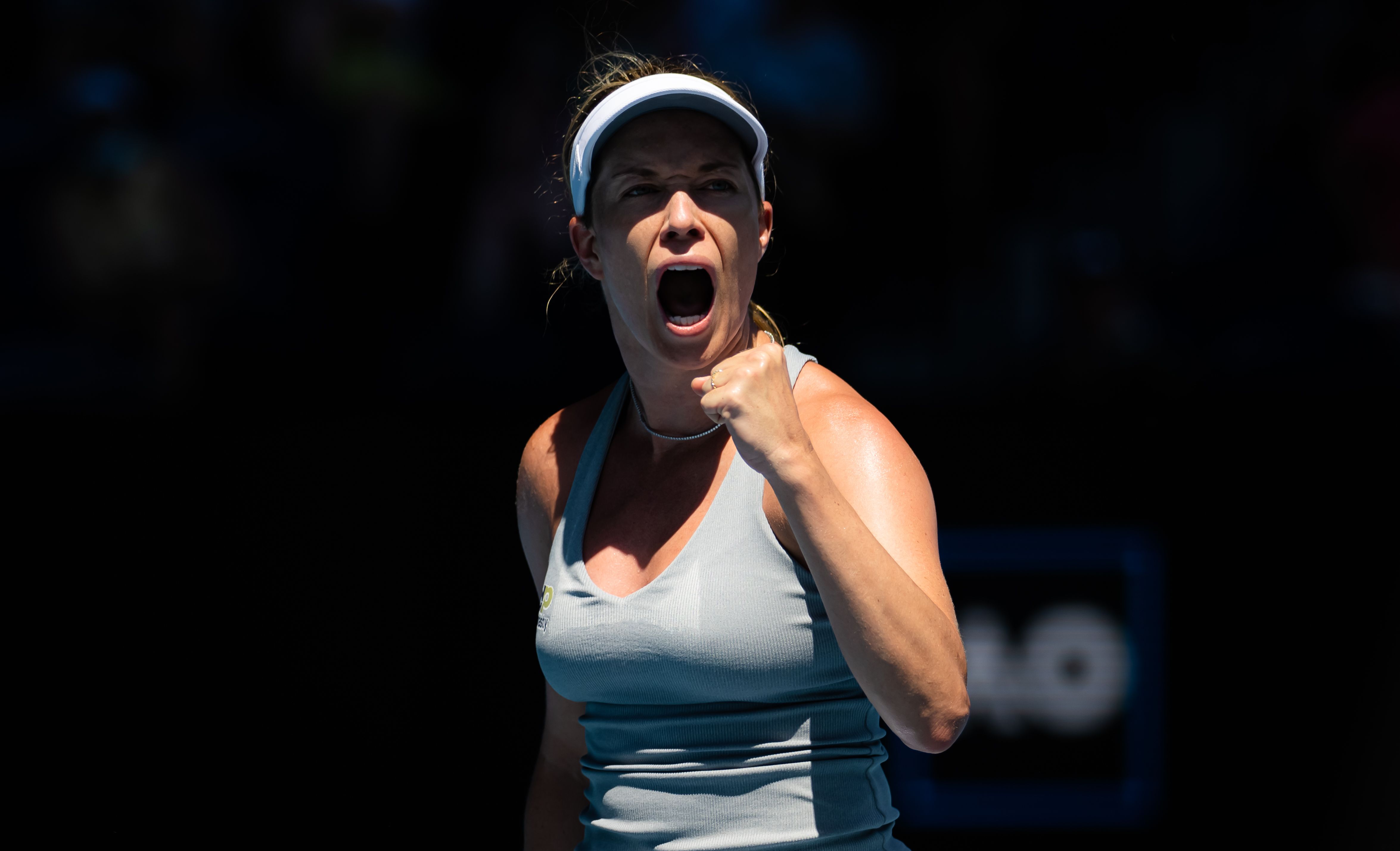 MELBOURNE — Danielle Collins beat Alizé Cornet, 7-5, 6-1, to join fellow American Madison Keys in the Australian Open semifinals.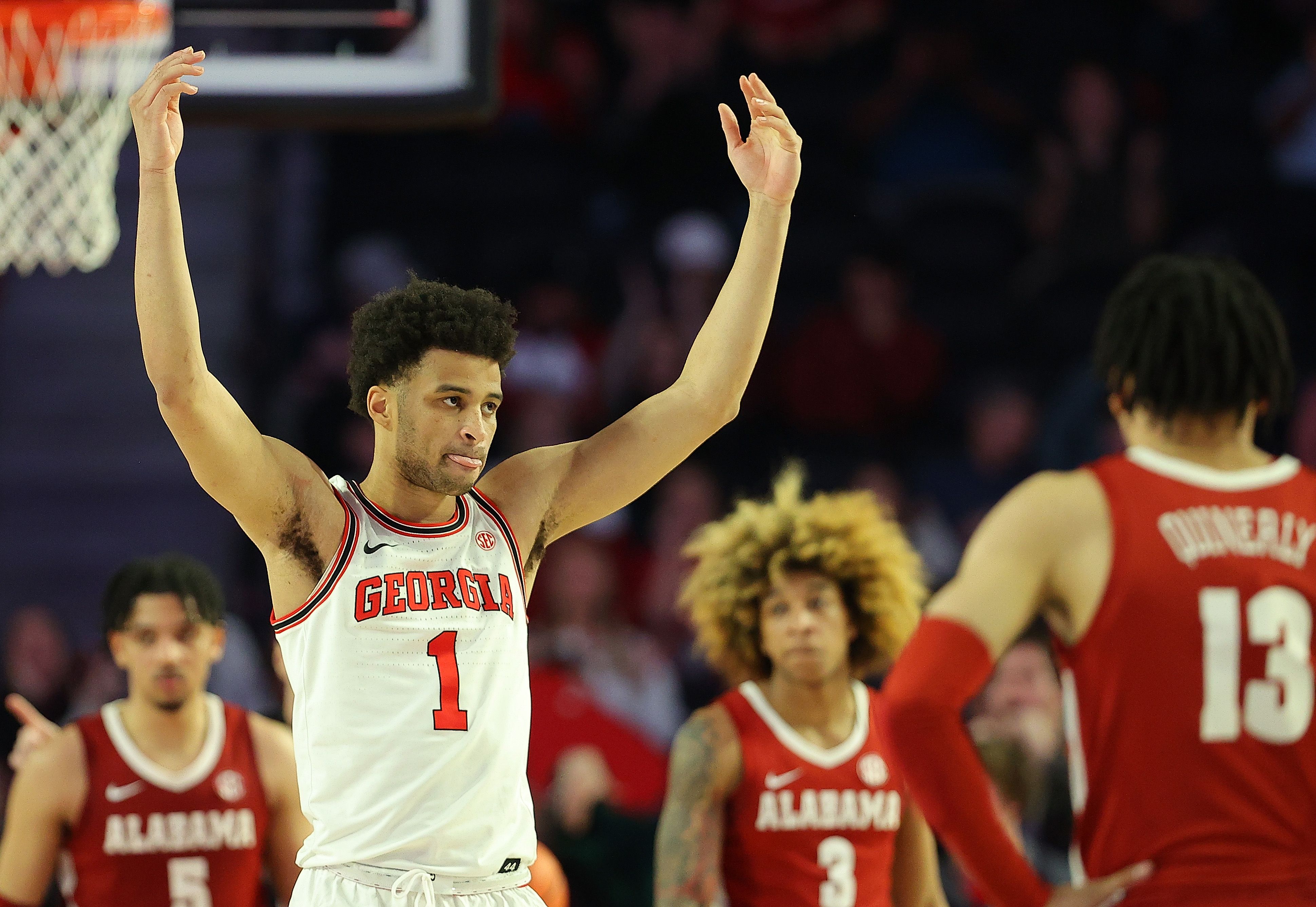 ATHENS, Ga. — Georgia beat Alabama on Tuesday, this time on the hardwood. The Bulldogs were 14.5-point underdogs, making this their largest upset win since beating Kentucky in 2009.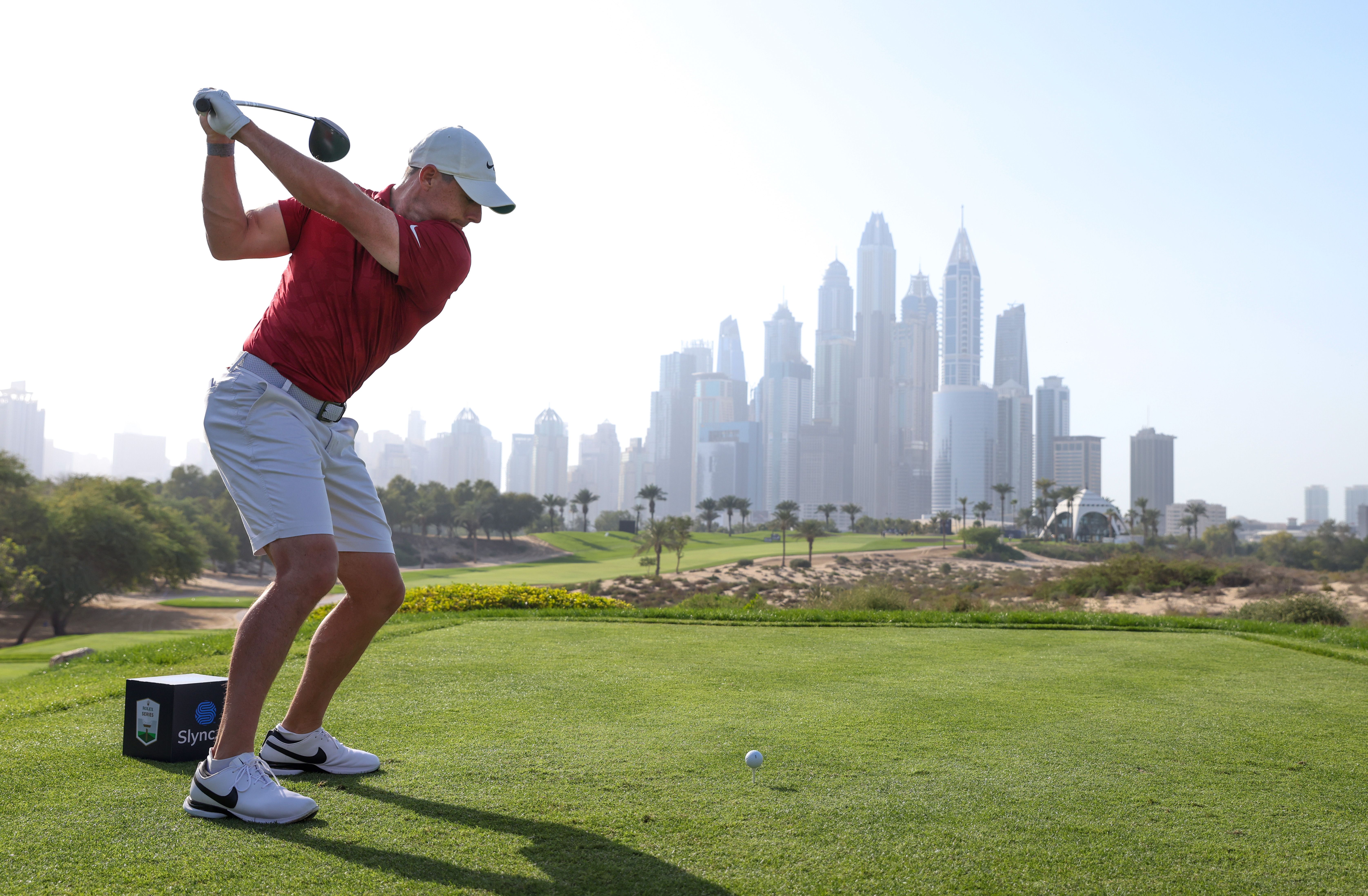 DUBAI, U.A.E. — Not a bad backdrop.
8. 📺 Watchlist: Neymar Netflix doc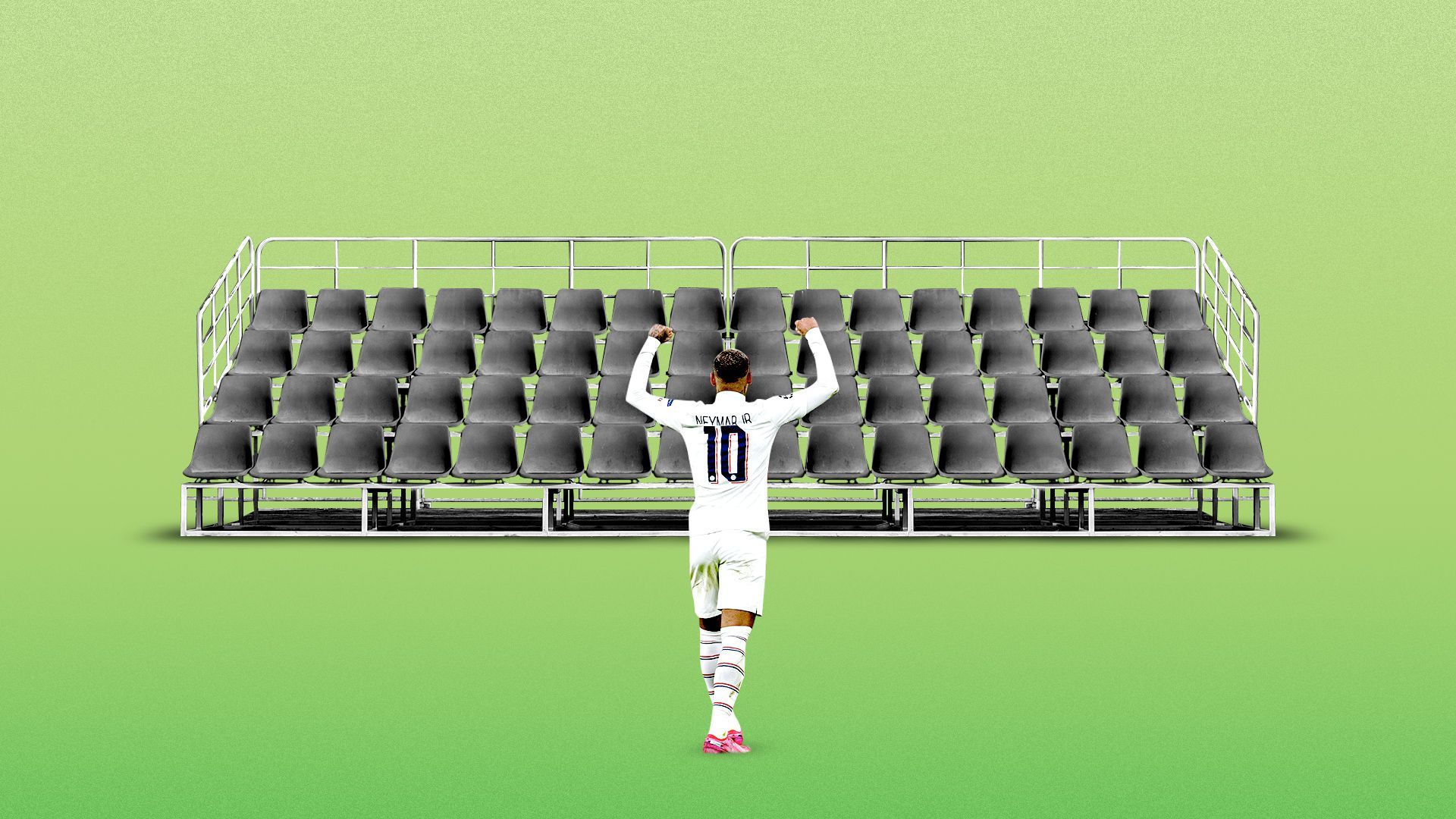 "Neymar: The Perfect Chaos," a three-part series about Neymar's rise to international fame, is now streaming on Netflix. Watch the trailer.
More to watch:
9. ⚾️ MLB trivia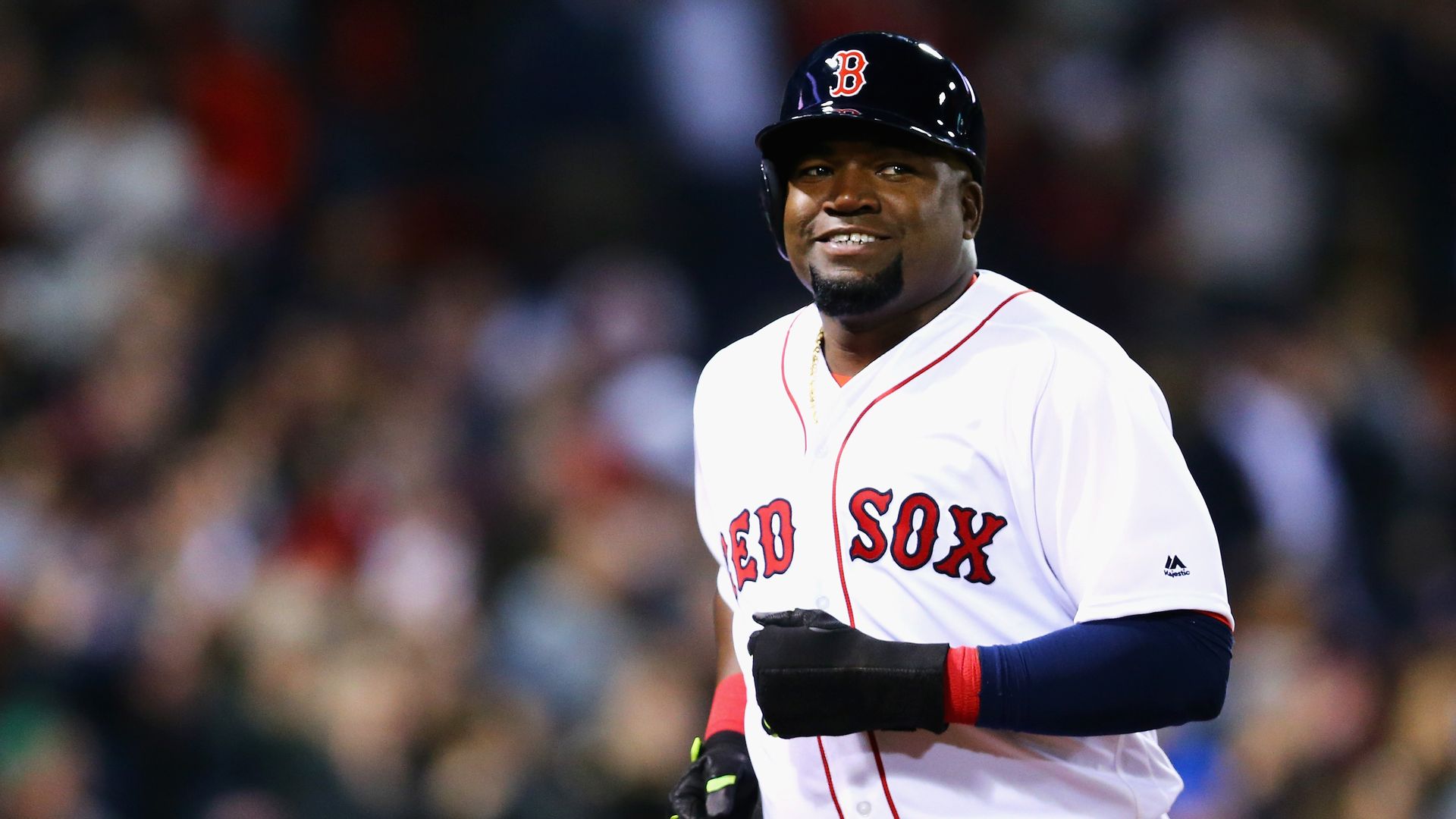 David Ortiz is one of four players to hit 500 home runs and win three World Series.
Question: Who are the other three?
Hint: They all played for the same franchise at one point.
Answer at the bottom.
10. ❤️ 1 Philly thing: Broad Street love story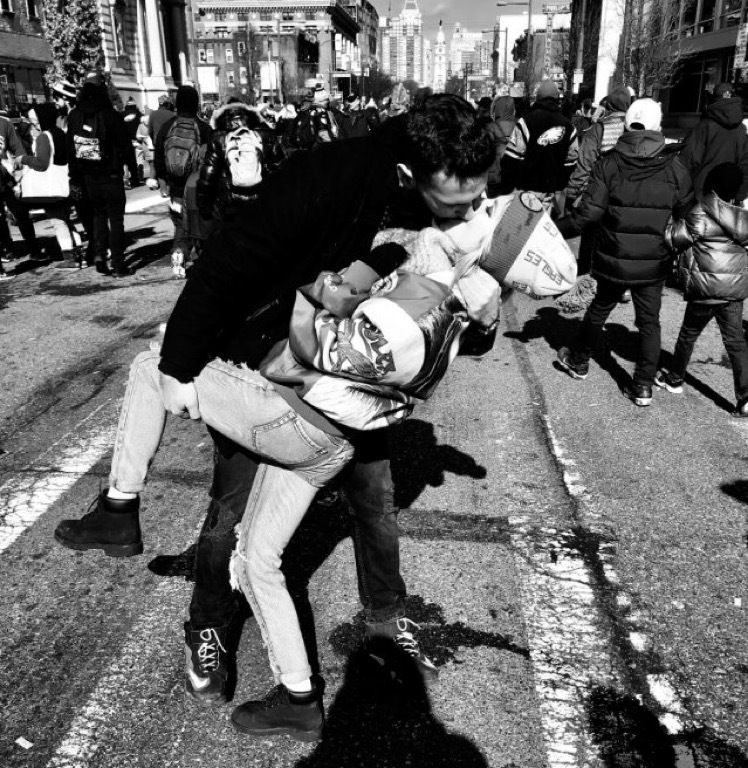 It all started with a tweet, Axios' Taylor Allen writes.
What's happening: Four years ago, two Philly sports fans celebrating the Eagles' first Super Bowl recreated the famous photo of a World War II sailor kissing a dental assistant. On Friday, the couple returned to that same spot. But this time, the kiss ended on bended knee.
Flashback: On Feb. 4, 2018, Philly sports writer Shamus Clancy tweeted the 1945 photo most well-known as "The Kiss," saying facetiously, "me and your girl on Broad Street."
Ashley Suder tweeted back, saying she'd be willing to recreate the picture at the parade. They took the photo and have been together ever since, cheering on their beloved Philly sports teams.
Their advice: Give Twitter a chance. "I know a lot of people who've met other people on Twitter and are dating," Clancy said.
What's next: The couple said they'll likely wed next year. "Maybe it'll have some type of Eagles theme ... It can be at the Linc and have Nick Foles or Jason Kelce officiate our wedding," Suder said while laughing.
Sign up for Axios Philadelphia, or one of our other local newsletters to keep up with what's happening in your backyard.