Axios Sports
May 14, 2021
🎉 Happy Friday! Let's sports.
😷 Yankees outbreak: Gleyber Torres is the eighth person (and first player) from the Yankees to test positive for COVID-19 this week. All were vaccinated.
Today's word count: 2,026 words (8 minutes).
1 big thing: 🏀 The WNBA turns 25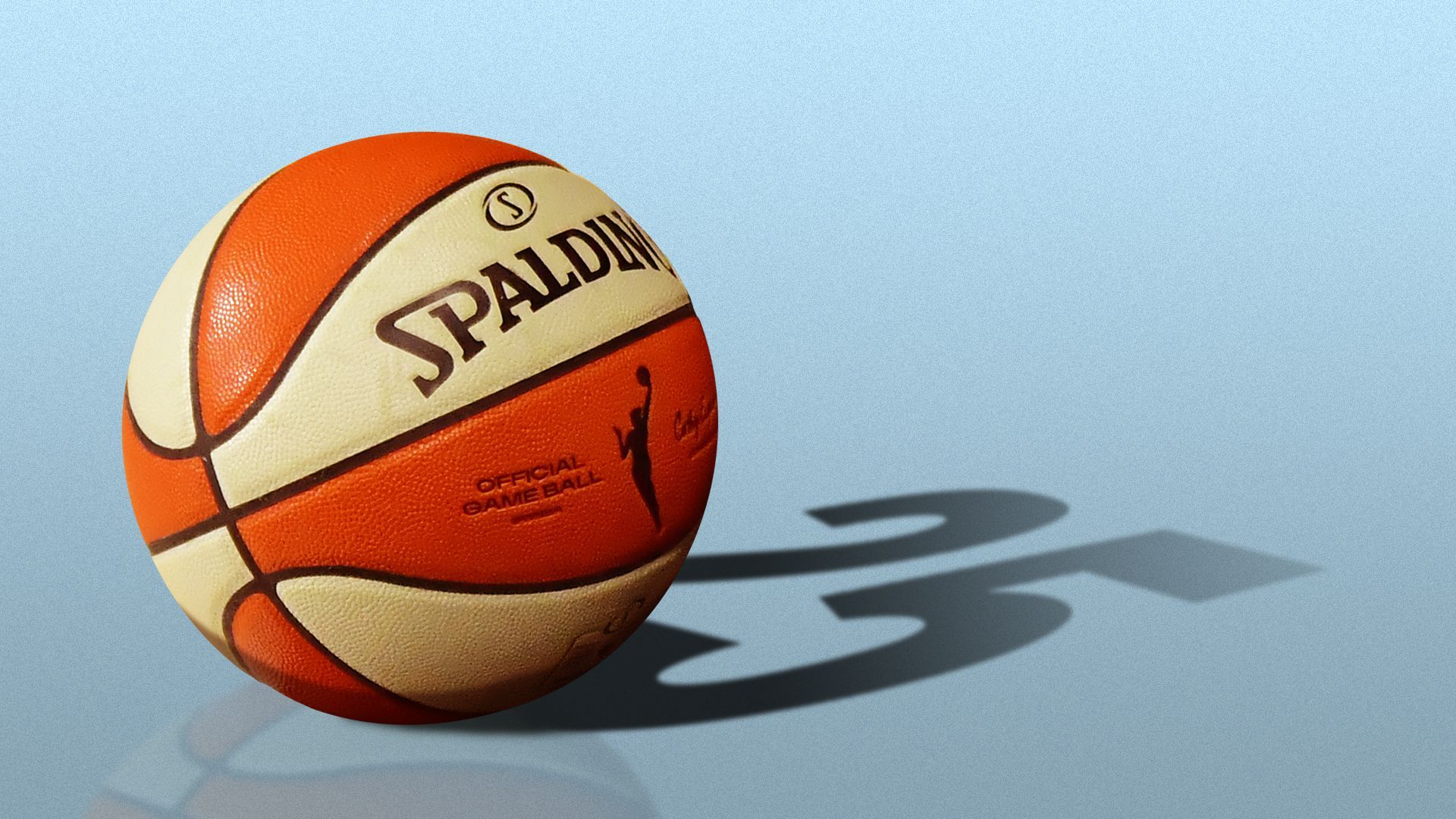 The WNBA's 25th season tips off tonight in New York with the Liberty hosting the Indiana Fever at Barclays Center, Axios' Jeff Tracy writes.
The state of play: After last year's shortened, 22-game season in the "Wubble," teams will play a nearly-full 32 game slate (normally 34) in their own arenas.
Preseason power rankings: Every team in 10 words or less...
ICYMI ... ESPN's documentary on the WNBA bubble, "144," premiered Thursday night. Here's a clip of A'ja Wilson getting her MVP trophy.
Go deeper:
2. ⚾️ Reimagining how prospects get paid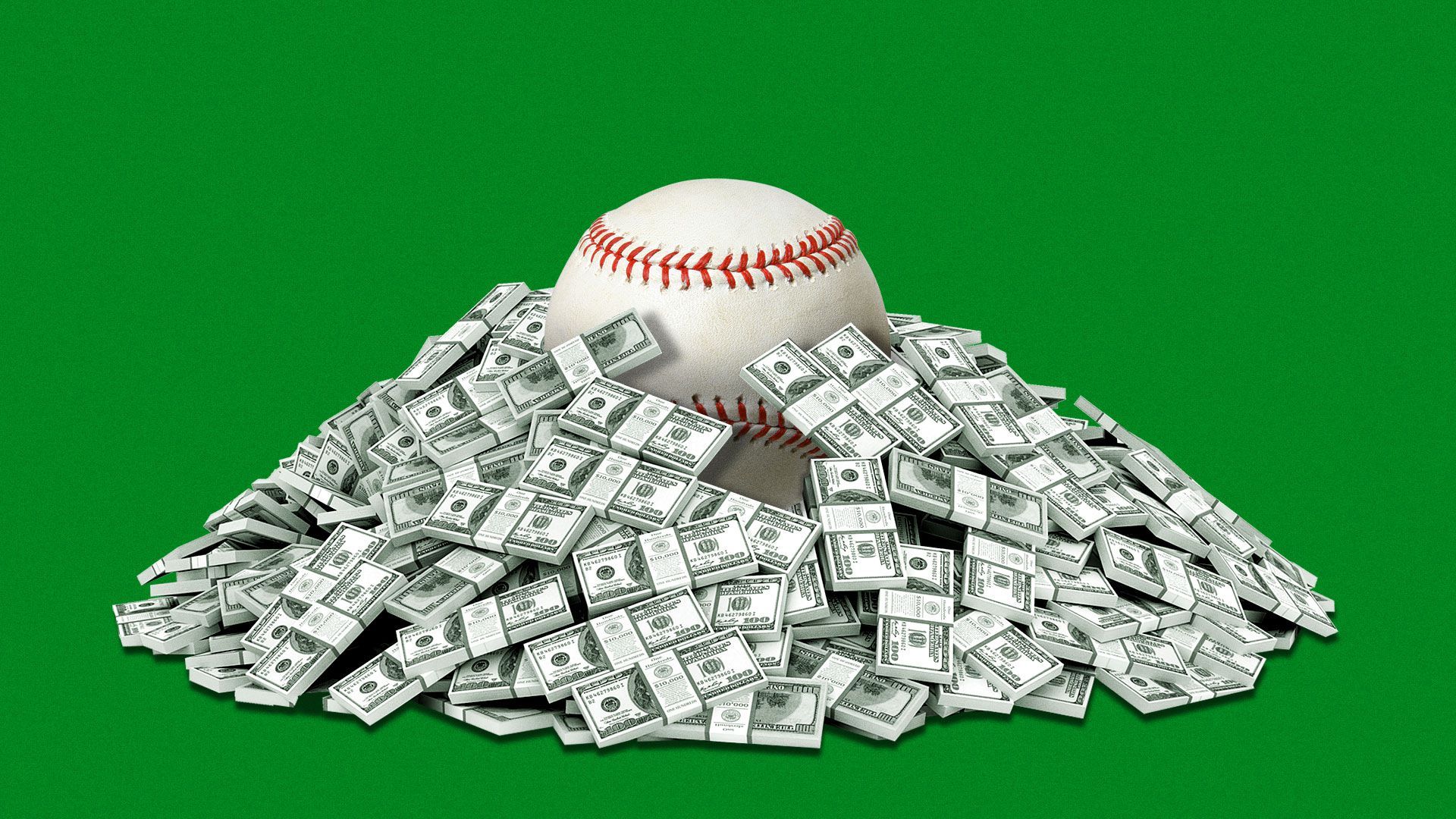 Hope you enjoyed Minor League Baseball Week, which concludes today.
Making it to the big leagues is incredibly difficult, and it's even harder to stick around for a few years and land that first big contract.
The state of play: A number of companies have emerged to help young prospects better manage the risk-reward structure of baseball and cash in earlier on their future value — or at least de-risk it. Let's talk about two.
1. Big League Advance made headlines in February when it was revealed that Fernando Tatís Jr., fresh off signing a $340 million contract, owed the company upwards of $30 million.
2. Pando takes an entirely different approach, putting players with similar expected future earnings into a "pool," where their careers become linked and their financial risks become lessened.
"My pool is six or seven guys, all African American, which is honestly rare in professional baseball, and we all have each other's backs."
—
Marty Contes
, Astros prospect
📆 This week:
3. 🏀 Pray for Kings fans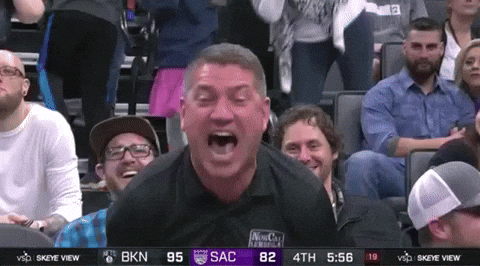 The Kings will miss the playoffs for a 15th consecutive season, tying the Clippers (1977-1991) for the longest postseason drought in NBA history.
The franchise's last playoff game was on May 5, 2006. The top movie at the box office that weekend was "Mission: Impossible III," and the top song on the radio was "Bad Day" by Daniel Powter.
Since then, the Kings have gone through 10 head coaches and compiled a .367 winning percentage. An executive also stole $13 million from the team in a truly bonkers scandal.
Longest active playoff streaks:
🏒 NHL: Penguins (15)
⚽️ MLS: Sounders (12)
⚾️ MLB: Dodgers (8)
🏀 NBA: Trail Blazers (7)
🏈 NFL: Chiefs (6)
Longest active playoff droughts:
⚾️ MLB: Mariners (19)
🏀 NBA: Kings (15)
🏈 NFL: Jets (10)
🏒 NHL: Sabres (10)
⚽️ MLS: Fire, Dynamo, Whitecaps (3)
4. 📺 Weekend watchlist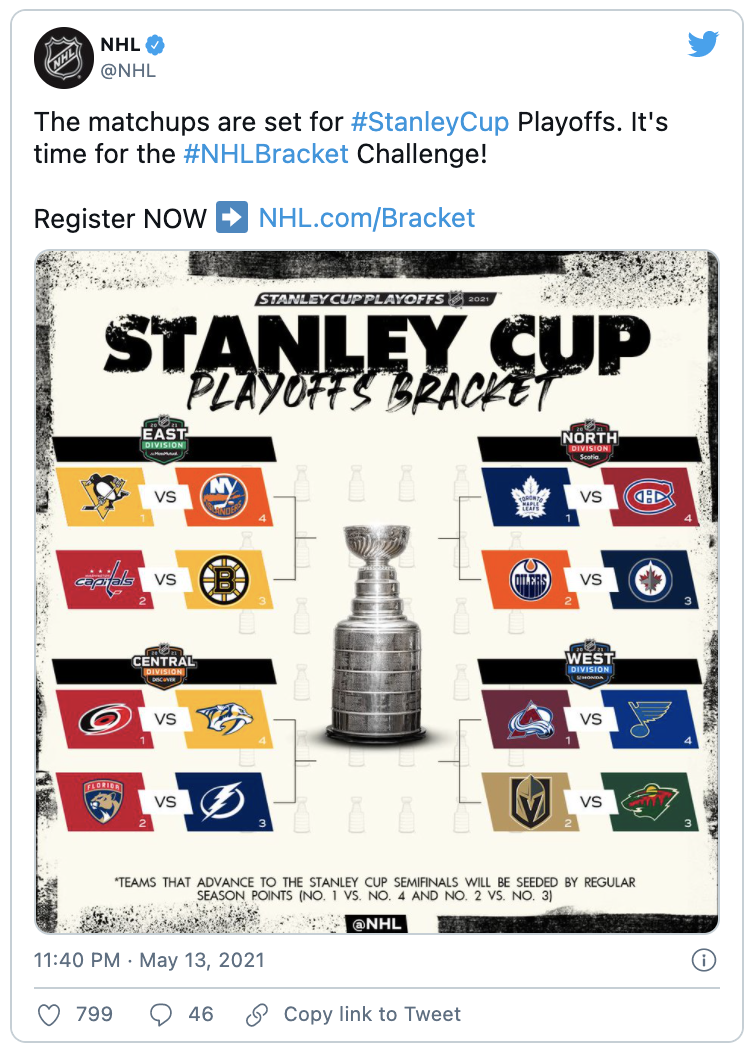 Some highlights from a jam-packed weekend of sports...
🏒 NHL playoffs: The Avalanche wrapped up the Presidents' Trophy on Thursday night and the playoffs start tomorrow, with the Capitals hosting the Bruins (7:15pm ET, NBC). First round schedule.
🏀 NBA final stretch: There are three days left in the regular season and only two of the 20 playoff/play-in teams are locked into their seed. Should be a wild weekend. Most exciting potential first-round matchups.
⚽️ NWSL kickoff: The ascendant league's eighth season kicks off this weekend, with all 10 teams playing their first match. Season preview.
🏈 FCS title game: South Dakota State and Sam Houston, the top two seeds, will play for the FCS national championship on Sunday in Frisco, Texas (2pm, ABC). Game preview.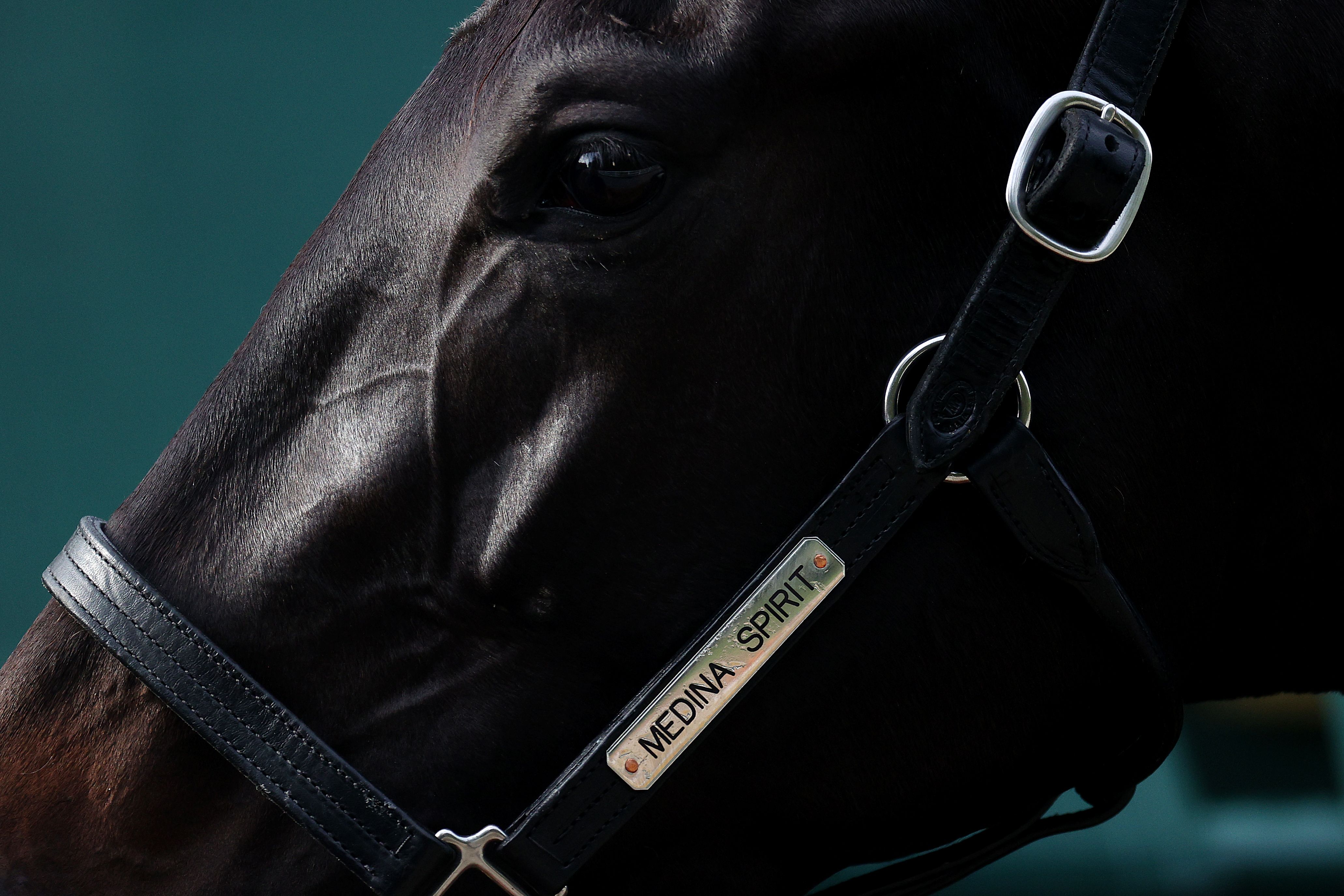 🐎 Preakness Stakes: The second leg of the Triple Crown is tomorrow at Baltimore's Pimlico Race Course (6:50pm, NBC), and Derby winner Medina Spirit is the favorite (9-5). Odds and predictions.
⚽️ College Cup: The men's final will be determined tonight as UNC takes on Marshall (6pm) and Indiana battles Pitt (8:30pm), while the women's final between Santa Clara and Florida State is set for Monday.
🥍 May Madness: The women's 29-team lacrosse tournament begins this afternoon, while the men's 16-team tournament begins tomorrow. UNC is the top seed in both.
🏁 NASCAR: The Drydene 400 is Sunday at the "Monster Mile" in Dover, Delaware (2pm, FS1). Preview.
5. 🎓 Pac-12 hires new commissioner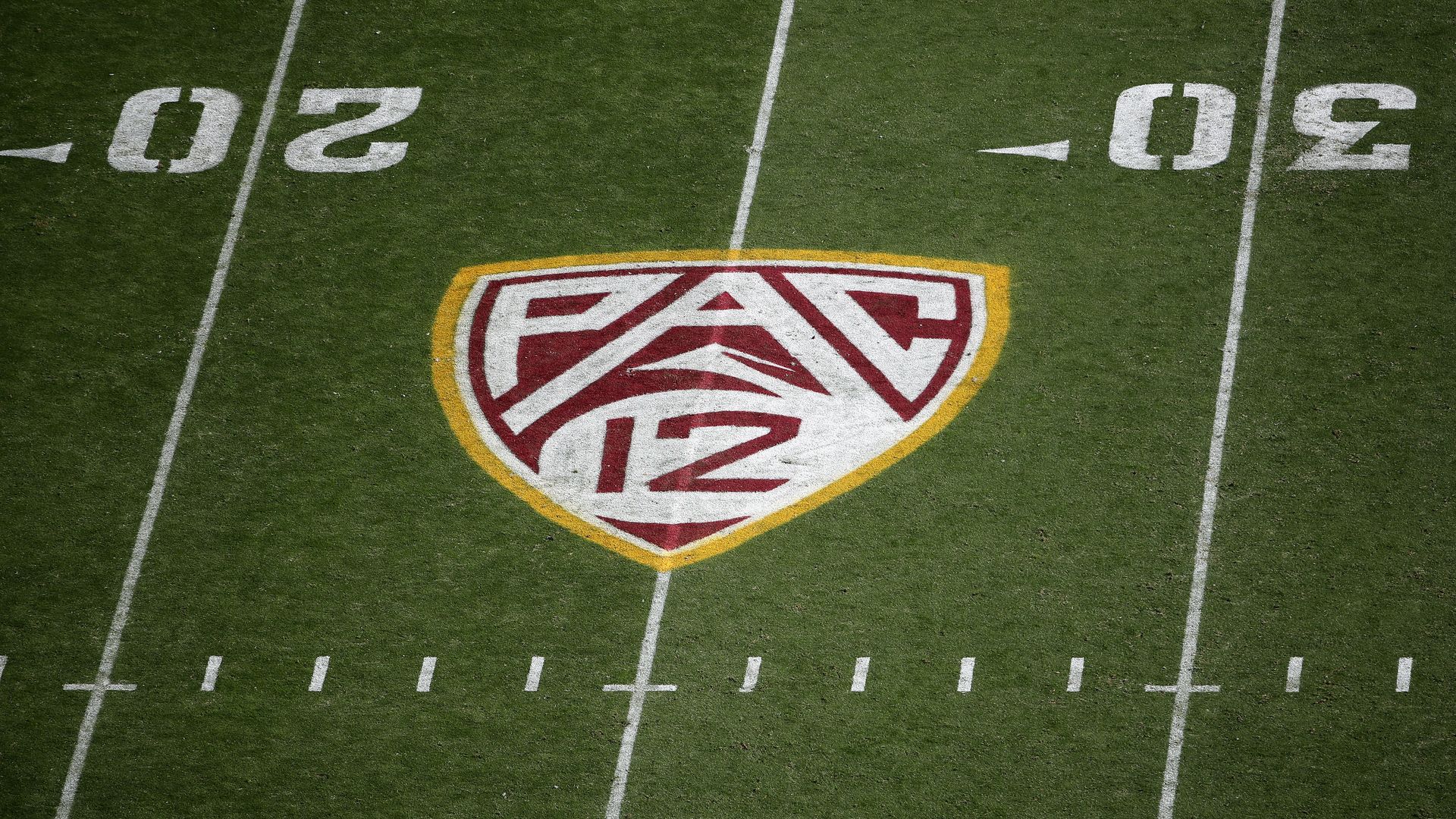 The Pac-12 has hired George Kliavkoff, an executive from MGM Resorts and a college sports newcomer, as its new commissioner.
Why it matters: Kliavkoff is taking over a league that has fallen behind rivals like the Big Ten and SEC financially. It also hasn't won a football (2004) or a men's basketball (1997) title in a long, long time.
The financial woes are due largely to the media strategy set forth by Kliavkoff's predecessor, Larry Scott, who was also hired with little college sports experience.
While other conferences launched networks in partnership with ESPN and Fox Sports, the Pac-12 launched its own network. That means it controls its TV rights but is paid far less for them.
What they're saying: "George is the new prototype for a sports commissioner," said Oregon president Michael Shill, pointing to Kliavkoff's background as a sports and media executive.
"It's a mistake not to get someone experienced in college athletics," an industry source told The Athletic (subscription).
"They are going to have to hire a consultant for the media deal anyway ... whereas day to day this person needs to manage university presidents and athletic directors."
In other Pac-12 news ... Stanford athletes filed two lawsuits on Wednesday in a last-ditch effort to force the university to reinstate most of the 11 sports it plans to axe at the end of the school year.
6. 🏈 SeatGeek sees record NFL ticket demand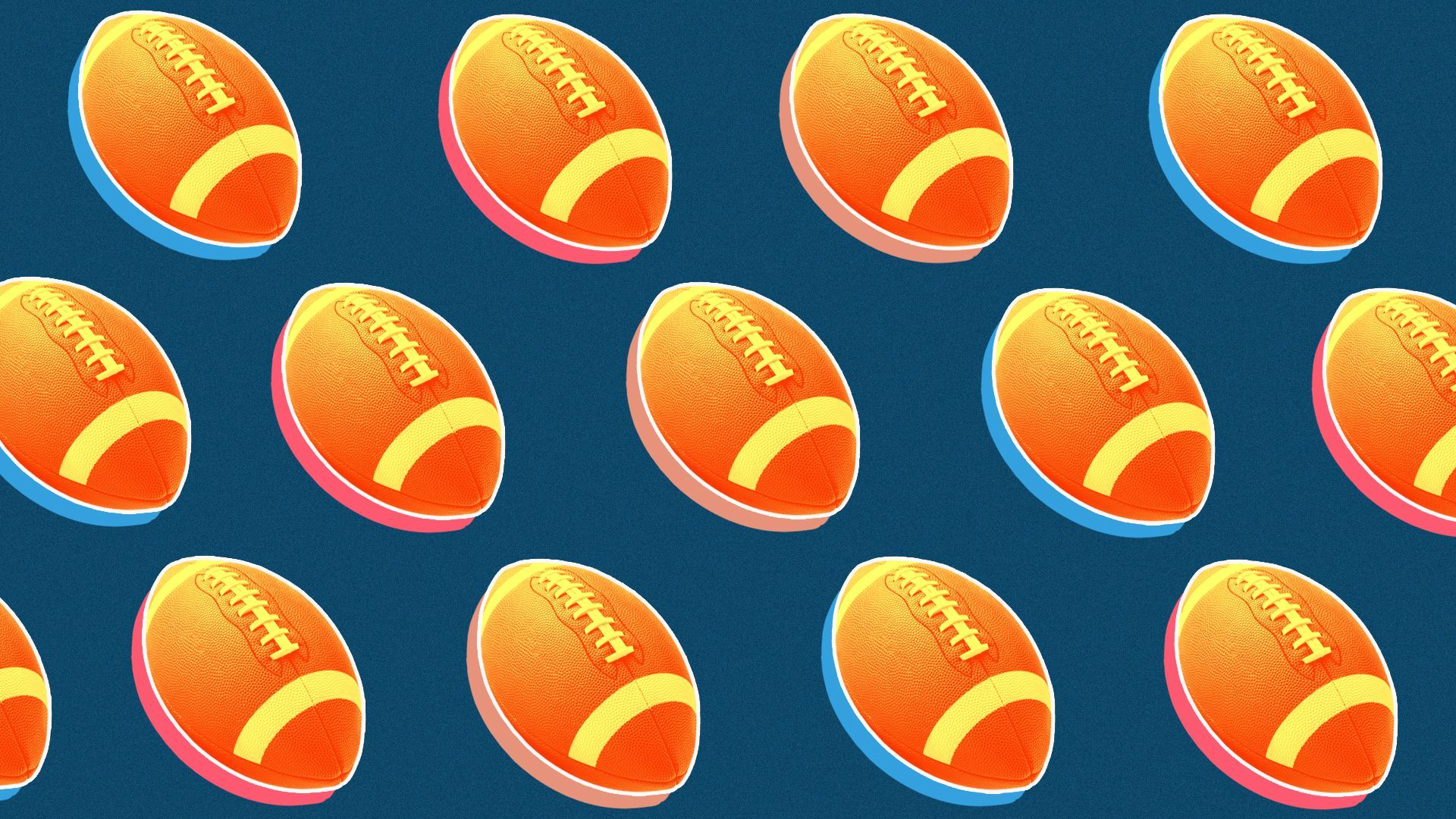 Wednesday's NFL schedule release was the most in-demand in SeatGeek history, according to the company.
By the numbers: Ticket sales volume on SeatGeek so far is three times what it was during the same timeframe in 2020, and as of 7:45pm ET Thursday night, the average ticket price was up 8% from last year.
Top-selling teams: 1. Raiders, 2. Cowboys, 3. Buccaneers, 4. Chargers, 5. Patriots. (Of note: This is the first year that Raiders and Chargers fans will be able to see their teams play in their new stadiums.)
Top games: Buccaneers at Patriots, Oct. 3 ($1,633 average price); Ravens at Raiders, Sept. 13 ($1,069); Chiefs at Raiders, Oct. 14 ($878); Eagles at Raiders, Oct. 24 ($838); Cowboys at Patriots, Oct. 10 ($770).
7. ⚡️ Lightning round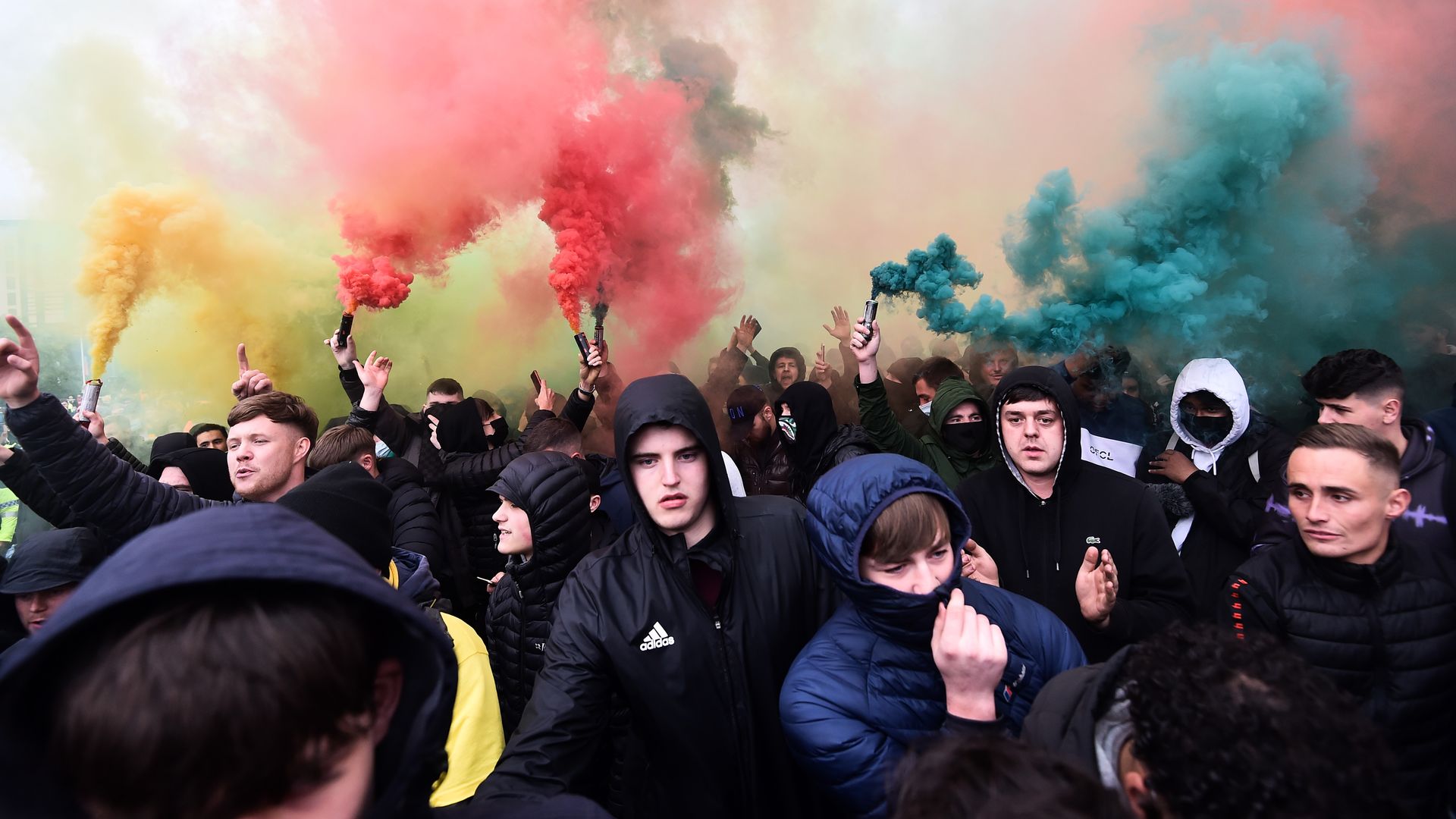 📸 Pic du jour: Hundreds of Manchester United fans protested again outside Old Trafford ahead of the club's match against Liverpool, which was postponed two weeks ago due to unrest. Liverpool won 4-2.
⚾️ 58 straight K's: Brewers starter Corbin Burnes set the all-time record for most strikeouts before issuing his first walk. What an insane streak.
🏀 3-minute debut: Heat legend Udonis Haslem finally made his season debut on Thursday night ... and got ejected three minutes later.
💵 Curry + Goldman: Steph and Ayesha Curry are joining the advisory council for Goldman Sachs' One Million Black Women initiative, which will invest more than $10 billion in Black women over the next decade.
⚽️ MLS salaries: LAFC's Carlos Vela ($6.3M), LA Galaxy's Javier "Chicarito" Hernández ($6M) and Inter Miami's Gonzalo Higuaín ($5.8M) are MLS' highest-paid players, per the MLSPA's annual salary release.
8. 📆 May 14, 1989: The Tour de Trump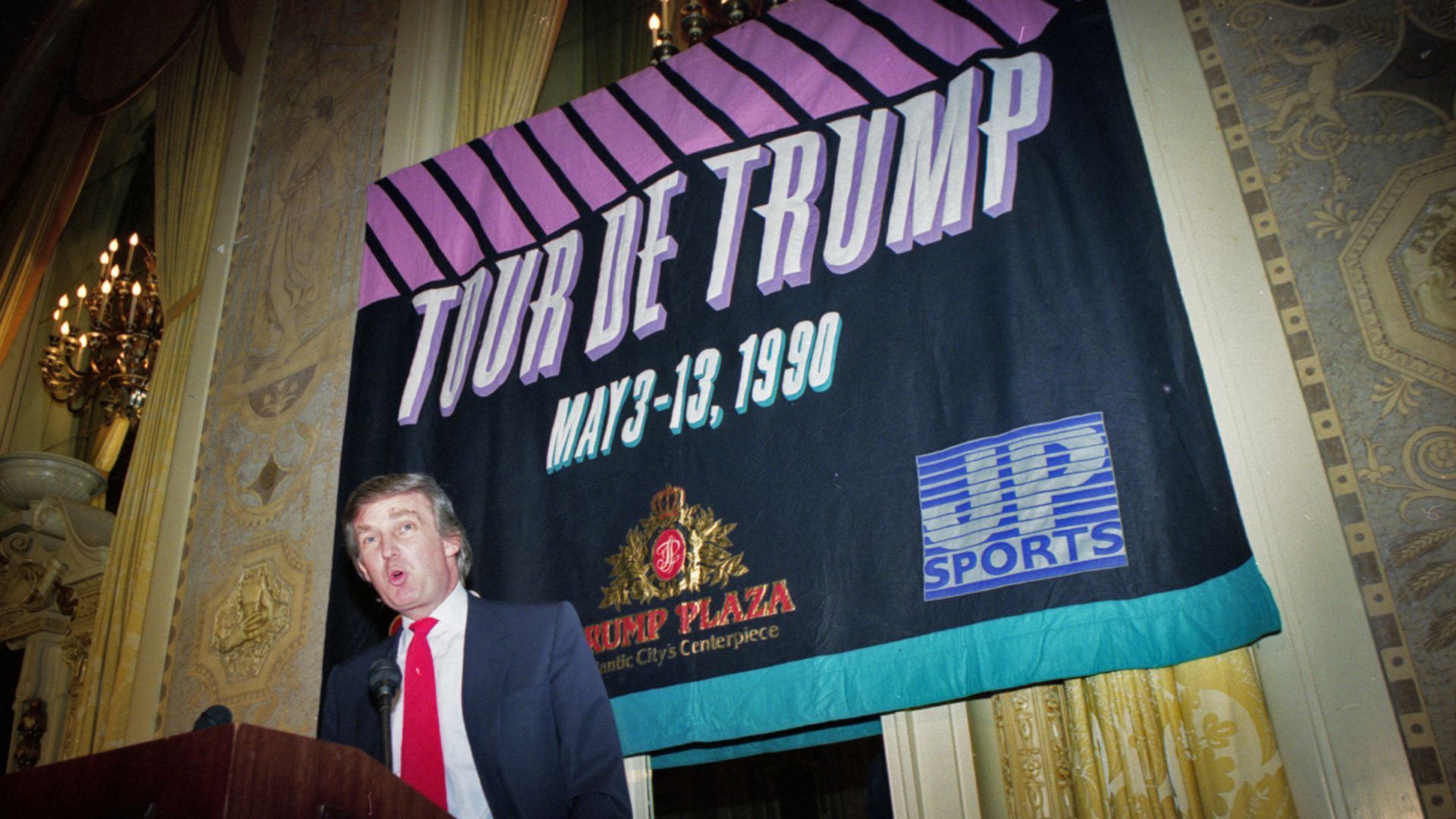 32 years ago today, Donald Trump's first Tour de Trump cycling race concluded in Atlantic City.
The backdrop: The 837-mile race was intended to become America's version of the Tour de France. The '80s was a high point for the sport in the U.S. and NBC Sports signed on to telecast the event.
The race featured 10 stages across five states, beginning in Albany, New York and finishing in front of Trump's Atlantic City hotel and casino.
114 riders from 15 countries competed, including Greg LeMond, who had recently become the first American to win the Tour de France.
The big picture: Trump's namesake race lasted just two years thanks largely to his empire's billions of dollars of debt. DuPont became the main sponsor in 1991 and the "Tour DuPont" lasted until 1996.
The final two editions of the race were won by a young rising star from Texas. His name? Lance Armstrong.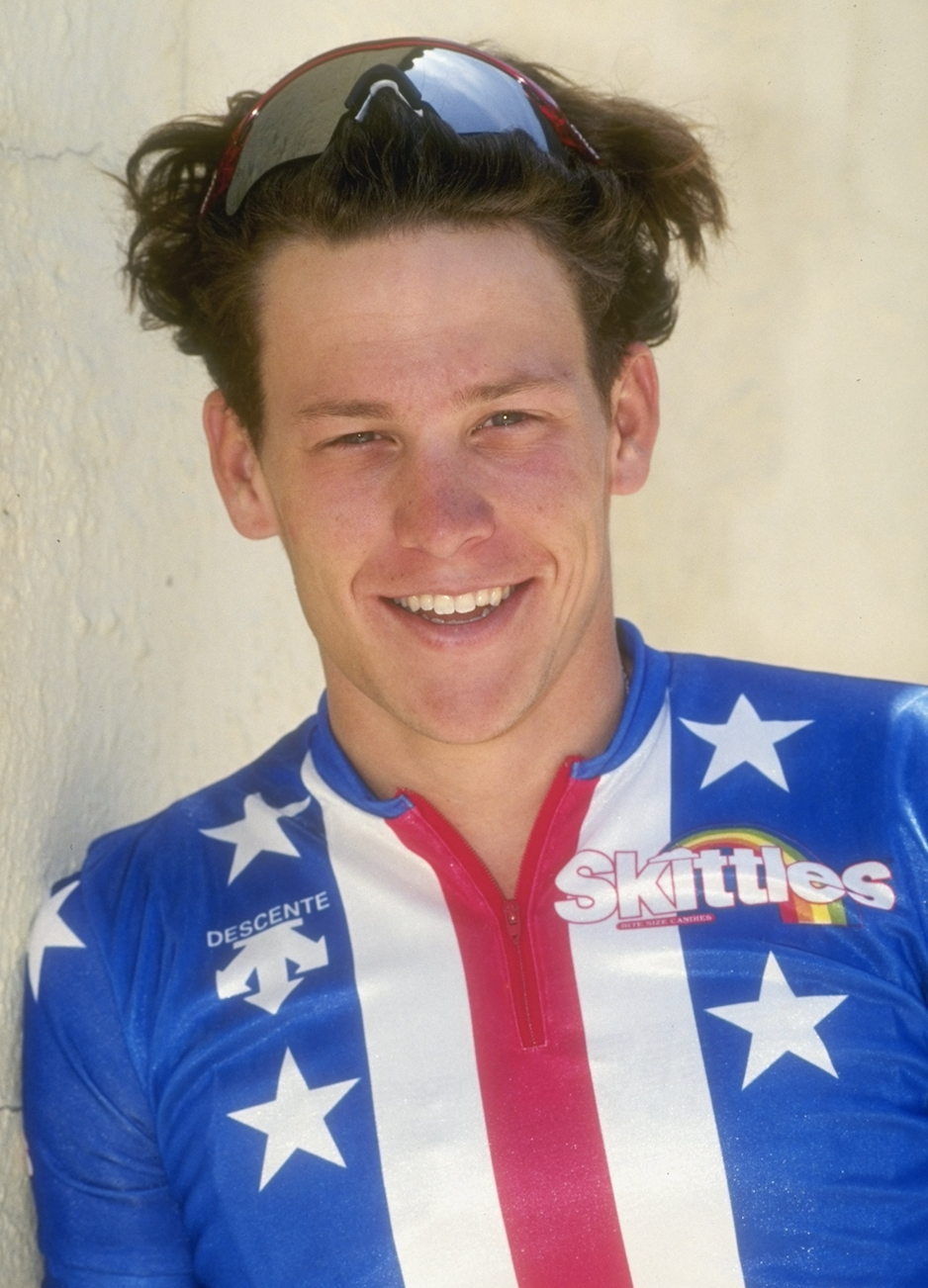 Go deeper:
9. ⚾️ MLB trivia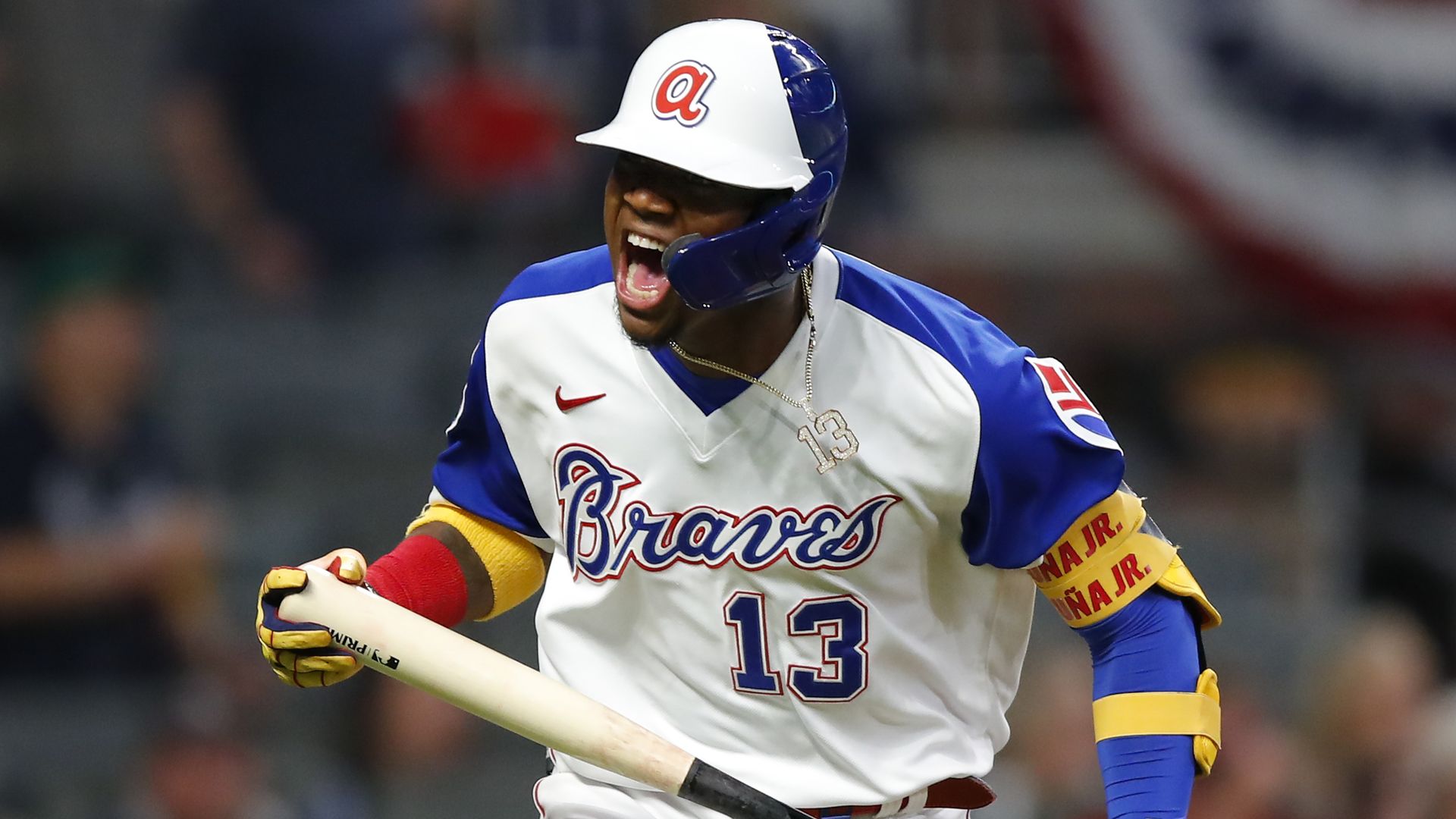 Ronald Acuña Jr. has 50 HR and 42 SB in his last 162 games, making him the second player in history with 50 HR and 40 SB in any 162-game span.
Question: Who's the other player?
Hint: He's a member of the 500 HR club.
Answer at the bottom.
10. ⚾️ Worth a watch: How an ace prepares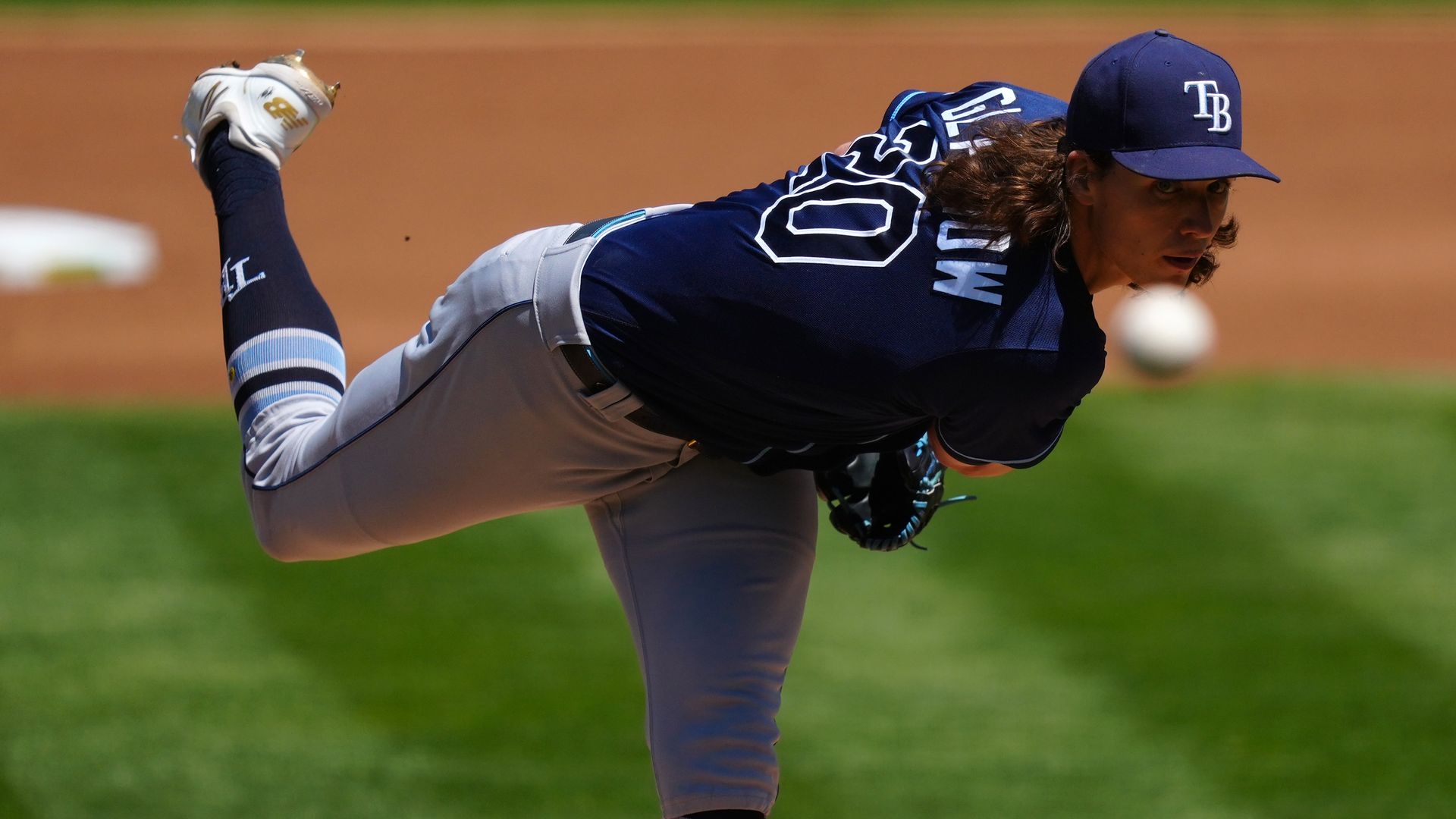 Tyler Glasnow, the Rays' 27-year-old ace and early AL Cy Young contender, makes his ninth start of the season tonight against the Mets, Jeff writes.
How he works: The Rays put together a fascinating video that pulls back the curtain on Glasnow's five-day, between-starts routine.
Day 0: "Following a start, where I just threw 100 or so pitches, I have to get my body back to even."
Day 1: Mobility program includes stretching and a high heart-rate run, but nothing too high impact.
Day 2: Throwing and lifting, preceded by mobility work and followed by a hot tub/cold tub.
Day 3: 15–20 pitch bullpen session to "recreate the stress of a game while maintaining low impact."
Day 4: His lightest day, including casual throwing in the outfield and enough cardio to get a light sweat.
Day 5: Start day. More mobility work and light cardio before taking the mound.
Enjoy the weekend,
Kendall "Playoff hawkey" Baker
Trivia answer: Barry Bonds (1993–95)