October 14, 2019
👋 Happy Monday! Welcome back.
🎧 Podcast Club: Trying something new this week. We'll be listening to "The Sterling Affairs," a 5-part podcast about the scandal that rocked the NBA. See the bottom for more details.
📺 NLCS, Game 3: Stephen Strasburg and the Nationals host Jack Flaherty and the Cardinals, as Washington looks to extend its 2-0 lead. (7:45pm ET, TBS)
Today's word count: 1,685 words (6 minutes)
1 big thing: ⏱ Kipchoge redefines what's possible
During a specially-tailored event in Vienna on Saturday, Kenya's Eliud Kipchoge became the first human to run a marathon in under 2 hours, covering 26.2 miles in 1:59:40.
One caveat: Kipchoge's time won't count as an official world record because it didn't come in a race setting and he was aided by pacesetters and drink deliveries.
The backdrop: The 34-year-old Olympic champion attempted this same challenge in 2017, but came up 25 seconds short (2:00:25). Since then, he set the official world record with a time of 2:01:39 at last year's Berlin Marathon.
Why it matters: Official or not, the 2-hour barrier has been broken — a feat that was, until recently, considered impossible.
The big picture: This was running's last great barrier after the 4-minute mile (broken by Roger Bannister in 1954) and the 10-second 100 meters (broken by Jim Hines in 1968).
How it worked: Every aspect of the event, dubbed the Ineos 1:59 Challenge, was designed to give Kipchoge the best chance to succeed.
Custom shoes: Kipchoge wore a pair of Nike Vaporflys, which have proven controversial because of the performance boost they seem to lend runners. (They featured in the 5 fastest official marathons ever, all of which took place in the past 13 months.)
Pacemakers: A team of 36 world-class runners ran in an inverted-V formation and rotated in and out, 7 at a time, to keep Kipchoge on pace and shield him from the wind. In front of them, a pace car projected a green laser on the road showing the target pace.
Drink deliveries: Bicyclists delivered Kipchoge energy gels and carbohydrate drinks throughout his run.
The scene at the finish: "As it looked increasingly likely that [Kipchoge] would succeed, people found whatever vantage point they could to witness a moment of sporting history. They climbed up trees and on top of public toilets," writes the New Yorker's Ed Caesar.
The bottom line: We routinely witness athletes redefine their legacies, but rarely do we witness them redefine what's humanly possible.
"I am running to make history, to show that no human is limited. It's not about money, it's about showing a generation of people that there are no limits."
— Eliud Kipchoge
Go deeper: The scene in Kenya after Kipchoge crossed the finish line (Twitter)
2. ⚾️ Carlos called game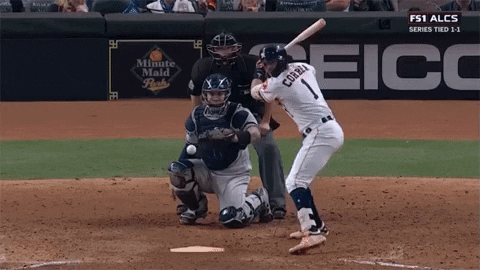 The Astros and Yankees went toe-to-toe late into the night before Houston shortstop Carlos Correa ended it with a no-doubt dinger on the first pitch in the bottom of the 11th. Series tied 1-1.
Fun fact: Correa is the 2nd player in MLB postseason history with multiple walk-off hits against the same opponent. The other is David Ortiz, who did it in consecutive games against the Yankees in the 2004 ALCS.
Go deeper: I found all the good videos, GIFs and photos of Correa's blast and put them in a Twitter thread. You're welcome.
3. 🏆 Women won the weekend
Yesterday, Brigid Kosgei shattered the women's marathon world record, Simone Biles became the most decorated gymnast in world championship history and 15-year-old Coco Gauff won her first singles title.
👟 Running: A day after Kipchoge's feat, his countrywoman Kosgei ran the Chicago Marathon in 2:14:04, besting the previous women's world record by more than a minute (2:15:25).
The big picture: "The two achievements made the weekend one of the most memorable in the modern history of long-distance running, with Kenya asserting its supremacy as the heartbeat of the sport." (NYT)
🥇 Gymnastics: Biles won gold medals in the balance beam and floor exercise to increase her career championship medal count to 25 — breaking Vitaly Scherbo's record of 24, which had stood for over 2 decades.
🎾 Tennis: Gauff beat 2017 French Open champion Jelena Ostapenko, 6-3, 1-6, 6-2, in the finals of the Linz Open to claim her first WTA title.
Worth noting: Gauff is 2 years younger than both Serena and Venus Williams were when they won their first titles.
4. 🏈 NFL Sunday's winners and losers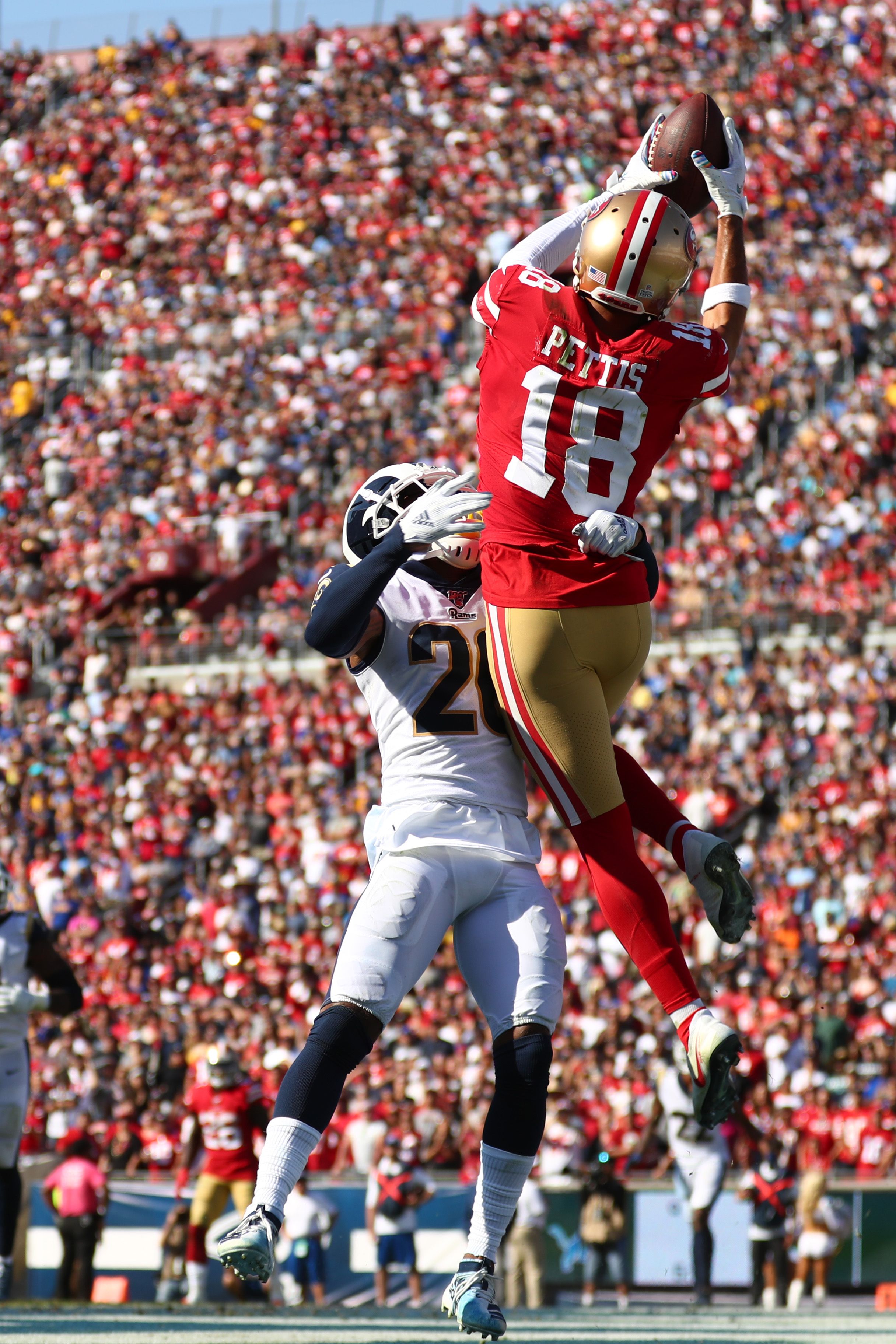 Winners:
The 49ers: "If you questioned the San Francisco 49ers' legitimacy before Sunday's 20-7 win against the Los Angeles Rams, it's time to discard those thoughts and replace them with genuine wonder about what this season could bring. Yes, the time has come for the 49ers and their fans to dream big." (ESPN)
Samford University: QB Devlin Hodges, who broke Steve McNair's all-time FCS passing record while starring at Samford, led the Steelers to a 24-17 win over the Chargers on "Sunday Night Football." ... Meanwhile, back at Samford, this made me cry.
The Dolphins' tank: Miami's performance against the Redskins in the Toilet Bowl was tanking perfection. They made a valiant comeback, tried to win the game by going for 2 and ultimately lost, keeping the No. 1 pick in their sights.
Losers:
The Cowboys: After getting off to a 3-0 start, the Cowboys were widely considered contenders. Now, they've lost 3 straight — including Sunday's loss to the winless Jets — and could be entering another "Fire Garrettober."
The 2015 draft: No. 1 pick Jameis Winston threw 5 picks and lost a fumble in the Bucs' 37-26 loss to the Panthers in London, while No. 2 pick Marcus Mariota was so bad in the Titans' 16-0 loss to the Broncos that he got benched for Ryan Tannehill.
KC's defense: Kansas City's defense cannot get off the field. In their 31-24 loss to the Texans, the Chiefs had less total possession time (20:12) than Houston had in the 2nd half alone (24:06). Not great! Especially when your QB is Pat Mahomes!
Go deeper: NFL Week 6 Awards (For The Win)
5. 🏈 Top 25: LSU jumps to 2, UGA falls to 10
LSU moved up to No. 2 in this week's AP poll following their win over Florida, giving the SEC the top 2 teams in the country and putting the Tigers behind No. 1 Alabama less than a month before they meet in Tuscaloosa.
Good numbers:
4 shutouts: Wisconsin's 38-0 rout of Michigan State marked its 4th shutout, tied for the most by any team this century in a full season. The Badgers needed just 6 games.
7 wins vs Top 10 teams: LSU's Ed Orgeron has 7 wins over AP top 10 teams since 2016 — 1 more than Dabo Swinney and 2 shy of Nick Saban and Urban Meyer.
8 straight wins: Following their 34-7 drubbing of Nebraska (we good, Frost?!), Minnesota has won 8 straight games for the first time since 1949 (2-0 finish last year, 6-0 this year).
Bad numbers:
104-24: Florida State has been outscored by 80 points in its last 2 games against Clemson (45-14 on Saturday, 59-10 last year), an accurate representation of the space separating the former ACC rivals.
1 passing yard: "Can you guess how many passing yards Rutgers had Saturday against Indiana? This is a trick question, because Rutgers did not have passing yards. They had passing yard. Just the one." (Deadspin)
3 losses to the Mountain West: Vanderbilt's 34-0 loss to UNLV is the SEC's 3rd loss to the Mountain West this year (San Jose State def. Arkansas and Wyoming def. Missouri). This was the most shocking considering UNLV hadn't beaten an FBS team all year.
Go deeper: Projecting all 41 bowl games, including the College Football Playoff (ESPN)
6. Oct. 14, 2003: ⚾️ "The Steve Bartman incident"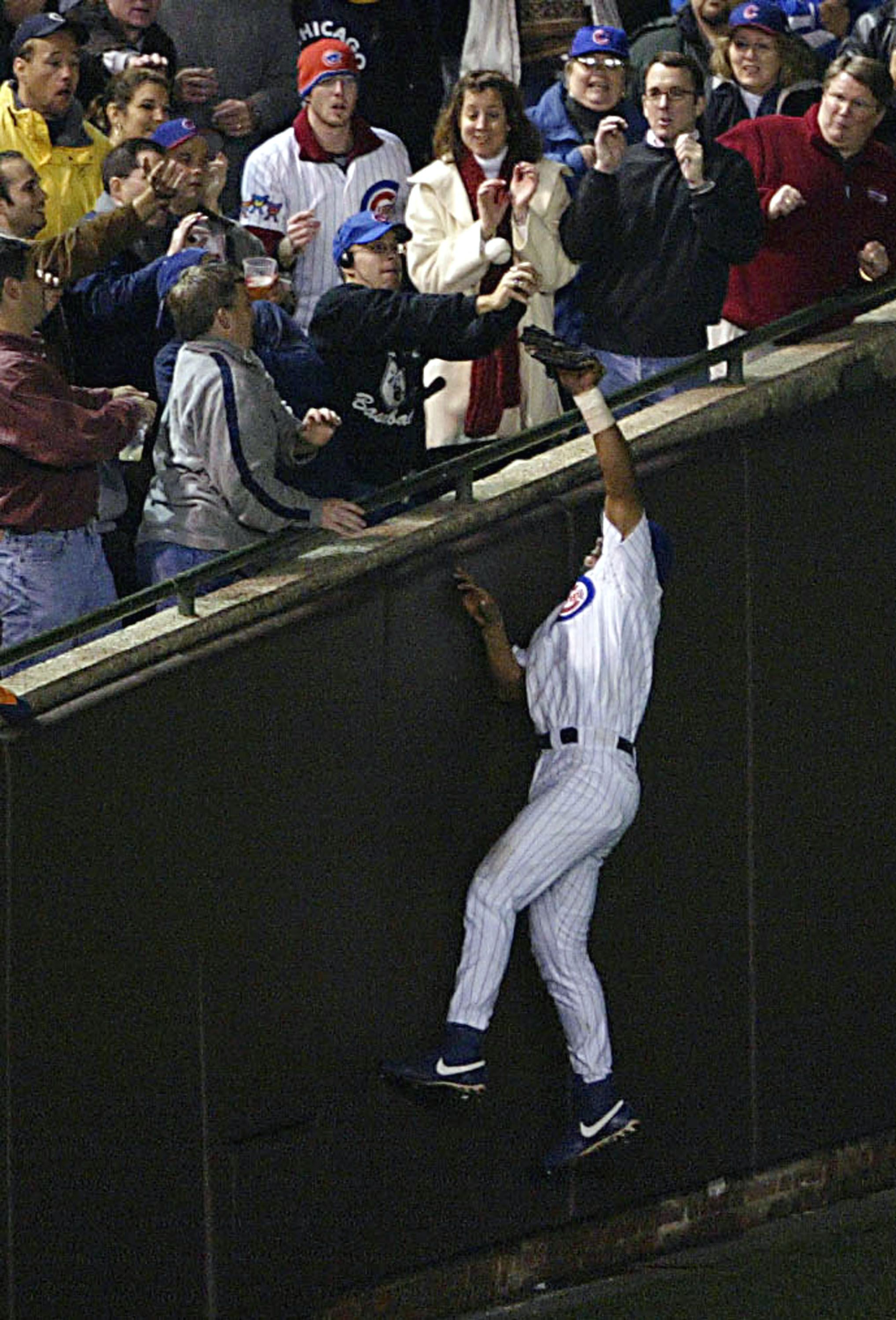 16 years ago today, lifelong Cubs fan Steve Bartman became a national pariah after interfering with a foul ball during Game 6 of the 2003 NLCS.
Context: If Moises Alou had caught the ball, the Cubs would have been just 4 outs away from winning their first NL pennant since 1945.
Instead, they allowed 8 runs in the inning and lost the game 8-3. TV cameras focused on Bartman, frozen in his seat. He was showered with boos and had to be escorted from the stands for his own safety.
When the Cubs were eliminated in Game 7 the next day, Bartman was made a scapegoat and began receiving death threats.
Fast forward: When the Cubs won the World Series in 2016, Bartman was given a ring and fences were mended (kind of).
Go deeper: 30 for 30: "Catching Hell" (Trailer)
7. 🏈 CFB trivia
South Carolina closed as 21-point underdogs on Saturday, making their win over Georgia the largest upset in an SEC game since 2014, when Texas A&M took down No. 3 Auburn.
Question: Who were the starting QBs in that 2014 game?
Hint: One starts at QB in the NFL, while the other switched to CB and plays in the CFL.
Answer at the bottom.
8. The Ocho: 🏝 Ironman World Championship
So, it seems the theme of the weekend was "let's see how incredible the human body is when discipline, effort and talent collide."
In addition to both marathon feats, this weekend also saw some of the world's best athletes descend on Kailua-Kona, Hawaii, for the 2019 Ironman World Championship.
They ran at sunset...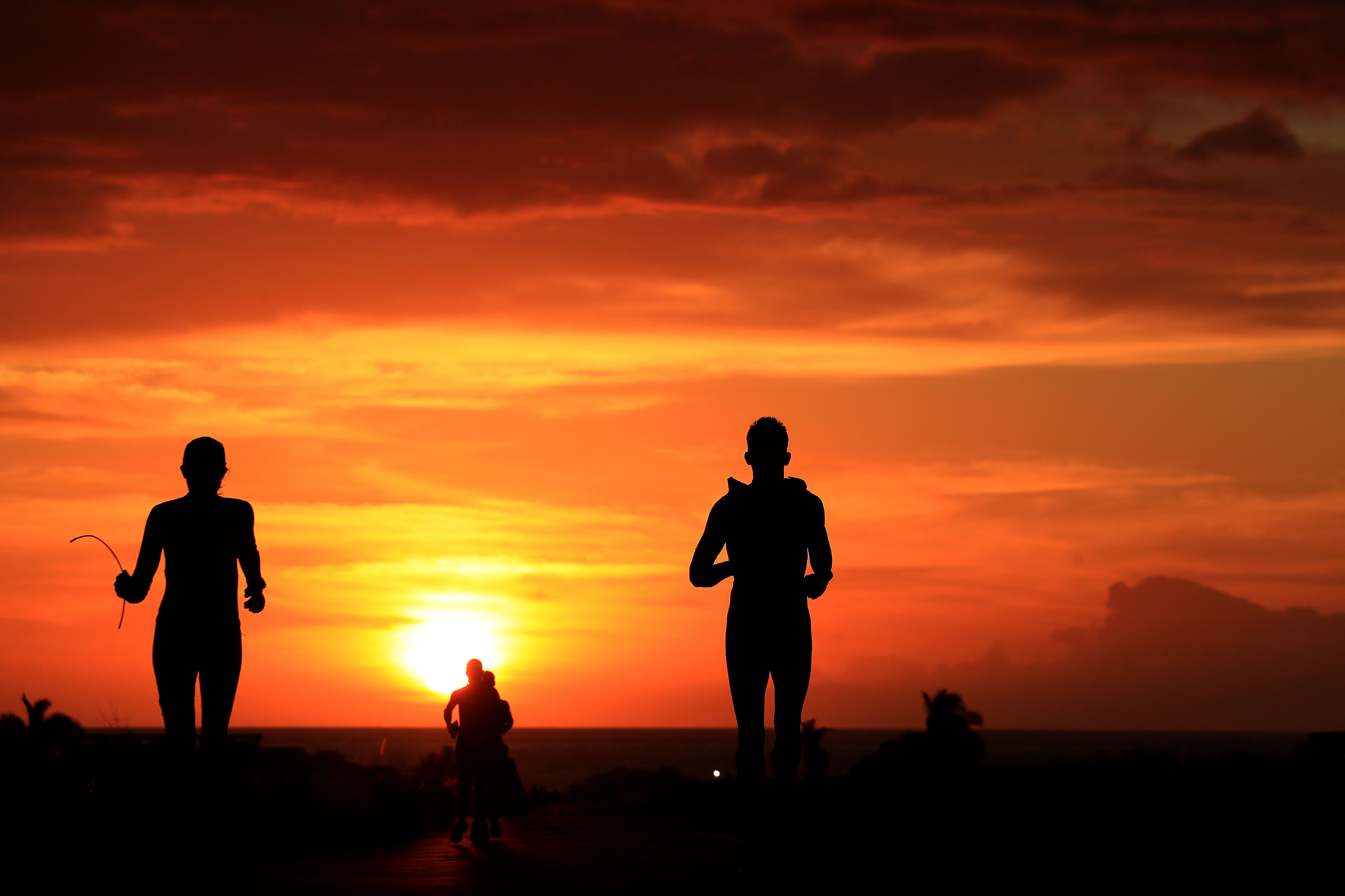 They biked through lava fields...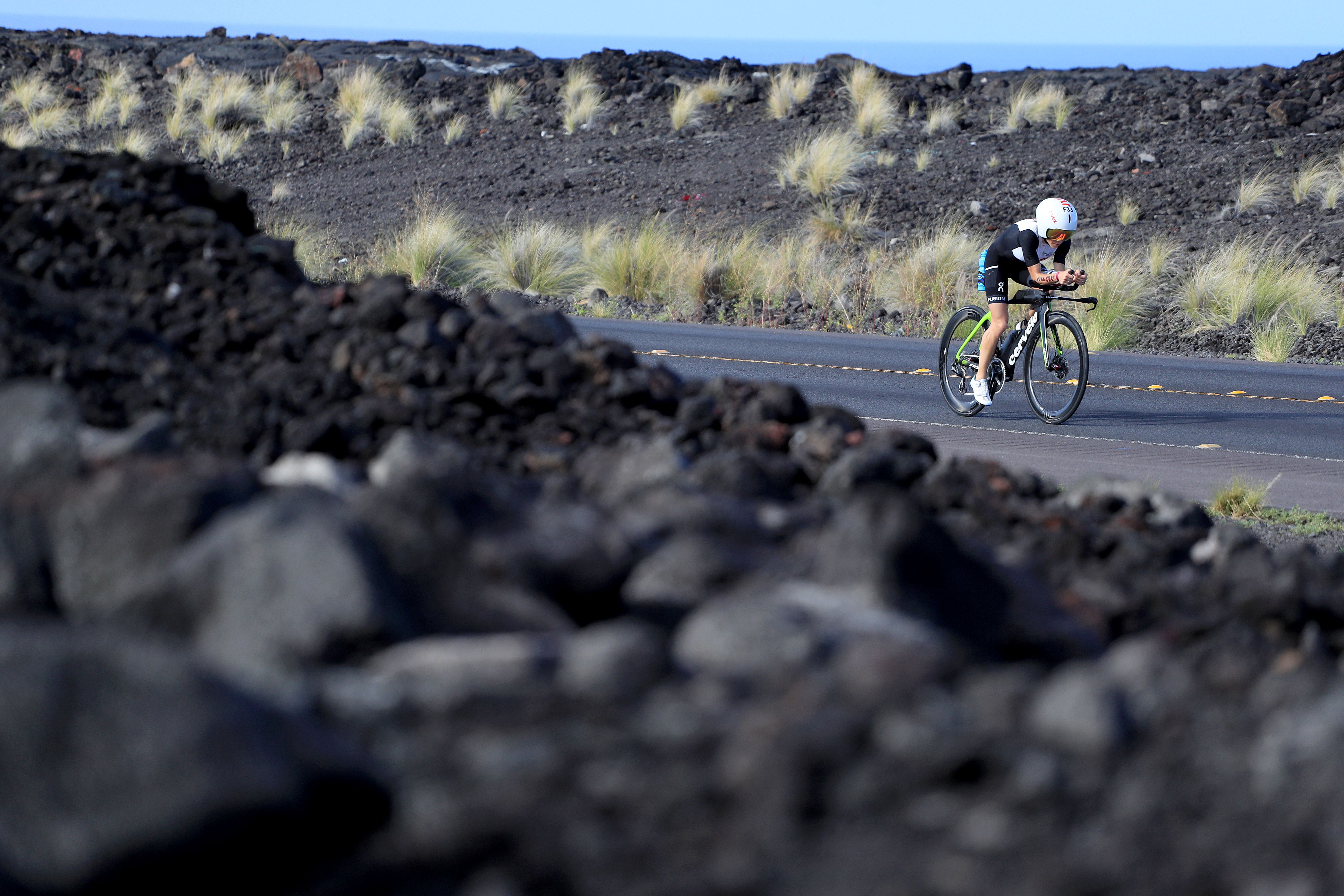 They swam in shark-infested waters...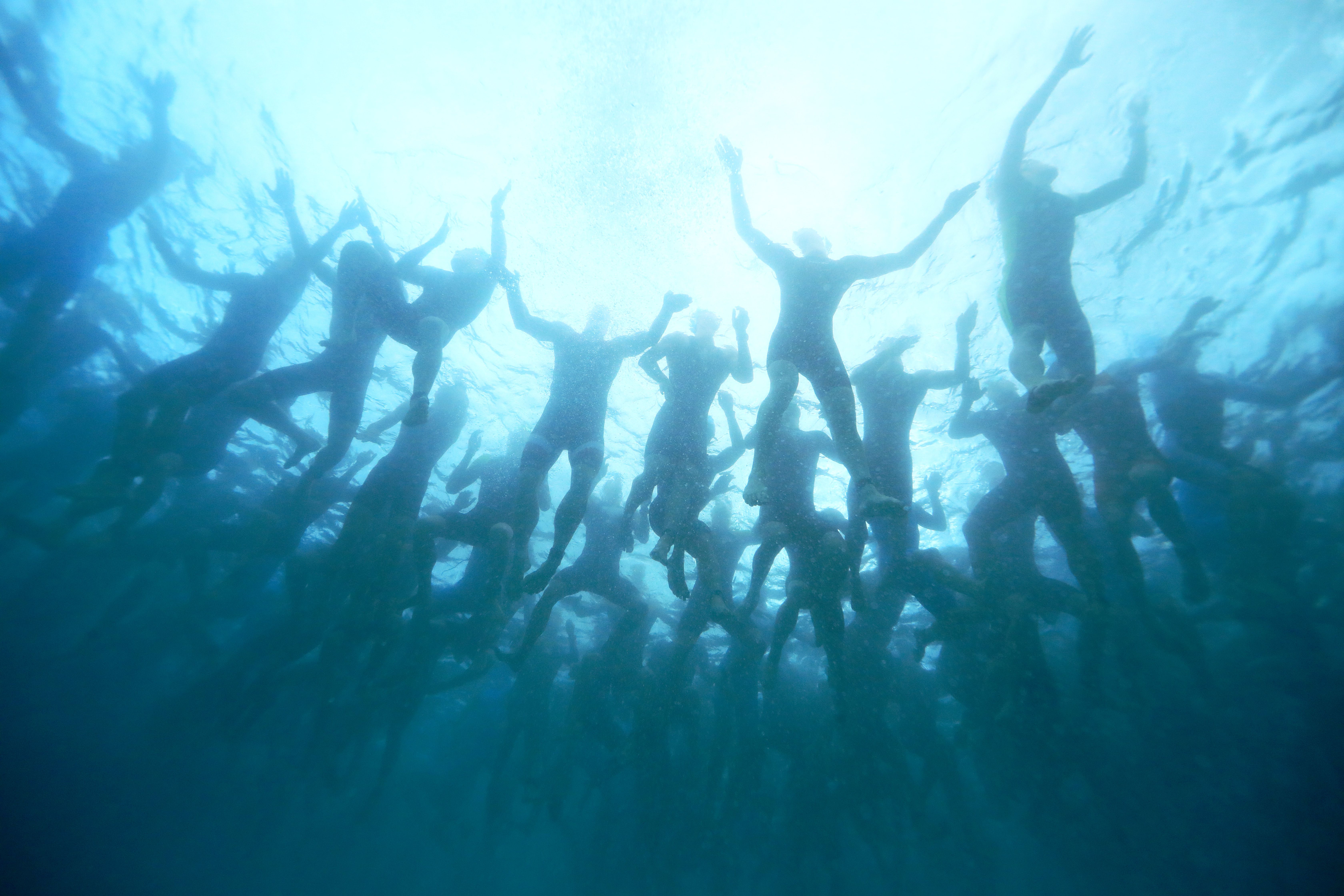 What'd you do this weekend?
9. ⛳️ Topgolf might be teeing up for a 2020 IPO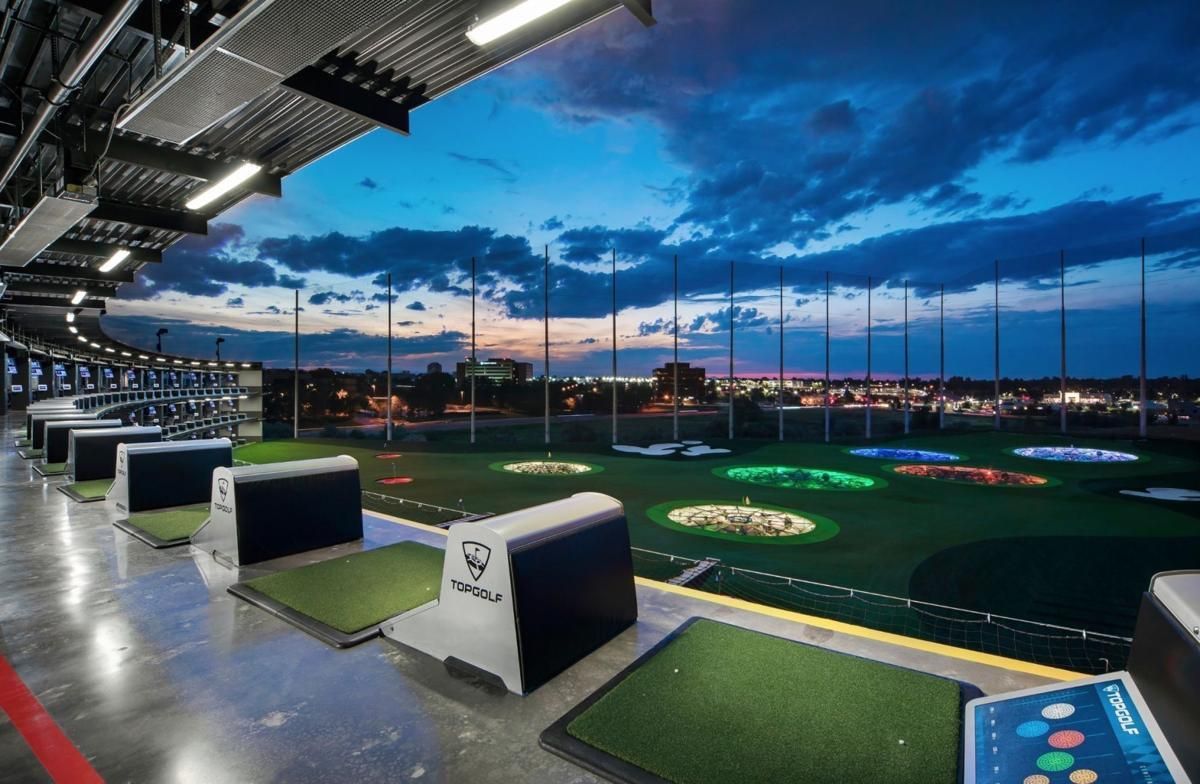 Topgolf — which operates more than 50 driving ranges throughout the U.S. that blend golf, technology, entertainment and dining — could go public in 2020, per reports.
In related news: Tiger Woods just announced a partnership with PopStroke, a competitor.
10. 🎧 Podcast Club: The Sterling Affairs, Ep. 1
This week, we'll be listening to "The Sterling Affairs," a 5-part podcast hosted by Ramona Shelburne about basketball in L.A., a ruthless real estate empire and the scandal that rocked the NBA.
How it works: The idea is that we all listen to one episode per day and briefly recap it the following morning before moving to the next one. Feel free to skip ahead, but the best experience will be to stick with the group.
Producer notes: Each morning, we'll include a few words from the podcast's host and producer Jody Avirgan (@jodyavirgan).
On what to expect: "This story is a soap opera — and I say that in a positive way. It's about the NBA, sure, but it's also a domestic drama about powerful people compromising themselves and others in order to get that power."
On audio as a medium: "I think audio lends itself to really understanding characters. With Shelly Sterling, for example, so much of what listeners learn about her is in the audio quality of her voice. There are moments where a pause or a certain tone tells you everything you need to know."
Today's episode: A domestic battle boils over and sends the NBA into crisis when secretly recorded tapes of Donald Sterling and his mistress V. Stiviano leak on TMZ.
🎧 Listen: Ep. 1: "That Tape" (35:46 runtime)
💬 Comment: Thoughts after listening? Leave them here and I'll share the best tomorrow.