Axios Sports
April 12, 2021
👋 Good morning! Let's sports.
🏒 Deadline Day: The NHL trade deadline is today at 3pm ET. Trade tracker.
Today's word count: 1,771 words (7 minutes).
1 big thing: ⛳️ Matsuyama wins the Masters
Hideki Matsuyama won the 85th Masters, securing his first major title a decade after earning low-amateur honors at the same tournament.
Why it matters: Matsuyama, 29, is the first Japanese male golfer to win a major. The win solidifies his rock star status in golf-mad Japan and comes at the perfect time, with Tokyo hosting the Olympics this summer.
One sports marketing expert estimates this win is worth $600 million for Matsuyama, an intensely shy and private person.
The U.S. is the only country with more golf courses than Japan, which is home to roughly half the courses in all of Asia, per Sportico.
Between the lines: Matsuyama is an elite ball striker with an immaculate short game. In fact, he's the only golfer who's been in the top 10 in approach shots for seven straight years.
Yes, but: He's ranked 147th on the PGA Tour in putting, which is part of the reason why he hadn't won an event — or finished in the top 15 of a major — since 2017.
"Matsuyama had an obvious path to winning: putt better than he normally does or strike the ball so well that putting doesn't matter," writes The Ringer's Kevin Clark. "He basically did both at Augusta."
"The bow": After Matsuyama's final putt, his caddie, Shota Hayafuji, placed the pin back in the hole, removed his hat and bowed to Augusta National. Japanese culture is awesome.
Field notes:
Prize money: 1. Matsuyama ($2.07M); 2. Zalatoris ($1.24M); T3. Spieth and Schauffele ($667k); T5. Rahm and Leishman ($437k). Full list.
The kid: 24-year-old Will Zalatoris, who may or may not have caddied for Happy Gilmore, had himself a weekend, man. In his two majors as a pro, he now has a tie for sixth and a second. Is that good?
Costly hole: Xander Schauffele's triple bogey on 16 cost him $575k. It was his first-ever triple bogey in a major (1,041 holes without one).
Wild stat: Jordan Spieth has been beaten by a combined six players at the 2014, 2015, 2016, 2018 and 2021 Masters. And yet, he somehow has just one green jacket to show for it.
Never forget: Si Woo Kim was forced to putt with his 3-wood on Saturday's final four holes after breaking his putter in frustration. Amazing television. (Also, he parred all four holes.)
Go deeper:
2. ⛳️ WHOOP stars at Augusta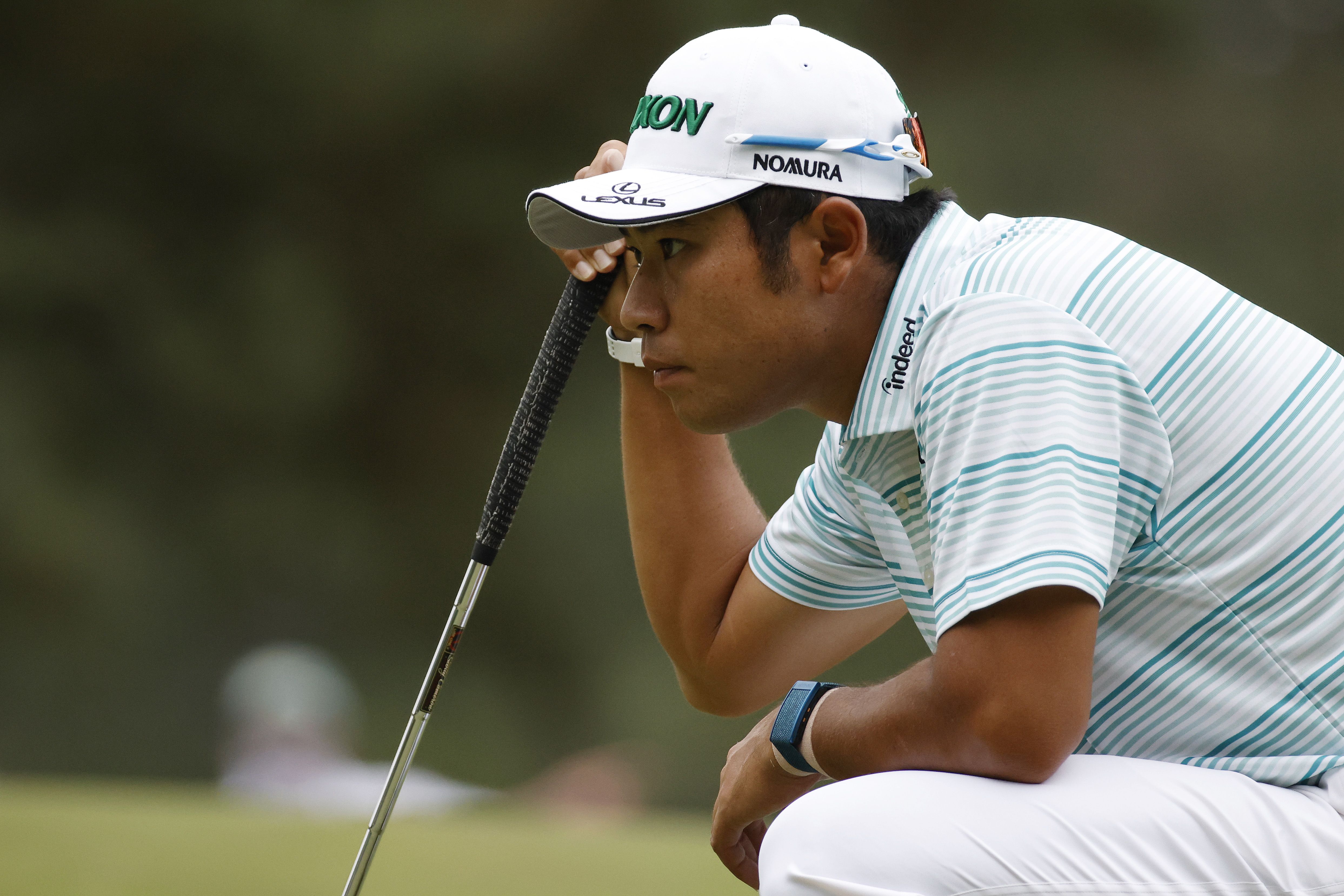 The top-two Masters finishers, Matsuyama and Zalatoris, both wore the same product on their wrist all week at Augusta, as did numerous other golfers in the field.
The product: WHOOP, the official fitness wearable of the PGA Tour.
What it is: A fitness tracker that provides personalized insights on workouts, sleep and recovery. Unlike most wearables, there's no screen on the device, so everything is delivered via mobile app.
Cost: The strap comes free with a $30/month membership.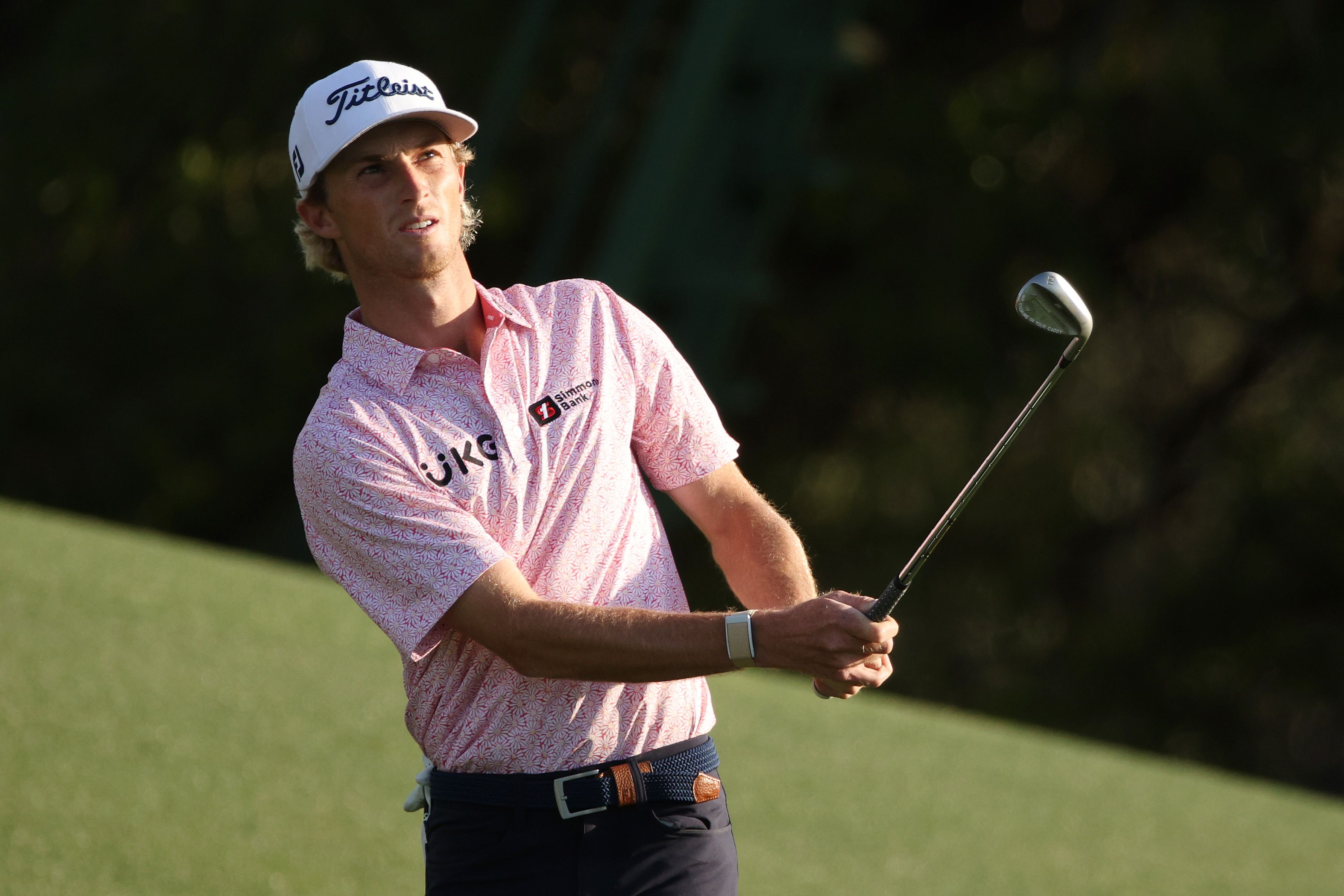 The big picture: Wearable technology is quietly revolutionizing physical performance. Fitness trackers are all the rage among athletes, and adoption really took off in 2020, as health tracking became a top priority.
Players in the NBA bubble wore Oura Rings, which tracked their heart and respiratory rate and acted as an additional line of defense against the spread of COVID-19.
Golfer Nick Watney, the first player on the PGA Tour to be diagnosed with COVID-19, said his WHOOP first alerted him that he may have the virus and should get tested.
Take a look ... Justin Thomas' WHOOP produced a ton of data during his epic comeback at last month's Players Championship (how fast his heart was racing, how well he slept before each round, etc.).
3. ⚾️ Topps to launch official MLB NFTs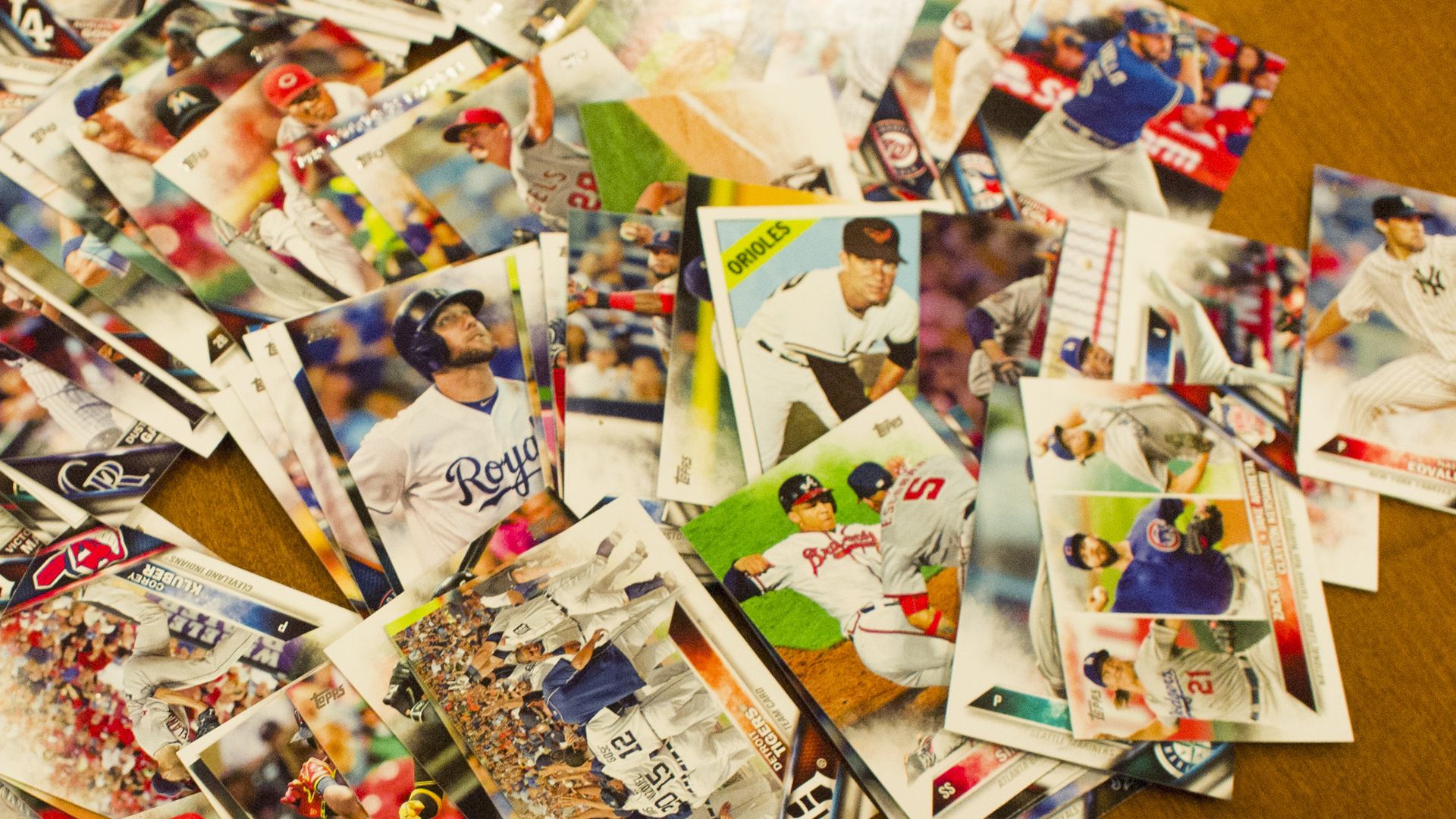 Topps wants to do for MLB what Dapper Labs' NBA Top Shot has done for the NBA.
Driving the news: The 83-year-old card company revealed this morning that it will issue its flagship baseball cards as non-fungible tokens (NFTs) in partnership with MLB and the MLBPA, Coindesk reports.
"Unlike Dapper's highlight-reel-esque NBA player moments, Topps' initial offering appears to be just digitized versions of its physical baseball cards," writes Coindesk's Danny Nelson.
"The border designs move, but the players stay put."
The backdrop: Topps, which was bought for $385 million and taken private by former Disney CEO Michael Eisner in 2007, announced last week that it's going public in a SPAC deal that values it at $1.3 billion.
Go deeper: The trading card boom (Axios)
4. 🏀 A-Rod finalizing deal to buy T-Wolves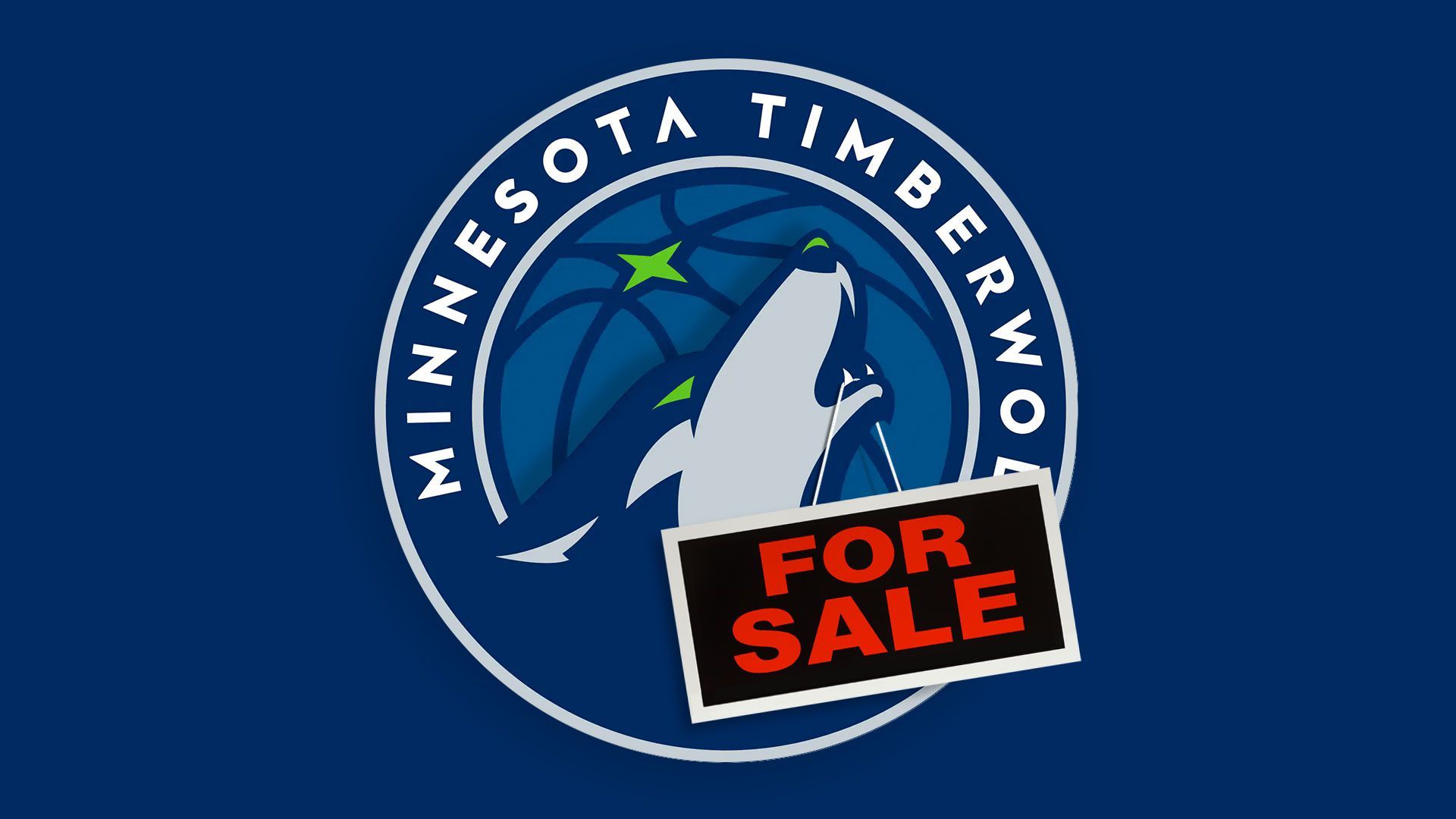 Alex Rodriguez and e-commerce billionaire Marc Lore have signed a letter of intent to purchase the NBA's Timberwolves and WNBA's Lynx from majority owner Glen Taylor.
Details: The price is expected to be in the $1.5 billion range, per ESPN. Taylor will maintain full control of both teams for two more years, before Rodriguez and Lore take over in 2023.
Taylor, already the second-richest person in Minnesota, stands to get even richer. He bought the team in 1995 for $88 million.
Rodriguez, 45, and Lore, 49, were part of a group that tried to buy the Mets before the team was sold to Steve Cohen for $2.4 billion.
What they're getting: The Timberwolves have the worst win percentage (.393) of any major American sports franchise.
The big picture: The T-Wolves would be the fourth NBA team to be sold in the last four years, joining the Jazz in 2020 ($1.66 billion), the Nets in 2019 ($2.35 billion) and the Rockets in 2017 ($2.2 billion).
NBA franchise valuations grew 476% during the 2010s, dwarfing MLB (262%), the NHL (192%) and the NFL (179%).
In related news ... Arctos Sports Partners is buying a minority stake in the Warriors — the first private equity investment in an NBA team since the league loosened its rules to allow institutional investors.
5. ⚾️ The Padres finally get a no-hitter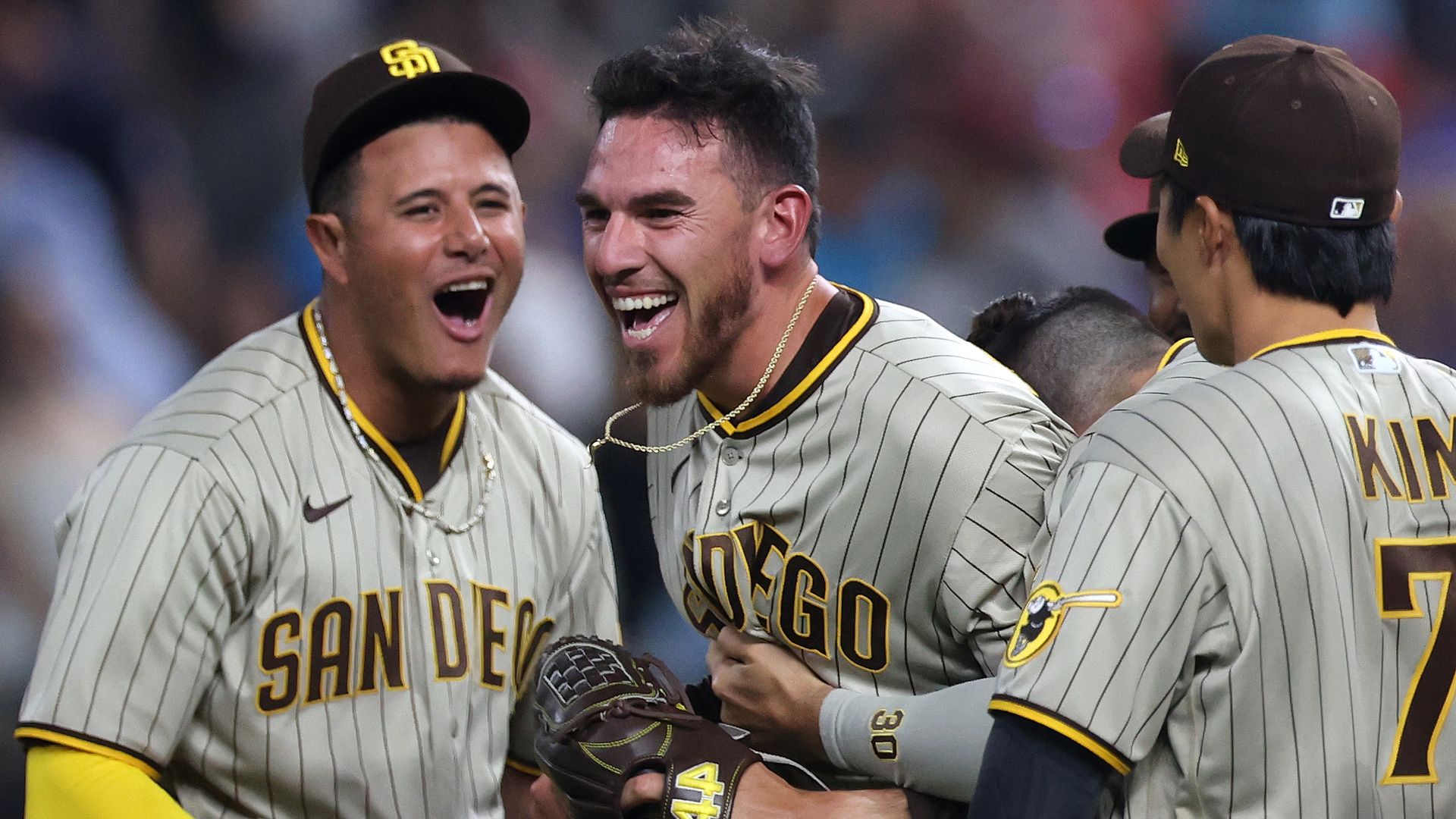 Joe Musgrove, a San Diego-area native, tossed the first no-hitter in Padres history on Friday, blanking the Rangers, 3-0, Axios' Jeff Tracy writes.
Pitching line: 9 IP, 10 K, 0 BB, 0 H (hit batsman shy of a perfect game)
Why it matters: The Padres were the last active franchise without a no-hitter, and it took them a record 8,206 games to get their first.
No-hitters by team (plus the most recent instance):
Dodgers (26): Walker Buehler, Tony Cingrani, Yimi Garcia and Adam Liberatore (May 4, 2018)
White Sox (19): Lucas Giolito (Aug. 25, 2020)
Red Sox (18): Jon Lester (May 19, 2008)
Giants (17): Chris Heston (June 9, 2015)
Cubs (16): Alec Mills (Sept. 13, 2020)
Reds (16): Homer Bailey (July 2, 2013)
Braves (14): Kent Mercker (April 8, 1994)
Indians (14): Len Barker (May 15, 1981 — perfect game)
Astros (13): Justin Verlander (Sept. 1, 2019)
A's (13): Mike Fiers (May 7, 2019)
Phillies (13): Cole Hamels (July 25, 2015)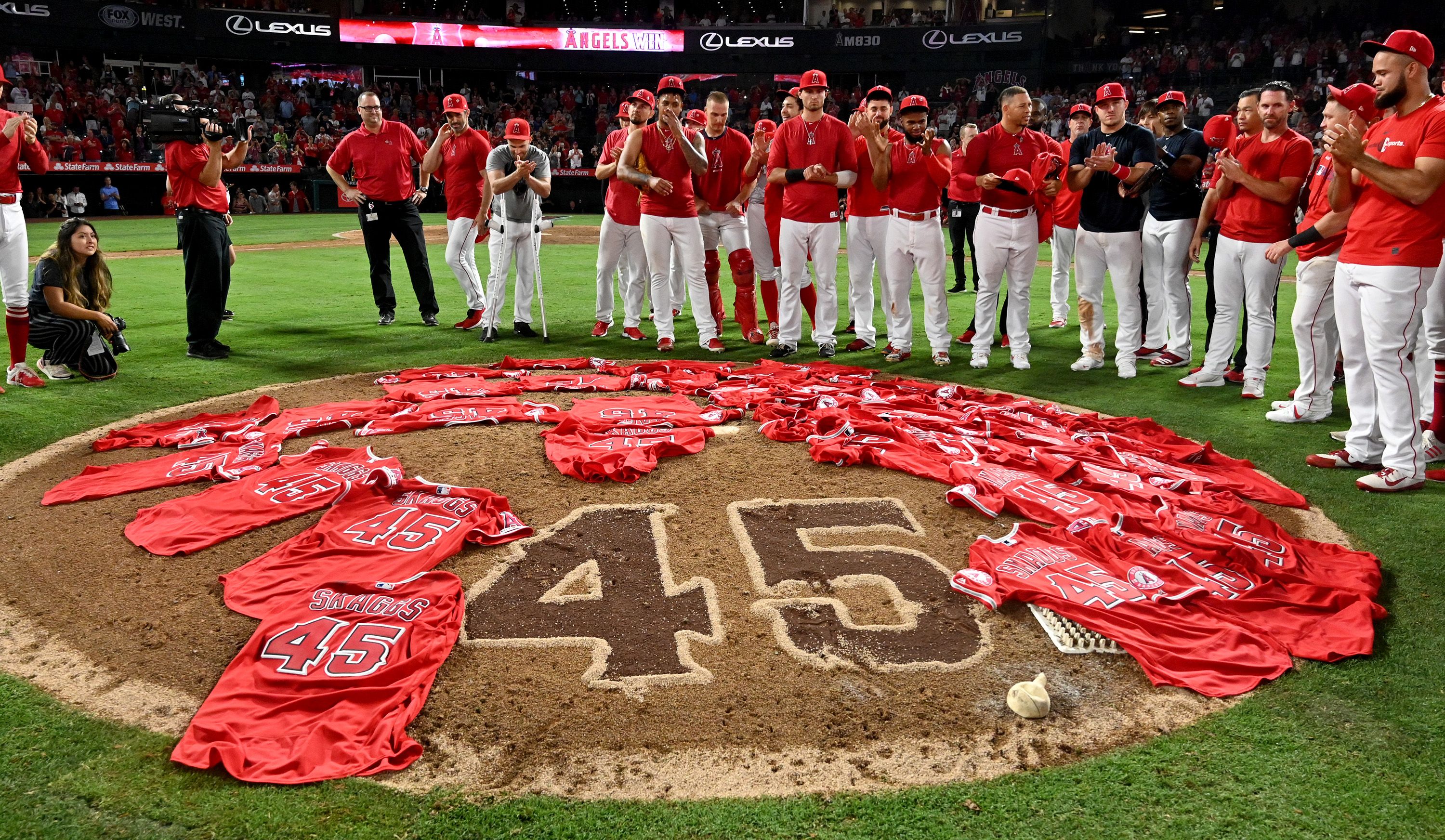 Angels (11): Taylor Cole and Félix Peña (July 12, 2019)
Yankees (11): David Cone (July 18, 1999 — perfect game)
Cardinals (10): Bud Smith (Sept. 3, 2001)
Orioles (9): Bob Milacki, Mike Flanagan, Mark Williamson and Gregg Olson (July 13, 1991)
Tigers (7): Verlander (May 7, 2011)
Twins (7): Francisco Liriano (May 3, 2011)
Nationals (7): Max Scherzer (Oct. 3, 2015)
Marlins (6): Edinson Vólquez (June 3, 2017)
Pirates (6): Francisco Córdova and Ricardo Rincón (July 12, 1997)
Mariners (6): James Paxton (May 8, 2018)
Rangers (5): Kenny Rogers (July 28, 1994 — perfect game)
Royals (4): Bret Saberhagen (Aug. 26, 1991)
Diamondbacks (2): Edwin Jackson (June 25, 2010)
Rockies (1): Ubaldo Jiménez (April 17, 2010)
Brewers (1): Juan Nieves (April 15, 1987)
Mets (1): Johan Santana (June 1, 2012)
Rays (1): Matt Garza (July 26, 2010)
Blue Jays (1): Dave Stieb (Sept. 2, 1990)
In related news ... North Texas softball pitcher Hope Trautwein not only tossed a perfect game on Sunday — she struck out all 21 batters. What?!
6. 📊 By the numbers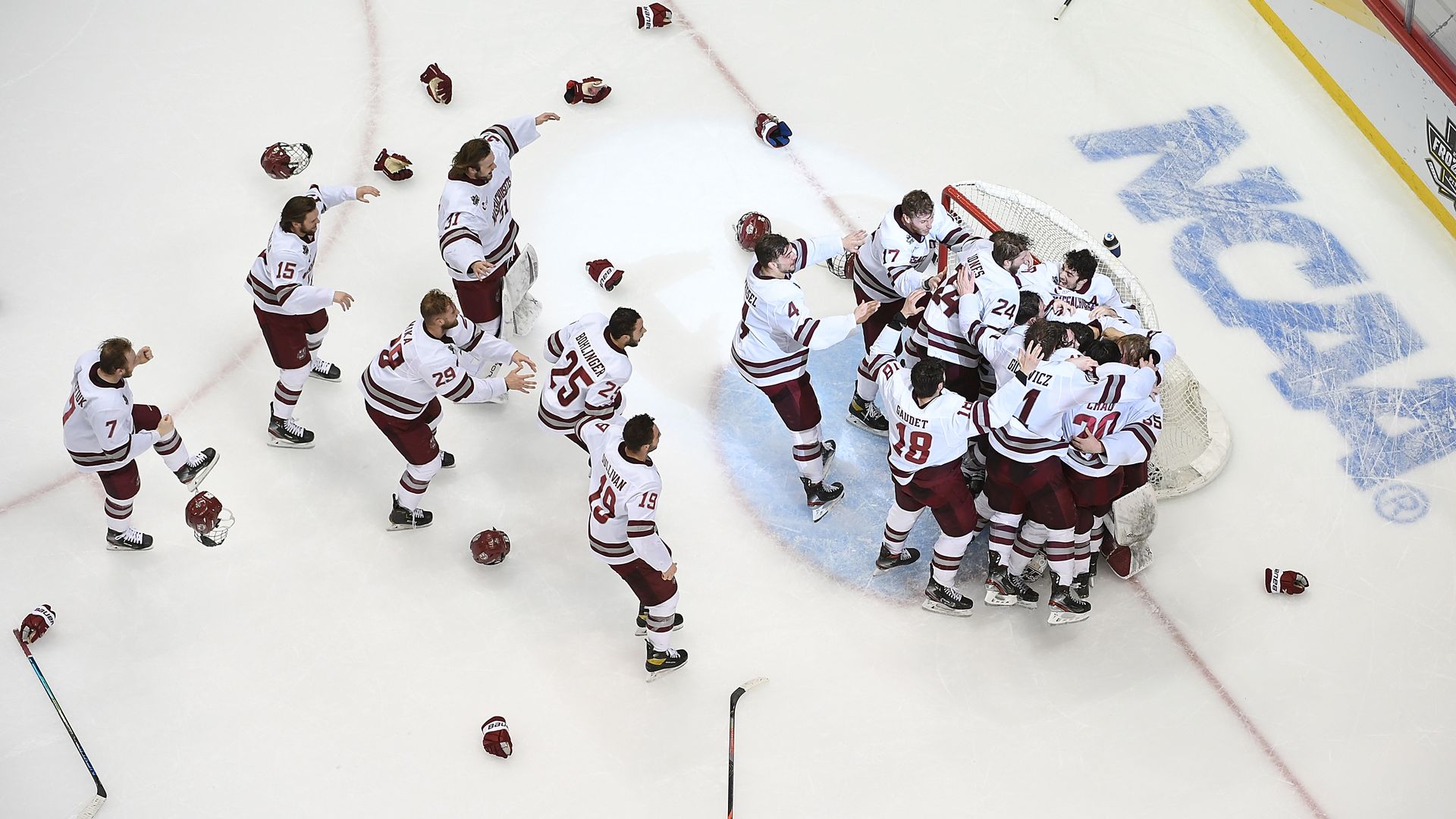 🏒 1st title: UMass beat St. Cloud State, 5-0, on Saturday to win its first NCAA men's hockey title. The Minutemen were a combined 11-45-8 in the three seasons before head coach Greg Carvel was hired in 2016.
🎳 4th bowler: At this weekend's U.S. Open, Anthony Neuer (aka "The Ginger Assassin") became the fourth pro bowler in history to convert the 7-10 split on live TV.
⚽️ 246th El Clásico: Real Madrid beat Barcelona, 2-1, to snap Barca's 19-game unbeaten streak and give Madrid three consecutive wins over its rival for the first time since 1978.
🏀 30 rebounds: Enes Kanter on Saturday became the fourth player this century with 30 rebounds in a game, joining Dwight Howard (2018), Andrew Bynum (2012) and Kevin Love (2011).
⚽️ 4 red cards: Portland and Kansas City combined for an NWSL-record four red cards — all in the final five minutes of their match. Portland won 2-1. Opening weekend recap.
⚾️ 28 straight steals: Diamondbacks outfielder Tim Locastro broke the MLB record for most successful stolen bases to start a career (28-for-28).
7. 📈 Virtual event: Future of Women's Sports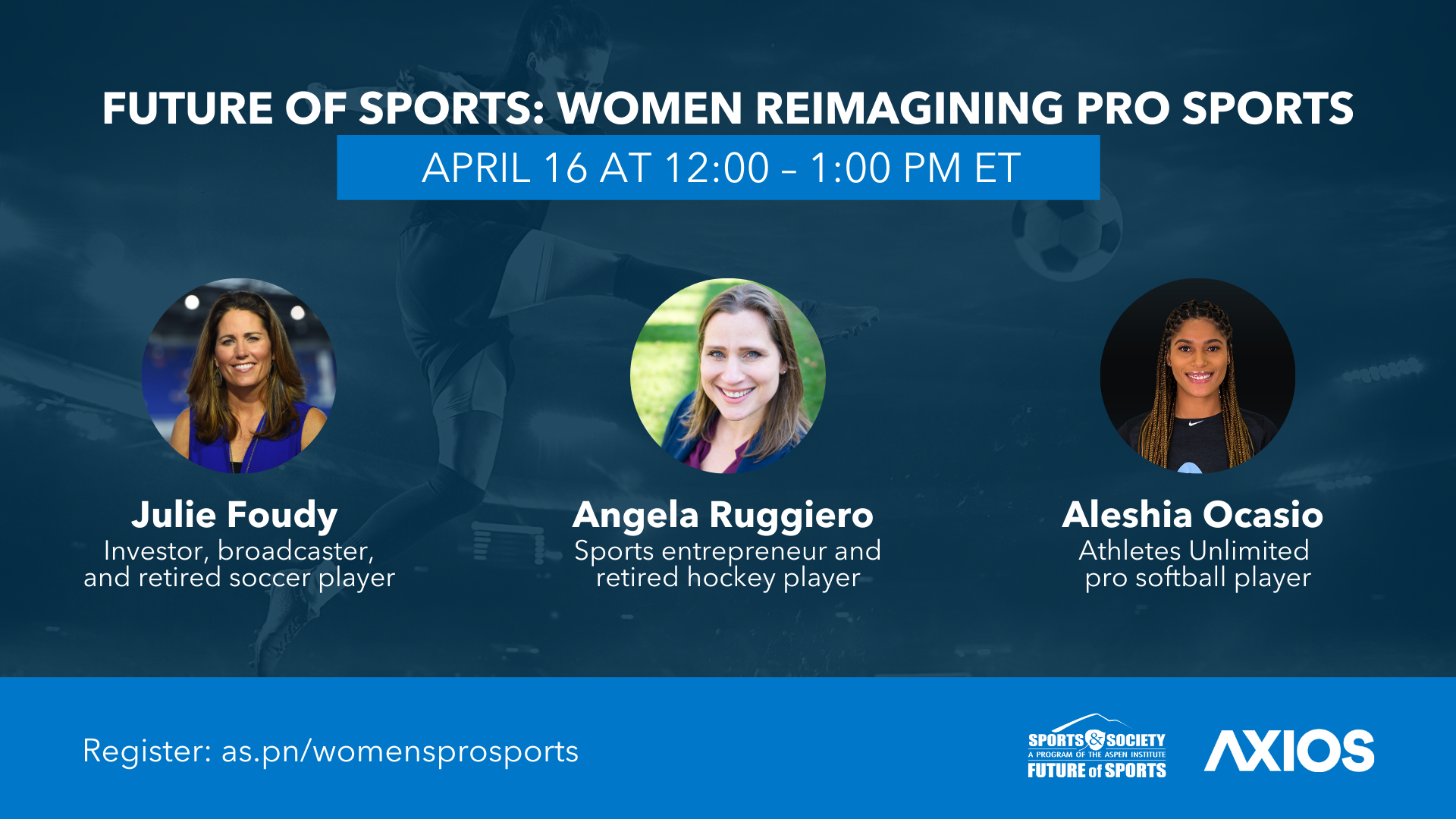 Axios Sports has partnered with The Aspen Institute on a virtual event series, and our next one is this Friday from 12–1pm ET. Topic: Women Reimagining Pro Sports.
Women's sports are on the rise behind a flood of female leaders and investors — a reality that allows us in real-time to start answering questions that have previously been merely hypotheticals, Jeff writes.
What would happen if decades of convention got thrown out in lieu of a radical new idea? Athletes Unlimited, with its weekly redrafts and fantasy-style scoring, is off to a roaring start.
How would a league led by women look compared to one in which men rule the roost? The NWSL and WNBA have provided exciting early returns on that front.
What if women's sports received more coverage? TV viewership surged in 2020, and new media companies like Togethxr and Just Women's Sports have arrived to cover women's sports exclusively.
Meet the panelists: Over the next three days, we'll introduce you to Julie Foudy, Angelo Ruggiero and Aleshia Ocasio — the three panelists whose insights and expertise will drive Friday's event.
✍️ Wanna come? Register here.
8. 📆 April 12, 1980: U.S. boycotts Olympics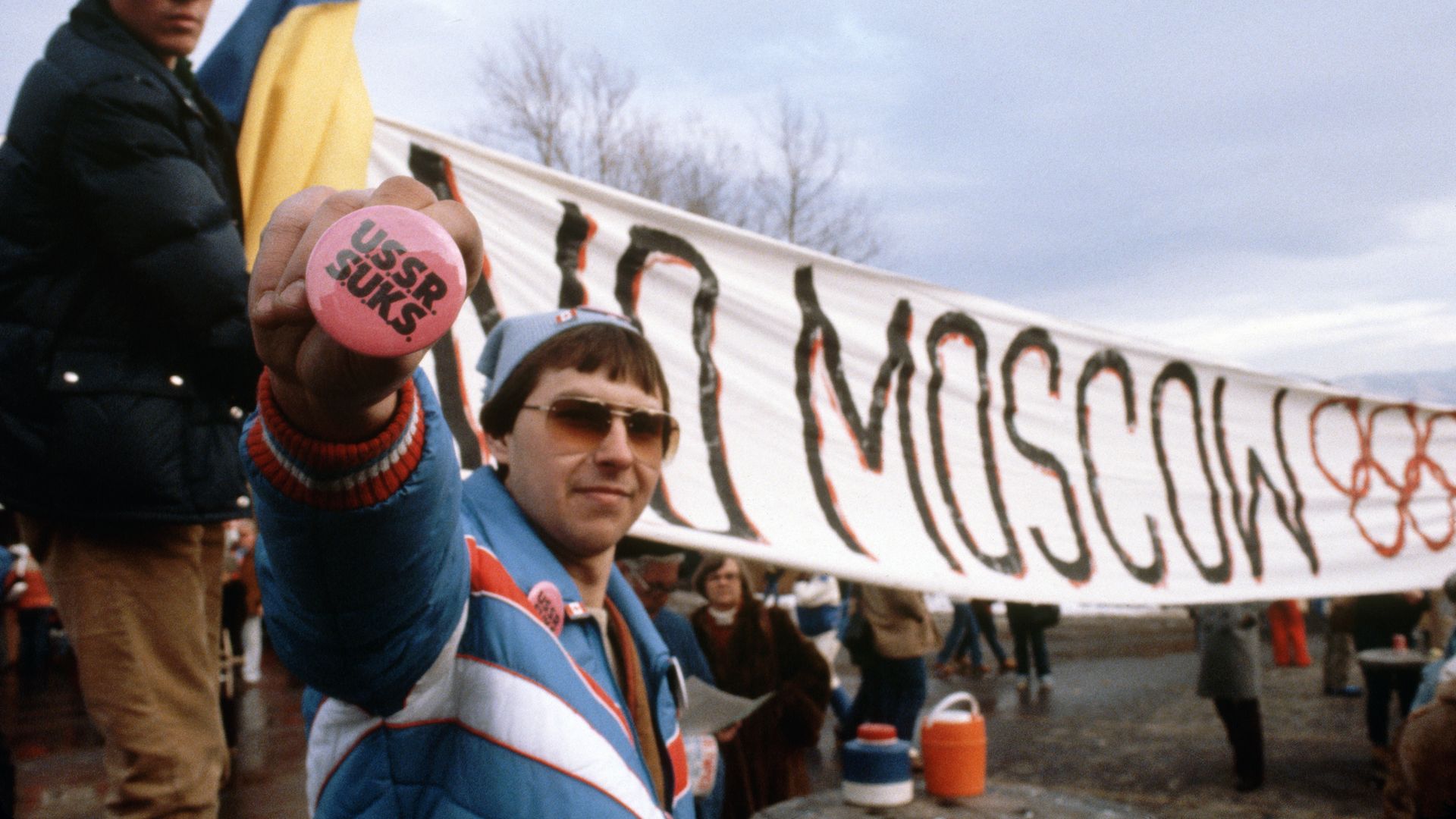 41 years ago today, Vice President Walter Mondale, at the behest of President Jimmy Carter, called on the U.S. Olympic Committee to boycott the 1980 Moscow Summer Games.
The backdrop: Soviet troops invaded Afghanistan in December 1979 in response to communist party infighting, staging a coup and assassinating General Secretary Hafizullah Amin.
In January 1980, Carter gave the Soviets an ultimatum: Remove troops by Feb. 20 or we boycott. After months of politicking, the boycott officially took hold.
Ultimately, 66 nations skipped the Moscow Games, though not all joined the boycott.
The present day: There are growing calls to boycott the 2022 Beijing Olympics in response to human rights abuses.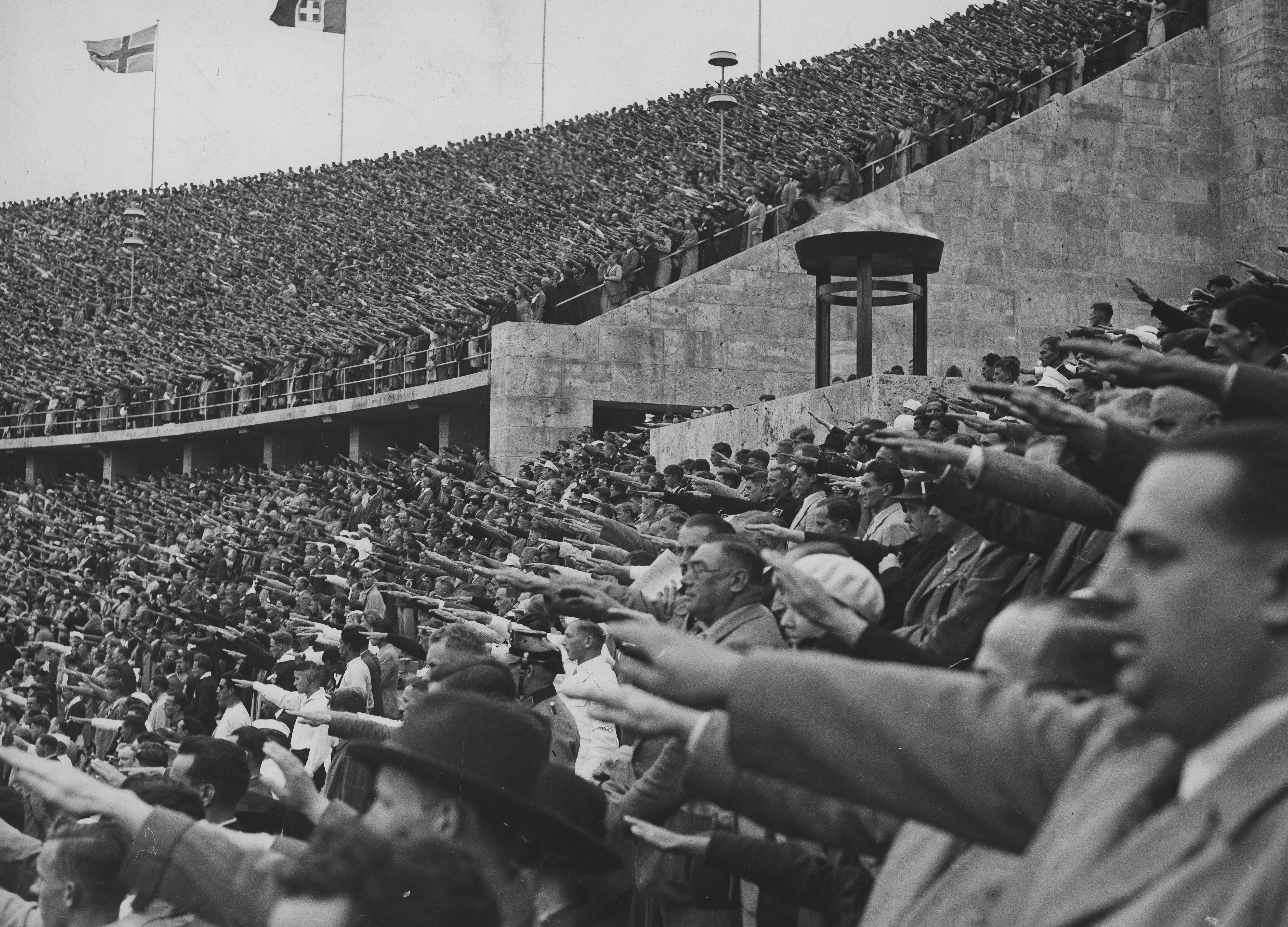 Other notable boycotts:
1936: The Berlin Olympics allowed Hitler's regime to bask in the attention of the world. Spain boycotted and the U.S. considered doing so, but a flawed fact-finding mission convinced America to compete.
1976: 29 African nations boycotted the Montreal Games in response to the IOC's refusal to ban New Zealand, whose rugby team toured apartheid South Africa despite the U.N.'s calls for a sporting embargo.
1984: 14 Eastern Bloc nations boycotted the L.A. Olympics in response to the U.S.-led boycott four years earlier.
🎥 Watch ... "Invisible Olympians," WashPost's 11-minute documentary on the 1980 Boycott (YouTube)
9. ⚾️ No-hitter trivia
16 catchers have been behind the plate for three no-hitters, but just two have caught four.
Question: Can you name those two catchers?
Hint: Red and white color schemes.
Answer at the bottom.
10. 🎥 Weekend's top plays
Talk tomorrow,
Kendall "Please relax with the NFTs" Baker
Trivia answer: Jason Varitek and Carlos Ruiz