Good morning! Spring training starts in 12 days, and Bryce Harper and Manny Machado remain unsigned. Nothing to see here! Totally normal! Baseball is fine, you guys.
1 big thing: The Anthony Davis sweepstakes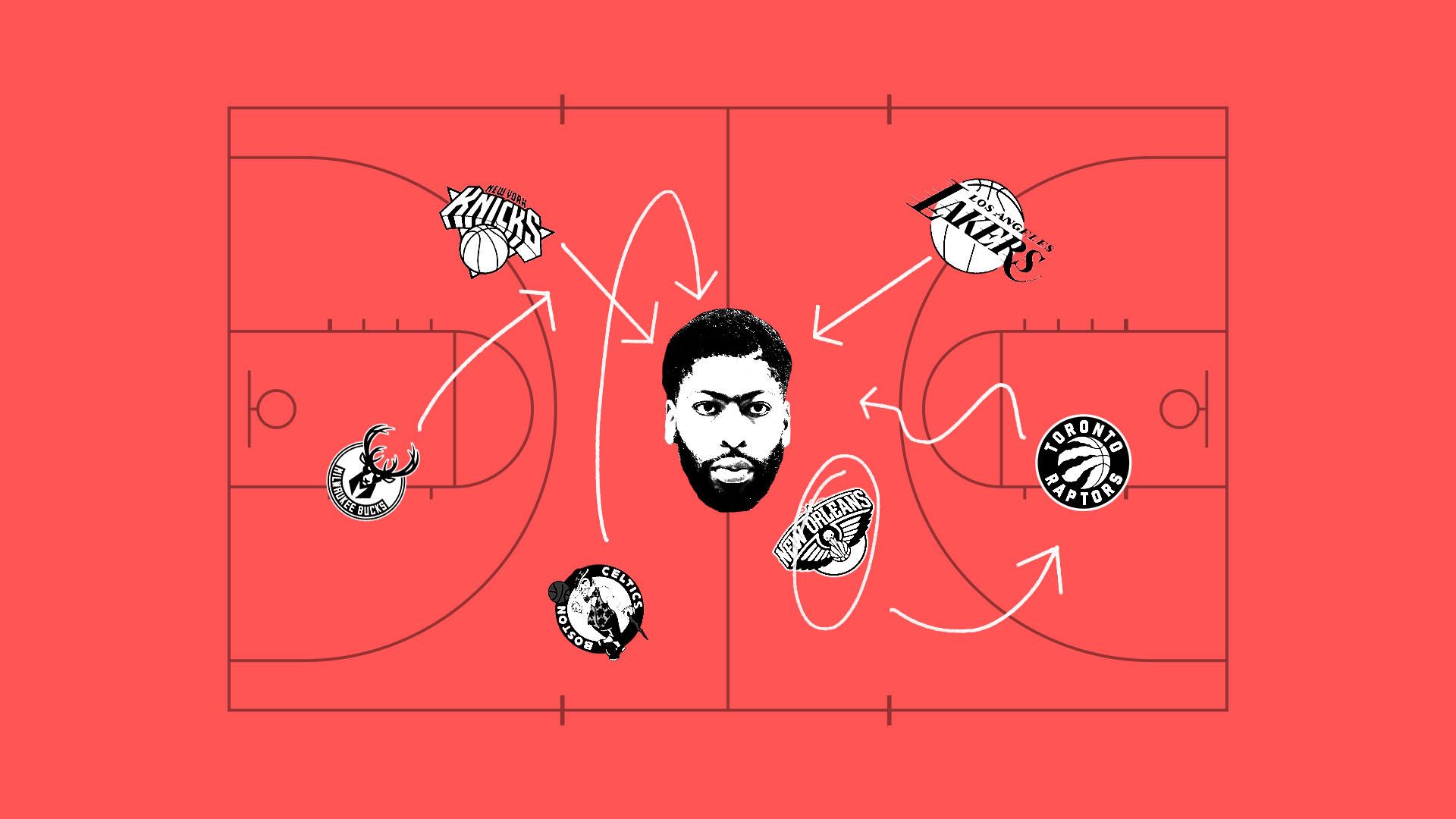 Now that Anthony Davis has requested a trade from the New Orleans Pelicans, the race to acquire one of the NBA's brightest stars is officially underway. Let's meet the major players:
Anthony Davis: "The Brow" is averaging 29.3 points, 13.3 rebounds, 4.4 assists and 2.6 blocks per game in 41 games this season. He's unguardable. Put him alongside LeBron on the Lakers (where it sounds like he wants to go) and the ceiling is the roof.
Only one other player has ever averaged 29-13-4-2 for an entire season, and his name was Kareem Abdul-Jabbar. After putting up those numbers for the Bucks in 1974-75, he forced his way to … the Lakers.
The Pelicans: One of the reasons Davis wants out of New Orleans could be the way the team's front office prioritizes football over basketball, The Athletic's Sam Amick reports (subscription).
The Pelicans share ownership with the New Orleans Saints, and the teams even share staff members. Since 2003, Mickey Loomis has run basketball operations for the Pelicans while also serving as the general manager of the Saints.
"A source with knowledge of Davis' thinking said the idea that the Pelicans were less of a priority to ownership than the Saints has been a growing concern," writes Amick.
Now, New Orleans must decide whether to trade Davis and be done with it or wait for a better deal this summer. The latter could mean sitting AD for the remainder of the season, which would be uncomfortable to say the least.
The Celtics: Boston can offer arguably the best trade package for Davis, but there's a giant roadblock in the way: due to the so-called "Rose Rule," the Celtics can't add him to their roster until July (unless they trade Kyrie Irving, which they won't).
Be smart: The Celtics are still free to talk to the Pelicans now and make it clear that they'll make an offer this summer. Assuming that happens, it could be enough to convince New Orleans to wait.
The Lakers: With the Celtics handcuffed, the Lakers have a temporary advantage that they'll lose the instant the trade deadline passes because they can't compete with Boston's best offer. Thus, it's hard to argue against them going all in right now.
After resisting putting together their best packages for Paul George and Kawhi Leonard, L.A. can't risk striking out a third time. LeBron James is 34 years old. They don't have time to wait for their young pieces to get better.
The other guys: The Knicks, Bucks and Raptors are expected to make offers before the deadline, and more teams will likely join the rumor mill this week.
2. MLS' new revenue stream: selling top talent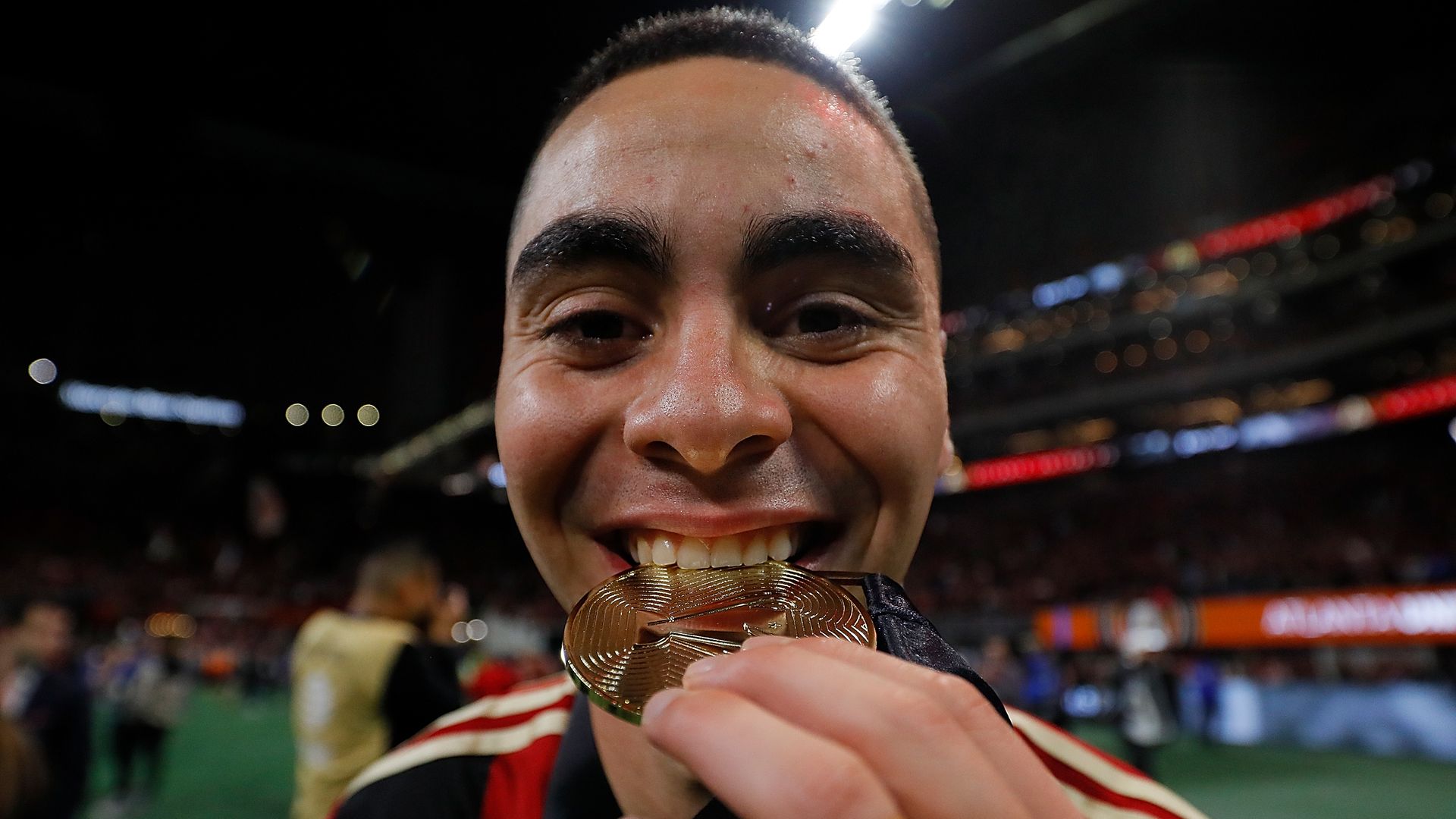 Atlanta United's star midfielder Miguel Almirón, who finished second in MVP voting last season, has reportedly been sold to Premier League side Newcastle United for an MLS-record $27 million.
Why it matters: This is further proof that Major League Soccer is becoming a viable destination for players who want to develop their talents and increase their international exposure.
Back in August, 17-year-old Alphonso Davies, who was groomed in the Vancouver Whitecaps' youth academy, was sold to Bayern Munich for a then MLS-record $13.5 million.
Other recent transfers: NYCFC sold Jack Harrison to Manchester City last January, New York Red Bulls sold Tyler Adams to Germany's RB Leipzig last month and Columbus Crew goalie Zach Steffen will join Manchester City this summer.
The big picture: With more Latin American players like Almirón — who is from Paraguay — joining MLS, the overall quality of play has improved in recent years.
And even when top players leave, the transfer money they command helps their MLS clubs develop players just like them (the average MLS academy costs $3 million annually to run). It also helps them acquire more Latin American talent, thus continuing the cycle.
The bottom line: MLS has quietly become a respectable "pit stop" on the global soccer circuit (and, of course, a frequent "last stop" for aging former stars). This has done wonders for the league's relevancy worldwide, as its become part of the overall system as opposed to "that league over there in America."
The other side: American soccer fans would probably like to see MLS become more of a feeder system for U.S. Soccer and less of a rental league for foreign players. My take: We'll get there. In the meantime, the more talent playing here the better.
P.S. Speaking of Newcastle, they stunned Manchester City 2-1 yesterday, picking up 3 huge points and putting a serious dent in City's title hopes.
3. 🏈 Super Bowl roundup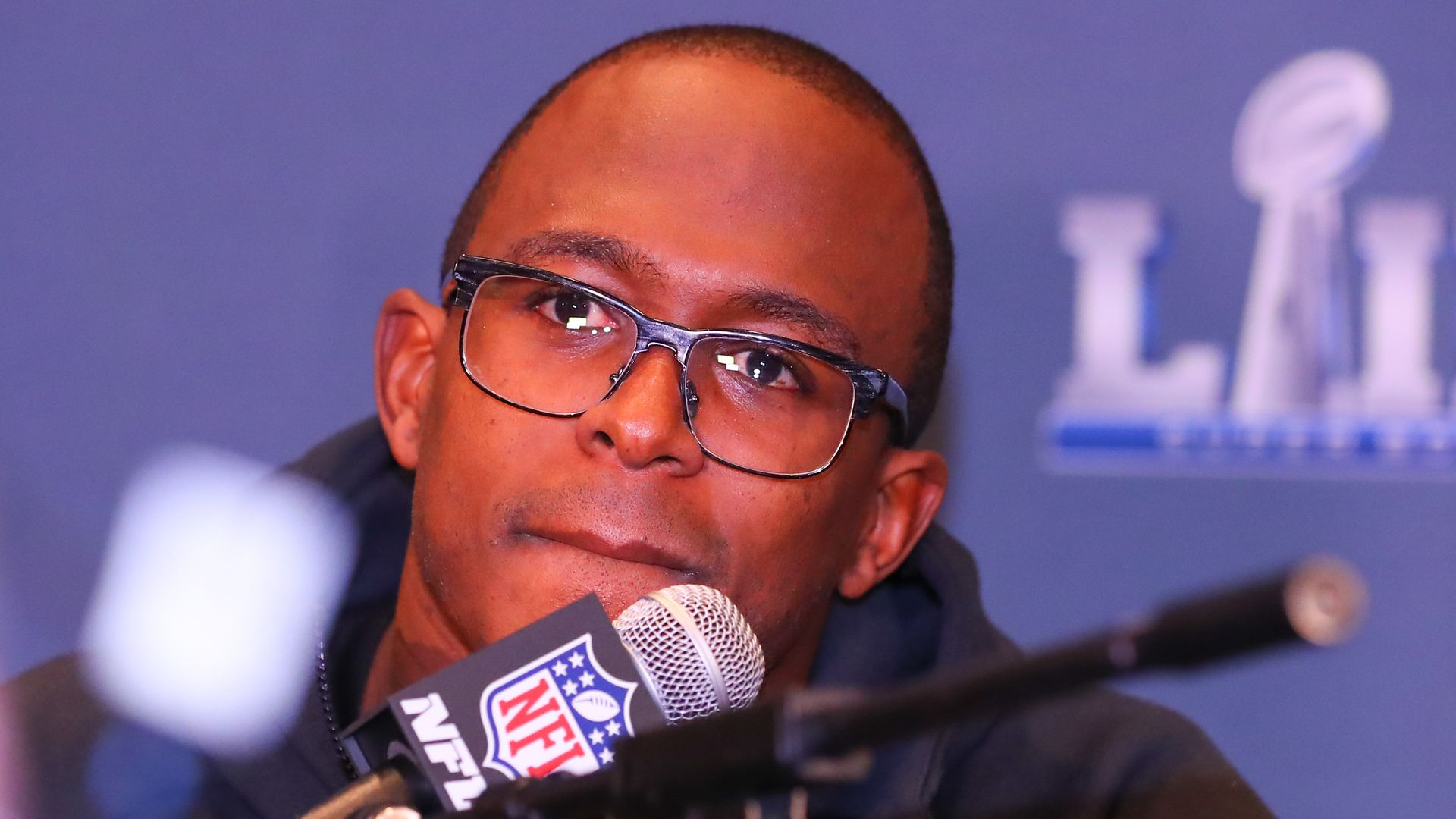 Best thing I read: The Mysterious Career of Matthew Slater, Special Teams Superstar (Rodger Sherman, The Ringer):
"Matthew Slater has been named to the Pro Bowl seven times—as many times as Aaron Rodgers and Adrian Peterson ... He has been recognized as a Pro Football Writers' first-team All-Pro four times—once more than his GOAT teammate, Tom Brady. And yet he is relatively anonymous."
"Slater is to the great moments of the late-era Patriots dynasty what Forrest Gump was to the pivotal events of the 1960s: Look closely at every pregame captain's meeting, confetti-causing kneeldown, and triumphant trophy lift—you'll find him."
Best video: I stumbled upon this incredibly detailed explanation of how Mercedes-Benz Stadium works, and it honestly blew my mind. I need this guy to explain more things to me.
Best food review: SB Nation's James Dator ate and ranked every food item that will be at available during the game. The "Closed on Sunday" sounds unreal: "Take everything you love about a Chick-Fil-A sandwich and make every element perfect. The chicken is juicier, the pickle is crispier, the bun is a higher quality."
Best gift: Brandin Cooks surprised the Rams' custodian with a pair of Super Bowl tickets. Doesn't get better.
4. College basketball scoreboard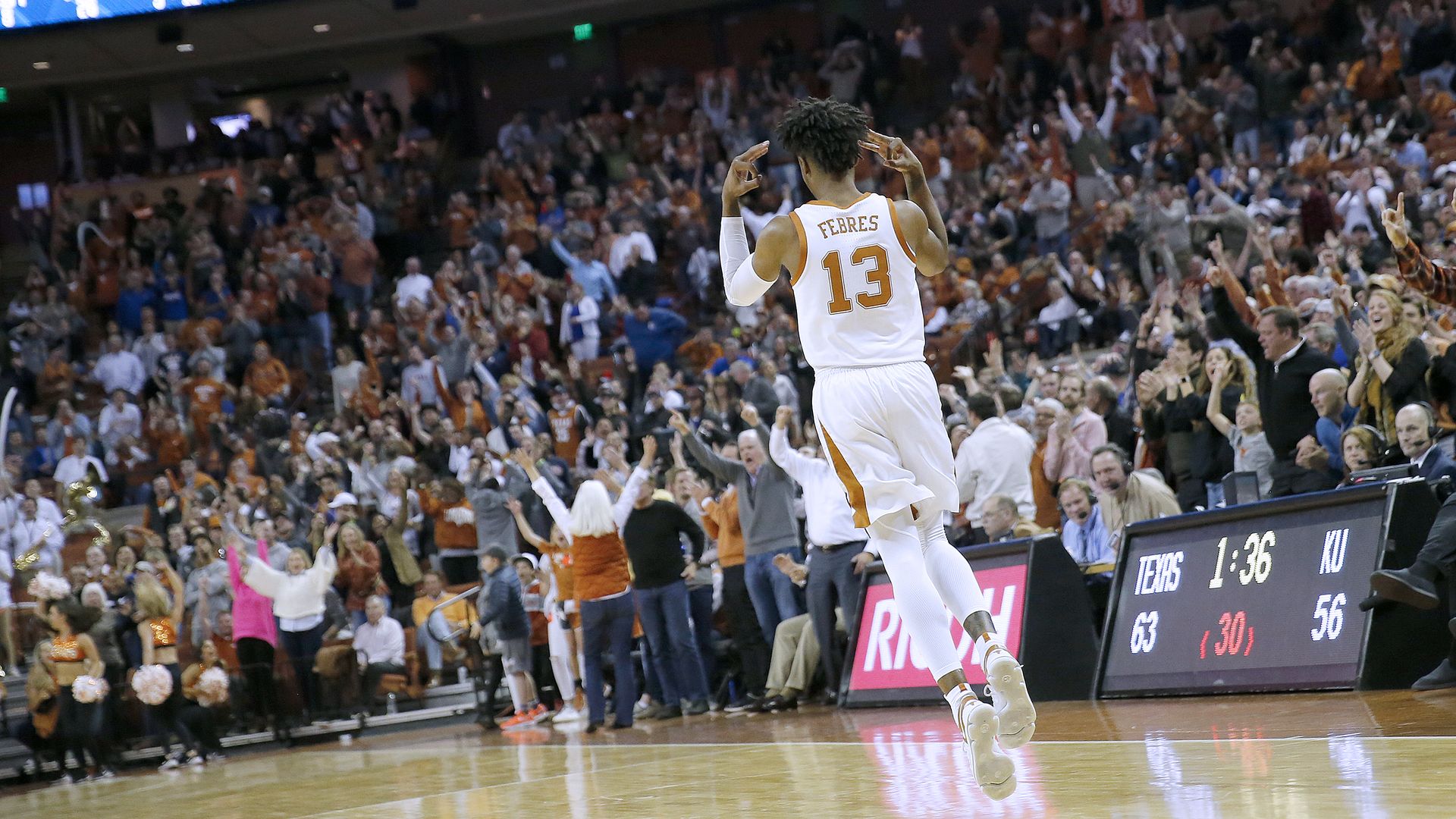 Texas 73, (11) Kansas 63: The Jayhawks have lost 3 of their last 4 and are now 1-5 on the road this season. After winning at least a share of the Big 12 title for 14 consecutive seasons, could this finally be the year Kansas doesn't finish on top? Go deeper.
(3) UVA def. (23) NC State, 66-65 (OT): Virginia turned the ball over a season-high 16 times and blew a double-digit lead in the second half, but the Cavaliers survived thanks to NC State's paltry shooting (34%). Full recap.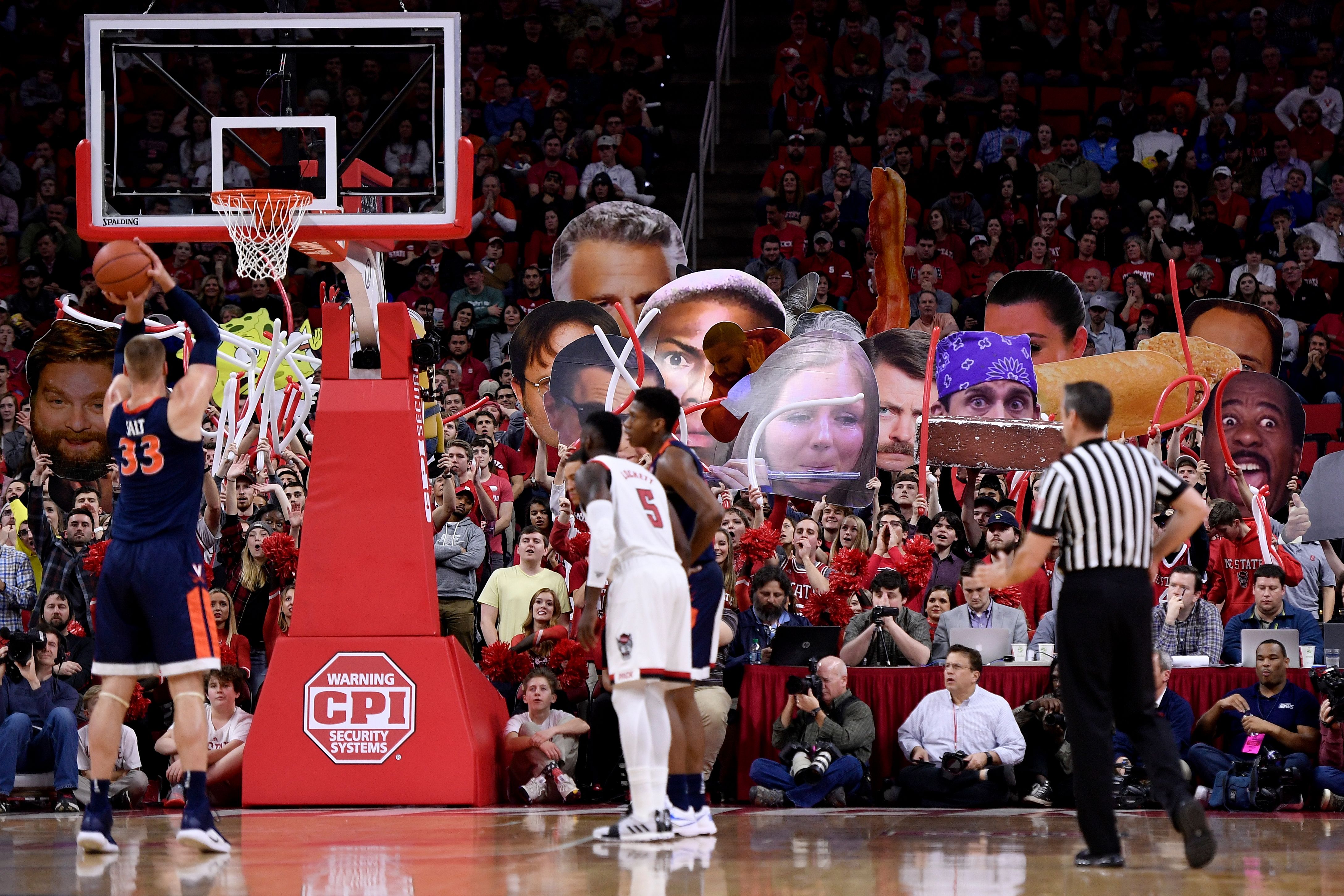 NC State fans tried to distract UVA's Jack Salt with a variety of characters from "The Office." Photo: Lance King/Getty Images
5. 🏒 How not to high-five
With his parents in attendance, Boston Bruins youngster Trent Frederic made his NHL debut — and ended up winning a pretty intense fight that had the crowd at TD Garden going wild.
As Frederic left the ice to cheers, the camera panned to his parents, who were so pumped up they forgot how to high-five.
"Obviously, a fight isn't as cool as, maybe, like a goal or something," said Frederic after the game. "So I can only imagine what they'd do then." (Probably end up slapping each other in the face.)
More NHL:
Tonight: Tampa Bay Lightning at Pittsburgh Penguins (8 pm ET, NBCSN)
6. On this date: 1/30/1948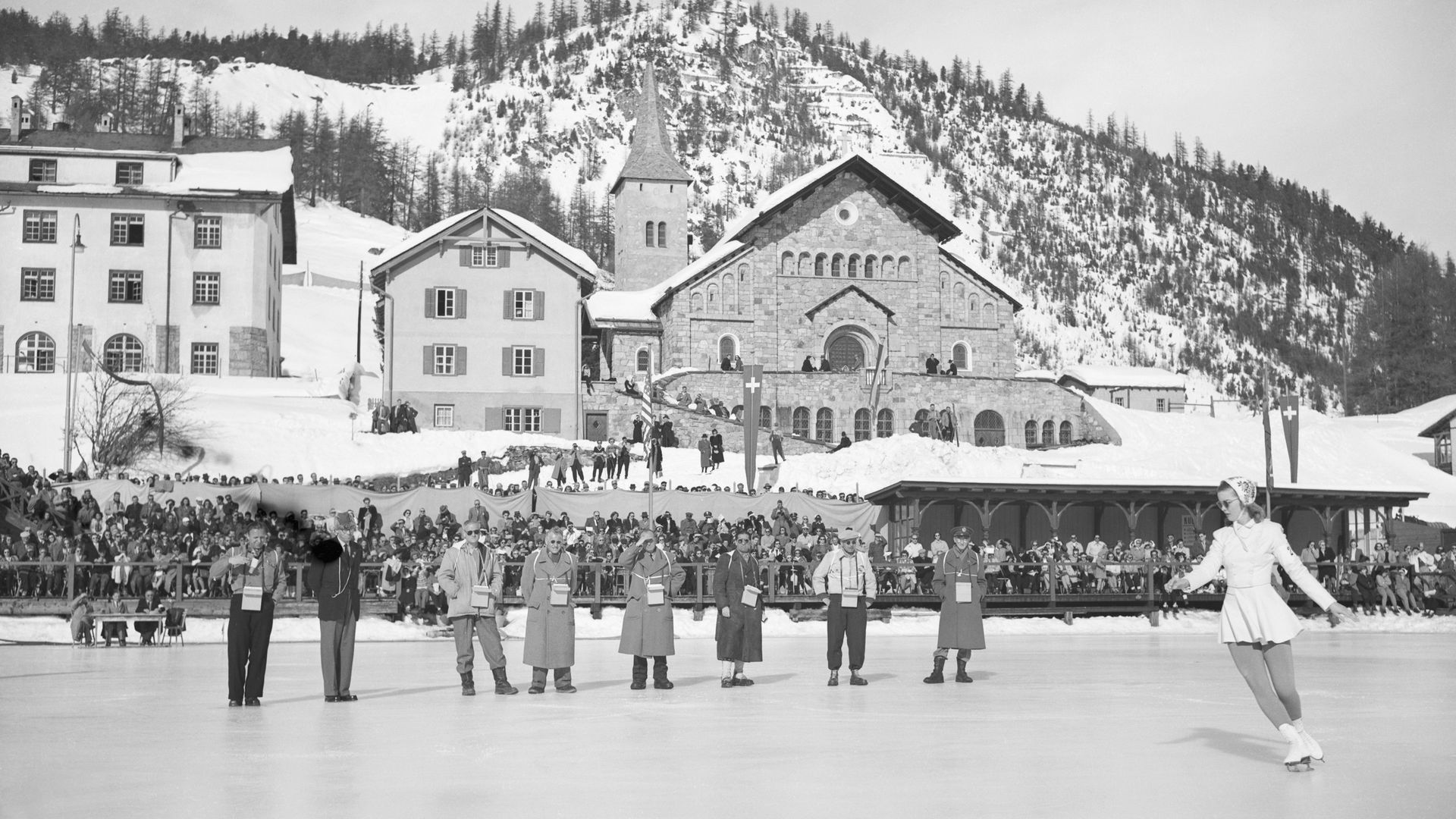 71 years ago today, the 1948 Winter Olympics — the first Olympics to be celebrated after World War II — kicked off in St. Moritz, Switzerland. The exclusion of Japan and Germany created an intensely political atmosphere.
Pictured above (original caption): "Barbara Ann Scott pictured gliding on the ice before the judges during the women's compulsory figure skating contest. The sparkling ballerina of ice won the women's figure skating championship and dazzled admirers in her win."
P.S. Found some footage.
7. Trivia (more of a brain teaser)
Question: Can you name the 2 big four American sports teams whose names differ by only one letter?
Submitted by: Trevor Schmitt (New York)
Answer at the bottom.
8. The Ocho: Major League Rugby is back in action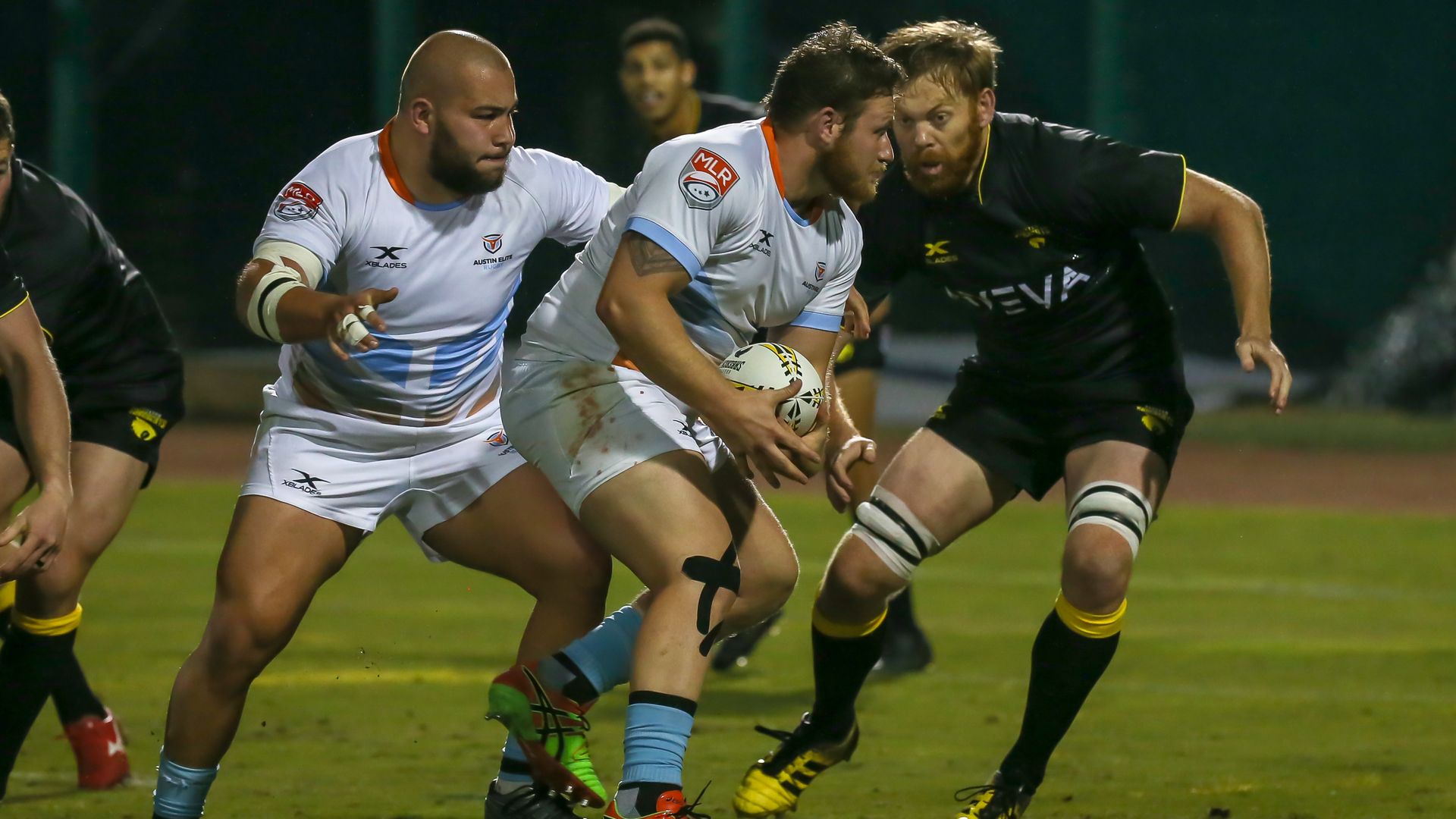 Major League Rugby kicked off its second season this past weekend, with 8 of the league's 9 teams in action.
The teams: Austin Elite Rugby, Glendale Raptors, Houston SaberCats, New England Free Jacks, Nola Gold, Rugby United New York, San Diego Legion, Seattle Seawolves (defending champs), Toronto Arrows, Utah Warriors
Thanks,
Kendall "Hump dayyyyyy" Baker
Trivia Answer: The (Green Bay) Packers and (Indiana) Pacers