☕️ Good morning! Happy Monday.
🚨 Breaking: Anthony Davis' representatives have informed the New Orleans Pelicans that he won't sign an extension this summer and would like to be traded, ESPN's Adrian Wojnarowski reports.
1 big thing: The NBA's startling evolution
During the 2004-05 season, Phoenix Suns head coach Mike D'Antoni paired his famed Seven Seconds or Less offensive system with superstar Steve Nash and, aided by the NBA's crackdown on physical defense, changed basketball forever.
10 years later, the Golden State Warriors took D'Antoni's philosophy to a whole new level, averaging 27 3-point attempts and a league-best 99.2 possessions per game en route to their first of 3 titles this decade.
Fast-forward to present day: In recent years, every NBA team has adopted some version of this freewheeling system — and it's only gotten more extreme.
The Houston Rockets, coached by D'Antoni, are attempting a ludicrous 44.2 threes per game this year. The 27 3-point attempts and 99.2 possessions per game the 2014-15 Warriors team averaged? Those numbers would would rank 26th and 21st in the league, respectively, right now.
The bottom line: The Warriors' offensive numbers were considered revolutionary just 5 years ago. Now, they'd be below average.
What's happening: Basketball has evolved dramatically over the last 15 years, as variables like advanced analytics, rule changes and talent (both players and coaches) have combined to create a chemical-like reaction that we can never erase. This is not a fad.
Between the lines: Now that every NBA team is playing the same pace-and-space style, it's no longer enough to simply adopt that system and hope for the best. Teams must now attempt to find an edge, typically through training or personnel.
Training: Did you know that some NBA teams have actually added 4-point lines to their practice courts? Others have even developed their own point systems that they use in practice. The main goal of both: reward floor spacing and emphasize the long ball.
Personnel: As the league's style of play has changed, certain types of players (like non-athletic big men) have been weeded out, while others (like defensive wings who can shoot threes) have seen their stocks soar.
The big picture: One thing that hasn't been discussed nearly enough is how all of this affects young basketball players (aka, the NBA's future workforce) and the people tasked with developing them.
For example, if you're the high school coach of a 6'10" All-American, do you post him up all game and prioritize winning? Or do you let him play on the perimeter, since you know he needs to develop that part of his game if he wants to make it in the modern NBA?
Go deeper: The Washington Post explored this exact topic recently. Worth a read.
2. 🏈 The Rams and Patriots are built completely differently
The New England Patriots are led by the NFL's oldest quarterback in 41-year-old Tom Brady and its second-oldest head coach in 66-year-old Bill Belichick.
The Los Angeles Rams are led by a pair of avocado toast-eating millennials: 24-year-old Jared Goff and 33-year-old Sean McVay, the youngest head coach in league history.
Yes, this "old guys vs. young dudes" narrative is cute, but if you really want to know what makes the Patriots and Rams polar opposites, take a look at how their rosters are structured — and how they spend their money.
Distribution: The well-balanced Patriots have just 2 players on contracts worth more than $10 million per year, while the top-heavy Rams have 7 (see above).
QB spend: Jared Goff is still on his rookie deal ($5.1 million cap hit). Tom Brady is paid more than 4 times that amount, and that's despite giving the Patriots a discount.
Non-QB spend: Thanks to Goff being so cheap, the Rams were able to splurge on talent this offseason (Aaron Donald, Todd Gurley, Brandin Cooks, Ndamukong Suh), while the Patriots had no such luxury.
The big picture: The Rams got to the Super Bowl by saying, "Look, we have a potentially legendary coach and a couple more seasons until we have to pay Jared Goff, so let's call this our 'championship window' and start writing huge checks even if they might put us in a bind later on. Hollywood baby, go big or go home!"
The Patriots got to the Super Bowl by saying, "We should probably start that Tom guy at quarterback like we do every year and spread the rest of our money evenly around with smart, risk-averse contracts."
🗣 P.S. Speaking of "that Tom guy," the Pats have a new rallying cry.
3. ⚾️ Like fathers, like sons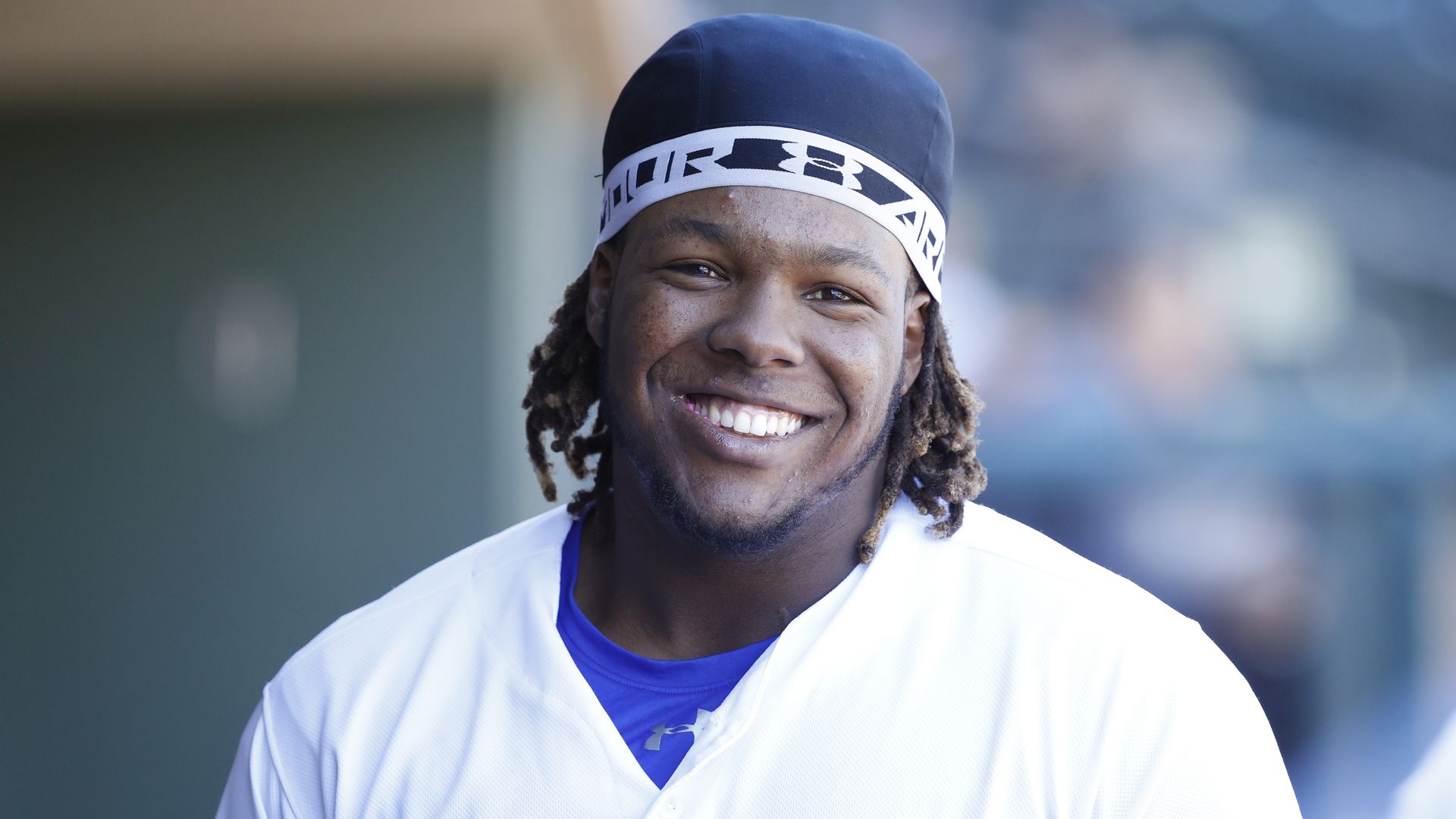 Major League Baseball released its annual Top 100 prospects list on Saturday, with sons of 2 former big leaguers sitting atop the rankings.
1. Vladimir Guerrero Jr. (3B, Blue Jays), 2. Fernando Tatis Jr. (SS, Padres), 3. Eloy Jimenez (OF, White Sox), 4. Victor Robles (OF, Nationals), 5. Royce Lewis (SS, Twins)
6. Nick Senzel (3B/2B/OF, Reds), 7. Forrest Whitley (RHP, Astros), 8. Kyle Tucker (OF, Astros), 9. Alex Kirilloff (OF, Twins), 10. Brendan Rodgers (INF, Rockies)
Best farm systems: Padres (1o prospects on the list); Braves (8); White Sox (6); Astros (6); Rays (6); Blue Jays (5), Reds (4), Dodgers (4), Pirates (4)
Worst farm systems: The Brewers, Marlins, Red Sox and Royals are the only clubs with just a single Top 100 prospect.
The big picture: Since MLB first started producing these rankings in 2004, the Rays (62) have produced the most Top 100 prospects, followed by the Dodgers (57), Braves (56) and Padres (50).
Check out the full list here.
4. 🏒 NHL All-Star Game: Bests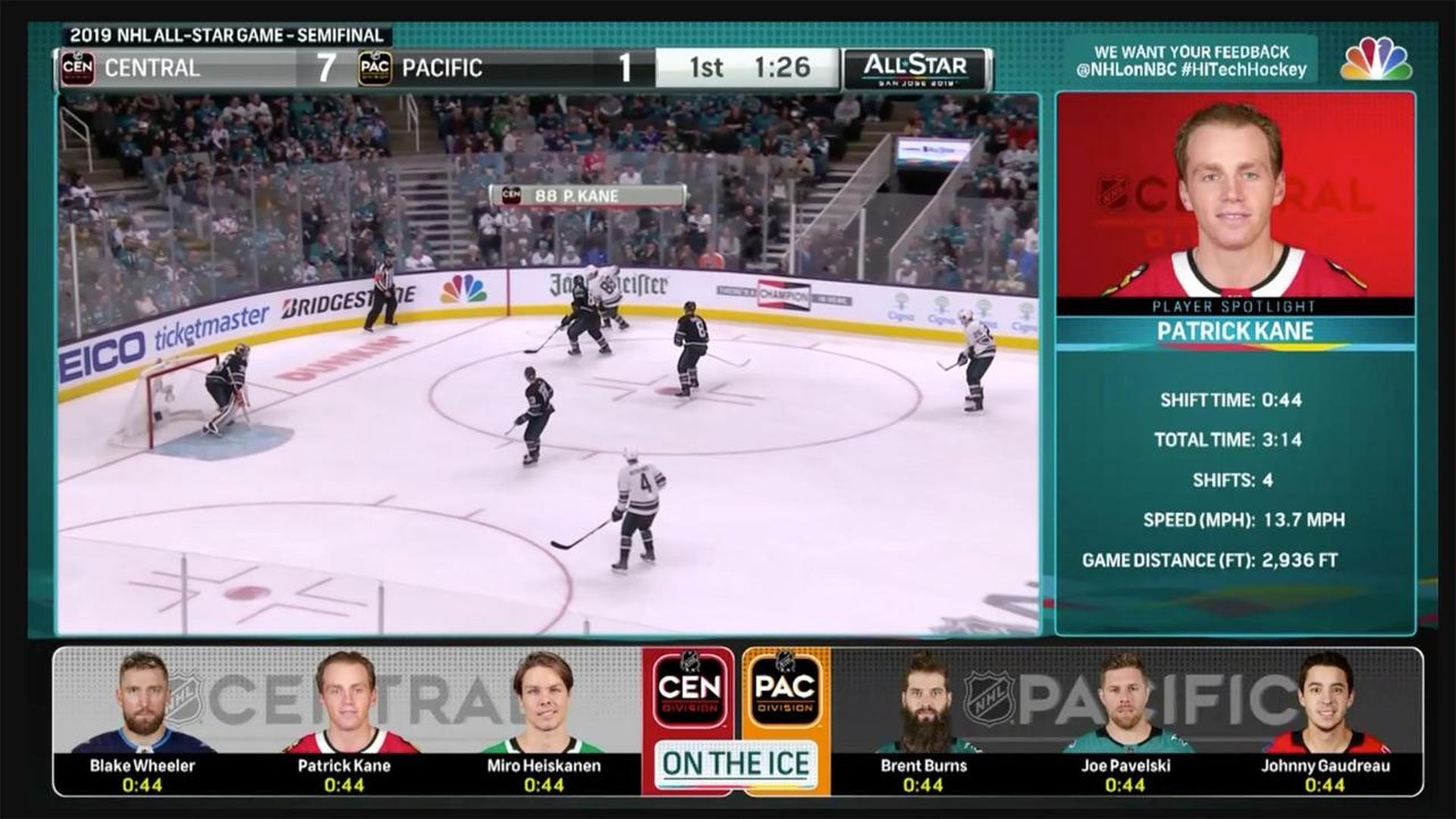 Best glimpse of the future: The NHL has spent years developing puck and player tracking technology, and NBC Sports gave us a glimpse of how it will be incorporated into future broadcasts. Pretty easy to see the value in something like this if/when real-time betting becomes mainstream.
Best photo: In honor of Sidney Crosby winning All-Star Game MVP, here is a photo of his mentor, Mario Lemieux, after winning the 1988 All-Star Game MVP, where he won a new pickup truck and a Kaypro computer.
Best thing I read: "Can Connor McDavid ever overcome the Oilers' perpetual rebuild? The 22-year-old phenom took the stage at the NHL's All-Star weekend and tried to escape the swirling chaos surrounding his team. But like it has for the past decade, future success still feels far away in Edmonton," writes The Ringer's Katie Baker.
5. ⚽️ Global soccer report
🇺🇸 USA: Gregg Berhalter became the 3rd U.S. men's national team coach in the modern era to begin his tenure with a win, as the Americans beat Panama 3-0 in an exhibition in Glendale, Ariz. last night.
🇫🇷 France: Thierry Henry's managerial career is not off to the best start. The former Arsenal legend was sacked by AS Monaco over the weekend ... after just 3 months in charge. Reports indicate Henry never carried himself as a manager, with someone close to the squad saying it felt too much like he was still "one of the boys."
🇦🇷 Argentina: Embracing new scouting strategies and an ambition bigger than its wallet, Racing Club "stands out as a bastion of innovation" among Argentina's traditional powerhouses, all of whom are steeped in tradition and resistant to change, writes the NYT's Rory Smith. Fascinating read.
6. 🎾 Djokovic, Osaka are your Aussie Open champs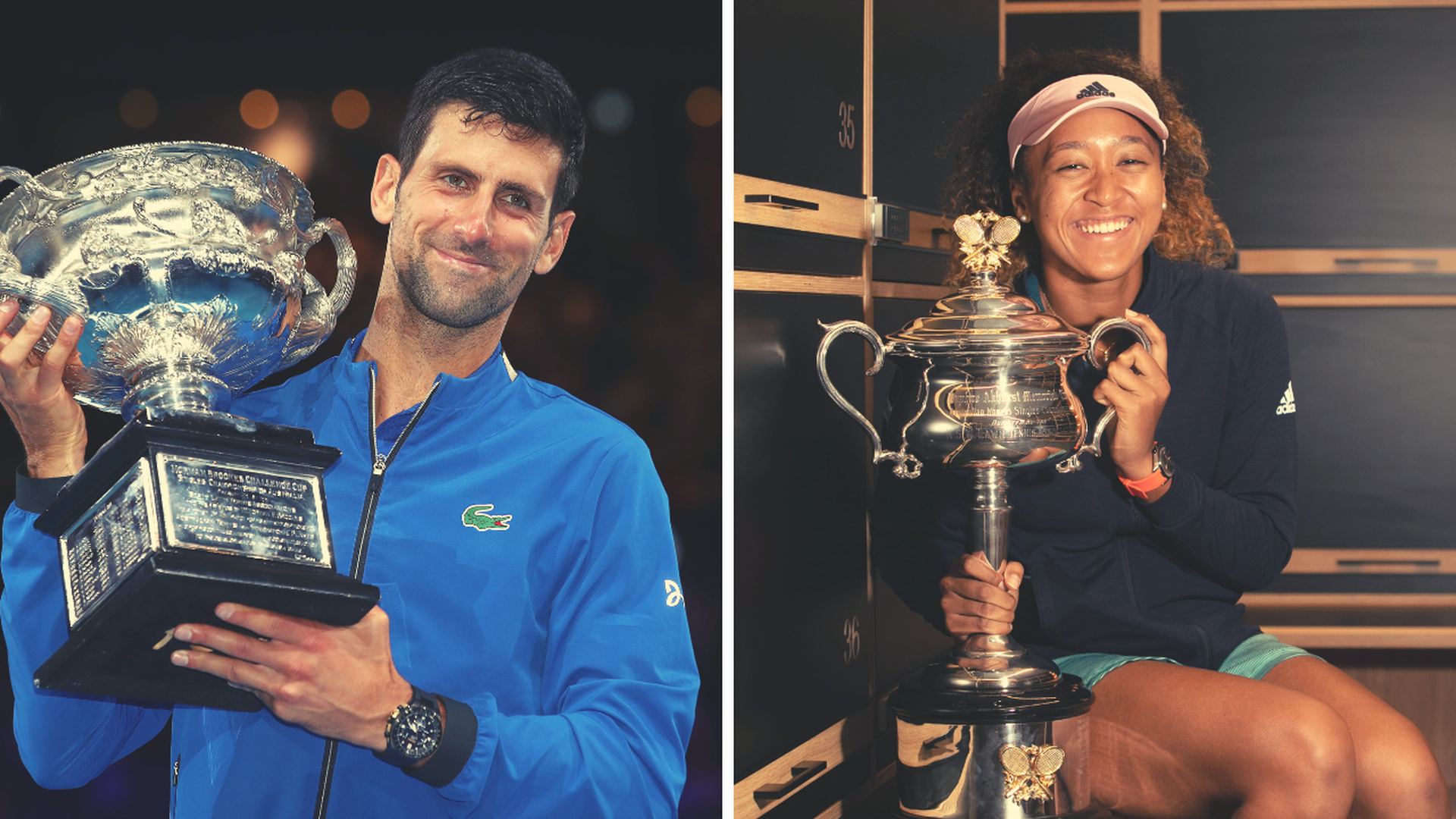 (1) N. Djokovic def. (2) R. Nadal, 6-3, 6-2, 6-3
Recap: This was expected to be a classic, since, well, most Djokovic-Nadal matches are (their previous meeting, in last year's Wimbledon semifinals, took more than 2 days).
But Djokovic won in a rout, reminding everyone that "when he's at his best, he may be the most unbeatable tennis player the world has ever seen," writes The Ringer's Chris Almeida.
The bottom line: "Attempting to beat Djokovic in the zone is akin to trying to solve a Rubik's Cube while the colors change. And boy, is Djokovic ever in the zone right now."
(4) N. Osaka def. (8) P. Kvitová, 7-6 (2), 5-7, 6-4
Recap: Naomi Osaka squandered 3 championship points in the 2nd set, but the 21-year-old regrouped brilliantly to win her 2nd consecutive Grand Slam title.
Fun fact: With the win, Osaka — who was born in Japan and raised in the U.S. by a Japanese mother and a Haitian father — becomes the first Asian tennis player to reach World No. 1.
More champions:
Boys' singles: 17-year-old Emilio Nava of the United States fell to top-seeded Lorenzo Musetti of Italy, 4-6, 6-2, 7-6 (12). The Woodland Hills, Calif. native expressed sincere gratitude after the match, and I am officially a fan.
Women's doubles: Sam Stosur of Australia lost the final in dramatic fashion 13 years ago. Her partner, Zhang Shuai of China, nearly quit the sport in 2016. Now they're both champions.
7. Trivia
Question: Who is the only player across all 4 major sports to ever win the MVP award in both his first and last year in the league?
Hint: He went to college in New York.
Submitted by: Jason Kerr (Raleigh, N.C.)
Answer at the bottom.
8. The Ocho: Denmark is good at handball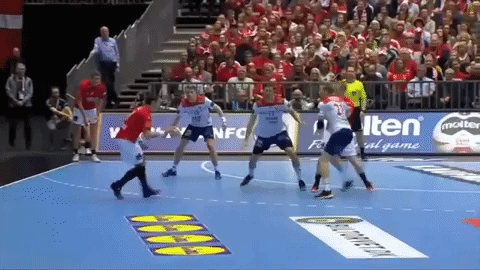 Denmark followed up its gold medal performance in the 2016 Olympics by winning the country's first-ever World Handball Championship yesterday with a 31-22 win over Norway in the finals.
MVP: Denmark's Mikkel Hansen scored 72 goals in 10 games, including 7 in the final. Mikkel gets buckets.
Watch: Highlights
9. On this date: 1/28/2001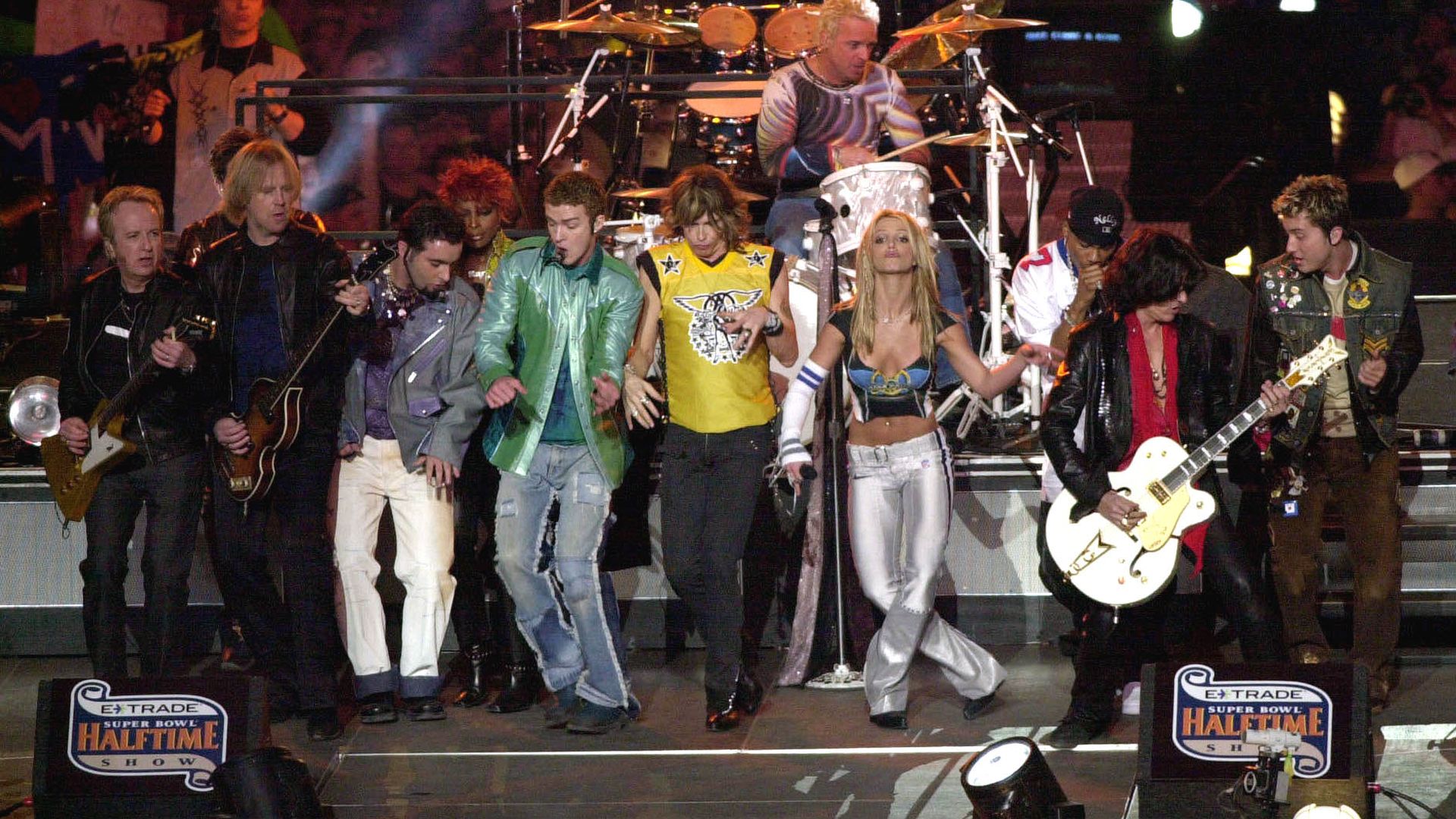 18 years ago today, Britney Spears, 'N Sync, Nelly, Mary J. Blige and Aerosmith delivered an iconic performance during halftime of Super Bowl XXXV. Some say human civilization peaked that evening. Enjoy.
P.S. In keeping with the "wow, haven't thought about those guys in a while" theme, the national anthem was performed by ... The Backstreet Boys.
P.P.S. In terms of the actual football game, Ray Lewis (game MVP) and the Ravens destroyed Kerry Collins and the Giants, 34-7 (highlights).
10. If you read one thing...
Thanks,
Kendall "Didn't watch the Pro Bowl and feel great about it" Baker
Trivia answer: Jim Brown