👋 Good morning! Let's sports.
🏀 Olympics: Steph Curry is committed to playing for Team USA at the Olympics next summer. "That's the plan, for sure." (ESPN)
🏐 Volleyball: If you've never watched college volleyball, tonight is the night. No. 1 Nebraska hosts No. 2 Stanford at 8pm ET (Big Ten Network/Fox Sports app). Preview.
Today's word count: 1,323 words (5 minutes)
1 big thing: 🏈 The end of the Eli era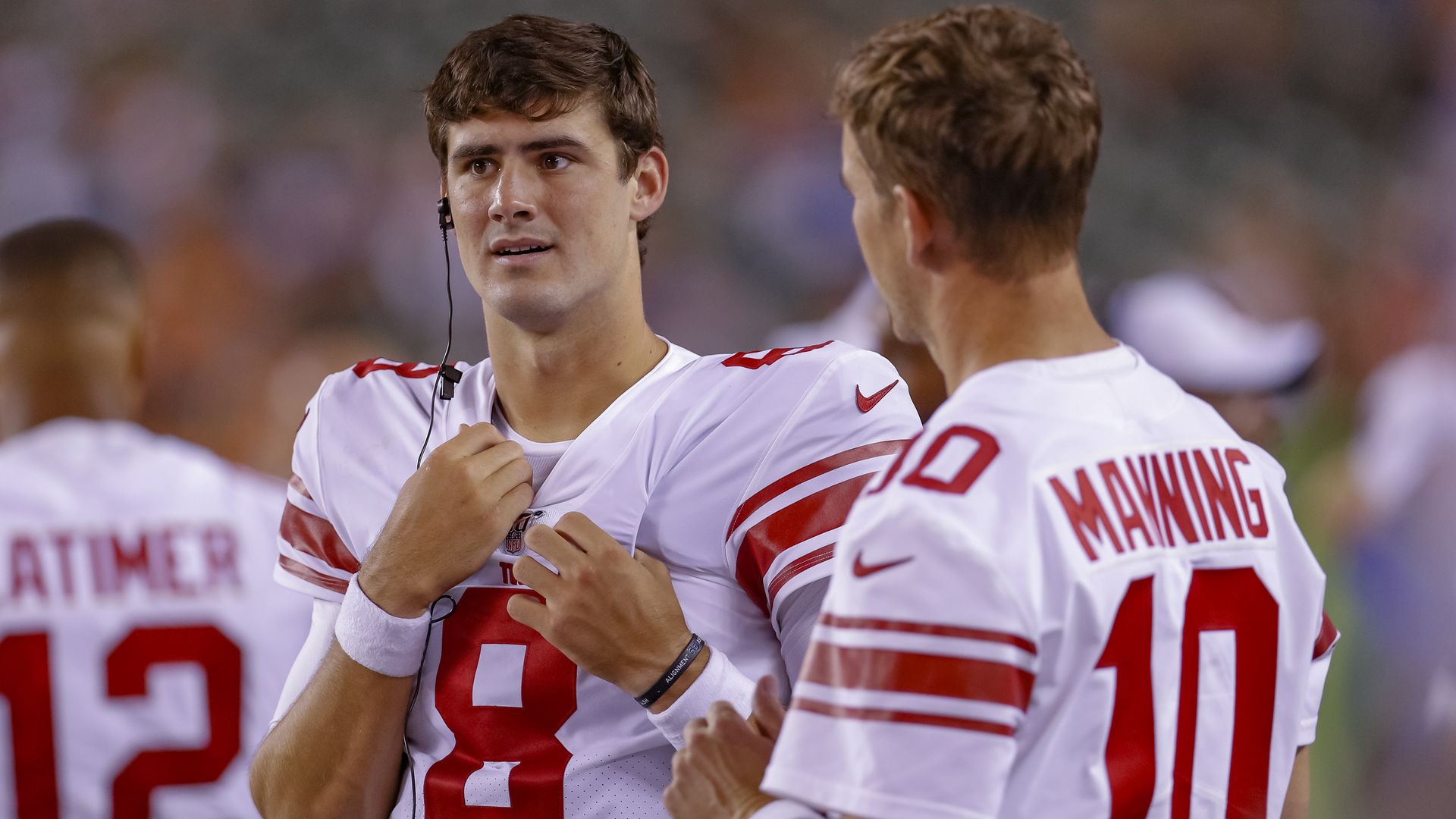 The New York Giants are benching Eli Manning in favor of rookie Daniel Jones, meaning Manning's near 15-year run as the team's starting QB appears to be over.
Why it matters: Outside of a brief Geno Smith cameo in 2017, Manning is the only signal-caller the Giants and their fans have known since 2004 — the same year "Yeah" by Usher came out.
So, even if the writing was on the wall, Manning's benching was always going to be emotional and delicate.
And while there's still a chance he starts again — either for the Giants or someone else — he'll likely never play another meaningful down for the only team he's ever known.
The backdrop: After former coach Ben McAdoo fumbled the team's first attempt at transition two years ago (Manning was benched for Smith then brought back the following week), it was crucial that the Giants get it right this time.
By the numbers:
2 Super Bowls: Manning beat Tom Brady twice in the Super Bowl and is 1 of just 5 players in NFL history to win multiple Super Bowl MVPs.
116-116: Manning has made 232 starts in his career, and he's won the exact same number of games as he's lost. (Past 2 seasons: 8-25.)
What they're saying: On his show "The Herd," Colin Cowherd suggested that Eli would have been benched years ago if he played on the West Coast, rather than the East Coast.
While I don't necessarily agree with that, it's always interesting to compare the two coasts — and it's a comparison we rarely hear applied to sports.
Here's Cowherd:
"I'm from the West and I currently live in the West, but one of the things that always struck me [when I moved to the Northeast] — you would never have a Fenway Park out West. We would just blow it up and start over.
"The East is about 200-year-old churches and 100-year-old baseball stadiums and hierarchy and tradition. ... In the West, we don't romanticize yesterday. ... It doesn't matter what grandpa did or what your dad did.
"Out West, they would have benched Eli Manning seven years ago — maybe five. But out East, it was hard. The Mannings are American royalty, the Giants are a blue-blood franchise, and Eli ... He's 'us.' He's the old church. He's Fenway Park.
"It's just the way the East Coast is. The prep schools and the history and the family trees. It's all wonderful — and it's been holding the New York Giants back for half a decade. It's time."
P.S. ... Here's a fun fact: In 2004, Manning was picked No. 1 by the Chargers and Philip Rivers was picked No. 4 by the Giants … then they got swapped.
15 years later, on the same week that Manning gets benched, Rivers will make his 211th consecutive start — moving past Manning (210) for second-most by a QB, trailing only Brett Favre (297).
Go deeper: The great Daniel Jones experiment (The Ringer)
Bonus: 🗞 On newsstands this AM
2. ⚽️ Champions League: Liverpool falls on Day 1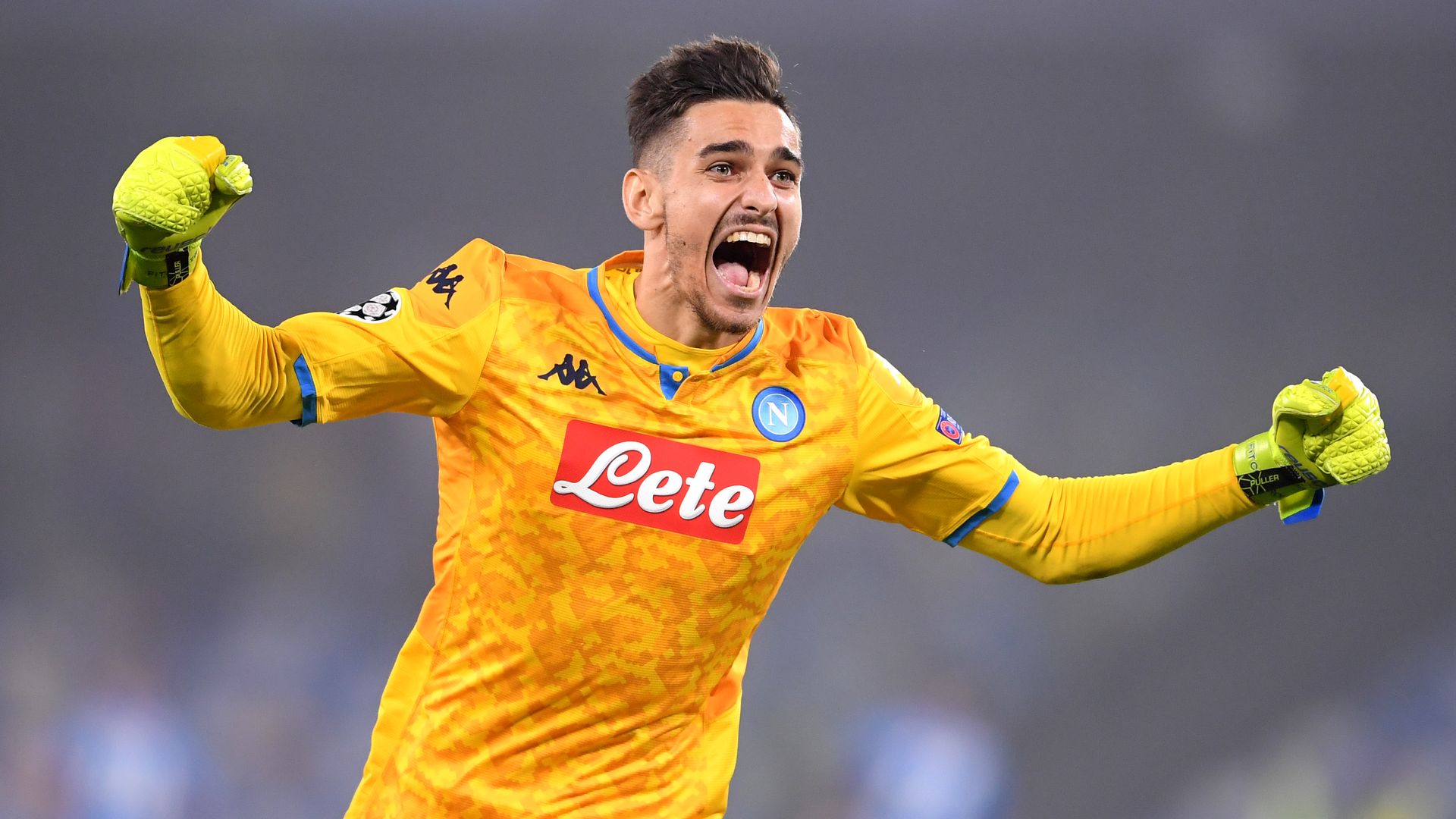 The 2019-20 Champions League group stage officially got underway yesterday with 8 matches across the great continent of Europe.
Scoreboard:
Napoli 2, Liverpool 0
Barcelona 0, Dortmund 0
Valencia 1, Chelsea 0
Inter Milan 1, Slavia Prague 1
Red Bull Salzburg 6, Genk 2
Ajax 3, Lille 0
RB Leipzig 2, Benfica 1
Lyon 1, Zenit 1
Storylines:
What's next: 8 more matches today!!! If you can only watch 3...
1pm ET: Tottenham (England) at Olympiacos (Greece)
3pm ET: Real Madrid (Spain) at Paris Saint-Germain (France)
3pm ET: Juventus (Italy) at Atlético Madrid (Spain)
3. 🏈 NFL Power Rankings, Week 3
4. 🏀 Last night in the WNBA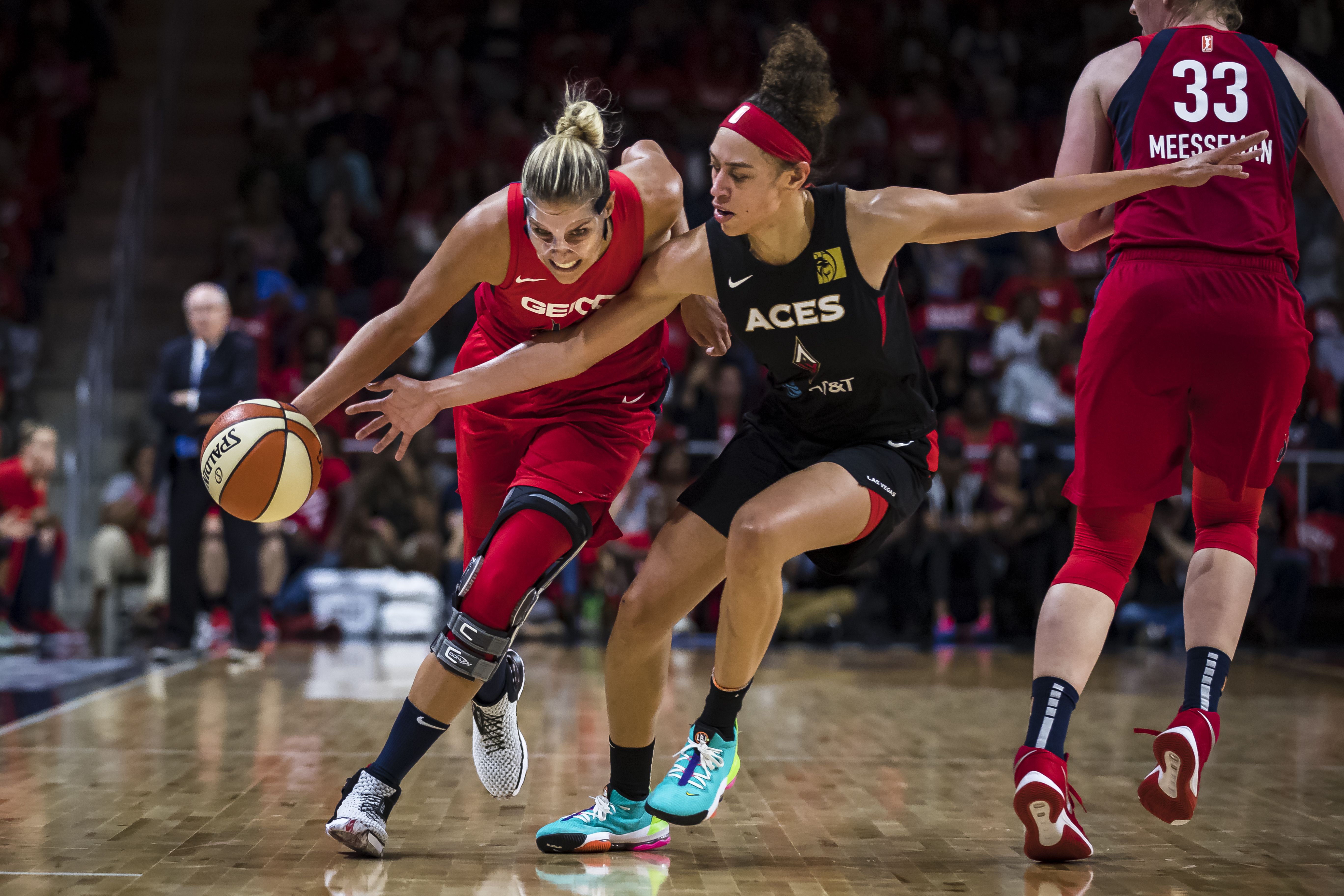 Photo: Scott Taetsch/Getty Images
WASHINGTON, D.C. — Emma Meesseman scored 27 points, Elena Delle Donne (above) added 24 and the top-seeded Washington Mystics squeaked by the Las Vegas Aces, 97-95, in Game 1 of their best-of-five semifinal series.
Photo: M. Anthony Nesmith/Icon Sportswire via Getty Images
UNCASVILLE, CONN. — Alyssa Thomas (22 pts, 10 reb) and the second-seeded Connecticut Sun used a balanced attack to beat Candace Parker (24 pts, 10 reb) and the Los Angeles Sparks, 84-75, in Game 1.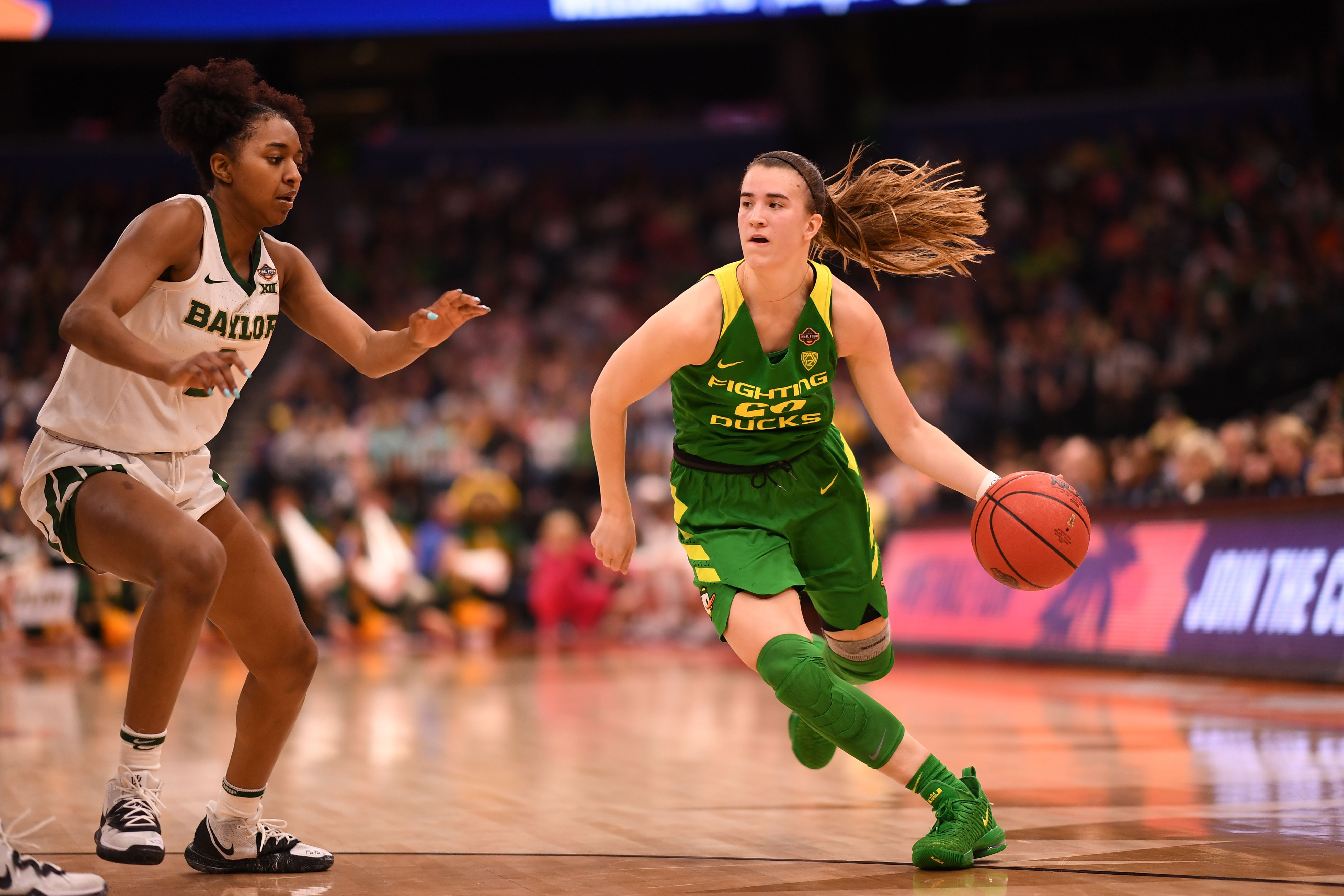 Photo: Ben Solomon/NCAA Photos via Getty Images
SECAUCUS, N.J. — The New York Liberty won the draft lottery last night and will have the top pick in next year's WNBA draft. Their expected choice: Oregon's record-setting guard Sabrina Ionescu (above). Here's a mock draft.
5. ⚾️ Baseball: By the numbers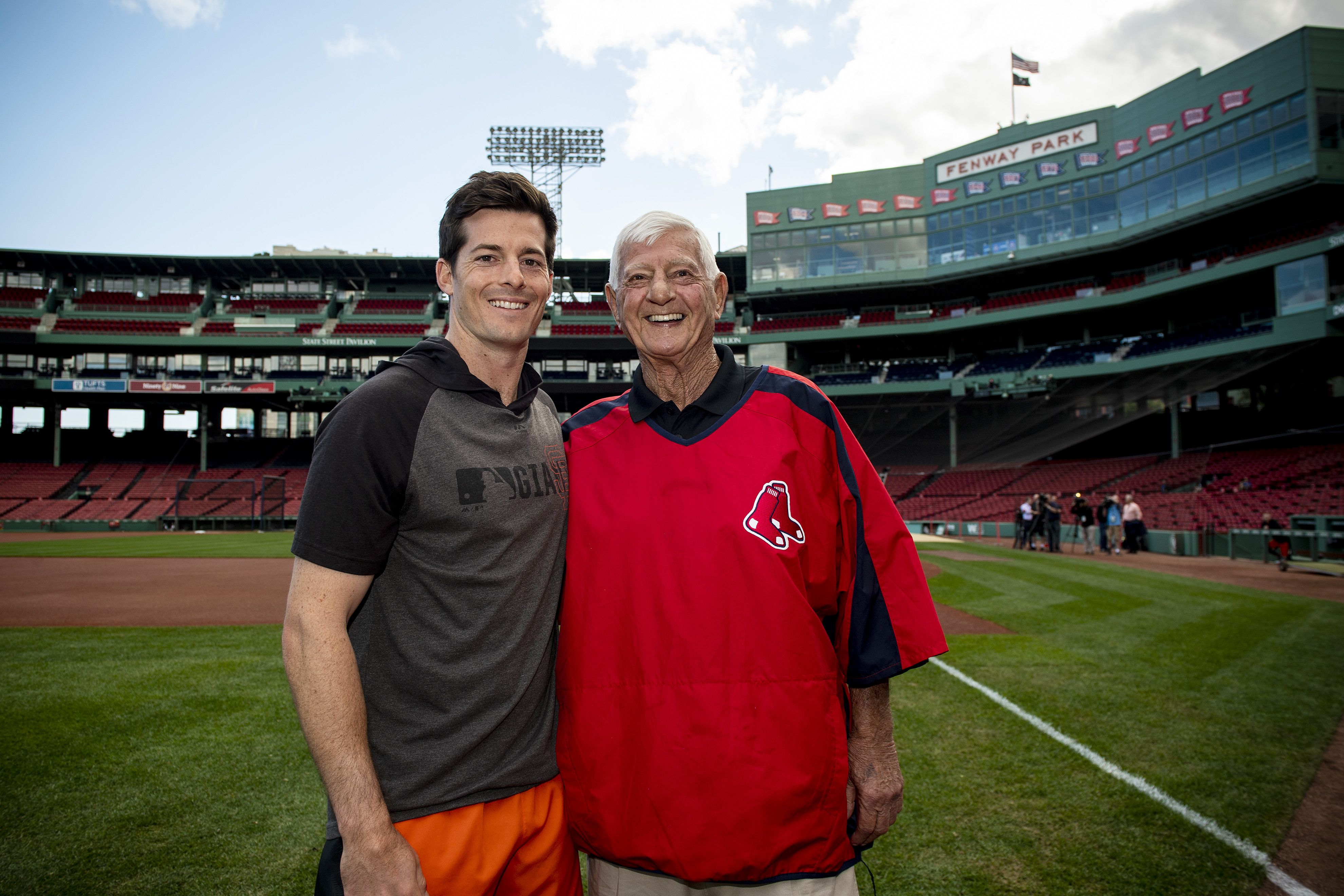 Mike and Carl Yastrzemski before the game yesterday. Photo: Billie Weiss/Boston Red Sox/Getty Images
36 years
In his first game at Fenway Park — the place his grandfather, Carl, called home for more than two decades — Giants OF Mike Yastrzemski hit a home run.
The big picture: It was the 238th HR by a Yastrzemski at Fenway, and the first since Carl went deep against the Brewers 36 years ago. Baseball, you're beautiful.
P.S. ... The game, itself, lasted 15 innings and featured a whopping 24 pitchers, which tied an MLB record. "I wanted to get my 10,000 steps, and I was a little behind," joked Giants manager Bruce Bochy.
8 straight strikeouts
Cubs starter Yu Darvish struck out 8 straight Reds hitters last night, the longest single-game streak in franchise history. Unfortunately, the Cubs still lost the game (and their wild-card lead).
NL Wild Card: The Nationals (83-67) sit 1.5 games ahead in the first wild-card spot, while the Cubs (82-69) and Brewers (82-69) are now tied for the second spot.
5 players with 30 HR
Twins 3B Miguel Sanó hit his 30th HR of the season last night (a 482-foot moonshot), making the Twins the first team in MLB history to have 5 players with 30+ HR.
The Bomba Squad: Nelson Cruz (37), Max Kepler (36), Eddie Rosario (31), Mitch Garver (30), Sano (30).
48 HR
Rookie Pete Alonso hit his league-leading 48th dinger in the Mets' 6-1 win over the Rockies last night in Denver.
The race to 50: Alonso (48); Eugenio Suarez, Reds (47); Jorge Soler, Royals (45), Cody Bellinger, Dodgers (44).
6. Sept. 18, 1999: ⚾️ "The Rookie" makes MLB debut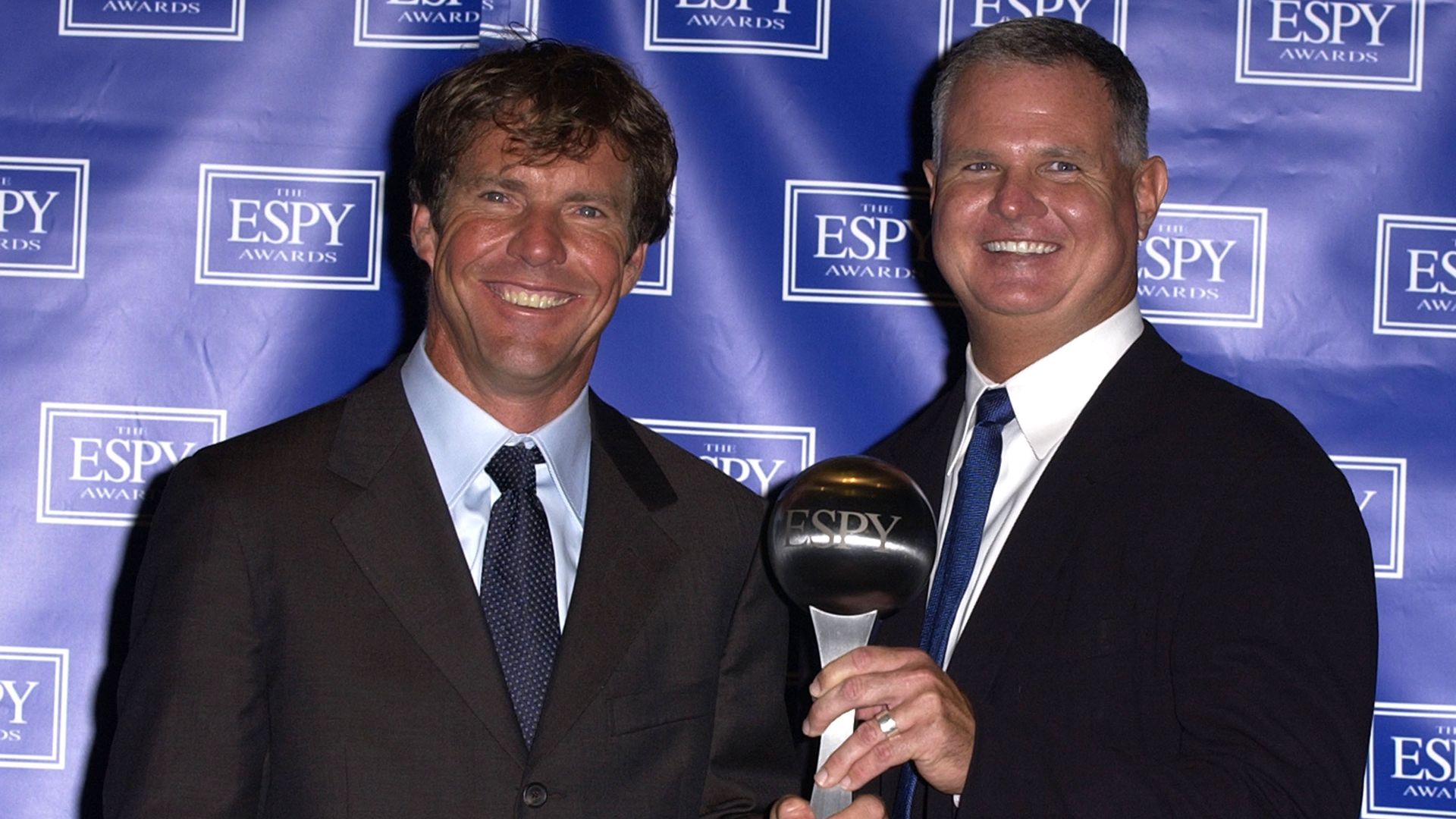 20 years ago today, 35-year-old Jim Morris made his MLB debut for the Tampa Bay Devil Rays, striking out Royce Clayton of the Texas Rangers on 4 pitches.
The backdrop: Morris had played minor league ball as a young man, but after getting cut in 1989, he retired to become a high school science teacher and baseball coach.
In the spring of 1999, he made a promise to his high school baseball team that he would try out for the big leagues if they won the District Championship.
His team won the title, and Morris kept his promise by attending a Tampa Bay Devil Rays tryout where he threw 12 straight 98 mph fastballs — enough to earn him a contract. A few months later, he was called up to the majors and struck out Clayton.
Morris made 16 MLB appearances in 2000 before his career came to a close the following offseason. Final stats: 0-0, 4.80 ERA, 13 K.
In 2002, Disney released a feature film about Morris' incredible climb to the big leagues, starring Dennis Quaid as "The Rookie."
Go deeper: "The Rookie" trailer (YouTube)
7. 🏈 NFL trivia
Question: Eli Manning is one of five players in NFL history with multiple Super Bowl MVPs. Can you name the other four?
Hint: Patriots, 49ers, Packers, Steelers.
Answer at the bottom.
8. The Ocho: 🚲 Meanwhile, in England...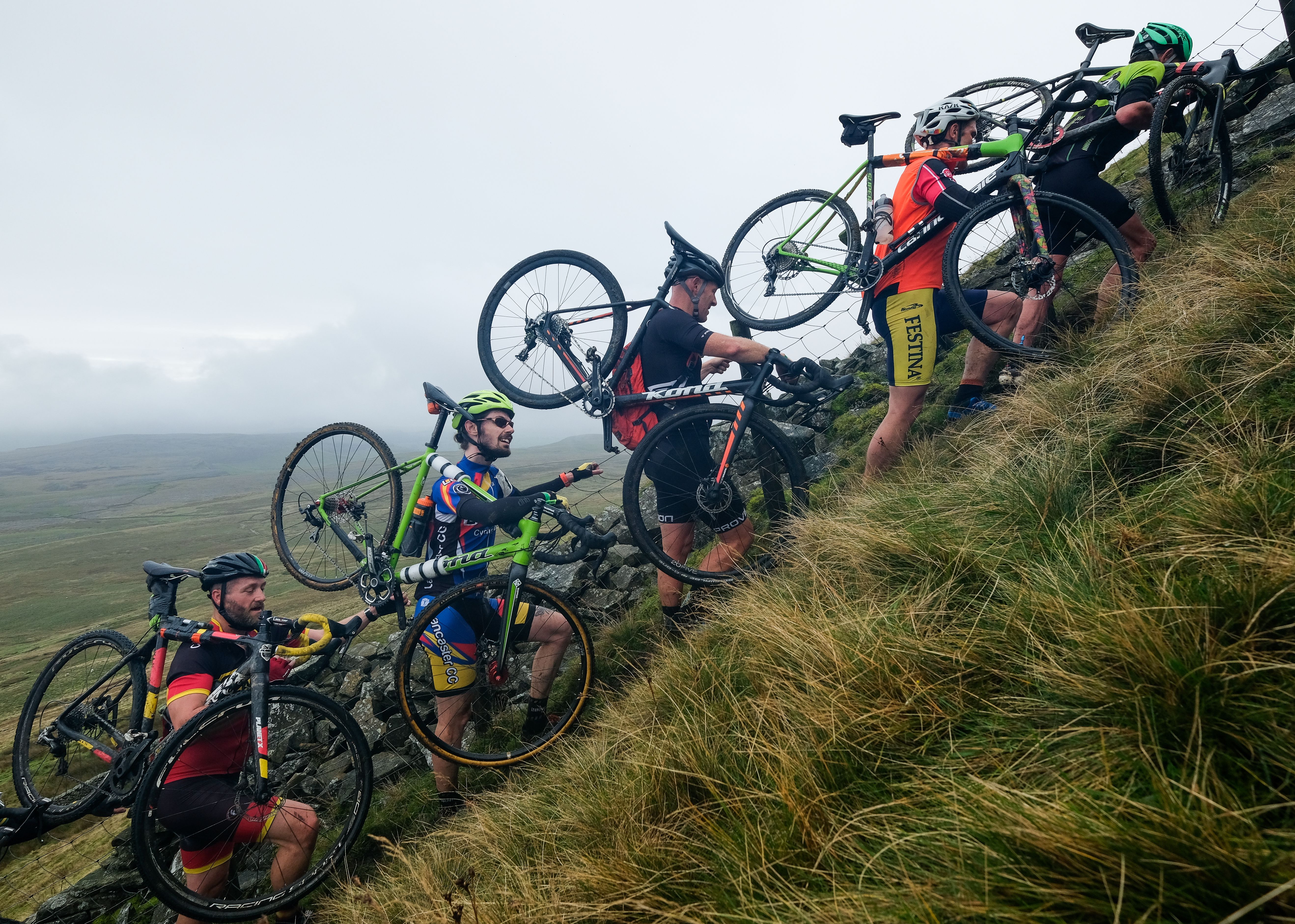 Photo: Ian Forsyth/Getty Images
Here are some competitors carrying their bikes up a brutal hill during the 57th annual Yorkshire 3 Peaks Cyclocross Challenge — the biggest cyclocross event in the U.K.
What is cyclocross? A sport that combines bike riding with running, as participants must frequently dismount and carry their bikes up hills and over obstacles.
Typical headline: "Is America ruining cyclocross?" (Outside Magazine)
Hey photographer, let's turn the camera away from our friends and point it down the hill. Anyone behind them?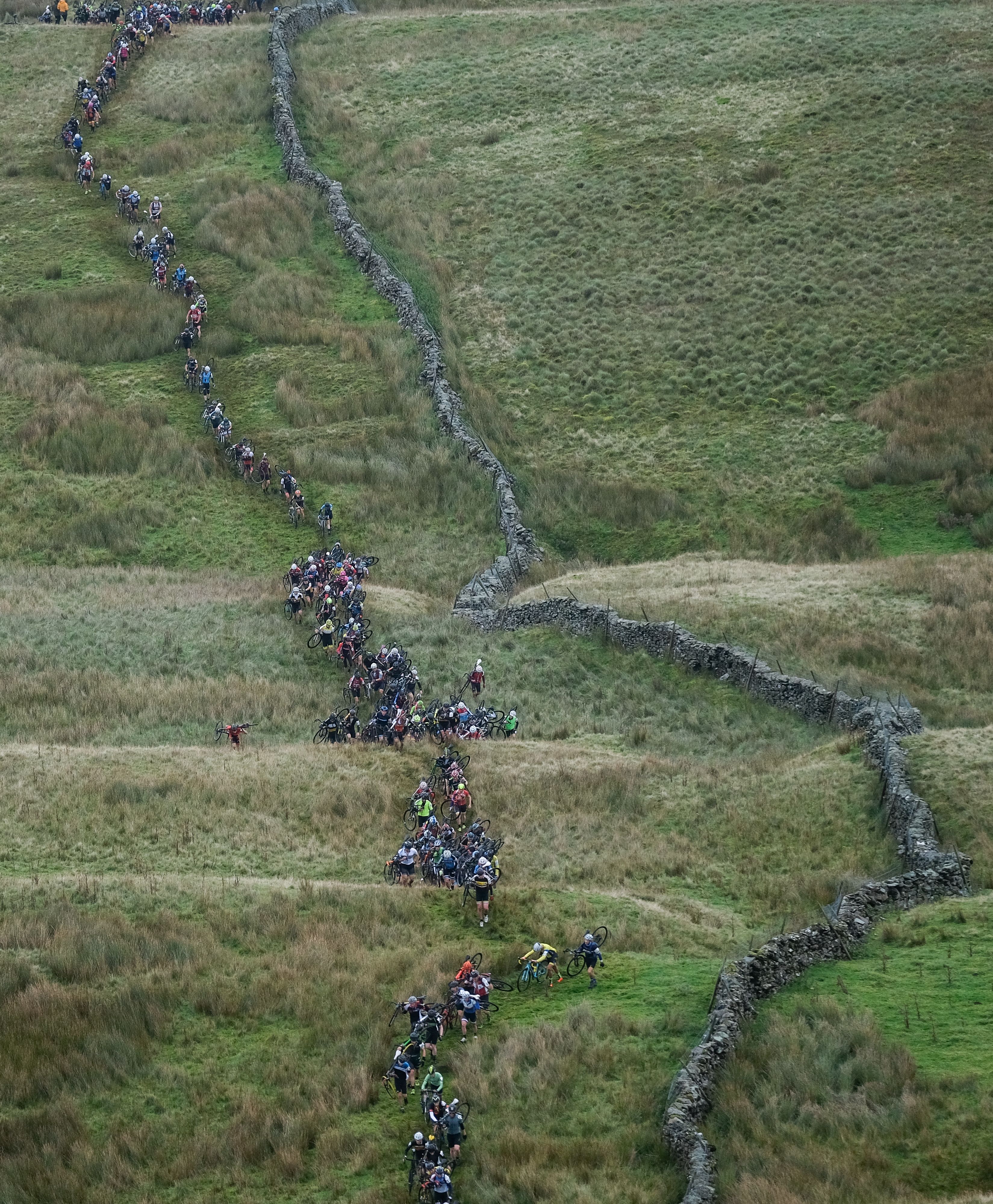 Photo: Ian Forsyth/Getty Images
See you tomorrow,
Kendall "Early 2000s sports movies were the best" Baker
Trivia answer: Tom Brady (4 Super Bowl MVPs), Joe Montana (3), Bart Starr (2), Terry Bradshaw (2)