☕️ Happy Monday! Let's sports.
1 big thing: 💰 In a mobile world, casinos are a losing hand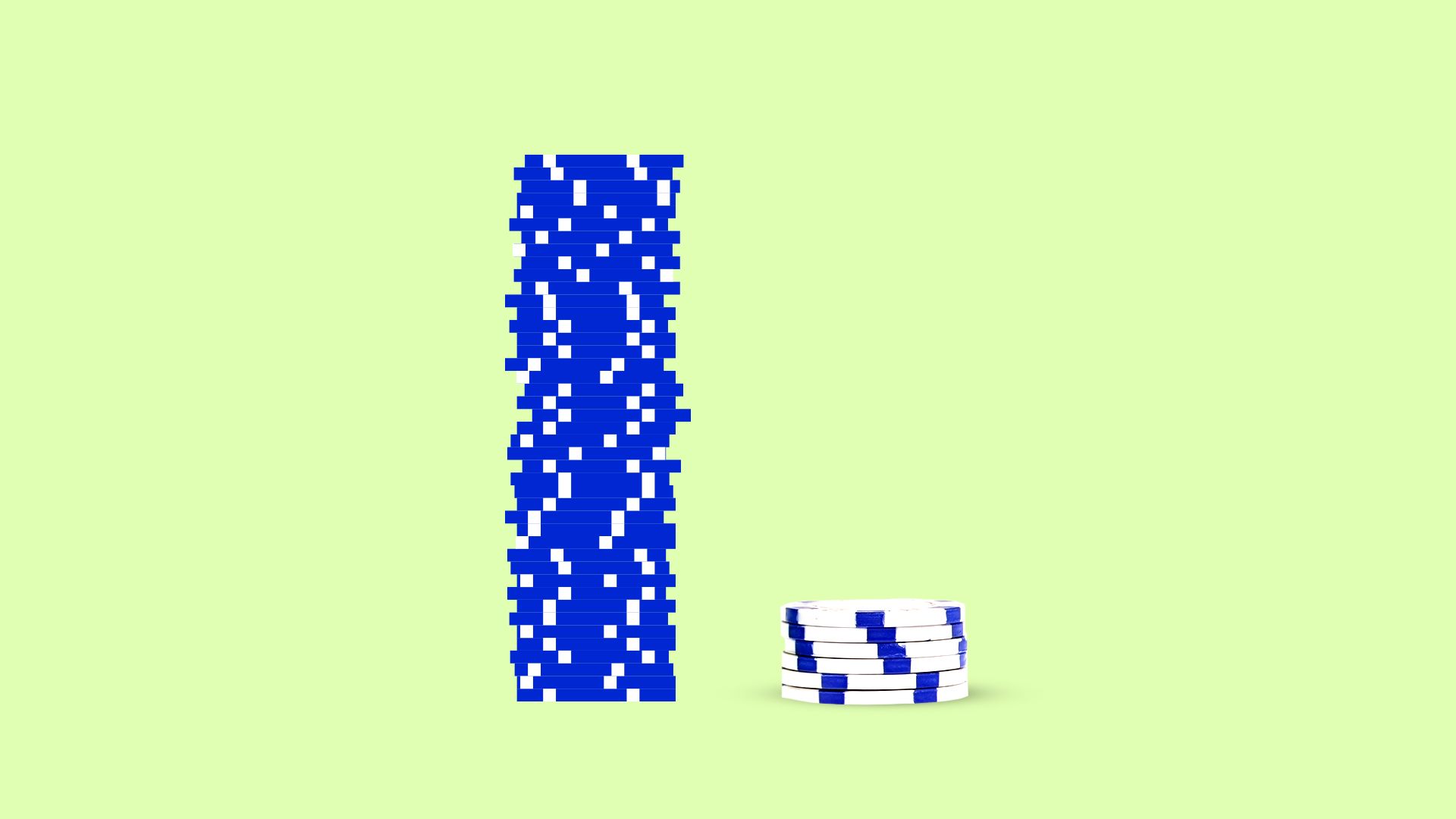 Six states have legalized sports betting since the Supreme Court's monumental decision last May, but New Jersey is the only one exceeding revenue expectations.
Why it matters: These disappointing results are part of a "growing consensus that legal sports betting may not bring the windfall that economic forecasters predicted only a few months ago," the NY Times' Timothy Williams reports.
By the numbers: West Virginia has collected only a quarter of the monthly tax revenue it projected, and Pennsylvania and Mississippi have collected only half.
Rhode Island has done even worse, bringing in $50,000 per month after predicting they'd bring in almost $1 million.
Delaware is meeting projections, but it's thanks in large part to a football-betting operation that's been around since 2009.
Be smart: The real story here is New Jersey, which has brought in more than $2 billion in the last 10 months thanks to one simple fact: New Jersey allows bettors to place online bets from their smartphones.
Meanwhile, most of these struggling states require bettors to place their bets in casinos, which — surprise, surprise — nobody wants to do. Other states like Pennsylvania have legalized mobile betting but still don't offer it.
Following New Jersey's lead and getting mobile sports betting up and running seems like the obvious answer to these states' revenue problems. Unfortunately, a little something called politics will make that a slow and complicated process, as casinos continue to apply pressure on legislators.
The big picture:
"Right now, I'd say the [casino-only] camp has more momentum simply because many policymakers aren't comfortable with online gambling. Fast-forward a couple years, and I think we'll see a lot of [casino-only] states adding online as they see that online is where the customer — and therefore, the tax revenue — predominantly resides."
— Chris Grove, managing director of sports and emerging verticals at Eilers & Krejcik Gaming
The bottom line: In 2019, people want to bet through an app from the comfort of their couch instead of getting in their car and driving to a run-down casino. Who knew?!
2. 🏒 The NHL's parity is insane right now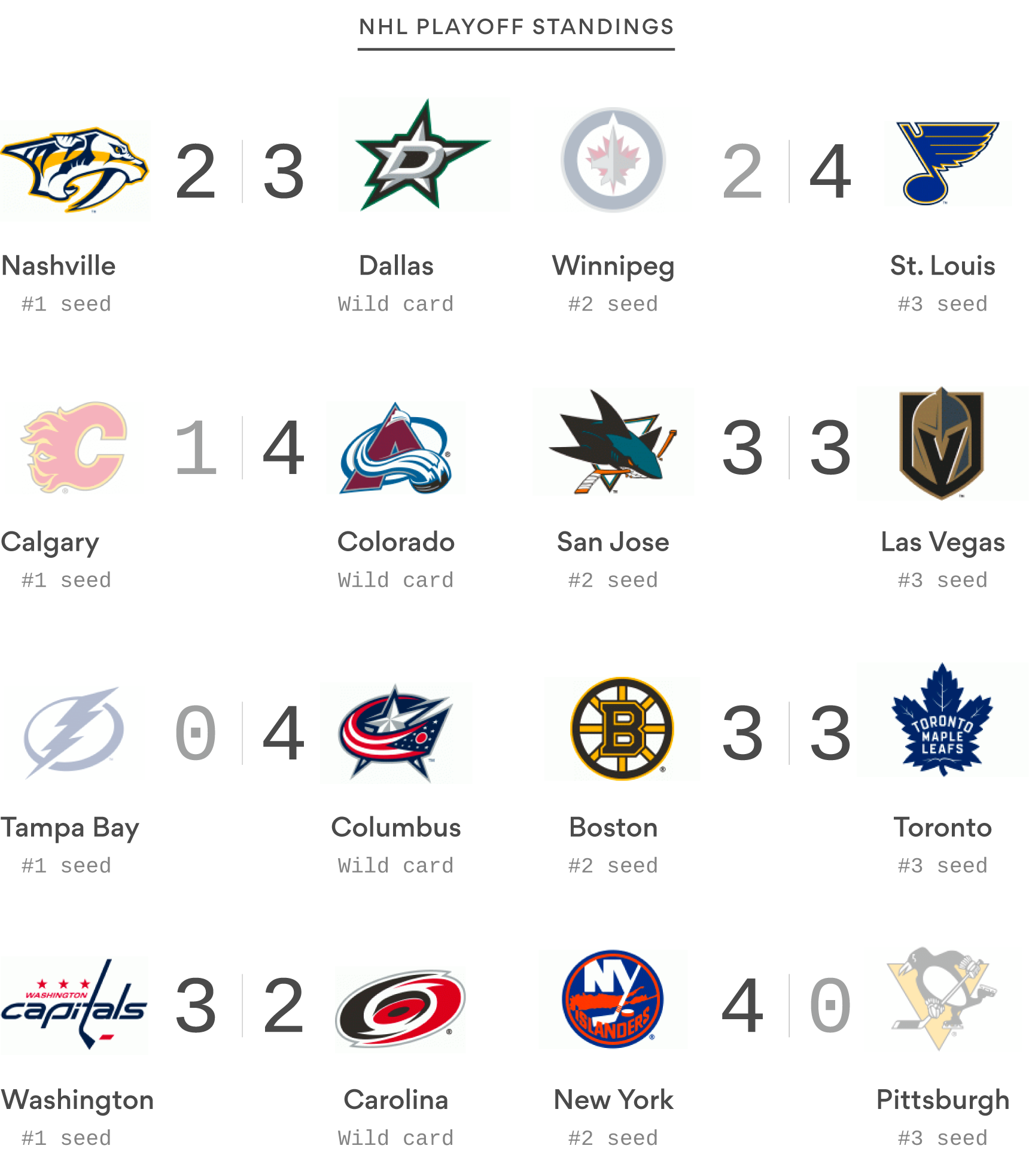 The NHL playoffs began 12 days ago, and they have already delivered — or at least promise to deliver — more upsets than we typically see in an entire postseason.
By the numbers: Four series have already concluded, and the lower seed has won three of them. That includes the top-seeded Lightning and Flames losing 4-0 and 4-1, respectively, to the Blue Jackets and Avalanche, both wild-card teams.
The only higher seed to win a series so far is the Islanders (No. 2 seed), who swept the Penguins (No. 3).
Of the four active series, one is led by the lower seed (Stars up 3-2 on Predators), two are tied (Sharks vs. Golden Knights and Bruins vs. Maple Leafs) and just one is led by the higher seed (Capitals up 3-2 on Hurricanes).
The big picture: The NHL has enjoyed the kind of parity that other leagues can only dream about for a while now. But even by its own lofty standards, this is an unusually unpredictable postseason.
Last year, for example, the higher seed won seven of the eight opening round series. This year, there's a chance we could see the exact opposite happen.
The bottom line: It's safe to say we've reached peak parity in the NHL this season, making it nearly impossible to predict who will win each series, let alone who will win the Stanley Cup. Sit back and enjoy the show.
📺 Tonight on NBCSN/CNBC: Capitals (up 3-2) vs. Hurricanes, 7pm ET; Predators vs. Stars (up 3-2), 8:30
3. 🏀 Speaking of playoff oddities...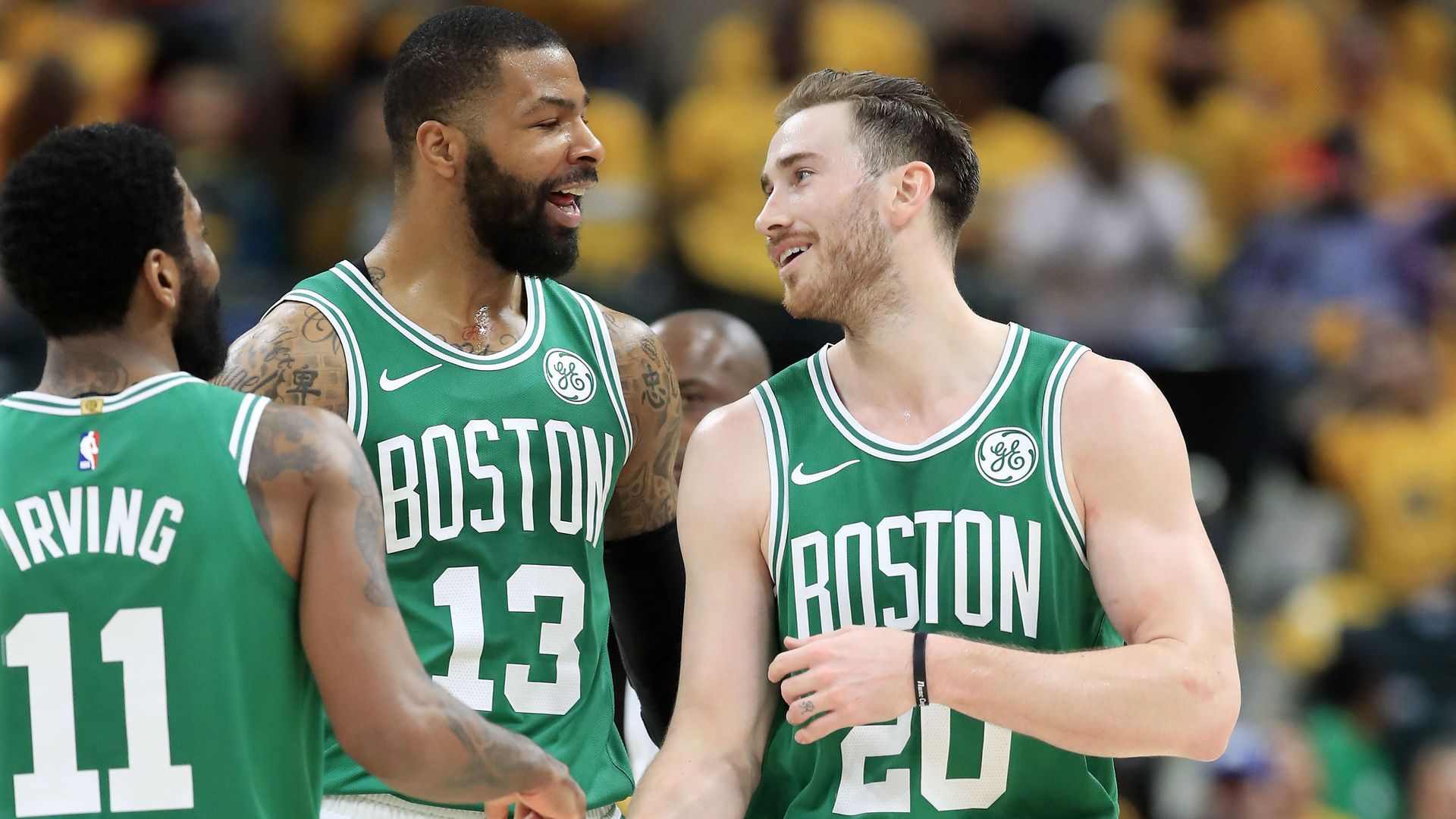 The NBA certainly lacks the parity of the NHL (not a single lower seed is currently leading a playoff series), but that doesn't mean things can't still get weird.
What's happening: There were eight playoff games this weekend, and all eight were won by the road team — the first time in NBA history that road teams won that many games in a two-day span.
The big picture: Through 30 games, road teams are 16-14. If this trend continues, it will be the first time that road teams won more games than home teams in the first round since the NBA expanded to a 16-team playoff format in 1984.
Last season, home teams won 71% of playoff games last season, the NBA's highest such clip since 2008.
More NBA playoffs:
Yesterday: The Celtics swept the Pacers, and three other matchups edged closer to conclusion: Warriors up 3-1 on Clippers, Raptors up 3-1 on Magic, Trail Blazers up 3-1 on Thunder.
📺 Tonight on TNT: Bucks (up 3-0) vs. Pistons, 8pm ET; Rockets (up 3-0) vs. Jazz, 10:30
4. ⚾️ Division update: AL East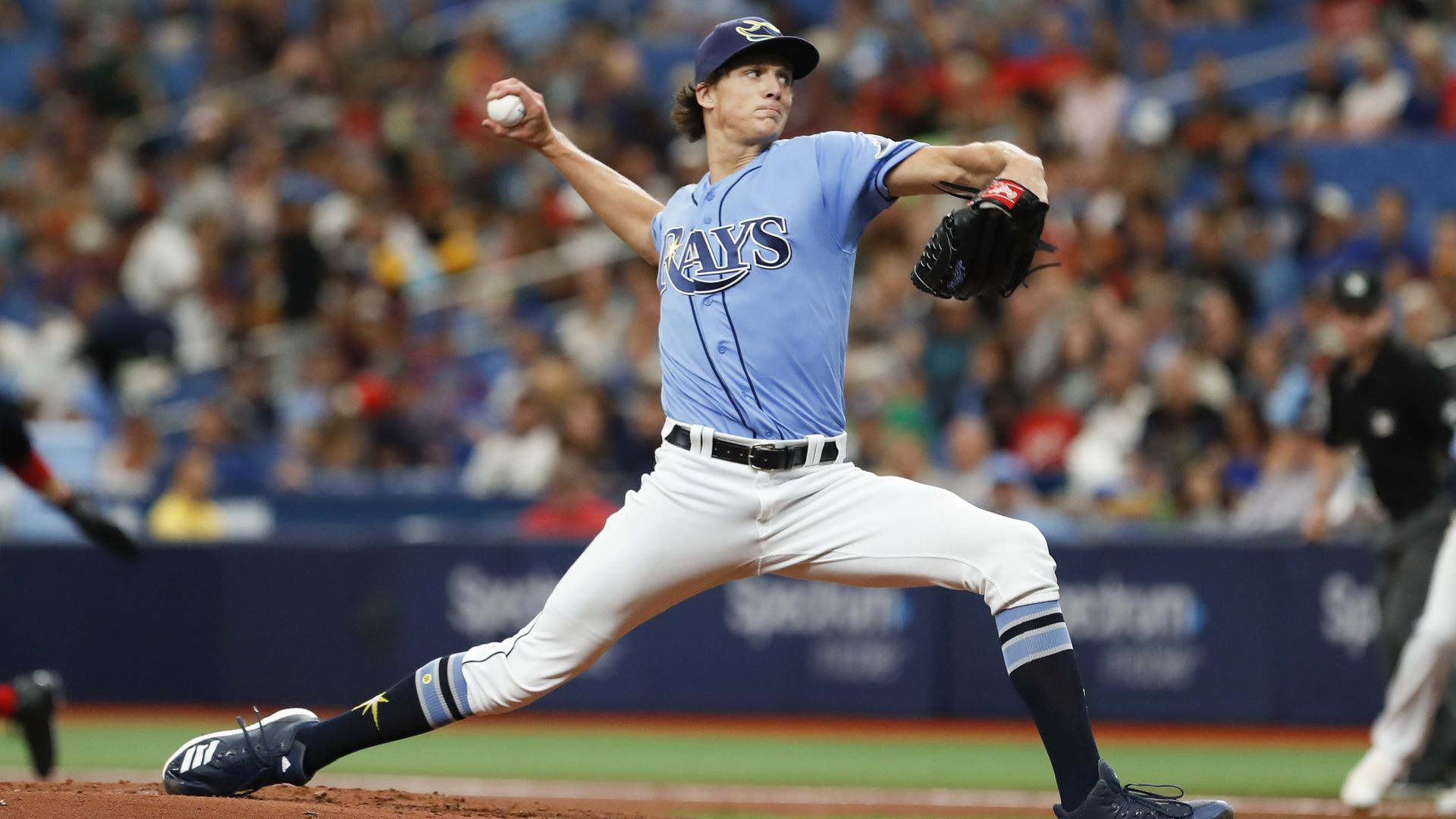 1. Tampa Bay Rays (14-8): The Rays have a surprising AL East lead thanks to lights-out pitching, but how long will it last? They've lost four straight and the rest of the division is getting hotter.
Player to watch: Tyler Glasnow is playing like a man possessed with a 1.13 ERA, way down from his career 4.89 mark.
2.83: The Rays' team ERA, which ranks first in the AL and second in all of baseball, trailing only the Pirates (2.52).
2. New York Yankees (11-10): The Yankees have won six of their last 10 games, but health continues to be a serious issue. The latest casualty? Aaron Judge (strained oblique).
Player to watch: Offseason acquisition James Paxton (2-2, 3.10 ERA) just became the third player in MLB history to pitch consecutive starts with 12 strikeouts, one (or fewer) walks and zero earned runs.
13: The number of Yankees players currently on the injured list, almost all of them core contributors. It's insane.
3. Toronto Blue Jays (11-12): The Blue Jays have won seven of their last 10, but their season took a huge hit yesterday when Matt Shoemaker (3-0, 1.57 ERA) tore his ACL. Ugh.
Player to watch: Prized prospect Vlad Guerrero Jr. might finally get his shot at the majors this week. He's 7 for 17 with two homers, six RBIs and no strikeouts in five games with Triple-A Buffalo. He also did this.
2: The number of Blue Jays prospects ranked in MLB's top 10, both of whom are sons of former big leaguers: Guerrero Jr. (No. 1) and Bo Bichette (No. 10).
4. Boston Red Sox (9-13): The defending champs have been beyond disappointing so far. But they did just sweep the Rays, so there's that.
Players to watch: If they don't turn this thing around, don't be surprised if big names like J.D. Martinez, Mookie Betts and David Price get traded. After all, the Red Sox have baseball's worst farm system, and things are getting expensive.
$225.6 million: Boston's 2019 payroll, which is by far the highest in the league — a whole $14 million ahead of the second-place Cubs.
5. Baltimore Orioles (8-15): There isn't much hope for the Orioles this season, but hey — they're better than last year. And Chris Davis has a few hits. Yay.
Player to watch: Trey Mancini has been a bright spot for the O's, ranking second in the AL in hits (31), seventh in batting average (.341), and 10th in home runs (6).
57: The number of home runs the Orioles have allowed this season, which leads the league by a lot. The Brewers have given up the second-most (41).
5. ⚽️ Soccer 'round the globe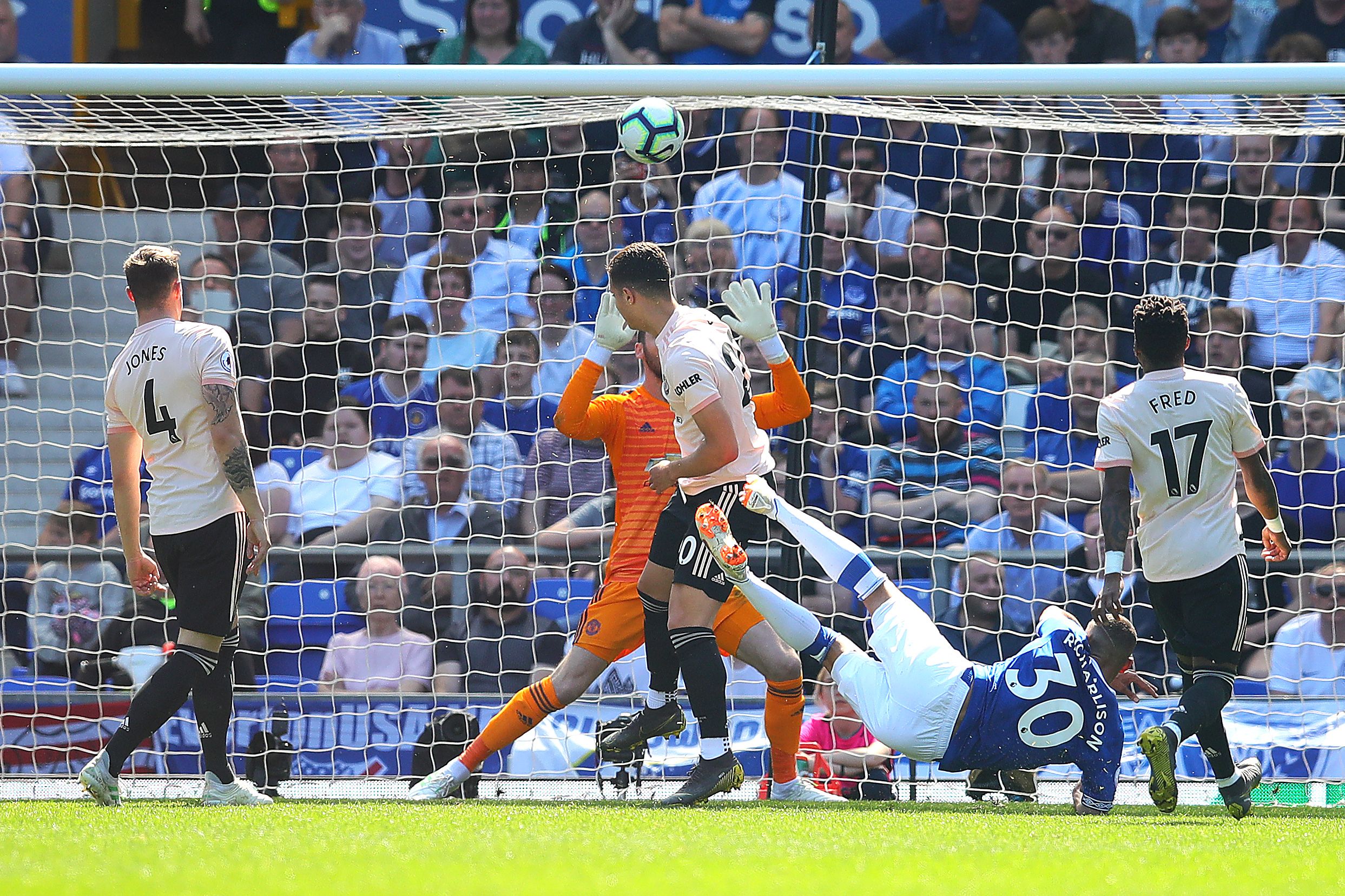 Photo: Chris Brunskill/Fantasista/Getty Images
LIVERPOOL, England: Manchester United reached a new low in their 4-0 loss to Everton yesterday. It was the club's sixth loss in eight games and arguably its worst defeat since Sir Alex Ferguson retired six years ago.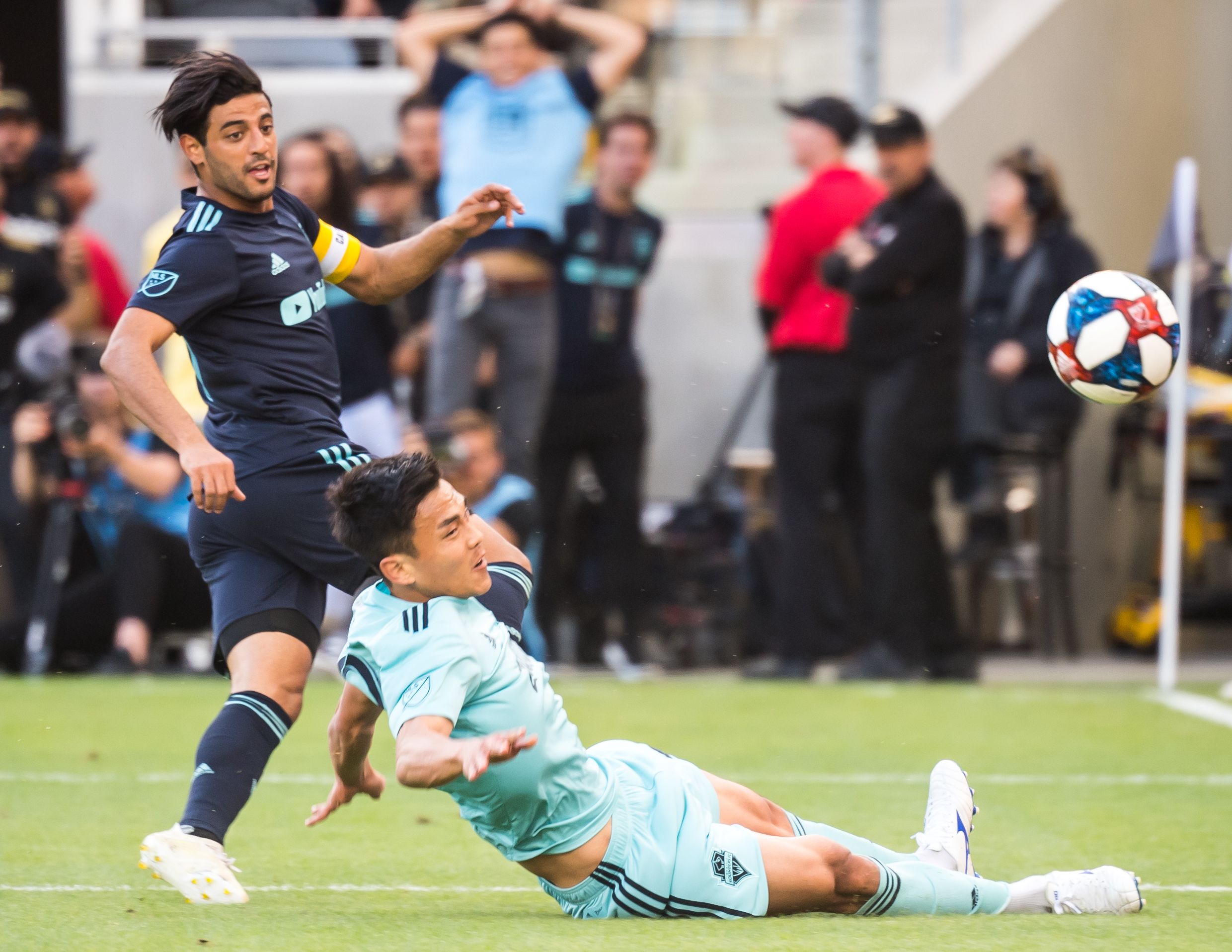 Photo: Shaun Clark/Getty Images
LOS ANGELES, California: Carlos Vela, who leads MLS in goals (10) and is tied for the lead in assist (5), scored two goals to steer LAFC past Seattle 4-1, handing the Sounders their first loss of the season.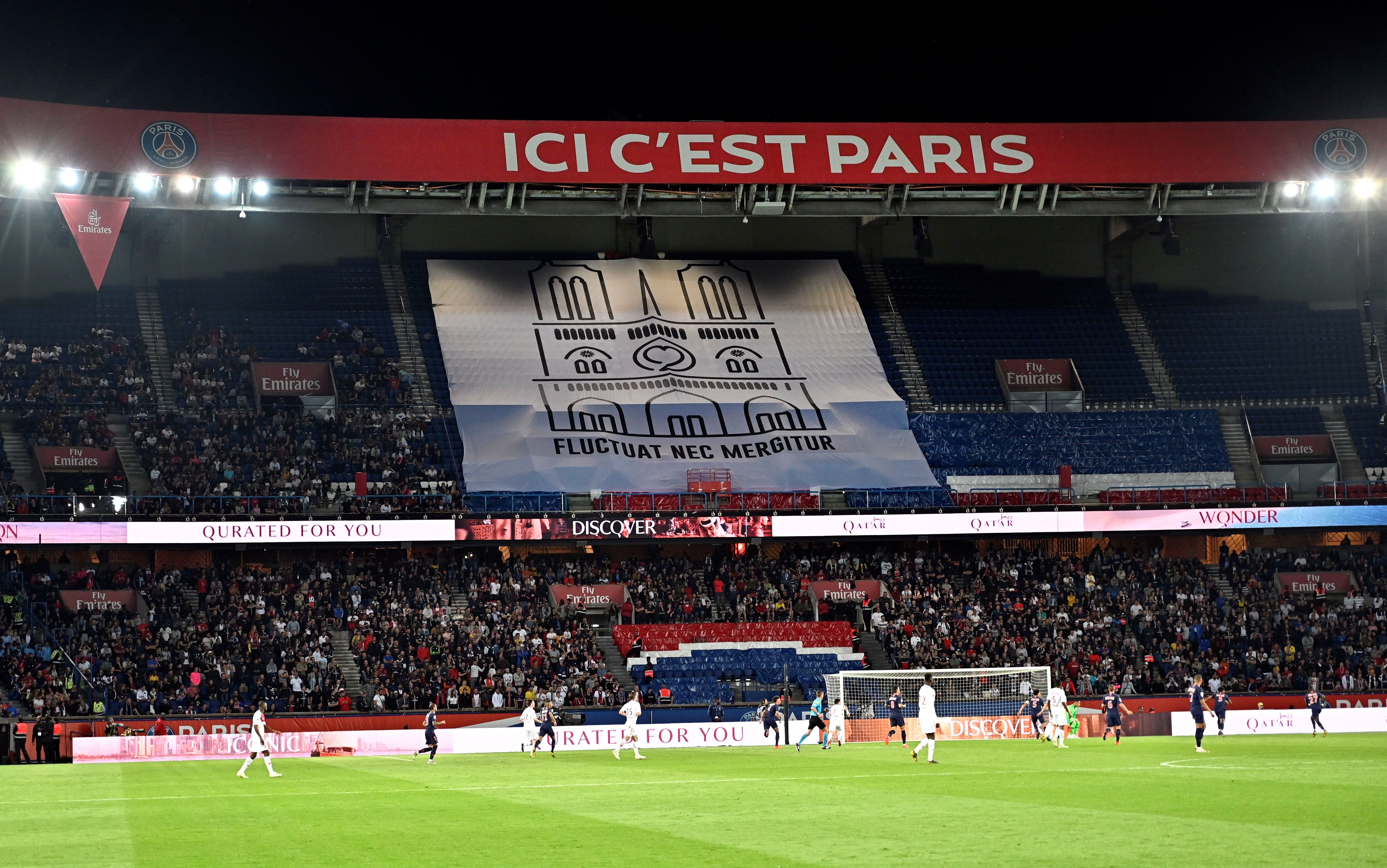 Photo: Mustafa Yalcin/Anadolu Agency/Getty Images
PARIS, France: Paris St. Germain paid tribute to the Notre Dame Cathedral on the same day the club clinched its eighth Ligue 1 title behind Kylian Mbappe's hat trick.
6. 🏀 April 22, 1954: The shot clock era begins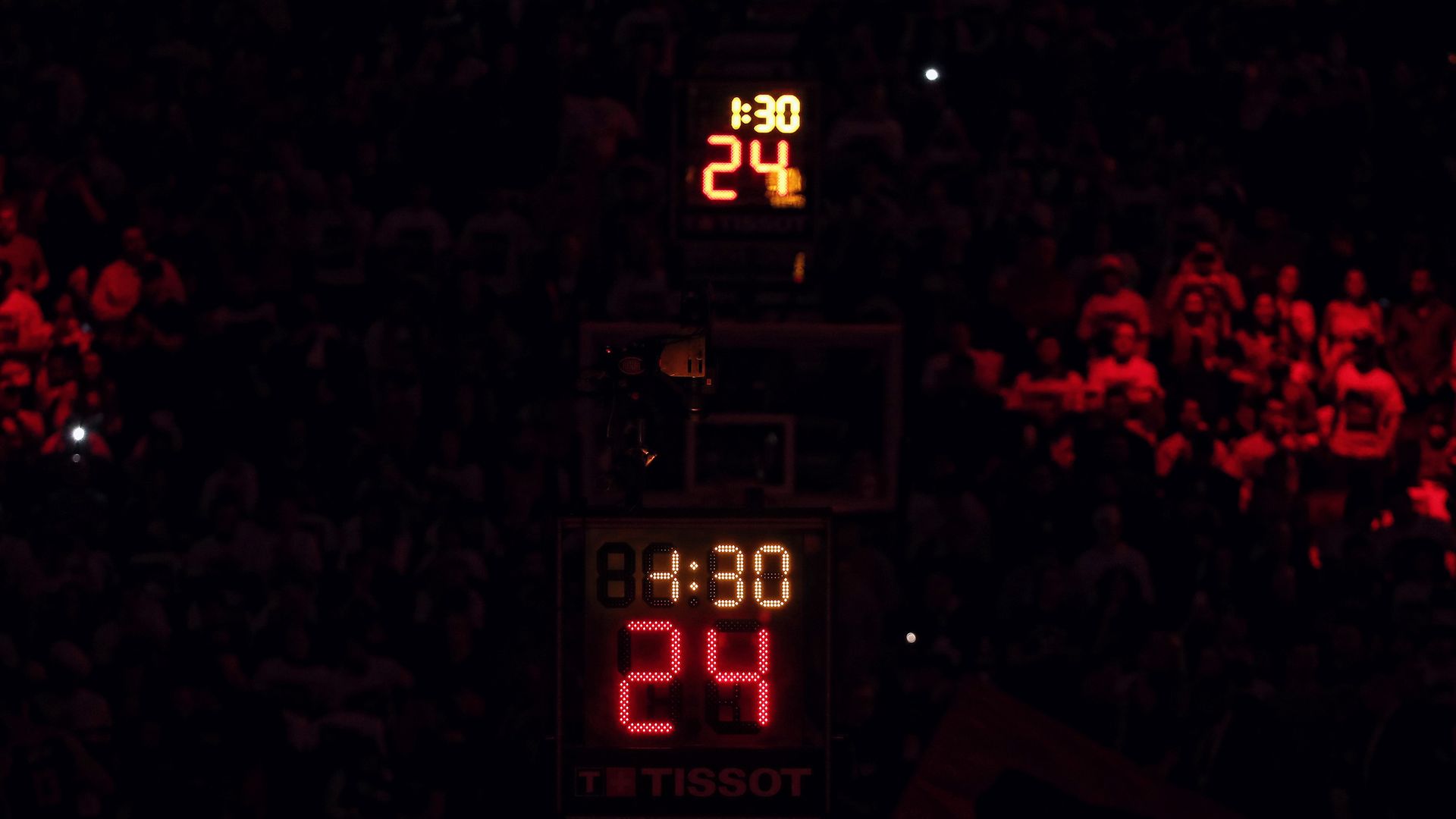 65 years ago today, the NBA added the 24-second shot clock to speed up the game and prevent teams from holding the ball for multiple minutes per possession, which they often did.
The number 24 was devised by Syracuse Nationals owner Danny Biasone, who divided the game's 48 minutes into 120 — the average number of shots per game teams had combined for in the previous three seasons.
The backdrop: Four years earlier, the Fort Wayne Pistons defeated the Minneapolis Lakers by the final score of 19-18 — still the lowest-scoring NBA game ever.
7. 🇺🇸 U.S. cities trivia
Question: What is the largest U.S. state capital without an MLB, NBA, NFL or NHL team?
Hint: Central time zone.
Answer at the bottom.
8. The Ocho: 👟 Most of Kenya's former running stars are broke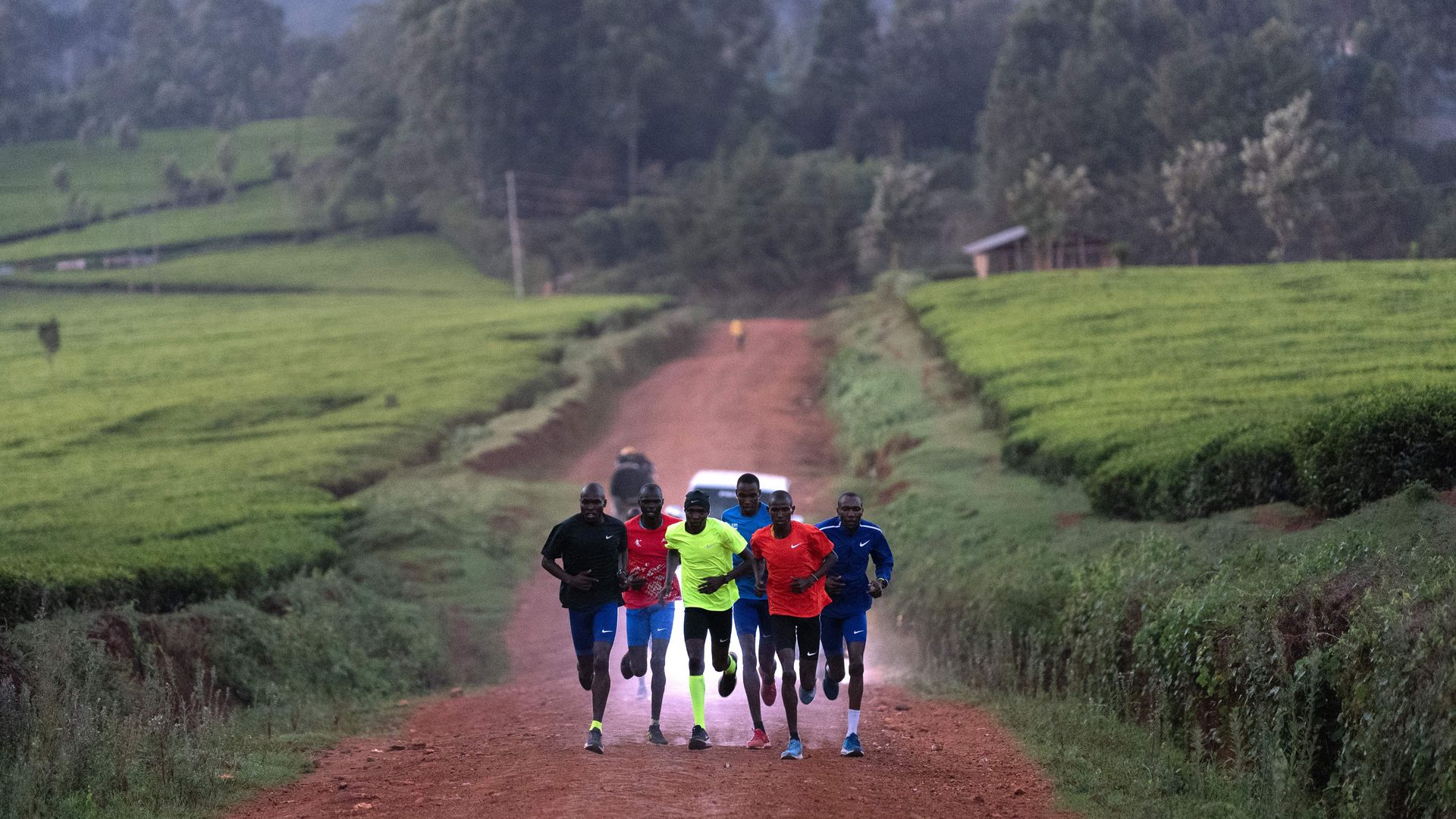 In Kenya's Rift Valley, the high-altitude region that has produced some of the best distance runners the world has ever seen, "the belief in running as an escape from poverty remains prevalent," but it rarely works out that way, according to the NY Times' Jonathan W. Rosen.
What's happening: Just 25% of Kenya's former top-level athletes are living in a "sustainable" manner and more than half are "really struggling" according to one former world champion.
Some contributing factors: Most haven't finished high school and almost none have experience managing money. They also tend to have large families to support.
Fraud is also rampant in many Kenyan cities, and wealthy runners have been frequent targets of a common scam involving the sale of fake land titles.
9. Everything else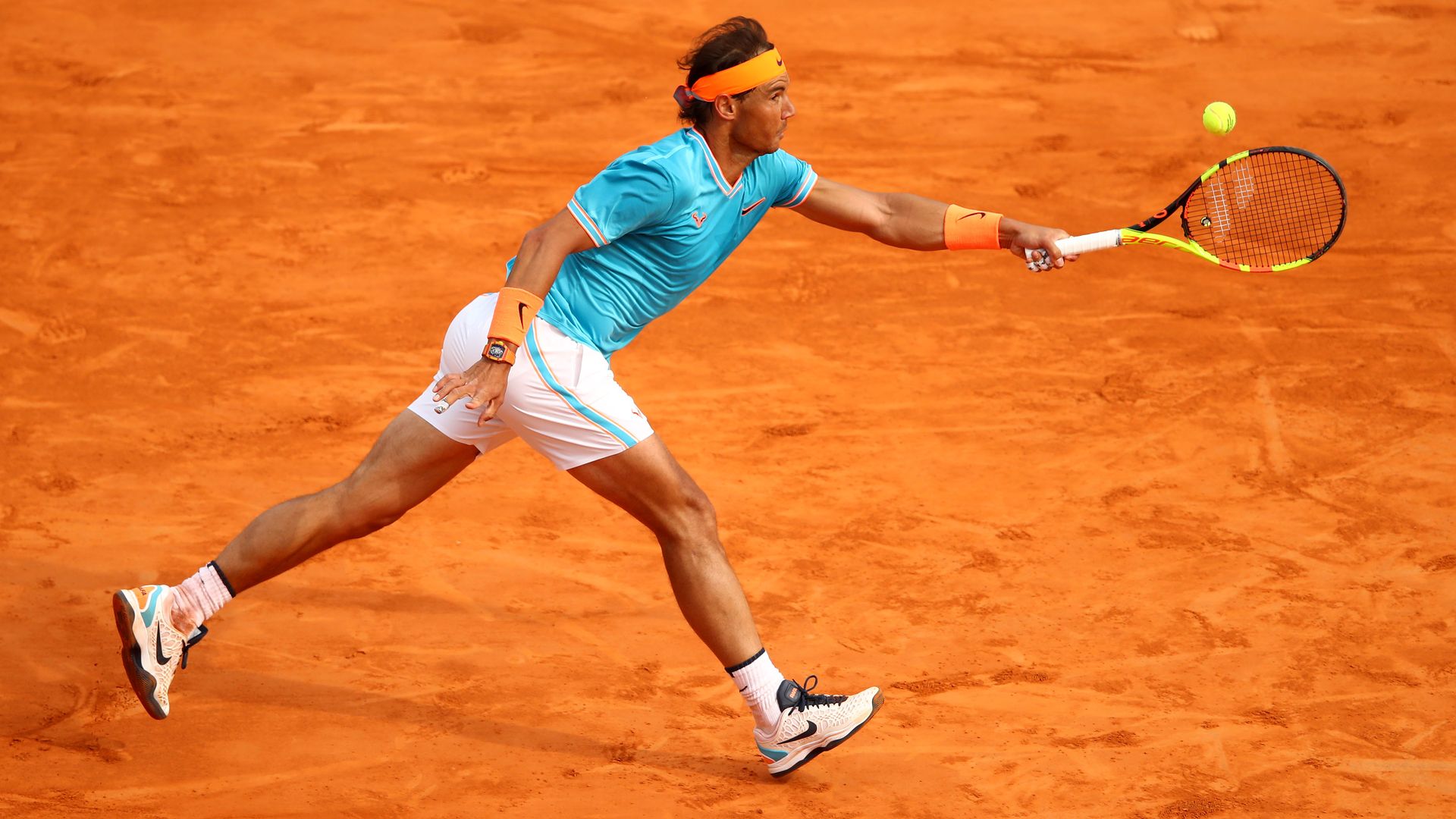 🎾 Tennis: Rafael Nadal lost to Fabio Fognini, 6-4, 6-2, in the semis of the Monte Carlo Masters, a tournament where he once won 46 straight matches from 2005 to 2013. ... Nadal's record on clay remains an absurd 418-36 (92% winning percentage).
🥊 Boxing: Terence Crawford defeated Amir Khan to retain his belt in a controversial fight that was stopped in the sixth round after an accidental low blow. Trainer and commentator Teddy Atlas questioned Khan's toughness and said "the fans got robbed."
🏈 NFL: Did you realize how little success the Patriots have had drafting and developing wide receivers? So many busts, man. ... Arguably their biggest need in this year's draft? Receiver, of course.
⛳️ PGA: This flipbook animation of Tiger Woods' Masters win is so awesome.
⚾️ MLB: Craziest double play of the year.
10. 🎰 Pick 3: Make your picks!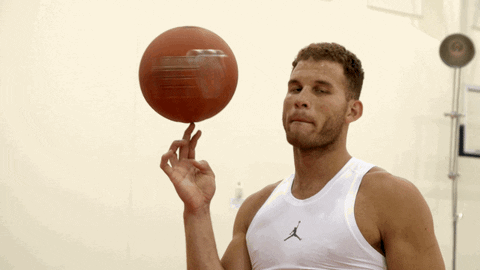 Pro tip: Download The Action Network app to master the art of sports betting.
1. Who will win the Capitals vs. Hurricanes game?
Know this: 77% of bettors are taking the Capitals, according to the Action Network's betting data.
Watch: 7pm ET (NBCSN)
2. Will Predators vs. Stars go over or under 5.5 goals?
Know this: Combined goals in each game so far: 5, 3, 5, 6, 8.
Watch: 8:30pm ET (CNBC)
3. Which NBA player will score the most points tonight?
Multiple choice: (1) Giannis Antetokounmpo, (2) Blake Griffin, (3) James Harden, (4) Donovan Mitchell, (5) Eric Bledsoe, (6) Someone else
🎰 Play now: Make your picks (cutoff time: 7pm ET)
Thanks,
Kendall "Who knew?!" Baker
Trivia answer: Austin, Texas