Axios Sports
October 01, 2021
🎉 Happy Friday!
💉 Just in: The NBA has a reached a 95% vaccination rate among its players, up from 90% when training camp began, ESPN reports.
Today's word count: 1,743 words (7 minutes).
Let's sports...
1 big thing: ⚽️ NWSL in crisis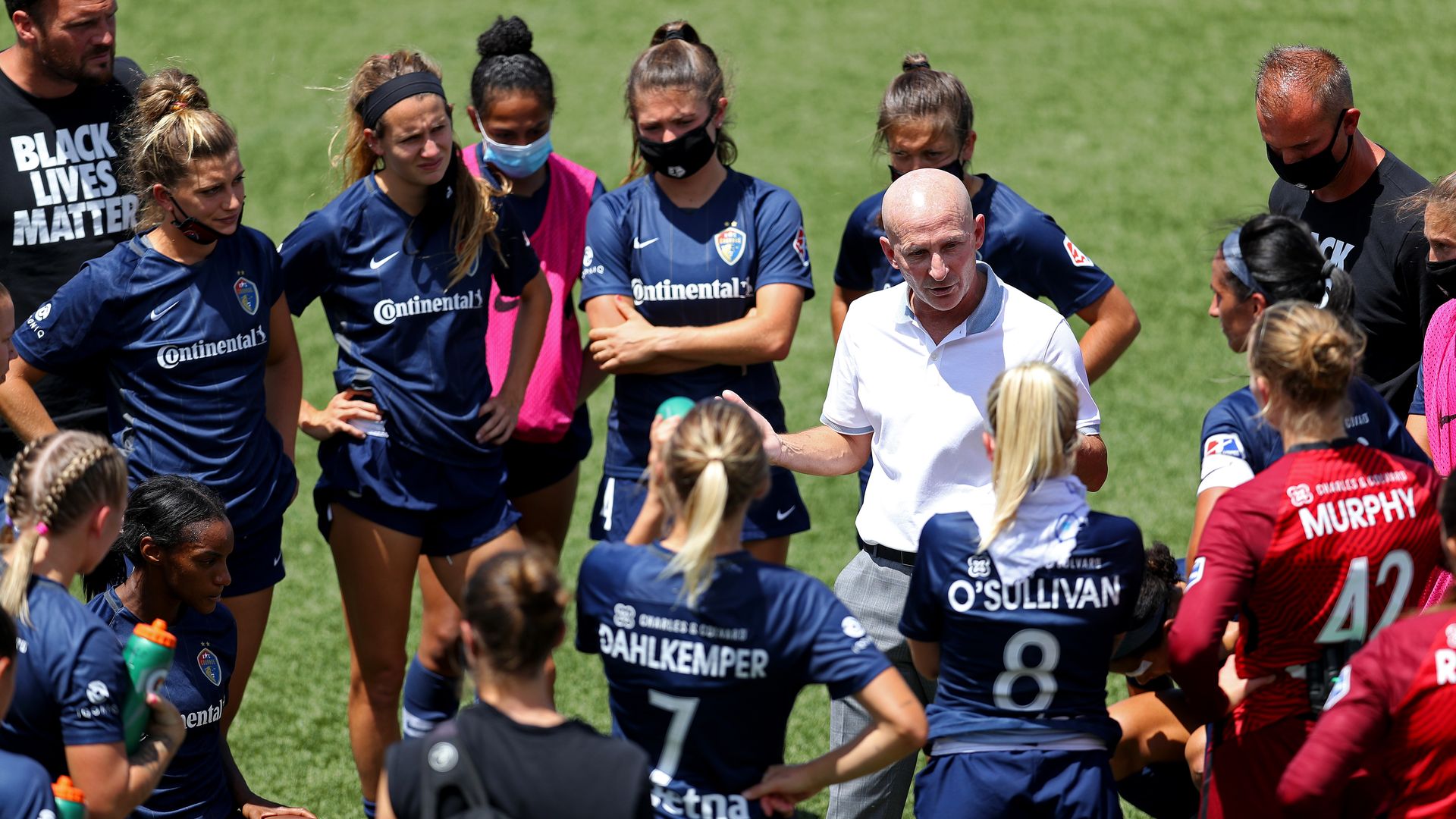 After years of silence, NWSL players are speaking up — detailing cases of harassment and abuse, often at the hands of male coaches.
Driving the news: The North Carolina Courage fired coach Paul Riley on Thursday amid allegations of sexual coercion that span over a decade and involve multiple teams.
The announcement comes after The Athletic published an investigation (subscription) in which journalist Meg Linehan talked to over a dozen players from every team Riley has coached since 2010.
Two players — Sinead Farrelly and Mana Shim — went on the record with allegations that included Riley coercing Farrelly into having sex and sending both women unsolicited sexual pictures.
What they're saying: Riley, in an email to The Athletic, said the majority of the allegations are "completely untrue." NWSL commissioner Lisa Baird said she was "disgusted" and that the league will implement a new anonymous reporting process.
The big picture: This is not an isolated case for a league that had only one female coach entering the season. Just this week, the Washington Spirit fired Richie Burke following a harassment investigation.
"There definitely has been this shared idea that because two leagues have folded in the past, the NWSL is kind of the last hope for a women's soccer league," USWNT star Alex Morgan told The Athletic.
"Because of that, I feel like there's this idea that we should be grateful for what we have and we shouldn't raise important questions — or ask questions at all."
Players and team employees are starting to breach that code of silence, shining a disturbing light on the league's culture and labor practices.
What's next: The NWSL players' association is currently negotiating its first contract. Safety is a key part of its demands, along with economic rights and issues like free agency.
2. 🏈 The wide-open playoff race
One month into the season, the College Football Playoff picture is more wide open than usual, Axios' Jeff Tracy writes.
By the numbers: 19 teams have at least a 5% chance to make the field entering Saturday, per FiveThirtyEight, and the Big Ten alone has five teams with 10%+ odds.
The backdrop: Only 11 schools have made the CFP in its seven-year existence. Of those, five have made multiple trips and just four have won (Alabama, Clemson, Ohio State, LSU).
What to watch: Saturday features four games between ranked teams, all of which could have major playoff implications.
No. 8 Arkansas at No. 2 Georgia (12pm ET, ESPN): The Razorbacks have already matched their highest win total since 2016, thanks to a program refresh led by 58-year-old first-time head coach Sam Pittman.
No. 7 Cincinnati at No. 9 Notre Dame (2:30pm, NBC): Huge game for both teams. The Bearcats' CFP odds (10%) jump to 20% with a win, but fall to 2% with a loss; the Irish (25%) could vault to 39% or tumble to 6%.
No. 12 Ole Miss at No. 1 Alabama (3:30pm, CBS): QBs Matt Corral (Rebels) and Bryce Young (Tide) are the early Heisman favorites, combining for 29 TD and just 1 INT. NFL scouts are all over this one.
No. 21 Baylor at No. 19 Oklahoma State (7pm, ESPN2): The Bears know how to run (273.5 rush yards per game), and the Cowboys know how to stop the run (87 rush yards allowed per game). Something's gotta give.
Meanwhile, in Nashville ... Vanderbilt hosts UConn in "2021's sorriest college football game."
Go deeper: What to watch in Week 5 (ESPN)
3. 🏀 Rare footage: The first college three
College basketball's first three-pointer was made by Western Carolina's Ronnie Carr on Nov. 29, 1980. 41 years later, we finally have footage.
The video above is the only known footage of the shot, which was made in Reid Gym — Western's facility at the time — in a 77-70 win over Middle Tennessee State.
The video was taken by a photographer from WLOS, a local ABC affiliate out of Asheville. The tape had been sitting in WLOS' archives until just recently.
The backdrop: The NCAA didn't implement a three-point line until 1986. But six years prior, the Southern Conference had added its own line 22 feet from the basket (now: 22 feet, 1.75 inches).
"[M]ost people even in Western North Carolina don't know that the flurry of flying basketballs they see now started in the mountains," writes WLOS' Chris Womack.
"There is a sticker on the floor at Reid Gym, which is now used for every-day student activities and classes. But the sticker is in the wrong place."
The last word: "I think they just assumed I shot it from there because I did take a lot of shots from [that] area," says Carr. "But I guess they just didn't have any visual evidence." Now they do!
4. ⚡️ Lightning round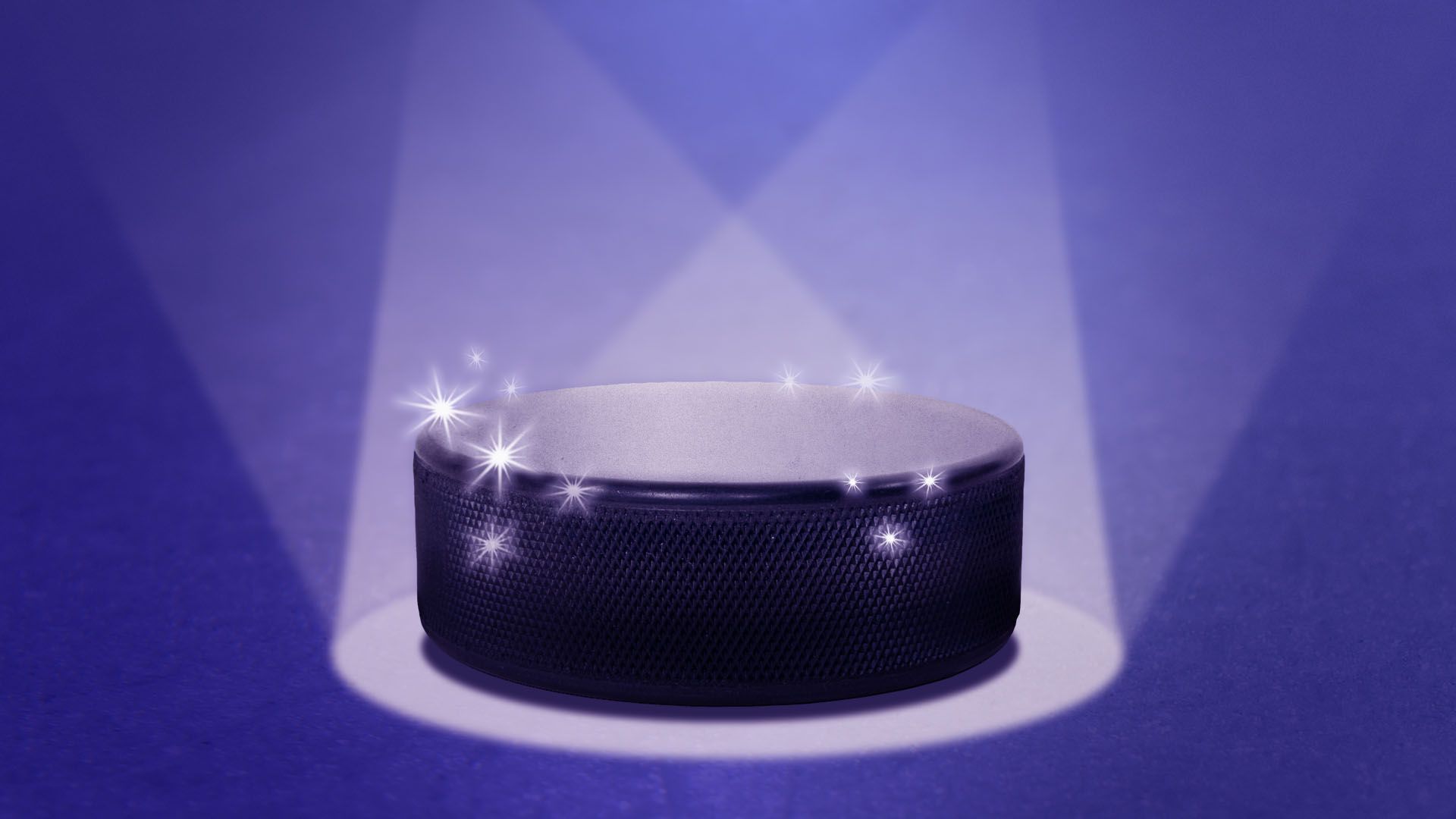 🏒 "NHL on TNT": Turner Sports launched its "NHL on TNT" coverage with a preseason doubleheader Thursday night. There were some technical glitches, but plenty of promise.
🏀 Taurasi goes off: Diana Taurasi scored a playoff career-high 37 points in the Mercury's win over the Aces, becoming the oldest player to score 30 in a game in WNBA history. Both semifinal series are tied 1-1.
⚾️ Crushed: Fernando Tatis Jr. blasted a 467-foot home run out of Dodger Stadium. Max Muncy's reaction says it all.
🏟 Stadium skydive: Ever wonder what it'd be like to skydive into a football stadium? The Broncos skydiving team has you covered.
💔 Good read: How Florida fails those with mental illness (Selene San Felice, Axios)
After 13 years of living with mental illness and three years battling in court, Mikese Morse — a former Olympics hopeful — is finally getting treatment. The cost: another man's life.
5. ⚾️ MLB snapshot: Final weekend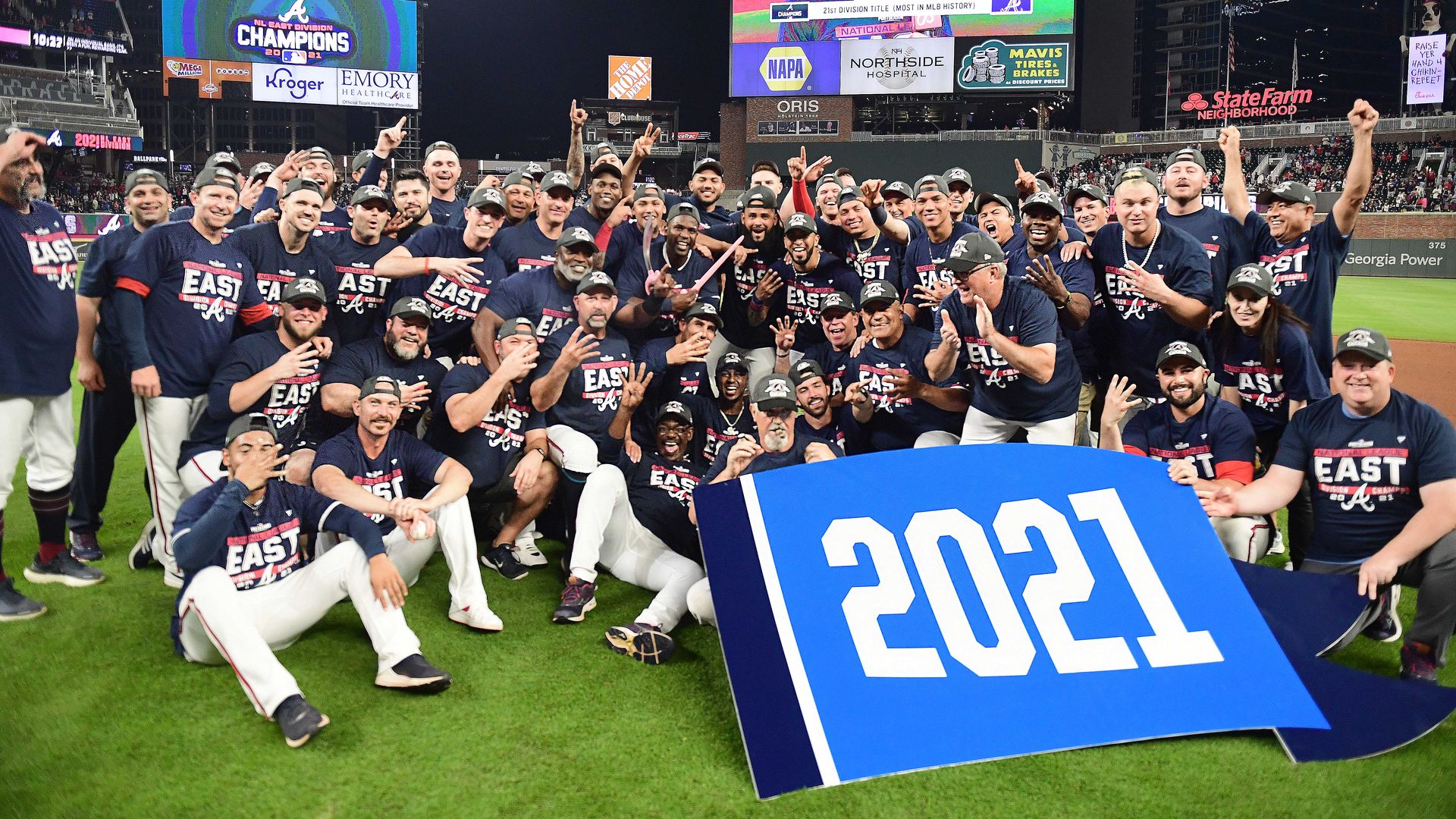 There's a lot on the line in MLB's final regular-season weekend, though a couple things wrapped up Thursday in Atlanta and Houston, Jeff writes.
NL East: The Braves swept — and eliminated — the Phillies to win their fourth straight title. Atlanta spent 126 days without a winning record, the most for a division winner since the 1989 Blue Jays.
AL Wild Card: The Yankees (91-68) lead the pack, the Red Sox and Mariners (89-70) are tied for the second spot, and the Blue Jays (88-71) are still very much alive. Prepare for some beautiful chaos.
NL West: The Giants (105-54) and Dodgers (103-56) remain separated by two games. Just how good has San Francisco been? L.A. is 41-13 since adding Trea Turner and Max Scherzer ... and they've gained just one game in that stretch.
AL West: The Astros beat the Rays to clinch their fourth AL West title in five years.
What to watch ... Salvador Pérez (48 HR) can join Johnny Bench as the second catcher ever to win the home run race. But Vlad Jr. (46), Shohei Ohtani (45) and Marcus Semien (44) are hot on his heels.
Correction: In Thursday's newsletter, we said the Dodgers lost to the Padres when they, in fact, won thanks to a late rally. Our apologies.
6. ⚾️ All the Rays do is win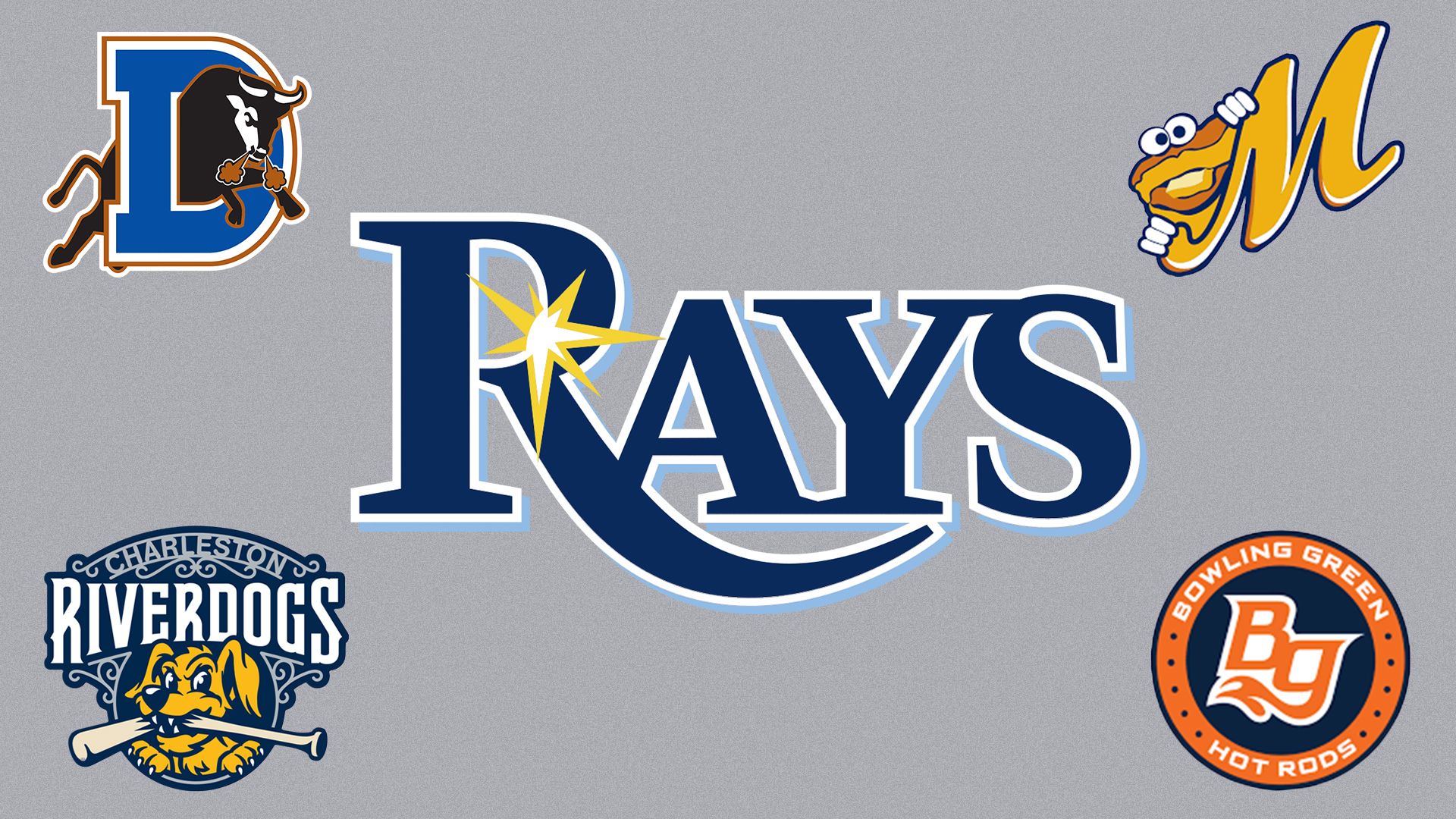 The Tampa Bay Rays' excellence this season extended to every level of the organization, Jeff writes.
Wild stat: The Double-A Montgomery Biscuits fell one win shy of the title, losing the deciding Game 5 of their championship series by one run. That was the worst outcome among all Rays affiliates this year.
MLB: The Rays own the AL's best record for the second straight season.
Triple-A: The Durham Bulls were named champs with a Triple-A-best 84-43 record.
Double-A: The Biscuits lost a 2-1 heartbreaker in their winner-take-all Game 5.
High-A: The Bowling Green Hot Rods finished with the league's best record (82-36) before winning the championship.
Low-A: The Charleston RiverDogs went 82-38 en route to their first title in franchise history after joining the Rays (from the Yankees) amid last year's restructuring.
Rookie ball: The Florida Complex League Rays were crowned champs with their 42-15 record.
The bottom line: Tampa has always been at the fore of player development; this year, the stars aligned for a near-perfect season.
7. 🌎 The world in photos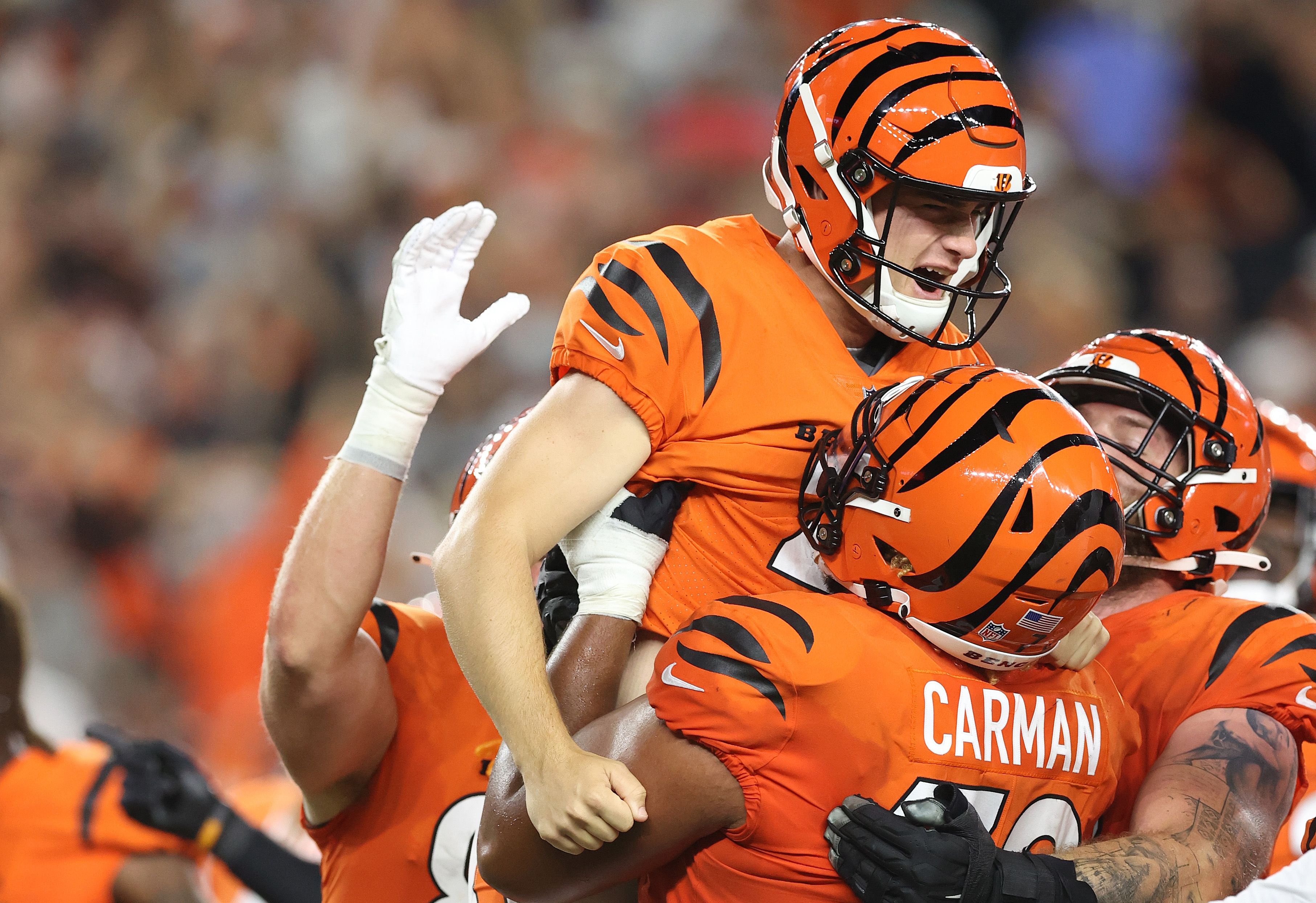 CINCINNATI — Evan McPherson kicked a walk-off field goal to lift the Bengals past the Jaguars, 24-21, and hand Jacksonville its 19th straight loss (second-longest losing streak in NFL history).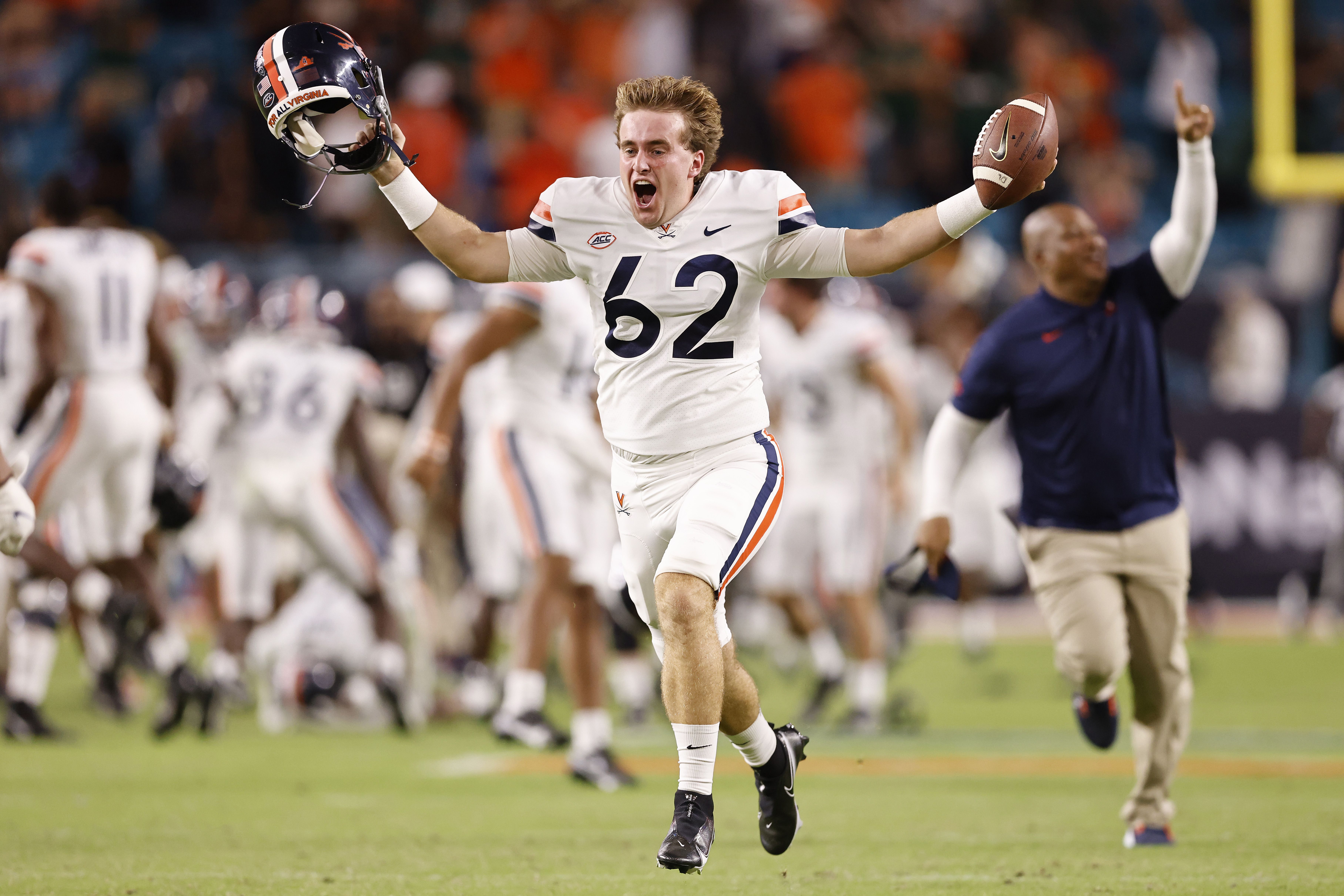 MIAMI GARDENS, Fla. — Miami's Andres Borregales missed a last-second field goal, giving Virginia a 30-28 win and dropping "The U" to 2-3.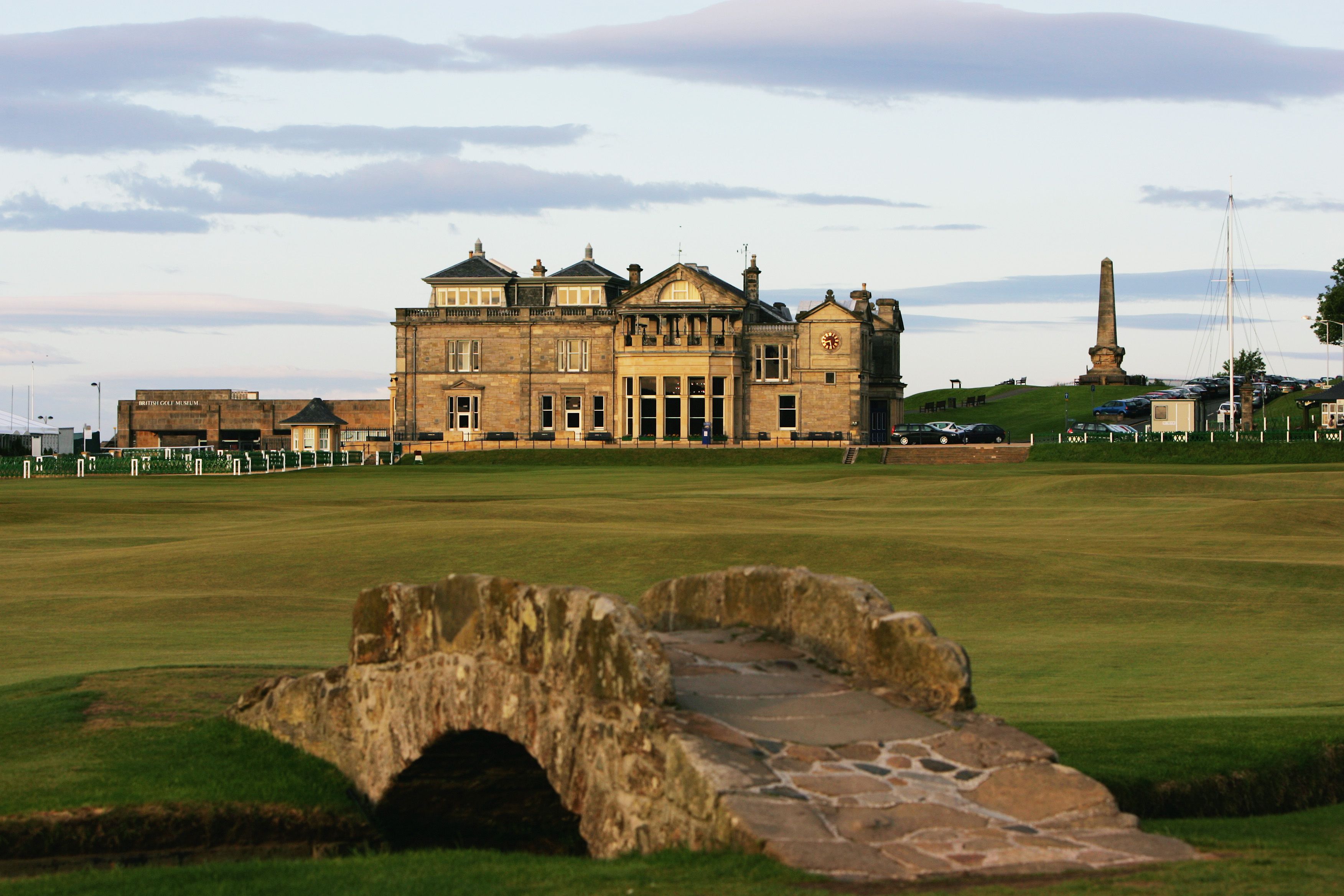 ST. ANDREWS, Scotland — The Alfred Dunhill Links Championship began Thursday. Each team (one pro, one amateur) plays three courses: The Old Course at St Andrews (above), Carnoustie and Kingsbarns.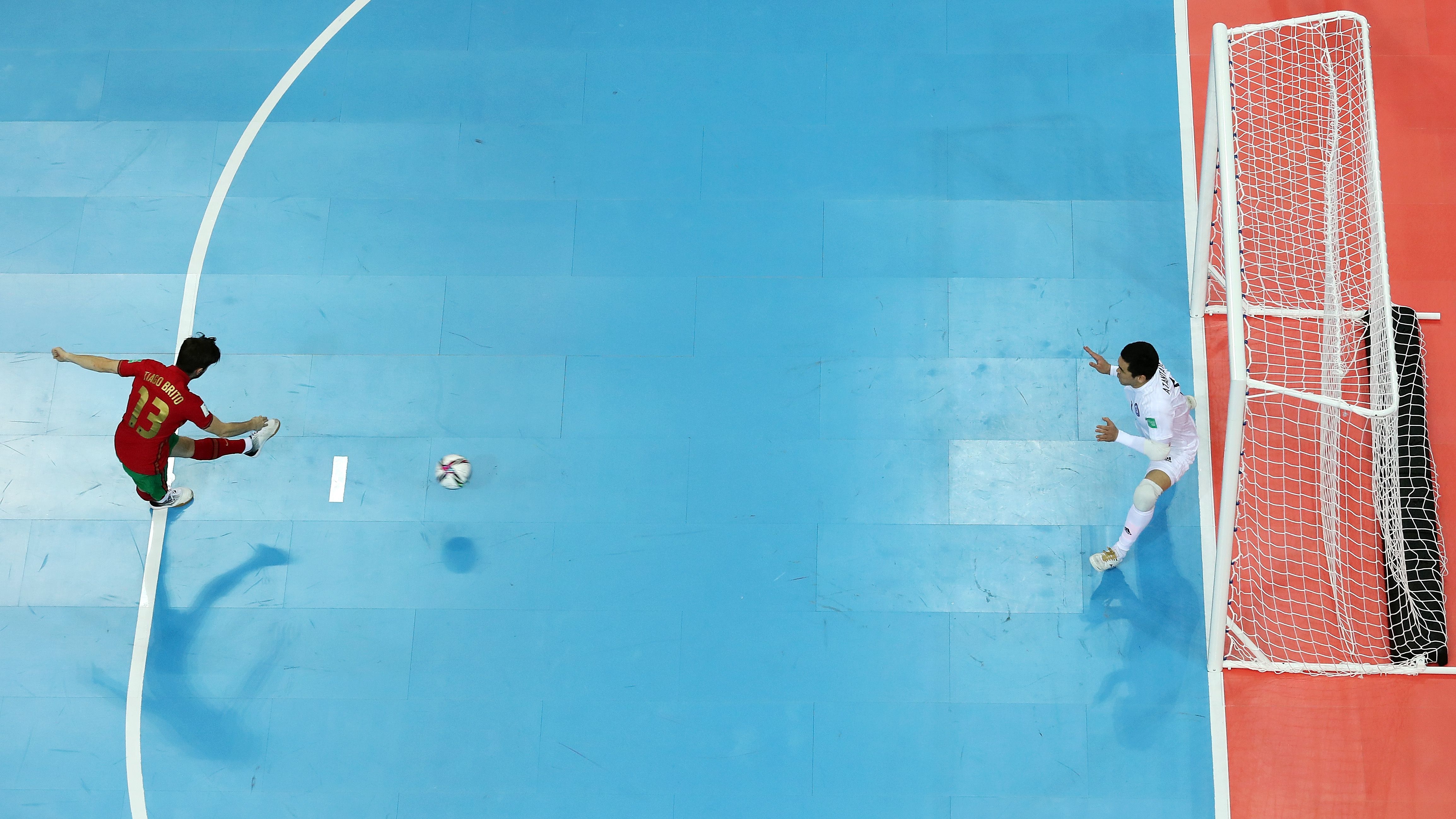 KAUNAS, Lithuania — Tiago Brito scored the winning penalty to lift Portugal past Kazakstan in the FIFA Futsal World Cup semifinal. Portugal will play Argentina in Sunday's final.
8. 📆 Oct. 1, 1903: The first World Series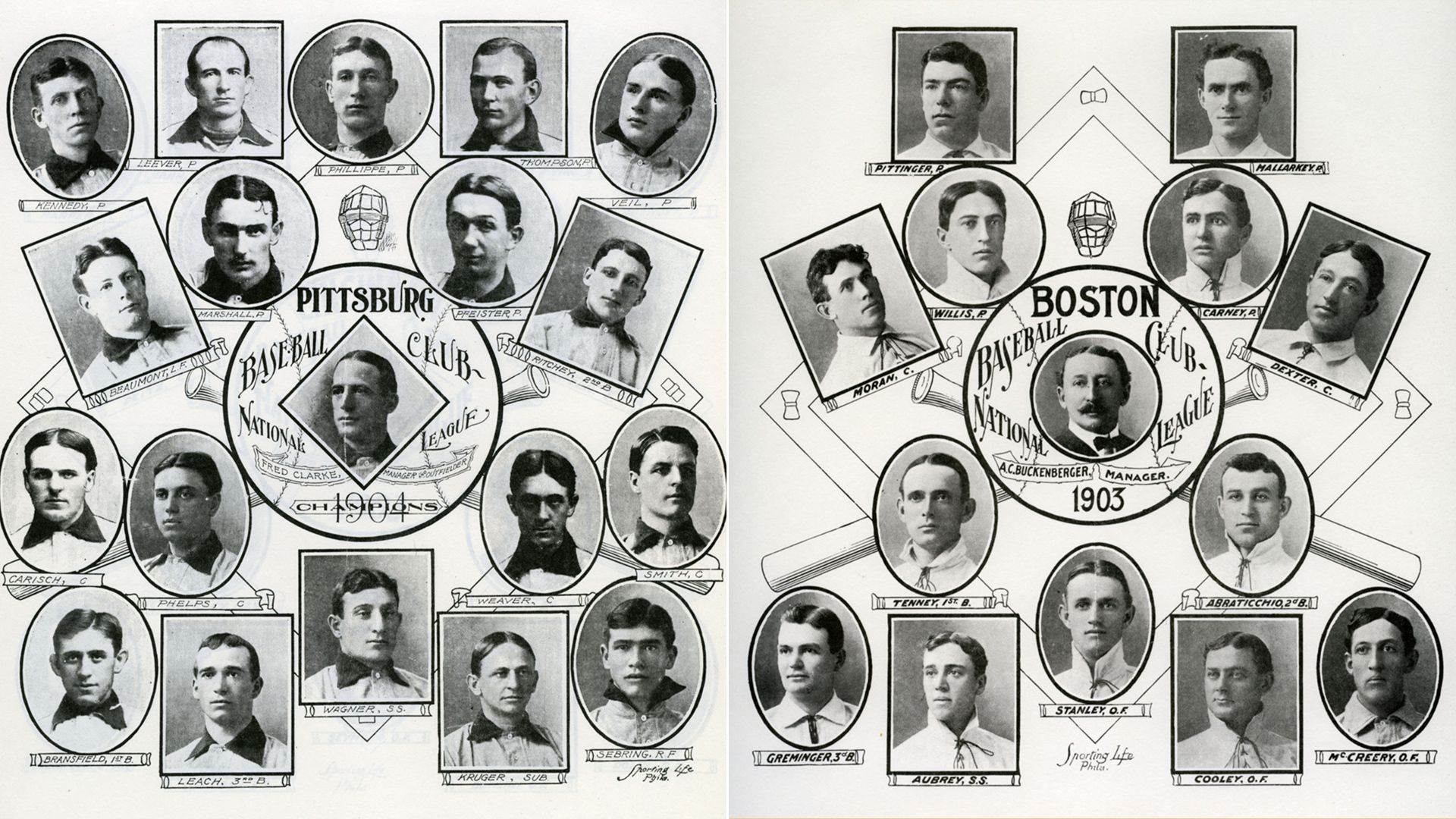 118 years ago today, Honus Wagner and the Pittsburgh Pirates beat Cy Young and the Boston Americans, 7-3, in the first ever World Series game.
Boston won the best-of-nine series, 5-3, with Young winning Games 5 and 7. In 1908, they changed their name to the Red Sox.
Fun fact: The World Series was played at the Huntington Avenue Ball Field in Boston where Northeastern University now stands.
The big picture: There was no Fall Classic in 1904 due to bitterness between the AL and NL, but it returned by 1905 and has been played every year since except for 1994 (player strike).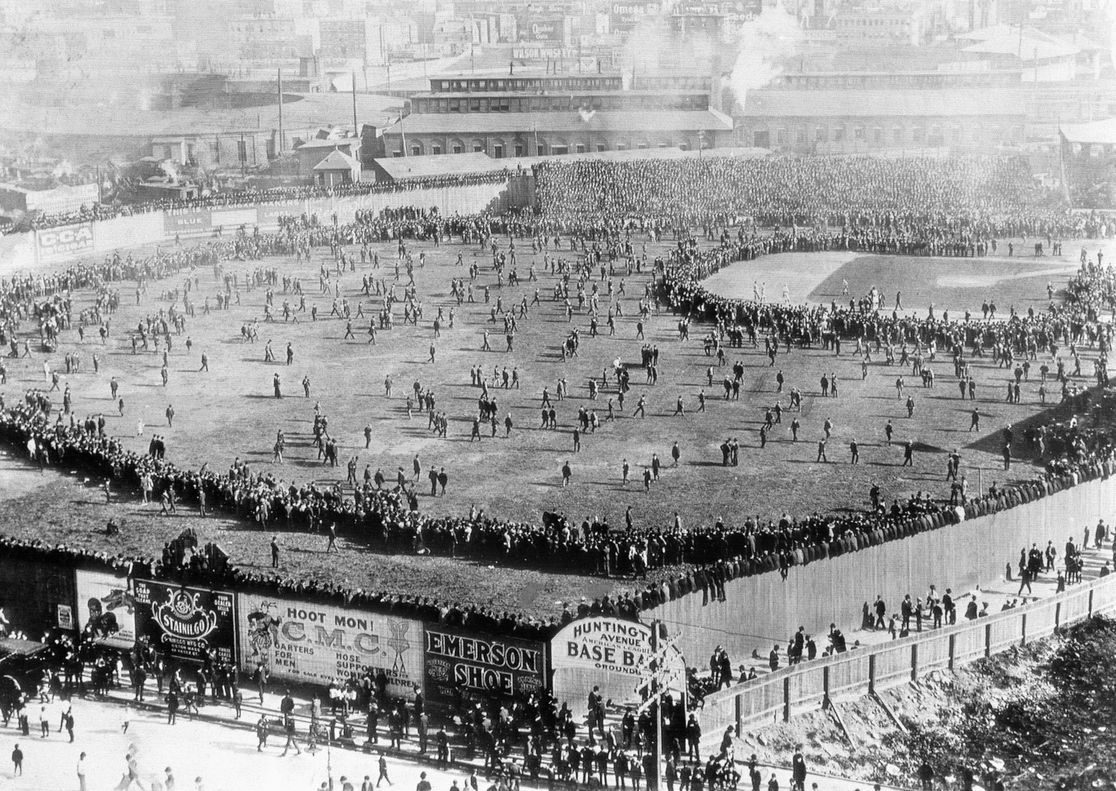 Go deeper: The first Fall Classic (This Great Game)
9. 🏈 NFL trivia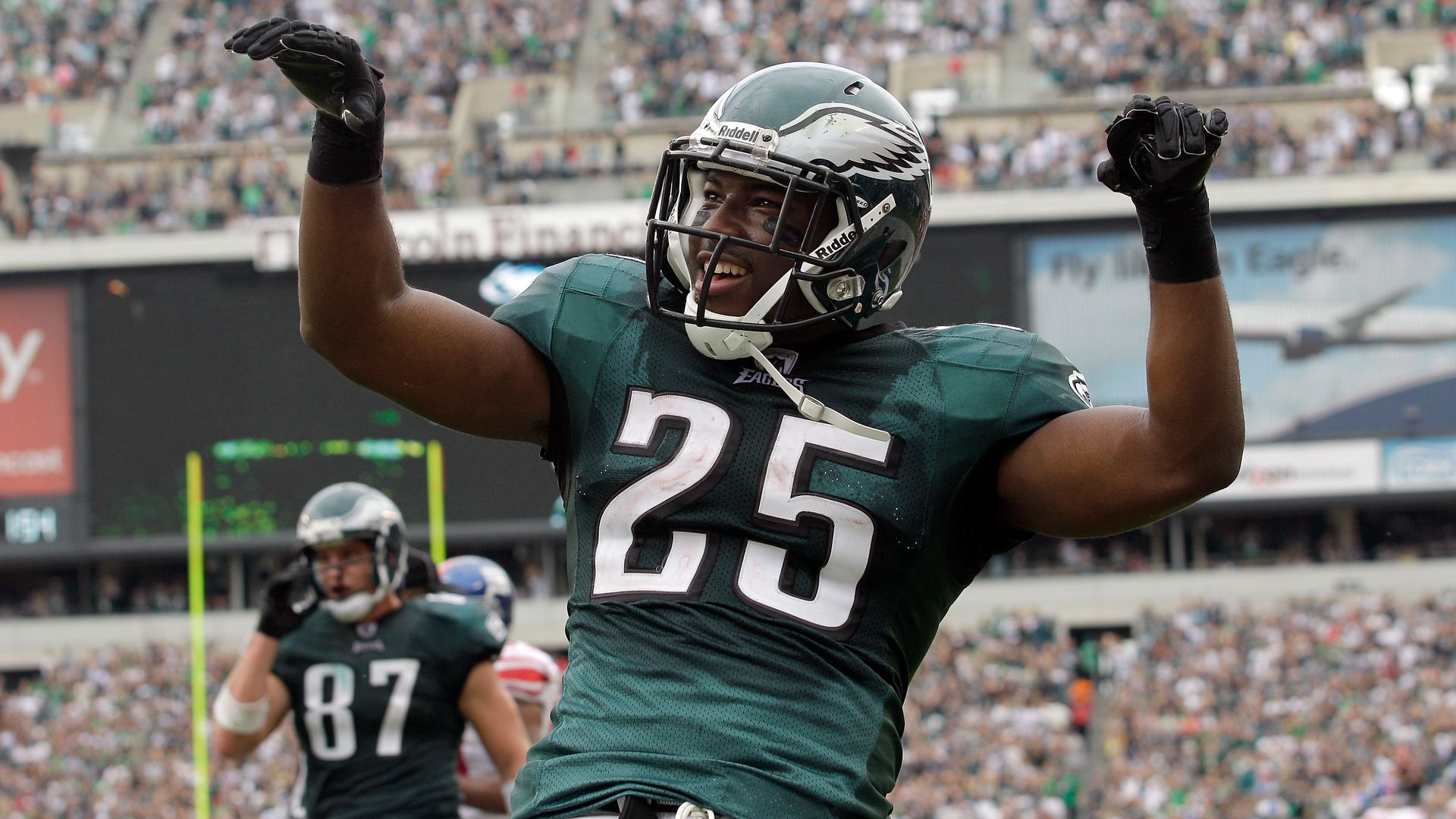 LeSean McCoy, who retired Thursday, had 73 career rushing TD — the second most in that time (2009-20).
Question: Who was the only player with more?
Hint: No. 7 pick in 2007 draft.
Answer at the bottom.
10. 🎵 Music to go: Super Bowl sounds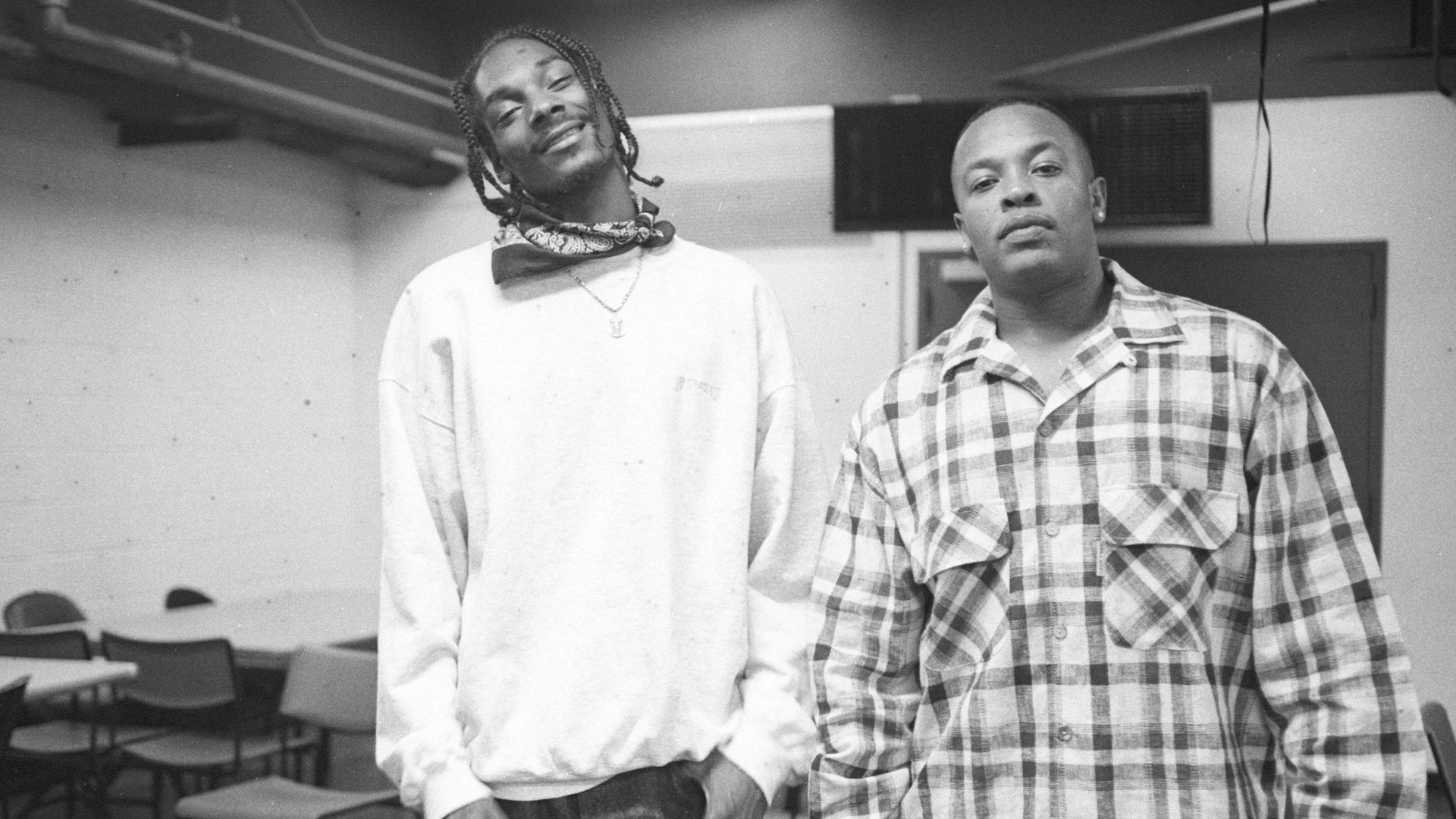 The Super Bowl LVI halftime show at L.A.'s Sofi Stadium will feature Dr. Dre, Snoop Dogg, Mary J. Blige, Kendrick Lamar, and Eminem.
Listen: Some of my favorites from this crew...
Enjoy the weekend,
Kendall "Brady or Bill?" Baker
Trivia answer: Adrian Peterson (96)
🙏 Thanks for reading. Don't forget to follow us on Twitter: @kendallbaker and @jeffreytracy.