Axios Sports
May 13, 2020
👋 Good morning! Let's sports.
Today's word count: 1,905 words (7 minutes).
1 big thing: 🏟 Preparing for the No Fans Era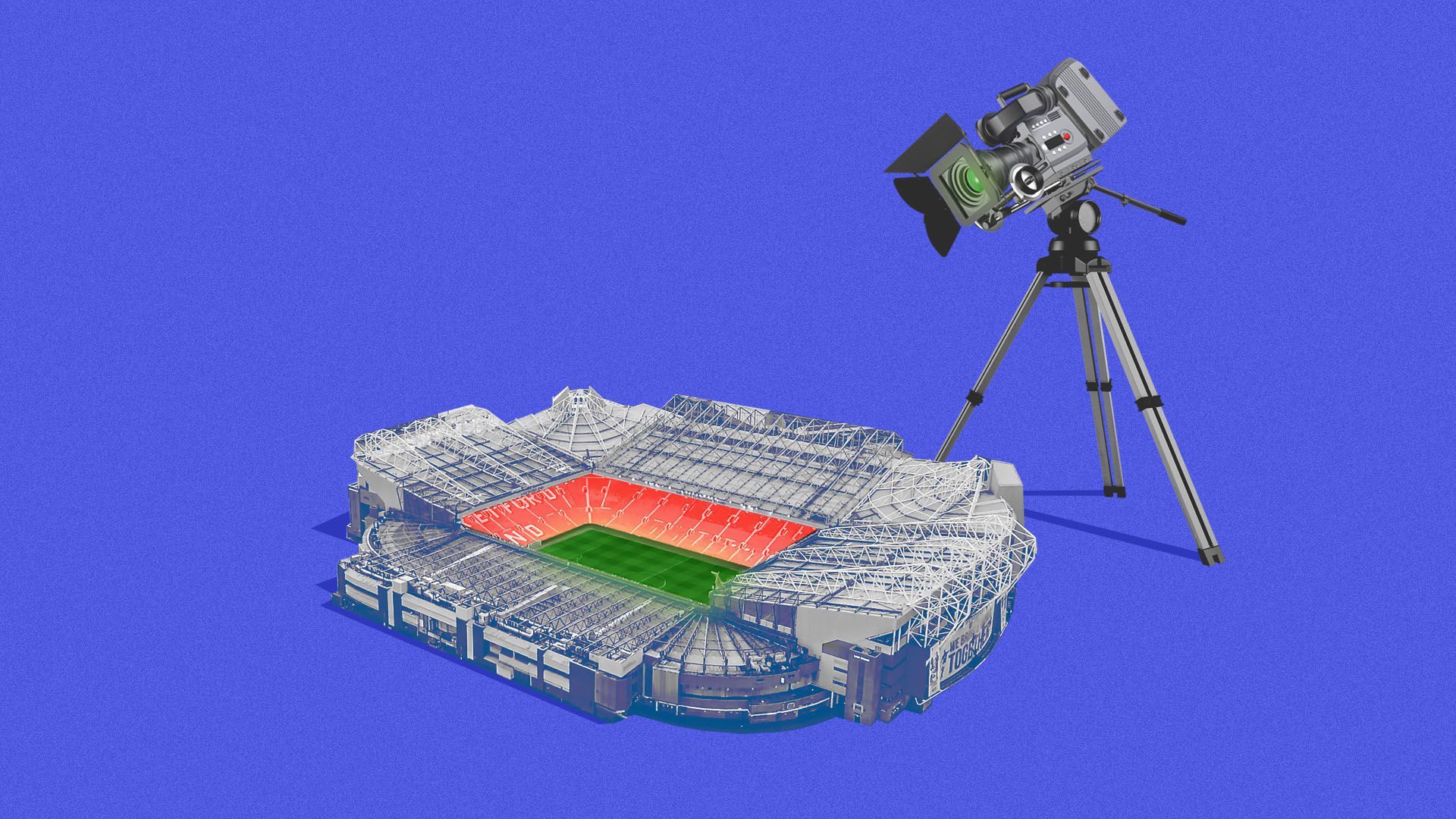 At the turn of the century, futurist Watts Wacker predicted that sports stadiums of the future would essentially be sound stages optimized for TV, rather than coliseum-like structures built to seat thousands of fans.
Prior to the coronavirus, things were already moving in this direction, with teams building smaller, more intimate venues in response to declining attendance and changing viewing habits.
And now, as we transition from the No Sports Era to the No Fans Era, Wacker's prophecy has become reality — albeit under circumstances he could never have anticipated.
The state of play: Our sports-less odyssey is nearing its end, but fans won't be packing stadiums any time soon, meaning a return to normalcy is still months away.
According to a FiveThirtyEight/Ipsos poll of more than 1,000 Americans, only 24% of respondents said they would be either very likely or somewhat likely to attend a sporting event right now if government restrictions were lifted. 58% said they would be "not at all likely."
When asked what condition would make them feel comfortable attending a game, respondents overwhelmingly answered "the development of a COVID-19 vaccine," which isn't likely until 2021 at the earliest. And 27% said even a vaccine wouldn't do the trick.
The big picture: For athletes and coaches, empty stadiums will create a surreal environment that lacks the energy and noise that fans provide.
"There's a reason why people say fans play such an integral role in the process of the game. When you don't have fans and that atmosphere, it becomes flat. And it becomes a lot of forced energy and a lot of moments you are trying to create instead of it creating it for you."
— Diamondbacks pitcher Luke Weaver,
via USA Today
As for the broadcasts, fanless games will likely accelerate changes already in development, sports media consultant and former ESPN executive John Kosner tells me. And some of those changes could be permanent.
"We will see the use of new technologies come to the fore, with things like augmented reality used to cover empty seats and actual crowd noise pumped in from fans watching remotely," says Kosner. "All to bring sight, sound and emotion to the otherwise drab proceedings."
"You already see elements of fan interactivity on Twitch and in gaming — now we could see that take hold on traditional sports telecasts. More trivia, social media integrations, the option to choose the next guest."
"What makes me optimistic is that we'll come up with some good ideas here that will be part of the 'new normal' once we get to the other side, and that we'll come out of this dark period with a greater appreciation for how important fans are."
2. 🏈 Raiders enjoying early Vegas bump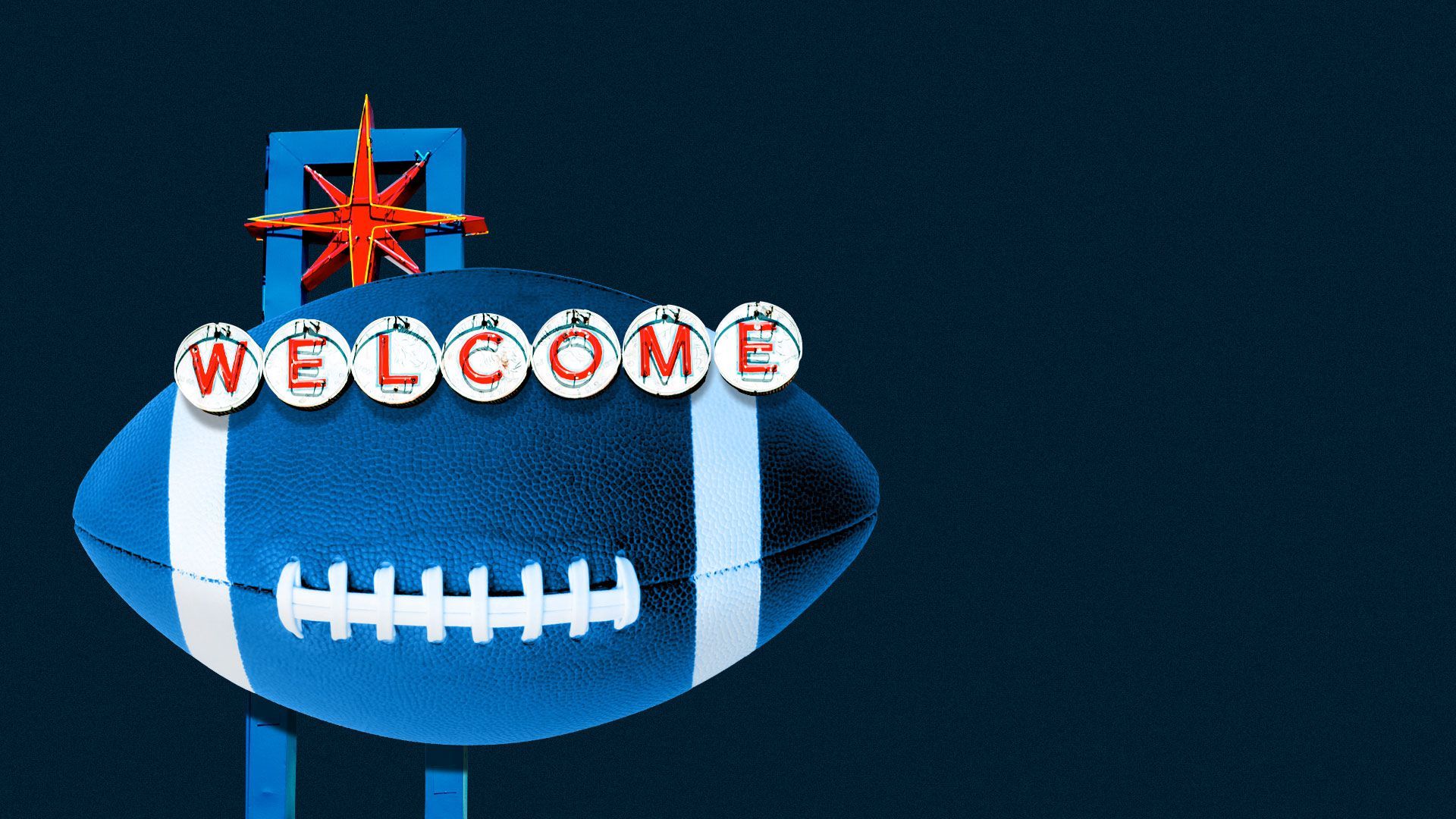 Since last Thursday's NFL schedule release, the Las Vegas Raiders (still sounds weird) have enjoyed immense success in the ticket sales department, Axios' Jeff Tracy writes.
By the numbers: According to data from SeatGeek, the Raiders are not only the top-selling team, but also boast by far the highest average ticket price ($622), roughly 30% higher than the second-place Seahawks ($439).
Three of the top five selling games on SeatGeek are Raiders home games against the Saints (Week 2), Bills (Week 4) and Chiefs (Week 10).
StubHub, meanwhile, says the Raiders are the second-best selling team on their platform, trailing only the Cowboys. Last season they ranked 16th.
The big picture: Fan interest tends to spike when a team arrives in a new city, but even with that taken into account, the Raiders have sold more tickets than many in the industry expected, given the uncertainty surrounding the NFL season.
Maybe it's the combination of a newfound confidence in refund policies and a desire to envision a football-filled fall after months of no sports. Or, maybe people just really like Vegas.
Looking ahead: This is inarguably great news for the Raiders, the NFL and the city of Las Vegas, but that hardly means we're out of the woods yet.
If these games are canceled or fanless, the cascade of refunds involving teams, third-party platforms, buyers and sellers won't be pretty.
Plus, the percentage of Raiders' tickets sold to visiting fans is likely higher than any other team (who doesn't want to plan a Vegas trip around a football game?), meaning the hospitality industry will also suffer.
3. 🏁 F1 shakeup: Vettel to leave Ferrari
Sebastian Vettel, the four-time Formula One world champion (2010-13), and Ferrari, the sport's most iconic team, have mutually agreed to part ways at the end of 2020, ending a six-year partnership.
The backdrop: Ferrari has produced more winning drivers (15) than any team in F1 history but hasn't won a championship since 2007, falling behind teams like Mercedes and Red Bull.
Looking ahead: Ferrari will now begin the process of finding a new driver to pair with 22-year-old Charles Leclerc, who came on strong in 2019. My prediction: They sign McLaren's Carlos Sainz.
P.S. ... Today is the 70th anniversary of the first ever Formula 1 race. It was held in Silverstone, England, and won by Giuseppe Farina of Alfa Romeo.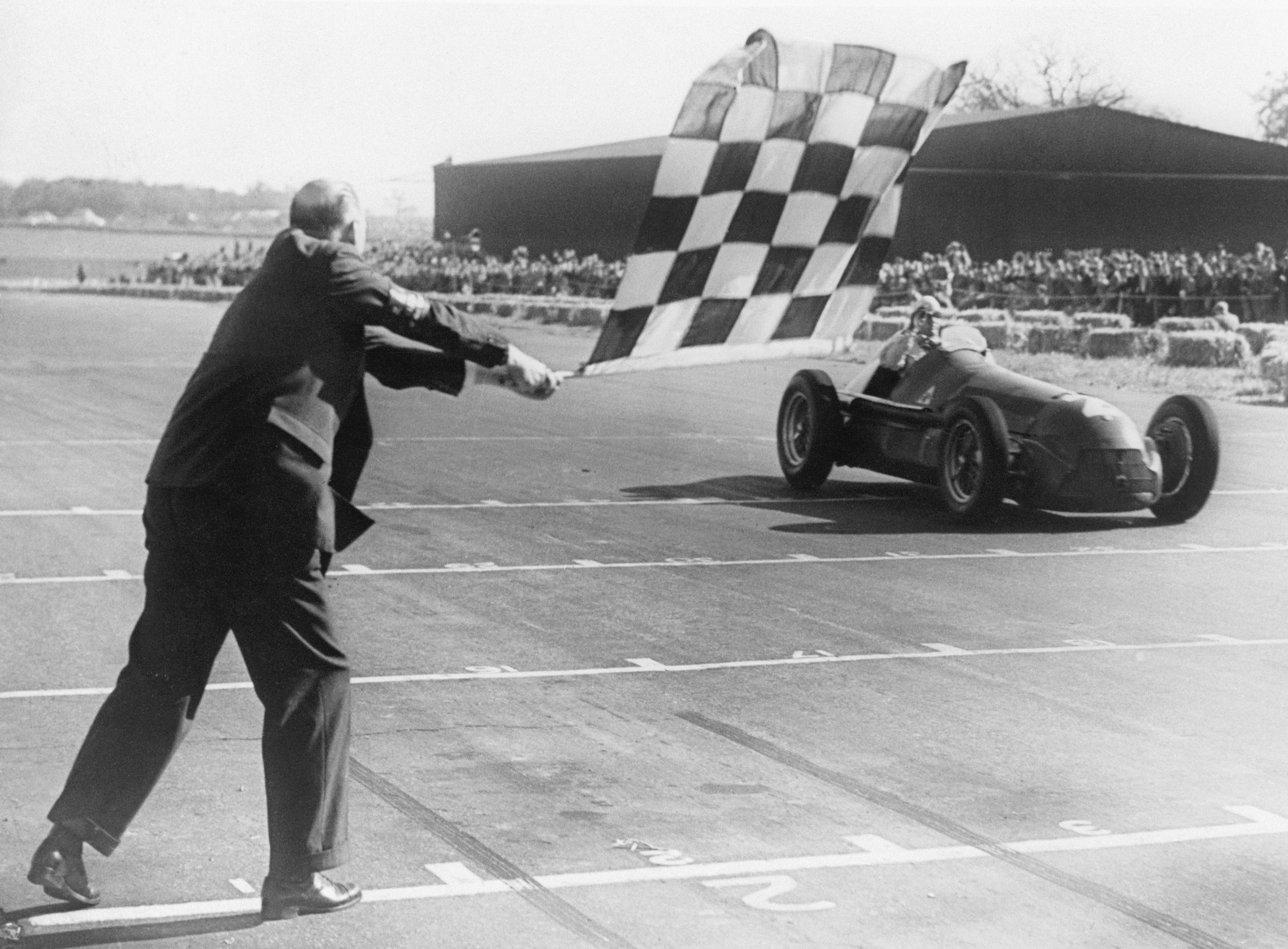 4. ⚡️ Catch up quick
😷 Coronavirus watch: The first stages of reopening haven't produced a surge in coronavirus cases in most states, Axios' Sam Baker writes. But the reopening process is still in its early stages, so a second wave of infections still remains distinctly possible.
⛳️ Tiger Woods and Peyton Manning (-175) are favored over Phil Mickelson and Tom Brady (+150) in their upcoming golf showdown. In related news, Mickelson is joining Michael Jordan's new exclusive golf club, "The Grove XXIII," which is expected to keep membership under 100 and looks unreal.
⚾️ The Louisville Slugger factory, which furloughed 90% of its employees and temporarily shuttered last month, reopened Monday. Thanks to a PPP loan, the company was able to bring back all 171 furloughed employees and resume production.
5. 🍎 Exclusive: 2020 EduCup Challenge
EVERFI, an education technology company whose mission is to help students learn life skills beyond the classroom, has joined forces with six sports leagues to launch the EduCup Challenge — a two-week competition for kids stuck at home during the COVID-19 pandemic.
How it works: Students will complete digital courses designed by EVERFI and the participating leagues, with the opportunity to win academic scholarships and other prizes. Leagues will post daily social media challenges related to the courses, and students will compete by region.
The courses:
MLB: "Summer Slugger" focuses on math and literacy skills for upper elementary school students.
MLS: "Actions Matter" addresses leadership development and bullying prevention for middle and high school students.
NFL and United Way: "Character Playbook" aims to build character education for upper middle and high school students.
NHL and NHLPA: "Hockey Scholar" teaches Science, Technology, Engineering, and Math (STEM) skills for middle school students, and "Healthier Me" educates upper elementary students on nutrition.
National Lacrosse League: "NLL Digital Scholars" focuses on digital and mental wellness for middle school and high school students.
Premier League: "The Compassion Project" aims to teach empathy and compassion to elementary school students, and "Ignition" focuses on digital literacy for middle school students.
Bonus: ⚾️ Ranking MLB's all-time rosters (No. 24)
We're ranking the all-time rosters for all 30 MLB teams. Note: Rosters based only on time spent with this specific team. Thoughts? Email me at [email protected].
24. Colorado Rockies
Honestly, you look at the names in this lineup and wonder why it's not at least five or six spots higher, but then you remember the Coors Effect and say, "Ah. Right." I hate being that guy, and perhaps I'm docking them for their advantageous environment more than I should — but life goes on.
Year established: 1993
All-time record: 2,033-2,280 (.471)
World Series Championships: 0
Hall of Famers (indicated by *): 1
Starting lineup:
OF Charlie Blackmon (17.1 bWAR with team)
2B D.J. LeMahieu (16.1)
OF Larry Walker* (48.3)
3B Nolan Arenado (37.5)
1B Todd Helton (61.8)
OF Matt Holliday (18.5)
SS Troy Tulowitzki (39.5)
DH Carlos González (23.7)
C Chris Iannetta (7)
On the mound: SP Ubaldo Jiménez (18.3)
Bench:
Infield: 1B Andrés Galarraga (14.5), 2B Eric Young (9.5), 3B Vinny Castilla (17.5), SS Trevor Story (18.6), C Wilin Rosario (1.6)
Outfield: Ellis Burks (12), Dante Bichette (4.8)
Utility: Jason Jennings (10.4), Dexter Fowler (9.5)
Rotation: Jhoulys Chacín (15), Jorge De La Rosa (14.1), Aaron Cook (17), Pedro Astacio (9.7)
Bullpen: Brian Fuentes (9.8), Steve Reed (11.6), José Jiménez (4.8)
Additional notes:
Larry Walker is one of the inductees in the most recent Hall of Fame class, making him the first member of the Rockies in the Hall.
Nolan Arenado's offensive numbers may benefit from Coors, but that glove is all him. His seven straight Gold Gloves to begin his career are the most ever for an infielder, and second only to Ichiro's 10.
Huge thanks to Tom Stone, whose book 'Now Taking the Field: Baseball's All-Time Dream Teams for All 30 Franchises,' provided the inspiration for these rosters.
6. May 13, 1958: ⚾️ Stan the Man's 3,000th hit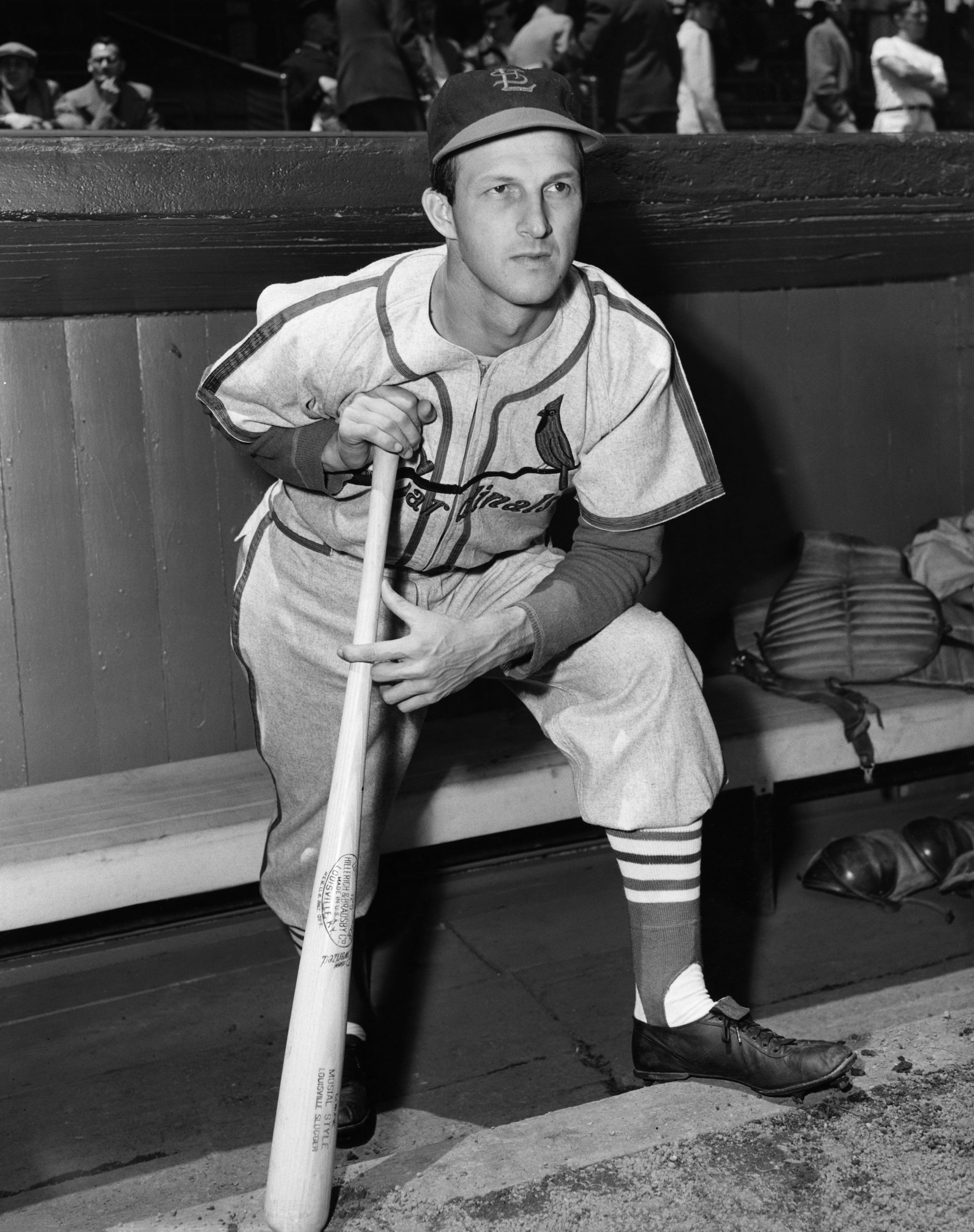 62 years ago today, Stan Musial became just the eighth player to collect 3,000 hits, smacking a double in a rare pinch-hitting appearance.
Why it matters: He was already 18 years into a Hall of Fame career, but his standing as a titan of the game has only strengthened in the decades since, recently landing at No. 9 on The Athletic's Joe Posnanski's epic top-100 list (subscription).
The big picture: Musial was the perfect exemplar of what it meant to be a baseball player. Despite being one of the greatest who ever lived, by all accounts many people couldn't decide if he was a better ballplayer or person.
Even his nickname, Stan the Man — which would feel lame if it weren't so accurate — came from opposing fans who were so beaten down by his constant domination that one day, as he walked to the plate, all they could muster was "here comes the man."
By the numbers: Musial's name isn't thrown around as often as Ruth, Mays, Mantle or the like, but you'd be hard-pressed to find someone with a better statistical résumé.
He amassed 128.3 WAR (11th most), 1,951 RBI (7th), 3,630 hits (4th) and 725 doubles (3rd) while making 24 All-Star games (t-2nd).
He won three MVPs and came in second four more times.
In his best season (1948), he hit .376 with 103 extra-base hits (t-6th) while striking out just 34 times. In Aaron Judge's spectacular rookie season, he averaged 34 strikeouts a month.
Fun fact: Musial and Ken Griffey Jr. were both born on Nov. 21 in the small town of Donora, Pennsylvania, exactly 49 years apart.
🎥 Go deeper: Career tribute (YouTube)
7. 📚 Good reads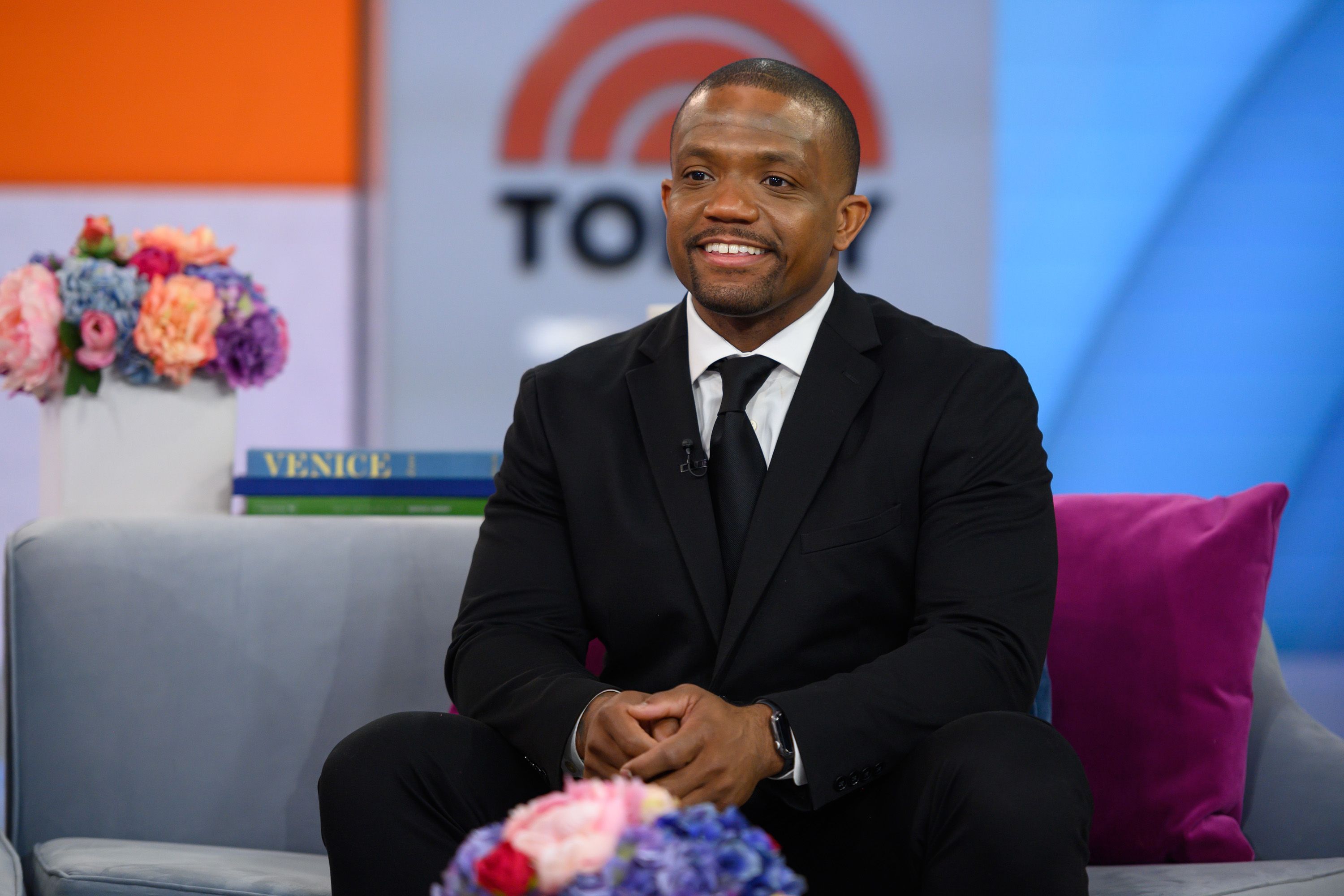 🏈 Inside the latest chapter of former Ohio State star Maurice Clarett's life turnaround (Adam Rittenberg, ESPN)
"Clarett says his main mission is deeply personal: to help others and make a positive impact for those who face the same demons that once derailed him. 'I want to talk about my life, I want to talk about what's next,' he says. 'OK, you f--ked up. S--t happened. Own it.'"
🏀 How much credit and blame does Jerry Krause really deserve? (Rodger Sherman, The Ringer)
"The villain of 'The Last Dance' is responsible for dismantling the most iconic dynasty in NBA history. But there's another part of Krause's legacy that the documentary fails to acknowledge."
🏇 Starved for action, bettors turn Nebraska horse track into must-see TV (Joe Drape, NYT)
"Since making the switch to weekdays, Fonner Park has averaged more than $2.8 million in bets each day, more than eight times its action from a year ago. Its wagering total of $71.3 million over the past three months dwarfed last year's February-through-April total of $7.5 million."
8. The Ocho: 🏁 Crosskart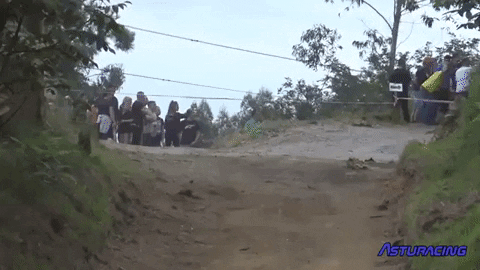 Crosskart was invented in Sweden in the early 1980s as a safe racing alternative, with the lowest class of engine (125cc) open to kids as young as 10. The higher engine classes (625–750cc)? Not for kids.
🎥 Watch: Racing highlights or driver POV (YouTube)
9. 🏀 NBA trivia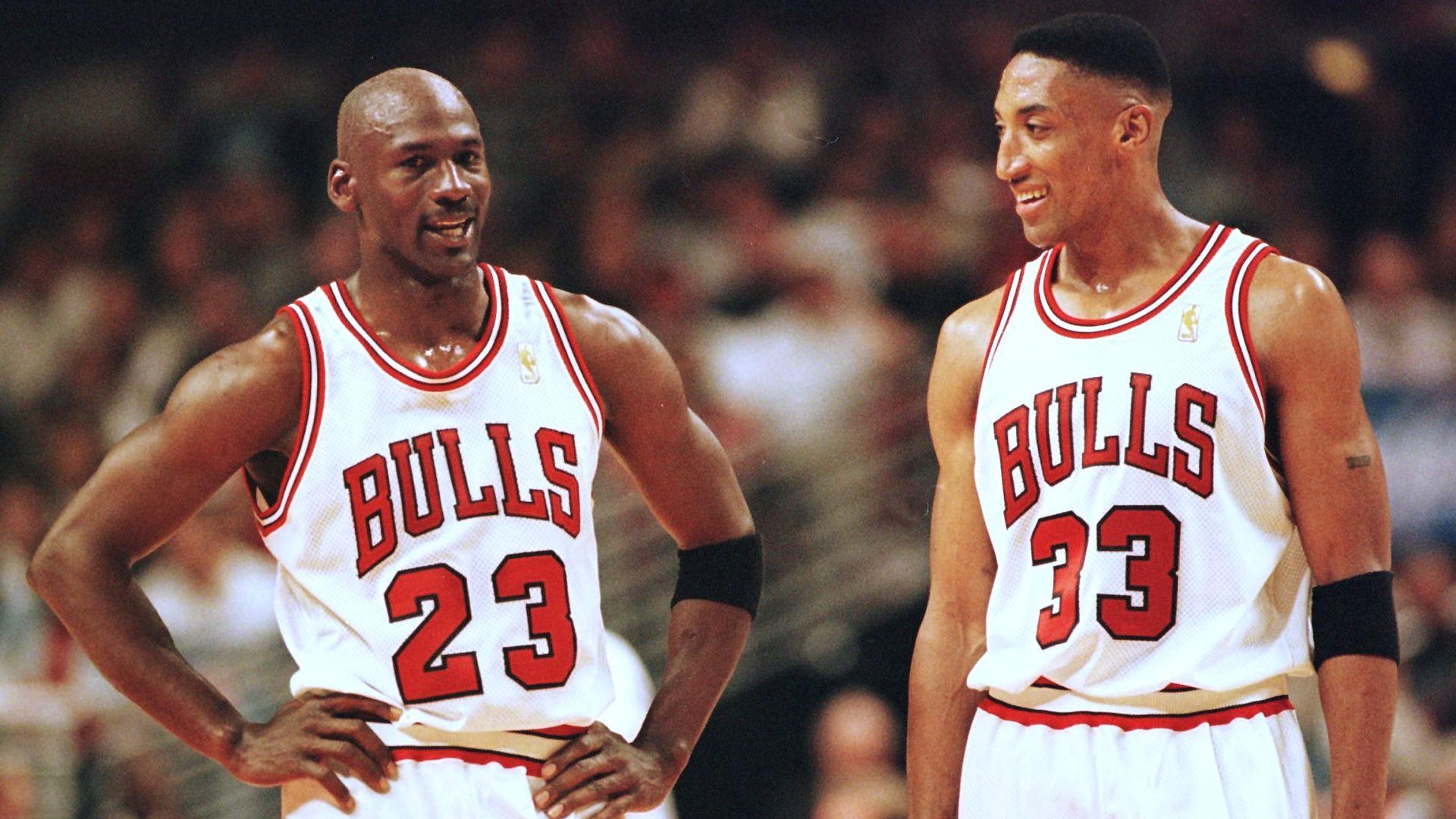 During the 1994-95 season, Scottie Pippen led his team in points, rebounds, assists, steals and blocks. Since then, just three players have accomplished that feat.
Question: Name all three players.
Hint: Two are still active. The third retired in 2016.
Answer at the bottom.
10. ❤️ Why we love sports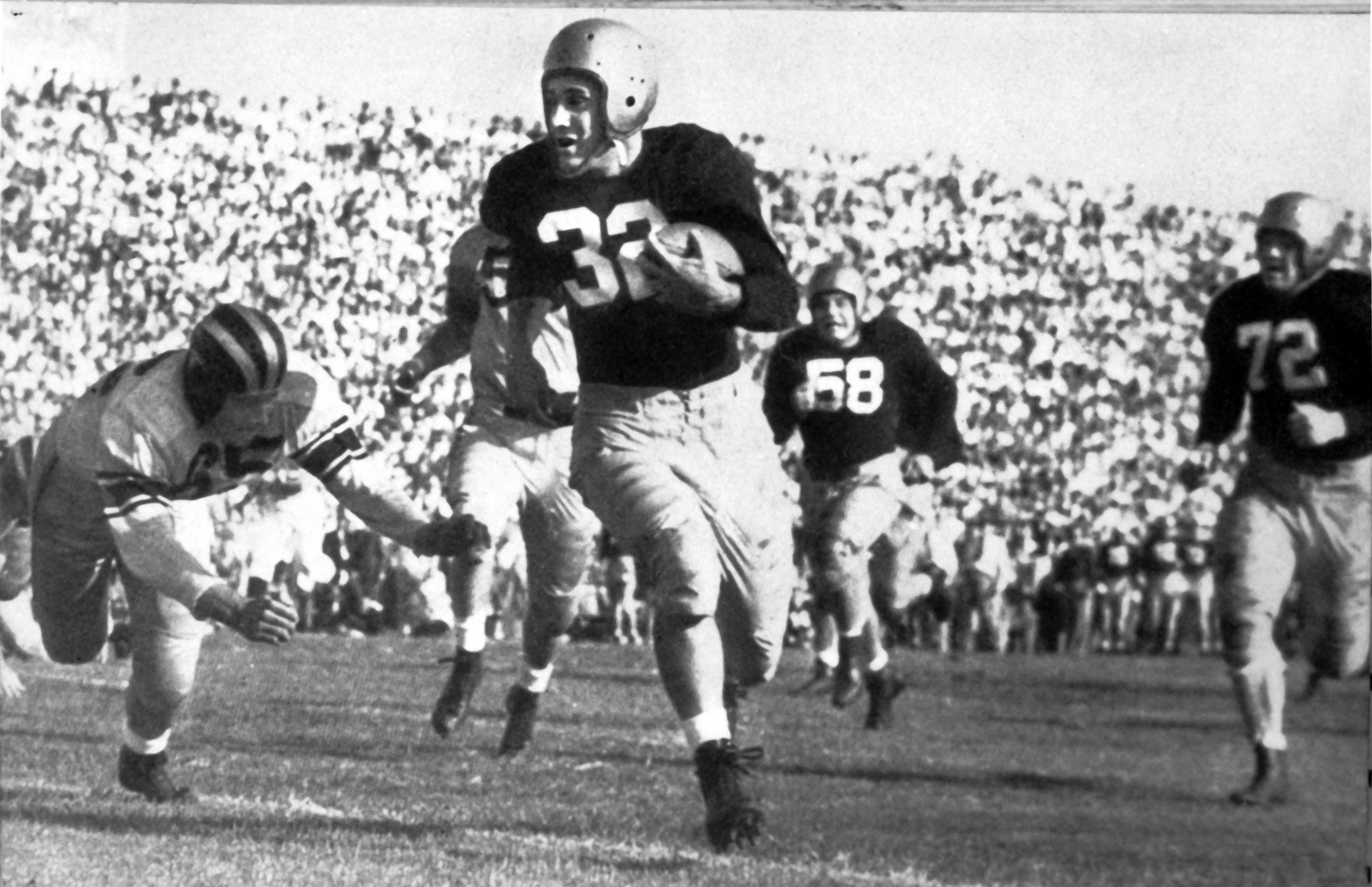 Nate P. (Indianapolis) writes:
"I grew up in a Catholic family in rural northern Michigan, and from the time I was old enough to know what sports were, I was a Notre Dame fan. 
"Much of this love for Notre Dame came from my grandfather, who was the unquestioned patriarch of our family — patient, wise, selfless, revered and rock-steady in everything he did.
"My grandfather had seen some of the best players in Notre Dame history, but none were held in higher regard than Johnny Lujack, a star QB who led the Irish to three national titles and won the 1947 Heisman Trophy.
"So when I came across a photo of Lujack and the 1947 team at a memorabilia booth in 2017, I just knew I had to buy it for him for Christmas. Every year I look forward to unwrapping presents at my grandparents house, but that year I was FIRED UP as we pulled into their driveway.
"After dinner, we gathered in the living room for the gift exchange. One of the last gifts remaining was the picture. As he unwrapped it, I sat there anxiously, hoping his reaction matched my anticipation. It did.
"For just the second time in my life, I saw my grandfather cry. He turned to me and managed a 'thank you' as he fought back tears, then went back to the picture as he pointed out names of the players he remembered.
"For the next several hours he sat with the picture on his lap, leaving the living room conversation every now and then to steal glimpses. He was a man of few words, but he didn't have to say anything. I could tell how much it meant to him, and I still don't have the words to describe the joy I felt.
"That picture, which still hangs on the wall above my grandfather's beloved La-Z-Boy, would be one of the very last gifts I would ever give him. Shortly after Christmas, he was diagnosed with an advanced form of cancer and passed away the following May.
"In the days after his death, we milled about my grandparents' house consoling one another and reminiscing. At one point, I went and sat in the den where the picture hangs, and an overwhelming sense of gratitude rushed over me.
"Certainly, a part of me was thankful to have had such an incredible man and role model in my life. But an even larger part was thankful that I had found some way to give back to him. And just in the nick of time."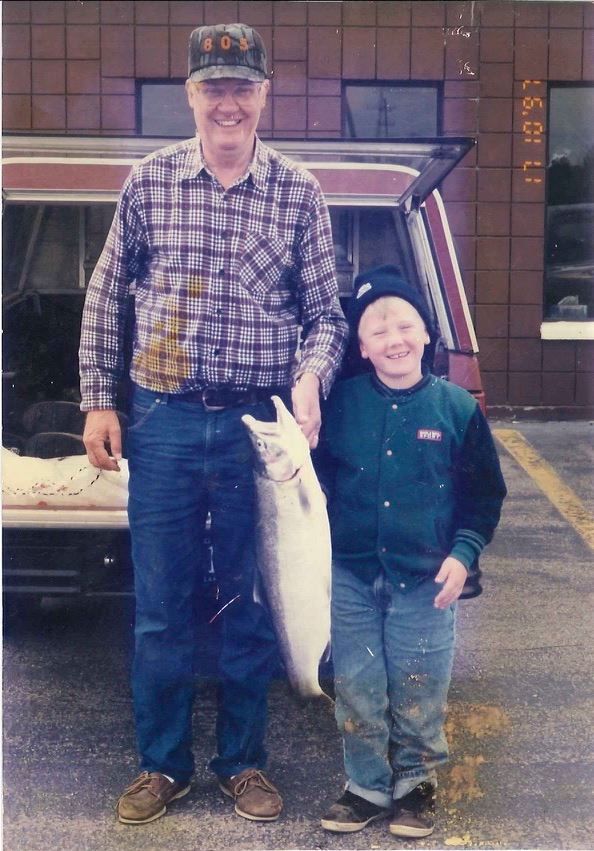 ✍️ Submit your story: Do you have a fondest sports memory? Or an example of sports having a positive impact on your life? If you'd like to share, simply reply to this email. We'll be telling your stories until they run out.
Talk tomorrow,
Kendall "I need to play this immediately" Baker
Trivia answer: Kevin Garnett (2002-03), LeBron James (2008-09), Giannis Antetokounmpo (2016-17)