👋 Happy Tuesday!
🎧 Podcast Club: Yesterday, we listened to Episode 1 of "The Sterling Affairs," a 5-part podcast about the scandal that rocked the NBA. Today, we dive into Episode 2.
⚾️ Double-header: The Yankees host the Astros in the Bronx (4pm ET, FS1), and the Nationals go for the sweep in D.C. (8pm ET, TBS).
P.S. ... If you haven't participated in our annual reader survey, click here to take it. Thanks for your support!
Today's word count: 1,602 (6 minutes)
1 big thing: 🏀 LeBron messed up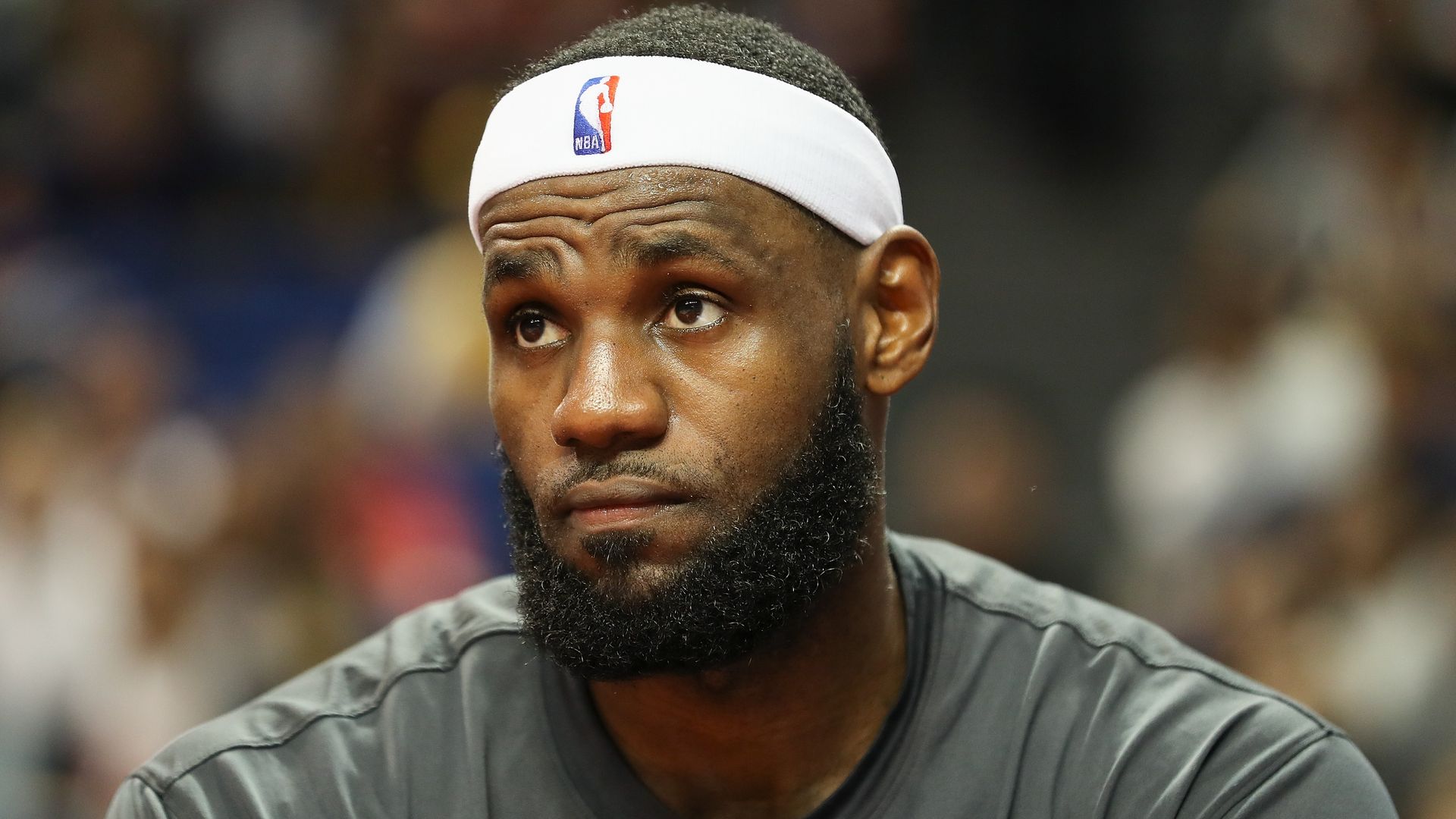 In his first comments since the Lakers returned from playing 2 exhibition games in China, LeBron James added another chapter to the NBA's ongoing saga — and created a PR nightmare.
Driving the news: James told reporters at Staples Center that Morey was "misinformed or not really educated" when he sent the pro-Hong Kong tweet heard 'round the world.
"So many people could have been harmed, not only financially but physically, emotionally, spiritually," he added.
"Just be careful what we tweet, what we say and what we do. Yes, we have freedom of speech but there can be a lot of negatives that come with that as well."
The clarification: After seeing the backlash his comments caused, James issued a clarification, saying that the "misinformed" remarks were about Morey not understanding the consequences of his tweet, not the tweet's substance:
"Let me clear up the confusion. I do not believe there was any consideration for the consequences and ramifications of the tweet. I'm not discussing the substance. Others can talk about that."
"My team and this league just went through a difficult week. I think people need to understand what a tweet or statement can do to others. And I believe nobody stopped and considered what would happen. Could have waited a week to send it."
The bottom line, per SB Nation's Tom Ziller: "This episode doesn't diminish LeBron's social advocacy on domestic issues. He's made real, positive change for kids in Akron and beyond."
"But this is something that will stick with LeBron and change the way a certain segment of people who have championed him see him."
Go deeper: Inside what went on among Nets and Lakers players on the ground in China amid the conflict (The Athletic)
2. ⚾️ "Miracle" Nats on brink of World Series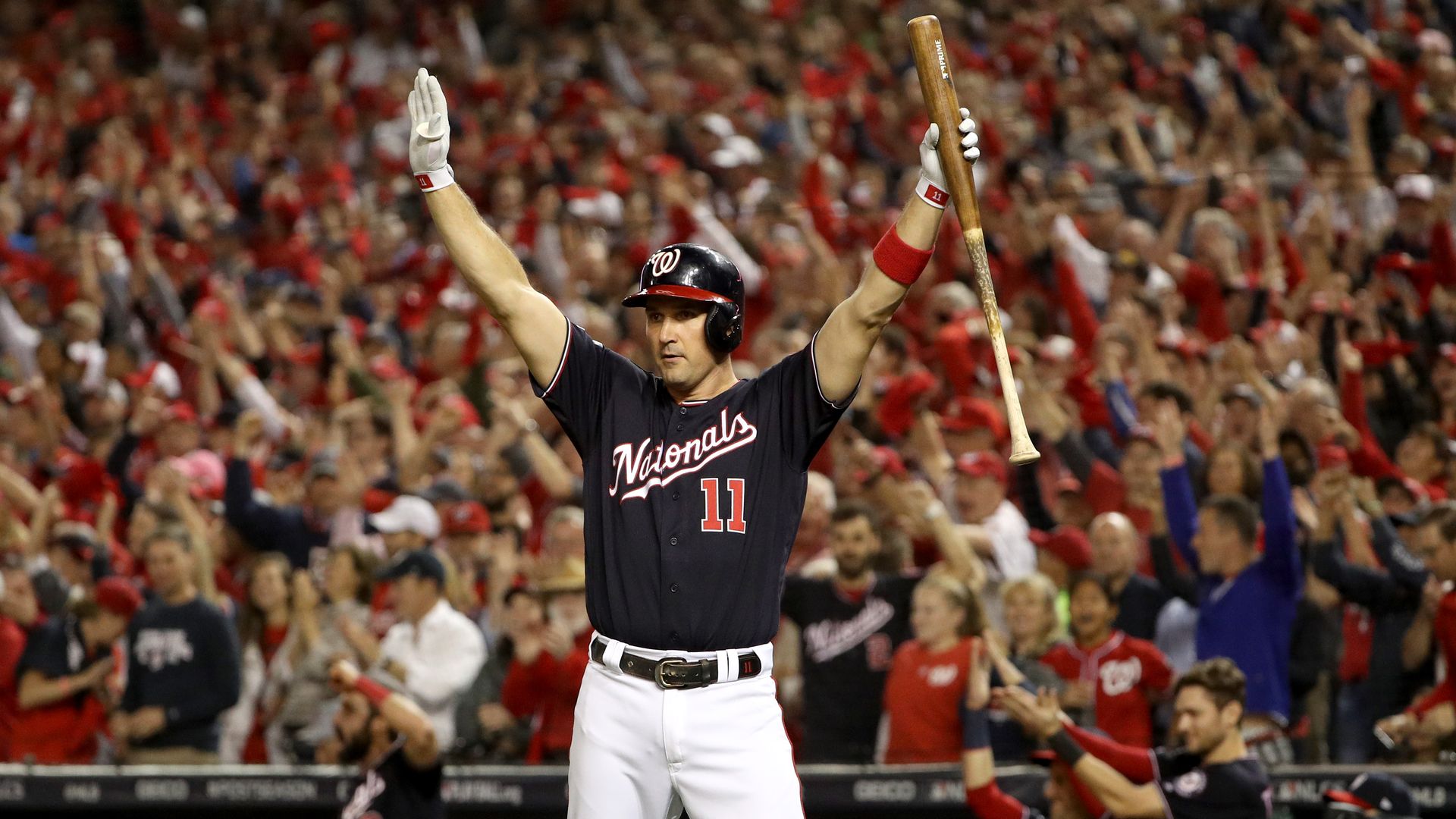 From 19-31 in May to the brink of the World Series in October. The 2019 Washington Nationals are a miracle — just don't tell that to RF Adam Eaton.
"This team is not a miracle. Look who's in here," he said, speaking of Stephen Strasburg, Max Scherzer, Juan Soto and the rest — all of whom are shining brightest on baseball's biggest stage.
Last night: Strasburg took his turn silencing St. Louis' bats, postseason star Howie Kendrick drove in 3 runs and the Nationals beat the Cardinals, 8-1, to take a 3-0 lead in the NLCS.
What they're saying: "Some crowd roars in sports are different. Especially if those roars have been on hold for 86 years," writes the Washington Post's Thomas Boswell.
"A sellout crowd of 43,675 can't spontaneously yell words in unison without scripting. Souls, even baseball-loving souls, are not that tightly connected."
"But if a crowd of such size could articulate, with perfect diction and in unison, its deepest desire suddenly turned into a firm belief, those words would've been, 'It's finally going to happen!'"
By the numbers:
The Nationals have won 15 of their past 17 games, stretching back to the last week of the regular season.
The Cardinals have a grand total of 2 runs and 11 hits through 3 games. Remember when they scored 10 runs in the 1st inning against the Braves?
Washington's starters (Aníbal Sánchez, Scherzer, Strasburg) have a combined ERA of 0.00.
What's next: If the Cardinals want to send this series back to St. Louis, they'll need to beat $140 million lefty Patrick Corbin and Sánchez, who carried a no-hitter into the 8th in Game 1.
Game 4: Today (D.C.)
Game 5: Tomorrow (D.C.)
Game 6: Friday (St. Louis)
Game 7: Saturday (St. Louis)
Go deeper: The Nats, one win from World Series, are providing a doubt-free sense of release (WashPost)
3. 🏈 The NFL's officiating crisis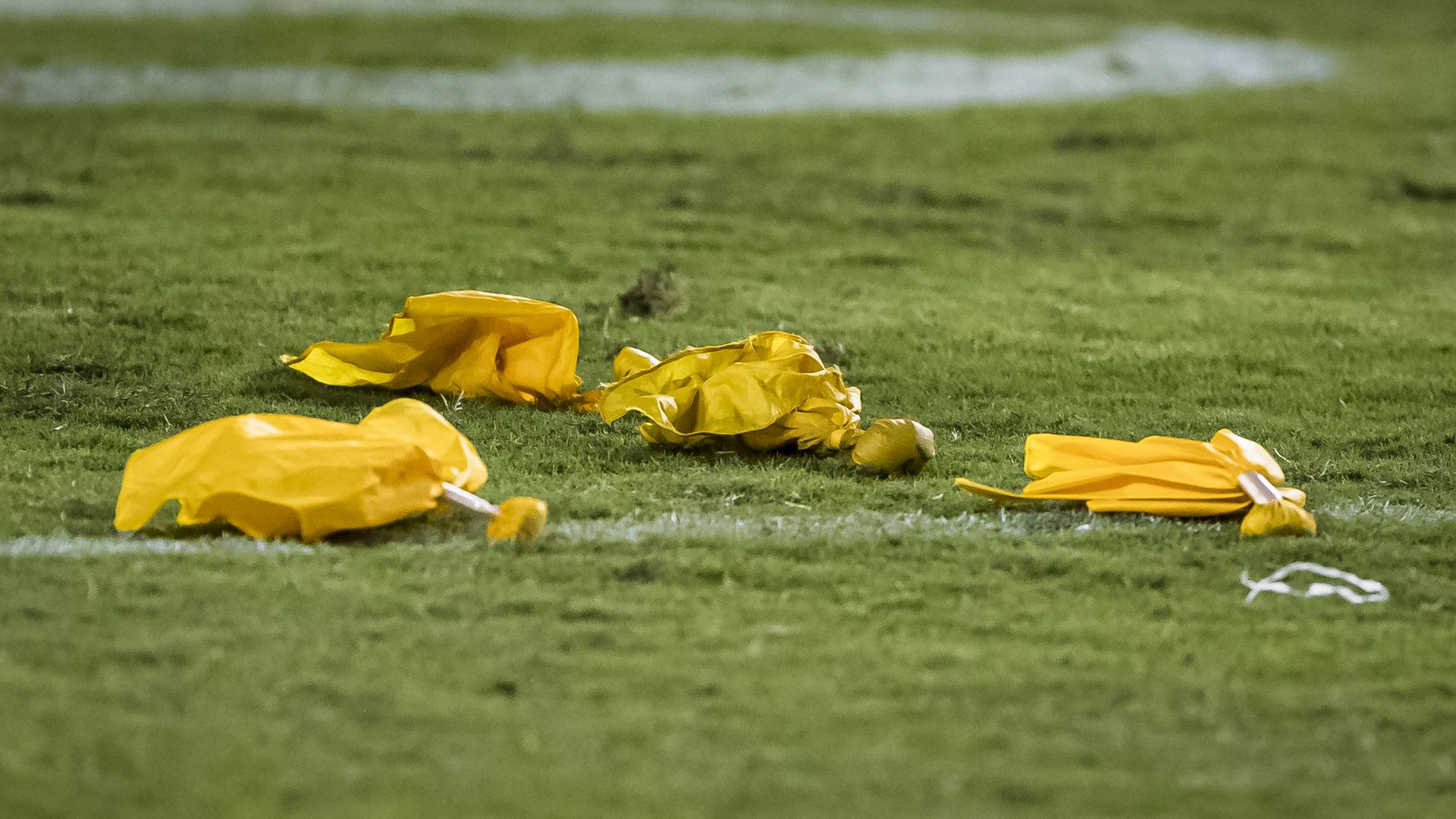 Mason Crosby drilled a 23-yard FG as time expired to lead the Packers past the Lions, 23-22, on "Monday Night Football."
The controversy: Green Bay benefited from some questionable officiating, most notably 2 fourth-quarter penalties for illegal hands to the face against Detroit's Trey Flowers.
Poor officiating is a part of every sport, but since this was on national TV and featured some particularly egregious calls, the outrage is louder than usual.
What they're saying: ESPN's Booger McFarland was ripping the refs from the booth, and that same frustration was prevalent around the league:
Rams LB Clay Matthews: "The storyline for the 2019 season continues to be the refs inability to make the accurate and correct calls week in and week out. [NFL SVP of officating] Al Riveron continues to blindly side with his refs and the current status quo. Something must change! Zero accountability."
Bears CB Eddie Jackson: "These calls cost them the game I really can't believe what I just watched...smh."
A potential solution: This offseason, some coaches wanted to add a "Sky Judge" to the officiating crew — someone who could call down and fix calls that were obviously wrong.
But the NFL "didn't think it was feasible to give someone that kind of authority," ESPN's Kevin Seifert tweeted. "Might be worth a re-visit."
4. 📸 Yesterday in photos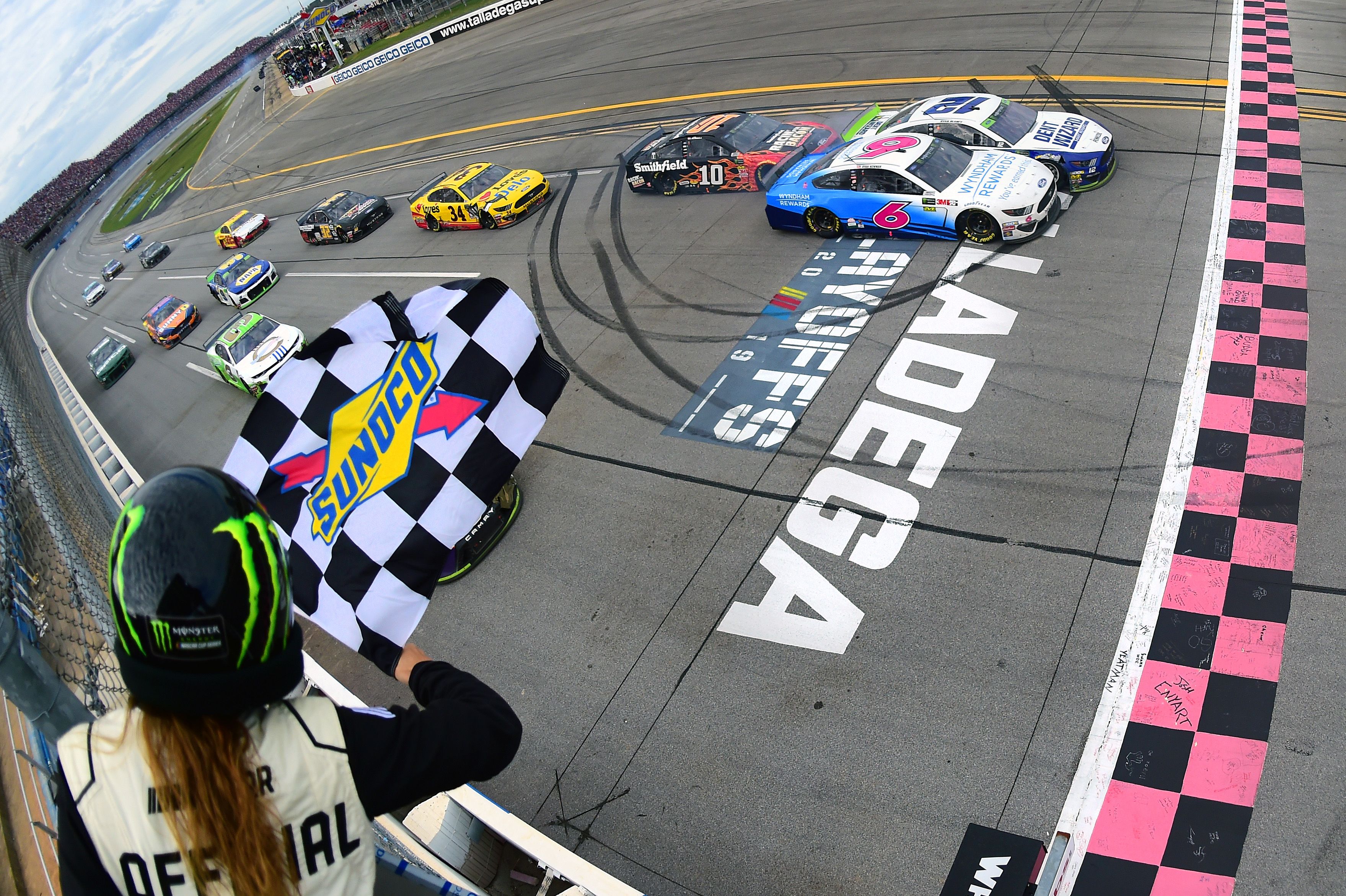 Photo: Jared C. Tilton/Getty Images
TALLADEGA, ALA. — In the 5th race of the NASCAR Cup Series playoffs, a wild last 2 laps ended with Ryan Blaney beating Ryan Newman to the line in a photo finish. His margin of victory? 0.007 seconds.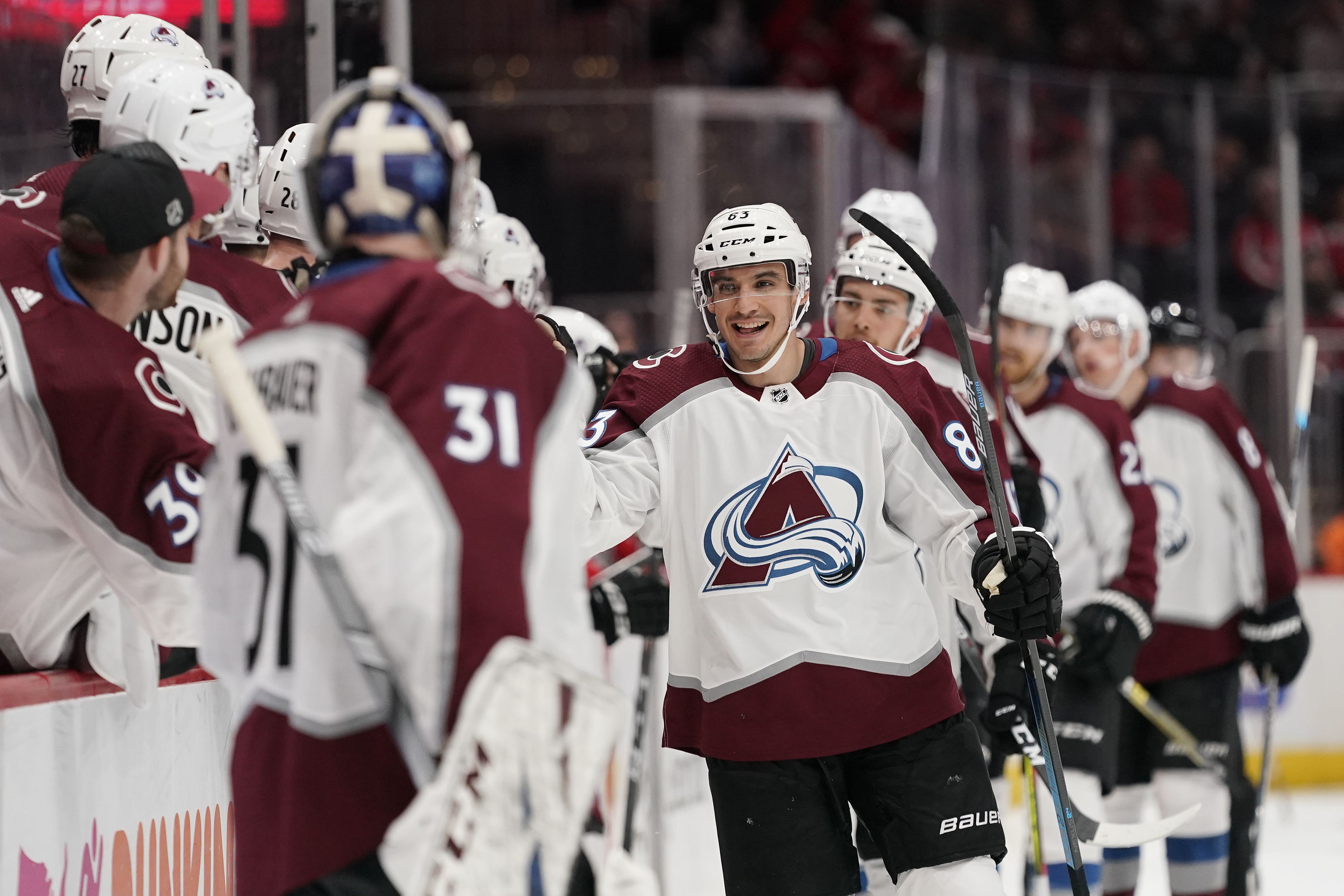 Photo: Patrick McDermott/NHLI via Getty Images
WASHINGTON, D.C. — The Colorado Avalanche beat the Washington Capitals, 6-3, for their 5th straight win to start the season. They're the only undefeated team remaining (and the Devils are the only winless one). See the standings.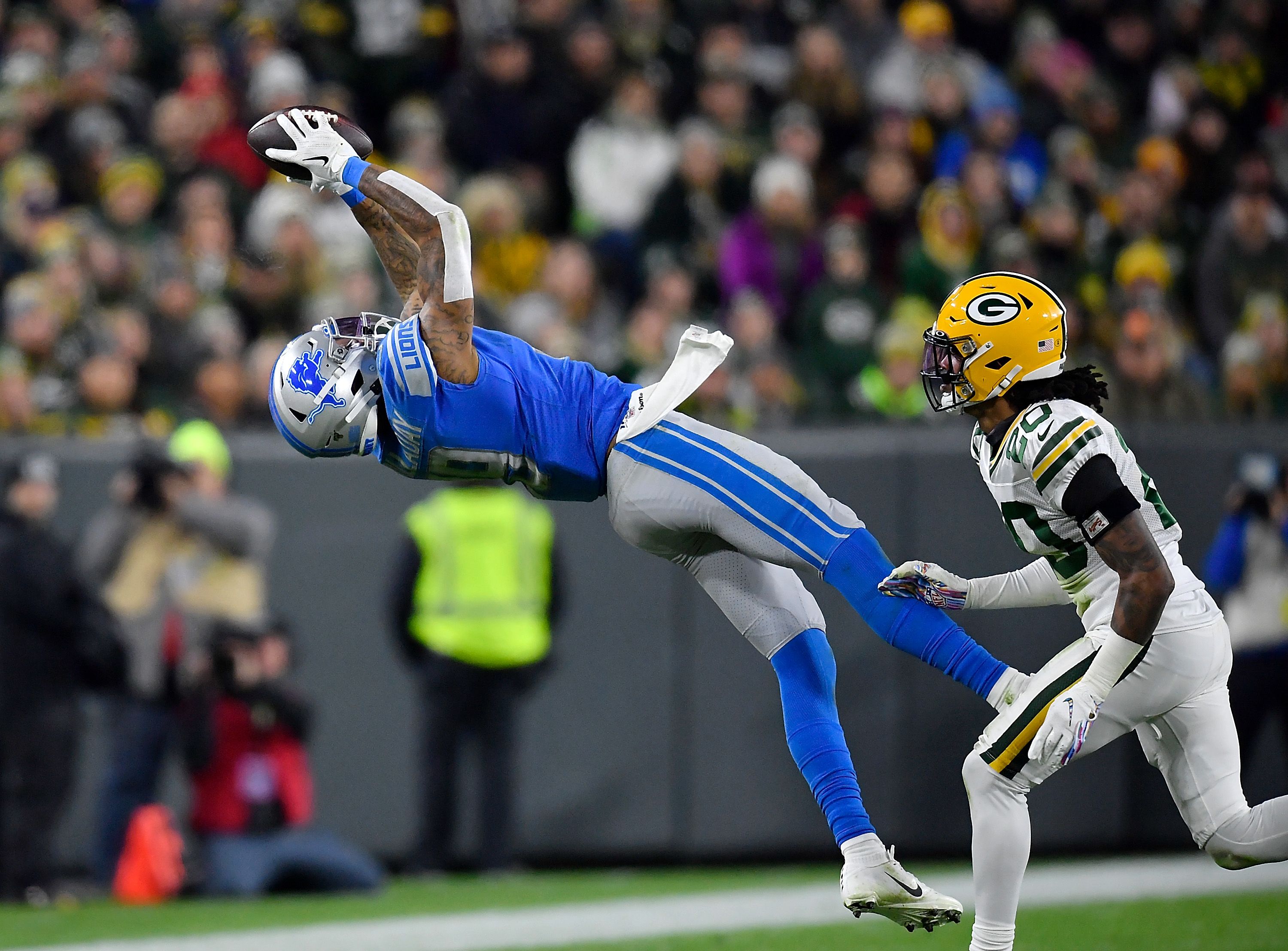 Photo: Quinn Harris/Getty Images
GREEN BAY, WIS. — Dear Lions fans, I know last night was tough. To cheer you up, I've included a photo of Kenny Golladay performing an impressive athletic maneuver. Hope it helps.
5. ⚽️ Soccer's racism problem rears its ugly head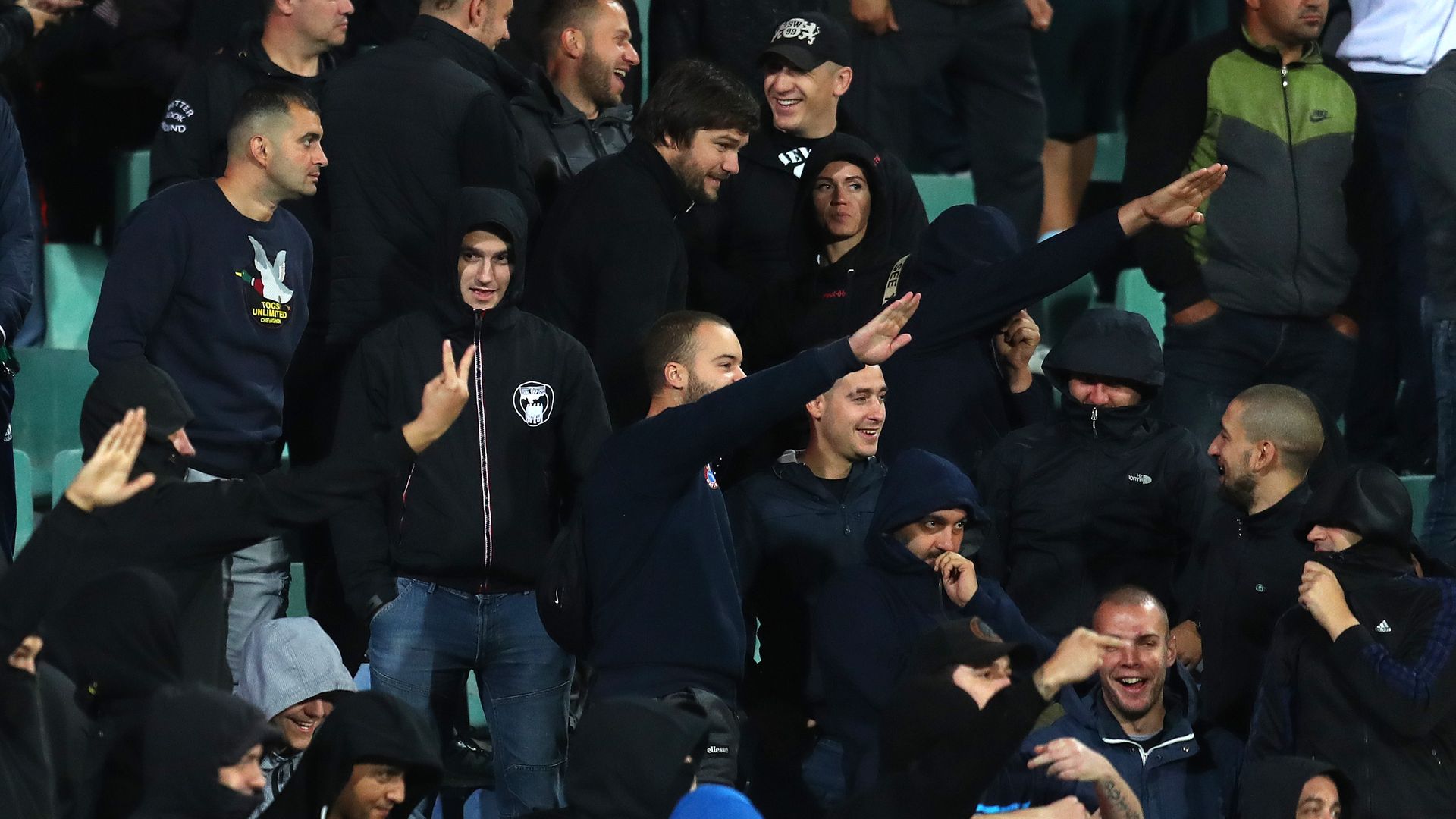 England's 6-0 Euro 2020 qualifying win against Bulgaria was halted not once, but twice, following racist chants directed at England's black players.
"Bulgaria supporters in the crowd were seen directing monkey chants at England players [and] doing Nazi salutes," per AP.
Bulgarian captain Ivelin Popov spent halftime pleading with fans to stop the racist chanting, and the 2nd half passed without incident.
The backdrop: The game was played in a stadium in Sofia, Bulgaria, where 5,000 seats were already closed off as a UEFA punishment for racist chants during qualifiers against Kosovo and the Czech Republic.
And sadly, this was nothing new for England's black players, who were subjected to similar treatment in Montenegro last March.
The big picture: Over the last decade, UEFA has handed down supporter bans to clubs and national teams in Hungary, Italy, Serbia, Croatia, Romania, Ukraine, Moldova, Russia, Spain, France, Poland and Greece for racist behavior.
But the sanctions — from paltry fines to partial stadium closures — have often fallen short and failed to curb racism in the sport. Will this time be different?
6. Oct. 15, 1989: 🏒 "The Great One" tops "Mr. Hockey"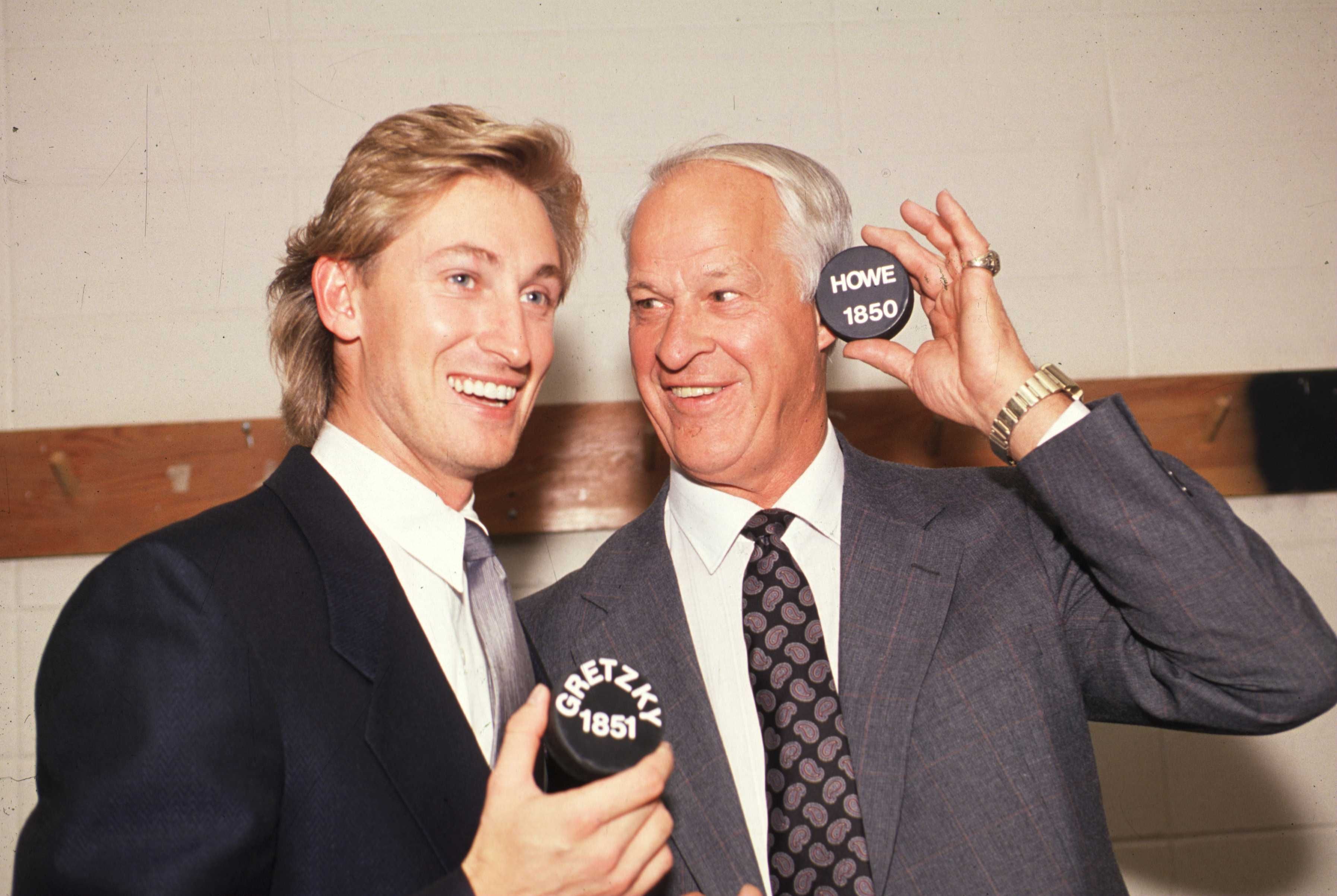 Wayne "The Great One" Gretzky and Gordie "Mr. Hockey" Howe. Photo: Bruce Bennett Studios/Getty Images
30 years ago today, Wayne Gretzky, then with the Kings, passed Gordie Howe to become the NHL's all-time points leader — and he did it against his former team, the Oilers.
Yup, that's right: As if passing Howe wasn't emotional enough, Gretzky reached the pinnacle of his sport in front of the fans who had cheered him on for nearly a decade and, in many ways, helped him get there. Sports, man.
Absolutely wild stat: If Gretzky never scored any of his 894 career goals (also an NHL record), he would still be the league's all-time leading point scorer with 1,963 assists.
Gretzky (2857 points)
Jaromir Jagr (1921)
Mark Messier (1887)
Gordie Howe (1850)
Ron Francis (1798)
Go deeper: Top 10 Wayne Gretzky moments (YouTube)
7. ⚽️ Soccer trivia
Cristiano Ronaldo became the 6th player in soccer history to score 700 goals for club and country in Portugal's loss to Ukraine yesterday.
Question: Ronaldo's 700 goals ranks first among active players. Can you name the players who rank 2nd and 3rd?
Hint: One is short, one is tall.
Answer at the bottom.
8. The Ocho: ⛵️ The world's biggest regatta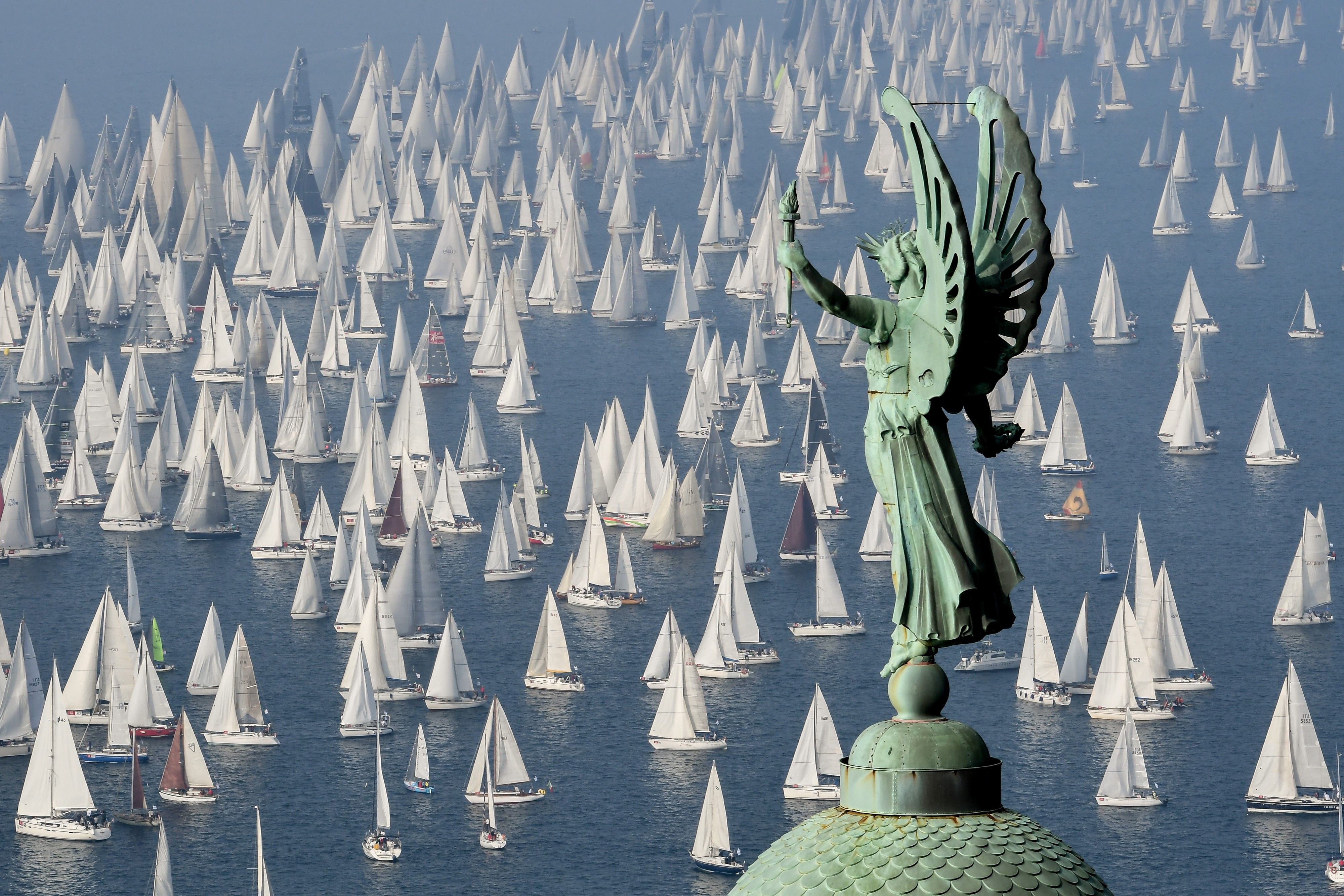 Photo: Andreas Solaro/AFP via Getty Image
Over 2,000 sailboats passed underneath the "Victory Lighthouse" in northeastern Italy's Gulf of Trieste during the 51st edition of the historic Barcolana — the biggest sailing regatta in the world.
10. 🎧 Podcast Club: The Sterling Affairs, Ep. 2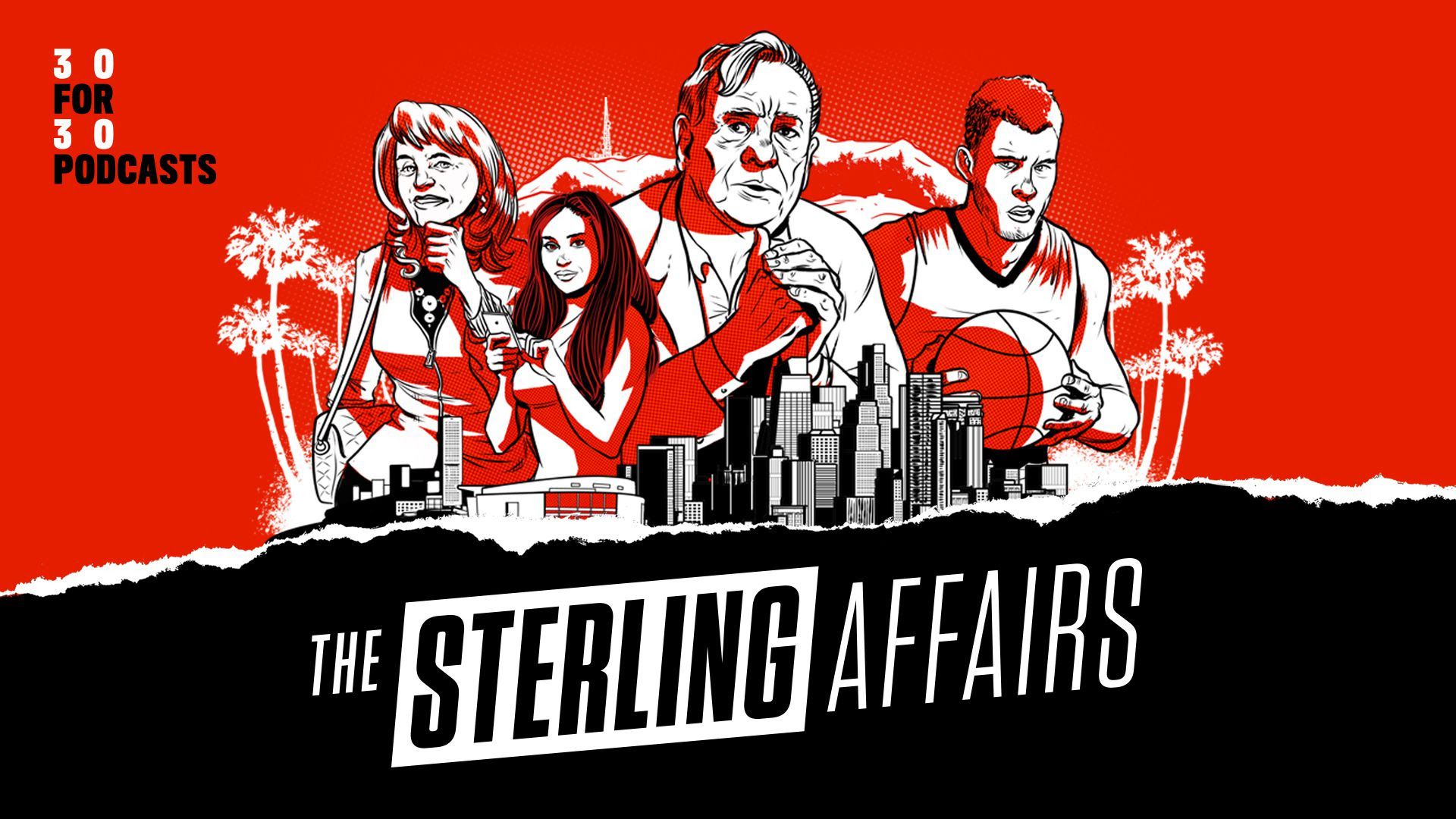 This week, we'll be listening to "The Sterling Affairs," a 5-part podcast about basketball in Los Angeles, a ruthless real estate empire and the scandal that rocked the NBA.
How it works: We listen to one episode per day and briefly recap it the following morning before proceeding to the next one.
⏪ Yesterday's episode: "That Tape" — A domestic battle boils over and sends the NBA into crisis when secretly recorded tapes of Donald Sterling and his mistress V. Stiviano leak on TMZ.
"My initial reaction after listening to Episode 1 was, 'I can't believe this sort of thing actually happens.' The drama and buildup matches a plot line that is ripe for an HBO series. I'm excited to see where this goes."
— Axios Sports reader, Owen S. (Chapel Hill, N.C.)
▶️ Today's episode: "Showtime" — Throughout the 80s and 90s, the Clippers were horrible and Sterling was known as the worst owner in sports. But he wasn't the joke we all thought he was.
"The most fascinating thing about working on this was realizing it was a story about both L.A. teams. Donald helped Jerry Buss get the money he needed to buy the Lakers, then they turned into 'Showtime' and Donald was jealous of that. In many ways, it was the psychological poison pill at the heart of all of this."
— Host/producer Jody Avirgan
🎧 Listen: Ep. 2: "Showtime" (50 minutes)
💬 Comment: Thoughts after listening? Leave them here and I'll share the best tomorrow.
Talk tomorrow,
Kendall "Mr. Newsletter" Baker
Trivia answer: Lionel Messi (672 goals) and Zlatan Ibrahimovic (535)