Axios Sports
April 26, 2023
👋 Good morning! Are you golfing today? I won't tell your boss.
Today's word count: 1,868 words (7 minutes).
Let's sports...
1 big thing: ⛳️ The rise of midweek golf
During the pandemic, golf was the official sport of social distance. Now, it's settling in as the official sport of remote work.
State of play: The COVID-fueled golf boom has yet to go bust thanks in part to the incredible rise of midweek golf, according to a recent study from Stanford.
By the numbers: Using geolocation data near golf courses in the U.S., researchers found that 83% more golf games were played on weekdays in August 2022 than in August 2019.
In 2019, there were 12,700 "golf course trips" on Mondays, 11,400 on Tuesdays, 10,800 on Wednesdays and 15,000 on Thursdays.
In 2022, those numbers were 24,400, 25,800, 26,200 and 26,300, respectively.
Between the lines: Wednesday afternoons have seen the biggest transformation.
278% more golf trips were made at 4pm on a Wednesday in August 2022 vs. August 2019, per the study.
"Every course, every minute is packed now throughout the week," one golf course manager told the researchers. "No more quiet Wednesdays."
The big picture: Millions of Americans who started working remotely three years ago are now set in those routines — and more comfortable leveraging their flexibility, NYT notes.
This has created huge demand for leisure activities like golf and yoga, and a large swath of the country is participating in the growing "afternoon fun economy."
27% of paid full-time work days in the U.S. were done from home at the start of 2023, per data from the same Stanford researchers.
The last word … From an anonymous California tech executive cited in the study:
"I think my colleague was taking his Zoom call from the golf course. He was on mute and video off, but once when he was talking, I heard somebody talking about the fairway and strokes."
2. 🏈 The Jets got their guy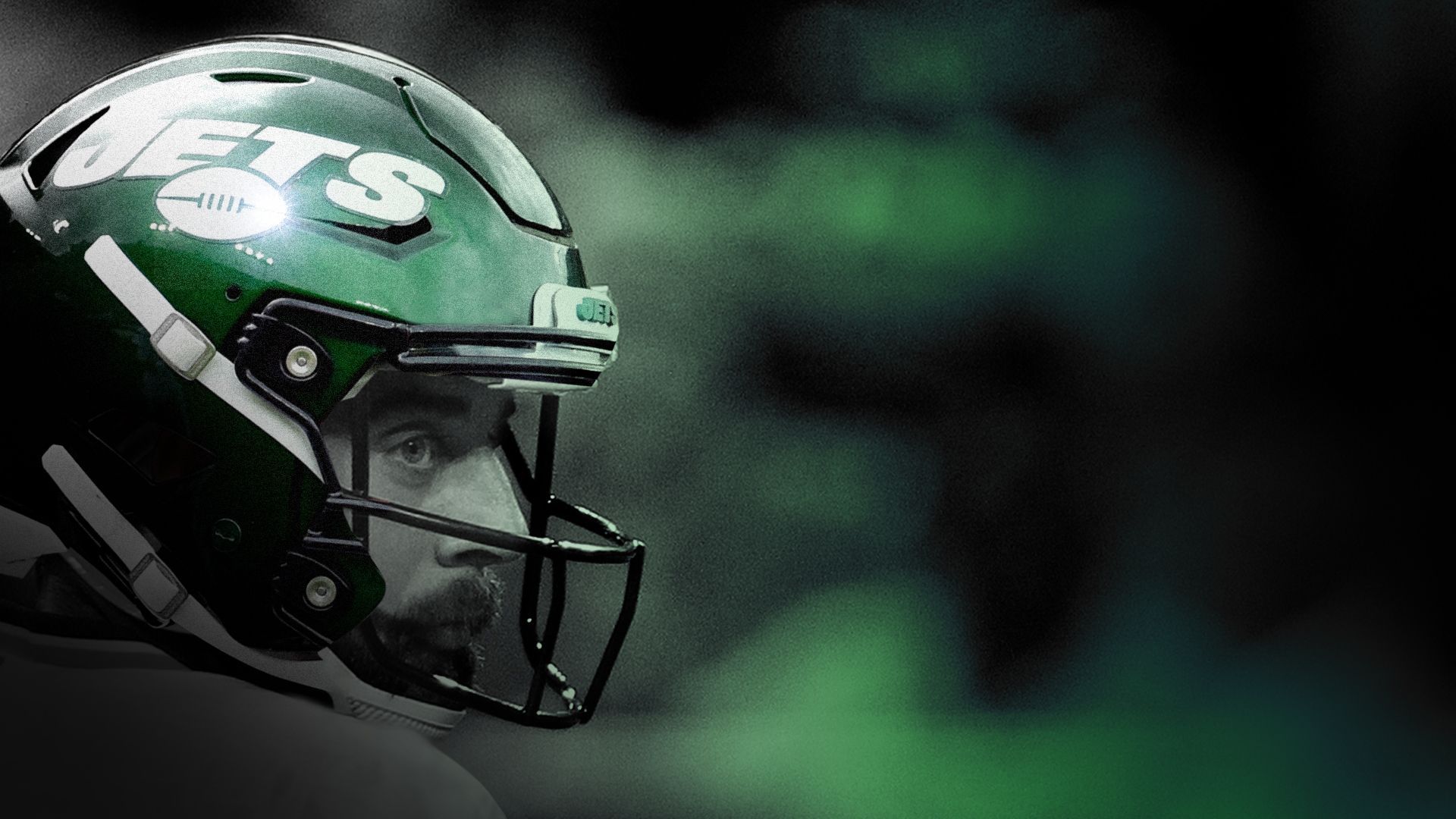 Monday's blockbuster trade sending Aaron Rodgers to the Jets could be the turning point a struggling franchise and suffering fan base has needed for over a decade, Axios' Jeff Tracy and I write.
Details: For the second time in 15 years, Green Bay is sending an aging legend to Gang Green.
Jets receive: Rodgers, plus Green Bay's first- and fifth-rounders (Nos. 15 and 170) in this week's draft.
Packers receive: New York's first-, second- and sixth-rounders (Nos. 13, 42 and 207) in this week's draft, plus a second-rounder next year that becomes a first if Rodgers plays 65% of snaps.
Between the lines: Despite losing a superstar, this looks like a coup for the Packers, who improved both this and next year's draft hauls while unloading a disgruntled QB with two years and $108.7 million left on his contract.
The other side: It also feels like a no-brainer for the Jets, whose 12-year playoff drought is tied for the longest in major North American sports. They had to do something, and what they did was add an all-time great.
Rodgers may be 39, but he's also just one year removed from winning back-to-back MVPs. Even his less-than-stellar 2022 campaign was more promising than whatever Zach Wilson seems capable of at the moment.
Plus, the Jets showed last year that they may actually be a good QB away from contending, boasting a top-five defense and drafting both the Offensive (WR Garrett Wilson) and Defensive (CB Sauce Gardner) Rookies of the Year.
The big picture: Win-now deals can look risky or short-sighted in the moment, and sometimes they end up being just that.
"The Jets didn't need to hit a home run," one personnel executive told ESPN, citing the cost of their all-in move. "They have a juggernaut defense … All they needed was a double."
Yes, but: Similar moves have produced immediate results in recent years, with the Buccaneers (Tom Brady) and Rams (Matthew Stafford) winning Super Bowls in their first season with a new QB.
By the numbers: New York's Super Bowl odds improved from 25-1 at the start of the offseason to 14-1 in the trade's aftermath, tied for the sixth-best odds in the league.
Notes:
Wild stat: Rodgers has 10 seasons with 4,000+ passing yards. The Jets have one (Joe Namath in 1967).
New number: Namath offered up his retired No. 12 to Rodgers, but he's expected to revert to No. 8, which he wore in college.
Farewell note: "This is not the end for us, I will see you again Green Bay, you'll always have my heart," Rodgers wrote in an Instagram post Tuesday night.
What to watch: Rodgers' introductory press conference is today at 2pm ET.
🧀 Go deeper: Rodgers' greatest moments as a Packer (USA Today)
3. 🏀 Shot of the night: Ice Trae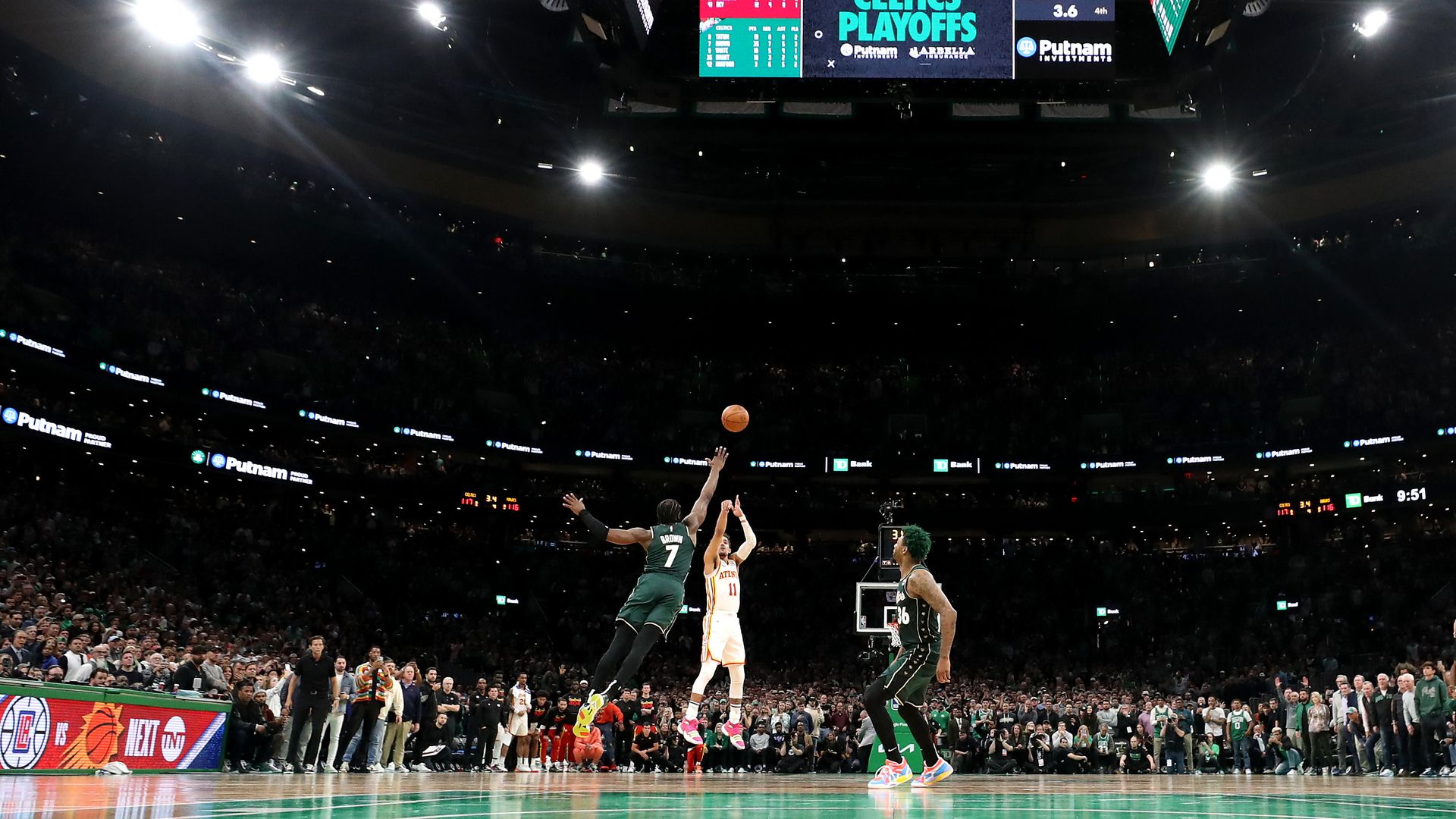 Trae Young drained a deep three with 2.8 seconds left to lift the Hawks past the Celtics, 119-117, and force a Game 6 back home in Atlanta.
More playoffs…
4. ⚡️ Lightning round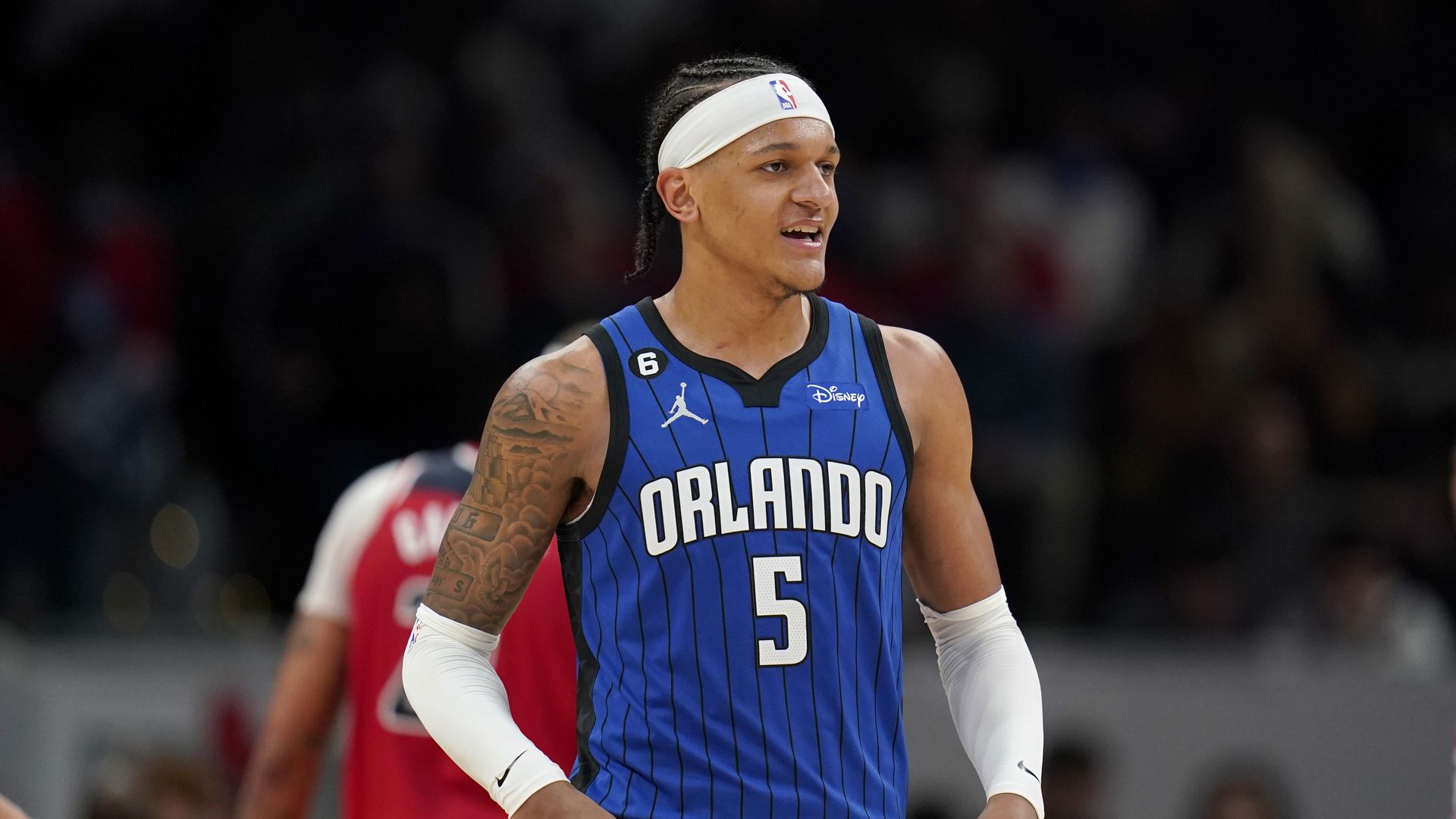 🏀 Rookie of the Year: Paolo Banchero was the near-unanimous choice for ROY (98 of 100 first-place votes). He's the third Magic player to win the award, joining Shaquille O'Neal (1993) and Mike Miller (2001).
🏀 Embiid update: The knee injury that sidelined Joel Embiid in Philly's Game 4 victory was a sprained LCL. He'll be reevaluated later this week and could be ready for the start of round two.
🏒 Makar suspended: Avalanche defensive superstar Cale Makar was suspended one game for his late hit on Monday against Kraken forward Jared McCann. He'll miss tonight's Game 5.
⚽️ Dream night: Girona's Valentín "Taty" Castellanos — on loan from NYC FC — became the first player since 1947 to score four goals against Real Madrid in a LaLiga match.
5. ⚾️ Pirates join $100M club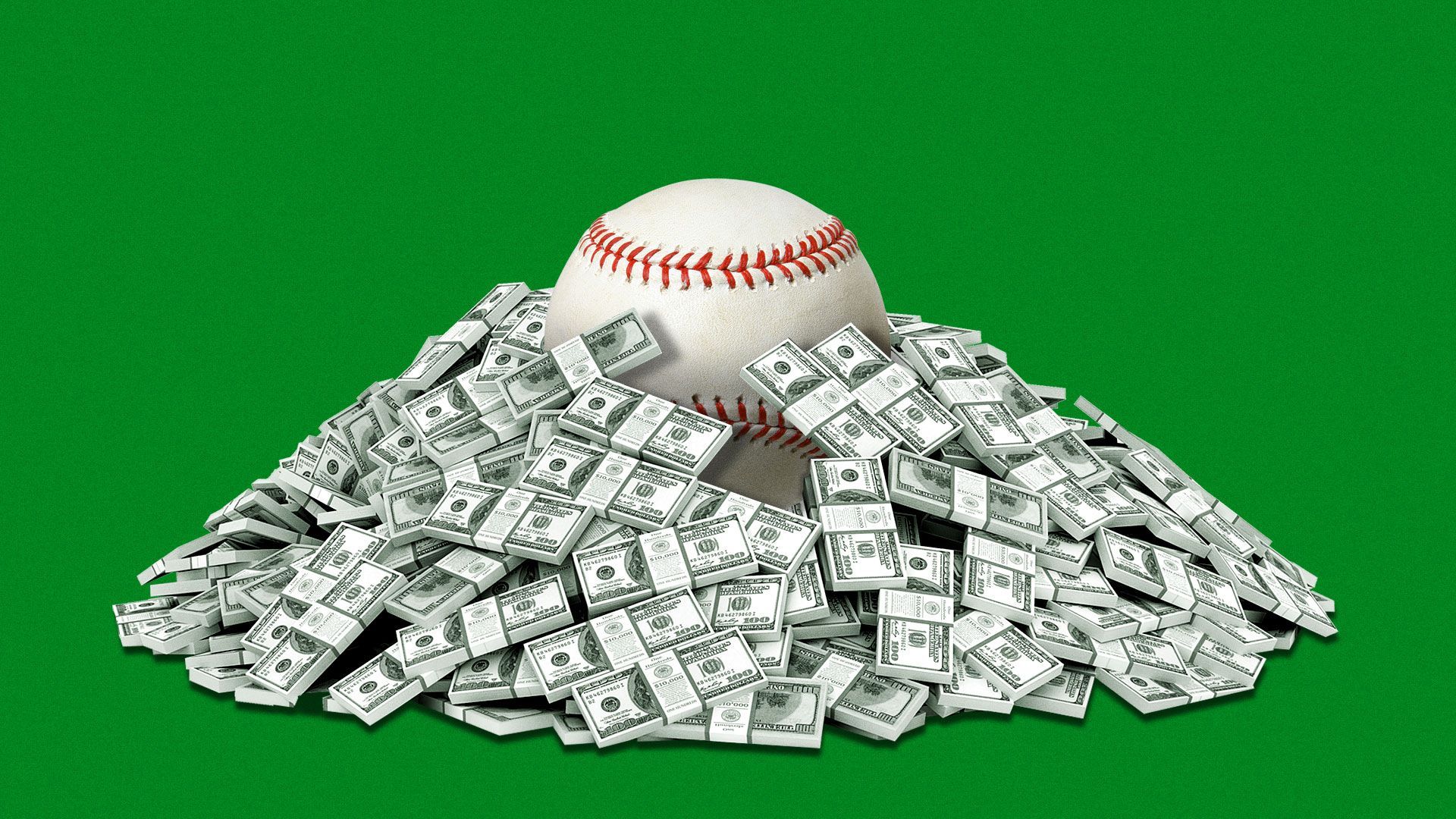 The Pirates signed Bryan Reynolds to an eight-year, $106.75 million extension on Tuesday, locking up their star outfielder through 2030 with a team option for 2031, Jeff writes.
Why it matters: It's the largest deal in team history, and it leaves the Royals, White Sox and Athletics as the only franchises who've never given out a $100 million contract.
Here's every team's largest all-time contract by total value. Some were extensions, others were free agent deals (*).
AL East
Yankees: Aaron Judge, OF (9 years/$360M, signed entering 2023 season)*
Red Sox: Rafael Devers, 3B (11/$331M, 2023)
Rays: Wander Franco, SS (11/$182M, 2022)
Orioles: Chris Davis, 1B (7/$161M, 2016)*
Blue Jays: George Springer, OF (6/$150M, 2021)*
AL Central
Tigers: Miguel Cabrera, 1B (8/$248M, 2014)
Twins: Carlos Correa, SS (6/$200M, 2023)*
Guardians: José Ramírez, 3B (5/$124M, 2022)
Royals: Salvador Perez, C (4/$82M, 2021)
White Sox: Andrew Benintendi, OF (5/$75M, 2022)*
AL West
Angels: Mike Trout, OF (10/$360M, 2019)
Rangers: Corey Seager, SS (10/$325M, 2022)*
Mariners: Robinson Canó, 2B (10/$240M, 2014)*
Astros: Jose Altuve, 2B (5/$151M, 2018)
Athletics: Eric Chavez, 3B (6/$66M, 2004)
NL East
Mets: Francisco Lindor, SS (10/$341M, 2021)
Phillies: Bryce Harper, OF (13/$330M, 2019)*
Marlins: Giancarlo Stanton, OF (13/$325M, 2015)
Nationals: Stephen Strasburg, RHP (7/$245M, 2020)*
Braves: Austin Riley, 3B (10/$212M, 2022)
NL Central
Reds: Joey Votto, 1B (10/$225M, 2012)
Brewers: Christian Yelich, OF (7/$188.5M, 2020)
Cubs: Jason Heyward, OF (8/$184M, 2016)*
Cardinals: Paul Goldschmidt, 1B (5/$130M, 2019)
Pirates: Reynolds, OF (8/$106.75M, 2023)
NL West
Dodgers: Mookie Betts, OF (12/$365M, 2020)
Padres: Manny Machado, 3B (11/$350M, 2023)
Rockies: Nolan Arenado, 3B (7/$234M, 2019)
Diamondbacks: Zack Greinke, RHP (6/$206.5M, 2016)*
Giants: Buster Posey, C (8/$167M, 2013)
Editor's note: This item was corrected to show that the largest contract in Braves history was Austin Riley's 10-year, $212M contract signed in 2022, not Freddie Freeman's 8-year, $135M contract signed in 2014.
6. ⚽️ In photos: 80 is the new 50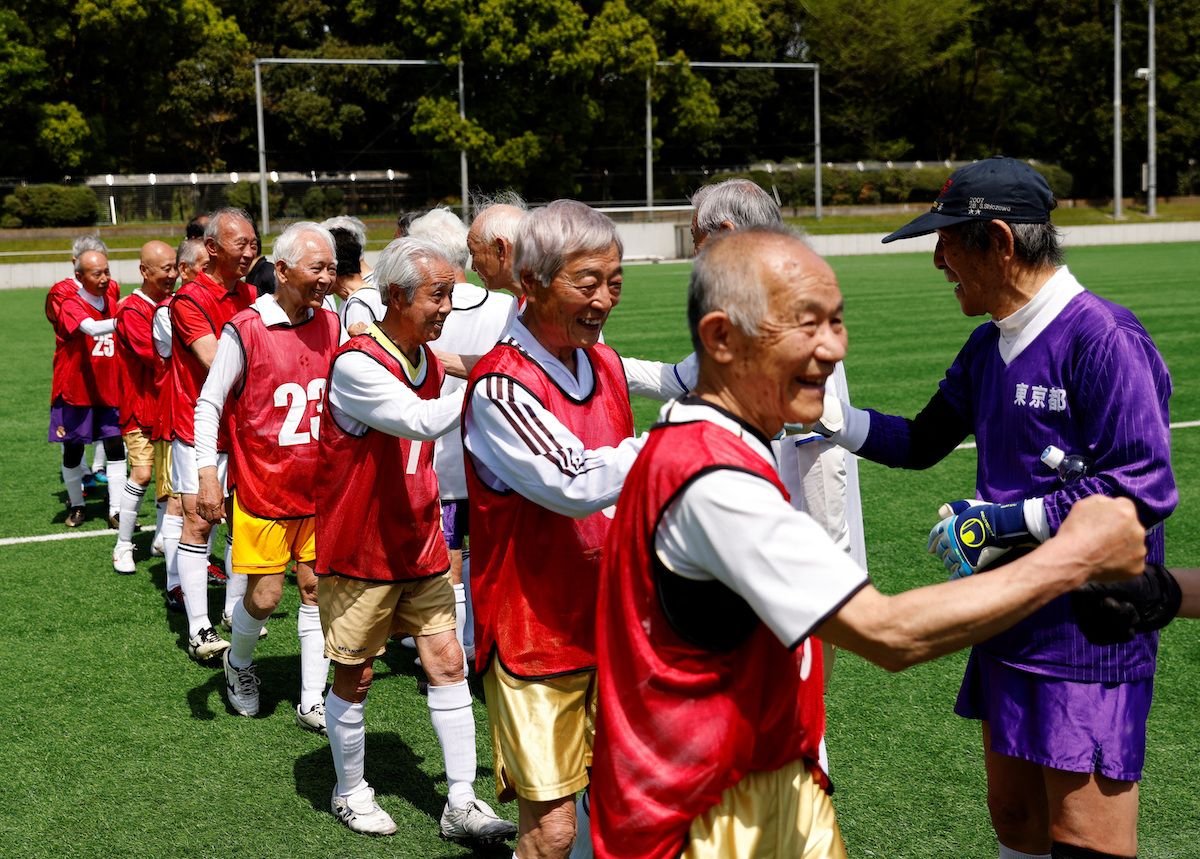 Japan has one of the oldest populations on Earth, with an average life expectancy of 85. Naturally, it needed a soccer league for those spry octogenarians, Jeff writes.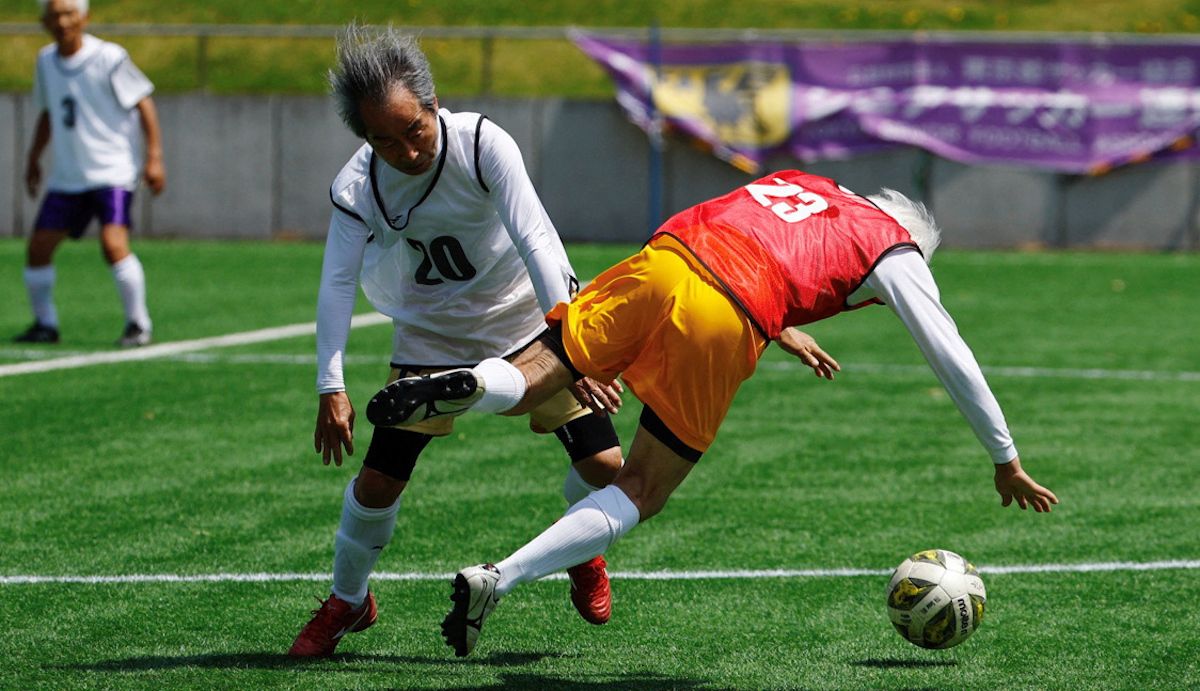 In 2012, Tokyo's "Soccer For Life" league created an over-70 division. A decade later, they've added an over-80 category to keep pace with a generation that refuses to quit.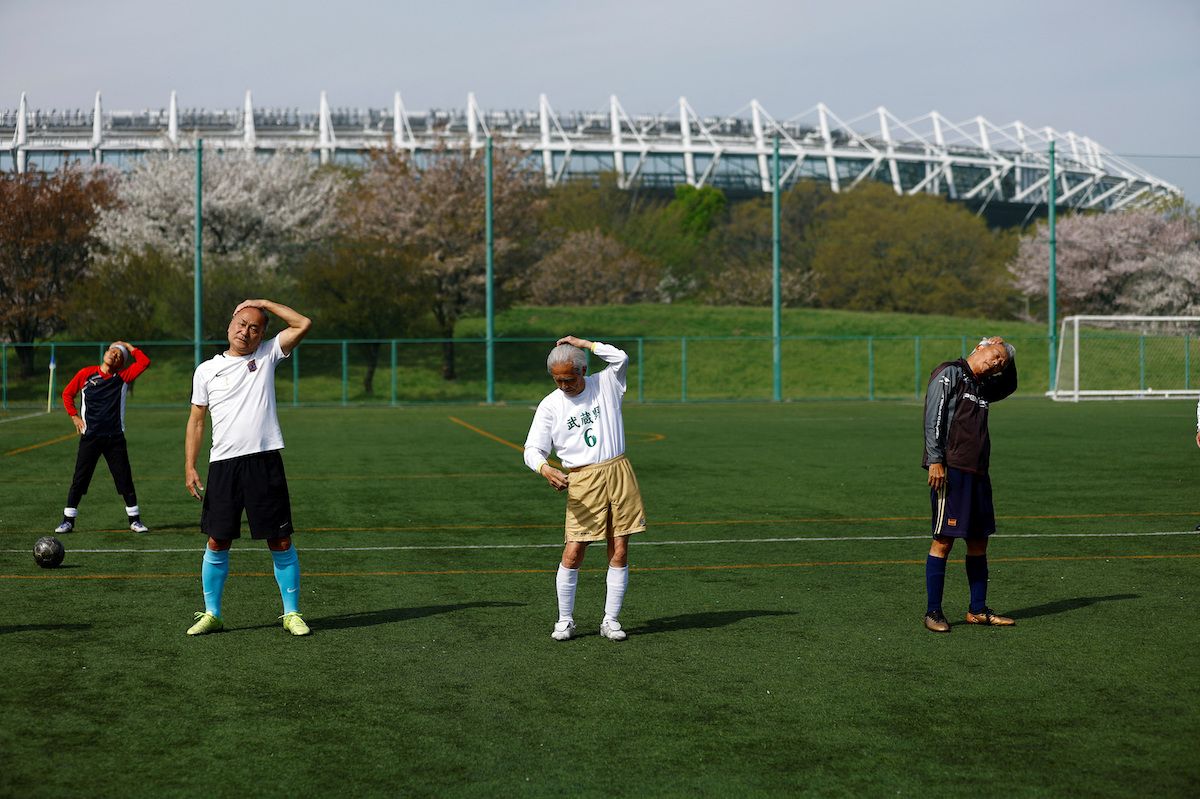 Games are 30 minutes long (15-minute halves), and players include former pros like Mutsuhiko Nomura, 83 (middle above), who was named Japanese Footballer of the Year in 1972.
"When I was a kid, men in their 50s and 60s were considered 'grandpas.' And now, we're all still at it in our 80s. It's shocking."
— Nomura
Go deeper: For Japan's aging soccer players, 80 is the new 50 (Reuters)
7. 📆 On this day: Vikings miss pick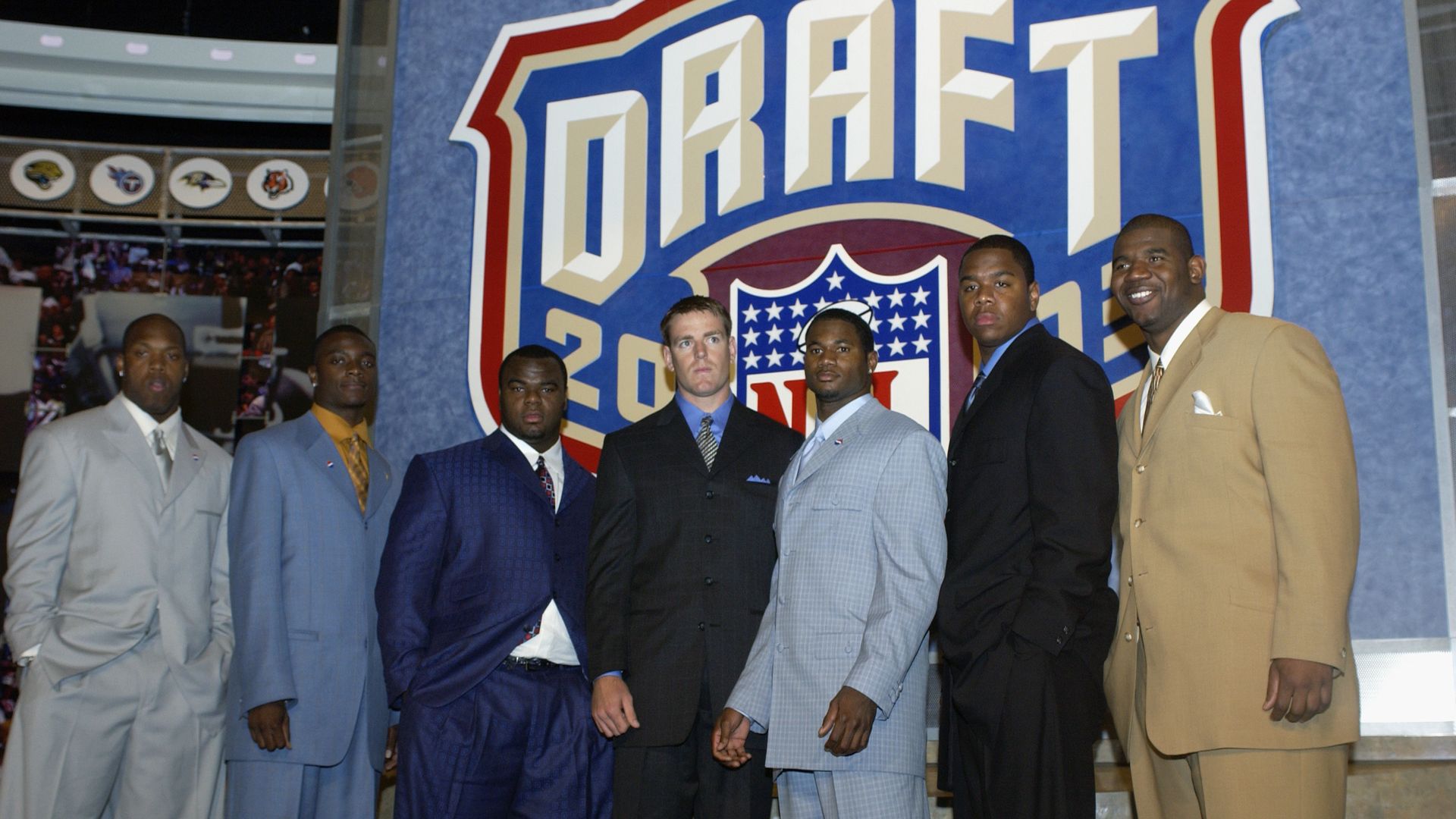 20 years ago today, the Vikings embarrassed themselves on national TV when they missed their first-round pick during the 2003 NFL draft, Jeff writes.
Flashback: With 32 seconds left on the 15-minute clock, Minnesota traded its No. 7 pick for Baltimore's 10th — plus the Ravens' fourth- and sixth-rounders — and called the deal into the league. But for some reason, the trade never went through, leaving the Vikings scrambling.
In the frenzied aftermath, the Jaguars and Panthers leapt at the chance to jump the line and make their own picks while the Vikings regrouped.
Minnesota finally made its selection at No. 9, grabbing the guy they wanted all along: future five-time All-Pro defensive tackle Kevin Williams.
Context: In order for draft-day trades to be consummated, both teams had to successfully call in the deal. But according to then-Ravens GM Ozzie Newsome, Baltimore's call went unanswered.
The big picture: Ultimately, everyone came out alright, as both Williams and Baltimore's pick — linebacker Terrell Suggs — went on to have stellar careers.
Such a gaffe is unlikely to happen when the 2023 draft begins tomorrow: All deals are "called in" electronically now.
Fun fact: Only one other team has missed their pick since the Vikings — the Ravens in 2011.
Go deeper: What really happened with the Vikings' missed pick (ESPN)
8. 📺 Watchlist: 3-1 holes
A trio of higher-seeded teams could see their seasons end tonight at home.
More to watch:
9. 🏀 NBA trivia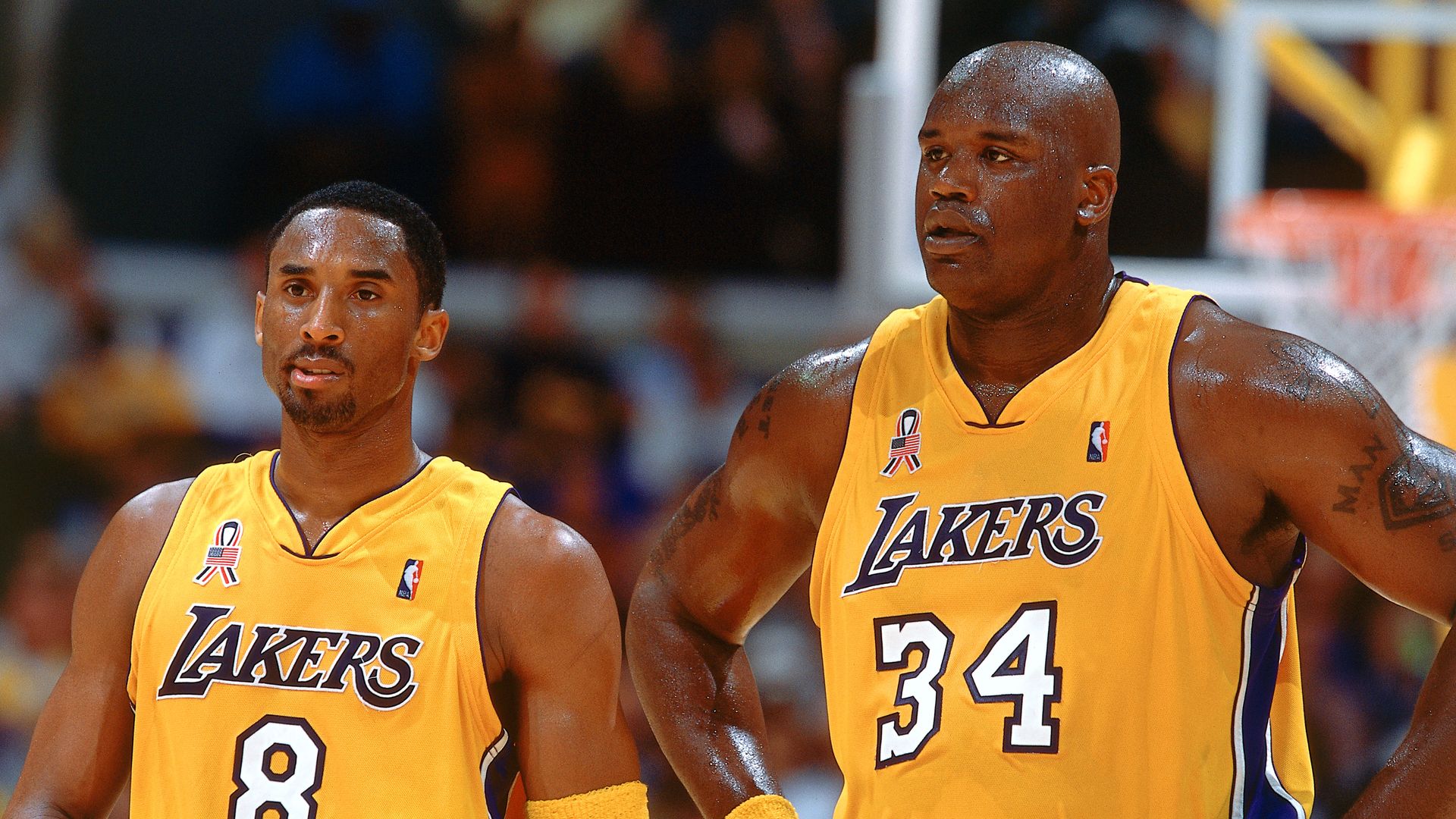 Kings-Warriors Game 4 was the NBA's most-watched first-round playoff game since Shaq and Kobe's Lakers faced the Trail Blazers in 2002 en route to the title.
Question: Who were Portland's top two scorers that season?
Hint: Both of their last names start with a "W."
Answer at the bottom.
10. ⚾️ 1 ump thing: Little League strikes back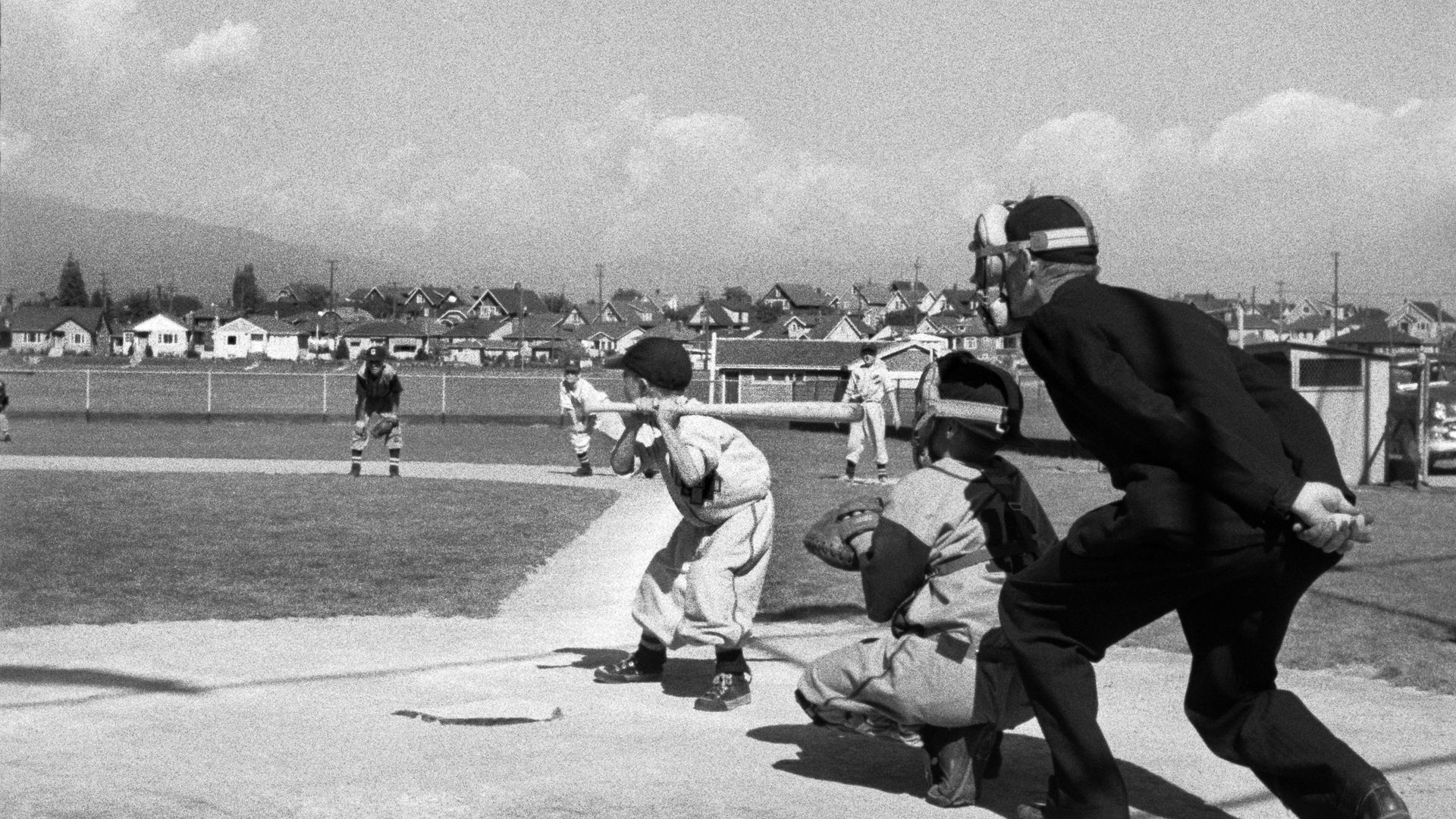 A Little League in southern New Jersey is implementing a new rule to deal with unruly parents.
The rule: Any spectator who confronts an ump during a game must umpire three games themselves before they're allowed back as a spectator.
Two volunteer umps in the Deptford Township Little League quit last week after arguing calls with parents.
"They're coming here, they're being abused, they don't need that," said league president Don Bozzuffi. "So they're walking away."
Talk tomorrow,
Kendall "Golfing brb" Baker
Trivia answer: Rasheed Wallace (19.3 ppg) and Bonzi Wells (17 ppg)
🙏 Thanks for reading! Follow us for more (@kendallbaker and @jeffreytracy). Friends can sign up here. Thanks to Matt Piper for copy edits.