September 22, 2022
1 big thing: ♟ The Carlsen-Niemann affair
Chess has enjoyed a "Queen's Gambit"-fueled boom since 2020, but recent real-world events are stranger and more entertaining than anything Netflix could cook up, Axios' Jeff Tracy and I write.
Catch up quick: On Sept. 4, 19-year-old American Hans Niemann earned a stunning victory over five-time world champion Magnus Carlsen at the Sinquefield Cup in St. Louis, ending Carlsen's 53-match unbeaten streak.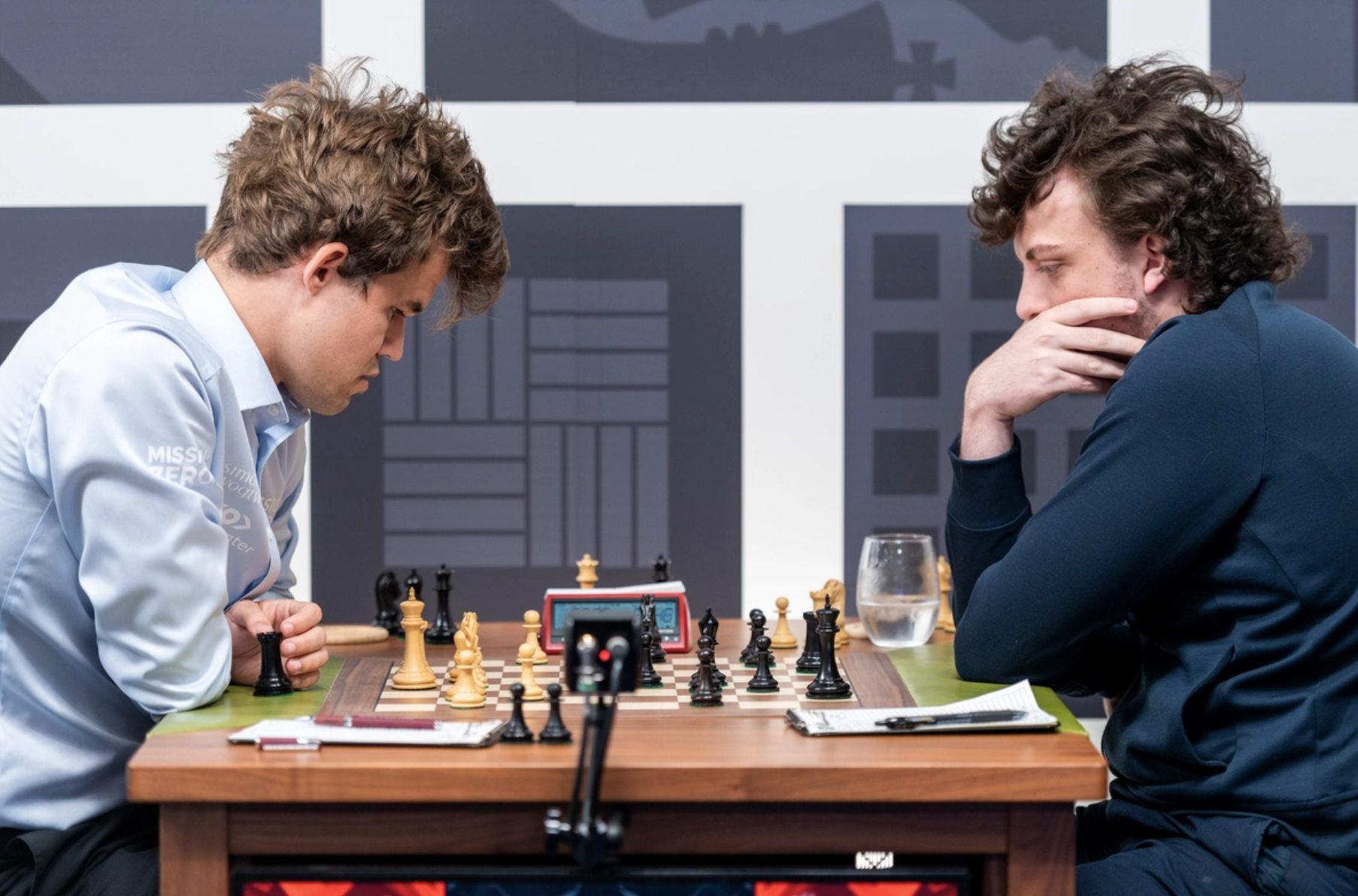 Between the lines: Over the past two decades, technology has made cheating in chess rather simple. All one needs is widely available AI software ("chess engines") that follows a match in real-time, determines the best moves, and routinely beats the world's best players.
During in-person tournaments, the challenge is relaying those moves to the player. That requires an accomplice to run the engine and send signals when there's a particularly impactful move to make.
One popular theory is that Niemann received signals through vibrations in his shoes. Another, far grosser explanation is that he used vibrating anal beads.
Yes, but: Not everybody thinks Niemann cheated. In fact, the leading expert on chess cheating detection analyzed all of his games over the last two years, including online games, and concluded that he's clean.
The big picture: We may never know if Niemann cheated in St. Louis. But the fact that he could have done so without being detected raises significant questions about the future of chess.
Like post-steroid era baseball, chess could soon face a reality where any run of success is met with skepticism and cheating accusations.
Tournaments may need to have more thorough screenings or alter how matches are broadcast (think: longer tape delays) to put competitors and fans at ease.
Russian grandmaster Ian Nepomniachtchi suggested "playing naked in a locked room" is the only way to eliminate cheating completely.
He was joking, but "the mere idea suggested how extraordinary the rules might have to become to eliminate even a whiff of funny business," writes WSJ's Joshua Robinson (subscription).
What's next: Carlsen and Niemann could meet again this weekend in the finals of the Generation Cup if they win their quarterfinal matches today and semifinal matches tomorrow — and assuming Carlsen shows up.
2. 💵 Exclusive: In-stadium betting numbers
Over the first two weeks of the NFL season, nine states with legal sports betting markets — Arizona, Colorado, Illinois, Louisiana, Michigan, New Jersey, New York, Pennsylvania and Tennessee — hosted games.
By the numbers: Between 5–10% of fans attending those games engaged with licensed sportsbooks at the stadium, per exclusive data provided to Axios by GeoComply, a geolocation compliance and cybersecurity firm.
Ravens at Jets in Week 1 saw 8,800 unique users access sports betting apps at MetLife Stadium, representing roughly 11% of the 78,800 fans in attendance.
Vikings at Eagles in Week 2 saw 8,000 unique users (11% of attendees) within the immediate vicinity of Lincoln Financial Field, and they made 76,400 geolocation checks, evidence of frequent engagement.
Looking ahead: Over 66,000 geolocation checks were made from over 7,300 accounts at State Farm Stadium during the Cardinals' Week 1 home opener against the Chiefs.
The stadium, which features an on-site BetMGM Sportsbook, will host Super Bowl LVII in February.
That will make Arizona the first regulated sports betting state to host the Super Bowl since PASPA was overturned in 2018.
🏟 Go deeper: Stadium-by-stadium data (GeoComply)
3. ⚾️ Mets set record for plunks
The Mets set a modern MLB record with 106 hit batters this season when Mark Canha was plunked twice and Luis Guillorme once in Wednesday's 6-0 loss to the Brewers.
By the numbers: Canha has been hit an MLB-high 24 times and is one of six Mets in the top 25, joined by Brandon Nimmo (16), Starling Marte (13), Pete Alonso (12), Jeff McNeil (11) and Francisco Lindor (10).
What they're saying: "I'm closer to the plate and I don't move," said Canha when asked why he's such a hit-by-pitch magnet. He also led MLB last year, getting hit 27 times.
Between the lines: The near-constant plunking has impacted the Mets all season, ranging from a benches-clearing brawl in April to a handful of injuries, including a fractured finger that currently has Marte on the IL.
The big picture: The three highest HBP totals in the modern era have occurred in the last two years, with the Reds (105) and Dodgers (104) having Mets-like seasons last year.
Theories as to why numbers are up include more inside pitches, increased velocity of breaking balls, and the ban on "sticky stuff."
The 1898 Baltimore Orioles hold the all-time HBP record, with 160 in 154 games. Their shortstop, Hughie Jennings, got beaned 46 times that year and holds the MLB record with 287.
4. ⚡️ Lightning round
⚽️ Lasso in FIFA: AFC Richmond, the fictional club from "Ted Lasso," will be a playable team in "FIFA 23," and Ted will be available to use in career mode. You love to see it.
🏀 Udoka broke team rules: Celtics coach Ime Udoka is facing disciplinary action (likely a suspension) for his role in a consensual, intimate relationship with a female member of the team staff.
🏈 Proposed new calendar: A potential new college football schedule, crafted by the 10 FBS conferences, would move up the start of the regular season and create new transfer and recruiting periods.
5. ⚾️ Joey isn't throwing away his shot
Baseball is a funny sport, in that over a small enough sample — though not so small it's negligible — a career minor leaguer can outperform a future Hall of Famer, Jeff writes.
Driving the news: Joey Meneses, called up by the Nationals after they traded Juan Soto, hit another homer on Wednesday. It was his 10th in 43 games, continuing the torrid start to his long-awaited MLB career.
Meneses is batting .328/.364/.563 with 10 HR, 9 doubles and 25 RBI since his major league debut on Aug. 2.
In 40 games as a Padre, Soto is batting .234/.397/.372 with 4 HR, 5 doubles and 13 RBI.
What they're saying: "This is the dream I've always had," he told the Nats Insider podcast this week. "I'm just trying to enjoy it and take advantage of the opportunity."
The backdrop: The first baseman from Culiacán, Mexico, has played all over the world in his 12-year career, amassing nearly 5,500 plate appearances in Japan, Mexico, the Dominican Republic and the minors.
His numbers with the Nats' Triple-A affiliate this year were strong but still not enough to earn a shot without some help. Then incumbent 1B Josh Bell left alongside Soto.
After being stuck behind the likes of Freddie Freeman in Atlanta and Rhys Hoskins in Philadelphia, he finally got his shot — and he's making the most of it.
6. 🏈 Chart du jour: Kicker accuracy
Despite some notable doinks and high-profile misses during Weeks 1 and 2, NFL kickers — unsurprisingly — remain far better than their college counterparts, Jeff writes.
By the numbers: NFL kickers have made 86.4% of their field goals so far this season, while college kickers have connected on just 73.1%, per FiveThirtyEight.
7. 🌎 The world in photos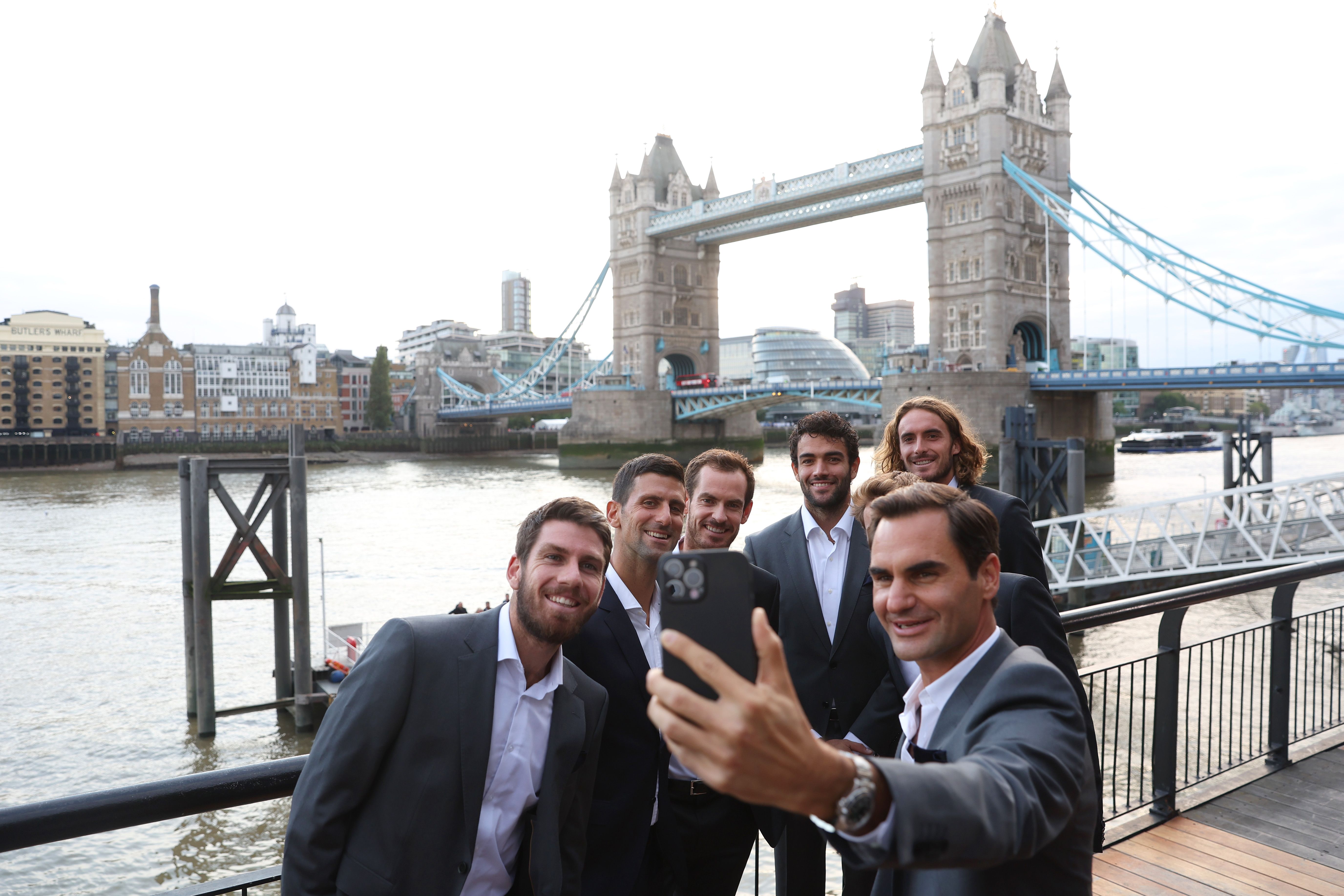 LONDON — Roger Federer took selfies with fellow members of Team Europe ahead of his final professional match tomorrow at the Laver Cup. He'll play doubles with Rafael Nadal.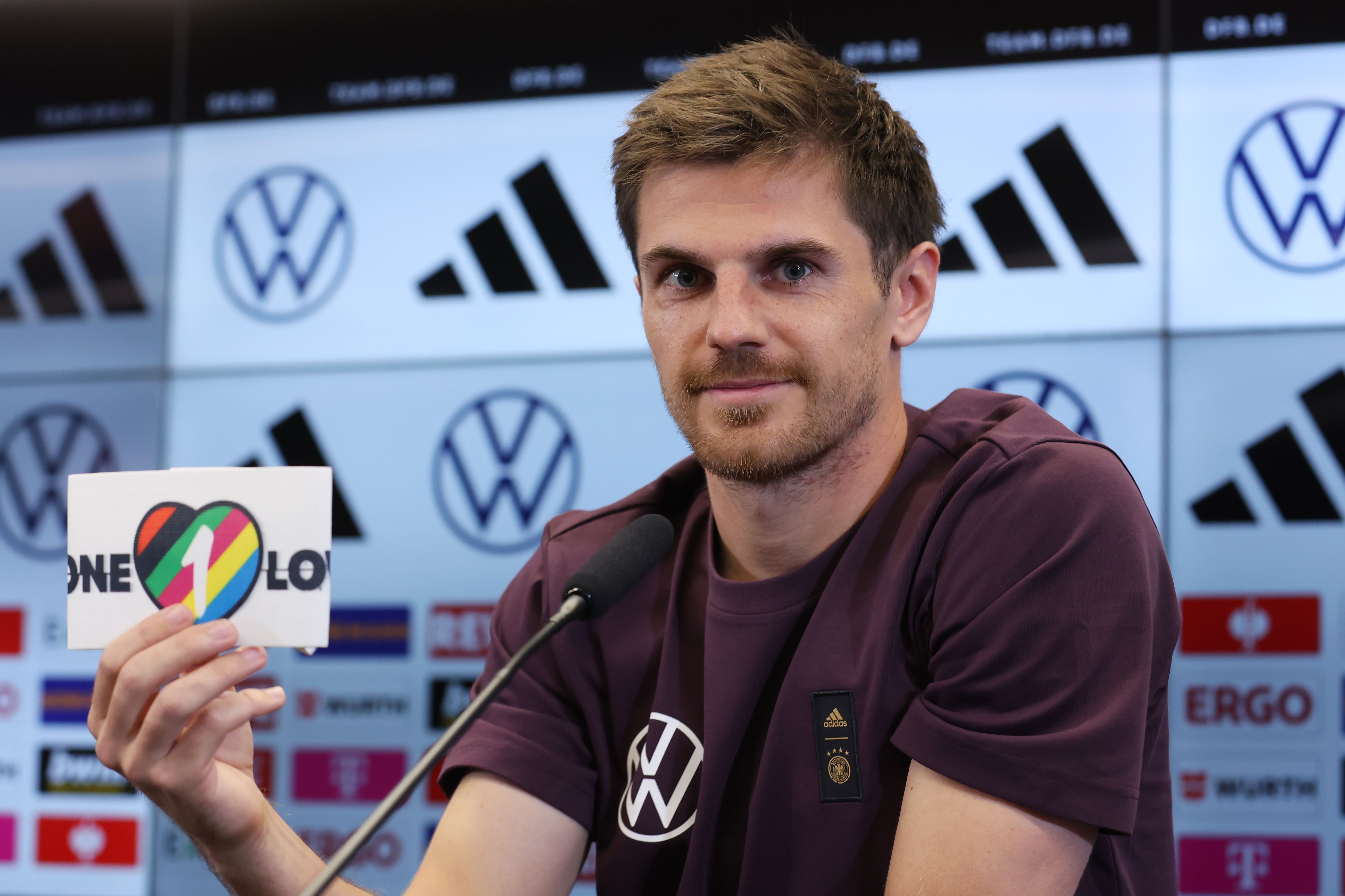 FRANKFURT, Germany — Eight European teams intend to have their captains wear armbands with a rainbow heart design at the 2022 World Cup in Qatar to campaign against discrimination.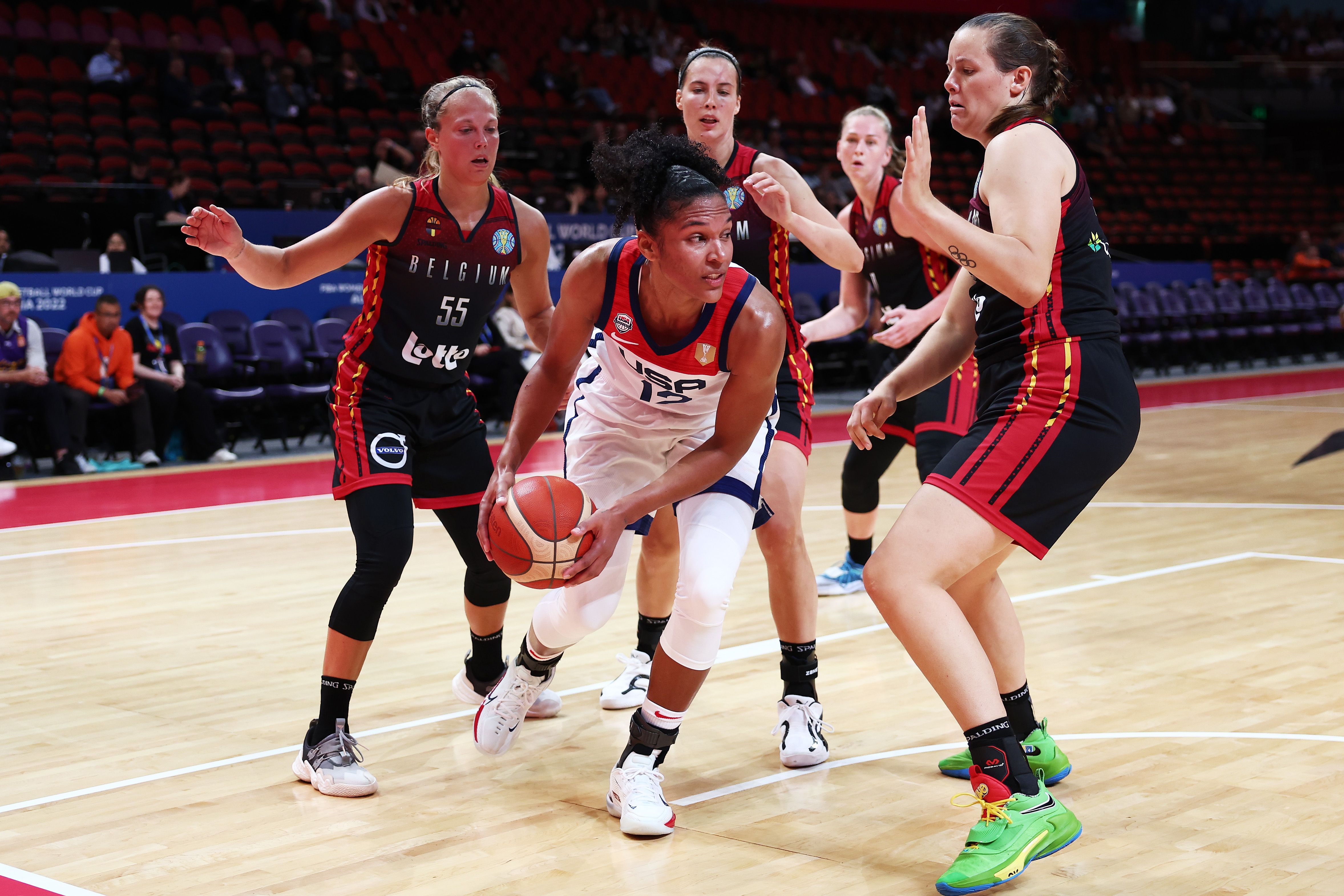 SYDNEY, Australia — Alyssa Thomas (14-7-9), Breanna Stewart (22 points) and Team USA cruised past Belgium, 87-72, in their opening game at the FIBA Women's World Cup.
8. 📺 Watchlist: America vs. the world
The 14th Presidents Cup begins today at Quail Hollow Club in Charlotte (1pm ET, Golf), as the Americans seek their ninth straight win in the match-play event.
Team USA: Scottie Scheffler (world No. 1), Patrick Cantlay (4), Xander Schauffele (5), Justin Thomas (7), Collin Morikawa (9), Sam Burns (12), Jordan Spieth (13), Tony Finau (14), Billy Horschel (15), Max Homa (16), Cameron Young (18), Kevin Kisner (25). Captained by Davis Love III.
Team International: Hideki Matsuyama (17), Sungjae Im (19), Joohyung Kim (22), Corey Conners (26), Adam Scott (30), K.H. Lee (43), Mito Pereira (49), Sebastián Muñoz (63), Cameron Davis (66), Christiaan Bezuidenhout (67), Si Woo Kim (76), Taylor Pendrith (109). Captained by Trevor Immelman.
More to watch:
9. 🏈 NFL trivia
The Browns, who get the national TV treatment tonight, are one of four NFL franchises without a Super Bowl appearance.
Question: Who are the other three?
Hint: Two are in the same division.
Answer at the bottom.
10. ❤️ Why we love sports
This video will give you chills.
Talk tomorrow,
Kendall "Cheats at checkers" Baker
Trivia answer: Lions, Jaguars, Texans
🙏 Have a great day! Follow us for more (@kendallbaker and @jeffreytracy). Friends can sign up here. Thanks to Bryan McBournie for copy edits.