April 15, 2020
👋 Good morning! Anthony Fauci believes American sports can return sooner than some are expecting, but only if teams are quarantined and stadiums are empty.
Fauci: "People say, 'Well you can't play without spectators.' Well, I think you'd probably get enough buy-in from people who are dying to see a baseball game. Particularly me. I'm living in Washington. We have the world champion Washington Nationals. You know, I want to see them play again."
Today's word count: 2,091 (8 minutes).
1 big thing: 🎓 Sports get cut as schools seek relief
With athletic departments reeling from the coronavirus fallout and bracing for a shortened — or even canceled — college football season, schools are taking drastic measures to protect themselves financially.
Driving the news: The University of Cincinnati cut men's soccer yesterday, which will save the school roughly $800,000 per year. The Bearcats have been competing in men's soccer since 1973.
Why it matters: It's the second major program to be discontinued since the start of the pandemic (Old Dominion wrestling), and the sad reality is that the cuts may have only just begun.
What they're saying: "I think now that Cincinnati just did it, watch the next month. They cleared the way for other people to do it. Cincinnati puts it on a different level," one FBS athletic director told Yahoo Sports' Pete Thamel.
"Athletic directors are using this as a reset," an industry source told Thamel. "Some athletic directors have been talking about cutting sports for three years and just looking for the right time."
The big picture: In a letter sent to NCAA president Mark Emmert and obtained by AP, commissioners of the AAC, Mountain West, MAC, Sun Belt and Conference USA (aka the "Group of Five") asked the NCAA to relax certain requirements for four years to provide "short-term relief."
Most notably, they asked for relief from the minimum number of sports a school must sponsor (NCAA rules require D-I schools to sponsor at least 16 varsity sports).
Bonus: 💵 Most college sports lose money
80% of FBS athletic budgets are made up of football revenue, so if the upcoming season is canceled — or negatively impacted in any way — it would be disastrous.
By the numbers: To use LSU as an example, during the 2016-17 school year, the football program generated $56 million in profit, while all other sports accounted for $23 million in losses, according to a public records request.
Worth noting: LSU is one of the few schools that generates a profit in baseball.
2. 🏀 Sophomore Emoni Bates wins HS POY award
16-year-old Emoni Bates, arguably the best high school prospect since LeBron James, won the Gatorade National Boys Basketball Player of the Year award yesterday.
Why it matters: He's the first sophomore to ever win the award.
Past winners include: James Wiseman (2019); Jayson Tatum (2016); Ben Simmons (2015); Bradley Beal (2011); Brandon Knight (2009, 2010); Greg Oden (2005, 2006); James (2002, 2003); Kobe Bryant (1996); Stephon Marbury (1995); Chris Webber (1991); Alonzo Mourning (1988)
Details:
Age: 16 years, 78 days
Height: 6-feet-9-inches
High school: Lincoln (Ypsilanti, Michigan)
By the numbers: 31.6 pts, 9 reb, 2.6 ast
Player comparisons: Kevin Durant, Penny Hardaway, Tracy McGrady
What they're saying: With his length and all-around game, Bates could become "point center of a sort the league has never quite seen before," writes The Athletic's Jared Weiss (subscription).
What to watch: Bates plans to be the first high schooler in nearly two decades to make the leap to the NBA if the one-and-done rule is rescinded prior to the 2022 draft, as expected.
Go deeper:
3. 🏟 The evolution of major league ballparks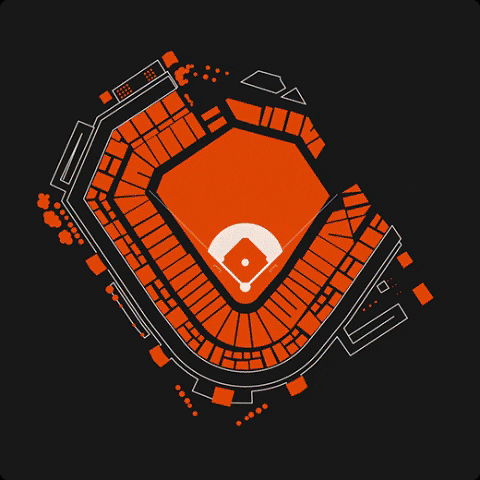 We all know that no two ballparks are alike, but do we know why? Time for a quick history lesson, courtesy of Axios' Jeff Tracy.
The early days: It was 1862 and Brooklyn businessman Bill Cammeyer's Union Grounds skating rink wasn't making money, so as winter turned to spring, he turned it into baseball field.
The most important addition, though, was the fence he erected to ensure all attendees were paying customers.
From here, baseball's popularity boomed across the country, with makeshift, wooden stadiums popping up to emulate Cammeyer's now-proven business model.
But in 1894, when Boston's South End Grounds burned down in the middle of a game, it was clear a change must be made.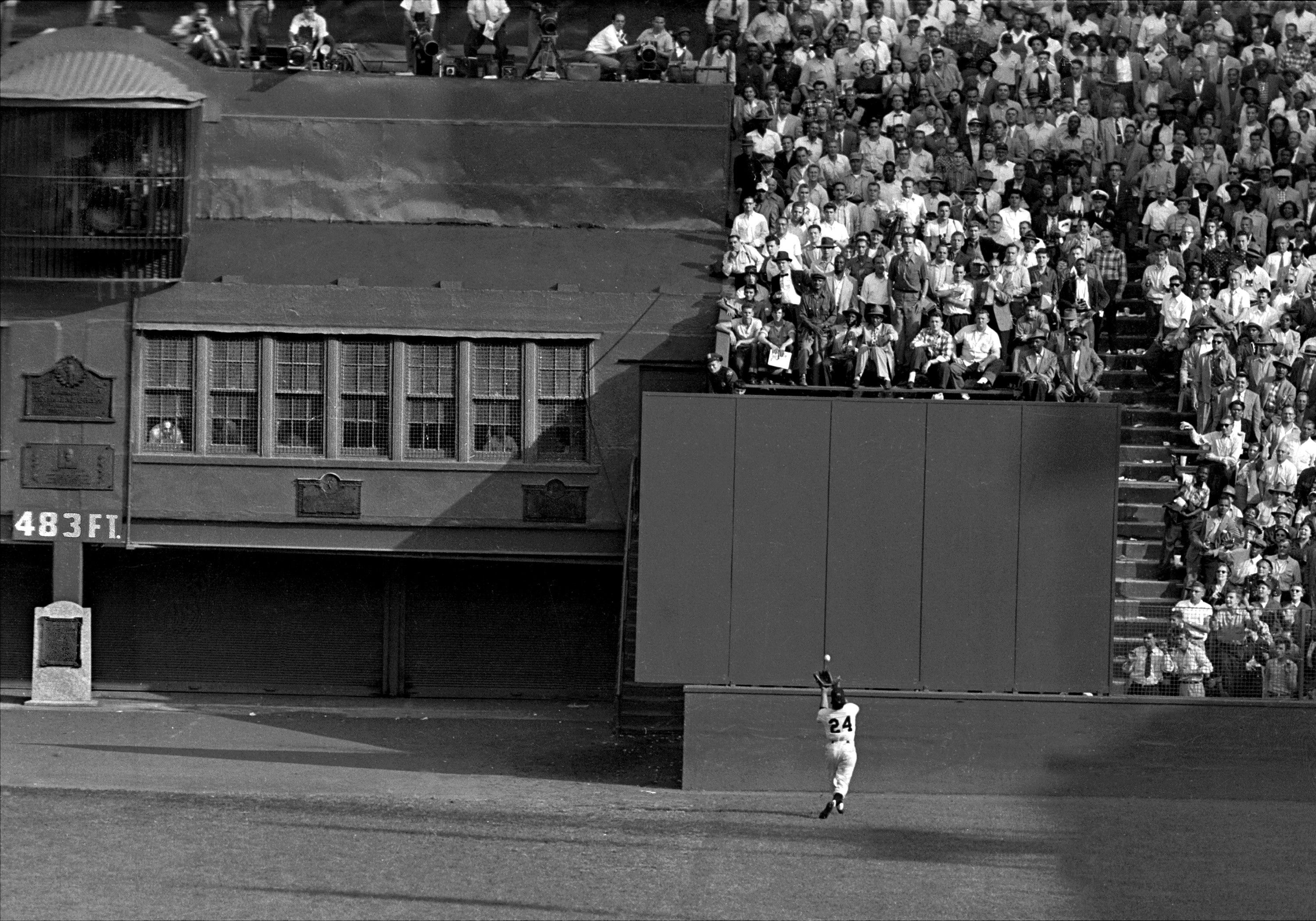 The Jewel Box era: From 1895 to 1923, 15 new ballparks sprung up in the U.S., all with the goal of being more permanent fixtures than the wooden stadiums of the past.
Why "Jewel Box?" Teams needed to find whatever space they could, nestled among city blocks, to build these new parks. These unique and charming structures were likened to pieces in a jigsaw puzzle, or jewel boxes.
Fenway Park's strange dimensions are thanks to the acute angle of the streets the ballpark is squeezed between, while Manhattan's Polo Grounds was rectangular in shape with a center field fence nearly 500 feet from home.
Fun fact: Willie Mays' famous catch in the 1954 World Series at the Polo Grounds (see above) never would have happened today. The ball flew 450 feet, which would be a HR in all 30 modern parks.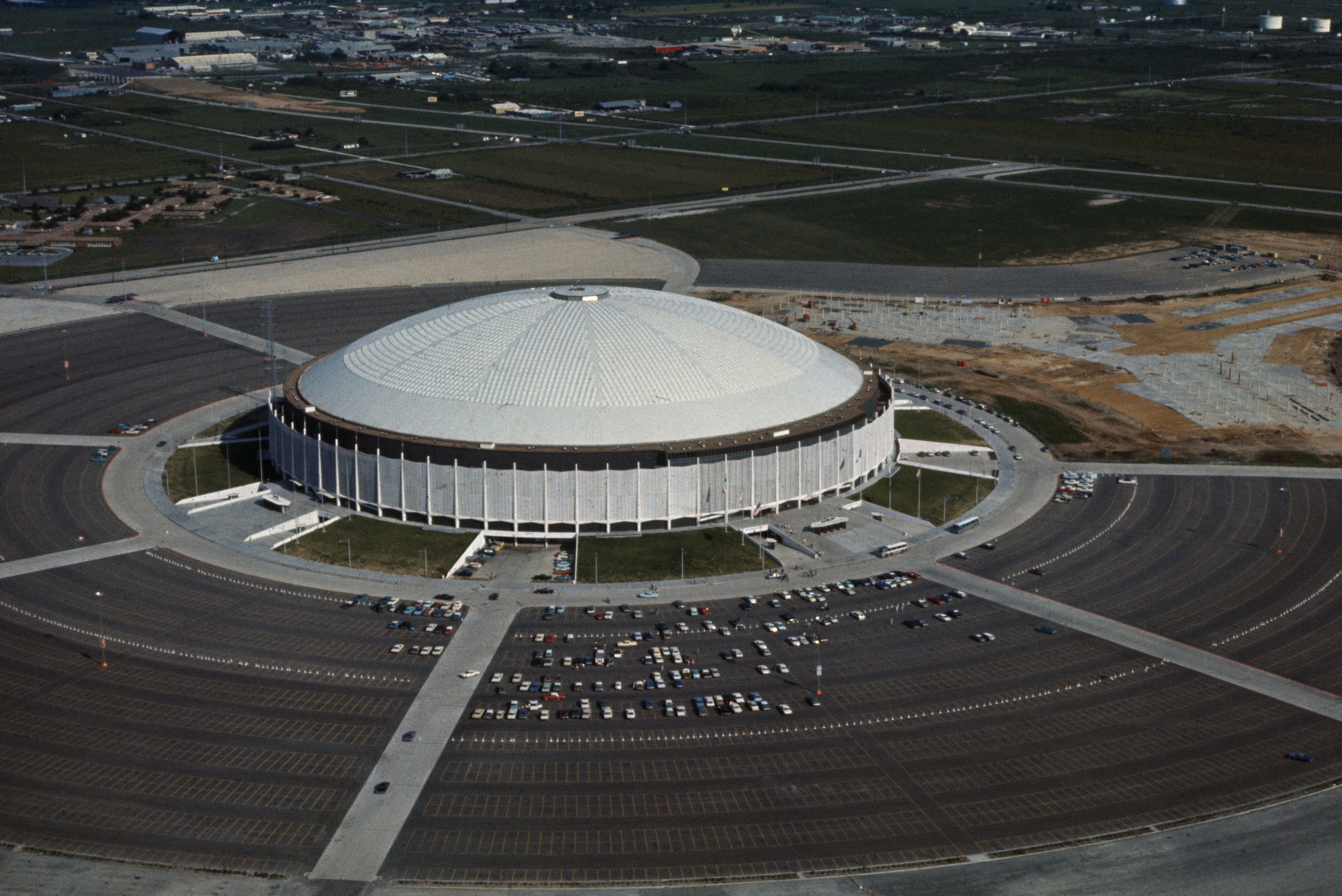 The multi-use era: In the 1950s, Americans began moving to the suburbs, and their stadiums — intended for both baseball and football — would soon join them there.
Space was suddenly plentiful, so these "Concrete Doughnuts" began replacing the jewel box parks of the past. They were far from perfect, though.
What they're saying: "Because they were designed to be suited for two sports, they were suited for neither," remarked baseball historian John Thorn.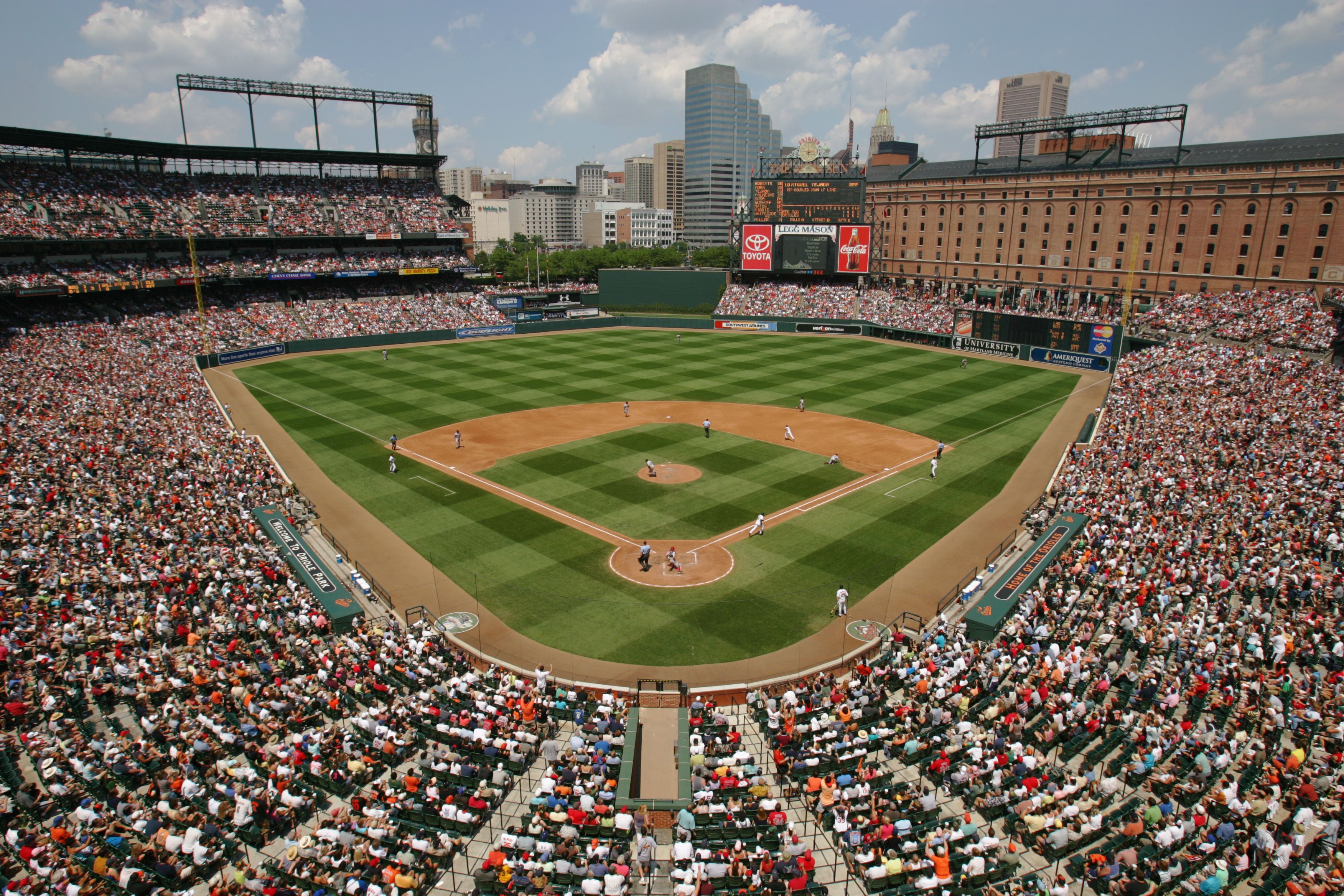 The modern era: Baltimore's Orioles Park at Camden Yards saved the day, all thanks to the Colts moving to Indianapolis.
Memorial Stadium, long-time home of the Orioles and Colts, had fallen into disrepair by the mid-80s.
But by the time the city secured funding for a new park, the Colts had moved to Indianapolis. Suddenly, architects could focus on a modern, baseball-only stadium.
Camden Yards' design is the product of using jewel box sensibilities not out of necessity, but homage. Since it opened in 1992, 20 new parks have been built using the same philosophy.
Again, John Thorn had the perfect words to describe the revelatory nature of Baltimore's new park: "Camden Yards was a breath of fresh air by being a breath of stale air. It was old, it was new — it was perfect."
🎥 Go deeper: Kudos to MLB for the video that served as our inspiration.
4. ⚡️ Catch up quick
🌎 Coronavirus map: COVID-19 has infected more than 1.98 million people and killed over 126,700 worldwide, per Johns Hopkins. The U.S. has reported the most cases (more than 609,000 from 3.1 million tests).
🇺🇸 Trump's sports advisers: President Trump said yesterday that he will enlist more than 200 advisers to help reopen the economy. Among them are major pro sports commissioners, plus a few team owners (Mark Cuban, Robert Kraft, Jerry Jones). "We have to get our sports back," Trump said.
🇫🇷 Tour de France postponed: The world's most famous bike race had thus far avoiding being postponed, but organizers said yesterday that the start date will be pushed back two months, from June 27 to August 29.
⚽️ $380 million deal: Saudi Arabia's sovereign-wealth fund is close to completing a $380 million buyout of Premier League club, Newcastle United F.C., WSJ reports (subscription).
⚾️ MLB COVID-19 study: MLB players and team employees are "participating in a massive study that will test up to 10,000 people for coronavirus antibodies and should offer researchers a better sense of how widespread the disease is in major metropolitan areas across the United States," per ESPN's Jeff Passan.
5. 🏀 New book: The Victory Machine
Warriors reporter Ethan Strauss has a new book out called "The Victory Machine: The Making and Unmaking of the Warriors Dynasty," which chronicles their boom-then-bust years through the 2010s.
🎙 Interview: I spoke with Ethan yesterday about why he wrote the book, what readers should expect to find inside and how he thinks the Warriors' dynasty will be remembered.
KB: What person — or moment — played a bigger role in this dynasty than people might realize?
"The wise Ron Adams — defensive guru, assistant coach, someone who's been coaching since the Lyndon Johnson administration — had a huge hand in the Warriors' revolutionary defensive strategy.
"His decision to have Andrew Bogut 'guard' Tony Allen in that 2015 series against the Grizzlies might have changed the course of basketball. The Warriors perhaps flame out if not for that suggestion."
KB: What person — or moment — played a smaller role than people might think?
"Draymond fighting with KD was a much smaller deal than it's thought to be. I think Kevin was gone, and that's why Draymond went off on him. So the idea that their on-court fight is why Kevin left — I just don't think that's the case."
KB: Take us inside the book. Is this a story about X's and O's basketball, or a story about what happens behind the scenes?
"It's both, but certainly the behind-the-scenes stuff is where you can take people on a little bit of a different journey than what they're used to. My concern sometimes is that it's a little too dark for what they might want.
"The NBA is often sold as 'fun, fun, fun,' but the truth is that the players survive a Darwinian crucible to get to the very top, there's a ton of pressure, they all know how much money their teammates are making as they try to form this team. To me, the off-court elements almost make the success of the on-court product miraculous sometimes."
KB: How will the Warriors' dynasty be remembered?
"It should be remembered as the greatest team ever — the 2017 team, specifically. But it probably won't be remembered that way.
"Some of that speaks to the team, but it also speaks to the conditions of our modern society where we seem more inclined to criticize failure (mocking blowing a 3-1 lead) than celebrate success (coming back from 3-1 down). It seems like the current trends are anti-celebration, but we'll see, maybe there will be nostalgia in the future."
6. April 15, 2013: 🇺🇸 Boston Marathon bombing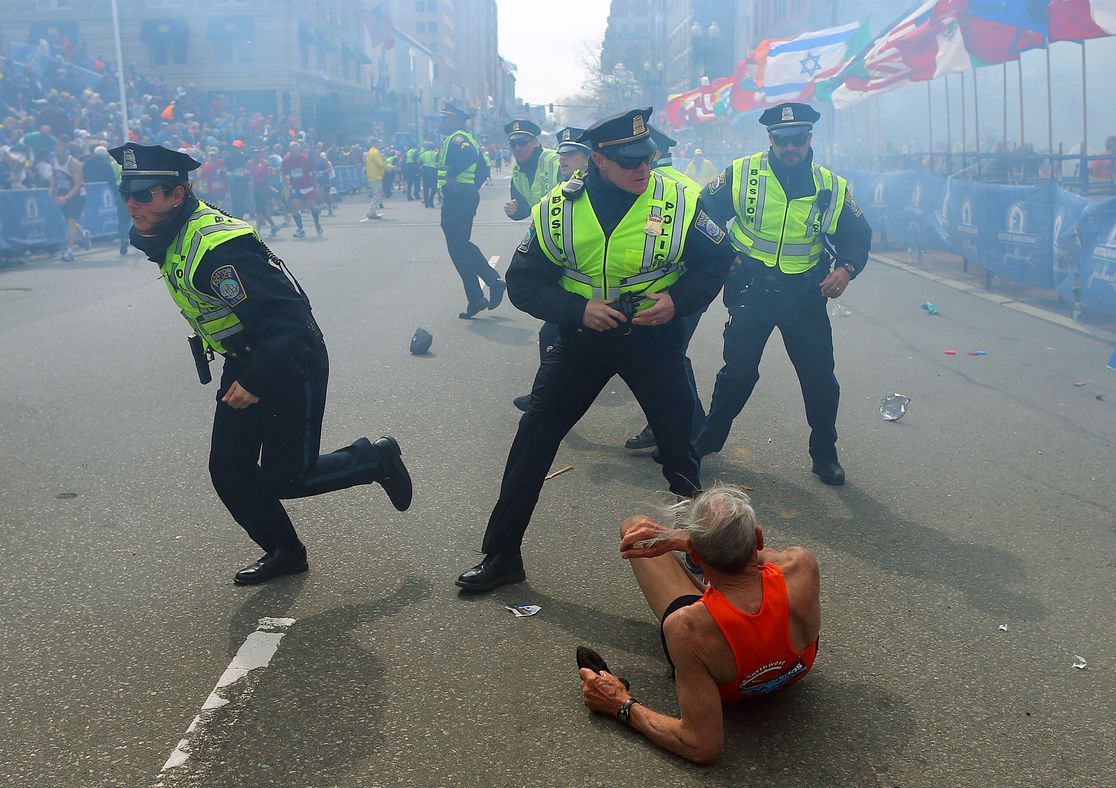 Seven years ago today, two bombs went off at the finish line of the Boston Marathon, killing three and injuring 264. A fourth victim, MIT police officer Sean Collier, was murdered by the perpetrators in the ensuing manhunt.
Why it matters: The terrorists responsible for this act of cowardice hoped to stoke fear and inflict damage; instead, they brought a country together in support of a city and its most beloved event.
History of the race: The first Boston Marathon took place in 1897, inspired by the marathon at the first modern Olympics one year earlier.
It is traditionally held on Patriots' Day along with a Red Sox game, making the third Monday in April many Bostonians' favorite day of the year.
Attendance has increased steadily through the years, breaking 1,000 in 1968, 5,000 in 1979, and 10,000 in 1996 when participation spiked to a record 38,708 in celebration of the race's centennial.
But while some worried the bombing might negatively affect future events, the response has been quite the opposite: Attendance shot up to 35,000 in 2014 and hasn't dipped below 30,000 any year since. Patriots' Day, indeed.
What they're saying: Rebekah Gregory was watching near the finish line with her boyfriend and 5-year-old son when the bombs went off.
"This has made me look at life from a whole different perspective. I wake up just grateful to be alive and to have one more moment with my husband and our beautiful children. You count your blessings or you count your problems."
The bottom line: Out of the ashes of tragedy sprung hope and unity, and no one summed up Boston's resiliency quite like one of its favorite sons, David Ortiz: "This is our f--king city!" Six months later, the Red Sox won the World Series.
7. 📚 Good reads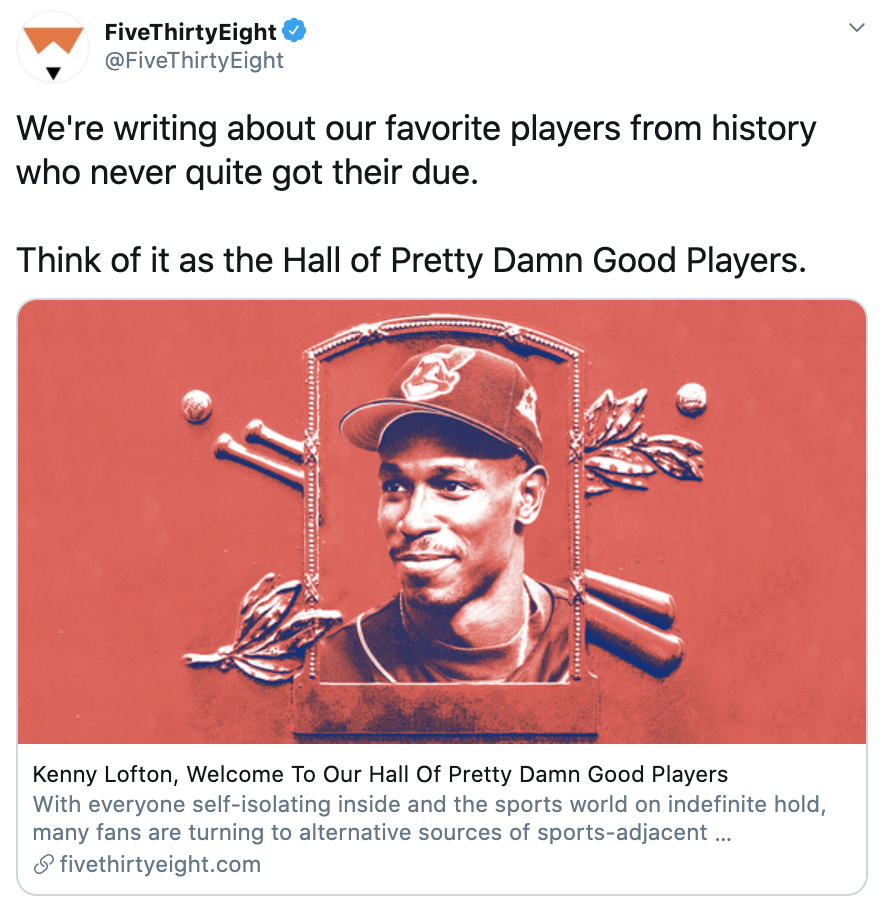 ⚾️ Kenny Lofton, welcome to our Hall of Pretty Damn Good Players (Neil Paine, FiveThirtyEight)
"Despite not really being viewed as a true franchise cornerstone by the Indians ... Lofton was a driving force behind an iconic team that ranks as one of the best ever not to win a World Series. With six All-Star nods in the decade, he was also one of the biggest stars of the '90s."
🏀 Samford rolls the dice on high school coach Bucky McMillan — and hopes it struck gold (Pat Forde, SI)
"The 36-year-old had been the head coach for 12 years at Mountain Brook High School ... Before that he coached the Mountain Brook junior varsity team at age 22, and as a teenager he led a couple of local AAU teams. That's hardly the tried-and-true path to a Division I head-coaching job."
💨 For runners, is 15 feet the new 6 feet? (Gretchen Reynolds, NYT)
"It may be a good idea to give one another more than six feet of space while exercising outside during the current coronavirus pandemic, according to a compelling new study that looked at how air flows around bodies in motion."
8. The Ocho: 📸 Pic du jour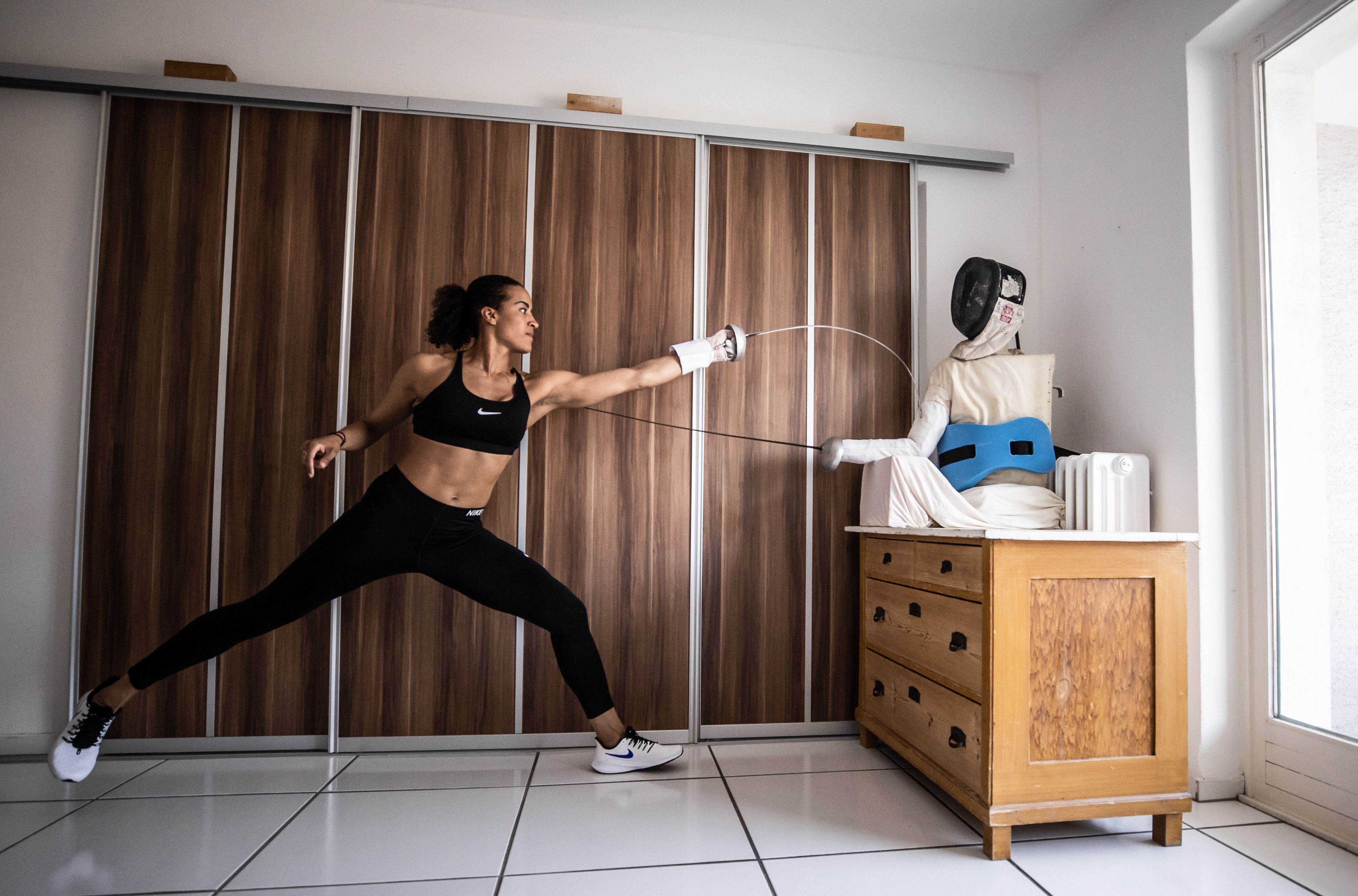 Fencer Alexandra Ndolo trains with a self-made puppet in her apartment in Cologne, Germany.
9. 🏈 NFL draft trivia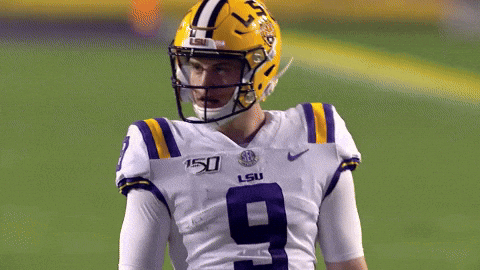 If Joe Burrow goes first overall in next Thursday's NFL draft, he will become just the second player this century to win the Heisman Trophy, a national championship and be the No. 1 pick in the same year.
Question: Who was the other player?
Hint: SEC.
Answer at the bottom.
10. ❤️ Why sports matter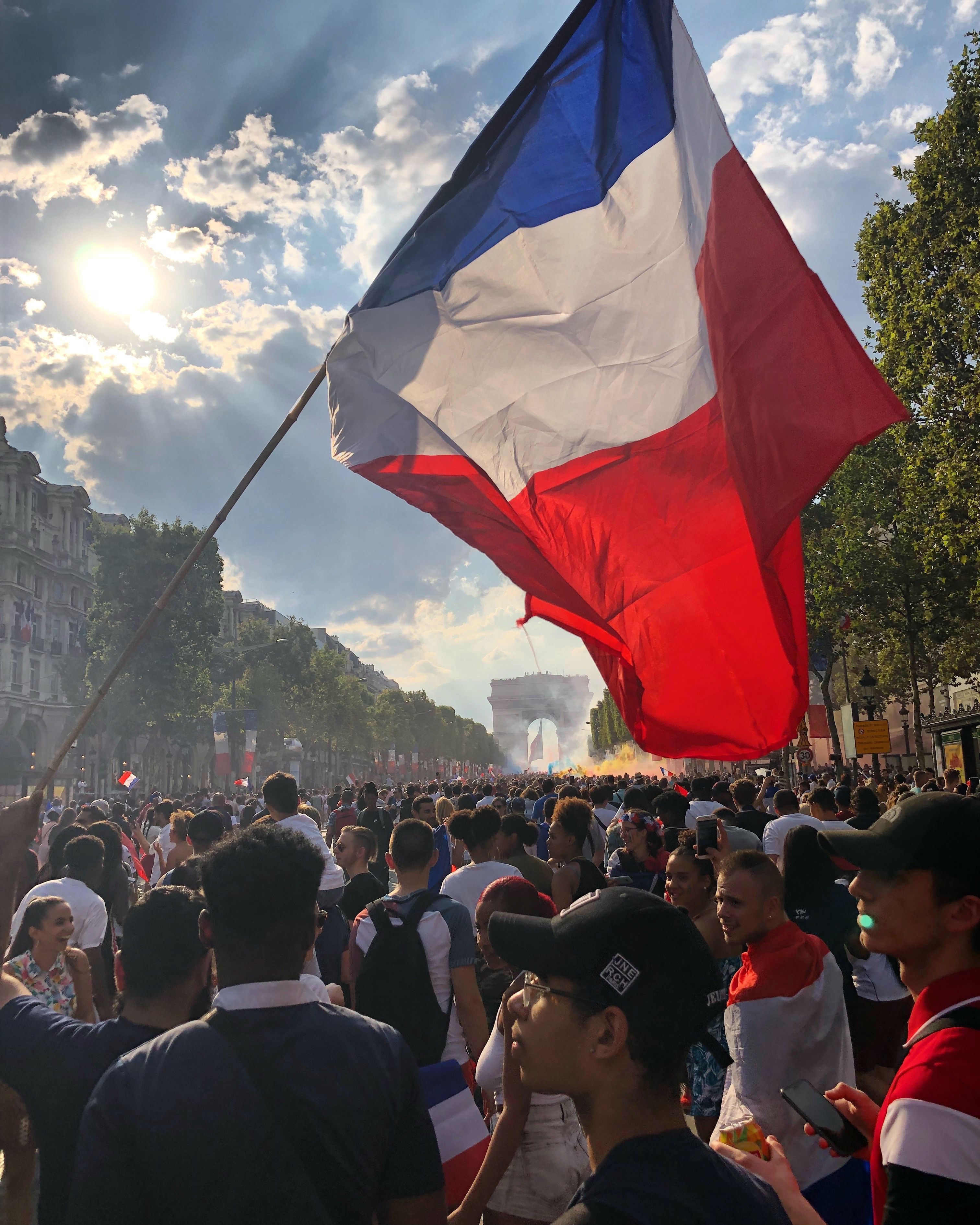 Austin D. (Winter Springs, Florida) writes:
"When I was young, my aunt promised to take me to Europe if/when I graduated college. Graduate I did (Sports Management, NYU) and off the Europe we went. The twist? It was during the 2018 World Cup. The icing on the cake? I ended up in Paris, France the day of the final.
"Pandemonium ensued as I ran around Champs-Elysees with my Canon and snapped all the celebration in its rawest form. Among the memories of seeing every phone booth and newspaper climbed by 10+ Parisians, I snapped my favorite photo of all time (see above).
"This occurred in a timeline not too far off from the Yellow Vest riots. While those events portrayed France as a country divided, I look back at this moment and this photo as proof of the unification powers that sports hold.
"This was unbridled celebration and pride in ones country. Everyone was equal — and everyone was a fellow countryman. If only for that night..."
✍️ Submit your story: What's your fondest sports memory? Could be anything! Reply to this email letting me know. We'll be telling your stories all month.