Axios Sports
October 16, 2020
🎉 Happy Friday! Let's sports.
Coming up: Lots of important stories on tap for next week. As always, thanks so much for reading.
📉 The youth sports exodus (Part II)
⚽️ The Development Academy generation
🥎 Women's sports, reimagined
🏋️‍♂️ The fitness industry, disrupted
👟 Puma vs. the shoe giants
Today's word count: 1,986 words (7 minutes).
1 big thing: ⭐️ Arch Manning and Bronny James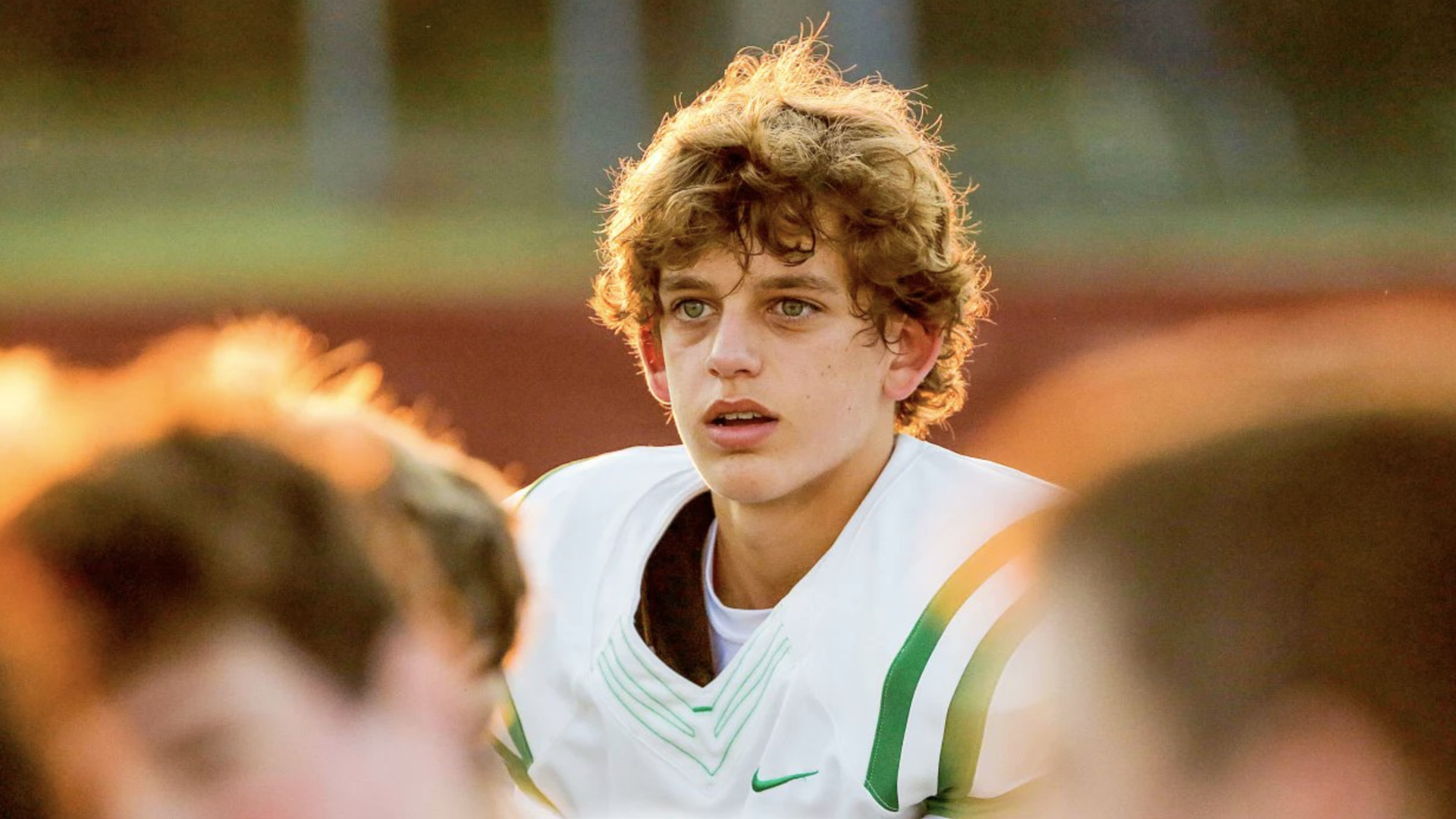 Arch Manning made his national TV debut Thursday night, leading Isidore Newman High School to a 55-22 win over Booker T. Washington in a New Orleans high school football game broadcast by ESPN2.
Family tree: Arch is the namesake of grandfather Archie. He's the son of Archie and Olivia's oldest child, Cooper, and the nephew of Peyton and Eli. His older sister, May, plays volleyball at Isidore Newman, and younger brother Heid is in eighth grade.
Scouting report: The 6-foot-2-inch sophomore is one of the top prospects in the 2023 class. While his uncles started as sophomores, Arch started as a freshman, throwing 34 TDs and being named MaxPreps Freshman of the Year.
"Archibald Charles Manning is the fourth member of the family to play football for Newman. You don't have to remind him. A retired jersey representing his father and two uncles hangs outside the team's fieldhouse. He lines up for home games within a sports complex that bears his surname. The school's highest athletic honor is called the Manning Award."
— Ross Dellenger,
SI
The intrigue: In an era of internet fame and early recruitment, the Manning camp has gone dark.
Arch isn't on social media, and his parents, Cooper, a real-estate executive, and Ellen, a lawyer, have declined all scholarship offers.
"They're very private and protective of Arch," John Georges, owner of Louisiana's two largest newspapers, told SI. "As much as they try to keep a lid on it, there's a buzz. ... The Mannings know how to raise athletes."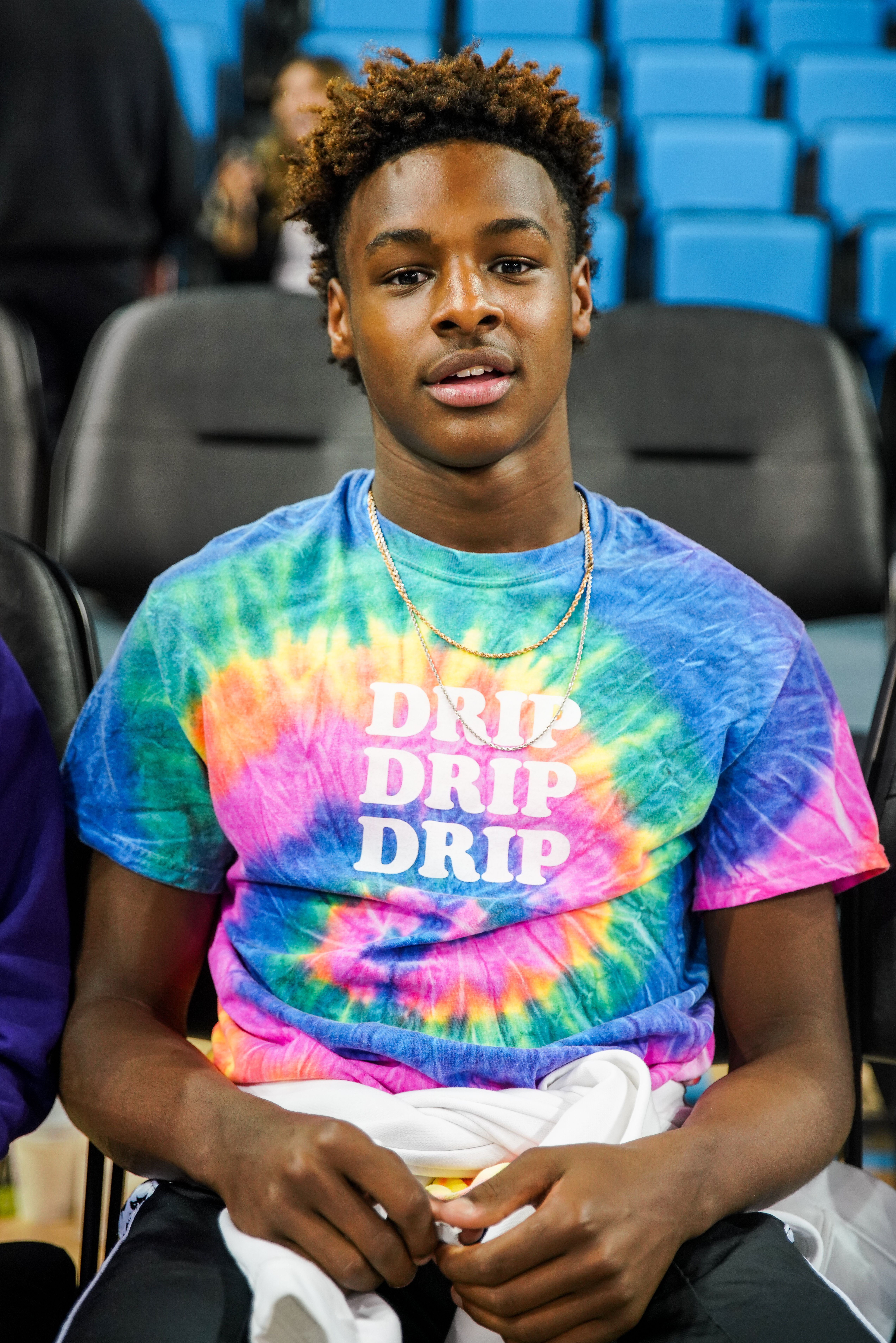 The other side: In terms of pedigree and potential, the closest comparison to Arch is probably LeBron James' 16-year-old son, Bronny, a sophomore at Sierra Canyon School in Chatsworth, California.
Where they differ is their fame and exposure. While Arch has zero Instagram followers, Bronny has 5.8 million — more than 97% of NBA players and nearly as many as his dad's running mate, Anthony Davis (6.6 million).
Bronny recently joined FaZe Clan, a popular esports organization and lifestyle brand, which has only expanded his online presence. He streams for them under the name "FaZe Bronny" and gets to tap into their audience.
The big picture: There was once a time when high school athletes gained national attention from magazines and newspapers. Now, they carry their fan bases around in their pockets and have the ability to reach millions.
Arch Manning exists outside of the modern fame machine, while Bronny James represents the peak of what's possible when you leverage it.
In this brave new world, where the internet molds celebrities and high schoolers have their own "brands," just how far can the son of the world's most famous athlete go?
Go deeper:
2. 💵 America's new sports betting capital
New Jersey's sports betting market shattered its own national record in September, taking in nearly $749 million in bets.
Online bets accounted for 90.7% of September's handle ($678.7 million).
FanDuel Sportsbook/PointsBet topped the market with $25.1 million in gross revenue.
By the numbers: New Jersey now holds two of the five largest handle months in legal U.S. sports betting history:
New Jersey: $748.6 million (September 2020)
New Jersey: $667.9 million (August 2020)
Nevada: $614.1 million (November 2019)
Nevada: $596.7 million (March 2019)
Nevada: $581.0 million (November 2018)
The big picture: New Jersey was the third state to legalize widespread sports betting after the repeal of PASPA in May 2018. Since then, it has accepted over $9 billion in wagers, yielding over $68 million in tax revenue for the state.
3. ⚾️ MLB playoffs: Braves cruise, Astros survive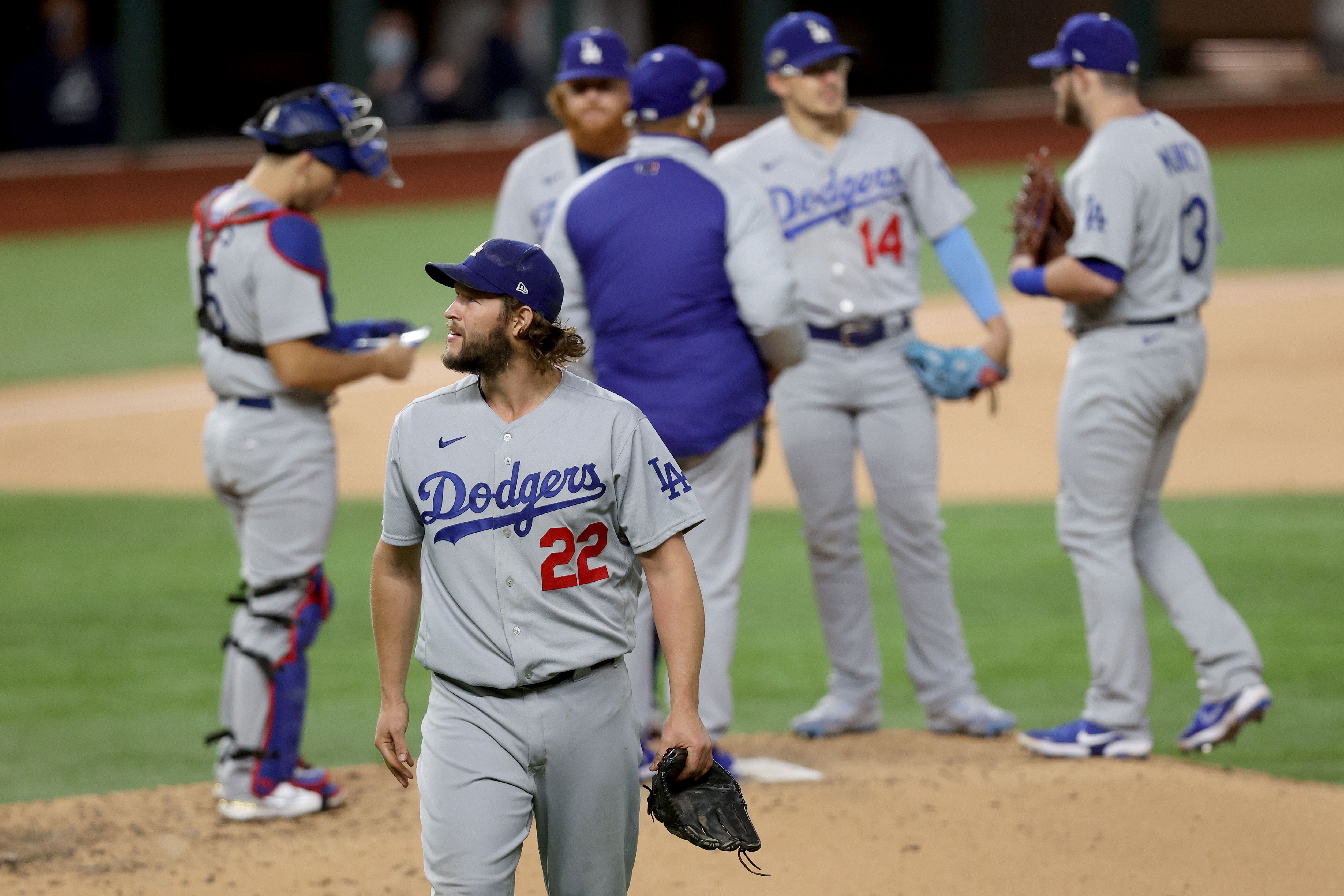 ARLINGTON, Texas — Dave Roberts has made a habit of leaving Clayton Kershaw in the game too long. Last year, that helped sink the Dodgers in Game 5 of the NLDS; this year, it's put them on the precipice yet again, Axios' Jeff Tracy writes.
Six-run sixth: Atlanta's scoring explosion broke open the game and has them one win away from their first pennant since 1999. Final: Braves 10, Dodgers 2.
Dodger disaster: After adding Mookie Betts, there may have never been a more "World Series or bust" team than the 2020 Dodgers. If they fail to even reach the Fall Classic, it'll be nothing short of an unmitigated disaster.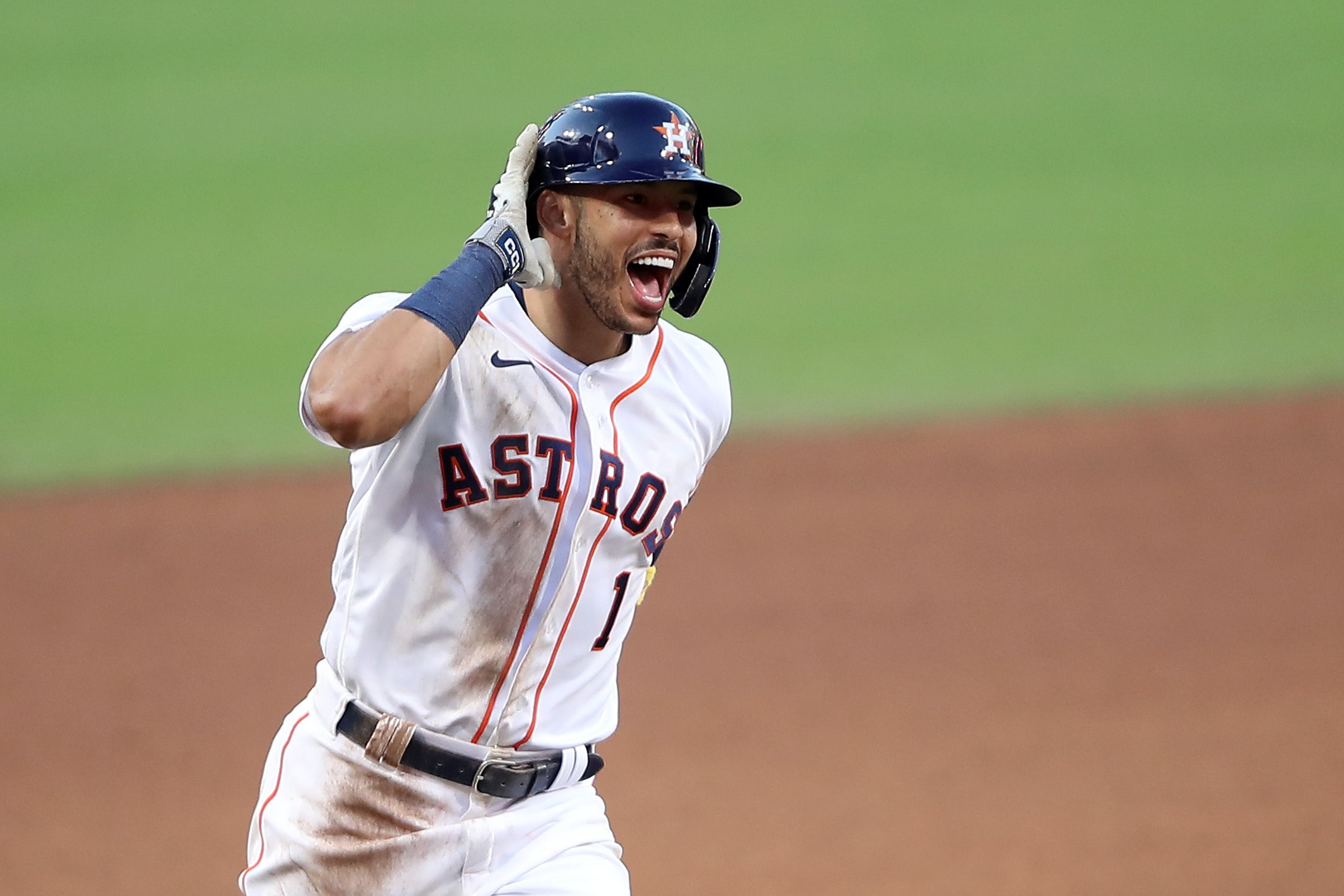 SAN DIEGO — The Rays knotted the score late with two solo shots, but then Carlos Correa hit a walk-off bomb to give the Astros a 4-3 victory, keep Houston's season alive and tie David Ortiz for most postseason walk-off hits ever (3).
Wild stat: Correa (17, t-9th), José Altuve (18, t-5th) and George Springer (19, t-4th) are all in the top 10 in all-time postseason HRs.
Speaking of dingers: Rays rookie Randy Arozarena hit his sixth of these playoffs, which is two shy of the record for a single postseason. Yeah, we might have a home run problem.
Weekend slate: By Monday (if not sooner), we'll know the World Series matchup.
Today: ALDS Game 6 (TB leads 3-2) at 6pm on TBS; NLDS Game 5 (ATL leads 3-1) at 9pm on FS1.
Saturday: NLDS Game 6 (if necessary) at 4:30pm on FS1; ALDS Game 7 (if necessary) at 8:30pm on TBS.
Sunday: NLDS Game 7 (if necessary) at 8:15pm on Fox.
4. 🗳 Exclusive: More Than A Vote on "NBA 2K21"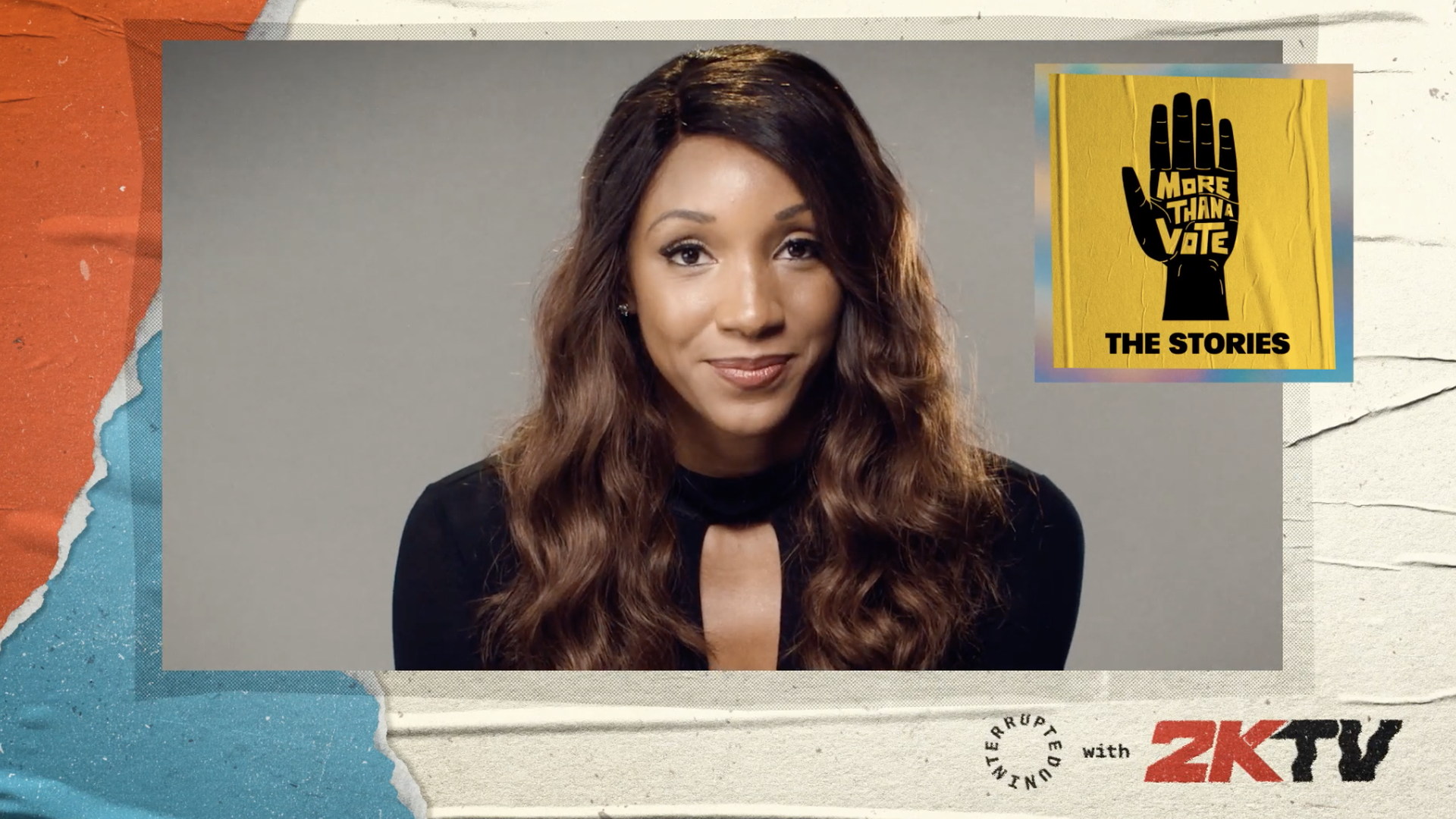 In an attempt to reach young Black voters where they already consume media, More Than A Vote — the voting rights group led by LeBron James and other Black athletes — will debut a new series on "NBA 2KTV" today, Axios has learned.
2KTV is the show within the "NBA 2K" video game series.
Each episode blends a personal story with historical context to educate young voters on why they should make a plan to vote.
The series is produced in partnership with James' entertainment brand, The SpringHill Company
Why it matters: Instead of producing PSA-style videos and relying on traditional news networks, More Than A Vote will reach potential voters when they login to play "NBA 2K21," the latest edition of the top-selling video game franchise.
Episode 1 features ESPN analyst and More Than A Vote member Maria Taylor, who chronicles her own experiences witnessing voter suppression (video).
Episode 2 features Hawks star and More Than A Vote member Trae Young. "I'd just turned 18 during the last presidential election, and I didn't fully grasp how important it was to exercise my right to vote," says Young. "This time I understand what's at stake."
The big picture: This is the latest effort to appeal to millennials and Generation Z voters, who make up more than one-third of the U.S. electorate.
Go deeper: Sports stadiums welcome voters, not fans (Axios)
5. 🏀 Daryl Morey changed the NBA forever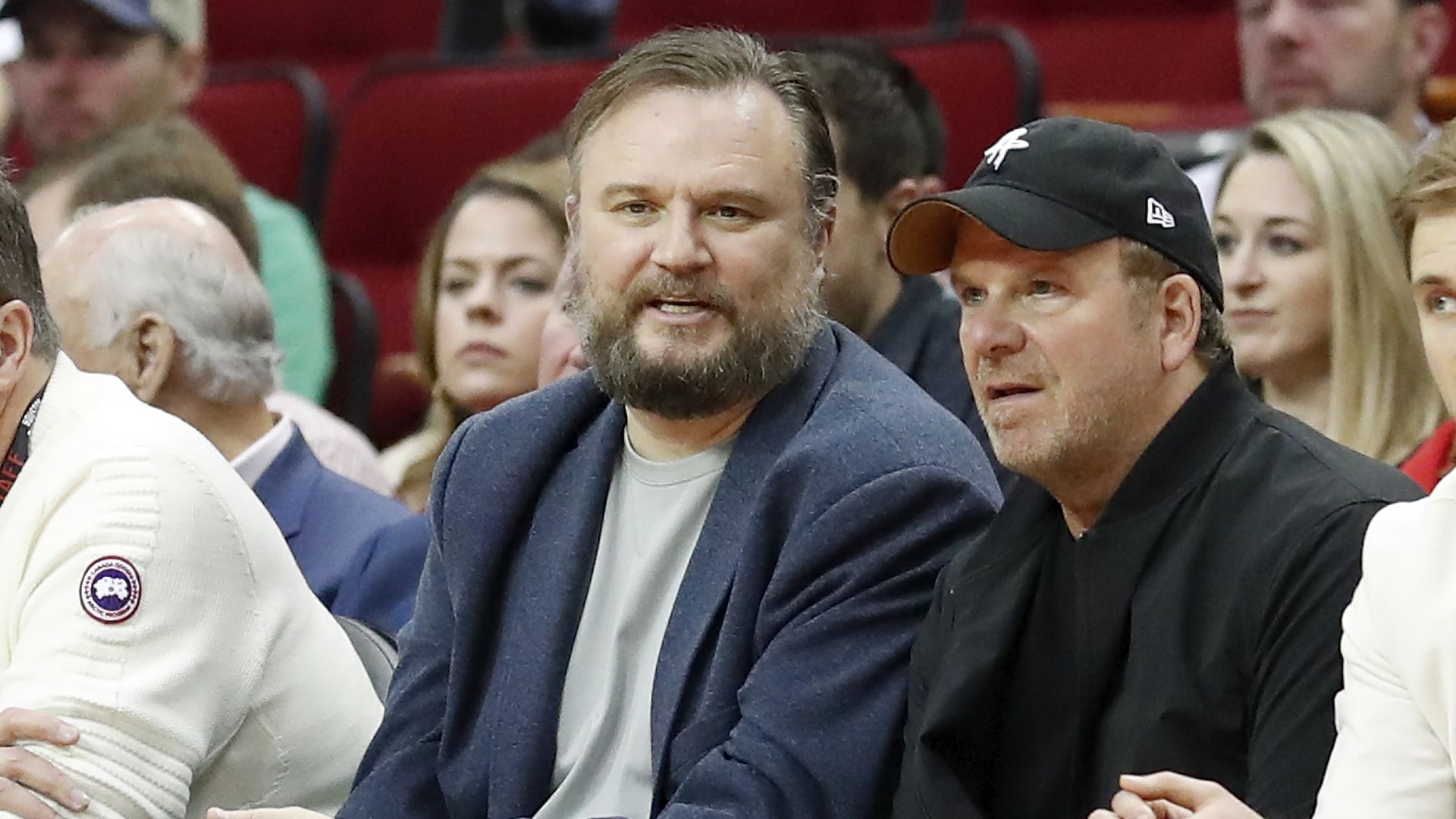 Daryl Morey, the Rockets GM since 2007, has decided to step down, according to a report from ESPN's Adrian Wojnarowski.
Why it matters: With head coach Mike D'Antoni stepping down last month, one of the NBA's most reliably competitive franchises is suddenly in disarray.
The backdrop: Morey's final season became engulfed in scrutiny after a tweet supporting Hong Kong protesters led to China taking the NBA off its airwaves for a year. It finally returned during last week's Finals.
What they're saying: "Morey is not the only analytics-savvy person to assume a position of enormous power within an NBA team. But he was the forerunner," ESPN's Zach Lowe writes.
"His influence on the game — on the rise of the 3-pointer, the advance of metrics to evaluate defense, hiring patterns within teams, much more — has been massive."
"It is reasonable to argue NBA basketball is both more mathematically efficient and (with some teams) less interesting to watch because of Morey."
By the numbers: Morey never led Houston to a title, and critics would say he overvalued style and efficiency at the expense of chemistry and culture. But his Rockets were always competitive. In fact, they never had a single losing season.
77 trades: That's how many Morey made in Houston. Only Philadelphia (78 trades), whose former GM Sam Hinkie was Morey's protégé, made more.
.615 winning percentage: Only the Spurs had more wins than the Rockets during Morey's tenure.
8 straight trips: Houston has the league's longest active playoff streak, dating back to the 2012-13 season.
Go deeper: Daryl Morey saw the big picture, but his legacy is shaped by a single game (The Ringer)
6. 📺 Saturday's slate
Saturday features a centuries-old English rivalry, some high-stakes football, a much-anticipated boxing match and potentially two MLB playoff games (as outlined above), Jeff writes.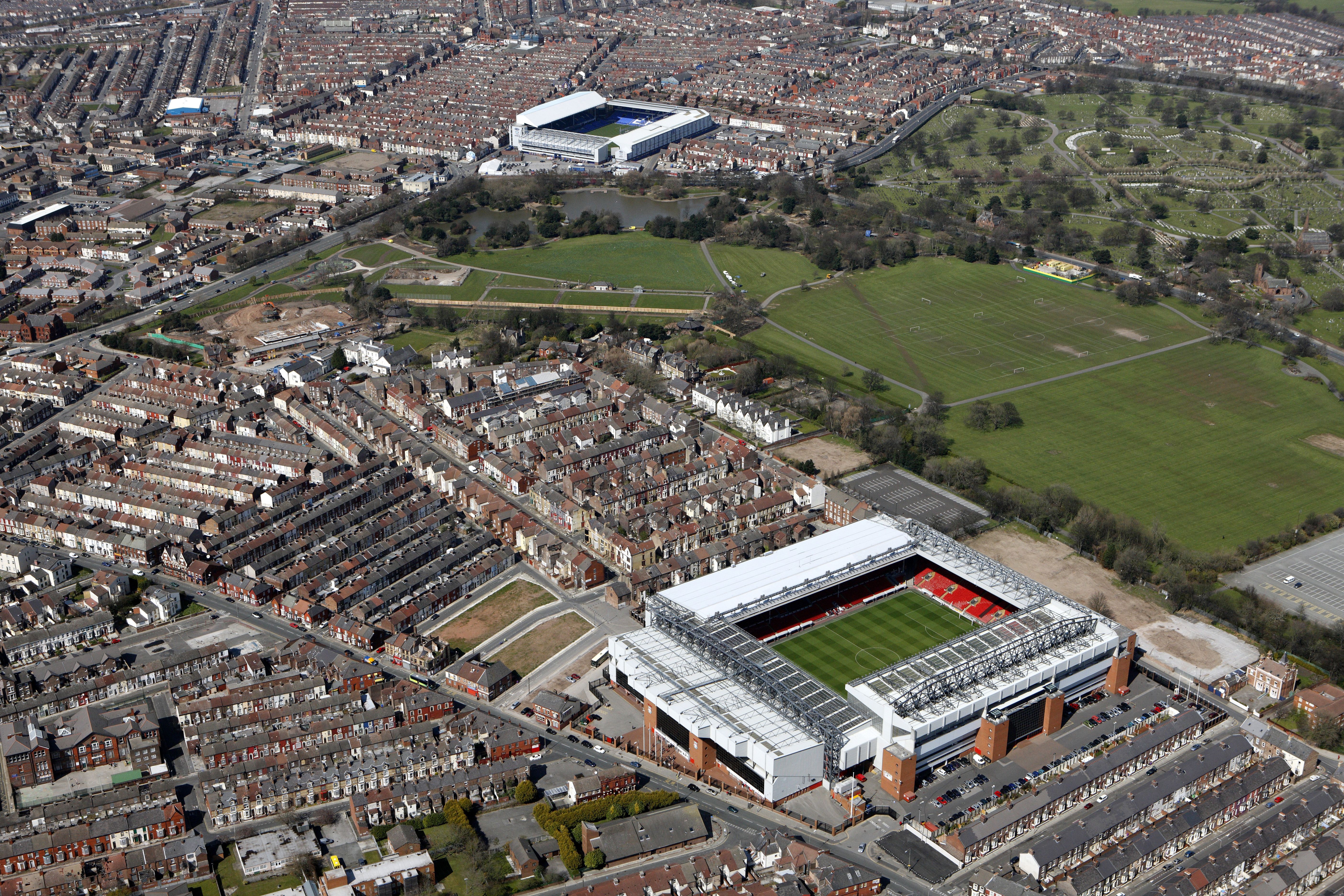 ⚽️ Premier League: The game of the weekend is the famed Merseyside derby, with Everton (stadium above, in background) hosting neighboring Liverpool (stadium above, in foreground). See you at 7:30am ET for kickoff!
Reigning champion Liverpool has historically dominated Everton, winning 10 straight derbies and leading the all-time series, 93-66 (plus 75 draws).
Yes, but: Everton sits atop the table at 4-0 and looks primed to end a decade of derby futility, while Liverpool's coming off a lopsided 7-2 loss to Aston Villa.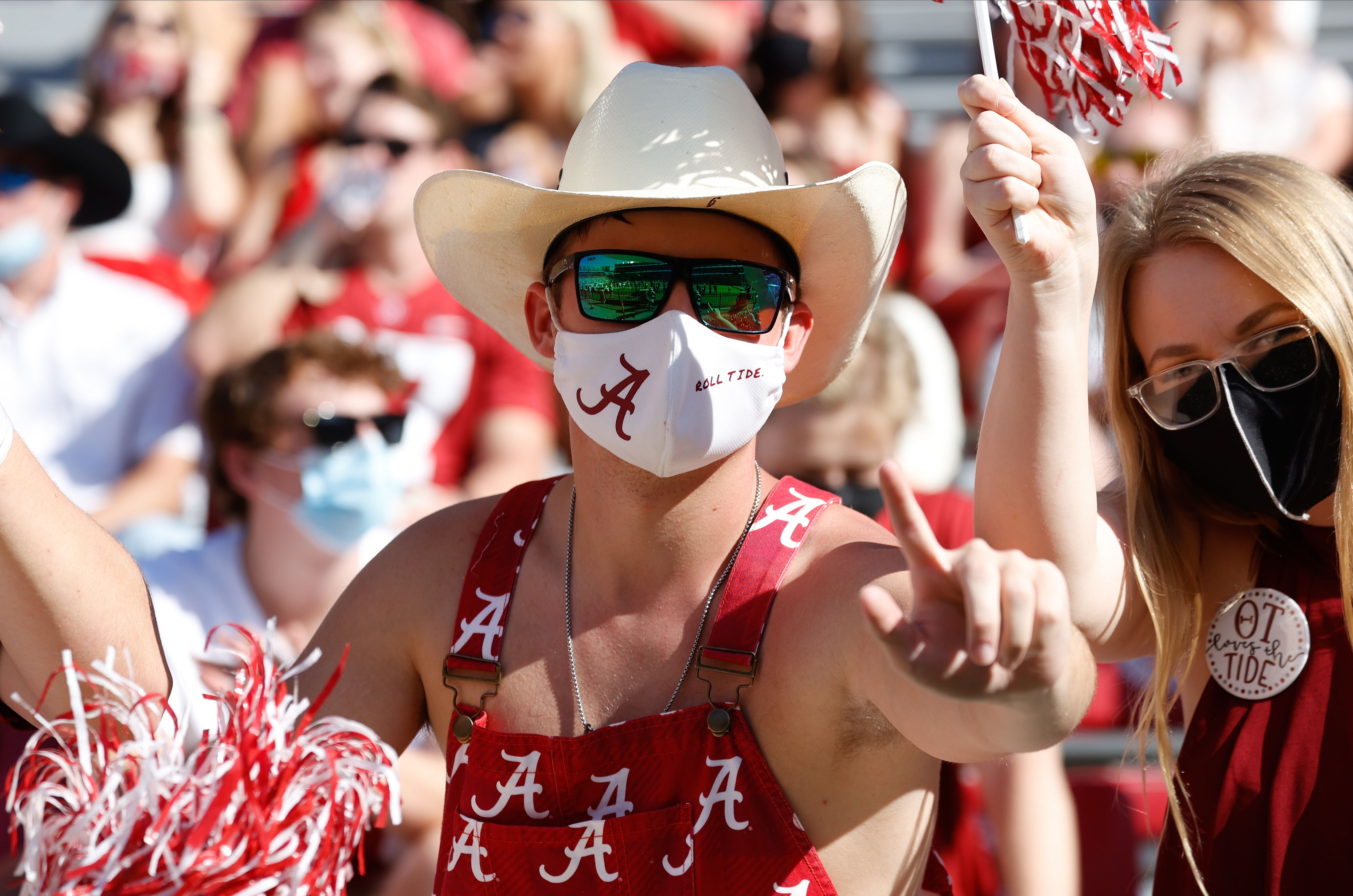 🏈 College football: Four games have been postponed, but Saturday still boasts a 26-game schedule, including the most anticipated matchup of the year down in Tuscaloosa. The best of the bunch:
12pm: No. 1 Clemson at Georgia Tech (ABC)
2:30pm: Louisville at No. 4 Notre Dame (NBC)
7:30pm: No. 5 UNC at FSU (ABC)
8pm: No. 3 Georgia at No. 2 Alabama (CBS)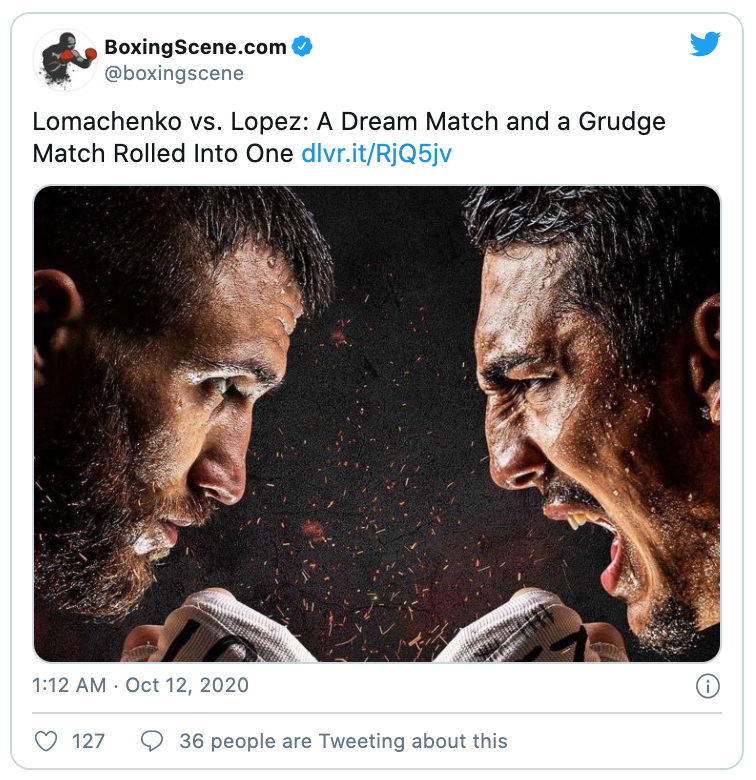 🥊 Boxing: The battle to become the lightweight champion of the world goes down in Vegas, as Vasiliy Lomachenko and Teófimo López face off Saturday night at the MGM Grand (10pm, ESPN and ESPN+).
Lomachenko: The 32-year-old Ukrainian is widely regarded as one of the greatest natural fighters ever, with a 14-1 record and no losses since 2014.
López: The 23-year-old Honduran-American has never lost (15-0 since debuting in 2016).
Best of the rest:
⛳️ PGA: Tyrell Hatton (-7) leads by one stroke at the CJ Cup in Las Vegas, but there's a stacked leaderboard breathing down his neck.
⚽️ MLS: We're more than two-thirds of the way through the pandemic-shortened campaign. Saturday's doubleheader: Sporting KC at Chicago (3:30pm); Miami at Montreal (7pm).
7. 📊 By the numbers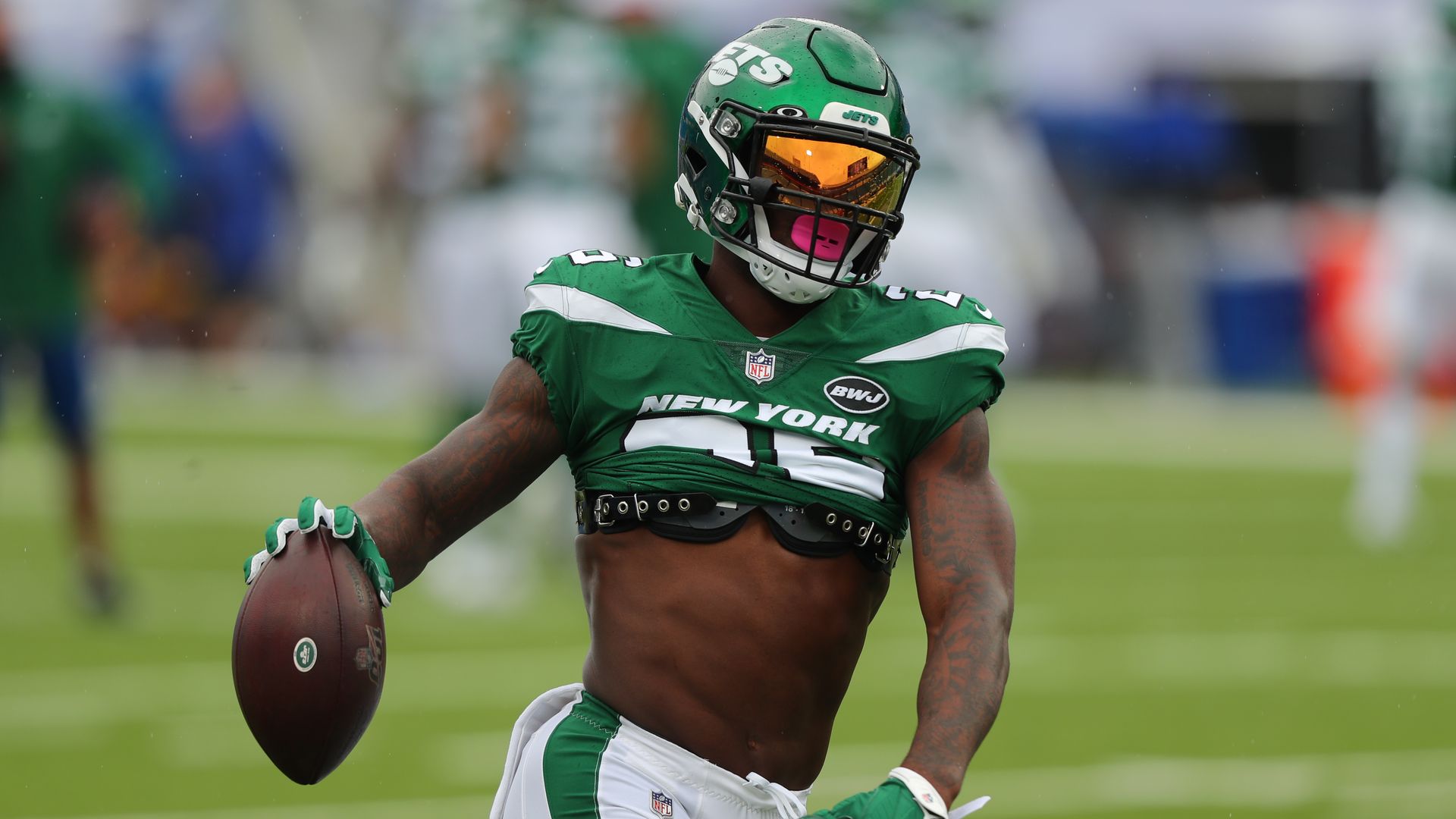 🏈 19th in rushing: Two days after being released by the Jets, Le'Veon Bell has joined the defending champs. The Chiefs rank 19th in rushing (108 yards per game) and their last rushing TD from a running back was in Week 1.
🏀 5-year deal: Tyronn Lue is finalizing a five-year deal to become the next coach of the Clippers, per reports. Lue spent the past season as the top assistant on Doc Rivers' staff and nearly became the Lakers coach in 2019.
🏁 8 drivers left: After winning the second elimination race of the NASCAR Cup Series playoffs, Chase Elliott will start on the pole at Kansas Speedway this weekend for the start of the Round of 8. Remaining drivers: Elliott, Kevin Harvick, Denny Hamlin, Brad Keselowski, Joey Logano, Martin Truex Jr., Alex Bowman and Kurt Busch.
8. Oct. 16, 1968: ✊🏿 Fists in the air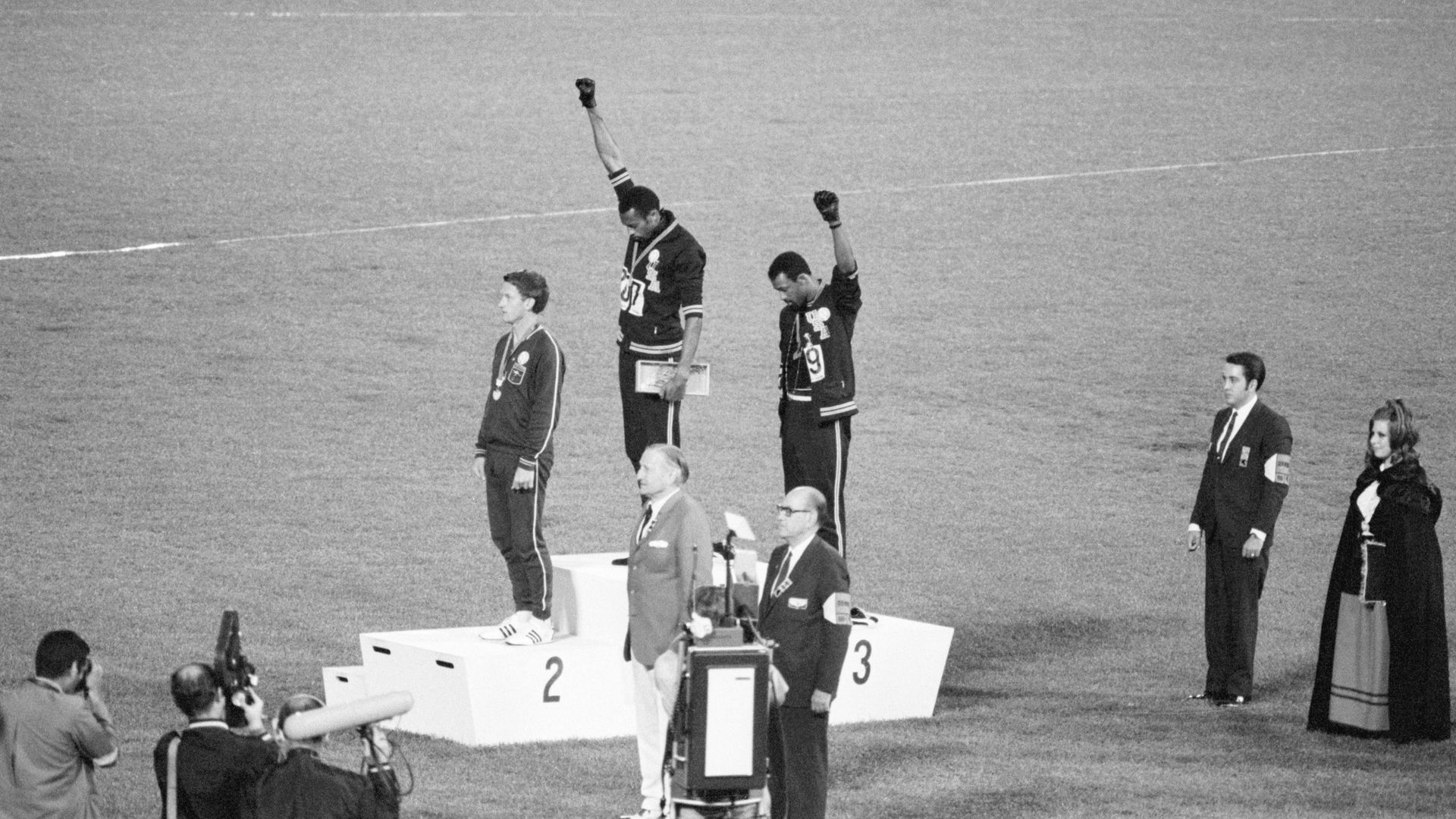 52 years ago today, Tommie Smith and John Carlos raised gloved fists in protest at the 1968 Olympics in Mexico City. It remains one of the most iconic images in sports history.
9. 🏈 NFL trivia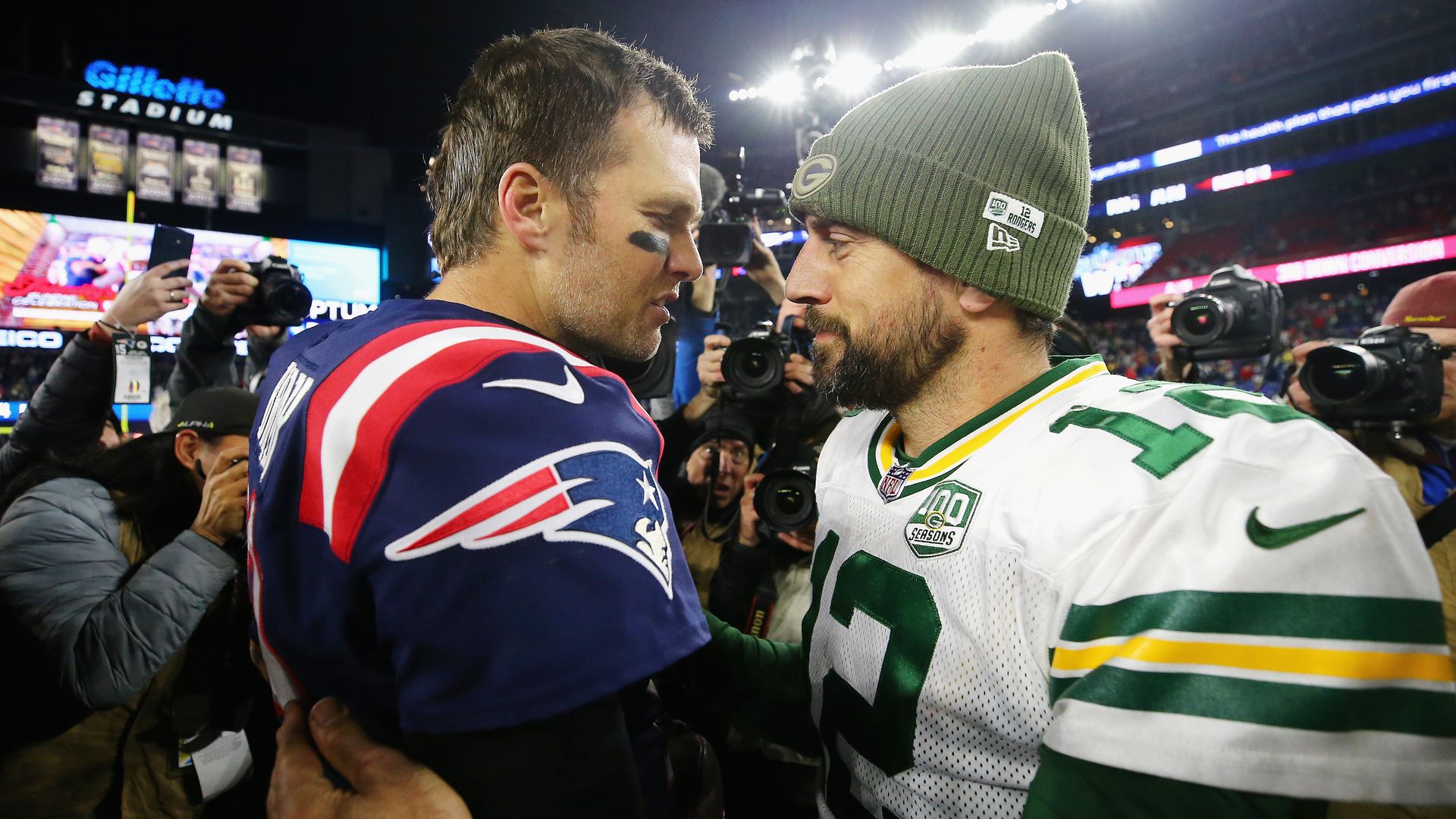 Tom Brady (3) and Aaron Rodgers (2), who go head-to-head on Sunday, are two of just nine players in NFL history to win multiple MVPs.
Question: Who are the other seven?
Hint: Six QBs, one RB.
Answer at the bottom.
10. 📚 New book: "Answers in the Form of Questions"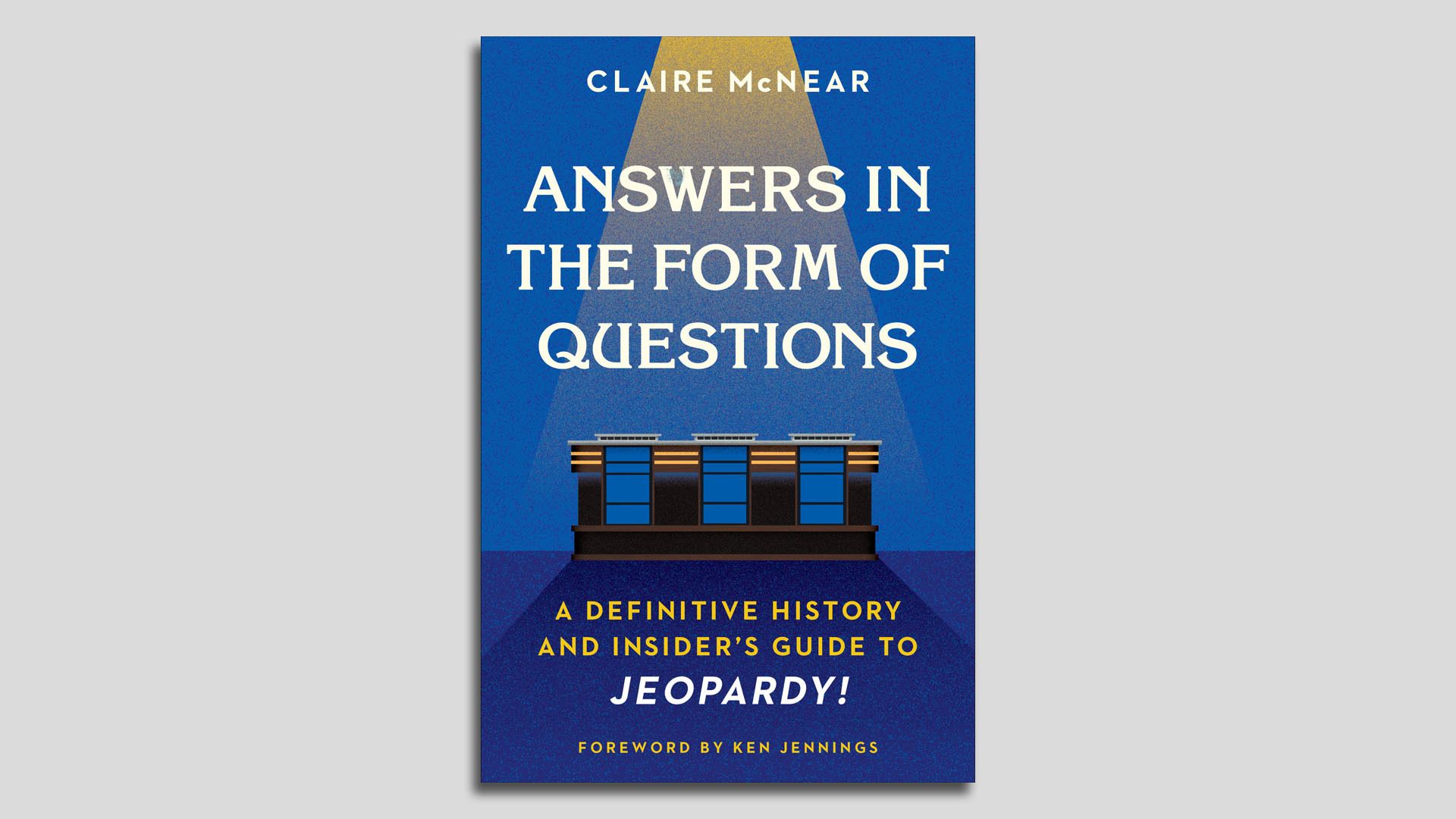 Claire McNear's "Answers in the Form of Questions" dives deep behind the scenes of the record-setting game show, exploring how it became a cultural phenomenon and where it's going next.
🎙 Interview: I spoke with McNear, who writes for The Ringer, about the similarities between "Jeopardy!" and sports.
Contestant training: "People think, okay, if you're preparing for 'Jeopardy!' maybe you make a whole bunch of flashcards and drill yourself. And that definitely happens. But in recent years, preparation has become more sports-like. A lot contestants give up alcohol and caffeine in the weeks before they tape. Others rearrange meal times to match what they'll do in the studio. And some rig home buzzer systems and drill themselves over and over just trying to shave off literal hundredths of seconds from their response times."
Analytics movement: "Like many sports, 'Jeopardy!' has undergone an advanced statistics revolution over the last five or 10 years. Some very smart people have developed some quantitative certainty about things like where the Daily Double is or how much you should wager in Final Jeopardy. So when contestants are training, they're not just studying vice presidents or first ladies, they're memorizing these different mathematical scenarios."
Alumni network: "Every season of 'Jeopardy!' sees about 400 new contestants, and we're now in Season 37 of the Trebek variance, so there's a huge alumni network. They actually have a secret Facebook group that you can only get into if you've been on the show. Before your episode airs, they reach out and send you the invitation — it's like this sacred fraternity of alums."
Pre-order the book (out Nov. 10)
Enjoy the weekend,
Kendall "Alex Trebek rules" Baker
Trivia answer: Peyton Manning (5), Jim Brown (3), Johnny Unitas (3), Brett Favre (3), Joe Montana (2), Steve Young (2), Kurt Warner (2)