👋 Good morning!
Today's word count: 1,361 (~5 mins)
1 big thing: 👶 The youth sports exodus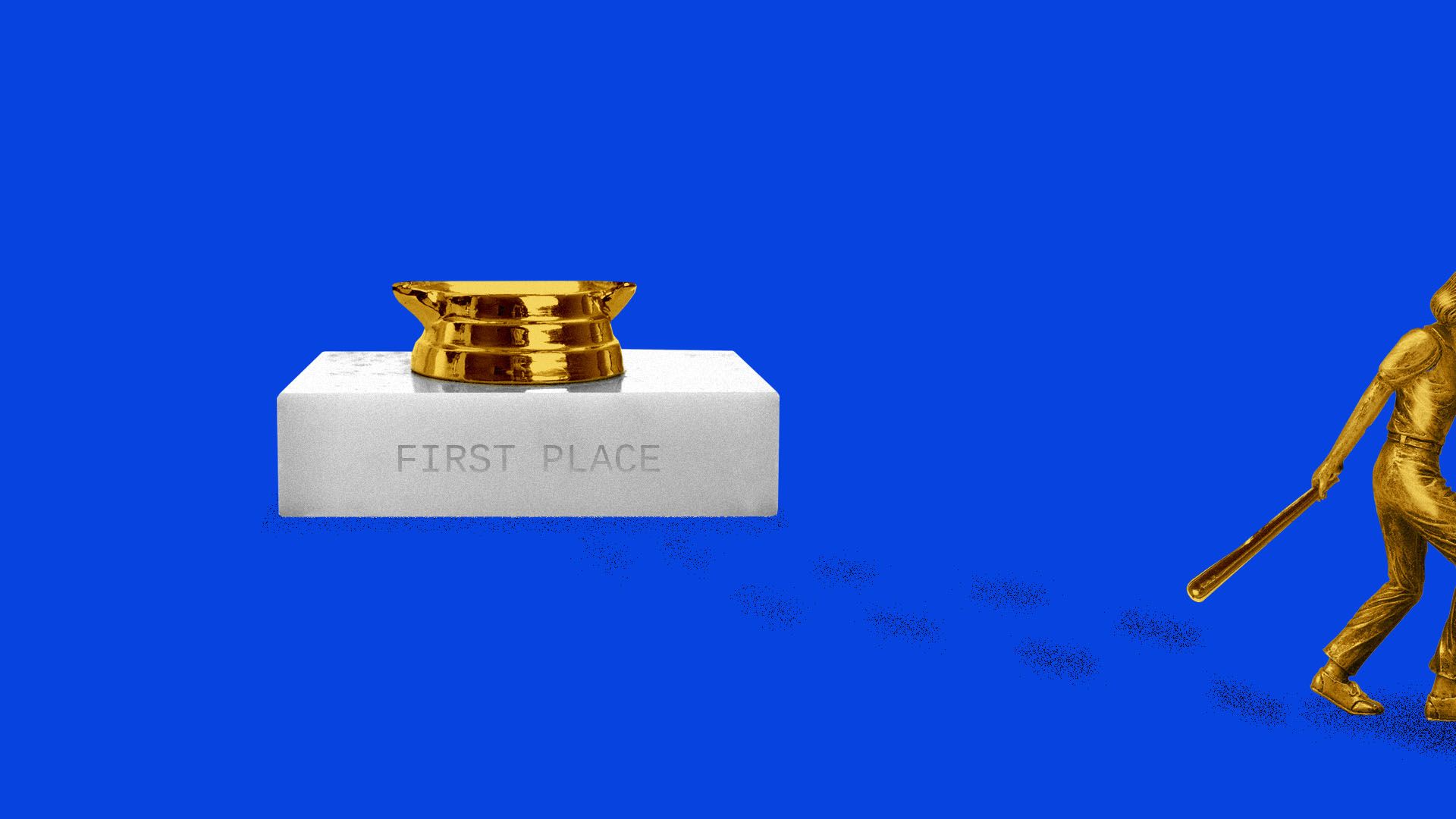 The average child today spends less than three years playing a sport and quits by age 11, according to a new survey of sports parents conducted by the Aspen Institute and Utah State University.
On top of that, only 38% of kids aged 6 to 12 played team sports on a regular basis in 2018, down from 45% in 2008, per the Sports & Fitness Industry Association.
Why it matters: For parents who see the benefits of their kids playing sports and for a nation in the midst of a childhood obesity epidemic, keeping kids active is extremely important.
The money problem: According to the survey, three of the main reasons kids quit sports are (1) a lack of fun, (2) bad coaches and (3) financial pressure. It's that third reason — financial pressure — that I'd like to focus on this morning.
The youth sports economy has always been big business, but as competitive travel teams have crept into increasingly younger age groups over the past decade, the industry has doubled in size to more than $15 billion.
The result is a world of private coaching, interstate travel and mega-complexes (look at this place!) full of families willing — and able — to spend as much as $20,000 per year on youth sports.
"They may be holding back on vacation or on a car, but they will make certain that Susie goes to the cheerleading competition in Orlando and Johnny gets to his Little League tournament in Georgia."
— Mary Helen Sprecher, sports journalist,
to NYT
Meanwhile, low-income families are being priced out, resulting in their children losing not only an opportunity to excel at a sport but also the chance to exercise and make friends.
"Everyone thinks from the Olympic medal count, we have the best youth sports system in the world. But when you look at some of the sports, these are things parents pay for."
"If we're really looking at being a more inclusive and healthier society, we should probably get these kids playing together more out on the field — everybody, not just certain populations that can afford it."
— Lisa Delpy Neirotti, sports management professor at George Washington University,
via WashPost
My thought bubble: Youth sports in America is becoming a story of the haves and the have-nots. I don't know about you, but I absolutely hate it.
Go deeper: The price of youth sports (HBO Real Sports segment)
2. 🏈 How Alabama and others are combating attendance woes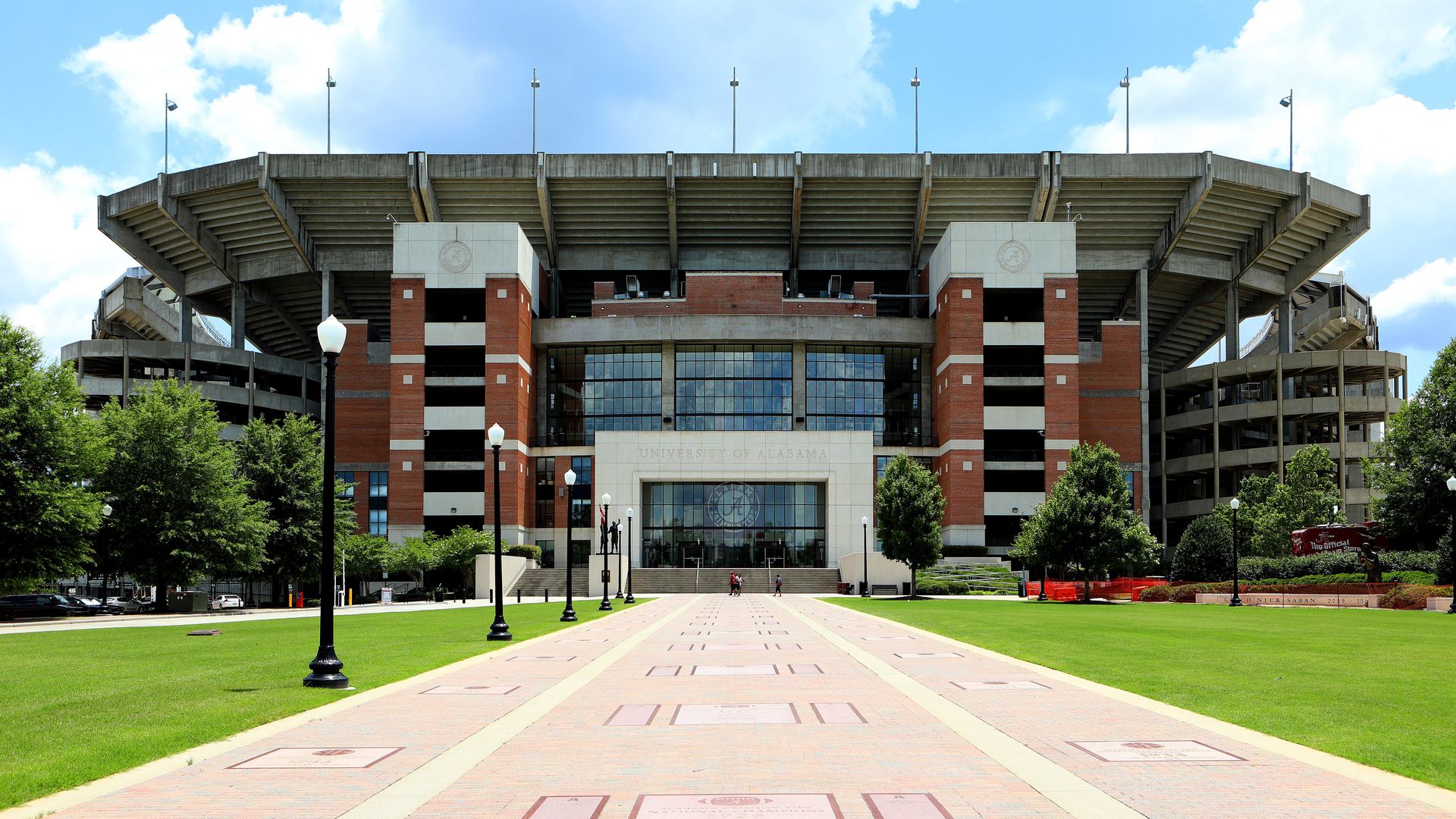 College football attendance dipped to its lowest mark in 22 years last season, with every Power 5 conference other than the ACC experiencing a decline.
Driving the news: This alarming development is driven by numerous factors, many of which impact society on a macro-level and are out of a university's control (i.e. technology and consumption habits).
But other factors — like ticket sales, game day experiences and stadium amenities — can be tinkered with and improved, and athletic departments across the country are laser-focused on doing just that.
General changes:
Improved sales teams: Schools are beefing up their previously understaffed ticketing departments and deploying more aggressive tactics (via email marketing, ad retargeting, etc.).
Alcohol policies: The Southeastern Conference recently passed a rule that allows its members to sell alcohol at games.
Downsizing: Over the past few years, the trend in not only college football stadiums but all sports has shifted from quantity (attendance numbers) to quality (fan experience).
Specific examples:
Alabama is rolling out a program to reward students who stick around through the fourth quarter. How it works: Students who "check in" on an app to confirm they're still in the stadium will receive bonus points that will help their standing regarding future tickets.
Tennessee is testing something called the Vol Pass, which guarantees fan seats all season but doesn't lock them into one seat or section. Fans log into an app every Monday to pick their seats for the coming Saturday.
What they're saying:
"I went to a Disney seminar one time and they said, 'What do you think is the goal that we aspire for Disney?' You sit there and scratch your head and you think, 'To make people happy?' They told us no — it was to get you to come back to your next visit. That's really what we have to be motivated by ... That's what's driving a lot of us."
— Kenny Mossman, Oklahoma's senior associate athletics director,
to The Athletic
Go deeper: Attendance woes were inevitable
BONUS: 📸 Meanwhile, in Lima...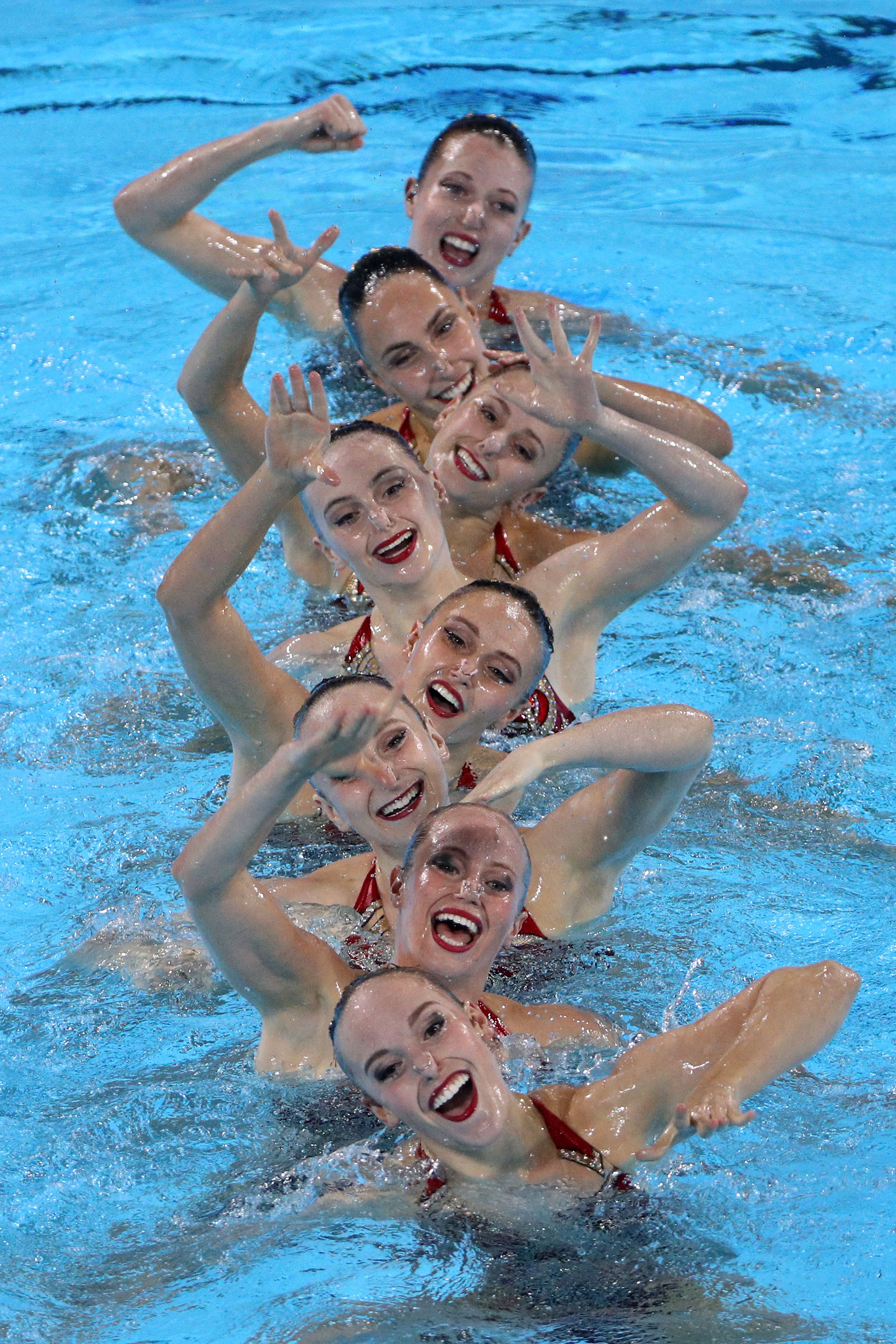 Team Canada competes in the team free artistic swimming finals. Photo: Patrick Smith/Getty Images
The 2019 Pan American Games are winding down in Lima, Peru. As you may have (not) noticed, coverage in the U.S. and Canada has been almost nonexistent.
3. 📊 By the numbers
32
⚾️ MLB: The Yankees have hit 32 HRs in Baltimore this season, the most by any team at a visiting ballpark in MLB history. ... The Orioles also became the first team to allow multiple HRs in 10 straight games — just days after becoming the first team to hit multiple HRs in 10 straight games. The balls definitely aren't juiced, though.
18
🏈 NFL: Entering training camp, there were 18 NFL QBs from the state of Texas (Barrett, Brees, Carr, Dalton, Daniel, Foles, Gilbert, Griffin III, Keenum, Luck, Mahomes, Mayfield, McCoy, Murray, Stafford, Stidham, Tannehill, Webb). California was second with eight.
9
🏀 NBA: Notre Dame women's basketball assistant Niele Ivey is joining the Memphis Grizzlies' staff, making her the NBA's ninth active female assistant coach. Remember: It was only five years ago that Becky Hammon broke the barrier and became the first full-time female coach.
4. 🏀 Vince Carter is going to play basketball forever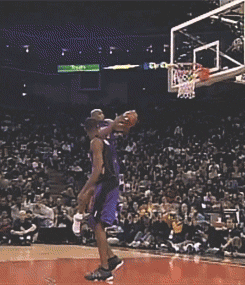 42-year-old Vince Carter will reportedly sign a one-year contract to return to the Atlanta Hawks for his record 22nd season, passing Dirk Nowitzki, Kevin Garnett, Kevin Willis and Robert Parish, per ESPN.
Fun fact #1: If he plays a game in 2020, Carter will be the first player in NBA history to appear in a game in four different decades.
Fun fact #2: When Carter was a rookie in 1998, the Hawks' starting backcourt — Trae Young and Kevin Huerter — hadn't even been born yet.
The big picture: To put Carter's longevity into perspective, check out some of the players who were drafted alongside him in 1998...
Michael Olowokandi
Tyronn Lue (now a coach)
Mike Bibby
Raef LaFrentz
Jason "White Chocolate" Williams
Antawn Jamison
Cuttino Mobley
Sean Marks (now the Nets GM)
Rashard Lewis
Robert "Tractor" Traylor
5. ⚾️ Map du jour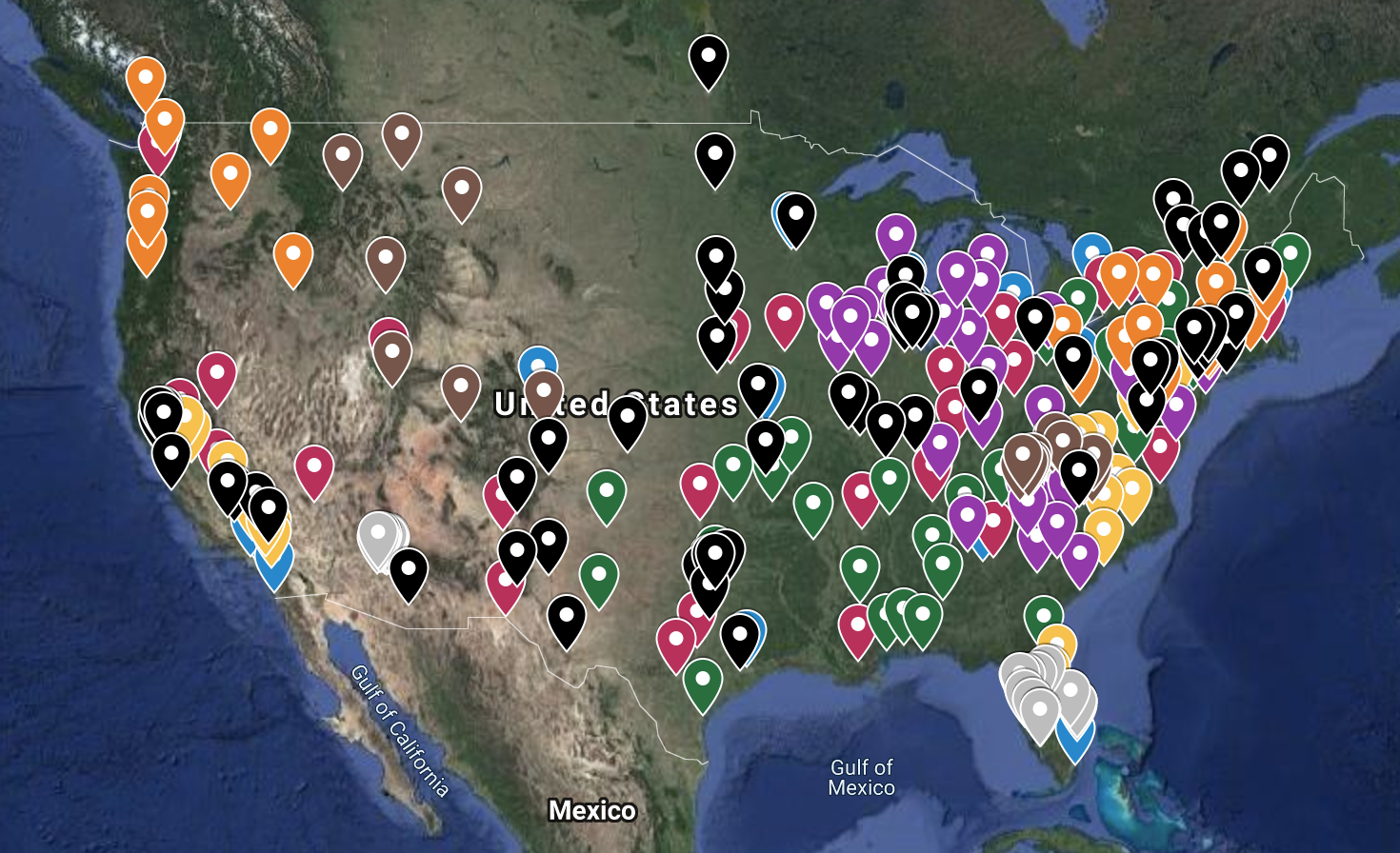 Screenshot: Google Maps
Some random internet person — or should I say legend — made an interactive map of every major, minor and independent baseball stadium.
The map was created in Google Maps, so it's super easy to navigate and you can sort by league and quickly view info on each stadium.
6. Aug. 6, 2006: ⛳️ Tiger joins 50-win club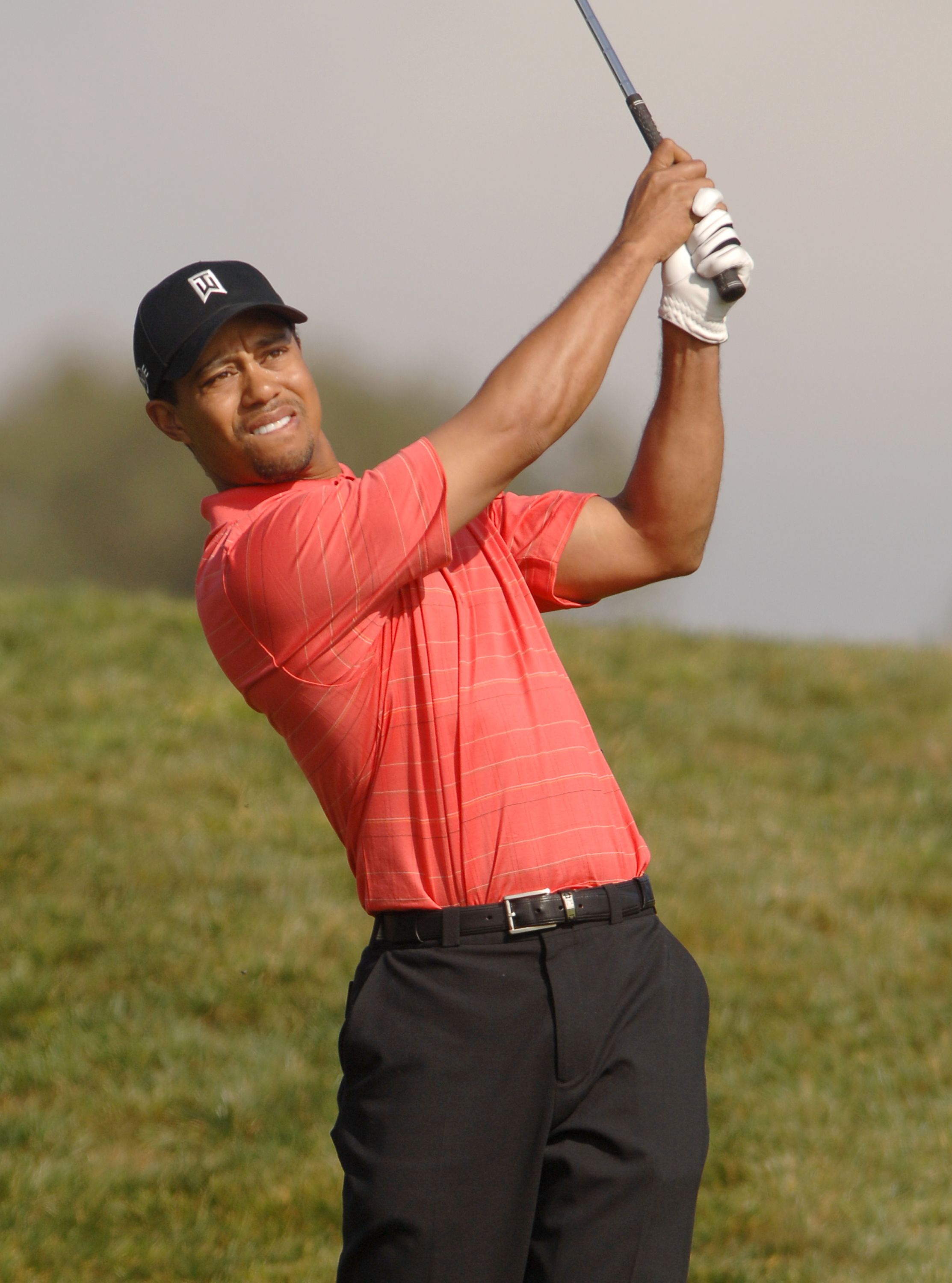 Woods at the Buick Invitational. Photo: Steve Grayson/Getty Images
13 years ago today, 30-year-old Tiger Woods won the Buick Invitational to become the seventh — and youngest — member of the PGA Tour's 50-win club.
Fast forward: Woods is currently one win shy of tying Sam Snead for most PGA Tour wins (82) and three majors shy of tying Jack Nicklaus for most majors (18).
50-win club:
Sam Snead (82 wins, 7 majors)
Tiger Woods (81 wins, 15 majors)
Jack Nicklaus (73 wins, 18 majors)
Ben Hogan (64 wins, 9 majors)
Arnold Palmer (62 wins, 7 majors)
Byron Nelson (52 wins, 5 majors)
Billy Casper (51 wins, 3 majors)
Go deeper: Tiger is closing in on Snead's record (NYT)
7. 🏀 NBA trivia
Five guards in NBA history have won the Defensive Player of the Year award, but it's been over 20 years since it last happened (1995–96).
Question: Who was the guard who won it that year?
Hint: He won an NBA championship in 2006.
Answer at the bottom.
8. The Ocho: 🏋️‍♂️ Fraser and Toomey defend CrossFit titles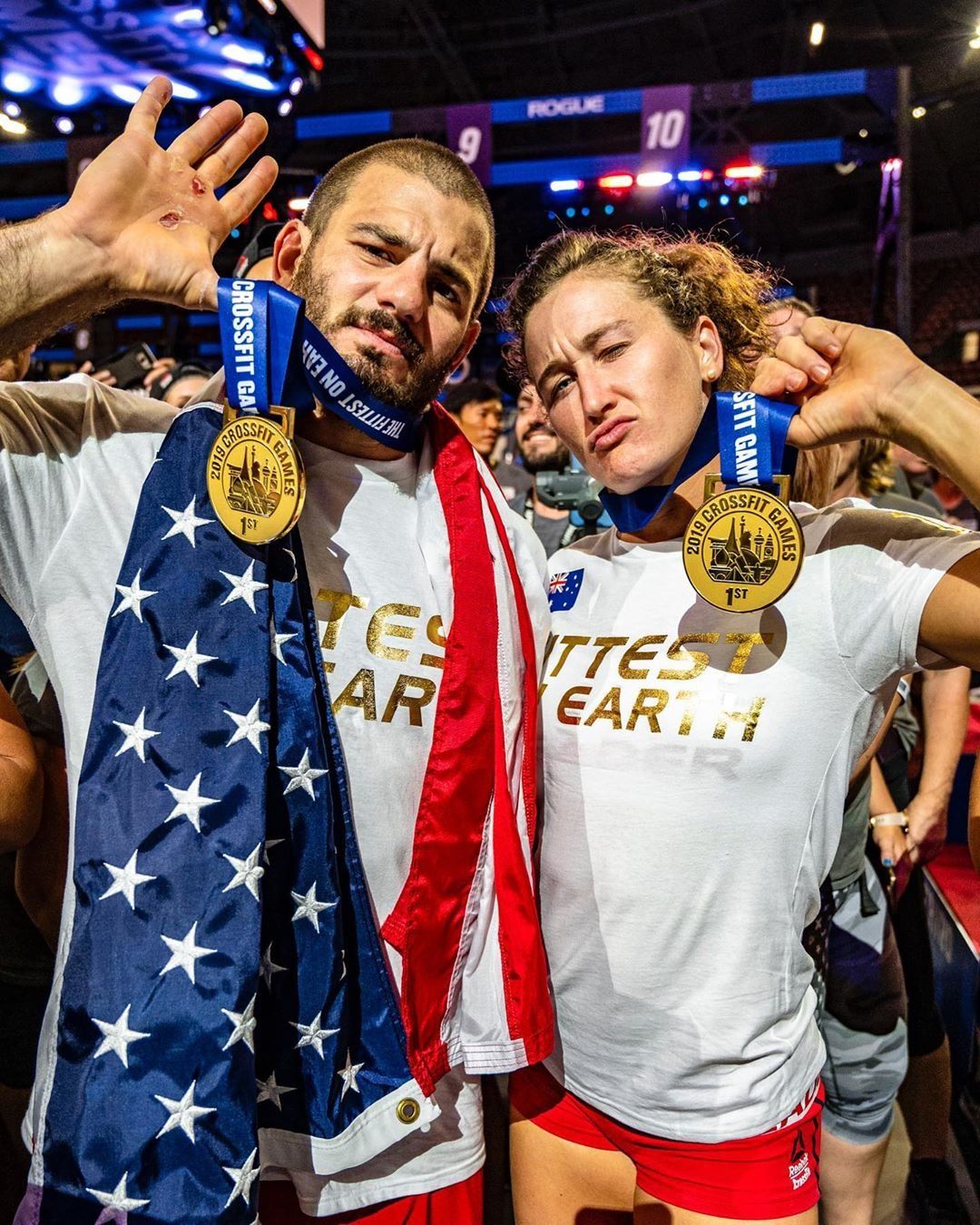 Mat Fraser and Tia-Clair Toomey. Courtesy: CrossFit Games
At the 2019 CrossFit Games this past weekend, defending champions Mat Fraser of the U.S. and Tia-Clair Toomey of Australia established themselves as the "Fittest on Earth" once again — and took home $300,000 each.
After a slow start, Fraser muscled his way to his fourth straight title, which is tied for the most consecutive wins in the history of the event.
In the women's competition, Toomey pulled away from the field almost immediately and sealed her third straight title before the final event even began.
How it works: The Games are operated by CrossFit, which was founded in 2000 and now has over 15,000 affiliated gyms worldwide. Athletes qualify by becoming national champions or winning regional events.
The Games are designed to test each athlete's strength, endurance, speed, agility, and power over four days and 12 events.
Each event is kept a secret ahead of time and can range from open-water swimming to powerlifting to handstand walking.
Go deeper:
See you tomorrow,
Kendall "Raef LaFrentz!" Baker
Trivia answer: Gary Payton