👋 Good morning! To mark the start of the NFL season, we want to hook you and a friend up with your favorite players' jerseys.
How it works: Refer a friend to Axios Sports using your personal link at the bottom of this newsletter. We'll randomly select a few new subscribers tonight, and both they and the reader who referred them (you) will get free jerseys.
Today's word count: 1,562 (6 minutes)
1 big thing: 🏈 The 199th edition of Packers-Bears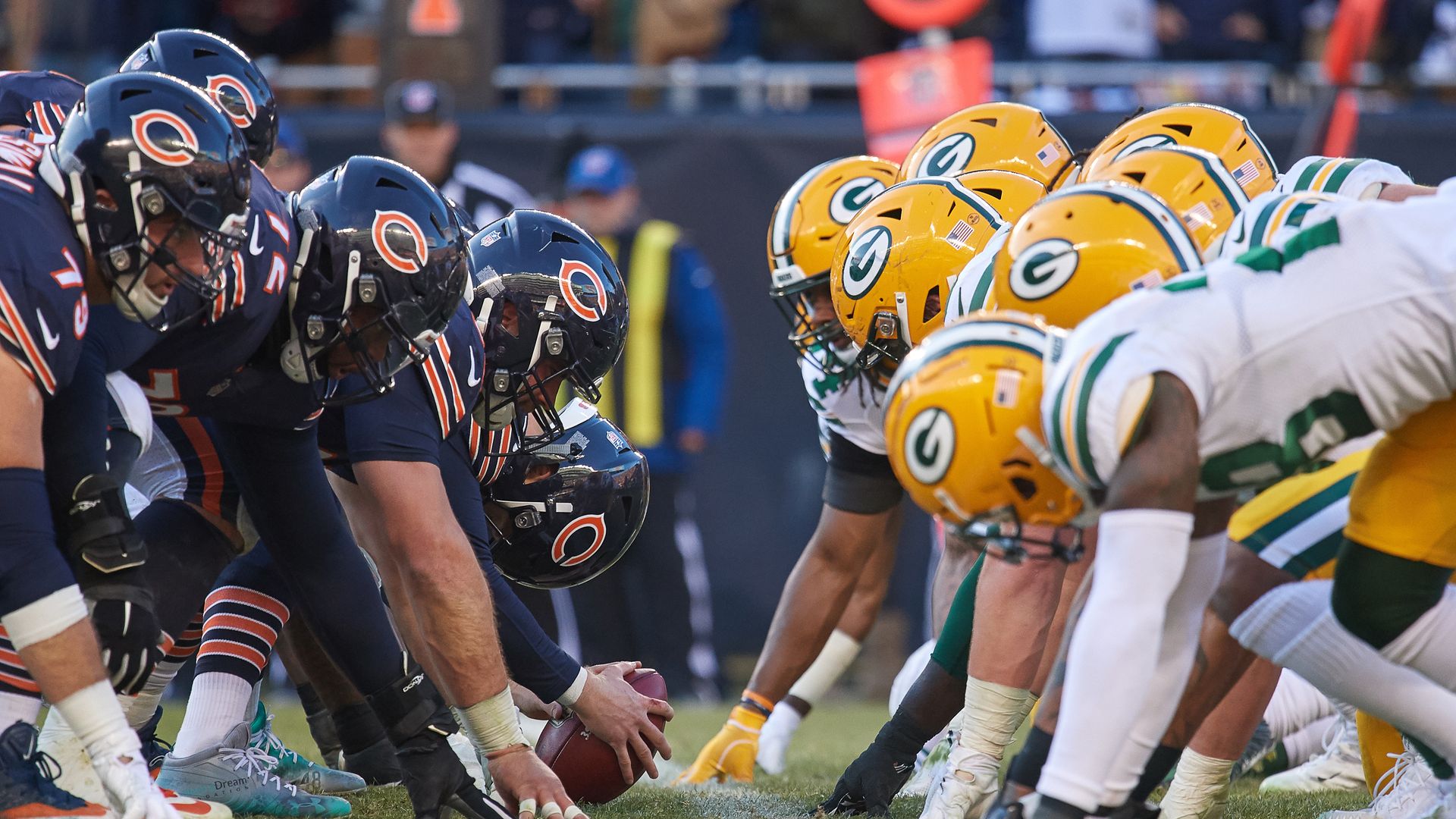 The NFL's 100th season kicks off tonight at Soldier Field (8:20pm ET, NBC) with one of the league's most storied rivalries: Green Bay Packers vs. Chicago Bears.
Betting odds: Spread: Bears -3 | O/U: 46.5 | Moneyline: Packers +145 ($100 bet wins $145); Bears -165 ($165 bet wins $100). Go deeper.
Role reversal: Last season, first-year head coach Matt Nagy took Mitchell Trubisky and the Bears to Green Bay in Week 1. This season, first-year head coach Matt LaFleur takes Aaron Rodgers and the Packers to Chicago.
The backdrop: The Packers enter with a 97-95-6 advantage in the all-time series, and Aaron Rodgers has been a problem for the Bears, beating them in 16 of 21 starts. That includes last year's epic 20-point comeback on a bad knee.
Packers offense: Tonight, we'll get our first look at one of this season's most fascinating storylines: the marriage between Rodgers and LaFleur, who is just 4 years his senior.
"Never has a Hall of Fame QB in the latter part of his prime been cast into the type of schematic overhaul that Rodgers is enduring under LaFleur," writes SI's Andy Benoit.
"In [Mike] McCarthy's system, the Packers often aligned in static spread formations and ran isolation routes. This approach is perfectly conducive to making changes at the line of scrimmage."
"LaFleur's approach is not .... It's built on unique formationing, pre-snap motion and intricate route combinations. An offense does not have time to line up, gyrate through all this, then change the play and do it all again."
"Earlier this week, LaFleur told the media that Rodgers has been given full freedom at the line of scrimmage, but it remains to be seen what, exactly, that entails. ... You don't want to completely ignore the play-changing acumen [Rodgers] has amassed over 11 seasons as a starter. But you can't force audibles into a system that's not built to receive them."
Bears defense: Chicago's defense wreaked havoc on the NFL last season, leading the league in points allowed (17.7 per game), interceptions (27) and rush defense (80 yards per game), while ranking 3rd in sacks (50) and 6th in forced fumbles (18).
They lost just one starter from that unit (strong safety Adrian Amos), but defensive coordinator Vic Fangio is now the head coach of the Broncos, raising concerns about a possible regression.
Fun fact: Amos will start for the Packers, while his Bears replacement is former Packers starter Ha Ha Clinton-Dix. The ol' safety swap.
Go deeper: Inside stories of the Bears' kicker competition, the wildest kicker search ever held (SI)
P.S. ... ICYMI: The Cowboys gave Ezekiel Elliott a 6-year, $90 million extension yesterday that makes him the highest-paid RB ever. Holdout over. Operation "Feed Zeke" initiated.
2. ⚾️ Trout moves past Jeter in career WAR
Mike Trout just passed Derek Jeter in career wins above replacement (WAR) — the best measure we have of how valuable a player is to his team. Mike Trout is 28.
The big picture: So far this season, Trout has passed 38 Hall of Famers in career WAR — guys like Tony Gwynn, Ernie Banks, Roy Halladay, Willie McCovey, Jim Palmer, Eddie Murray, John Smoltz, Barry Larkin and Edgar Martinez.
He's also passed multiple future Cooperstown inductees like Jeter, Miguel Cabrera and (probably) Carlos Beltran and Chase Utley. Again, Mike Trout is 28.
What's next: Trout (72.6 WAR) will likely pass 3 more Hall of Famers as early as next week: Paul Waner (72.8), Arky Vaughan (72.9) and Jim Thome (72.9). Also in his sights: Frank Thomas (73.9) and Reggie Jackson (74.0).
3. 🏀 NBA mulling investment fund for team equity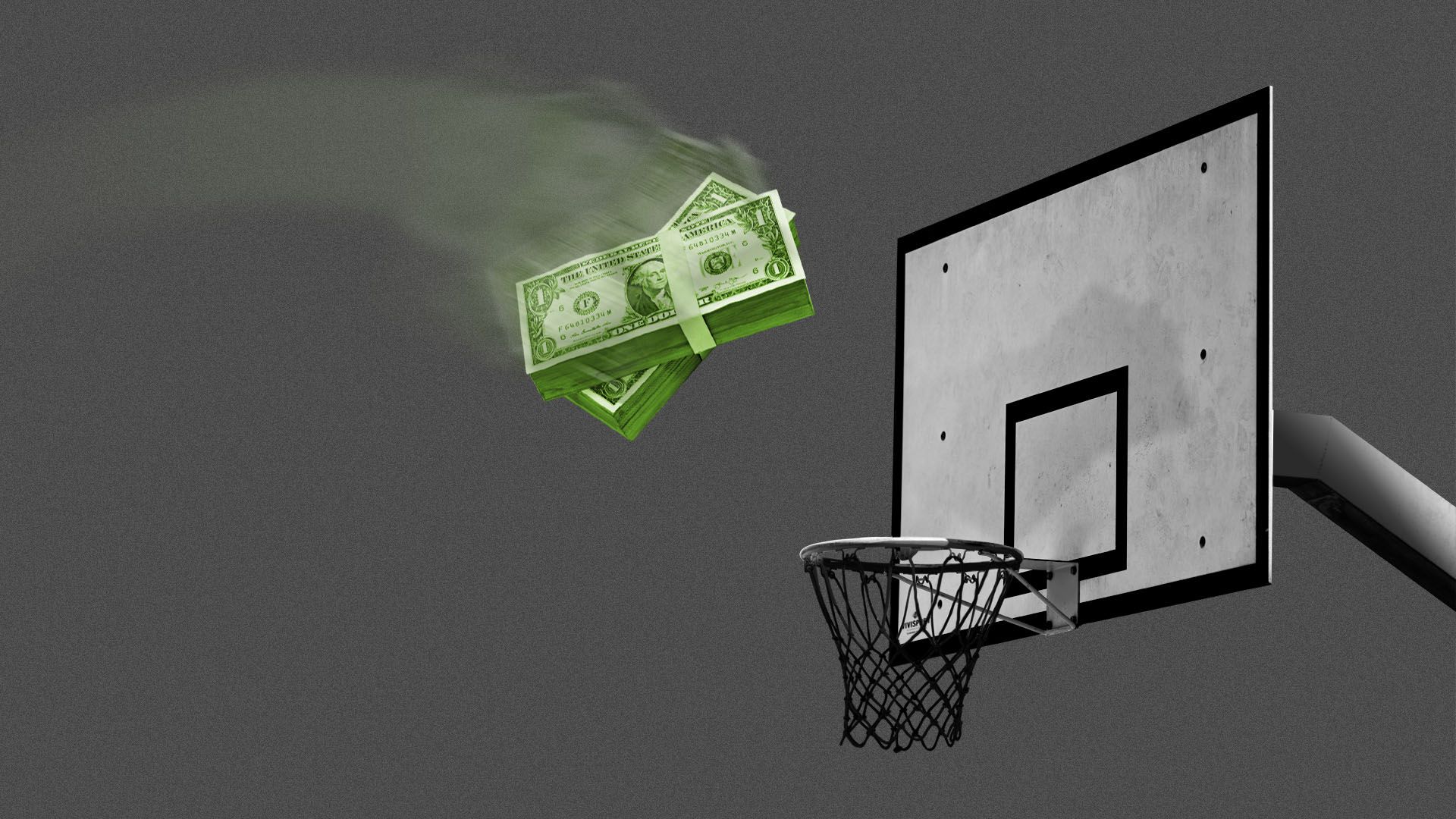 The NBA is considering the creation of an investment fund that would buy small equity stakes in a portfolio of teams, as first reported by Bloomberg, Axios' Dan Primack writes.
Why now? Owners are concerned that skyrocketing team prices mean that there's a limited number of individuals who could buy the next several teams that get put up for sale. Or, as one league source put it: "There are only so many Steve Ballmers and Joe Tsais."
This fund could, in theory, help expand the principal buyer pool by assuming some of the new purchase prices. Particularly by introducing institutional investors that have, historically, been shunned by the NBA and other pro sports leagues.
It would also become a way for existing minority owners to exit, if desired. Plus perhaps set more of a market price.
Why the NBA? Because private equity sources say it's generally viewed as a better investment opportunity than baseball (shrinking attendance), hockey (geographically limited) and football (liabilities). Pro soccer is the best comp, although the NBA is still viewed as superior because it has capped player costs.
The bottom line: Being a passive sports team owner is really being the person who pays the most for good seats. But owning a portfolio could be appealing for long-term money, and it's only a matter of time before we get a league-managed or third-party fund/marketplace for these interests.
4. 🎾 Tonight: U.S. Open women's semis
Both the men's and women's semifinals are set at the 2019 U.S. Open. The men (Rafael Nadal vs. Matteo Berrettini and Daniil Medvedev vs. Grigor Dimitrov) play tomorrow, while the women face off tonight:
7pm ET: (8) Serena Williams vs. (5) Elina Svitolina
8:15pm ET: (15) Bianca Andreescu vs. (13) Belinda Bencic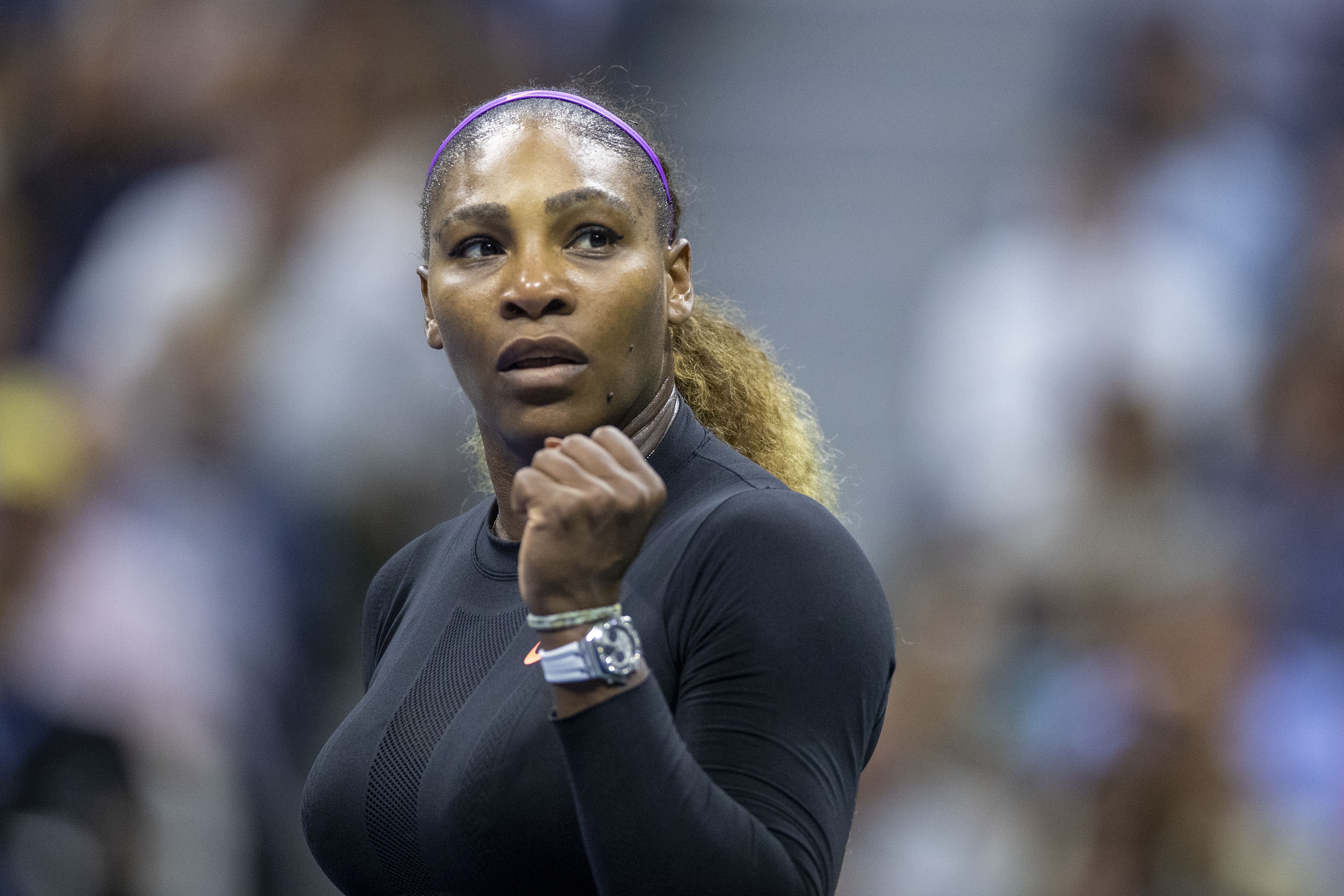 Photo: Tim Clayton/Corbis via Getty Images
Name: Serena Williams
Age: 37
Country: 🇺🇸 United States
By the numbers: If Williams wins her next 2 matches, she will not only tie Margaret Court for the most Grand Slam titles (24) but also pass Chris Evert for the most U.S. Open singles wins (102).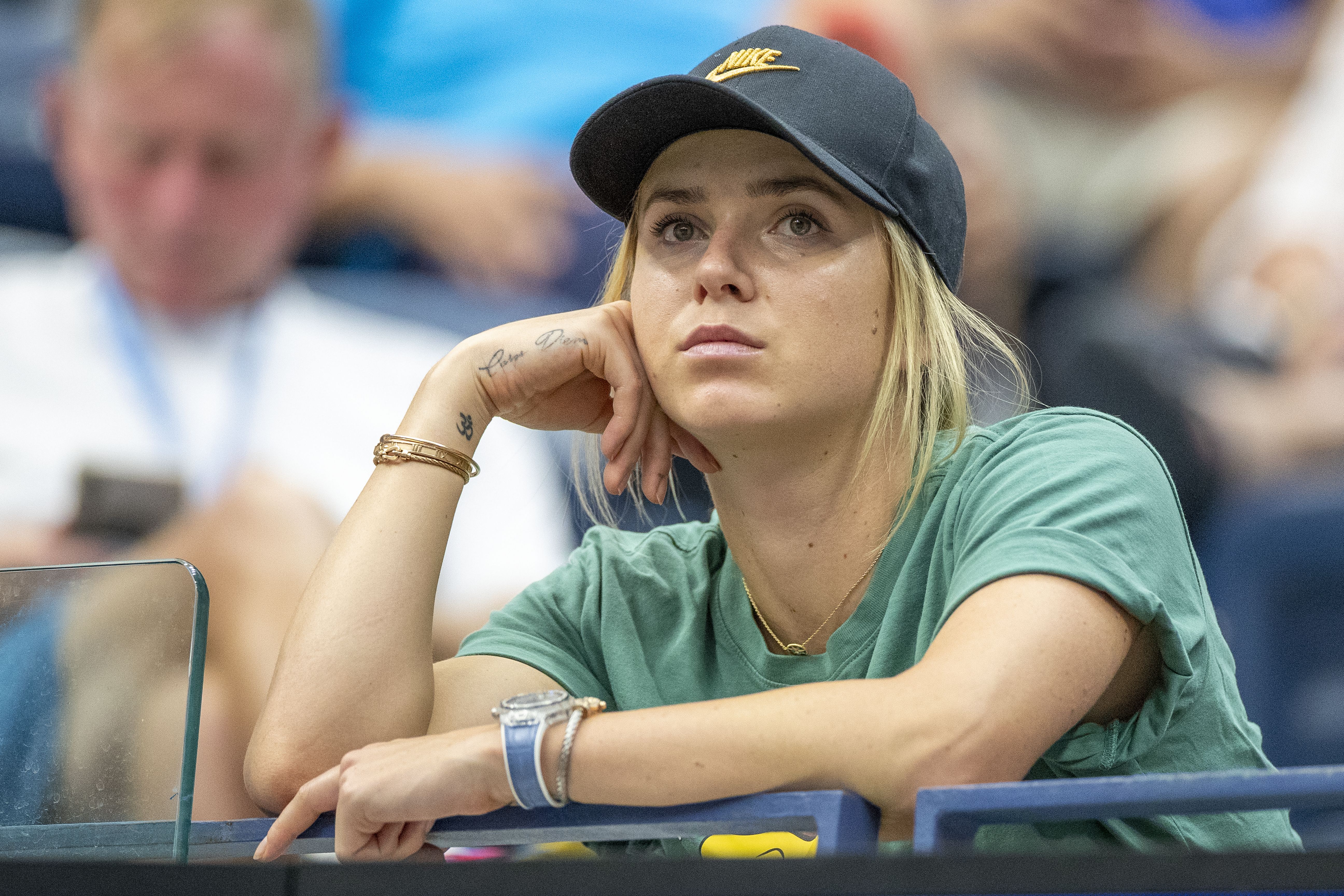 Photo: Tim Clayton/Corbis via Getty Images
Name: Elina Svitolina
Age: 24
Country: 🇺🇦 Ukraine
Fun fact: Svitolina has been dating men's No. 13 seed Gaël Monfils since last year. She spent last night cheering him on, but unfortunately, he was ousted and won't be joining her in the semis.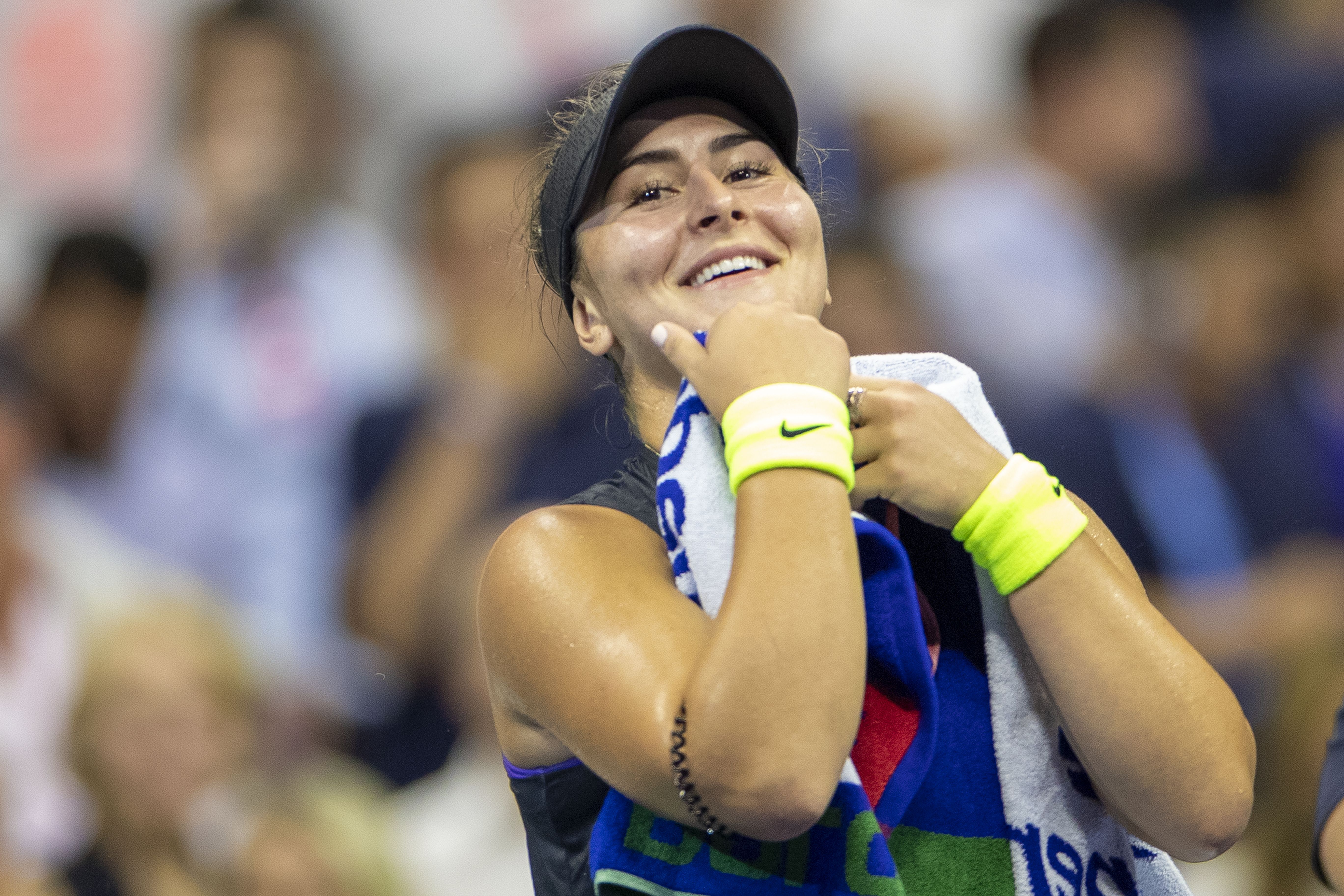 Photo: Tim Clayton/Corbis via Getty Images
Name: Bianca Andreescu
Age: 19
Country: 🇨🇦 Canada
By the numbers: Ranked No. 178 at the end of last season, Andreescu is 7-0 against top 10 players this season and 2 wins away from becoming the first Canadian to win a Grand Slam title.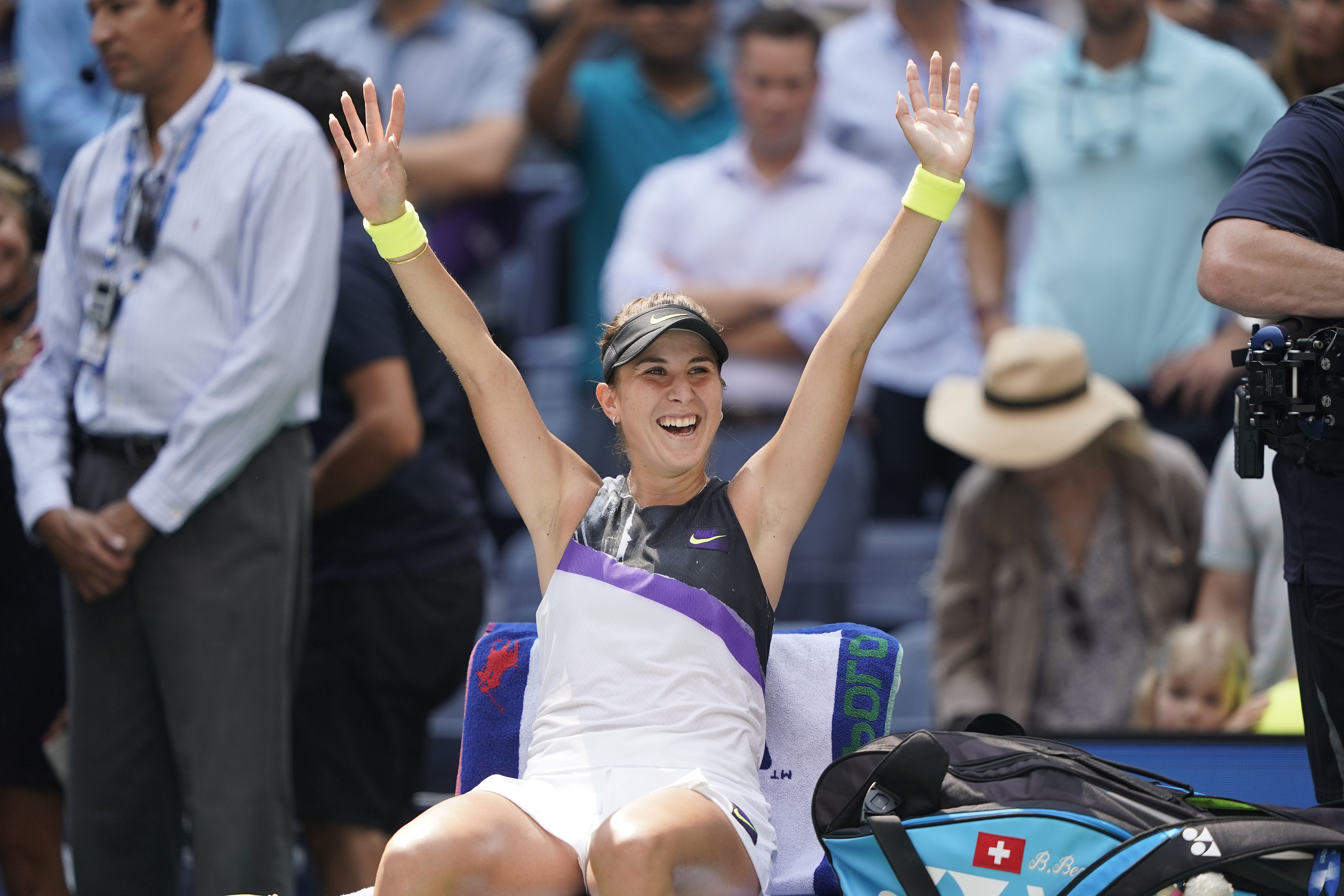 Photo: Michael Owens/Getty Images
Name: Belinda Bencic
Age: 22
Country: 🇨🇭 Switzerland
The backdrop: In 2014, Bencic made the U.S. Open quarterfinals as a 17-year-old prodigy. Sadly, wrist surgery derailed her career and saw her fall out of the top 300, but now she's back and better than ever.
5. 📺 The show that changed TV forever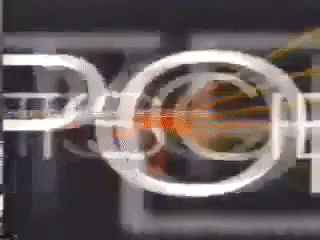 ESPN turns 40 years old this week, so The Ringer's Bryan Curtis caught up with Dan Patrick and Keith Olbermann and wrote an incredible tribute to the "SportsCenter" they cohosted in the 90s — a show that changed TV forever.
"Patrick and Olbermann took a low art form, doing highlights, and wrested it away from the howling Champ Kinds of local news. [They] quoted Ralph Waldo Emerson and Monty Python and Johnny Most. They became one-name, Beatles-like categories. For a time, every wannabe sportscaster was a purring, FM-quality 'Dan' or a transgressive, scenery-chewing 'Keith.'"
"Olbermann had learned from radio comedian Bob Elliott that the whole point of doing a two-man show should be to try to crack up your partner. That was the idea of the Big Show: that the host sitting next to you was not just your coworker but your ideal audience. 'I wrote to impress him,' said Patrick, 'or delivered highlights to make him laugh.'"
"Today, the idea of news anchors giving viewers equal doses of news and satire might sound familiar. That's because it's the house style of TV. It's not that John Oliver and Trevor Noah and every other disciple of Jon Stewart are doing Dan and Keith, exactly. But I'd argue Patrick and Olbermann anticipated the way news and comedy would merge. They refined a hyperliterate, funny, swaggering voice. And they made it cool as hell."
Bonus: 🏒 Chart du jour
If you want to optimize your hockey viewing experience for goals, watch the ends of periods.
By the numbers: During the 2018-19 regular season, 2.8% of all goals (not counting empty net goals) were scored in the last minute of a period.
The bottom line: Even when you exclude empty-netters, there's still an uptick in scoring in the final minute of a period compared to the rest of the game — and the teams listed above contributed the most to that phenomenon last season.
P.S. … Are you a data nerd? We partnered with Baseball Reference on this story, and they actually have their own newsletter called Stathead that focuses specifically on stats. Check it out.
6. Sept. 5, 1972: 😢 The Munich Massacre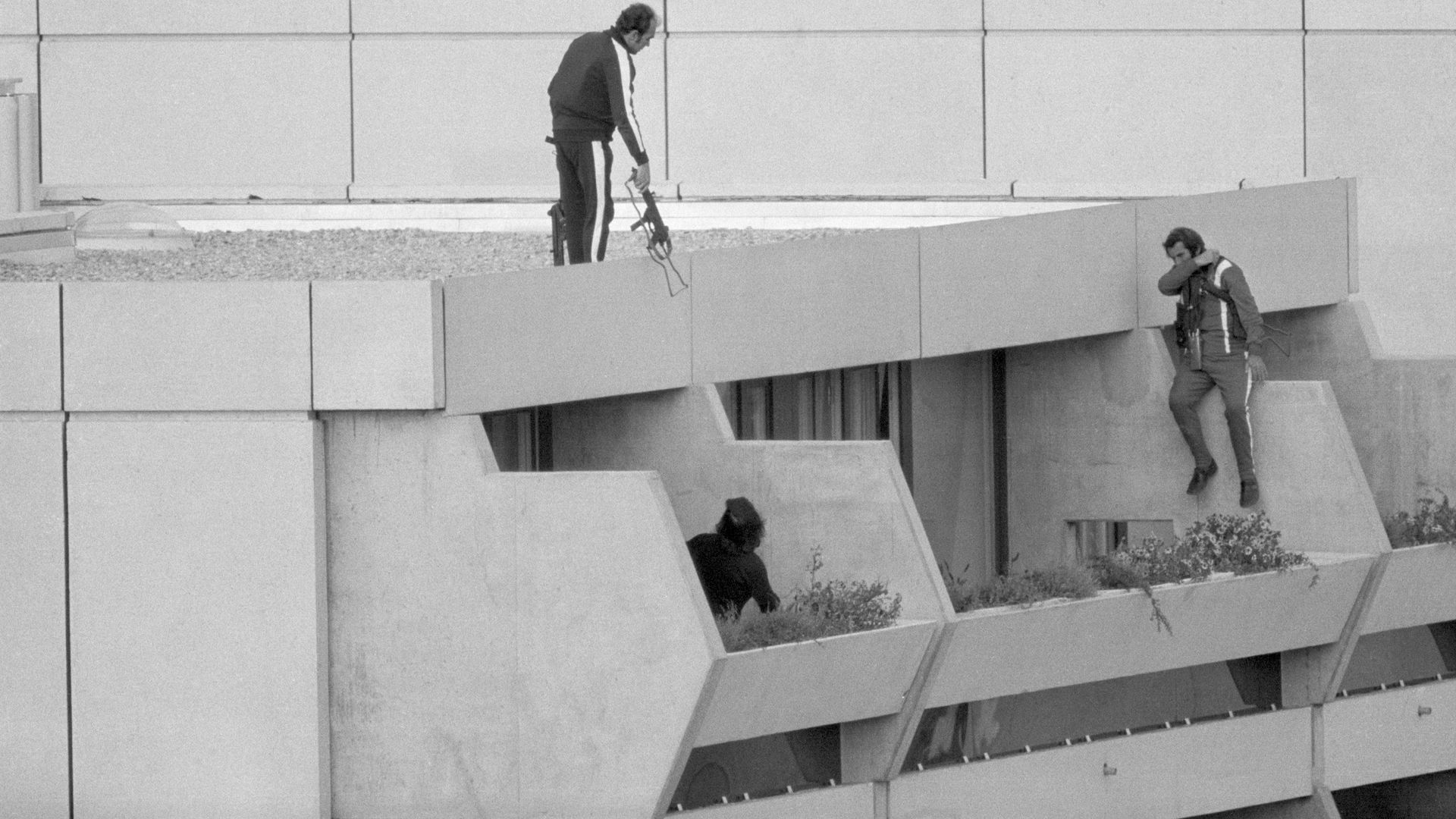 47 years ago today, 11 members of the Israeli Olympic team were taken hostage and killed by the Palestinian terrorist group Black September in the midst of the 1972 Olympic Games in Munich.
"When I was a kid my father used to say our greatest hopes and our worst fears are seldom realized. Our worst fears have been realized tonight. They have now said there were 11 hostages; 2 were killed in their rooms yesterday morning, 9 were killed at the airport tonight. They're all gone."
— ABC sportscaster Jim McKay
The aftermath: In the end, 17 people died during the attack: 6 Israeli coaches, 5 Israeli athletes, 5 of the 8 terrorists and 1 West German policeman.
For the first time ever, the Olympics were suspended. They were nearly canceled, but the action ultimately resumed 34 hours later. "The Games must go on," IOC chairman Avery Brundage famously said at the time.
Go deeper:
7. 🏈 NFL trivia
Ezekiel Elliot is one of 3 players in NFL history to lead the league in rushing yards per game in each of his first 3 seasons.
Question: Can you name the other 2 players?
Hint: Both of their first names have just one syllable.
8. The Ocho: 🇪🇸 Irony strikes "Running of the Balls"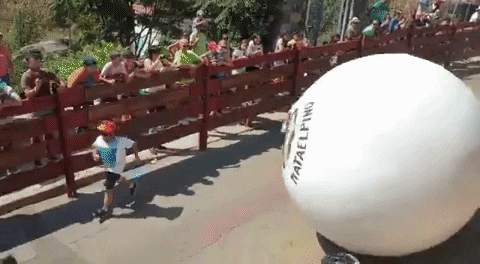 8 years ago, the small Spanish town of Mataelpino introduced a cruelty-free alternative to bull running that replaced the bulls with a giant rolling ball.
This year, after a spate of injuries, the town's mayor decided to replace the 550-pound ball with a 60-pound inflatable version. But thanks to that change, the ball bounced off an open door and broke someone's collarbone. That someone was the mayor.
See you tomorrow,
Kendall "Mike Trout is 28" Baker
Trivia answer: Jim Brown (1957-59) and Earl Campbell (1978-80)