Axios Space
February 02, 2021
Thanks for reading Axios Space. At 1,535 words, this week's newsletter is about a 6-minute read.
"Axios on HBO" is back Sundays at 6pm ET/PT on all HBO platforms.
Please send your tips, questions and billionaire beef to [email protected], or if you received this as an email, just hit reply.
1 big thing: Billionaire battles will shape our future in space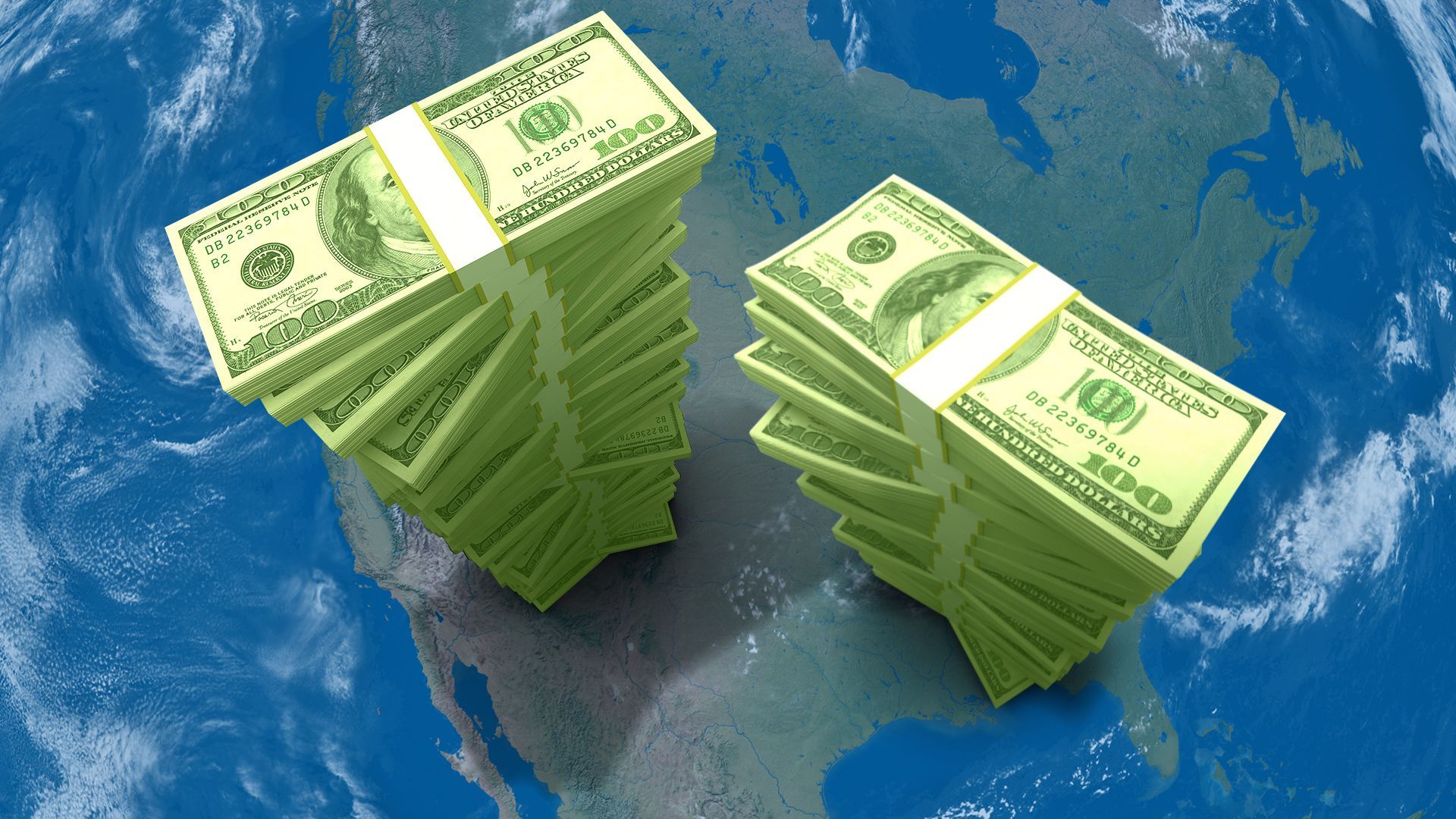 Amazon and SpaceX's scuffle about satellites shows how competitions between companies today are shaping humanity's future in space.
Why it matters: Billionaires like Elon Musk and Jeff Bezos are influencing the push for humans to settle the solar system — from a city on Mars to large space stations in orbit.
Musk's and Bezos' goals aren't necessarily in conflict with one another, but as they seek advantages in orbit, critics warn of the risks posed by their bottom lines driving space exploration.
"This thing they're doing for society's benefit — there's a competition involved," Victoria Samson of the Secure World Foundation told me.
Driving the news: Last week, Musk shot back at Amazon for what he sees as its attempted obstruction of SpaceX's Starlink satellite constellation.
SpaceX asked the FCC to allow the company to lower the orbits of some of its satellites in its planned constellation.
But Amazon — which plans to launch its Project Kuiper satellites in the coming years — and other operators objected to that modification, saying it would interfere with their satellites.
Musk tweeted that it isn't in the U.S.' best interest to hamper Starlink before Kuiper is off the ground.
"We designed the Kuiper System to avoid interference with Starlink, and now SpaceX wants to change the design of its system," Amazon responded in a statement. "Those changes not only create a more dangerous environment for collisions in space, but they also increase radio interference for customers."
Where it stands: This fight over satellite altitudes may seem small in the grand scheme of things, but the business models for both SpaceX's and Amazon's space ventures hinge, in part, on the outcomes of these small battles.
SpaceX sees Starlink partly as a way to bring in money that might be used to fund other ventures, like shoring up the technology needed to send people and payloads to Mars one day.

Musk's company has also managed to get out ahead of the competition, with more than 900 Starlink satellites launched so far.

Project Kuiper, which aims to provide internet access to underserved populations around the world, is also a stepping stone toward Bezos' dream of "millions of people living and working in space."
The big picture: To critics, the biggest problem with Musk's and Bezos' power in space isn't about them as individuals, but the pitfalls of long-term space exploration and settlement being driven by the capitalistic structure they represent.
Squabbles about satellites could grow into fights about fresh air to breathe in space, critics worry.
"If we don't take a radical shift toward really prioritizing labor rights, it's quite concerning imagining having a company or a government controlling the full life-support system on a space station or a physical base on a planet," Danielle Wood, director of MIT Media Lab's Space Enabled Research Group, told me.
But, but, but: That possible future still isn't inevitable, despite the power these billionaires hold.
Governments are still the primary drivers and regulators of spaceflight and exploration, and the U.S. is beholden to the UN's Outer Space Treaty, making the nation effectively on the hook for Musk's and Bezos' behaviors in space.
Space should be a place where everyone focuses on the needs of the broader community, "rather than the goals of particular companies," Wood said.
2. Wanna take a ride?
A flight to space aboard a SpaceX Crew Dragon capsule expected to launch before the end of the year will help define the new age of commercial spaceflight — one where companies, not governments, bring private citizens to orbit.
Why it matters: The space industry is working to create a sustainable space economy in orbit, to support NASA missions and business ventures alike. Tourist flights are expected to be a big part of that.
Catch up quick: Businessman Jared Isaacman and SpaceX announced Monday that Isaacman has chartered a flight to orbit for him and three other passengers aboard a Crew Dragon.
Isaacman has already chosen one fellow crewmember — an as-yet-unnamed woman who was chosen for the flight as an ambassador for St. Jude Children's Research Hospital.
He is also running a raffle that anyone can enter to possibly win a seat on the trip. The money raised as part of the raffle will be given to the hospital.
The fourth seat will go to the winner of an online competition run through Isaacman's Shift4Shop company.
Between the lines: "Any mission where there's a crew onboard makes me nervous," Musk said during an interview with NBC Nightly News. "The risk is not zero."
The big picture: This isn't the only private flight on SpaceX's roster. A Crew Dragon will also fly a four-person Axiom mission to the International Space Station in early 2022.
What they're saying: "More private missions to space are great for everyone," Axiom said in a statement. "To normalize private spaceflight and drive costs down over time, it is essential now for as many of those who can go — or can sponsor others to go — to do so."
NASA's head of human spaceflight Kathy Lueders sees Isaacman's mission as a natural outgrowth of the space agency's Commercial Crew Program that helped in the development of SpaceX crewed system.
"Excited to see one of the original goals of @Commercial_Crew come to be with the expansion of new commercial activities beyond our own in low-Earth orbit," Leuders tweeted.
3. Spotting illegal gold mines from orbit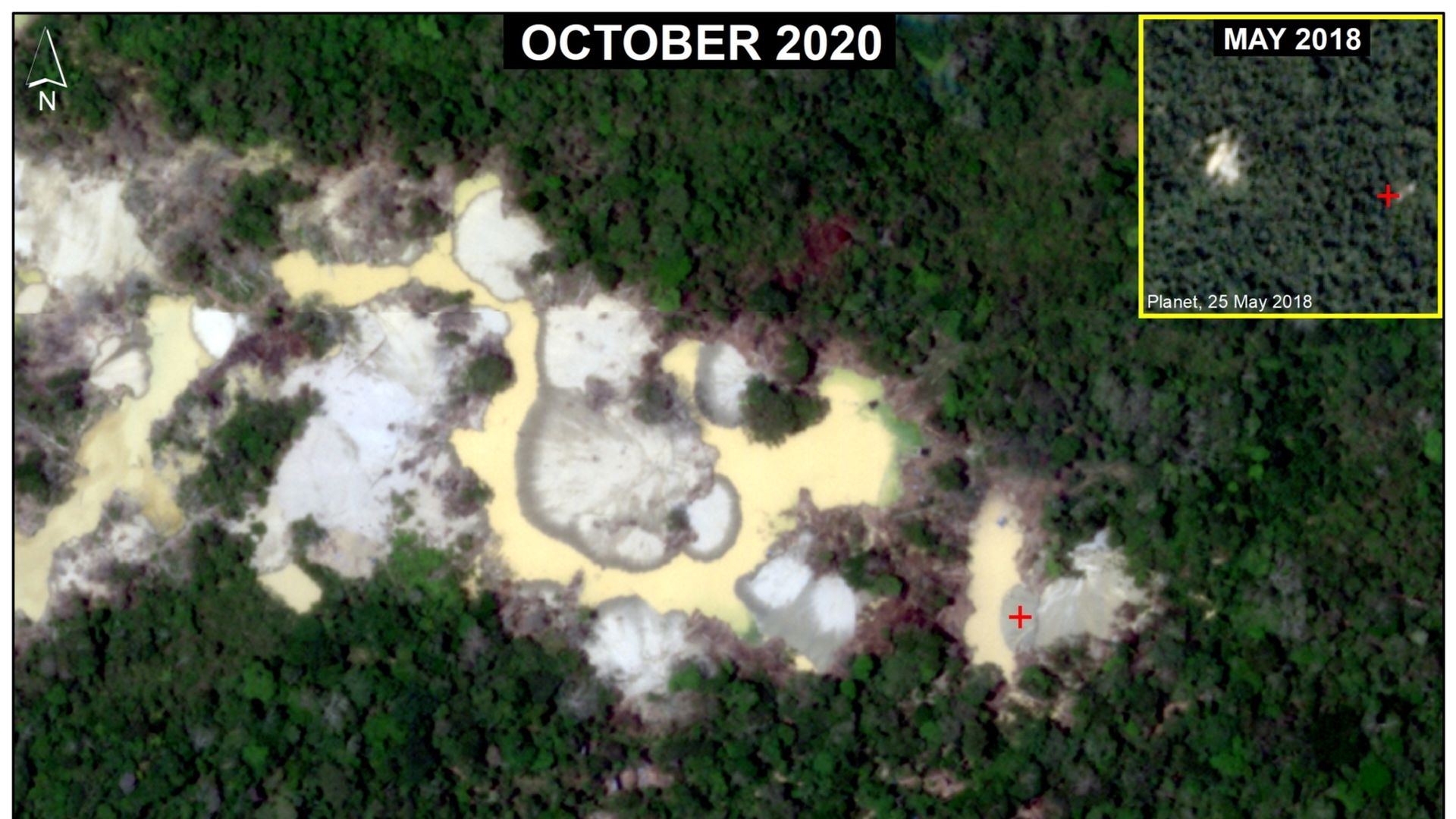 Near real-time satellite images of the Amazon are revealing deforestation and helping to combat illegal gold mining operations in the rainforest.
The big picture: As satellite data and analysis advances, researchers and companies on Earth have found new ways to make use of it — from helping to regulate the fishing industry to monitoring farming.
What's happening: Over the course of the last year, deforestation related to gold mining in six sites in the Peruvian Amazon decreased by about 78%, and 90% in La Pampa, Peru, which is considered a critical area.
That reduction has been aided by the Amazon Conservation's Monitoring of the Andean Amazon Project (MAAP), which uses data from Planet's fleet of satellites and others to spot deforestation from space.
"Just having that near-daily imagery availabilities has been a huge game-changer in terms of quickly getting eyes on these alerts," MAAP's director Matt Finer told me. "Since Planet has been doing this now since 2016, I believe they now have a robust archive, where we can then go back in time and kind of piece together, exactly what happened."
How it works: The MAAP team starts off with Landsat data in pixel form, showing possible areas of concern, where deforestation may be happening.
From there, the team can zoom in on an area using Planet data that will show changes from day to day and month to month, allowing Finer and his team to pick out where deforestation is expanding.
The MAAP team can then request that a higher resolution Planet satellite take a photo of the area of interest, which can be shared with local governments.
"You have the government action, and then it loops back ... into the technology where we then monitor the effectiveness of the action," Finer said.
Yes, but: Satellite data and its usefulness is still limited by what governments and other actors are willing to do on the ground.
MAAP is able to monitor the entire Amazon, and Finer and his team are hoping to find more willing government partners to help stop deforestation elsewhere.
4. NASA's space junk problem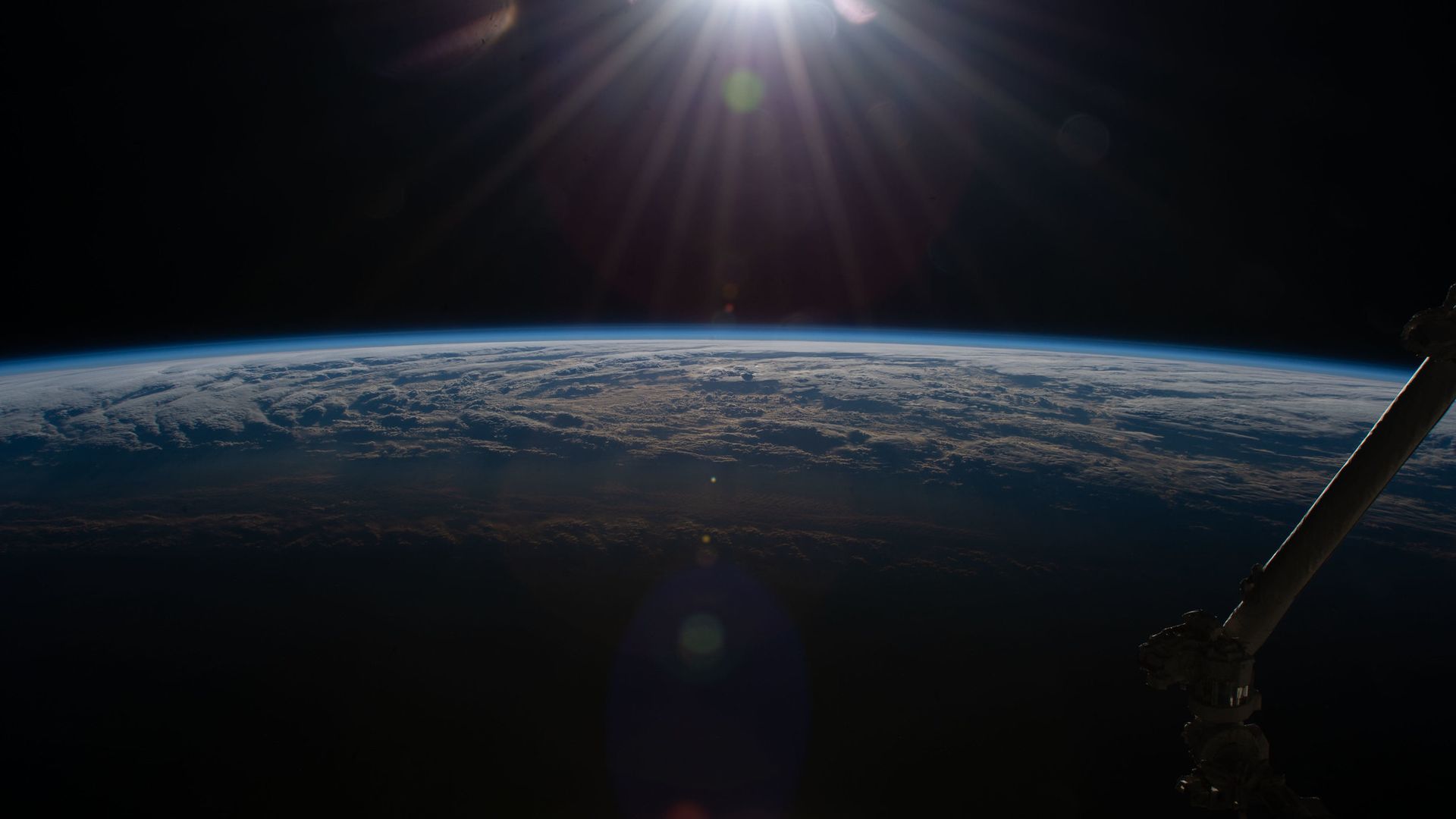 NASA needs to do more to understand the risks posed to spacecraft by space junk and find new ways to mitigate the threat, according to a report last week from the Office of Inspector General.
Why it matters: Some see space junk as an environmental crisis in orbit. Millions of pieces of space debris speed around Earth at more than 17,000 mph, putting spacecraft and sometimes people in harm's way.
Driving the news: The new OIG report suggests that while NASA has done a good job deorbiting its own spacecraft and rocket bodies, many other nations haven't been as proactive, launching spacecraft and rockets that stay in orbit longer than the 25 years recommended.
Now experts warn the space agency will need to both mitigate the junk already in space and prevent future junk from being created to keep spacecraft safe in the future.
"Despite presidential and congressional directives to NASA over the past decade to develop active debris removal technologies, the Agency has made little to no progress on such efforts," the OIG wrote.
The OIG also recommended NASA should develop a better means of tracking and understanding the nature of space junk in orbit to more effectively protect its spacecraft.
The catch: Nations and private companies are working to find ways to effectively clean up space, but those technologies are still early in development.
5. Out of this world reading list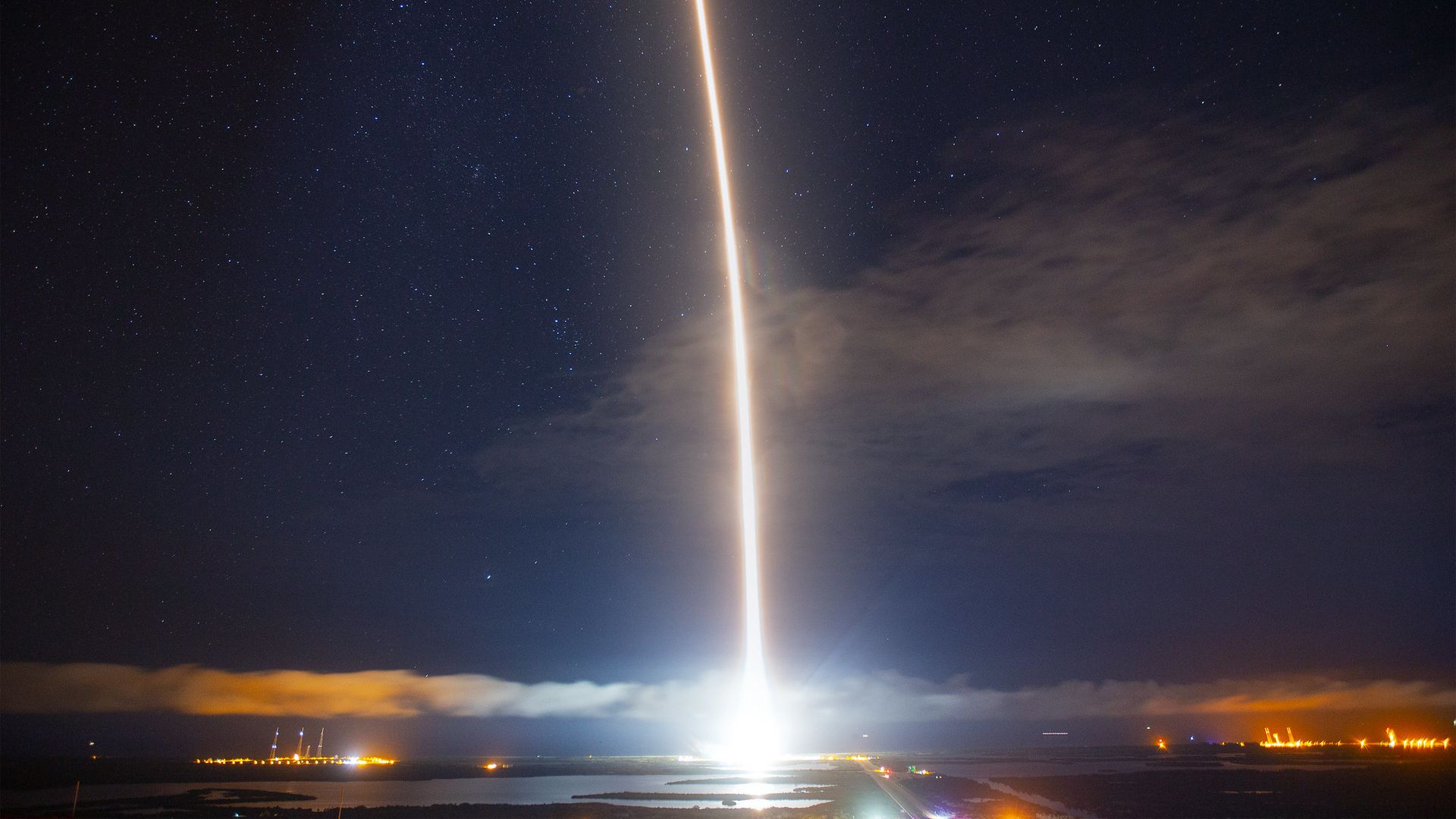 Astronomer Avi Loeb says aliens have visited, and he's not kidding (Lee Billings, Scientific American)
Elon Musk's SpaceX violated its launch license in explosive Starship test (Joey Roulette, The Verge)
Virgin Galactic to resume SpaceShipTwo test flights in mid-February (Jeff Foust, SpaceNews)
Rocket maker Astra to go public (Ashlee Vance, Bloomberg)
NASA will stage another test of its huge new rocket next month (Axios)
6. Your weekly dose of awe: Spacewalks are fun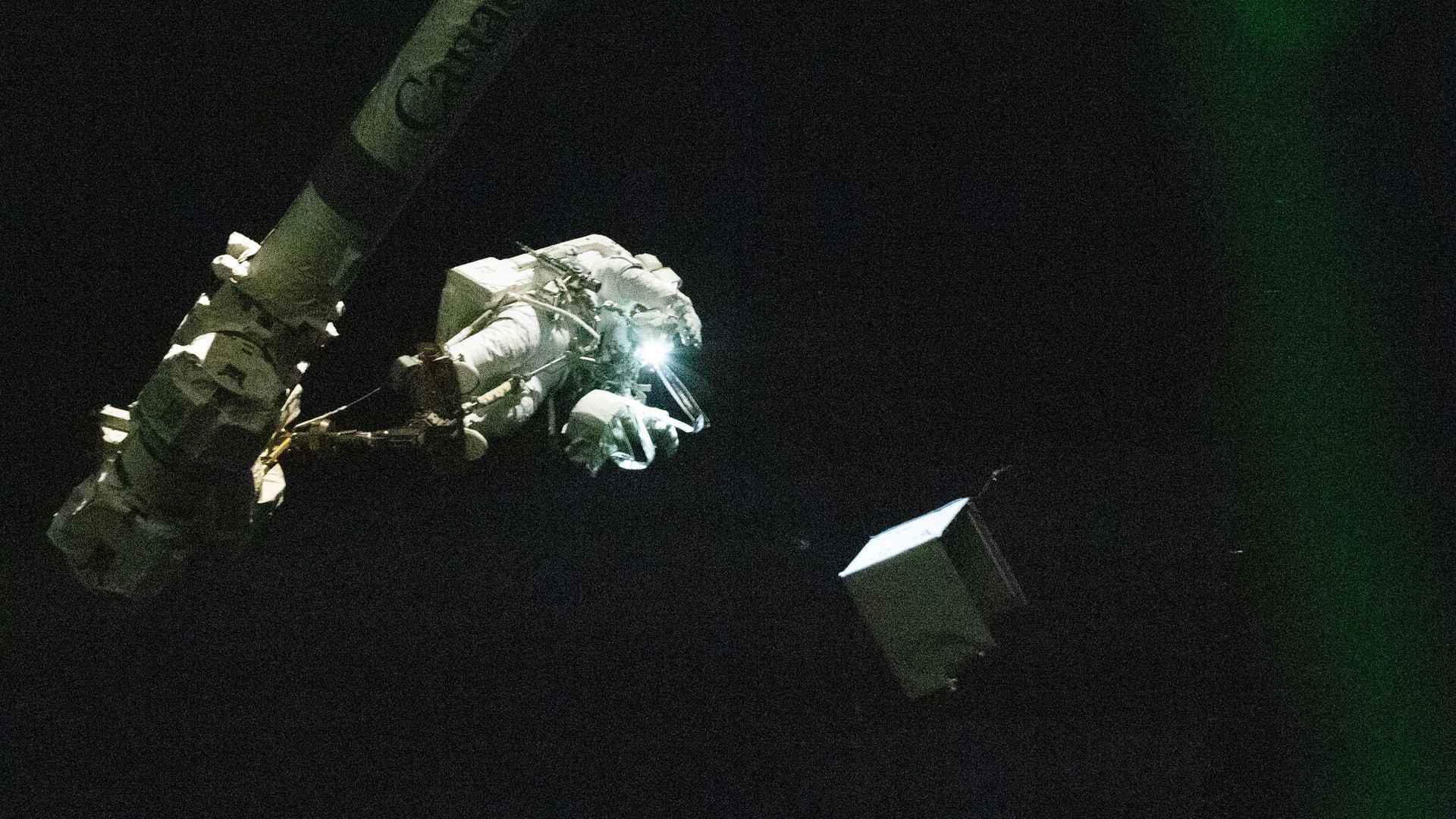 Spacewalks are some of the most dangerous activities astronauts can perform in orbit, but they also look like a pretty good time.
This image shows NASA astronaut Victor Glover during a spacewalk last week tossing an antenna cover into space while he was attached to the International Space Station's Canadarm2 robotic arm.
"The cover will eventually enter the Earth's atmosphere and burn up safely," NASA said in an image description. So, at least we've got that going for us.
Big thanks to Alison Snyder, David Nather and Sheryl Miller for editing this week's edition. If this email was forwarded to you, subscribe here. 🥊